---
Prada Enters The New Year With Its Eighth Exclusive Timecapsule NFT Drop
Luxferity, 02.01.2023
On January 5th, 2023, Prada drops its eighth limited-edition Timecapsule Collection paired with a corresponding gifted NFT

The January edition Timecapsule shirt features prints designed in 1969 by Enzo Ragazzini

Prada continues to give unprecedented behind the scenes opportunities as they offer 'Prada Crypted' Discord community members access to unique events and experiences, such as a full "Prada Journey in Milan" with an exclusive invitation to the brand's fashion show in January.

Prada announced the eighth installment of their Timecapsule NFT Collection. The drop on January 5th follows a successful 2022 campaign where Prada embraced the Web3 community and opened their reach to new audiences, allowing for unique experiences for NFT holders.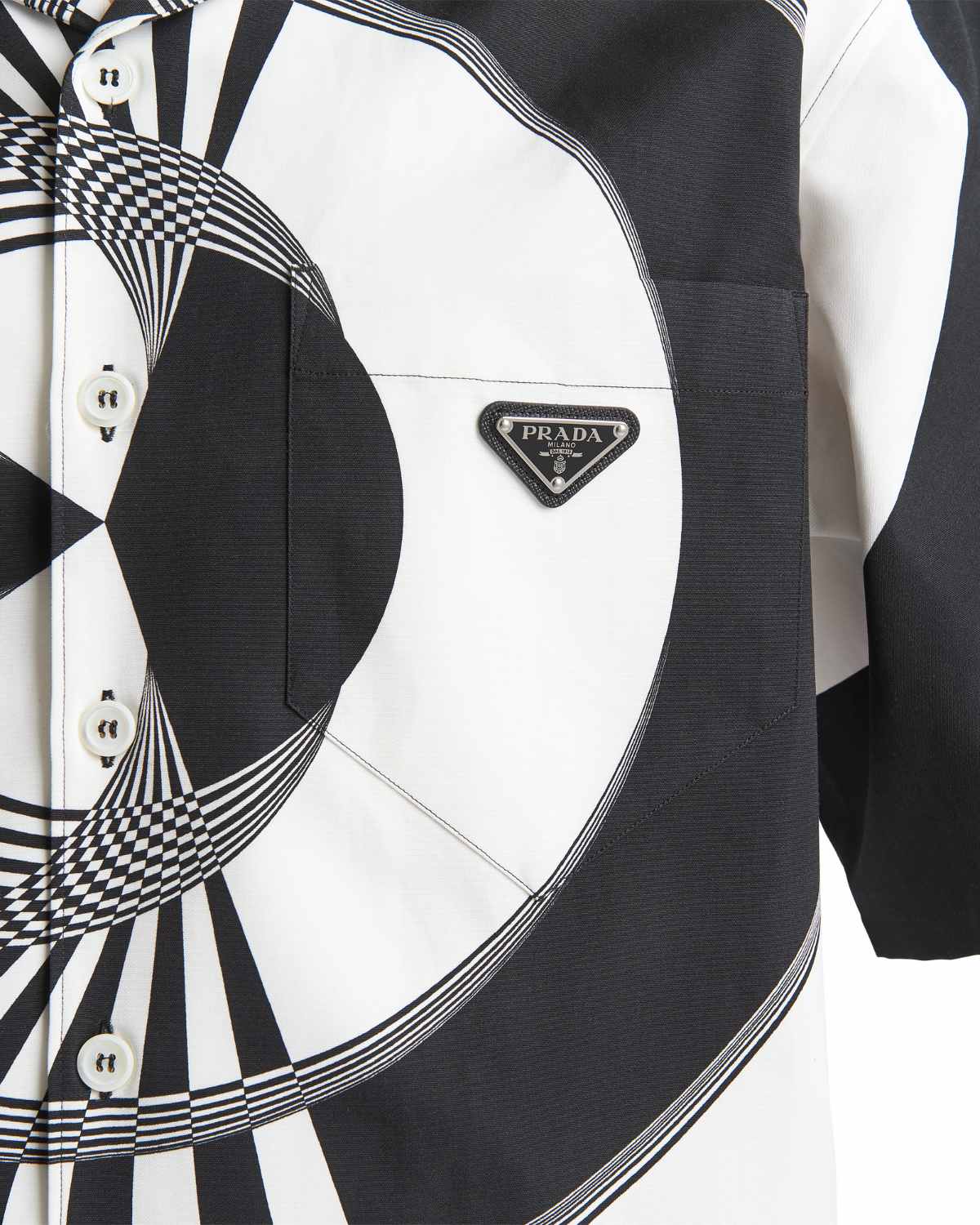 The latest NFT drop is #37 in the Timecapsule collection. Kicking off the new year, the first three months will present a series of shirts featuring special prints by Italian photographer Enzo Ragazzini from his archive from the late 60s' and early 70s'.
Titled INTERFERENZA OTTICA ART PRINT BY ENZO RAGAZZINI 1969, the January shirt will feature a design made in 1969 on the occasion of the Enzo Ragazzini exhibition at the Institute of Contemporary Arts in London (ICA) with the optical interference technique, using mechanical devices of his own invention (the "rotating plane" for the circular patterns and the "rotating drum" for horizontal patterns). This work was then digitized in 2017.
The poplin shirt's front pocket features the Prada enameled triangle logo and a transfer on the back with the word "JANUARY". Each shirt comes accompanied by its own gifted NFT, which serves as an invitation to join Prada's exclusive Crypted NFT community.
As with their Spring/Summer fashion show, one Prada Timecapsule NFT Holder and a guest will be offered the opportunity to be hosted in Milan for a Prada exclusive experience including an invitation to the Prada Menswear Fall/Winter 2023 fashion show on January 15. More details will be shared on the Prada Crypted Community on Discord.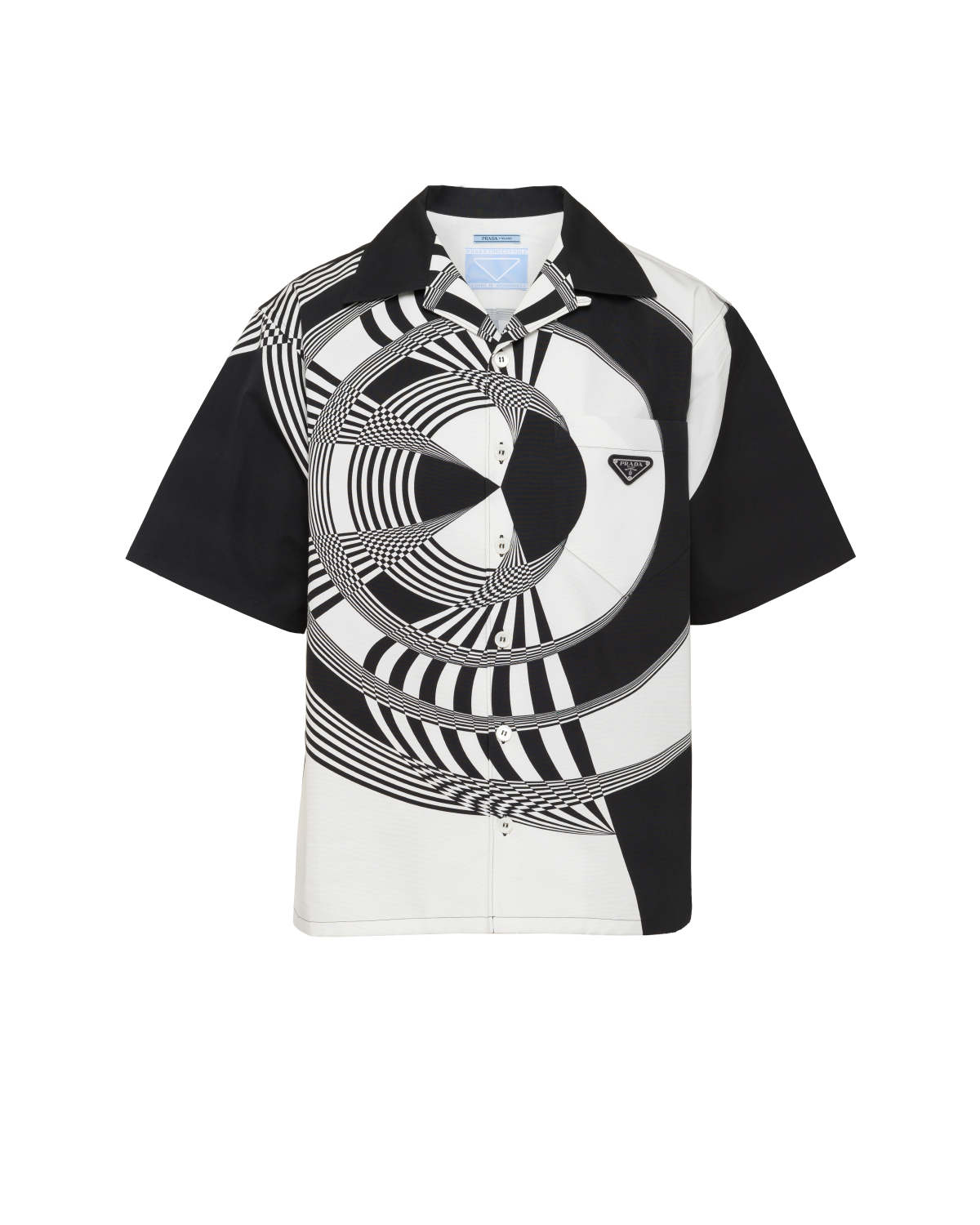 Details:
The Prada Timecapsule drop is open to customers in Australia, Austria, Belgium, Brazil, Bulgaria, Canada, China Mainland, Cyprus, Croatia, Czech Republic, Denmark, Finland, France, Germany, Greece, Hong Kong S.A.R., Hungary, Ireland, Italy, Japan, Luxemburg, Monaco, Netherlands, New Zealand, Latvia, Lithuania, Malta, Norway, Poland, Portugal, Republic of Estonia, Republic of Korea, Romanian, Singapore, Slovakia, Slovenia, Spain, Sweden, Switzerland, Taiwan (China), Turkey, United Arab Emirates, United Kingdom, United States for 24 hours only, starting from January 5th, 2023 at 3pm CET.
Each drop is limited to 50 items.
To be eligible, you must:
All information on the RSVP process is shared with community members on the Prada Discord Channel and you must:
- Hold a Prada Timecapsule NFT in your wallet (purchased from Prada directly or secondary market)
- Be part of the Prada Crypted discord
- Be verified as a holder via and have the green tick to prove verification in the Prada Crypted Discord
www.prada.com/prada-crypted
www.discord.gg/prada
About Enzo Ragazzini

Enzo Ragazzini was born in Rome in 1934. From the end of the nineteen fifties he began an intense photographic activity also working on optical and graphic experiments then unpublished, expanding his research in the field of visual perception and optical phenomena. He participated in the first photographic exhibition held in 1969 at the Institute of Contemporary Arts in London (ICA) entitled Four Photographers in Contrast, with Don McCullin, Tony Ray Jones and photographer Dorothy Bohm. He made one of the first covers of the English magazine "Time Out". He also holds a solo exhibition at the Modern Art Museum in Oxford on his optical research in the darkroom. In 2001 he held a personal exhibition at the Municipal Gallery of Modern and Contemporary Art in Rome (GCAMC today MACRO) entitled Luci Rosse. He currently collaborates with the University of California on publications about socio-anthropological research.
About Prada Timecapsule NFT

The Timecapsule drop is an online monthly event that takes place on the first Thursday of every month. Limited quantities of the Timecapsule Collection products are made available for 24 hours. Each limited-edition Timecapsule item has its own unique serial number and is prepared for delivery with custom packaging. By purchasing the Timecapsule, customers will be able to redeem the related NFT. With this process, Prada maintains consistency and harmony between the exclusivity of the Prada Timecapsule and the rarity of the corresponding NFTs. Each NFT includes the drop serial number and the serial number for its accompanying physical item, so there is a direct relationship between the physical and virtual products. NFT owners are eligible to participate in exclusive benefits and experiences, as well as gain priority access to future drops. Prada Timecapsule NFTs are issued on Ethereum infrastructure, offering a secure and user-friendly experience. The Aura Blockchain Consortium provides the underlying NFT solutions and technology.
---