---
Maison Kitsuné Presents Third Part Of Its Spring-Summer 2023 Campaign: Destination Paris
Luxferity, 14.04.2023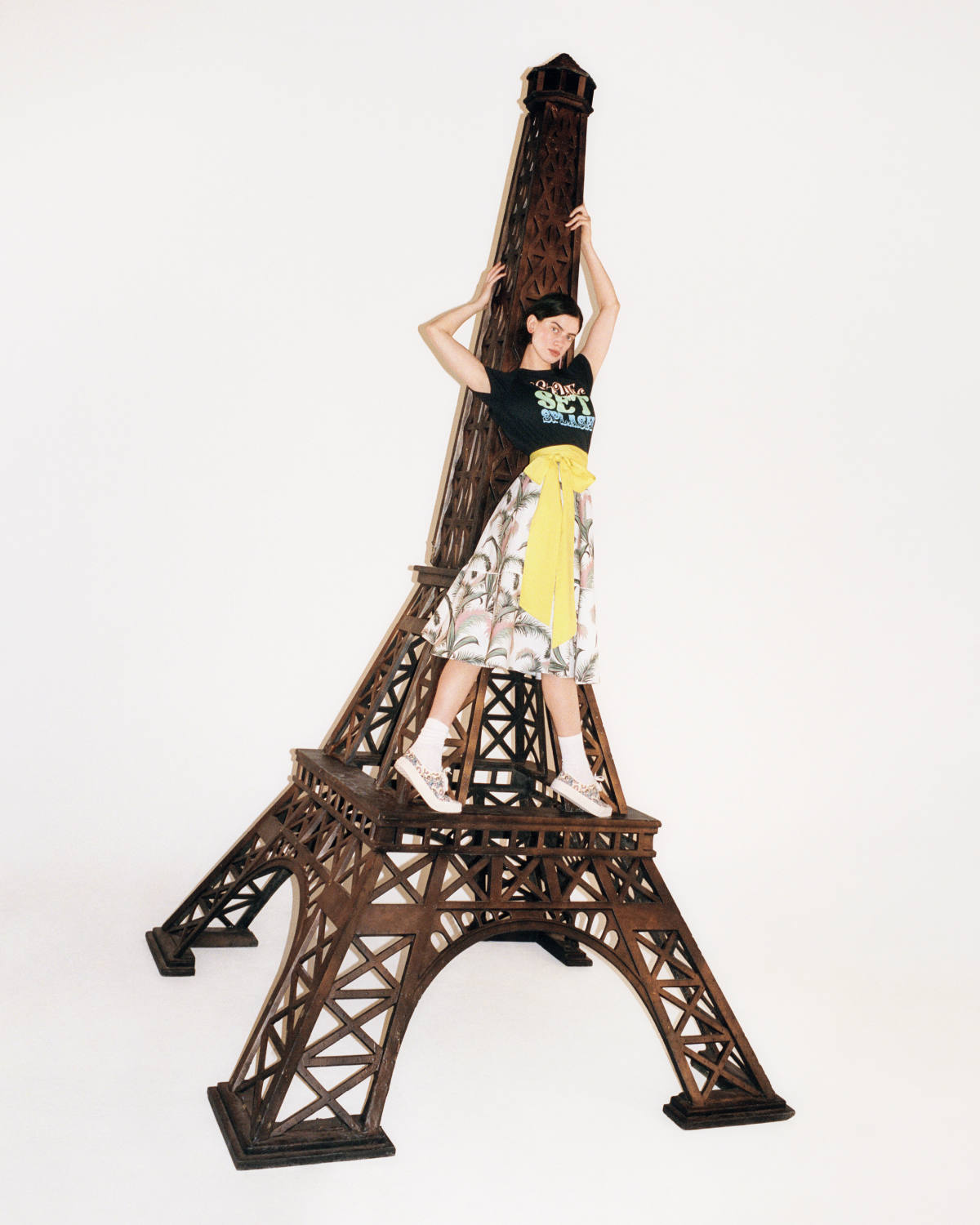 For Spring-Summer 2023, Maison Kitsuné presents a campaign in three parts – an immersive adventure through their universe, stopping in three destinations: an otherworldly utopia, a fantastical outdoors, and an imagined cityscape.

From January to April, follow Maison Kitsuné in its exploration of everywhere, liberated from the confines of reality: a world which deserves to be discovered, and which showcases the irreverent ease, optimistic outlook and utilitarian practicality which define the brand.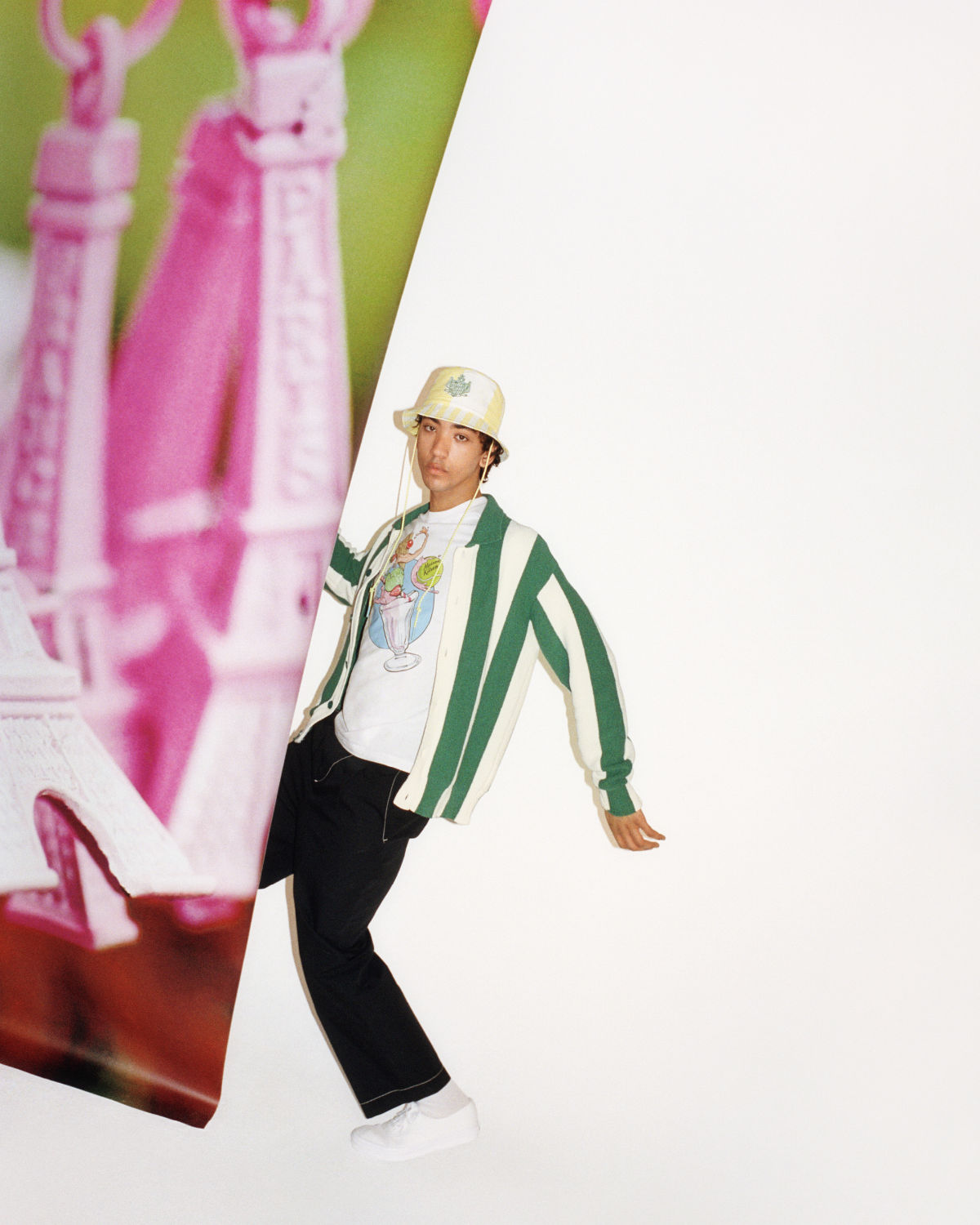 The clothing proudly resides in each destination: amongst the outsized cacti of a rainbow-tiled meadow; the clifftops of a great outdoors; the centre of a city. In each space, the collection expresses a different part of its personality – from the playful sensibility expressed in a hedonistic utopia, to an adventurous pragmatism suited to a natural vista.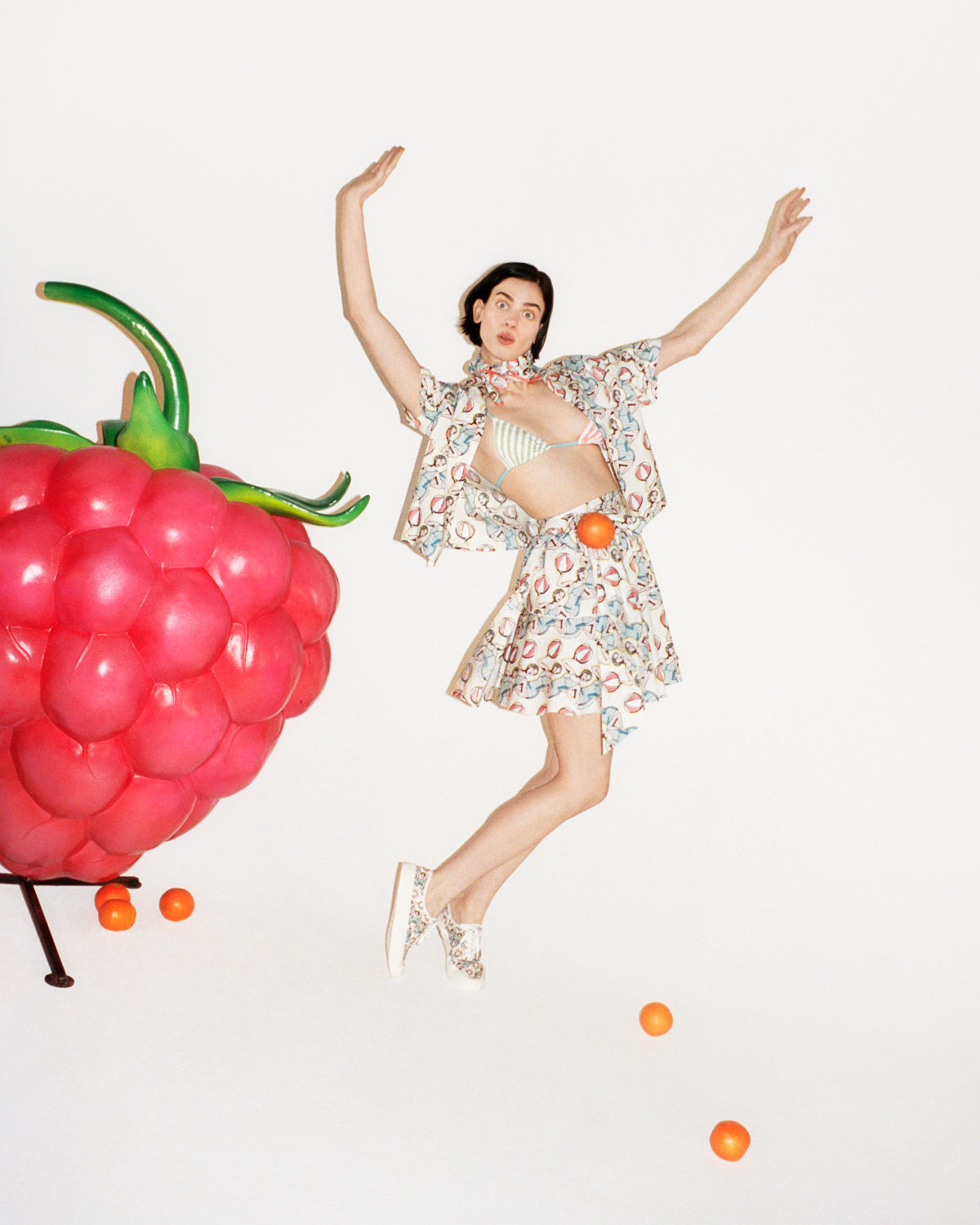 This is a poetic celebration of escapism and exploration, from the country to the city – and the places in between. A brand defined by its consistent curiosity about the world, and its ability to adapt to every environment, Maison Kitsuné finds its home everywhere.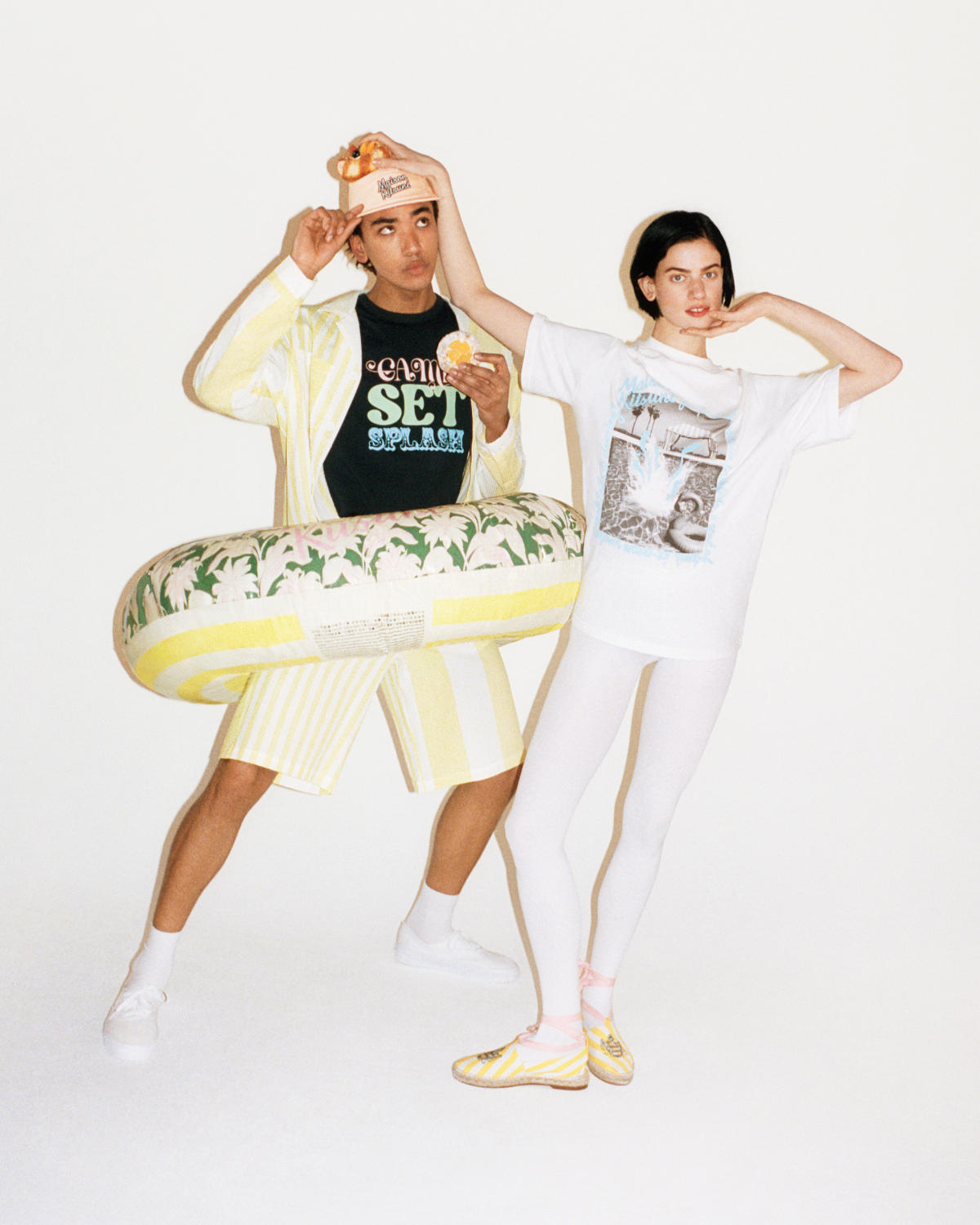 This April, discover the third and final stop of the Maison Kitsuné journey. Destination: Paris
'SWEET SOUVENIRS' - A STORY BY MAISON KITSUNÉ AND HOTEL OLYMPIA
For the final stop on its Spring-Summer 2023 exploration of everywhere, Maison Kitsuné arrives in Paris. Suspended within an irreverent surreality, the brand presents 'Sweet Souvenirs', a story by Maison Kitsuné and Hotel Olympia. Through a playful exploration of Parisian clichés photographed by Anton Gottlob – candy-coloured poodles and supersized macarons offer the cues for a collection which subverts notions of vacation kitsch.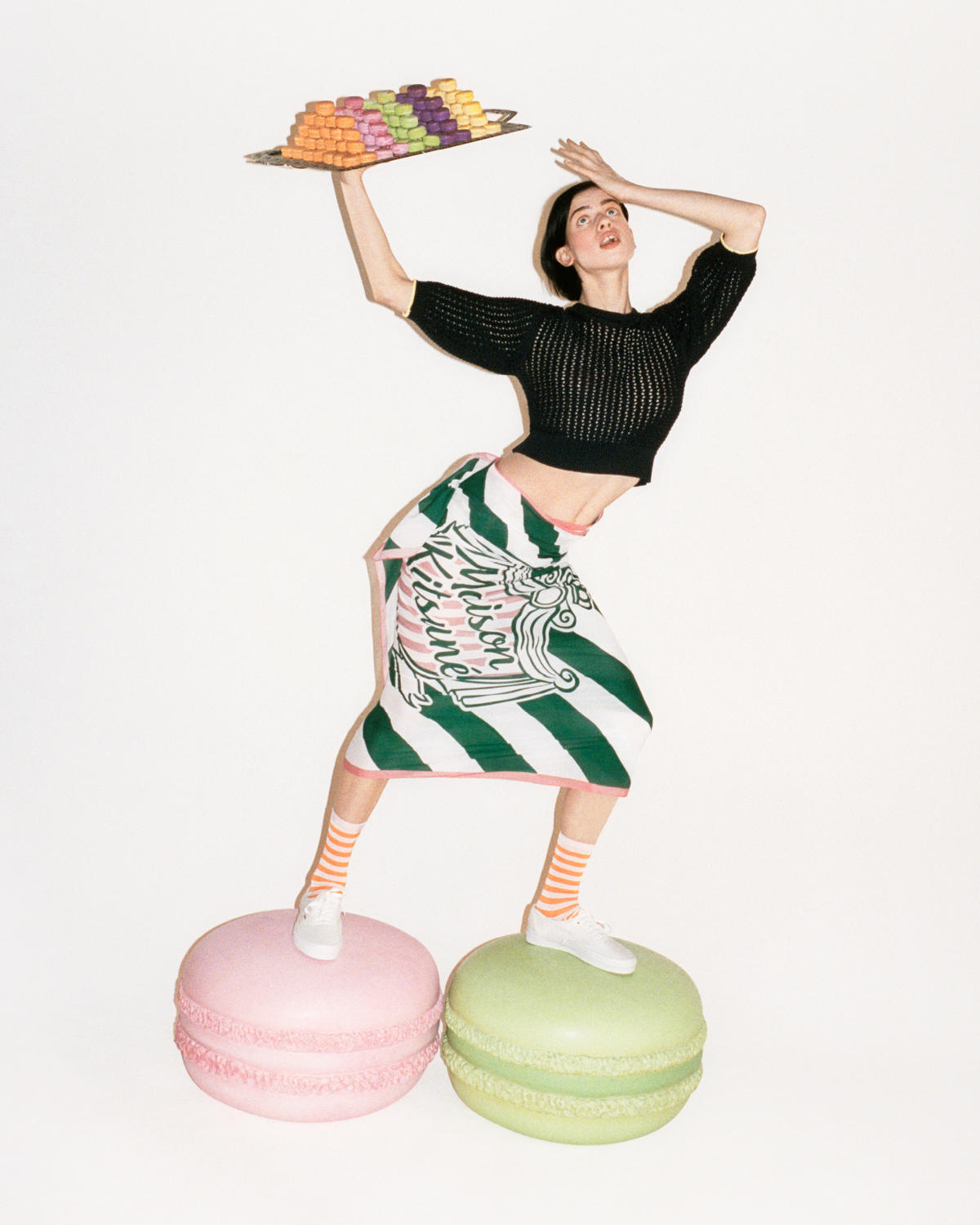 The trademarks of tourism are translated into a complete summer wardrobe with a tongue-in-cheek energy: crests that evoke hotel slippers now embroidered onto espadrilles; souvenir T-shirts illustrated with ice cream sundaes and postcard collages. Poolside prints are transposed onto resort shirting, knitted two-pieces and seersucker tunic dresses; the vintage iconography of palm fronds and synchronised swimmers presenting a playful twist on tradition.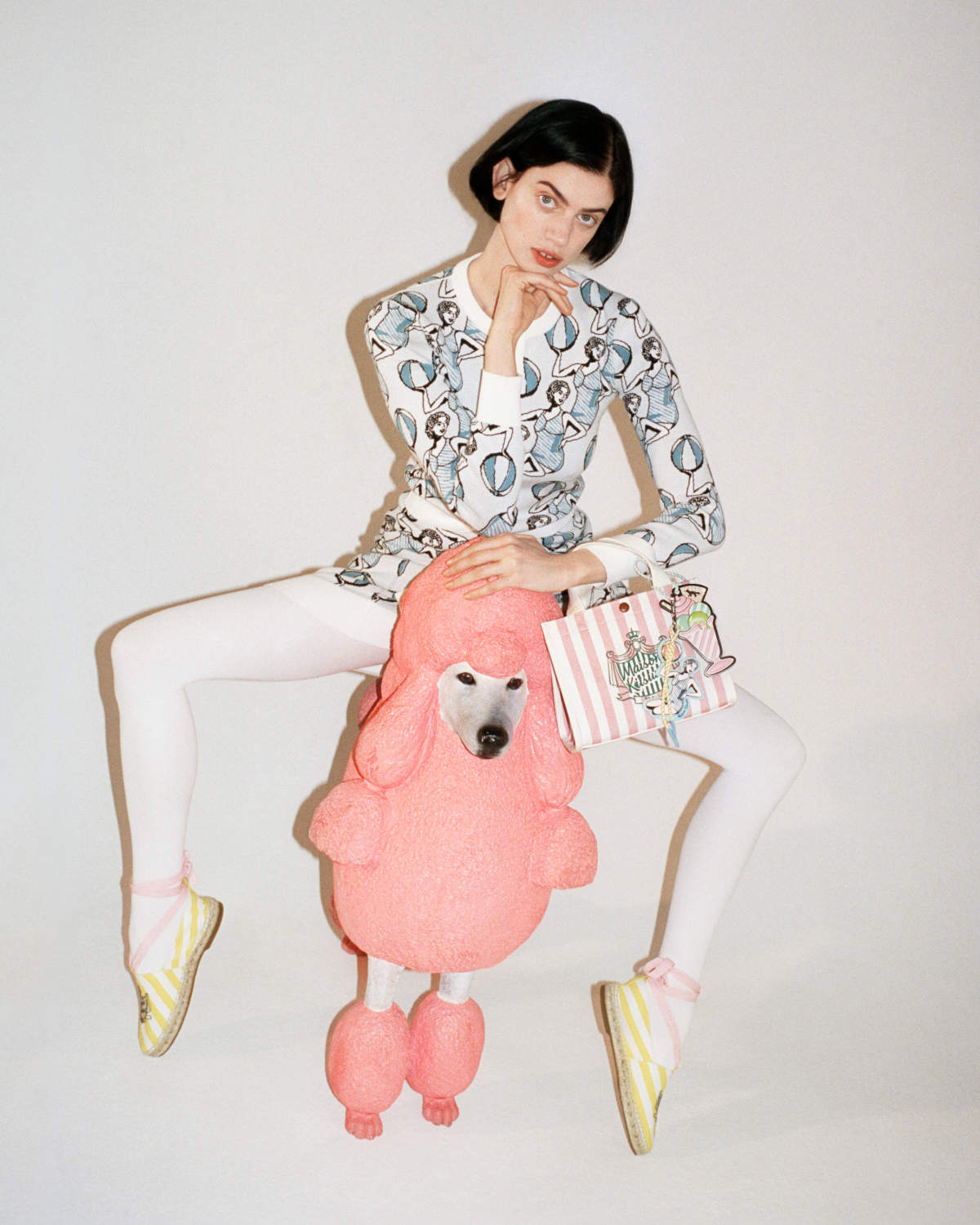 The sweet, sorbet palette of summer is interspersed with the colour codes of preppy sports clubs – saccharine spirit offered a polished edge. Equally, Maison Kitsuné's signature, streetwear ease remains omnipresent through the collection's relaxed fits and nods to utilitarian aesthetics: a patchwork overshirt imbued with insouciant cool; a workwear jacket or zipped sweater offering protection from an evening breeze. A packable tote and towel in a cabana stripe presents a profoundly practical essential, branded with the new Maison Kitsuné crest; an array of accessories – from baseball caps to keyrings – offer the perfect summertime souvenirs.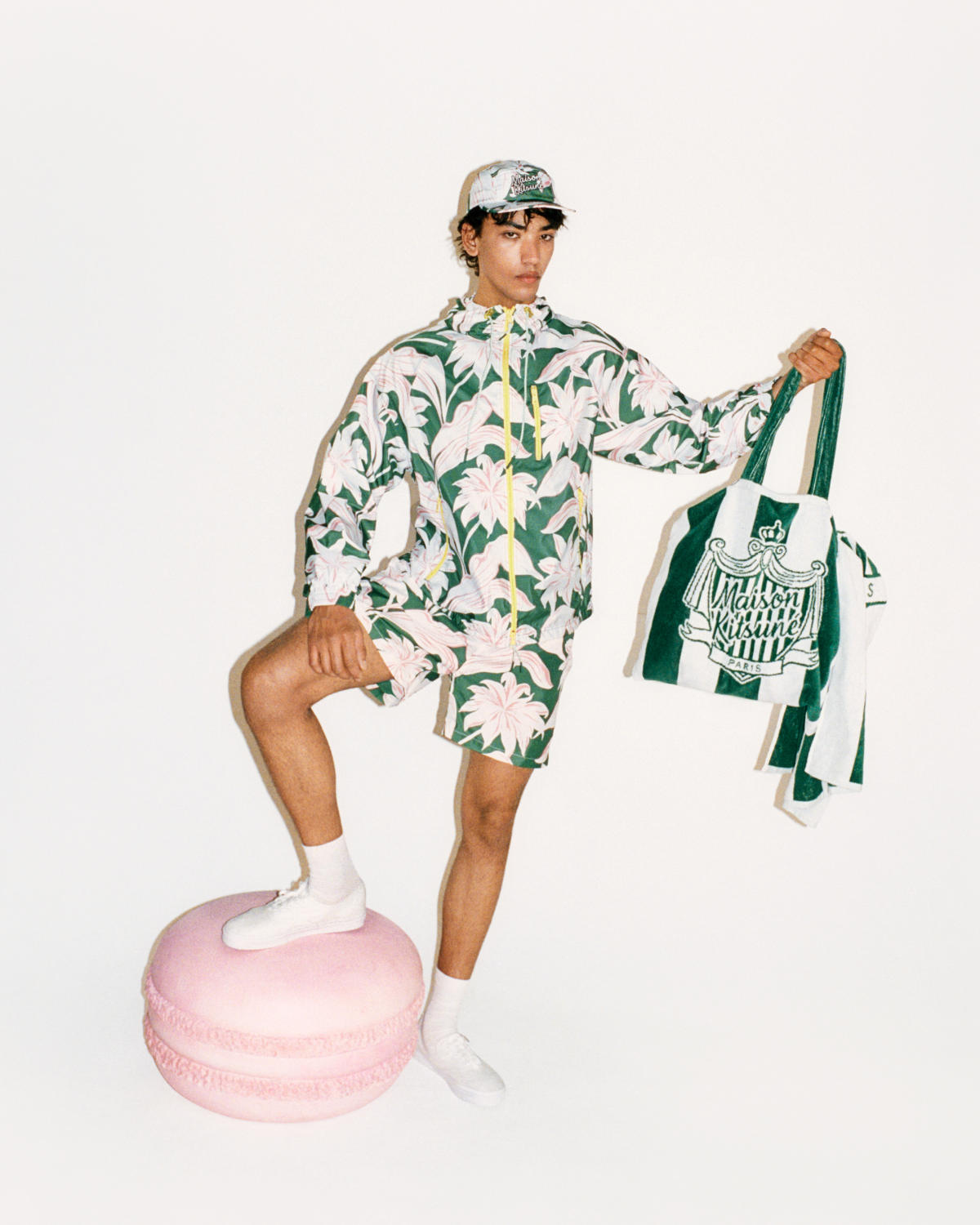 This is a distillation of luscious nonchalance: a collection by Maison Kitsuné and Hotel Olympia which sets the tone for a cool and carefree summer in the city.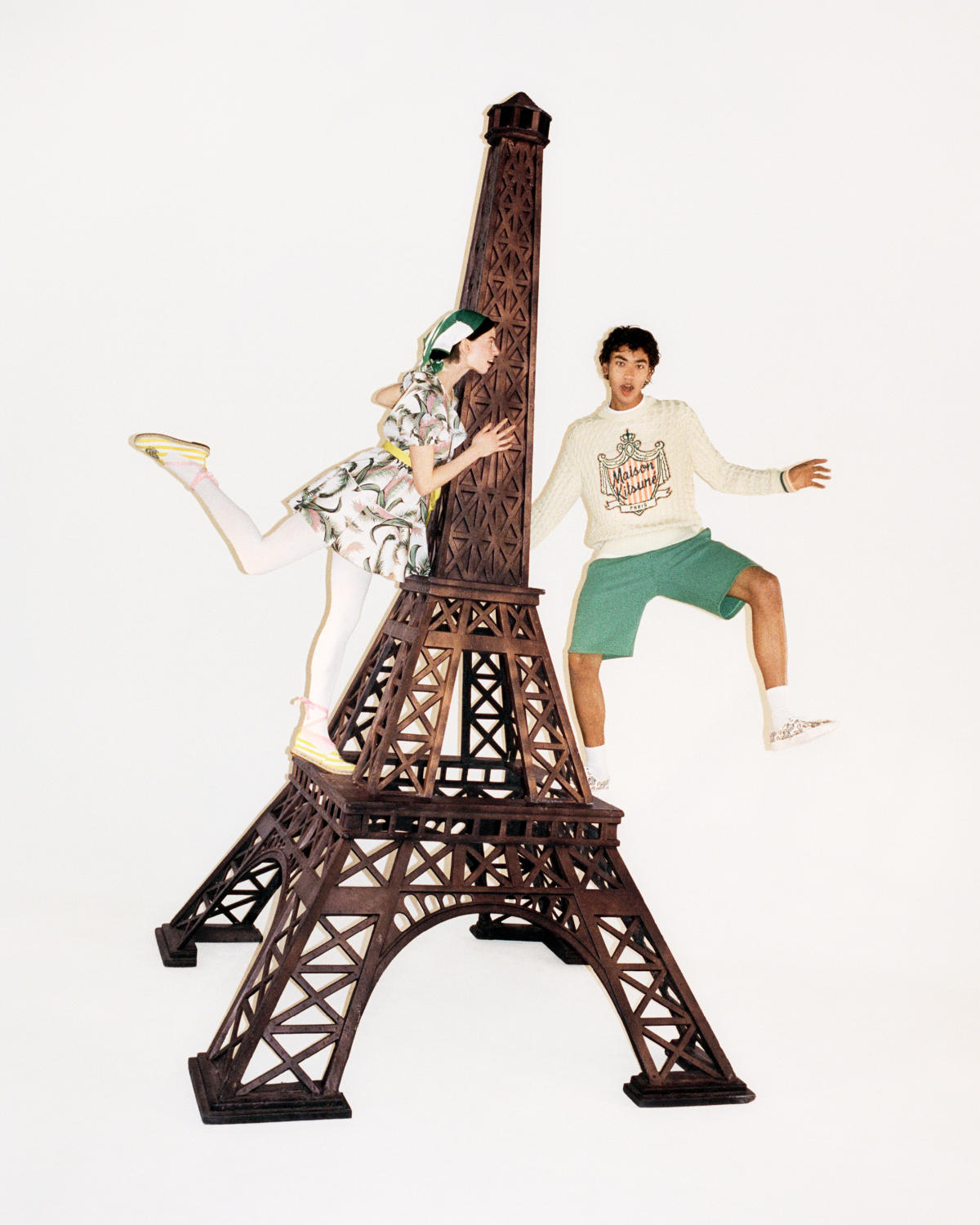 'Sweet Souvenirs' by Maison Kitsuné and Hotel Olympia is available from April 12, 2023 in store and online at maisonkitsune.com
ABOUT KITSUNÉ
Created in 2002 by Gildas Loaëc and Masaya Kuroki, Kitsuné offers a unique, inspirational Art de Vivre blending a fashion brand (Maison Kitsuné), music label (Kitsuné Musique) and cafés, roasteries, bars and restaurants (Café Kitsuné). Over the last twenty one years, the multi-faceted Parismeets- Tokyo brand has consistently grown and increased its international influence organically, building a loyal fan base all over the world.
Independent Paris fashion house Maison Kitsuné draws its inspiration from the thread between Paris and Tokyo, offering a wardrobe that subtly blends sharp tailoring, distinct streetwear influences, playfulness and wearable, comfort-focused designs. Since inception, Maison Kitsuné has grown its network of directly owned and operated stores to 45 locations across the world including Paris, New York City, Tokyo, Seoul, Beijing, Los Angeles and Vancouver.The collection is also available online via the brand's e-commerce site, as well as in more than 400 points of sale worldwide.
Music label Kitsuné Musique's philosophy has always been about singling out the up-and coming talents about to break through in music. Over the years, Kitsuné Musique has become the first home of now unmissable artists such as Parcels,Two Door Cinema Club, Digitalism and more. If there is a Kitsuné sound, then it's an incredibly diverse one, led by the passion for talent scouting.
Specialty coffee retailer Café Kitsune pays tribute to the pleasure of enjoying a quality coffee in iconic locations. Created in 2013, Café Kitsuné has grown to a network of 25 cafés across the world including Tokyo, Paris, Seoul, New York City, Beijing and Vancouver, achieving cult status amongst specialty coffee lovers around the world. In 2019, Café Kitsuné has also extended its activities to new business lines, adding roasteries, bars and restaurants to its range.
ABOUT HOTEL OLYMPIA
Hotel Olympia is not a hotel, at least not in this world. In a land of dreams, the Hotel Olympia appears as a cute pink dolls house, it's Alice in Wonderland meets Eloise at the Plaza, meets the sexy pin-ups of the 1950s. It's a place where your inner child sneaks around exploring every corner and where your current self sneaks into a room to get up to no good. If the walls could talk, they would have a lot to say...
After years of collecting bits and pieces from her favorite hotels around the world, designer Olympia Le-Tan wantedto create her own version of these precious souvenirs.
Who hasn't stashed a hotel towel or ashtray in their suitcase before check-out...?
Hotel Olympia captures the experience of this imaginary place through a collection of luxurious home goods, accessories, and a few pieces of clothing for the bedroom or the town. A colorful, cozy, and witty collection, covered in intricate embroideries, beautifully crafted by artisans around the world.
---