---
Brioni introduced its Spring/Summer 2023 campaign featuring House ambassadors Jude Law and Raff Law.

The new campaign portrays the father and son duo in the comfort of their familial relationship, taking pleasure in the time spent together. This emotional and intellectual bond is showcased through a series of intimate and casual images shot in Los Angeles by photographer Annemarieke van Drimmelen who captures precious moments of closeness, and the shared enjoyment of the simple moments in life.
The two actors wear hero pieces from the Spring/Summer 2023 collection, including timeless tailoring in pink and light blue, and leisurewear items suggesting a relaxed way with formality. Garments are soft and light, meant to move with the body and accompany gestures, looking naturally effortless.
The campaign marks the actors' third act for the House. The Law's premier campaign for Brioni documented the first time the two actors shared a stage, offering unique insight into how the duo practice their art. In their second campaign, father and son were portrayed beyond the spotlight, in a celebration of their natural charisma and the House's masterful craftsmanship. The third chapter gives an even more intimate look into their world. This trilogy tells a story of human connection and craft, emphasising both the commitment to excellence and the power of authentic emotions.
Norbert Stumpfl, Brioni Design Director, says, 'This campaign captures the essence of father and son intimacy in a new light. We wanted to convey how much beauty can be found in cherishing time together, showing how Brioni can be part of your life elevating each moment.'
Jude Law said, 'It has been a pleasure to continue our relationship with Brioni. I loved the collection and the pieces we had the opportunity to wear. I particularly enjoyed capturing those moments with Raff and again with Annemarieke.'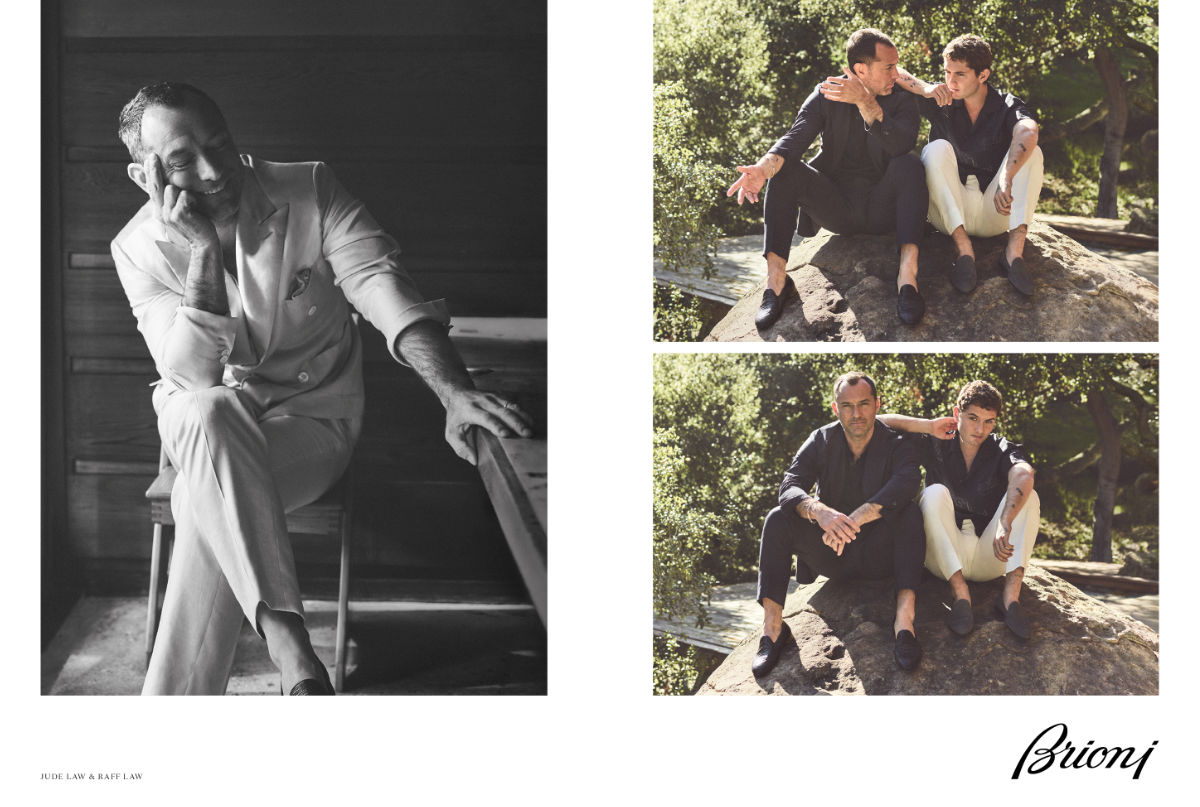 Raff Law added, 'I have thoroughly enjoyed being part of Brioni's vision for these three seasons. It has been such an interesting experience exploring the personal side of our relationship on camera, and we really do feel like part of the Brioni family.'
The campaign debuts today on business newspapers and supplements, digital media outlets as well as outdoor billboards in selected cities worldwide.
Photo Credit:
Annemarieke van Drimmelen
---