---
Boucheron Presents Its New High Jewelry Carte Blanche: Ailleurs
Luxferity, 26.08.2022
Invitation to a journey
Ailleurs – elsewhere – is where Claire Choisne and her Studio are taking us with this new collection. An "elsewhere" where everything becomes possible, without any borders, and where nature is in a raw state. From the deserts to the oceans, the mountains to the rainforests, Studio Boucheron has confronted and mixed together worlds and materials one could initially think are contradictory; where diamonds meet pebbles and burned wood, gold meets rattan and meteorite. In this "elsewhere" there is only one rule: to reveal the beauty and poetry of nature. In telling this story, Claire Choisne has imagined five different worlds, in which anyone can find a piece of themselves.
This is the essence of the collection.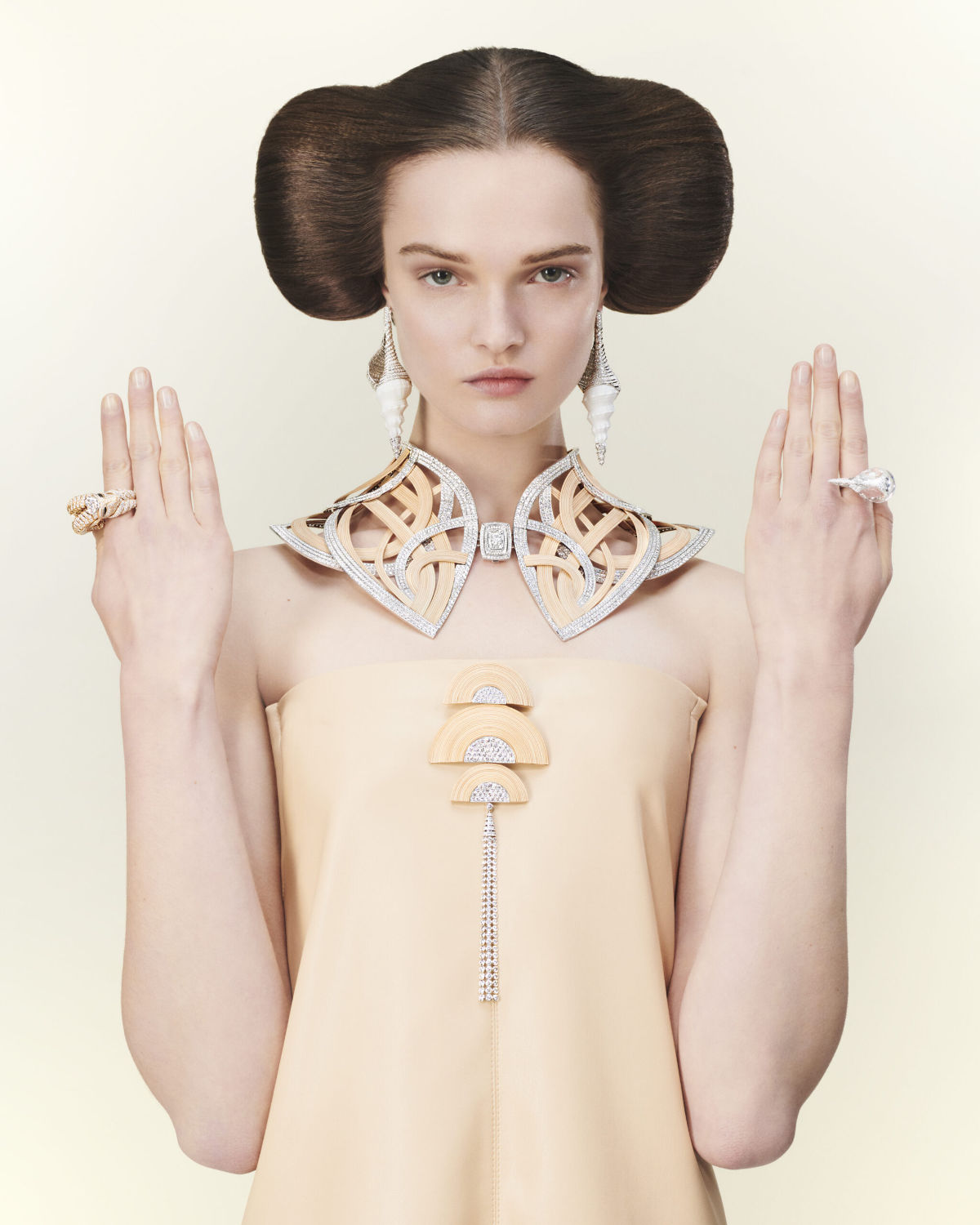 A palette of beige, sand, and blond illuminated by the sunlight as the warm wind sculpts a silhouette on the dunes: the sand woman set is an invitation to a dream-like desert, a vast space of harmonious curves, home to extraordinary animals. Here stones meet plants and precious materials meet rattan. on the rotin diamant (diamond rattan) necklace, the natural rattan fiber was humidified before being dried on a brass frame, then a golden rod was inserted in it to maintain its final shape. The high jewelry traditionally gives a suppleness to hard materials, such as metals and stones; here, the craft rigidifies a supple natural material, to create this spectacular association of rattan and diamonds.
An art deco style brooch that transforms into a necklace associates rattan with 379 brilliant-cut diamonds and gold – both yellow and rose. From this arid landscape, some imaginary animals emerge: a majestic gazelle ring, soft and powerful at the same time. The tenderness of her onyx eyes contrasts with the vigor of her horns, set with baguette diamonds. A 2.15 carat diamond shines proudly on her forehead.
The pie (magpie) ring was a challenge: hollowing out a rock crystal block, before inserting a white gold skull set with diamonds. Besides these imaginary animals, a pair of coquillage diamant (diamond shell) earrings completes the sand woman set. Natural shells were chosen and scanned to recreate their texture, curve and shape in gold and diamonds. The result blends natural shell with gold and diamonds, in an unprecedented manner, which questions the meaning of "precious".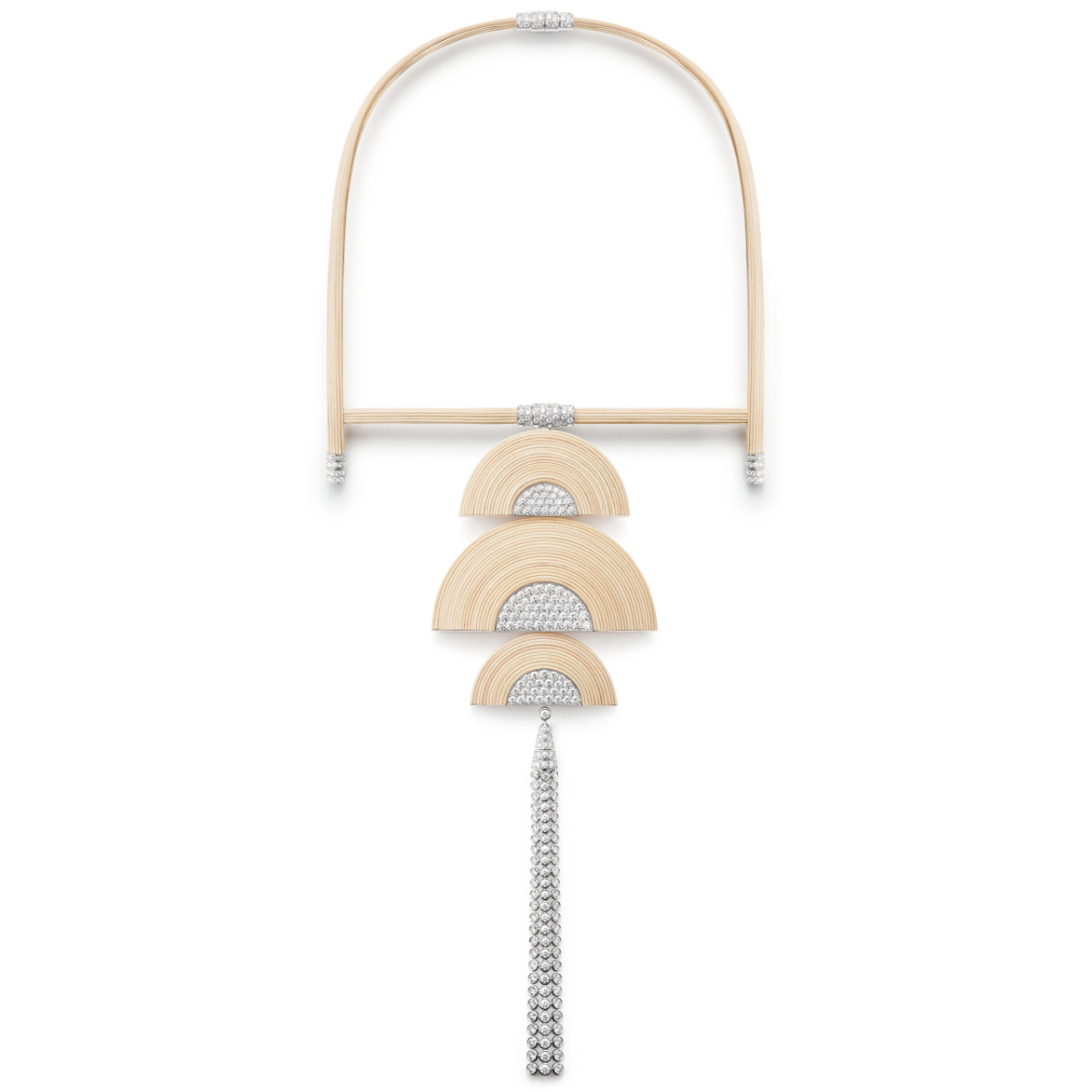 Rotin diamant necklace, paved with diamonds for a total weight of 17,14 ct in white and pink gold. Necklace in the tradition of multi-wear.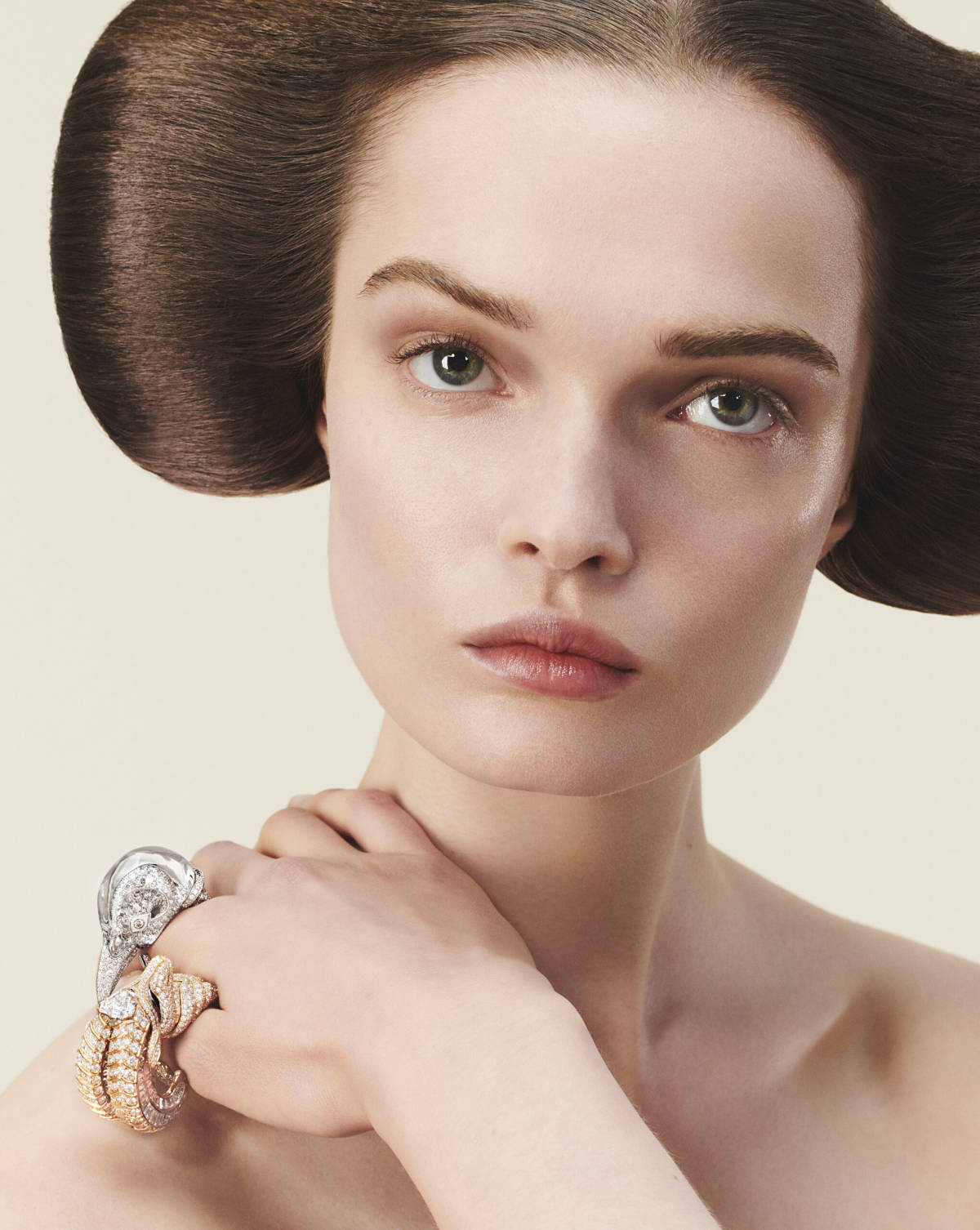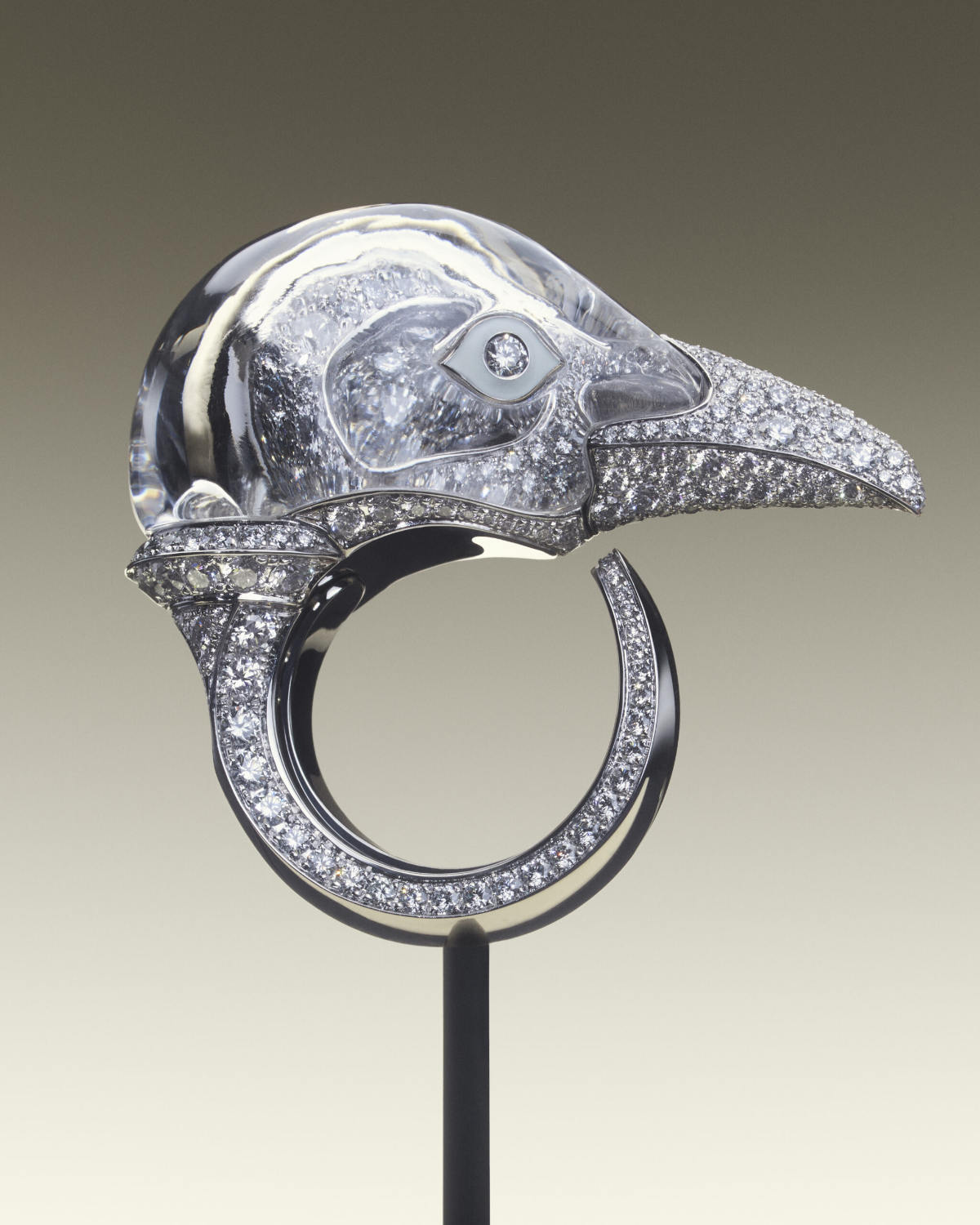 Pie ring paved with diamonds, white rock crystal and white lacquer in white gold.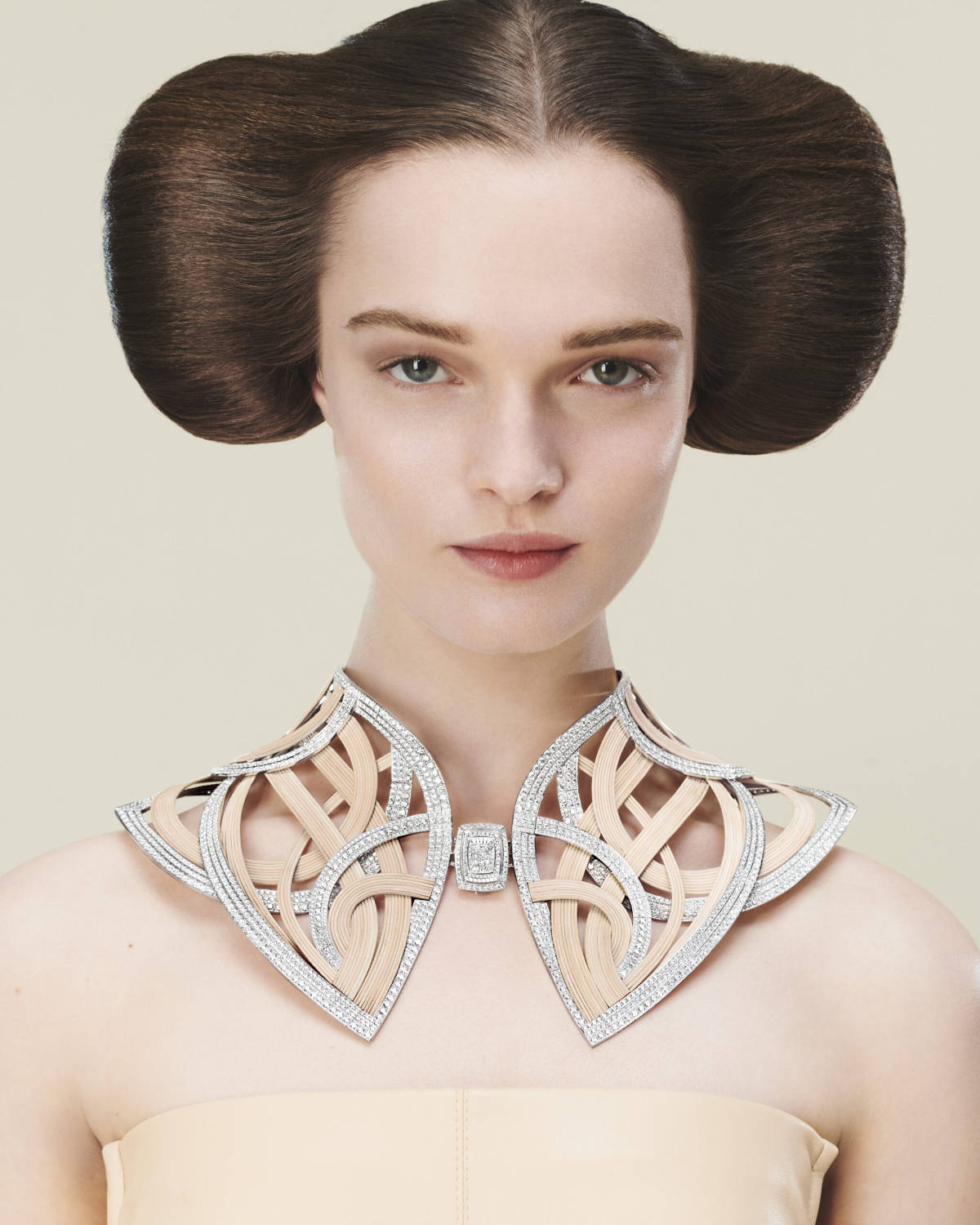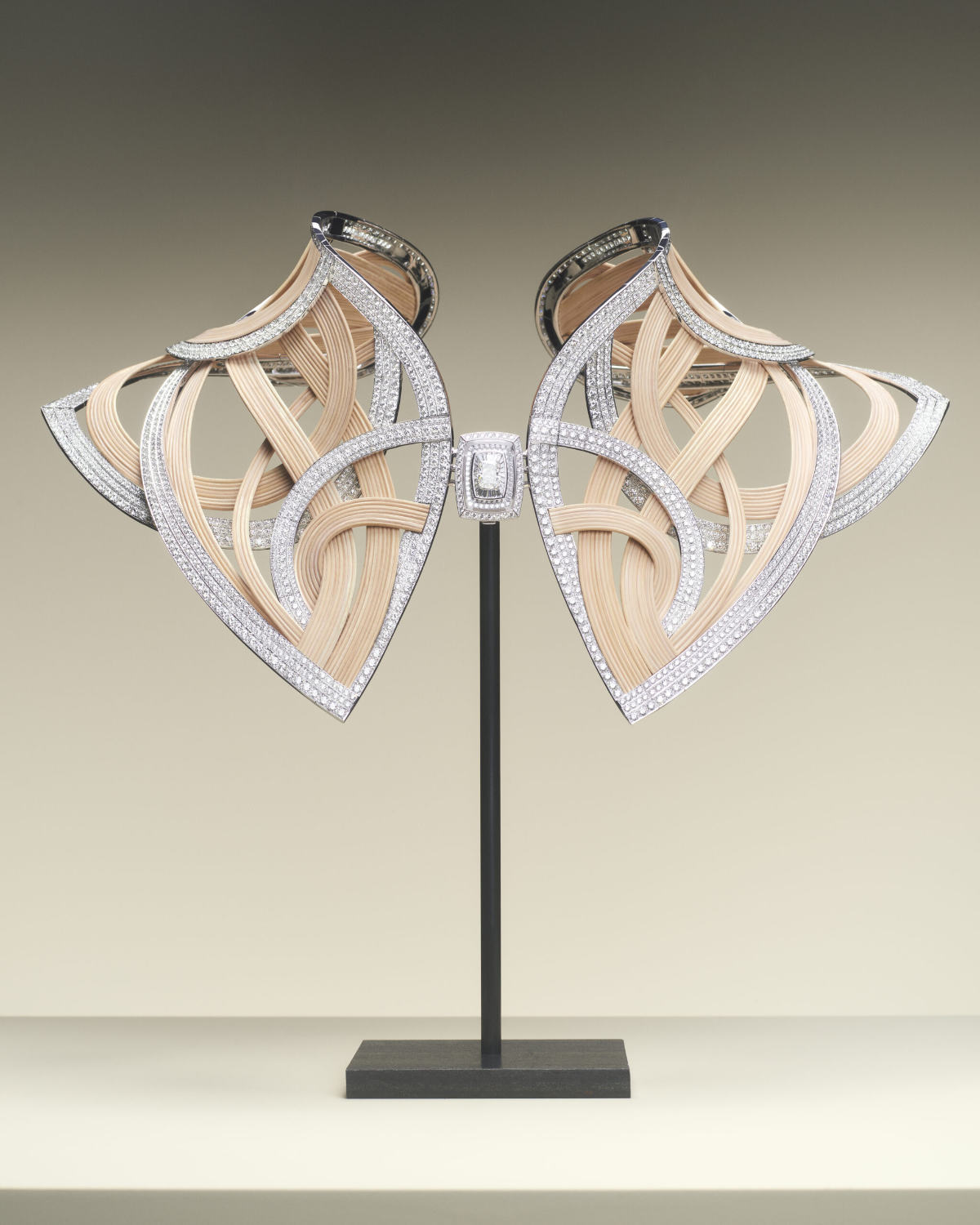 Rotin diamant necklace set with a cushion diamond of 2 ct, paved with diamonds in white and yellow gold.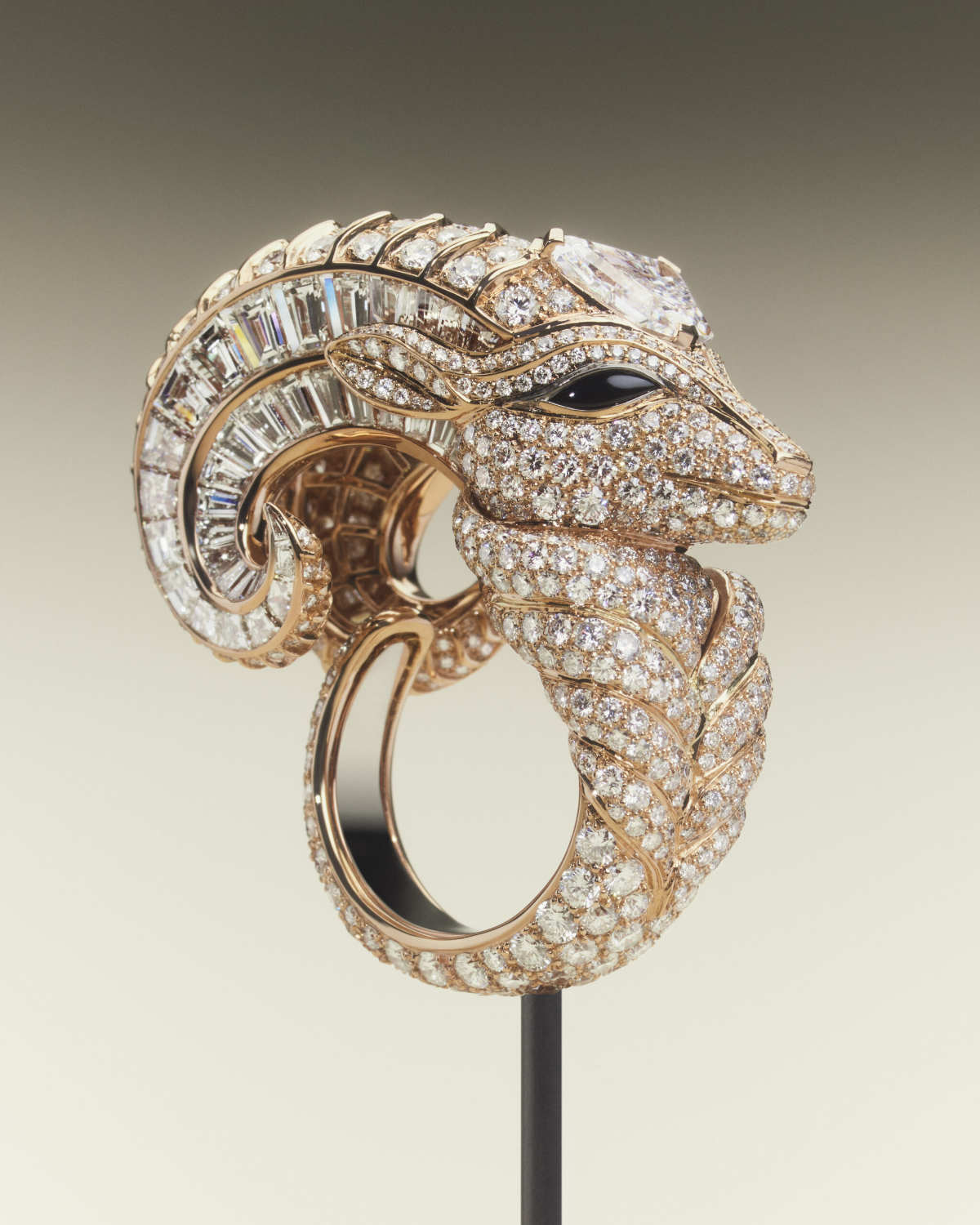 Gazelle ring set with a fancy cut diamond of 2.15 ct and onyx, paved with round and baguette diamonds in pink gold.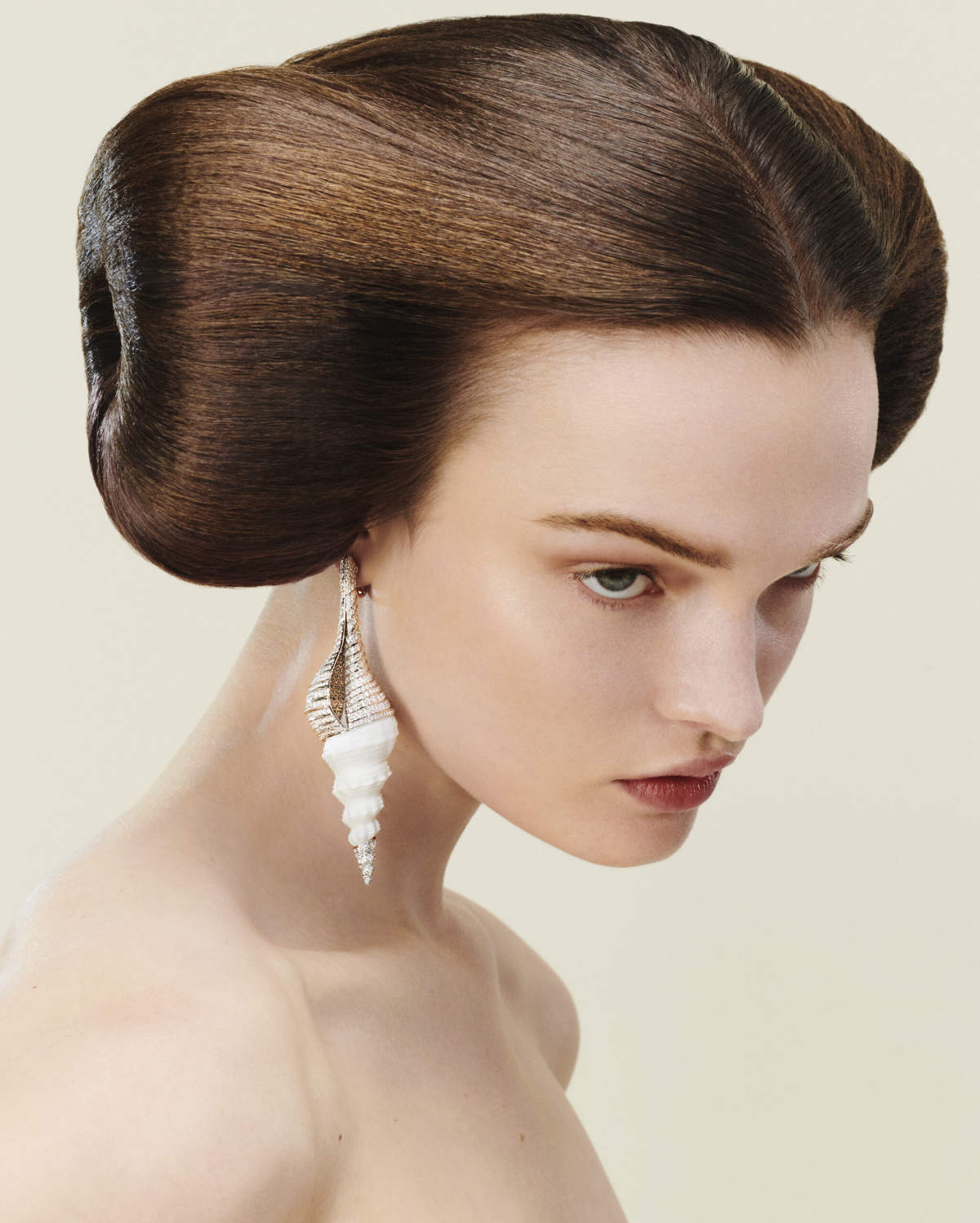 Coquillage diamant pendants earrings in naturel shell fusinus colus and mother-of-pearl, paved with diamonds in white gold.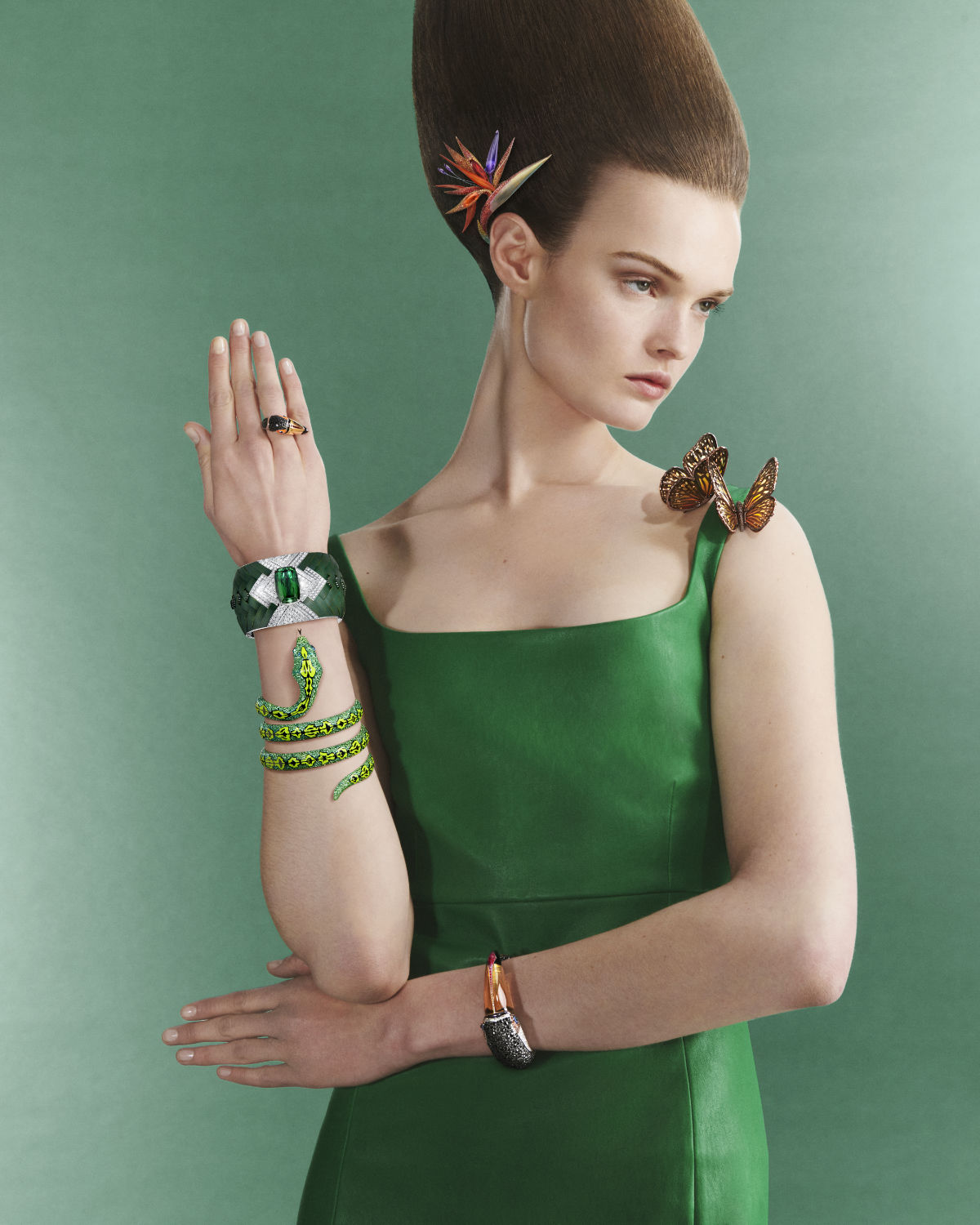 The atmosphere, in this second chapter, is saturated with vibrant tropical colors. The humidity beads down the skin, in a lush untouched rainforest: each piece in this set vibrates to the beat of a dreamy nature. The feuillage diamant (diamond leaf) cuff bracelet is adorned with a 37.97 carat green tourmaline. It plays with the appearance of a plant weaving. Made of aluminum, its intense green color comes from a cataphoresis treatment, which is highlighted by thin lines of diamonds giving it a look that is as imposing as this piece is light.
This featherweight effect also applies to a papillon (butterlfy) brooch made of lideopsis vulgaris butterfly wings, which have been treated to be long lasting before being scanned, to create the gold structure holding them – which reproduces their original curves.
The toucan bracelet displays a unique play of volumes and colors. Its powerful beak is sculpted from three distinct citrine blocks that perfectly interlock with one another, creating a gradation of colors. Its eyes made of onyx and blue titanium, on a background of white diamonds and black spinels, help to give the toucan his character.
The titanium serpent bracelet is adorned with a shining lime lacquer and tsavorites. The intricate meshwork gives it the suppleness of a snake. At its side, the fleur de paradis (flower of paradise) can be worn as a brooch or as a jeweled head piece. It is made of titanium and mimics the silky aspect of this tropical flower.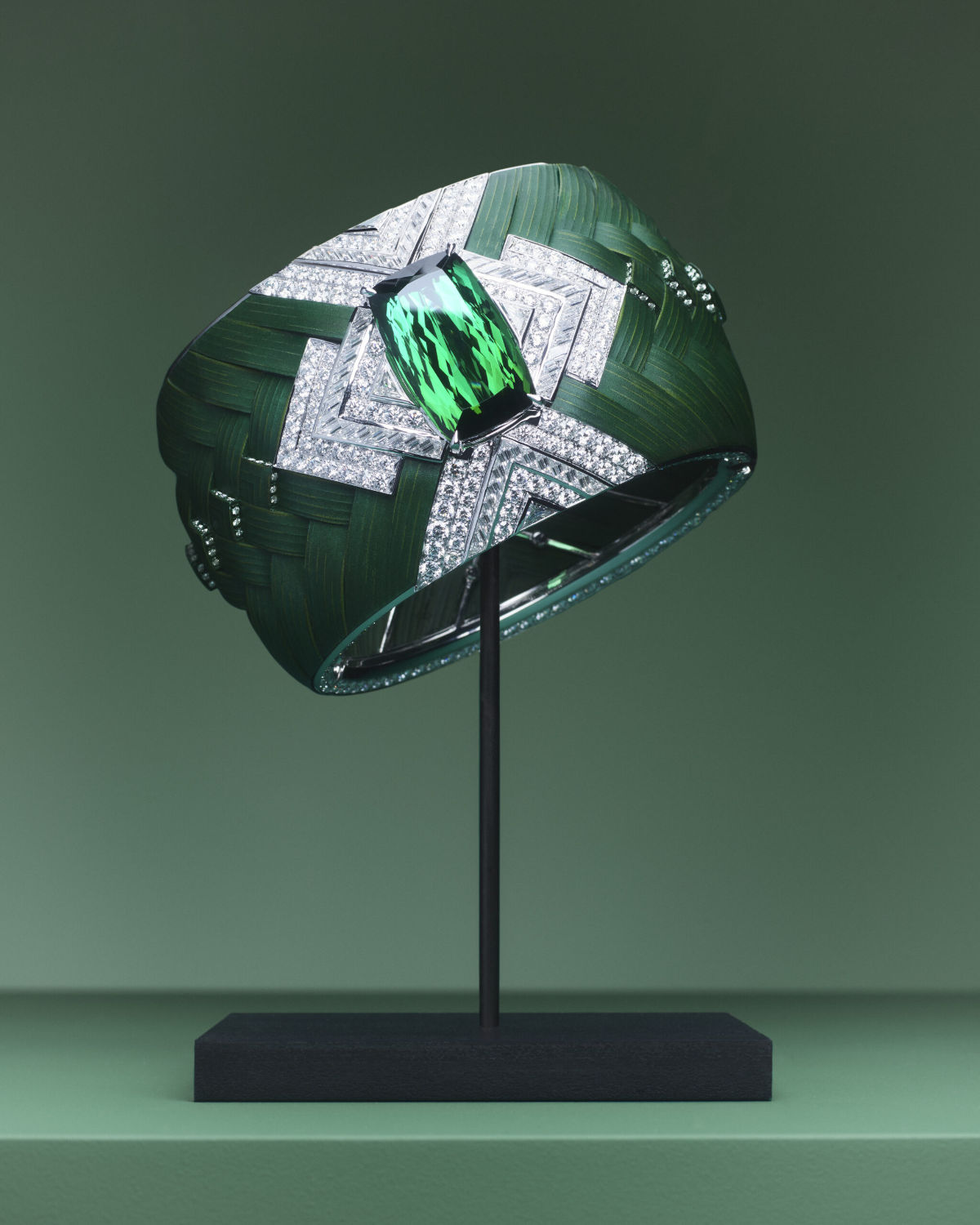 Feuillage diamant cuff set with a tourmaline of 37,67 ct, paved with baguette and fancy cut diamonds in aliminium and white gold.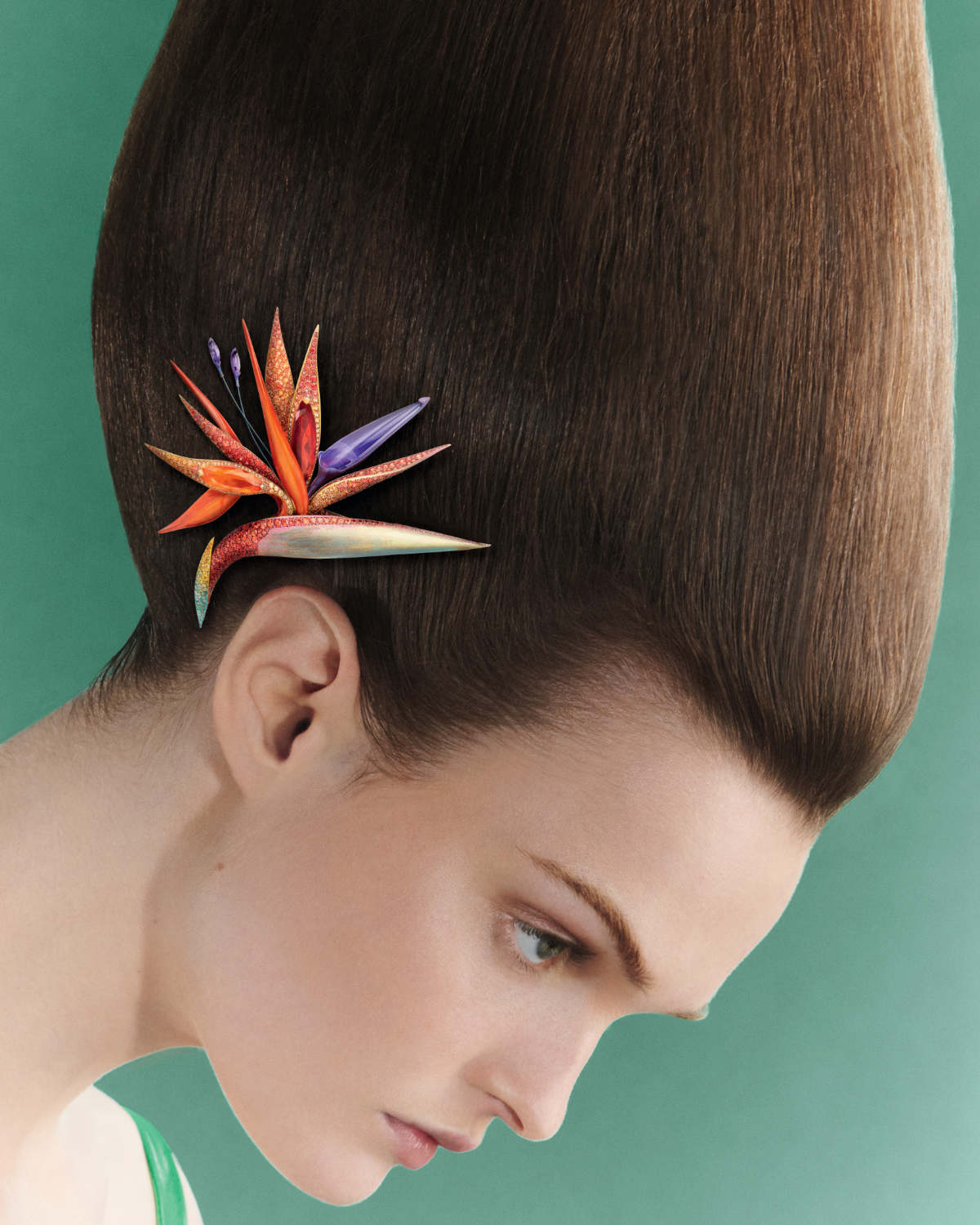 Fleur de paradis head jewel set with three amethysts, paved with yellow, orange sapphires and pink, violet stones, orange lacquer in titanium. Head jewel in the tradition of multi-wear.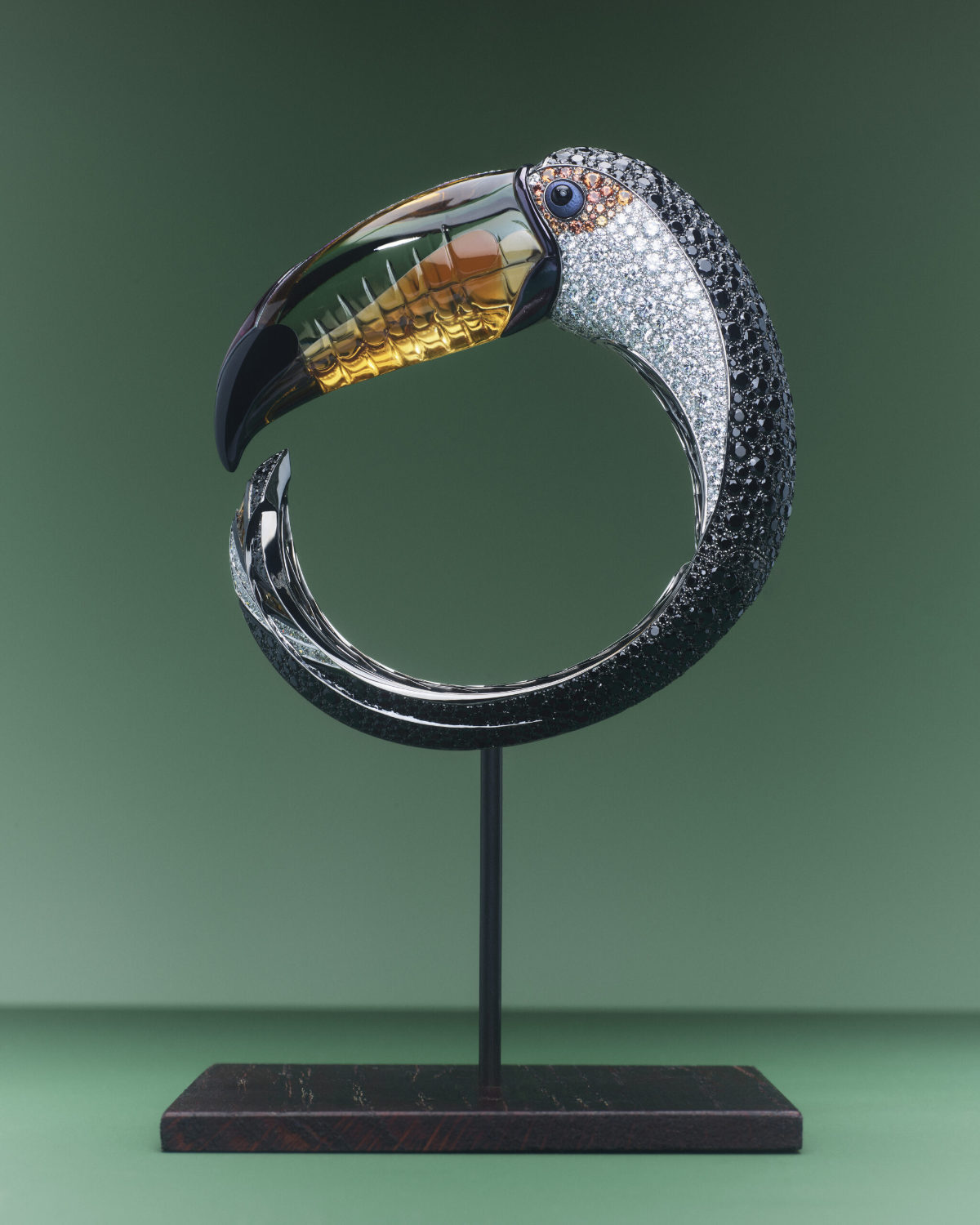 Toucan bracelet, set citrines and rubellites, paved with white and black spinels in titanium.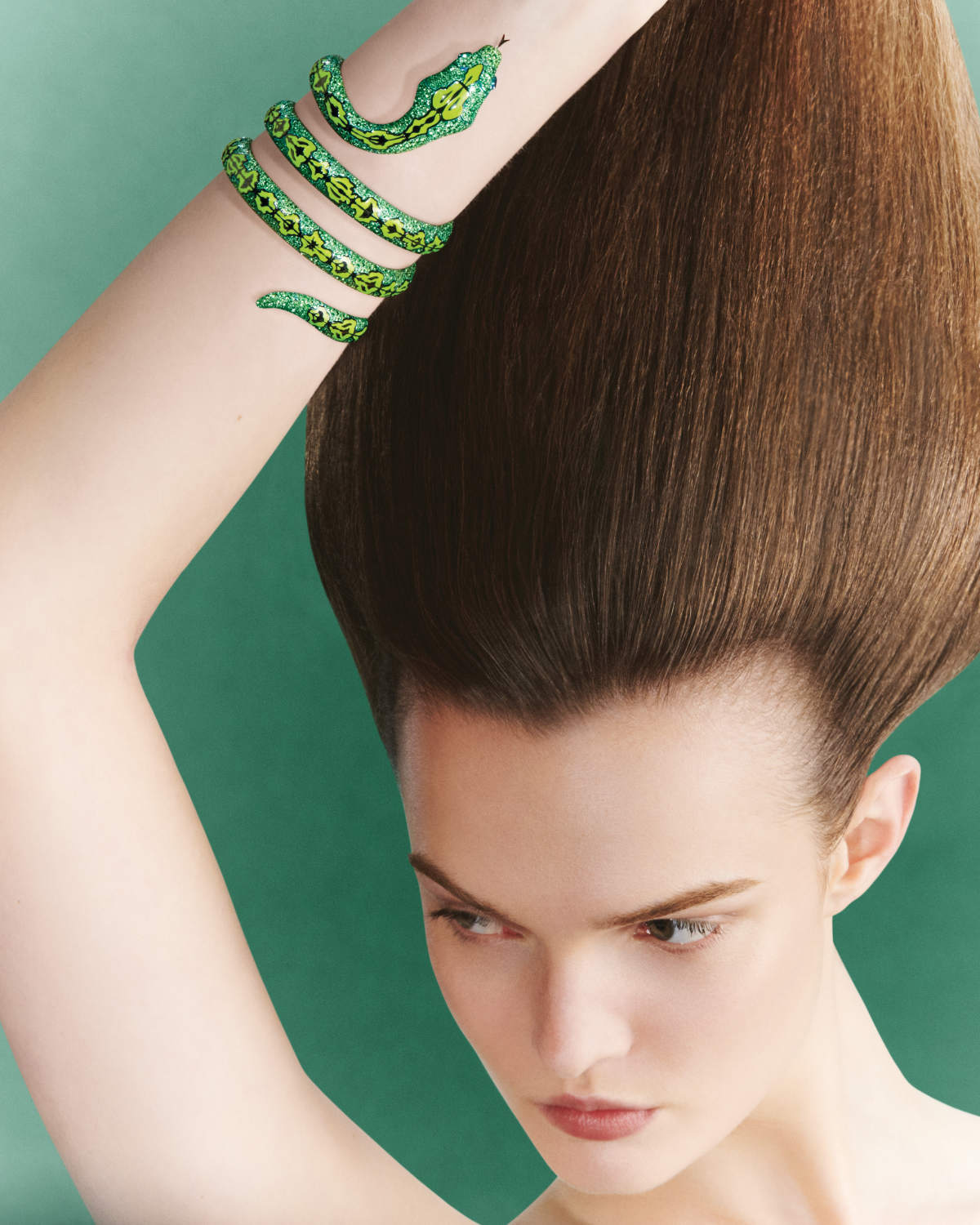 Serpent bracelet set with tsavorites and onyx, lacquer in titanium.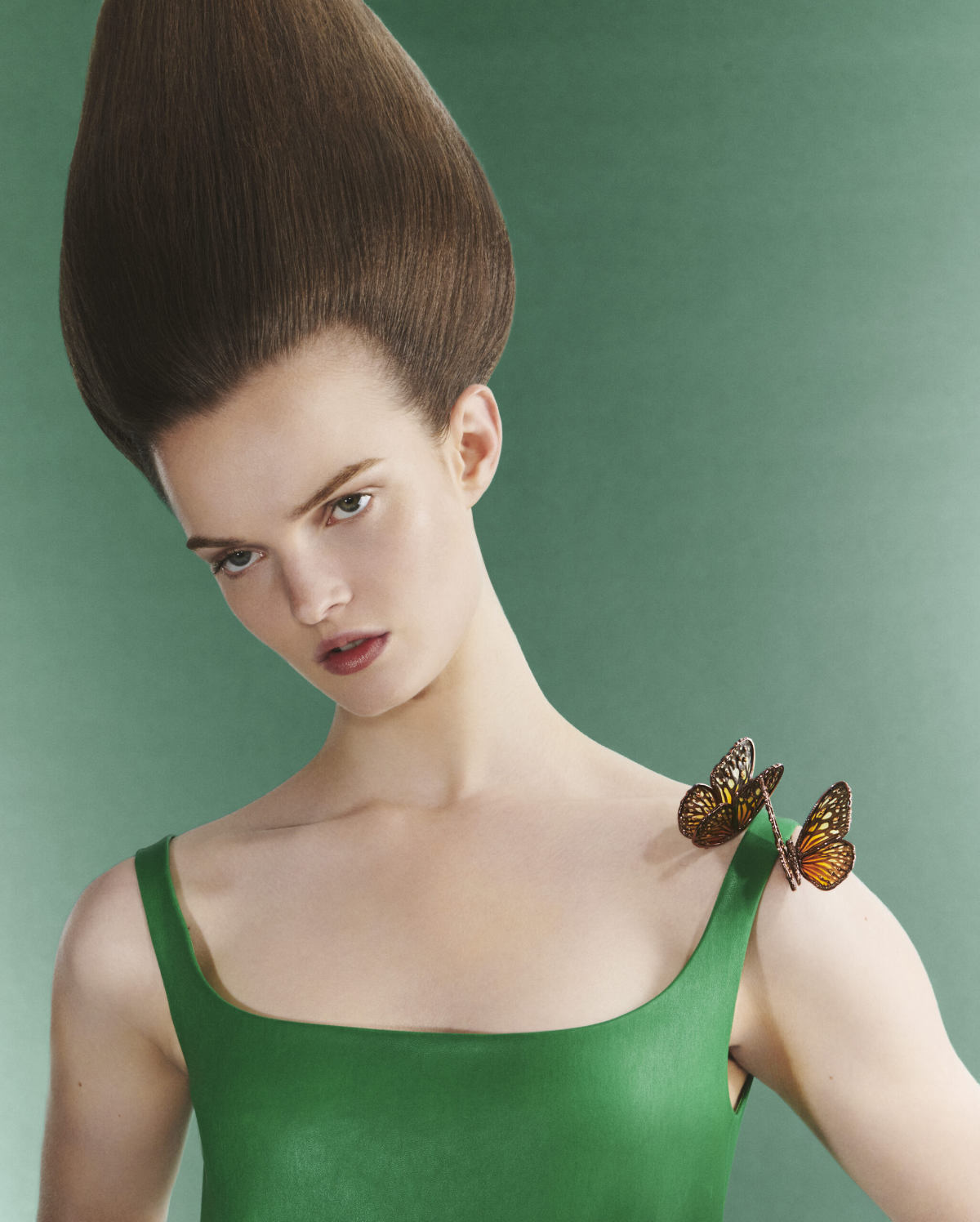 Papillon brooch in natural butterfly wings set with brown and yellow diamonds in titanium.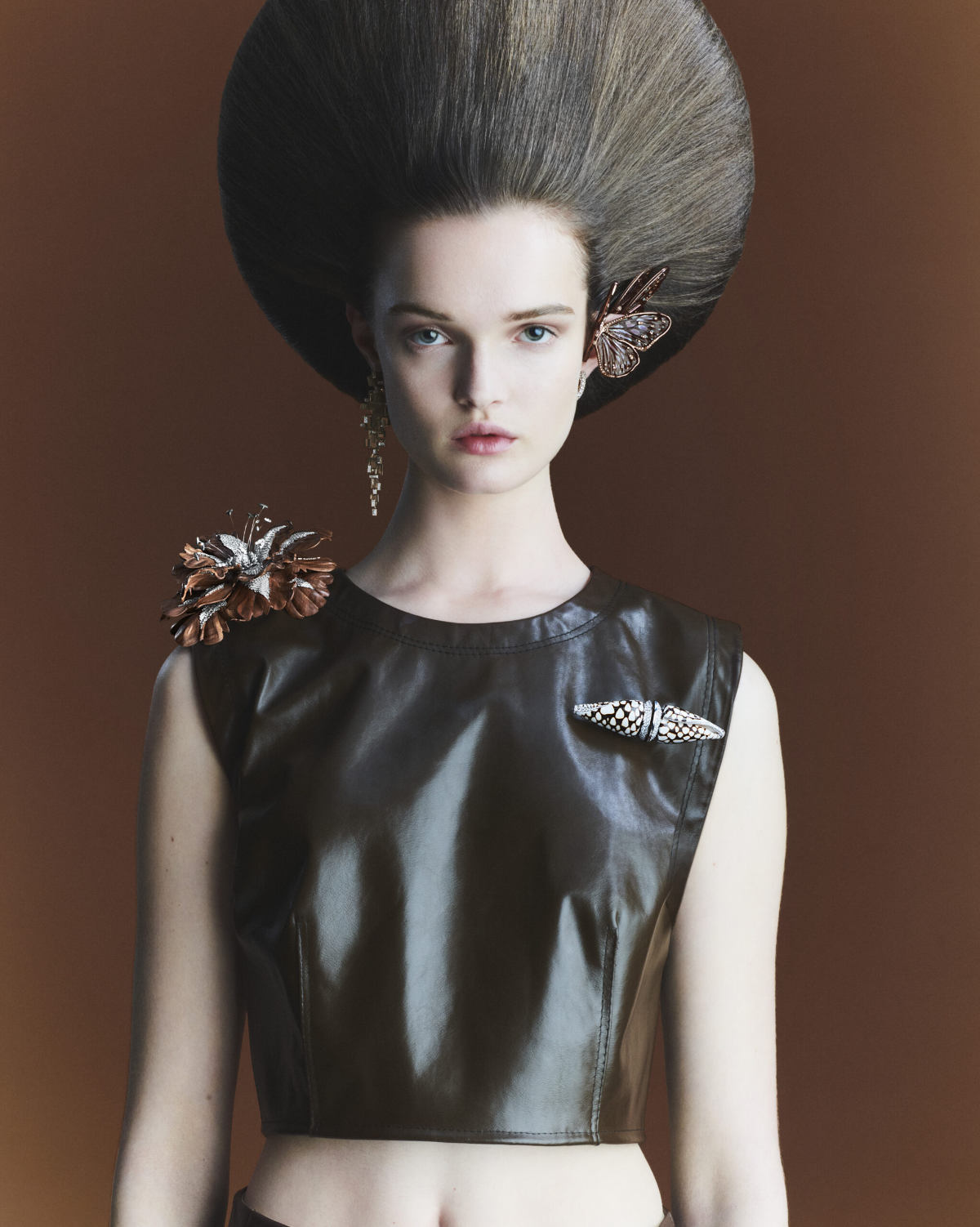 The solid, grounded earth woman invites us to celebrate the power of nature through a primal geology. The palette of ochre, brown and clay is associated here with organic shapes, both plant and animal. Let us start with the bois diamant (diamond wood) brooch, a magnetic shoulder brooch. Each petal of this imaginary flower has been scanned before being recreated in santos rosewood then set on an openwork gold structure. The titanium pistils vibrate delicately which each movement brought to the brooch, emphasizing the illusion of realism, while the chromatic palette questions the idea of nature.
The papillon diamant (diamond butterfly) single earring, delicately resting on the top of the ear, vibrates to the same beat as real beetle wings, while a pear-shaped diamond surrounds the earlobe.
Plunging into the heart of telluric forces, the cristaux (crystals) earrings multiply with cubic effects. Halfway between vintage design and scientific research on geometric crystallization, they are interpreted here in rose and white gold, smoky quartz and diamonds.
A large jack coquillage (shell jack) brooch, perfectly pairing two flecked conus marmoreus shells, echoes the emblematic boucheron jack design: their subtle beauty is celebrated through a gold and diamond line, underlining their contours, while rock crystal embellishes their ends.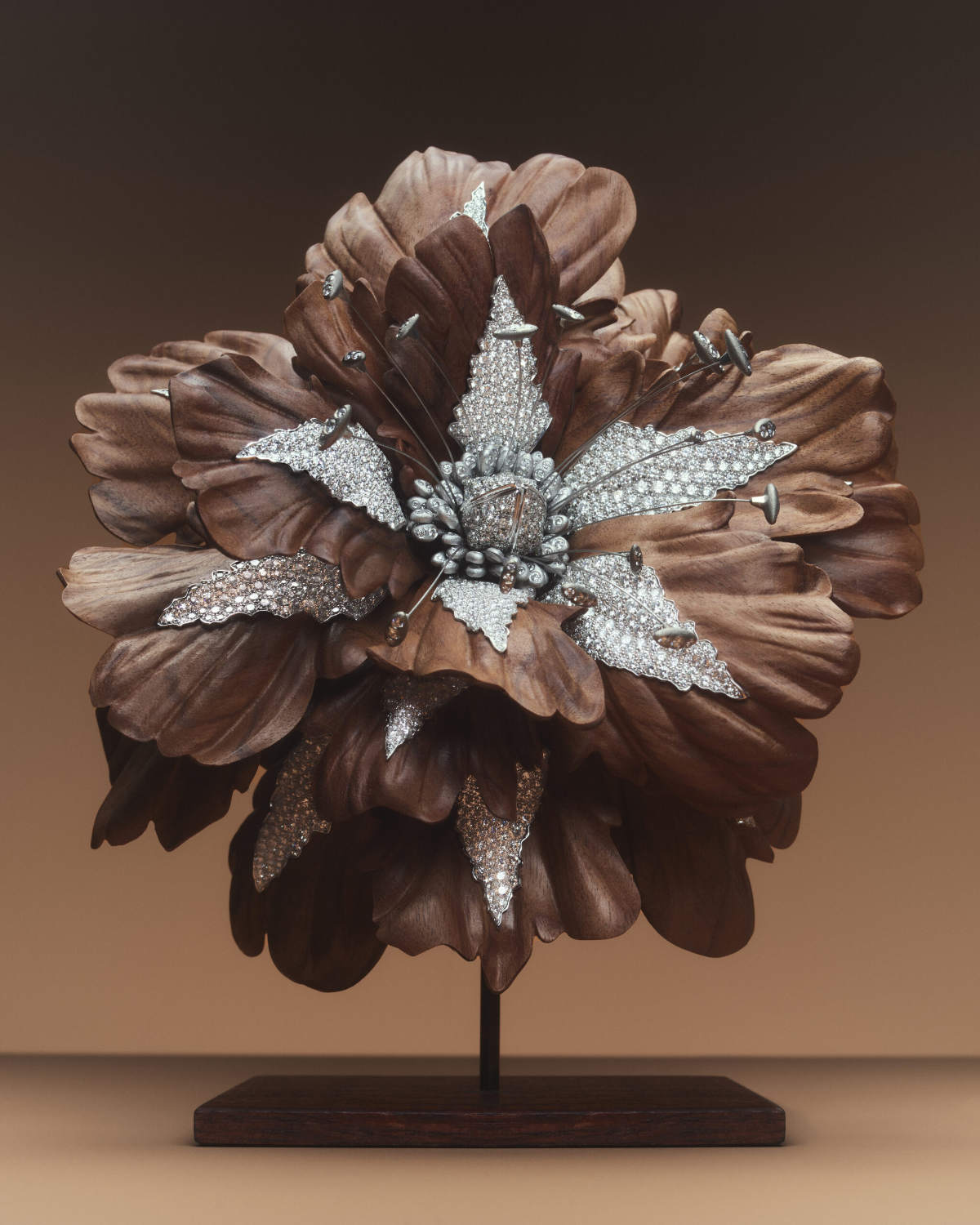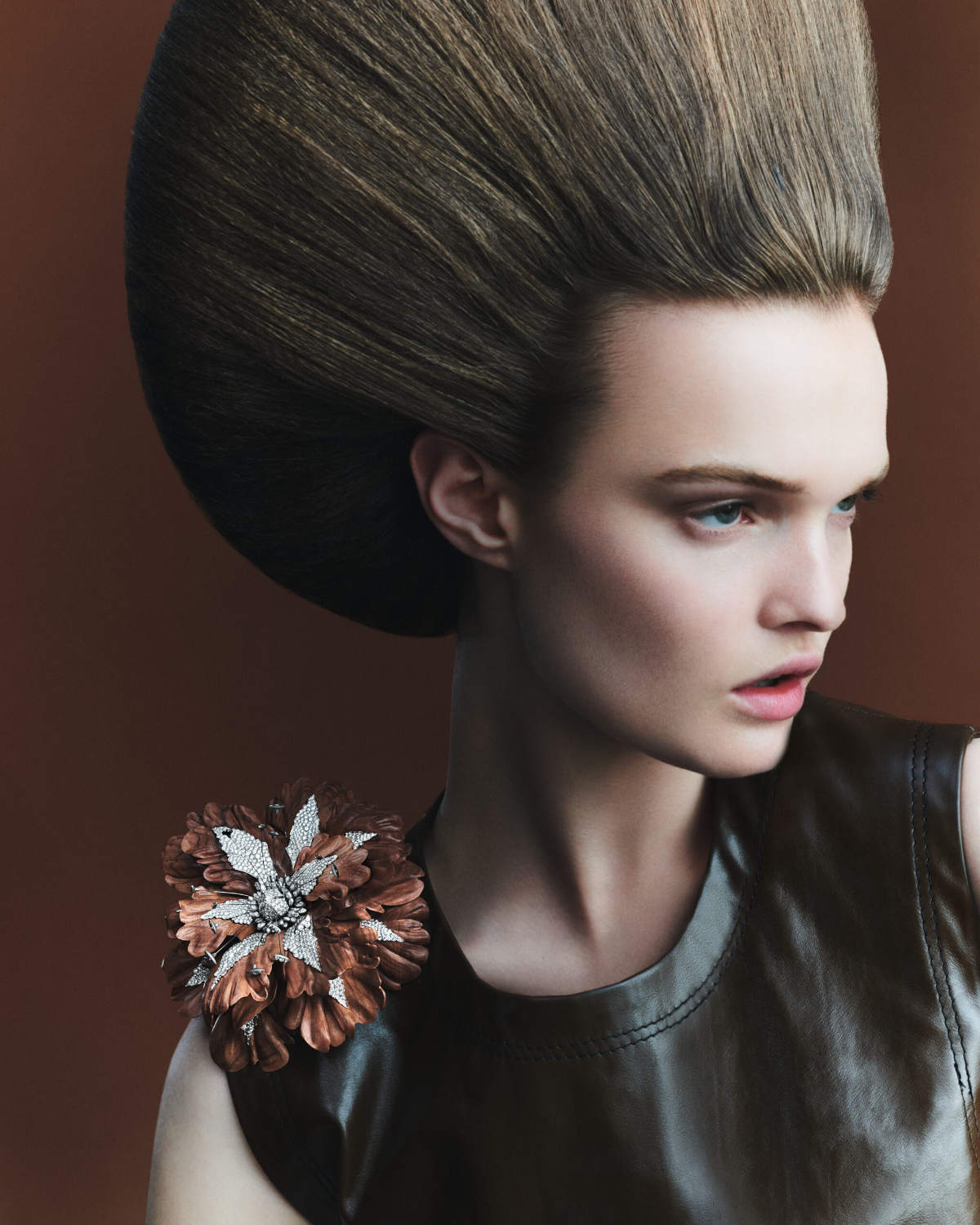 Bois diamant brooch in palissandre de santos wood, paved with diamonds in white gold.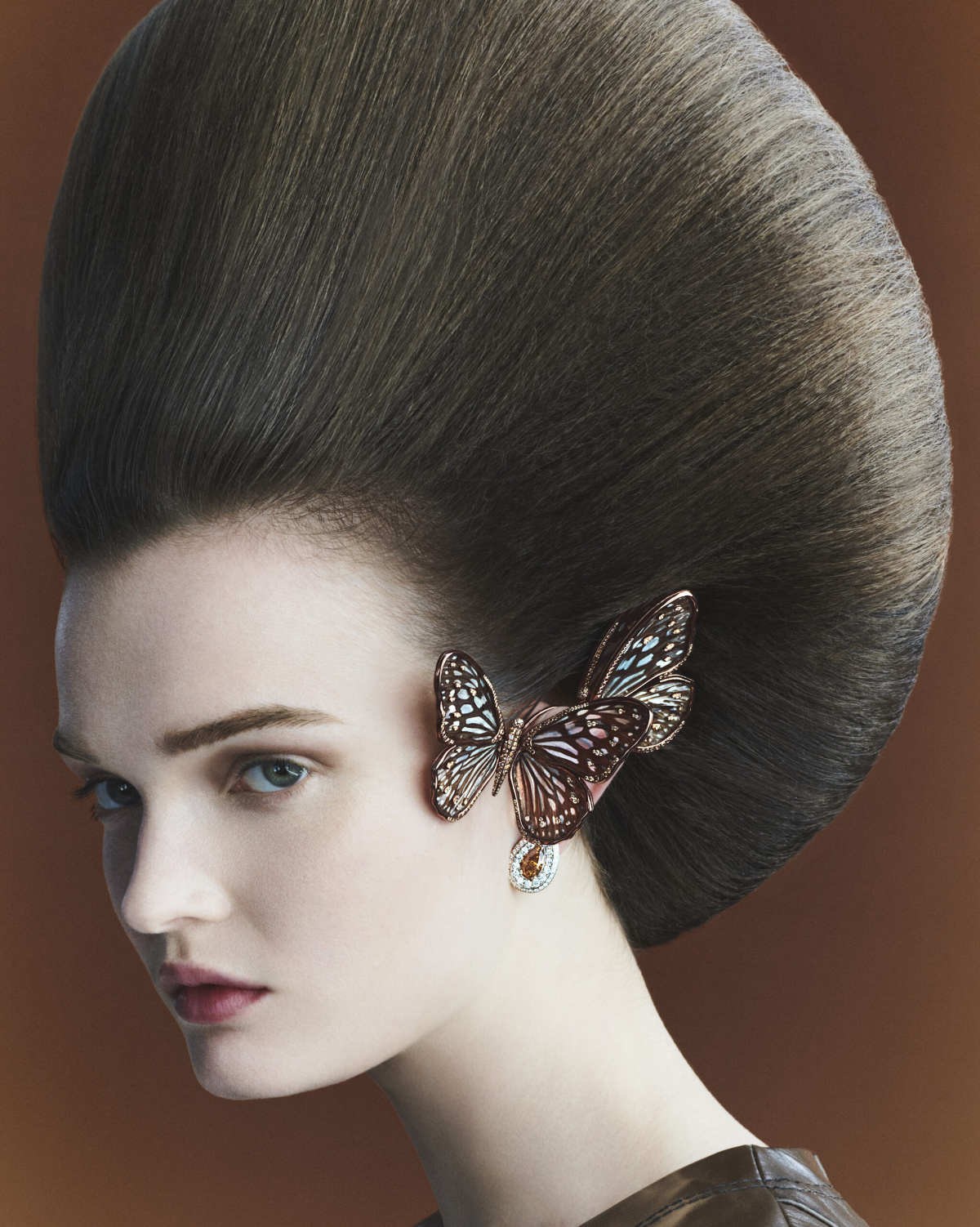 Papillon earrings in natural butterfly wings set with brown diamonds, paved with diamonds in titanium.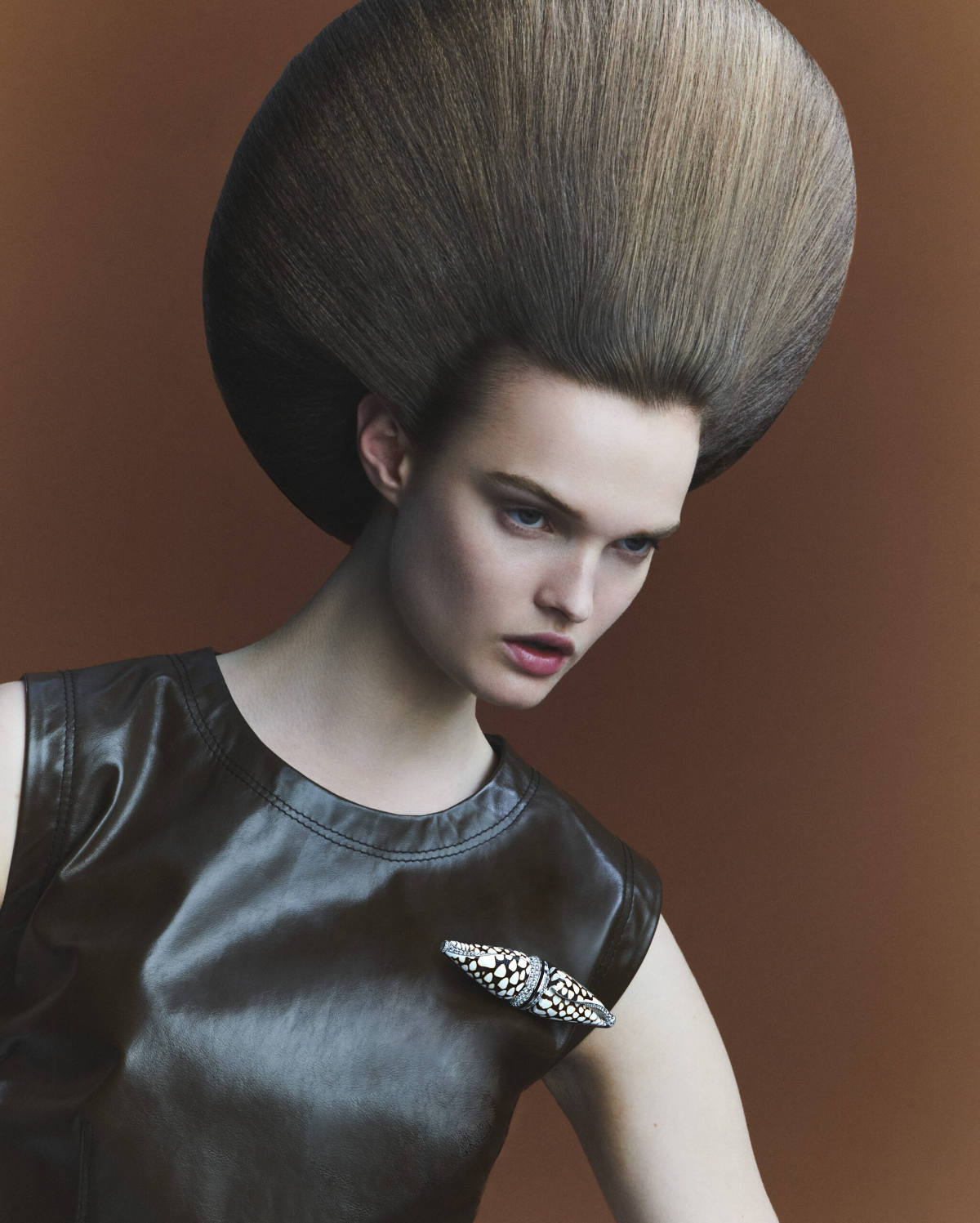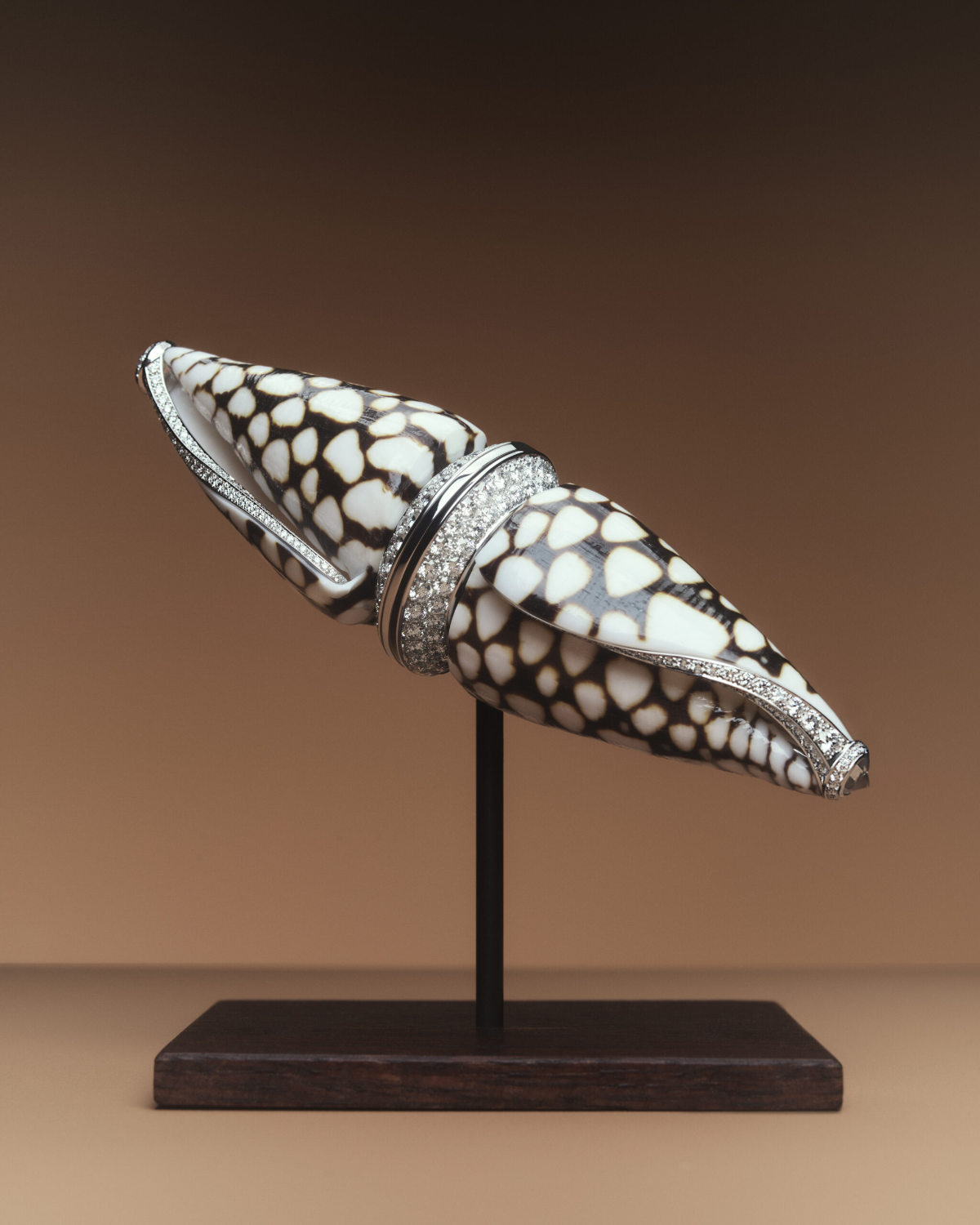 Jack coquillage brooch in natural shell conus marmoreus, paved with diamonds in white gold.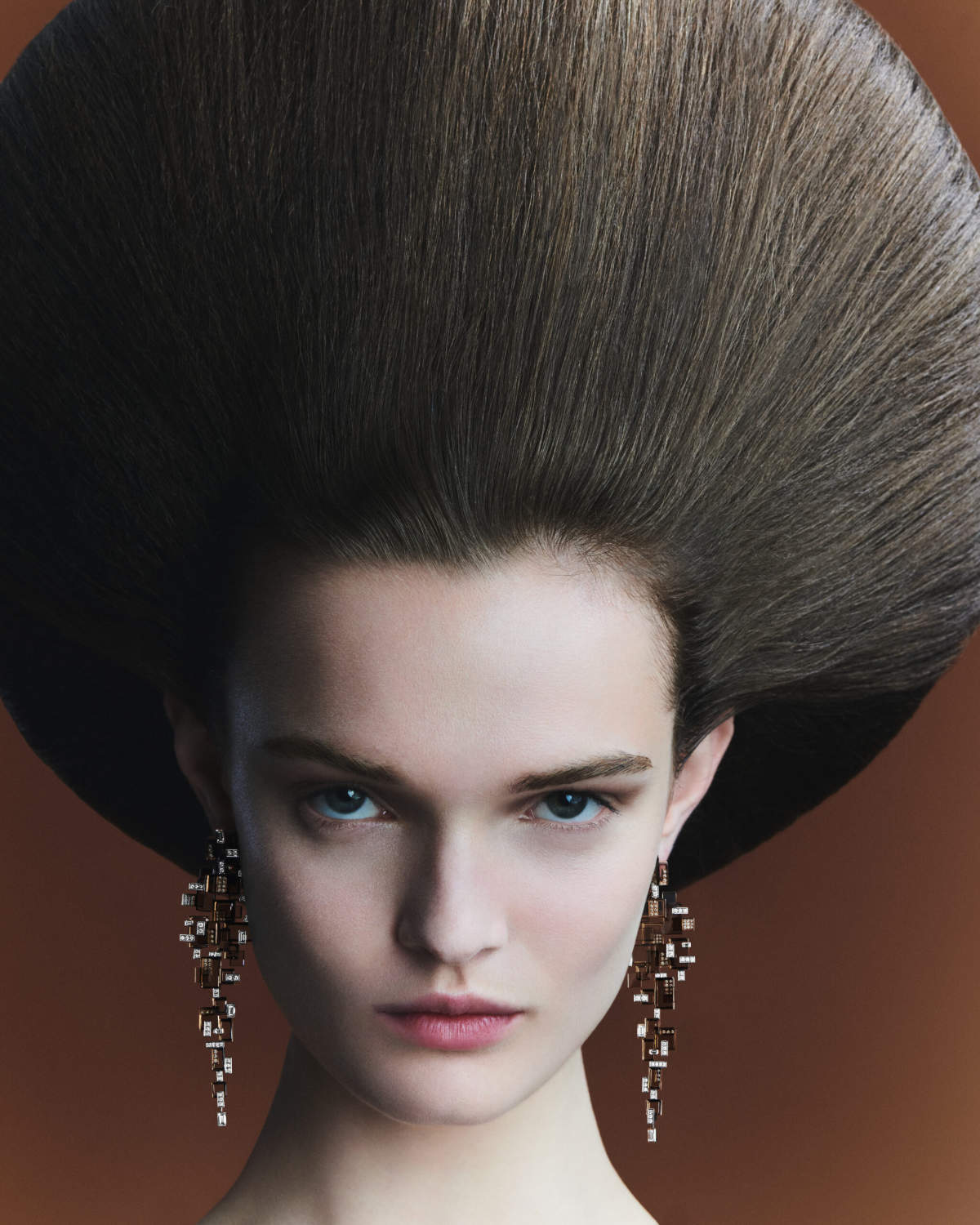 Cristaux pendants earrings in smoky quartz, paved with round and baguette diamonds in white gold.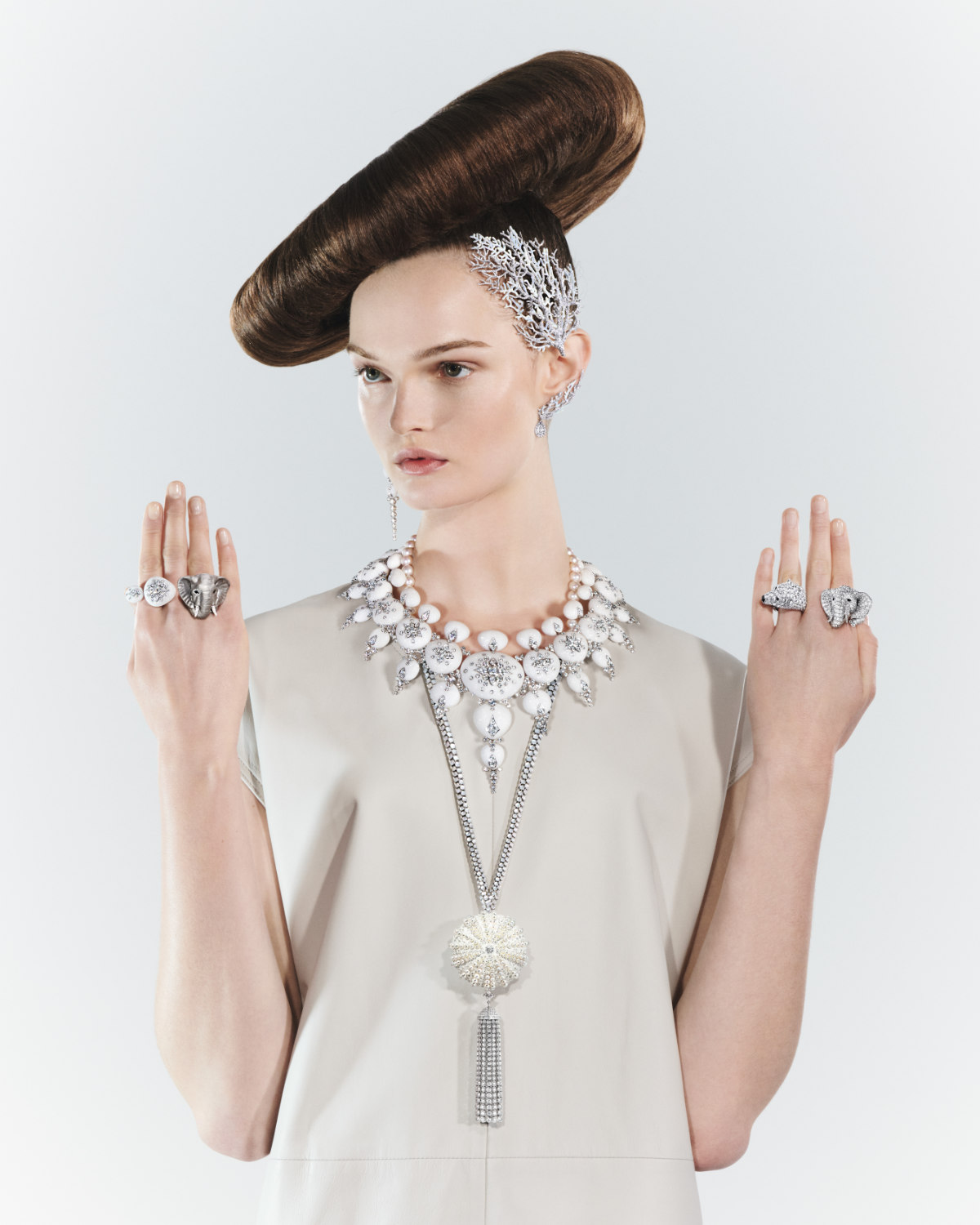 In this world, a fresh breeze blows from a lunar ocean and its vast astral beaches. Slowness, silence and softness characterize this place. the authentic white pebbles from the galet diamant (diamond pebble) necklace have been scooped out to be lightened and have almost become translucent. Adorned with gold tattoos, pear-shaped and brilliant-cut diamonds, these pebbles are pierced and linked one by one to each other, which signs the mineral choreography of this galet diamant (diamond pebble) necklace.
The soft shapes of the stone sculpted by the waves bring us to the galet diamant (diamond pebble) earrings and the galet diamant (diamond pebble) ring. At the crossroads of earth and water, a corail diamant (diamond coral) brooch and a corail diamant (diamond coral) single earring take on the organic shapes of white coral: the brooch can transform into a head piece and both these jewels look as if they have been picked from an imaginary beach.
An urchin, a fascinating creature from the seabed, was scanned and recreated identically in silver, then treated to give the oursin diamant (diamond urchin) a milky whiteness on which pearls and diamonds dazzle. The oursin diamant (diamond urchin) necklace displays the frosted radiance of a princess-cut diamond and a brilliant-cut diamond, and can be worn in six different ways.
Two animals live in this singular environment, depicted as an ours polaire (polar bear) ring, set with 246 rose-cut diamonds giving it a unique frosted aspect, and as an elephant ring, whose skin dazzles with full-cut diamonds.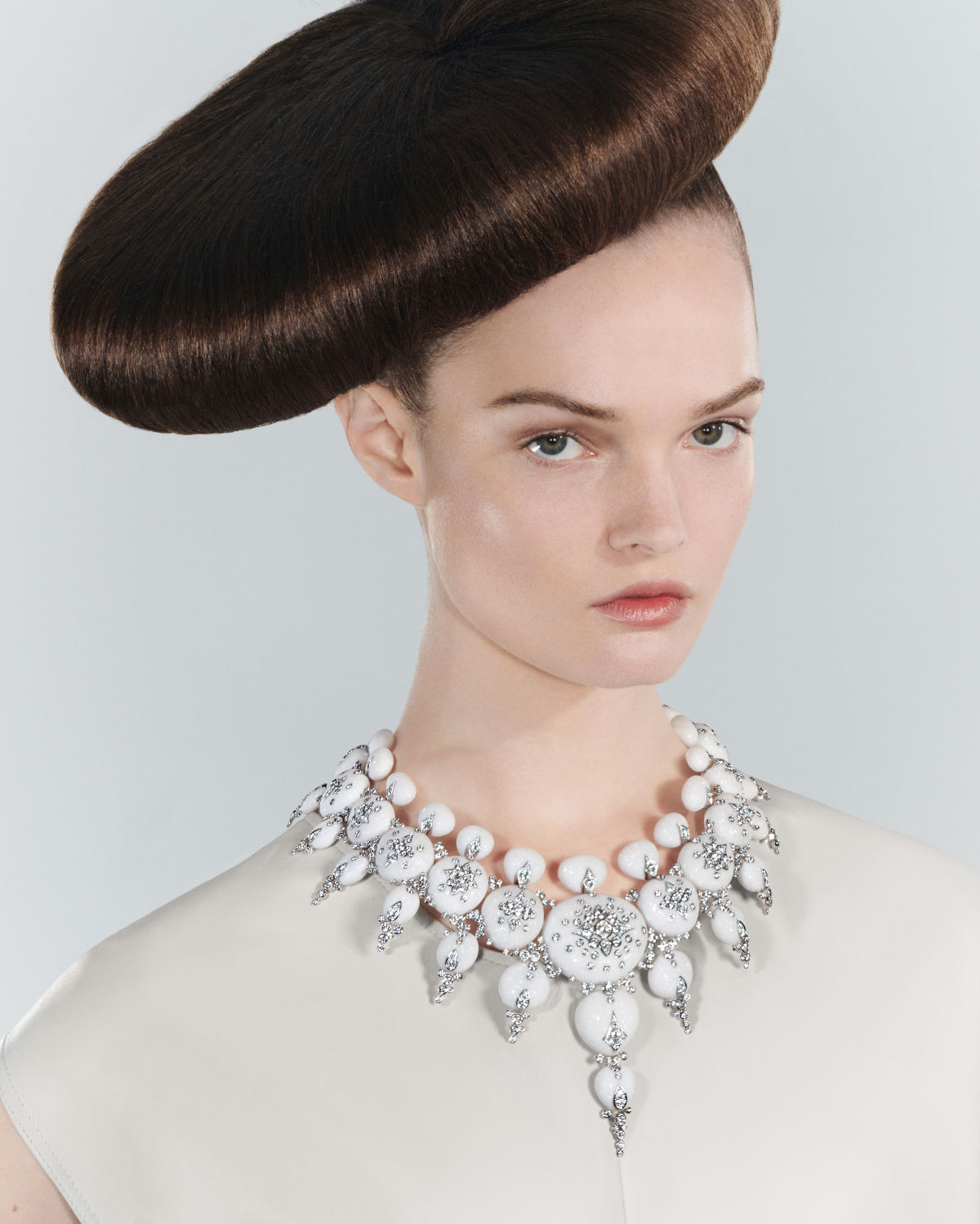 Galet diamant necklace in natural pebble, set with pear-shaped diamonds, paved with diamonds in white gold.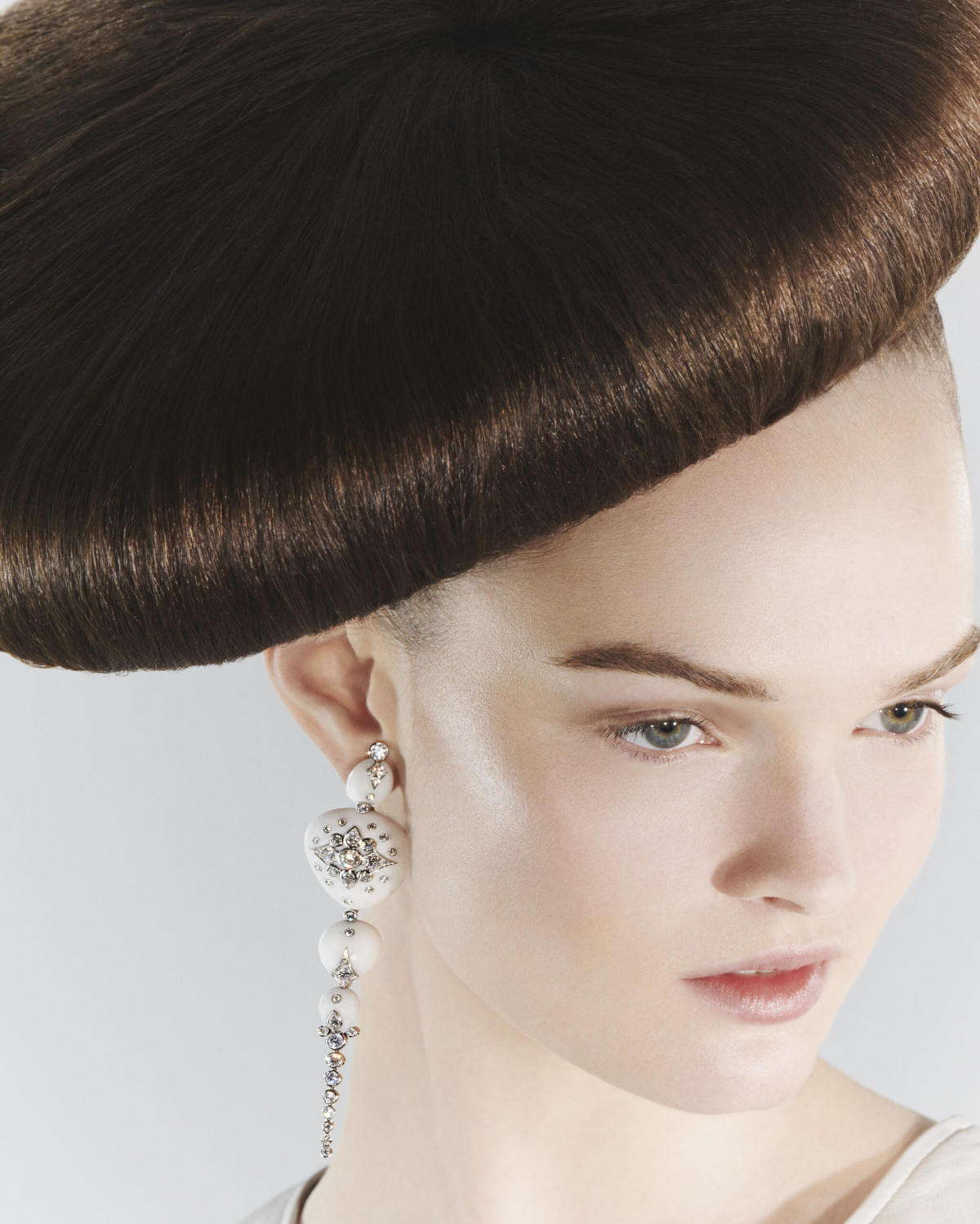 Galet diamant earrings in natural pebble, set with round and pear-shaped diamonds in white gold.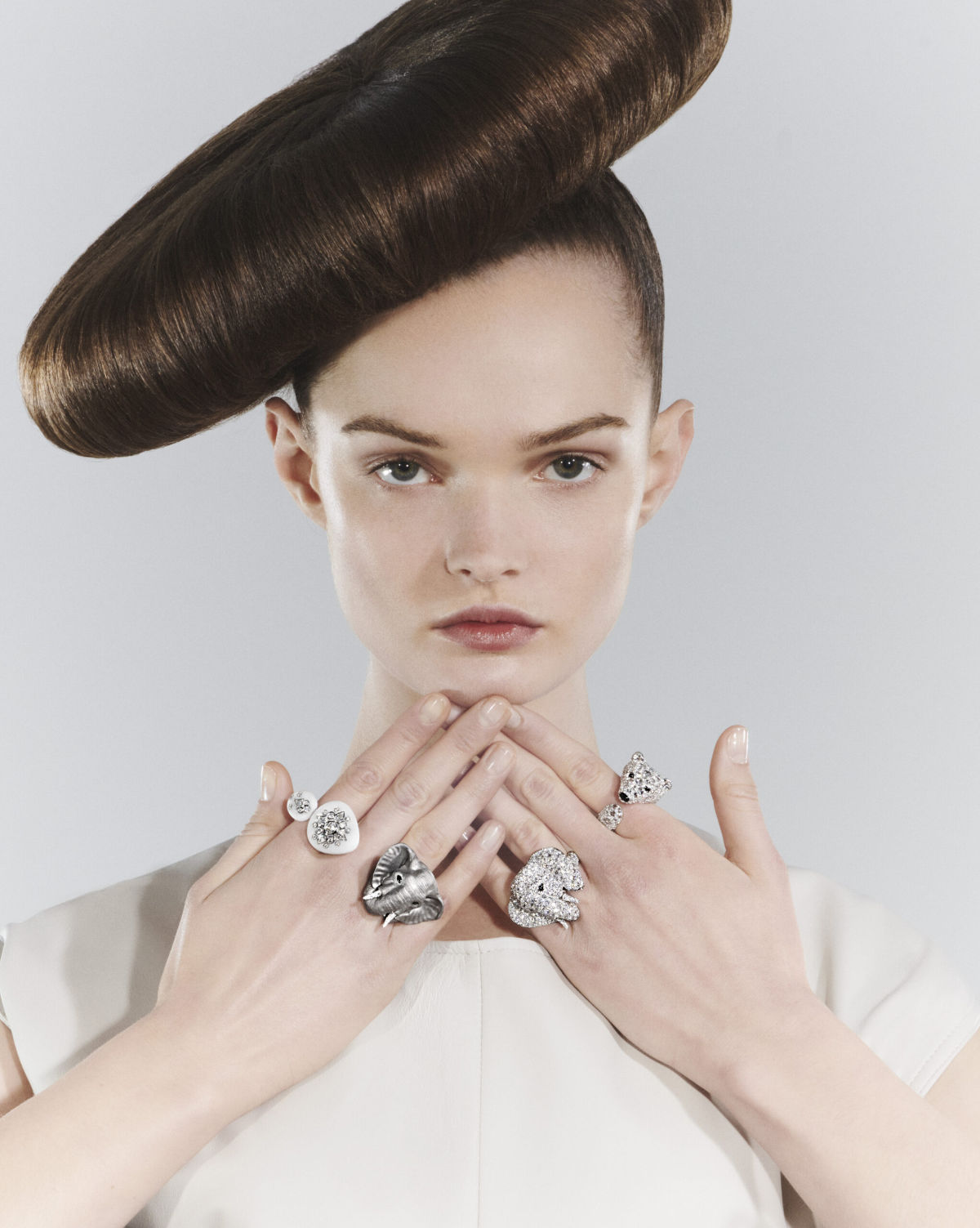 The elephant ring paved with diamonds and set with two onyx, in white gold and titanium.
Ourse polaire ring set with rose cut diamonds for a total weight of 14,27 ct and black saphires, onyx in white gold.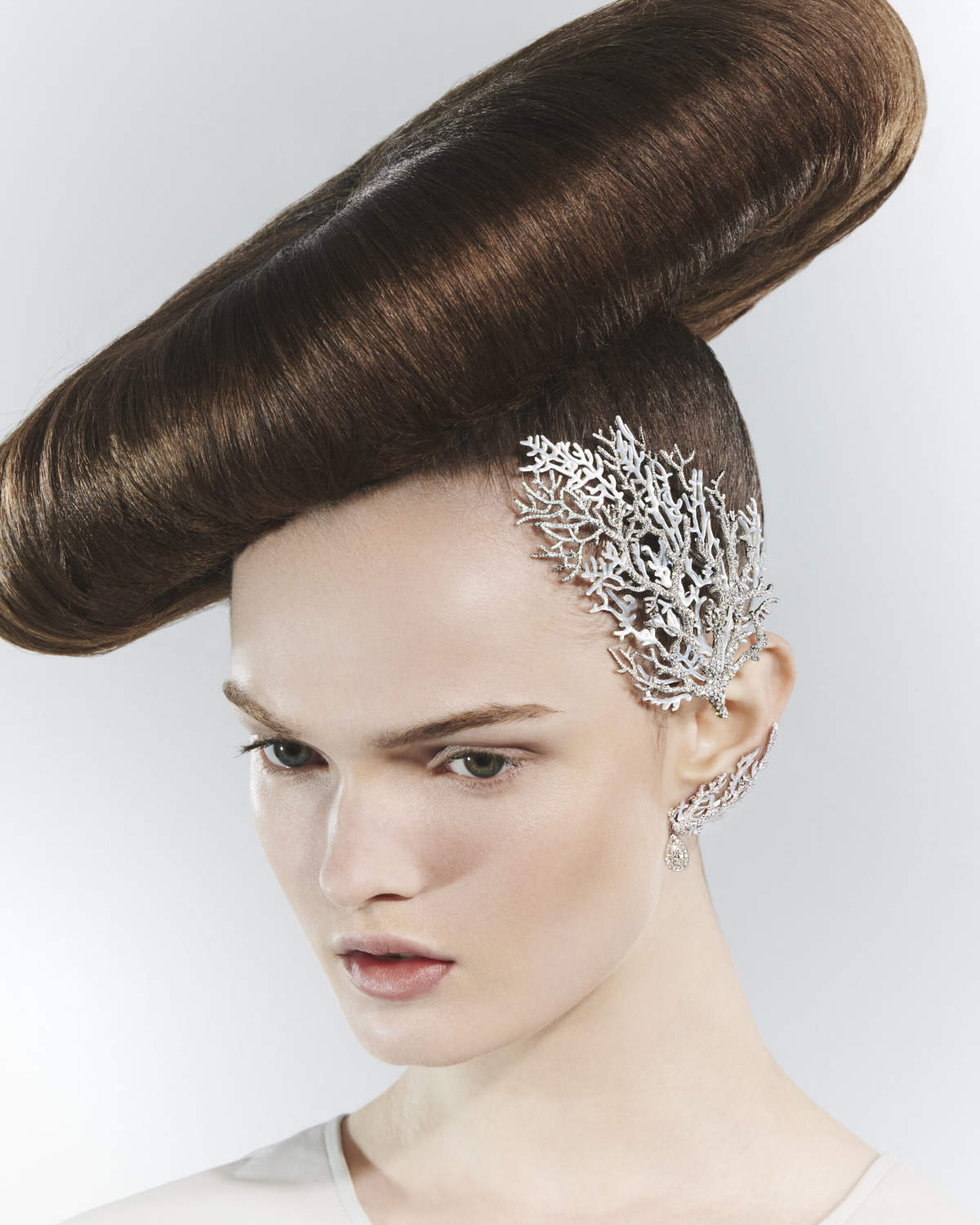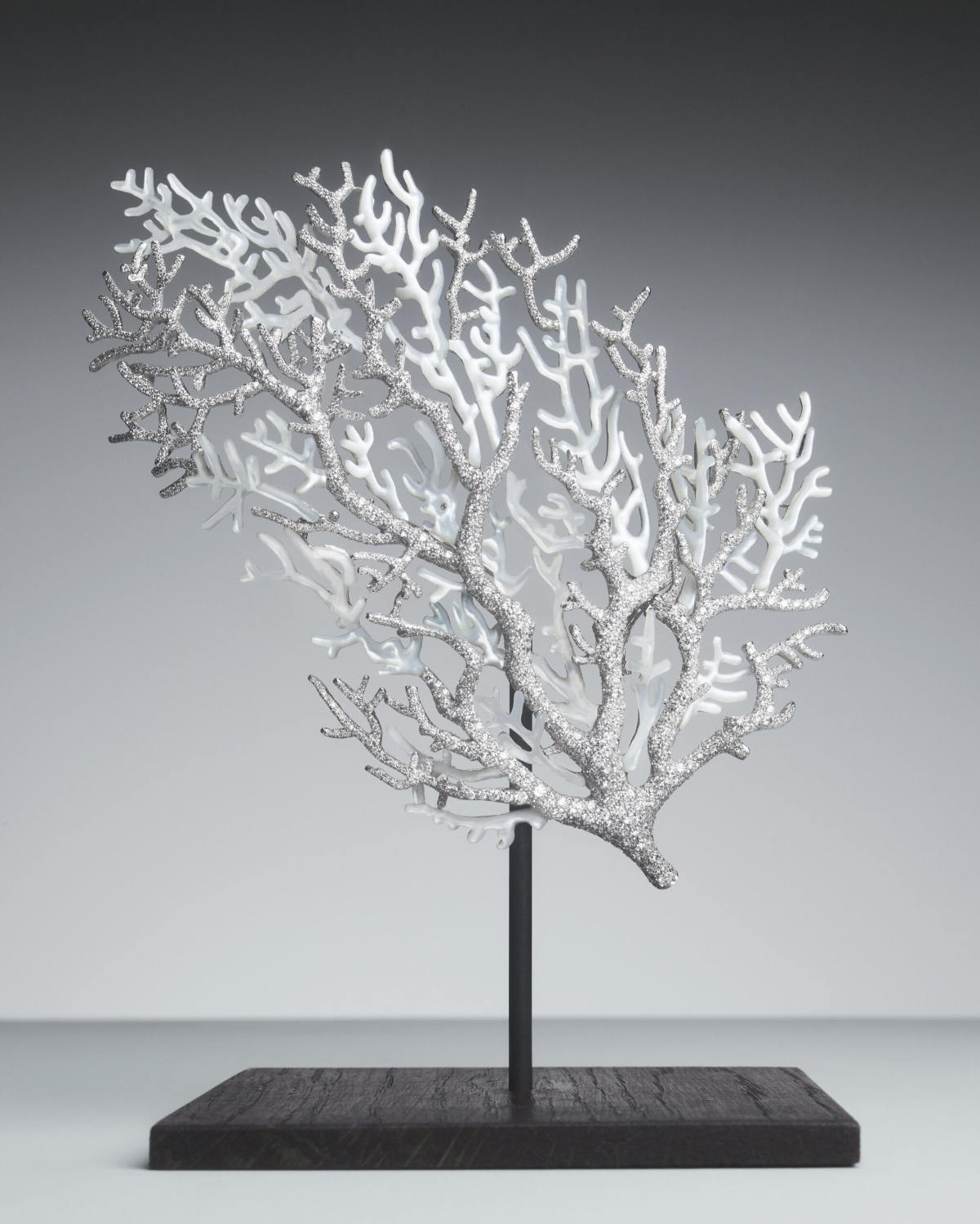 Corail diamant brooch paved with diamonds, mother-of-pearl in white old. brooch in the tradition of multi-wear.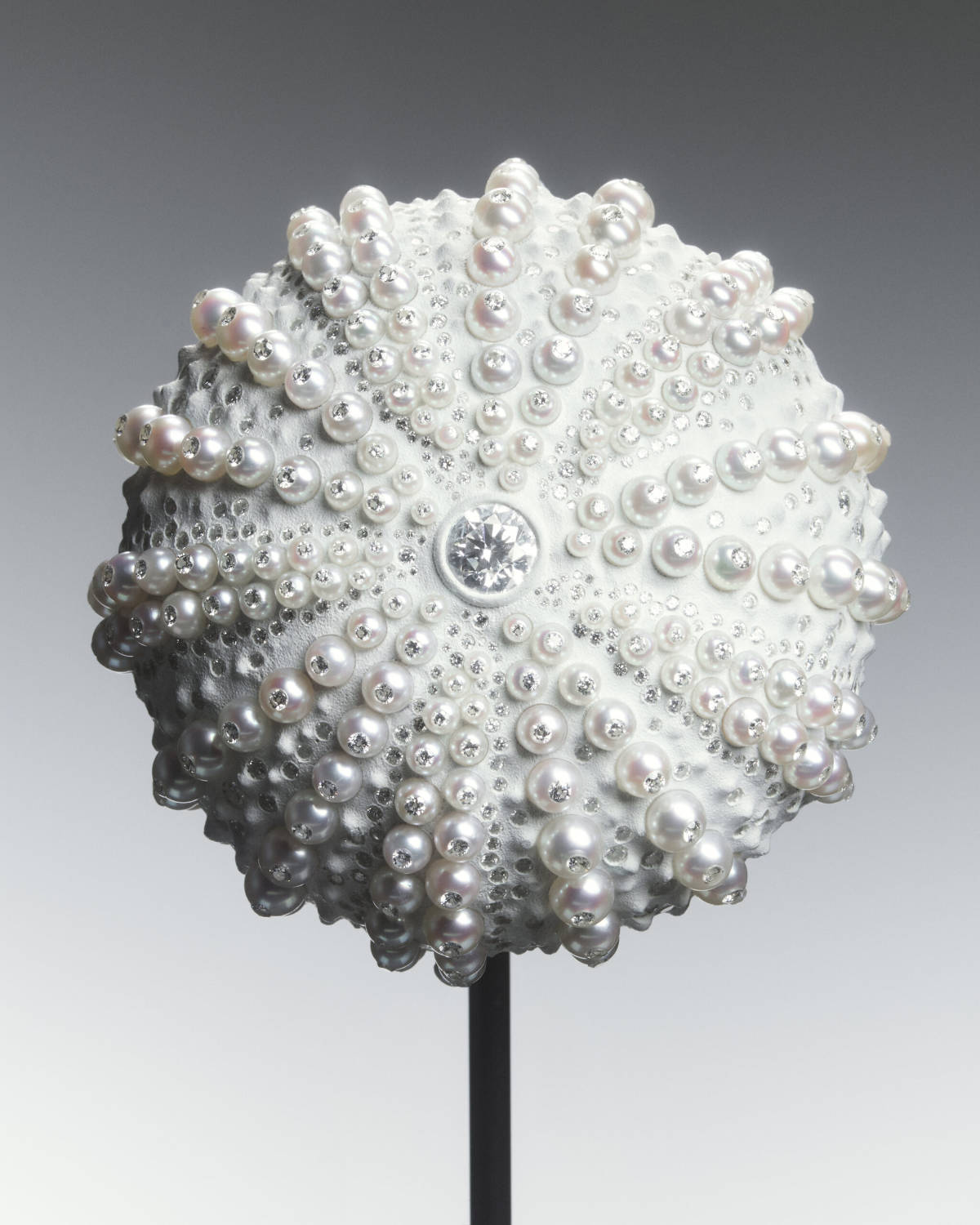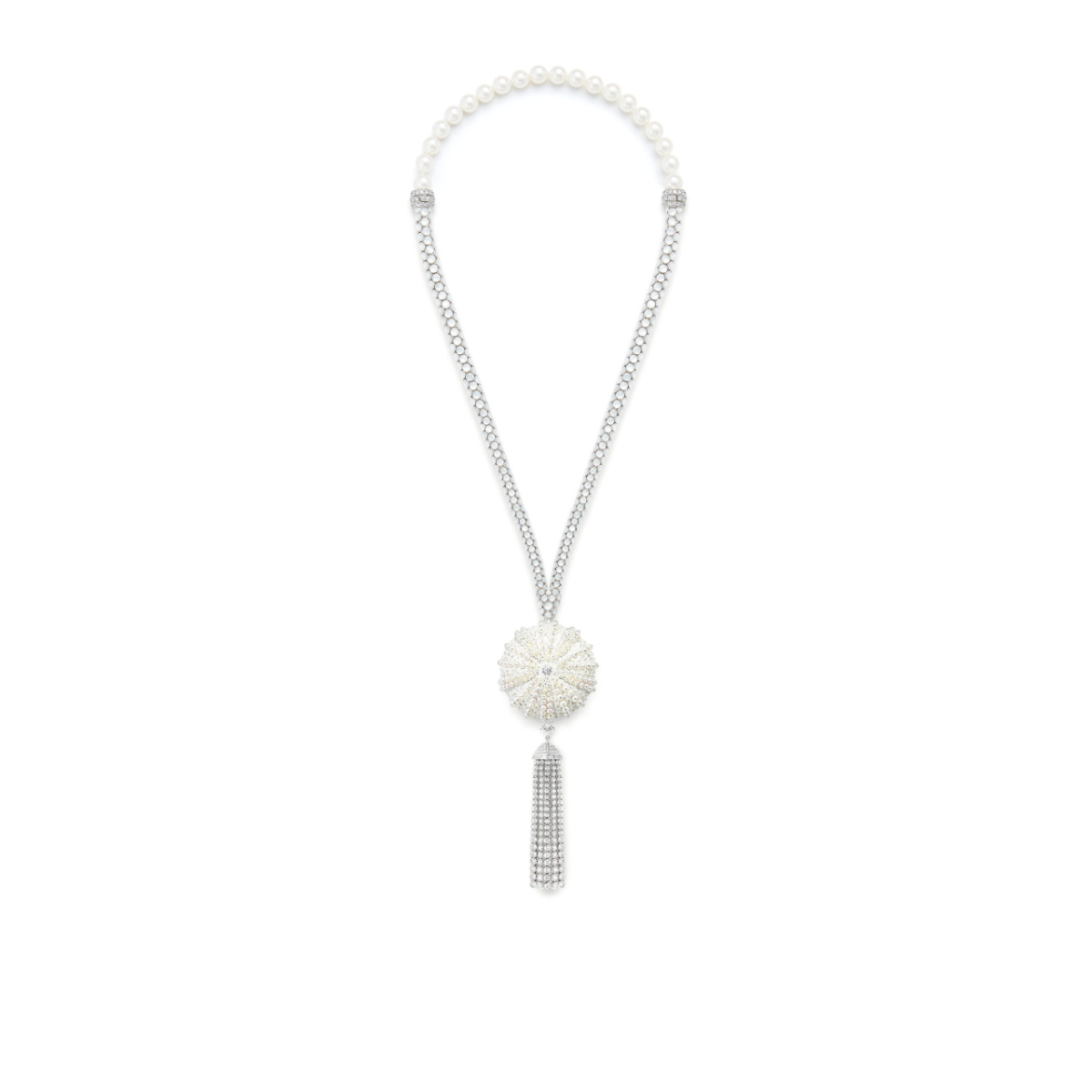 Oursin diamant necklace in pearls and mother of pearl, set with a round diamonds of 0.80 ct, paved with diamonds in silver and white gold. Necklace in hthe tradition of multi-wear.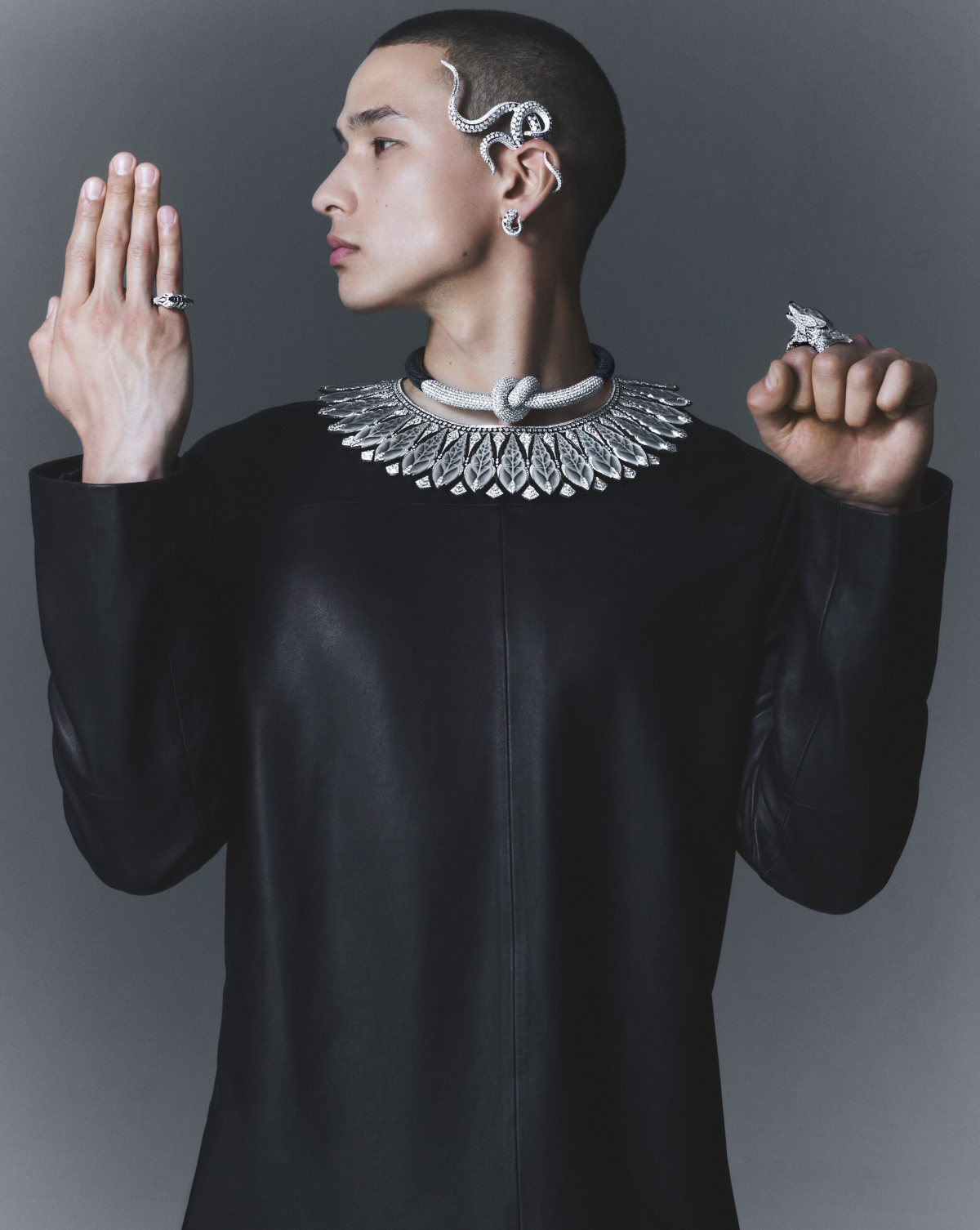 Travelling into the depths of the earth, this fifth chapter explores the magmatic power of an extreme world, where black meets white. the spiral structure of a shell, as viewed through an x-ray, is airbrushed onto the mother of pearl elements of this white gold coquillage (shell) necklace. This airbrushed motif gives the necklace a three-dimensional illusion from "elsewhere".
Burned wood meets the clean lines of the almost minimalistic bois brûlé diamant (diamond burned wood) necklace. This three thousand-year-old marsh oak was charred according to the japanese "chou sugi ban" technique, which confers on it an extraordinary resilience. Its association with diamonds reveals a powerful and unexpected contrast, between materials one could initially think are contradictory.
The loup (wolf) ring depicts a wolf howling at the moon, roaming the paths of the volcano man's world. A protective and a unifying animal, its subtle realism is brought to life through meteorite, diamonds, white gold, platinum and onyx.
The octopus single earring, designed as a mixture between a tattoo and a sea creature, adorns the head with its white gold arabesques, highlighted by 178 mother of pearl pastilles and 443 brilliant-cut diamonds.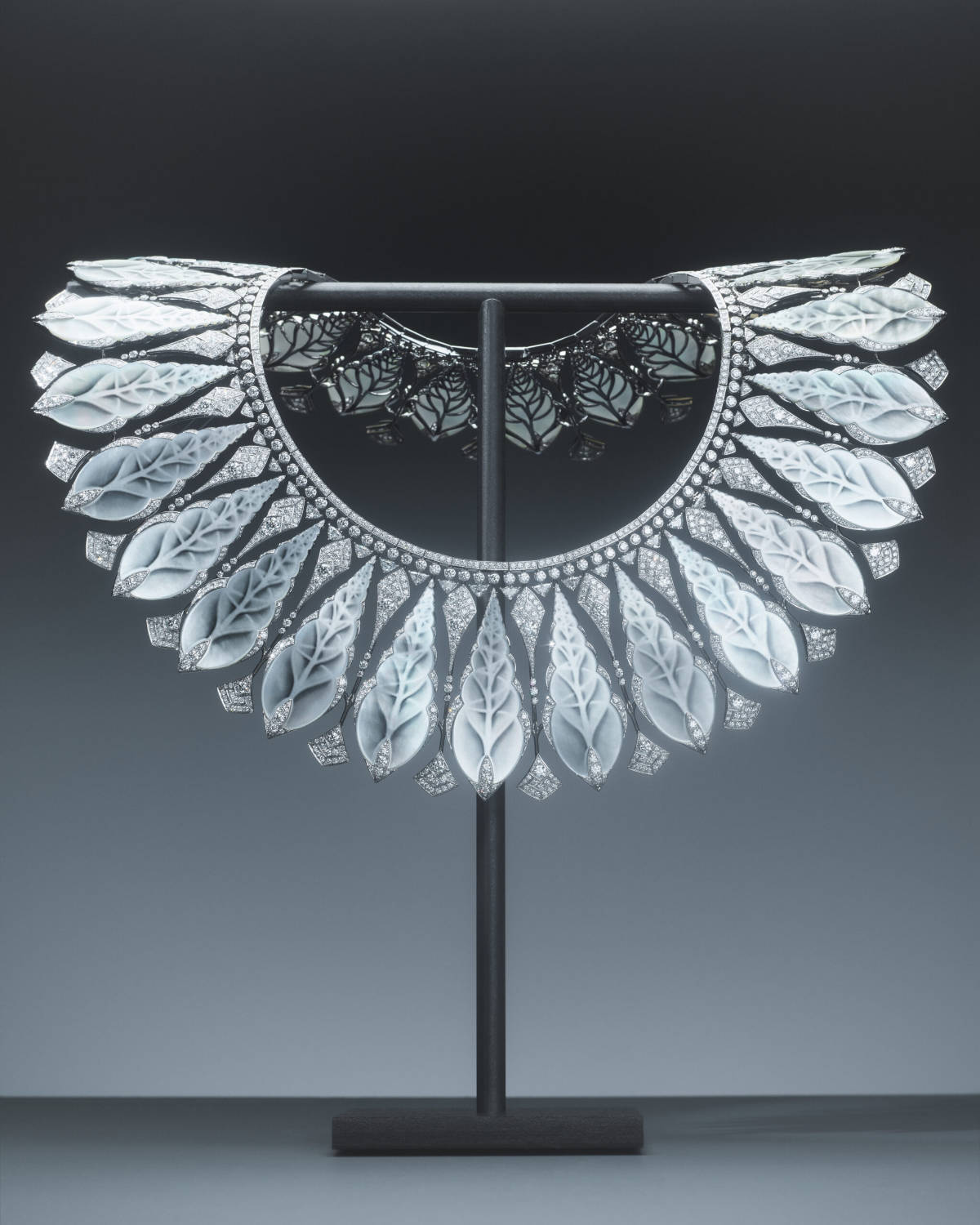 Coquillage necklace in mother-of-pearl, paved with diamonds in white gold.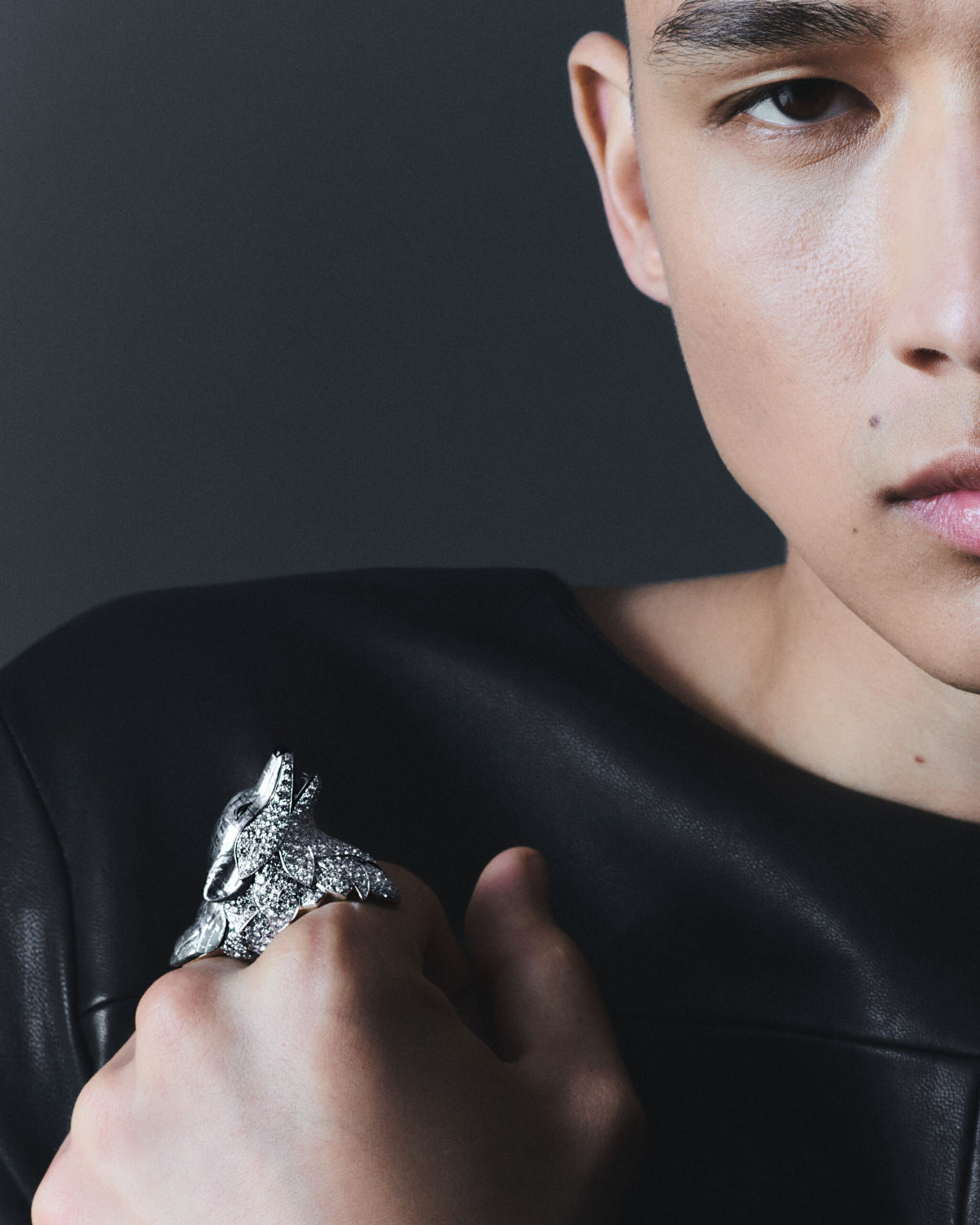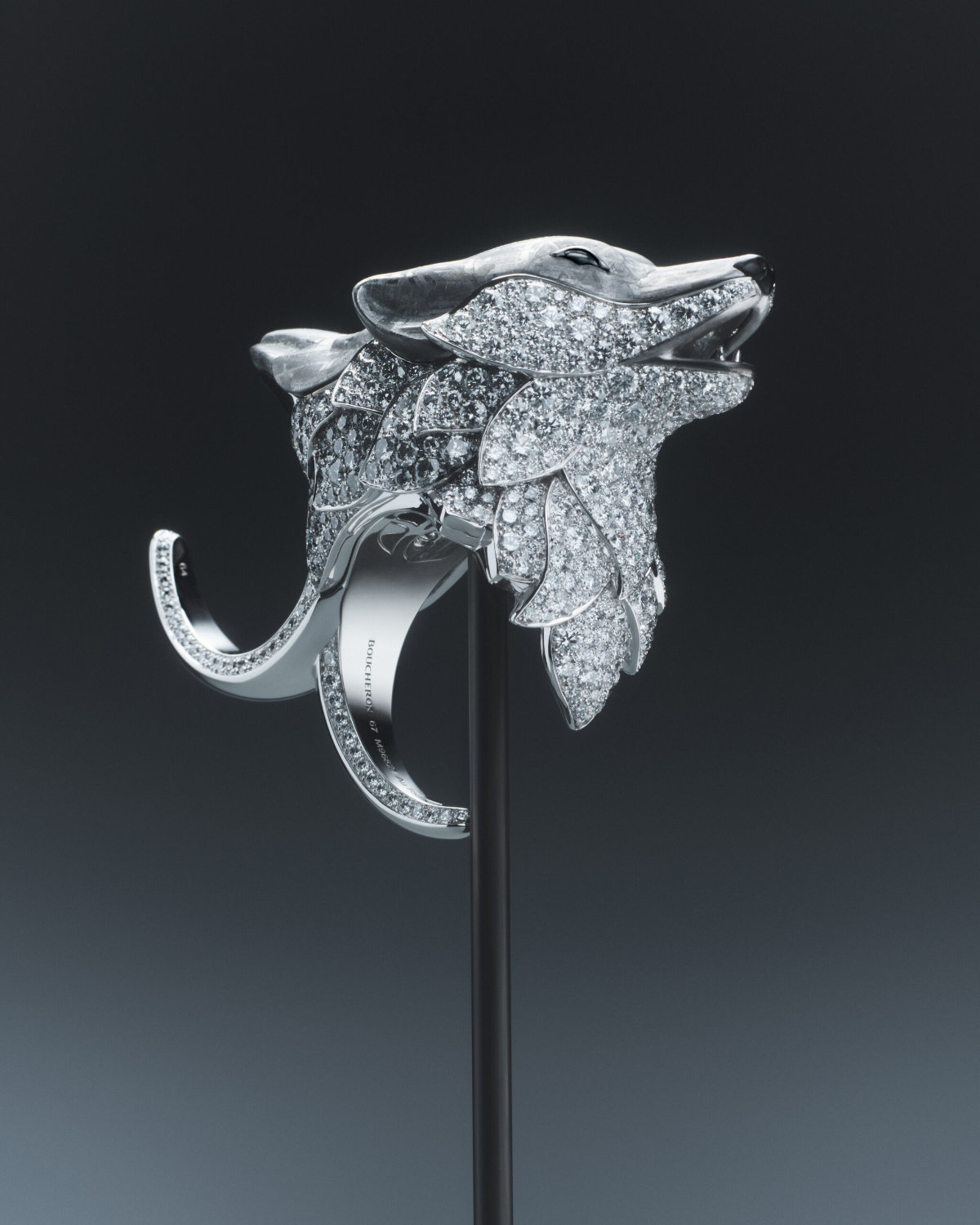 Loup ring in meteorite, paved with white and grey diamonds, onyx in white gold and platinium.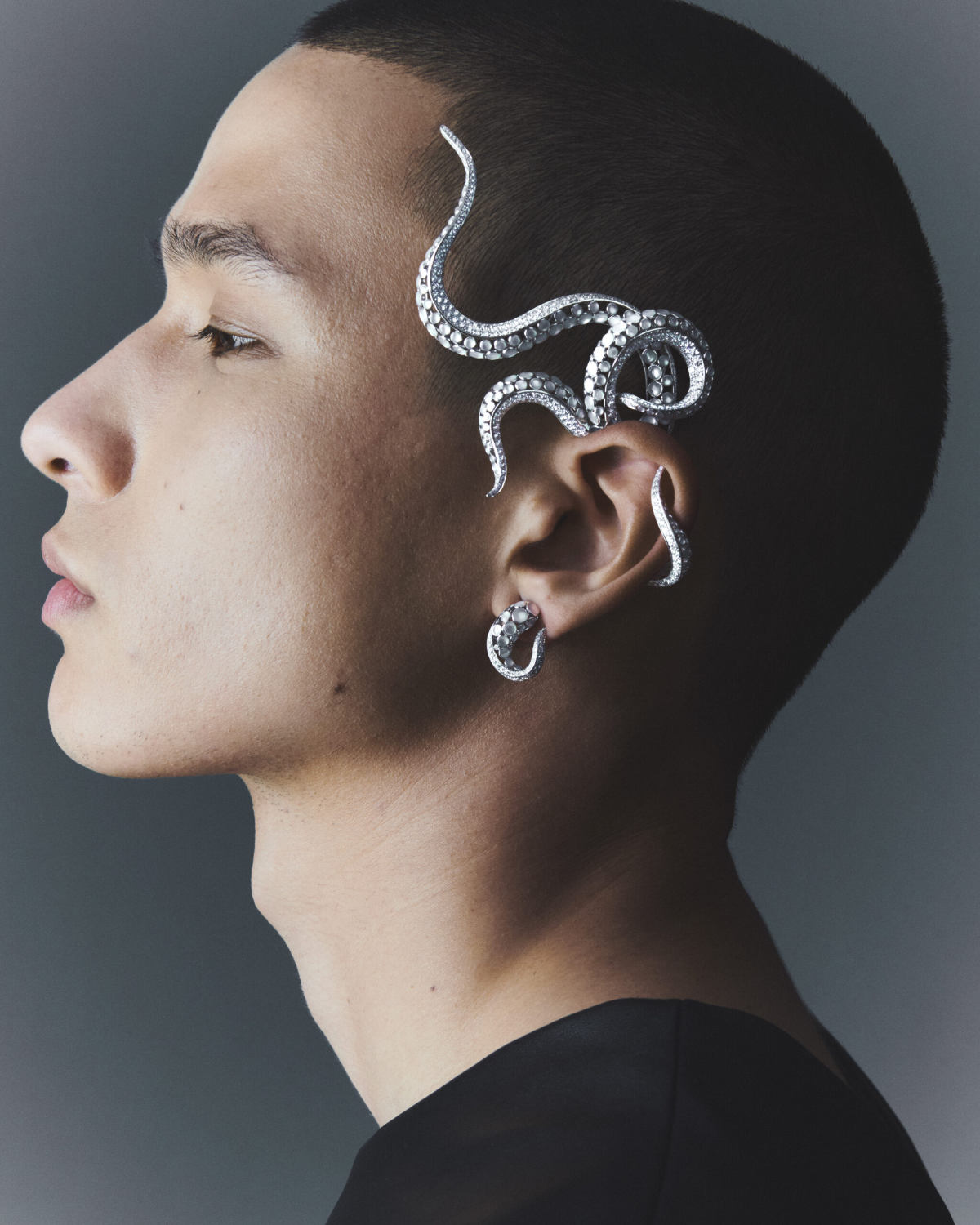 Octopus earring in mother-of-pearl, paved with diamonds, in white gold.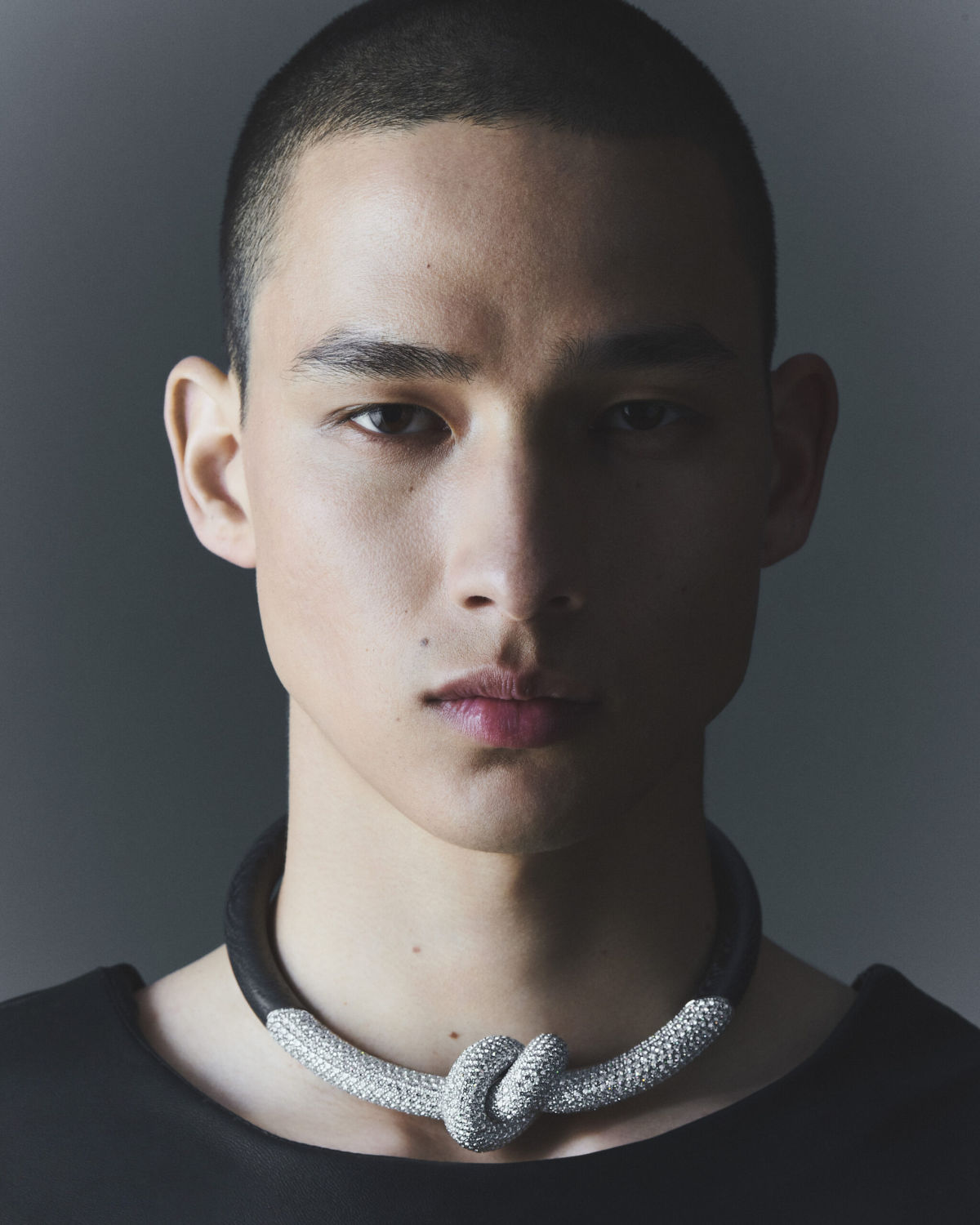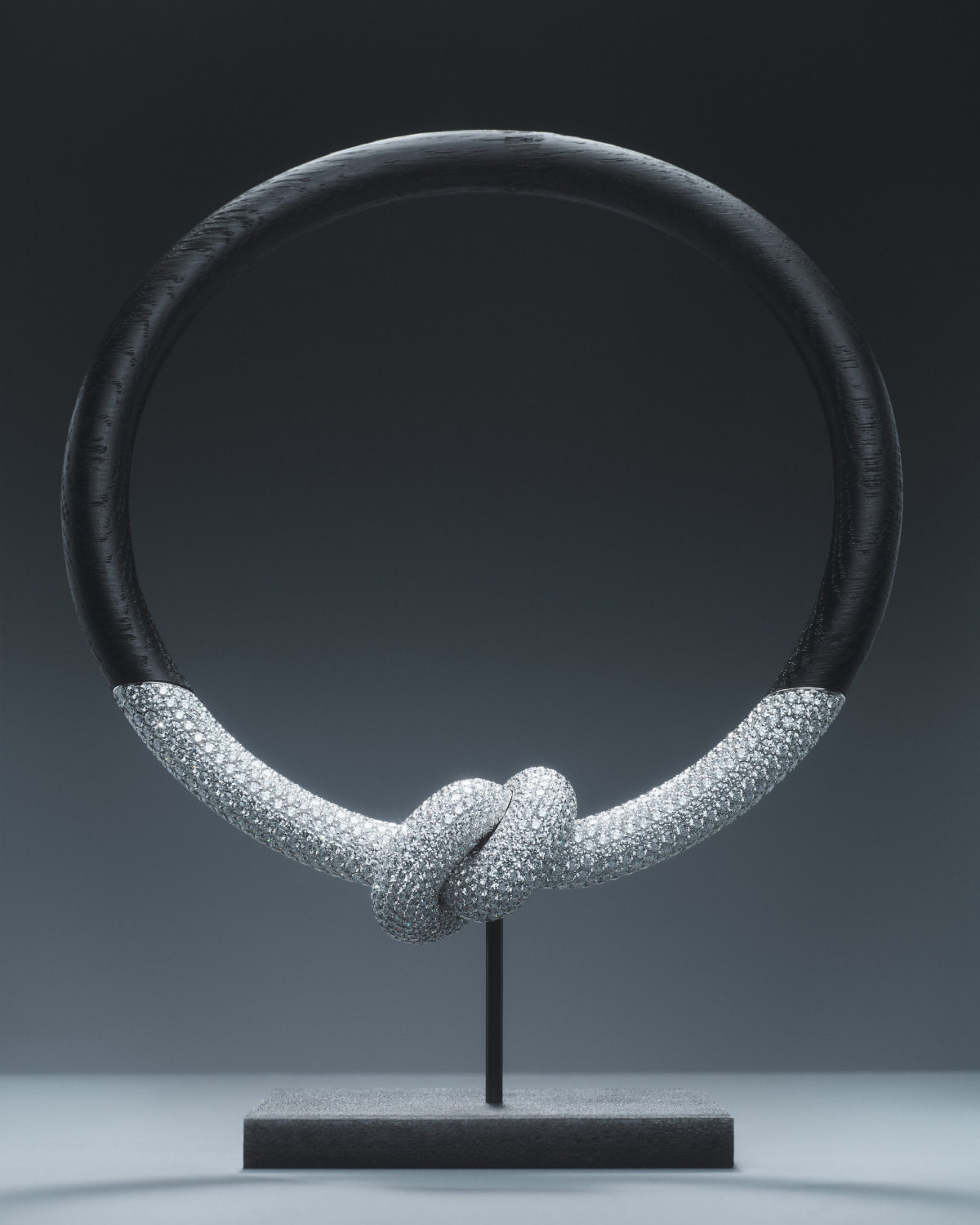 Bois brûlé diamant necklace in burnt wood, paved with diamonds in white gold.
About Boucheron
Created by Frederic Boucheron in 1858, Boucheron is built through four generations of direct descendants. Visionary designer and first of the great contemporary jewelers to open a boutique on Place Vendôme, Boucheron embodies excellence in jewelry, high jewelry and watchmaking. The Boucheron style, free and audacious, continues to create the classics of tomorrow. There are currently more than 84 boucheron boutiques across the world. Boucheron is part of the global luxury group Kering.
---