The New Happy Diamonds Campaign - Quintessential Flamboyance: Julia Roberts And Xavier Dolan Interpret Chopard's Joie De Vivre
Luxferity, 21.05.2021
Created in 1993 by Chopard's Co-President and Artistic Director, Caroline Scheufele, the Happy Sport watch finds in Julia Roberts' communicative energy and sunny gracefulness a triumphant embodiment of its values: Joie de Vivre and free-spirited charm.
Julia Roberts is a contemporary icon whose powerful life force inspires her to respond to the world with her inimitable and never-failing smile. Because Chopard is caught up in an endless love story with the world of film-making, Caroline Scheufele has drawn upon the intersecting perspectives of supremely talented contemporary artists in orchestrating a short film, much as a jeweller crafts a work of art. Enter brilliant film director Xavier Dolan, who demonstrates his ability to embrace the elements forming the very core of our humanity, revealing the strength of our singularities through the prism of his entrancing vision. He stages the encounter with Julia Roberts like a firework display, impelled by an extraordinary shared dynamic. The film treats viewers to the jubilant free-spinning path of diamonds capturing a vibrant array of liberating aspirations, in a volcanic merging of joyfulness and cleverness. Choreography, music, photography and styling were all consistently selected by Chopard to enable this decisive encounter to deploy its irresistible energy.
The star

Julia Roberts is first and foremost associated with a smile: the most beautiful, most famous smile in the world, a smile that makes everything possible. A sunny energy fostering hope that everything will be reborn even more beautiful than before. Julia Roberts has starred in films with the greatest directors, built a top Hollywood career and played major roles. Even more importantly, she has embodied an era and shaped authentic contemporary mythologies – the trademark of all those who have left an enduring impression on the history of cinema. Chopard and Julia Roberts were absolutely destined to cross paths. Flamboyant magnetism, freedom worn like a talisman and inextinguishable Joie de Vivre. A coherent, powerful cultural and emotional heritage. For Caroline Scheufele, Julia Roberts was the ultimate Happy Sport woman when it came to embodying the Maison's innate Joie de Vivre. In this short film, Julia Roberts and Chopard successfully convey the vivacious tenacity of the unbreakable bond that has consistently made them shine in a shared constellation.
The producer

Xavier Dolan, a youthful film-maker and all-rounder whose name appears regularly on the Cannes Film Festival prize list, served as Director for the Happy Diamonds campaign. His watchword? Letting go. The singularity of his vision, the poetry of his universe, as well as the intensity with which he captures and expresses the density of his characters' emotions, all enable him to approach the Happy Sport watch with an unprecedentedly free-spirited attitude. Direct, vibrant and uninhibited, Xavier Dolan's camera captures the vitality born of the sizzling encounter between Julia Roberts and Happy Sport. In this film, just as throughout his work, Xavier Dolan's joyful creative spark ignites, reminding every individual of their own power to reinvent, and to forge their own legend with a blend of courage and panache.
The watch icon

Setting their surroundings aglow in one smooth move, conveying a catching flow of Joie de Vivre: such is the mission of dancing diamonds – christened Happy Diamonds by Caroline Scheufele's mother, who exclaimed upon first seeing them: "These diamonds are happier when they are free." Housed in a barely-there gold capsule, they are an extension of the life and impulses of the woman who wears them like a talisman. Julia Roberts engaged in a wild pas de deux with her dancing diamonds personifies a playful and invigorating dialogue, an elixir of Joie de Vivre in which freedom, light and electricity compete for the favours of an enchanting smile. Madly inspiring energy: from Happy Diamonds to the observers' gaze, a whole world lights up and comes to life through a graceful gesture that is at once intimate and powerful.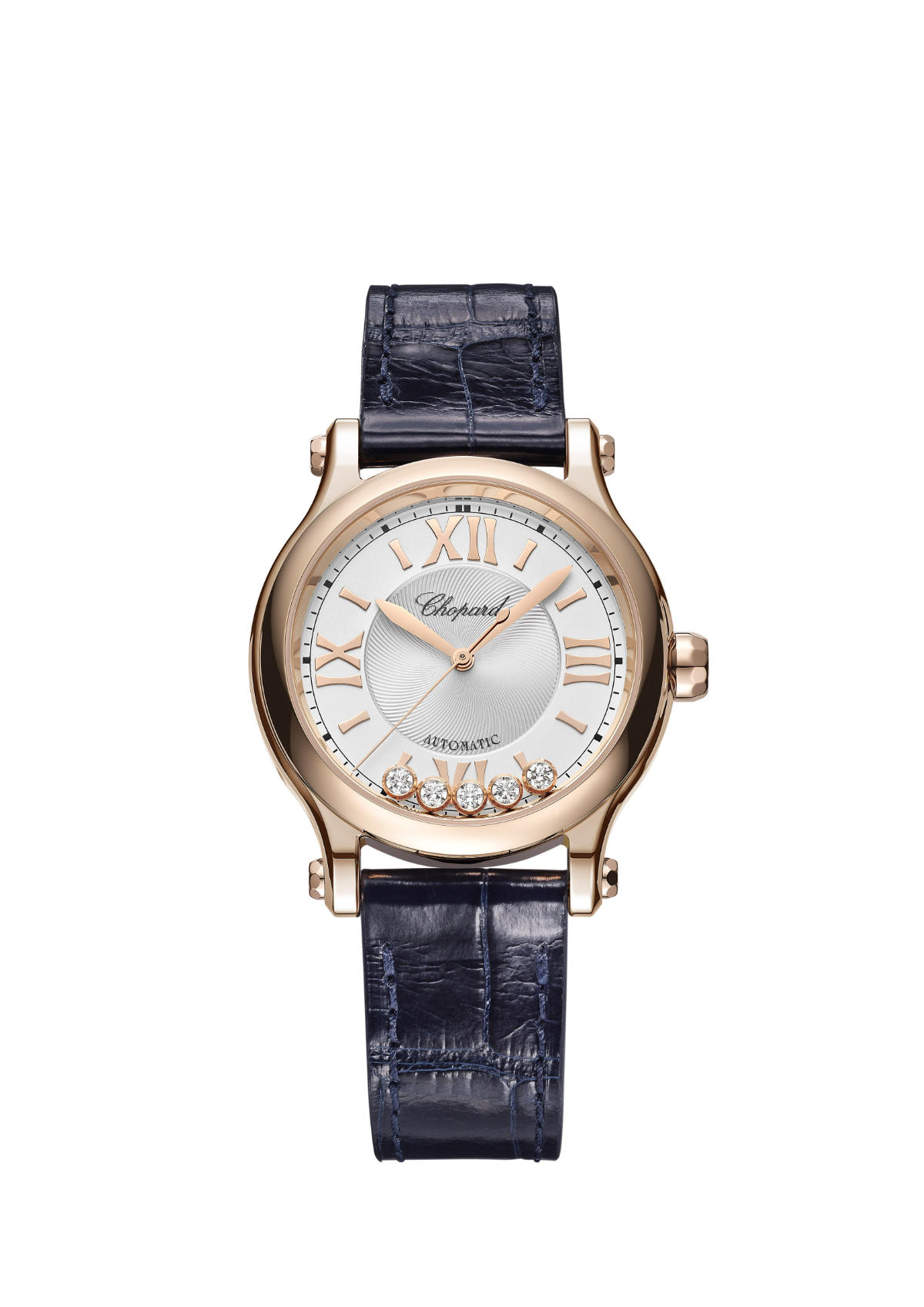 The styling

Shoulders like an ode to joy that say yes, yes, yes! Yes, to life and movement, yes to a spirit of liberation. A bold design and an allure clearly made for dancing. Elizabeth Stewart, one of Hollywood's leading stylists, put her keen eye and peerless expertise to work for Julia Roberts and the white shirt worn by the actress in the Happy Diamonds film is clearly cut out for… happiness. A living fabric and a fit that leaves room to breathe, a garment that tells a story: that of a world on the move following in the footsteps of Happy Diamonds and adopting their joyful rhythm.
The tempo

The rhythm is electric, voluptuous and all about sidestepping. An irresistible swing that makes you want to get up and dance on the table. Music invoking that song of the world, Upside Down, by Paloma Faith. Together, Julia Roberts and Happy Diamonds interpret the spirit of freedom as a powerful creative impulse drumming to the beat of a life lived to the fullest.
The photographer

Shayne Laverdière's keen gaze finds its way through the intricacies of movie sets. He turns his lens towards details invisible to film cameras, transposing the magic of everything that remains off-screen, subtly enhancing the atmosphere. His vision intersects with that of the cameramen, building an iconographic mosaic while at the same time weaving another thread into the story: that of the freeze frame. The poetic density and narrative power of his photographs have resulted in an enduring collaboration between Xavier Dolan and Shayne Laverdière, capturing the intimacy and vibrant grace of fleeting moments on the director's film sets. The series of images in this Happy Diamonds campaign were shot by Shayne Laverdière under the artistic direction of Xavier Dolan.
The orchestra conductor

Behind this project lies the inimitable signature of Caroline Scheufele: her eye, her taste, her talent and the confidence she is able to instil in those around her. It was she who moved heaven and earth to give life to a watch overturning every watch industry code, the Happy Sport. She has also now captured the spirit of the times in a visionary manner through this film. Through a stage-setting of exceptionally broad scope, along with perfectly matched consistency and a magical symbiosis between the talents involved, Caroline Scheufele has managed to infuse the singular energy enlivening the dial of a Happy Sport and successfully bring it to life onscreen. Merging her training as a dancer with her incomparable love of cinema, she has united the kind of talents that are the stuff of legends. The kind capable of creating kinetic magic inspiring countless other ways of dancing, as well as innumerable new legends waiting to be written and that everyone is free to make their own.
The motto

"Happiness exists only when shared,
It is made of moments you spend with your loved ones.
Happiness expresses itself through movements.
You can't help smiling, laughing, dancing…
Happiness is full of life!
Happy diamonds follow the rhythm of your emotions.
Free diamonds twirl as you do,
They communicate your Joie de Vivre,
They sparkle and celebrate your Happiness,
inspiring those around you."
Caroline Scheufele, Co-President and Artistic Director of Chopard, creator of the Happy Sport watch in 1993.