Antiquorum presents 2020 November Geneva auction
Luxferity, 25.10.2020
A curated selection of Important Modern & Vintage Timepieces
Auction to take place at Beau-Rivage Genève hotel, Salon de l'Impératrice
SUNDAY, NOVEMBER 8th, 2020
From 10:00 a.m. Lots 1 to 200
From 3:00 p.m. Lots 201 to 557
Preview
Antiquorum Showroom,
Rue du Mont-Blanc 3, 1201 Genève
November 5th, 6th & 7th
10:00 a.m. to 6:00 p.m.
Antiquorum is proud to announce its November Geneva auction taking place on November 8th at Beau-Rivage Genève hotel, with an important selection of the rarest modern & vintage timepieces.
"As the CEO of Antiquorum in a year full on instability and surprises, it has been challenging to adapt our business model which requires a lot of personal contact and intense travelling " not quite a social distancing business model. I am therefore immensely proud of the accomplishment of our team in succeeding to organize and offer this November 8th, a splendid auction in Geneva with a remarkably rich timepieces selection. Antiquorum digital evolution started this March 2020 by being the first international auction house to broadcast online. Since then, we have been able to launch the "Virtual Valuation Days" with our internationally based experts virtually meeting with clients and analyzing pieces 24h/7 throughout the world. This November, our auction will be traditionally hosted at the Beau Rivage Hotel is Geneva with rigorous sanitary cautiousness required. The online broadcasting experience will be renewed for those anable to physically join us", said Romain Rea, Antiquorum CEO.
Auction highlights - Antiquorum experts have selected eight lots for their exceptionality and attractiveness, to discover below:
LOT 403 – Vacheron Constantin Ref. 43050 Mercator prototypes in 18K yellow gold.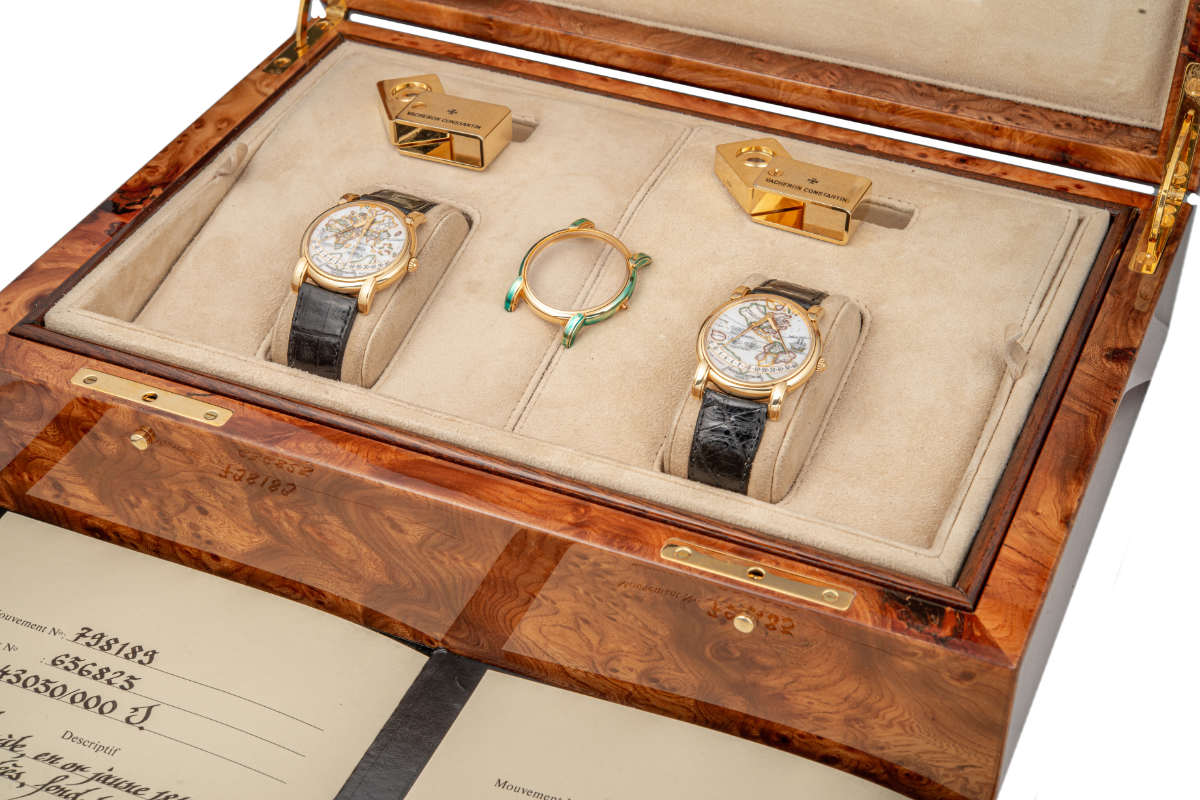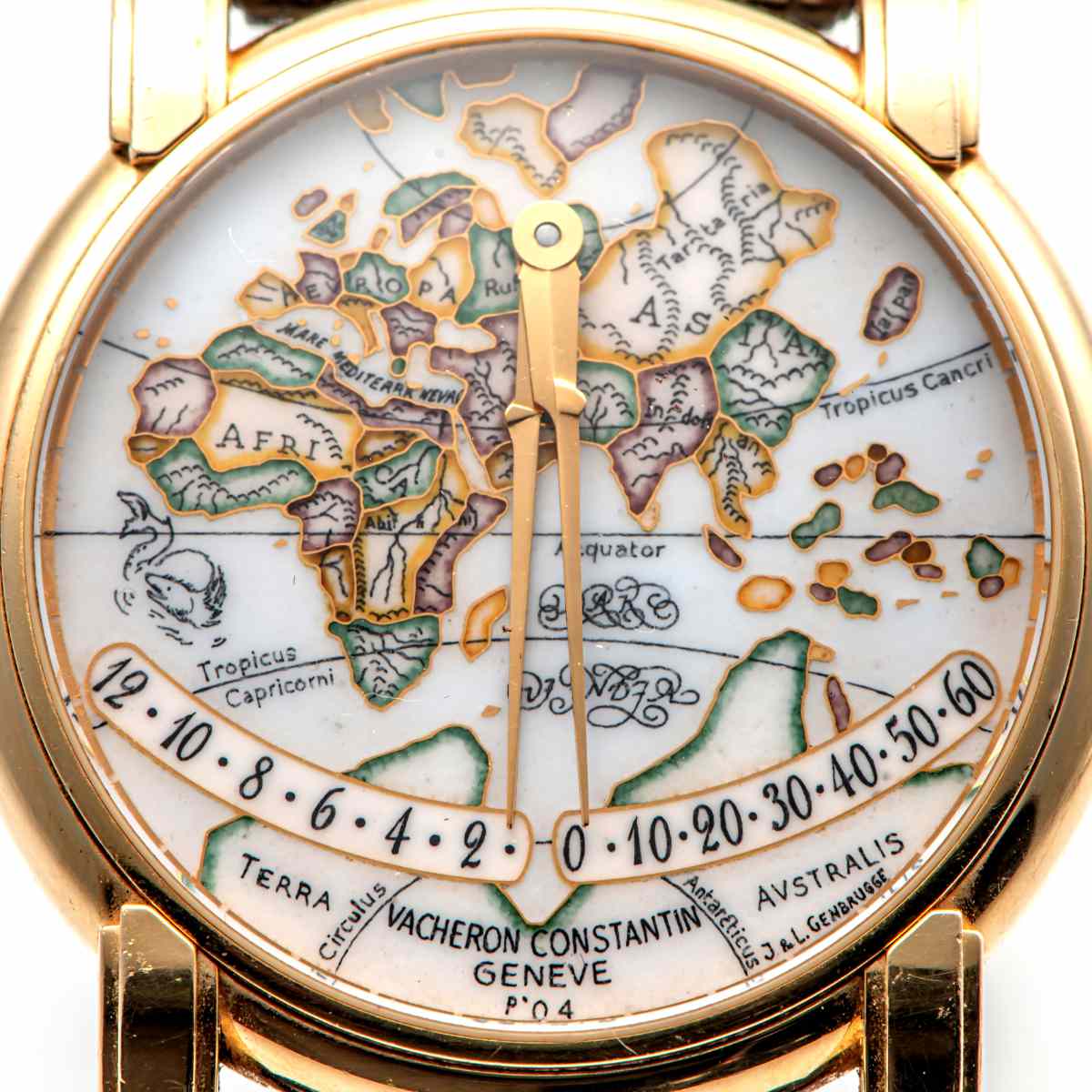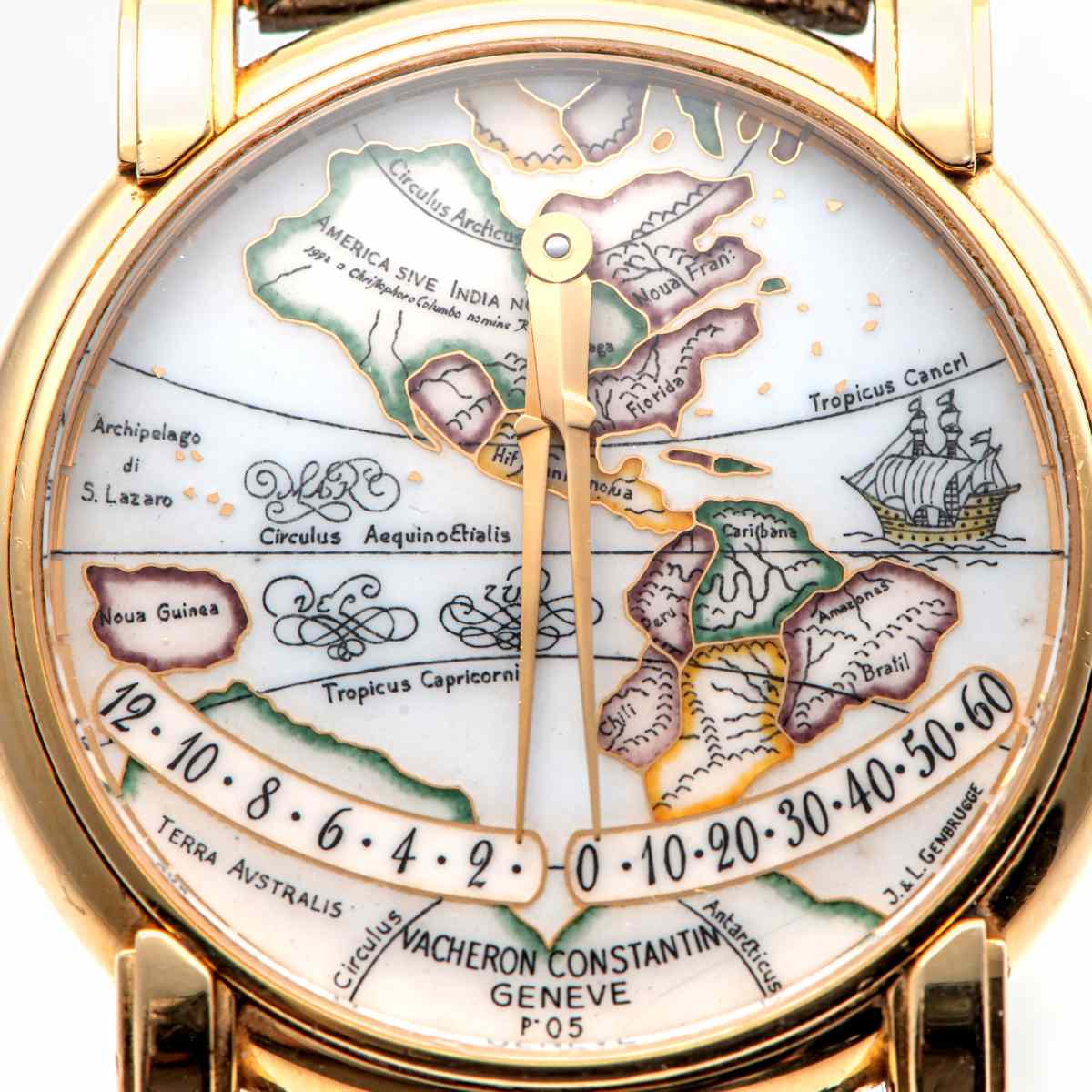 Presented for the first time at an auction, this extremely rare set of Mercator prototypes is the property of Mr Genbrugge himself: the watch conceptor and also enameller of this special Vacheron Constantin Limited edition.
For these two prototypes, the enamelling craftsmanship was achieved by Mr Grenbrugge and his wife Lucie. Collectors will be impressed by the extremely high level of details especially in the writings that couldn't be kept later on in the production pieces, making these pieces even more unique.
The course of the compass style double retrograde hand goes all over the "OLD WORLD" and the "NEW WORLD" two polychromatic cloisonné enamel dials depicting a map of Europa-Asia-Africa (the "Old World") and a map of the Americas (the "New World").
Based on the work of the 16th century iconic cartographer, Gerardus Mercator both watches are double signed by Vacheron and Lucie and Jean Genbrugge. The production of these limeted edition timepieces has been initiated in 1994 to celebrate the 400th anniversary of the death of Gerard Mercator to whom we ow the world's most famous map projection.
The set is offered in a like-new-condition with an extra green factory seal gold case, its certificate and a special watch box made for these two pieces knowing that the production of the Mercator offered only one piece separately.
Estimation CHF 80'000 – 140'000
USD80'000 – 140'000
HKD 640'000 – 1'120'000
LOT 200 – Patek Philippe Ref. 5020 Perpetual Calendar Chronograph in 18K Rose gold with moon phase indication, and Breguet indexes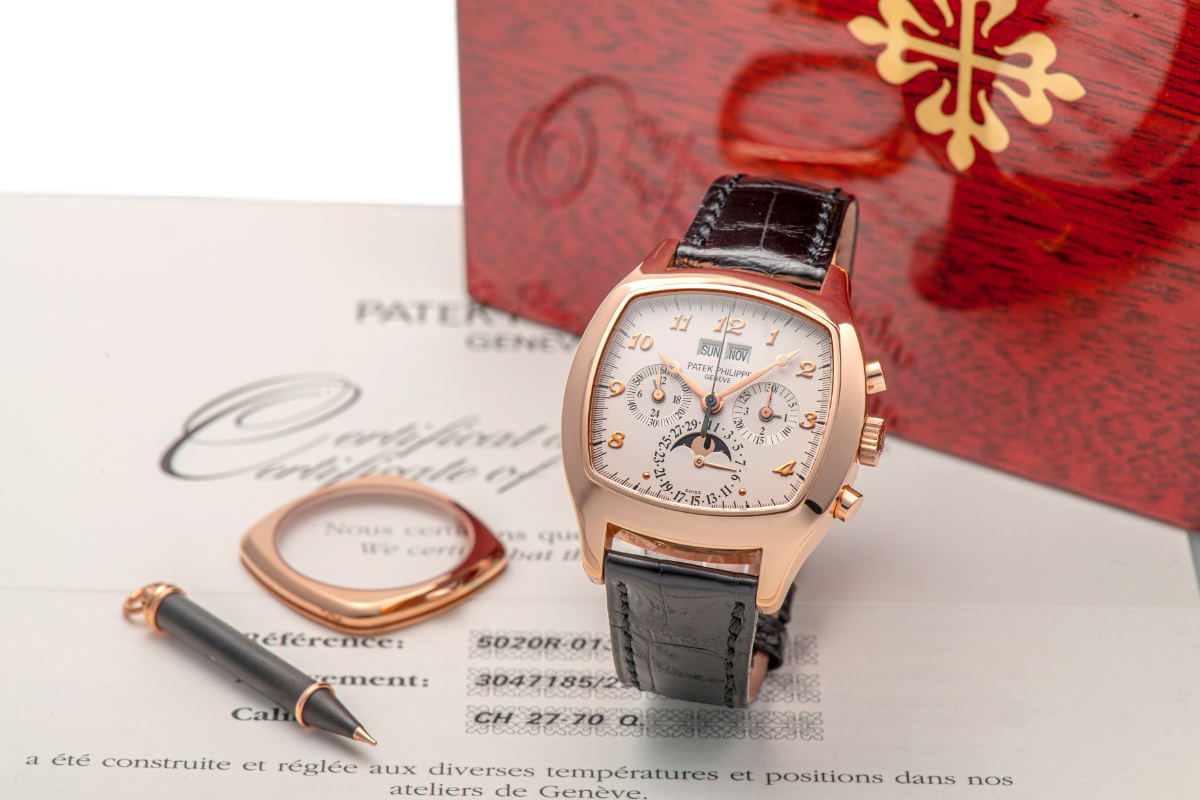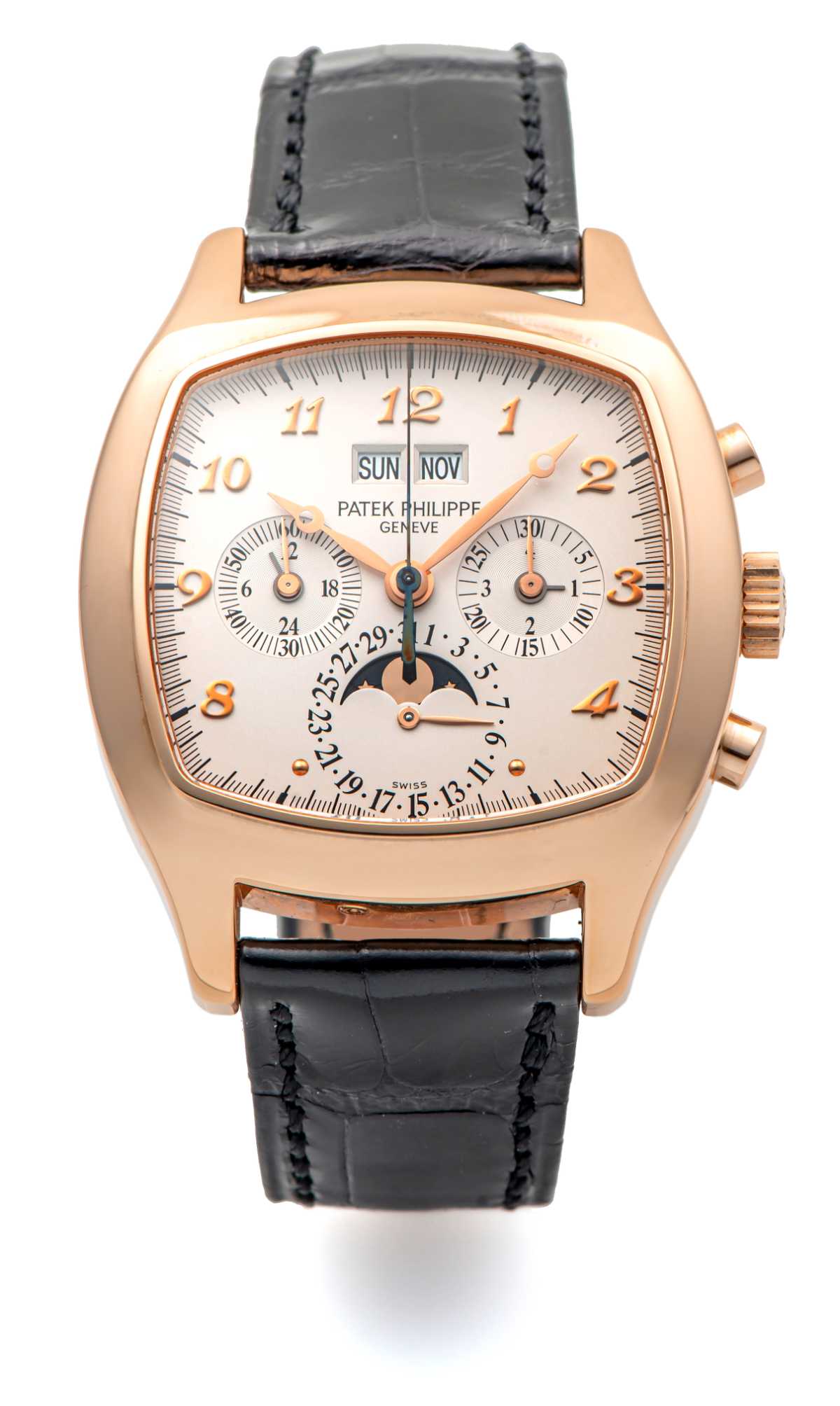 Fresh to the market and in superb condition, this reference 5020 also known as the « TV screen » due to its particular cushion-shaped case is entrusted by its original Swiss owner.
LOThe reference 5020's avant garde design and daring proportions sets it apart from other perpetual calendar chronographs from Patek Philippe. Scholars seem to agree that during its production time (1995-2001) only about 220 pieces were made in total before being discontinued: 200 in 18K yellow gold, white gold and rose gold and 20 in platinum.
This watch has the particularity to have been produced after its official production period for a specific Swiss buyer who acquired the precious timekeeper at Patek Philippe prestigious "salon" or shop in Geneva in 2005.
Estimation CHF 150'000 - 200'000
HKD 1'200'000 – 2'000'000 // USD 150'000 - 200'000
LOT 295 – Rolex Ref. 6264 Cosmograph Paul Newman Daytona in stainless steel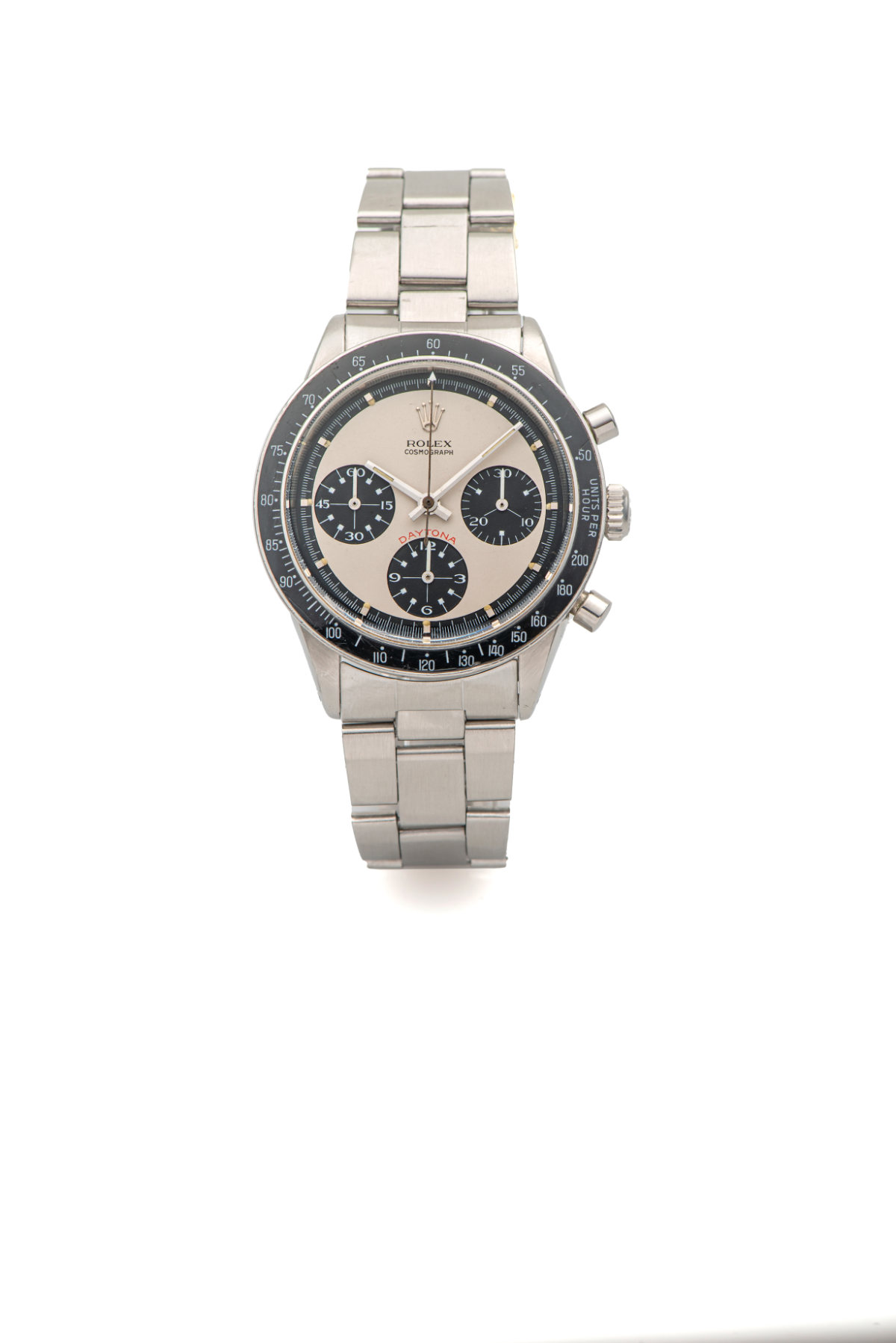 One of the rarest Cosmograph models, reference 6264 was produced for a few years only in the early 1970s. It is understood that only some 1,700 examples in stainless steel were ever made of reference 6264. Along with the rarity of the model, the present watch is also eye catching due to the "Paul Newman PANDA" dial (watch nicknamed "Paul Newman" Daytonas in the 80's after a picture of the famous actor wearing the watch was found).
Together with reference 6262, it was the last Rolex chronograph watch to be fitted with pump pushers but its caliber 727 boasts a higher frequency beat improving its precision.
Never offer on the market before, this watch was purchased new at Grassy retailer in Madrid by the father of the current owner for his 16th birthday. Still fitted on its original bracelet, the watch was worn regularly but has been kept in great condition with no service marks inside the caseback and more importantly its dial has been kept in near mint condition, making this rare reference always a collector's item.
Estimation CHF 120'000 - 220'000 // HKD 960'000 – 1'760'000 // USD 120'000 - 220'000
LOT 374 – Rolex Ref. 5514 Submariner COMEX in stainless steel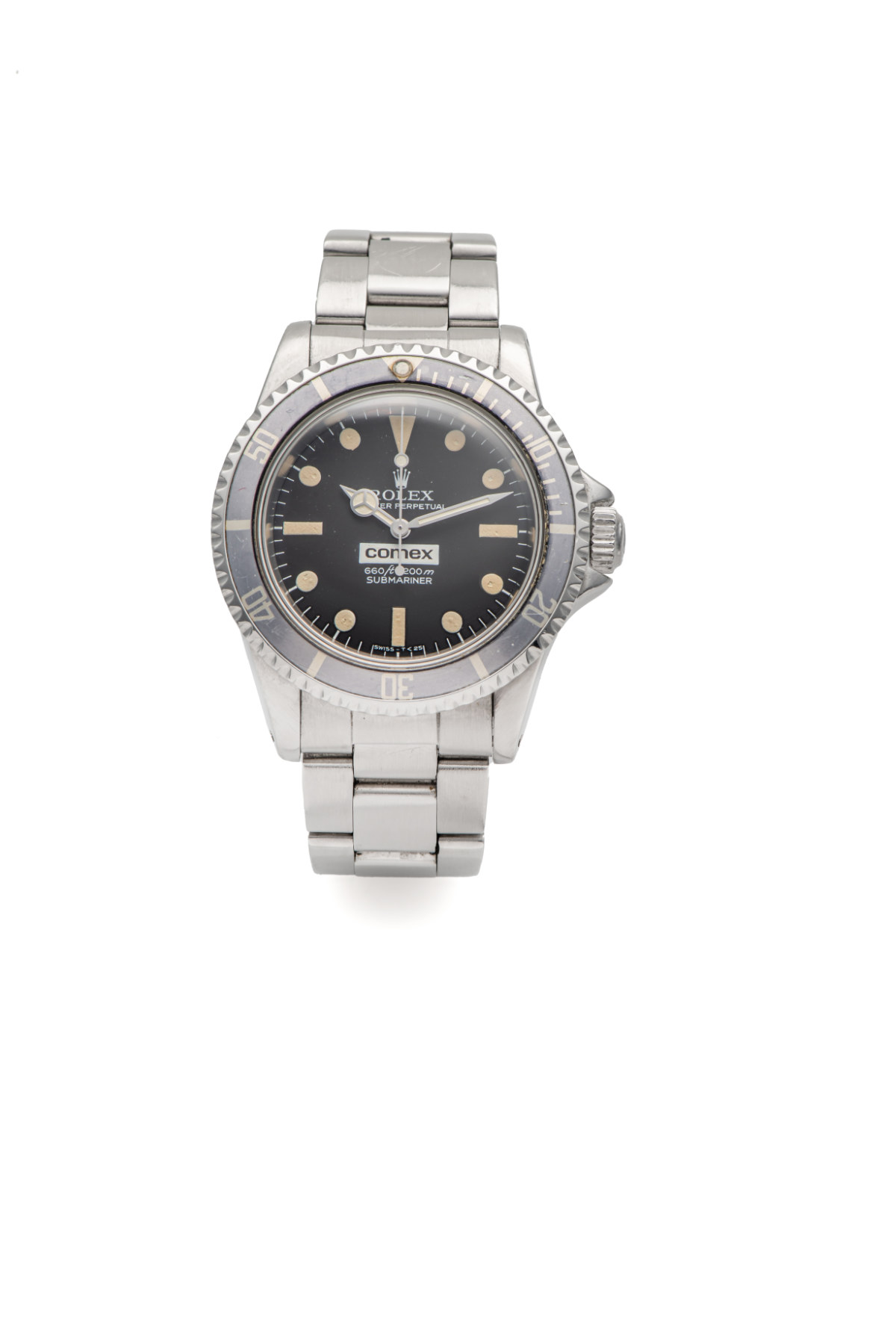 The reference 5514 is the only one created by Rolex for COMEX exclusively (COMEX stands for COmpagnie Maritime d'EXpertise). Indeed, the other COMEX references are modifications of other original Rolex pieces. This is one of the reason why, the submarine 5514 has now overtaken other COMEX references as the most sought-after.
Due to the extreme conditions in which the COMEX divers operated, every six months the watches were sent back to Rolex for an overhaul. These watches were not just meticulously overhauled but in many cases upgraded each time the watch went back to Rolex. It has been reported by former COMEX divers that some of the earlier Ref. 5514 watches did not have the COMEX logo on the dial and that when these watches were sent to Rolex for service, the dials were replaced by Rolex, some bearing the COMEX logo making these versions even rarer.
Such a mythical piece fron 1976 will most for sure stand out during the auction, also since Antiquorum set earlier this year, in June at its Geneva auction, a new World-record with a Rolex Ref. 1680 Submariner, COMEX from 1979 sold CHF 524'000 incl. premium's buyer.
Estimation CHF 100'000 – 150'000
HKD 800'000 – 1'200'000
USD100'000 – 150'000
More information about this piece :
The Submariners intended for the Compagnie Maritime d'Expertise, called COMEX, are legendary diving watches. It was in the early 1960s, in 1963, that a partnership between these two entities was established. During the construction of its first Hyperbaric Centre in 1968, COMEX set up a hyperbaric unit and a large modular saturation unit for physiological studies on its site in Marseille, which were adapted for saturation diving under hydrogen up to 800m.
Since 1926, Rolex has made the water-resistance of watches its trademark. It is an adventure that begins with the swimming across the English Channel by Mercedes Gleitze, a Rolex called "oyster" on the wrist, i.e. with the crown and back screwed on. The watch we are presenting has all the characteristics of a Submariner Ref. 5514: an emblematic and iconic reference that is a marker of both diving and watchmaking history.
LOT 320 – Patek Philippe Ref. 130 Chronograph in 18k yellow gold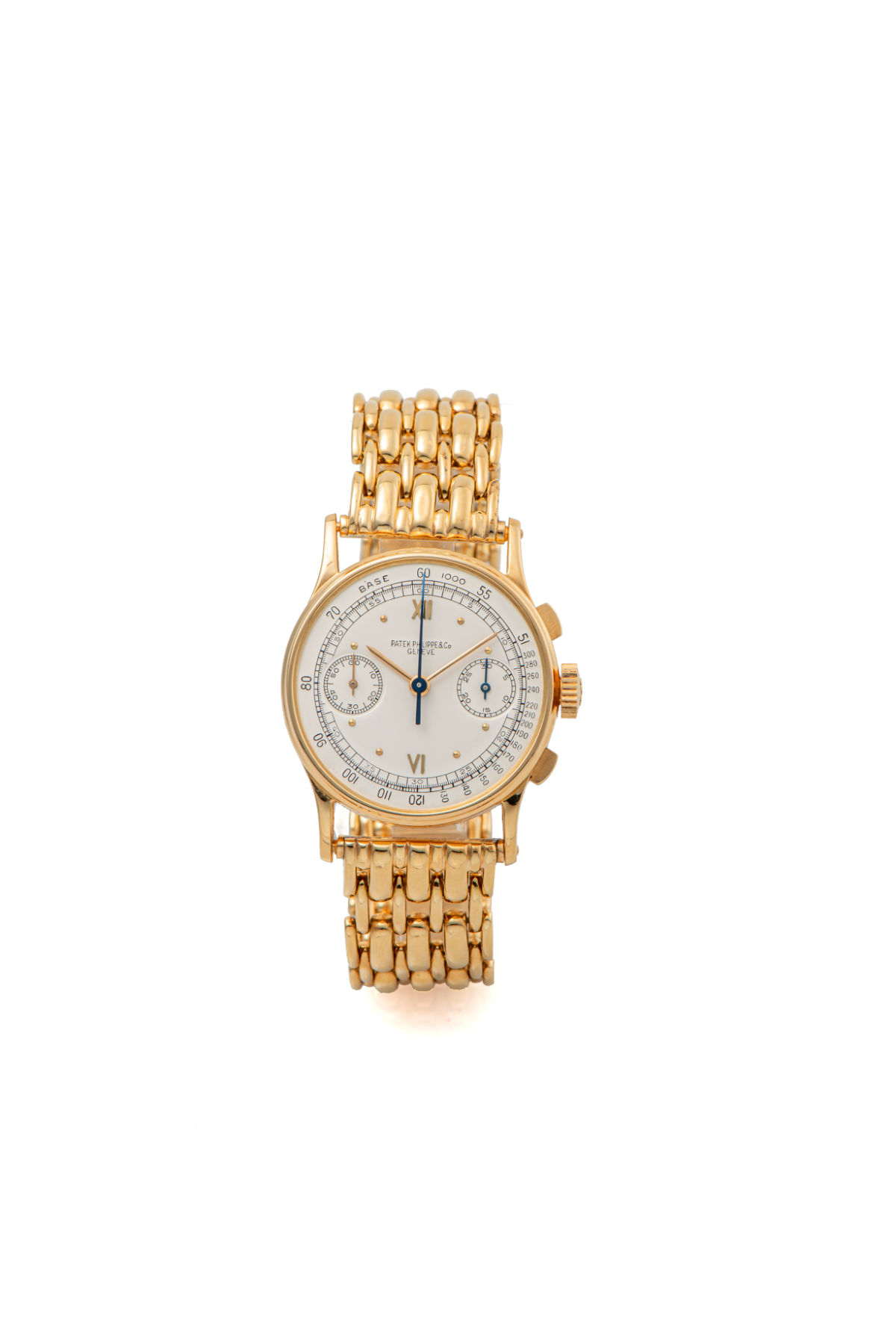 Consigned by the descendant of its first Swiss owner, this ref. 130, the quintessential Patek Philippe chronograph has been kept in beautiful condition, preserved in its original box. Furthermore the dial has been kept in excellent condition showing no defects.
The elegant design of this timepiece is also due to the know-how of its case manufacturer: Emile Vichet, a Geneva craftsman known for its distinctive elongated lugs with sharp pin holes and a hallmark on the side of the case.
While originally bought on a leather strap, the owner decided to later on purchased at Patek Philippe a beautiful and flexible gold bracelet that made the complete wristwatch even more appealing.
Launched in 1934 and produced until 1964, the reference 130 remains one of the most attractive chronographs for collectors, the lot presented by Antiquorum for this upcoming auction is one of its greatest example.
Estimation CHF 35'000 – 55'000
HKD 280'000 – 440'000 // USD 35'000 – 55'000
LOT 405– Audemars Piguet Ref. 5402 Jumbo Royal Oak, B series in 18K yellow gold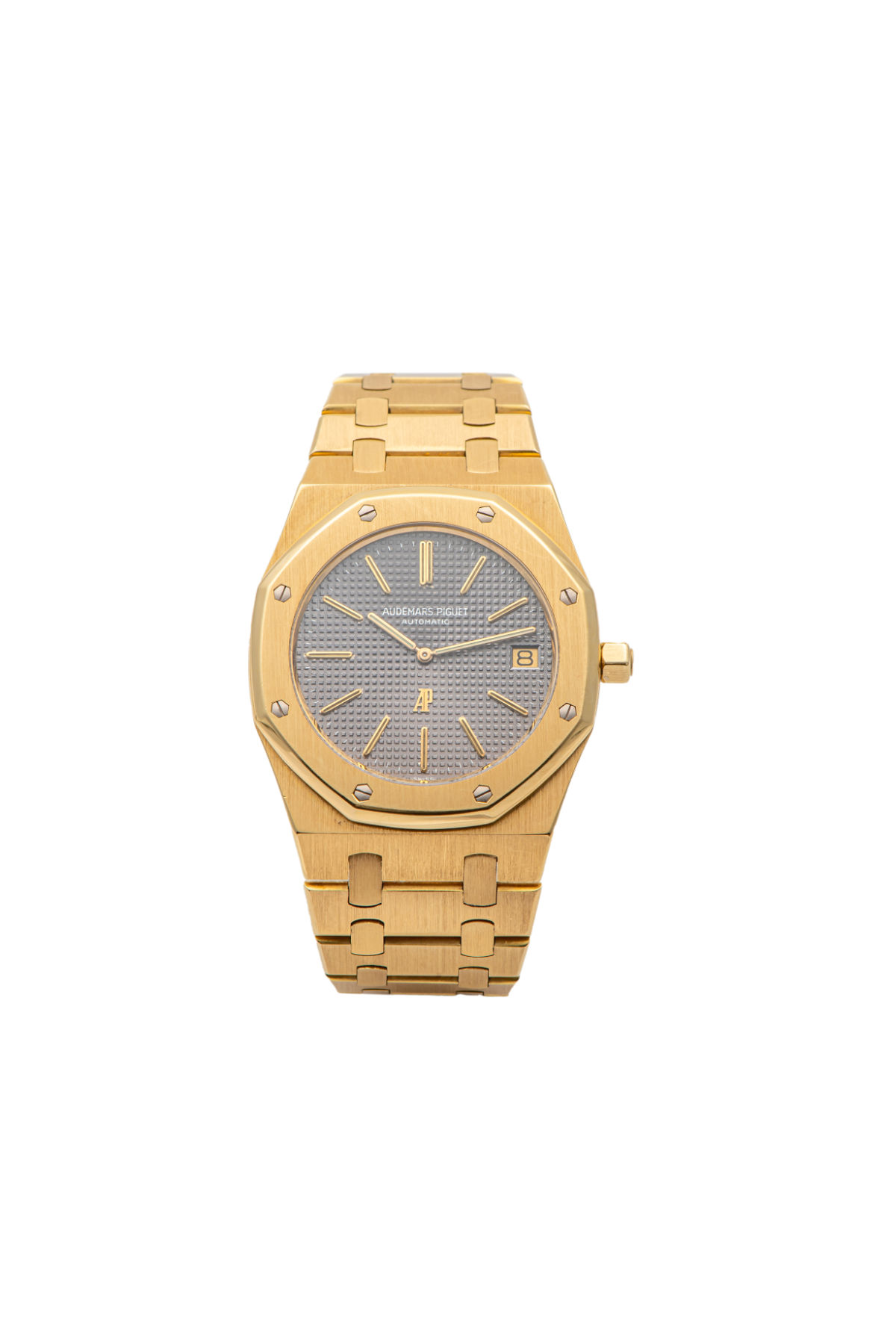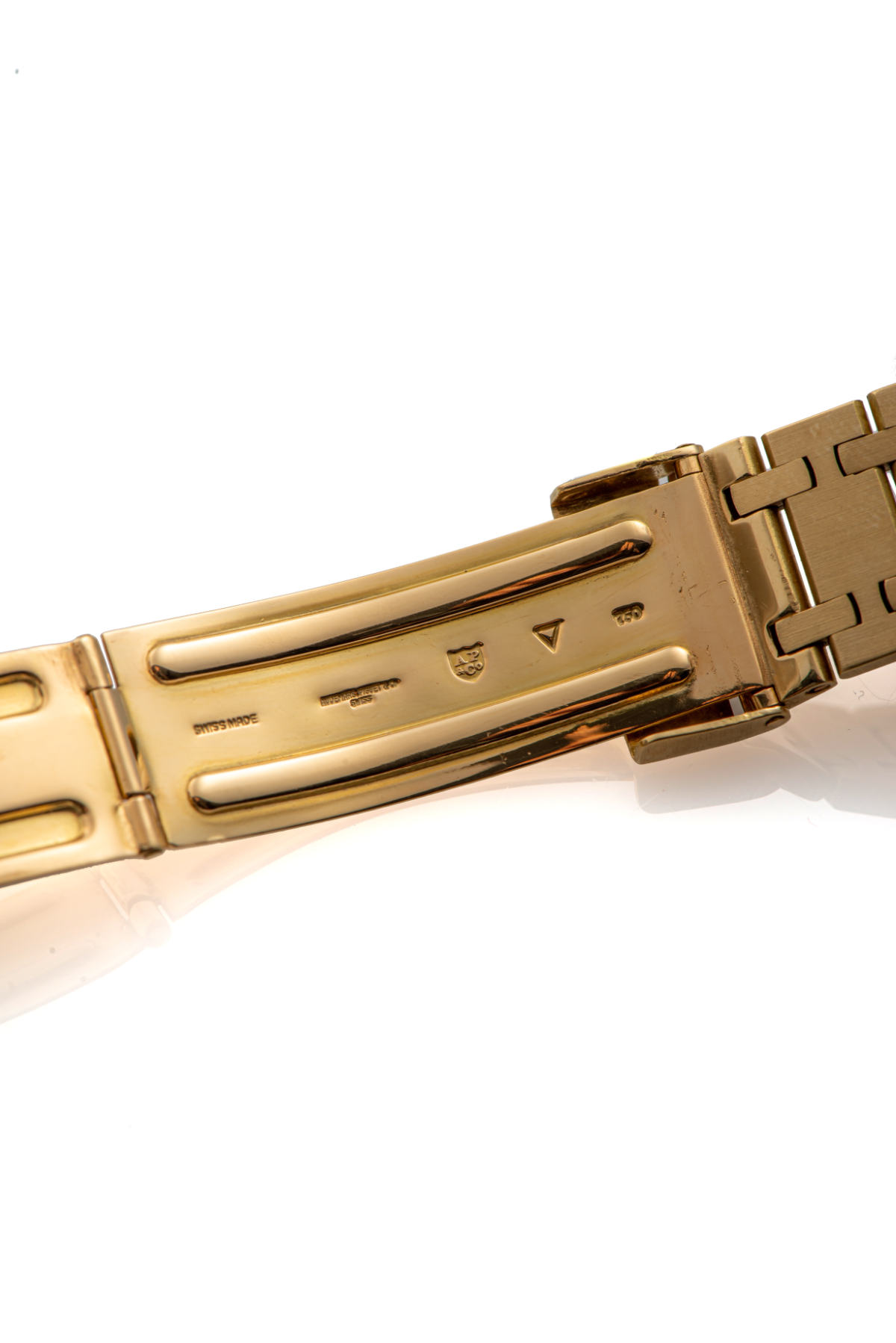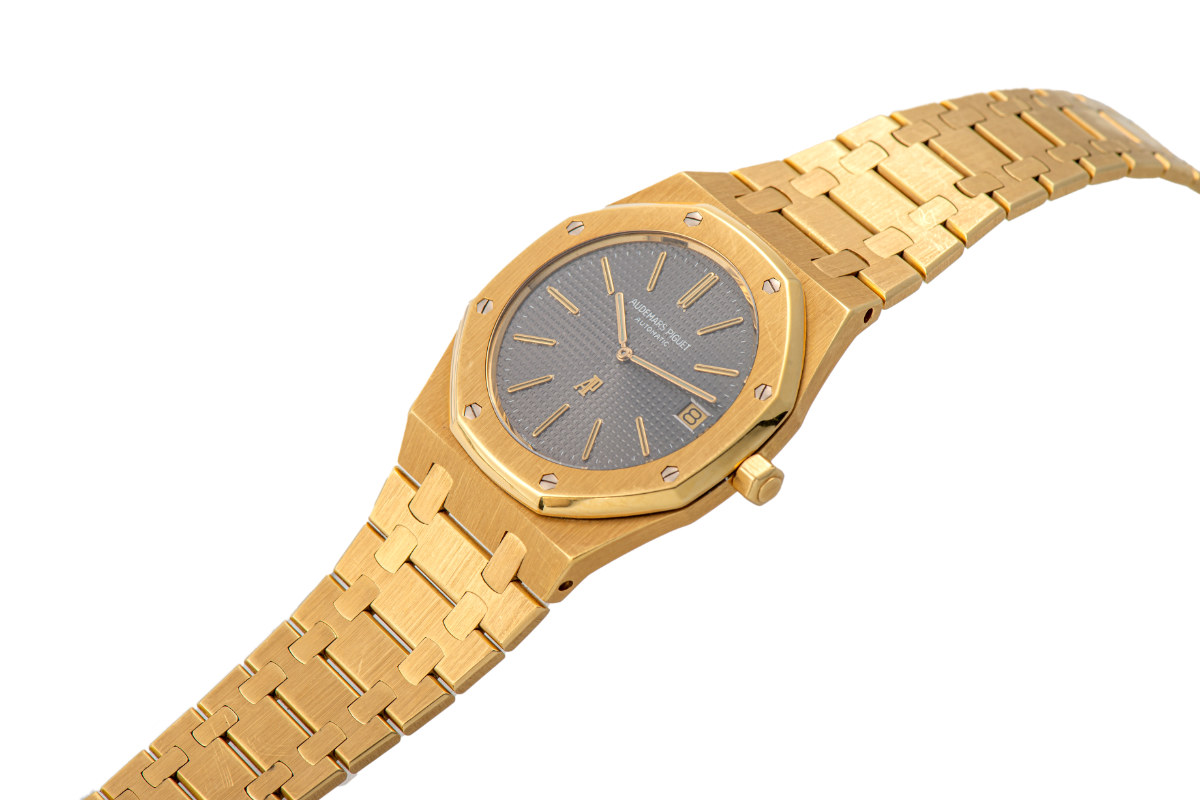 Debuted in 1972, designed by the iconic Gérald Genta, it was first produced in four series marked A, B, C and D, each with changes to the movement or the bracelet.
The B-Series was limited to 1000 pieces and features the original caliber 2121 produced by Jaeger-LeCoultre.
Sold in June 1974 this 18k yellow gold wristwatch B12789 Serial N°040 with its gray "litte tapestry" pattern dial in exceptionally good condition is highly appealing for collectors considering that on top of what has already been mentioned above, the gold version of this reference is rarest than steel models. – interesting fact: the folding buckle is also in 18K yellow gold.
Estimation CHF 60'000 – 120'000 // HKD 480'000 – 960'000 // USD 60'000 – 120'000
LOT 290 – Rolex Ref. 1665 Double Red Sea-Dweller, Mark II, stainless steel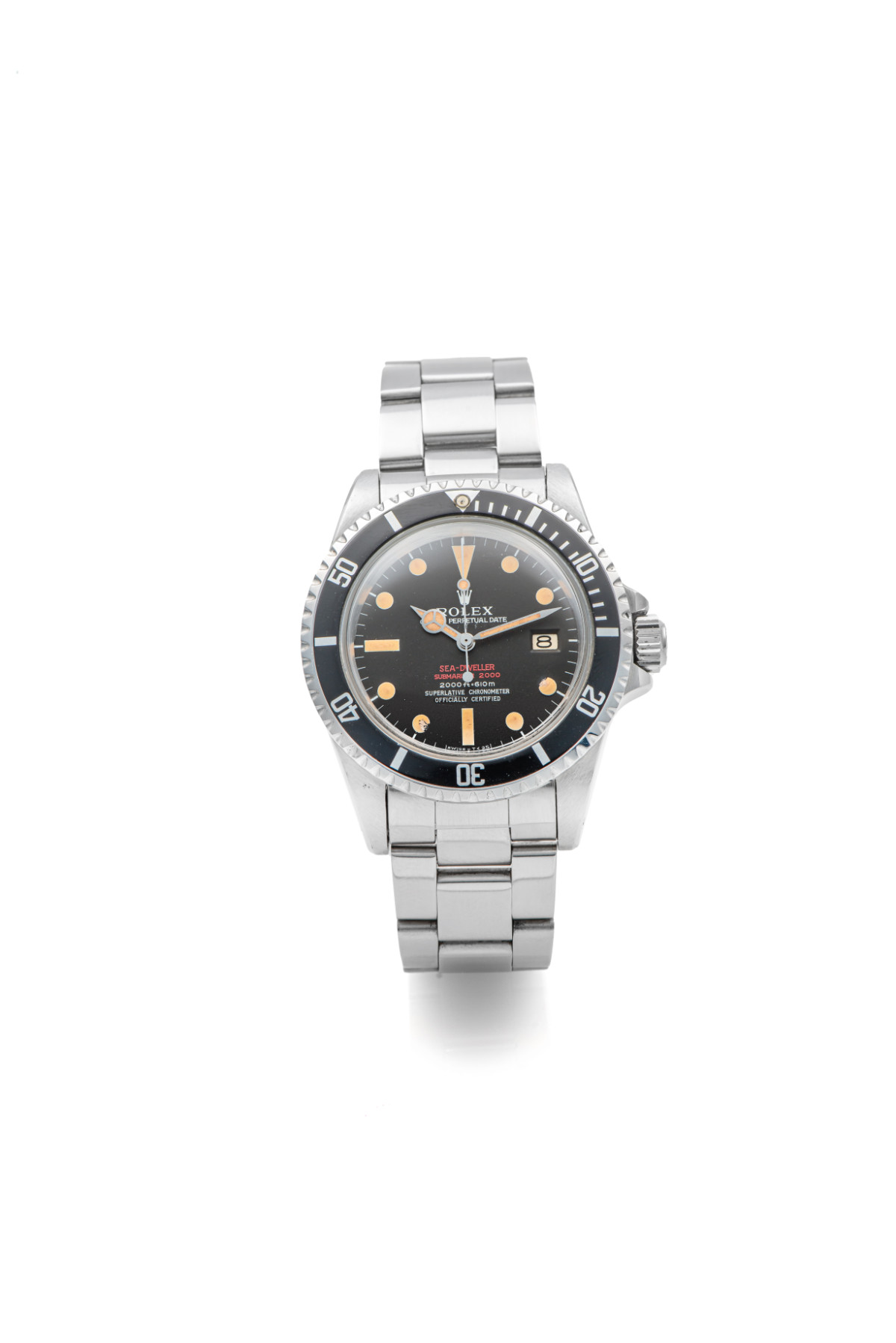 The Rolex Sea-Dweller was developed in collaboration with the famous French deep sea diving company COMEX. In underwater missions, divers have encountered watch failure during decompression, when the glasses exploded due to an internal build-up of air pressure. Rolex has modified the classic Submariner Ref. 5513 watches to add a helium escape valve to release air while maintaining the water-resistance of the watch. Thus, in 1967, the first batches of Ref. 1665 Sea-Dweller watches were given to authorised dealers and selected divers for testing. The original Sea-Dwellers were offered with double red writing on the dial until 1977.
Such an emblematic and iconic reference is a marker of both the history of diving and the history of the Manufacture with the crown.
Part of the Mark II series of the double red Seadweller, characterised by the Rolex coronet having a very small aperture at the bottom as well as the writing alignement of the D of Dweller that aligns with the letter I of Submariner, this example displays a strong case showing very little polish and wear.
This desirable watch comes from its first owner of Spanish origin and is in an exceptional state of preservation indeed, The last 3 digits are correctly stamped within the caseback, and the dial is in close to mint condition ( some indexes have some lume that is crackling/worn) with a very beautiful beige patina on the indexes and hands, a great, fresh to the market example of the 1665.
Estimation CHF 24'000 – 34'000
HKD 192'000 – 272'000
USD 24'000 – 34'000
LOT 59 – Omega Ref. 166.077 Seamaster Ploprof Prototype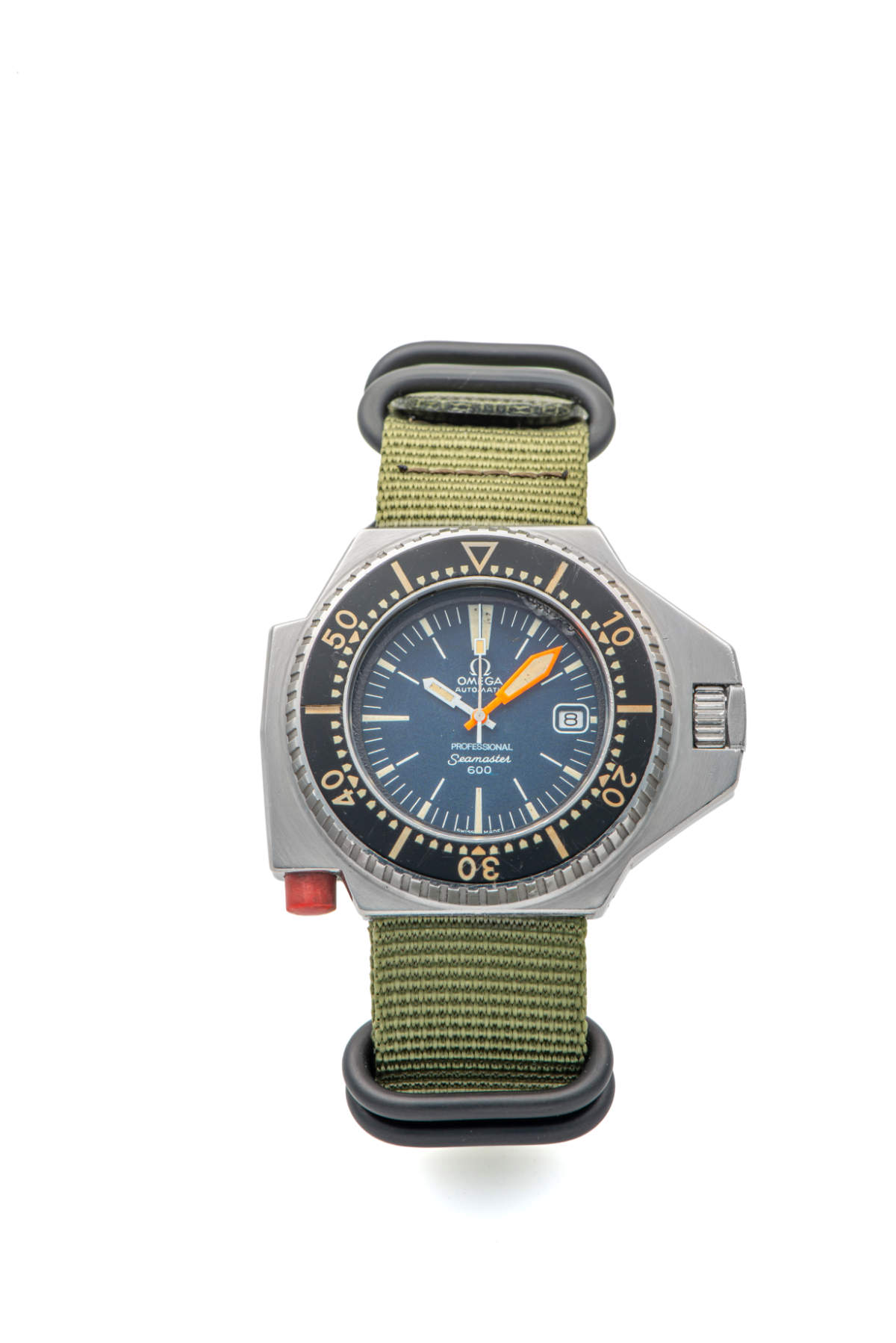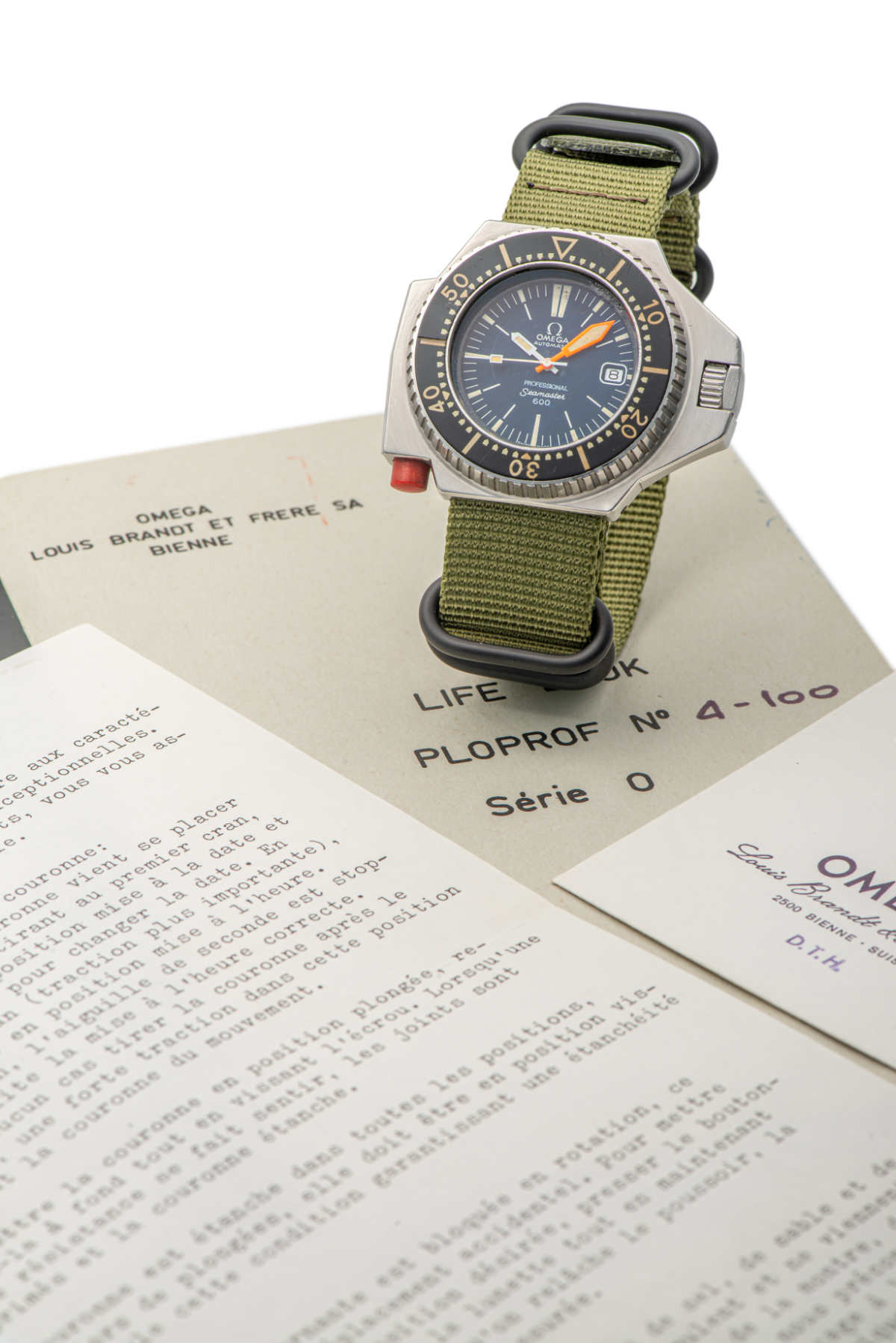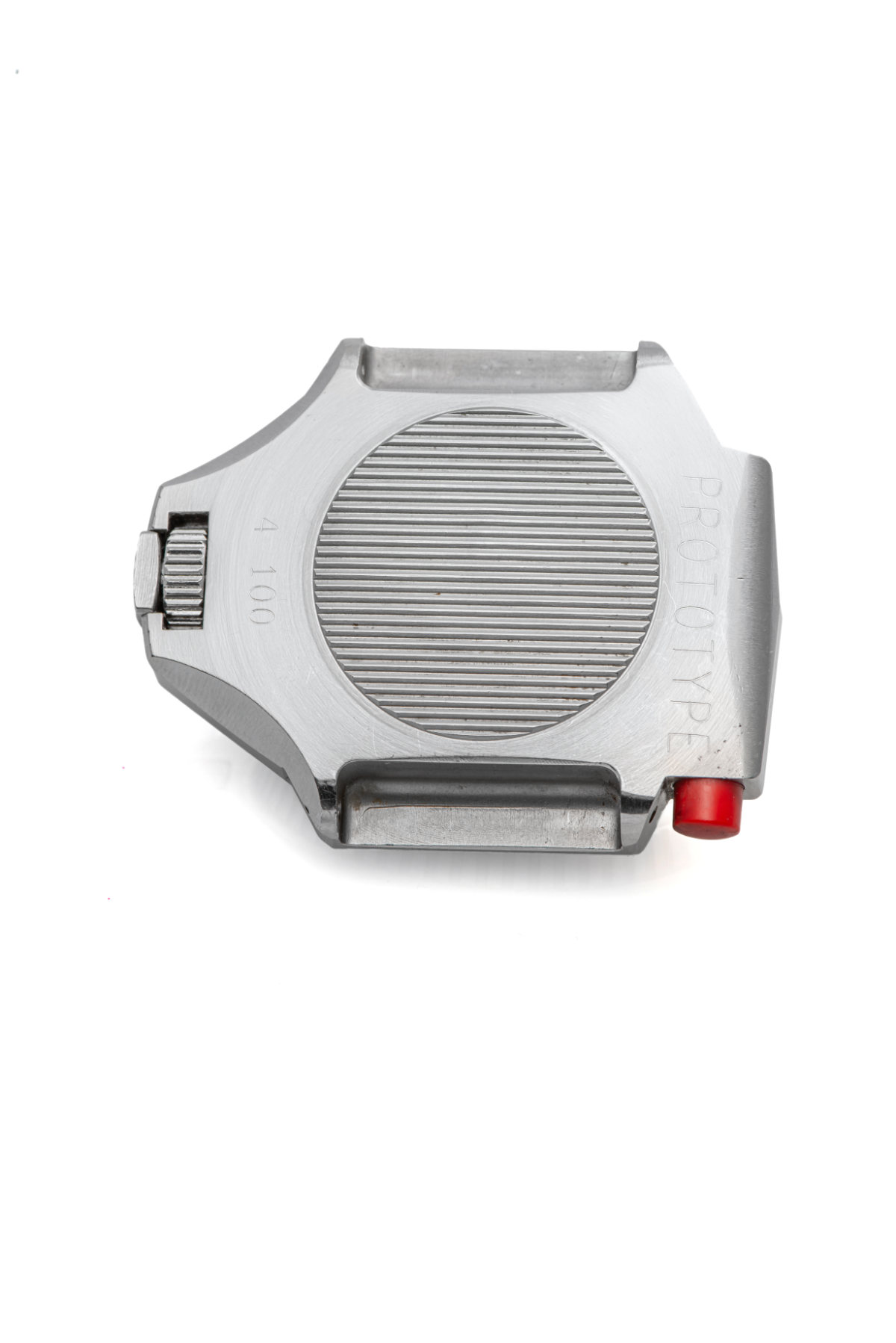 All the superlatives can qualify this very fine, historically important and extremely rare self-winding saintless steel prototype diver's wristwatch property of Christian Bonnici, member of the original Jacques Cousteau team.
The current "PROTOTYPE" Ploprof, as per its caseback engraving, is part of the initial series given to members of the Cousteau team to be tested during their dives.
Omega archives, testifies that all these prototypes carries a batch number.
In this case these Seamaster 600 prototypes were part of batch 4, and then followed by the watch issue number starting at 100, making this example inscribed 4-100, the first one ever made in this batch.
Rarities, the watch still comes with its Omega Life book inscribed: Life Book, Ploprof No. 4-100, Serie 0, which gives instructions on how to use the watch and has a dive log book at the back that details each dive with comments on issues, defects to report back to Omega (some comments read: " hard to read at -100m, bracelet breaking before dive, hard to use the crown under water, until its last entry on February 10, 1972 where it is commented movement no longer running"). Fitted with an early dial featuring the word Professional above Seamaster 600 and a graining on the case, typical of the very early versions as well as the large lume hour hand, it has all the characteristics just like the day it was delivered in July 1971.
Consigned directly from the family of Mr Bonnici, an almost unique opportunity to acquire a prototype Ploprof from the best provenance one could ever wish for.
Estimation CHF 20'000 – 40'000
HKD 160'000 – 320'000
USD 20'000 – 40'000
About Antiquorum
Antiquorum, The World's Premier Auctioneers of Modern and Vintage Timepieces, established in Geneva in 1974, Antiquorum has carved its own unparalleled niche in the auction world by cultivating a thriving collector's market for timepieces worldwide and consistently obtains the highest prices for timepieces, auctions timepieces with exceptional provenance and rarity and has set many world records.
Resolutely avant-garde, Antiquorum was the first auction house to offer full online service with the possibility to place absentee bids or register to bid in real time during the auction.
Antiquorum holds auctions in Geneva, Hong Kong and Monaco with previews held in major cities worldwide. With its internationally recognized staff of watch experts providing unsurpassed expertise and services and its dedicated pursuit of innovative auction methods, Antiquorum continues, more than ever before, to make history in time
For more information, please visit https://www.antiquorum.swiss