---
New Piaget Limelight Gala Aventurine: The Sparkle Of Extravagance
Luxferity, 10.02.2022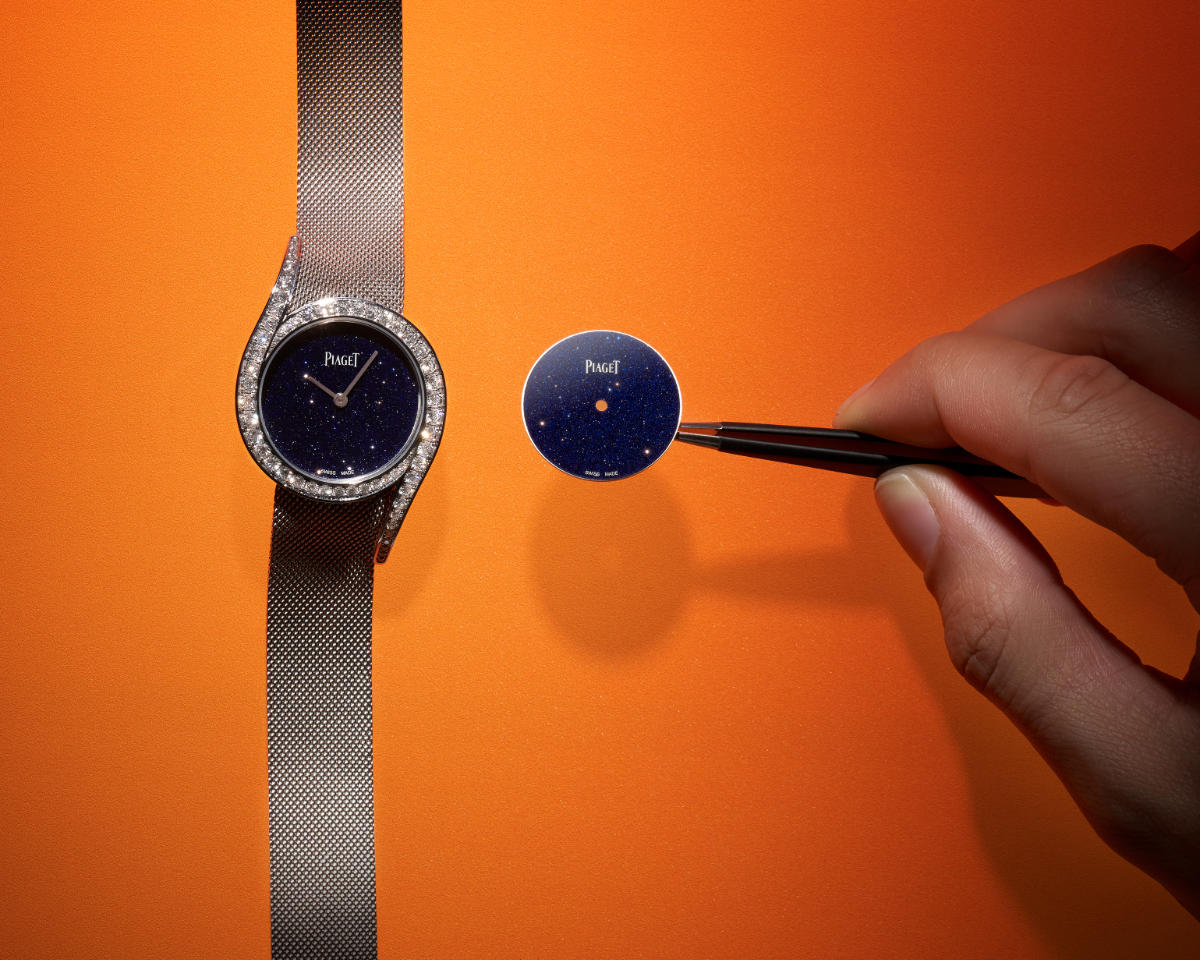 Let yourself be transported to the stars with this Limelight Gala Aventurine, an icon that has found inspiration in the magic and mystery of the night's sky.
At Piaget, a timepiece is first and foremost a piece of jewellery. From the case to the dial, the bracelet to the gem-setting, each Limelight Gala timepiece is brought to life thanks to the talents of Piaget's artisans who never stop innovating. The Limelight Gala Aventurine is a celebration of this creativity and savoir-faire.
A FEMININE ICON

The name of the collection evokes the famous Piaget Society and its fabulous parties where celebrities, artists, clients, and friends of the brand would gather to share joyful moments. Initiated in the 1970s, the Piaget Society came to life at a time when creative imagination was at its height. This is when Piaget created jewellery watches with extended lugs. Today, the Limelight Gala collection draws on a wealth of inspiration from this fascinating period and has firmly established itself as a feminine icon.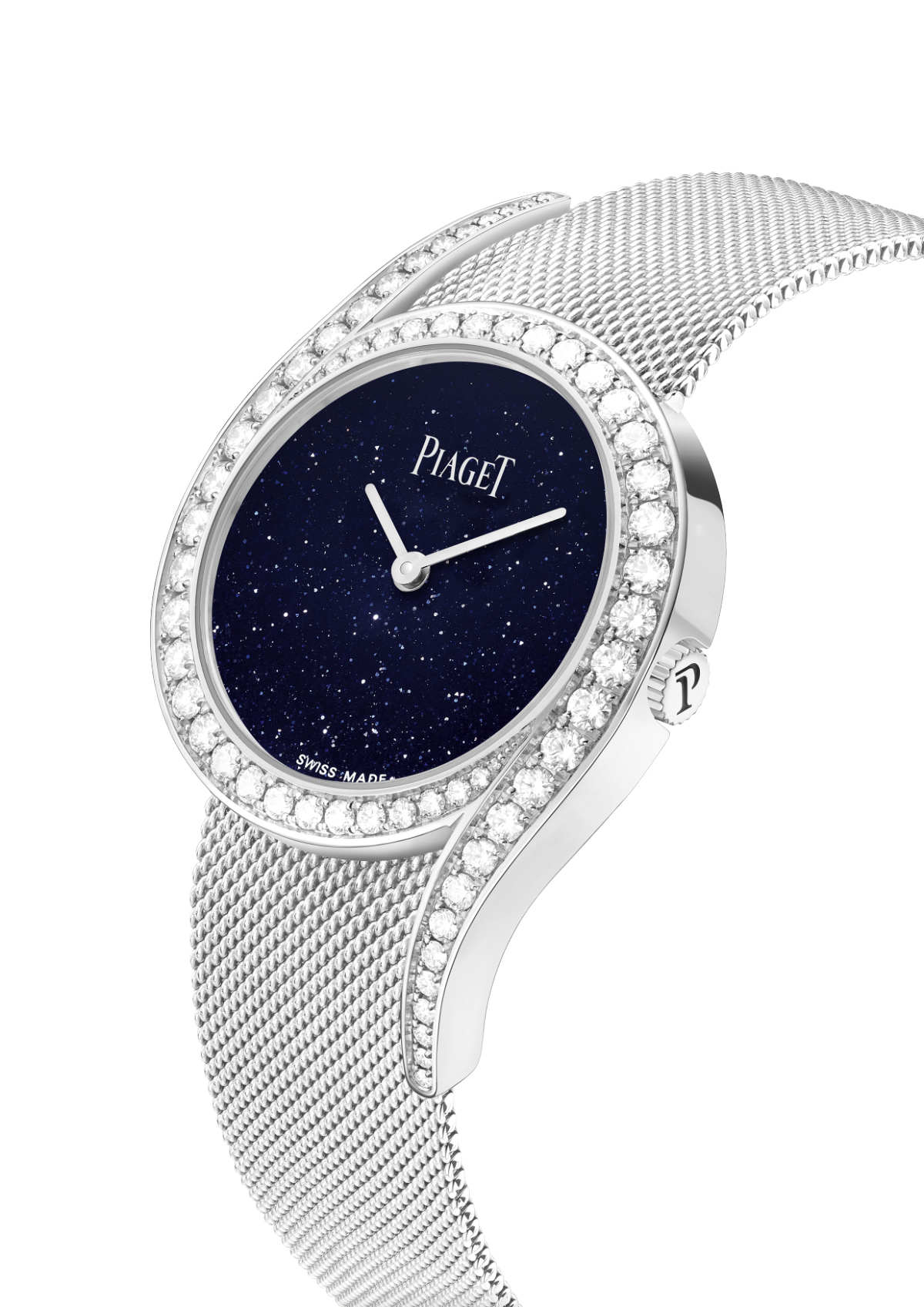 THE BEGINNING OF A NEW STORY

The Limelight Gala design is more than just a shape; its asymmetrical lugs, cambered case, and expert setting of diamonds are the signature style of the collection, which is made for free-spirited women whose radiance shines effortlessly. More than a timepiece, the Limelight Gala is a statement. More than jewellery, it is the beginning of a story, where each creation becomes one with its keeper and they shine as one.
GET LOST IN STARRY NIGHTS

Housed in a 32mm white gold case adorned with swirls of 62 diamonds set on two elongated lugs, the Limelight Gala Aventurine features a magical aventurine dial. A type of glass dating back to 17th century Venice and the famous glass-making quarter of Murano, aventurine includes the addition of copper oxide to glass, which mimics the stars in the galaxy. As a fitting tribute, the origins of the word aventurine, come from the Italian for "adventure".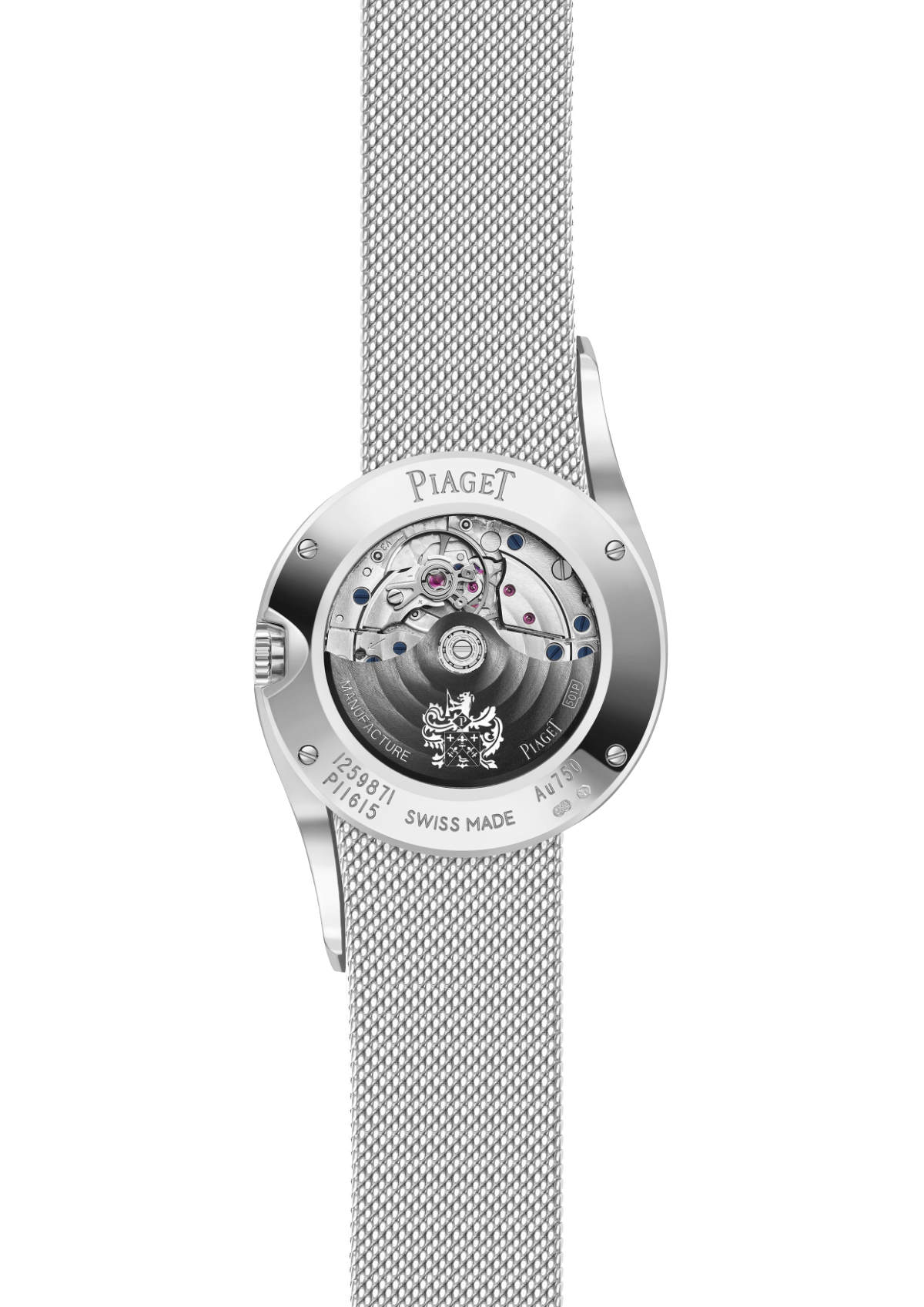 The Limelight Gala Aventurine is not only beautiful on the outside, its refinement continues on the inside with a manufacture, self-winding Calibre 501P1.
THE ART OF OF THE BRACELET

The sparkle of aventurine and diamonds is paired with a sophisticated white gold Milanese mesh bracelet. Crafted with the same refinement and creative extravagance as an haute couture gown, this intricate bracelet takes over 100 hours of craftmanship by no less than eight of Piaget's artisans. It all starts with one gold thread, which is then shaped in a spiral and weaved together to create a supple fabric of gold. Each bracelet is formed by 366 spirals and a sliding buckle, to provide comfort and an extraordinary flexibility.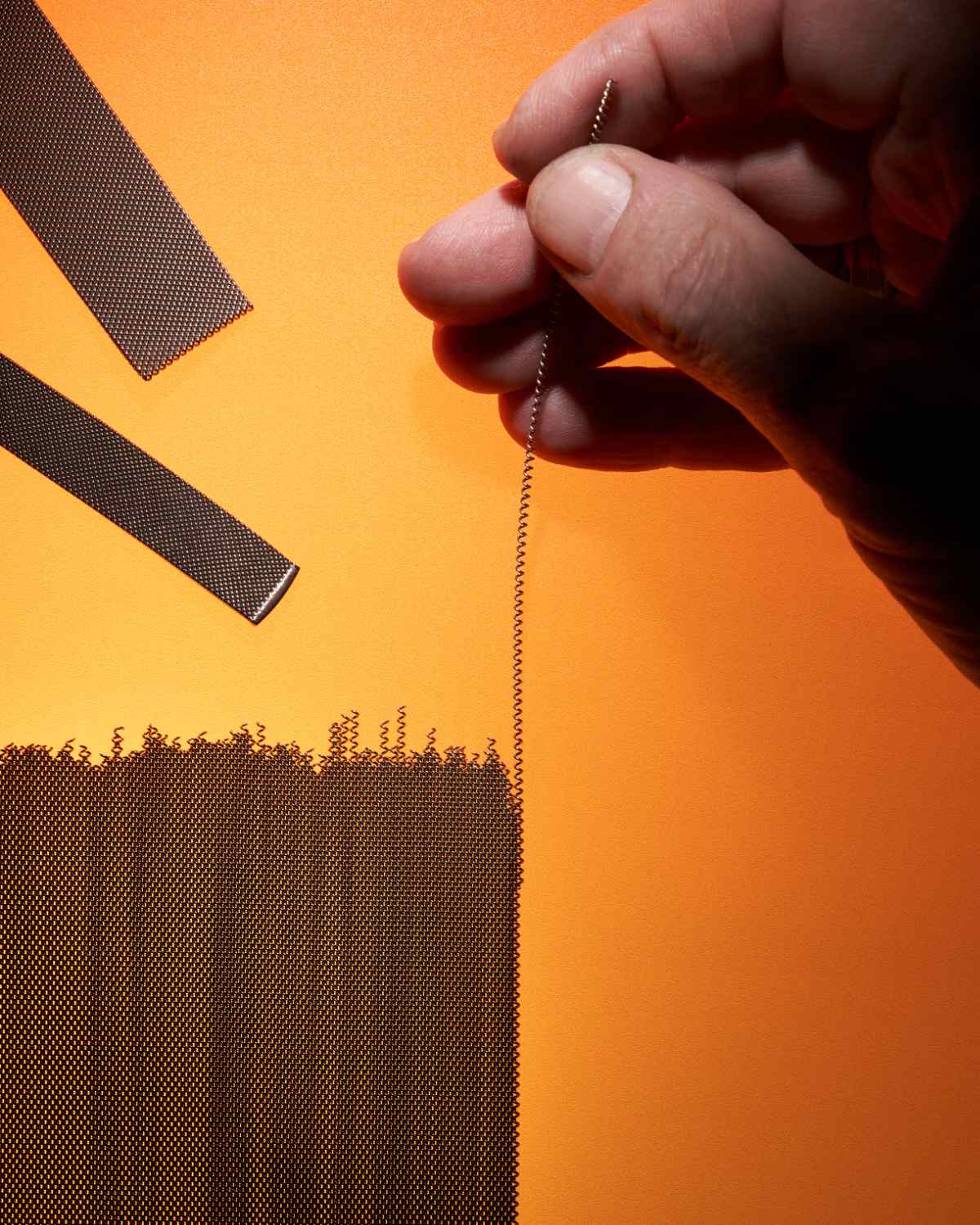 THE COLLECTION IS LIMITED TO 300 PIECES FOR WOMEN LOOKING FOR THAT EXTRA SPECIAL SPARKLE OF EXTRAVAGANCE TO EXPRESS THEIR VERY OWN SENSE OF STYLE.
Limelight Gala Aventurine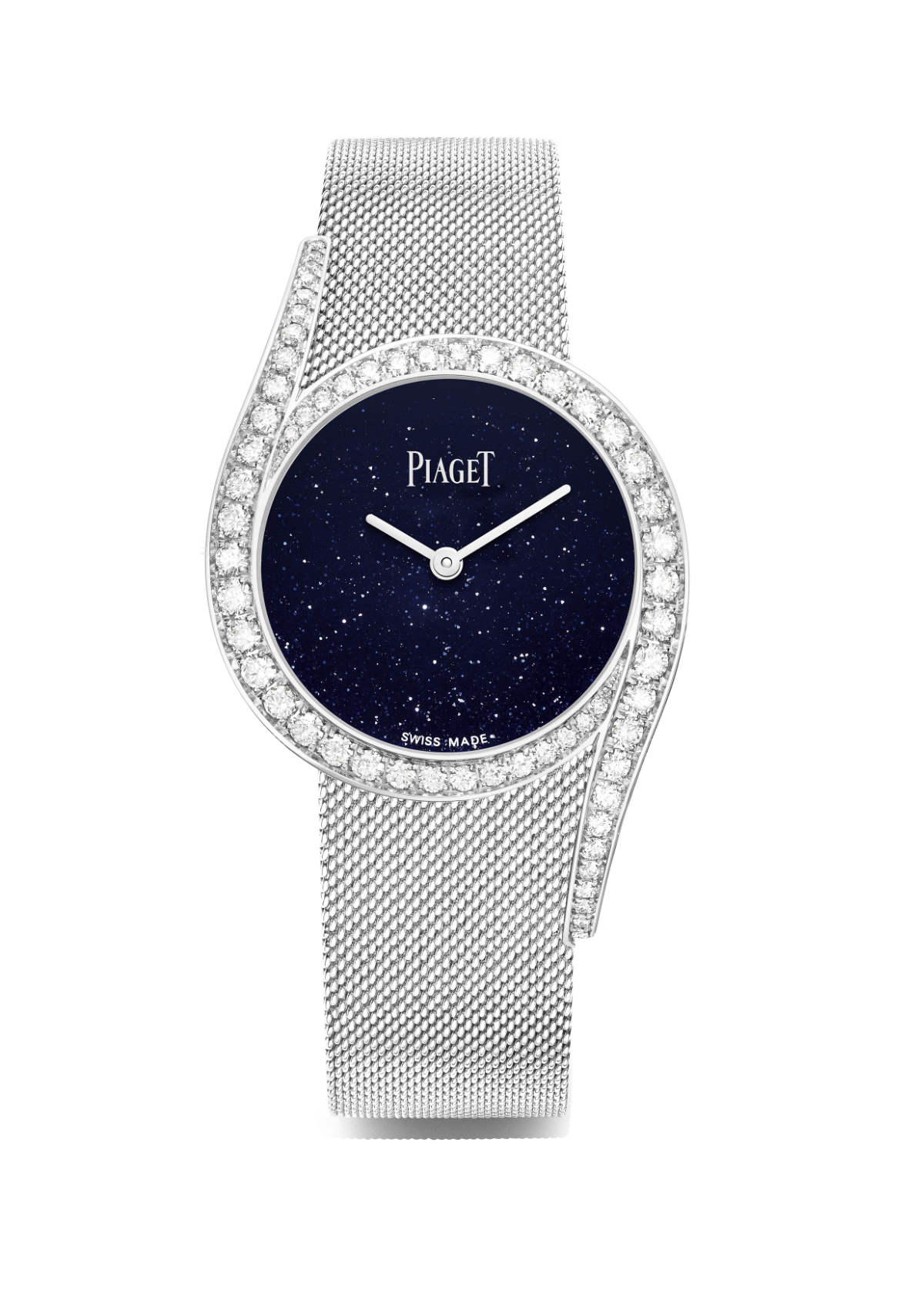 - Diameter: 32 mm Watch in 18K white gold
- Bezel set with 62 brilliant-cut diamonds (approx. 1.66 ct) Aventurine glass dial
- Self-winding mechanical manufacture movement 501Pl
- Functions: hours and minutes
- Milanese mesh bracelet in 18K white gold with sliding buckle Limited to 300 pieces
G0A47162
ABOUT PIAGET

Piaget epitomizes daring creativity – a quality that has continued to permeate through the Maison since its beginnings in 1874. From his first workshop in La C te-aux-F es, Georges-Edouard Piaget devoted himself to crafting high-precision movements in a feat that formed the very foundations of our pioneering name. In the late 1950s, Piaget unveiled the ultra-thin movements that would later become the Maison's trademark and the cornerstone of the Altiplano collection. As a true innovator of the watch and jewellery world, Piaget strongly believed in creativity and artistic values. It is within the walls of our "Ateliers de l'Extraordinaire" where master artisans continue to harness rare skills that have been preserved and perfected from generation to generation, transforming gold, stones and precious gems into dazzling works of art. Through its pursuit of masterful craftsmanship, the Maison has created emblems of daring excellence channeled into its collections including Piaget Altiplano, Piaget Polo, Limelight Gala, Possession, Sunlight, Piaget Rose and Extremely Piaget.
---