---
A milestone heralded by the introduction of the ultra-slim GUCCI 25H In a year marking its centenary, Gucci announced its entry into high watch-making with an exceptional suite of contemporary watch designs by Creative Director Alessandro Michele.
Each illuminates the creativity, craftsmanship and technical skill that has underpinned its creations since the luxury fashion house was established by Guccio Gucci in 1921.
The new high watchmaking collection is comprised by four lines – GUCCI 25H, G-Timeless, Grip and high jewelry watches. Each gathers inspiration from Gucci's craft legacy and heritage elements, including flora and fauna, talismans, and the emblematic Interlocking G logo.
Gucci made watchmaking history in 1972. Not only was it the first luxury fashion house to elevate the watch to become a contemporary style statement, but it also demanded the highest quality – every Gucci watch is Swiss made. Over the past 50 years, the House has continued to design extraordinary timepieces that are made in production facilities across the famed Swiss watchmaking region. In La Chaux-de-Fonds, quality control, assembly and diamond setting take place, while dials are crafted in Gucci's Fabbrica Quadranti facility in the Canton of Ticino, a dial maker company employing the latest technological methods in tandem with highly skilled handwork. Special decorative techniques are also carried out at Fabbrica Quad-ranti. Neuchâtel – the headquarters and home of Gucci watches, is where the House's watch design know-how comes together. Today, Gucci is one of the largest luxury fashion watch producer in the world and continues to design era-defining Swiss-made timepieces.
Now Gucci has taken a natural, next step into the arena of high watchmaking, a rarefied world that encompasses the best in Swiss horological know-how, advanced manufacturing techniques and exceptional skill in exquisite, decorative arts. The new collections are a dazzling fusion of Gucci's innate Italian style and peerless, Swiss expertise, a conjunction that is perfectly expressed in the new GG727.25 watch calibre, Gucci's first movement developed and produced by the state-of-the art Ker-ing movement manufacture in La Chaux-de-Fonds, Switzerland. Self-winding and ultra-slim at just 3.70mm in height, the GG727.25 calibre makes its debut in the new GUCCI 25H, a triumphant milestone in the House's watch history.
GUCCI 25H

The GUCCI 25H bears a playfully symbolic name, containing a number that Ales-sandro Michele considers a talisman and one he often features in his collections for Gucci. The GG727.25 calibre references other important numerical symbols: '7' to encapsulate a sense of completeness; '2' representing balance and cooperation; '5' symbolizing curiosity and freedom.
With its sleek, sporty lines, contrasting finishes and technological excellence, the GUCCI 25H is the touchstone of Gucci's debut in high-watchmaking collections, its ultra-slim case allowing a light touch for the watch to become like a second skin on the wrist, suited to both men and women. The GUCCI 25H is presented in steel and pavé-set models and two tourbillon iterations in platinum and yellow gold. A mechanical watch design for our times, the GUCCI 25H seamlessly bridges authentic contemporary style and unparalleled savoir-faire of watch expertise.
Two further high-watchmaking creations and one watch jewelry collection are also revealed, each brimming with the artistic character and free spirit of Gucci.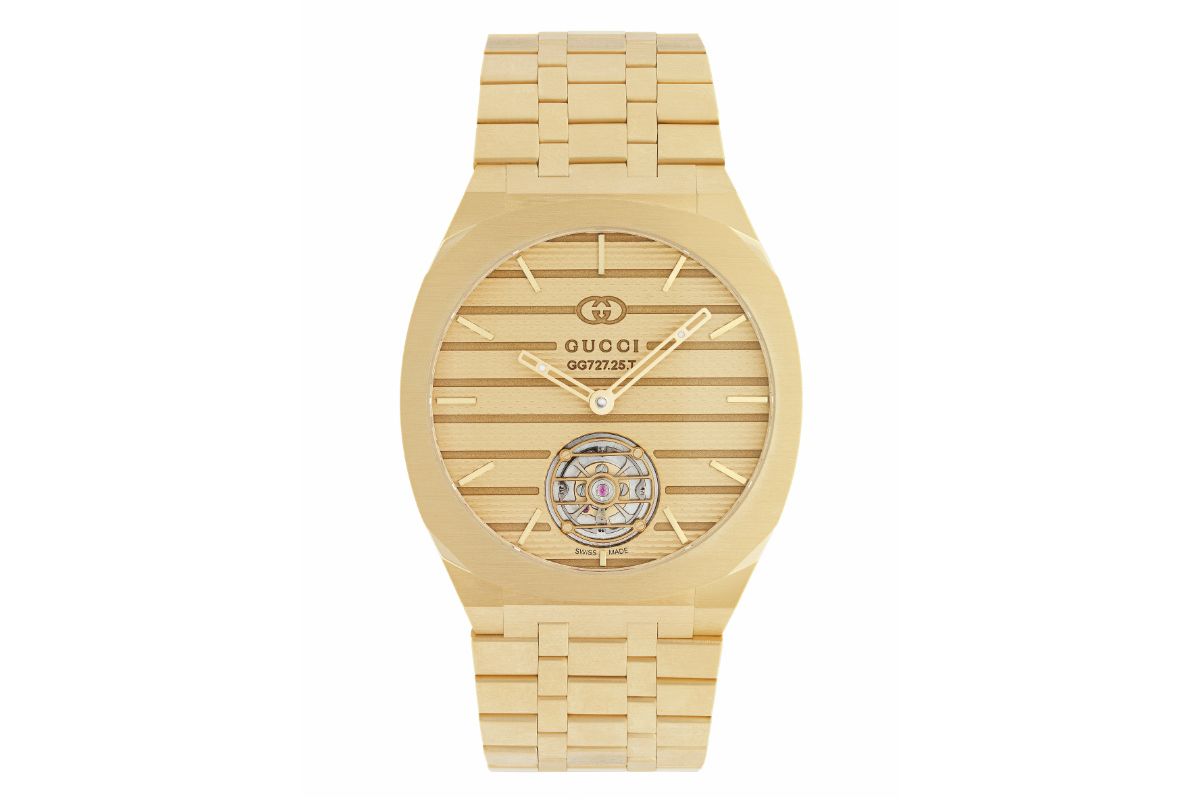 Gucci presents an exceptional high-watchmaking timepiece housing a debut in-house calibre, the GUCCI GG727.25.

Read article
G-Timeless
The G-Timeless high-watchmaking creations comprise five exceptional designs: the G-Timeless Dancing Bees, a compelling new timepiece with a high jewelry touch with bees that shimmer and move on the dial. The watch is also offered in Tourbillon versions– a remarkable movement complication with an unmistakably stylish Gucci flourish. Also presented are the G-Timeless Automatic with bee motif, jeweled hard-stone dials and precious skin straps; the mystical G-Timeless with moon phases and the G-Timeless Pavé, a white-diamond encrusted automatic watch with alligator strap.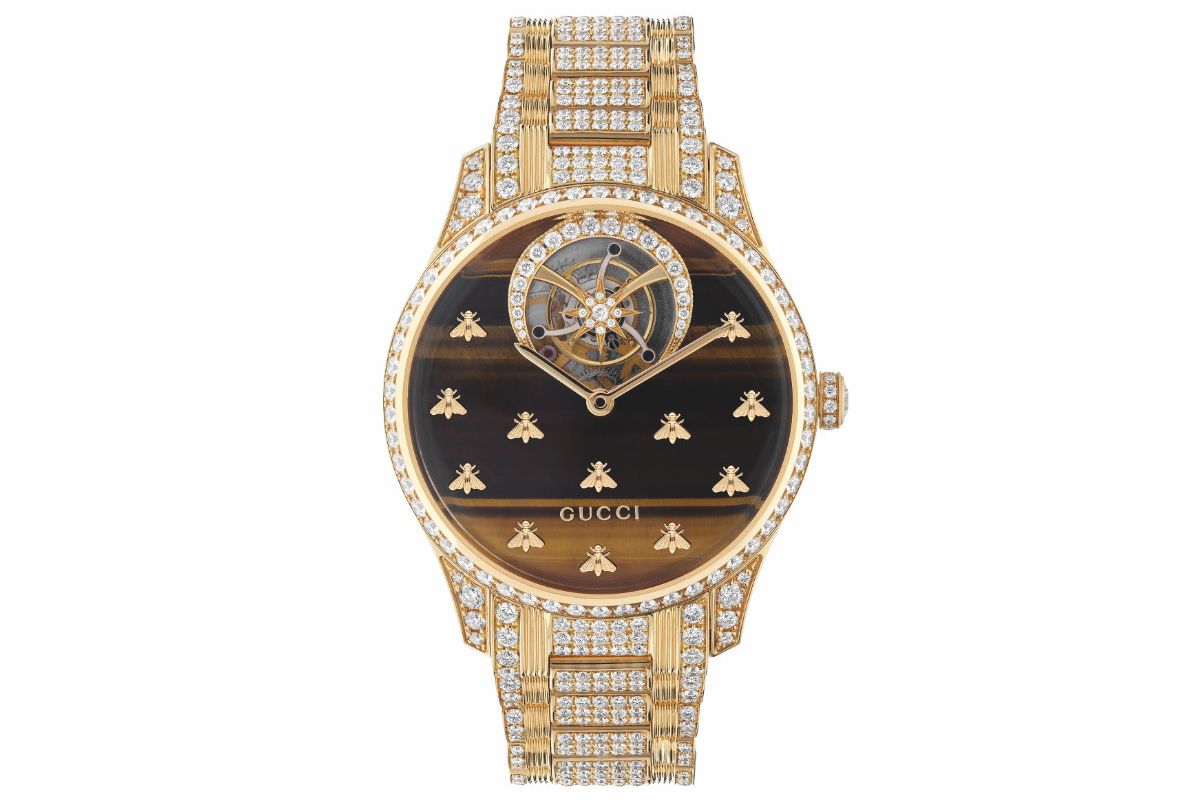 In 2021, the centenary of the House, Gucci's classic G-Timeless design makes a daring move into high watchmaking.

Read article
Grip
Five Grip high-watchmaking variations are crafted in precious materials balancing decorative craft traditions and cutting-edge techniques with technological know-how. Each Grip is fitted with a Jump Hour movement module triggered to jump for-ward every hour, to a minutes disc that sweeps around through 60 minutes. The technology is creatively expressed on the new models in curved apertures on each dial, allowing a clean numerical display. Hardstone dials adorn three new 18kt gold Grip models – two in yellow gold, the other in white gold. Each dial is precision-cut by a highly skilled gemstone-cutter who must shape the delicate material while maintaining its strength. The Grip design is fitted with an alligator strap in a shade that corresponds to the colour of its stone dial. The fourth design in the Grip gold series is created entirely in 18kt yellow gold with a brushed gold dial subtly engraved with the Gucci logo and straight, gleaming bracelet links. Each 18kt gold Grip watch is precision-set with a continuous row of 44 baguette-cut diamonds.
Grip Sapphire, a mesmerising Jump Hour watch in a case entirely crafted in sapphire crystal is the fifth edition in the Grip line. Presented in four colour variations, clear, blue, green and pink with a transparent rubber tone-on-tone strap embossed with the Interlocking G motif and with a steel ardillon buckle.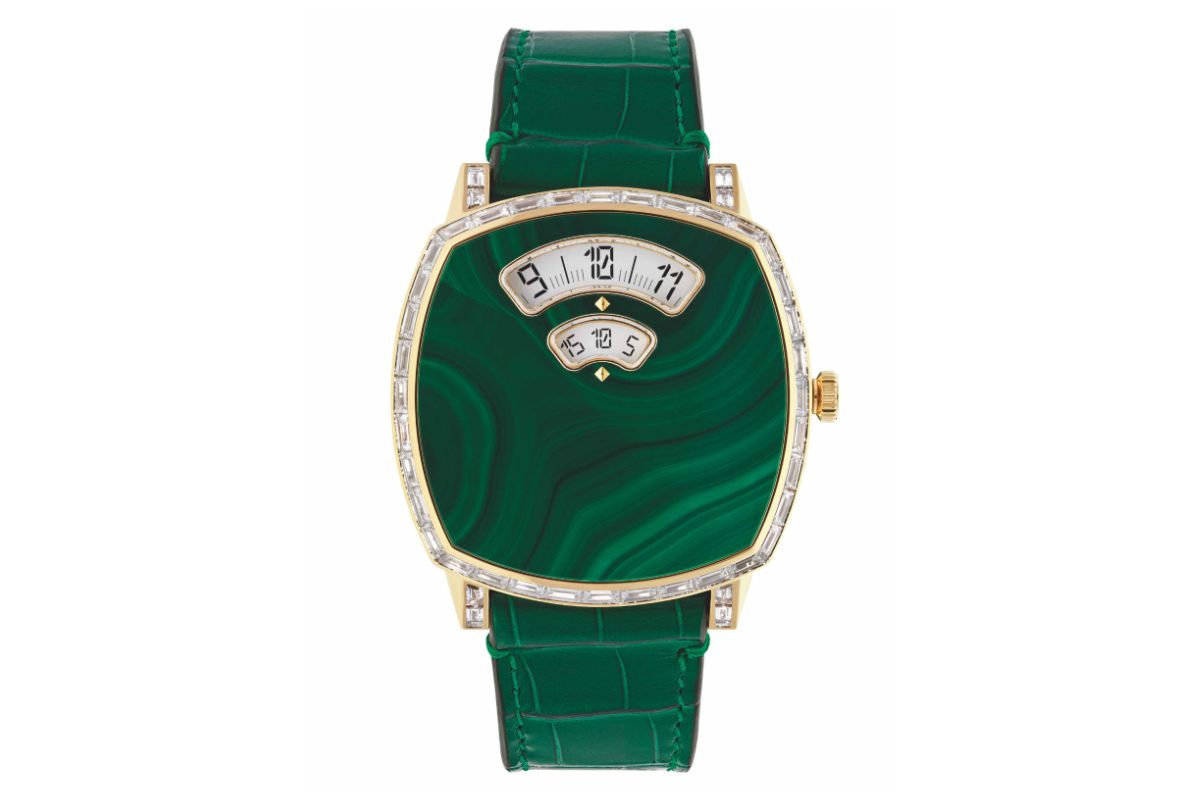 As part of an exceptional suite of Gucci high watchmaking designs, launched in 2021, the centenary of the House, two unique Grip collections are announced.

Read article
Gucci High Jewelry watch collection
Gucci perpetuates the avant-garde thinking that defines jeweled-watch design with a dazzling treasure trove of precious timepieces inspired by the House's design motifs: Dionysus, Lion Head and Gucci Play. Each design is created around a quartz movement, better suited to the goldwork and precious stones that set high jewelry watches apart. An artistic coming together of art, craft, precision, and style – each new design presents its own story in gleaming precious metals and stones.
The Gucci high-watchmaking designs can be discovered by appointment at Gucci's dedicated fine watch & jewelry boutique at Place Vendôme, Paris
16 Place Vendôme
Paris, 75001, France
T: +33 1 70 79 15.24
About Gucci

Founded in Florence in 1921, Gucci is one of the world's leading luxury fashion brands. As the House marks its 100th Anniversary under the Creative Direction of Alessandro Michele, with Marco Bizzarri as President and Chief Executive, Gucci moves forward into the coming decades with an ongoing commitment to redefining luxury, while celebrating the creativity, innovation and Italian craftsmanship at the core of its values.
Gucci is part of the global luxury group Kering, which manages the development of a series of renowned Maisons in fashion, leather goods, jewelry and watches.
For further information about Gucci visit www.gucci.com.
---