---
Gucci Introduces Its Latest High Jewelry Collection: Allegoria
Luxferity, 08.06.2023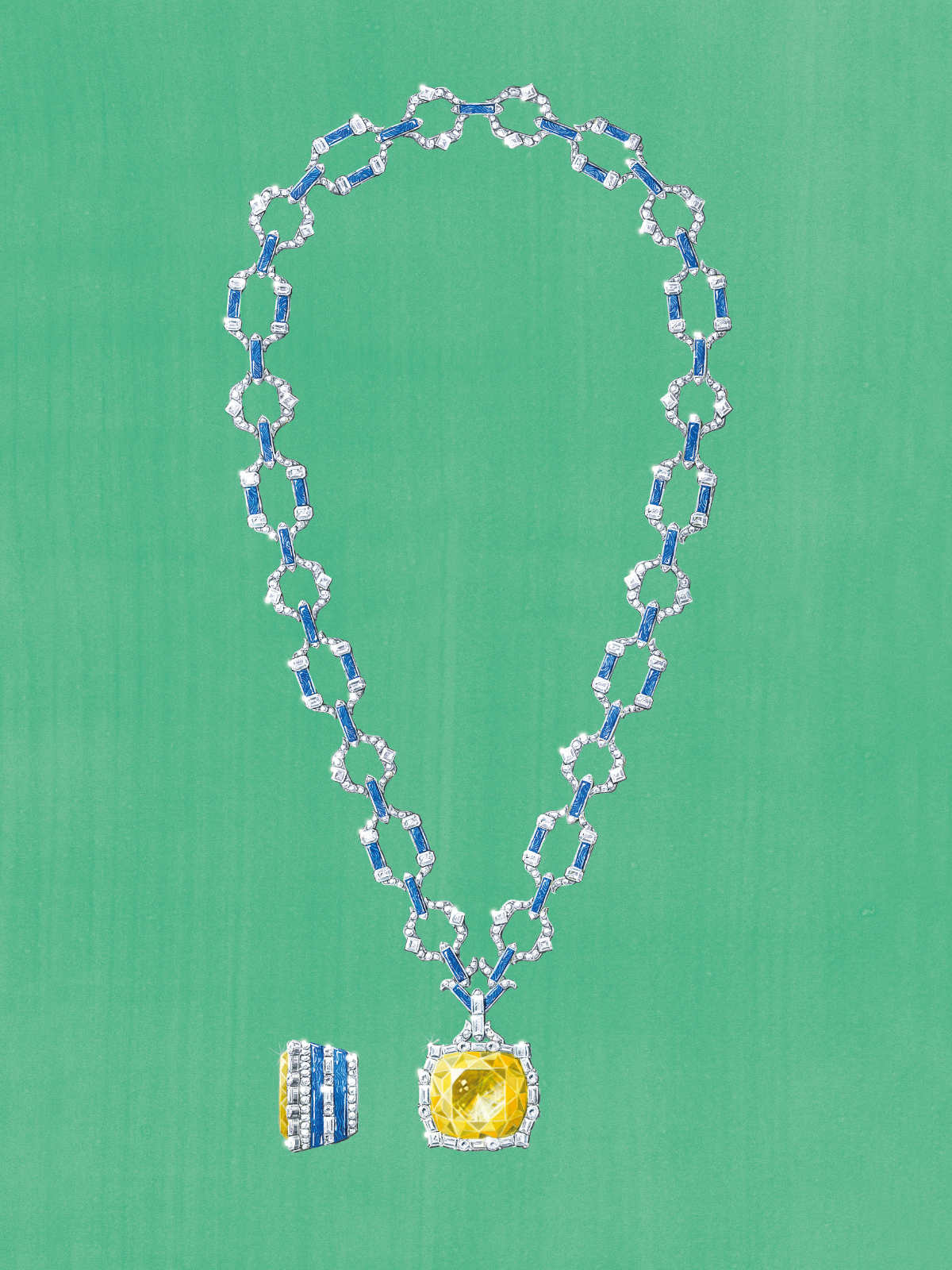 The House unveiled Gucci Allegoria, the new High Jewelry collection capturing nature's glorious transformations and ephemeral beauty through the unrelenting changing of the seasons. Unique designs cast a light on a plethora of precious stones in bold rich tones generating a crescendo of emotion and joie de vivre.

The journey envisioned by Gucci Allegoria begins with spring and the awakening of nature always welcomed with newfound surprise and wonder. The light-hearted spirit of this time of year inspires unique designs defined by fresh hues reminiscent of the multifarious blooms found in Gucci's emblematic Flora motif. A magnificent, cushion-cut 226 carat green tourmaline rests in meticulously crafted openwork metal, punctuated with star motifs and diamond baguettes, its absolute vividness offset by fancy-coloured tourmalines and diamonds on the necklace's chain. Elsewhere a necklace with a 161 carat cushion-cut pink tourmaline is encircled by multiple levels of diamonds and coloured enamel, all set on a chain bursting with 72 fancy tourmalines of 88 carats, which create a spectacular chromatic degradé.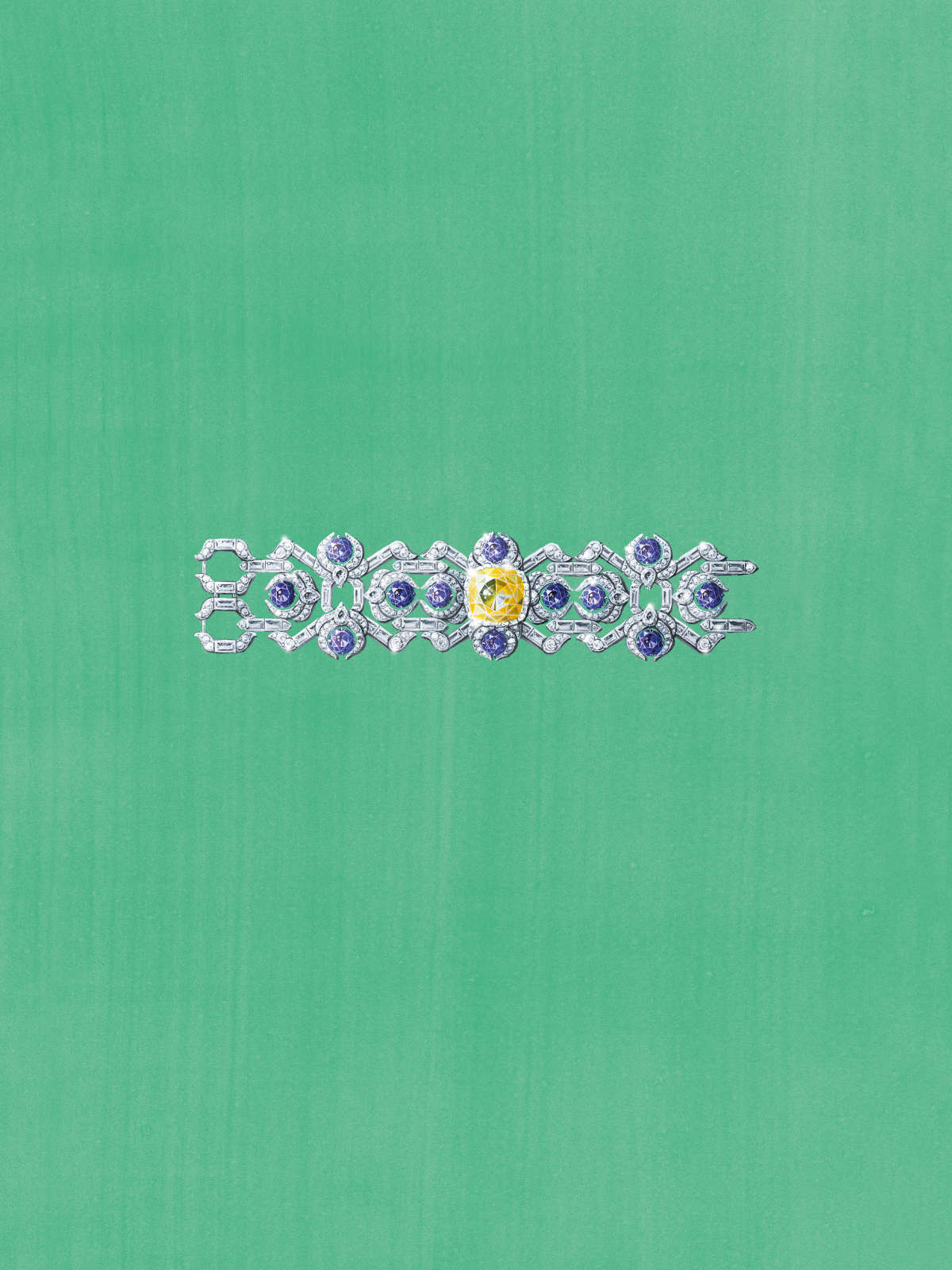 If spring testifies the stirrings of life, summer embraces its outburst finding expression in saturated hues – via emeralds, spinels and Paraiba tourmalines, sprinkled with multifaceted diamonds. Unexpected combinations and daring cuts showcase Gucci's unique creativity and savoir-faire.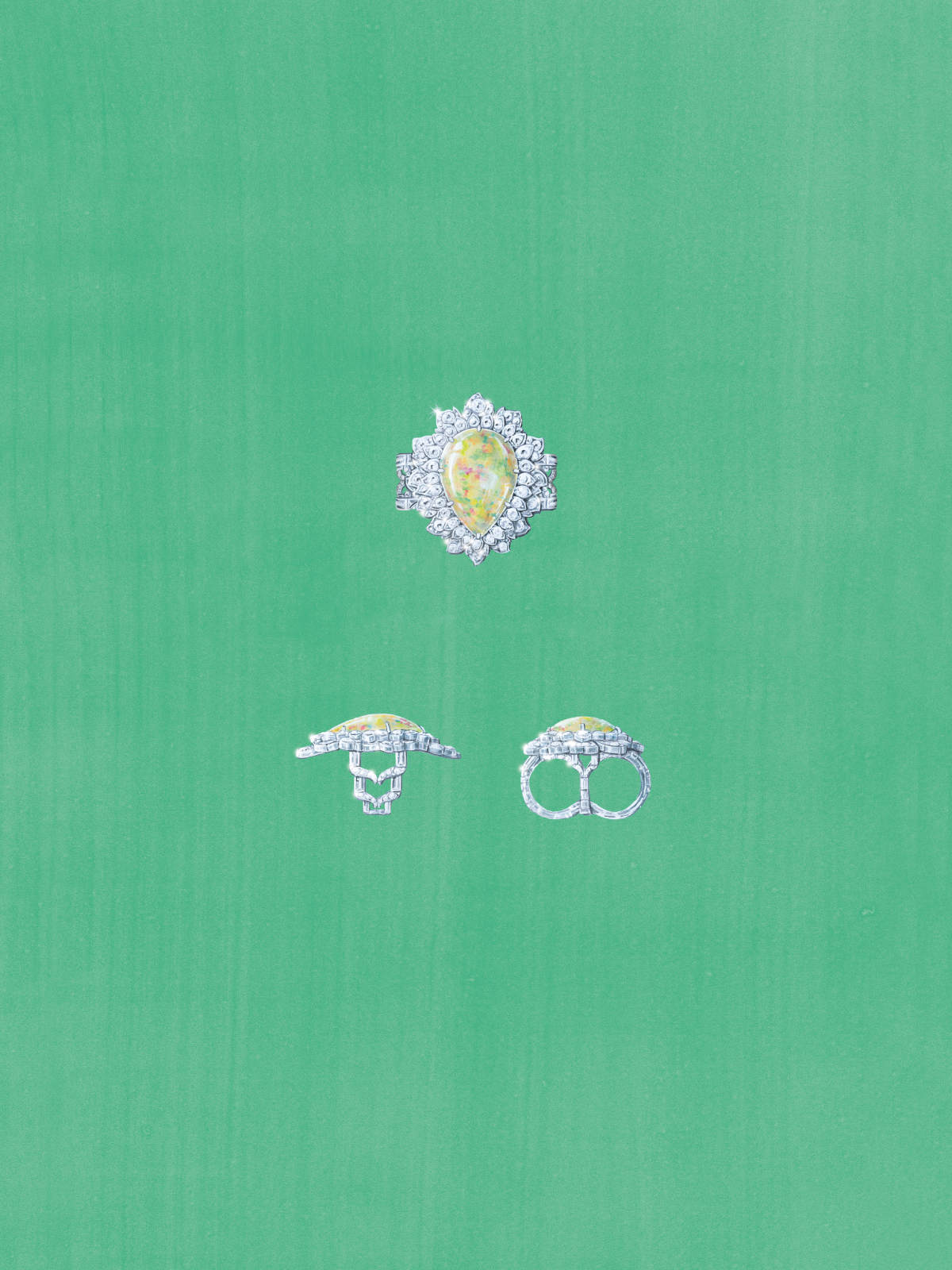 Autumn brings change as nature prepares to rest. Warmer, muted tones carry a delicate softness embodied in silky, radiant stones such as yellow sapphire, pink tourmaline and mandarin garnet. A splendid 78 carat yellow sapphire necklace is surrounded by a colourful array of tourmalines and diamonds, while a sublime, vintage-style yellow gold bracelet is set with five mandarin garnets cut into three different shapes.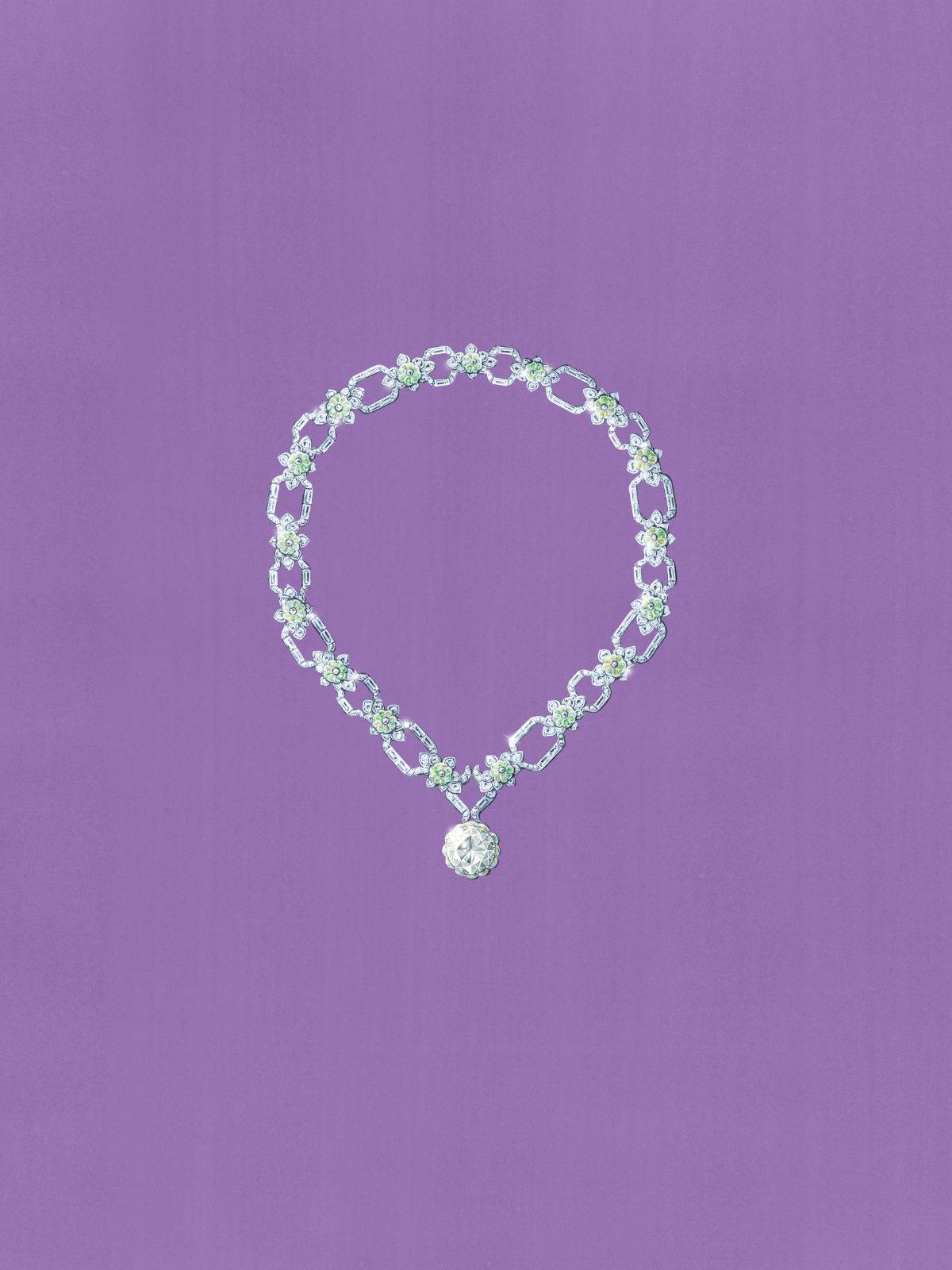 Finally, winter wraps up the cycle, as the crystallized silence of snow and repose of nature set the pace, counterposed to the light and joy that abound during the festive season. Embracing the winter feelings, an enamel and diamond necklace, defined by a milky, iridescent 92 carat opal. Diamonds feature too, channelling the season's festivity and joy, with Gucci notably presenting one-of-a-kind European cut antique diamonds, the stones twinkling with subtle, kaleidoscopic colours – and which hint at the vivacious spring to come when the cycle of the four seasons begins again.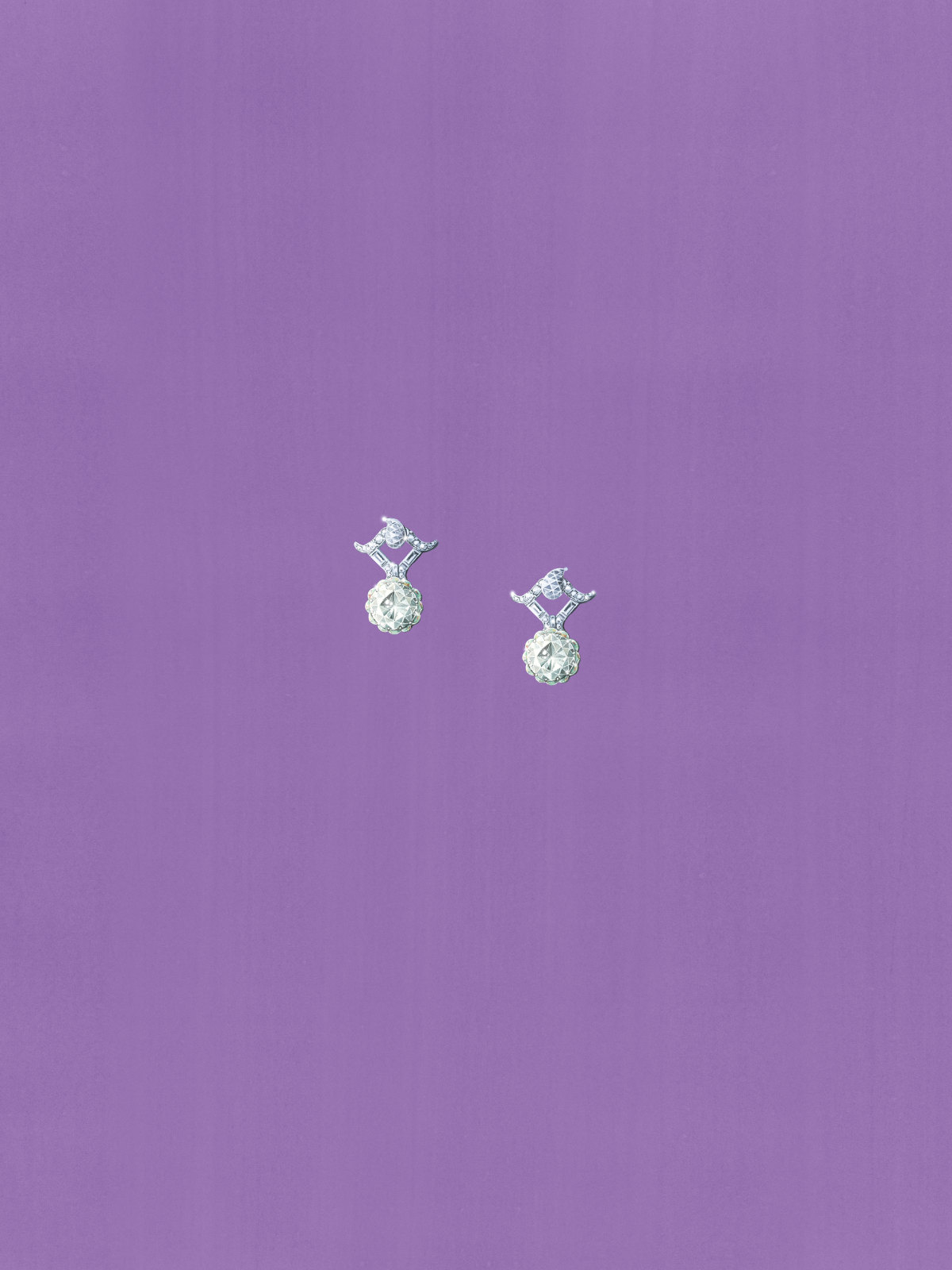 As an allegory of the cycle of the four seasons, Gucci Allegoria magnifies nature's ephemeral beauty and its relentless transformability as the collection plays with antique stones and eclectic cuts. Fan, briolette, paisley and kite shapes all feature, as speckles of baguette diamonds add an additional touch of light, setting everything into motion. A pair of jacket earrings are designed around two jaunty, fan-shaped emeralds that are perfectly matched for colour and saturation, totalling 18 carats, and which cascade with a mesh of diamonds and tourmalines. A necklace combines a hexagonal 10 carat emerald with two drop-shaped Paraiba tourmalines of 16 carats, offset by a halo of round, paisley and baguette diamonds.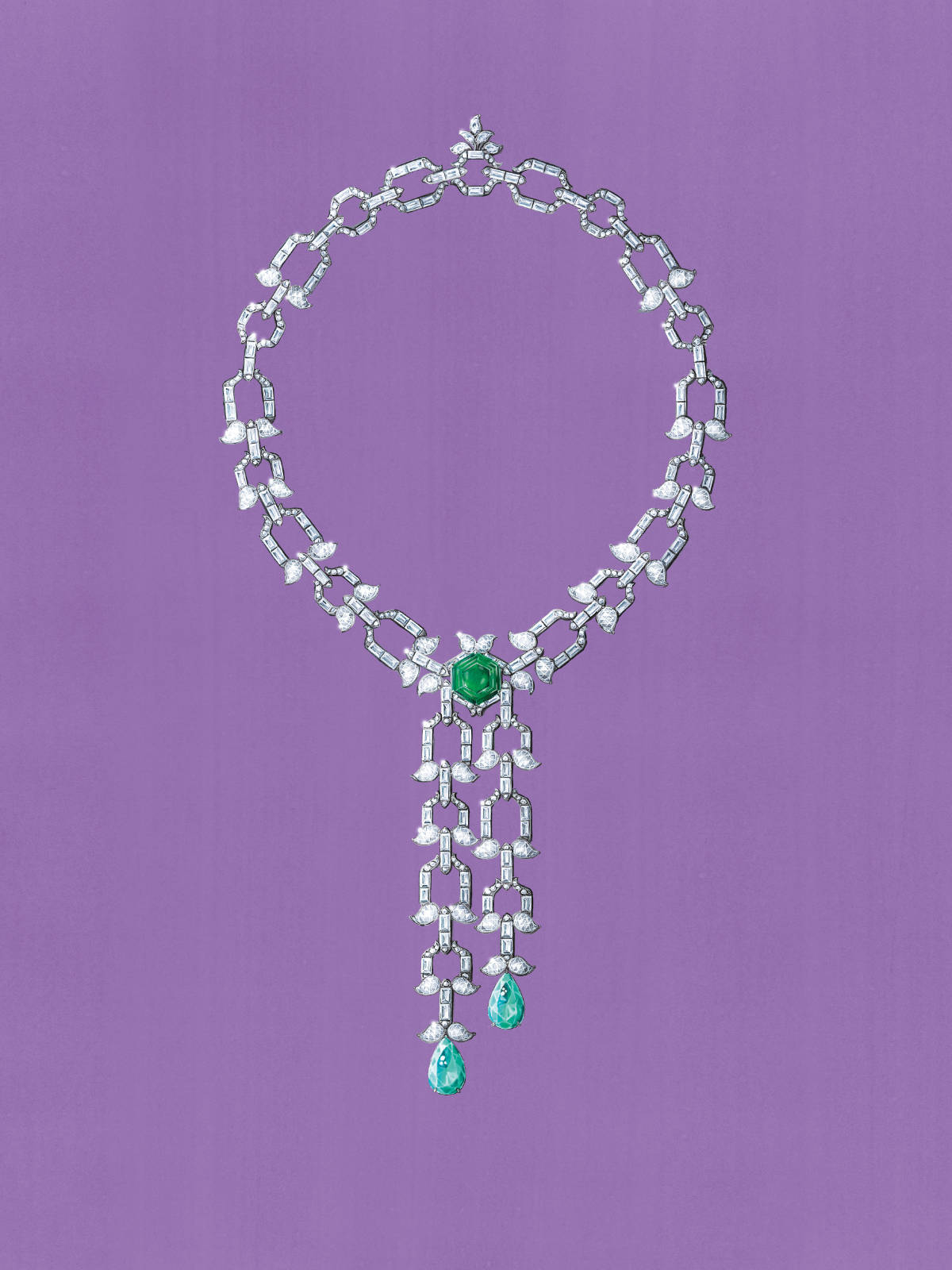 Finally, one-of-a kind, old mine, European-cut stones imbue Gucci Allegoria with a unique vintage allure, evoking a time when gemstones were cut by hand and their larger facets cleaved in candlelight. Created primarily from 1890-1930, European cuts characterised the art deco period, and are the predecessors to today's round brilliant cut diamond. A splendid example of 10 carat is the crowning star of a floral motif necklace, the chain festooned with opal engraved beads. A matching pair of earrings features two old European cut diamonds of more than 12 carats each, encircled by flower cut opals that add iridescence and shine, as baguette and paisley diamonds enrich the design.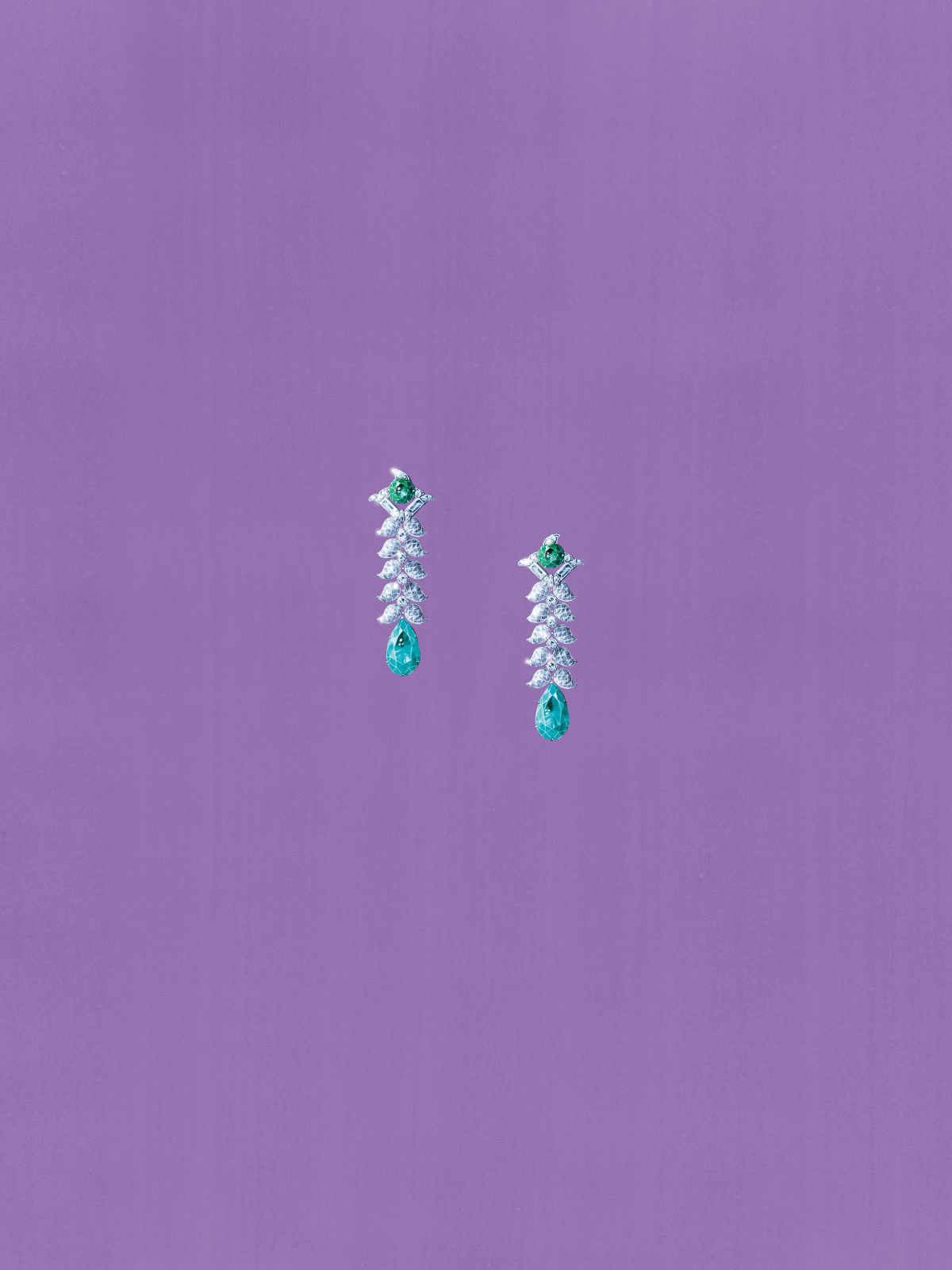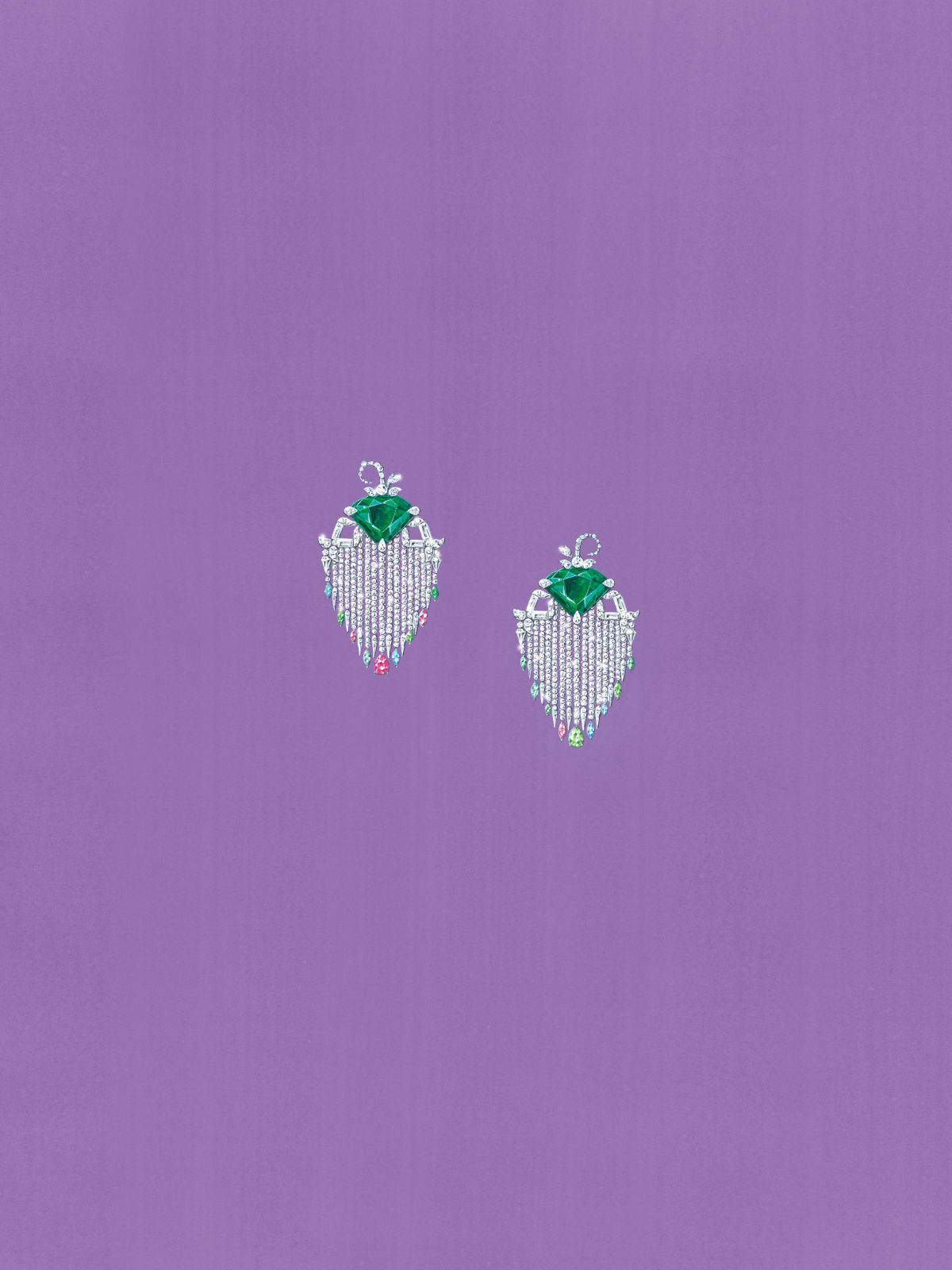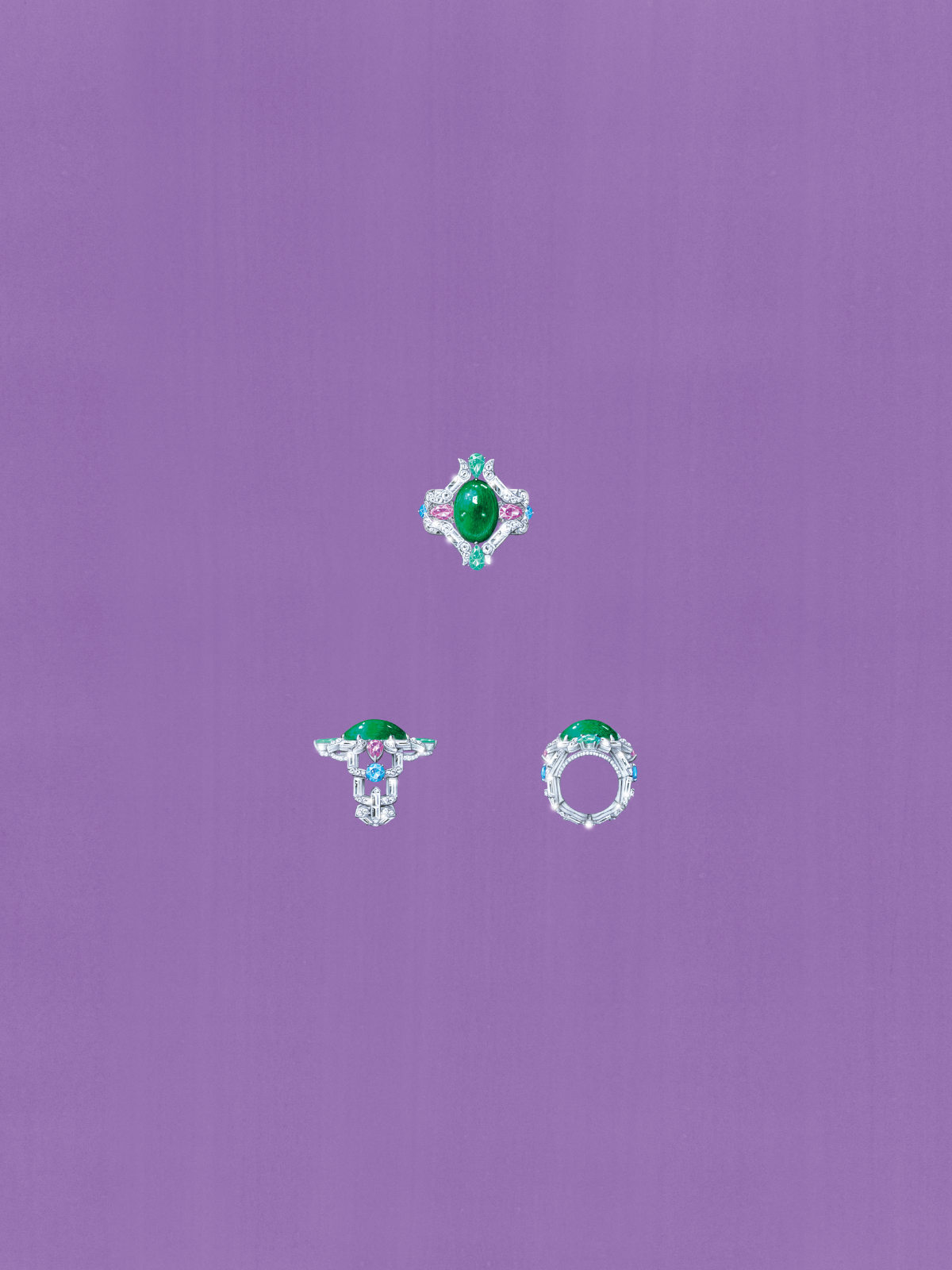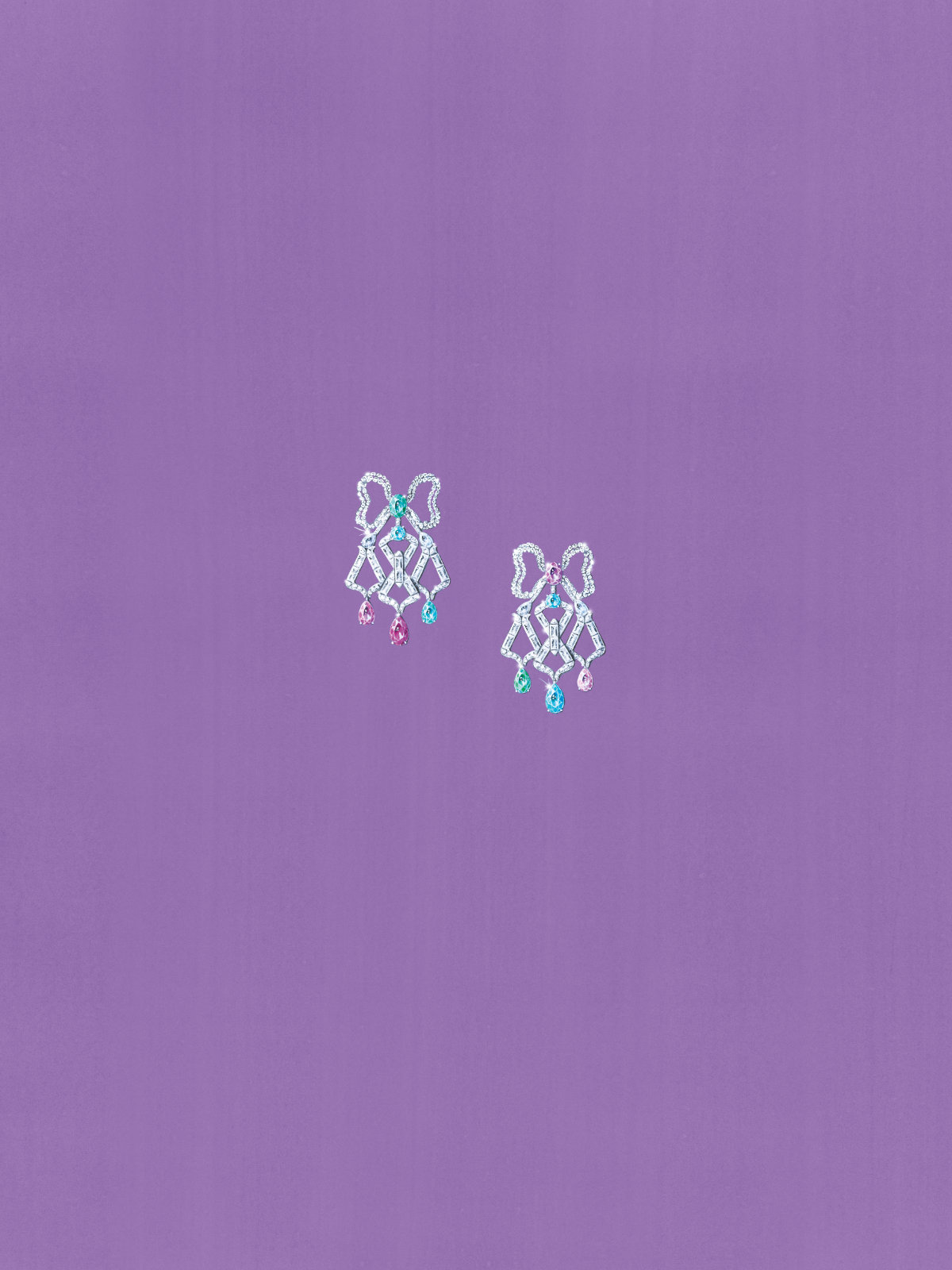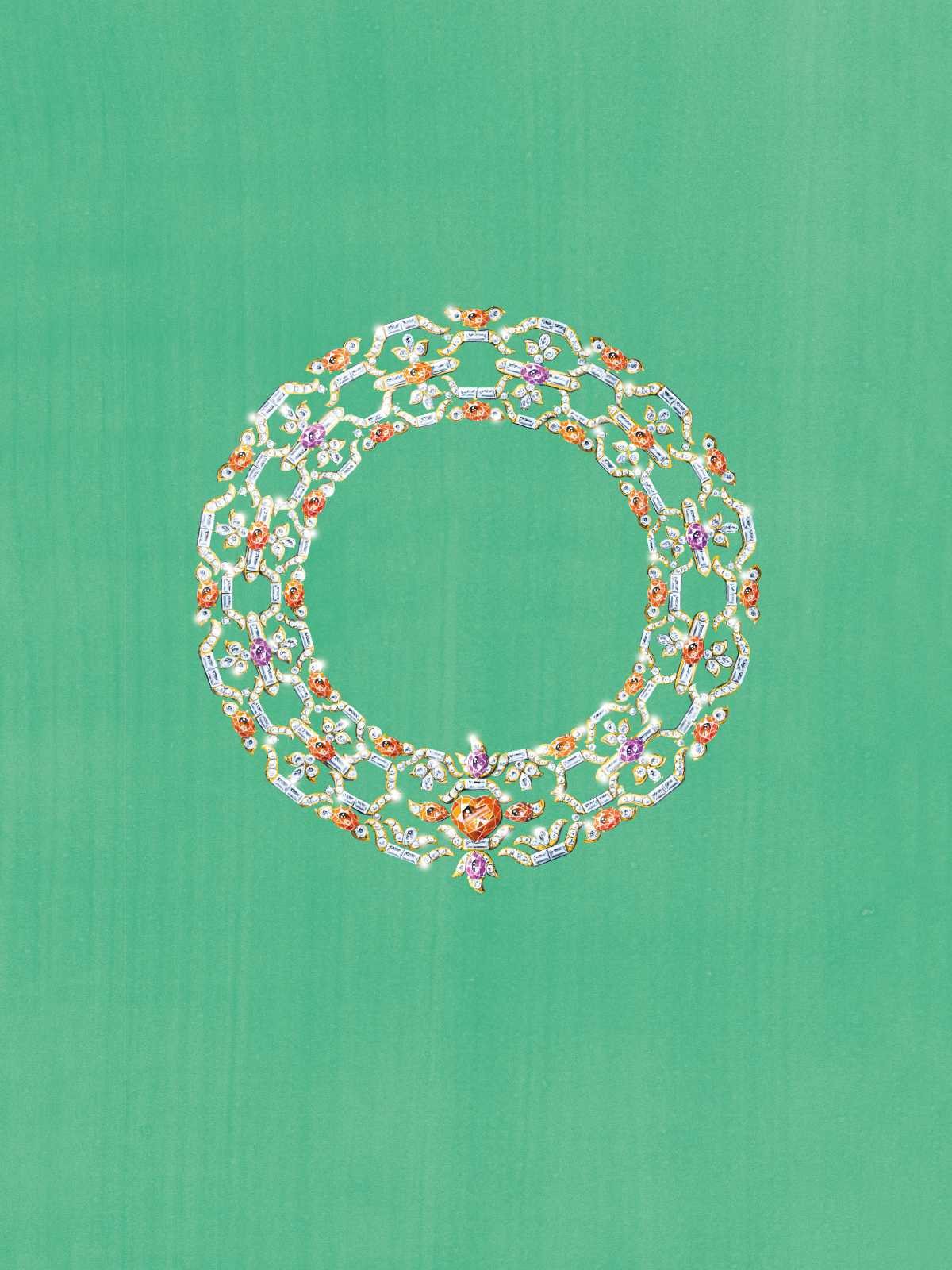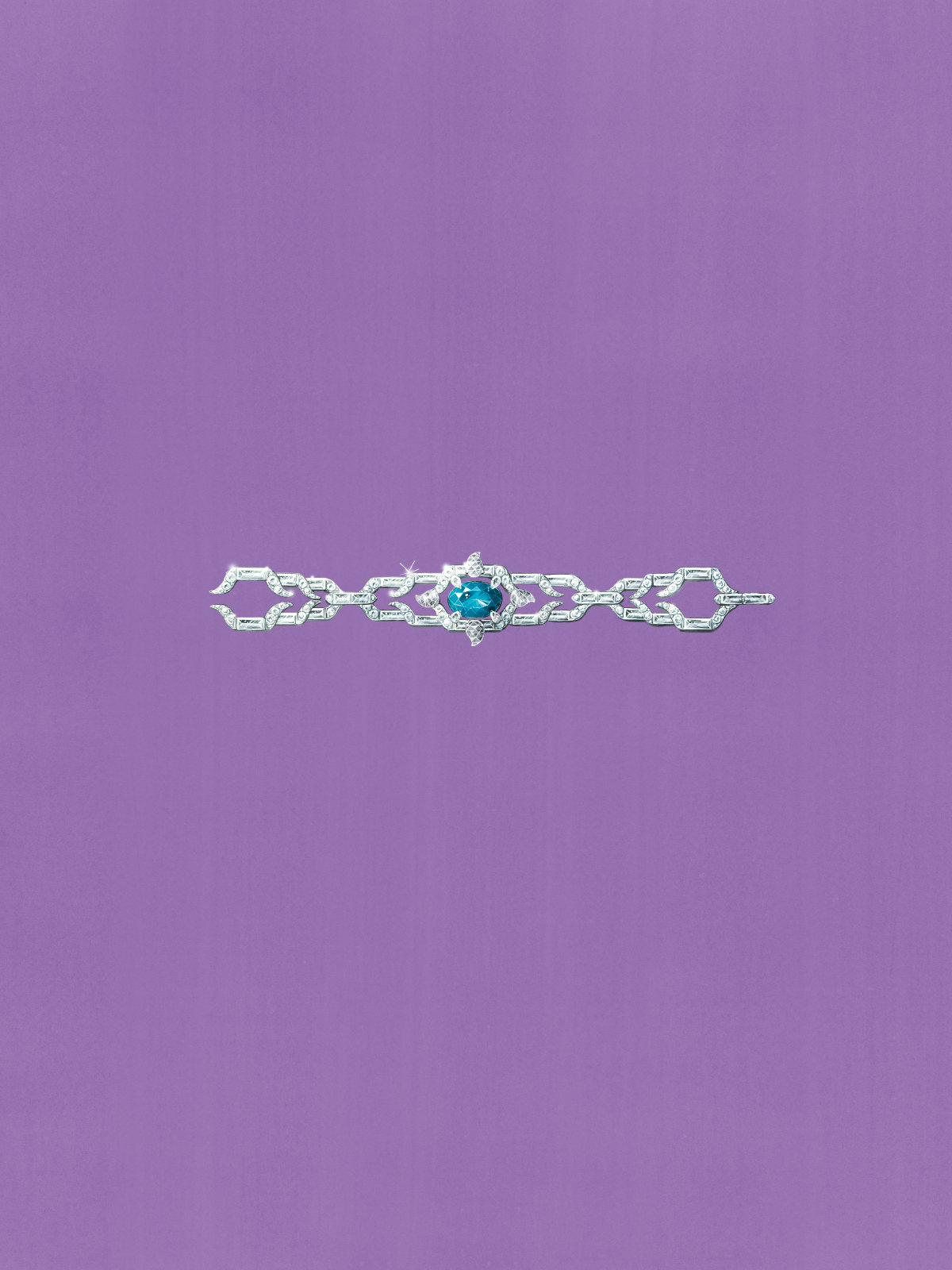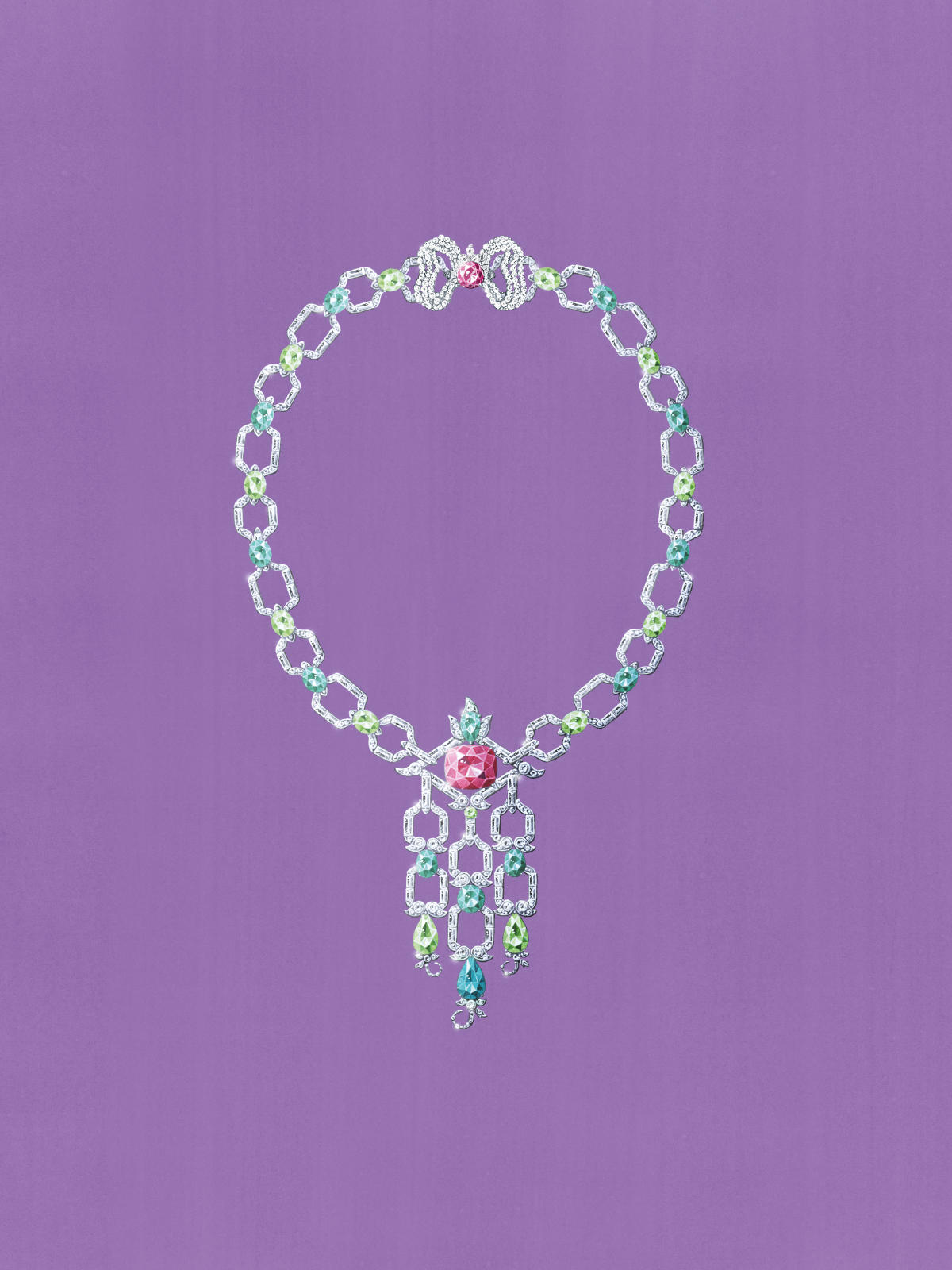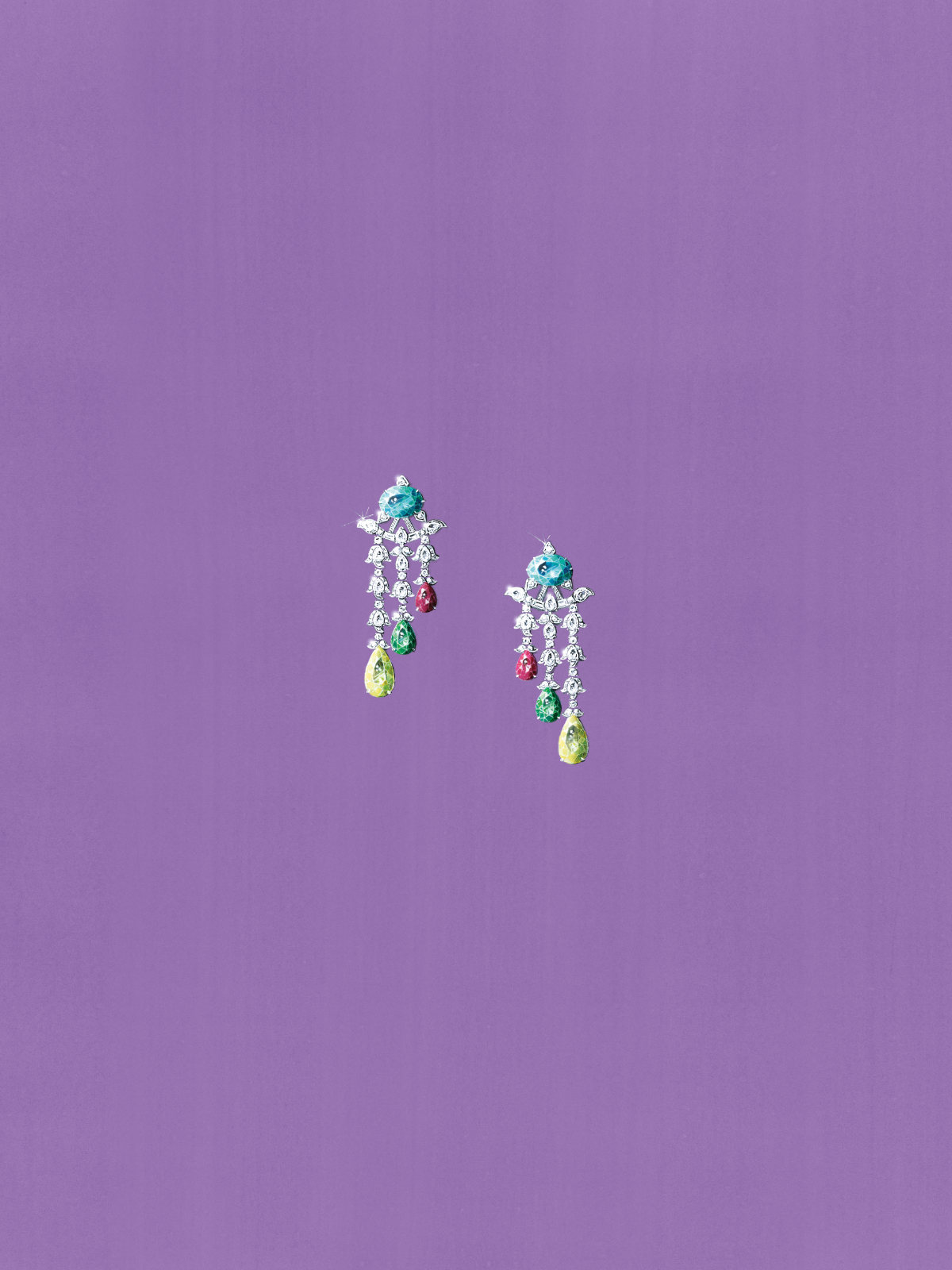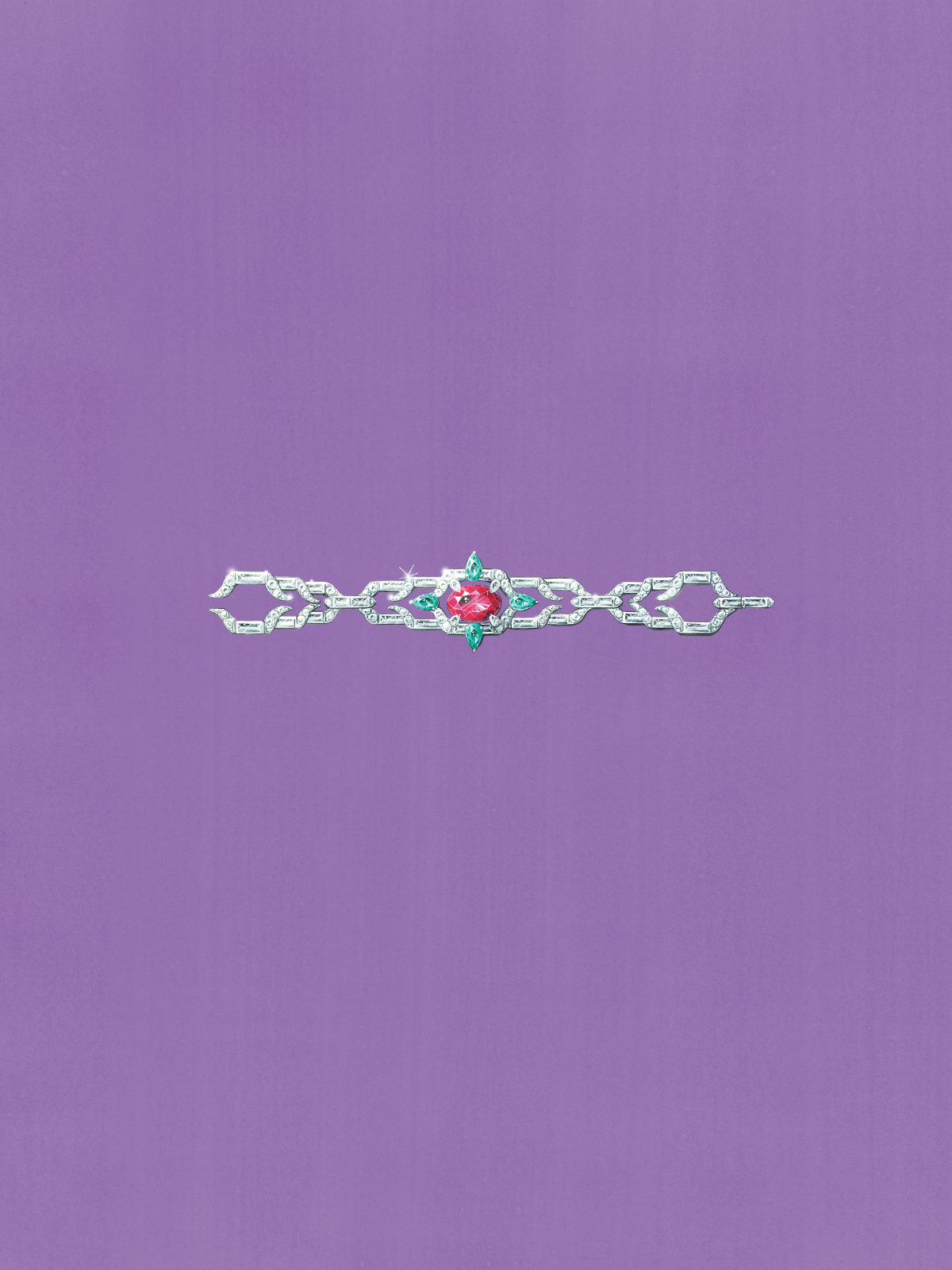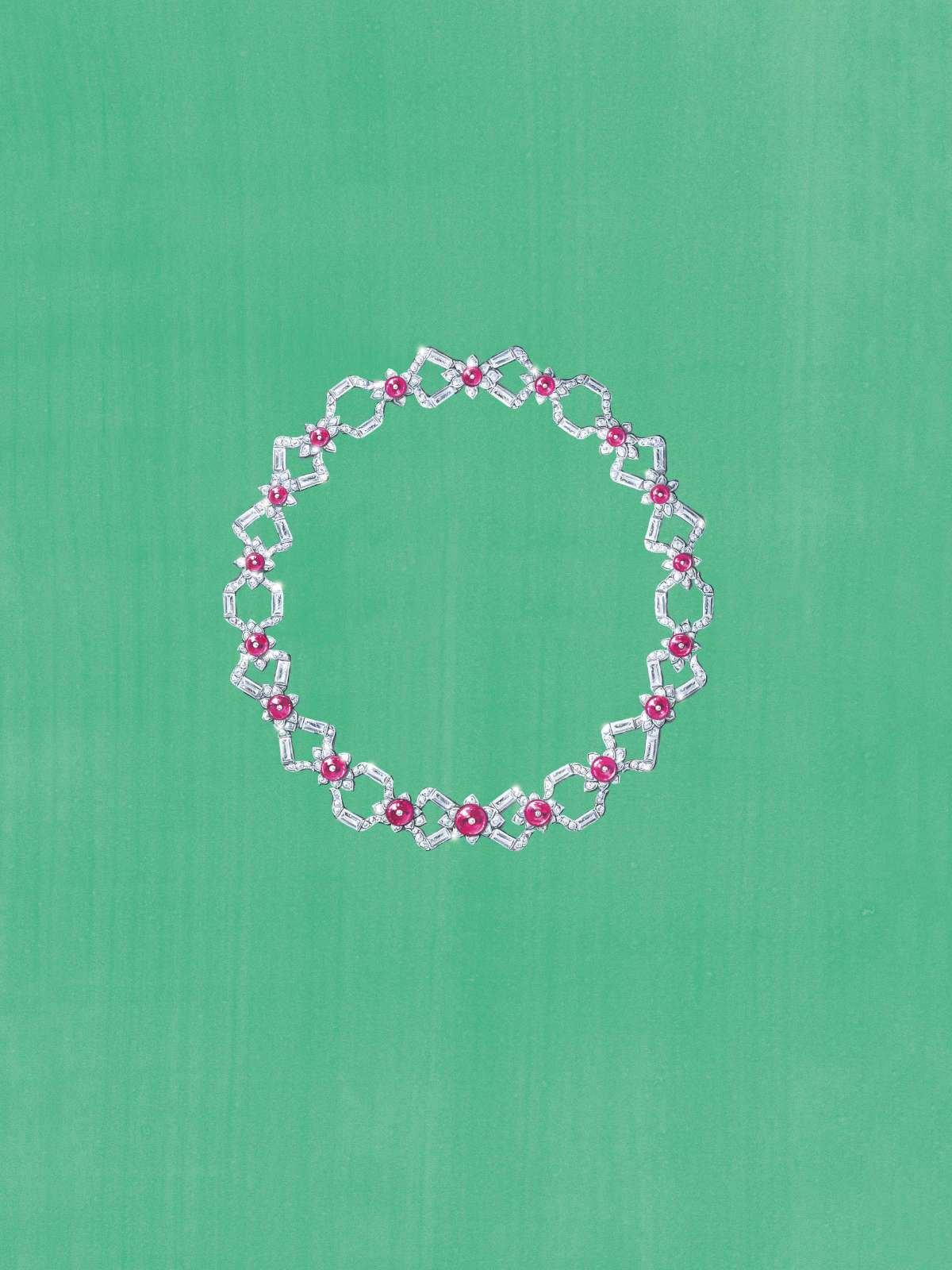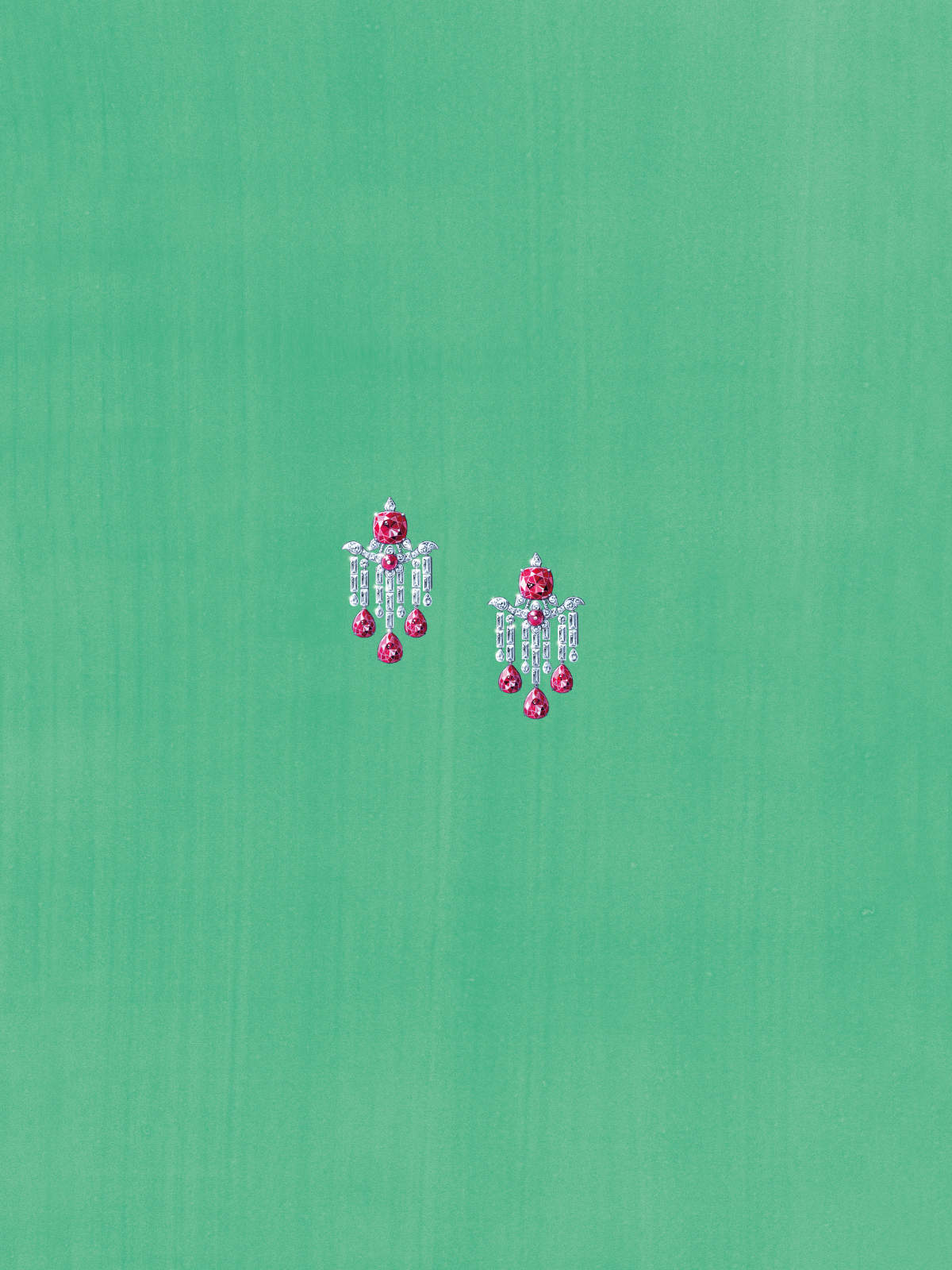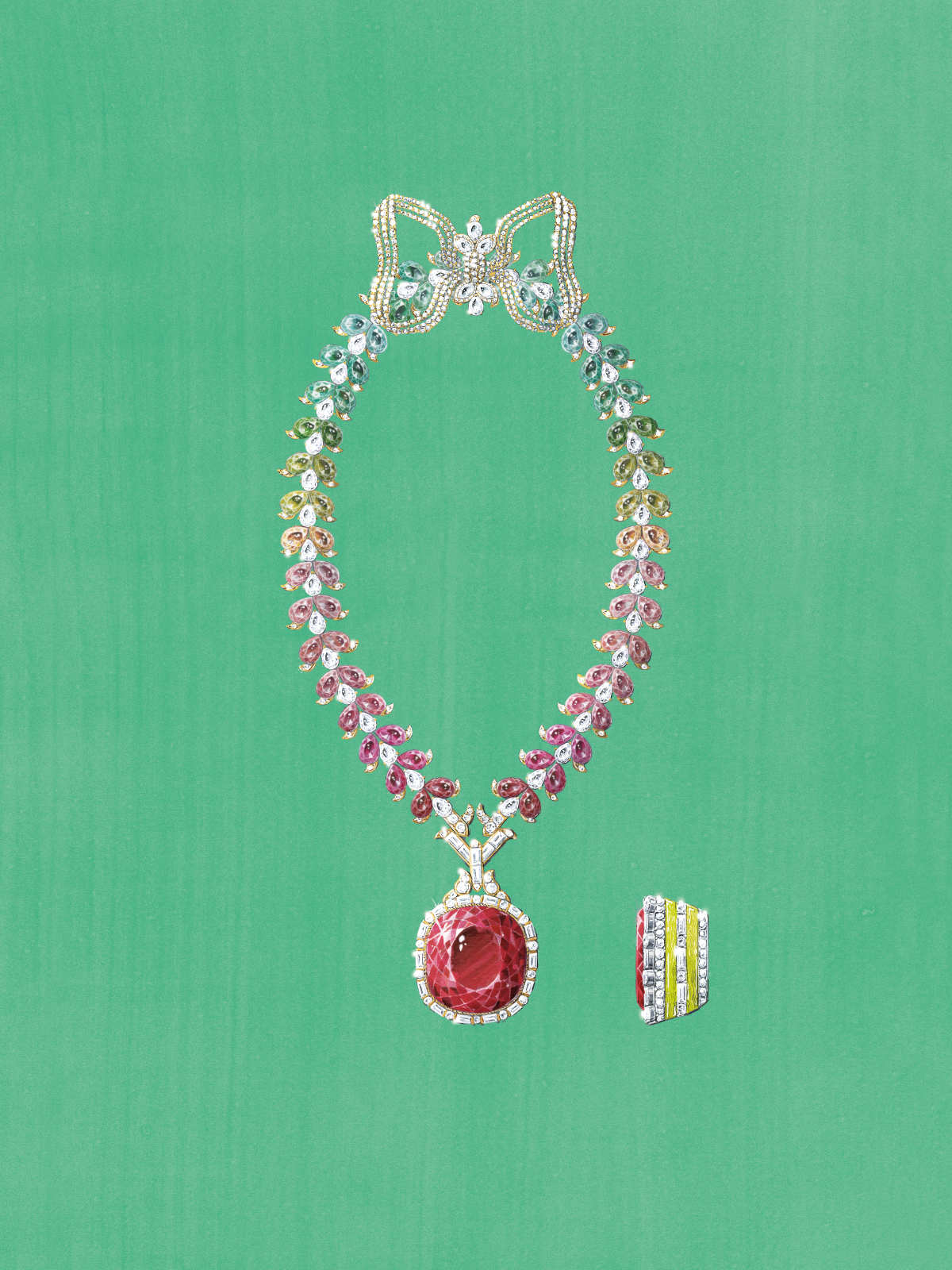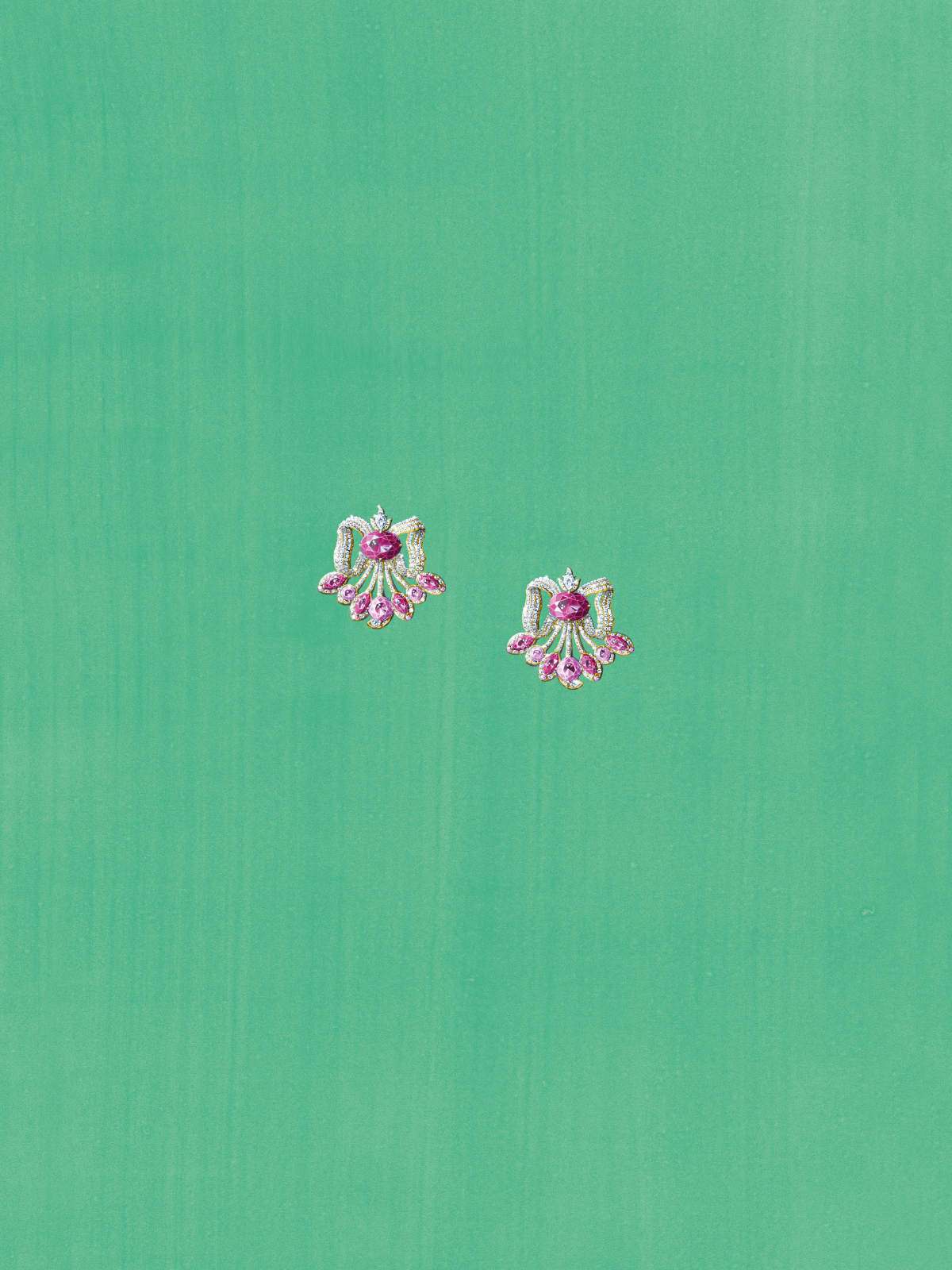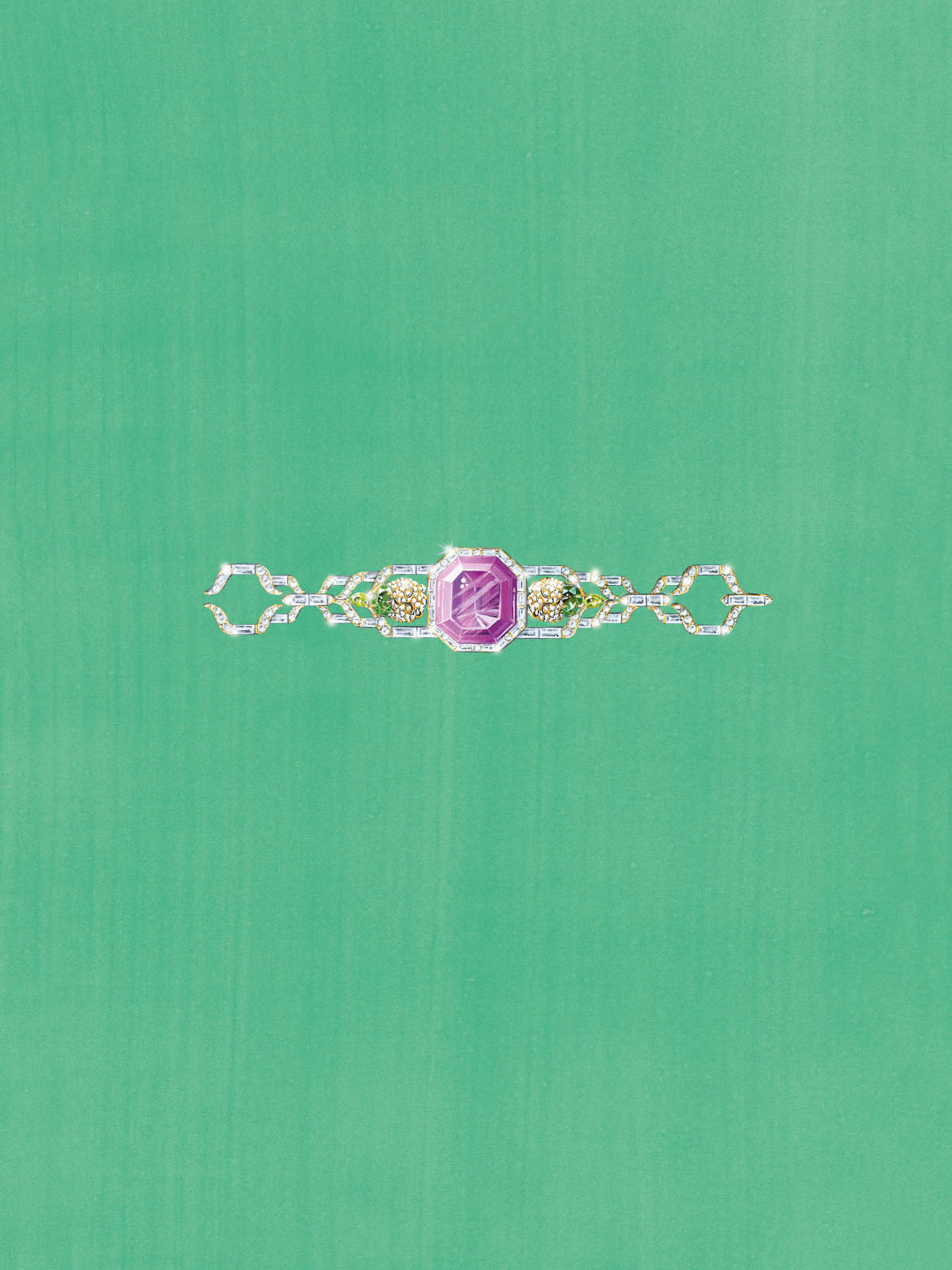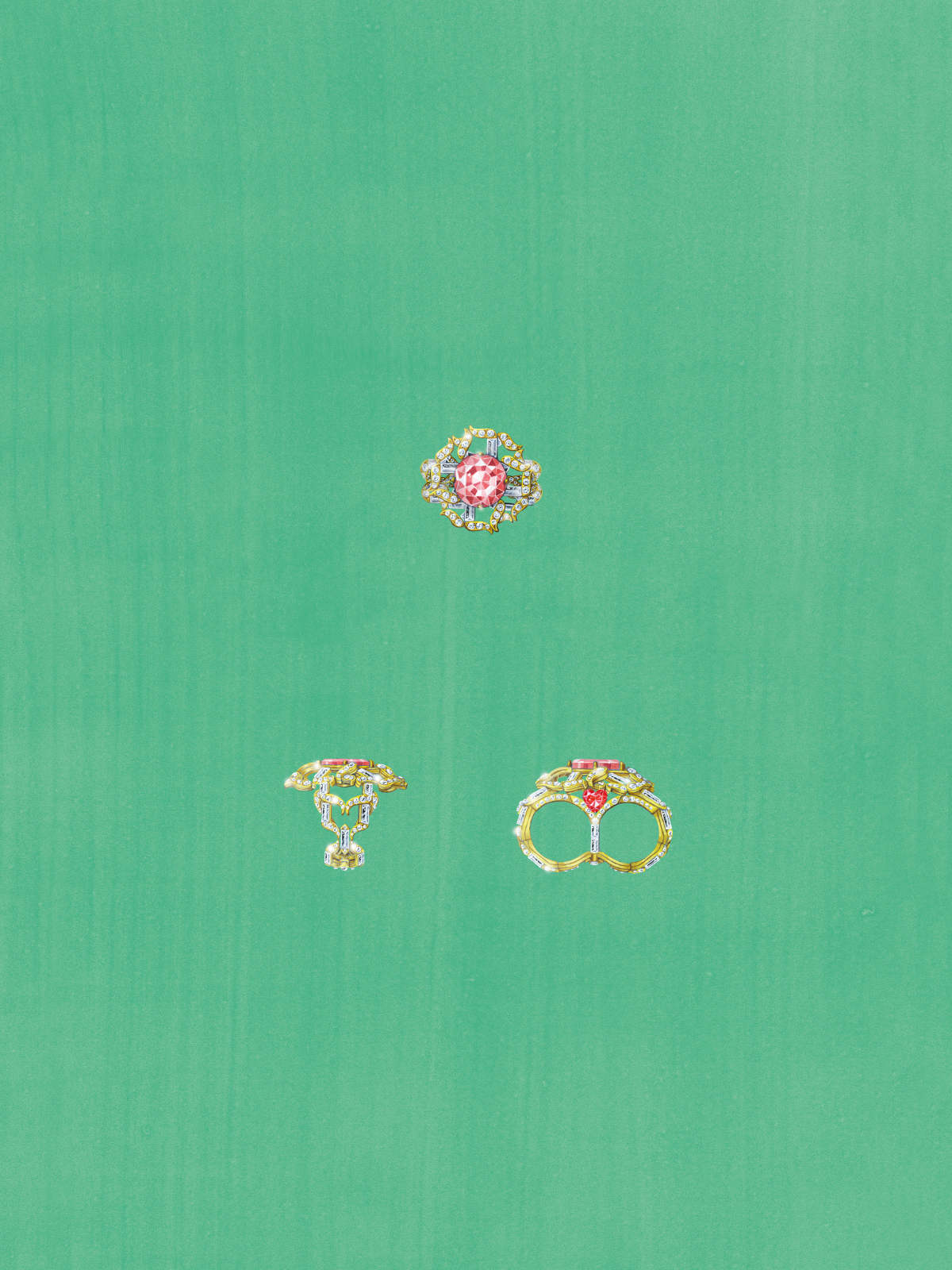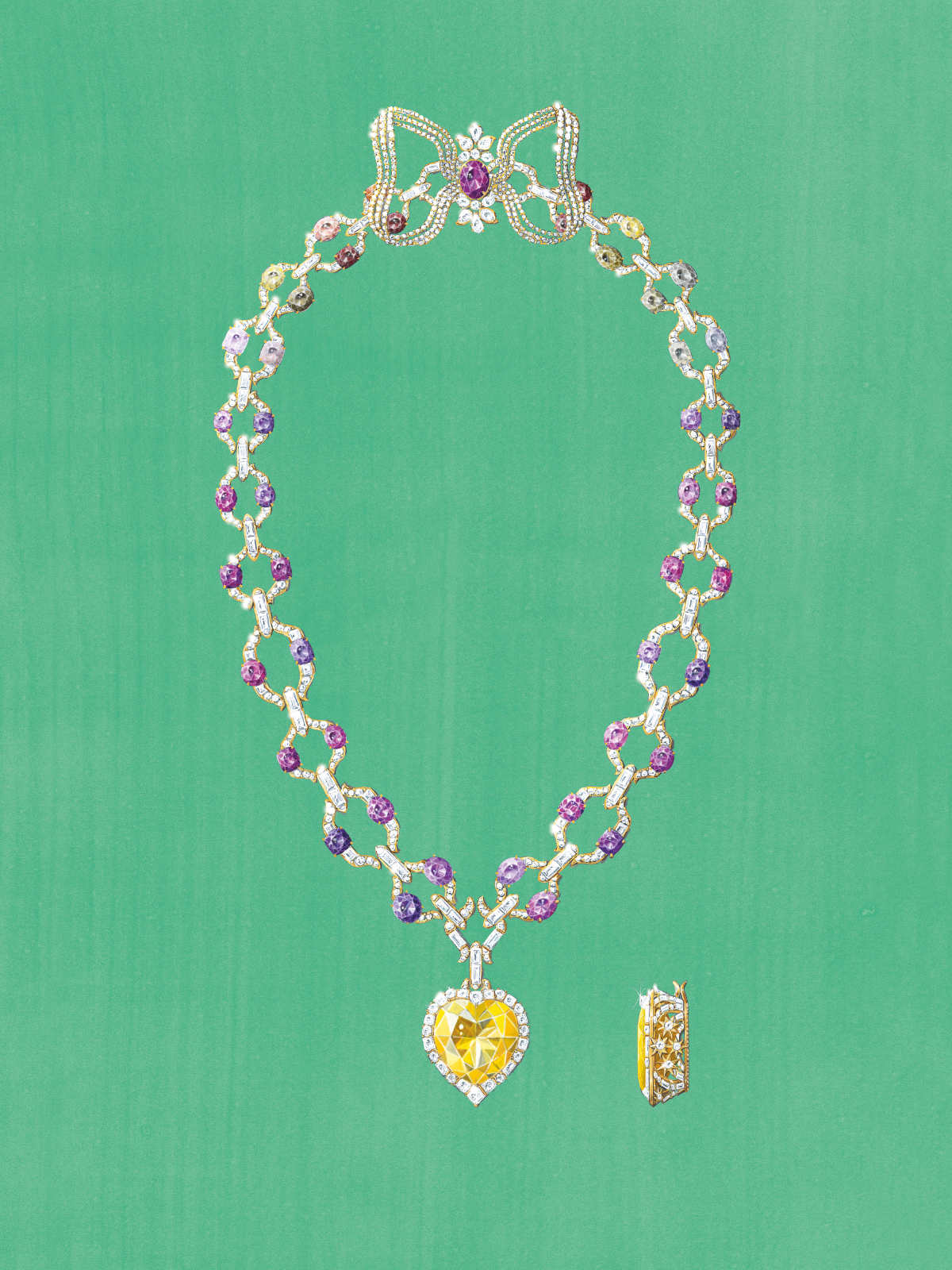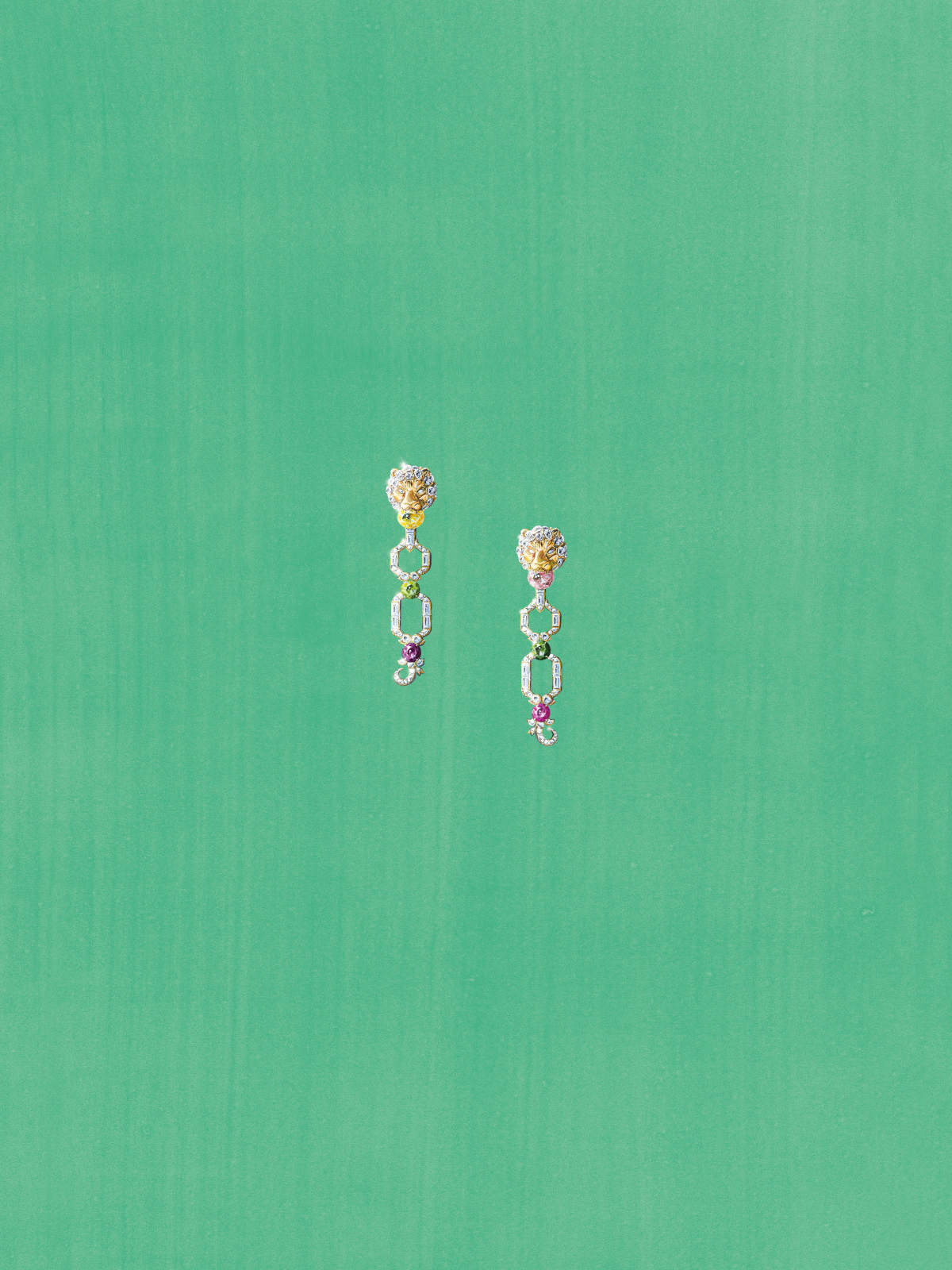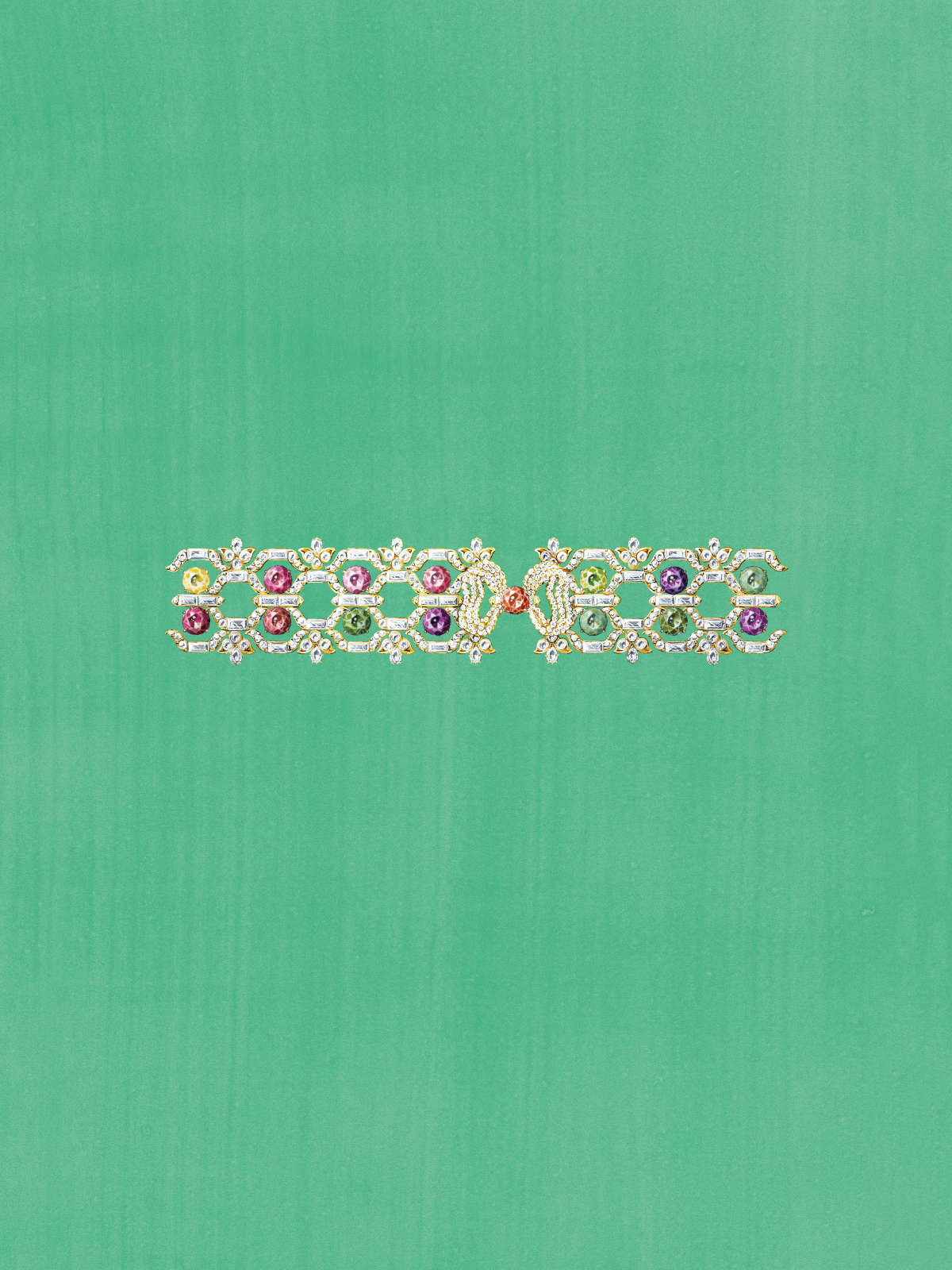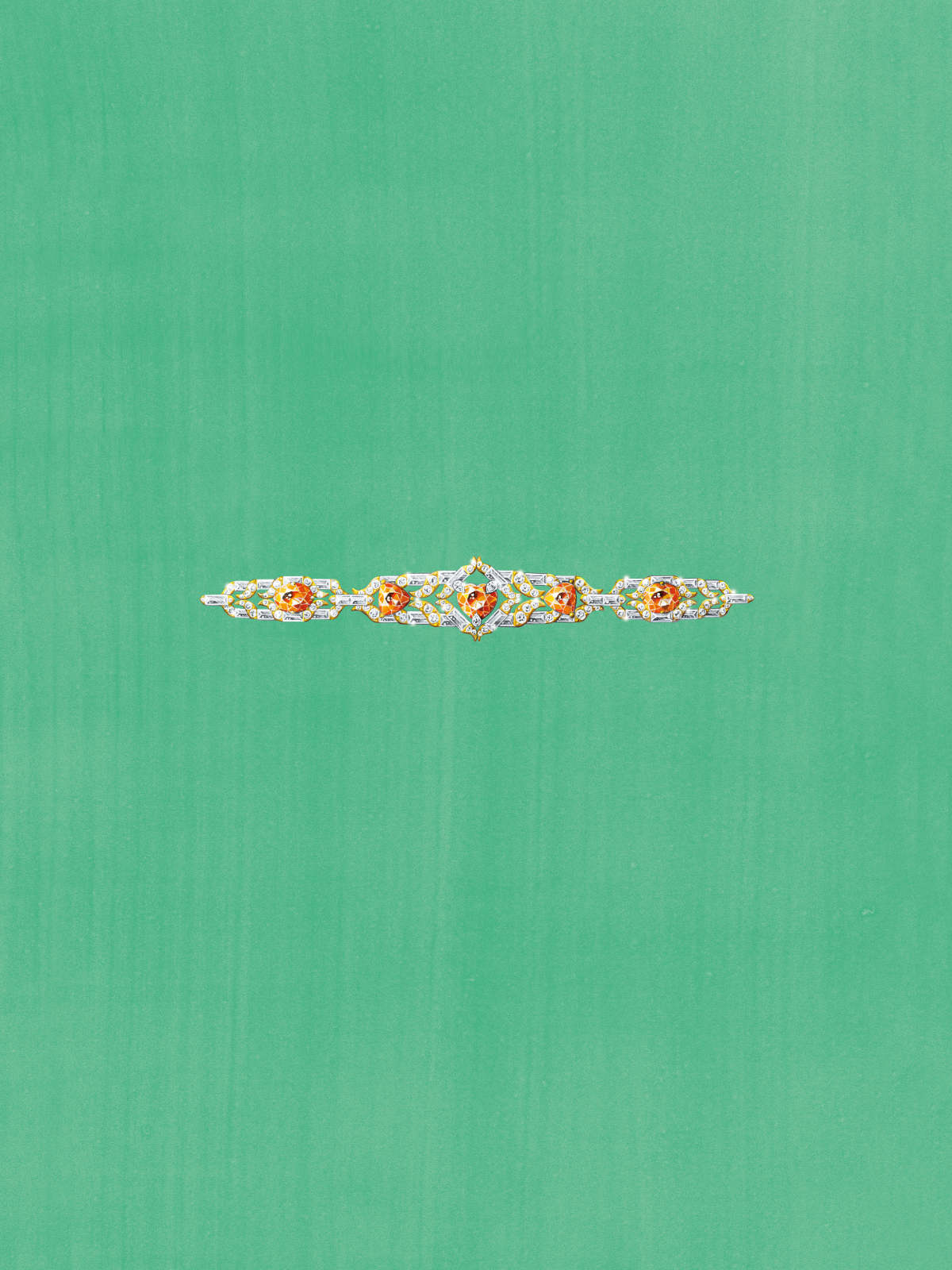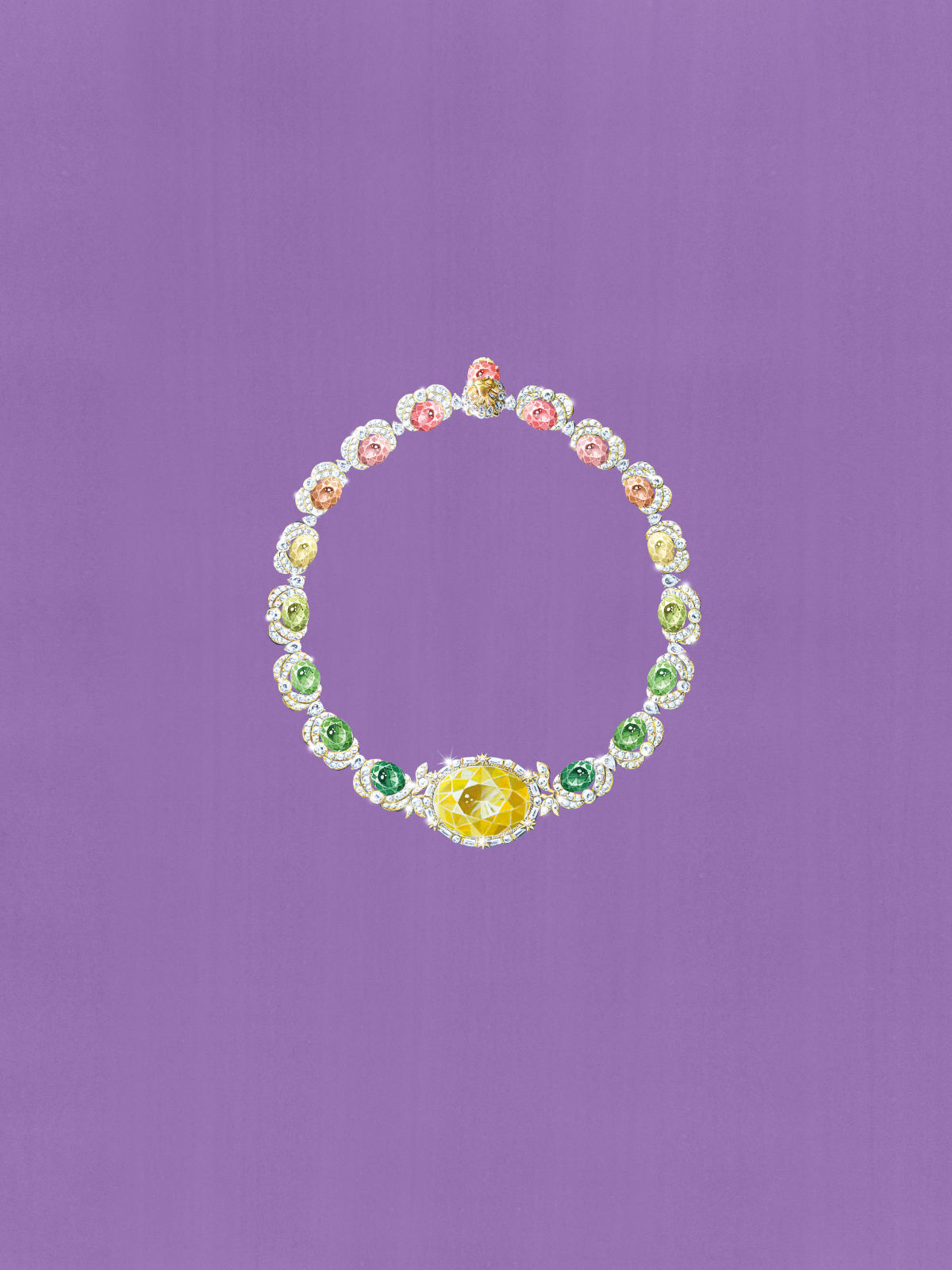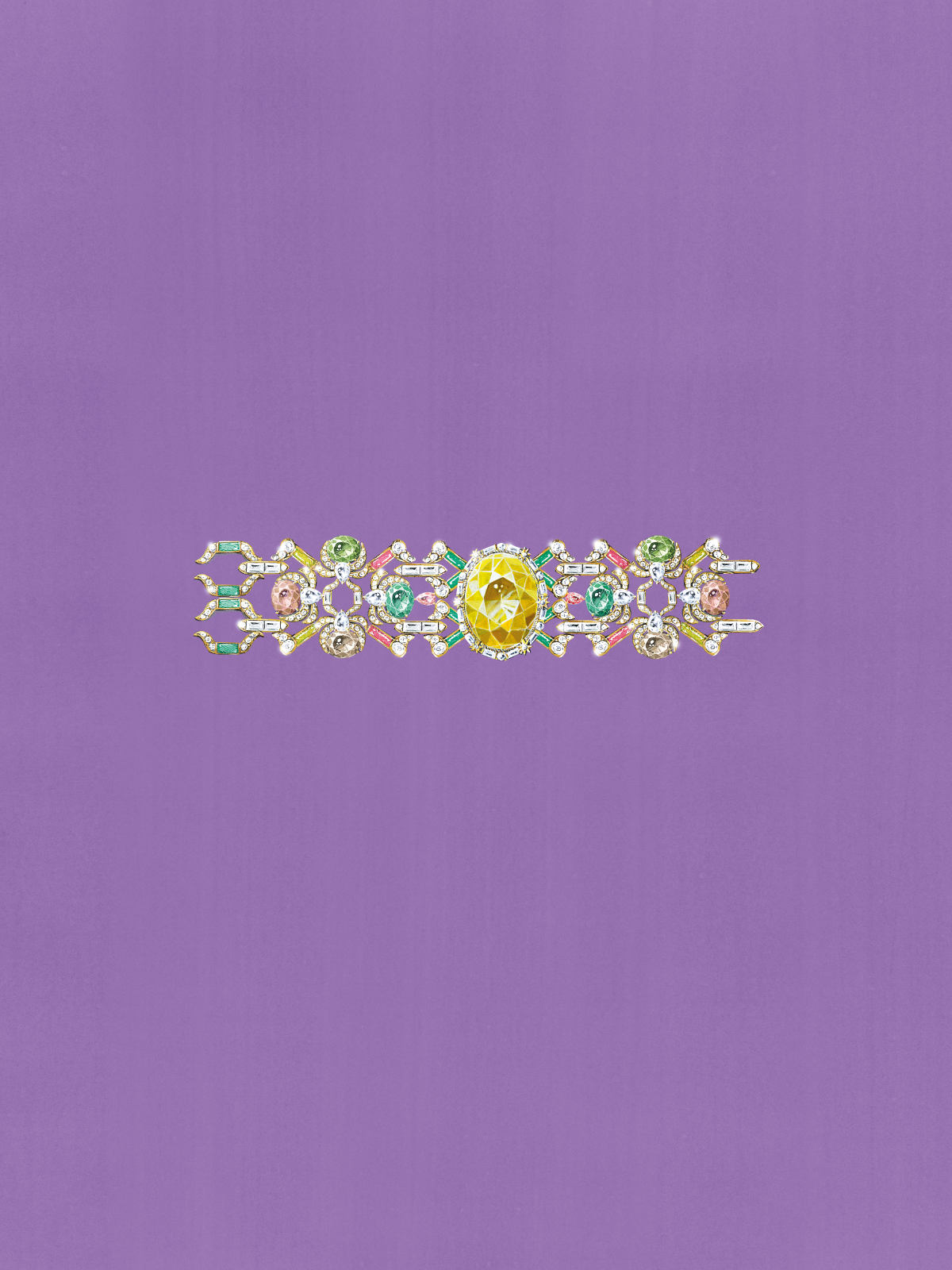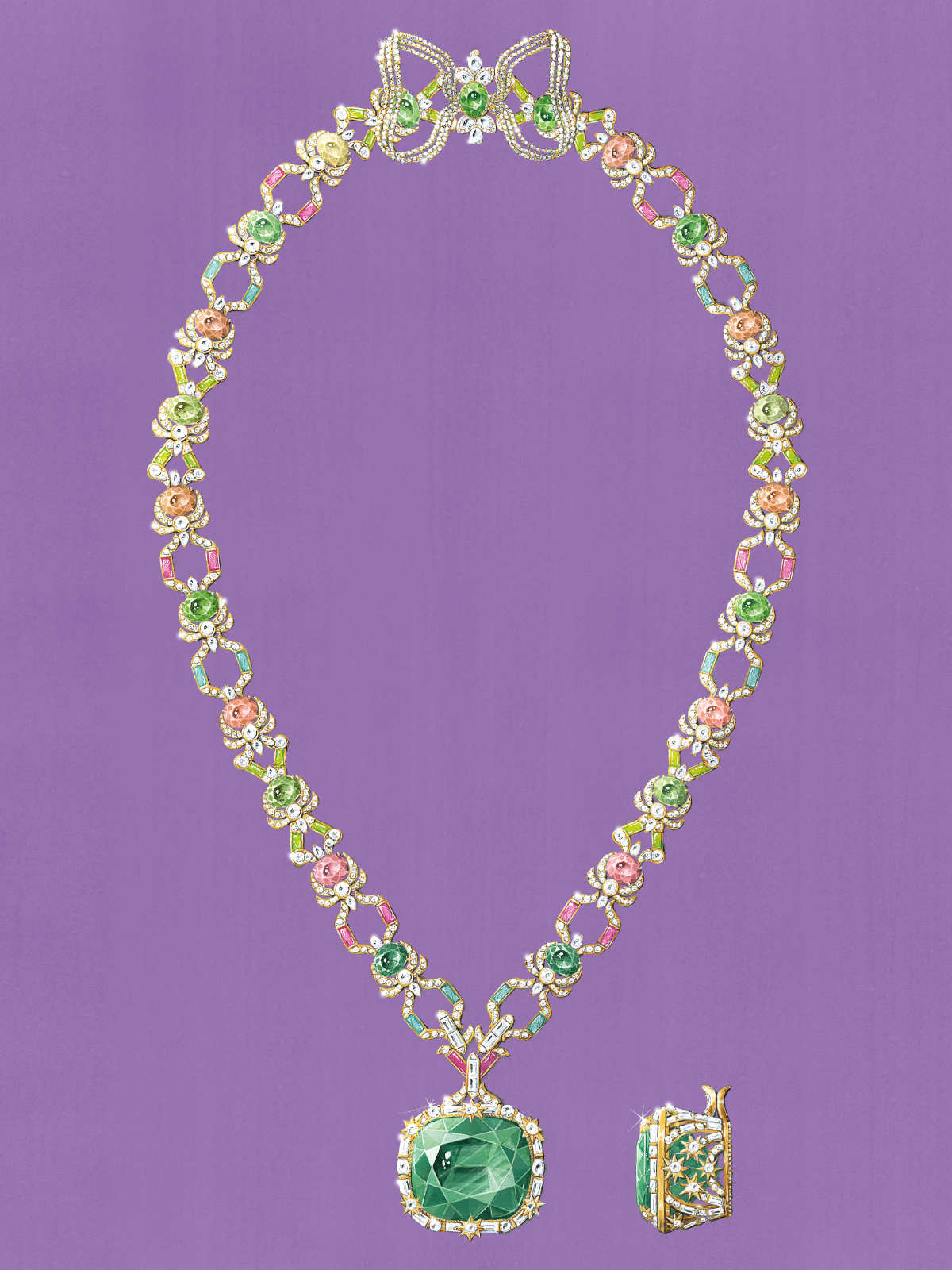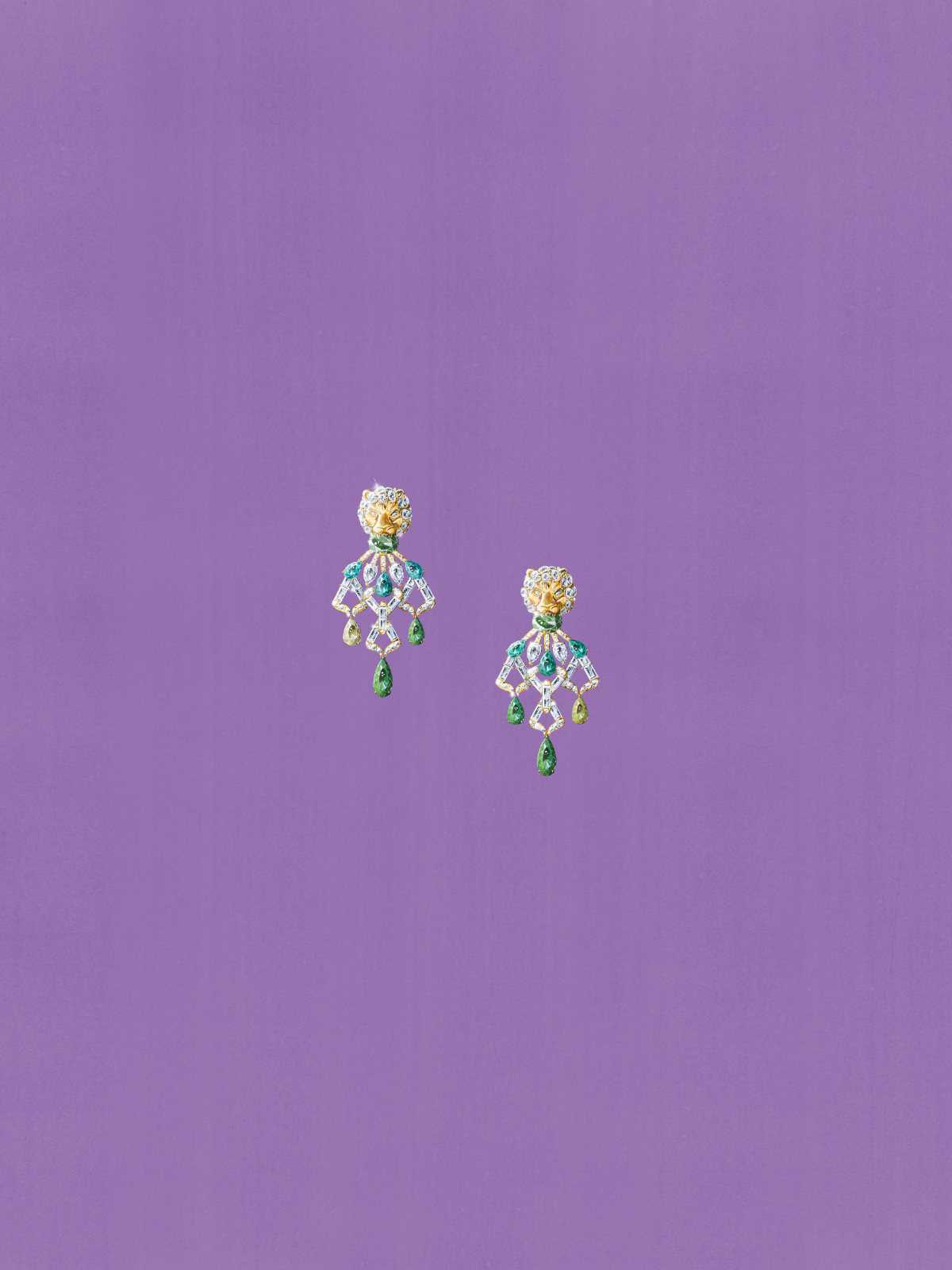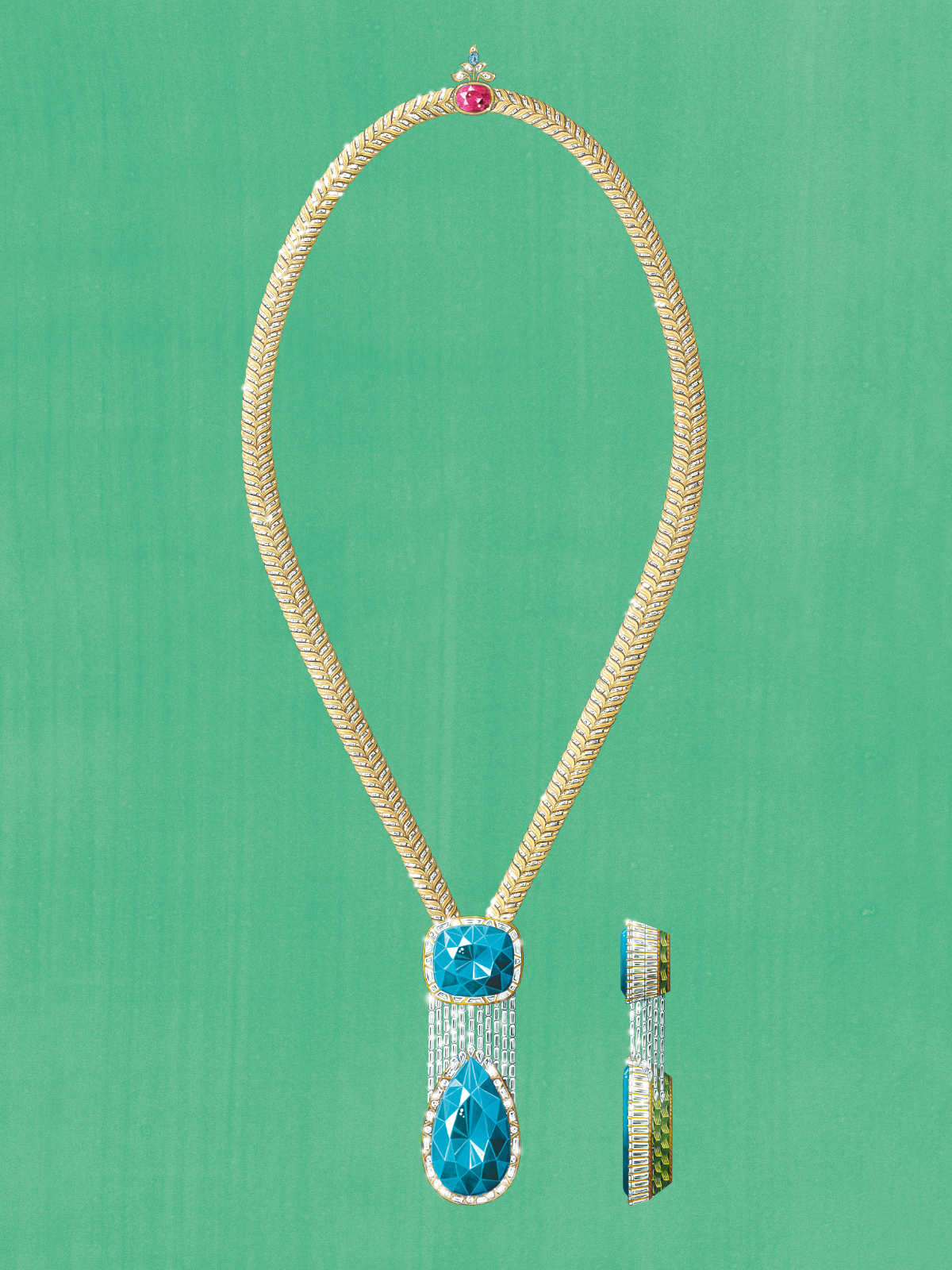 ---