---
The New Code 11.59 By Audemars Piguet - Selfwinding Flying Tourbillon Explores Purity
Luxferity, 02.11.2022
Swiss Haute Horlogerie manufacturer Audemars Piguet presents its latest Code 11.59 by Audemars Piguet Selfwinding Flying Tourbillon enriched with a black onyx dial. The timepiece encompasses a stylised two-tone case design interweaving black ceramic with 18-carat white gold for a powerful contrast. The watch's blend of natural stone, precious metal and high-tech ceramic furthers the collection's creative expression.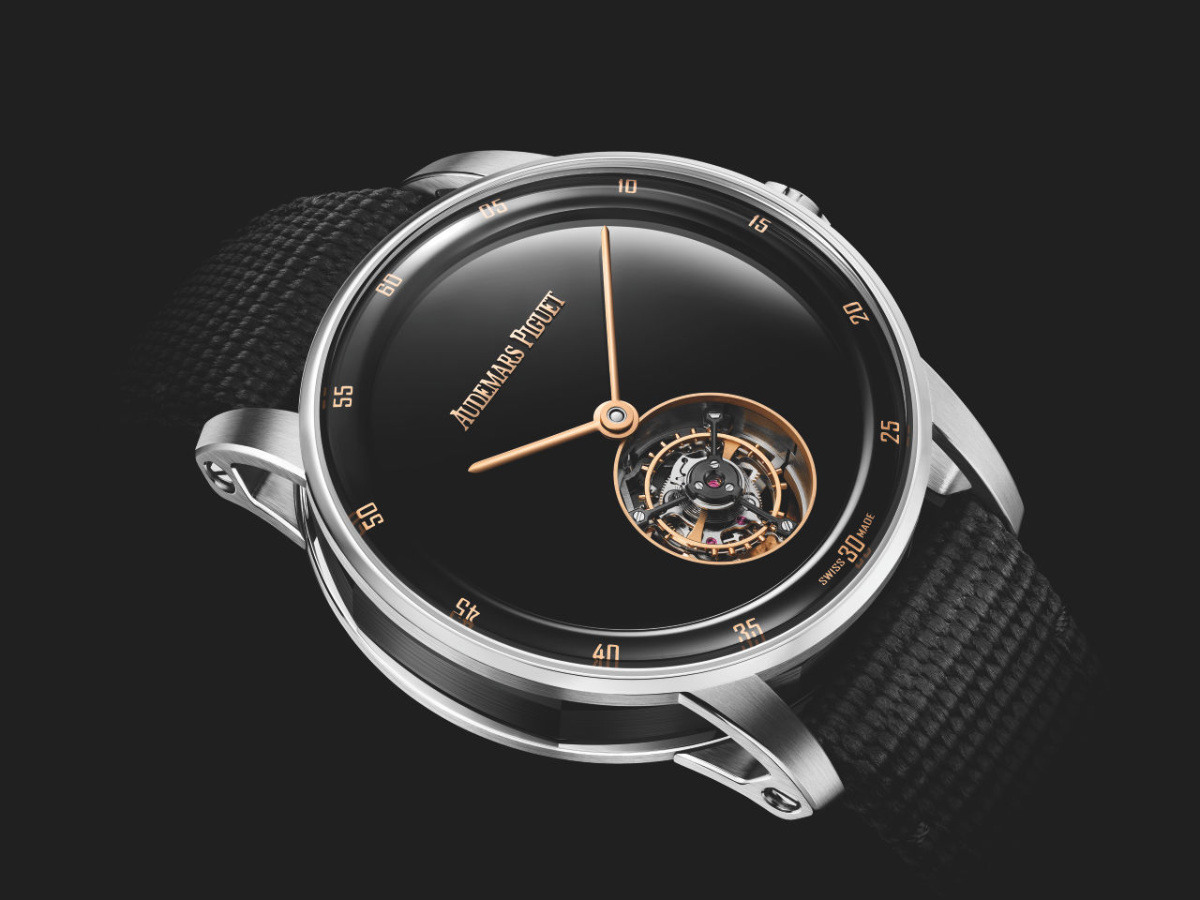 For the first time, the Code 11.59 by Audemars Piguet Selfwinding Flying Tourbillon marries 18-carat white gold, black ceramic and black onyx. © Courtesy of Audemars Piguet
BLACK ONYX - PURE ELEGANCE

The new Code 11.59 by Audemars Piguet gives pride of place to the black onyx dial, whose purity is highlighted by the absence of hour-markers. This stone dial has been crafted in collaboration with long-term partner Someco, a company specialised in dial manufacturing since 1966 and located in La Chaux-de-Fonds. Carved out of a single black onyx stone, the dial has then been cut into a thin disc, ground, sanded and polished to perfection before being inserted into the dial's pink-gold-toned brass base plate. Its polished finishing confers it an elegant shine, magnified by the watch's double curved sapphire crystal. Each dial is unique, as each stone has its own natural composition, texture and colour and reacts differently to the manufacturing and finishing operations.
The overall minimalist design is enriched with pink gold accents, including pink gold hands and a discreet pink-gold-toned minute track printed on the black lacquered inner bezel. The polished laser-cut pink gold "Audemars Piguet" signature has been applied onto the dial with dedicated legs specifically adapted to the stone's thickness. Lastly, the flying tourbillon cage, encircled by a delicate pink-gold-toned thread, matching with the balance wheel pulsating within, makes its rotations at 6 o'clock. For the first time, the top bridge of the flying tourbillon cage has been finished with black PVD in an echo to the dial's colour.
The black rubber-coated strap, finished with a textured motif, enhances the watch's contemporary look.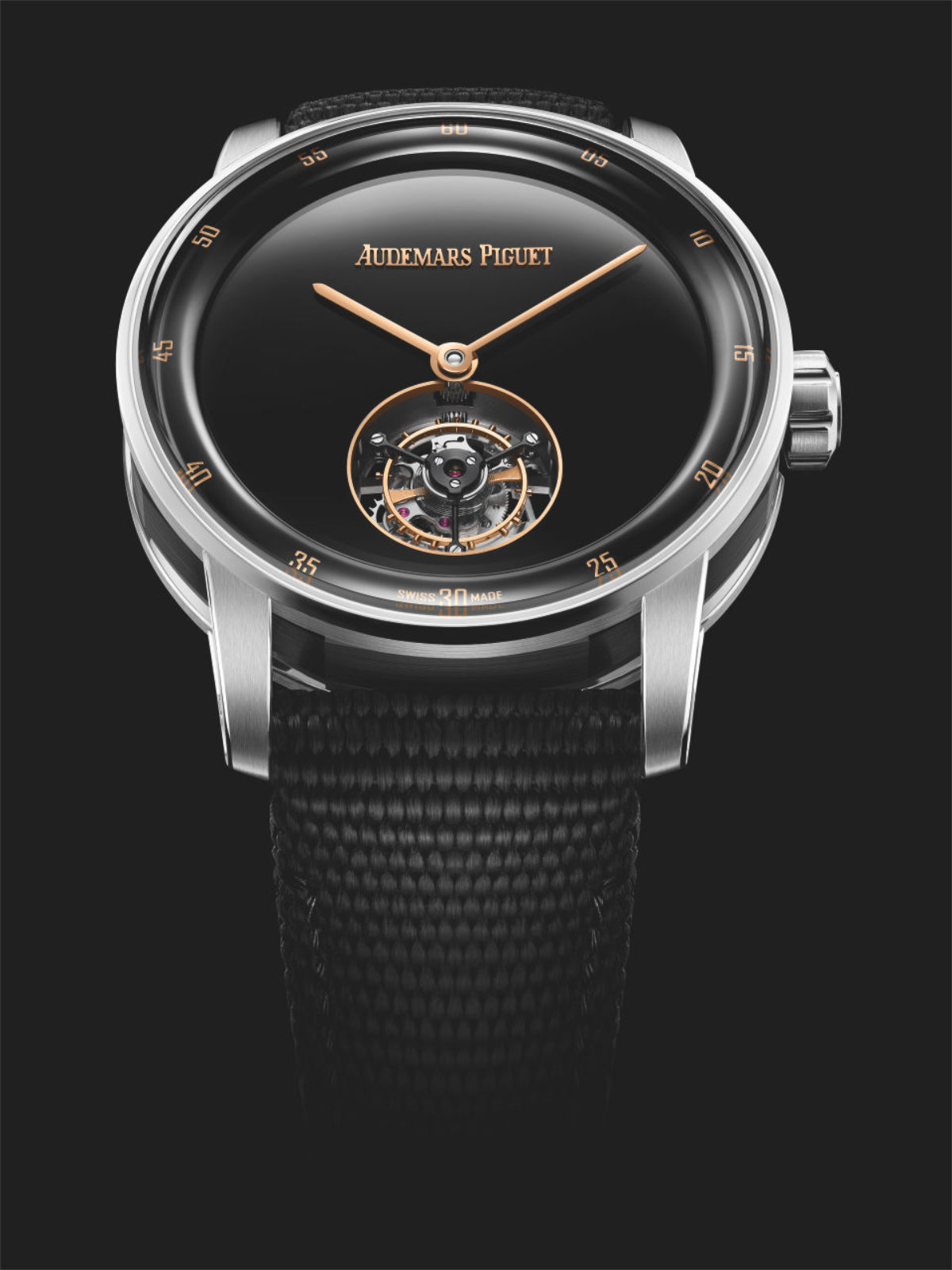 TWO-TONE CASE AESTHETIC - BLENDING BLACK CERAMIC AND WHITE GOLD

The Selfwinding Flying Tourbillon is endowed with a contemporary two-tone case design. While the bezel, lugs and caseback are crafted in 18-carat white gold, the octagonal case middle is honed from black ceramic. First introduced on the Code 11.59 by Audemars Piguet Selfwinding Chronograph in 2021, this two-tone case aesthetic makes its debut this year on some of the collection's complicated models.
Blending advanced technology and time-honoured tradition, the case required complex programming, dedicated tools and highly specialised human talents for its industrialisation and the hand finishing of its components. Similarly to the 2021 Code 11.59 by Audemars Piguet Selfwinding Chronograph, the ceramic case middle has been crafted in collaboration with Bangerter, a Swiss family-owned company specialised in the manufacturing of precision components made of advanced ceramics, tungsten carbide and other super hard materials.
The manufacturing of the case middle follows a complex industrial flow. Zirconium Oxide (ZrO2) powder is combined with binder content, the composition of which remains the secret of the company. This feedstock is given preliminary shape on latest generation 5-axis CNC machine technology. After this first machining process, the binder is removed. The watch component obtains its hardness and final colour by sintering at approximately 1,400° C. The component is then hard machined with high-precision diamond tools before being pre-polished and pre-satin-brushed. Ultimately, like the gold components, the ceramic case middle is meticulously hand-finished with the Manufacture's trademark alternation of satin brushing and polished chamfers, endowing the timepiece with a rich play of light. The artisans' final challenge is to reach perfect alignment between the rounded and angular surfaces of the ceramic and gold elements, a task that can only be achieved by hand.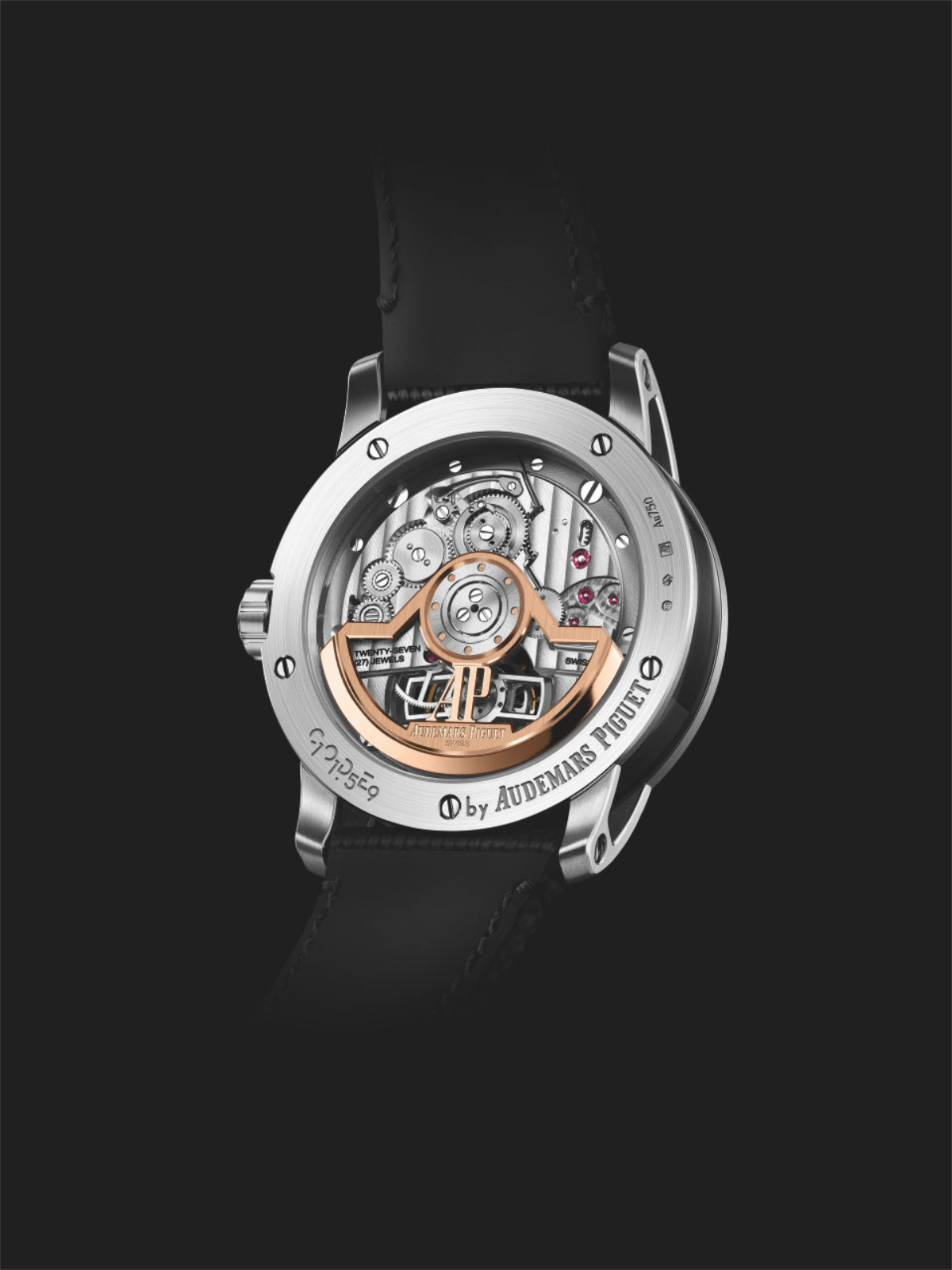 SELFWINDING FLYING TOURBILLON - BETWEEN TRADITION AND MODERNITY

As previous iterations, this new model is powered by selfwinding Calibre 2950. While the flying tourbillon made its appearance in 2018 in the Royal Oak Concept collection, the Code 11.59 by Audemars Piguet first introduced this prestigious mechanism coupled with a central rotor in 2019. Visible on the dial and through the sapphire caseback, the flying tourbillon cage defies gravity by constantly rotating on itself while offering an unobstructed view of some of the watch's regulating components. The flying tourbillon's absence of bridges also furthers the dial's minimalist aesthetic.
The timepiece's sapphire caseback reveals the collection's dedicated 22-carat pink gold oscillating weight and the refined finishing adorning Calibre 2950, including Côtes de Genève, traits tirés, snailing and circular graining, among other techniques.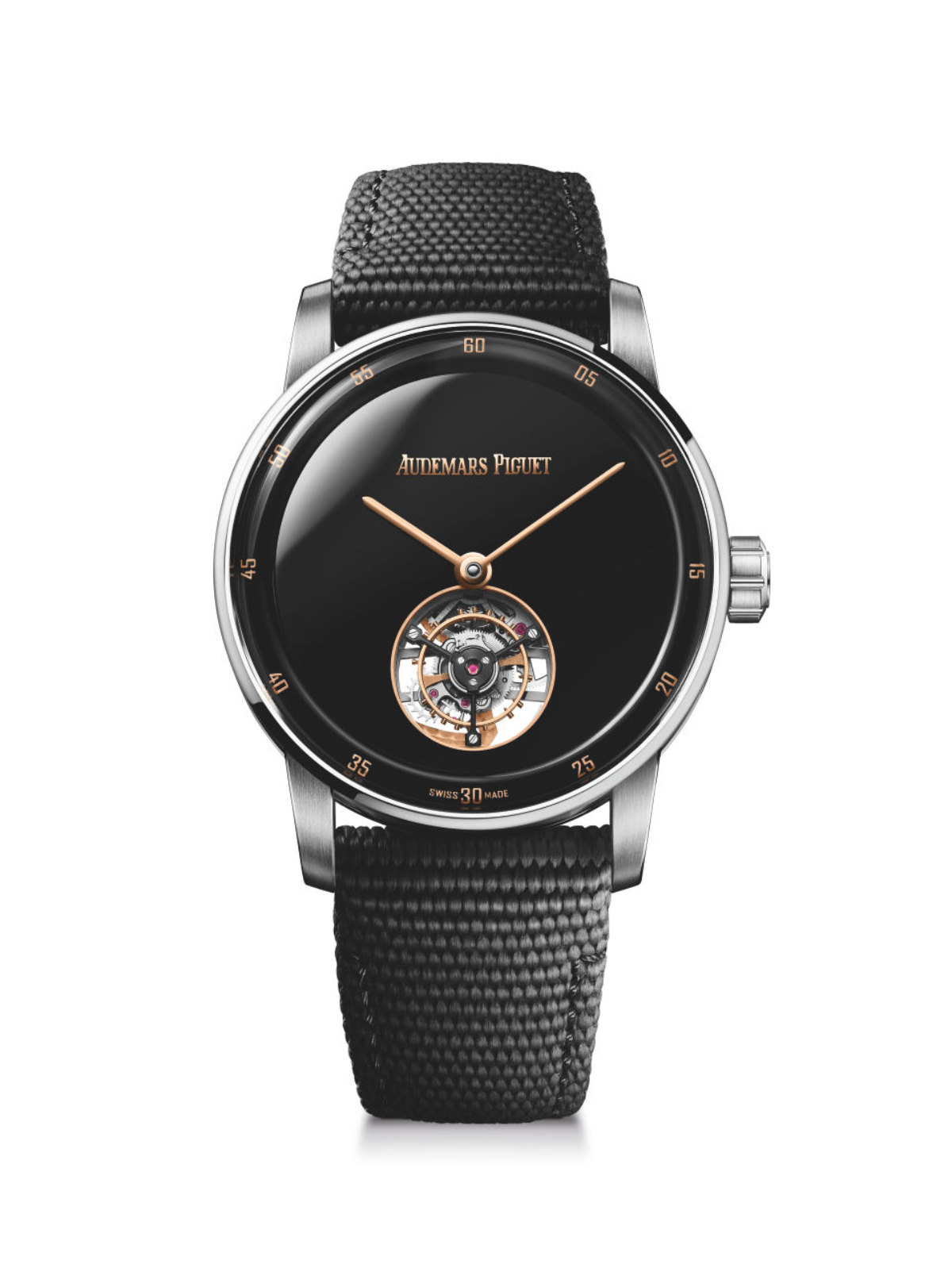 A LEGACY OF STONE DIALS

Although emerging in the late 18th century on pocket watches, mineral and gemstone dials were rarely used before the advent of wristwatches in the 20th century as their smaller diameters made the manufacturing of delicate dials more feasible.
Stone dials flourished at Audemars Piguet between the late 1960s and the 1990s at a time when wristwatches were witnessing unparalleled expressive and colourful creativity throughout the industry. Timepieces showcased a multitude of colours conferred by natural stones, among which tiger's eye, lapis lazuli, aventurine, grossular garnet, mother-of-pearl, opal, ruby, amethyst and jasper. Black onyx was found among the Manufacture's offering during these decades and slowly made its way in the Millenary and Royal Oak collections in the 2010s.
The latest Code 11.59 by Audemars Piguet Selfwinding Flying Tourbillon builds on this rich legacy by marrying the natural elegance of black onyx with the high-tech feel of ceramic for a contemporary look full of contrasts.
"Born in Le Brassus, raised around the world."
Technical Specifications

Code 11.59 by Audemars Piguet Selfwinding Flying Tourbillon / 41 mm

26396NB.OO.D002KB.01
FUNCTIONS
Flying tourbillon, hours and minutes.
CASE
Black ceramic case middle, 18-carat white gold bezel, lugs, caseback and crown, double curved glareproofed sapphire crystal, glareproofed sapphire caseback, water-resistant to 20 m.
Case thickness: 11.8 mm
DIAL
Black onyx dial, 18-carat pink gold hands, black lacquered inner bezel.
STRAP
Black rubber-coated strap with 18-carat white gold AP folding clasp.
MOVEMENT SPECIFICATIONS
Selfwinding Calibre 2950
Total diameter 31.50 mm (13 ¾ lignes)
Total thickness 6.19 mm
Number of parts 270
Number of jewels 27
Minimum power reserve guaranteed 65 h
Frequency of balance wheel 3 Hz (21,600 vibrations/hour)
About Audemars Piguet

Audemars Piguet is the oldest fine watchmaking manufacturer still in the hands of its founding families (Audemars and Piguet). Based in Le Brassus since 1875, the company has nurtured generations of talented craftspeople who have continuously developed new skills and techniques, broadening their savoir-faire to set rule-breaking trends. In the Vallée de Joux, at the heart of the Swiss Jura, Audemars Piguet has created numerous masterpieces, testament to the Manufacture's ancestral savoir-faire and forward-thinking spirit. Sharing its passion and savoir-faire with watch enthusiasts worldwide through the language of emotions, Audemars Piguet has established enriching exchanges among fields of creative practices and fostered an inspired community. Born in Le Brassus, raised around the world. — www.audemarspiguet.com
About Someco

Someco is an independent Swiss company specialised in the manufacturing of dials and hands, based in La Chaux-de-Fonds in the mountainous region of Neuchâtel. Since 1966, the company has been working with some of the most prestigious fine watchmaking brands and counts today around a hundred employees.
Constantly searching for new evolutions, Someco adapts its techniques and savoir-faire to respond to, and anticipate, market's demand by developing innovative products for its partners, from the initial phases of conception and development to all stages of industrialisation and decoration. Its different department notably specialise in treatment, galvanisation, machine and manual masking, lacquering and varnishing, transferring, milling, drilling, diamond polishing, gemsetting and enamelling, as well as in the manufacturing of appliques, symbols and inner bezels.
Driven by passion, the company has at heart to craft remarkable dials and hands to dress the most beautiful timepieces.
About Bangerter

Founded in 1969, Bangerter is a family-owned business and a leader in the manufacture of precision components made of advanced ceramics, tungsten carbide and other super hard materials. Overcoming the limits of what is feasible using new machining methods and new materials is its mission.
While the company started with the manufacturing of jewel bearings made of synthetic ruby for mechanical movements, it quickly diversified into the machining of tungsten carbide in the 1970s and developed new markets for industrial components made of super hard materials.
Today, Bangerter develops innovative solutions in the machining of high-precision micro-components with highest surface quality for a variety of industrial sectors including medical technology and watchmaking. With the latest innovations in the area of ceramic machining, Bangerter is supplying the most prestigious watch brands with precision components made of ceramics for cases and other integral parts.
The company employs 130 highly qualified staff members with 20 different nationalities and operates three manufacturing sites in Switzerland – www.bangerter.com
---