---
Audemars Piguet Releases Its First Ever Royal Oak Selfwinding Flying Tourbillon Openworked
Luxferity, 17.02.2022
Swiss Haute Horlogerie manufacturer Audemars Piguet unveiled its very first Royal Oak Selfwinding Flying Tourbillon Openworked in a 41 mm diameter to celebrate the Royal Oak's 50th anniversary. This stainless steel timepiece is powered by the Manufacture's first ever selfwinding flying tourbillon openworked mechanism, Calibre 2972, premiered on this elegant monochromatic timepiece. This latest in-house movement builds on Audemars Piguet's long expertise in both openworking and tourbillon mechanisms, pushing the contemporary aesthetics to new heights.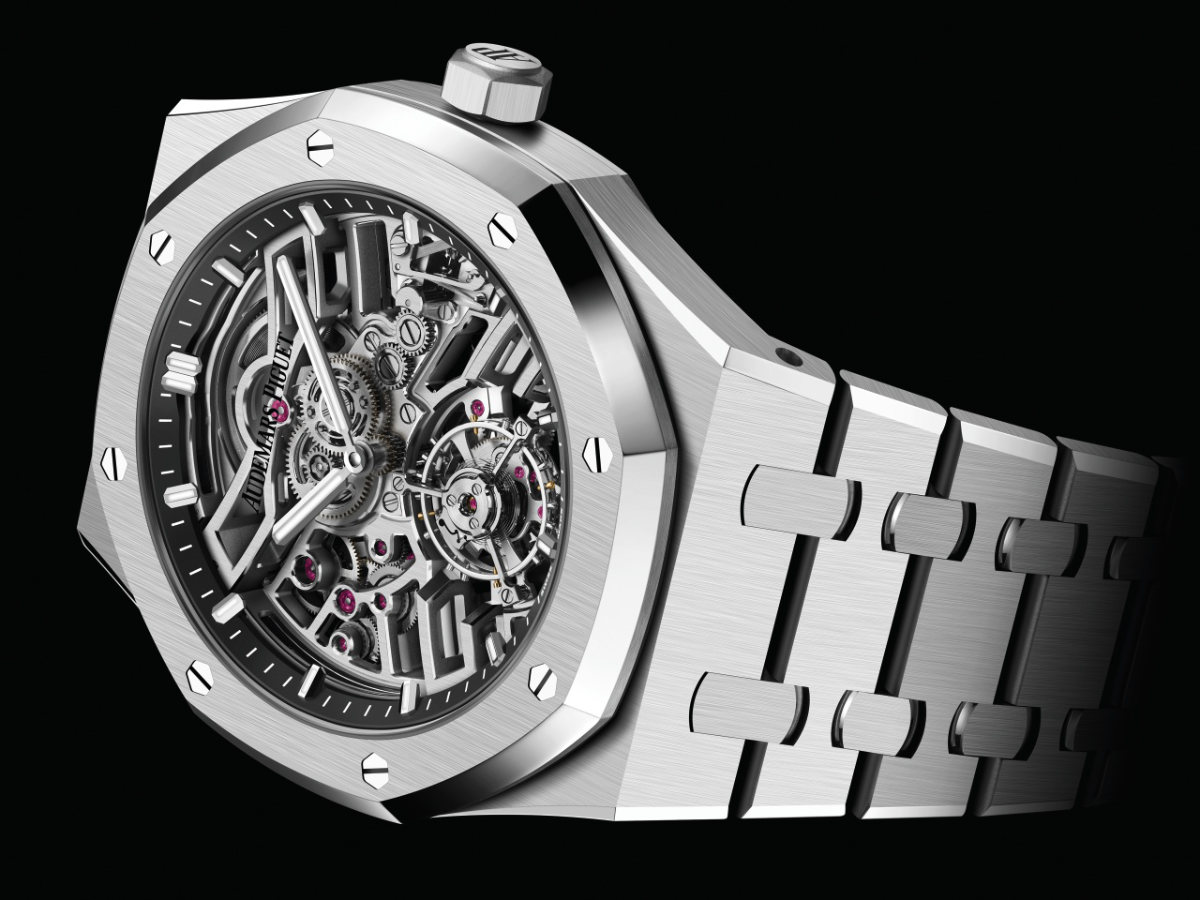 Audemars Piguet's first Royal Oak Selfwinding Flying Tourbillon Openworked is endowed with a highly contemporary monochromatic design and equipped with the Manufacture's first ever selfwinding flying tourbillon openworked movement, Calibre 2972. Courtesy of Audemars Piguet
A SELFWINDING FLYING TOURBILLON ENDOWED WITH A DISTINCTIVE OPENWORKED ARCHITECTURE
The newly released Calibre 2972, which combines a central rotor with a flying tourbillon, evolves from Calibre 2950, launched in 2019 as part of the Code 11.59 by Audemars Piguet collection. The new calibre has been conceived to offer symmetry and a rich play of light. Its highly stylised and multilayered openworked architecture bestows the watch with a unique 3D effect, as the shape of the bridges has been finished horizontally and vertically.
Calibre 2972 builds on the age-old openworking techniques that have been reshaping what is possible with wristwatch design since the 1930s. The beauty and finesse of the mechanism is revealed by removing as much material from the mainplate and bridges as possible to let light pass through, without impairing its functions. Leveraging advanced manufacturing technologies, the preliminary geometries of the mainplate and bridges have been cut through computer numerical control (CNC) machining, before being perfected by electric discharge machining (EDM). This manufacturing process enables to remove small amounts of material with extreme precision to reach the desired shape.
Each component has then been finished with refined Haute Horlogerie decorations including "traits tirés," satin, circular and sunray brushing, snailing, as well as polished chamfers. The polished V-angles that can be admired on both sides of the watch reflect the meticulous handiwork that went into their realisation as this level of craftsmanship can only be achieved by hand. The rhodium-toned hues of the different components sit in harmony with the watch's stainless steel case and bracelet, providing the watch with a contemporary monochromatic aesthetic.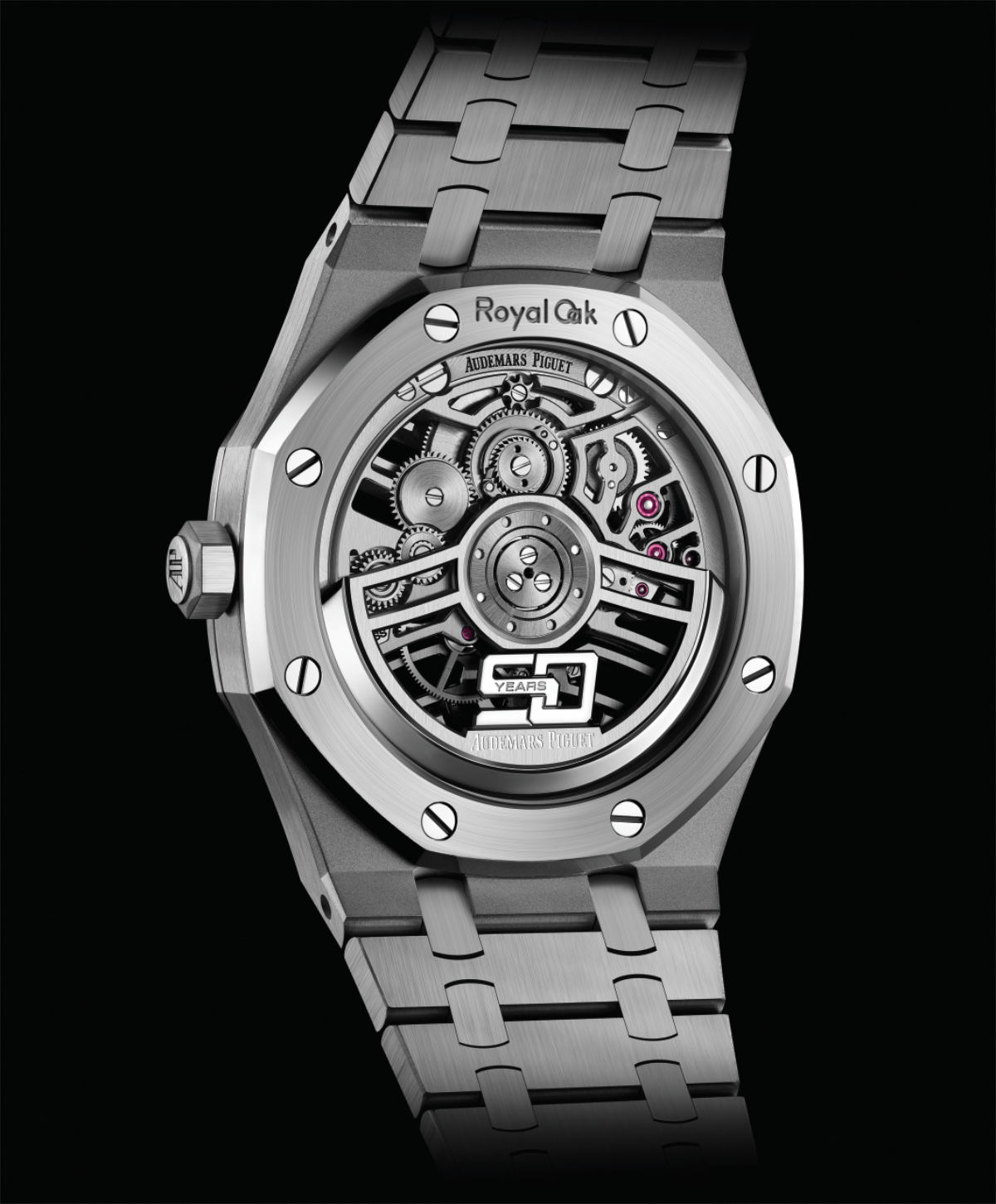 The unobscured flying tourbillon, located at 6 o'clock, compensates for the effect of gravity and enhances accuracy. The balance wheel is housed in a tiny revolving cage which makes a revolution per minute to prevent the hairspring from remaining static. Only supported on the mainplate, the flying tourbillon is considered today as a symbol of watchmaking art as only a few watchmakers retain the necessary skills for its realisation.
A DEDICATED ANNIVERSARY OSCILLATING WEIGHT
The new timepiece is fitted with the Royal Oak "50-years" oscillating weight, which will be seen on the Royal Oak anniversary models throughout 2022. The watch's sapphire caseback showcases the dedicated rotor, crafted in rhodium-toned 22-carat pink gold, which seamlessly blends with the openworked movement's grey hues and recalls the stainless steel case.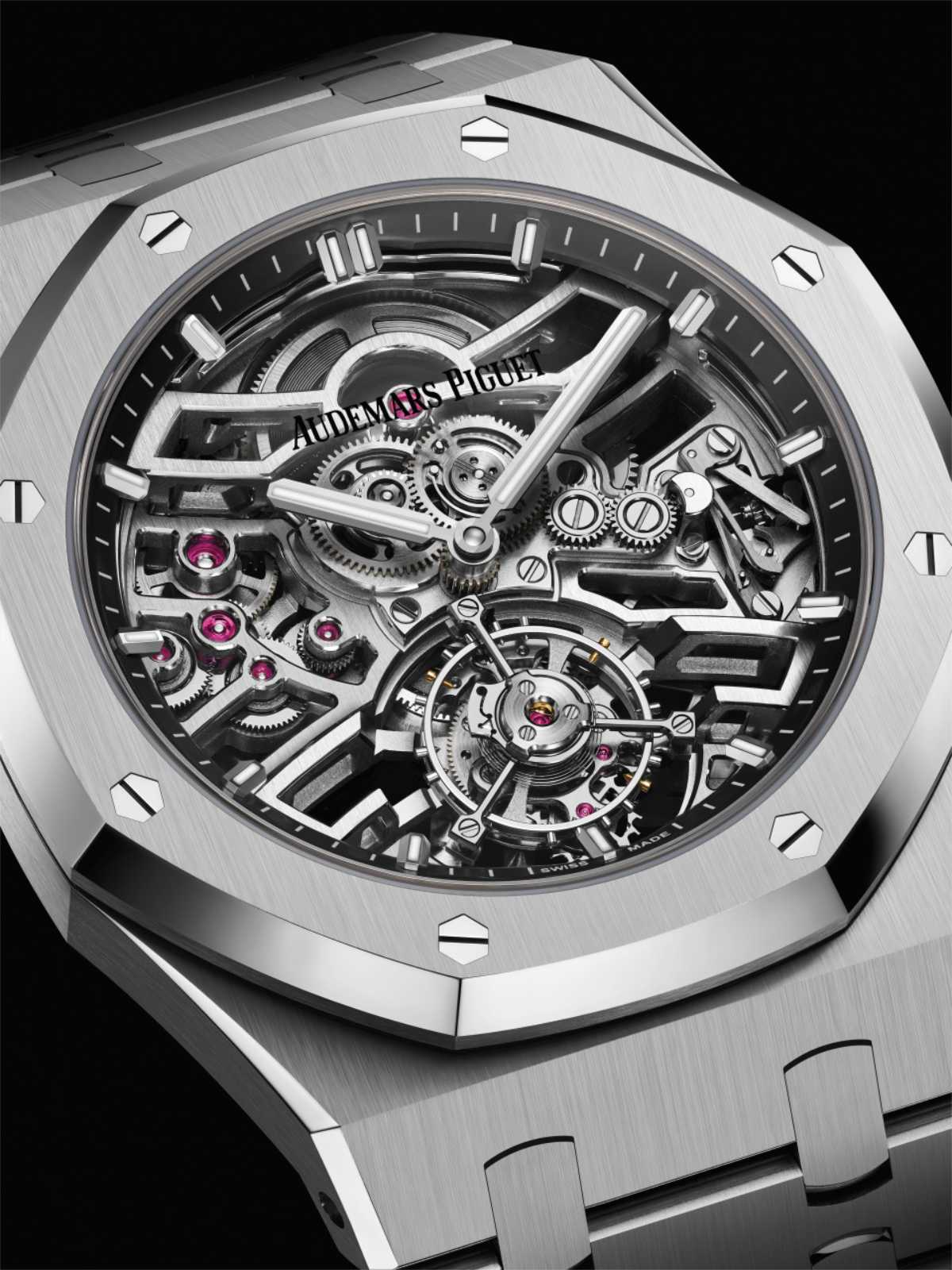 A SLENDER DESIGN PLAYING WITH LIGHT
The stainless steel bracelet and case of the Royal Oak Selfwinding Flying Tourbillon Openworked are endowed with the new design evolution which makes its debut this year on Royal Oak models in 34, 37, 38 and 41 mm.
The case and bracelet encompass larger polished chamfers for a slenderer aesthetic offering stronger plays of light between the satin-brushed and polished surfaces adorning the different components. In addition, the first four links of the integrated bracelet show a more pronounced decrease in thickness for more visual appeal. The bracelet links are also thinner and therefore lighter for added comfort. For its part, the sapphire caseback has been slightly more integrated into the case to better fit the wrist.
The white gold hour-markers and hands, both filled with luminescent coating for optimum visibility in the dark also present slightly revised proportions in harmony with the other Royal Oak models across the collection.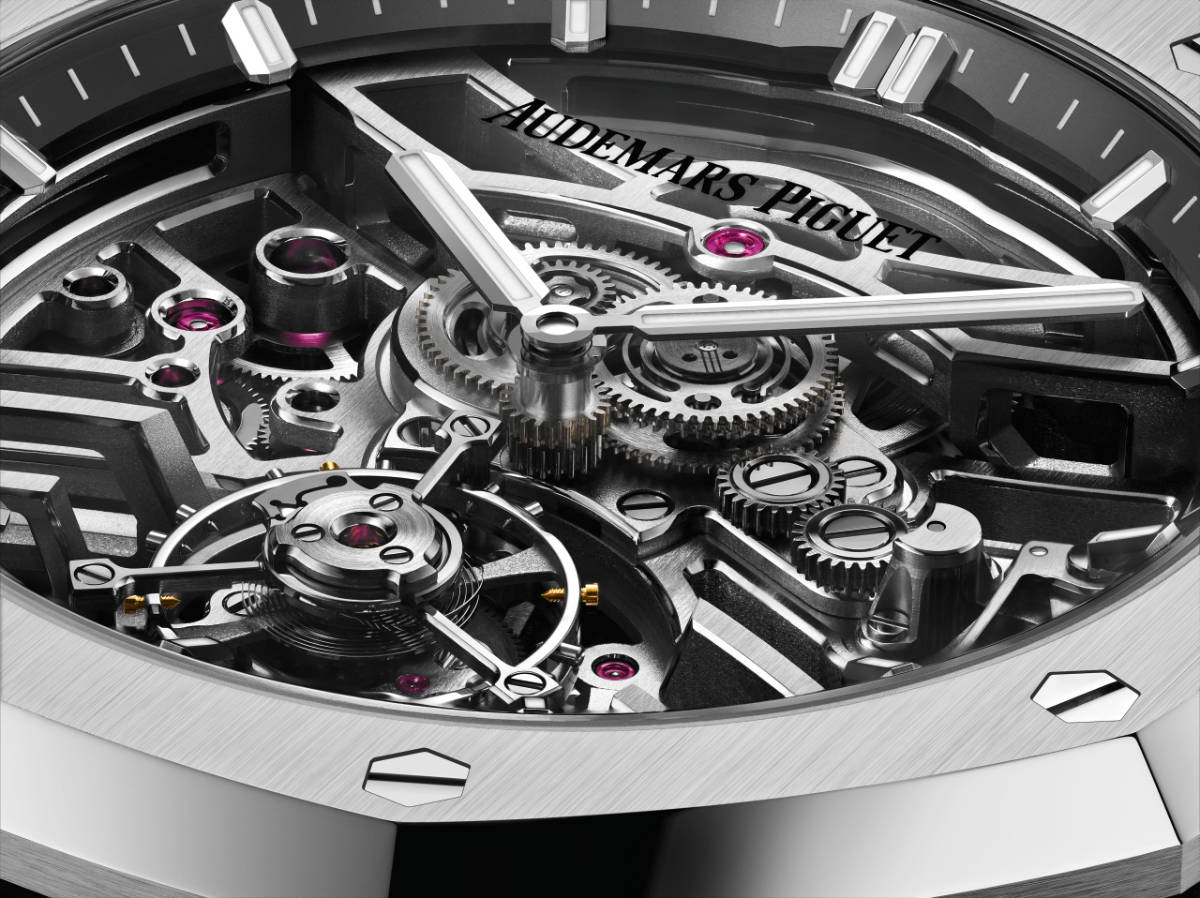 A LEGACY OF TOURBILLON WATCHES
In 1986, Audemars Piguet introduced the world's first selfwinding tourbillon wristwatch. Calibre 2870 was housed in an ultra-thin case measuring a mere 5.3 mm in thickness, fitted with a winding system on the caseback side. Its tourbillon cage is still one of the smallest in the world today with a 7.2 mm diameter, as well as one of the lightest at just 0.123 g. This pioneering wristwatch forged a new path for the Haute Horlogerie industry, which renewed ties with this prestigious mechanism. Several generation of tourbillon succeeded Calibre 2870, displaying ever-greater robustness and reliability.
The tourbillon entered the Royal Oak collection in 1997 for the watch's 25th anniversary. At the time, Model 25831 was equipped with Audemars Piguet's second generation tourbillon movement, Calibre 2875, and endowed with a stylised octagonal aperture opening onto the tourbillon cage at 6 o'clock. An openworked Royal Oak model (25902) fitted with Calibre 2875SQ was unveiled in 1999 – the very first Royal Oak tourbillon openworked ever crafted.
In 2003, the tourbillon was combined with the chronograph for the first time in the Royal Oak collection, with Model 25977 equipped with Calibre 2889. This stainless steel watch paved the way for a new wave of timepieces featuring the two complications, including the Royal Oak Tradition d'Excellence n 4 (Model 25969) released the following year.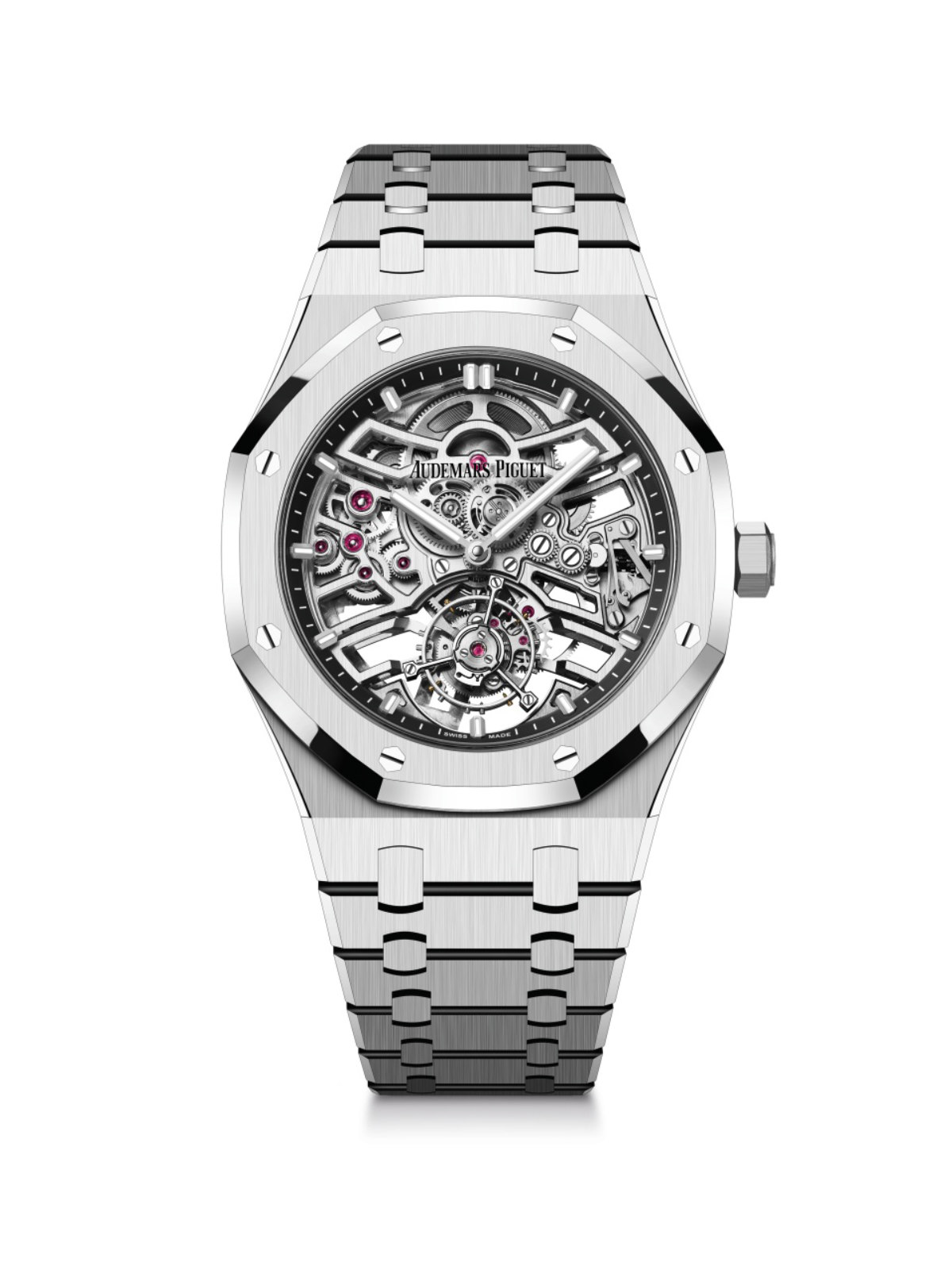 In 2012, for the Royal Oak's 40th anniversary, Audemars Piguet launched a new 41 mm Royal Oak Extra-Thin Tourbillon (Model 26510), powered by Calibre 2924 and available in stainless steel or 18-carat pink gold. An openworked version was also released for the occasion in a 40-piece platinum limited edition (Model 26511, Calibre 2924SQ). This timepiece was complemented in 2016 by a version in yellow gold (26513BA), followed by two limited editions in stainless steel (26518ST) and pink gold (26518OR) in 2017.
The Manufacture's first Royal Oak Tourbillon Chronograph Openworked model (26347) saw the light of day in 2016 in a 44 mm platinum timepiece housing Calibre 2936. This complicated mechanism was then offered in titanium and pink gold in 2017.
For its part, the flying tourbillon made its debut on the Royal Oak Concept in 2018, before appearing in the Royal Oak collection in 2020 with a 41 mm timepiece (Model 26530) powered by the Manufacture's latest generation movement, Calibre 2950. The Manufacture's legacy of tourbillon watches continues with this selfwinding openworked flying tourbillon movement which reinterprets tradition through a contemporary lens on the occasion of the Royal Oak's 50th anniversary.
"Born in Le Brassus, raised around the world."
TECHNICAL SPECIFICATIONS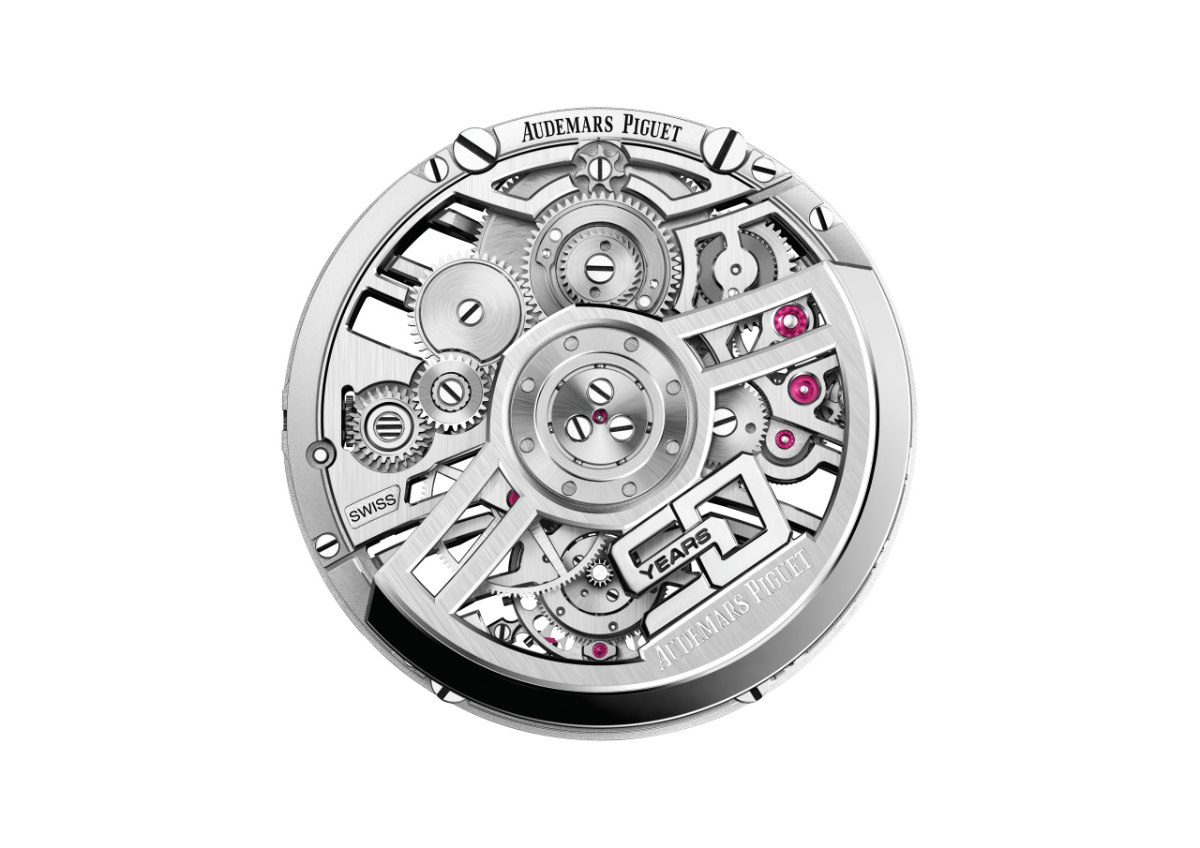 Calibre 2972, caseback view. Courtesy of Audemars Piguet
Royal Oak Selfwinding Flying Tourbillon Openworked / 41 mm

26735ST.OO.1320ST.01
FUNCTIONS
- Flying tourbillon, hours and minutes.
CASE
- Stainless steel case, glareproofed sapphire crystal and caseback, water-resistant to 50 m.
- Case thickness: 10.6 mm
DIAL
- Rhodium-toned openworked movement, white gold applied hour-markers and Royal Oak hands with luminescent coating, slate grey inner bezel.
BRACELET
- Stainless steel bracelet with AP folding clasp.
MOVEMENT SPECIFICATION
- Selfwinding Calibre 2972
- Total diameter: 31.5 mm (13 3/4 lignes)
- Total thickness: 6.84 mm
- Number of jewels: 27
- Number of parts: 271
- Minimum power reserve guaranteed: 65 h
- Frequency of balance wheel: 3 Hz (21,600 vibrations/hour)
About Audemars Piguet

Audemars Piguet is the oldest fine watchmaking manufacturer still in the hands of its founding families (Audemars and Piguet). Based in Le Brassus since 1875, the company has nurtured generations of talented craftspeople who have continuously developed new skills and techniques, broadening their savoir-faire to set rule-breaking trends. In the Vallée de Joux, at the heart of the Swiss Jura, Audemars Piguet has created numerous masterpieces, testament to the Manufacture's ancestral savoir-faire and forward-thinking spirit. Sharing its passion and savoir-faire with watch enthusiasts worldwide through the language of emotions, Audemars Piguet has established enriching exchanges among fields of creative practices and fostered an inspired community. Born in Le Brassus, raised around the world. — www.audemarspiguet.com
---