---
Ambush® Opens Spring Summer 2022 Pop-up Stores Worldwide
Luxferity, 12.04.2022
AMBUSH® opens six temporary mono-brand pop-up stores worldwide throughout March and April 2022.

The rollout plan started on March 21st with four locations: KaDeWe in Berlin, Selfridges in London, Saks Fifth Avenue in New York, and Harvey Nichols in Dubai. The openings at Boon The Shop in Seoul and Beymen Galataport Istanbul is following these weeks.
This special activation connects local communities to AMBUSH®, reinforcing brand awareness and perception through visually impactful retail spaces within globally-renowned shopping destinations. Consumers have the chance to physically interact with the brand, exploring the latest collection in distinctive settings .
The AMBUSH® Spring Summer 2022 collection inspires the pop-ups' in-store designs with one unifying colour from the seasonal palette , 'Solar Power' yellow, wrapping all the six spaces with floor-to-ceiling carpet. Semi-gloss racks display a balanced selection of ready-to-wear, jewellery and leather goods.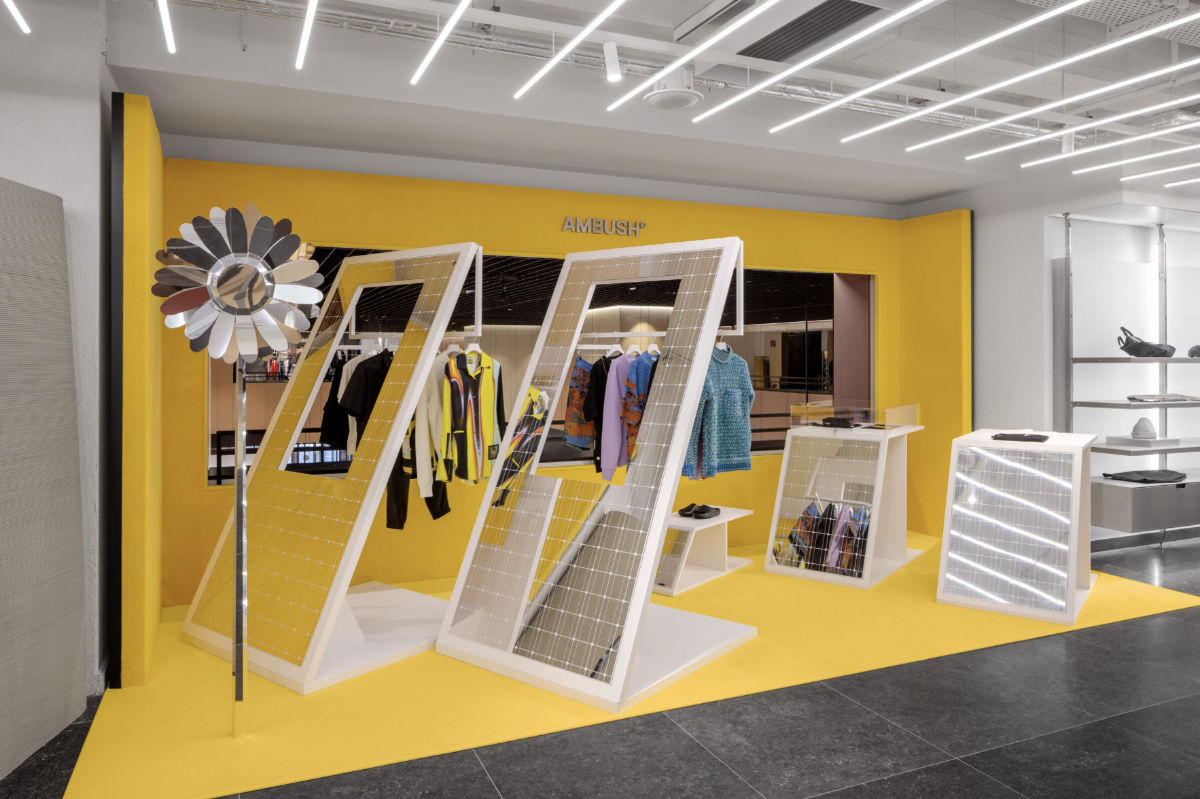 Taking centre stage in each pop-up is a unique, larger-than-life sized iconic AMBUSH® jewellery designs and pendants, a strong nod to the brand's heritage, moulded in chromed and mirrored aluminium, recreating the shining effect of jewels.
In Berlin, consumers enjoy a magnified version of the AMBUSH® DAISY surrounded by solar panels as featured in the Spring Summer 2022 Lookbook. In London, a gigantic AMBUSH® PILL CHARM serves as a jewellery display tool. At SAKS on the Women's floor, visitors are welcomed by a self-standing AMBUSH® PADLOCK; in Dubai, two gigantic AMBUSH® MUSHROOMS frame the space. In Seoul, the quintessential AMBUSH® A-CHAIN runs through the location. Lastly, Beymen's guests find an AMBUSH® BOLT standing tall on the shop floor.
All of these unique, giant objects are replicated in the AMBUSH® metaverse SILVER FCTRY furthering AMBUSH®'s aim to allow consumers to interact with the brand physically and digitally. New brand layers enhance the unique consumer experience.
The pop-ups are open for up to six weeks.
LOCATIONS AND HOURS

Tauentzienstrasse 21-24, 10789 Berlin, Germany
Opening Day: March 21st
Closing Day: To be announced
611 Fifth Avenue, 10022 New York City, USA
Opening Day: March 21st
Closing Day: April 3rd
Mall of the Emirates Al Barsha Sheikh Zayed Road Interchange Four Dubai, United Arab Emirates
Opening Day: March 21st
Closing Day : April 17th
400 Oxford Street, W1A 1AB London, United Kingdom
Opening Day: March 21st
Closing Day: To be announced
Cheongdam Store
21, Apgujeong-Ro 60-GIL, Gangnam-Gu Seoul, Korea
Opening Day: March 23rd
Closing Day: April 20th
Kiliçali Paşa Mah. Meclis-I Mebûsan Cad. 12 /1/202 Beyoğlu/Istanbul - 2985747241
Opening Day: Coming soon
Closing Day: To be announced
---