Jonathan Simkhai Presents His New Pre-Spring 2023 Collection
Luxferity, 22.06.2022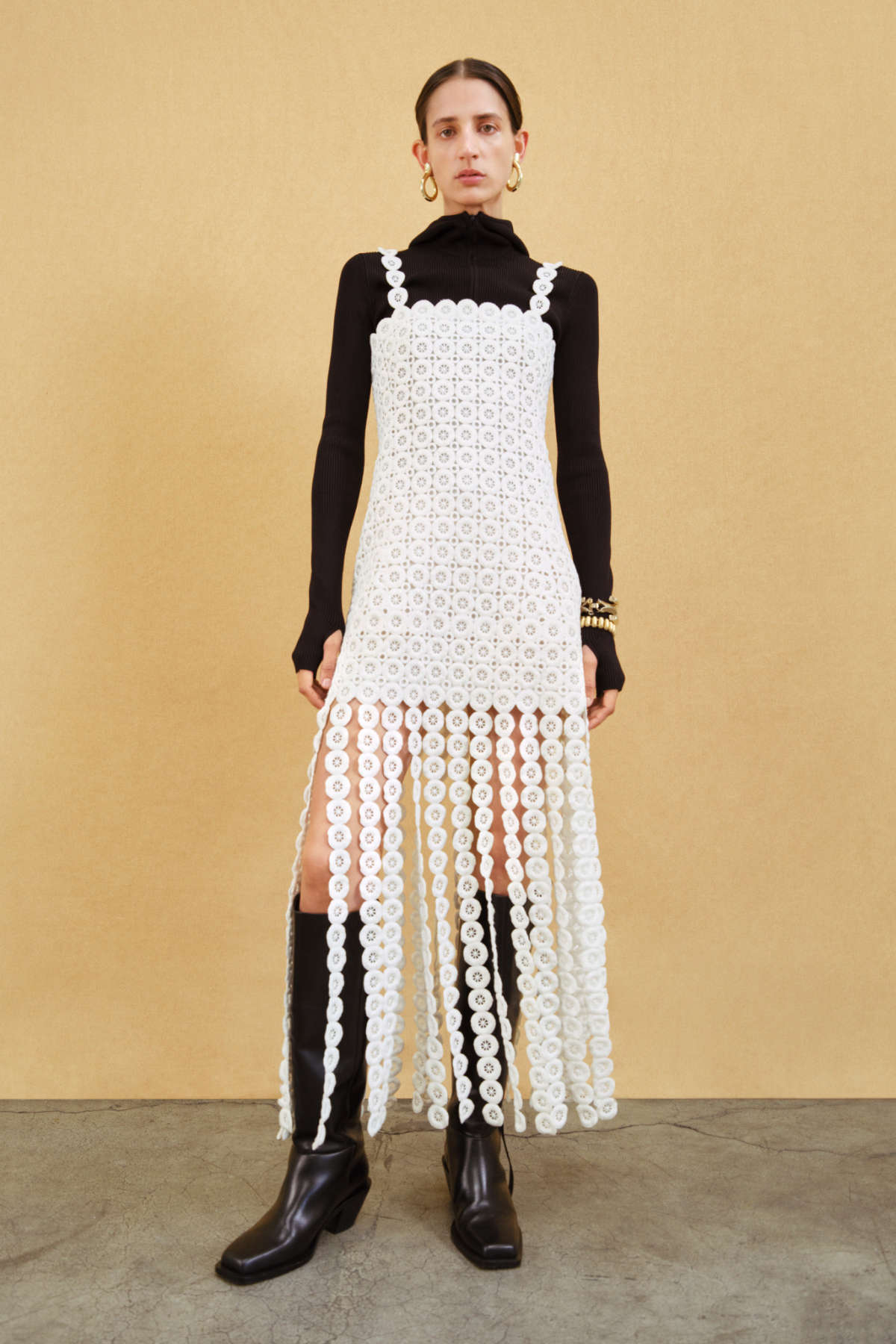 This Pre-Spring, Jonathan Simkhai was inspired by the power of abstraction, specifically by the renowned artist and theorist, Wassily Kandinsky's work. Kandinsky was one of the most influential pioneers of abstract art and his devotion to the inner necessity of the artist paired with his ability to convey universal human emotions and ideas really sat with Jonathan while designing this collection. Jonathan found significant influence from the 1923 painting, Circles in a Circle and how distinctly different it is from Kandinsky's earlier abstract paintings, highlighting a creative pivot and evolution. Circles reflected his ongoing position that there are certain colors and shapes that give rise to emotion; and how beautifully they can be settled and combined into a whole. Calling attention to harmony and ease.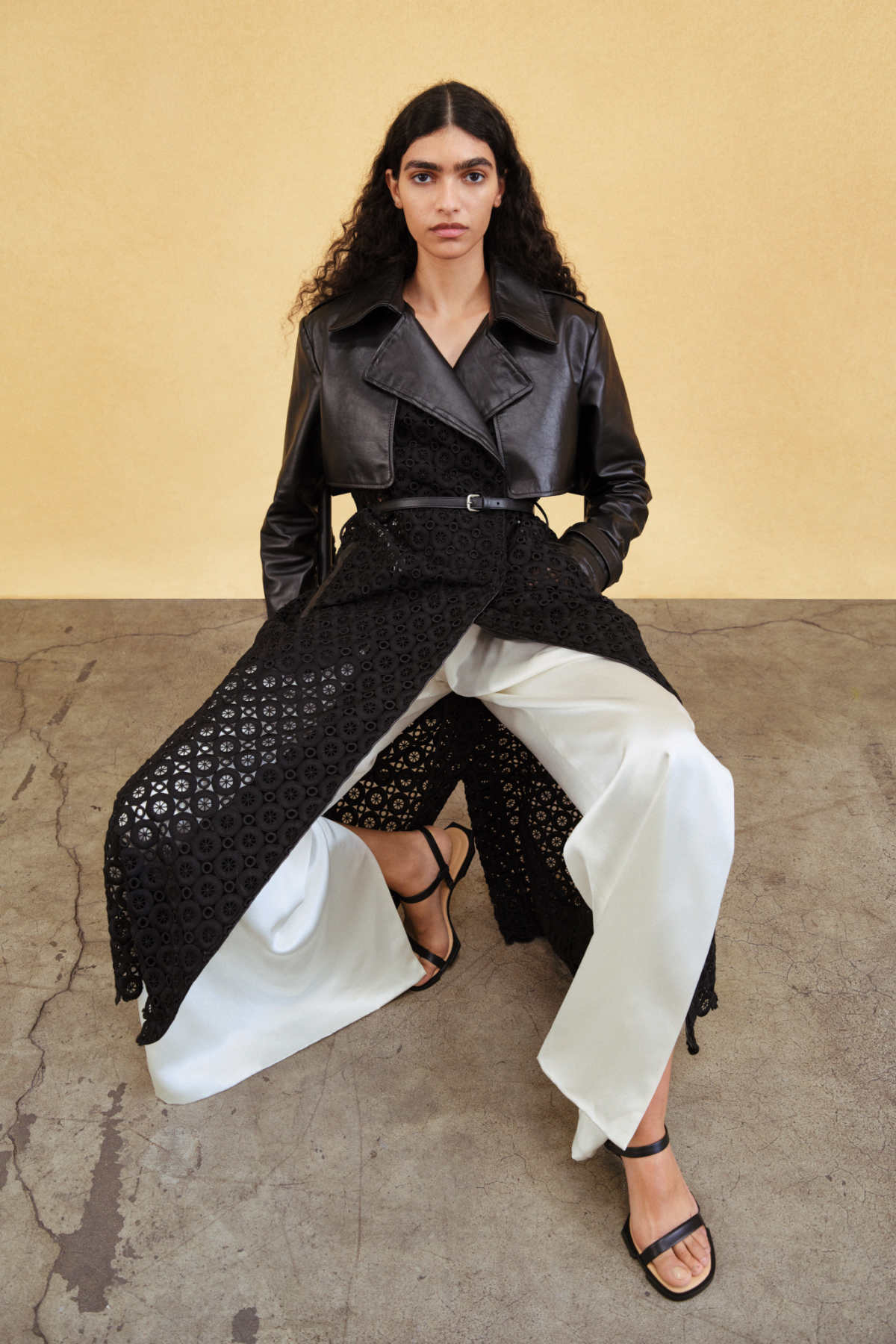 The concept of circles that represents renewal and infinite possibilities, mirrored from Kandinsky's work, can be found throughout the collection. Specifically in our new mushroom plissé dresses and gowns that also reveal sensible statement slits. Circle rounded edges are also used throughout the collection with the use of ball studs in the utility pieces, eyelets and scalloped edges, as well as crochet metal ring trims. These circle concepts can additionally be found in our new regenerated leather outerwear pieces that we are excited to introduce the use of.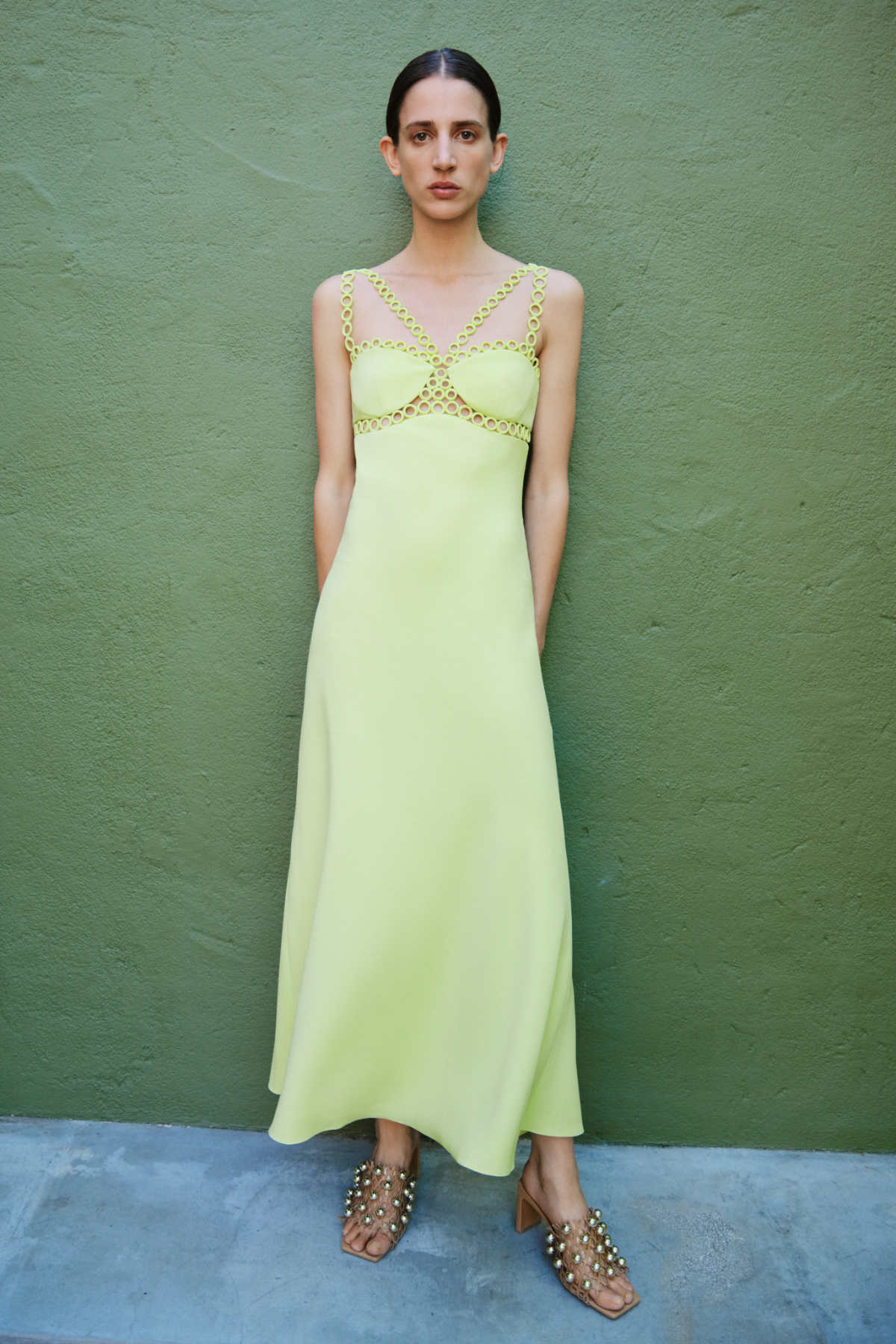 This material was previously used as industrial leather scraps and we recreated them into leather fabrics. We molded them throughout the collection in abstract applications. Craft techniques are woven throughout, taking minimalistic approaches to our aesthetic, and matched with exuberant colors that radiate energy and joy.
White, ivory, birch, midnight, and black are contrasted with striking shades of cobalt, taffy, daffodil, willow and hydrangea. Within this realm of abstraction, we are taking geometric shapes and applying them on unexpected patterns like lace guipure. We are offering new silhouettes and new fabric combinations for Pre-Spring, though we are still acknowledging heritage Jonathan Simkhai with the inclusion of his signature lace in updated abstract ways.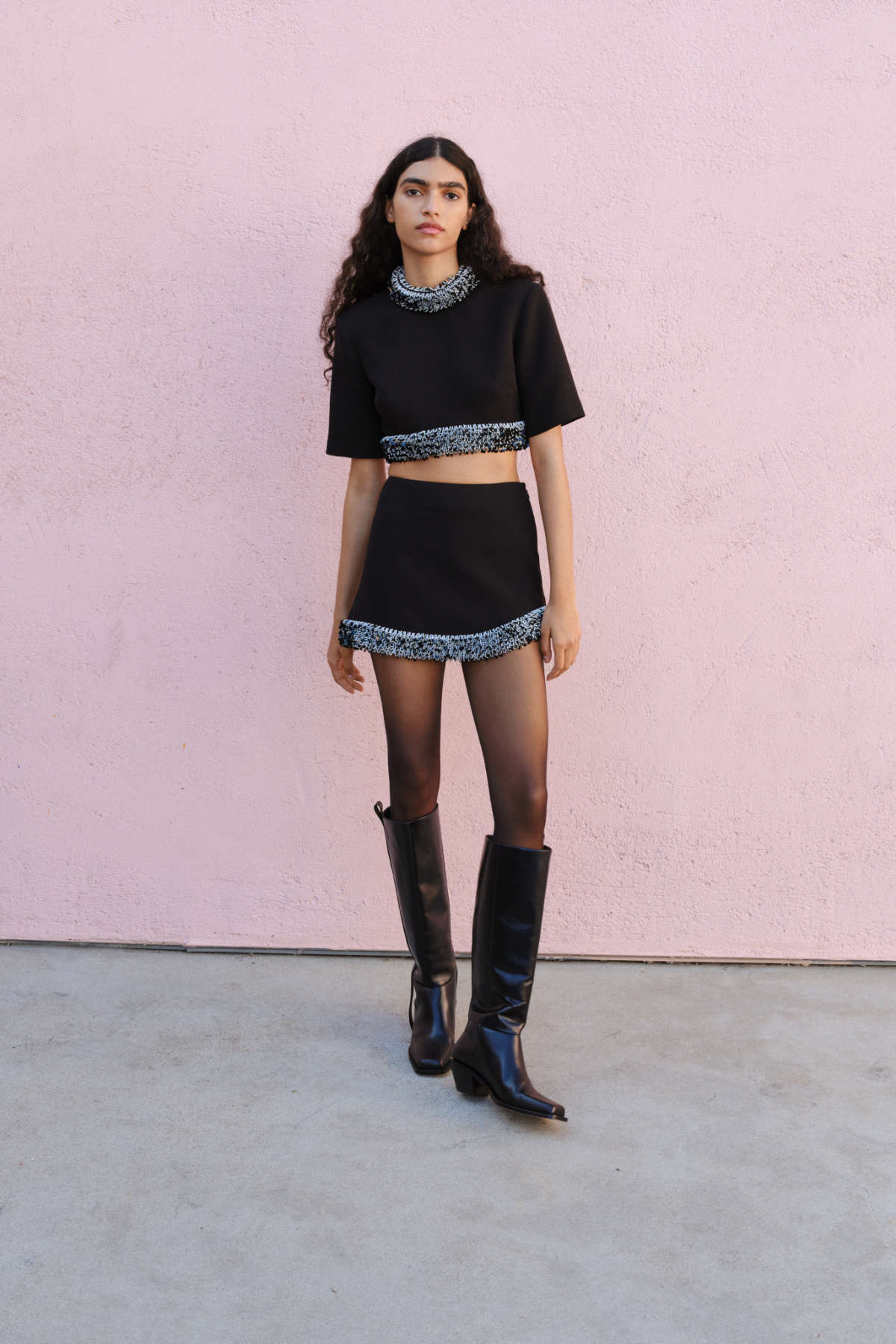 Before the Shah of Iran was exiled, Jonathan's grandfather ran a lace mill in Tehran. This connection to his heritage and his grandfather's expertise in lace has always offered so much inspiration.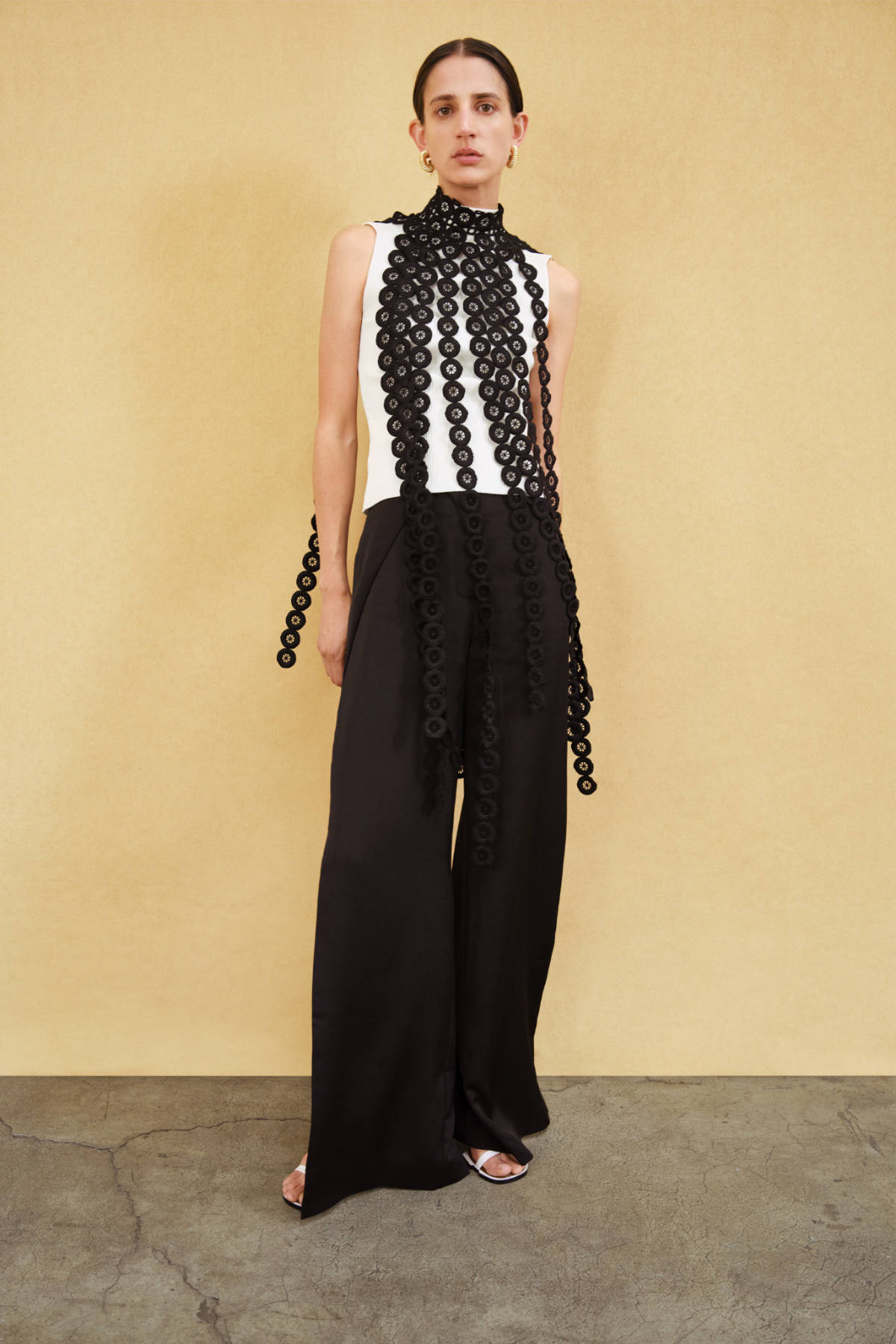 So for Pre-Spring, one of the brand's reverent geometric motifs in guipure lace and crochet was a vehicle to tie in the circled lace pattern and crochet fabrics, engineering the motif in innovative circular fringe. Jonathan also explored circle sequin paillettes to our all-occasion dresses.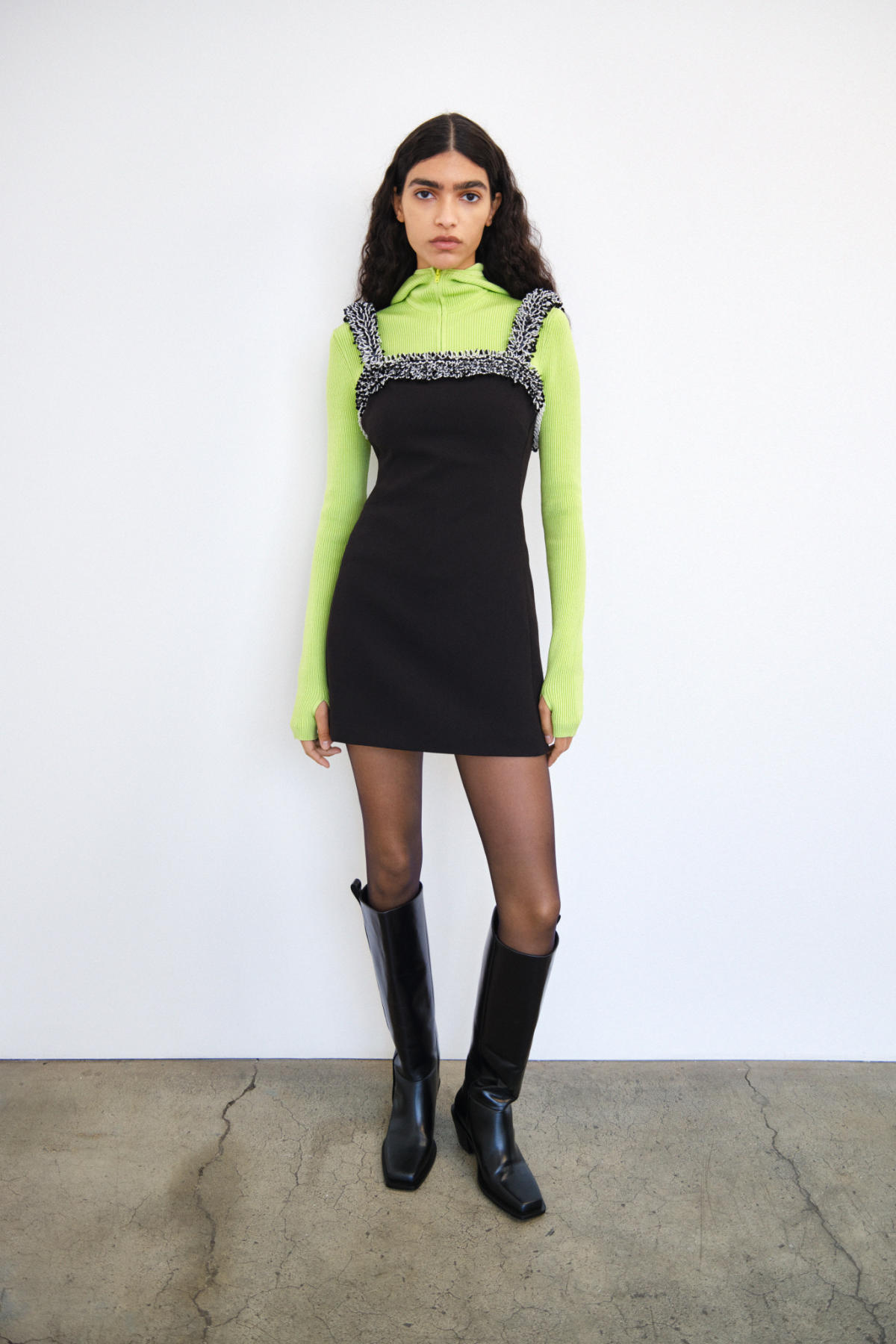 We continue to find solutions to low impact materials, so we are partnering with an Italian fabric mill who produces our Technical Tailoring fabric and uses 100% renewable energy in their facilities to offset their carbon dioxide emissions. We have updated our classic vegan leather & cotton poplin fabrications with custom laser cut artwork and sophisticated cut outs. A main challenge we presented ourselves within Pre-Spring is a focus on abstract and elegant detailing, while still remaining modern and timeless. Exploring soft and sophisticated ways to approach suiting with sharp tailoring is at the forefront of the juxtapositions within this collection.