Iceberg Presents Its New Autumn/Winter 2023 Collection
Luxferity, 10.03.2023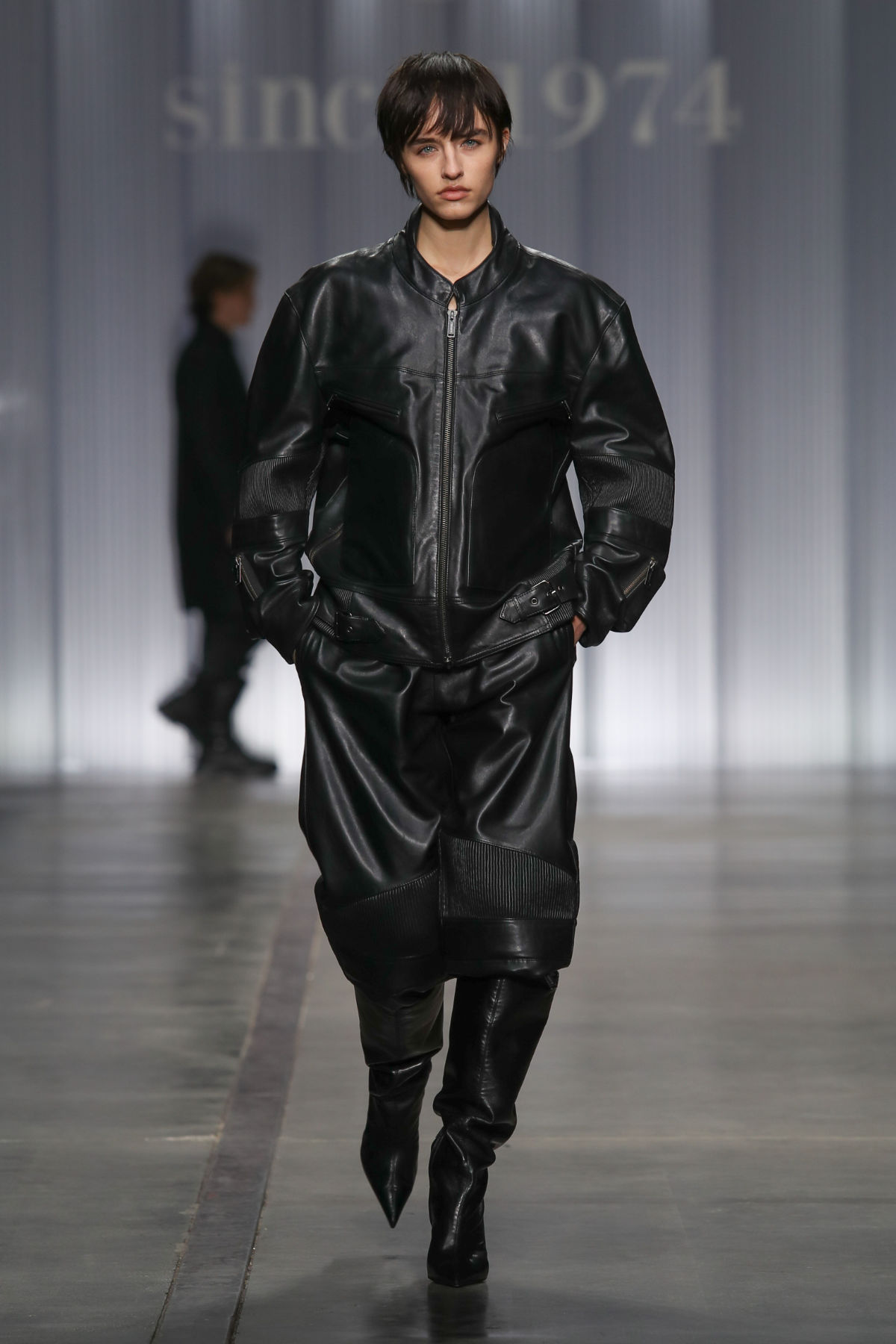 Iceberg unleashed with fierce energy and attitude, from the back of a motorbike to the streets of London, and then up to the Italian slopes. Iconic Iceberg moments are revisited and made new again, always with a wink and a smile. It's about the mix, clashing leathers and knits, sportswear with tailoring, in a way that is pure Iceberg.

"I love mixing fabrics and styles. It's very Iceberg, and it's also very me," says James Long, creative director of Iceberg. "This season, we've also mixed different eras of Iceberg, from the very beginnings right up to today, getting excited for the 50th anniversary of the brand next year." Biker leathers are cut roomy and wide, inspired by the leathers worn in a classic 2001 Iceberg campaign starring Pamela Anderson. In that image, shot by David LaChapelle, Anderson is naked on the back of a bike, her rider head-to-toe in leather. Today, the leathers are unisex, with a Daffy Duck embroidered on the back, black on black. Meanwhile, faux-leather hooded jackets are ultra-padded.
Leather is mixed with knit, like a little faux-leather corset dress that takes it fitted shape from the ribbed knit, or a faux-leather hoodie with a wave of knit going down the sleeves, trimmed with zips. Knit padded jackets have faux-leather trims, including a pocket on the sleeve that pays tribute to Iceberg co-founder, Jean-Charles de Castelbajac.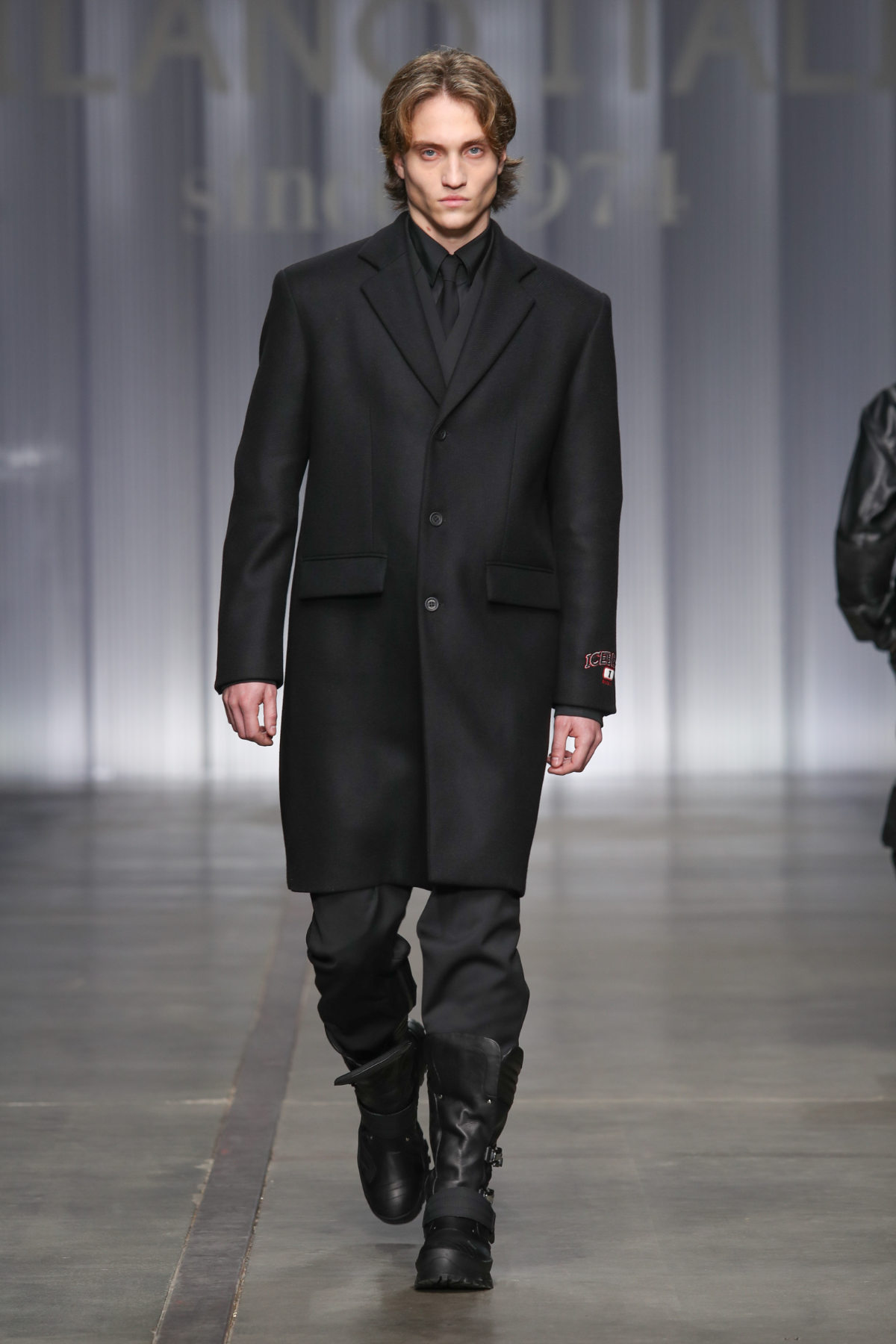 Tailoring is cut in houndstooth made from burgundy recycled wool, with zips that bring London punk spirit. Brushed mohair sweaters knitted with Hector from Looney Tunes have the same play on toughness. Calf-length padded coats are zippered at the hips, to be opened and closed as much as you want.
There's experimentation with knitwear techniques throughout, like a macramé biker that's coated to look like its knitted from rubbish bags. Black knit skirts clash different cable knits, while black jersey hoodies have bands of different cable knits up the arms and across the shoulders. Ice white houndstooth jackets and miniskirts are influenced by an Iceberg campaign shot by Michel Comte in 1995. Eco shearling jackets and miniskirts are like from an idealised version of the slopes. A supersize faux fur coat has an intarsia of Daffy Duck. Contrast leather bikers have panels like spider's legs, circling an Iceberg 'I'. Monster knits are like an overload of fur, but all made from yarn.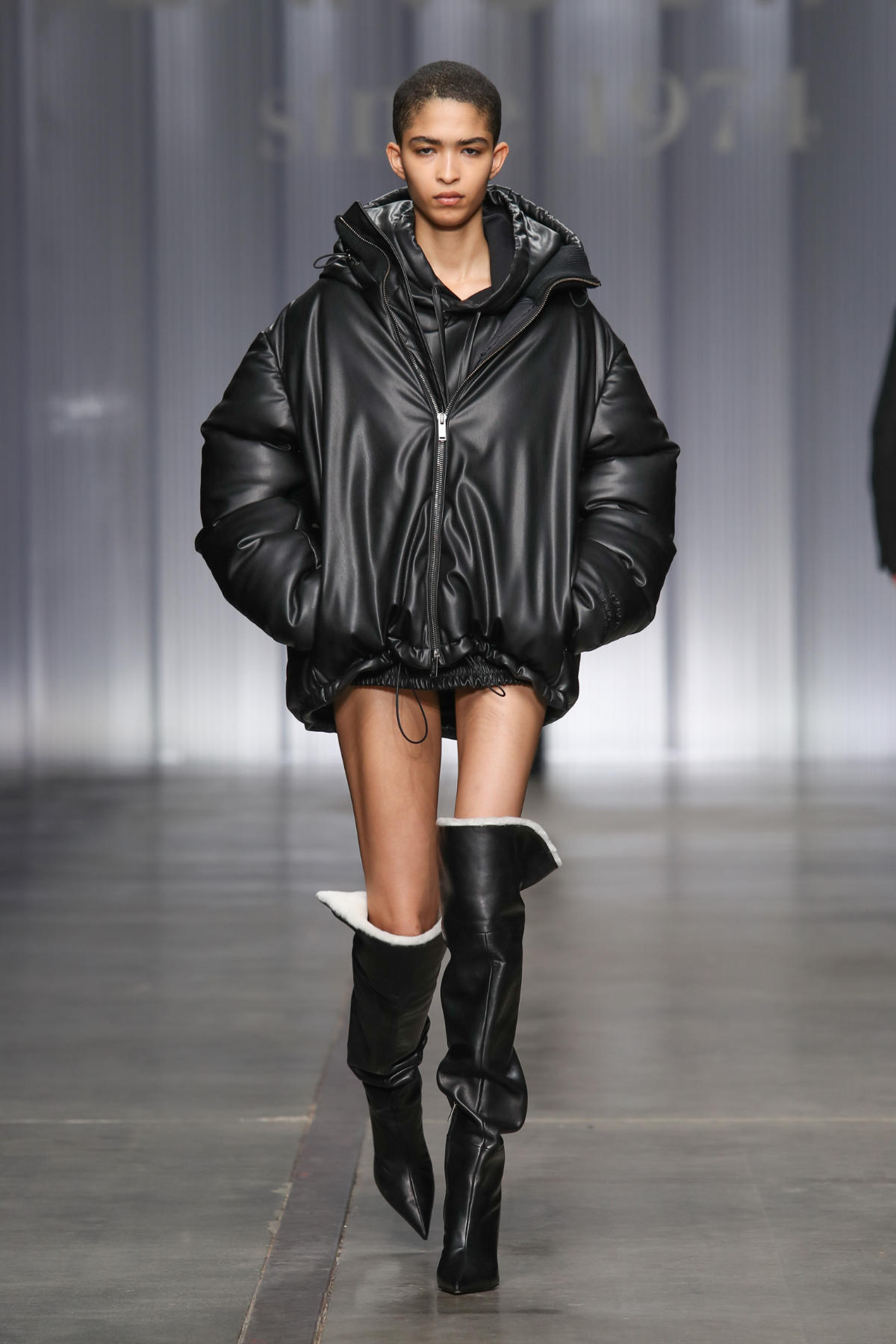 'I' boots are a tribute to those worn by Pamela Anderson in that Iceberg campaign, while other boots have an 'I' heel. Biker boots make a strong silhouette, while thigh high boots have a super comfy heel, ready for everyone.