Dmitry Savchenko - Art Photography
Luxferity, 26.11.2020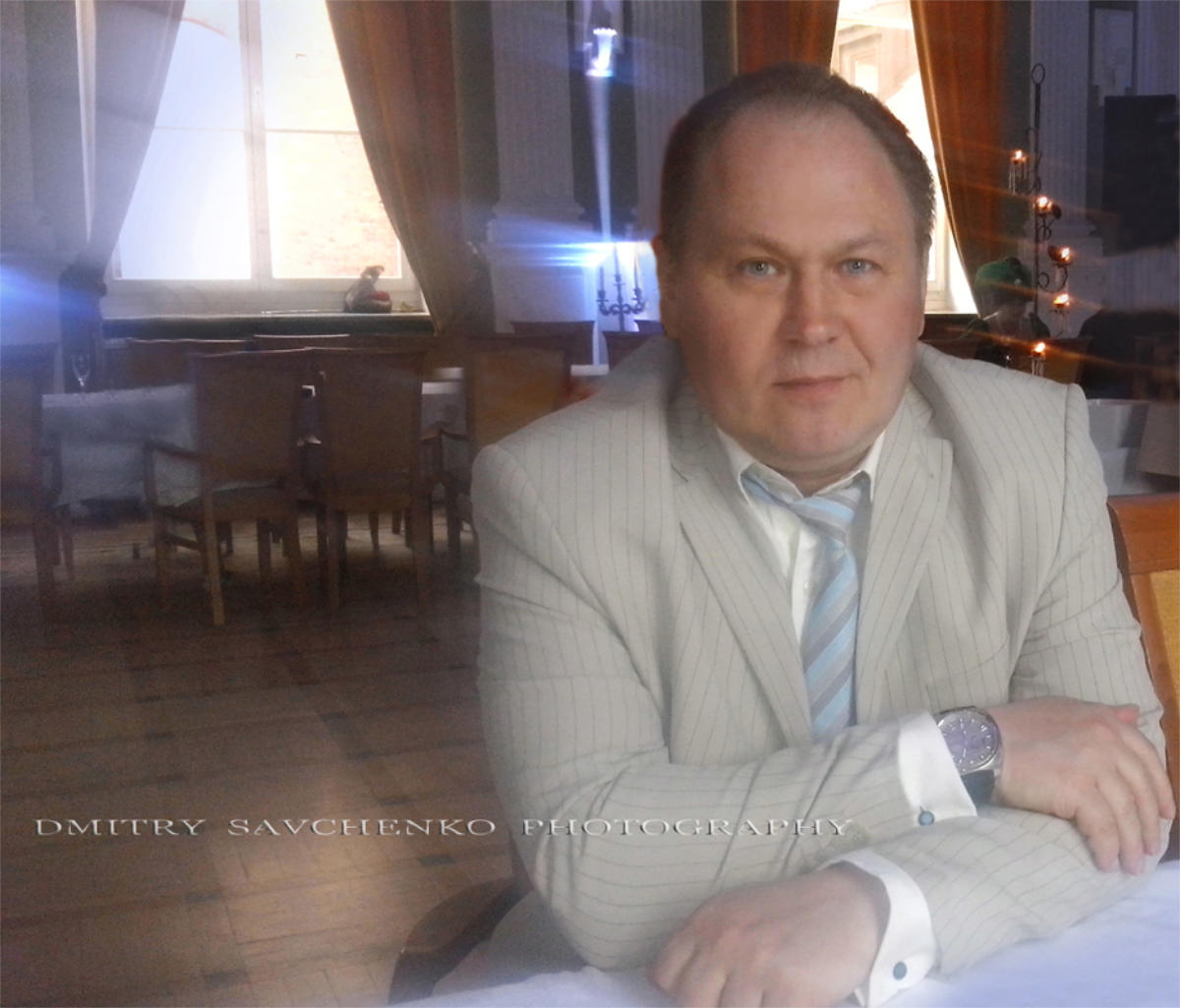 Many people ask me about my great love for the Art of Photography, how to understand and comprehend the true Art of Light and Shadow? First of all, - I would like to tell a story written by the wonderful author Max Heindel in his book "The Rosicrucian Cosmo-Conception":
"A young man came to a sage one day and asked, "Sire, what must I do to become wise?" The sage vouchsafed no answer. The youth after repeating his question a number of times, with a like result, at last left him, to return the next day with the same question. Again no answer was given and the youth returned on the third day, still repeating his question, "Sire what must I do to become wise?" Finally the sage turned and went down to a near-by river. He entered the water, bidding the youth follow him. Upon arriving at a sufficient depth the sage took the young man by the shoulders and held him under the water, despite his struggles to free himself.
At last, however, he released him and when the youth had regained his breath the sage questioned him: "Son, when you were under the water what did you most desire?" The youth answered without hesitation, "Air, air! I wanted air!". "Would you not rather have had riches, pleasure, power or love, my son? Did you not think of any of these?" queried the sage. "No, sire! I wanted air and though only of air," came the instant response. "Then," said the sage, "To become wise you must desire wisdom with as great intensity as you just now desired air. You must struggle for it, to the exclusion of every other aim in life. It must be your one and only aspiration, by day and by night. If you seek wisdom with that fervor, my son, you will surely become wise." So, I would like to say - If you want to become a true Master of your craft, you must go day by day, step by step, regardless of the difficulties and trials, you must go to your goal.
Photography is a moment of time, one instant, Light and Shadow. Time, the immeasurable beauty of nature, the mystery of the women's eyes… Real artist should transform invisible energy to visible beauty. Light in our life... As perfectly said Albert Schweitzer "Your life is something opaque, not transparent, as long as you look at it in an ordinary human way. But if you hold it up against the light of God's goodness, it shines and turns transparent, radiant and bright. And then you ask yourself in amazement: Is this really my own life I see before me?"
At this moment of time I'm working with some projects about popularization European historical and cultural heritage, history of European Royal and noble families and connected with these families Palaces and Castles. And I very grateful to HH Prince Edouard Lamoral de Ligne de La Trémoille and HH Princess Isabella de Ligne de La Trémoille ( Isabella Orsini ) their support in this wonderful project.
https://en.wikipedia.org/wiki/Prince_of_Ligne
https://en.wikipedia.org/wiki/Isabella_Orsini
Her Highness Princess Isabella Orsini de Ligne is a Woman of Genius. She is wonderful Mother, brilliant actress and producer, gorgeous painter, she has to her credit more than ten fiction-TV and eight feature films, including the last "Victor Young Perez", which she shot with French director Jacques Ouaniche well known for her cult-series on Canal Plus "Maison close", and in which she plays the leading role. So many great talents. All my respect and gratitude to this wonderful Family.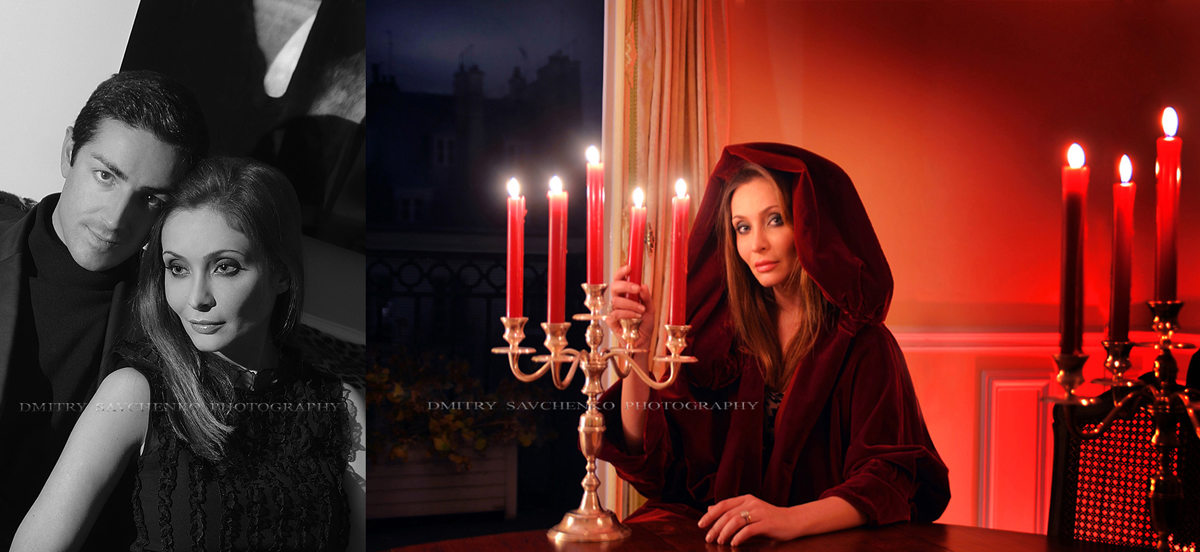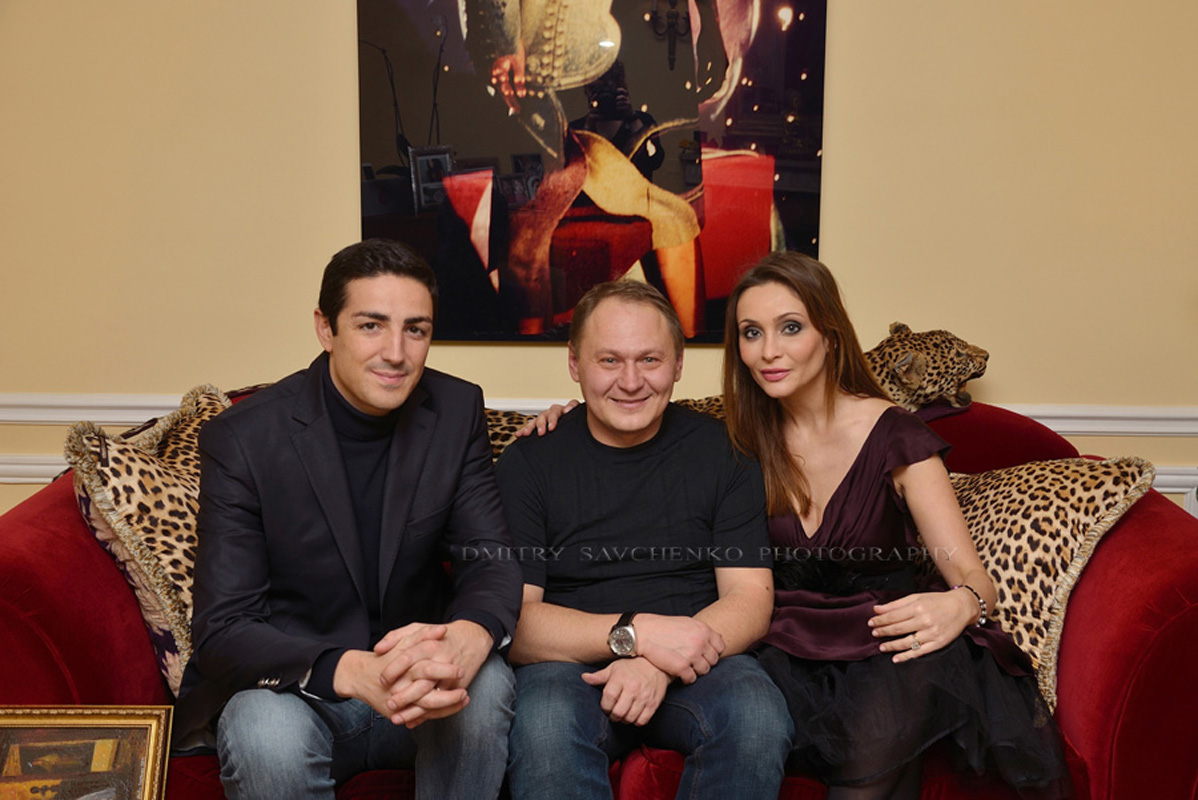 I am constantly working on popularization classic art, ballet, historical and cultural heritage and I am very grateful for the opportunity to present my artworks in capitals of different countries. For example, - Stockholm, Sweden. Many thanks to Swedish - Austrian association for attention and special thanks to Anna Angelina Josephine von Bach
http://svensk-oesterrikiska.se/
My artwork with title "Before spectacle", actress Nathalie Fernández, has been selected and was presented at the wonderful Wiener Ball . Photo by Jens Reiterer.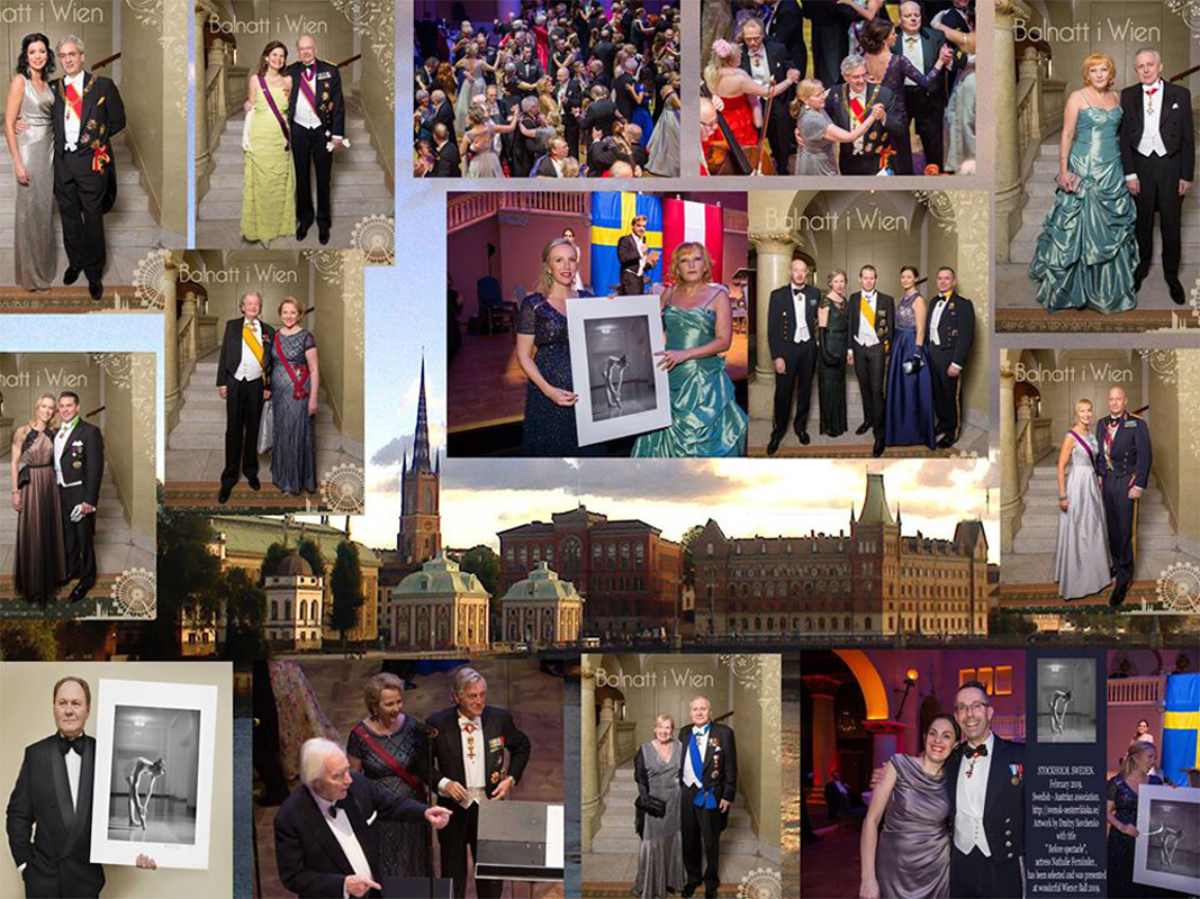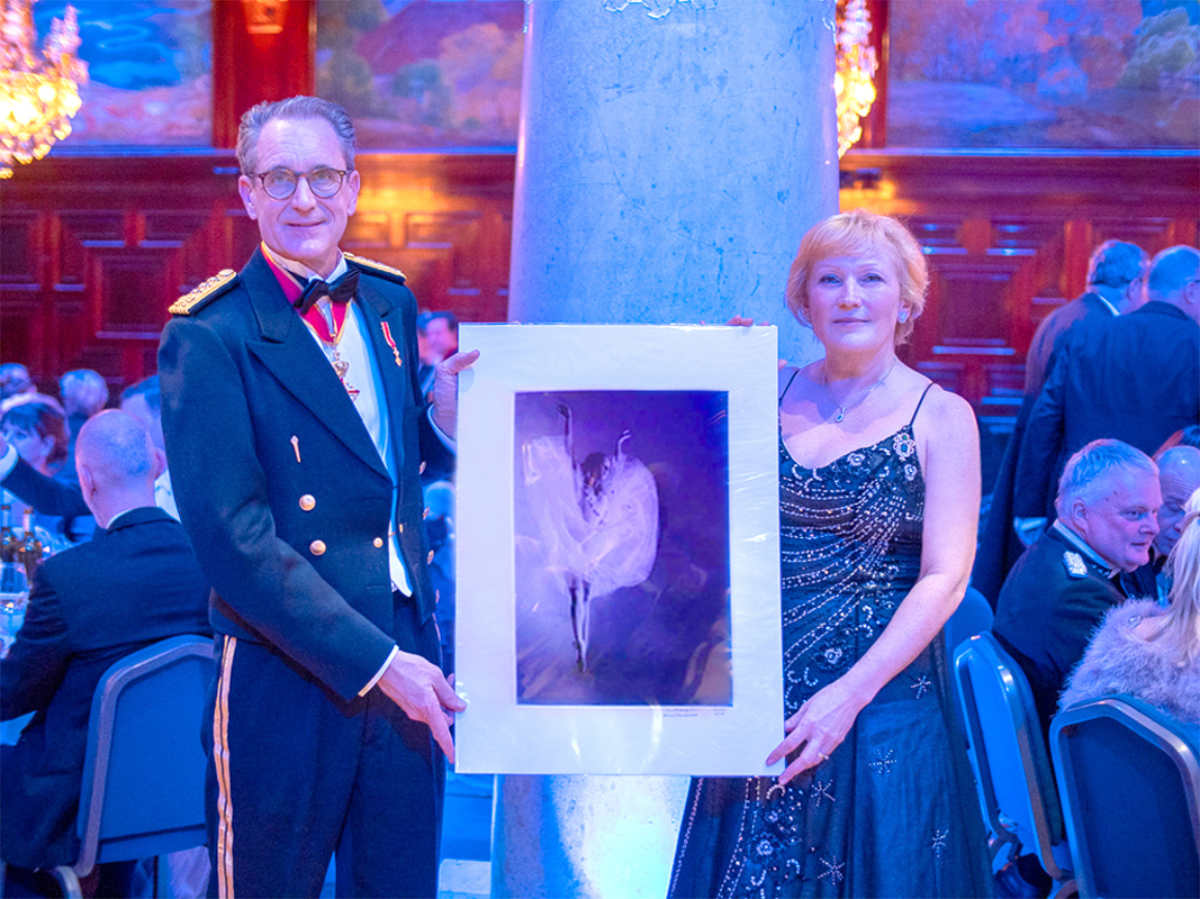 Photo: Artwork by Dmitry Savchenko with title "Flying Angel ", actress Natalia de Froberville, has been selected and was presented by Anna Angelina Josephine von Bach at wonderful Wiener Ball 2020. Stockholm. Sweden. Photo by Сhris Schuff.
I have been cooperating for a long time with administrations of Polish museums, cultural institutes, as well as with various cultural organizations and representations of Poland abroad in the direction of new projects related to the popularization of Polish history and culture and Polish Heritage. During different years I made many artistic beautiful projects, connected with The Zamoyski Museum in Kozłówka, The Castle in Baranów Sandomierski, The Museum of King Jan III's Palace at Wilanów, The Royal Łazienki ( King Stanisław August's summer residence ), and also I created portraits of members of famous Polish families, such as Prince Krzysztof Konstanty Radziwiłł, Prince Świętopełk-Czetwertyński, Prince Michał Czartoryski, Prince Kazimierz Czartoryski, Prince Hubert Massalski, Princess Lidia Czartoryska, Count Antoni Belina-Brzozowski, Countess Ewa Belina-Brzozowska and many others.
I had many exhibitions in Poland and certainly, through my artistic works and exhibitions, I will undoubtedly be able to further attract people's attention to Poland's rich spiritual heritage and show the charming, magic beauty of Poland.
I would like to say a big thank you to many very respected and wonderful people: Anna Maria Anders, Ryszard Czarnecki, Ryszard Marcińczak, Gniewomir Rokosz-Kuczyński, Agnieszka Michalczyk, Barbara Jończyk, Zofia Łada, Jerzy Rożek, Tadeusz Namedynski, Hanna Wnukiewicz-Bocheńska, Anna Fic-Lazor, Krzysztof Flizak, Teresa Pomykała and many many others, for their attention and support in my art projects in Poland.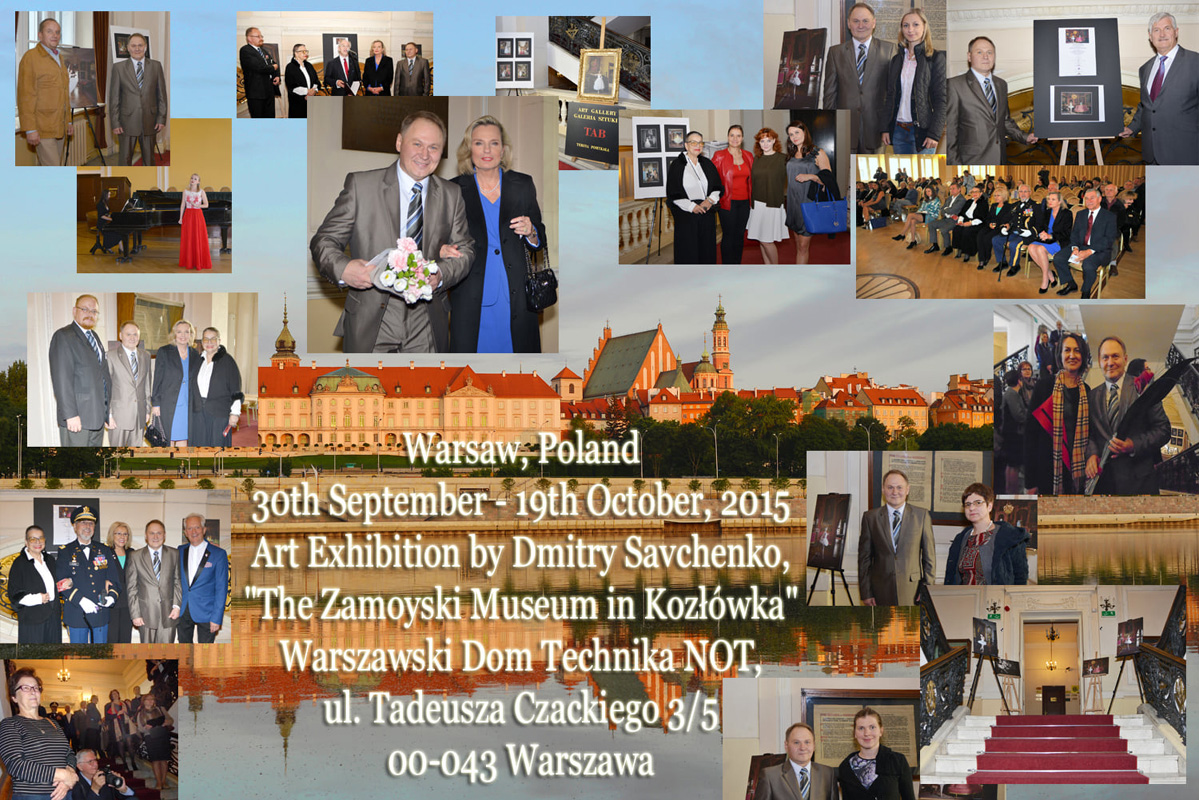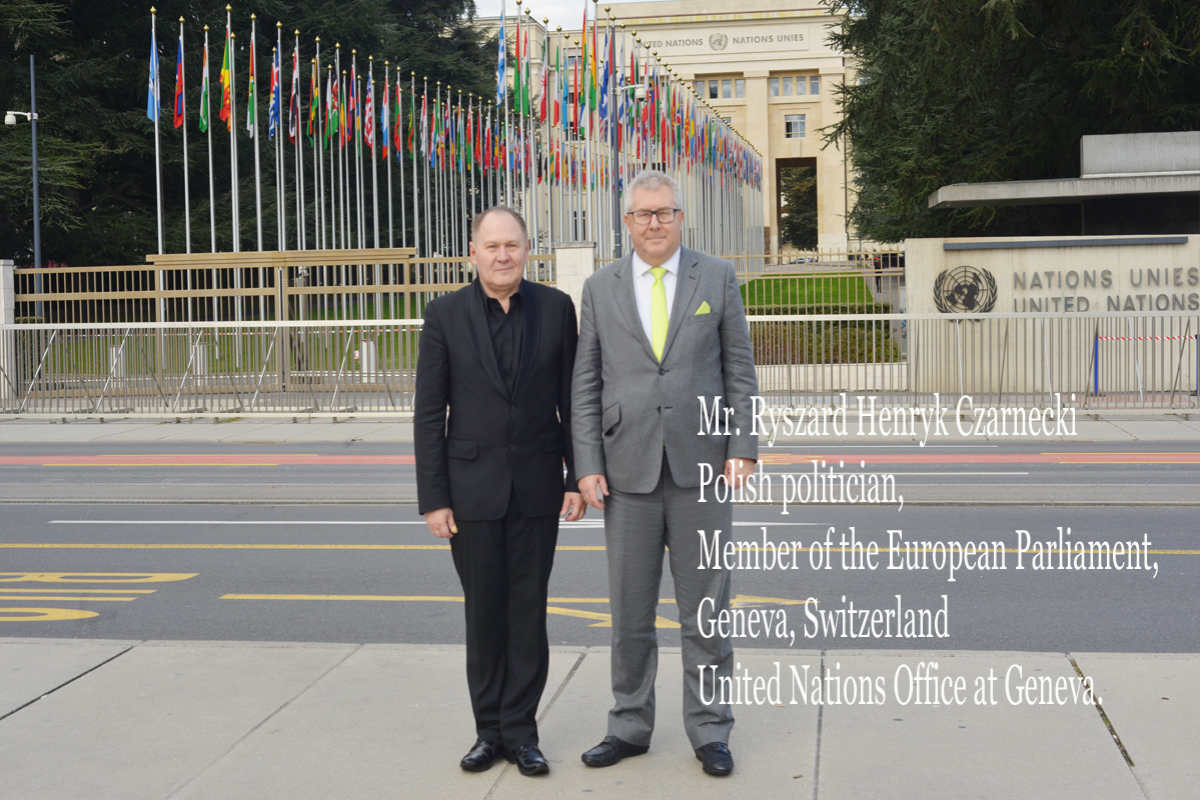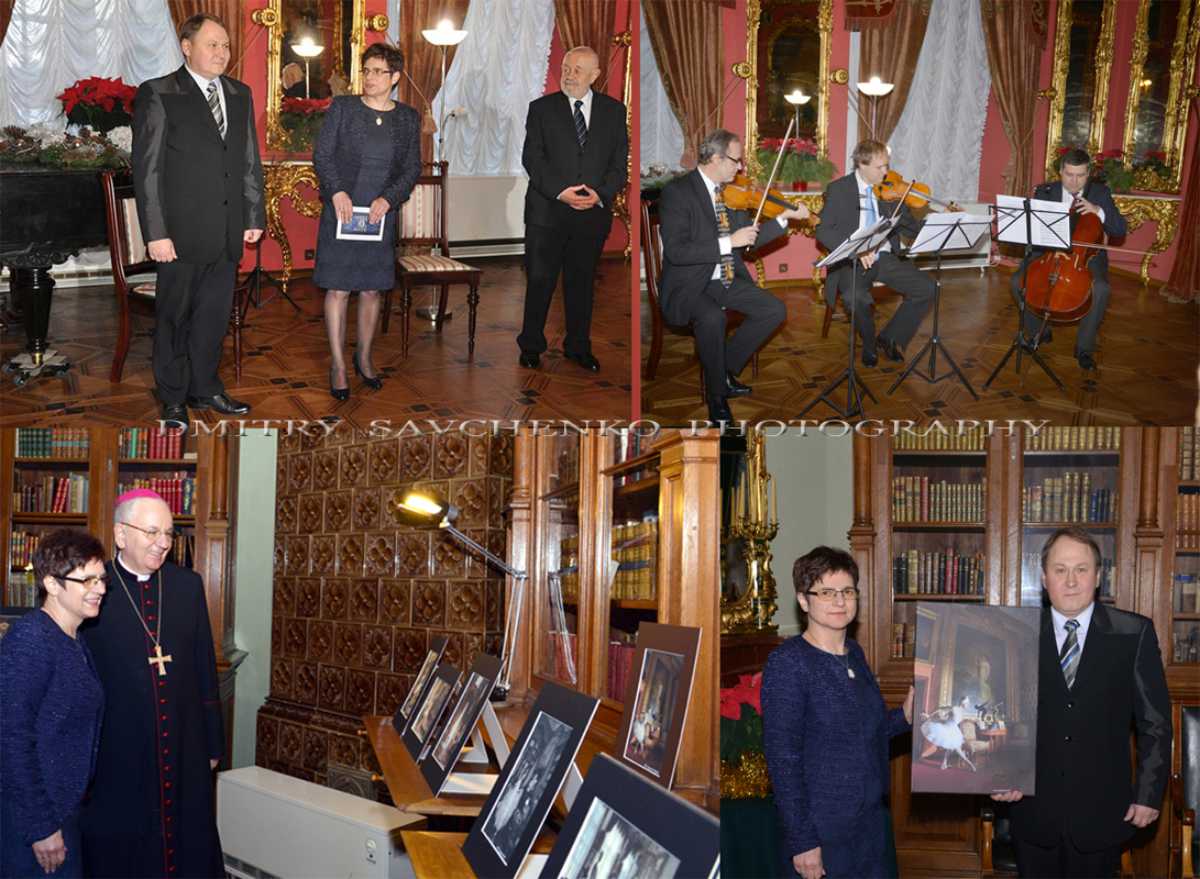 Photo: The Zamoyski Museum in Kozłówka, Poland Exhibition by Dmitry Savchenko.
Special thanks to Mrs. Anna Fic-Lazor, director of the Zamoyski Museum in Kozłówka and actress Natalia Diyakiv.
http://www.muzeumzamoyskich.pl/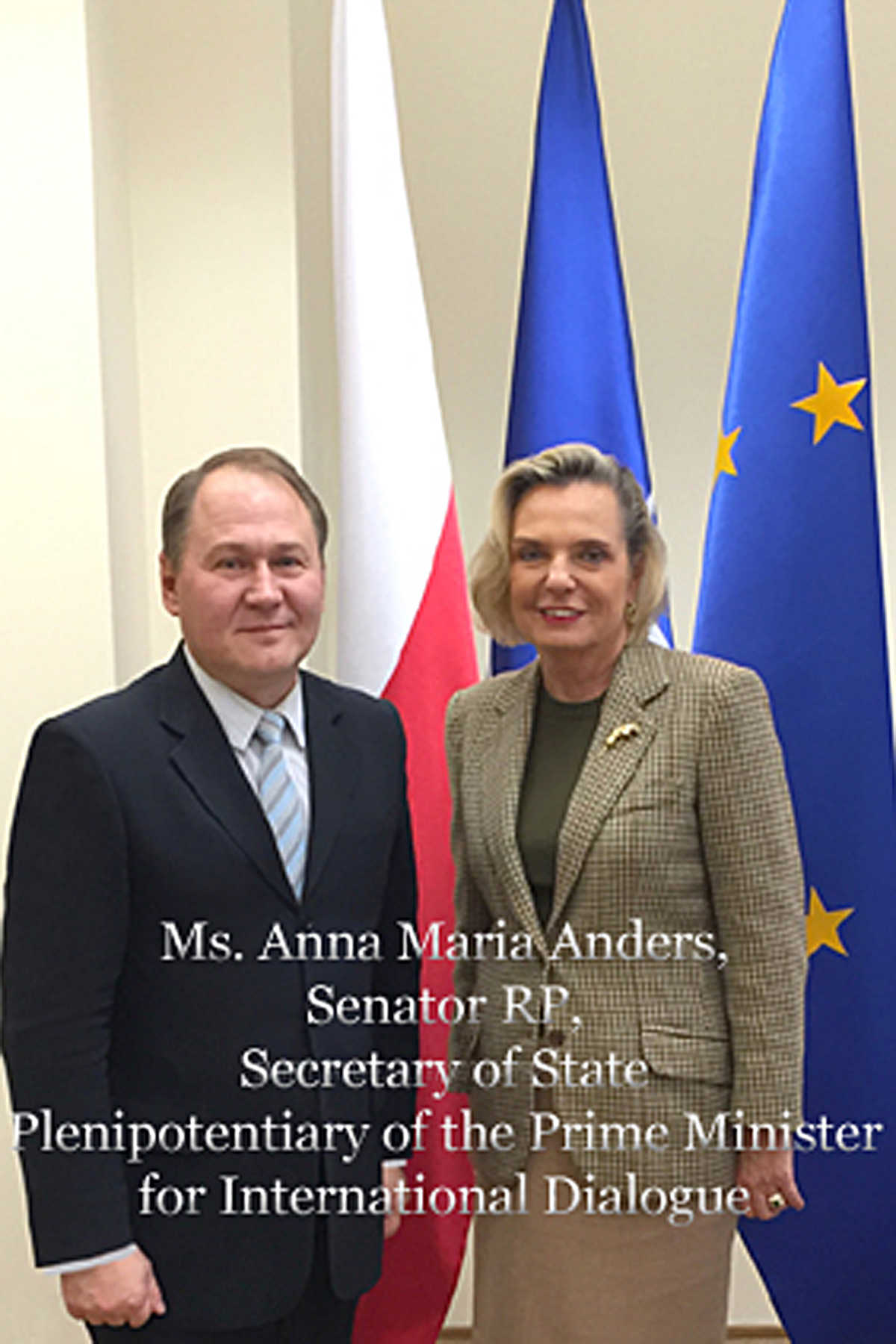 The photography has a lot of different directions. We can see that in advertising photography of jewellery collections, made by me for American and European brands. We need to show the beauty of a designer product, brand, or collection for advertising. For example jewelry photography. Everyone knows that photography is a form of art made possible by light. If there is no light, art photography cannot come to life. Light is the essence of photography. There are different lighting techniques used,- side lighting, front lighting, use of available natural light, direct lighting, diffused lighting and spot lighting. Each of these techniques yields different effects.
You can see in this example, that fine details are important, and you need to know how the light is working . I am talking about modern fashion classy look . You need to capture the beautiful feeling of the jewelry, to show the clarity of colours and lighting. And when you will hear " I wanna buy what she's wearing! ", - it's gorgeous ! You sold it ! Nice job featuring a product :))))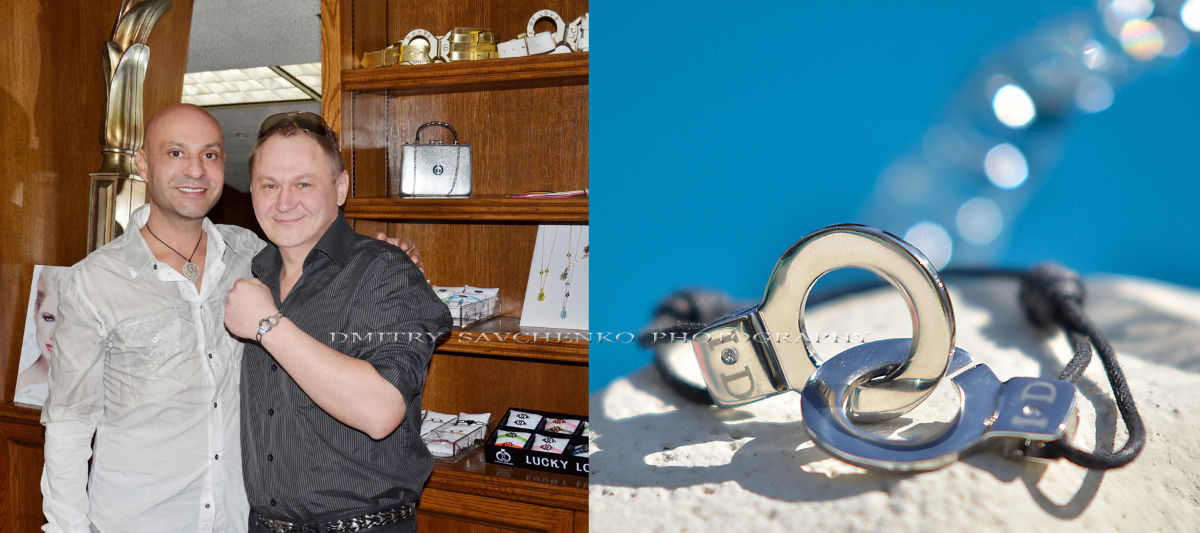 Photo : IGAL DAHAN is a 5th generation celebrity jeweler and the man behind the famous i.d x-change and IGAL DAHAN jewelry lines. http://www.igaldahan.com/
And not only jewelry, for example the perfume Industry. Many years I have known Suzan Anbeh. Great actress of our generation.
http://www.imdb.com/name/nm0025774/
Everybody knows her wonderful role " Juliette" from film "French Kiss", also such films as "Inga Lindström"(2004), Heiraten macht mich nervös (2005), " Maya" (2018), "Effigie - Das Gift und die Stadt" (2019)…. My English words cannot fully describe a Great Talent by Suzan Anbeh. 30 years in the film industry, 110 Films, as actress and producer. Suzan builded and founded a business in the Perfume Industry. Her Brand " BERLIN DE VOUS ". https://www.berlindevous.com In 2020 "BERLIN DE VOUS" was the winner in the category ARTISTIC BRAND of the Fragrance Foundation Award. Since the beginning of her acting career, the founder, Suzan Anbeh, has used the magic of fragrance. As Suzan perfectly said in German language " " Berlin de Vous " bedeutet soviel wie "Ihnen verfallen" und ist Ausdruck von Hingabe, dem Sinn allen Seins " In my English translation " "Berlin de Vous " means something like " fall in love with you " and is an expression of devotion, the meaning of everything." Certainly, I am very glad to cooperate with such a genius person as Suzan Anbeh.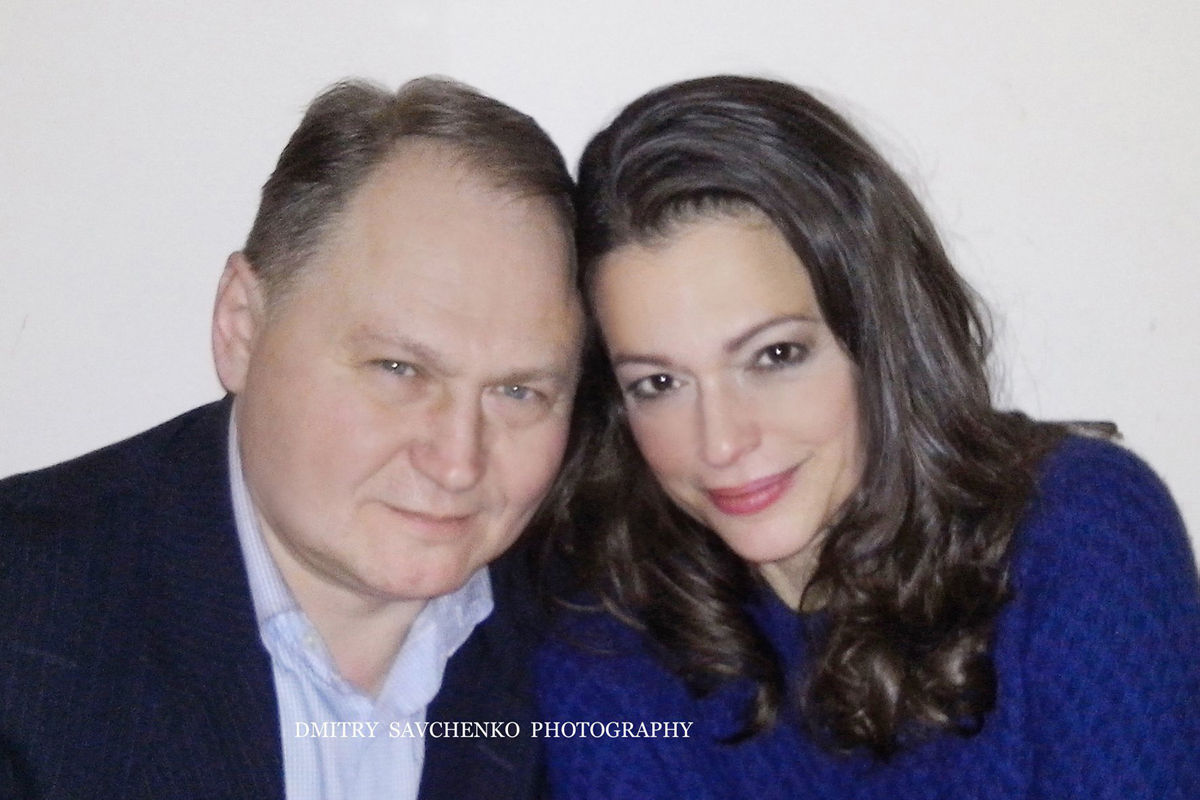 Or we can see examples with Swiss Watches. It was advertising photography for one Auction House. Very famous brand in Swiss Watch industry. If we take a look behind the scenes, how to create wonderful photography of watches, we will understand that adjust of the lighting is very important. Many times, again and again Light and Shadow.
Now we are talking about serious classic photography, because in all other variants and options of photography, as perfectly said Ecclesiastes - "What is crooked cannot be made straight; what is not there cannot be counted...." I hope you understand me :) …. So, you need to control everything - reflections, texture, backlight, clock face, glass, you need always remember that, the angle of incidence of light equals the angle of reflections. I would say that this is one of the most interesting directions of advertising photography.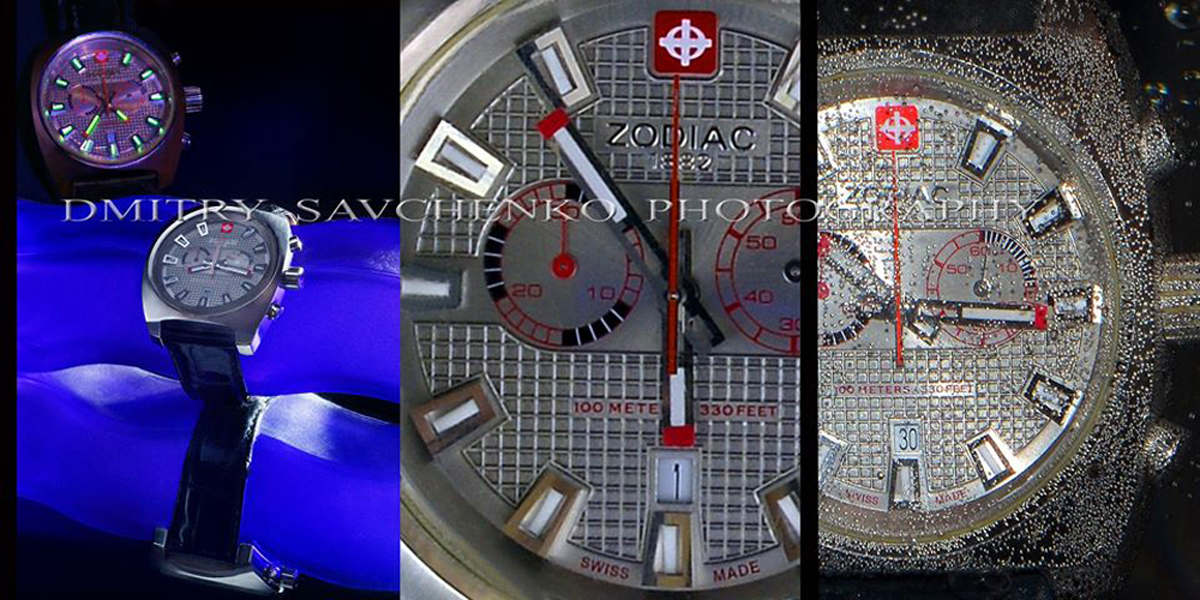 All my creative life I connected with theatre, opera and ballet. In different periods of time I cooperated and cooperate with very talented movie and theatre actresses and actors such as world famous actress Jennifer Lyons - is a face you may have seen over the last decade and a half. Whether it's TV or Film in California, USA and all over the world.
http://www.imdb.com/name/nm0529078/
I have known Jennifer for 11 years. Incredible talent, huge creative potential, very good and kind friend, who can always come to the rescue. Also world famous actress Anna Easteden, - Los Angeles, CA -based award nominated actress.
https://www.imdb.com/name/nm0794609/
She has acted in notable TV-shows, such as: "Two and a Half Men", "Bones," "Days Of Our Lives" and "Passions." Her award nomination came from the Method Fest Film Festival from her portrayal of Nina in the film by Mika Kaurismäki, "The House of Branching Love", which premiered at the Toronto International Film Festival. In Finland, Easteden is the host of "Wipeout" on FOX. Some of her recent films include "Ribbons" (dir. Elias Matar), "Junkie" (dir. Tim Russ) and "At the Edge of Time" (dir. Neil Johnson). I know Anna for more than 10 years, phenomenal abilities in various fields of art, great talent. As friends, we are always in touch, during holidays and other life situations.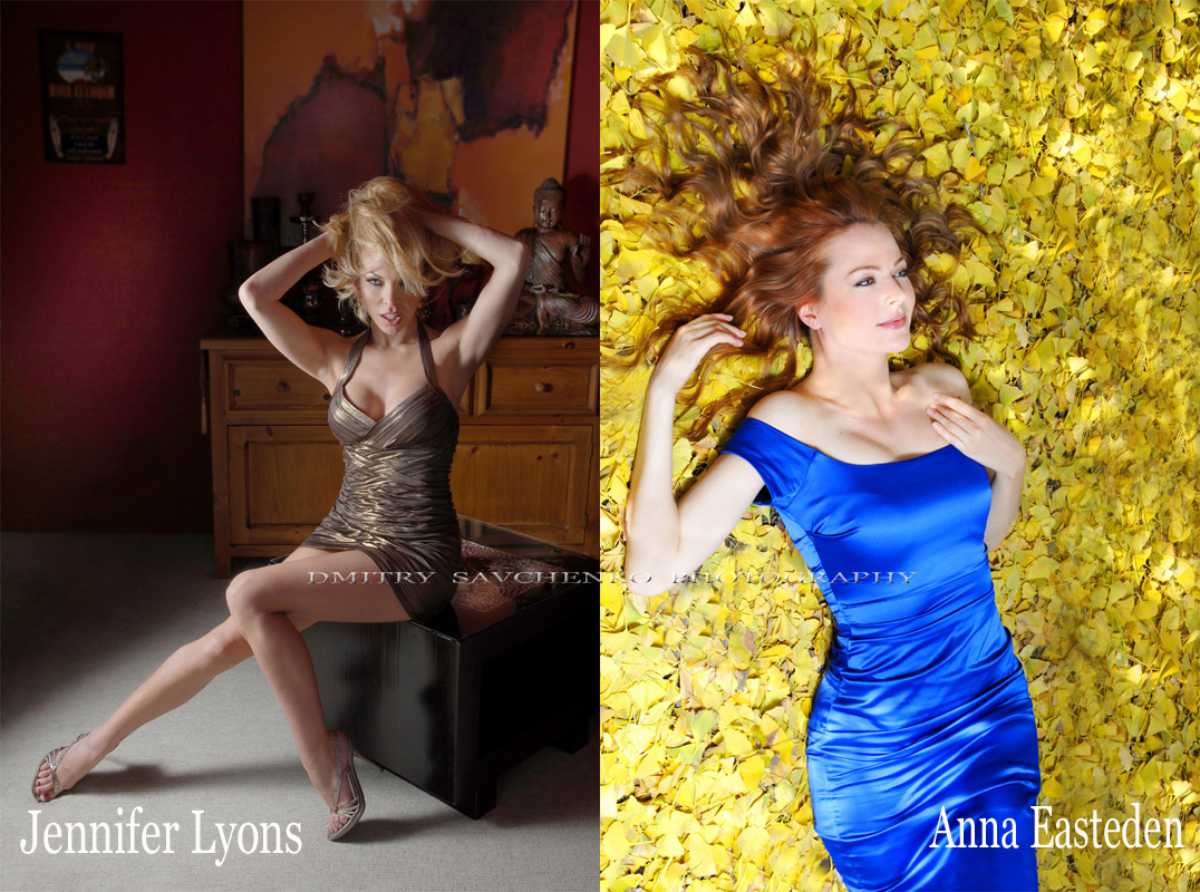 As I said before many times, - Light is the essence of photography. Also I would like to say, - Our life is unthinkable without music. And I'm very happy to collaborate with an extraordinary musician of our time Roland Gajate-Garcia. He is is renowned worldwide as a dynamic and versatile multi-percussionist and drummer, son of legendary Richie Gajate Garcia. In addition to his work with the "Dancing with the Stars" house band, his recent credits include the 65th annual Emmy Awards band, "The Voice," and three years with the "American Idol" house band. Garcia has performed and toured worldwide with such artists as Stevie Wonder, Gloria Estefan, Diana Ross, Bruno Mars, Jennifer Lopez, Patti Labelle, and Frankie Valli. Look please at these pictures, - incredible love and passion for music and certainly the Sun of California.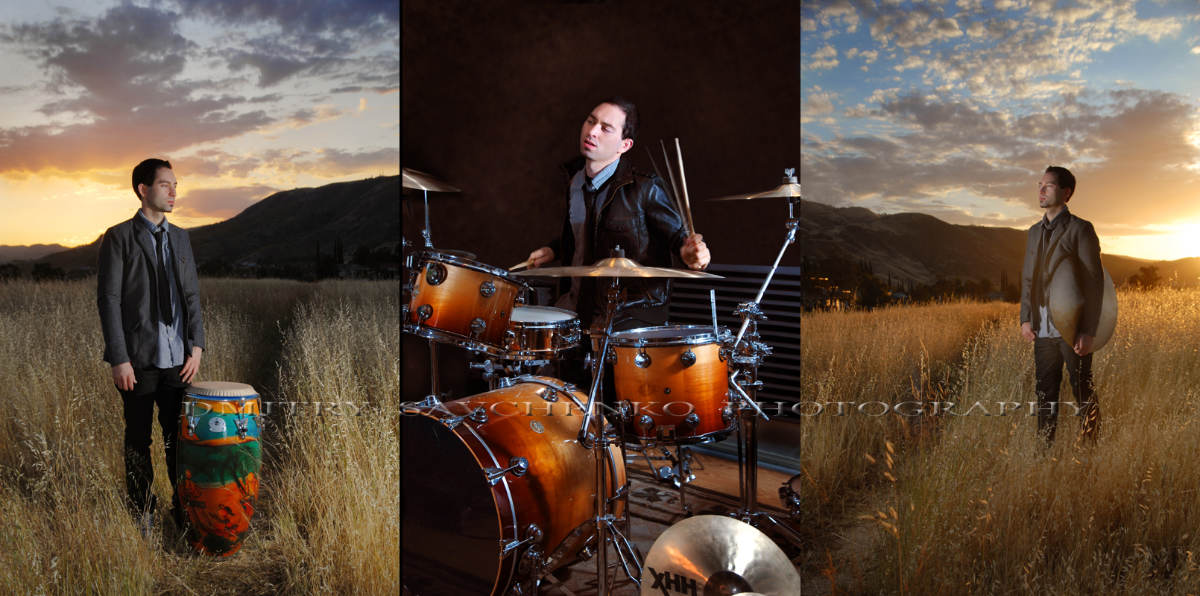 I would like to tell you about a phenomenal and extraordinary actress Nataliya Joy Prieto.
http://www.imdb.com/name/nm3894834/
Nataliya was born in San Diego and was raised on the Barona Indian reservation. As an actress she is very well known for Adventures Into the Woods: A Sexy Musical (2012), Spreading Darkness (2017) and many others films. A great friend, we've known each other for 8 years. She always keeps her promises, that's very rare for people these days.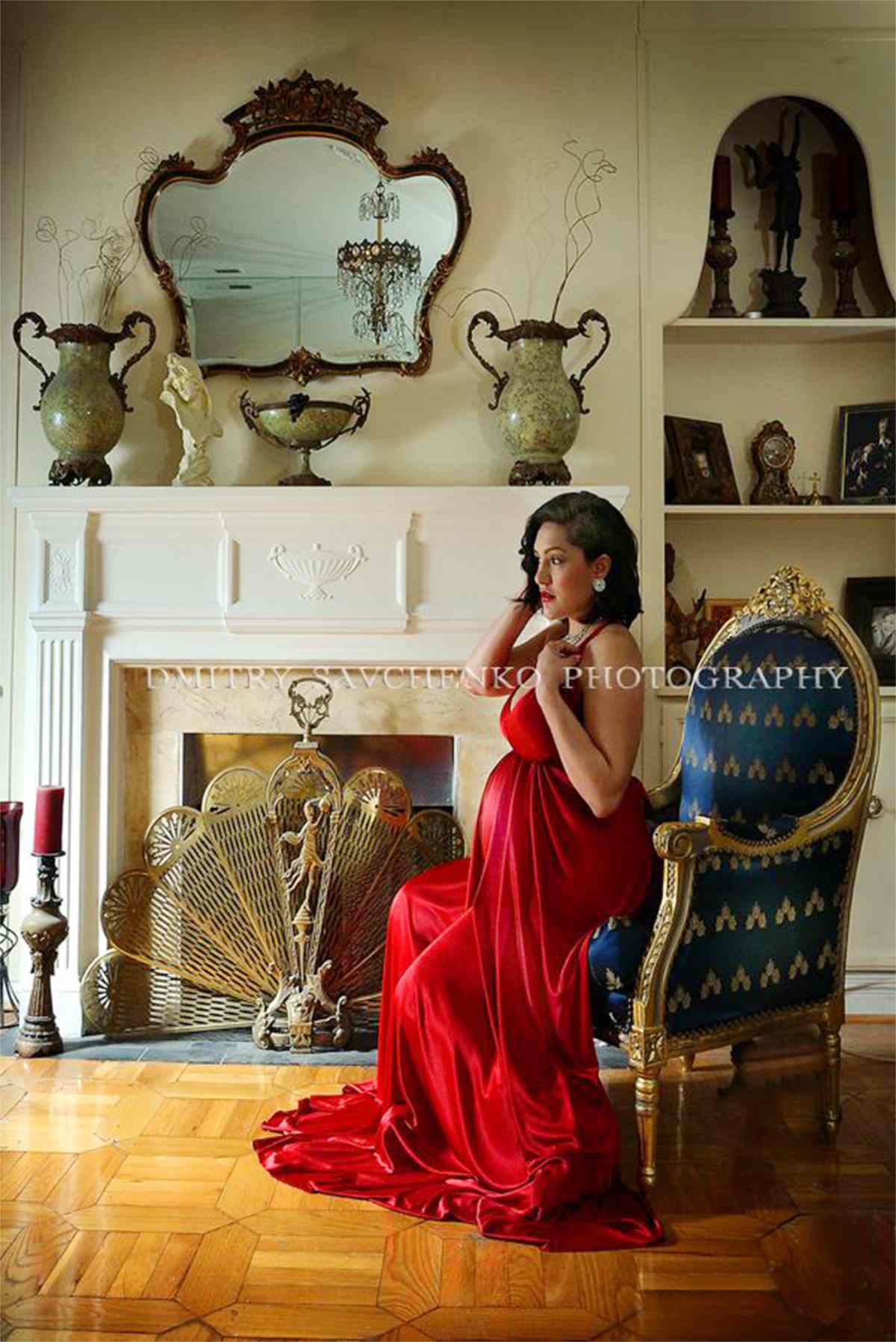 I've been connected with dance for many years. And I am very glad to cooperate with a great dancer, breathtaking organizer and very beautiful Woman. Her Name is Elena Grinenko. She is a world famous professional ballroom dance champion. Owner and Founder в World Dance Stars Gala. Owner Dance Stars Festival. Professional Dance Instructor / Choreographer Dancing with the Stars.Elena Grinenko is a professional ballroom dance choreographer, adjudicator, and instructor. She currently owns the Dance Stars Festival with Karina Smirnoff, a ballroom dance competition in San Jose, California. She is organizer of BB x Lena Events "Fabulous Ladies" online camps with Babette Brown and Host on Dance Talk TV.
https://www.elenagrinenko.com/about-me/
Great Talent and fantastic, stunning Beauty. My dear Friend.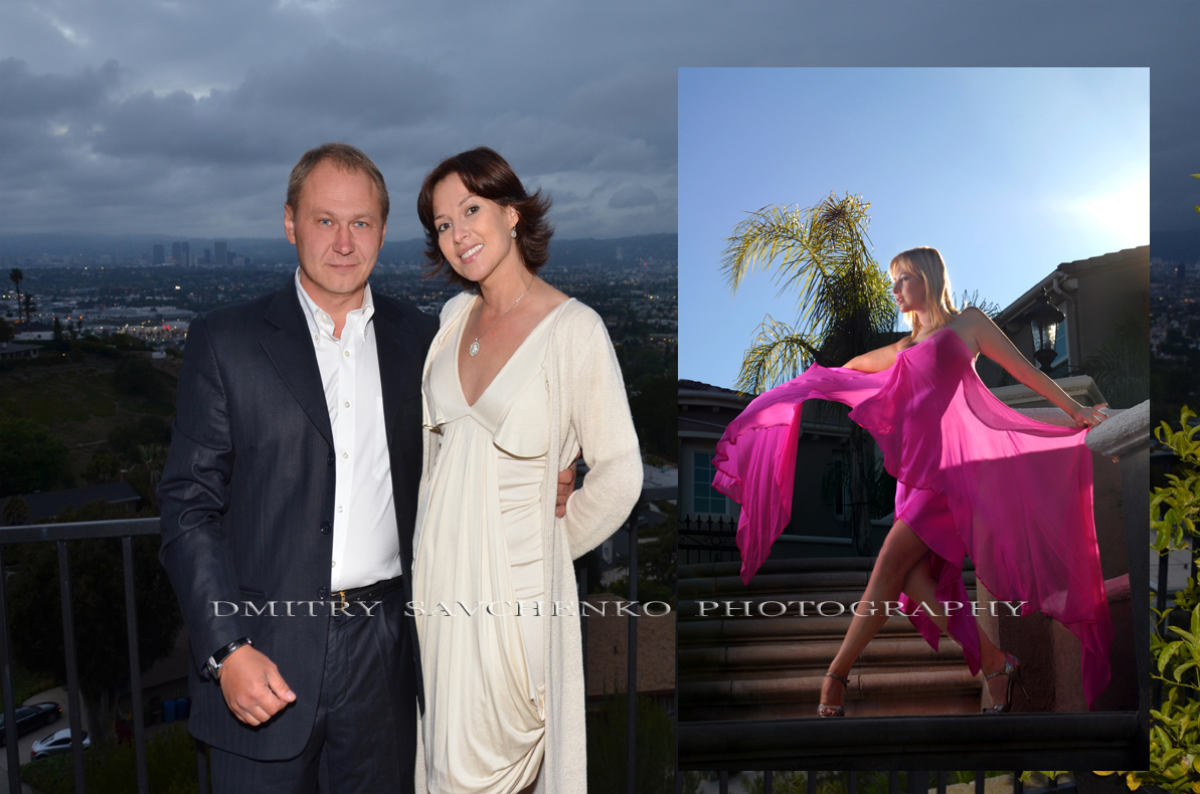 The stunning nature of California, the mountains and the ocean allow me to create very wonderful artworks. Look please, how beautiful " Sunset in Malibu ", Splendid Talent of Michael Kuka and Natalia Lind. They are Professional Ballroom Dance Champions and their work has been seen on television, commercials, feature films and theatrical venues worldwide from Moscow, Russia to the Hollywood Bowl. They are co-founders of their very own Ballroom Dance Academy and Ballroom Entertainment Productions in Los Angeles, California.
http://www.BallroomDanceAcademy.com
Bravo to Natalia Lind and Michael Kuka !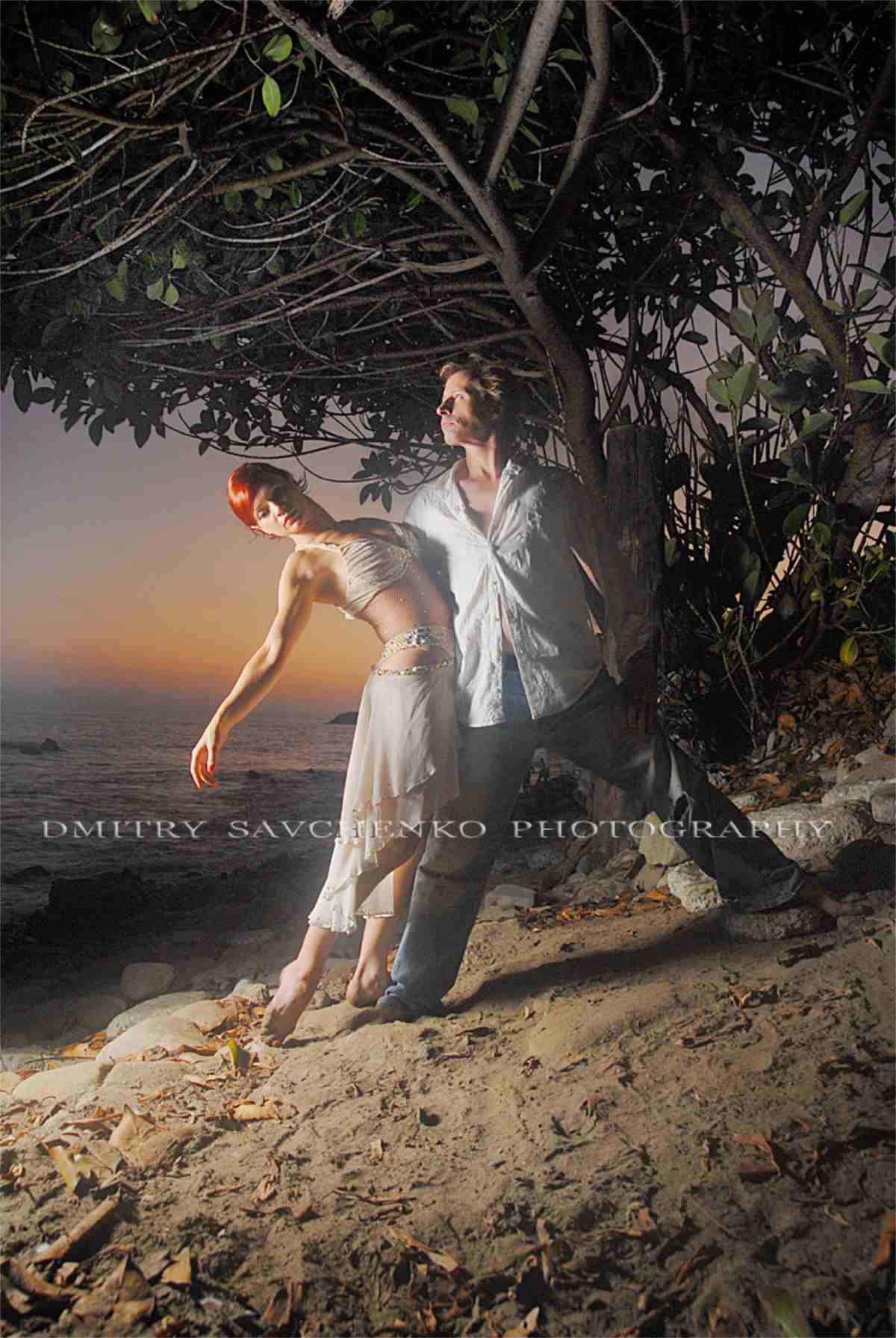 Of course, art photography is very important in show business and the entertainment industry. Beautiful portraits of actors or singers, it's a good way to present various events. That's what told me many years ago my dear friend Denise Bella Vlasis, owner of remarkable company Tribute Productions Talent & Entertainment, Los Angeles, CA. https://www.tributeproductions.com
Her Agency specializing in niche and hard to find actors, models, musicians, and unique Event entertainment including LED entertainment, Human tables, Champagne Skirts, Actors, Named Acts, Champagne Dolls, Showgirls, Vintage Big Bands, Mrs. Bella's Cigarette Girls, Dancers & Dance shows, Corporate Shows, Trade Show Models & more. Since 1987 Tribute Productions & Entertainment is your one stop Talent Provider- Helping you find the best in Quality Entertainment. Tribute specializes in Booking Professional and Unique Entertainment for Film, Television, Print, Corporate & Live Events. We've known each other more than 100 years :) Kindred soul :) You can see a portrait of Denise Bella Vlasis and her daughter.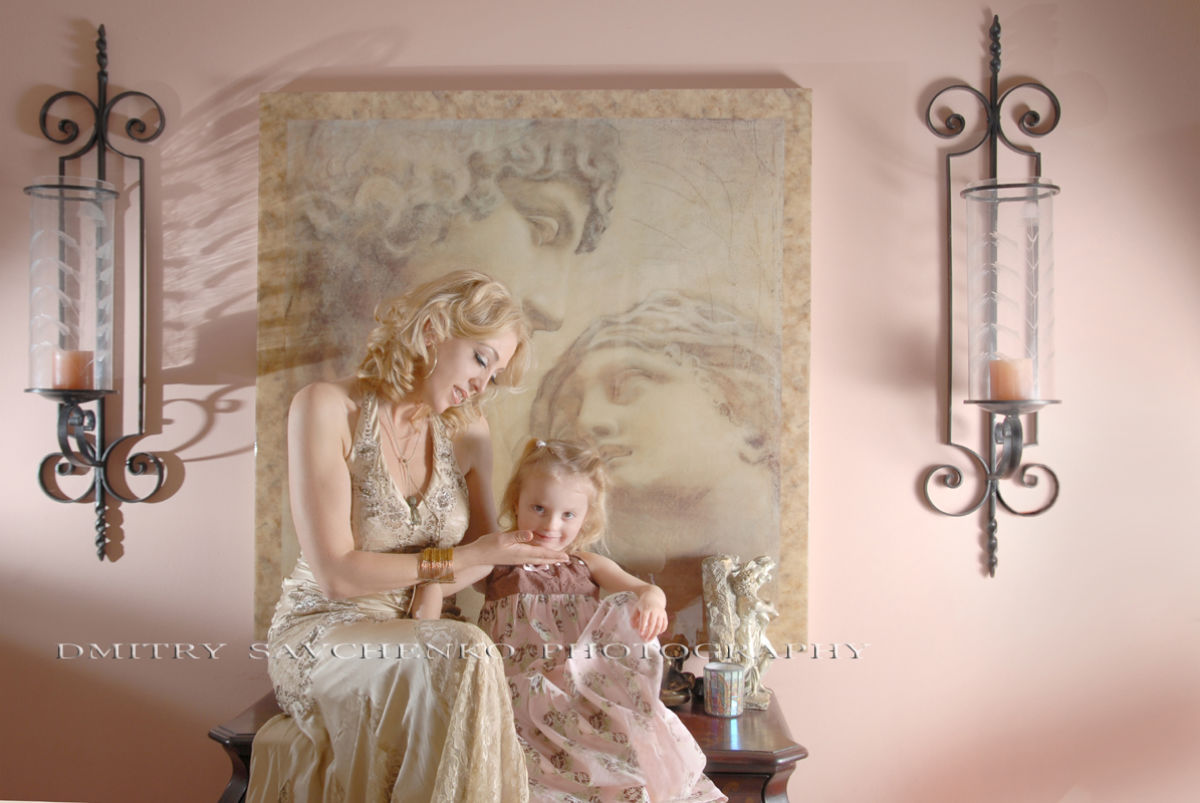 I love LA. Los Angeles is often called the "Сreative capital of the world". I saw the statistics. More than 200 Art Galleries and Auction Houses. There are so many museums, theatres. Los Angeles Philharmonic. Music Center, Walt Disney Concert Hall and the Los Angeles Opera. Certainly film and television, show business and the entertainment industry.
In Los Angeles hosts the annual Academy Awards, the Grammy Awards and the Primetime Emmy Awards. You can see, please, pictures with great producers, musicians and actors of our generation.
Ciro Orsini, Proprietor and founder CIRO'S POMODORO of Knightsbridge and co-owner Coppola Production.

Ciro Orsini is well known as a great producer, business partner, friend of celebrities such as Sylvester Stallone, Stevie Wonder, Lionel Richie, Alice Cooper, Ozzy Osbourne, Jon Bon Jovi, Tico Torres, Richie Sambora, Jimmy Page, Armand Assante, Jeff Fahey, Dolph Lundgren, Dustin Hoffman, Steven Seagal, John Travolta, Goldie Hawn, Mickey Rourke and others.
Barry Navidi, Greatest Film producer.
BAFTA member Barry Navidi is a London and Los Angeles-based international producer boasting a distinguished roster of Hollywood and British films, docudramas, and high-content television productions. Navidi has worked with the world's most respected and celebrated stars including Marlon Brando, Michael Caine, Sean Connery, Anthony Hopkins, Johnny Depp, and Al Pacino. Other credits include 'Divine Rapture' starring Marlon Brando, Debra Winger, John Hurt, and Johnny Depp, and the epic Shakespeare tale 'The Merchant of Venice,' starring his good friend Al Pacino. Most recently, Navidi produced the biblical drama 'Salomé' starring Jessica Chastain and Al Pacino, who also directed, and the accompanying docudrama film 'Wilde Salomé.' For the past 18 years, Navidi has been Al Pacino's producing partner and creative collaborator on several projects. Currently, Pacino and Navidi are developing the film adaptation of Shakespeare's 'King Lear,' and the biographical drama 'Modigliani,' "Family Flaw,' and 'Onassis' the mini series.
https://www.barrynavidiproductions.com/index.html
John Savage, Great American film actor, producer,production manager and composer.
https://www.imdb.com/name/nm0001698/
Frank Stallone, an American actor, singer-songwriter and guitarist.
He is the younger brother of Sylvester Stallone and wrote music for his movies. His song "Far from Over", which appeared in the 1983 film Staying Alive and was also featured in the film's soundtrack, peaked at number ten on the Billboard Hot 100, for which he received Golden Globe and Grammy nominations.
https://en.wikipedia.org/wiki/Frank_Stallone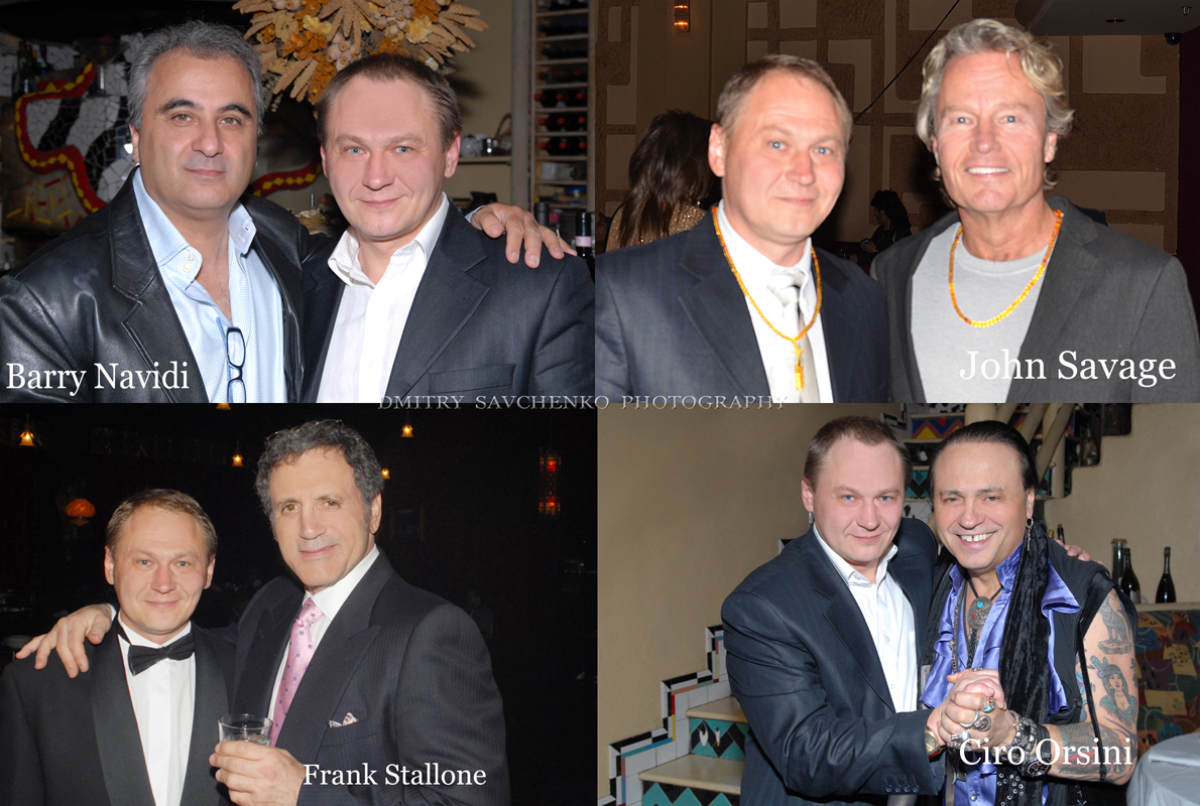 Los Angeles is a fabulous city and place for art exhibitions. I had a notable exhibition " Wonderful World of Ballet ", conducted during the visit Her Imperial Highness, Grand Duchess of Russia Maria Vladimirovna Romanova, Head of the Russian Imperial House, during her visit to Los Angeles on the 2nd of May 2010.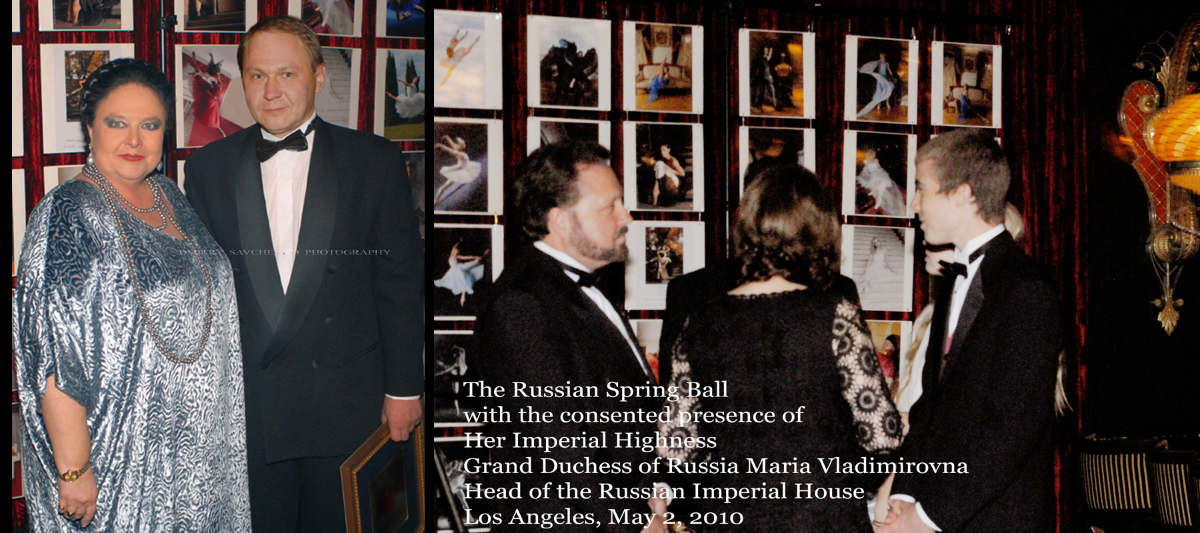 And certainly, BALLET. I am always saying, - I am fascinated by ballet…. I always wanted to unite ballerinas and light through the art of photography. I discovered a new dimension in my photography art. It is an astonishing discovery of classic beauty in classic light. The art in the arts. One life doesn't seem enough to convey this combination… In different periods of time I created artworks with such brilliant and world famous Ballet Legends as: Diana Vishneva, Nikolai Tsiskaridze, Svetlana zakharova, Isabelle Ciaravola and Karl Paquette and many many others For example my artwork with Diana Vishneva,- one of the greatest ballerinas of our generation.
https://en.wikipedia.org/wiki/Diana_Vishneva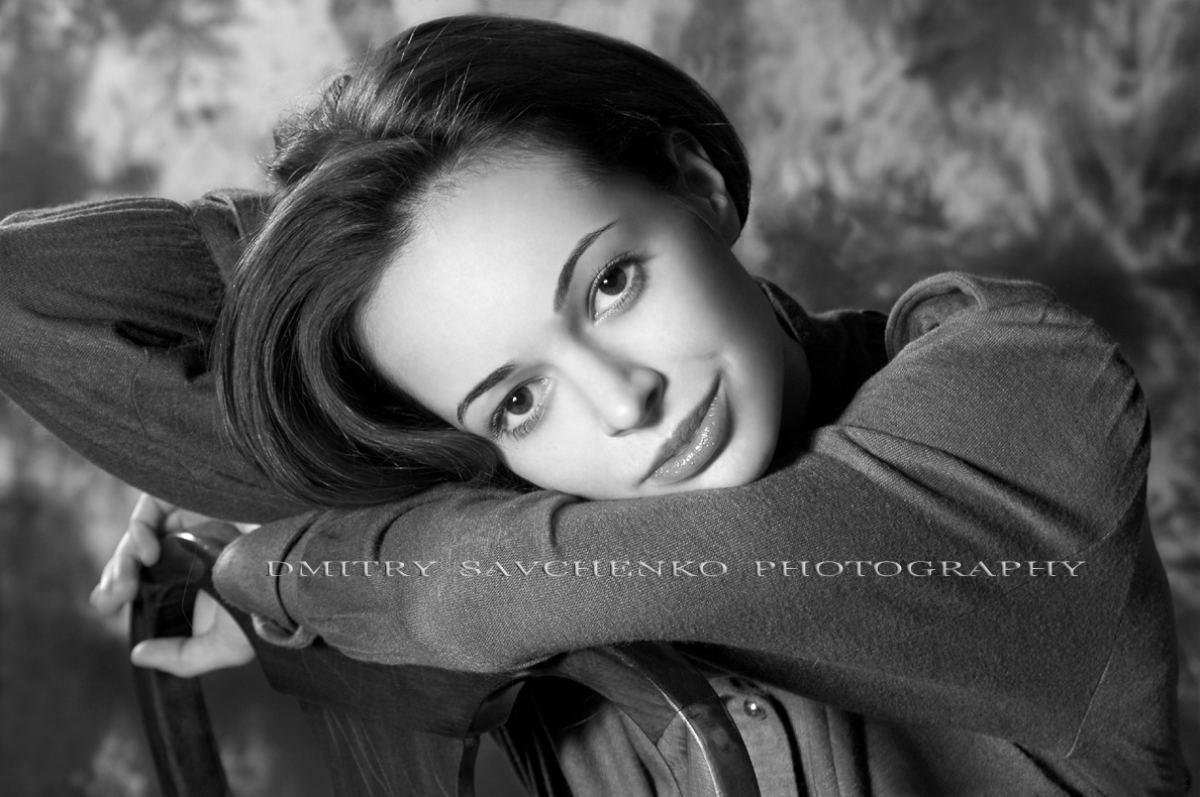 Many people always ask me about my cooperation with Art Galleries and Auction Houses. I will tell you truth, - it's not easy way, as an author of my artworks, in different periods of
time I cooperated and cooperate with art galleries in Stockholm, Moscow, São Paulo, London, Brussels, Madrid, Essen, Berlin, Bremen, Warsaw, Hamburg, Cologne,
Los Angeles, Chicago, Geneva, Nice, Paris, Barcelona, Riyadh and some Art Auction Houses in Europe and the USA. Special thanks and all my life I will be grateful to Alexander Zacke, Founder of Auctionata AG auction house ( Berlin, New York).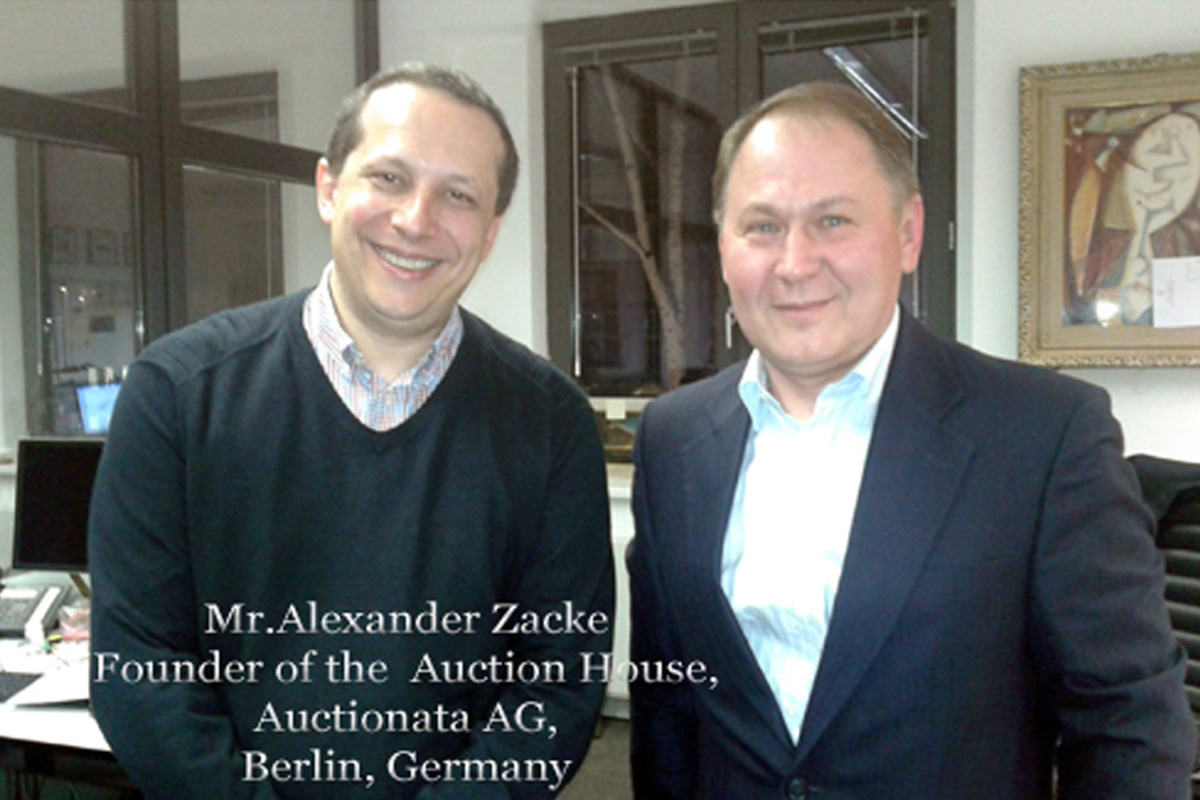 And as an example of my cooperation with Art Galleries, - it's cooperation with Creative Association "ART Boulevard " and "BAGRATUNI ART GALLERY" Moscow, Russia. High-end professional level ! Highly recommended ! My dear friends, you can see a real Art.
In the picture :
- Anna Bagratuni, Founder and director "BAGRATUNI ART GALLERY",
https://taplink.cc/art_up_bagratuni
head of the exhibition hall of the Art Center "ART Box", curator of "Supreme Contemporary Art League (SCAL)" International Association.
- Wine from BAGRATUNI collection
In 2014, wine BAGRATUNI 2012 Maran Winery won a bronze medal at the most prestigious wine competition in the world
- Decanter Wine Awards 2014! The competition was attended by about 15,000 wines from all over the world and the jury consisted of 219 wine experts from 27 countries.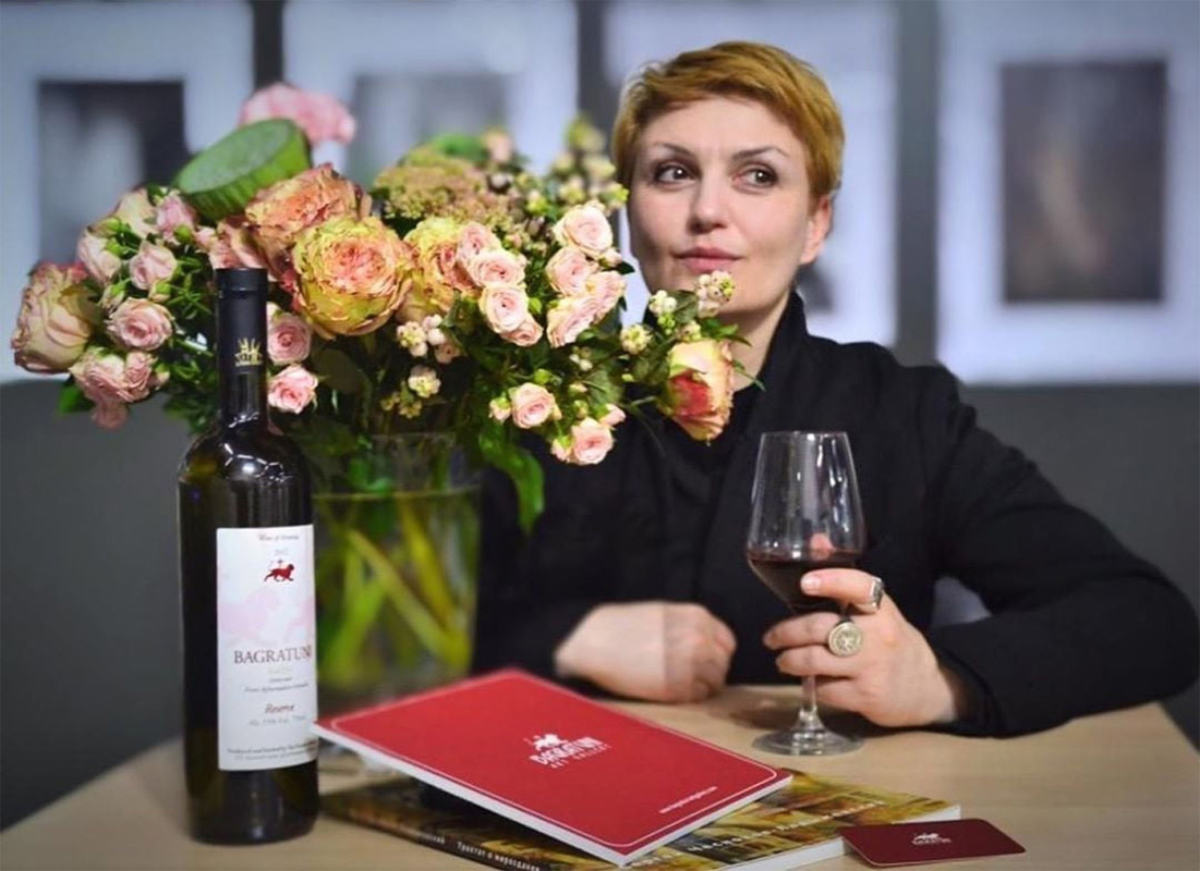 And if we are speaking about California, certainly it's not only Los Angeles. For example, the Greater Palm Springs area has long been a destination for opportunity to make unforgettable artworks, a number of incredible nature photos, of course, if you know where to look :) And I'm very grateful to Marta Rothschild, my dear and very close Friend of mine, for these historical, rare photographs, which will delight people with their beauty and uniqueness for tens and hundreds of years.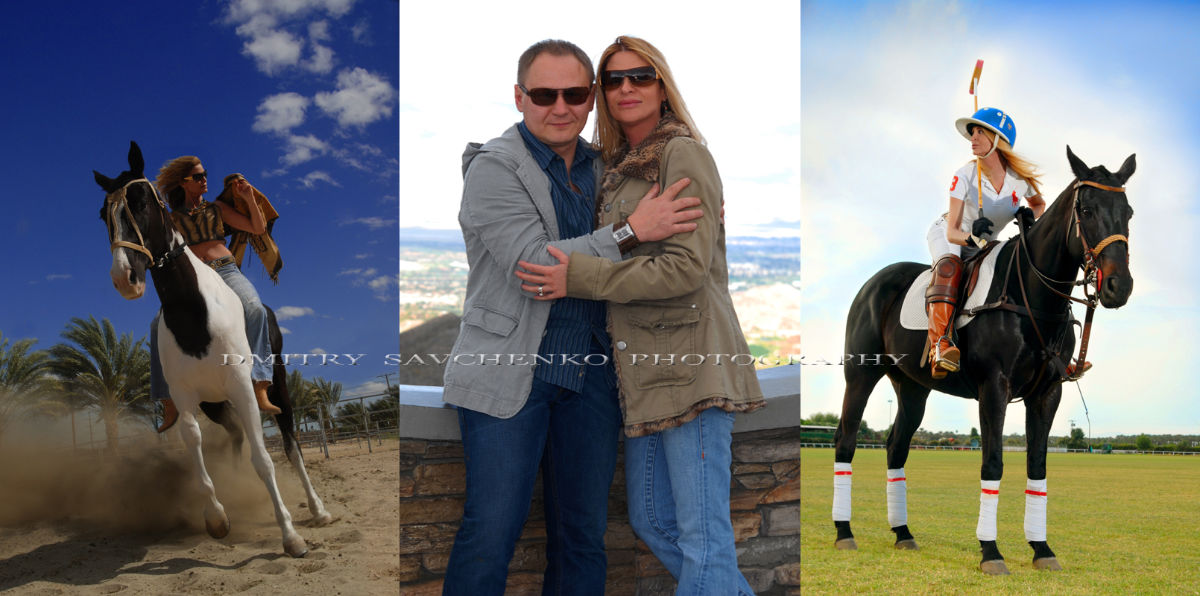 https://www.dmitrysavchenkoartphotography.com
http://www.facebook.com/DmitrySavchenkoArtGallery