Schiaparelli - Ready-to-wear Spring-Summer 2021
Luxferity, 25.11.2020
Elements of Desire
For this, Schiaparelli's third ready-to-wear collection, I wanted to create something essential. Not basic, with all that word implies, but something elemental: a few key, carefully chosen pieces that express the tenets of our house, that a woman could wear today but also decades into the future.
I don't need to remind anyone that the past half-year has blurred our collective definition of seasonality. It's also, I believe, made us appreciate all the more the things that endure, that are made with care and time—which is, of course, what couture is all about. I wanted to bring that same level of care, of detail, and of time to this collection to create the most luxurious (yet effortless) ready-to-wear looks around: the patterns are all hand-drawn, and the embellishments, from buttons to clasps, are all distinctive and considered. One thing I particularly love about designing couture is how tactile the process is—I wanted to bring that same hands-on sensibility to ready-to-wear as well. I feel so fortunate to have been able to conceive of this collection holistically, from drawing the initial sketches to shooting the images in the lookbook.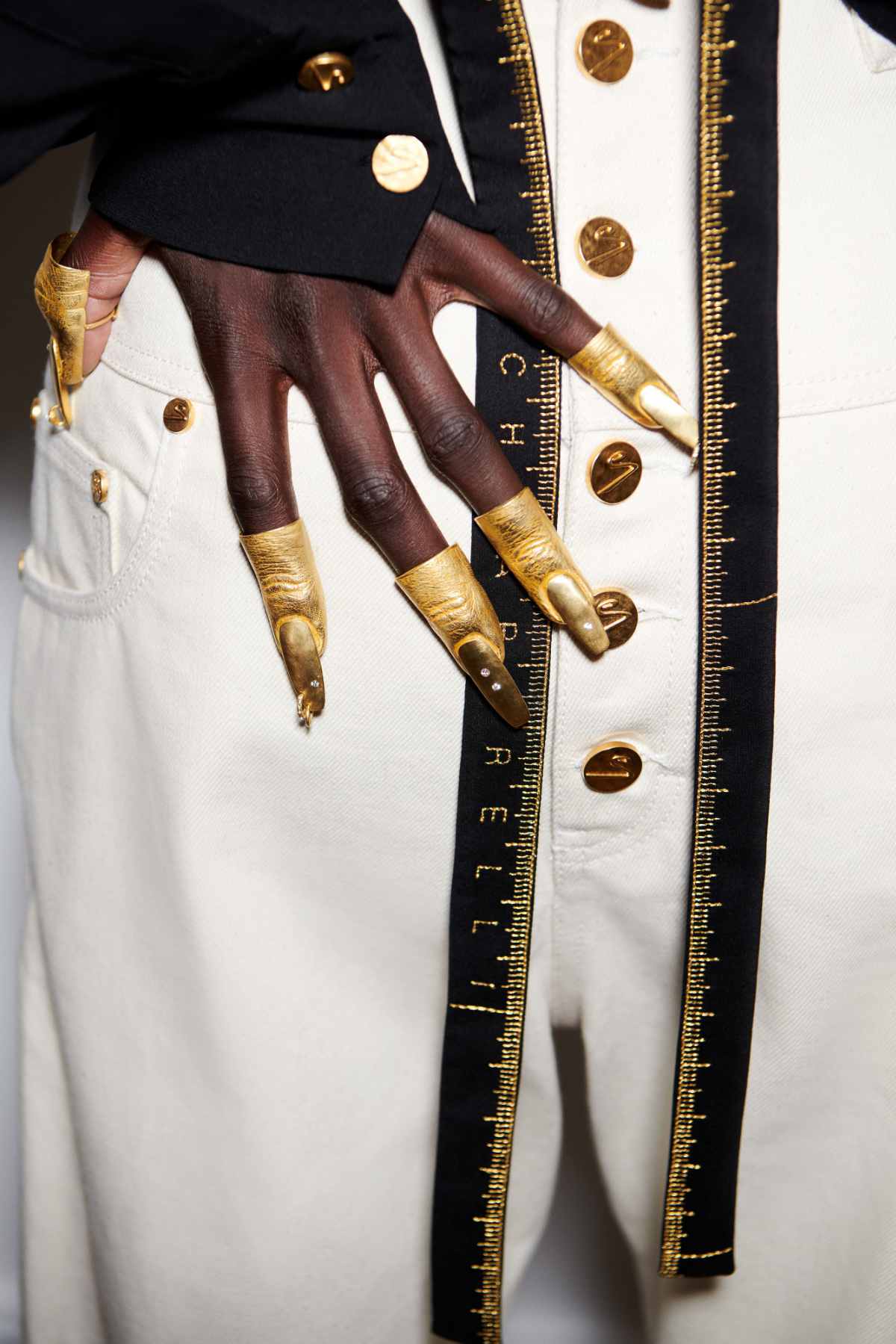 I concentrated on essential silhouettes in the best fabrics—the perfect wide-legged pants in tropical-weight cool wool; a trench coat in a tissue-thin black suede; a slinky, easy evening dress in a high twist wool crepe; playful intarsia twinsets in drapey rayon. Although these pieces were made with seriousness by me and my team, they themselves are lighthearted, meant to convey a joie de vivre for all who wear them as well as all who see them. The shapes are also a canvas for our new, extensive vocabulary of accessories, including an oversized series of Zodiac necklaces, surrealist-inflected finger and toe jewelry, and exaggerated earrings and face pieces that recall some of Elsa Schiaparelli's favorite icons: the padlock, the lobster, and the elephant head.
Complementing the jewelry is a new and extended line of bags, including updates of our signature Secret bag (now in three sizes in both smooth and trapunto nappa leather, with revised padlock hardware) and our signature Sun bag (now with a double gusset construction for added functionality), as well as two new groups: the first incorporates Schiaparelli's iconic measuring tape motif—first seen in the house's 1937 "Shocking" perfume bottle—in a series of totes and pouches. The second is a line of tote and box bags in smooth tobacco-colored nappa, adorned with surrealist bijoux elements: eyes, noses, and lips.
This moment we're all sharing will end. But these clothes will last. I hope the Schiaparelli woman who wears them finds as much delight in them as I did in their creation.