---
Purnell: Escape II Unique Absolute Sapphire "Hancock Red"
Luxferity, 31.03.2022
Purnell presents its most ambitious and rare timepiece yet: the Absolute Sapphire "Hancock Red". Just a year after presenting the World's First Double Triple-Axis Tourbillon in a Full Sapphire case, the Absolute Sapphire, Purnell continues to pursue its quest for excellence with this latest addition to its Escape II Collection.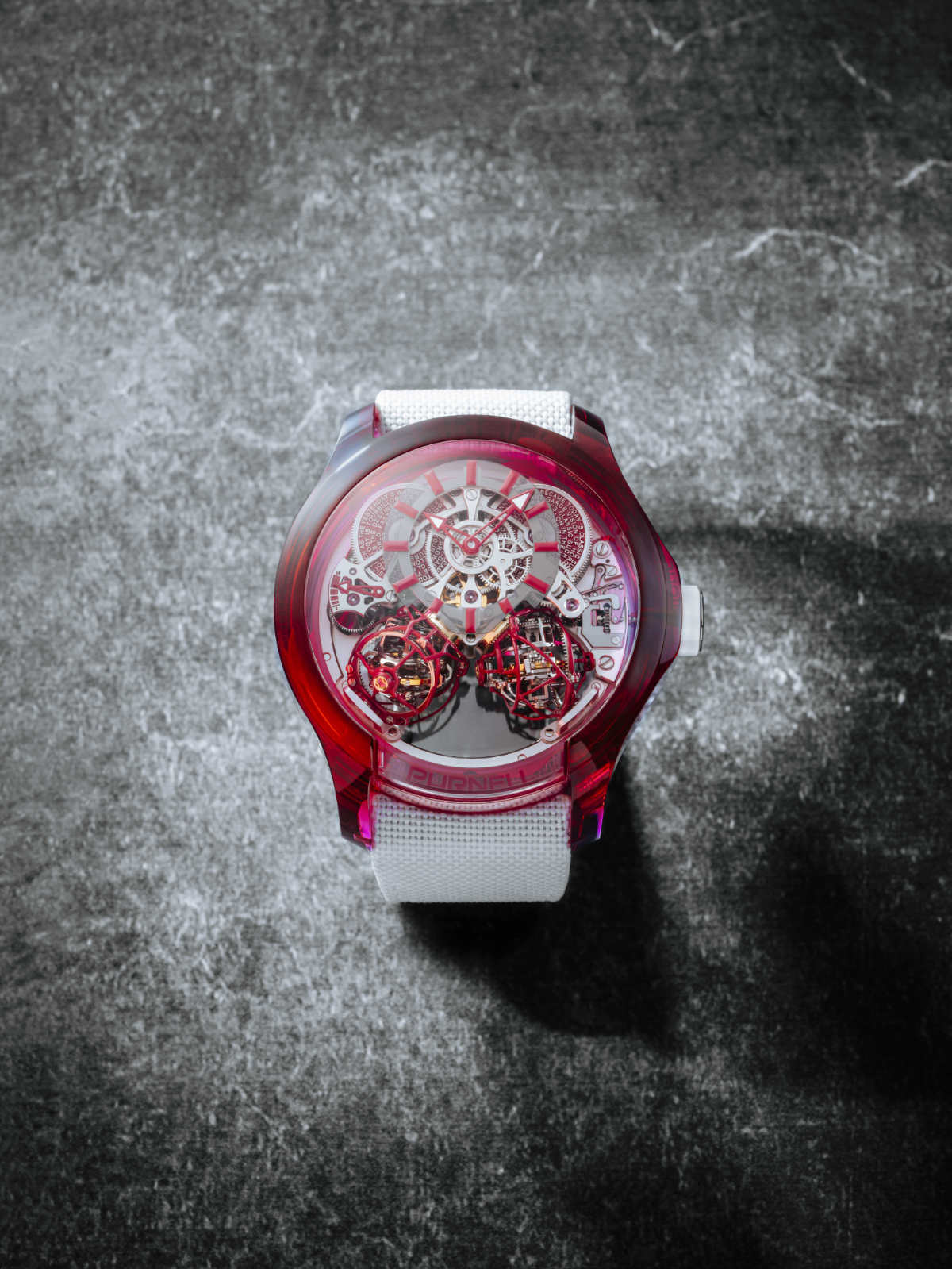 Escape II Unique Absolute Sapphire "Hancock Red"
48mm Full "Hancock Red" Sapphire case
Smoked Sapphire dial and applied hour indexes; fabric strap.
P03 caliber with Double Spherion, 32 hours power reserve and 32 N mm torque.
Limited edition: Unique piece
Price: CHF 2'000'000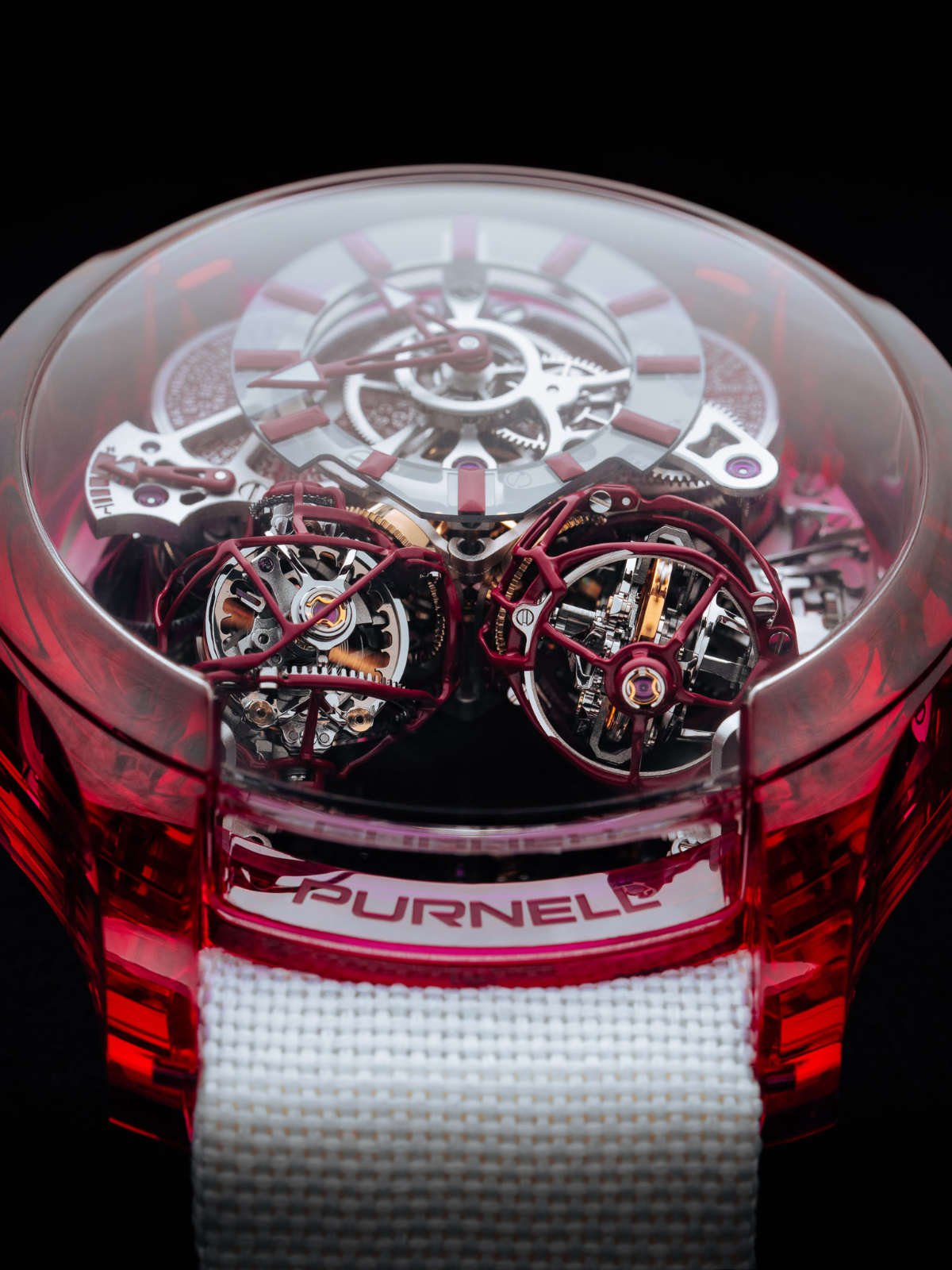 A rare breed in the world of gemstones, truly red diamonds are one of the most sought-after and elusive precious stones. To this day, gemologists are still not entirely sure how red diamonds obtain their hue. The Absolute Sapphire "Hancock Red" reflects that extraordinary red color.
One of the most famous red diamonds was the illustrious Hancock Red, which was sold by Christie's in New York in 1987 and was then the most expensive per-carat gemstone ever sold at auction. It's "fancy red" hue was a mesmerizing shade of red—one that remains inimitable today.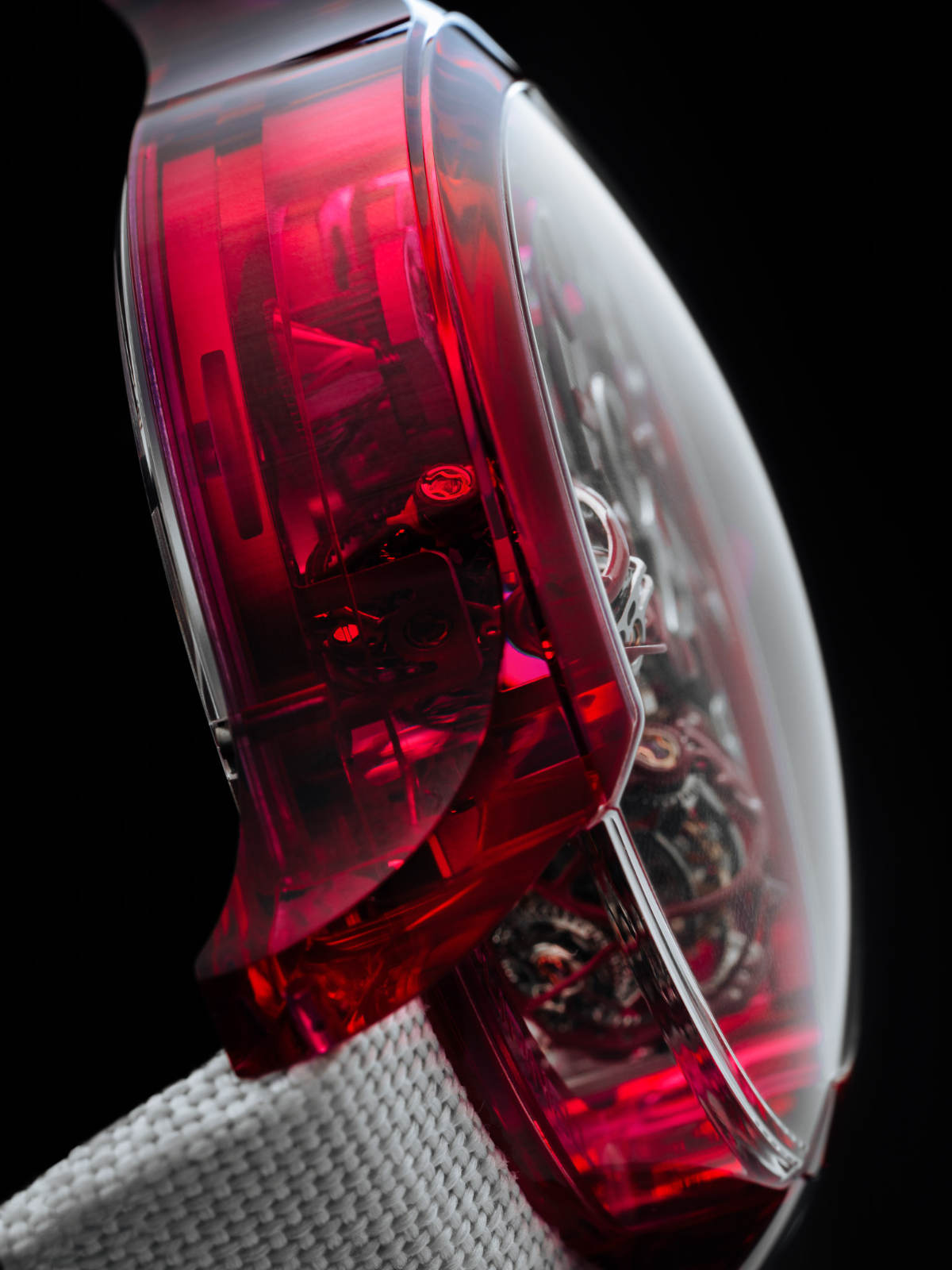 "I remember that auction on the news back in 1987, and how beautiful and vibrant the Hancock Red diamond was," says Maurizio Mazzocchi, CEO of Purnell. "When we were developing the Absolute Sapphire, I pushed the team to get that same red diamond shade. It has never been done before and, I believe, will never be replicated. It's truly unique."
A rarity within rarities, the Absolute Sapphire "Hancock Red" is the epitome of savoirfaire, a convergence of energy and power, honed by decades of master craftmanship.
100% Swiss made sapphire case:
1 monobloc case
1 monobloc caseback
1 monobloc domed top crystal sapphire with an 90o angle at 6 o'clock

Grown under 2,050 degrees Celsius—the sapphire resists temperatures up to 1,000 degrees Celsius and is scratch-proof, except by diamond (Sapphire hardness: 2035 Vickers or 9/10 Mohs' scale). In total, the machining and polishing process require 150 hours excluding the development and machine programming and sapphire block unit growth.
TECHNICAL SPECIFICATIONS

MOVEMENT:
Mechanical Hand Winding Caliber P03
Double Spherion – the World's Fastest Triple Axis Tourbillon
Functions: Hour, Minute, and Power Reserve Indication via an Ingenious Suspended Mobile Cone Mainspring Sensor
Number of Components: 386
Number of Jewels: 67
Power Reserve: 32 hours
6 Mainsprings Assembled in 4 Barrels Aligned in Parallel (Four Are Superimposed within Two Barrels).
2 Visible Barrel Covers Engraved with PURNELL philosophy
Balance Frequency: 3hz / 21,600bph
Torque: 32 newtons/mm
Movement Dimensions: 37.5 mm X 13.3 mm
Movement Weight: 15.7 grams
Adjusted: All Positions
High-Velocity Spherion Cages Performance
Both Cages Are Revolving in the Opposite Direction Thanks to Its Differential System
Fastest Triple-Axis Tourbillon with Rotation in:
⇒ 8 Seconds Inner Cage
⇒ 16 Seconds Secondary Cage
⇒ 30 Seconds Outer Cage
Spherion Weight: 0.79562 grams
Material: Titanium
Shock Protection: 8 Incabloc
DIAL & HANDS:
Sapphire Dial with Lacquer Hour Indexes, Hand-Polished Hour and Minute Hands, Hand-Painted Power Reserve Indicator
CASE:
Material: Hancock Red Sapphire
Dimensions: 48mm
Water Resistance: 3 atm
Monobloc Sapphire Crystal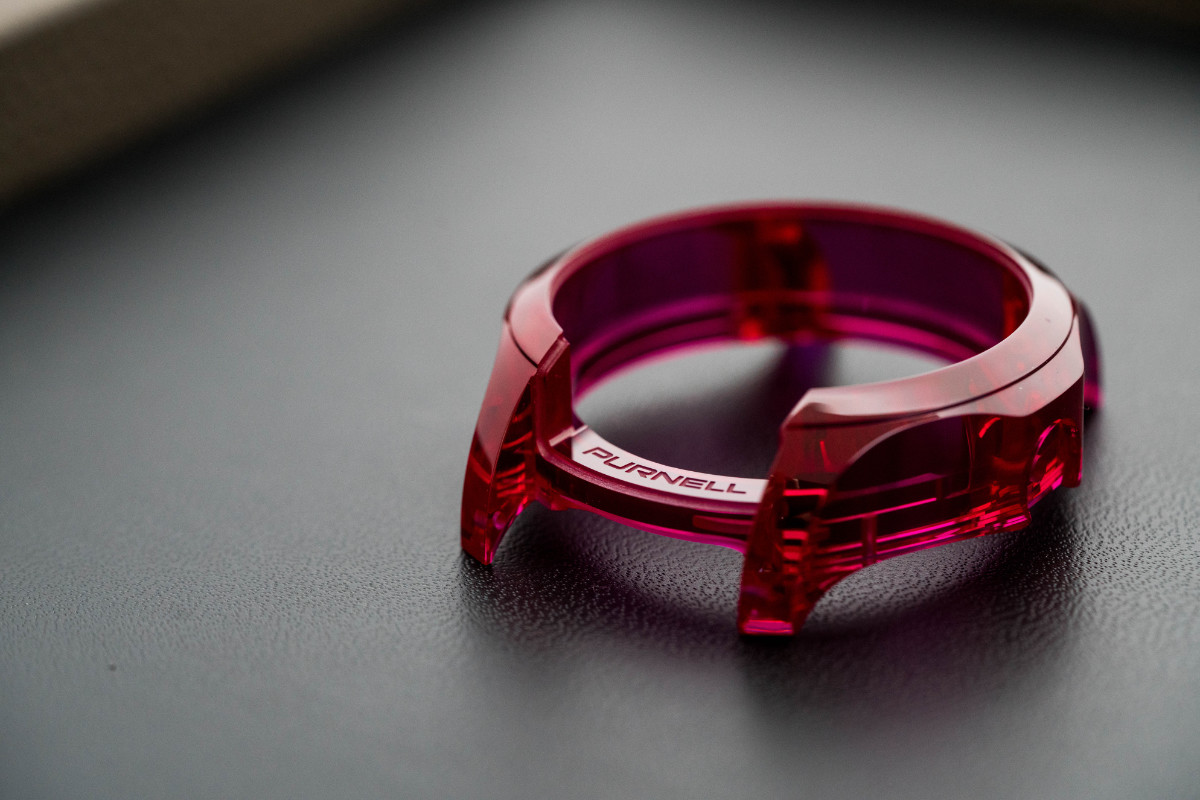 STRAP:
White fabric strap
ABOUT PURNELL

Purnell creates watches inspired by movement, performance and mechanical prowess, bringing more future than past to the sphere of haute horlogerie. Established in Geneva since 2020 with headquarters located at the heart of Rue du Rh ne, Purnell continues to astonish with its unmistakable Spherion, the World's Fastest Triple-Axis Tourbillon, created by watchmaking extraordinaire Eric Coudray. The brand conceives highly complicated and mesmerizing tourbillons, 100% Swiss Made. In 2021, the brand partnered with France Football and the Ballon d'OrTM, presenting an exclusive movement also created by Eric Coudray. Excellence and performance govern above all amongst Purnell's core values.
---