---
Piaget's Tribute To The Limelight Gala And Its Illustrious History With Two New Limited Watch Editions
Luxferity, 07.04.2021
Piaget's Limelight Gala is a celebration of extraordinary women – women who are creative, inspiring, empowering, and independent. It was first unveiled in the seventies with a now iconic design incorporating sensual lines, a cambered case, and asymmetrical lugs. Almost half a century later and the Limelight Gala continues to turn heads with its perfectly integrated gold case and bracelet, and lugs adorned with exquisite gemstones.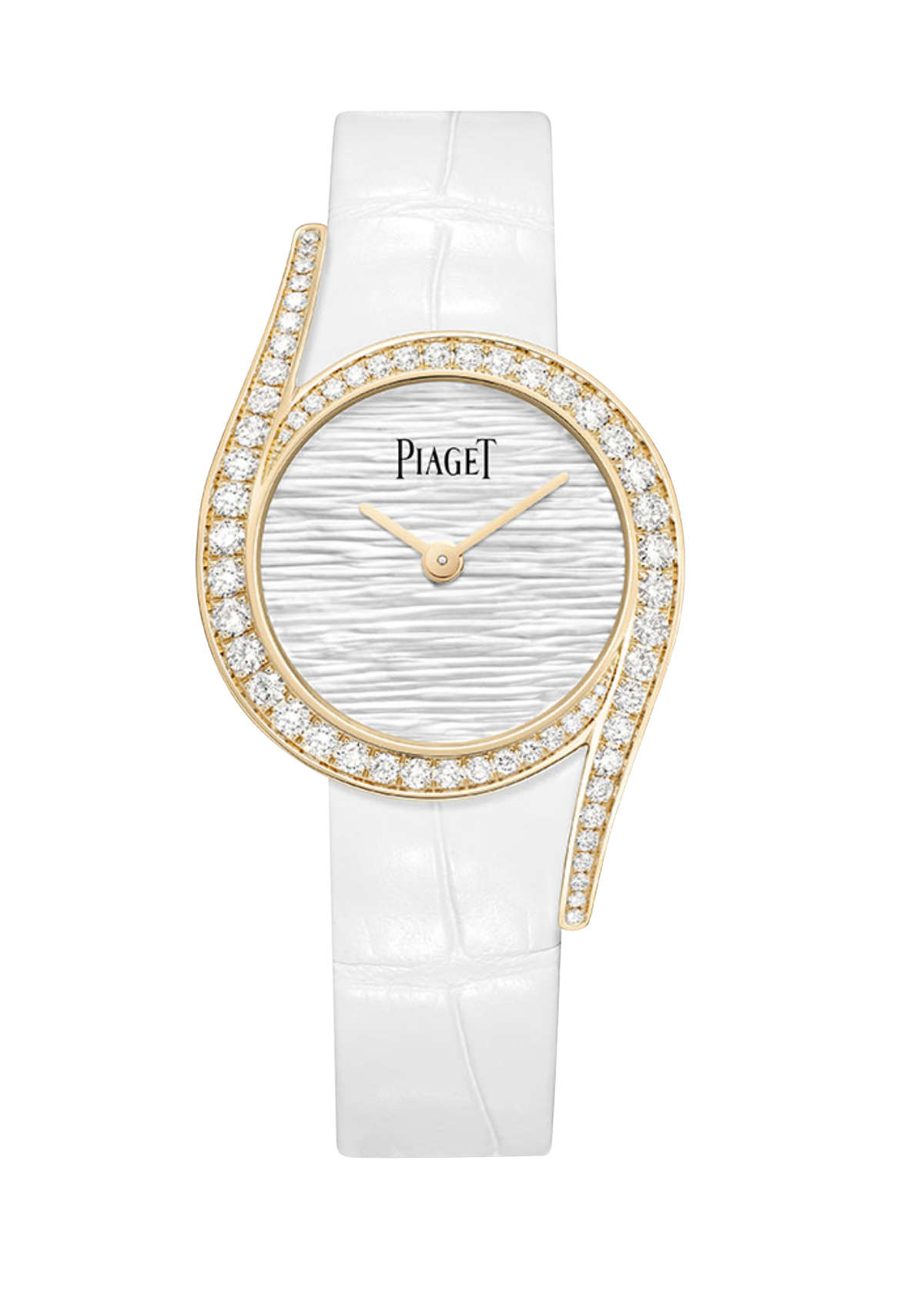 The name of the collection was inspired by the Piaget Society and its fabulous parties with film stars, artists, clients, and friends of the Maison who shared a certain art de vivre. Celebrities such as Salvador Dali, Jackie Kennedy, Elizabeth Taylor, Andy Warhol, Cary Grant, and Sami Davis Jr., would join Piaget for these unforgettable moments together.
In a tribute to the Limelight Gala and its illustrious history, Piaget is presenting two new limited editions for pre-Watches & Wonders 2021.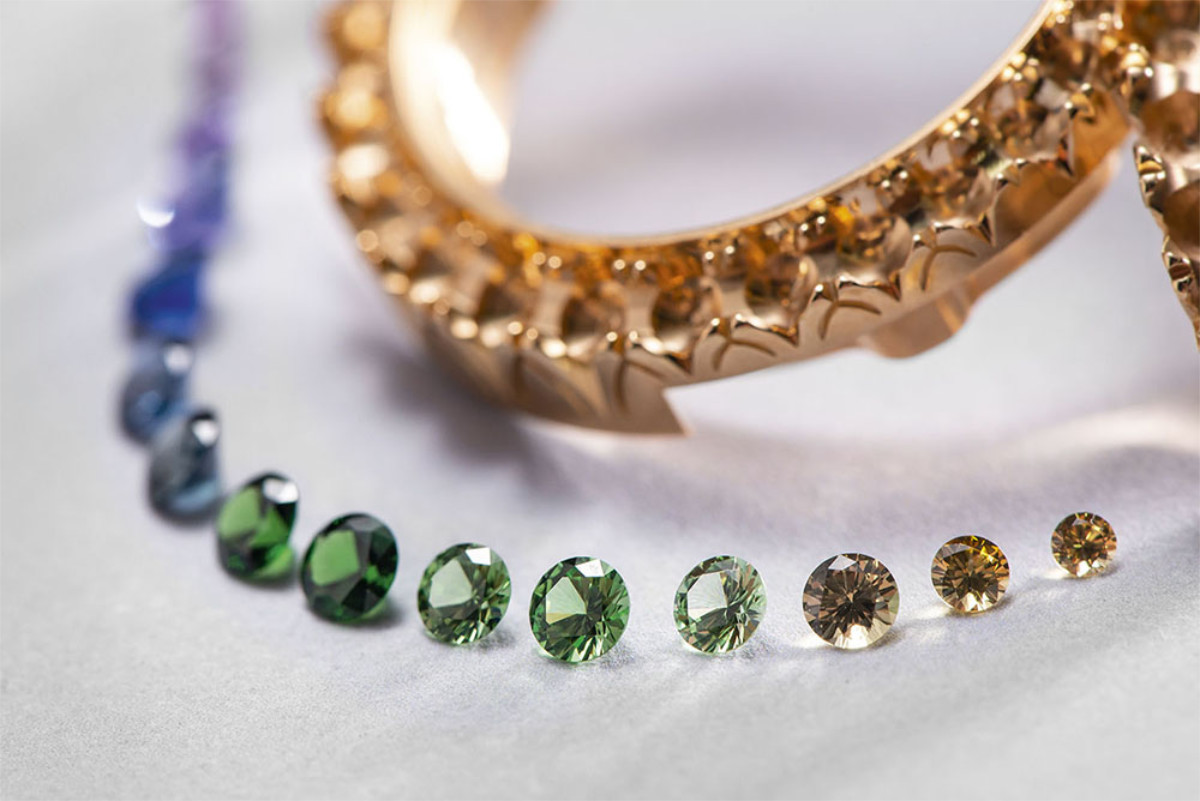 For the very first time in its history, Piaget has created a rainbow setting with a spectacular array of green tsavorites and coloured sapphires that range from red, orange, yellow, blue, indigo and violet, taking centre stage around the bezel and on the lugs.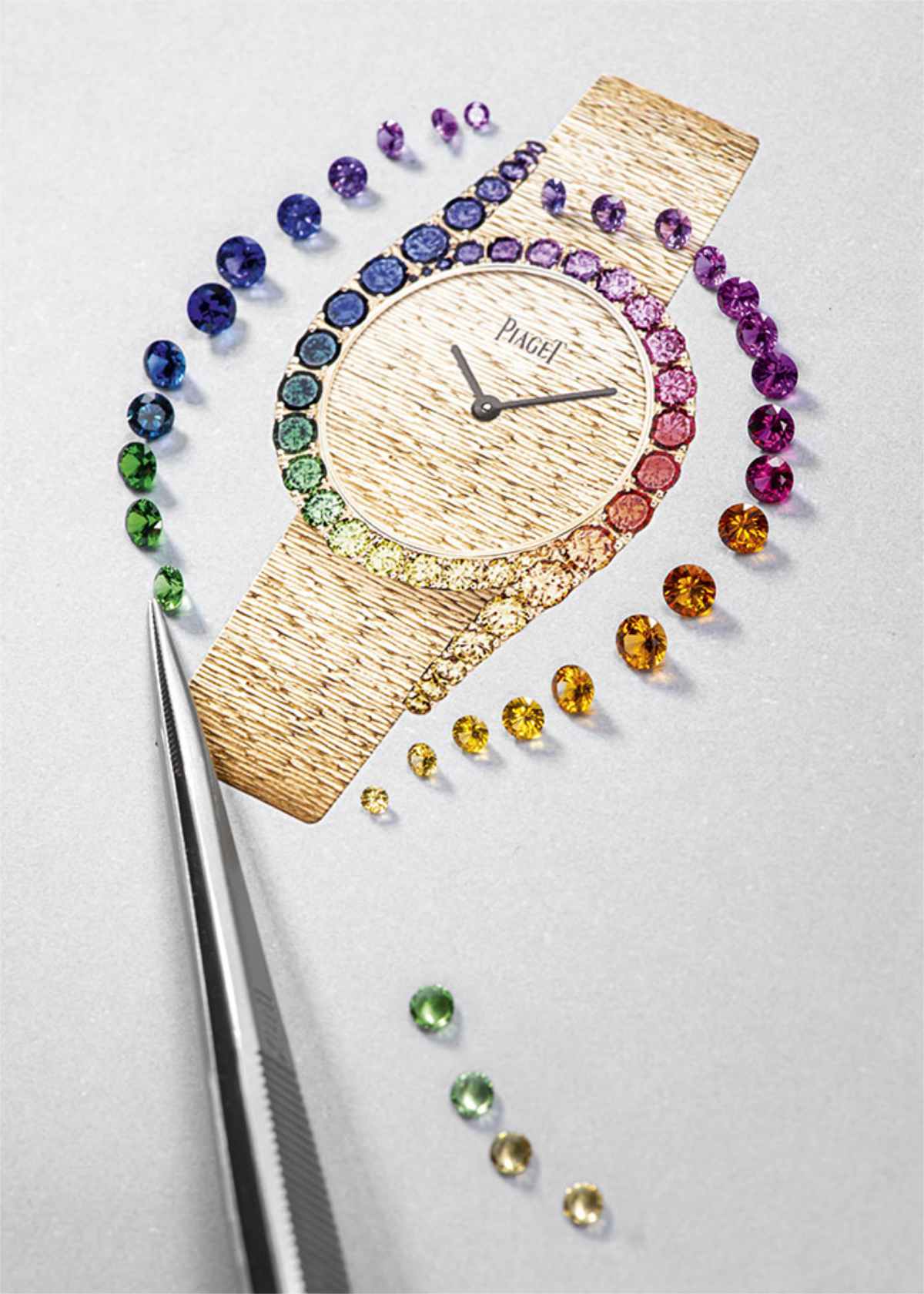 Sourcing progressively-sized, coloured gemstones of this calibre is extremely challenging. Piaget's gemmologists searched long and hard for the exact colours, carat, cut, and clarity, explaining why the series is numbered and limited. The setting of this piece also demanded particular patience and expertise from the Maison's gem-setters who needed to create the perfect colour and size transition from one gemstone to the next using an intricate technique called "Sertie Descendu" that magnifies the brilliance of each gemstone.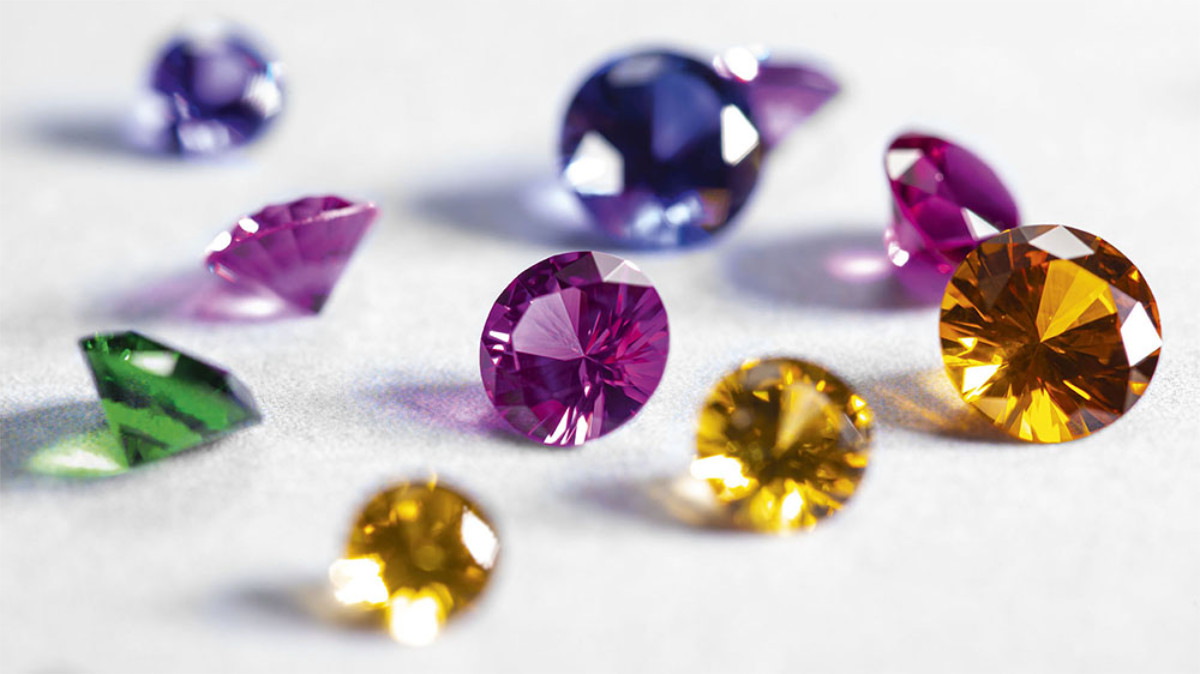 The automatic Limelight Gala 18K rose gold comes in a 32mm case, with a matching dial and the bracelet that have both been decorated with Piaget's signature Palace decoration. This timepiece is the perfect fusion of the Maison's expertise in watchmaking, goldsmithing and gem-setting.
Piaget is one of the few remaining Maisons that has the savoir-faire to craft hand-made gold bracelets. The work of a chainsmith is similar to that of a Haute-Couture dressmaker. The artisan will start with hundreds of gold links, which will be tightly assembled. The next step is the soldering of the countless miniature links that will result in a bracelet of remarkable suppleness. Only a few artisans, who work in Piaget's "Atelier de l'Extraordinaire", have the expertise to hand-engrave this pattern. The decoration alone took two hours to complete on the dial and eight hours to finish across the bracelet.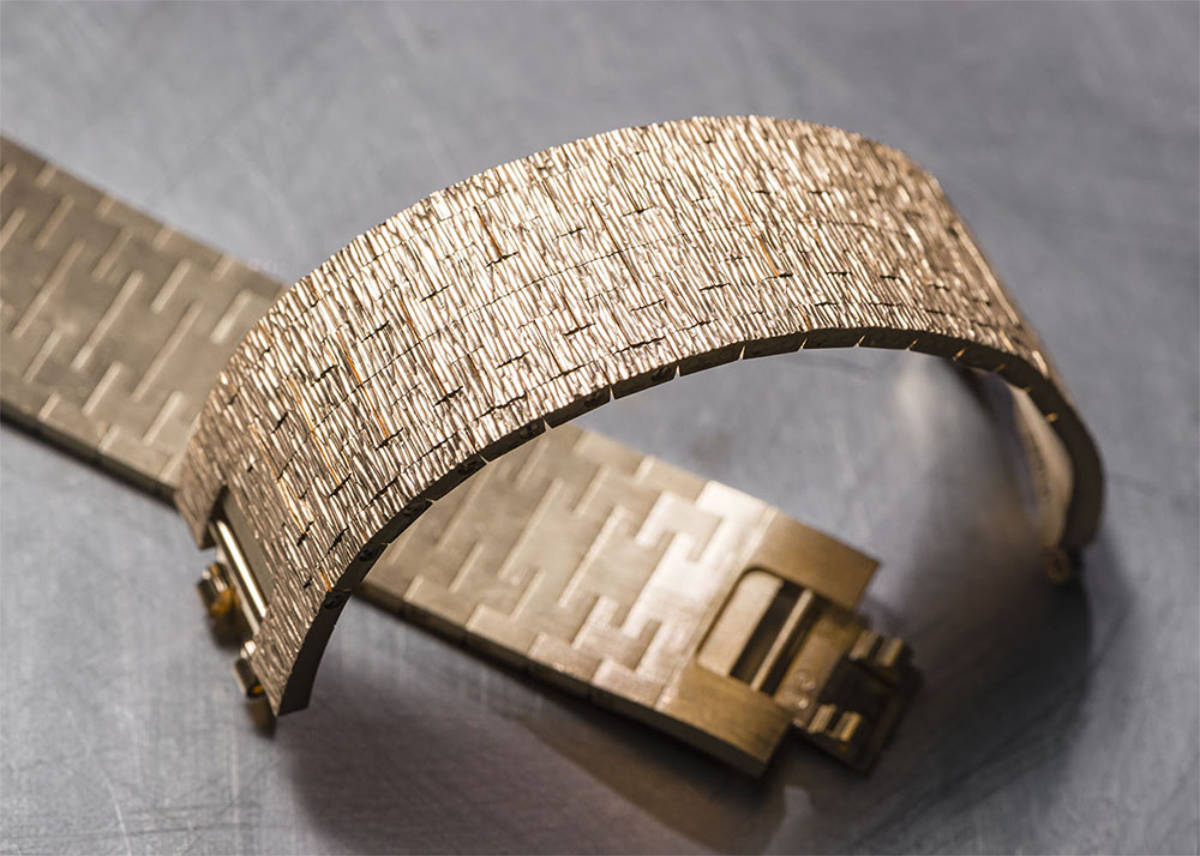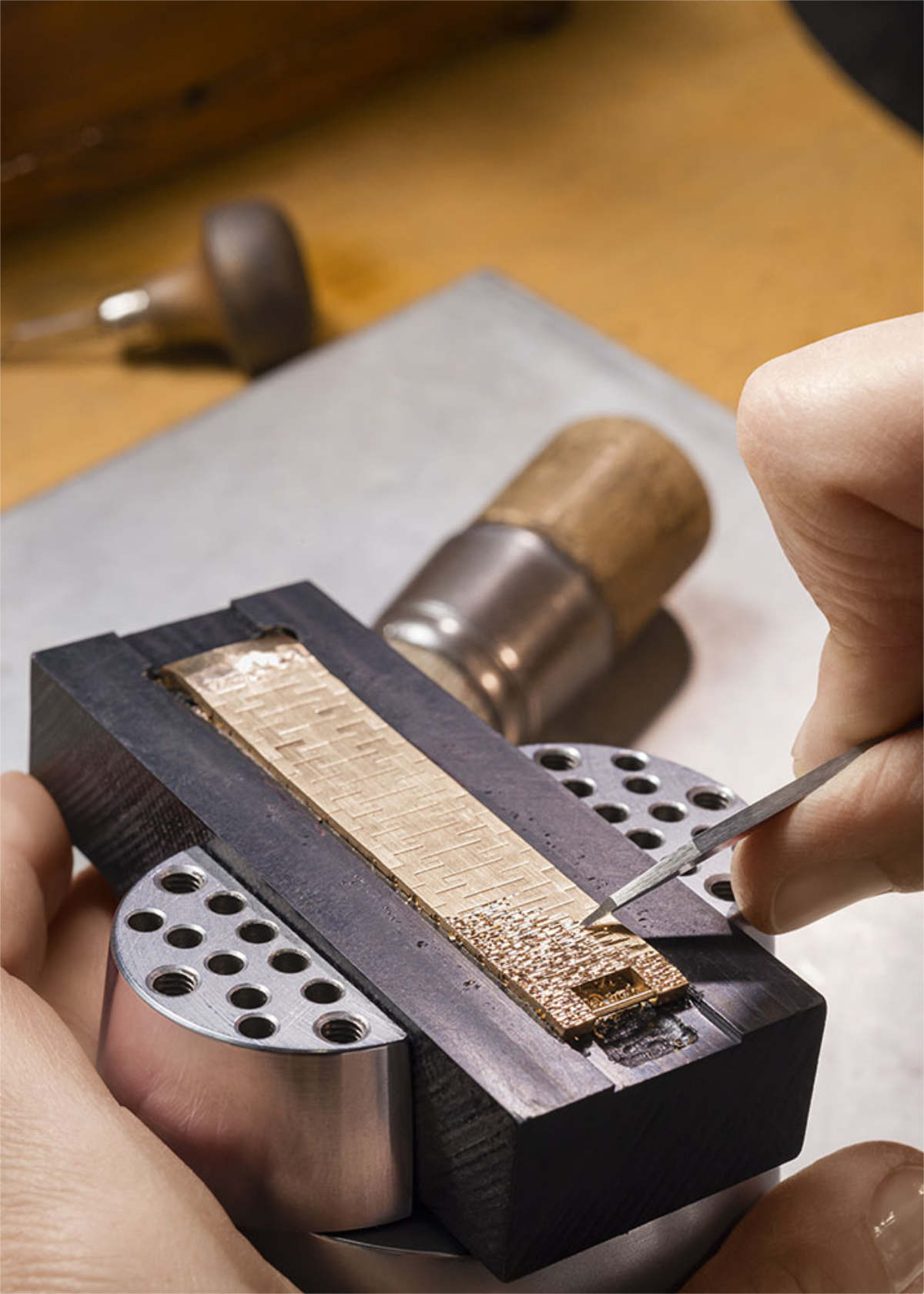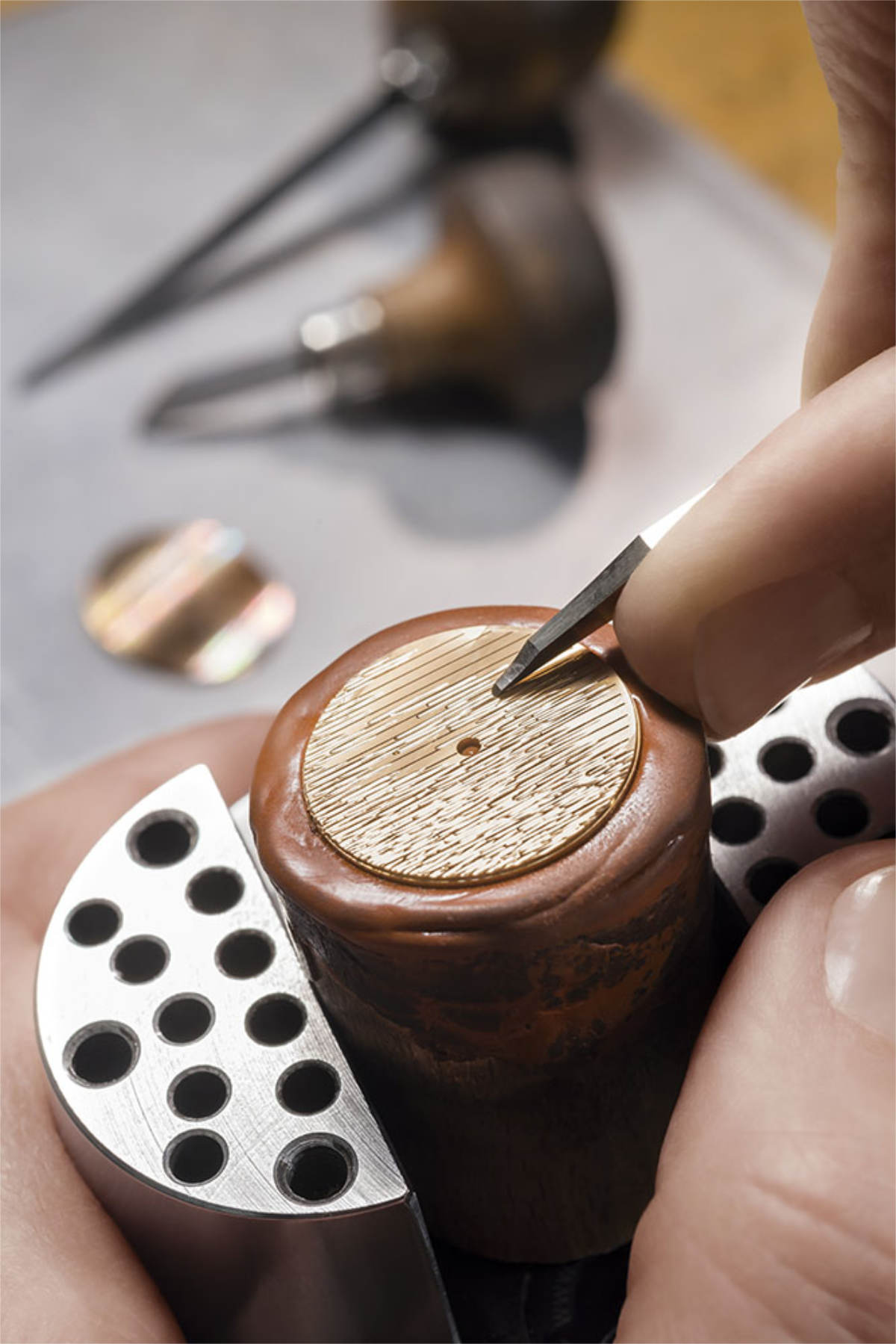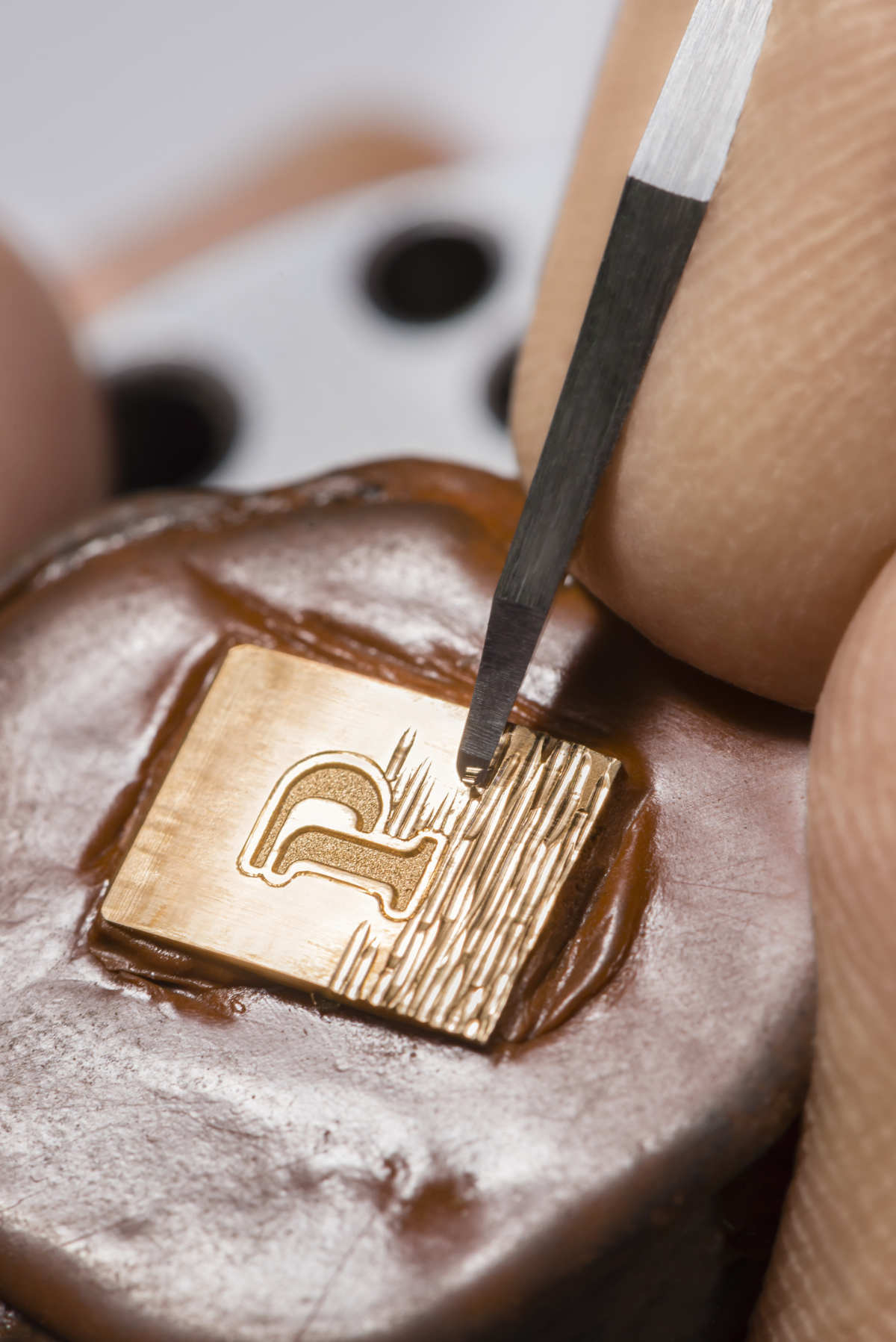 This rare traditional craft started in the 1960s and became hugely popular thanks to Piaget's bold creations. Mainly inspired by nature, Piaget has used over one hundred different life-like motifs to adorn its hand-made gold bracelets, such as leather design, ocean waves, frost, flowers, foliage, bark, snake scales and many more.
The second Limelight Gala watch is housed in a 26mm 18K rose gold case adorned with the finest quality diamonds and features a mother-of-pearl dial that has been delicately engraved with the same Palace Decor motifs. As the engraving is done by hand, each dial is unique. This Limelight Gala model is limited to 300 pieces and comes on a white alligator strap.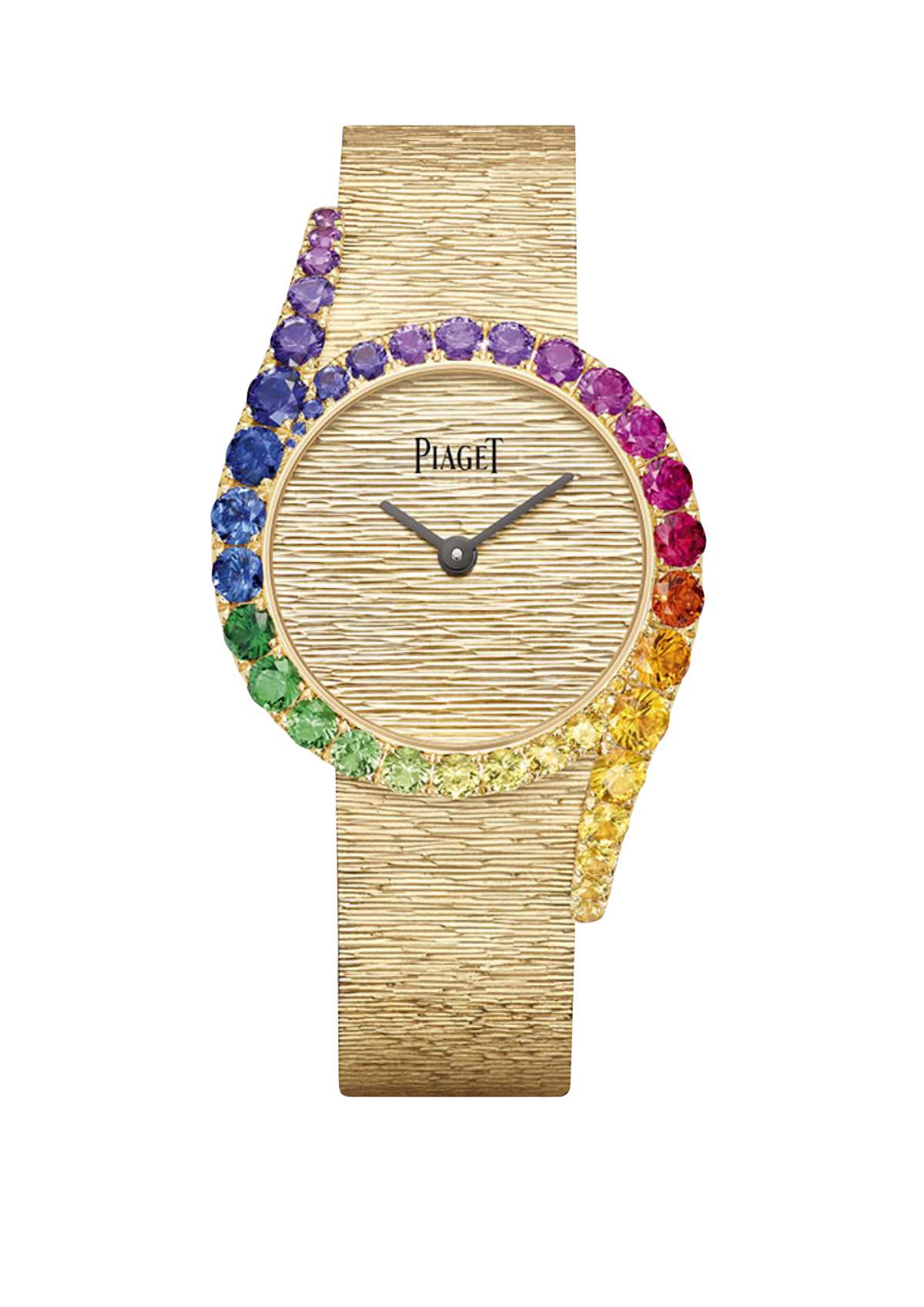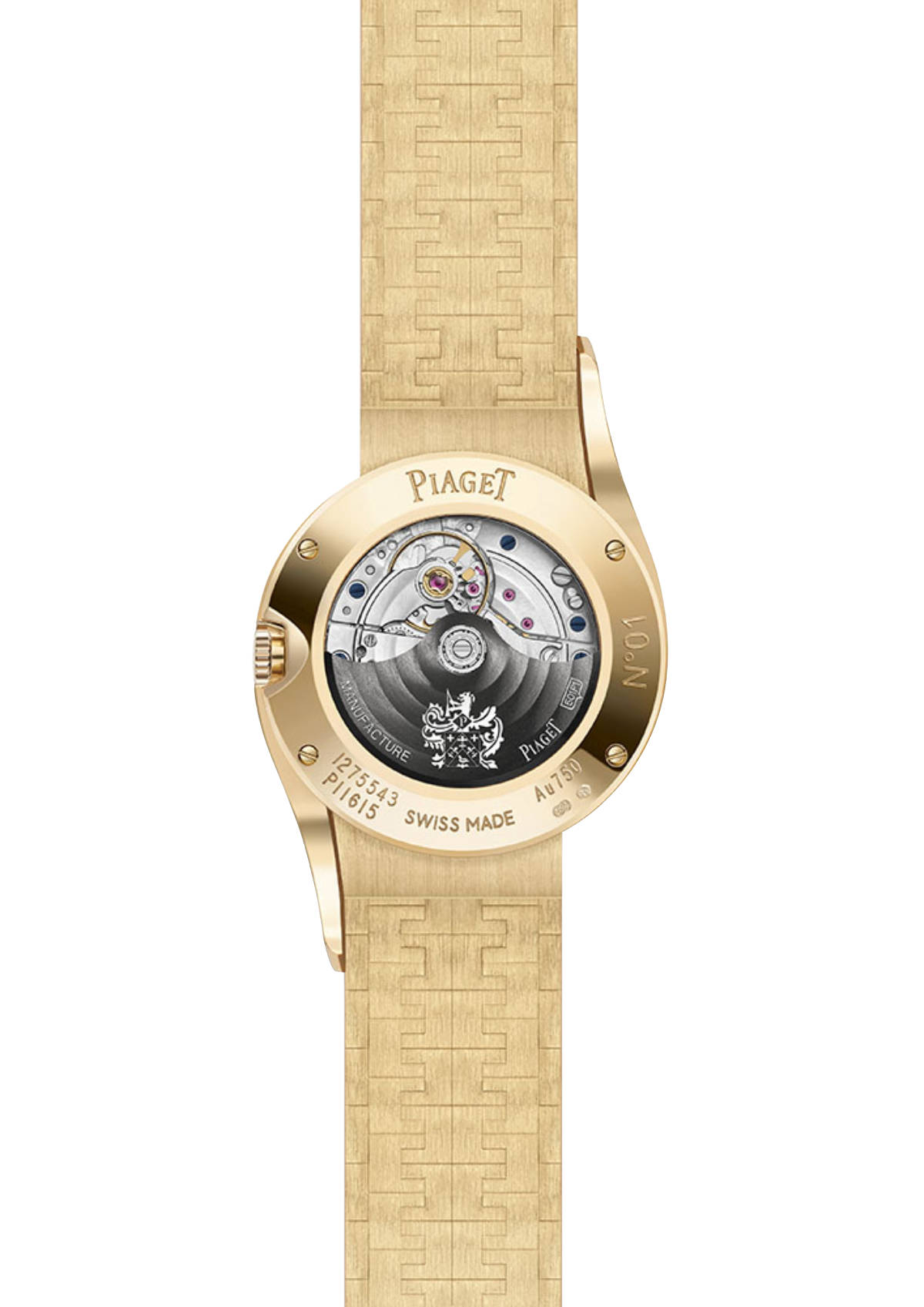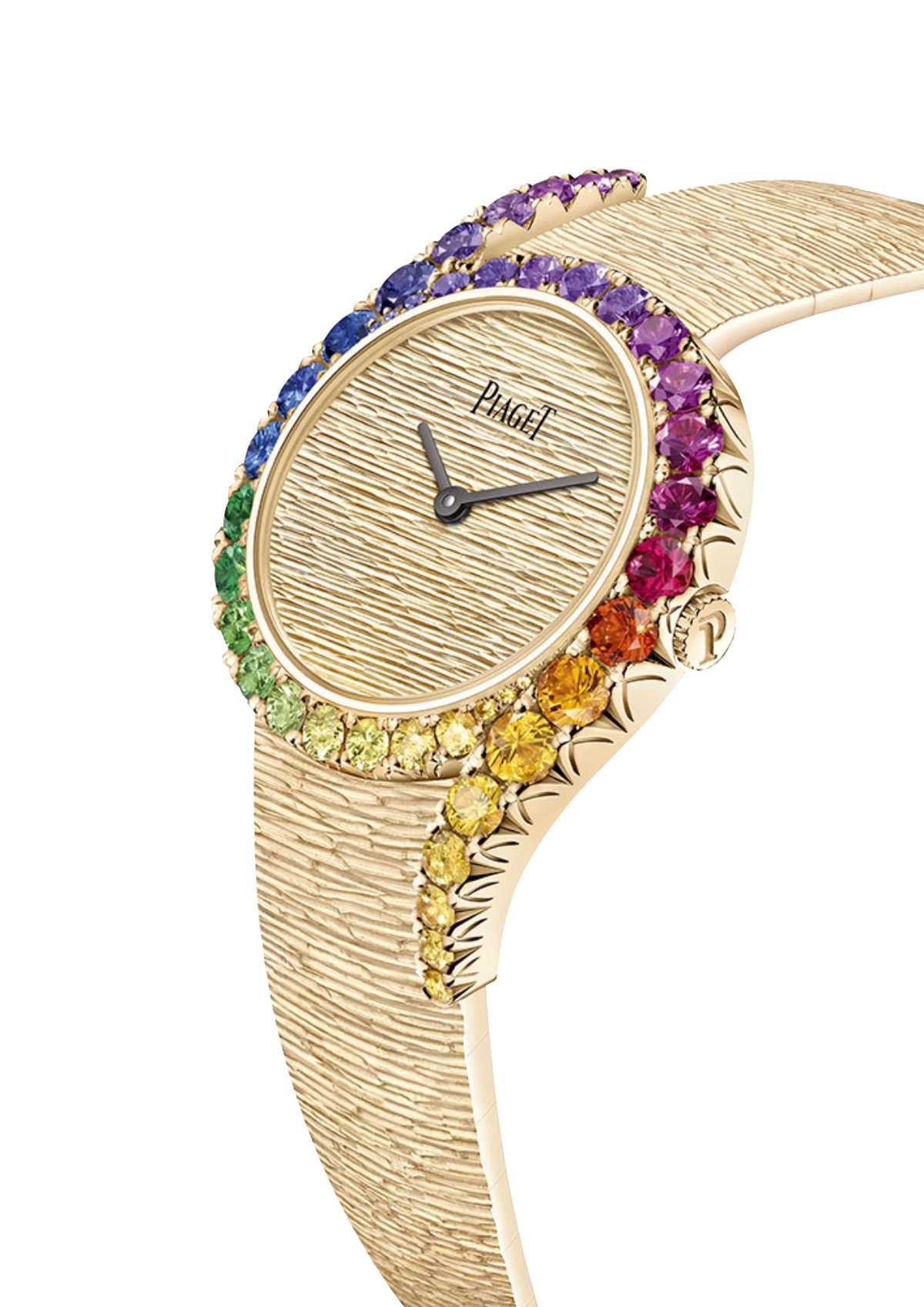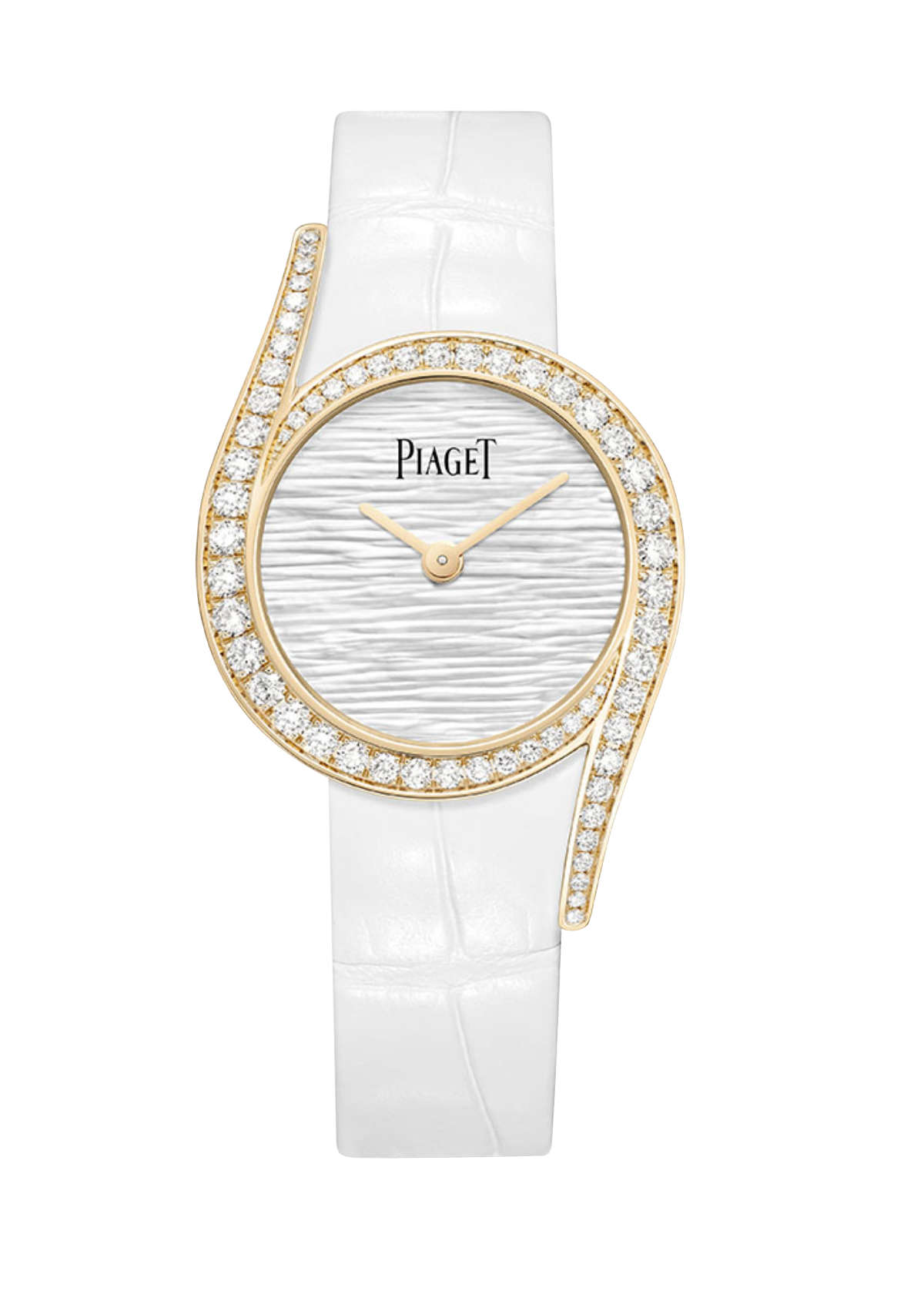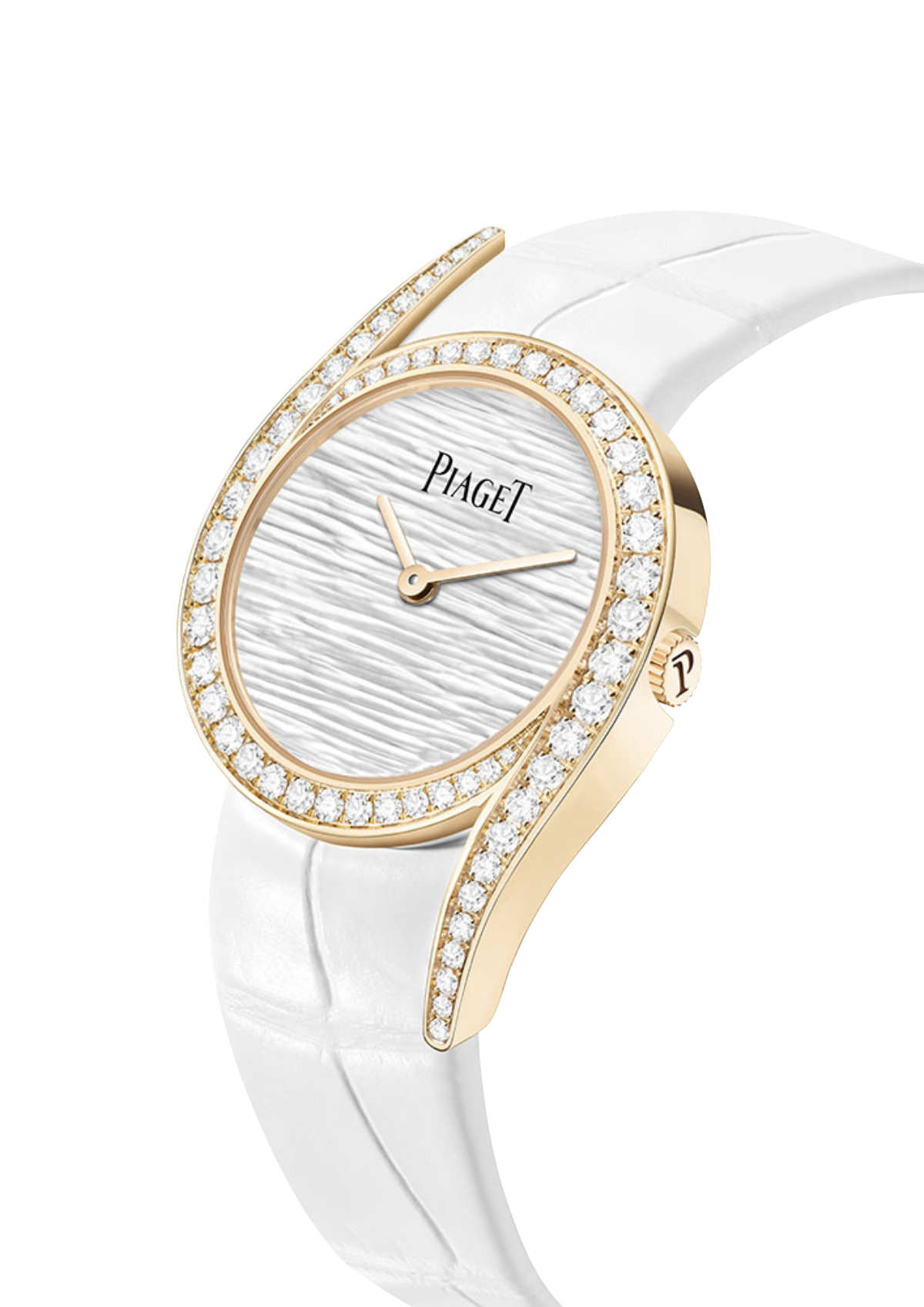 ABOUT PIAGET
Piaget epitomizes daring creativity – a quality that has continued to permeate through the Maison since its beginnings in 1874. From his first workshop in La Côte-aux-Fées, Georges-Edouard Piaget devoted himself to crafting high-precision movements in a feat that formed the very foundations of our pioneering name. In the late 1950s, Piaget unveiled the ultra-thin movements that would later become the Maison's trademark and the cornerstone of the Altiplano collection. As a true innovator of the watch and jewellery world, Piaget strongly believed in creativity and artistic values. It is within the walls of our "Ateliers de l'Extraordinaire" where master artisans continue to harness rare skills that have been preserved and perfected from generation to generation, transforming gold, stones and precious gems into dazzling works of art. Through its pursuit of masterful craftsmanship, the Maison has created emblems of daring excellence channeled into its collections including Piaget Altiplano, Piaget Polo, Limelight Gala, Possession, Sunlight, Piaget Rose and Extremely Piaget.
---