---
Louis Vuitton Presents Its New Spring-Summer 2023 Men's Collection: Collection ∞
Luxferity, 24.06.2022
Collection ∞

Imagination is at the heart of Louis Vuitton. A visual manifestation of our hopes and ideas, it has the power to heal, regenerate and uplift us. The Spring-Summer 2023 Men's Collection was conceived and created by the Louis Vuitton Studio Prêt-à-Porter Homme: an ever-evolving ecosystem of creative minds, who welcomed Virgil Abloh to the Maison in 2018 and expanded during his eight seasons of artistic direction. A living testament to his talent for bringing people together, they populate a creative playground more than a century in the making. At the timeless core of the Louis Vuitton studio is the belief that imagination – creatorship, craftsmanship, showmanship – can move and unite its spectators around the world. It's the heritage on which Virgil Abloh based his practice at the Maison and the philosophy that continues to drive the Studio Prêt-à-Porter Homme. As a creative community who shared a monumental experience, they embrace the Spring- Summer 2023 Men's Collection as a cathartic process: a proposal created in the spirit of all the human minds that shape Louis Vuitton.


Magnified playground

Toys are tools for the imagination. The playthings we are given early in life become building blocks for dreams and aspirations. In the Carré du Louvre, the Louis Vuitton Studio Prêt-à-Porter Homme imagines a magnified playground. Here, a giant children's toy racetrack becomes a Yellow-Brick Road for the imagination: an evolutionary path for the mind where childlike fantasies come to life. It's a transition from naïve to refined reflected in a collection that elevates the symbols of childhood through the savoir-faire of the Maison. The premise cuts a silhouette drawn from swoopy lines, which plays with shrunken and oversized dimensions founded in the idea of a wardrobe grown-into or outgrown, with rootsy nods to the 1990s dress code of the skater community. Iconography native to the playground adorns garments and accessories: origami paper planes, building block beading, playdough textures and tones, cartoon prints, and sandbox tool embellishments. Evoked within the pieces is an under-construction sensibility inherent to the toys found in a playground and to the process of growing.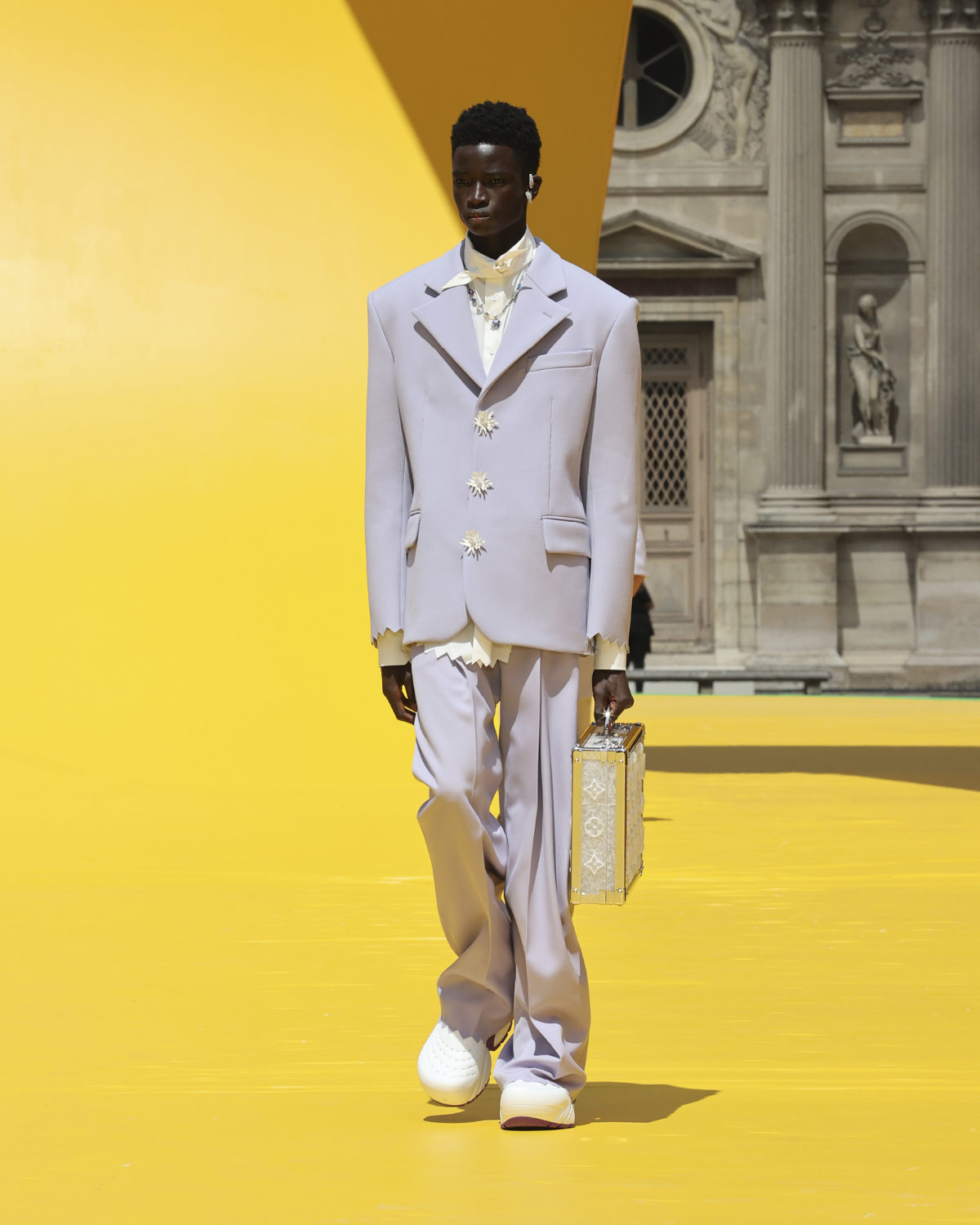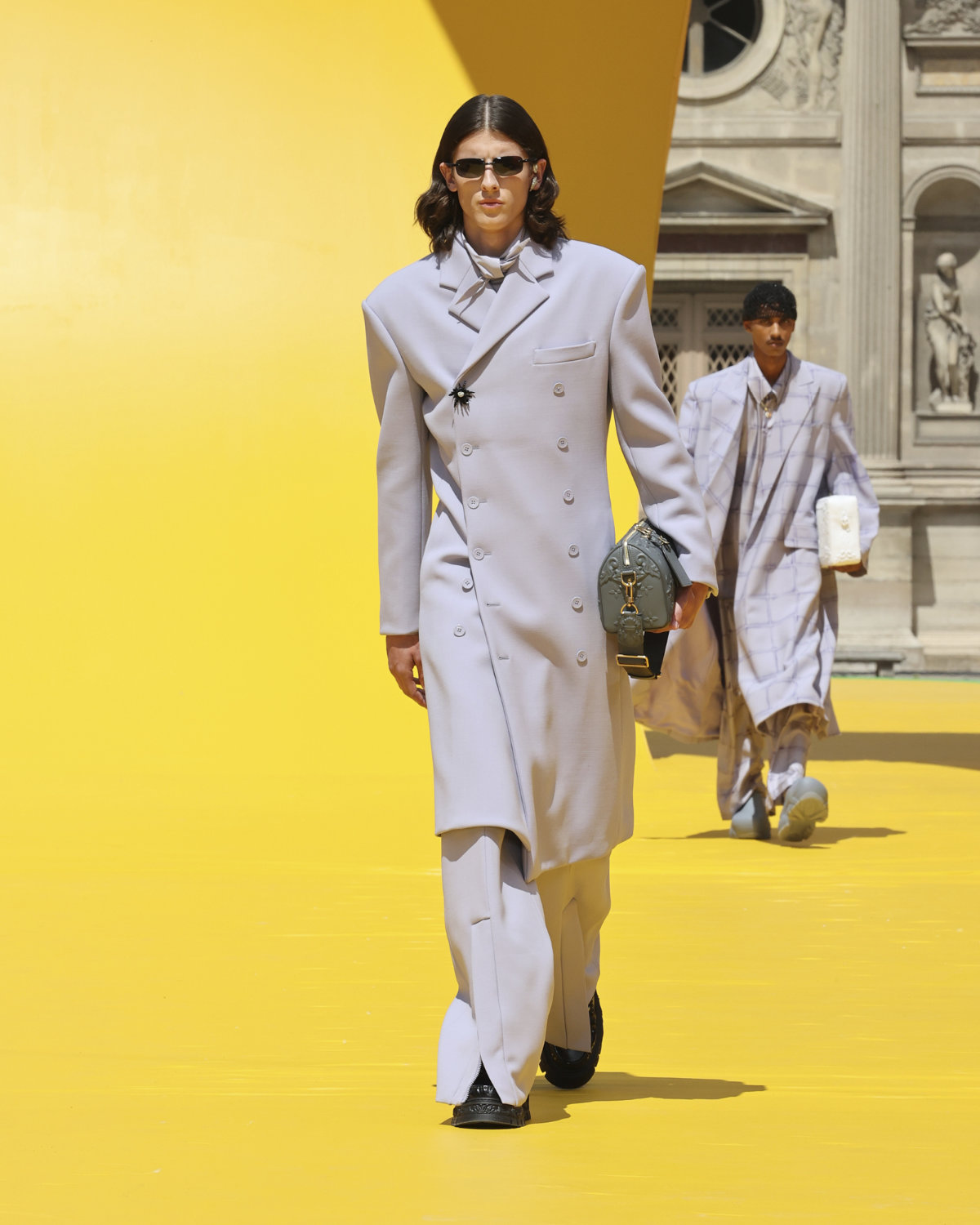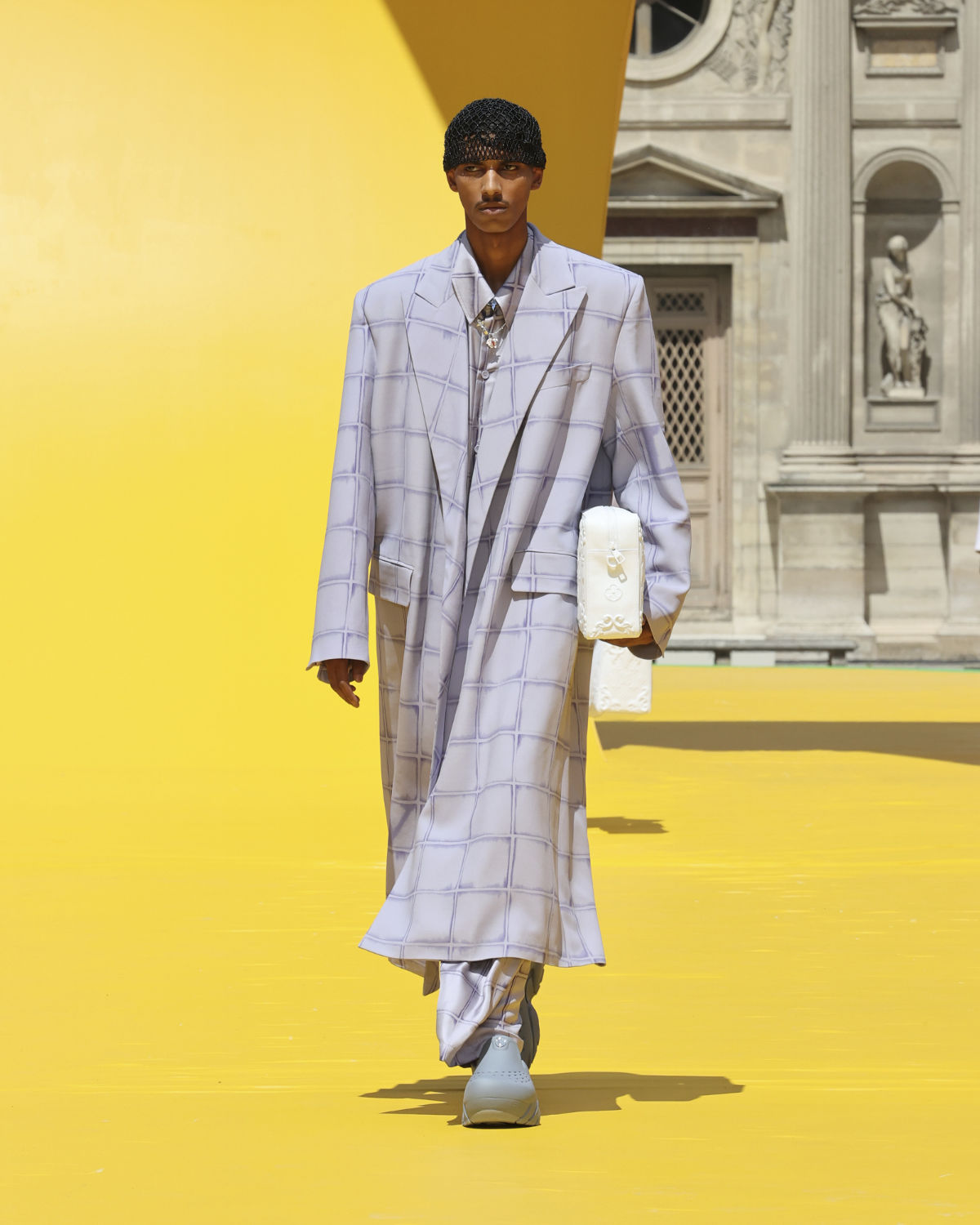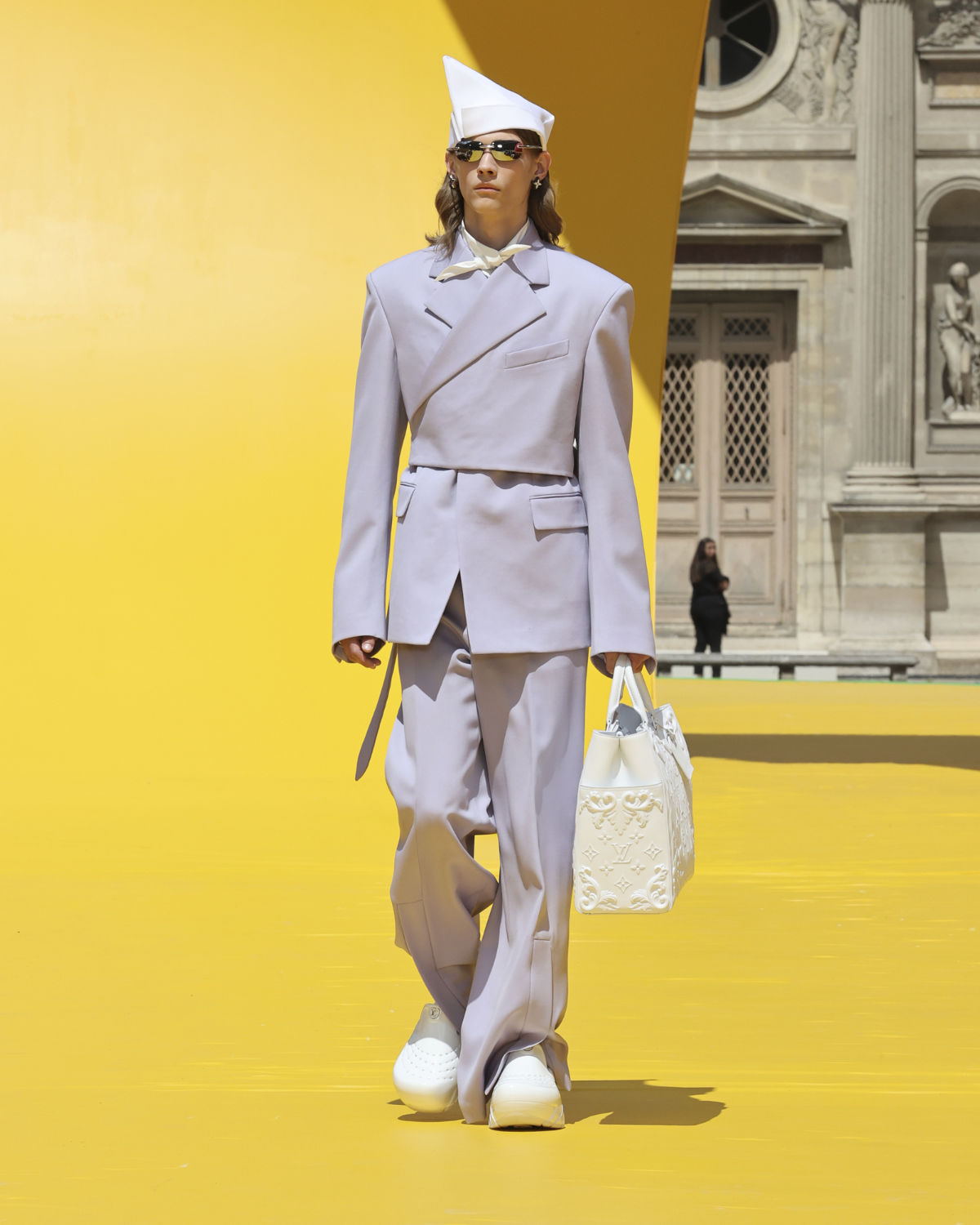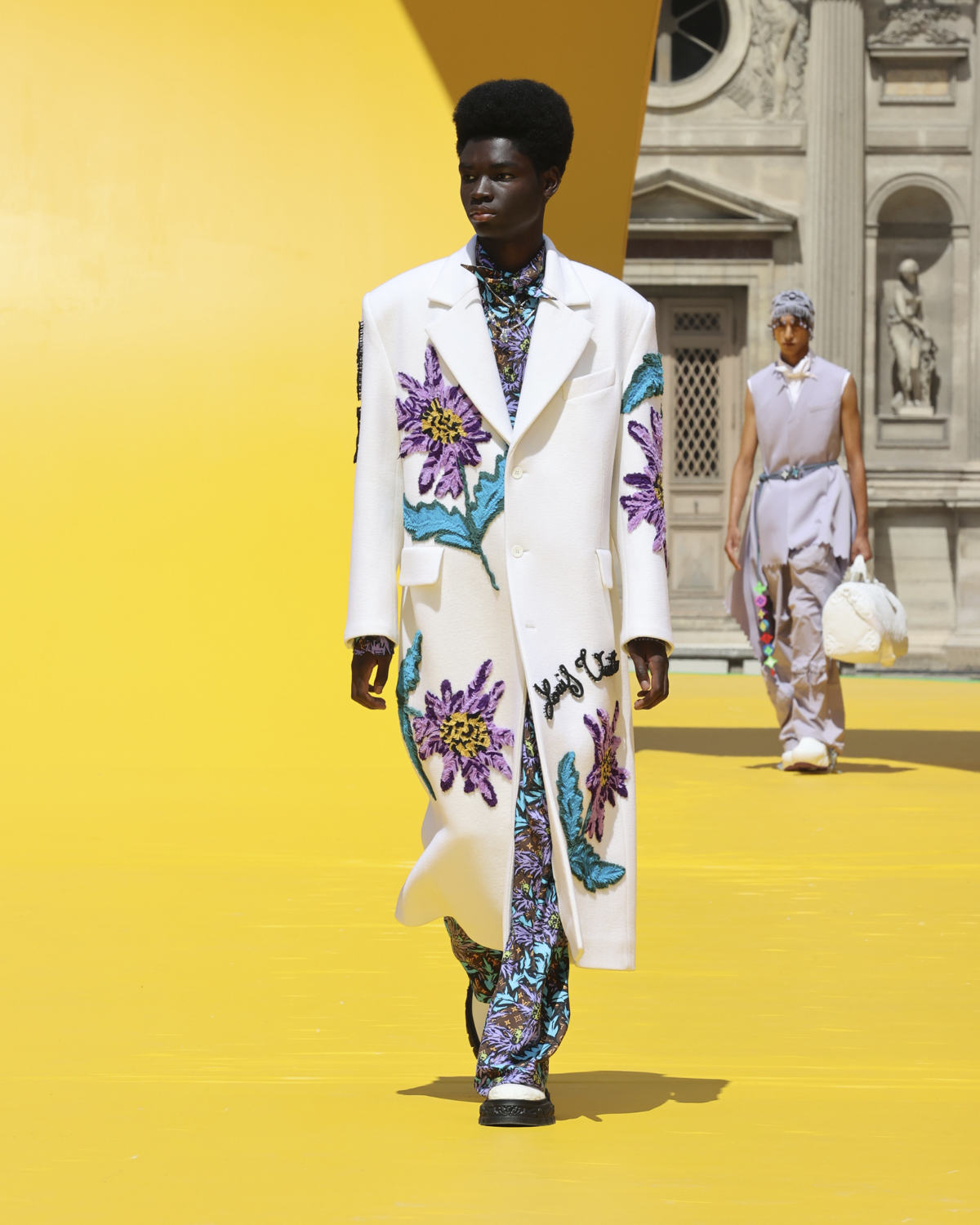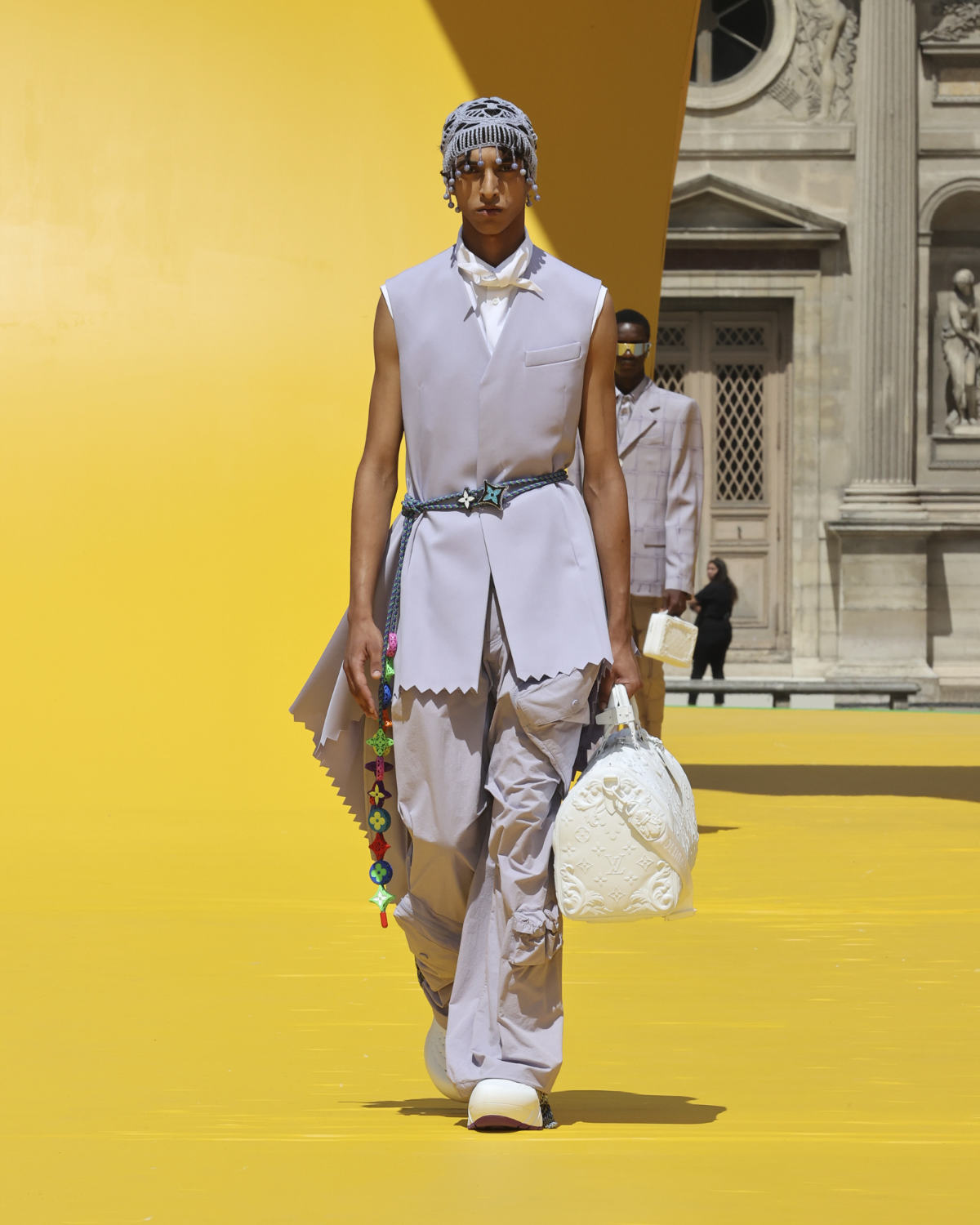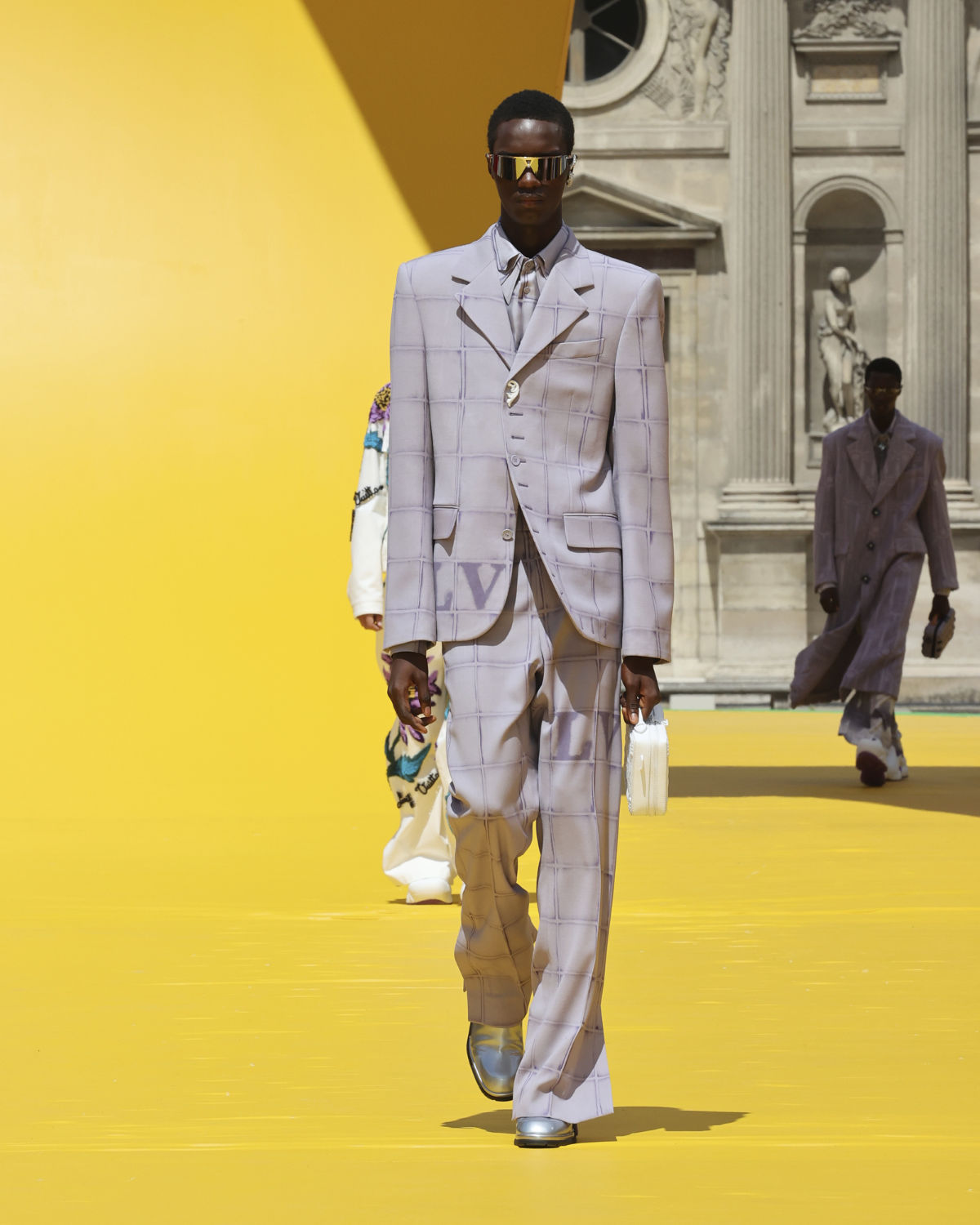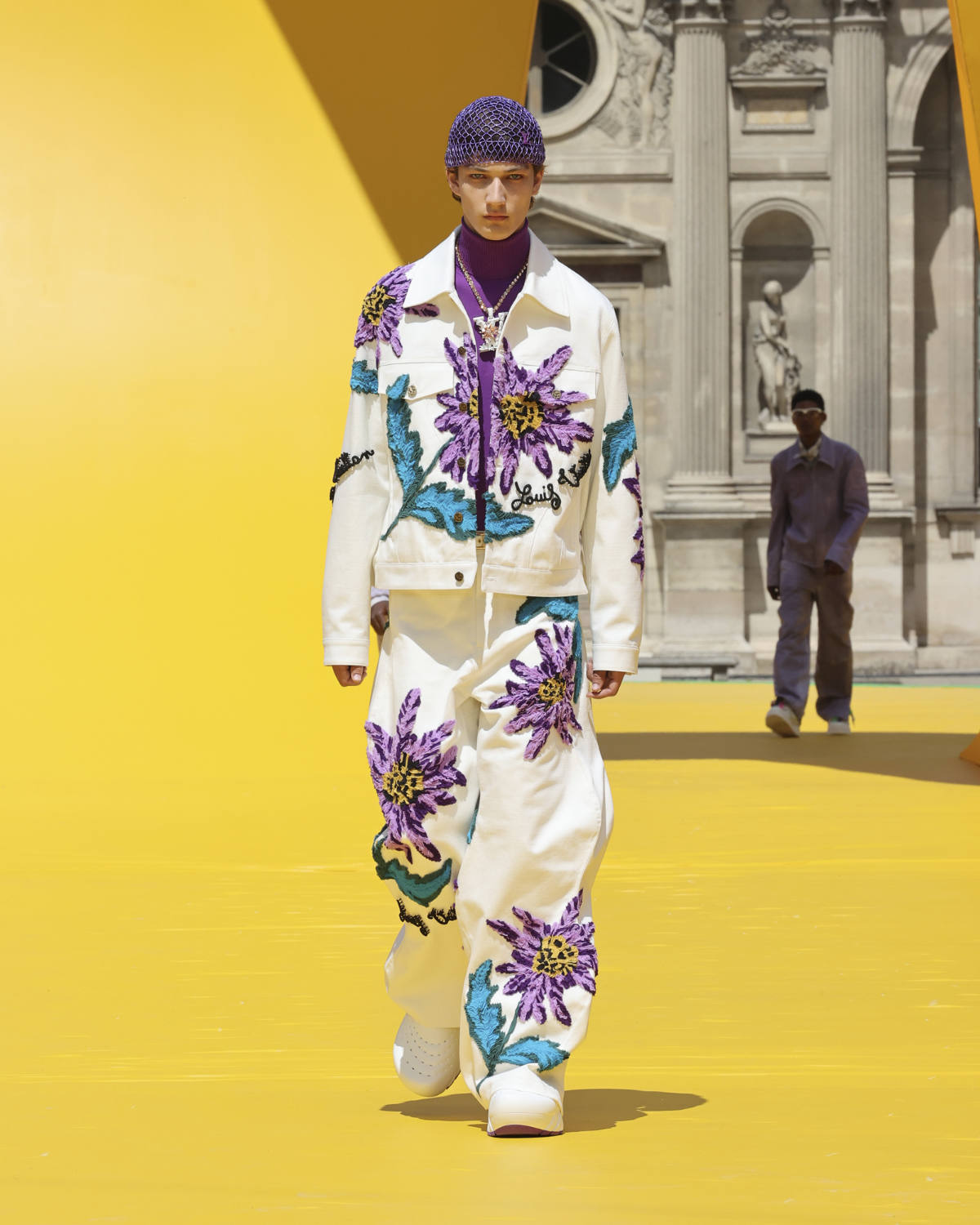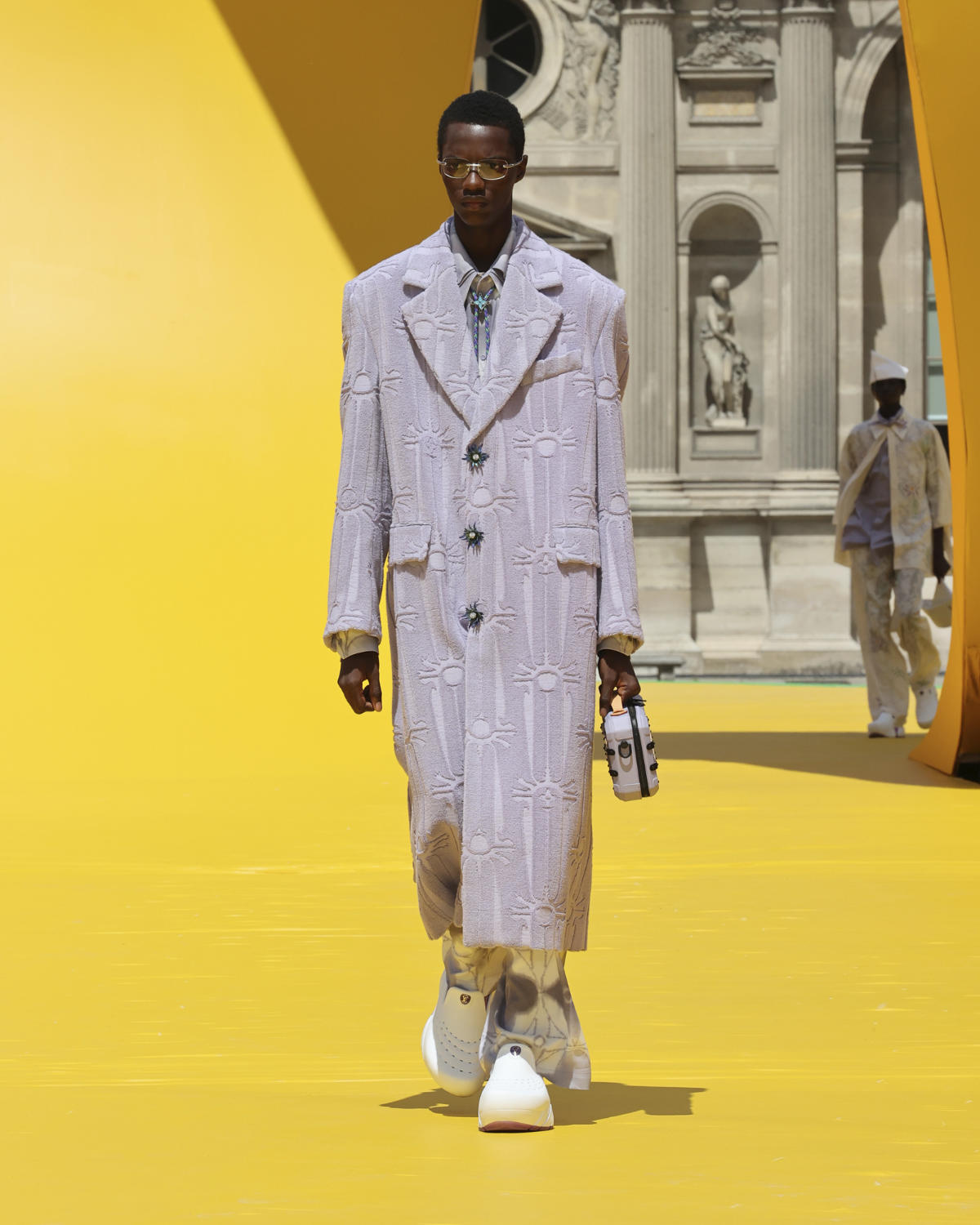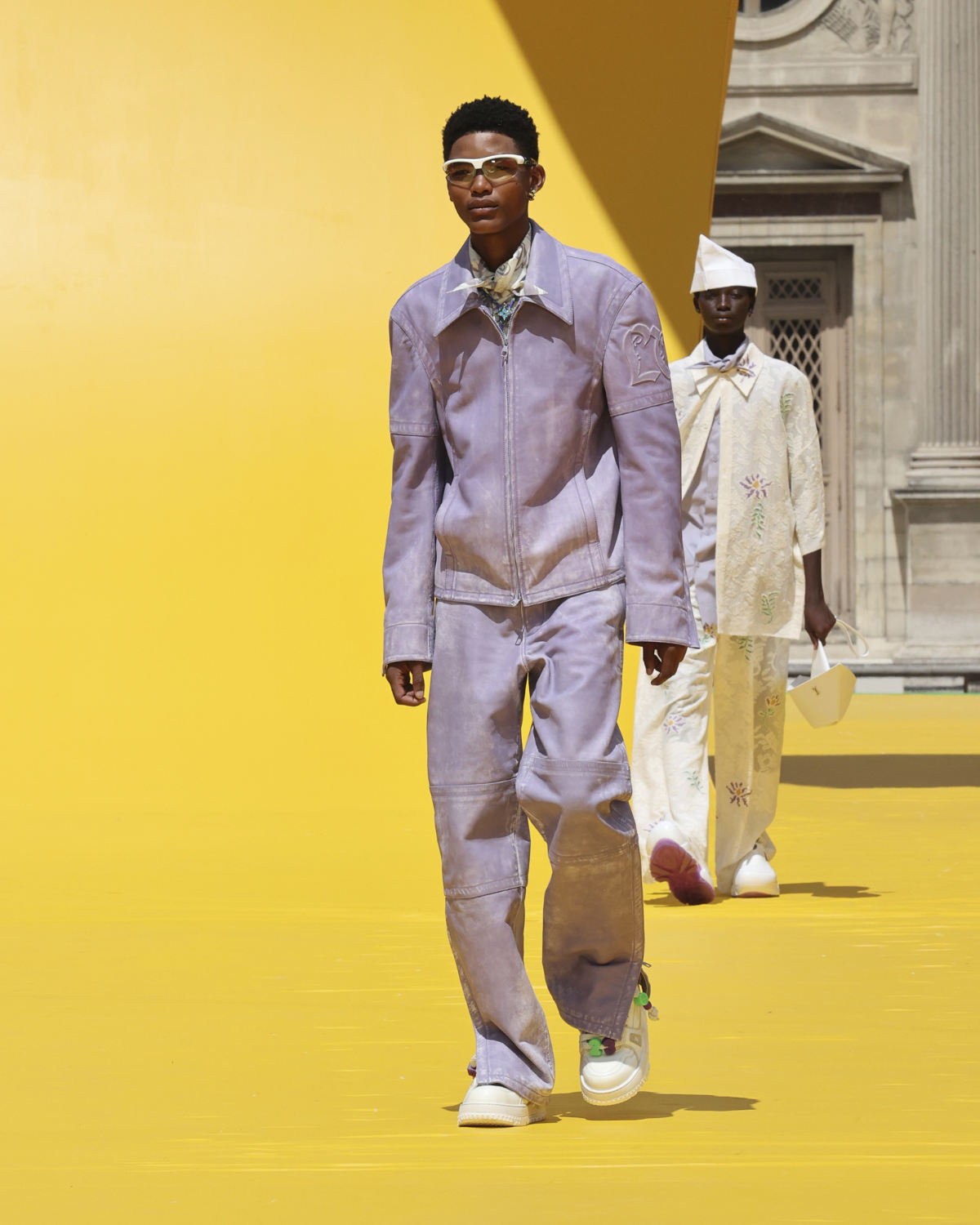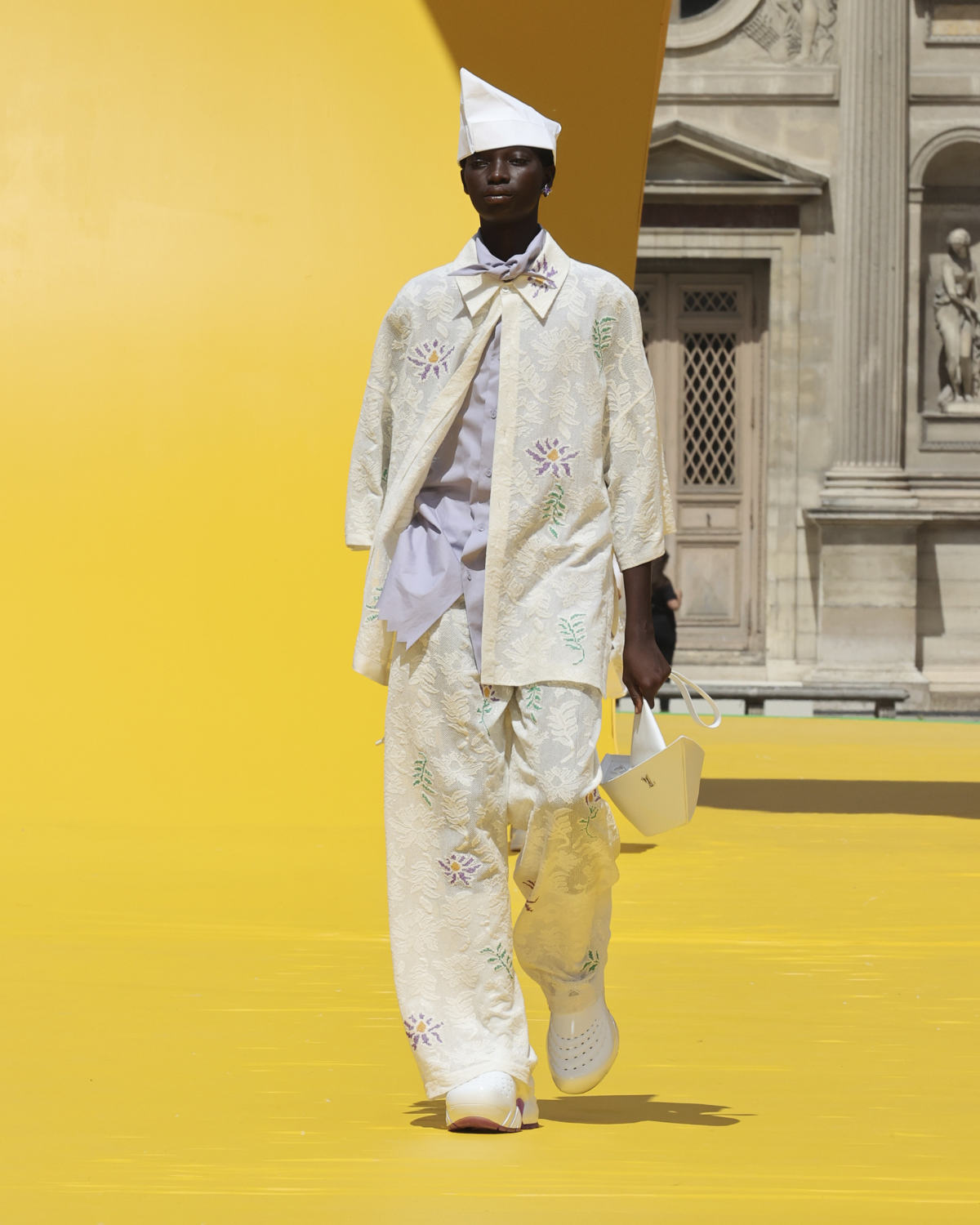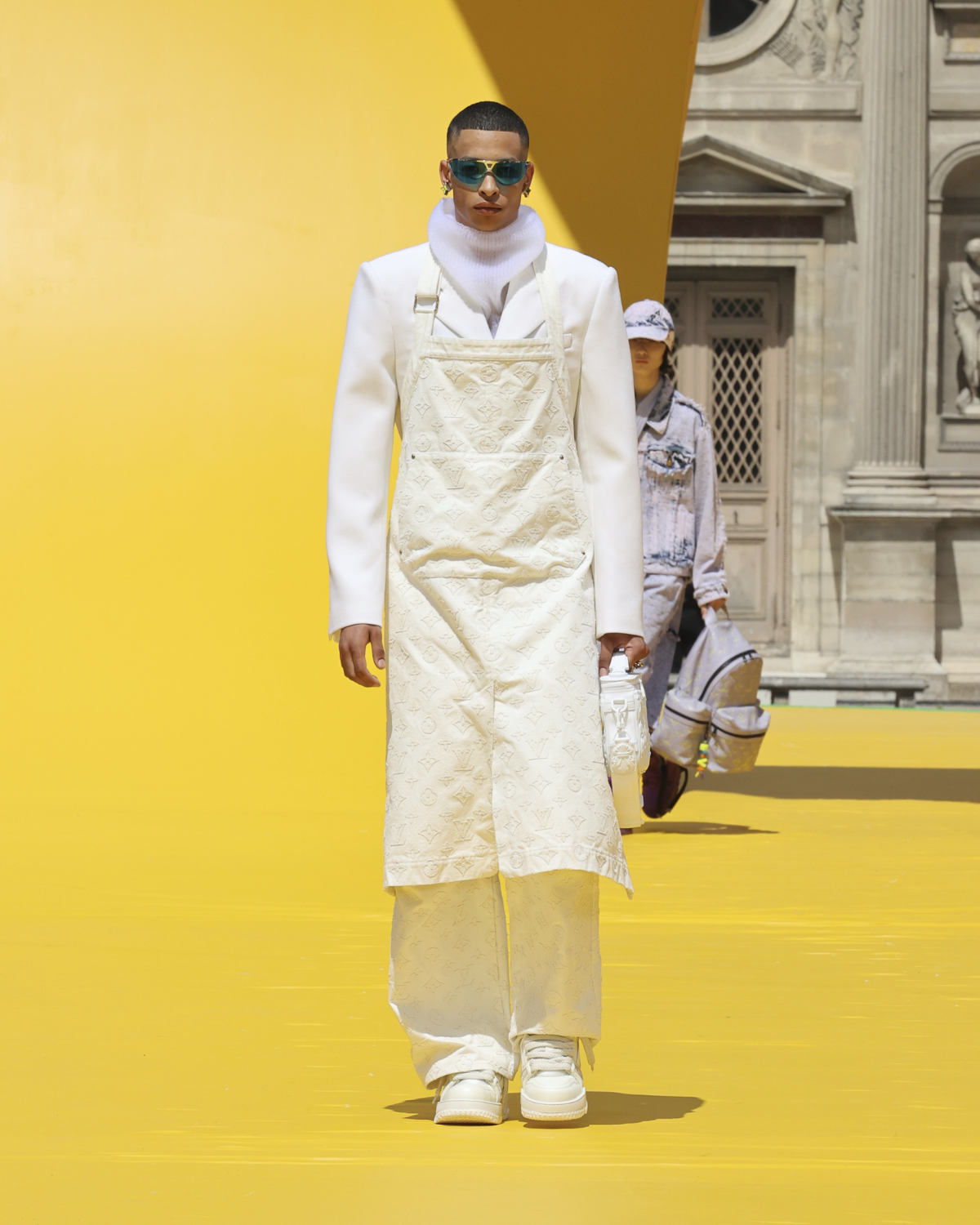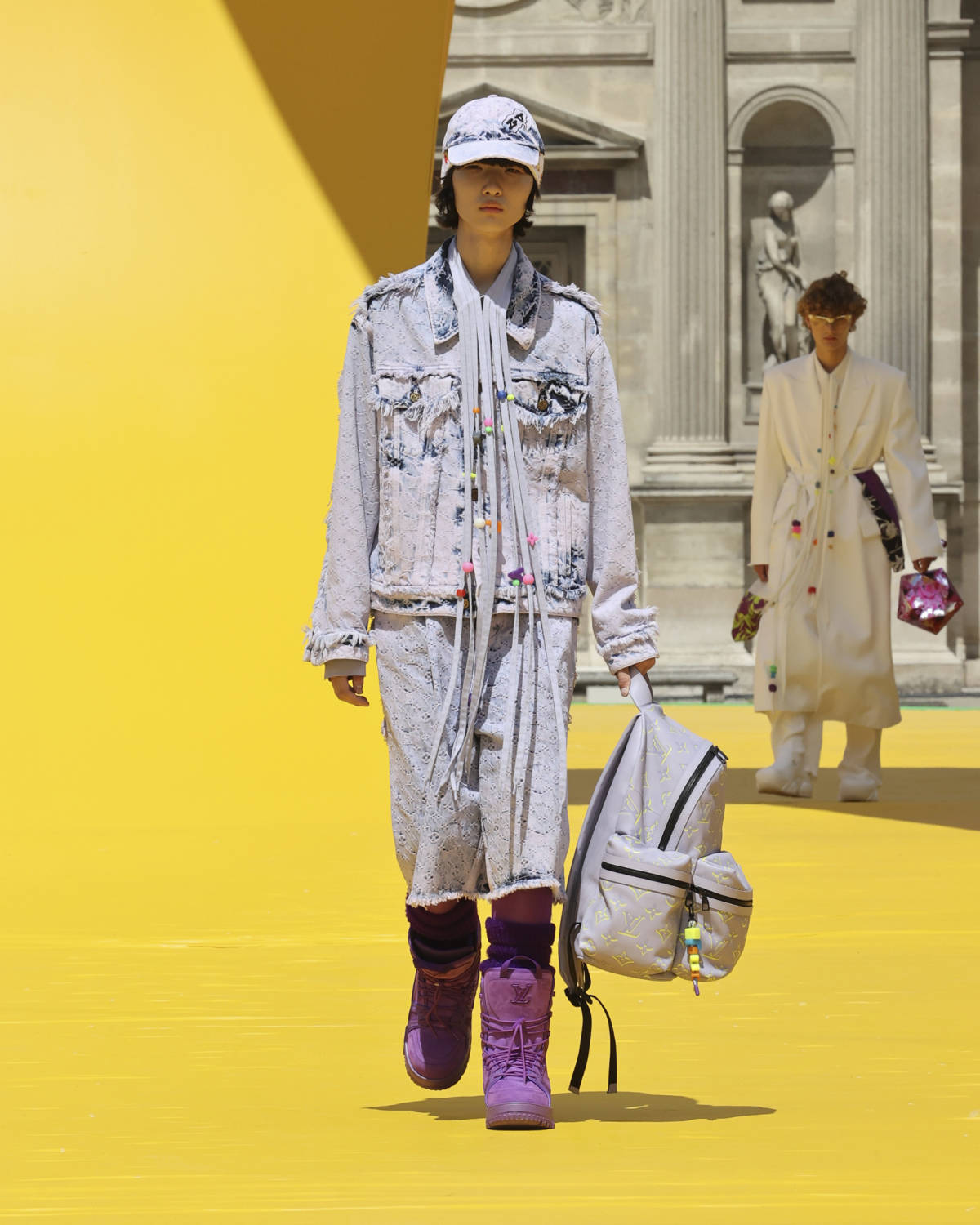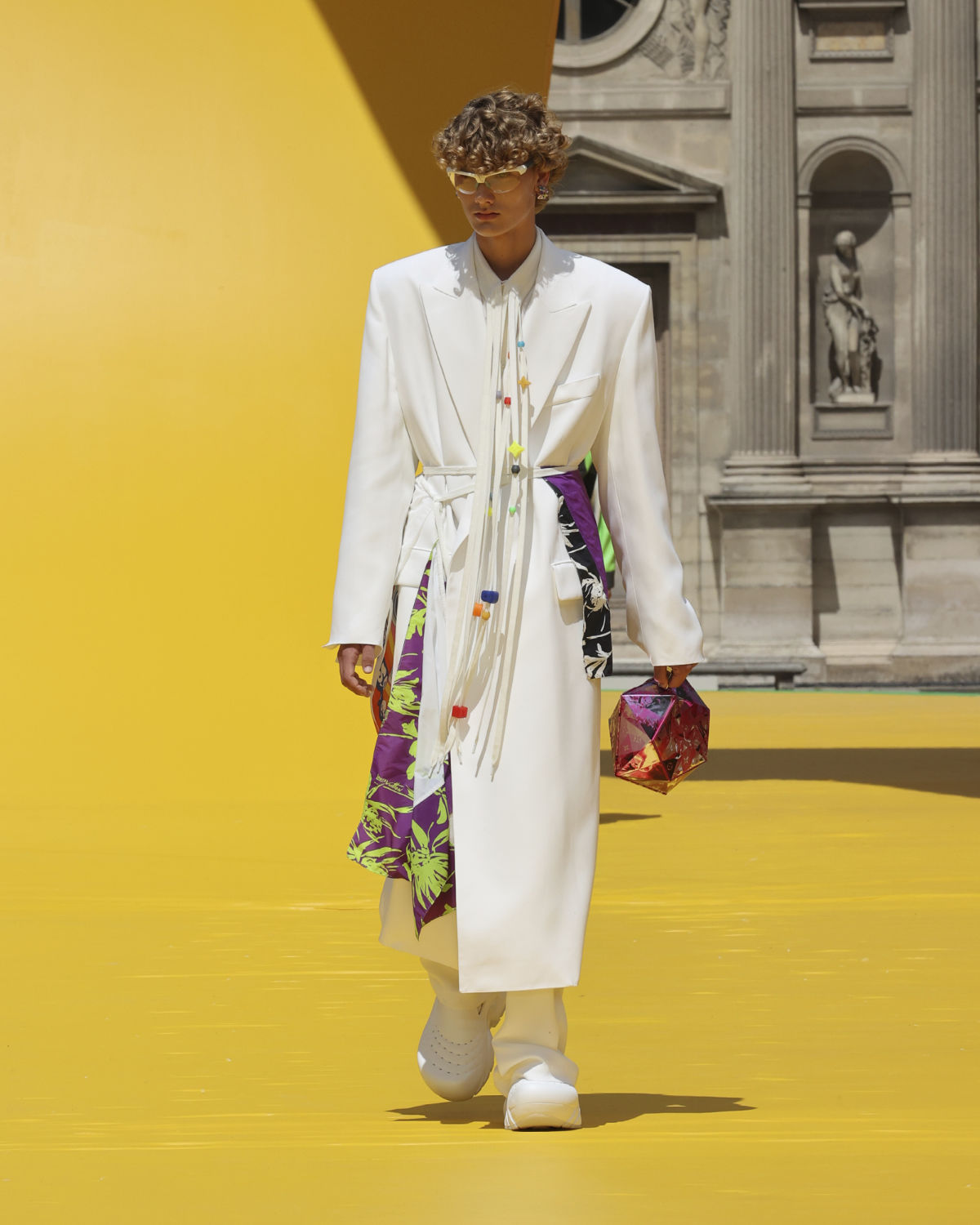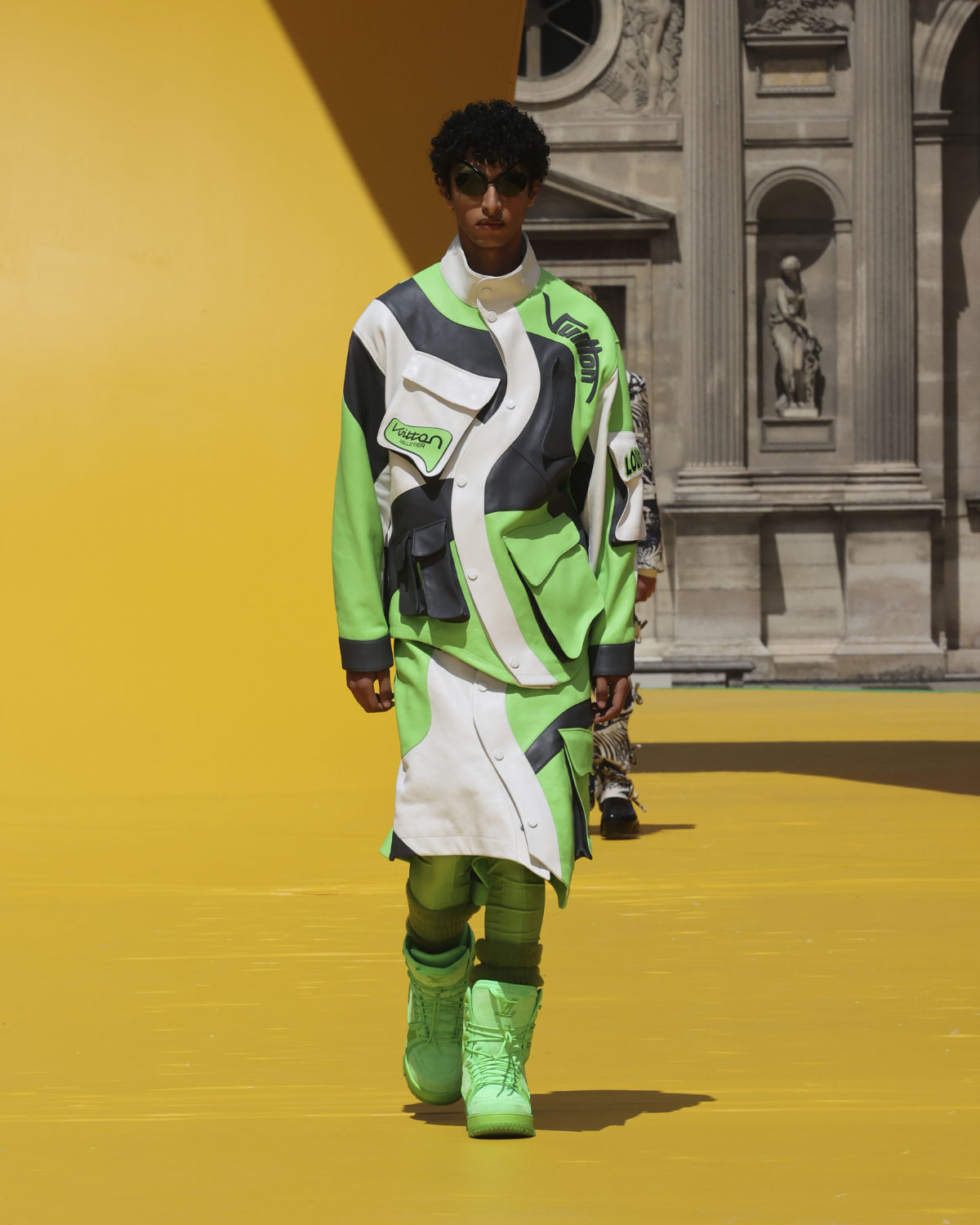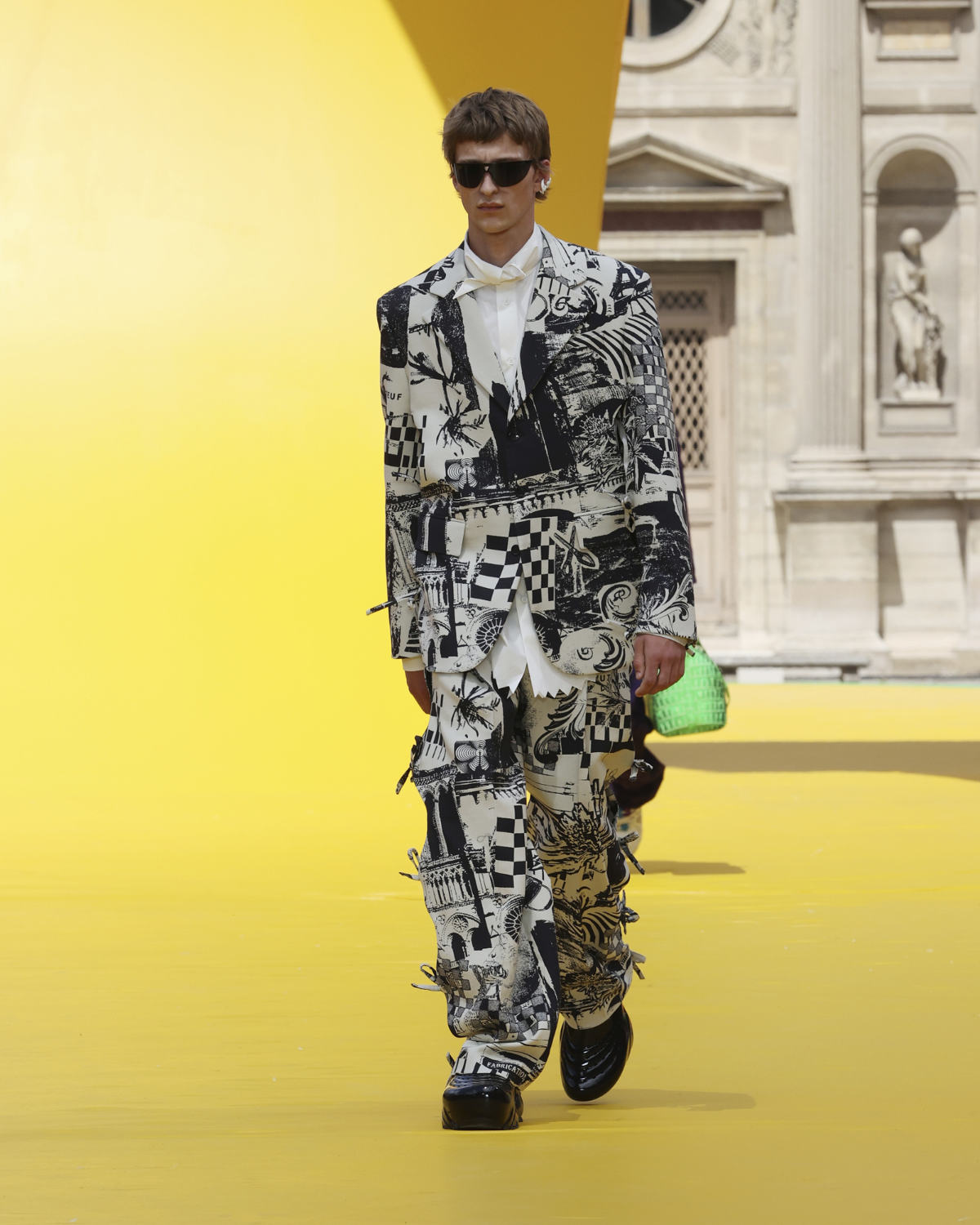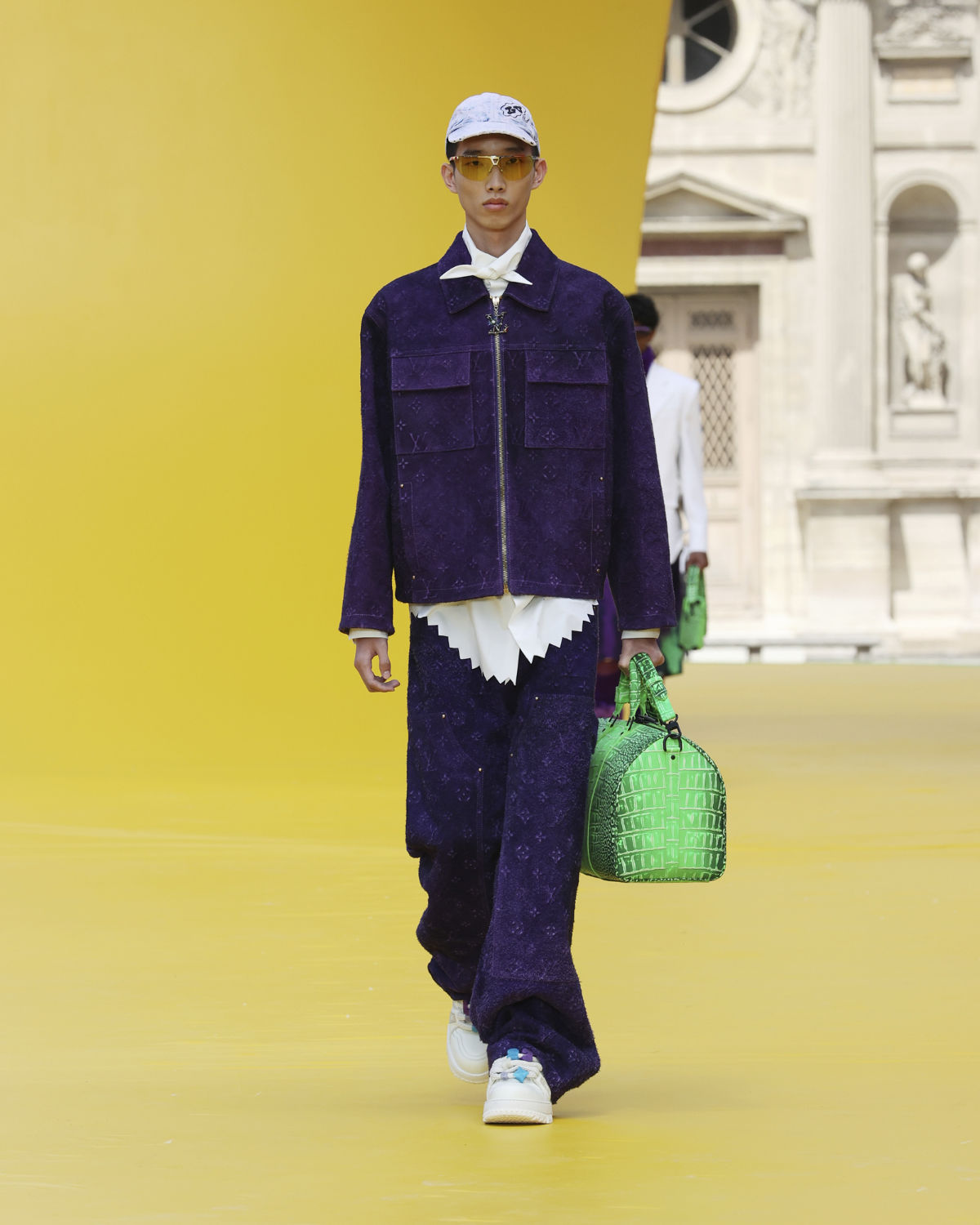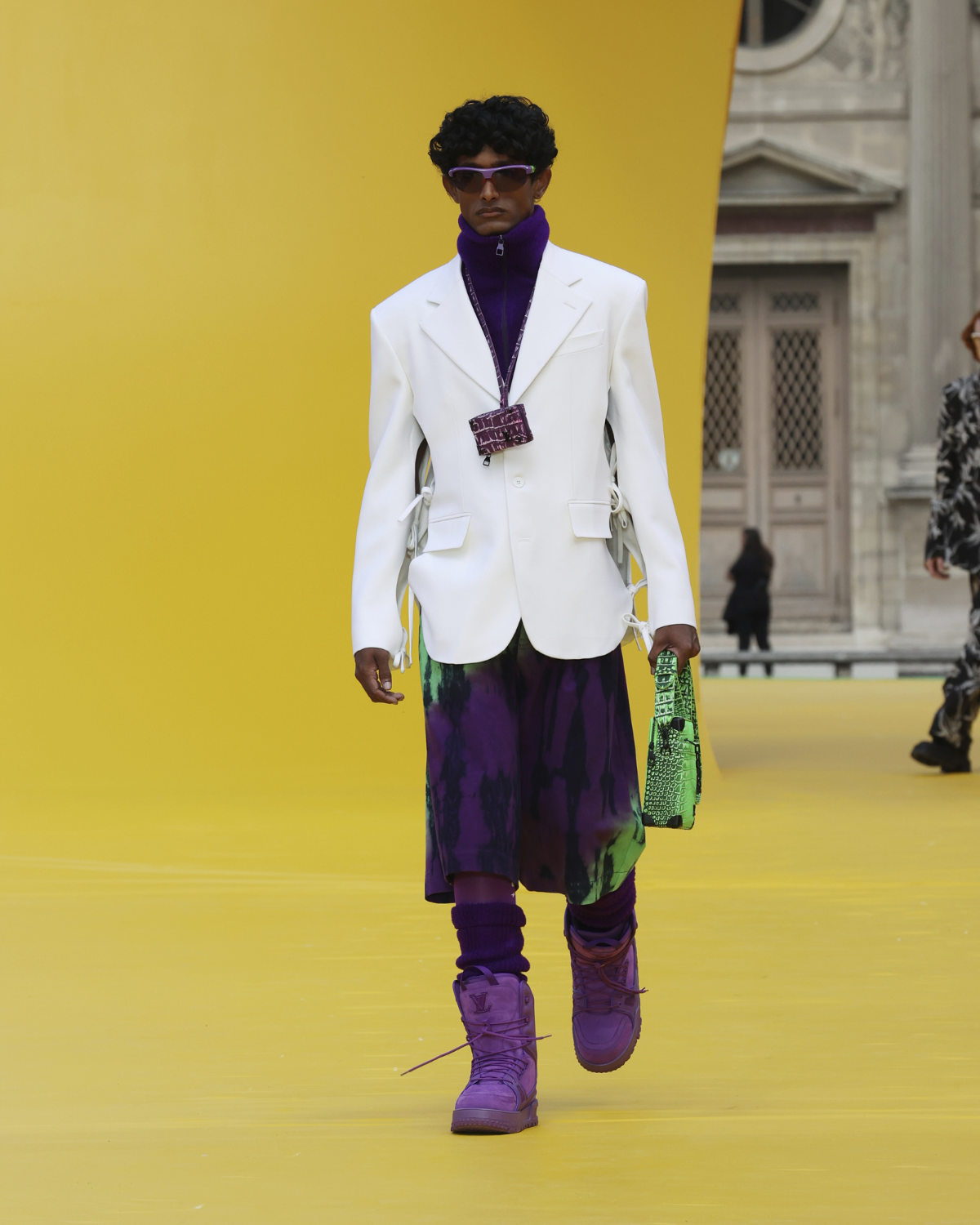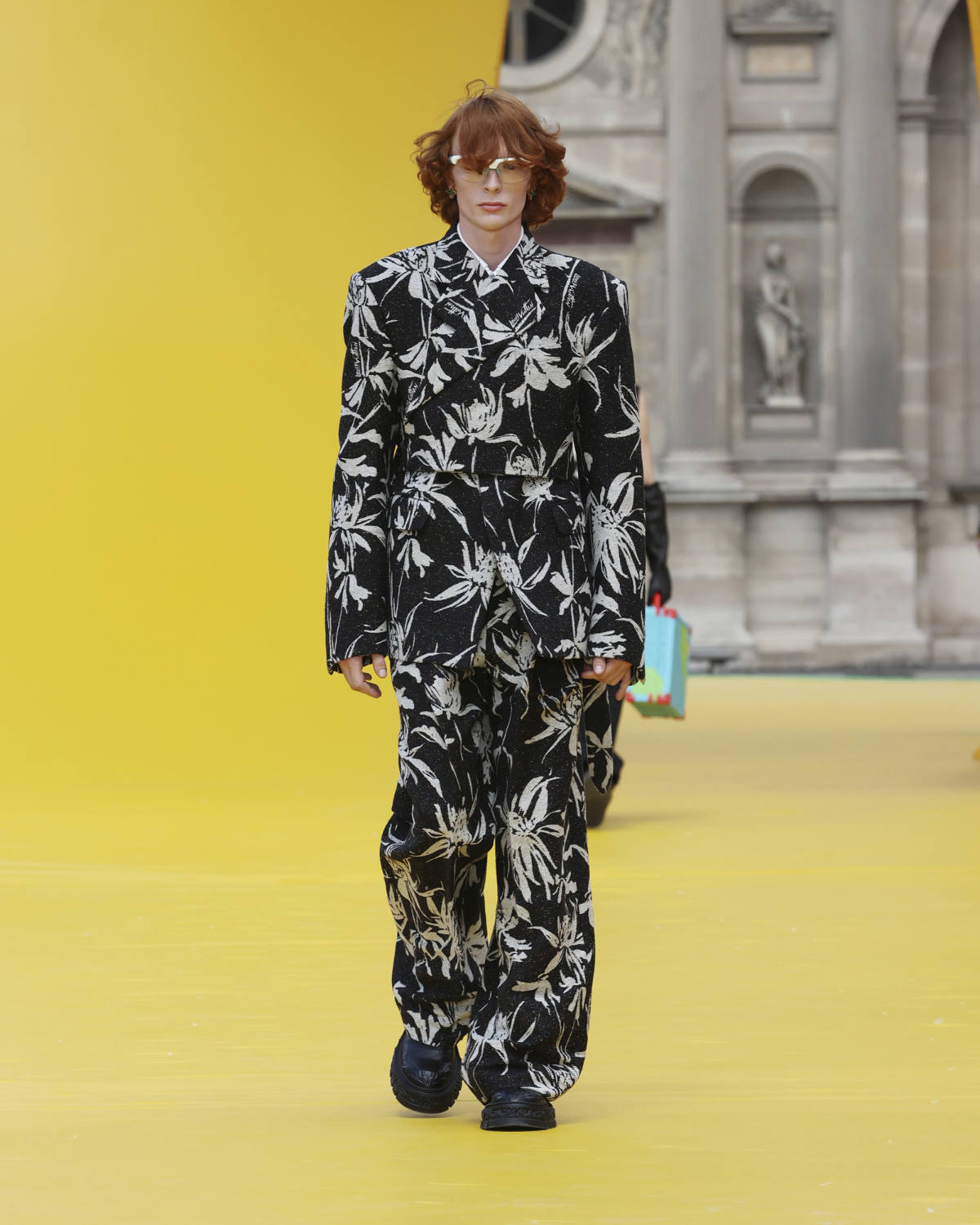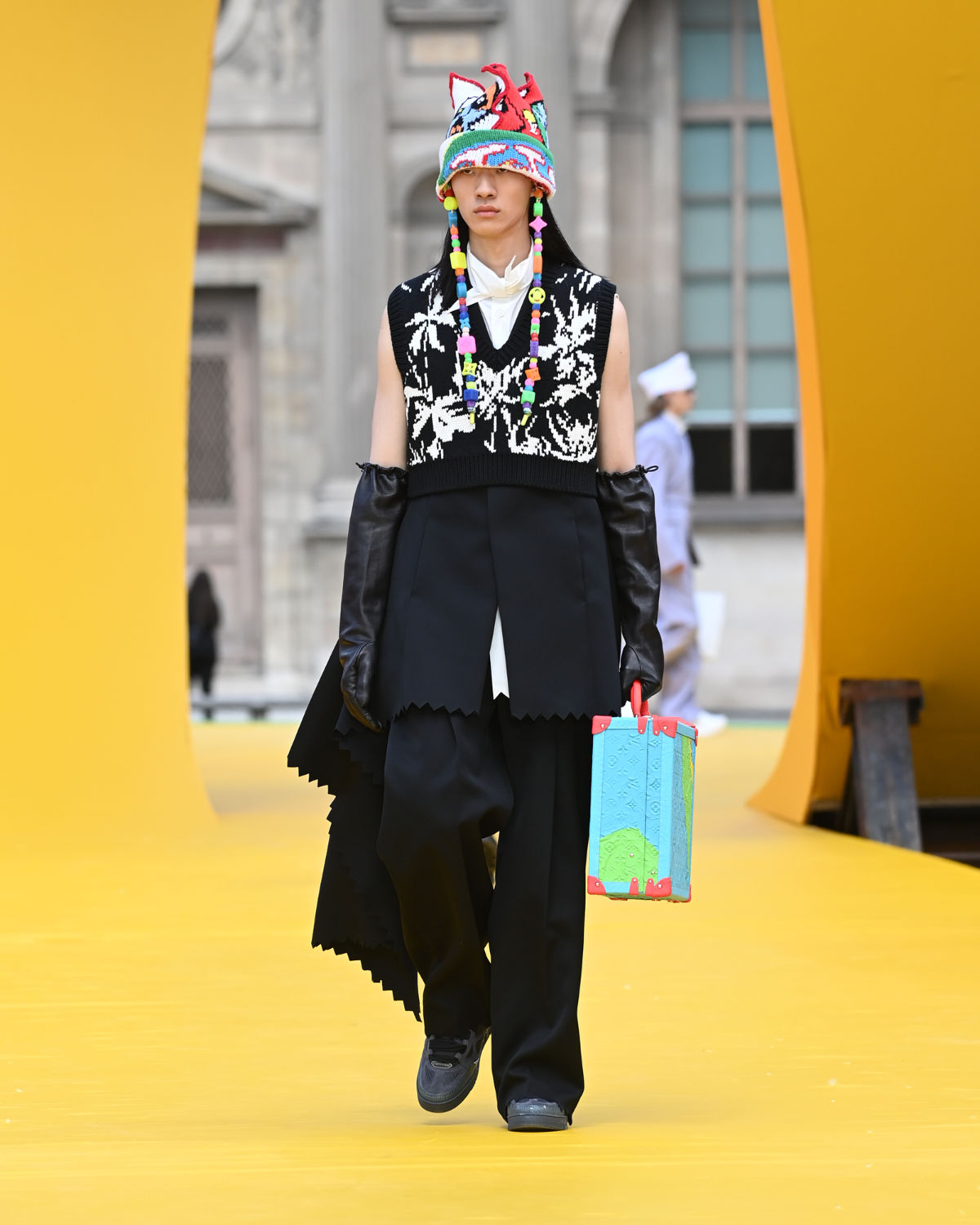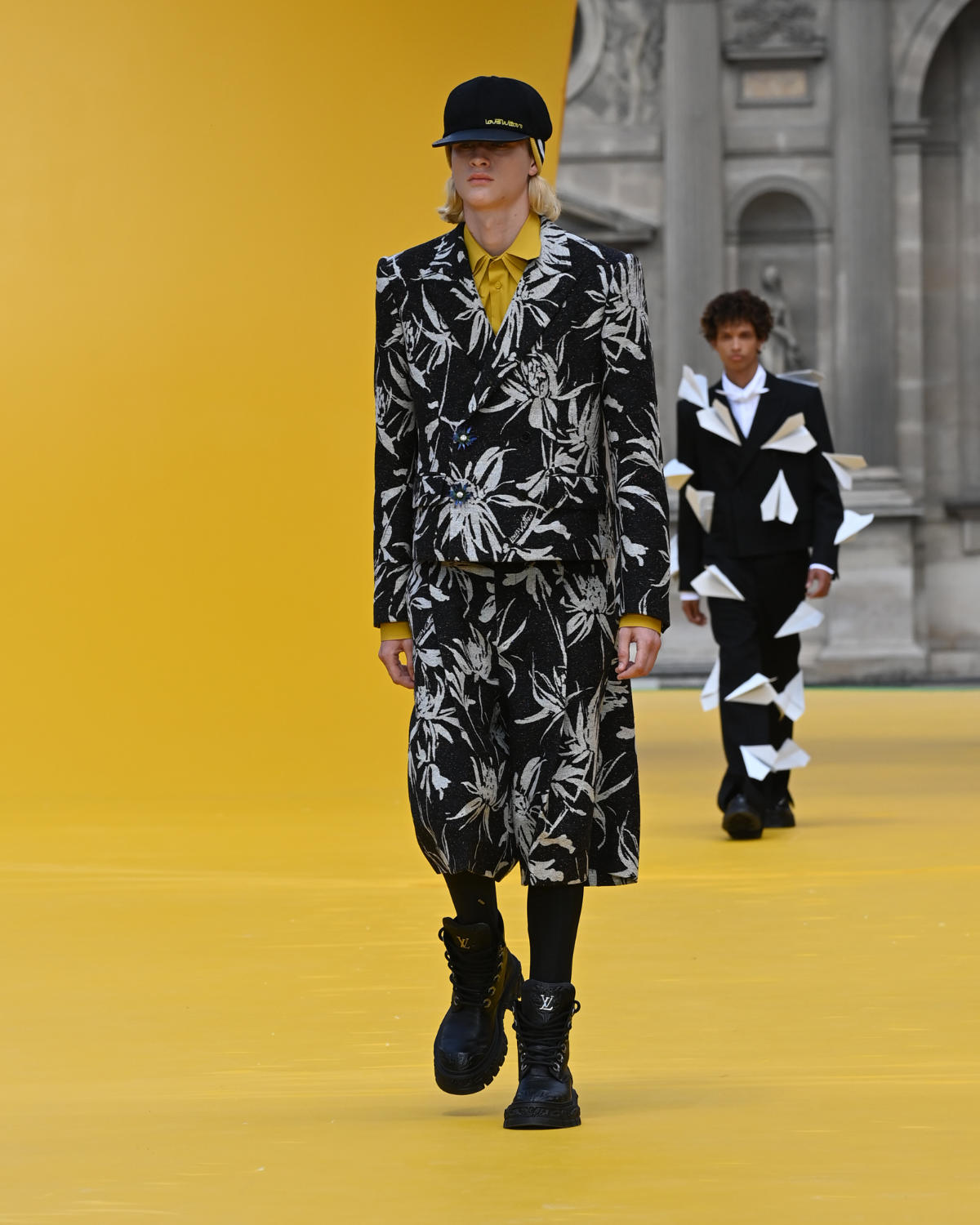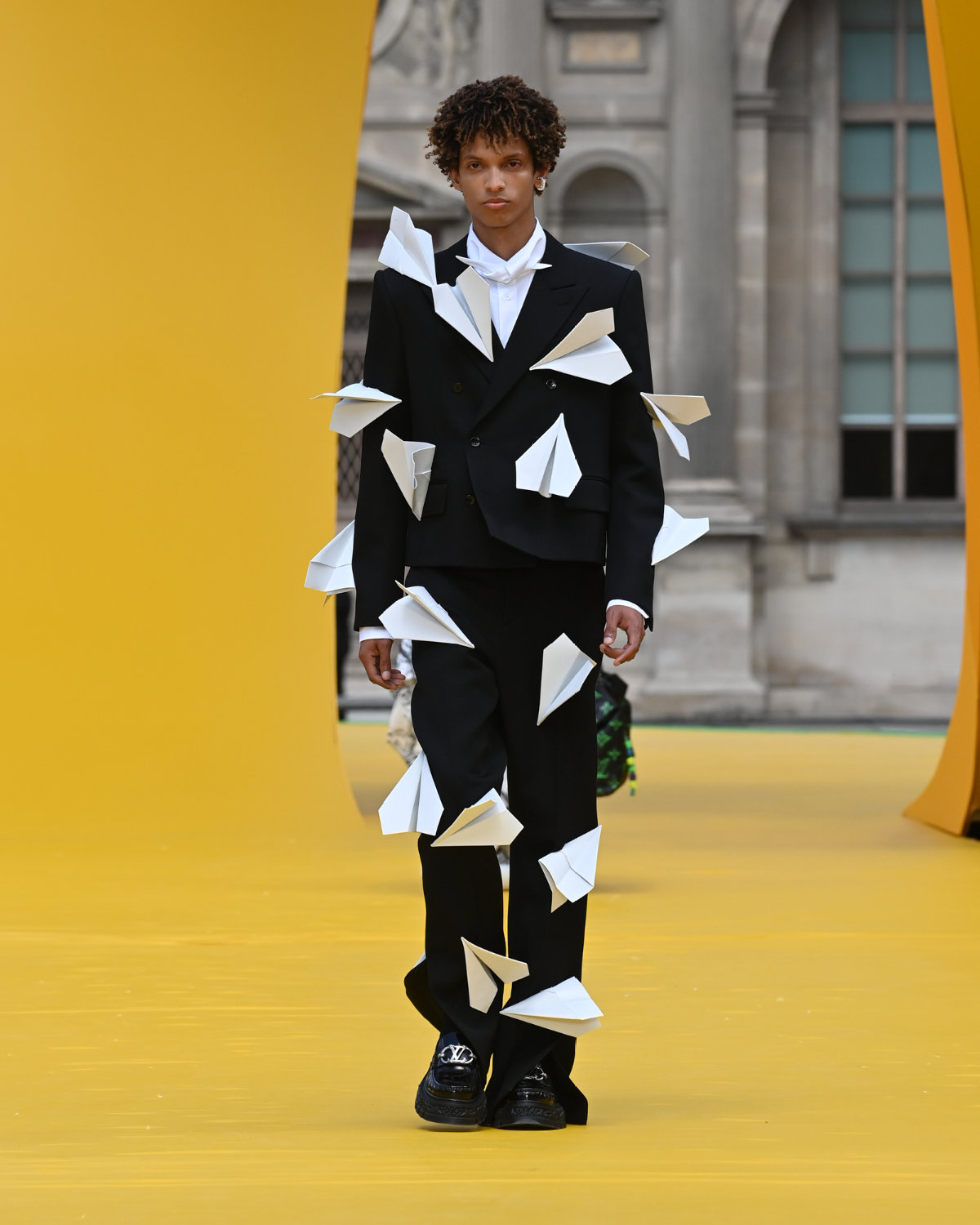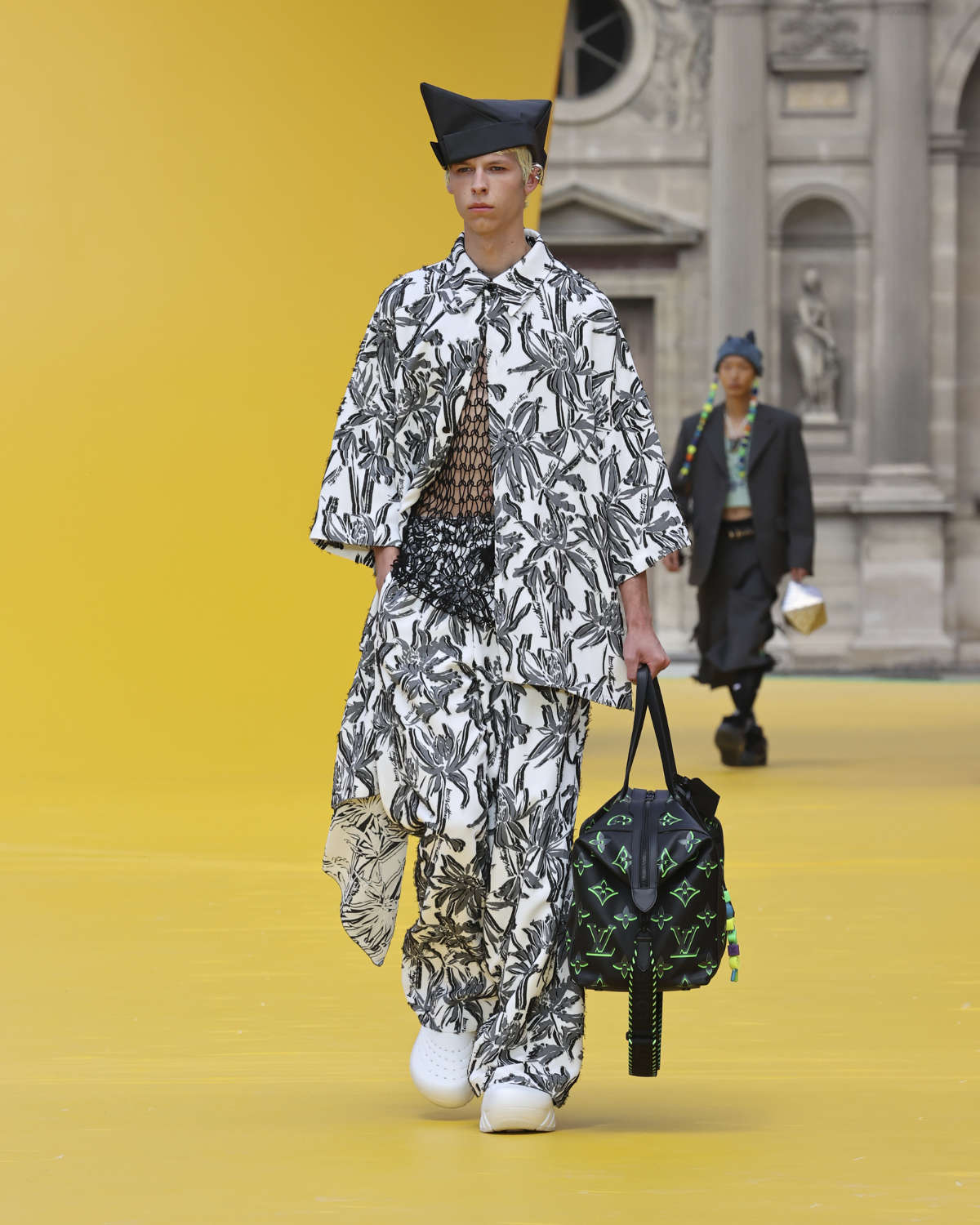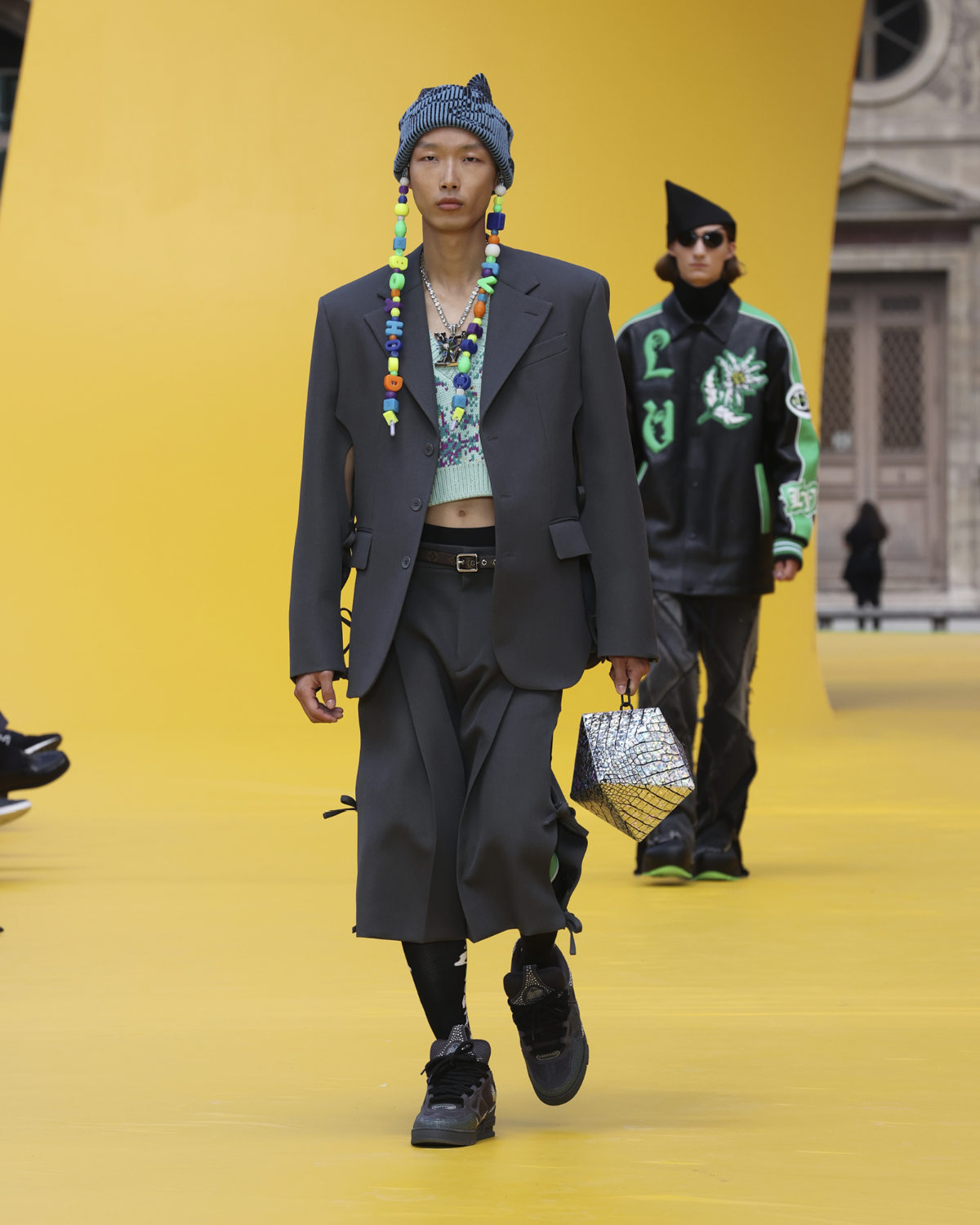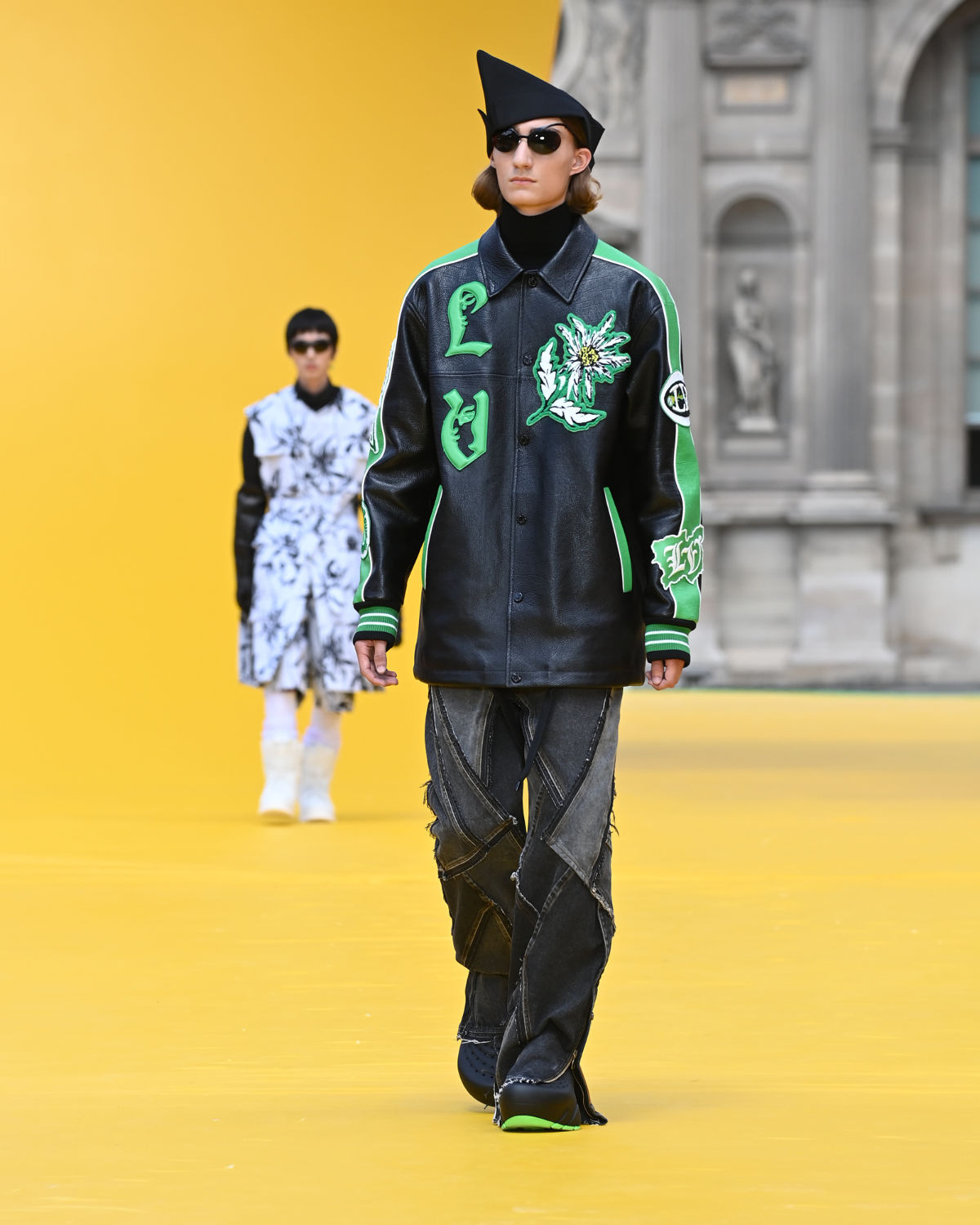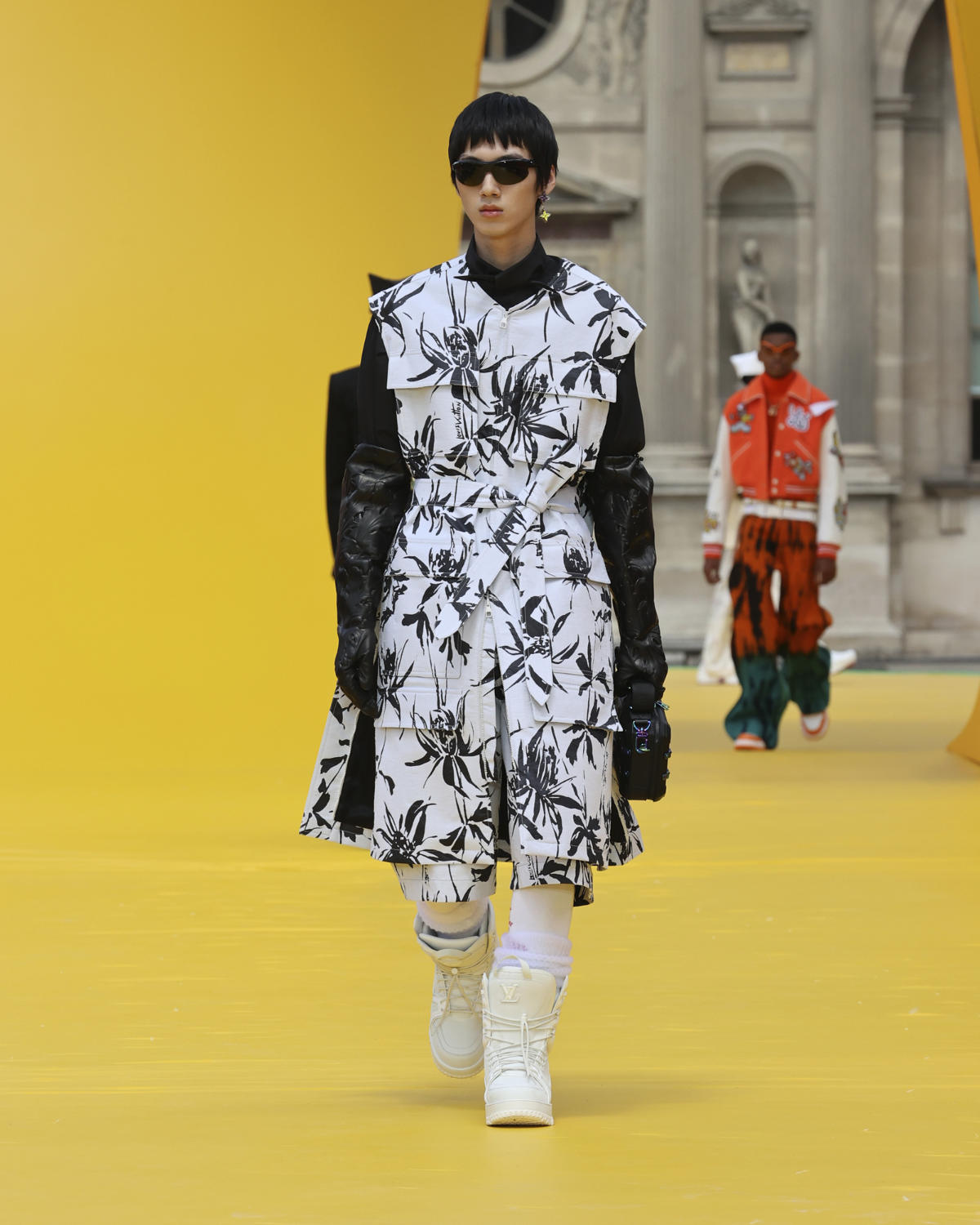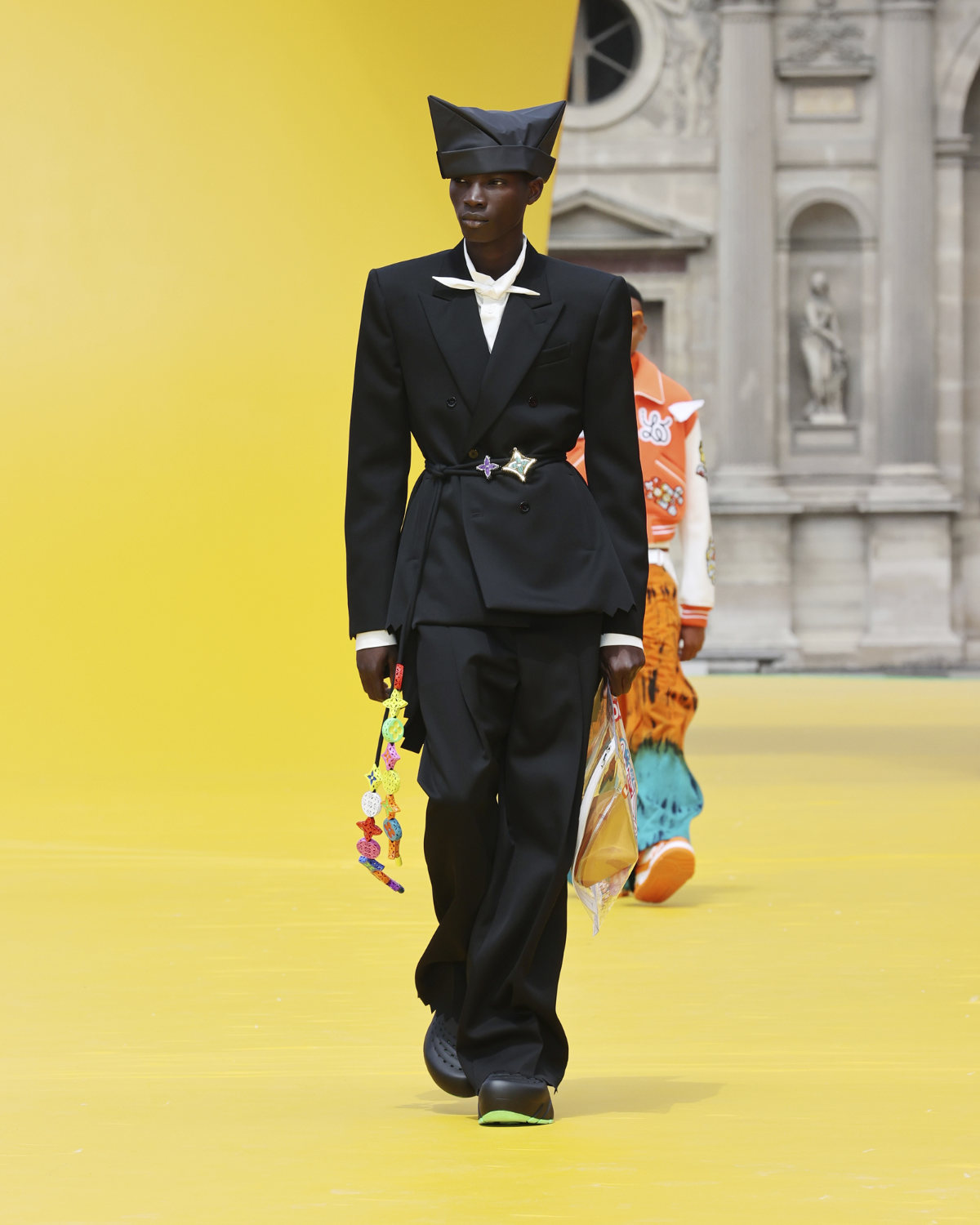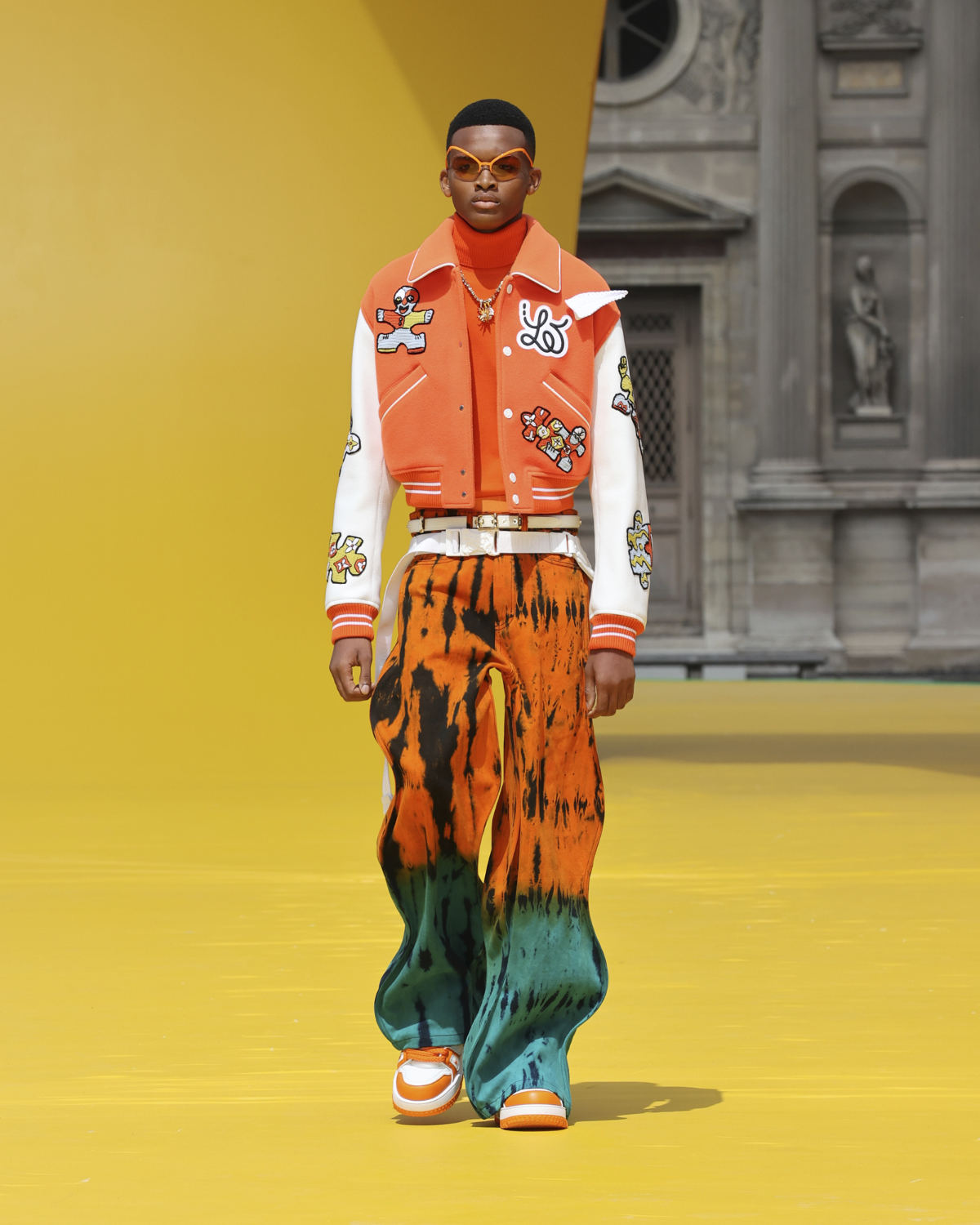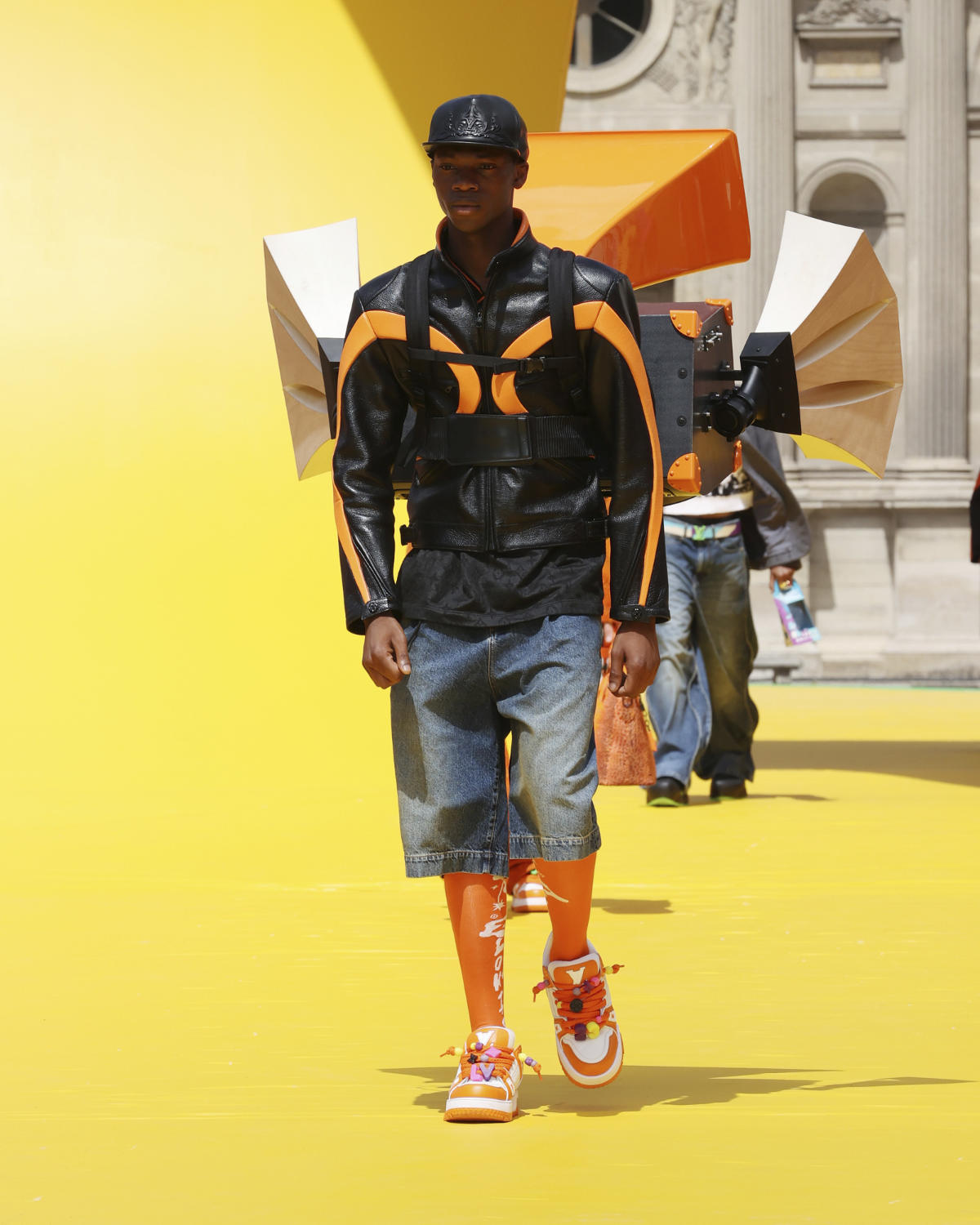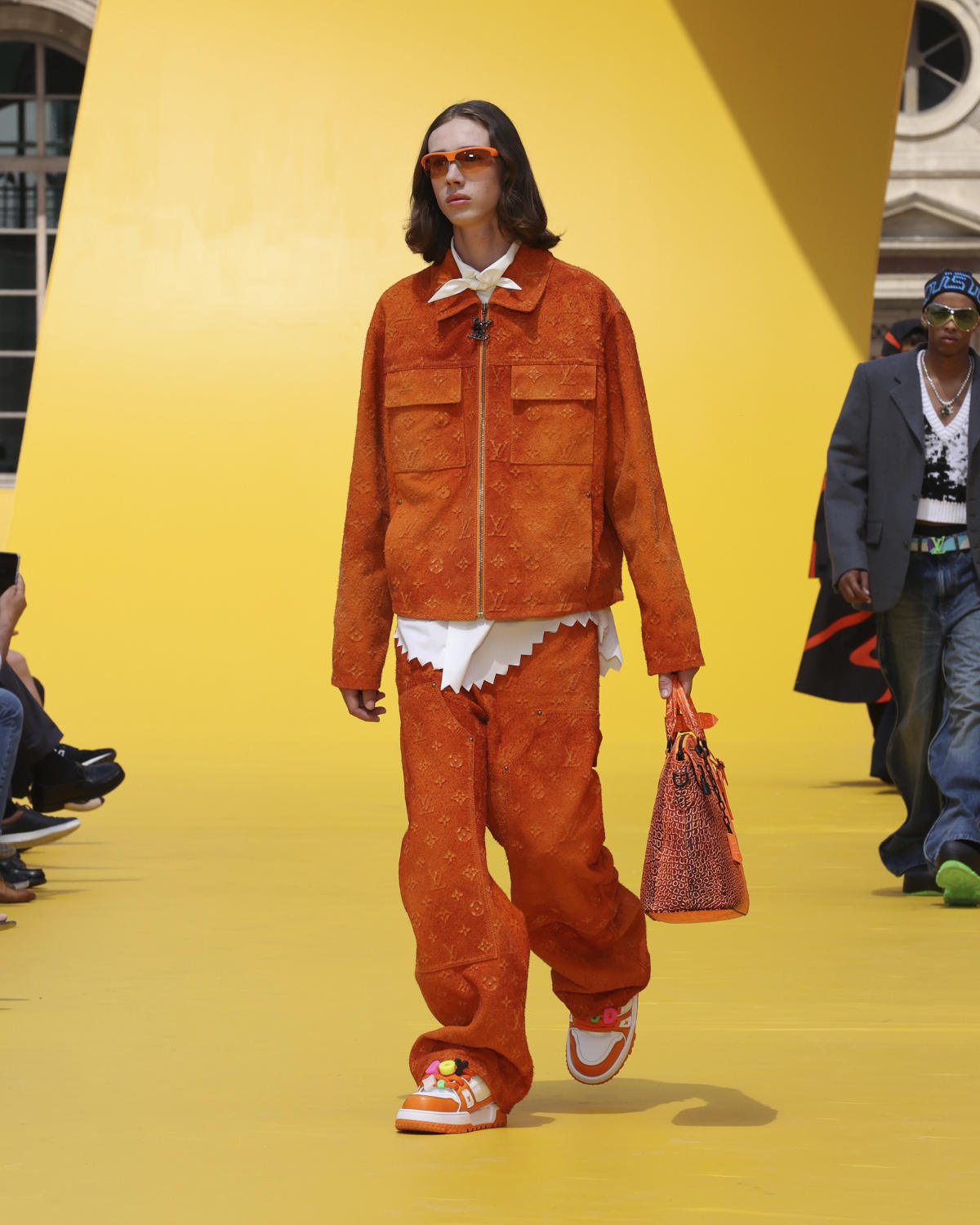 Parade for the mind

Pageantry courses through the veins of Louis Vuitton. Over time, the custodians of the Maison have employed displays of wonderment to inspire unifying feelings of joy in its diverse audiences around the globe. On the magnified toy racetrack of the Spring-Summer 2023 Men's Show, a parade of childhood dreams unfolds led by The Marching 100, the Tallahassee-based marching band of the Florida A&M University formed in 1946. Flags fill the space – their motifs reflective of the Louis Vuitton codes and values – as a representation of global communities created beyond borders and diversities. Elated by music, the soundtrack of the parade fuses with the clothes themselves: two SpeakerMan looks integrate a number of wireless loudspeakers into backpacks, which connect to the show's sound system. The constructions portray the togetherness of sound and the harmonious properties of speaker culture, while echoing the shared appreciation for loud music that exists within the Louis Vuitton Studio Prêt-à-Porter Homme – where every corner is occupied by a speaker.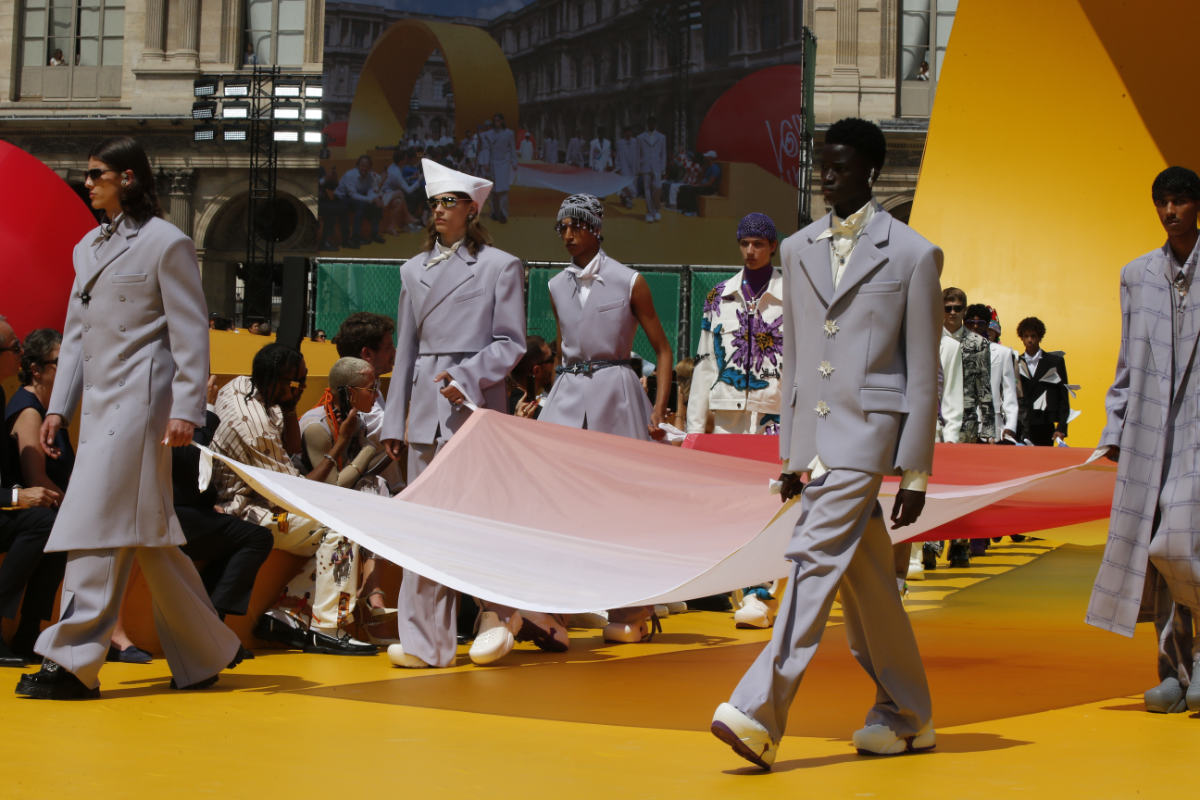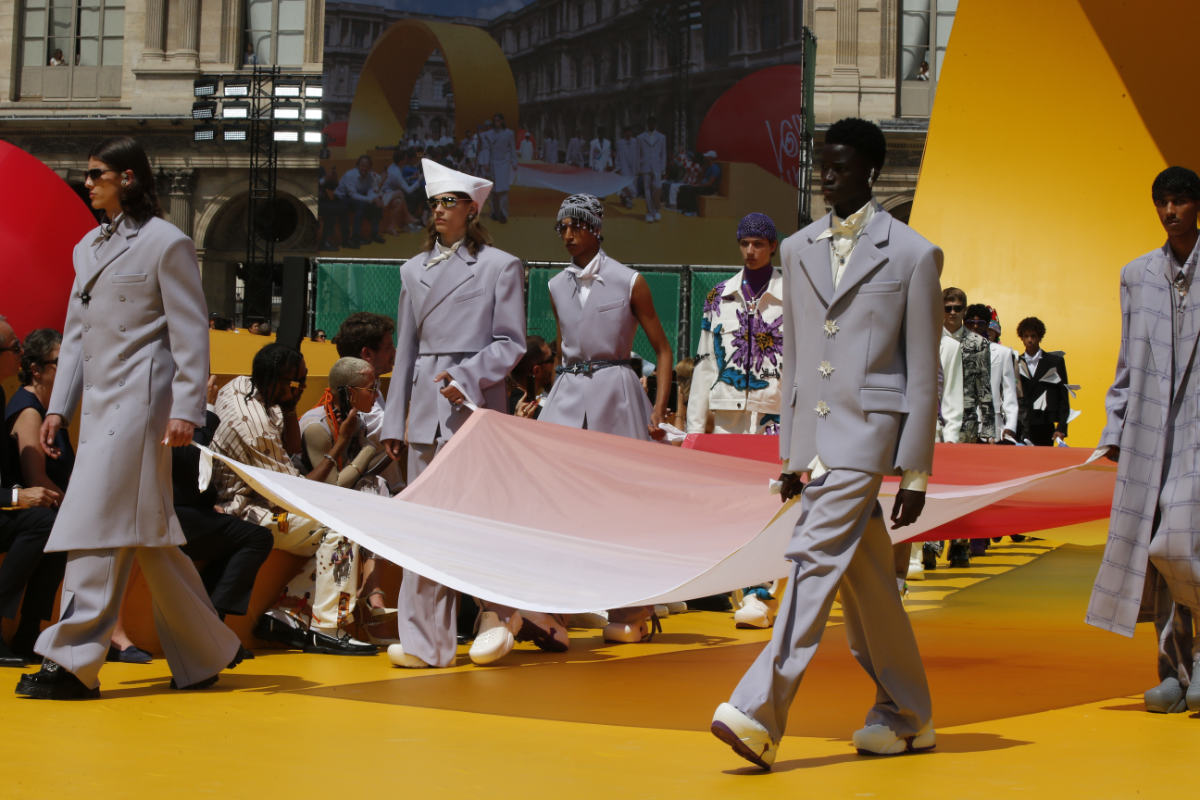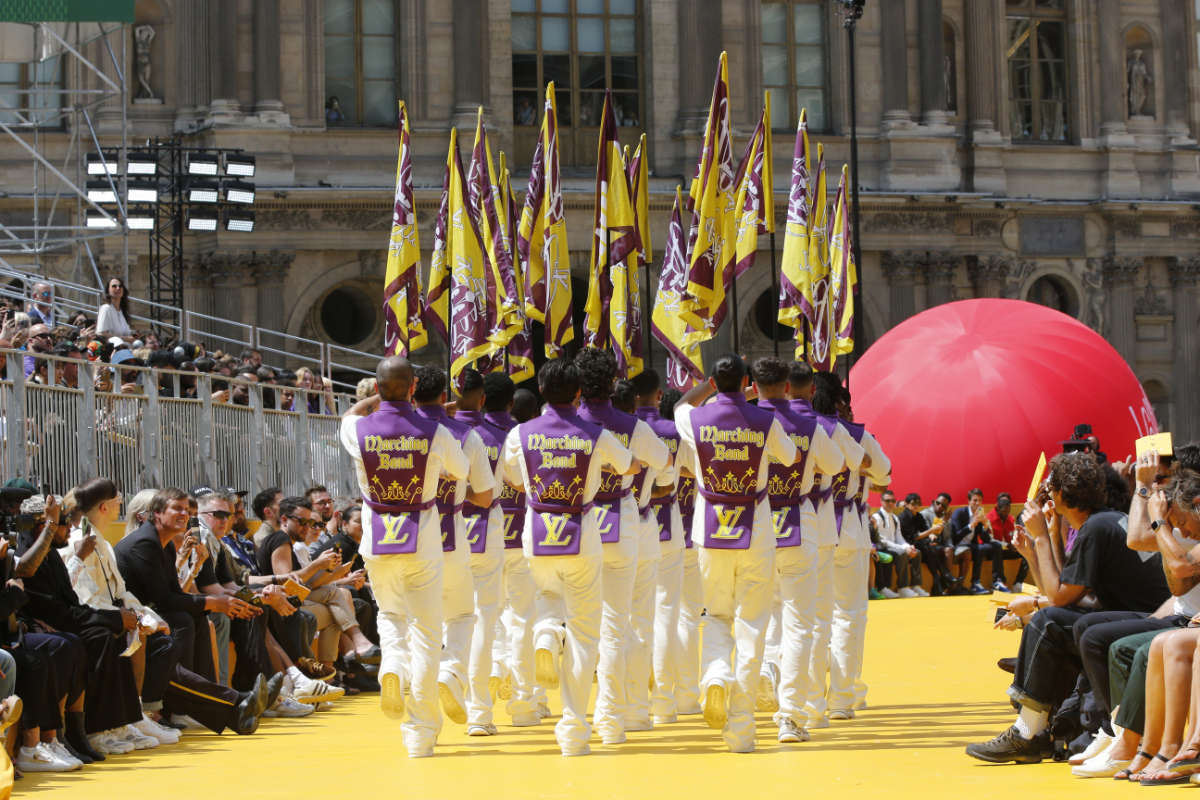 French romanticism

A quintessential component in the genetics of Louis Vuitton, French romanticism fills the collection. Flower fields – the eternal image of harmony in diversity – grace garments through impressionist paintings transformed into tapestries and prints, while depictions of thistles appear in multiple fabric weaves, prints and embroideries. A symbol of resilience and healing folklorically used to overcome difficult situations, the prickly flower motifs also nod to the decor of Louis Vuitton's ancestral home in Asnières where thistles often appear in bouquets. The delicate floral paintings found in the ceilings of the same residence echo the cornices that define the palatial interiors of Parisian architecture. A manifestation of our childhood dreams – fairy tales, majesty, whimsy – these moulures ornament moulded leather tailoring and bags, and feature in delicate lace garments. As a tribute to Paris, a photo montage collaging elements from the city and the Maison – the Pont Neuf, the Damier pattern, the cornices of interiors – runs through the collection.
Arts and crafts

The impulse to turn imagination into creation begins with the instruments of our childhood: toys, building blocks and the tools of the sandbox. As we grow and refine, so do the devices that bring our ideas to life. Through the savoir-faire integral to Louis Vuitton, the collection reflects on this transition in figurative and literal ways. Children's building blocks and playdough elements adorn garments and accessories, while toolbox components – such as scissors, tweezers and clamps – embellish garments as three-dimensional embroidered pendants. The motifs celebrate the expert ateliers of the Maison, and serve as symbols of the painstaking savoir-faire that makes up the collection, from the development of fabrics to handembroideries, hand-beading, hand-crocheting, Shiburi tiedye, and intricate leather moulding, as well as technological ingenuity like static electricity fabrics and SpeakerMan backpacks composed of genuine and 3D-printed loudspeakers.
Invitation

The invitation for the Louis Vuitton Spring-Summer 2023 Men's Show was conceived by the Louis Vuitton Studio Prêt-à-Porter Homme as an homage to the show sets created by Virgil Abloh during his eight seasons as Men's Artistic Director of Louis Vuitton, from 2018-2022, and honours his vast aesthetic and philosophical contributions to the legacy of the Maison.
Cinematic prelude: 'Strange Math'

"If you are not a myth, whose reality are you? And if you are not a reality, whose myth are you?" – Sun Ra, If You Are Not a Myth.
The Louis Vuitton Spring-Summer 2023 Men's Show opens with a cinematic prelude screened for the digital audience. Directed by Ephraim Asili, Strange Math explores the relationship between imagination and reality central to the themes of the collection. The film depicts a music composer's practice through the lens of science, equating the creation of music to scientific discovery. By exploring his inner space – by activating his imagination and creating something that didn't previously exist or seemed impossible – the composer occupies the same role as an astrophysicist exploring outer space. Musical invention, whether through notes or instruments, is imagination brought to life. By working with particular frequencies, we are able to transcend the limits of our environment, and turn myth into reality. Ephraim Asili is an African-American artist, filmmaker, DJ and radio host, who serves as Associate Professor of Film and Electronic Arts at Bard College. Raised on hip-hop, Hollywood cinema and television, he earned a BA in film at Temple University – where he created the documentary Points on a Space Age (2007) with the Sun Ra Archestra – and an MA from Bard.
Director: Ephraim Asili
Director of Photography: Eric Gautier
Lead Editor: Jérôme Pesnel
Editor: Cécile Criout
Music Supervisor: Benji B
Production: La Pac
Production Designer: Gaël Leroux
1st Assistant Director: Daniel Noah Dittmann
Protagonist: Issa Perica
Sister: M'balou
Mother: Penda Niang
Father: Douodoou Masta
Cousin 1: Abdouolaye Diallo
Cousin 2: Ali Djarfi
Brother 1: Yabisi Asili
Brother 2: Warren
Marching band: The Marching 100 of Florida A&M University
Soundtrack: Enlightenment by Sun Ra Arkestra
Soundtrack

The soundtrack for the Louis Vuitton Spring-Summer 2023 Men's Show unfolds in an exchange with the cinematic prelude, Strange Math, and the live performers who take to the runway as part of the presentation. The score for the film, Enlightenment by the Sun Ra Arkestra, transitions into a live performance by The Marching 100. The Tallahassee-based marching band of the Florida A&M University – formed in 1946 – stages a curated arrangement created with a special guest, who performs four compositions from his own catalogue. The exact credits and track list of the show – including those of the special guest – will be announced in the second edition of the Collection ∞ booklet. Musical direction by Benji B
Upcycling Ideology
Upcycled looks in the collection are created through three approaches:
A. Pieces upcycled by recycling material from overstock.
B. Pieces upcycled from recycled ideas.
C. Pieces upcycled through reiteration from previous storylines.
The Upcycling Ideology has been created to de-programme our minds from the images of obsolescence that lead to overload, overproduction and waste. With each season, Louis Vuitton flips the switch on the traditional approach to a collection. Now, they are made up of "pieces that make looks" rather than "looks that have pieces in them".
Through the lens of the Upcycling Ideology, work can be recycled, upcycled, and even reissued in its original form. Ideas – the very foundation of fashion – are no longer disposable, but part of an eternal cycle of inspiration, codes and values that continue to elucidate and expand our ethos. Previous seasons no longer exist as individual entities, but unify into one canon devoted to the principle that "no season is an old season". In a fast-paced and fleeting time, repetition equals documentation: gestures made and lessons learned. The collection exercises the three approaches of the Upcycling Ideology across fabrications, techniques and themes.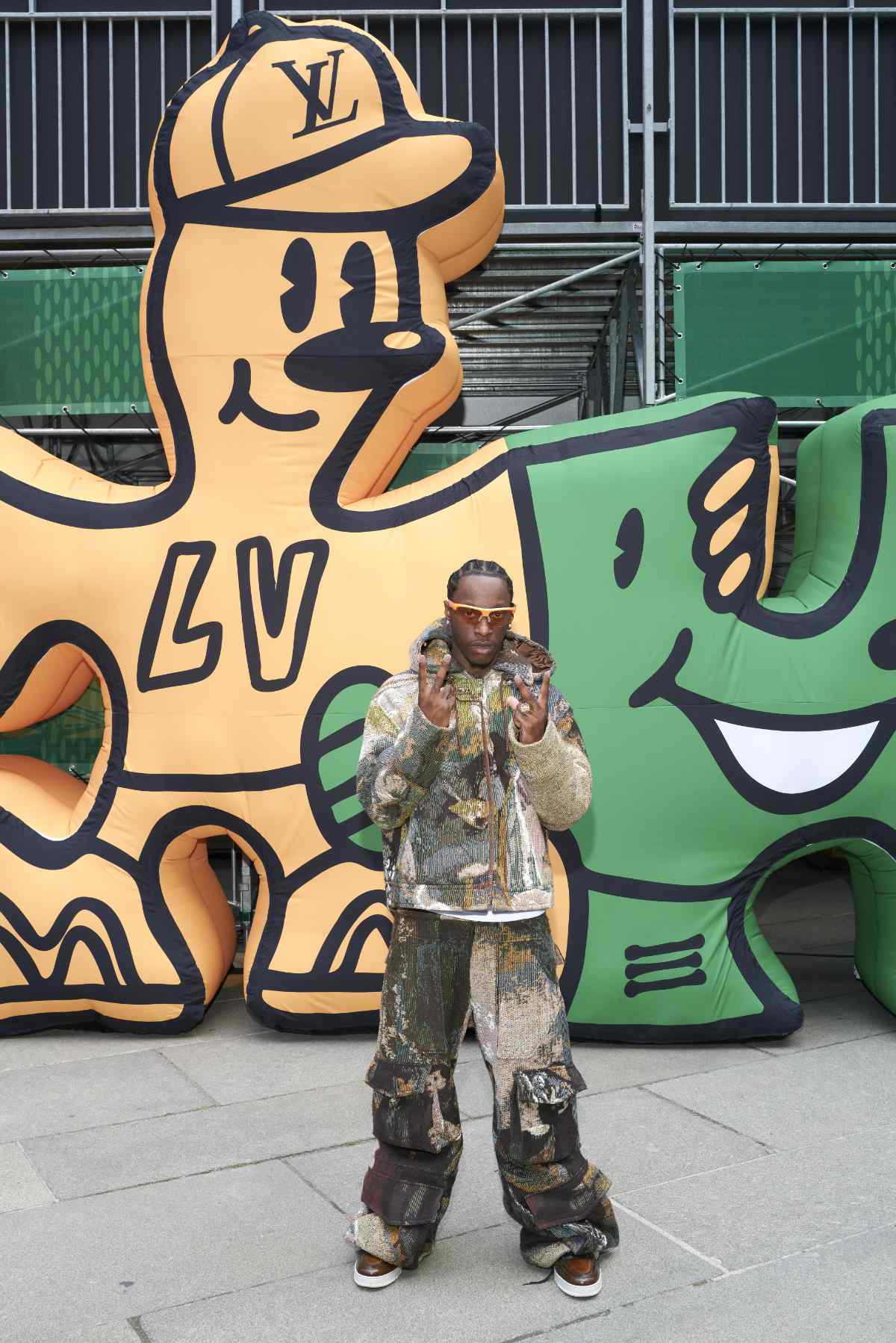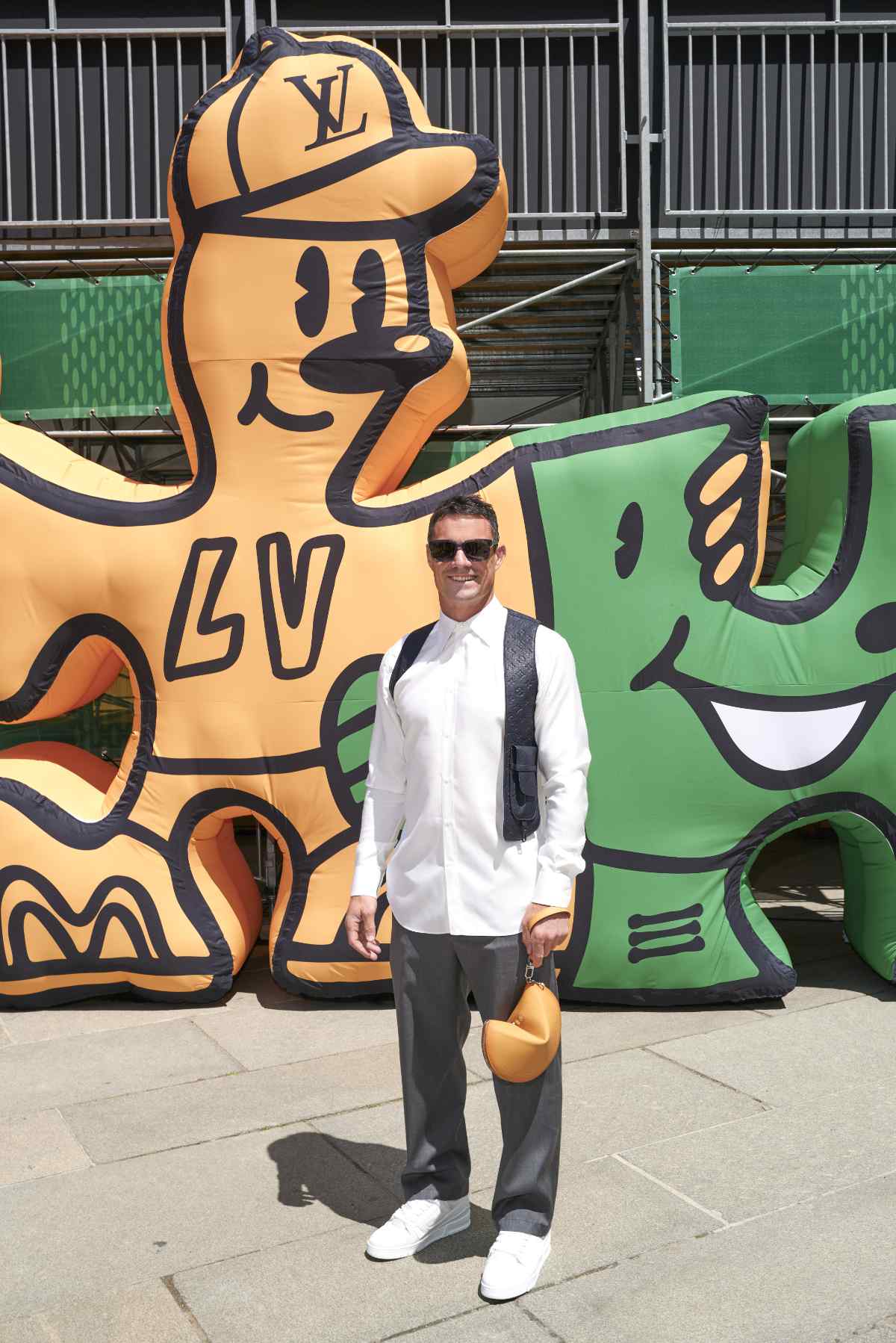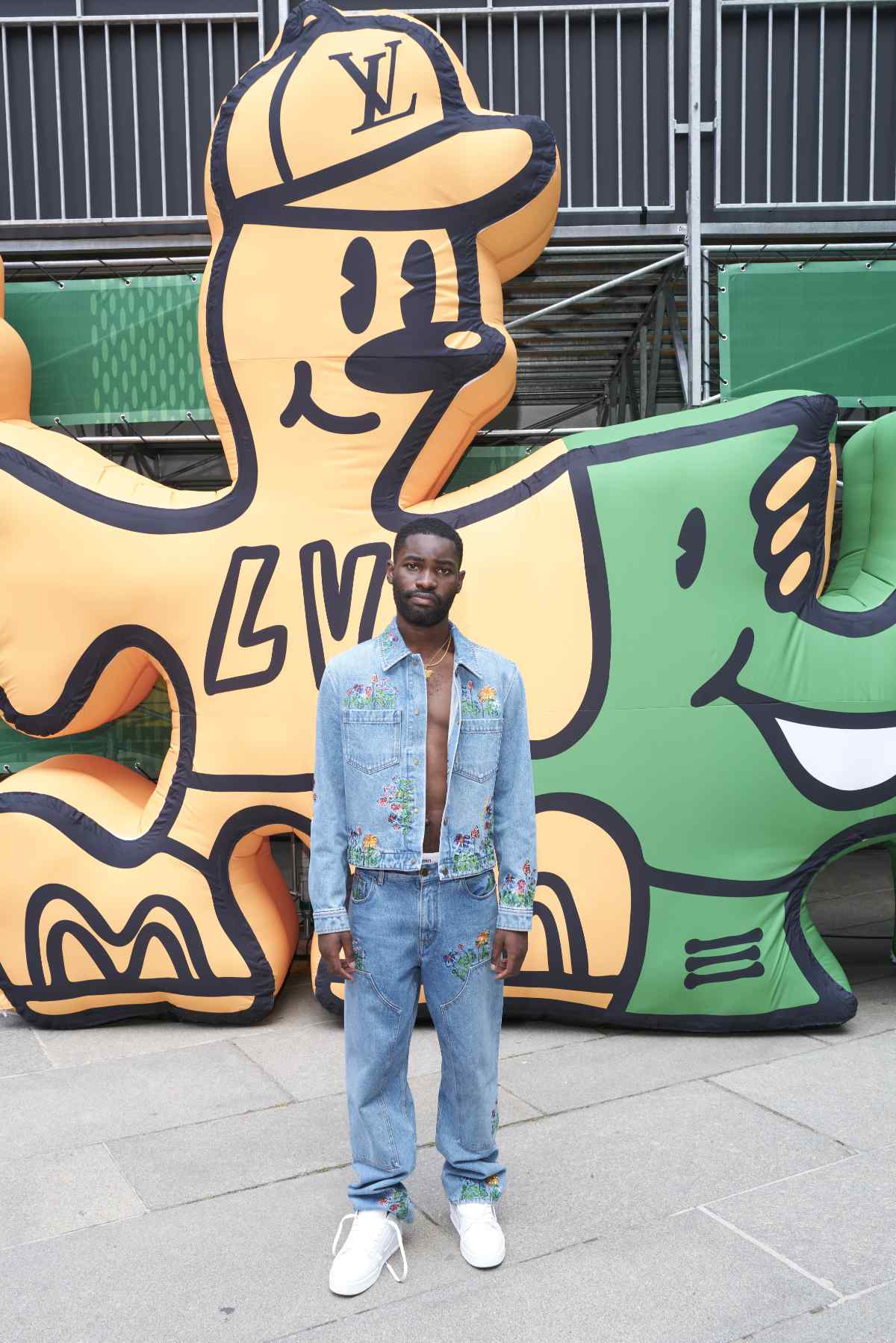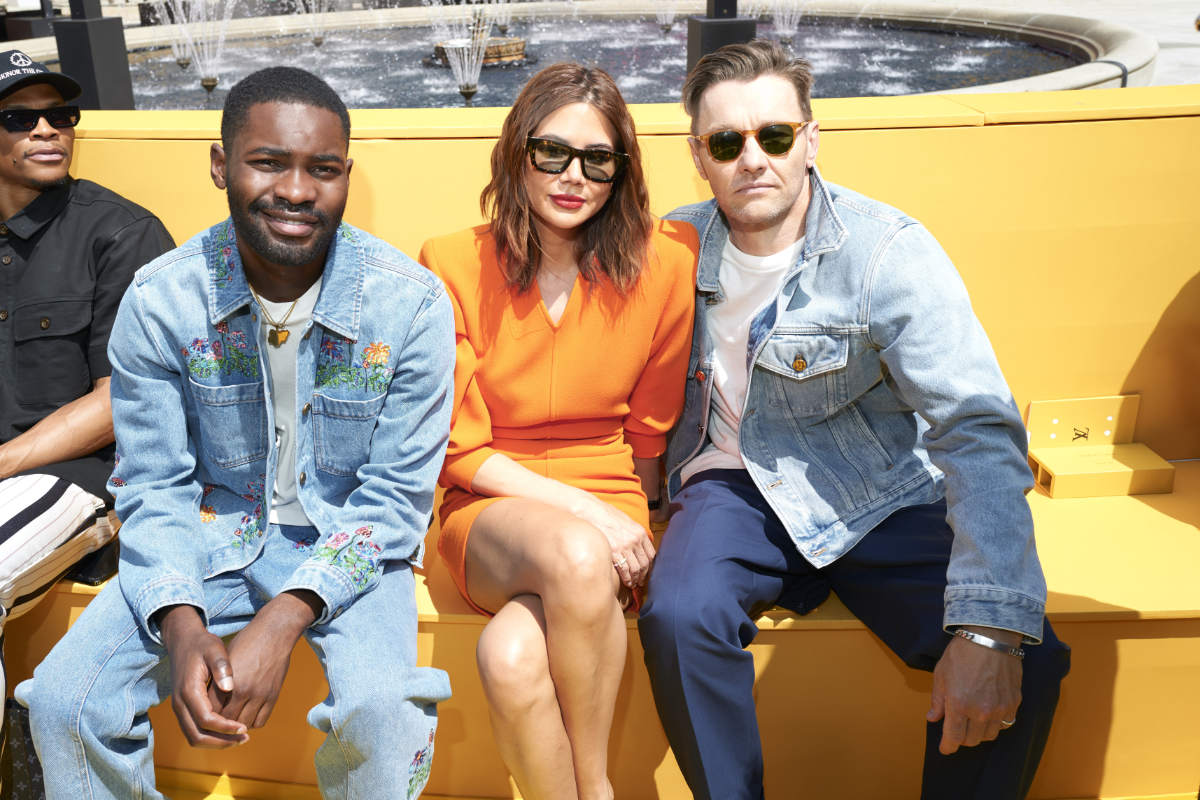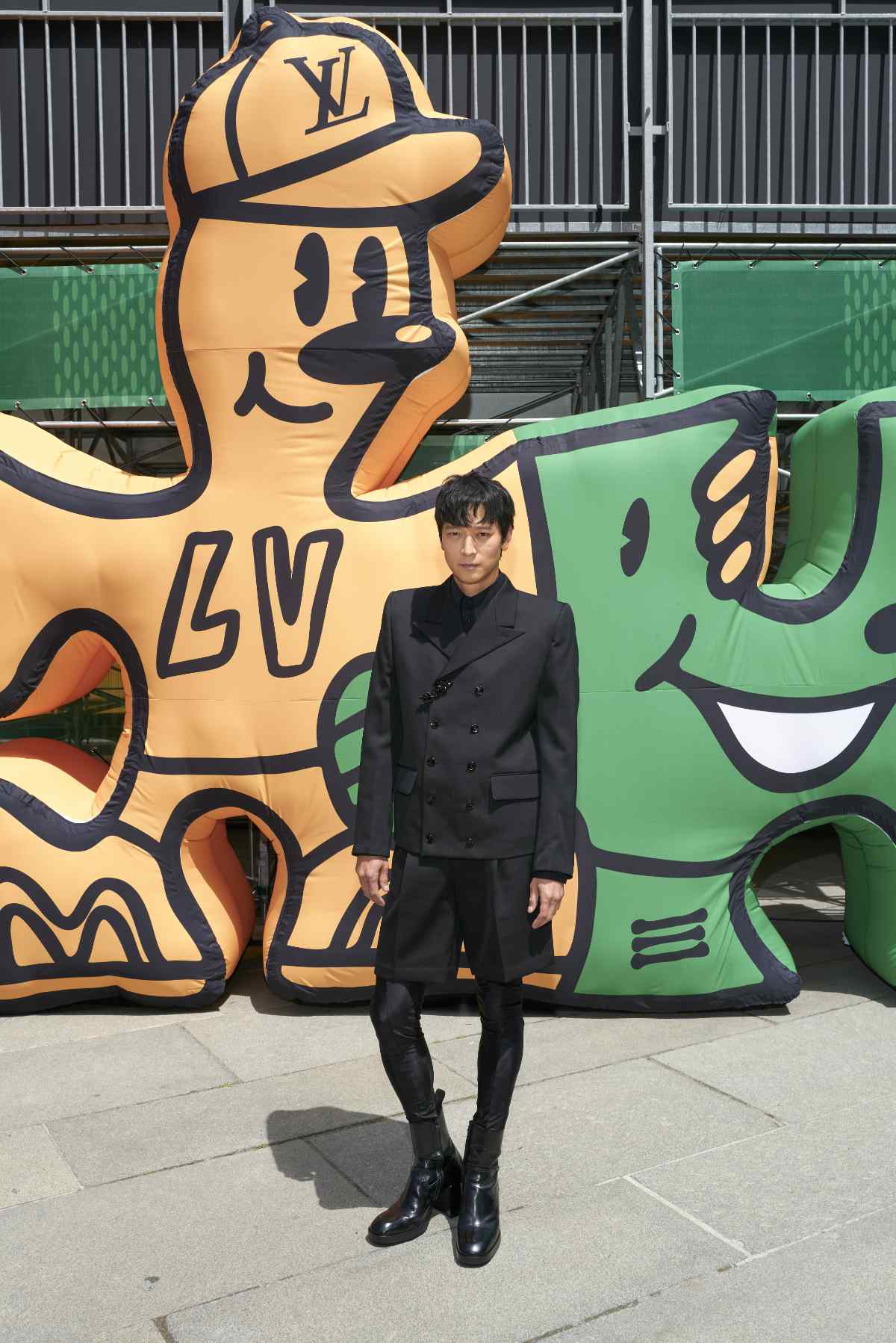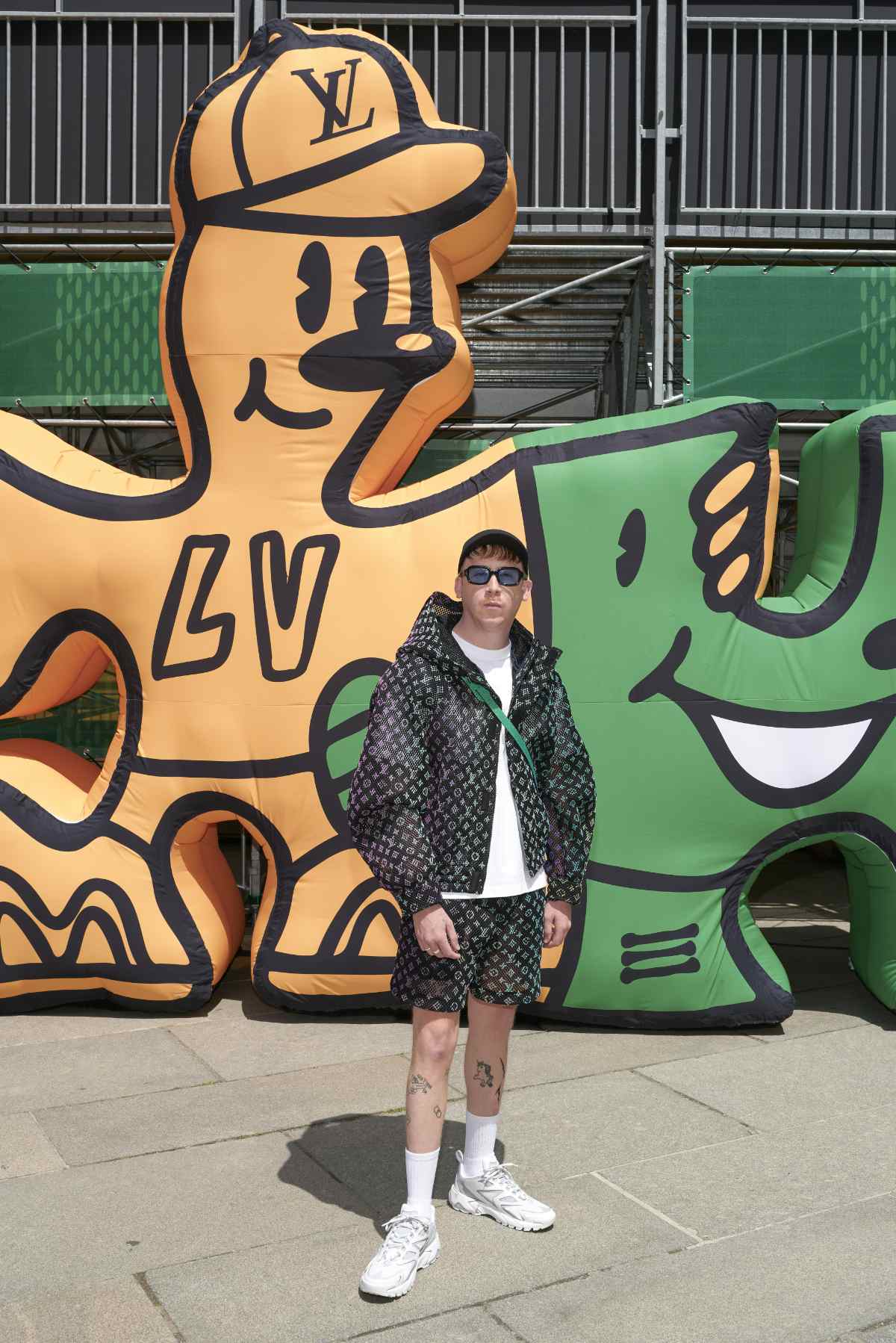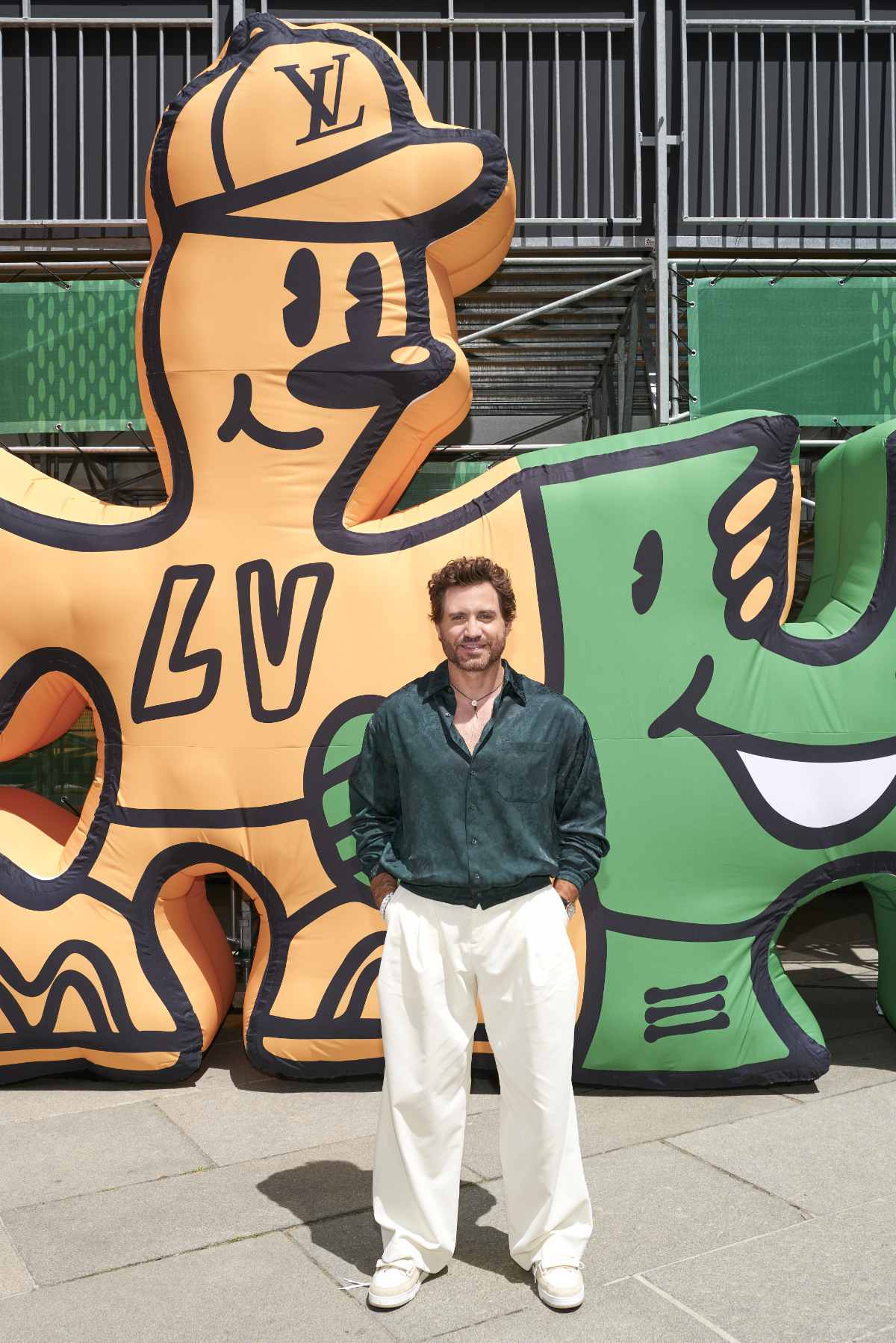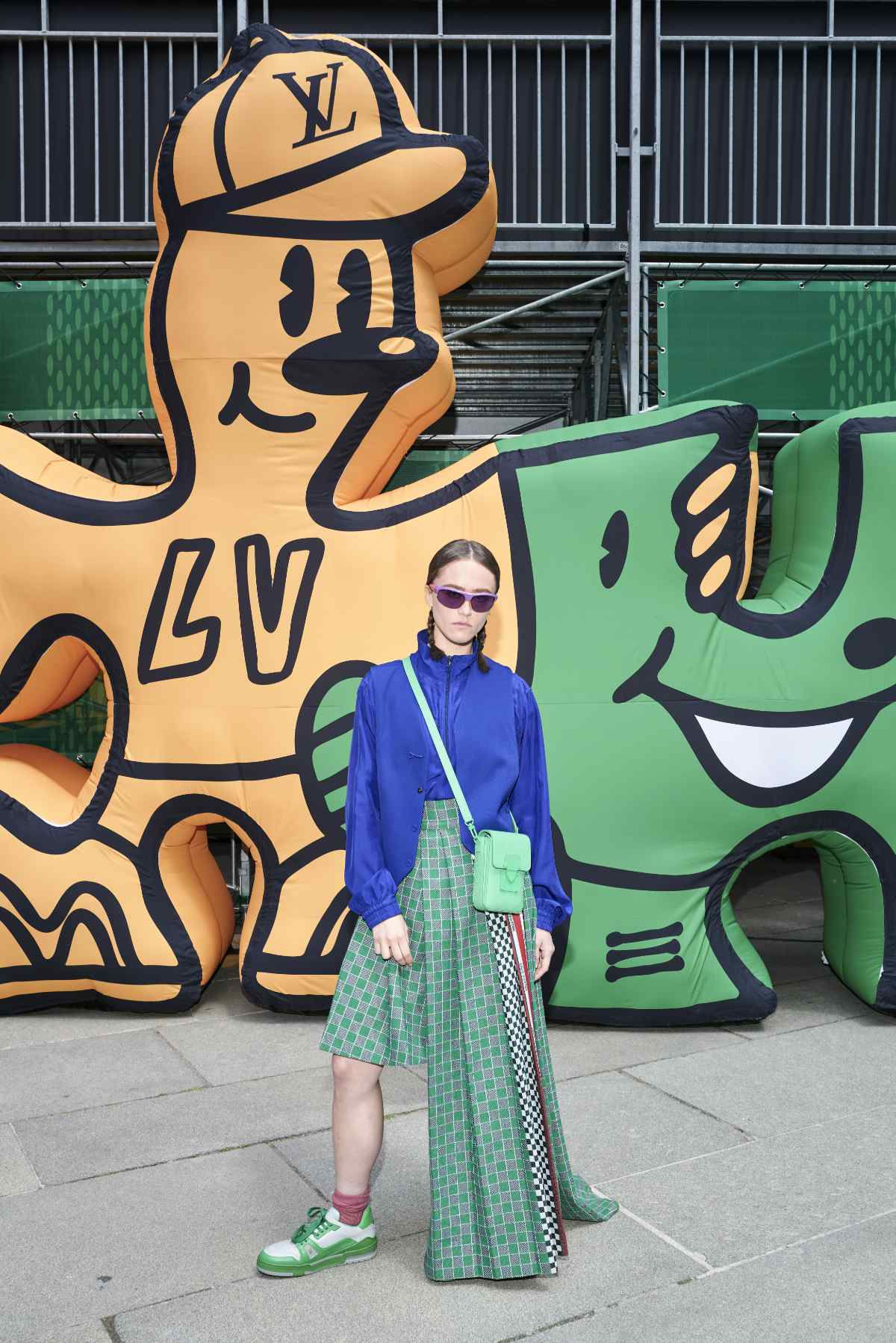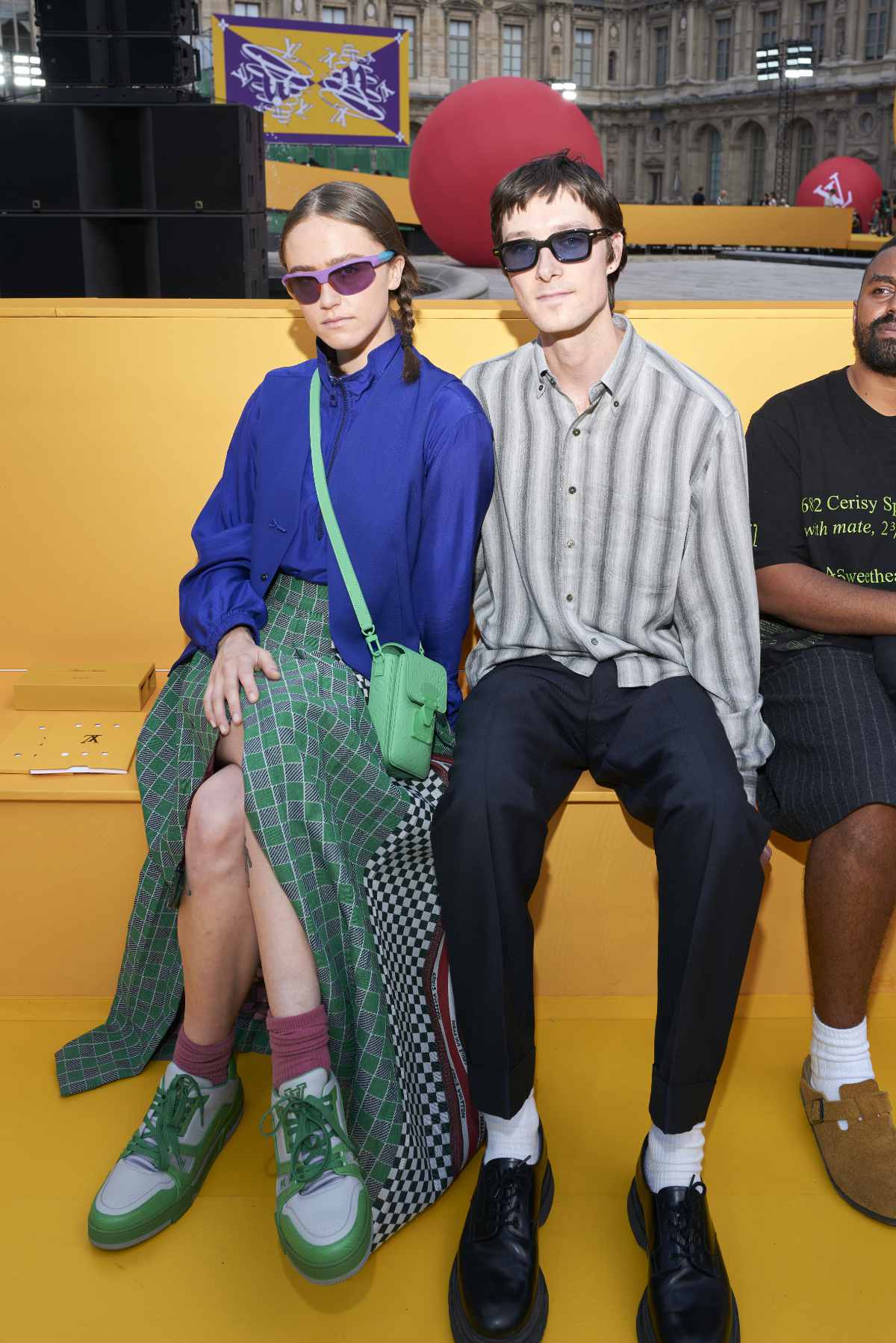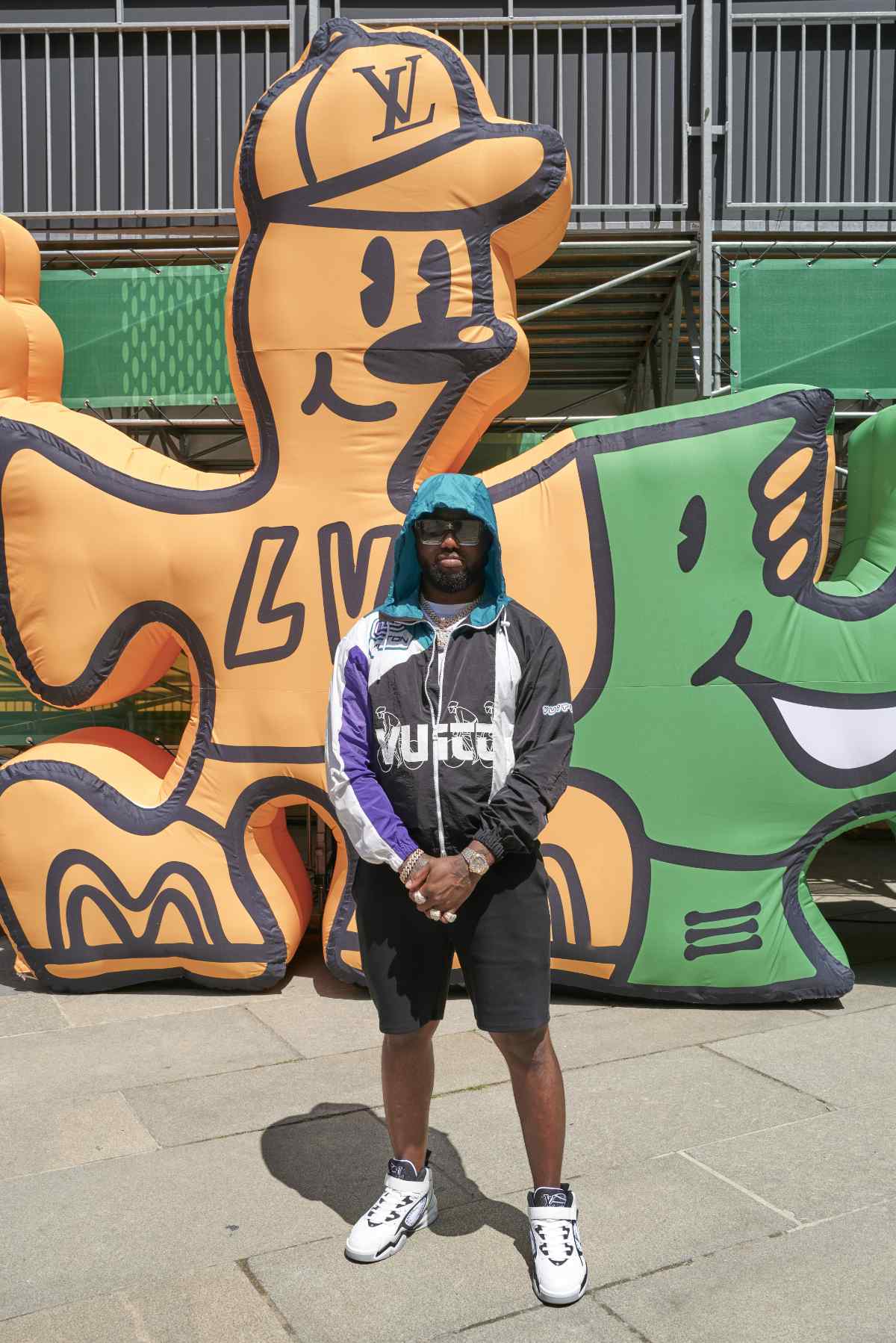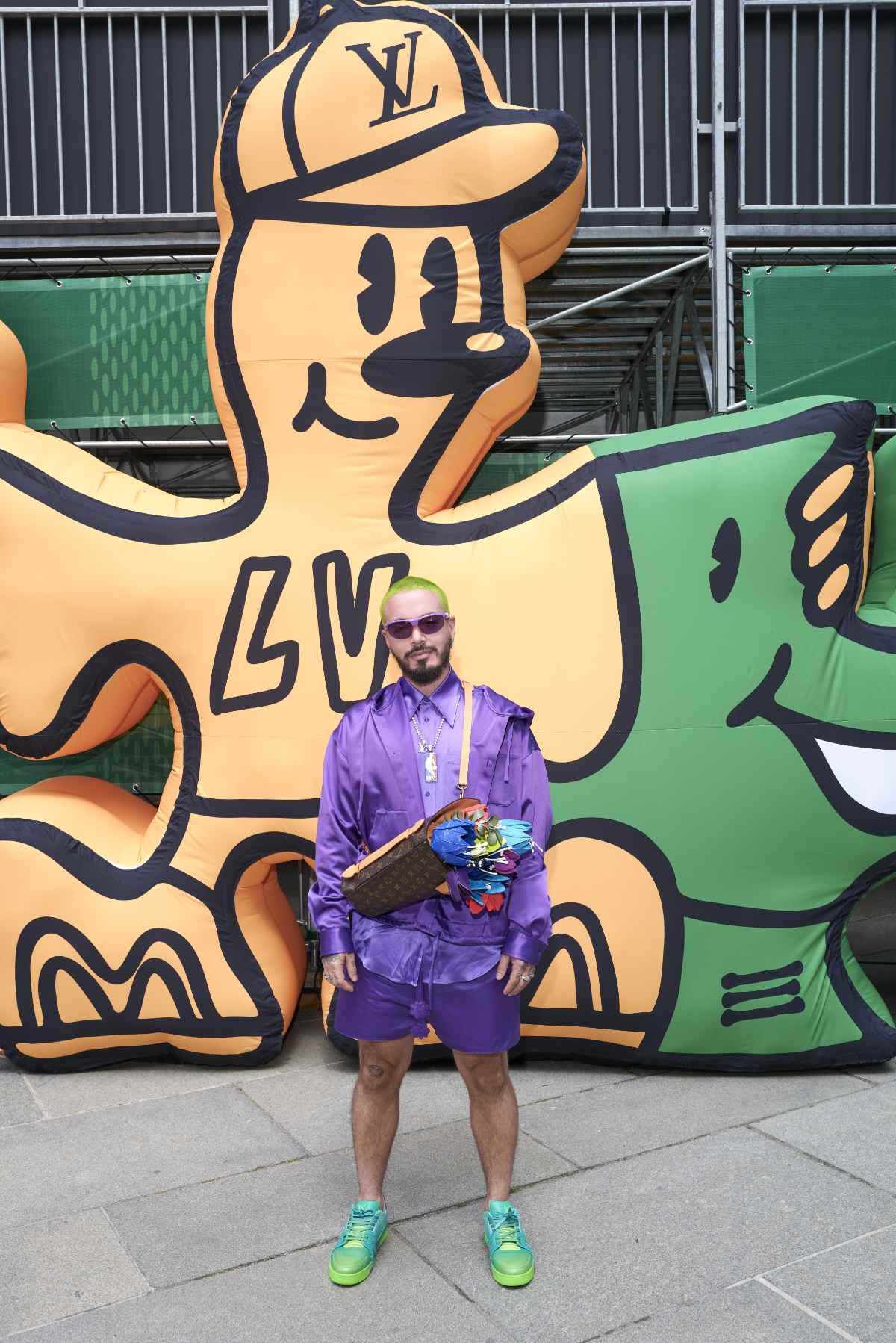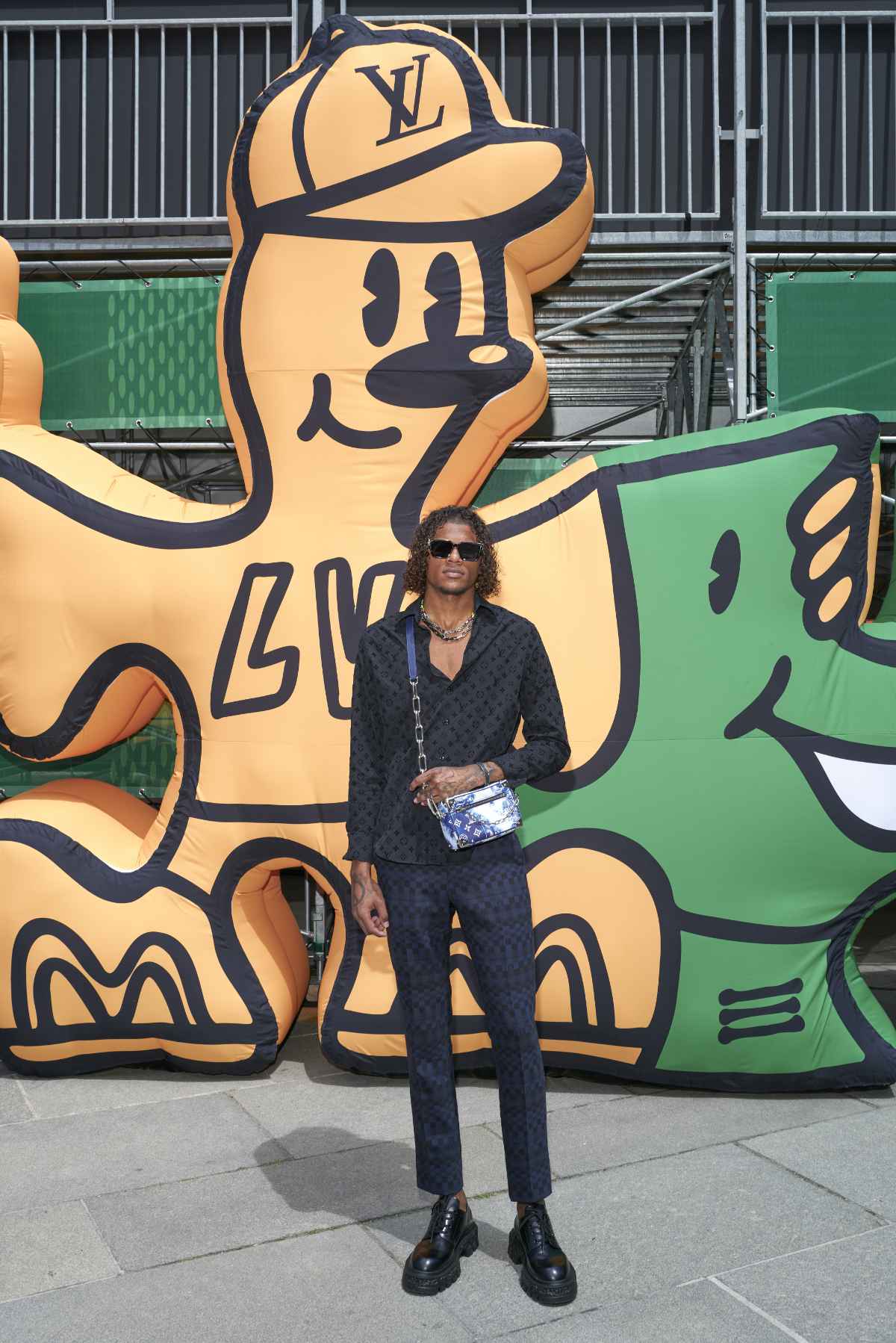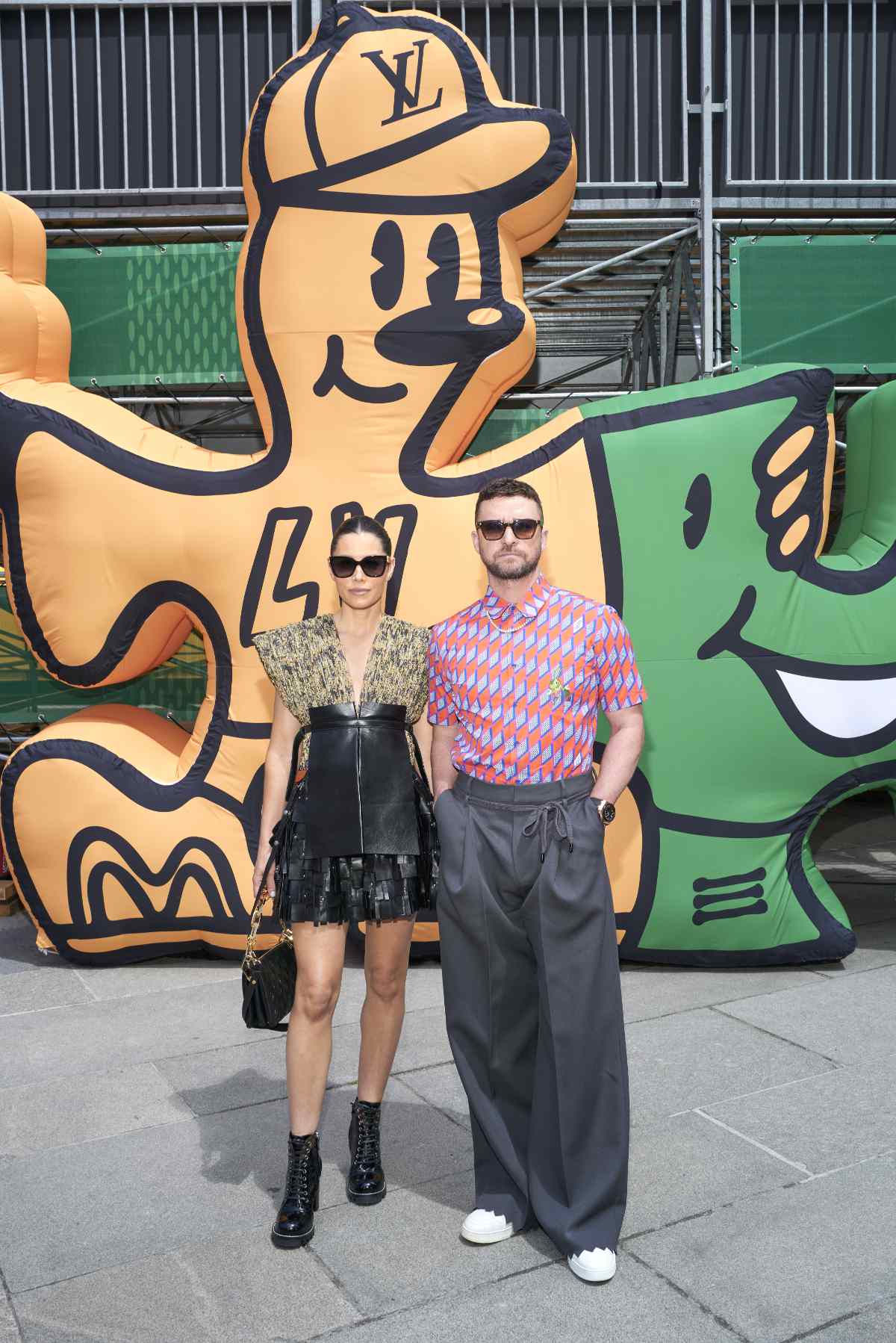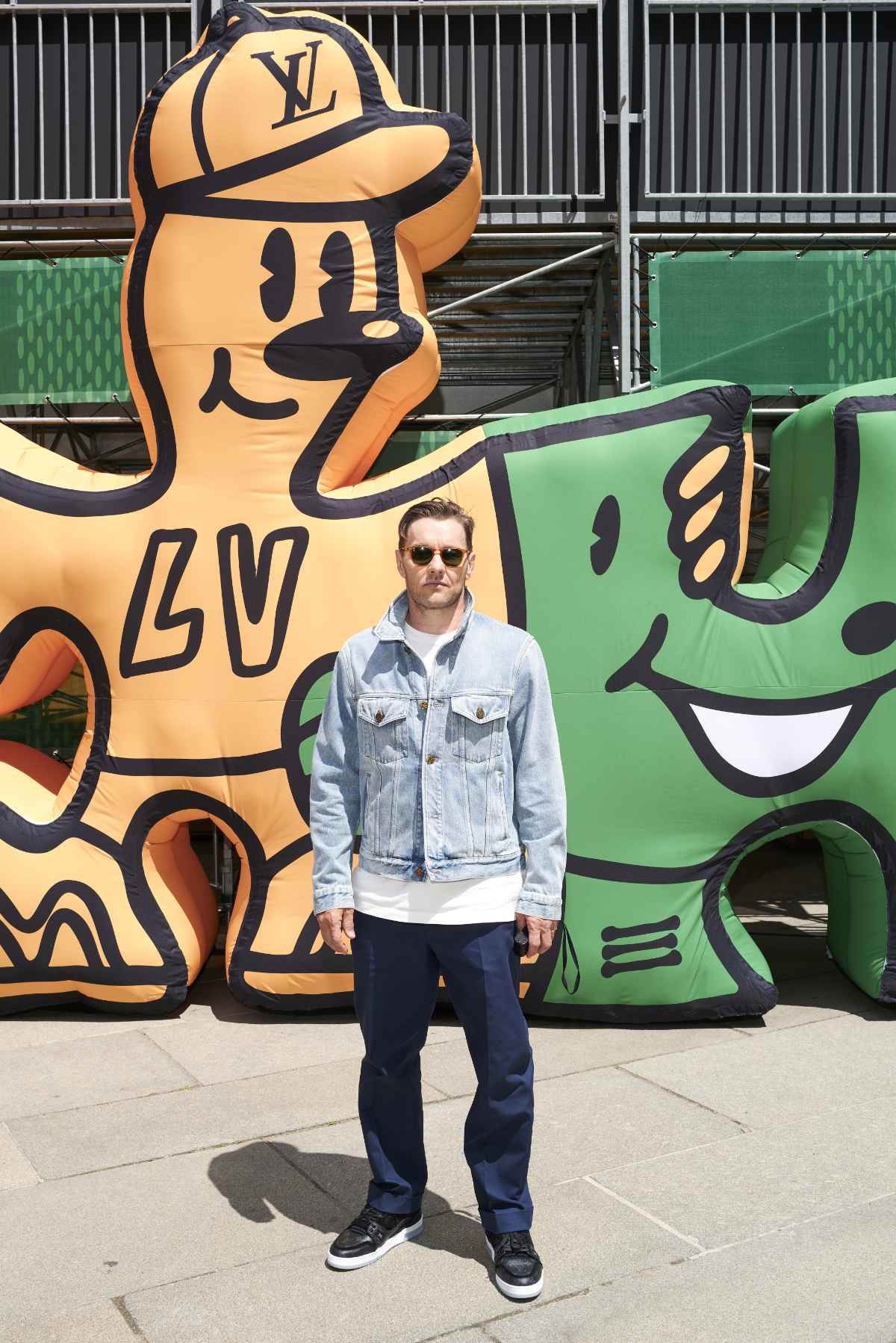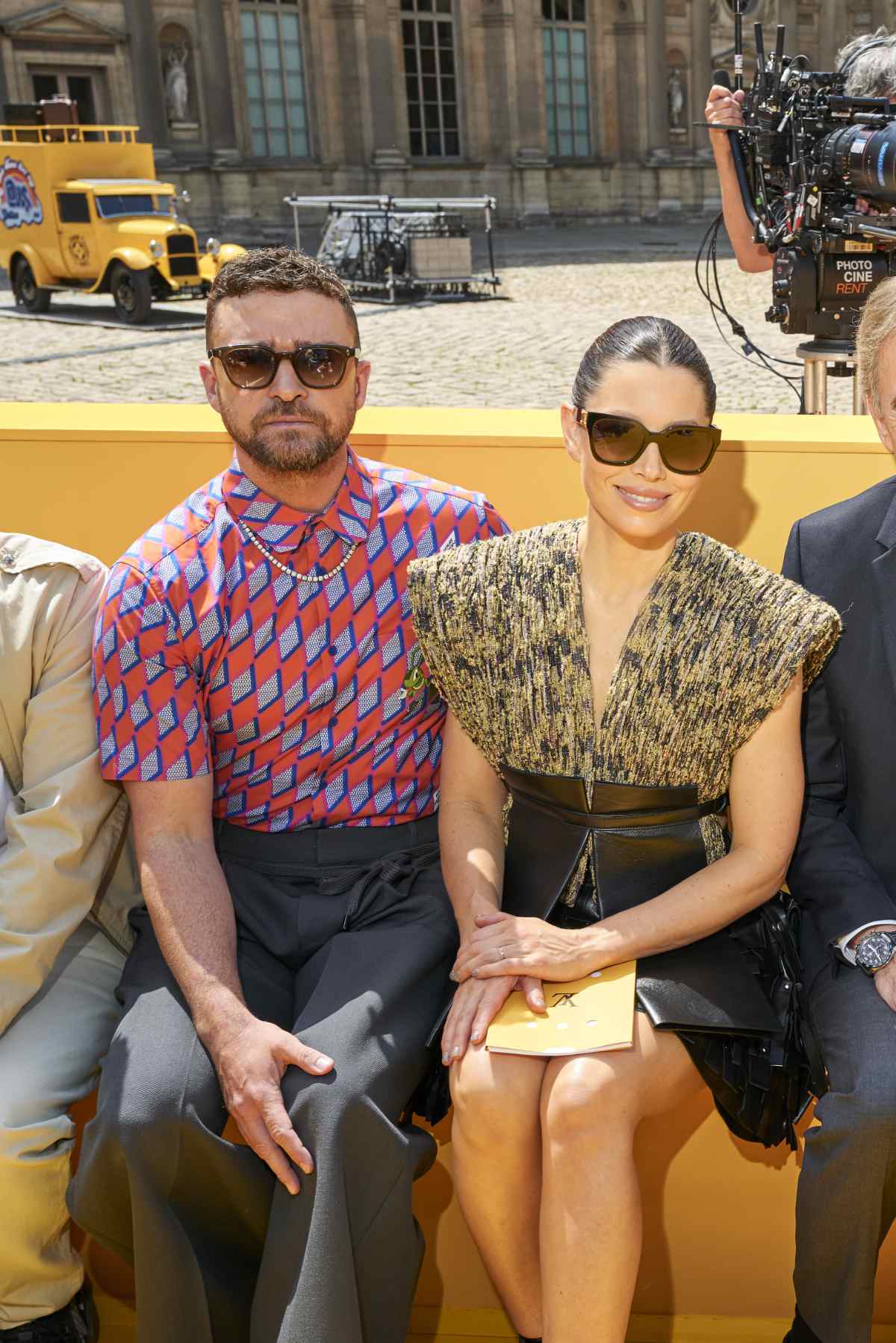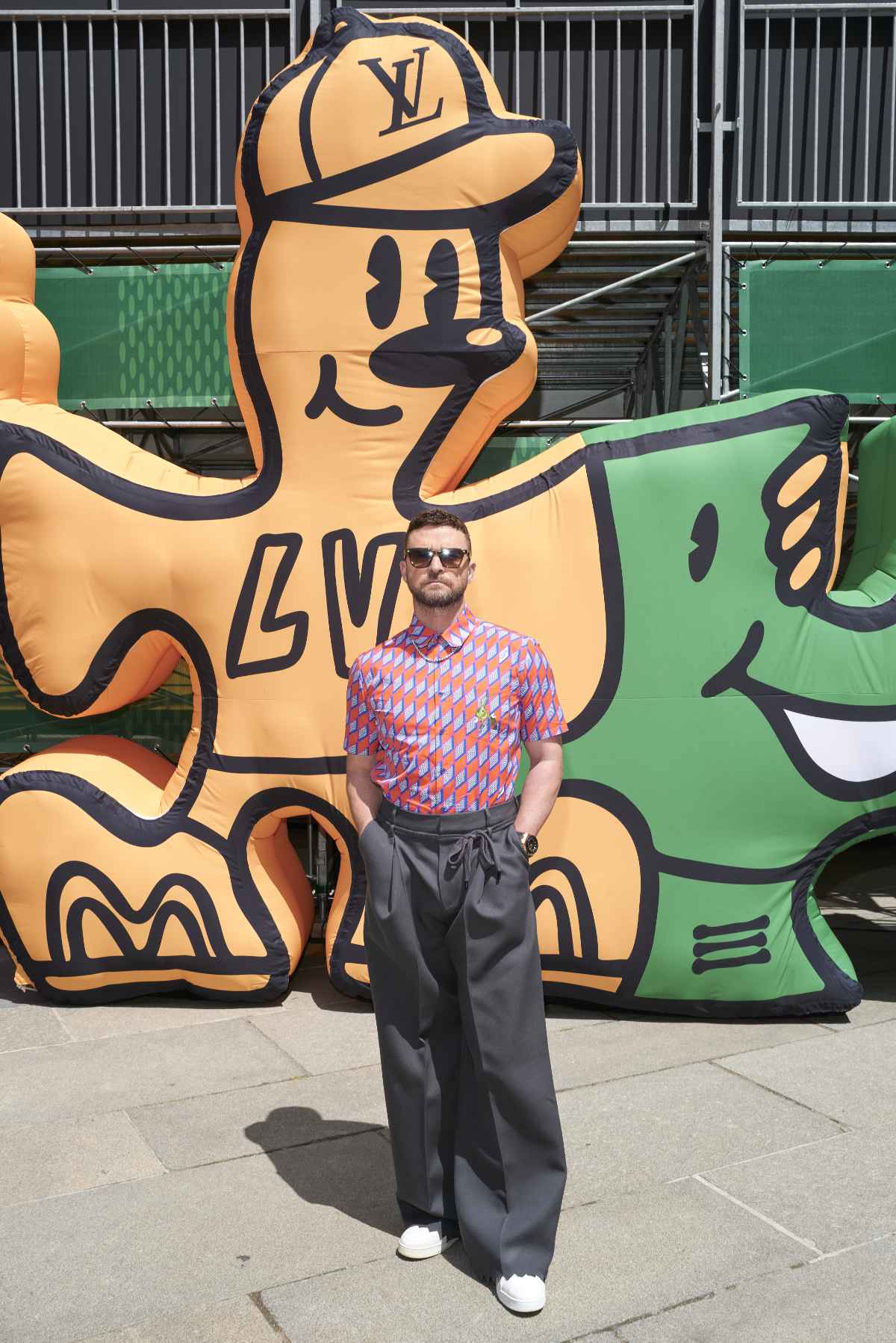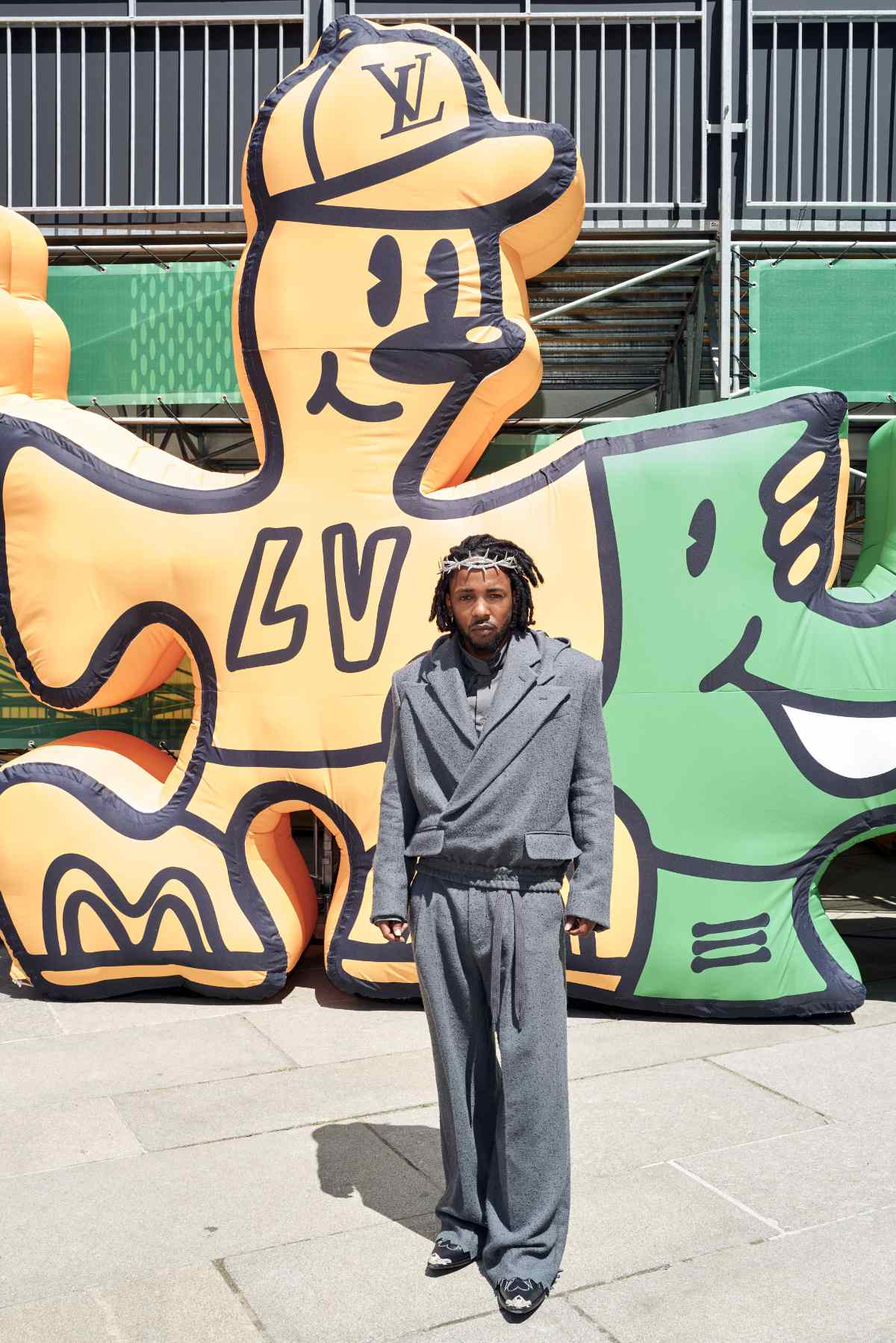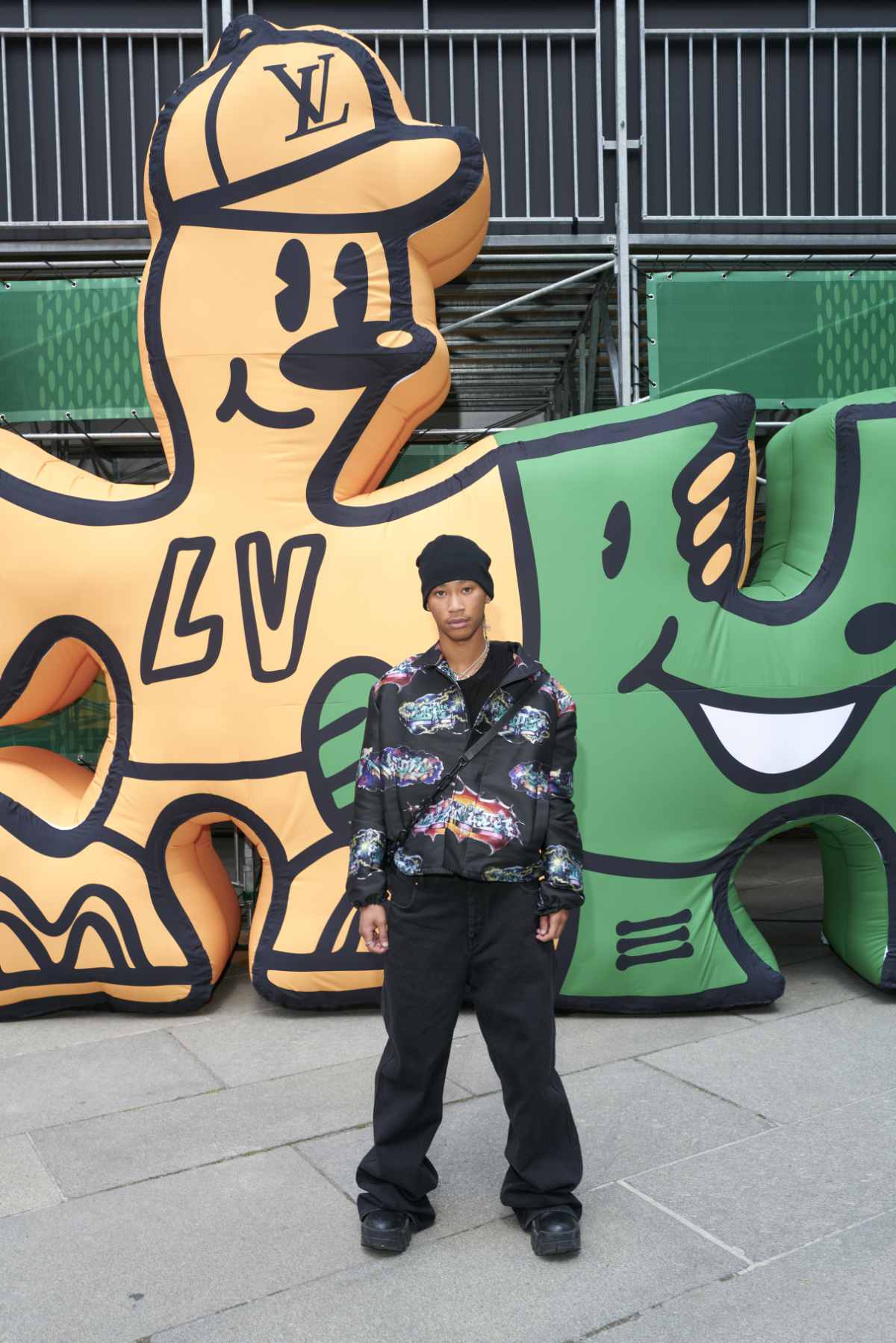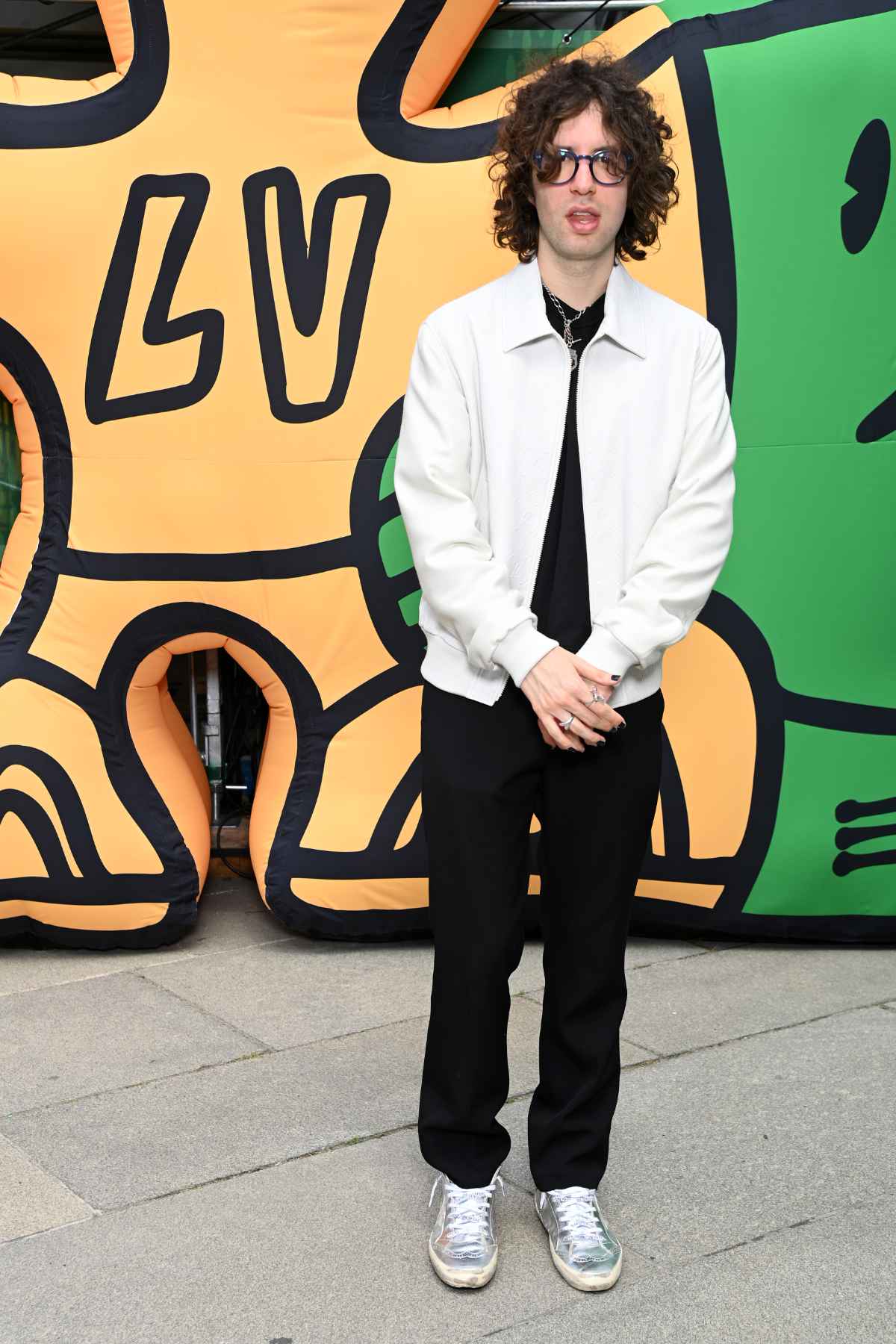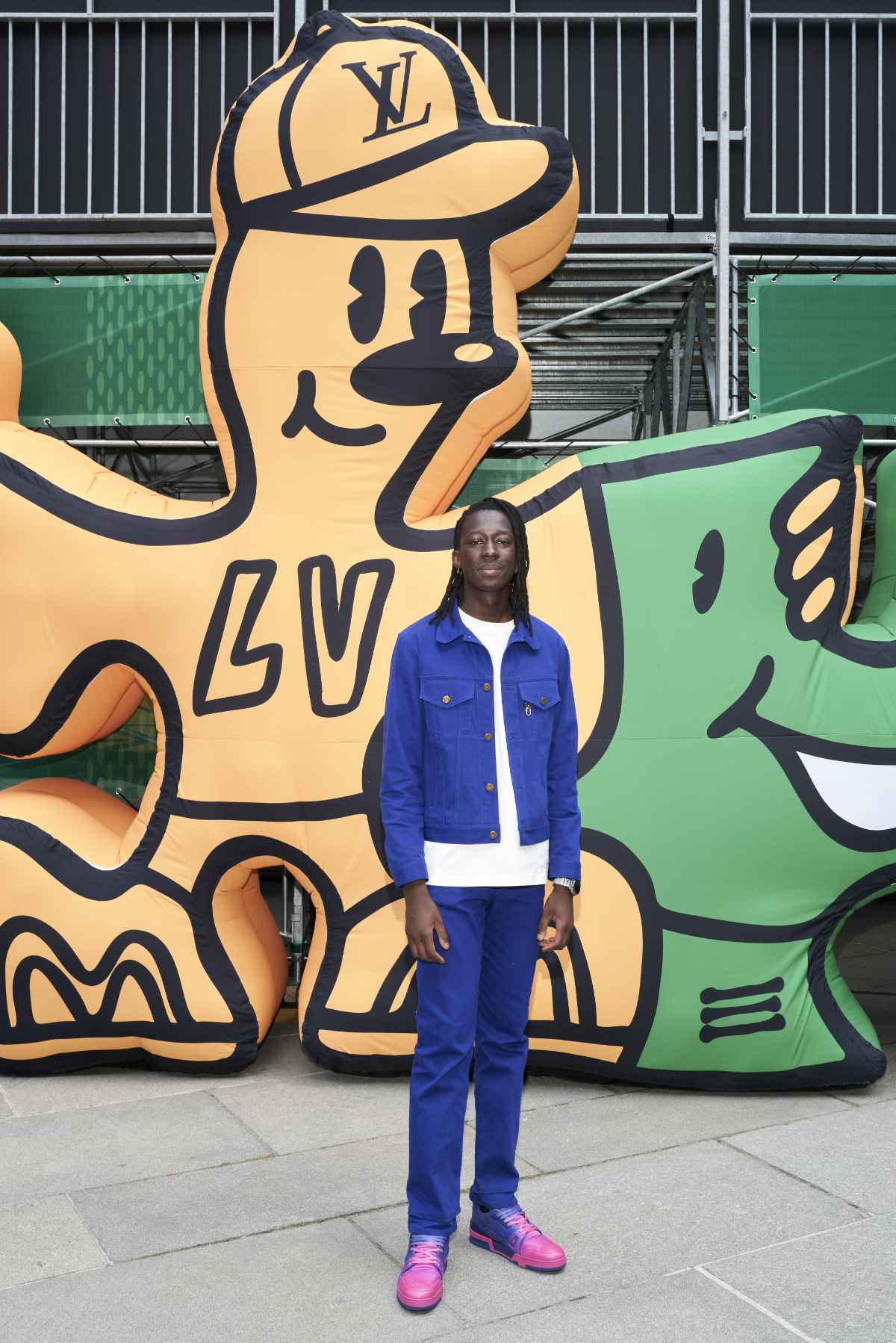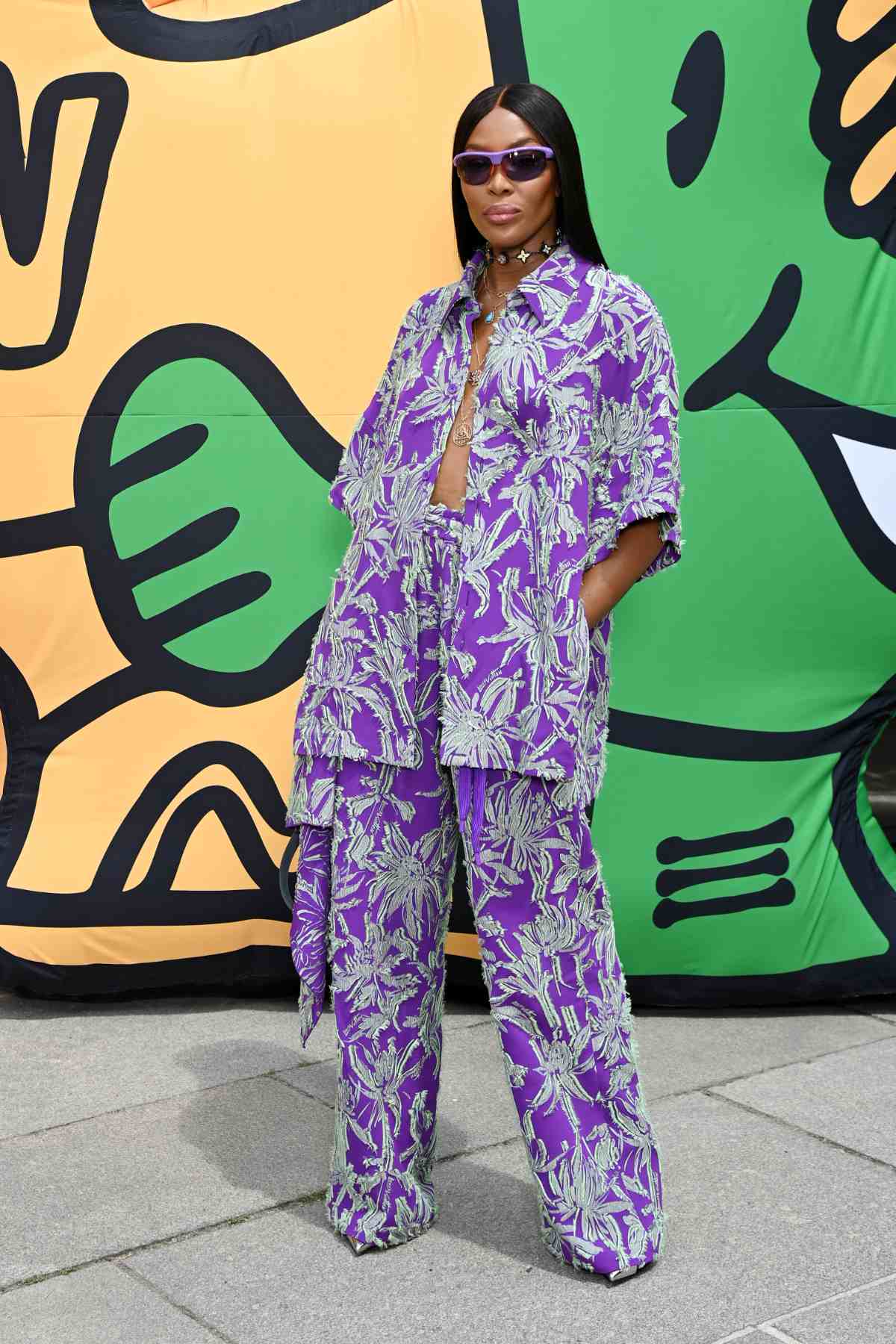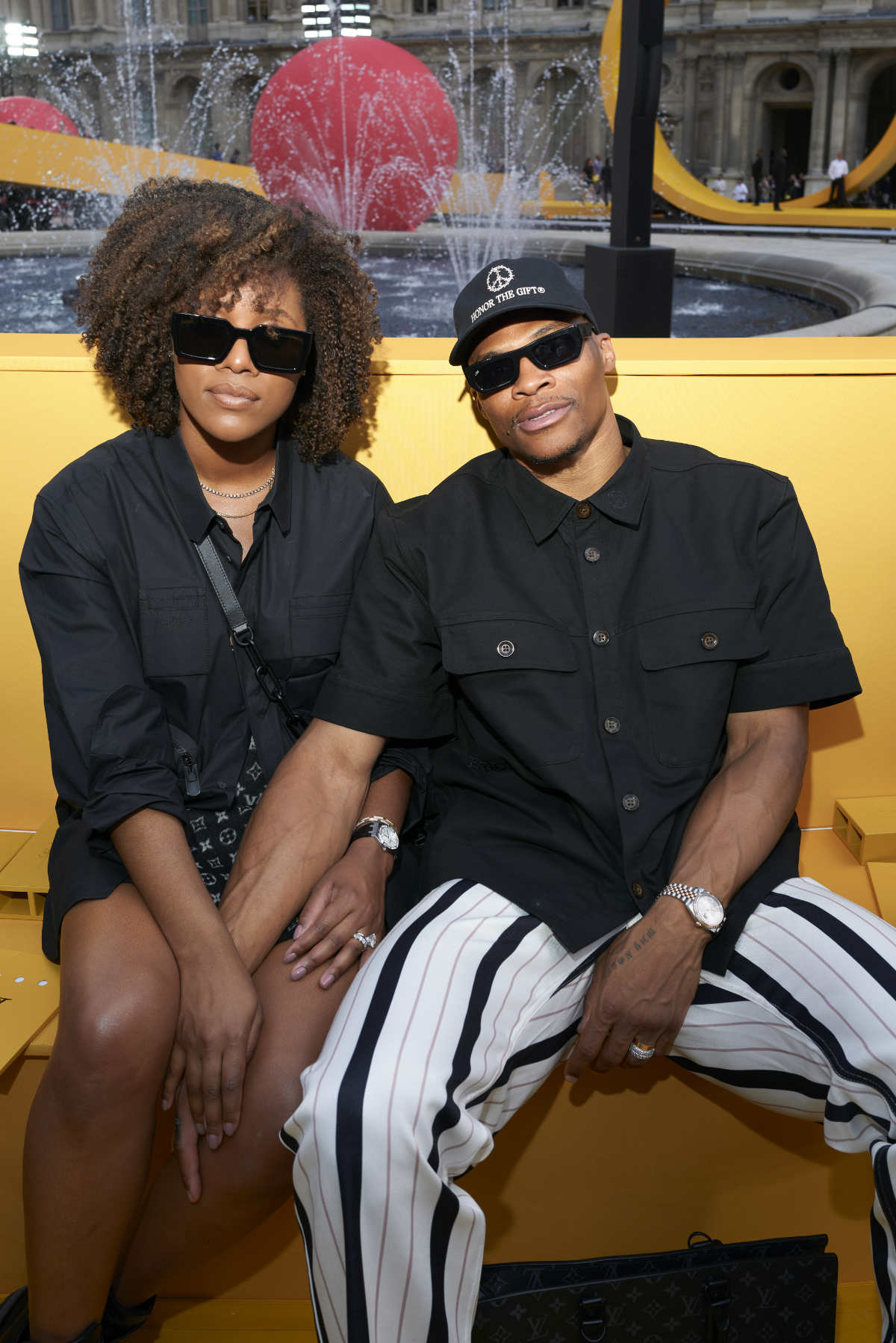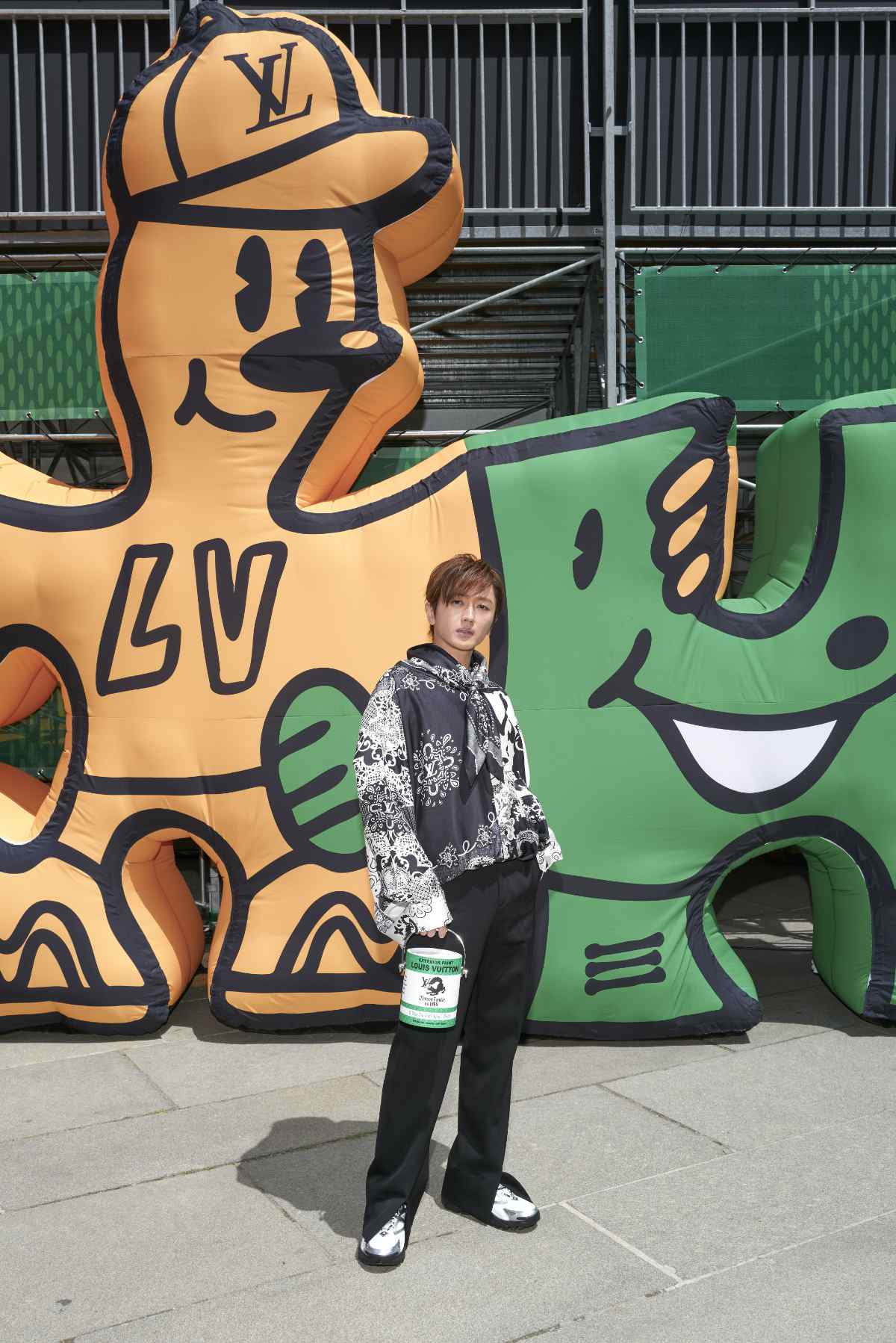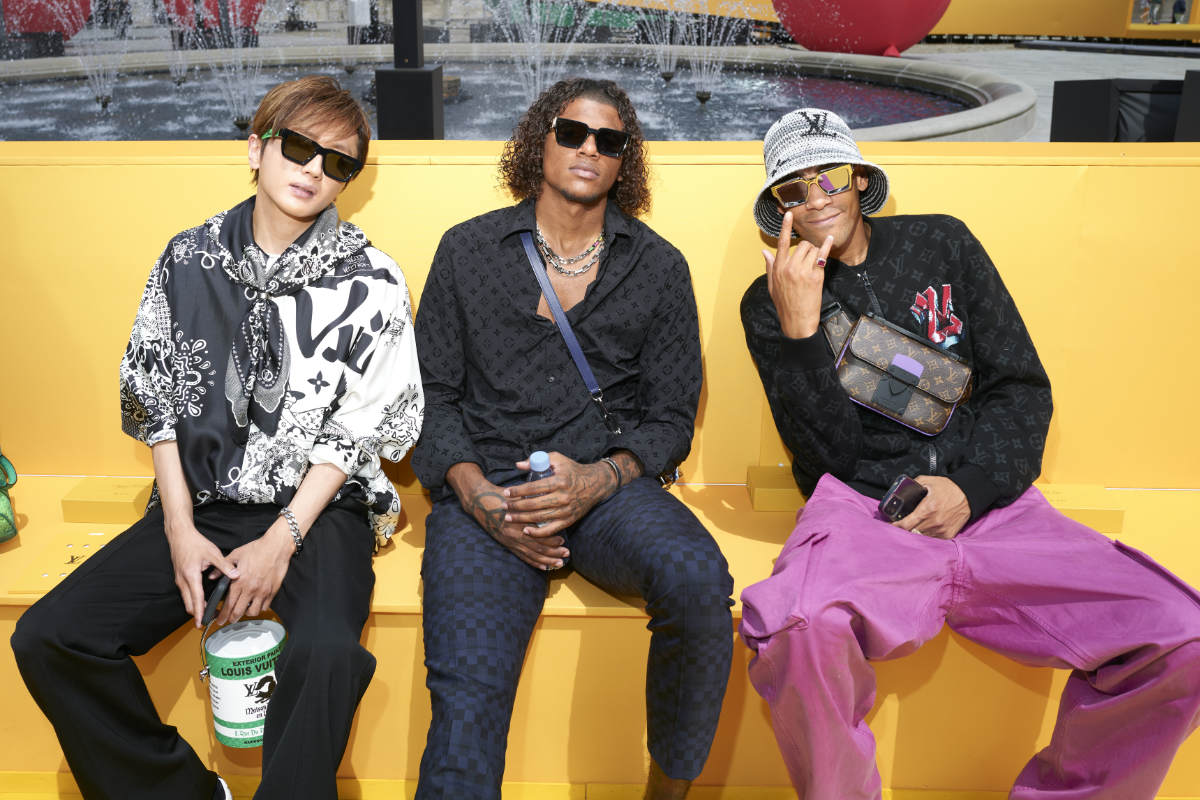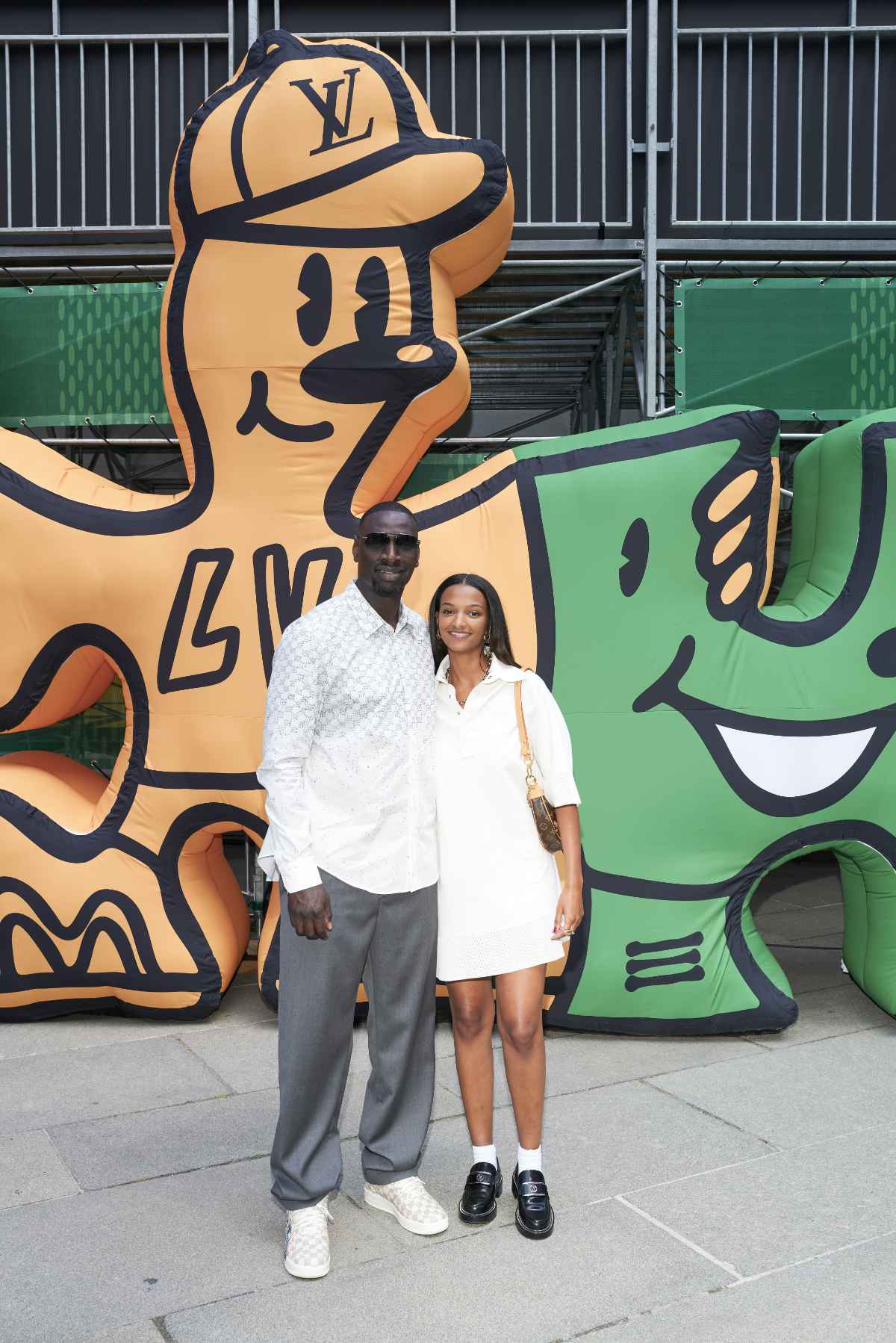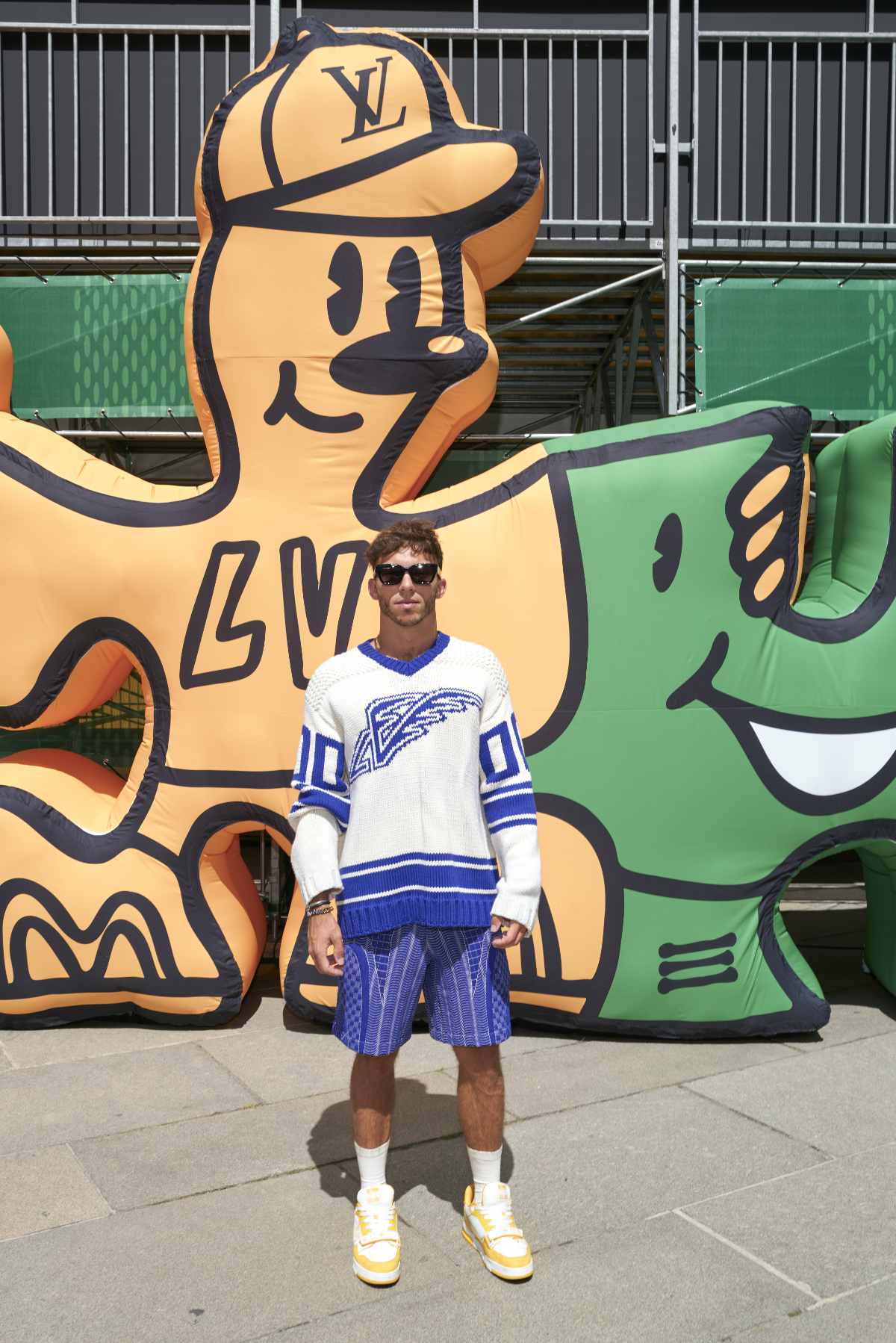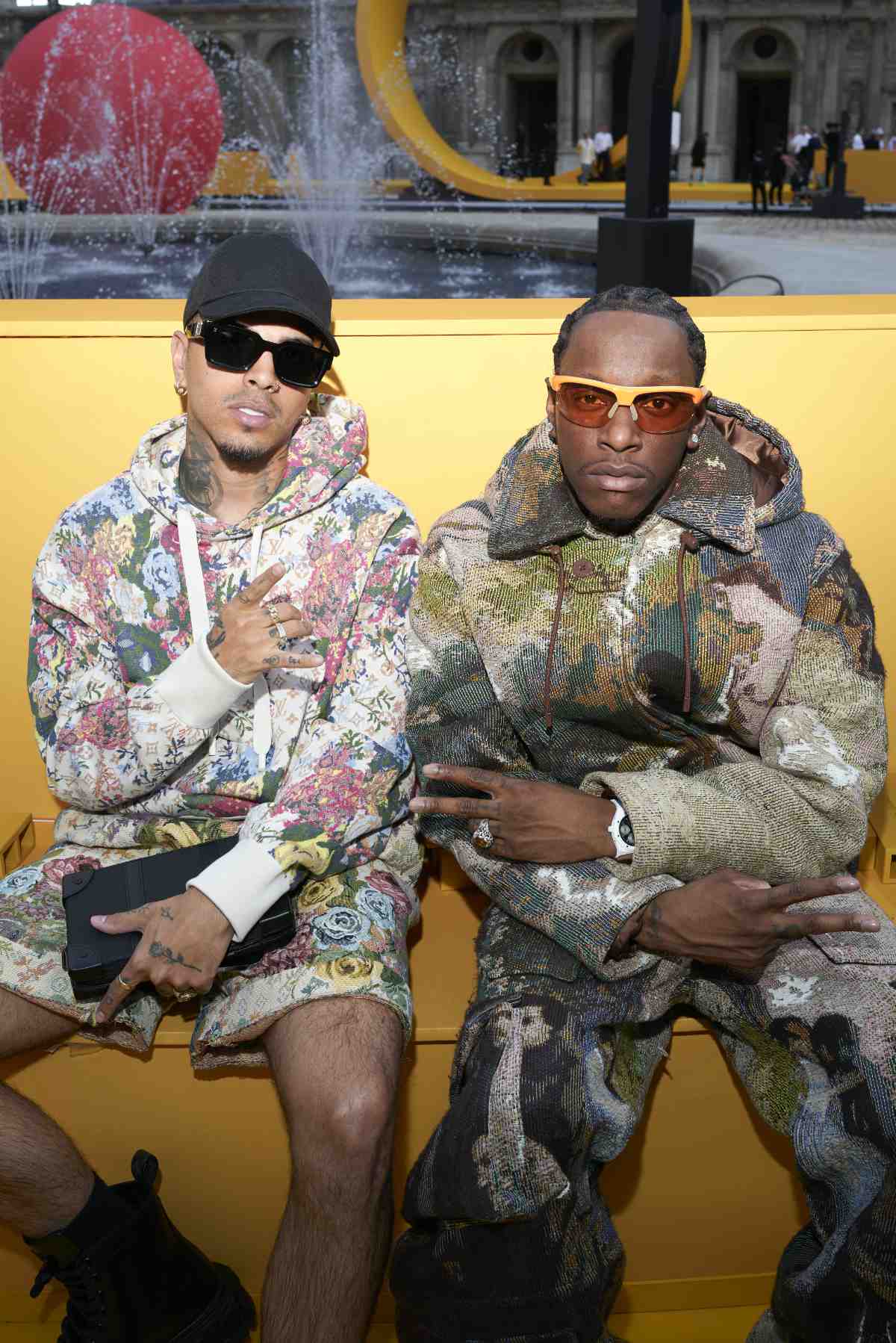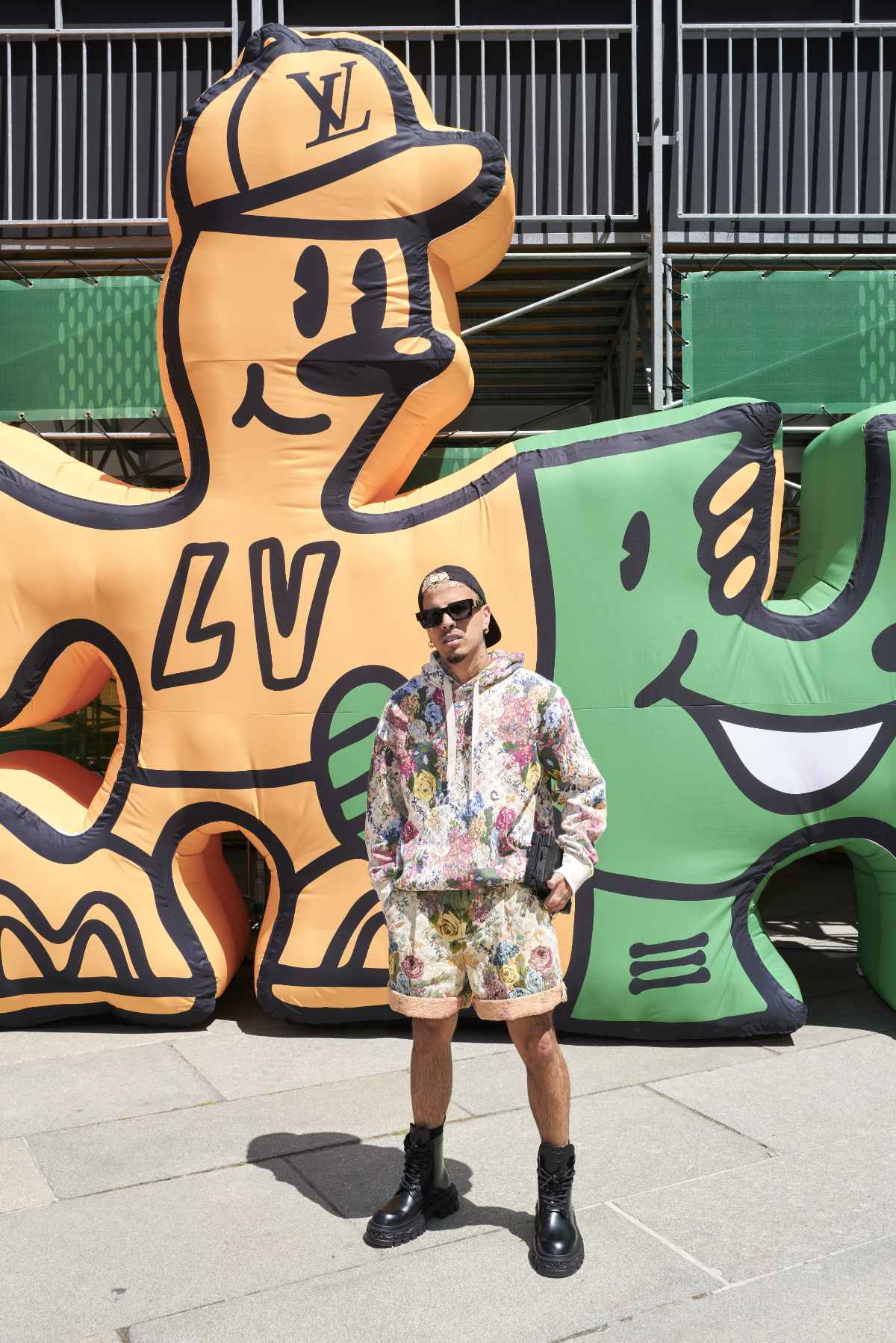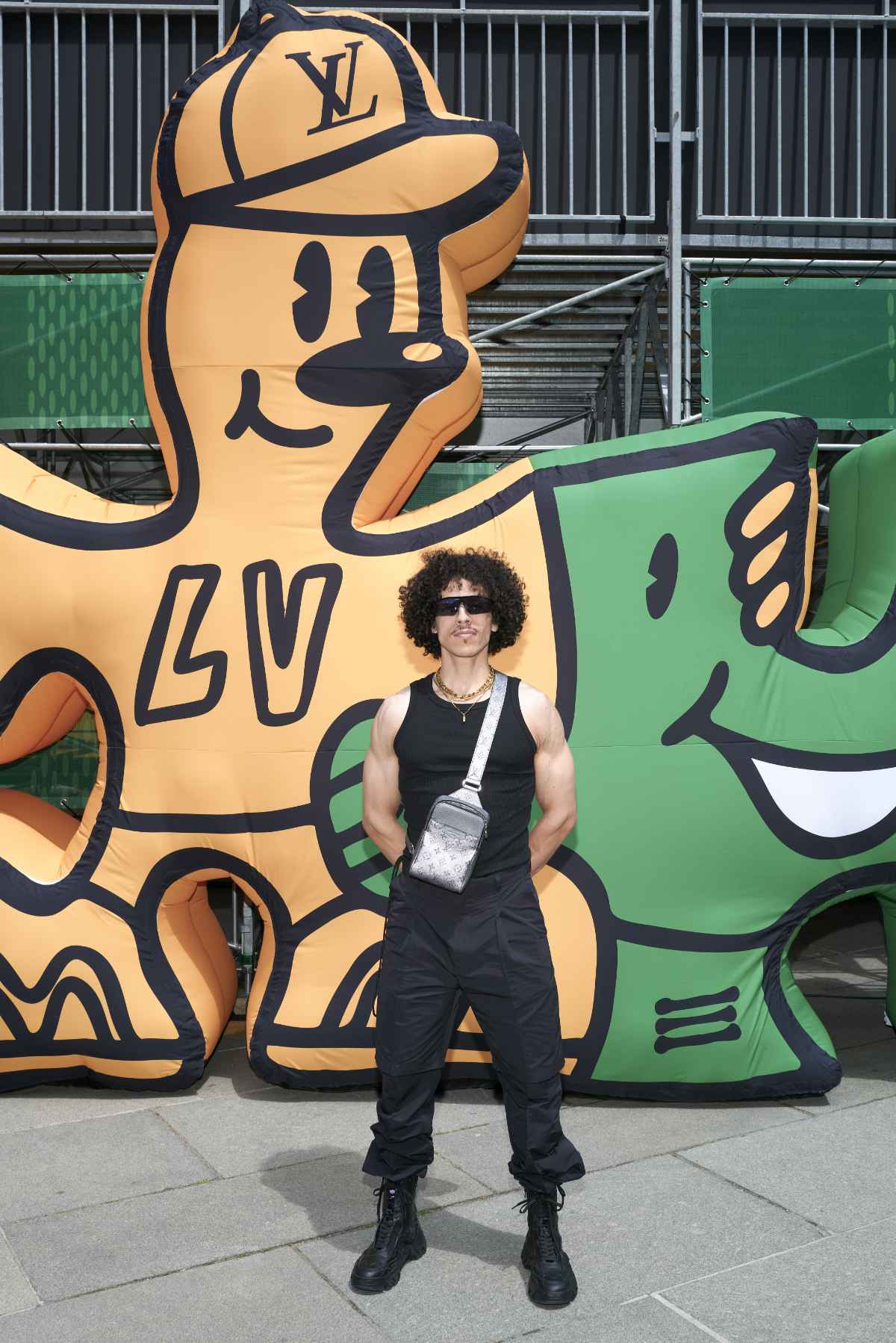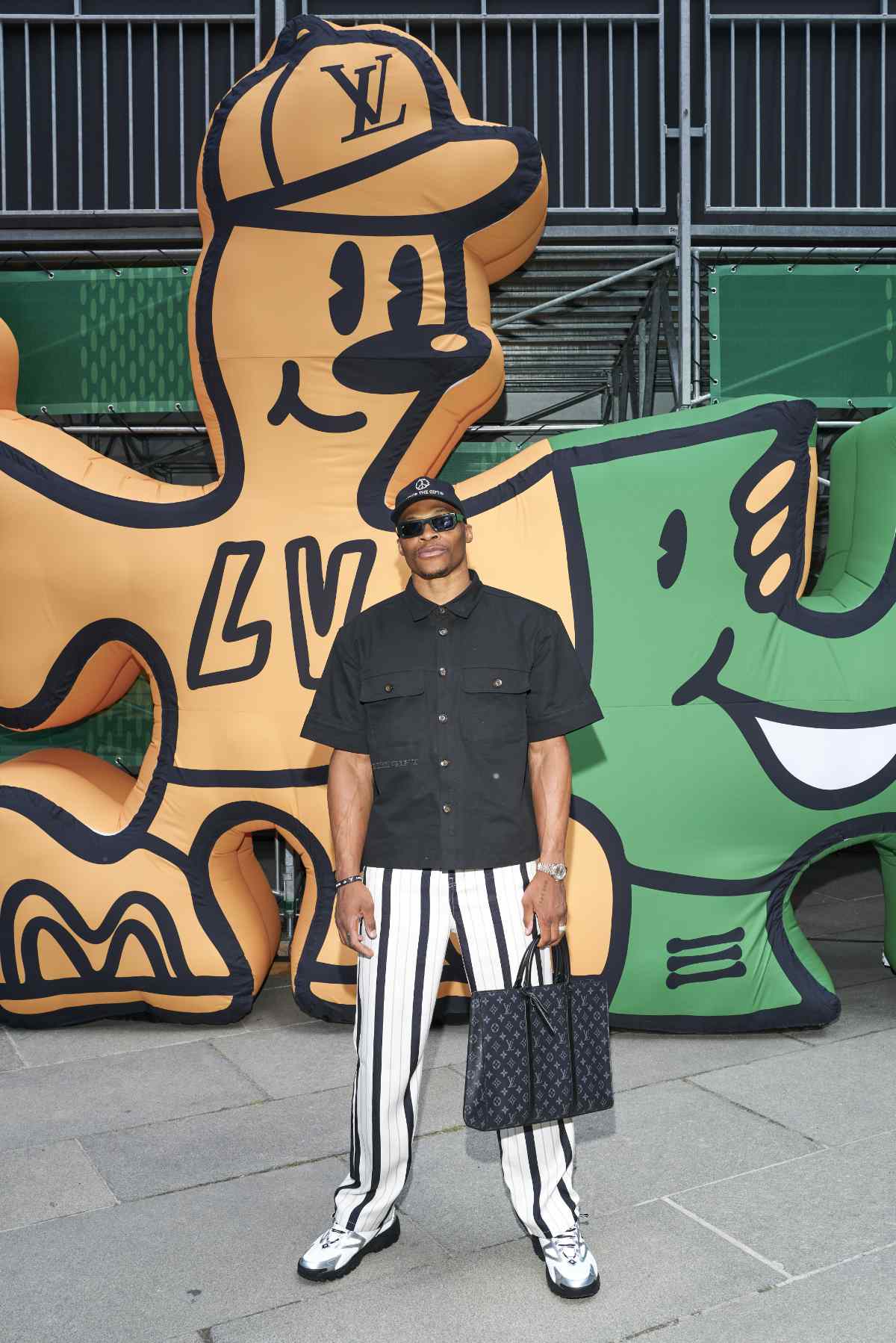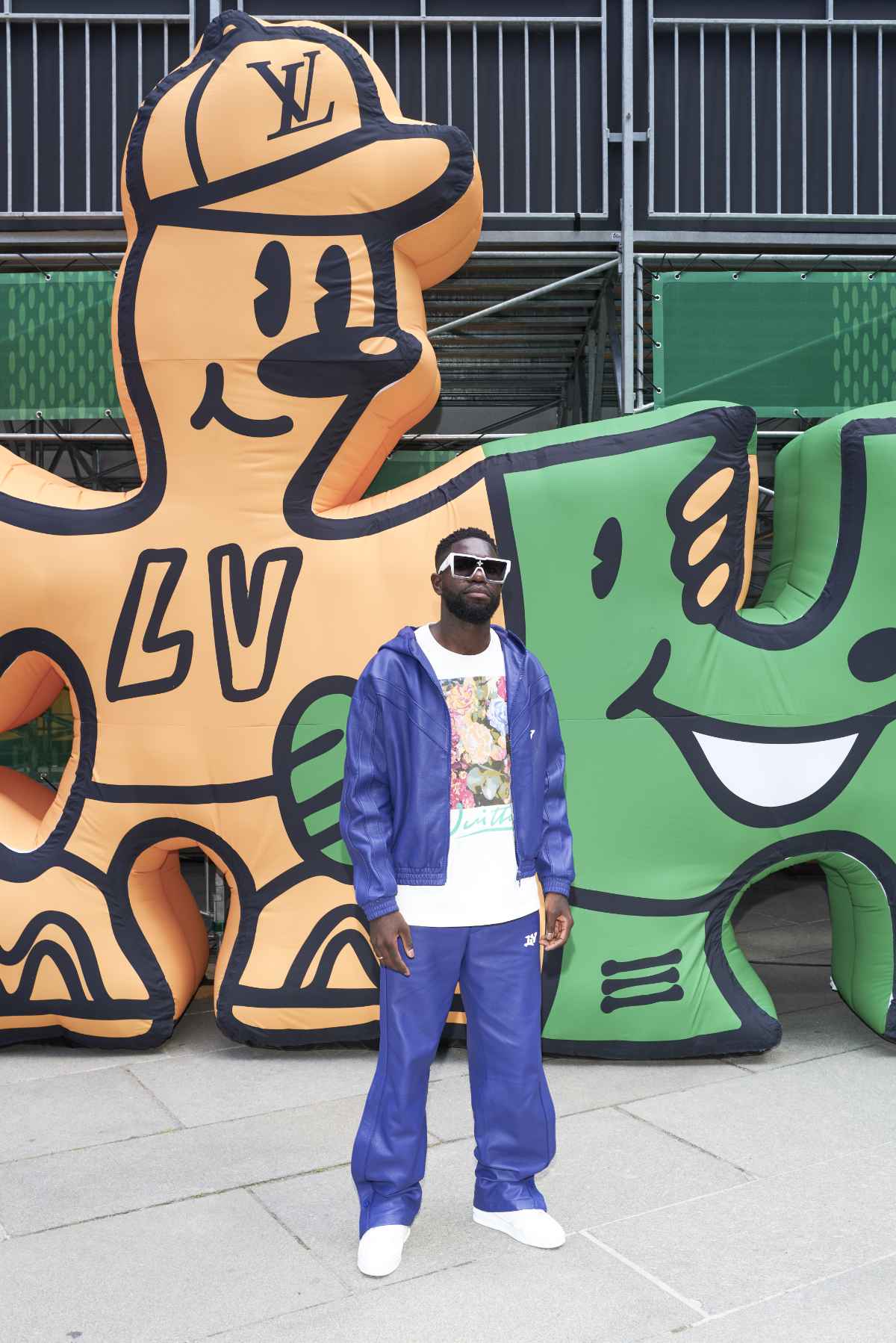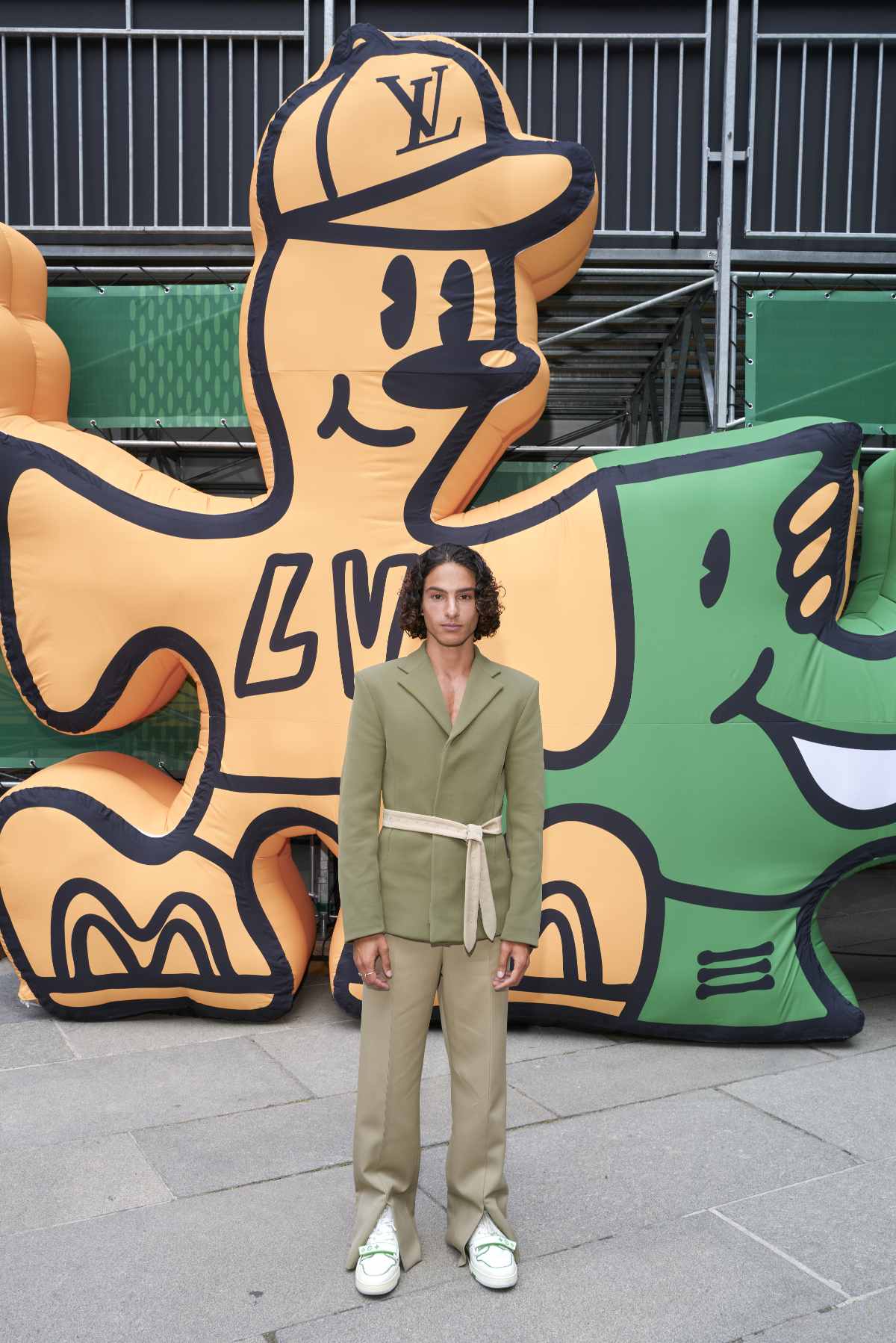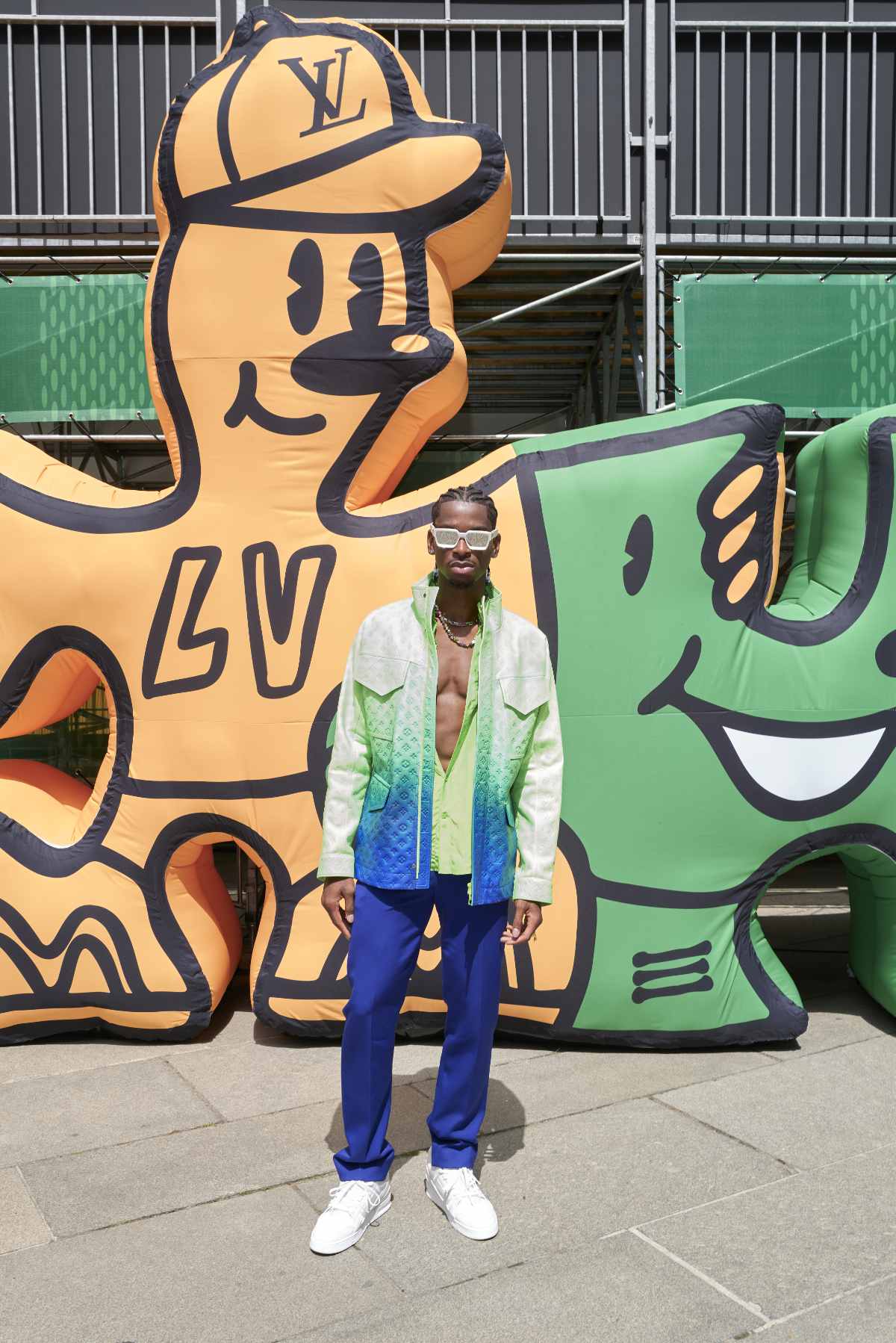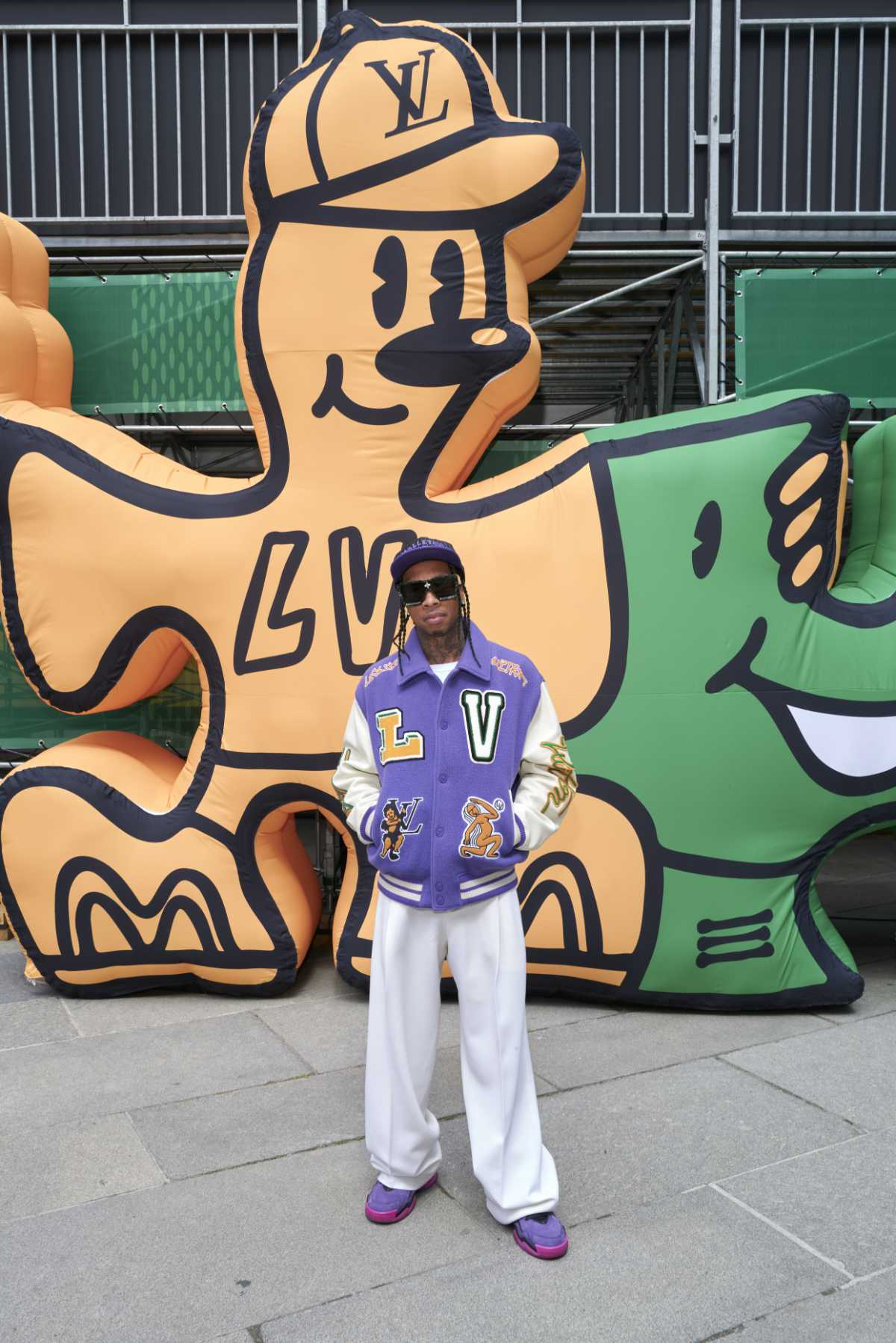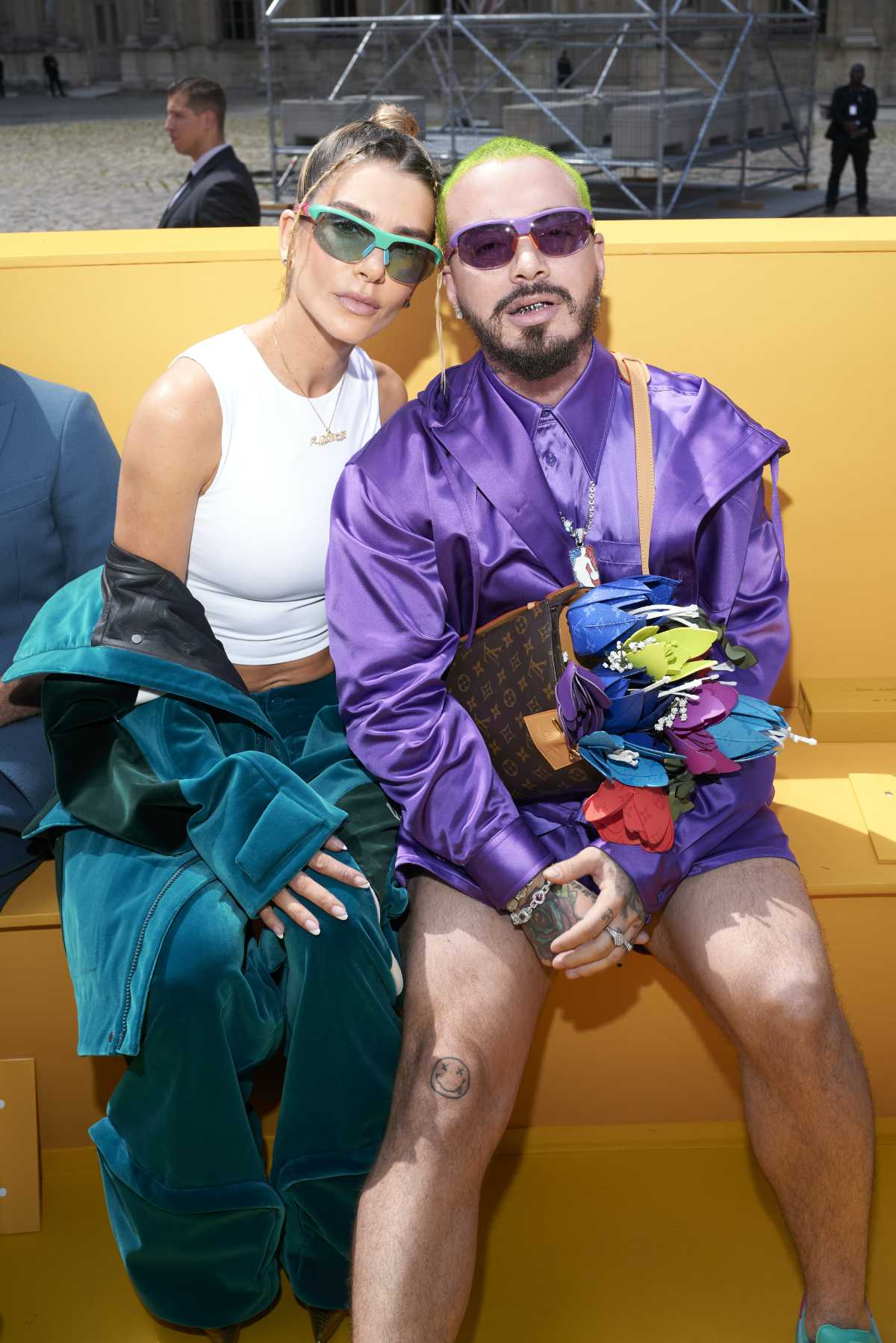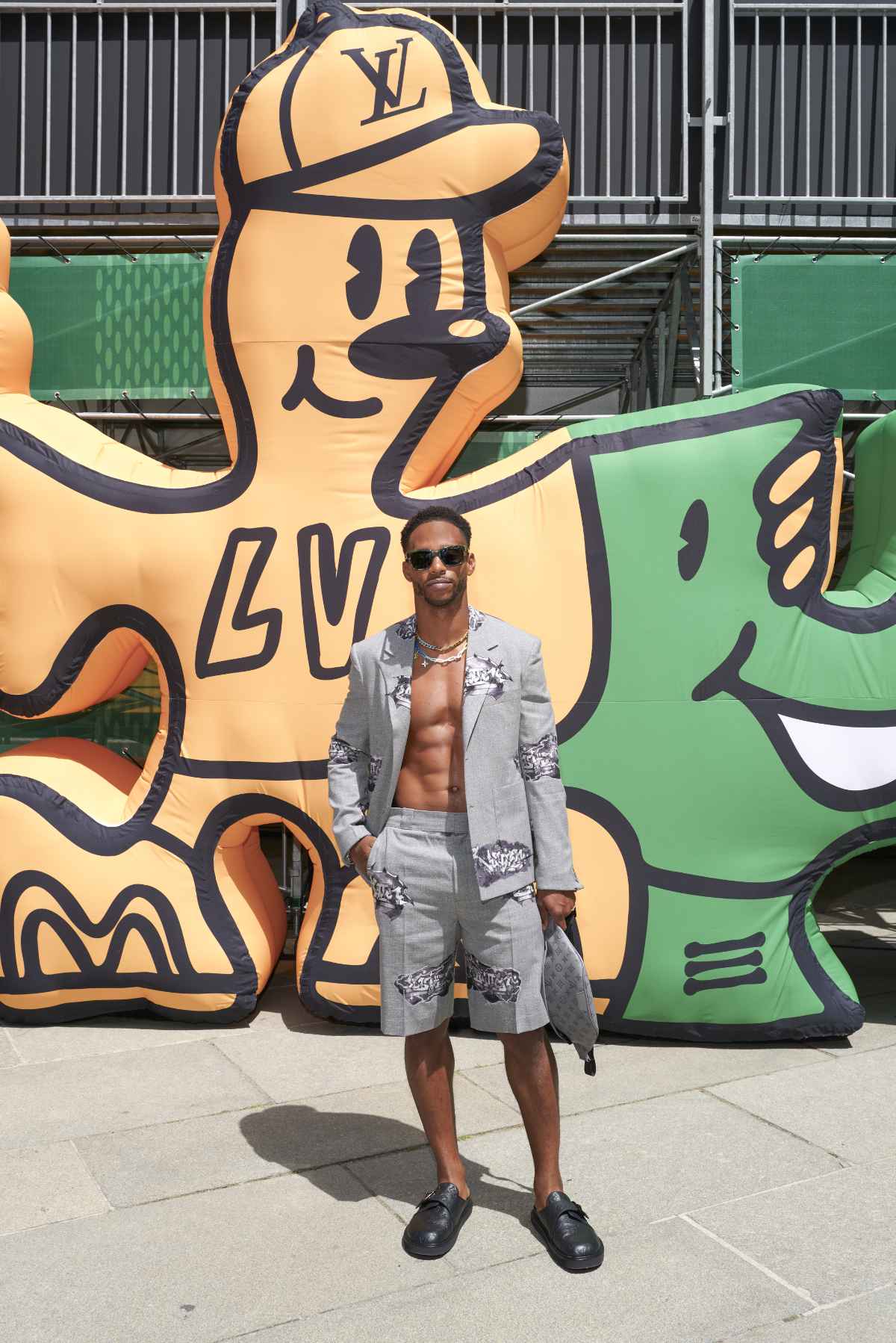 Collection details, motifs and techniques.
Accessomorphosis workwear is interpreted with oversized shearling multi-pockets in block colours. Aprons appear in bonded monogram canvas as takes on mid-layer pieces.
Belts in monogram or monogram-embossed leather are adorned with strass and enamel LV buckles embellished with thistles, while belts in matte leather feature moulure metal buckles.
Biker jackets appear graphically exaggerated as a nod to the tropes of 1980s' music videos.
Cargo uniforms morph into garments foreign to their original function: as trouser transformed into floor-length workwear skirts, and a jumpsuit turned into a full-body dress in dyed canvas.
Cartoon prints pay tribute to a classic childhood trope and feature in hand-painted form on a technical canvas windbreaker. Crackle-effect patent leather suits and coats are created from lacquered crust bases.
Crochet hand-executed in the image of the Louis Vuitton flower adorns the sleeves of tailoring and appears as patching on varsity jackets, bomber jackets and shirts.
Denim appears in rainbow monogram jacquard, in jacquard washes, and overprinted with fraying, as well as in a Parisian photo montage print on discharged denim pieces.
Flower field motifs nod at French impressionism and materialise on dégradé tapestry chenille coats and puffer jackets overembroidered with the same motif, as a print on draped pyjamas in crêpe silk with embroidery, and woven into a knitted top.
Flower Louis Vuitton logos are evoked in garments using a painstaking Shiburi tie-dye technique.
Jagged seams grace the edgings of elongated handkerchief-hemmed jackets, trousers and shorts, paying simultaneous homage to the tailor's process and children's arts and crafts.
Kaftans appear in tailored form with shoulder pads and sideclosures as a comfy take on suiting.
Knitwear interprets the motifs of the collection in chunky pullovers with thistle, cartoon and puzzle motifs, in tops from yarn encasing tiny multicolour pompoms, and tops knitted in the image of flower fields. Sports elements appear in brushed mohair rugby polos with melting rainbow graphics, in delicate nylon and merino tops with intarsia floral embellishment and protective skateboard padding, and in rigid and puffy sheer pullovers in air-spun nylon yarns.
Moulure mouldings evoke the ceilings of Parisian palais and appear on a white leather blouson and a white leather coat. Multi-buttonhole tailoring allows for the creation of swoopy and draped lines depending on styling.
Paper planes crafted in origami leather manifestations as allover adornment on a formal suit pay tribute to the collection's childhood motif.
Parisian photo montage imagery featuring elements from the city and the Maison such as moulures, the Damier pattern and Pont Neuf is created in jacquard used in tailoring, in a print on discharged denim pieces, and as a print in washed-silk pyjamas and kaftans.
Racing jackets and motocross skirts in swirly intarsia leather evoke a distorted 'blurred vision' effect.
Semi-relaxed tailoring in viscose silk or fil-coupé retains the shoulder pads but leaves the body unconstructed, creating the feeling of wearing blazers as hoodies.
Shirting disrupts the components of the garment's classic construction with multi-layered collars and tie hems adorned with toy beads.
Skirts range from the elegant to the tough: tiered and ruffled skirts are constructed in fine cotton muslin, motocross skirts appear in intarsia leather, and cargo skirts take on the properties on workwear.
Sports jerseys spanning the disciplines of football, basketball and baseball are elongated into dresses and numbered '00', the classic Louis Vuitton jersey number.
Static electricity fabric is used in techno coats and select workwear. When put into contact with electricity, the fabric shrinks and moves around, effectively creating a custom shape on the body.
Tailoring silhouettes fluctuate between the very voluminous and the very fitted, reflecting an idea of clothes grown-into or outgrown.
Tailoring with ties along the sides of trousers and jackets echo the swoopy lines of oversized denim trousers.
Technical Kevlar fabric is used in rigid outerwear with graphic patch adornments.
Thistle motifs pay homage to the bouquets of Asnières and appear in a multitude of iterations: evoked through flat devoré in coats, shorts, skirts and workwear; woven in threedimensional
tile toweling in workwear; as a sculptural jacquard fil chenille in coats and suits; as a jacquard fil-coupé crêpe in kaftans, pyjamas and coats; as a rustic jacquard moucheté in coats, suits and shorts; in printed crêpe silk on bombers; as an ornamental jacquard in pyjamas; hand-embroidered on a fine muslin swoop-seamed trouser; in embroidery and intarsia in knitwear; and as point-de-croix stitching on trousers and shirts constructed in machine rachelle lace.
Tie-dye revisits a classic Louis Vuitton element and features in workwear, in tile and thistle motifs on tailoring, as the Louis Vuitton flower using the Shiburi tie-dye technique, and in the Damier pattern on a lace shirt.
Tile motifs reference the floors of Parisian palais and appear through tie-dye along with thistle motifs in tailoring.
Toolbox tools celebrate the act of creation and the gesture of healing, and appear as a flat and three-dimensional embroidery on shirting and tailoring, and as embroidered pendant adornments on tailoring, workwear and knitwear.
Workwear silhouettes are informed by the dress codes of the 1990s skate communities.
Beanie hats are made entirely from glass beads, hand-crocheted with monogram flower motifs and adorned with beaded fringing, or patchworked in knitted three-pointed shapes.
Bucket hats feature oversized shoelace hat straps adorned with resin toy beads in Louis Vuitton letters and numbers; other bucket hats appear in tie-dye fur.
Bunting featuring a multitude of flags becomes an accessory that wraps around the body.
Caps appear with jumbo embroidery, in tie-dye and stonewash effects, or with hand-executed cross-stitching and beading. Eyewear takes inspiration from the cartoon-like animation of insects like dragon flies and bumble bees. With its anti-fog guard detail, the new Four Motion is imbued with adjustable properties including a nose pad regulator and temple extenders. The Evidence appears in a new Futurama edition informed by the playdough motif of the collection, while the Millionaire also appears in new playdough colourways.
Formal hats in felt appear magnified with puppet character embellishments on the hat band.
Gloves in leather with embossed moulures echo the Parisian ceiling cornice motif of the collection.
Headbands are hand-crocheted in the multi-colour palette of the collection.
Jewellery in strass and enamel interprets the collection's thistle motif in necklaces and rings with large LV pendants as well as crystal-encrusted chains with thistle and leave pendants in varnished strass. The Louis Vuitton flowers become the charms of multi-colour magnified friendship bracelets and necklaces on chains or braided climbing ropes.
'Paper hats' in origami leather evoke the collection's childhood motif.
Sails in nylon with graphics echo parachute fabrics and can be styled as sarongs.
Scarves are hand-crocheted in the multi-colour palette of the collection, or created with graphics in the image of football scarves.
Skateboards appear in the LV Comic motif also employed in bags.
Hoods with space antennas in padded nylon appear in cartoon prints or block colours.
Toy beads created in resin appear on belts, shoes, shoelaces and hat straps.
Le Boyhood is a new supersized sneaker in leather with fat lacing and a TPU sole. It appears in a series of primary contrast-colourways and features laces styled with either silicone building blocks or chunky beads.
The LV Baroque Boot is a grainy leather boot featuring moulure mouldings on the toe and tongue, and moulure embossment on the sole. It appears in bright green, aigrette and citadel.
The LV Baroque Loafer is constructed in leather with a moulureembossed EVA sole. It is adorned with a moulure buckle in galvanised metal and appears in black, aigrette or citadel glazed leather, and in orange or fluro yellow crackled leather with a crackled-effect buckle finish.
The LV Sabot is a new clog which hybridizes the properties of the classic wooden shoe with the codes of sneakers specific to the 2000s. Imbued with elegance, it is crafted in lightweight EVA over a neoprene sock and features a TPU sole. It appears in black, white, concrete, fluro pink, and fluro green.
The LV Midnight 2.0 is high motorcycle boot and sneaker hybrid crafted in leather with quilting details set on a TPU sole with a 9 cm heel. It appears in black glazed leather, metallic deep violet patent leather with a neon green sole, metallic chrome silver leather with a black sole, and dark shadow leather with an orange sole.
The LV SK8 is interpreted with an amplified focus on texture and surface decoration such as suede details, shine details, studs and beading. It appears in grey, orange, fluro green, metallic pink and metallic sky blue.
The LV Texan Boot is a new cowboy boot made on the Louis Vuitton Rochambeau Ranch in Texas. Crafted in leather with a flexible leather sole, it comes in five colourways adorned with different hand-embroidered motifs depicting florals and iconography native to Texas.
The LV Trainer II is a next-generation take on the LV Trainer. Crafted with elegant suede or satin uppers set on TPU soles, it appears in crème with white and grey with black.
The LV Trainer Puffer is a sneaker and snow boot hybrid crafted in leather. It appears in white, aigrette, tan, purple and fluro green.
Comics bags are crafted in canvas with an all-over multicolour comic book motif and adorned with letter-shaped address tags that can be customised to feature the client's personal initials. They come in a Keepall, a Keepall 25, a Sac Plat, a duo-pocket backpack, a Sirius 70, a mini soft trunk, a giant bum bag, a Cruise messenger, and envelopes with return-to-sender graphics of Louis Vuitton's Pont Neuf address.
Croc bags include a neon green Keepall, an orange Lock It, a purple motorcycle bag with a flask, a fluro yellow mini soft trunk, and a neon green vertical soft trunk. Crochet monogram and flower bags are crafted entirely in crochet and adorned with crochet patches, and have been handwoven in Madagascar. They appear in the shape of a Keepall and a vertical soft trunk.
Flower Field bags are informed by the soft covers in which the Maison traditionally used to store the Cotteville and jewellery box. They are crafted in archive-beige cotton canvas and embellished with impressionist florals in tuftage and handembroidery. Marble has been carved into a one-off monogram briefcase by expert marble carvers, who specialise in the restoration of the marble interiors of chateaux. It features a palladium handle and is illuminated from the inside by LED lights.
Object-shaped bags appear in various forms: delivery van bags created in saffron-coloured leather or Macassar monogram canvas; boat bags in white or blue leather mimicking an origami paper boat; a fortune cookie bag in tan leather with mini monogram; diamond pouches in holographic croc leather or patterned ruby PCV; sandwich box bags with "Freshly Baked" graphics in blue and purple or green and yellow leather; and a potted cactus bag in monogram leather with embroidered three-dimensional leather cacti.
Playdough bags are created with a silicone coating that creates a gooey, imperfect effect similar to that of playdough. They feature a mix of fluro and primary colours and appear as a Keepall, a Sac Plat, a Sirius, a giant Christopher, a houseshaped Maison messenger, and a Cotteville.
Playdough Monogram bags paint the Louis Vuitton emblem in the colours of playdough through multiple layers of print. They manifest as a Keepall, a Christopher, a Cruiser backpack, a Cruiser messenger, an oversized bum bag, a mini soft trunk, and a motorcycle sling bag with a flask. They appear in pink with turquoise, yellow with blue, and black with blue.
Plywood bags are crafted from leather scraps upcycled from the creation of the Maison's VVN bags and re-dyed to evoke a plywood illusion. They take shape in a square Keepall, a soft trunk, a speedy trunk with bolted metal corners, and in envelopes adorned with postal service graphics.
Spotlight bag are constructed in leather with silk-printed logos creating a shadow effect behind each motif, and adorned with silicone building blocks. They feature as a three-pocket backpack, a soft travel bag, a soft messenger, a flat soft messenger with pockets, a Sac Marin with a flower-shaped bottom, and an oversized bum bag. They appear in lilac, azure blue, yellow, and black.
Versailles bag are crafted in leather ornamented with the moulures of palatial interiors through high-frequency moulding. They take shape in a Keepall, a City Keepall, a Cruiser
backpack, a Cruiser messenger, a new Sac Plat East/West, a soft briefcase, a messenger, an oversized bum bag, and a handled soft trunk. The bags appear in white, citadel, dark shadow, and black.
Wood-embellished small trunks are rigid, angular bags in moulded monogram leather. They appear in lilac, yellow, white and black.
Credits

PRELUDE:
FAMU Marching Band - "Enlightment" (written by Sun Ra) contains extracts from "If You Are Not A Myth (written by Sun Ra)
SHOW:

FAMU Marching Band - "Mighty Rattlers"
FAMU Marching Band - "Get Up"
Kendrick Lamar "Savior"
Kendrick Lamar "Rich Spirit"
Kendrick Lamar "Count Me Out"
Kendrick Lamar "N95"
FAMU Marching Band - "Rattler To The Bone"
FAMU Marching Band – 'S.O.S. (written by The S.O.S. Band)


---