---
Florentine Luxury House Unveils Its Second High Watchmaking Collection At The Gucci Wonderland Event
Luxferity, 13.05.2022
1972-2022

Half a century ago in 1972, in the watchmaking heartland of La Chaux-de-Fonds, Gucci Swiss Timepieces presented the world with a new horological design proposition – watches combining unparalleled Swiss technical know-how with the best in Italian design. In 2021, Gucci made its long-awaited debut in high watchmaking with a series of Swiss-made designs showcasing technological flair, elevated materials, and unique decorative artistry. Now, to mark the 50th anniversary of Gucci Swiss Timepieces, the House celebrates its next bold step into this mesmerizing universe.
GUCCI WONDERLAND

In 2022, Gucci presents its second high watchmaking collection at the Gucci Wonderland event in Geneva. The mood of this kaleidoscopic collection is inspired by a magical fairground, where the most refined watchmaking complications appear alongside rainbow-like gems and celestial wonders. Entering this enchanted universe is like being catapulted onto a thrilling series of roller-coaster rides. Three new Gucci-designed watch movements are revealed:
GUCCI 25H SKELETON TOURBILLON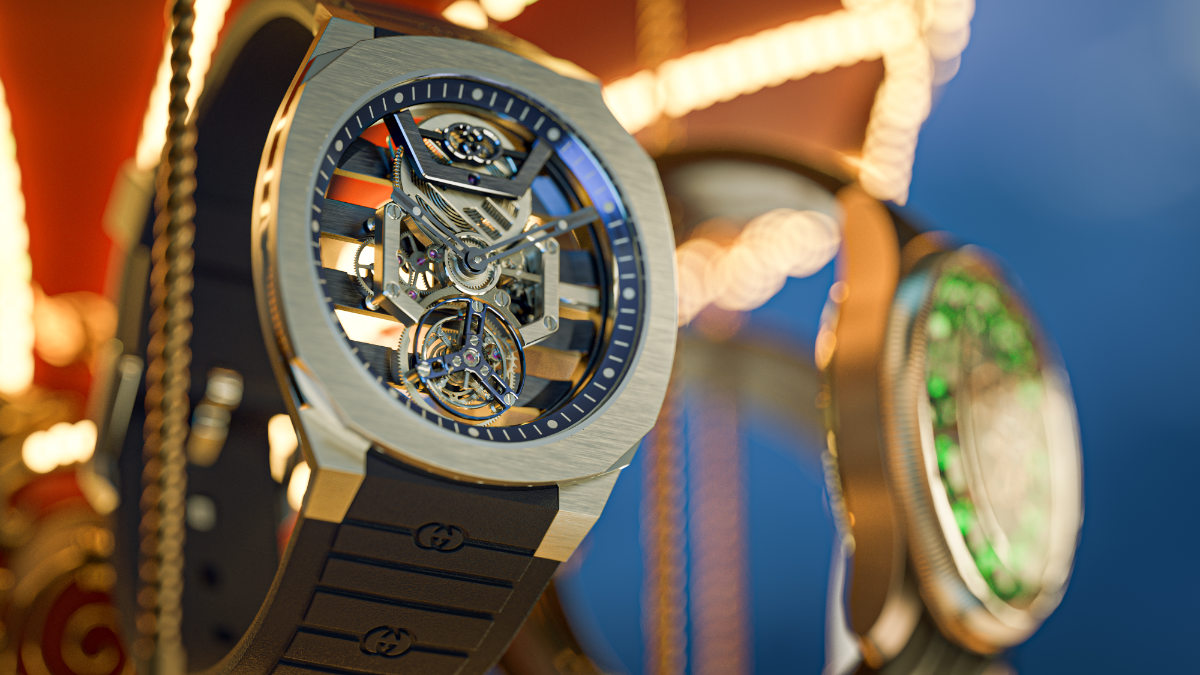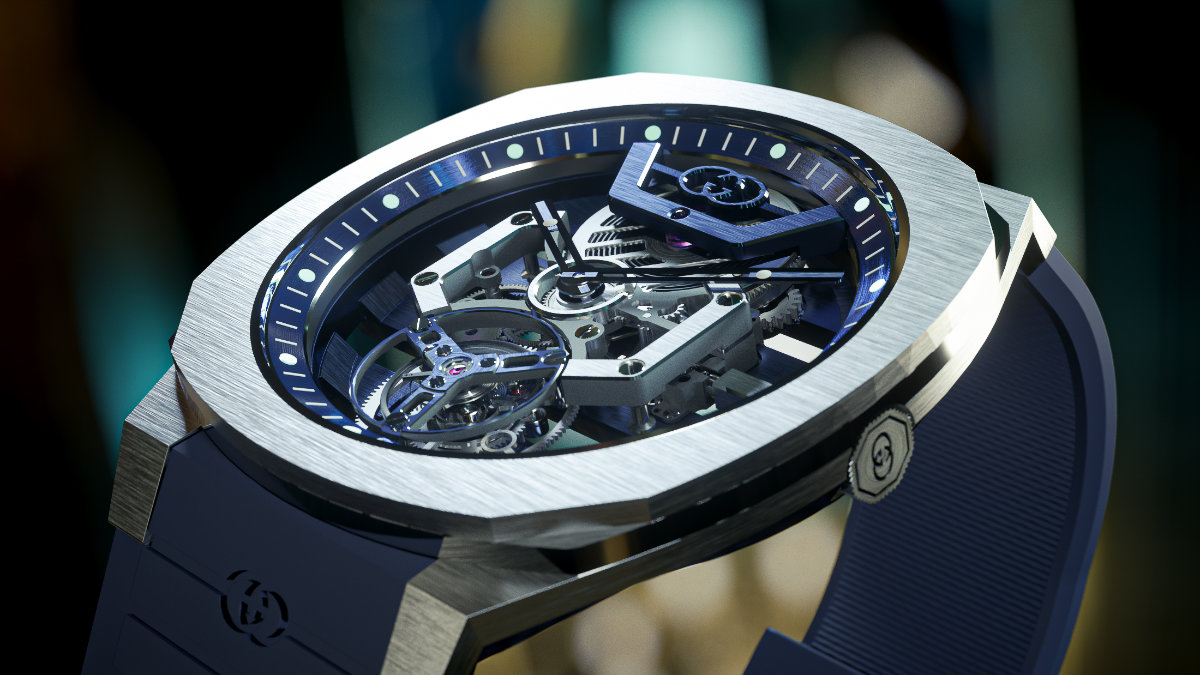 With its impossibly sleek, 8mm-thick case and captivating see-through dial, the GUCCI 25H SKELETON TOURBILLON arrives with a new Gucci exclusive caliber flying tourbillon. Because the watch is designed around the movement, it creates a fantastic illusion of the mechanics floating above the brushed and polished titanium bridges that cross the base of the dial. With skeleton hands adding a subtle layering effect, the GUCCI 25H SKELETON TOURBILLON is a feat of craft, style, and extraordinary skill, announced by a flying tourbillon at 6 o'clock. This complication regulates timekeeping while its sparse technical design adds a contemporary, decorative touch. Created in 100% recycled gold – in white and yellow bracelet variations – and in slate-grey titanium with a rubber strap, the GUCCI 25H SKELETON TOURBILLON becomes a retro-futuristic time machine for the wrist.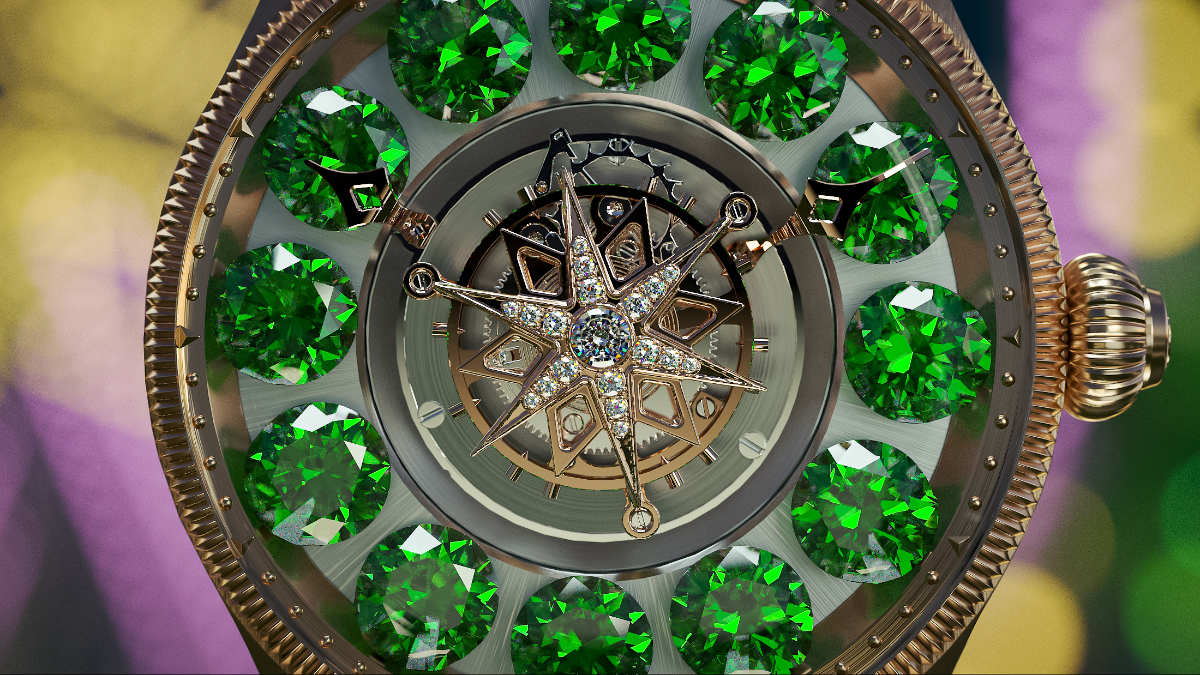 A pioneering addition to the high watchmaking genre, with its halo of 12 princess-set gemstones circling the dial, the G-TIMELESS PLANETARIUM shines a precious light on time's ever-changing view. It also conceals a showstopping power: the gem-set wheel is activated at the touch of a button, rotating around the dial in a gala of light. This delightful on-off control is made possible by a groundbreaking invention: the Dancing Hours Flying Tourbillon, a new Gucci exclusive caliber with a hypnotic diamond star at its center. The arrow-shaped watch hands pay homage to high watchmaking's heritage of fine technical detail, while each turn of the dial is a playful reminder of Gucci Swiss Timepieces' dynamic fusion of new technology and timeless Italian style. The G-TIMELESS PLANETARIUM is offered in white, rose, or yellow-gold variations with its rotating wheel of green tsavorite, blue tanzanite, or yellow beryl gemstones.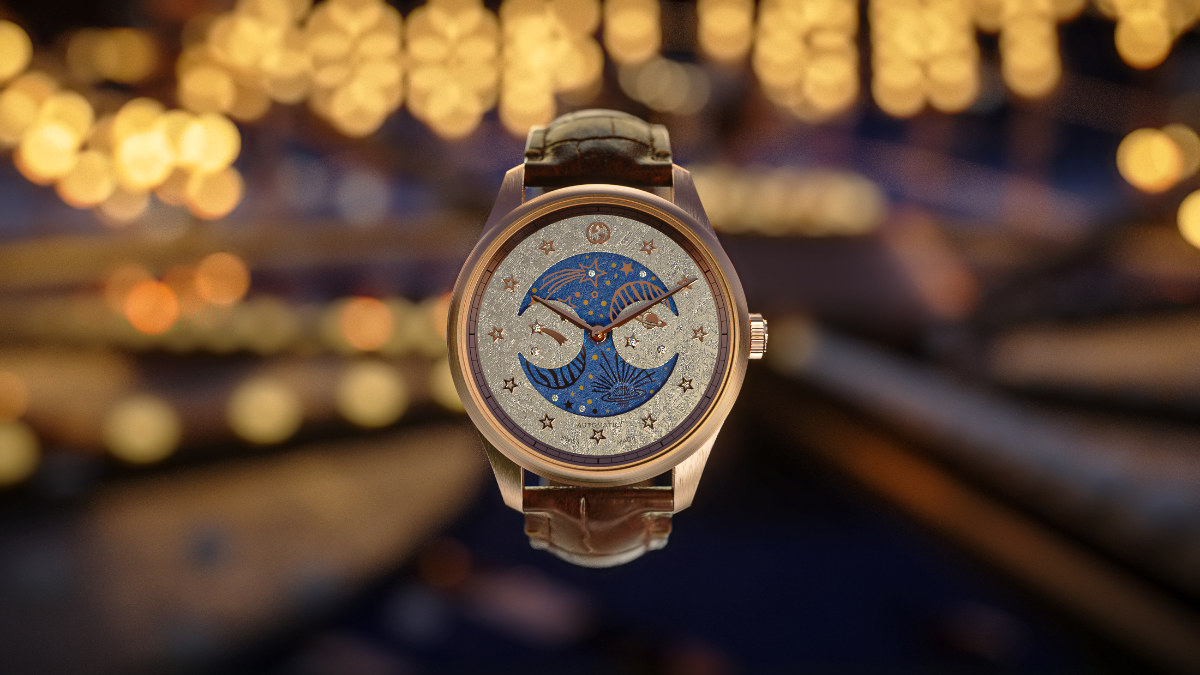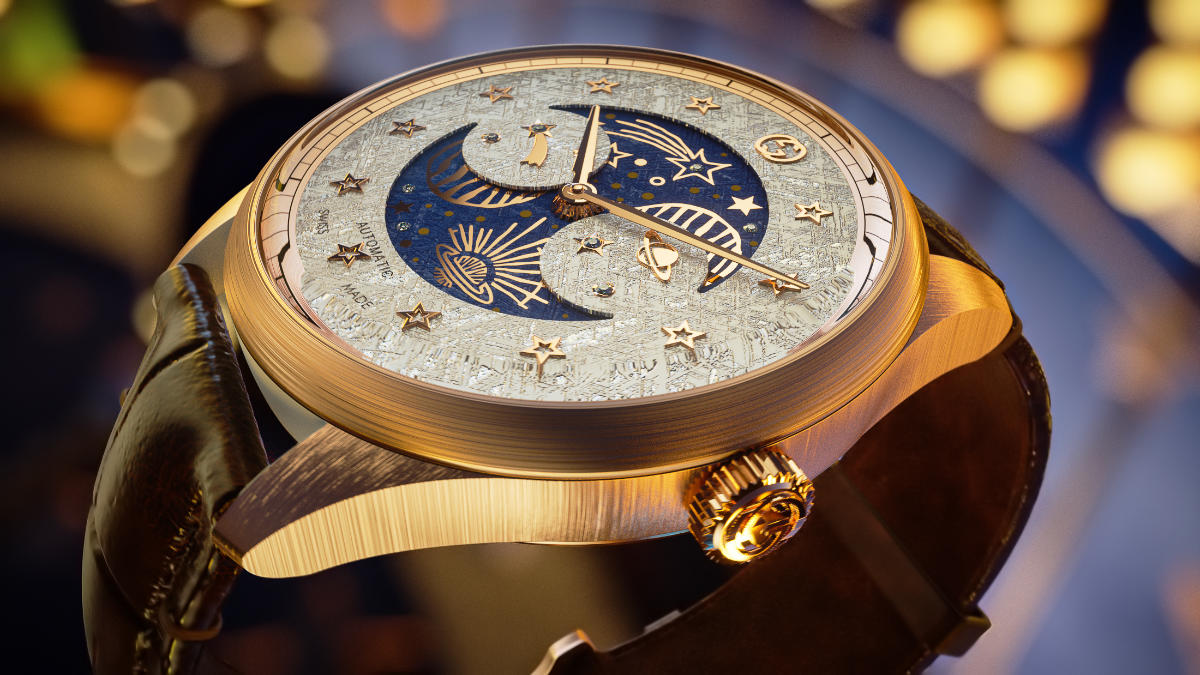 Gucci takes the carnival of time to the skies with the G-TIMELESS MOONLIGHT. On the dial, a beautifully decorated moon waxes from gleaming sliver crescent to pearlescent whole before beginning its celestial journey all over again. Created around the new, Gucci caliber GGV838.MP, the sheer technological precision of the G-TIMELESS MOONLIGHT allows it to dictate its own time, following the 29.5-day lunar month. A feat of high watchmaking excellence, this timepiece only needs to be adjusted every 360 years. It is presented in pink gold and white gold, with a natural meteorite dial, where fairground planets spin and stellar diamonds shine.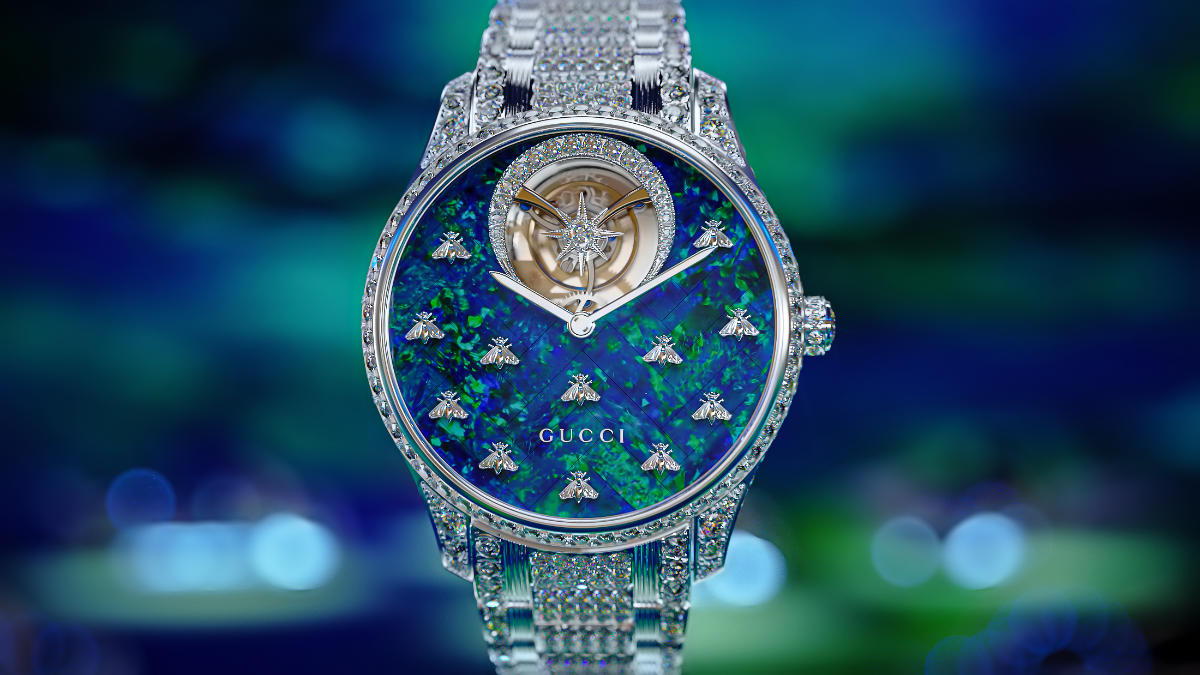 In 2022, Gucci presents new diamond-set additions to its family of G-TIMELESS DANCING BEES tourbillon timepieces. In homage to historical en-tremblant jewelry styles, where jewels were exquisitely engineered to move in rhythm with the wearer, 12 bees shimmer around the diamond-set dial as the wrist moves. Experimenting further, master craftsmen have heightened the natural, glossy sheen of two rare opal varieties – pink and green – to form rectangular 'bricks', from which they have created a miniature chevron pattern on a mother-of-pearl dial. The natural markings of the opals render each dial design unique, while the mirrored caseback allows a personal message to be engraved. Each G-TIMELESS DANCING BEES marquetry edition is presented either in white-gold and yellow-gold bracelet or in alligator straps variations.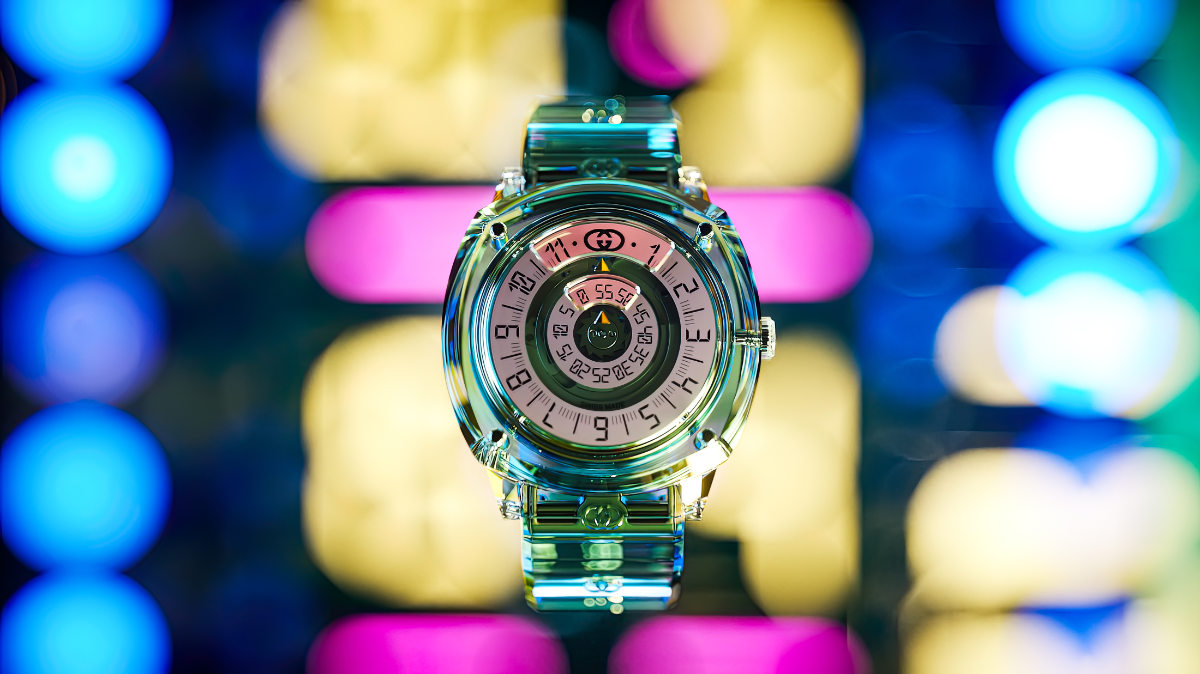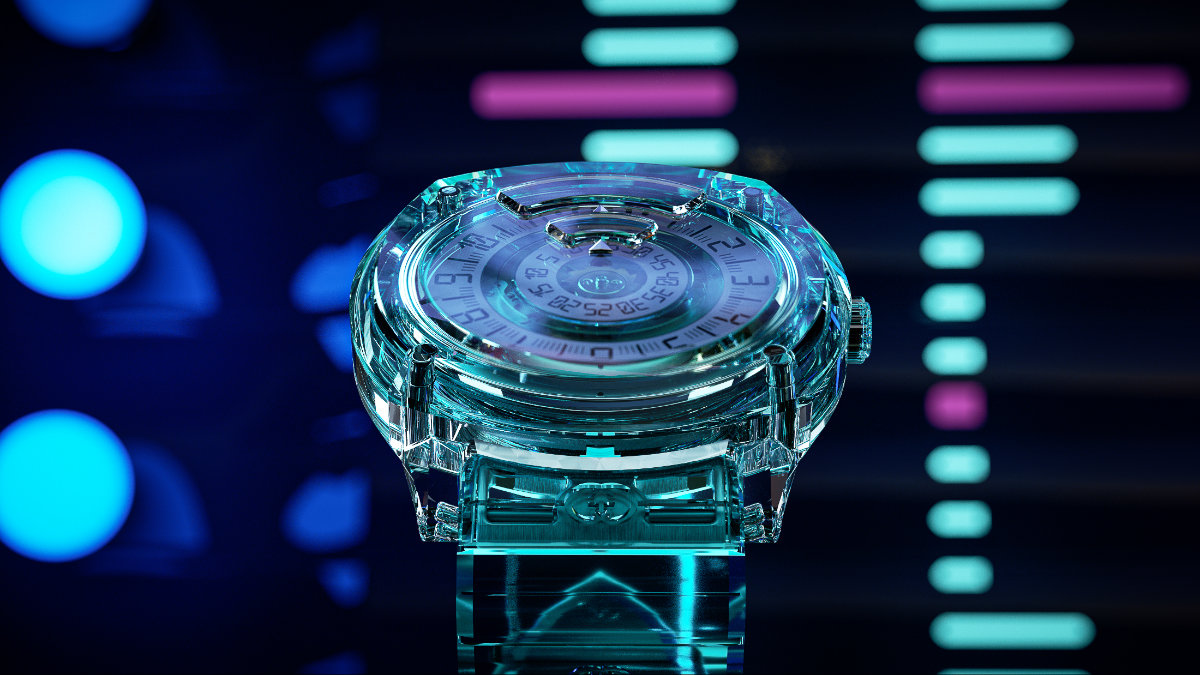 In 2022, Gucci adds two vivid mint green variations to its signature Grip Sapphire mechanical collection. The transparent, cushion-shaped watch case is expertly cut from a cylinder of pure sapphire crystal using a specialist machine. The case is then polished to pristine transparency.
Adding to its complex nature, the Grip Sapphire houses a Swiss self-winding jumping hour movement. The dial features two windows, through which the hours and minutes 'jump' playfully into view.
Two mint green Grip iterations are offered, each with a transparent caseback. The first sports two laser-cut turquoise hours and minutes discs for tone-on-tone modernity, while the other showcases mauve-pink discs. Each design is fitted with a transparent mint-green rubber strap and sapphire crown.
Exhibition

50 YEARS OF VISIONARY WATCH DESIGN

To celebrate 50 years of Gucci Swiss watchmaking, Gucci Wonderland presents, for the first time, a journey through five unparalleled decades of Italian-born, Swiss-made design. For the very first time, the House has assembled a treasure-trove of modern-era watch creations, from the curious desk-clocks and watch diaries of the 1950s, to the handbag watches of the 1960s and semi-precious stone bangle watches of the 1970s. The golden 'floating' penny-dial watches of the 1980s, with circular dial designs in the House's red and green palette with luxurious lizard leather straps, are a strong reminder of how, through every era, Gucci has seamlessly translated its classic fashion motifs into stylish watch designs. Iconic equestrian symbols, for instance, appear through decades of Gucci watch design in various creative guises. The futuristic 1990s steel watches, some with diamond-encrusted 'G' cases, illuminate the House's pioneering move into fashion watches created with precious decoration and technical artistry. This very special Geneva exhibition underlines the Florentine luxury House's visionary influence on watch design, from 1970 to the present day.
Gucci Greenhouse

GUCCI WATCHES

The Florentine luxury fashion House presents a preview of its 2022 watch designs in the elegant setting of the Gucci Greenhouse during the Gucci Wonderland special event in Geneva. On show are various new core collection updates:
Three new 30mm GUCCI 25H quartz models are offered: stainless steel, stainless steel and gold plated, and a dazzling diamond dial design.
Also revealed are two gender-neutral GUCCI 25H glass dial designs in 38mm quartz variations. Whether in turquoise-blue or pink glass, each dial is designed to light up the wrist with a ray of opalescent color that changes tone with the light.
Another dynamic, color-coded GUCCI 25H design blends pink, blue, and green aluminum with a pink-brass dial. The caseback also reveals a very special touch – the Gucci exclusive caliber decorated with a special wave pattern.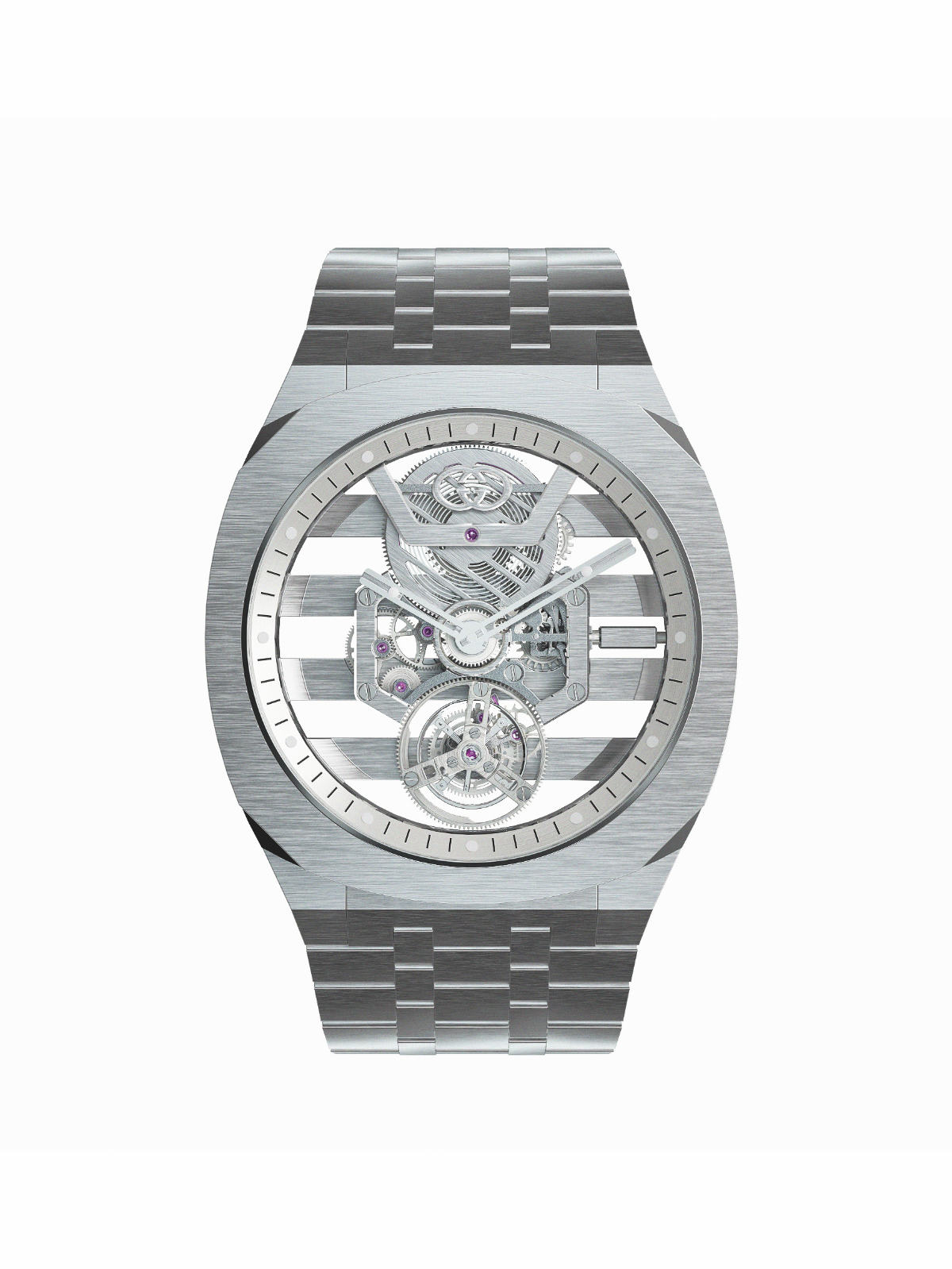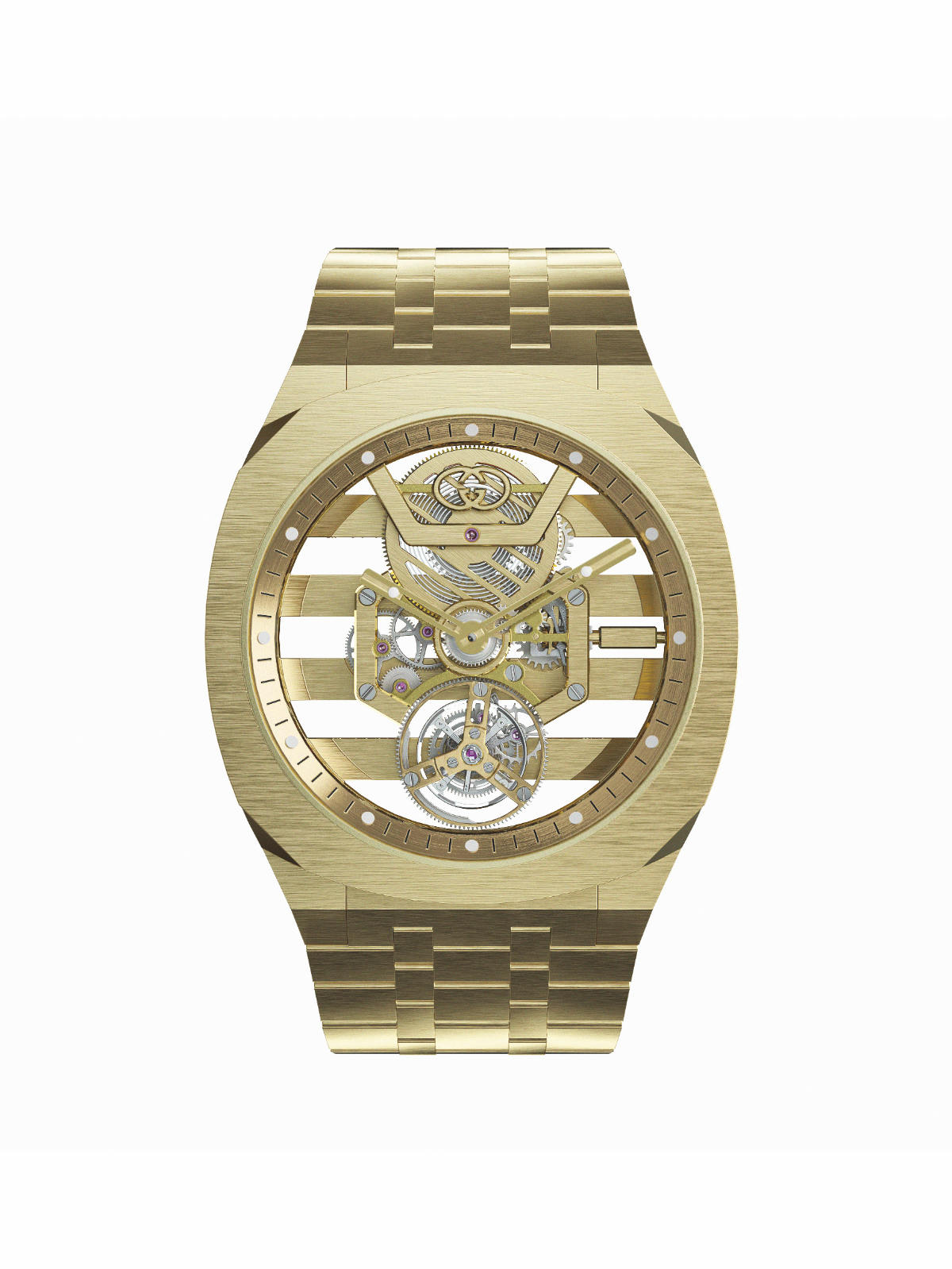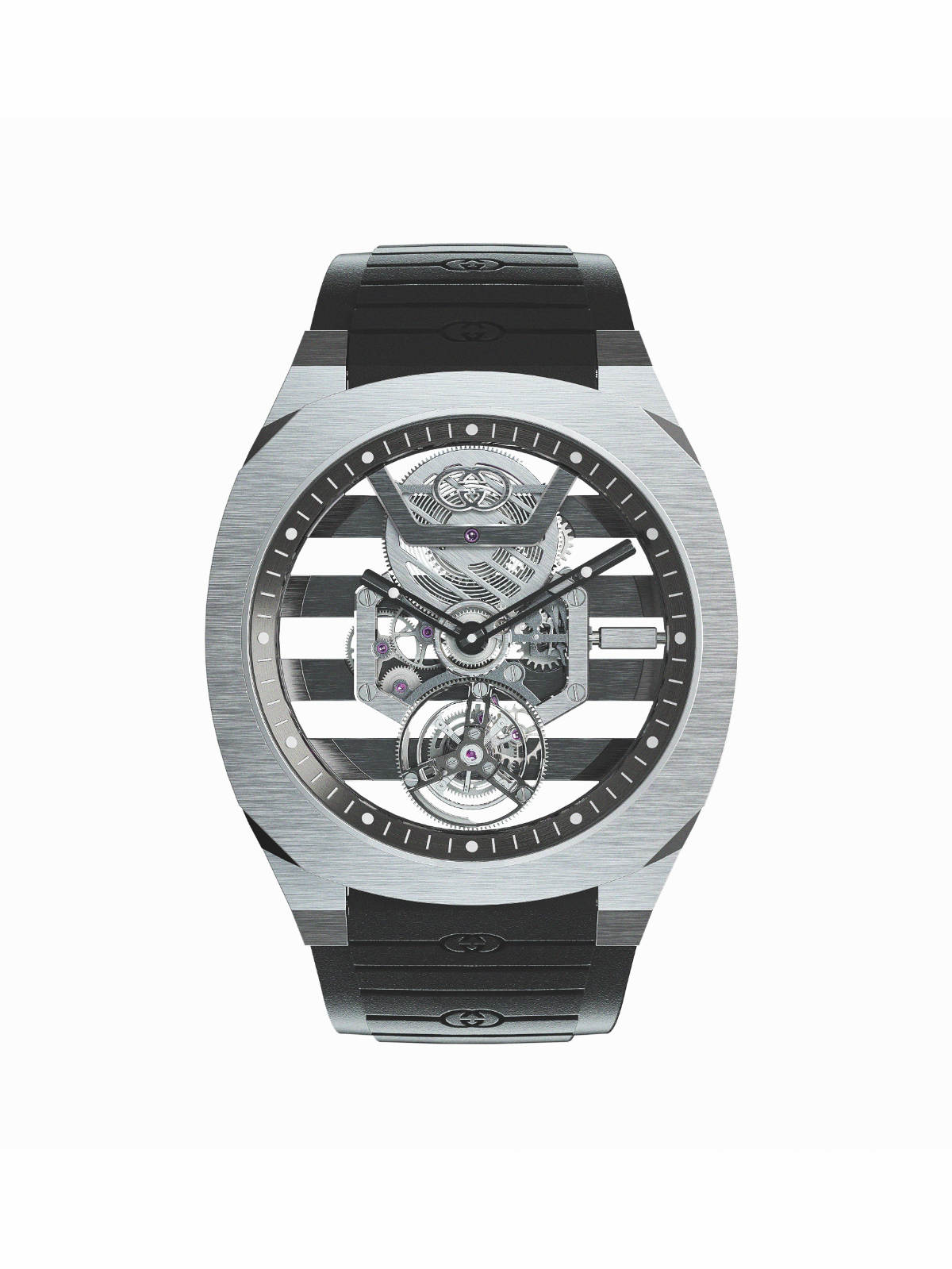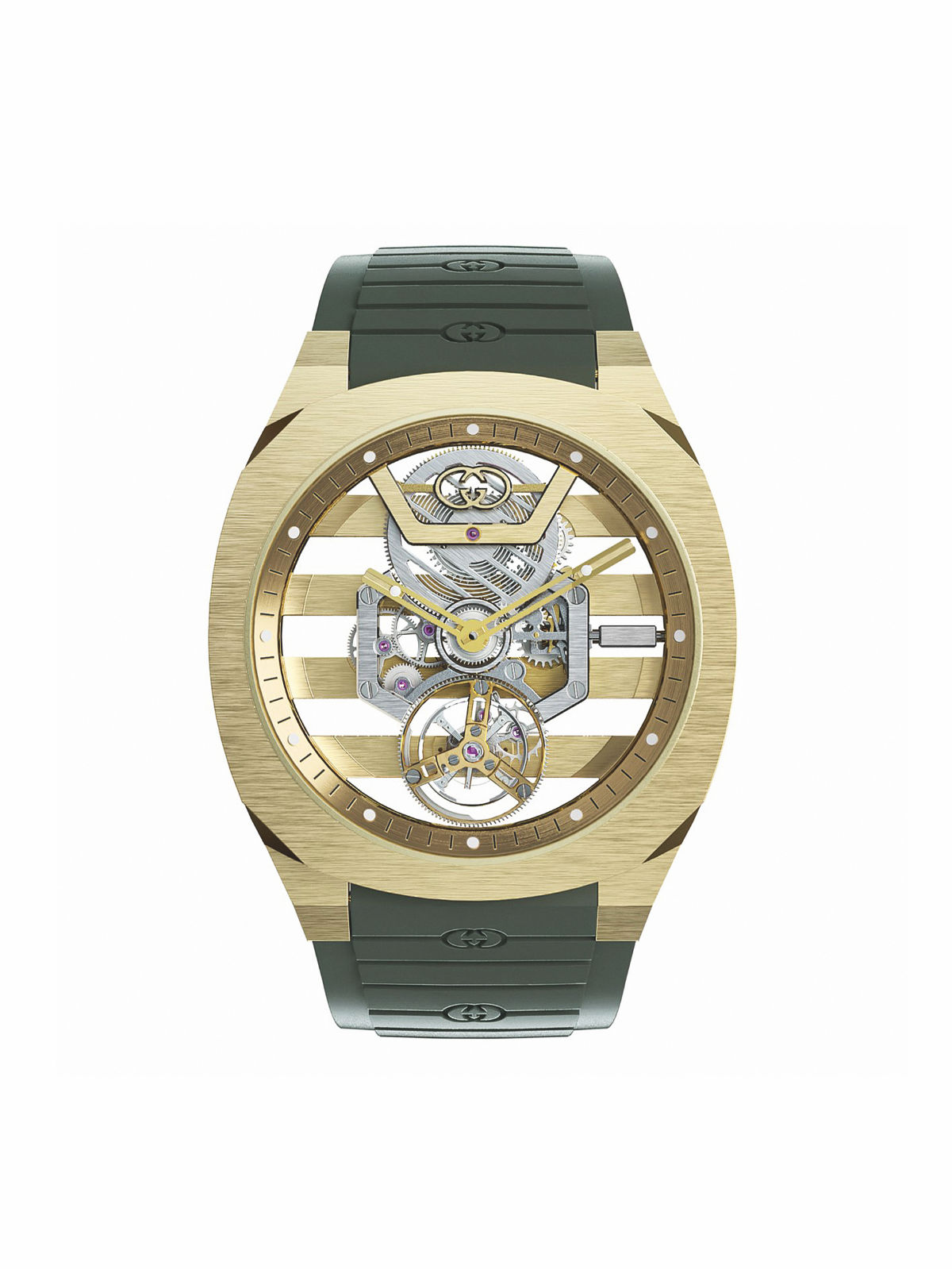 The G-TIMELESS with bee motif arrives in new editions, in 32mm and 38mm dial varieties, with a quartz or automatic movement and an 18kt yellow-gold, steel, or bi-metal case. The subtle dial decoration is offset by vibrant material mixes, so that light reflects across the metal finishes. Designs include sunbrushed silver and gold dial options, as well as pink lacquer and black onyx dials. The black onyx dials form a dramatic, semi-precious backdrop for 15 golden bees, while the sunbrushed golden dials are accented with harmonious yellow-gold bee motifs. Case and strap variations include all steel, all yellow-gold, or bi-color yellow-gold and steel. Each dial is emblazoned with Gucci bees.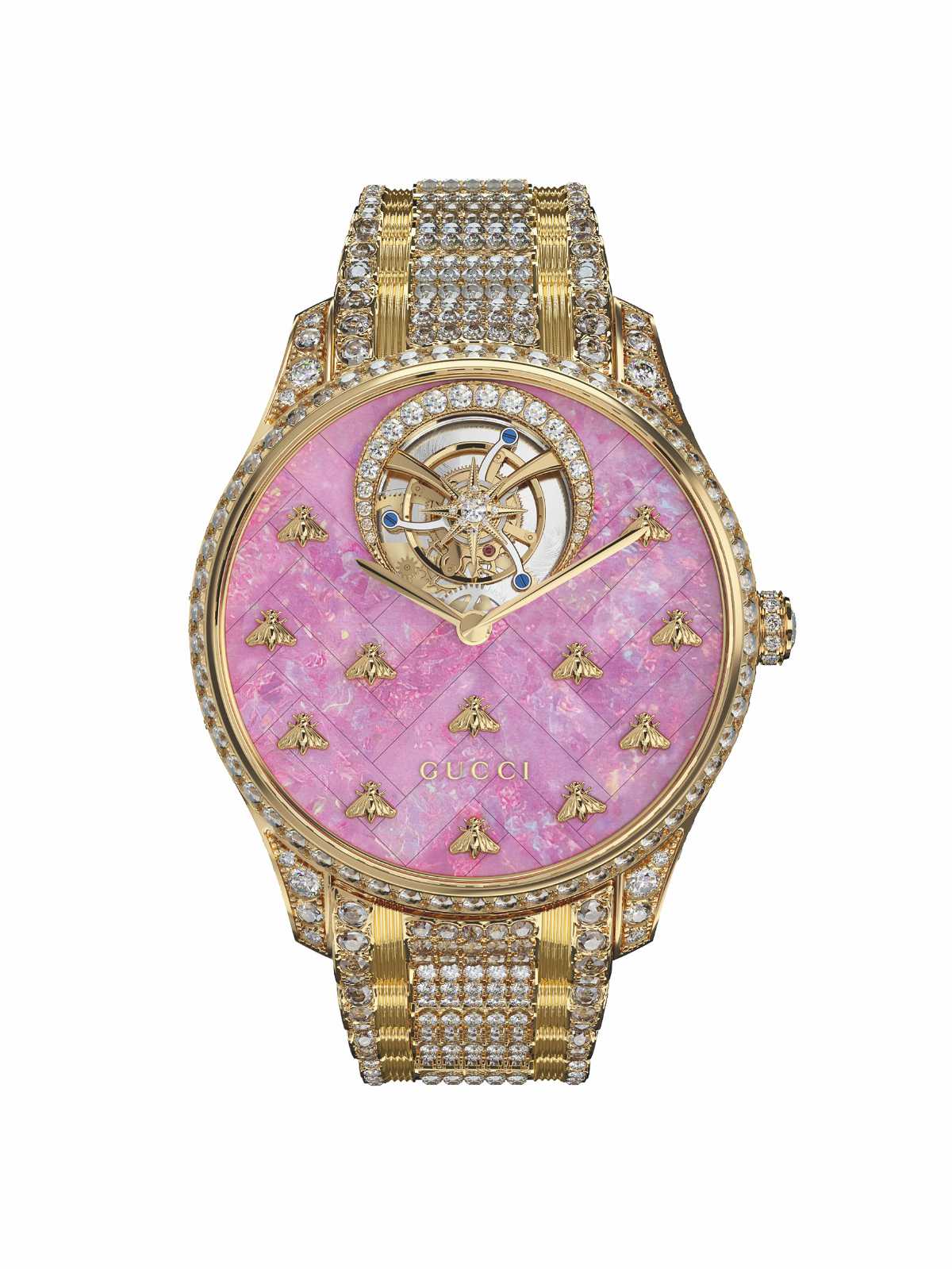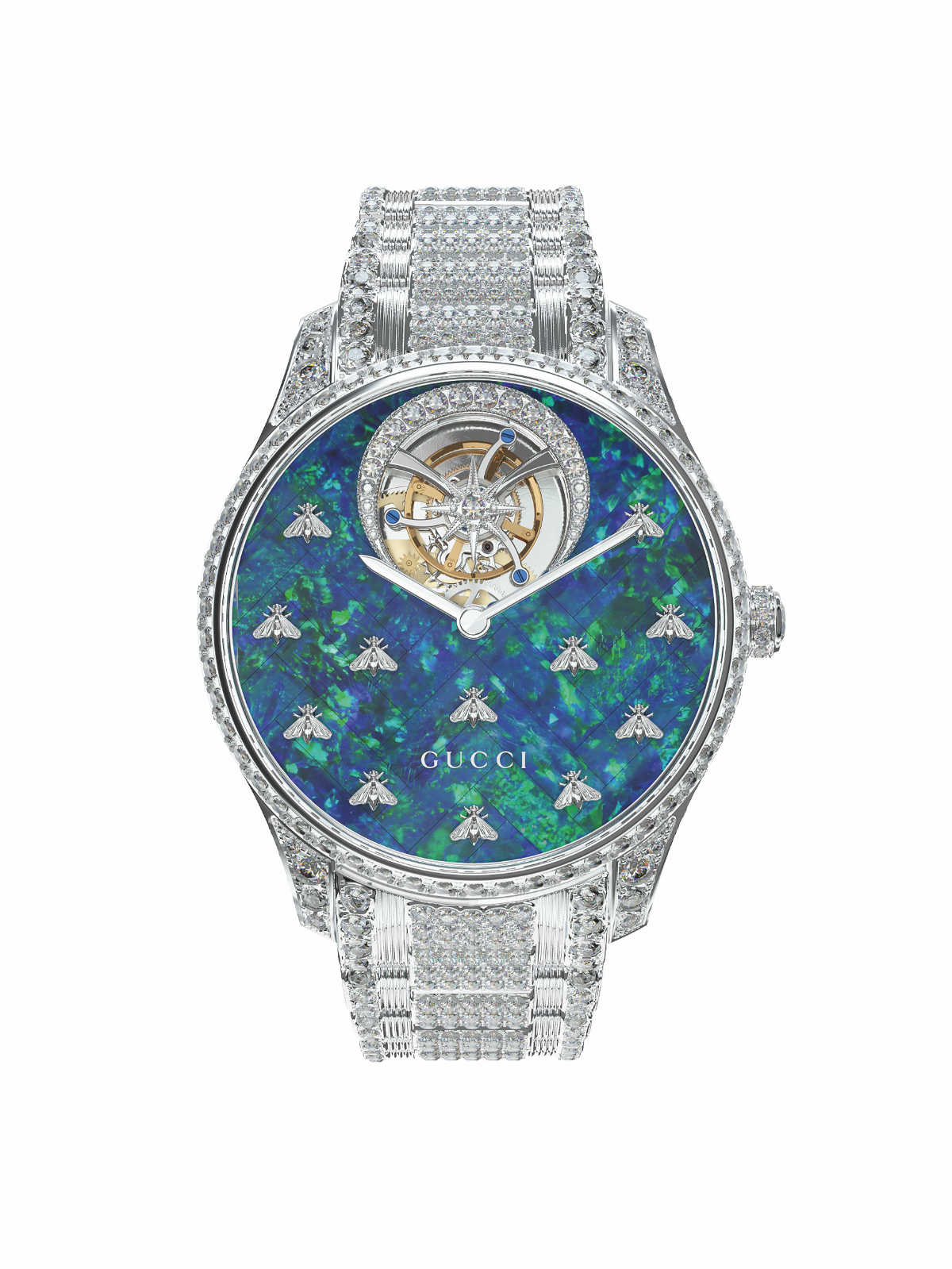 A seriously sporty timepiece, the GUCCI DIVE is reinvented with bio-based materials, housing a Swiss automatic movement with 200m water resistance. Three new designs are presented, each with a case and strap in a new rubber-like material created from plant substances including oil and corn. The GUCCI DIVE is offered in matte white, aquamarine, and natural moss green.
In 2022, the signature GRIP appears with a highly contemporary yellow-gold PVD dial case, in 27 or 38mm. With its warm 1970s vibe heightened by an elegant black alligator strap, this new iteration blends eras of style.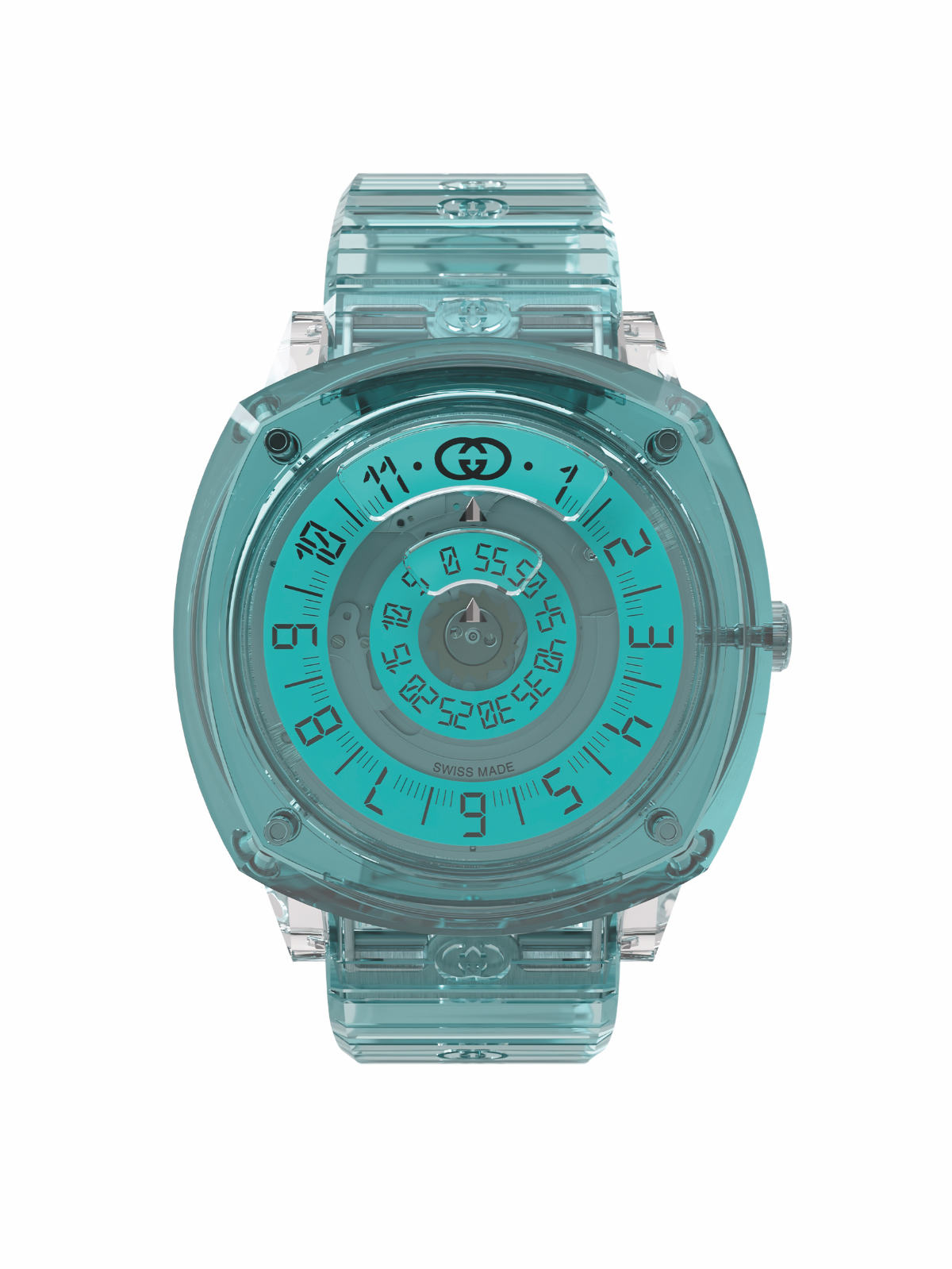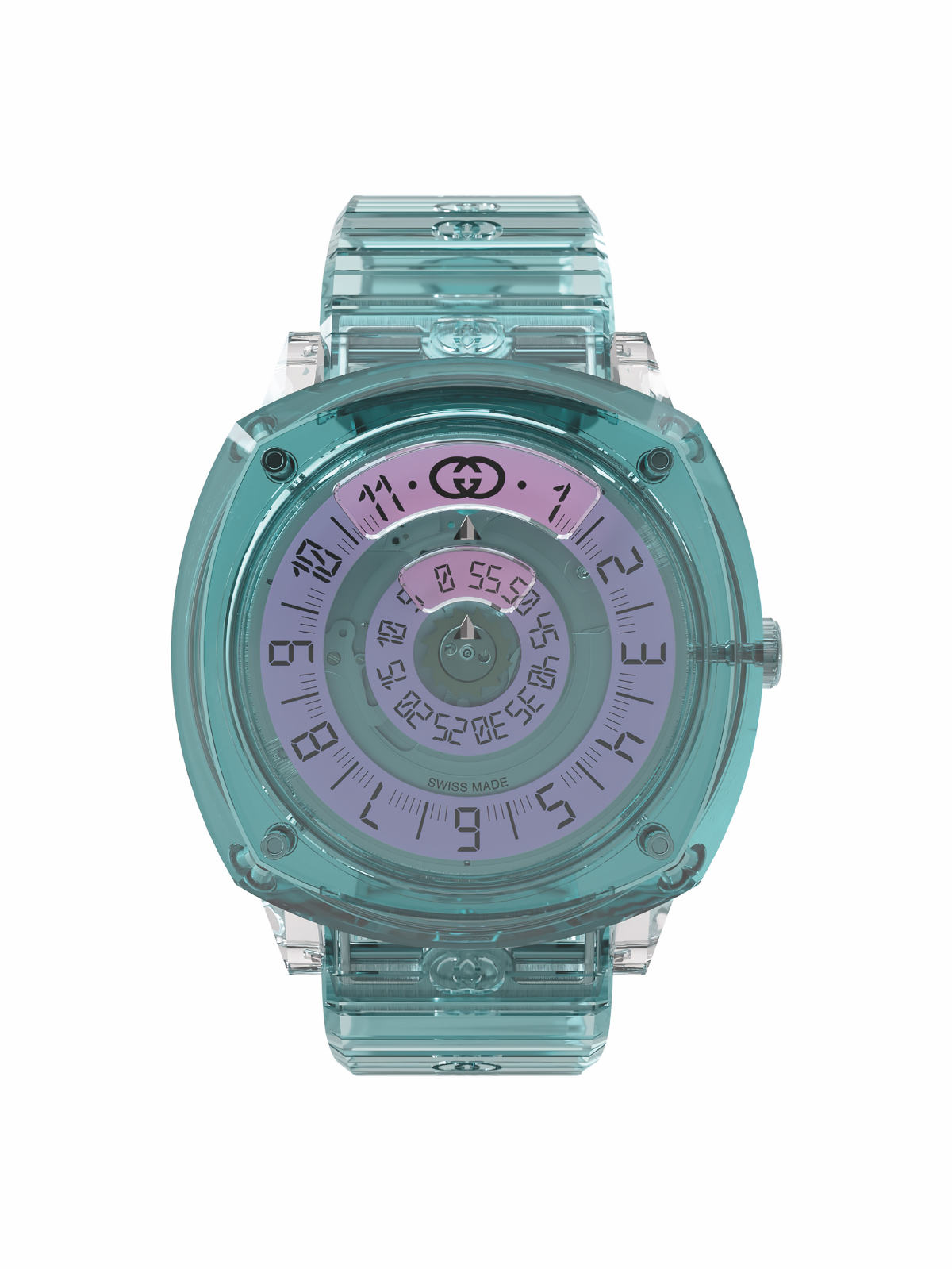 GUCCI FINE JEWELRY
Gucci presents four jewelry collections in elevated, precious forms. From bold, stackable rings and bracelets to delicate, nature-inspired designs, the collection encompasses an array of sophisticated styles. Textured elements, guilloché engravings, and sparkling gemstones light up each design.
In 2022, the GUCCI LINK TO LOVE collection introduces a new series of stacking designs, including necklaces and bracelets. Dedicated to the chain of memories that create eternal love, these geometric designs combine white gold and yellow gold with gleaming colored gemstones. A new series of rings with baguette-cut stones – green tourmaline or rubellite – add an extra special detail, while the GUCCI LINK TO LOVE ring with pyramid studs is elevated with a new, voluminous band.
The GUCCI FLORA collection appears in precious variations, including warm, 18kt pink gold with brilliant white diamonds. Full of romance and natural beauty, the GUCCI FLORA pink gold necklace and bracelet chains are joined together by dainty gold baubles and charm-like Double G symbols, while a flower pendant blooms to life in diamond petals. The warm, breezy mood is given further expression in a new collection of pieces in 18kt yellow gold, white gold, and white diamonds. Pendant necklaces, bracelets, earrings, rings, and a delicate garland ear-cuff are exquisitely rendered in light-as-air feather and leaf designs. A variety of slim and wide variations is offered.
A suite of new GG RUNNING designs is heightened with a contemporary fine-jewelry look in a collection of new, precious 18kt pink gold designs. Complementing the 18kt pink-gold GG RUNNING pendant is the timeless new bangle bracelet. Two new 18kt pink gold stud earring designs are also offered, including a beautifully textured Interlocking G design with guilloché-style engraving. The GG RUNNING Dangling Charm ring also features guilloché-style decoration, while the 18kt pink-gold Cross ring comes in a new style, with a plain GG RUNNING logo at its center.
Blue topaz, a precious stone that seems to reflect lilting waves in its facets, is associated with luck, generosity, and a sense of equilibrium. The new INTERLOCKING G jewelry pieces, in white gold, only heighten this sense of natural calm. The delicate chains of the new necklace and bracelet designs are beautifully detailed with dainty, Interlocking G motifs, creating a distinct, decorative presence of their own. The ring and stud earrings, meanwhile, are crowned with princess-cut topazes.
GUCCI

Founded in Florence, Italy, in 1921, Gucci is one of the world's leading luxury brands, led by President and CEO Marco Bizzarri and Creative Director Alessandro Michele. Following the House's centenary, Gucci forges ahead into the next hundred years, continuing to redefine luxury while celebrating the creativity, Italian craftsmanship, and innovation at the core of its values.
Gucci is part of the global luxury group Kering, which manages the development of a series of renowned Houses in fashion, leather goods, jewelry and watches.
Discover more about Gucci at www.gucci.com.
---