---
Girard­ Perregaux Released A New Addition To The Laureato Collection: Laureato 42mm Green
Luxferity, 06.09.2022
Harnessing the timeless character and elegance of green, as well as encompassing the symbolism of the virescent hue, Girard­ Perregaux released a new addition to the Laureato collection. The aptly-named Laureato 42mm Green perpetuates the story of this timeless classic which began life in 1975 and, despite the passage of time, has never aged or lost its aesthetic allure.

Green - an enduring classic

Green watch dials have been on-trend for the last 18 months, joining the ubiquitous blue dial as a must-have option for any serious watch collector. The verdant shade is widely associated with nature and it's the principal colour of many a landscape. Virescent shades are associated with harmony, health, hope and prosperity. Indeed, this bewitching hue means very much to very many and confers a lasting allure; green is not a fleeting fashion, it's an enduring classic.
Likewise, the Girard-Perregaux Laureato, launched in 1975, remains timeless and continues to engage with watch aficionados and devotees of accomplished design. Encased in steel with an integrated bracelet, the Laureato is a byword for versatility, proving suitable for all roles, whether sporty, casual or formal.
Now, Girard-Perregaux unites the Laureato with a new, distinctive green dial. This hue is paired with a Clous de Paris dial pattern, accentuating the richness of the dial colour as it transitions from one shade to another, depending on the available light. The texture of the dial entices the wearer to touch its intricately weaved surface, only to frustrate an inquisitive finger with a pane of sapphire crystal. Today, green carries special importance within society, but it has been employed for generations and its permanence is familiar to those individuals who appreciate perennial style.
While most aesthetic elements will prove familiar to longstanding admirers of the Laureato and respect the original model of 1975, there is one detail that is unequivocally new. For the first time on a Laureato with three hands, this new model juxtaposes a black flange with the main dial colour, in this instance green. It may be different, but the notion of enduring style remains undiminished.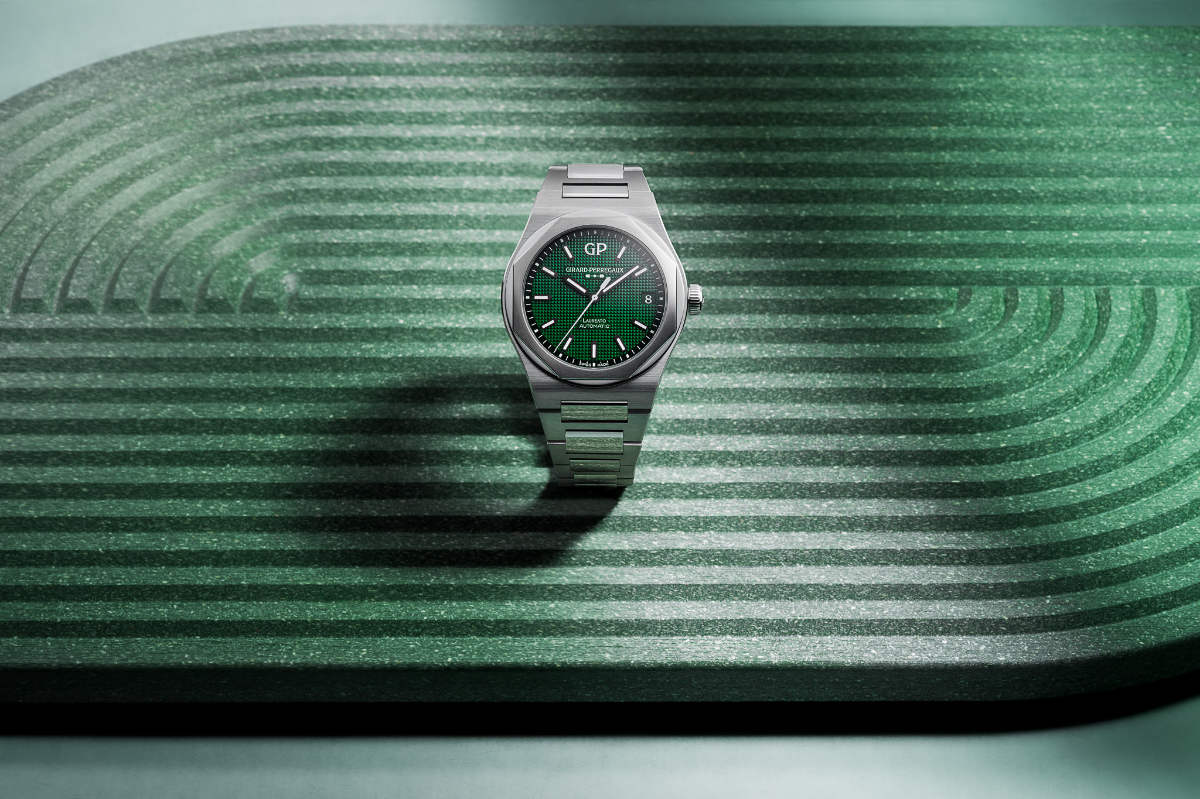 A new addition to the family

The new Laureato 42mm Green is presented in a stainless steel case and upholds the Laureato tradition of juxtaposing polished and satin finished surfaces throughout. With a modest height of just 10.68mm, this model readily slips beneath a shirt cuff. The matching steel bracelet is optimally shaped to provide a comfortable means of uniting the watch with its wearer.
The baton-style hands and indexes are presented in black PVD and incorporate luminescent material that emits a white glow in dim light. The central sweep seconds hand is rhodium-plated, bestowing a notable contrast with the dial surface. All elements of the dial are framed with the Laureato's octagonal bezel, a shape familiar to many devotees of Girard-Perregaux.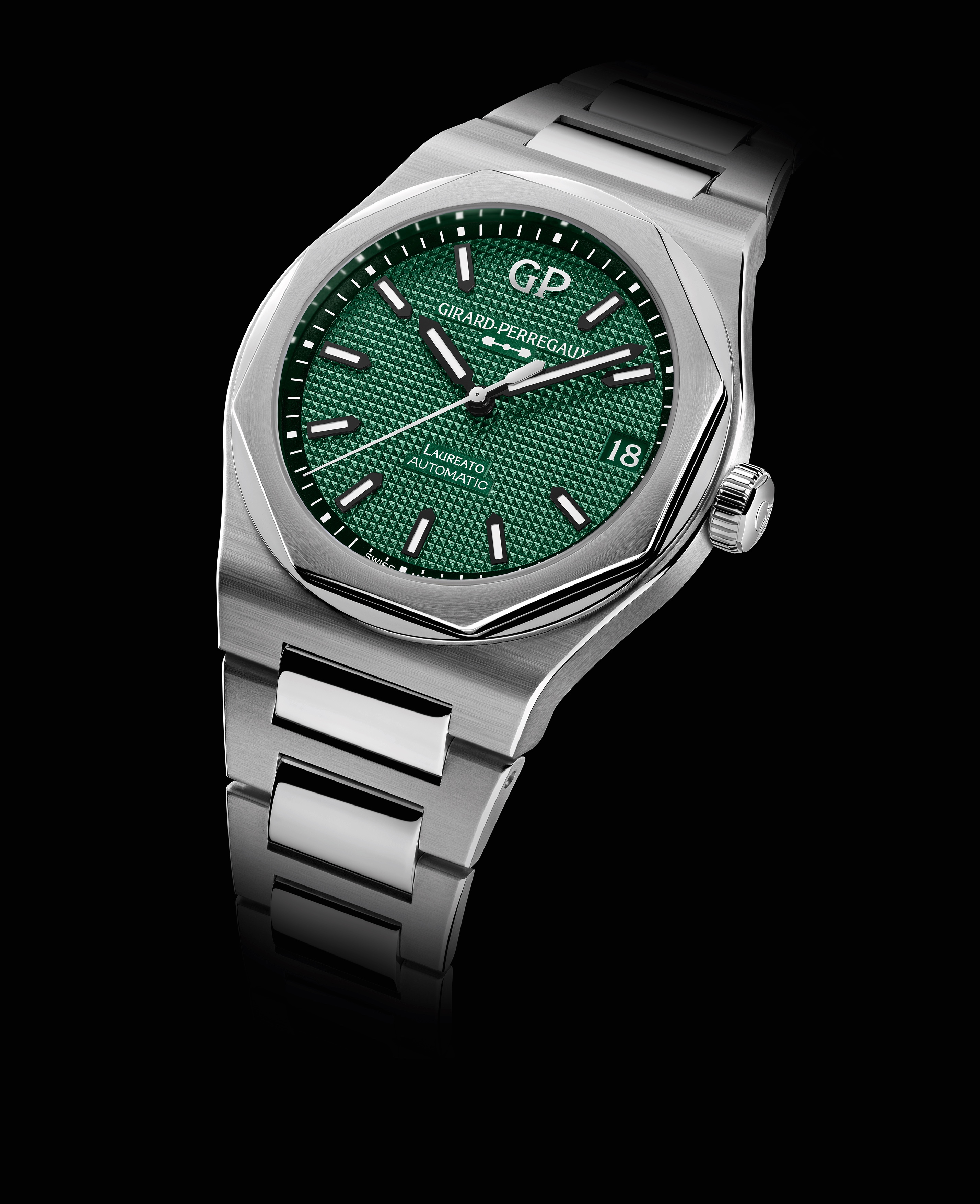 As a company synonymous with Haute Horlogerie, it should come as no surprise to learn that the self-winding movement, the Calibre GP01800, is enriched with a plethora of refined details. The main plate is adorned with circular graining, while some components feature bevelling, mirror-polishing, satin finish, snailing, sunray finish and various engravings. The bridges are decorated with straight Cotes de Geneve and the rhodium-plated oscillating weight is embellished with circular Cotes de Geneve. Lastly, the movement has a power reserve of at least 54 hours.
Since being unveiled in 1975, the Laureato has retained its ageless appearance. The new Laureato 81010 Green perpetuates this quality while simultaneously embracing the timeless charm of green. It is now a permanent member of the Laureato collection, joining the Maison's other timeless classics sporting black, blue and silver dials.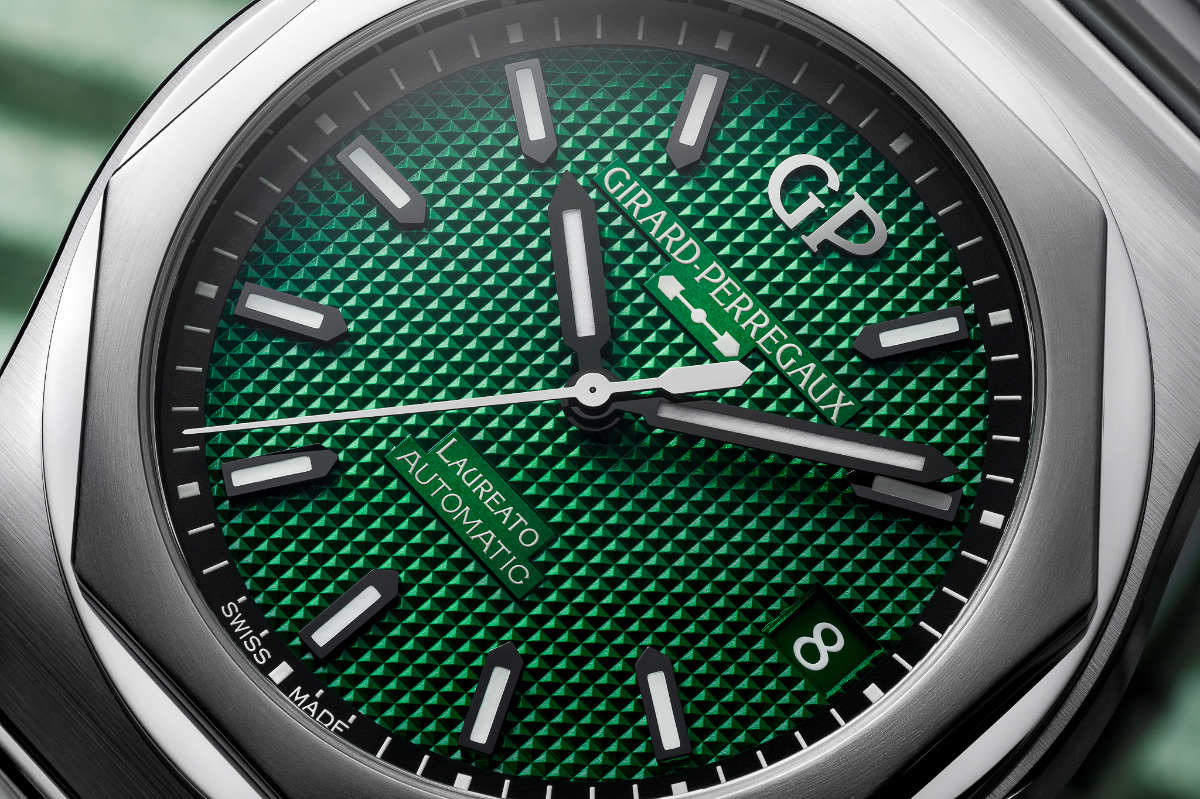 Laureato, a lesson in design

In terms of design, the 1970s were extraordinary. Creativity imbued a variety of objects with timeless aesthetics and notable functionality. This prowess for design was manifest with the styling of several highly original watches and the era continues to be acknowledged for its visionary approach to design. Indeed, during this era, several prestigious brands released watches encased in steel with integrated bracelets. However, only a few designs from this period have retained their eye appeal despite the onset of years.
From the outset, the design of the Laureato united a number of different shapes to form a distinctive, yet cohesive, look. Each Laureato comprises an octagonal bezel that sits atop a circular plinth which in turn is positioned above an angular tonneau-shaped case. But despite having geometric, clean-cut lines, the Laureato's case also has a gentle character, reminiscent of a pebble shaped by water and devoid of harshness. Throughout the composition there is an exquisite interplay between polished and satin finished surfaces. Both finishes are clearly defined and discrete from one another, thereby optimising the effect. Lastly, the exterior is completed with an integrated bracelet that ergonomically hugs the wearer's wrist, bestowing a comfortable fit. It is this assemblage of contrasting forms that has led to the Laureato's unique profile, making it instantly recognisable when viewed from afar.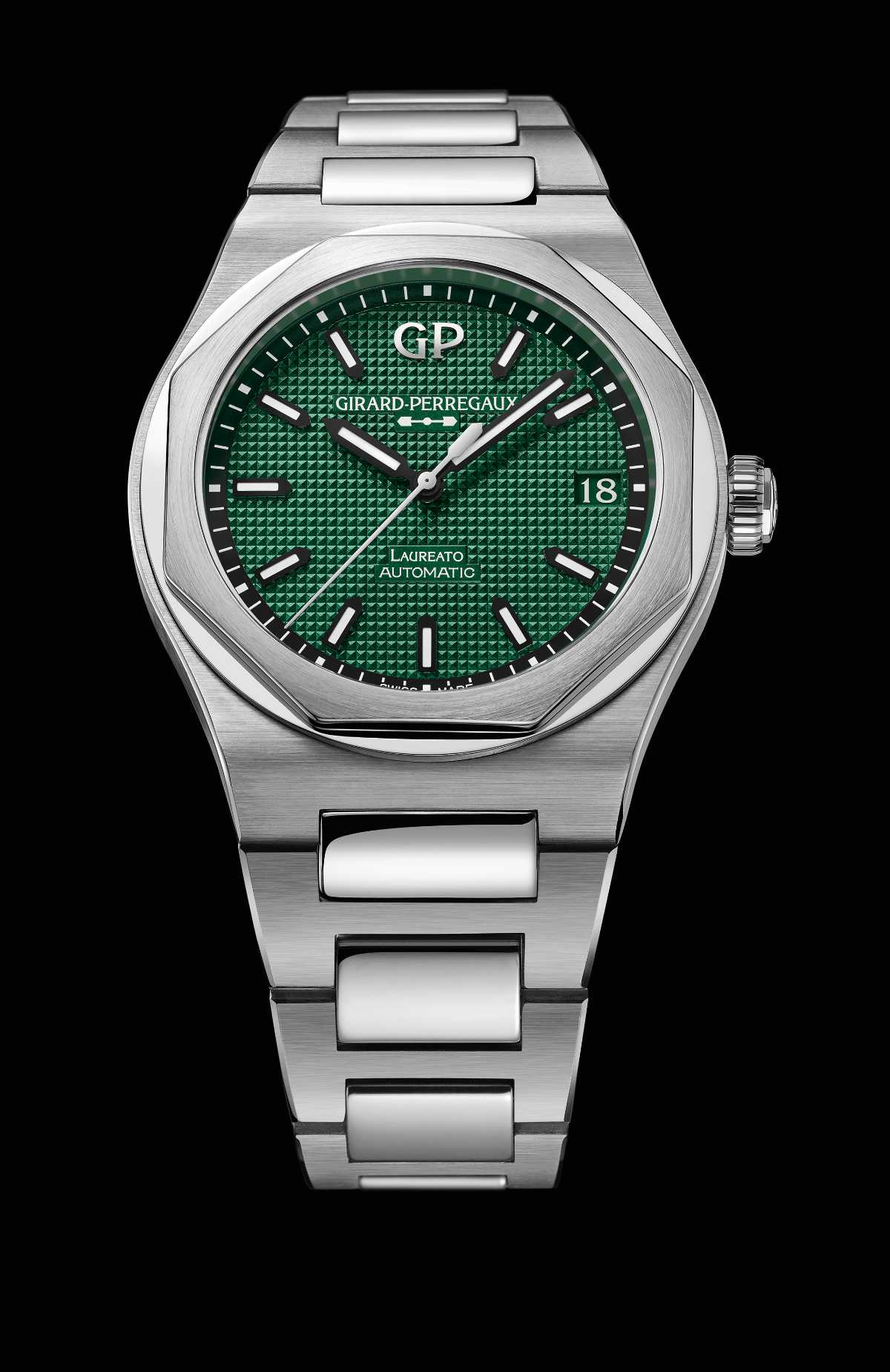 At the time of its launch in 1975, the inaugural watch was called the 'Quartz Chronometer'. However, in Italy, the model soon became known among the cognoscenti as the 'the graduate (Laureato in Italian) of the school of Girard-Perregaux'. This affectionate name served as an acknowledgement of the model's prize-winning success and extraordinary precision. Ultimately, the name was adopted by the Maison. Coincidentally, the octagonal bezel sits atop the case, like a laurel crown sits upon the head of a laureate.
Over the years, subtle changes have been made to the design of the Laureato, but the essence of the original 1975 model has always been retained. In 2017, Girard-Perregaux released the fifth generation of the Laureato, a design that has been adopted for the new Laureato 81010 Green.
There are some iconic buildings, cars and items of furniture produced during the 1970s that will always remain timeless exemplars of accomplished design. The Laureato, an in-house design, could be considered a worthy member of this exclusive club.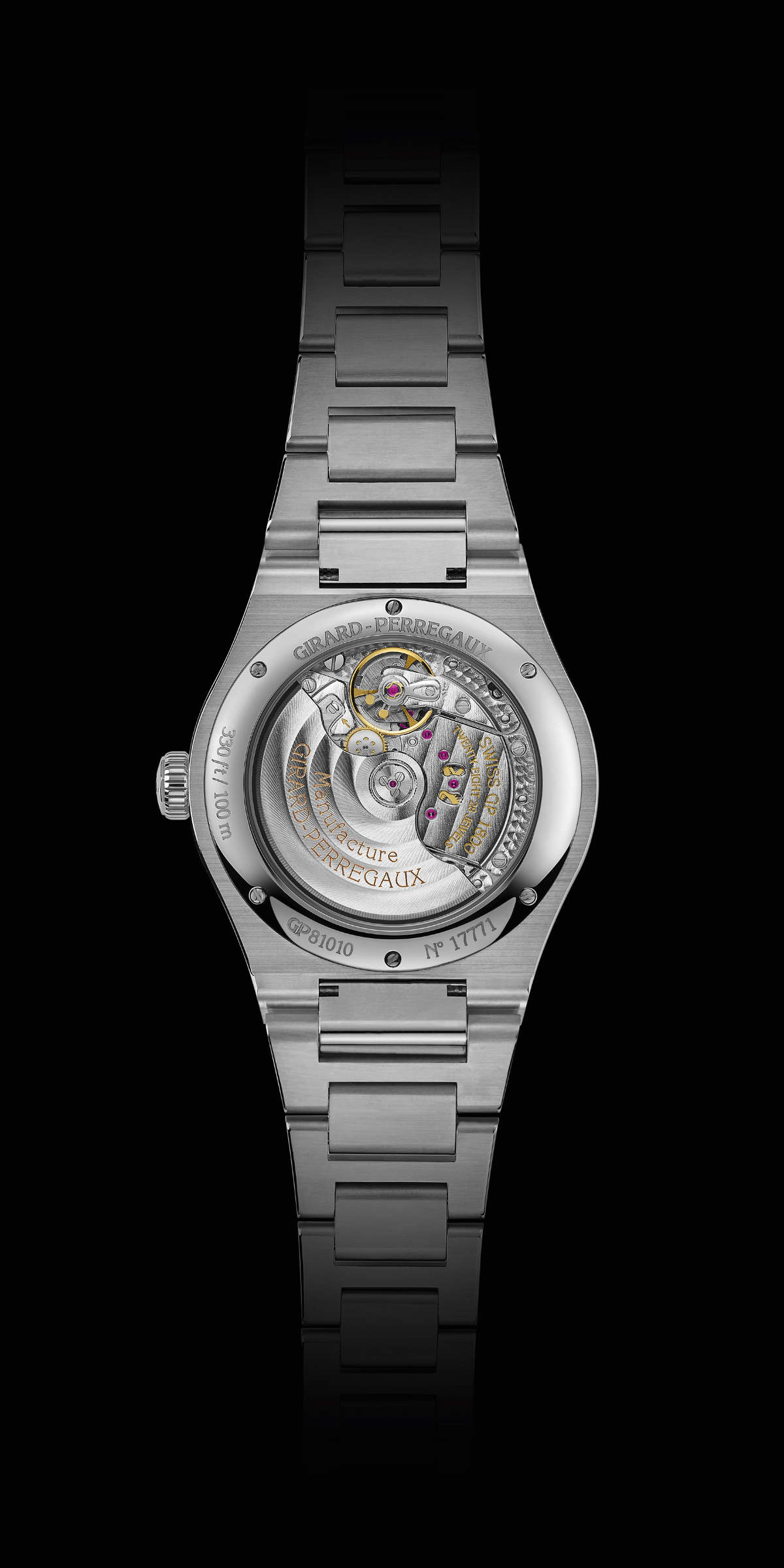 Swiss know-how

Innovation has always been at the heart of Girard-Perregaux's culture ever since it was founded in 1791. During the 1970s, the Swiss brand was at the vanguard of quartz timekeeping, a technology that promised a future of unprecedented precision. In fact, the frequency of 32,768 Hz was set by the Maison and subsequently adopted as the universal standard for quartz watches.
It was perhaps inevitable that the inaugural Laureato of 1975 was equipped with an in-house, COSC­ certified quartz movement, the Calibre 705. During this period, most of the traditional Swiss watchmaking industry was in decline, ill-prepared for the shift to battery-powered timepieces.
Quartz watches remain attractive to many clients, however, Girard-Perregaux has also produced in­ house mechanical movements for over 230 years, a claim few other watch brands can make. In 1995, as mechanical watchmaking began to enjoy a renaissance, Girard-Perregaux released the Laureato 8010 fitted with an in-house automatic calibre. Today, the Laureato 34mm is fitted with a quartz movement, while the 38mm, 42mm and 44mm models all feature in-house mechanical movements.
The Laureato 42mm Green will go on sale in November 2022 and will be sold exclusively by Wempe for one month. Thereafter, the model will be available in all authorised Girard­ Perregaux retailers.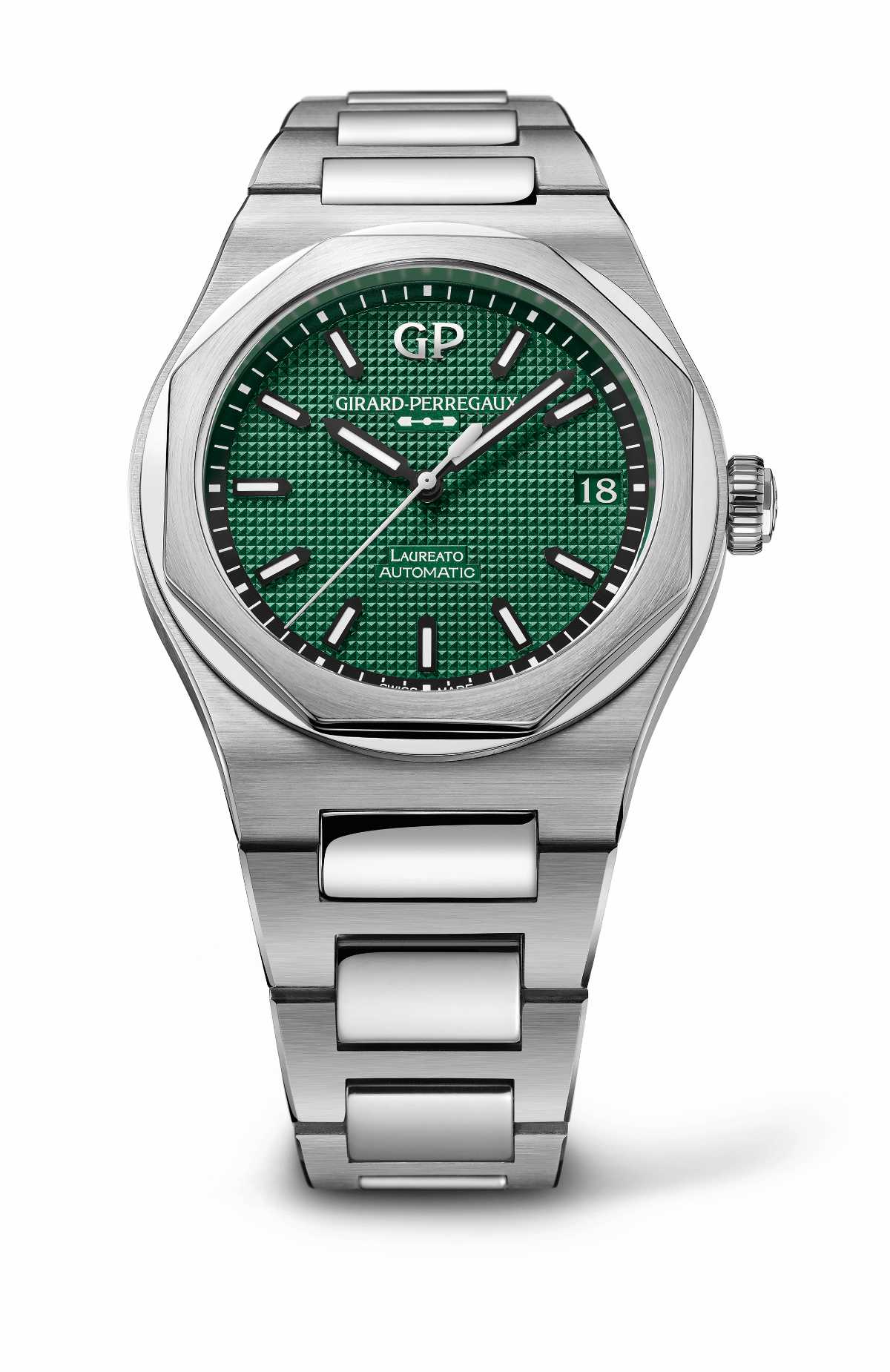 Technical specification

LAUREATO 42MM Green
Reference: 81010-11-3153-1CM
Retail Price: GBP 11'100 / CHF 13'700 / USO 14'300 / EUR 14'400
Case
Material: steel, polished and satin finished Diameter: 42.00 mm
Height: 10.68 mm
Glass: anti-reflective sapphire crystal Case-back: sapphire crystal
Dial: sunray green with a 'Claus de Paris' pattern, 'baton' type black PVD-treated indexes with luminescent material (white emission) Hands: 'baton' type black PVD-treated hour and minute hands with luminescent material (white emission), rhodium-plated central second hand
Water resistance: 100 metres (10 ATM)
Movement
Reference: GP01800-2035
Self-winding mechanical movement Diameter: 30.00 mm (13114"')
Height: 3.97 mm
Frequency: 28,800 Vib/h - (4Hz) Number of components: 191 Number of jewels: 28
Power reserve: min. 54 hours
Functions: Hours, minutes, central seconds, date
Bracelet
Material: steel, polished and satin finished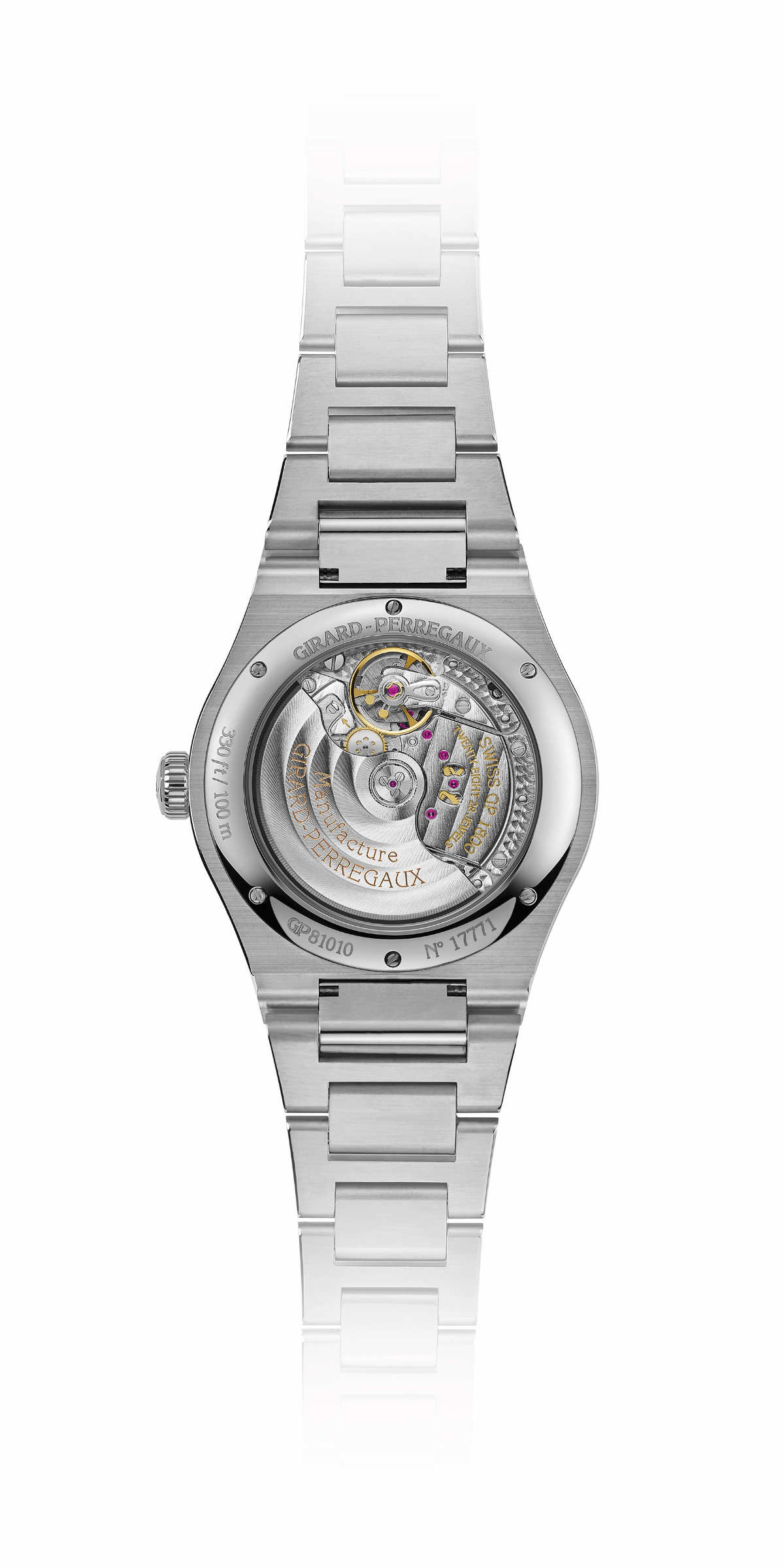 About Girard-Perregaux

Founded in 1791, Girard-Perregaux is one of the oldest fine watchmaking manufactures still in operation and is appreciated by those in the know. Indeed, the firm's history is dotted with exceptional creations that skillfully blend aesthetics and functionality. These models include the iconic Laureato, born in 1975, as well as the legendary Tourbillon 'With Three Gold Bridges,' a watch that made the invisible visible, transforming bridges from just a technical element to an integral part of the timepiece - a first in watchmaking. Girard-Perregaux's place at the vanguard of horological innovation is confirmed by over one hundred recorded patents together with numerous prizes and distinctions. It remains one of the few watchmakers to retain Manufacture status for over two centuries by mastering all the required horological skills in-house and making watches infused with a notable degree of authenticity. While Girard-Perregaux respects its heritage, it continues to look ahead, embracing new technologies, state of the art materials, and fresh takes on iconic shapes.
As of 2022, Girard-Perregaux and sister Maison Ulysse Nardin have formed an independent collective of high horology Manufactures.
---