---
Chopard unveiled a rare and precious set of exceptional coloured diamonds, rubies, sapphires and tourmalines.
True to its Artistic Director's passion for precious stones, Chopard revealed new treasures on the occasion of the Paris Haute Couture Week. Diamonds, rubies, sapphires and exceptional Paraiba tourmalines compose this colourful and luminous array of gems that the artisans of the Maison will soon highlight to perfection through a range of mesmerisingly beautiful Haute Joaillerie creations.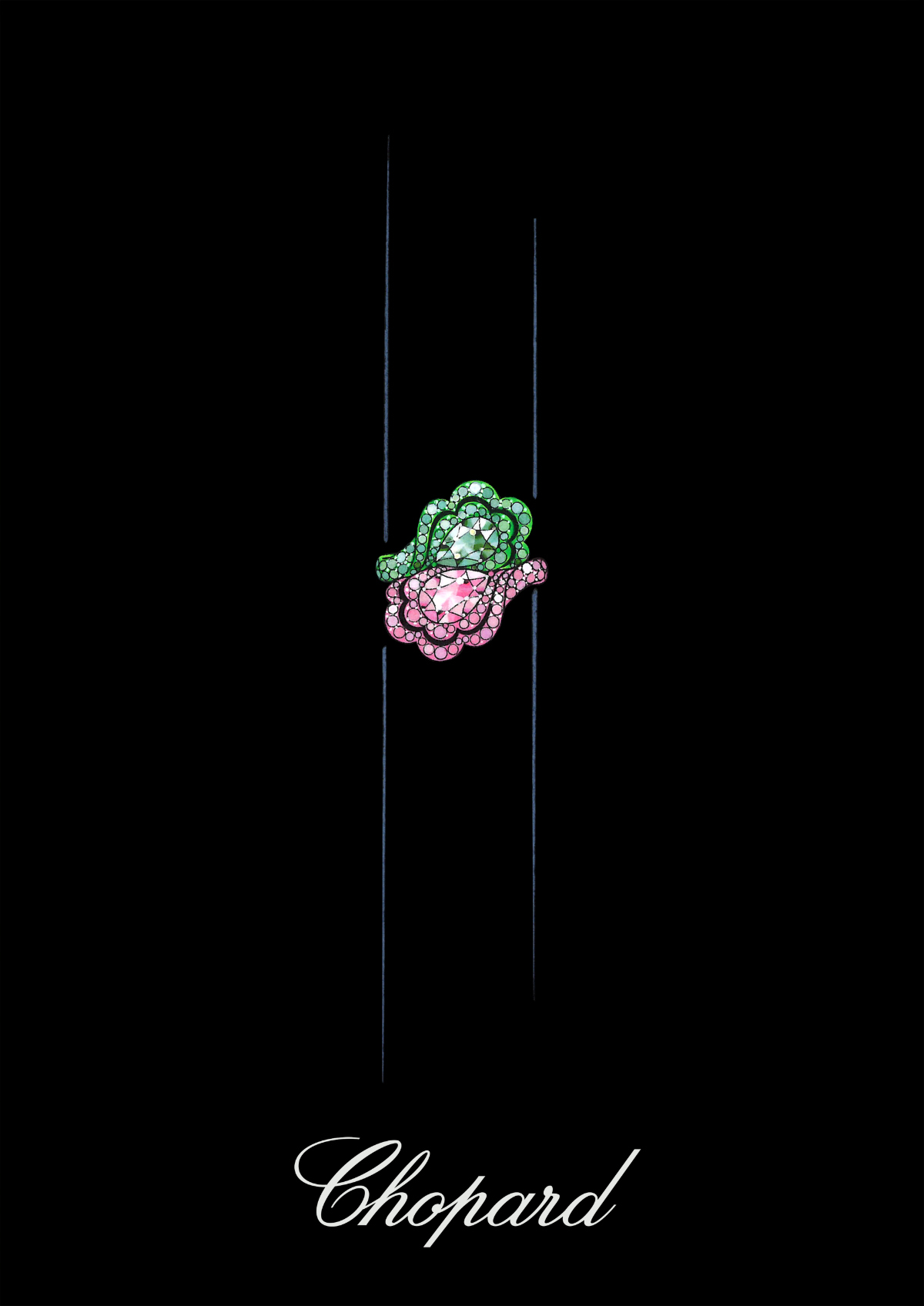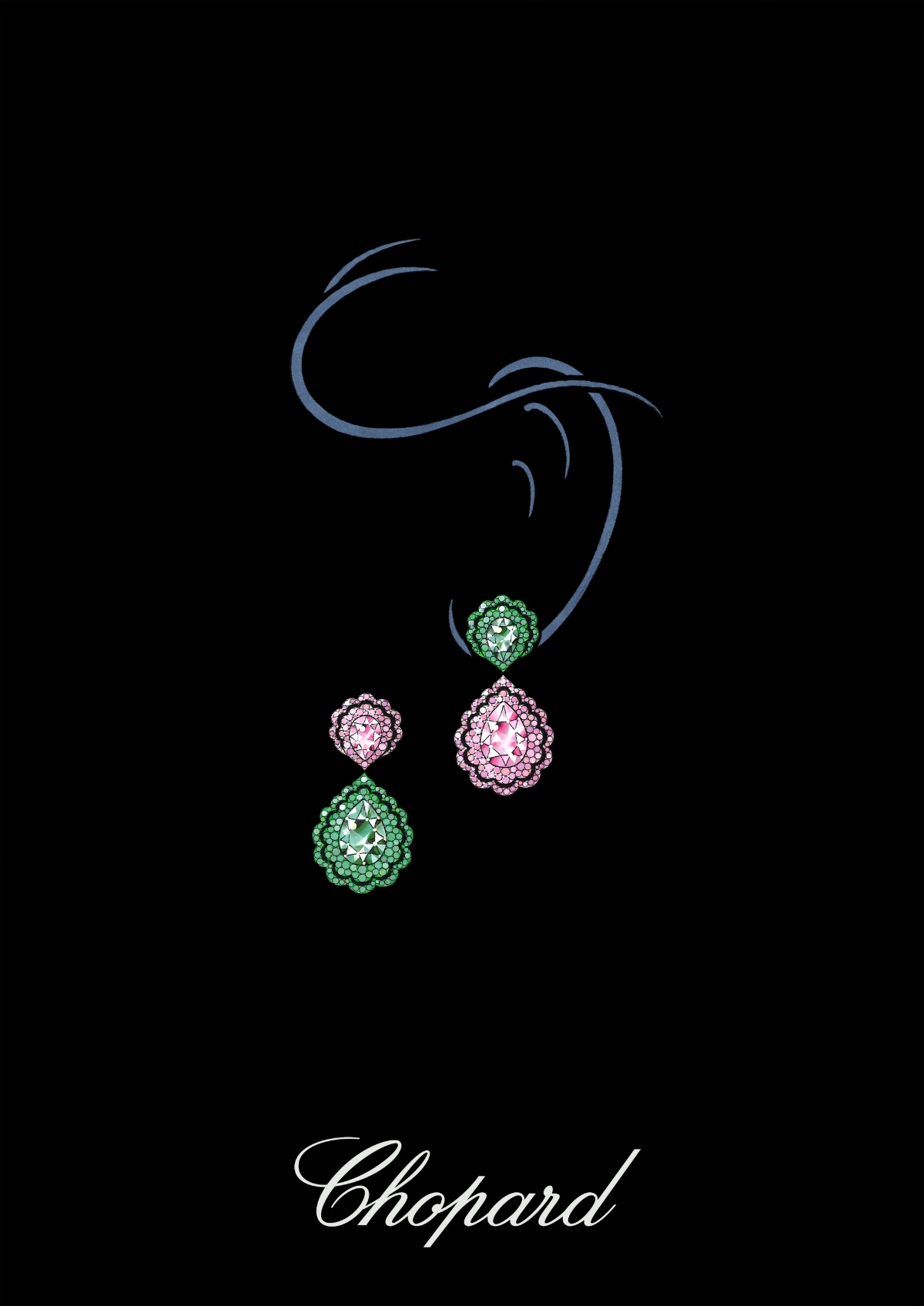 For several years now, Chopard has been devoting its traditional Parisian Haute Couture Week event to presenting the most stunning precious stones. Since her childhood, the Maison's Co-President and Artistic Director Caroline Scheufele has cultivated a genuine passion for exceptional gems. Endowed with a natural instinct and a keen eye, she travels the world in search of the most coveted specimens to nurture her boundless creativity. In 2017, Chopard had the honour of presenting the Garden of Kalahari, a collection created around a rare 342-carat rough diamond that gave rise to a set of 23 gems of which five were over 20-carat D-Flawless grade diamonds. Another extremely pure rough stone – the 6,225-carat Chopard Insofu Emerald – is currently in the expert hands of the in-house artisans being prepared to sparkle within a collection in the making.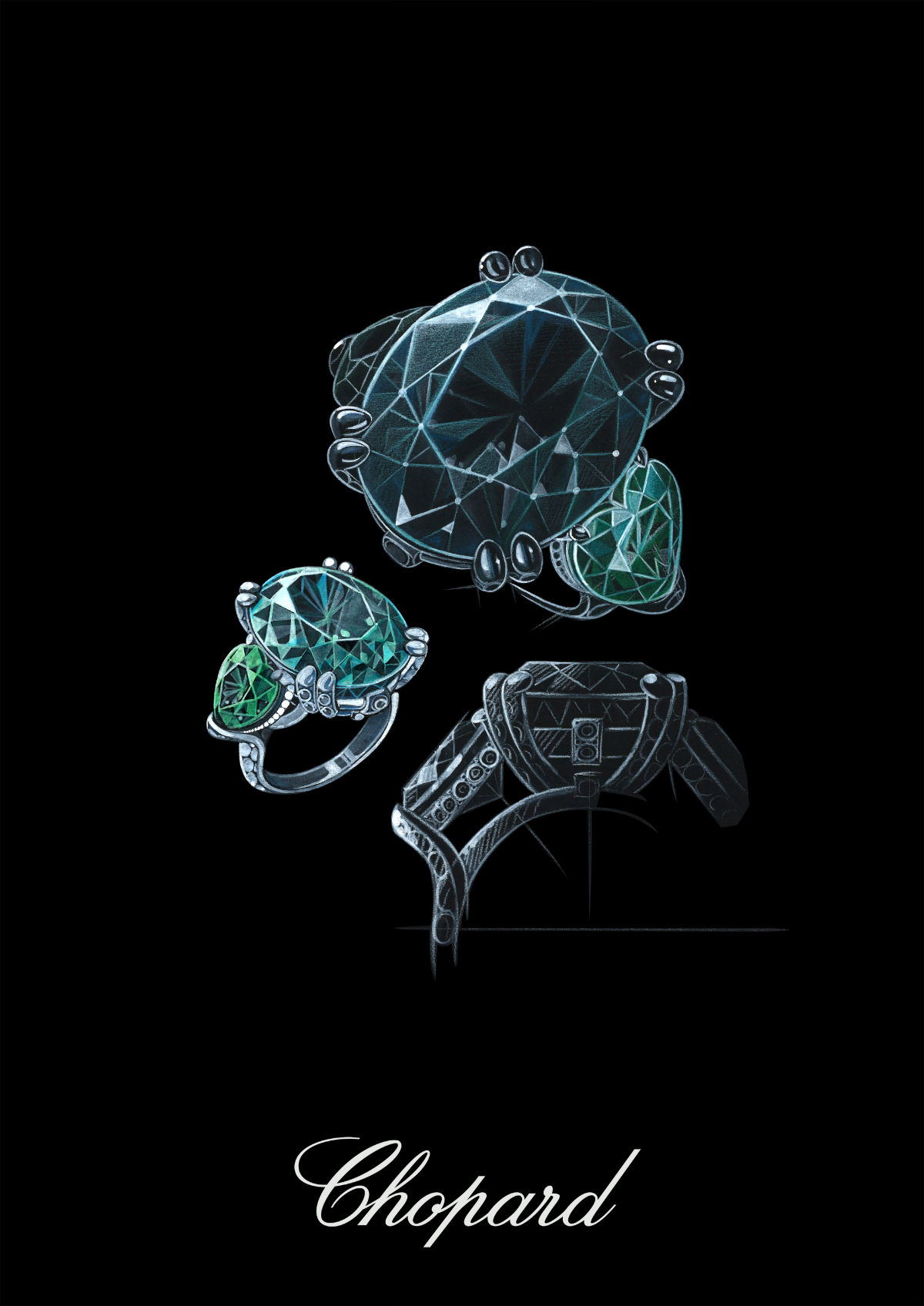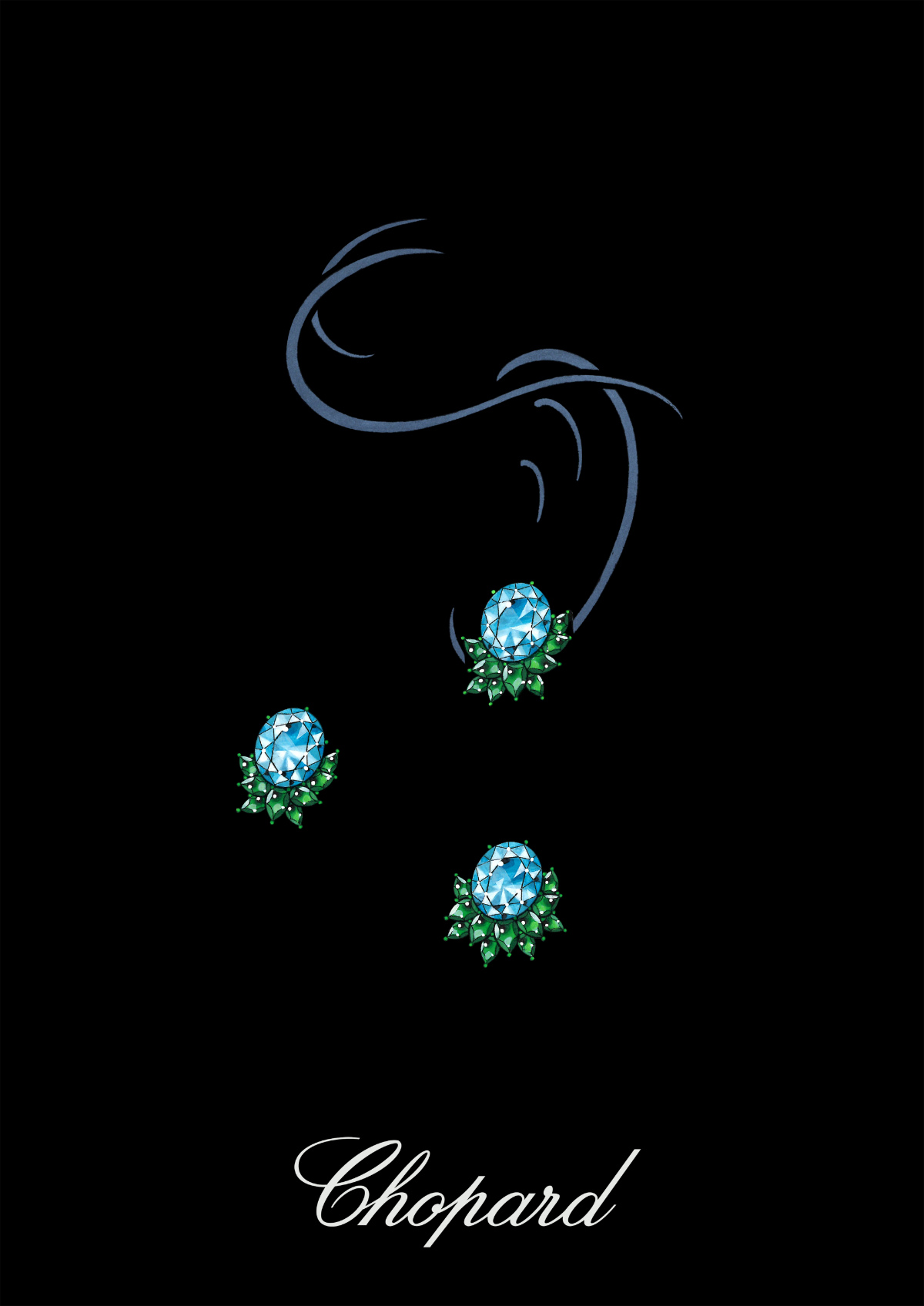 New gems are now being unveiled, heralding the splendour of jewellery creations such as only Caroline Scheufele can dream up.
Sapphires with a sunny glow

The presentation begins with a pair of vivid yellow Ceylon sapphires (Sri Lanka is known as the "Gem Island"): both are finely oval-cut and weigh 151.19 and 127.70 carats respectively. In addition to this impressive size, they combine excellent clarity, perfectly matched colour as well as the well-balanced structure characteristic of the most precious Ceylon sapphires. Luminous as solar stars, they are destined to adorn a ring with a daring design and a matching cuff bracelet.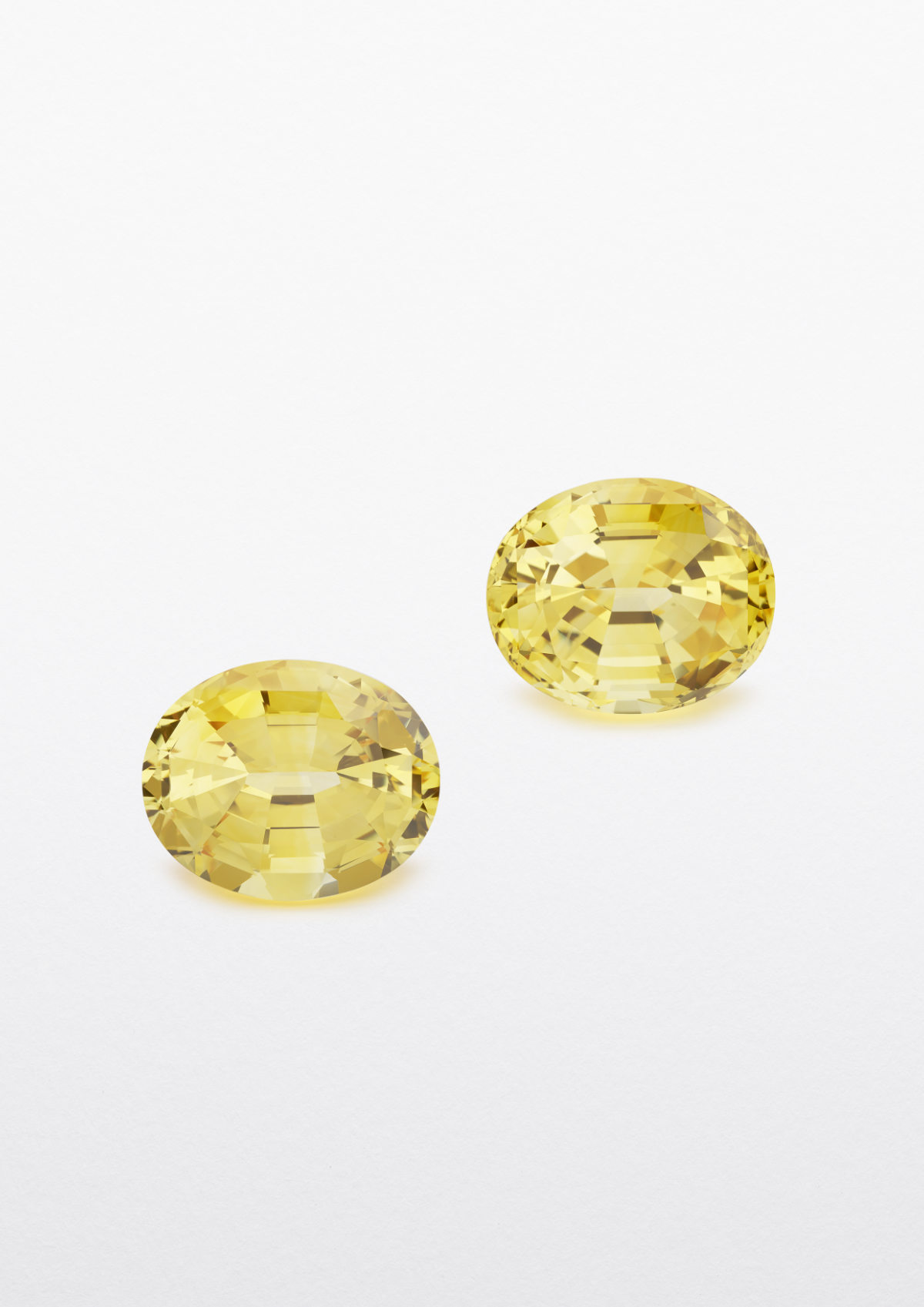 Natural colours

Another 26.70-carat sapphire featuring the most prized Royal Blue colour completes the corundum family. Also mined from the generous soils of Sri Lanka, it features a transparent blue hue that catches the light through an octagonal shape with a sought-after symmetry that reinforces the intensity and brilliance of coloured stones.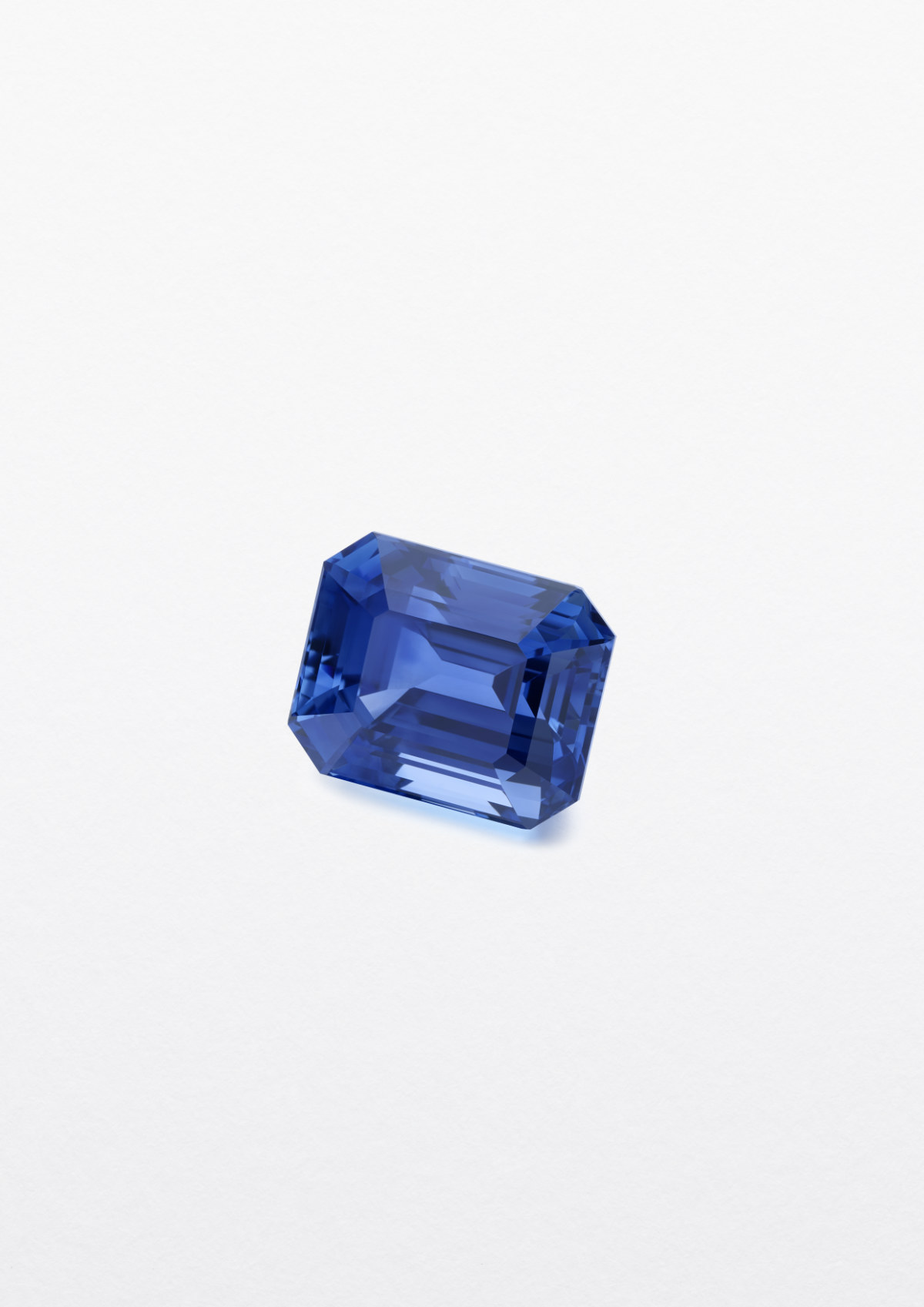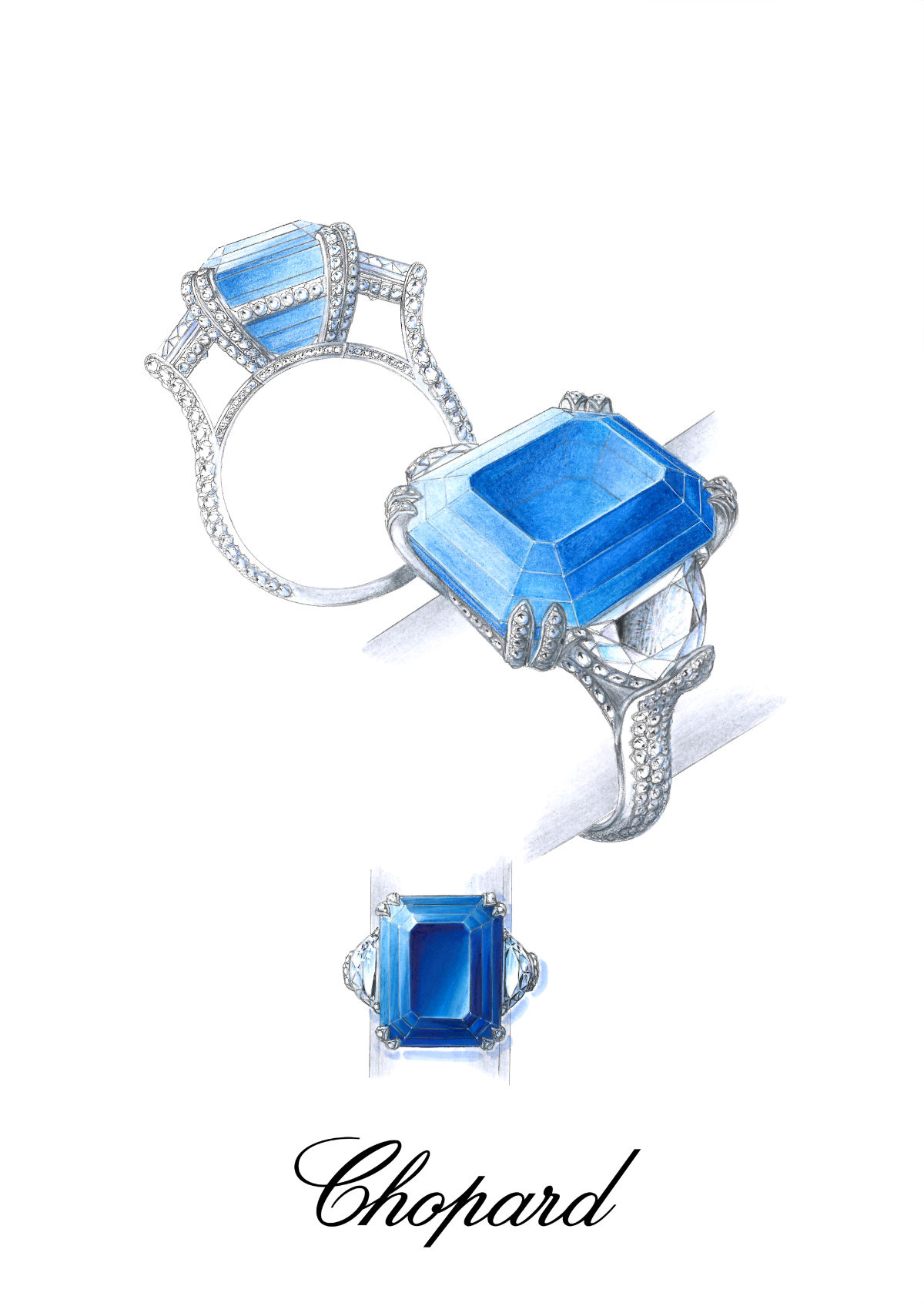 This no less precious vivid red ruby is distinguished by its remarkable 10.06-carat weight and fine purity. Its strong red saturation, size and characteristics make it one of the finest-quality East African specimens. Like the above-mentioned sapphires, its colour is natural and has not been subjected to any heat treatment.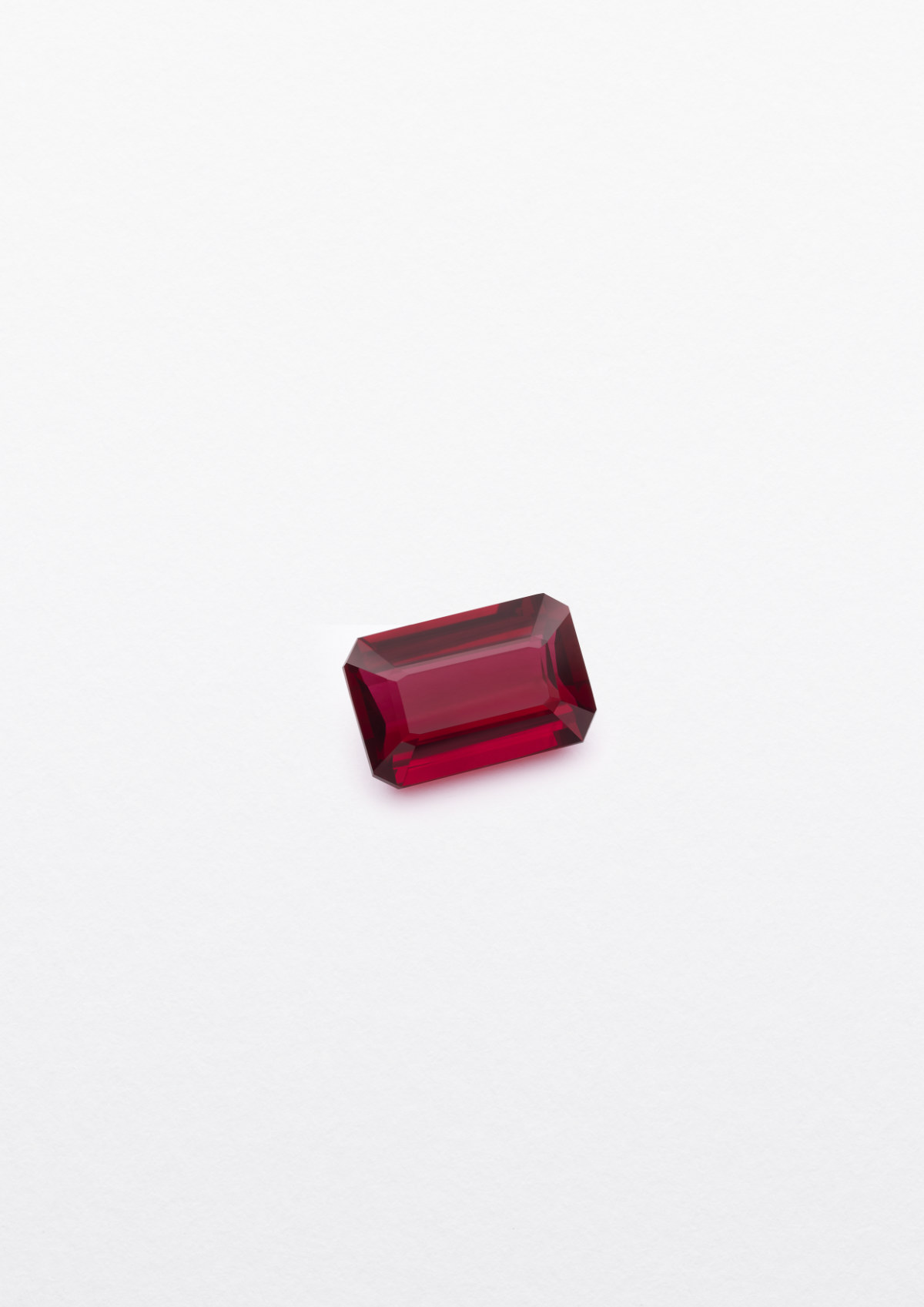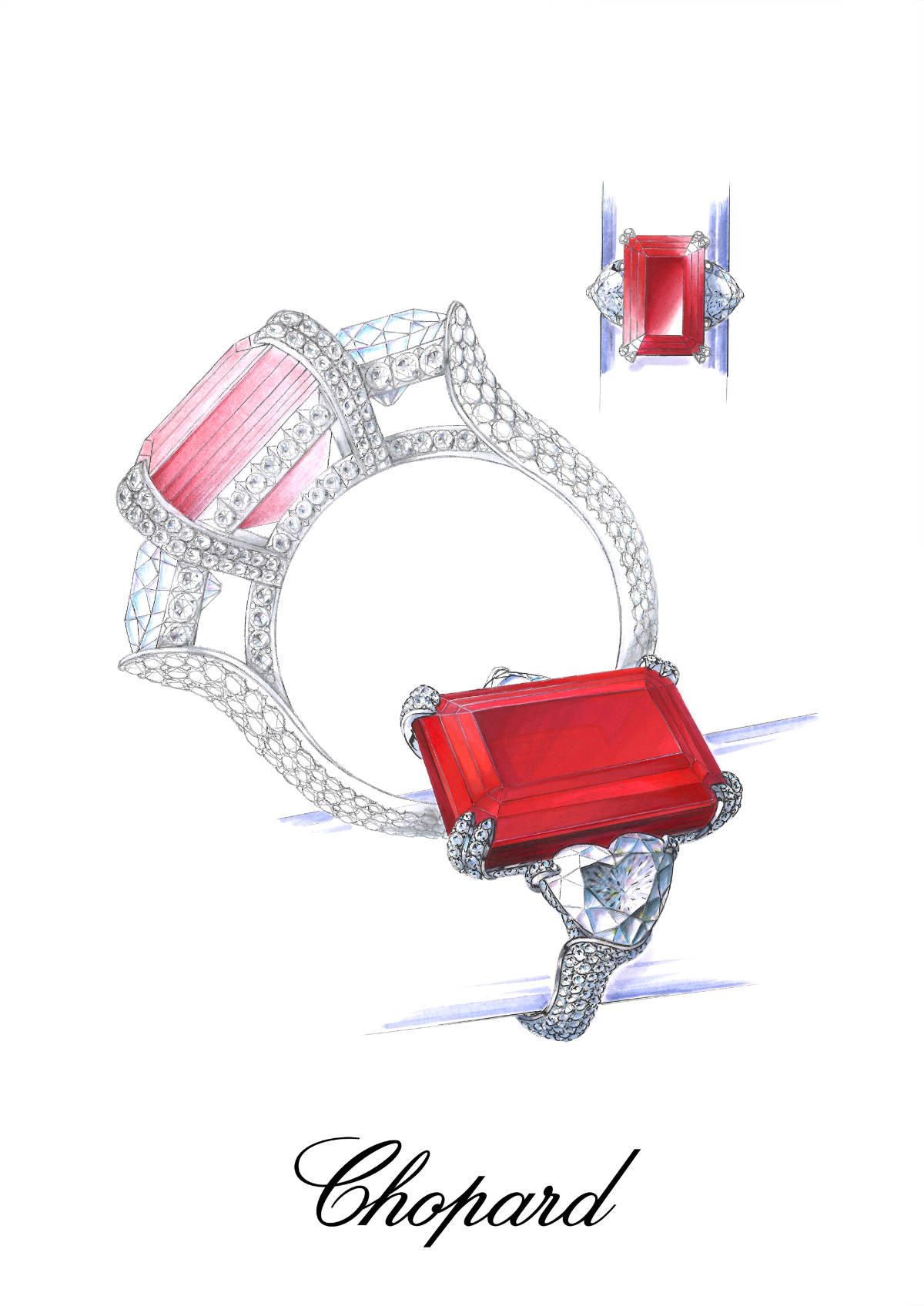 The sense of wonderment continues with two sets of coloured diamonds: intended for a dainty pair of earrings with a sleek contemporary design and a 'You and Me' ring, on which three pink and three green diamonds will star in an elegant play on their pear-shaped design. Far less common than white diamonds, coloured diamonds owe their hues to the presence of chemical elements or inclusions that modify their absorption of light. That is why, above and beyond the natural beauty of these exceptional gems, the finesse of their cut plays an important role in revealing the brilliance of their colour. While coloured diamonds – such as the famous 'Dresden Green' – were long regarded as the prerogative for monarchs who had them set on royal regalia, coloured diamonds have for several years been enjoying renewed interest among discerning collectors. Green diamonds are still among the rarest, while pink diamonds have seen their value rise due to their eminently feminine shade, as well as because of the recent exhaustion of the Argyle mine in Australia, which for several decades extracted the bulk of pink diamonds in world trade.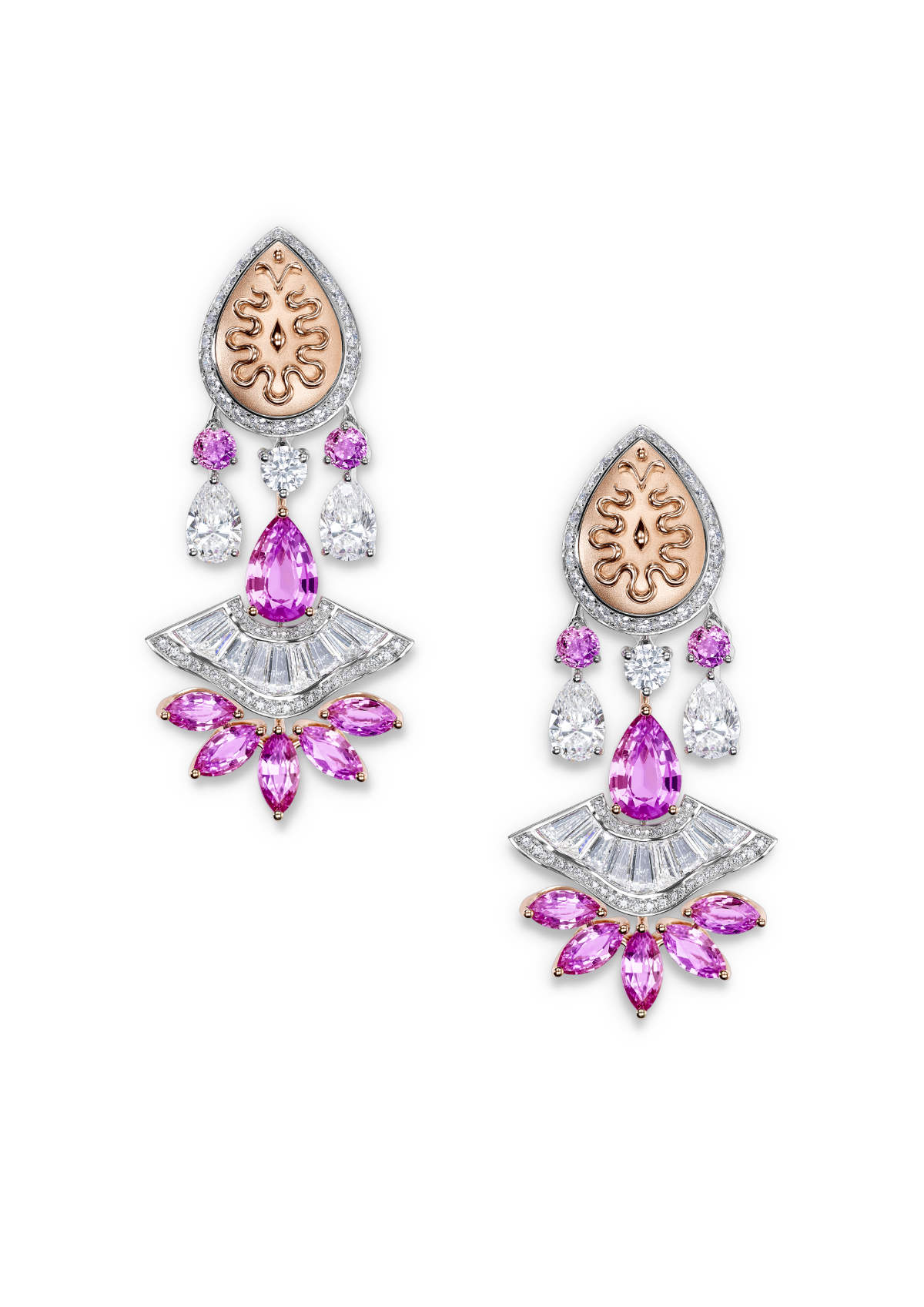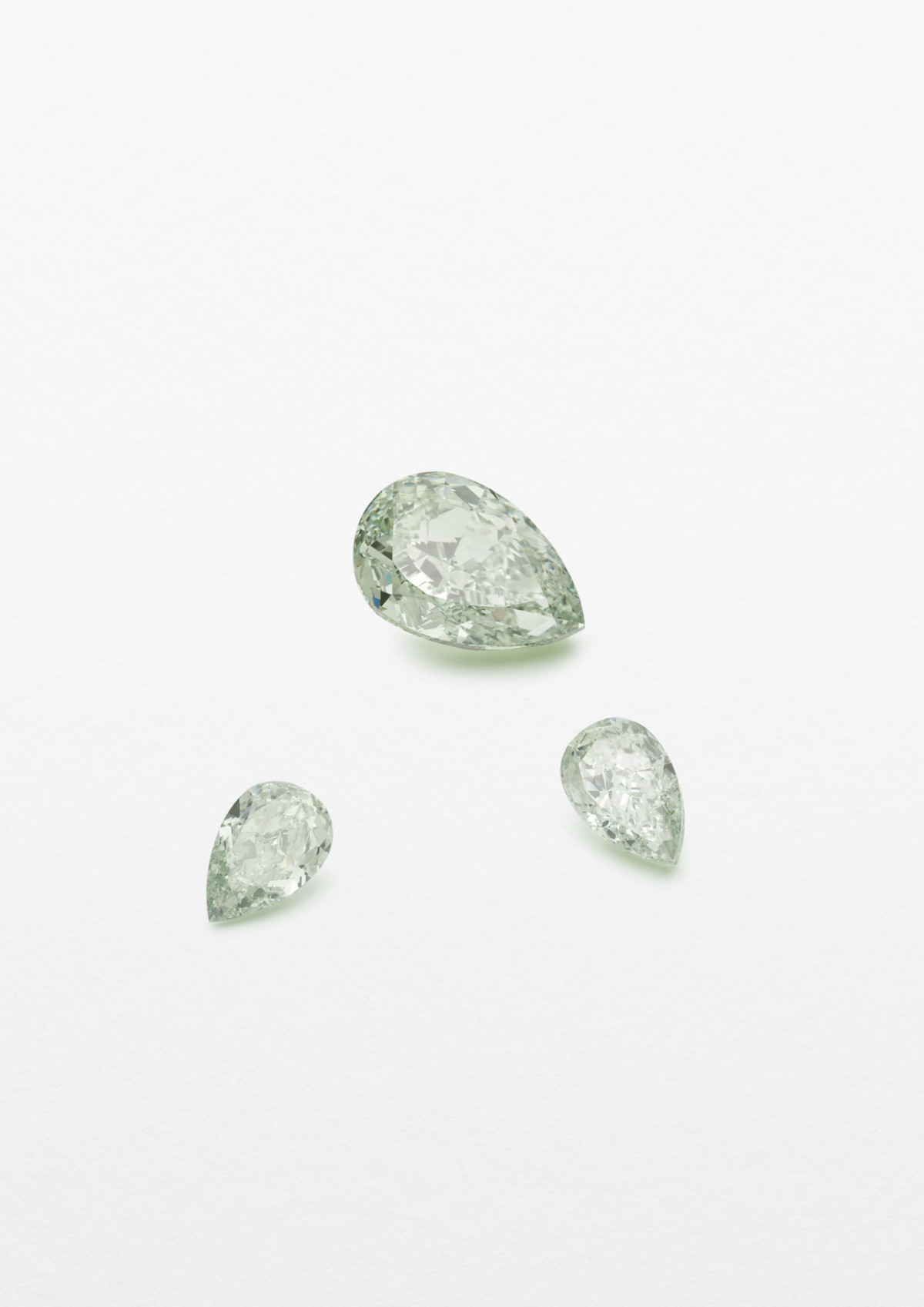 The three green diamonds acquired by Caroline Scheufele from mines in Brazil, as well as the three pink specimens from South Africa, are distinguished by their excellent combination of size (the largest in the lot weighed 4.63 carats) and few impurities.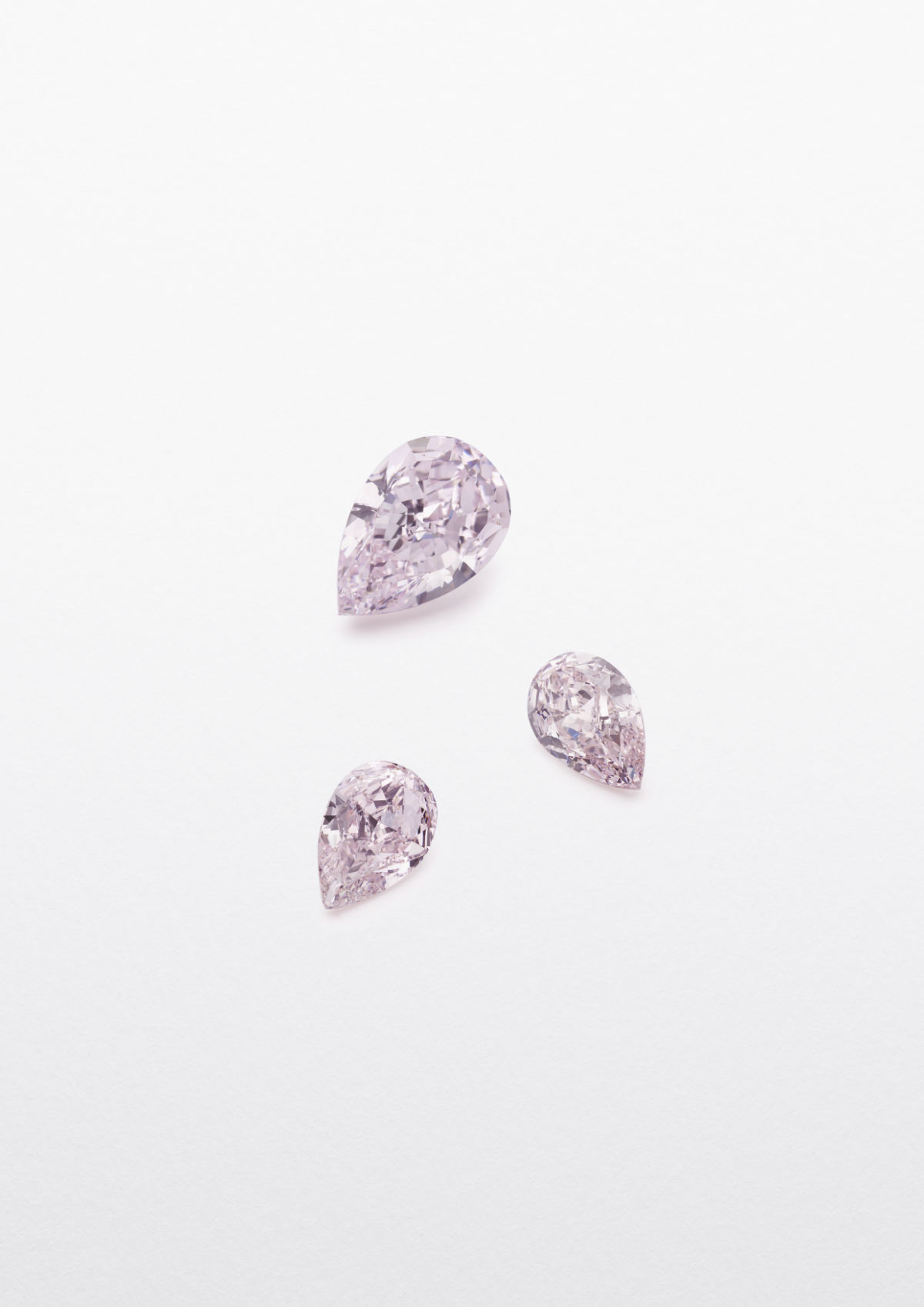 Harmony of colours

Finally, how could one explore the beauty of Nature's treasures without including the crystal-clear purity of blue tourmaline, highlighted by Chopard through a batch of three stones? The first two examples featuring a remarkable weight of over seven carats, combined with a matching blue colour and very fine purity, form the ideal tandem for a pair of earrings. Their proportions and the finesse of their subtly oval cut create vivid blue hues due to multiple internal reflections.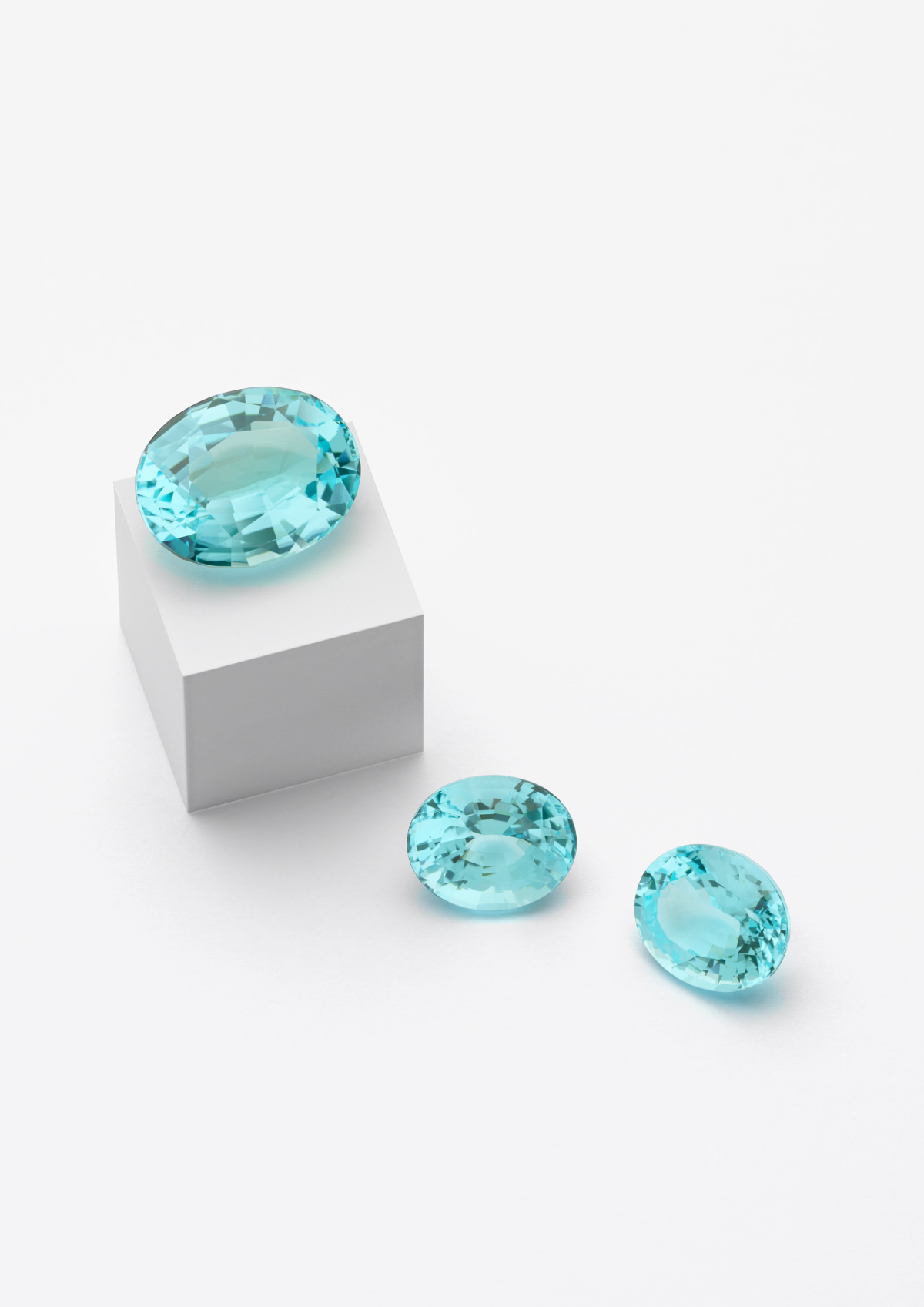 Due to the presence of copper in its soils, the northern Mozambique region where these stones were unearthed has recently produced some of the finest tourmalines in colours ranging from blue to greenish blue, very similar in many respects to the famous 'Paraiba' tourmalines mined in Brazil during the 1980s and later in Nigeria. Assembling such a range of Mozambican tourmalines of this colour, size and quality can be considered an exceptional opportunity. A third almost 16-carat stone will be the highlight of a ring matching the earrings and forming a spellbinding set.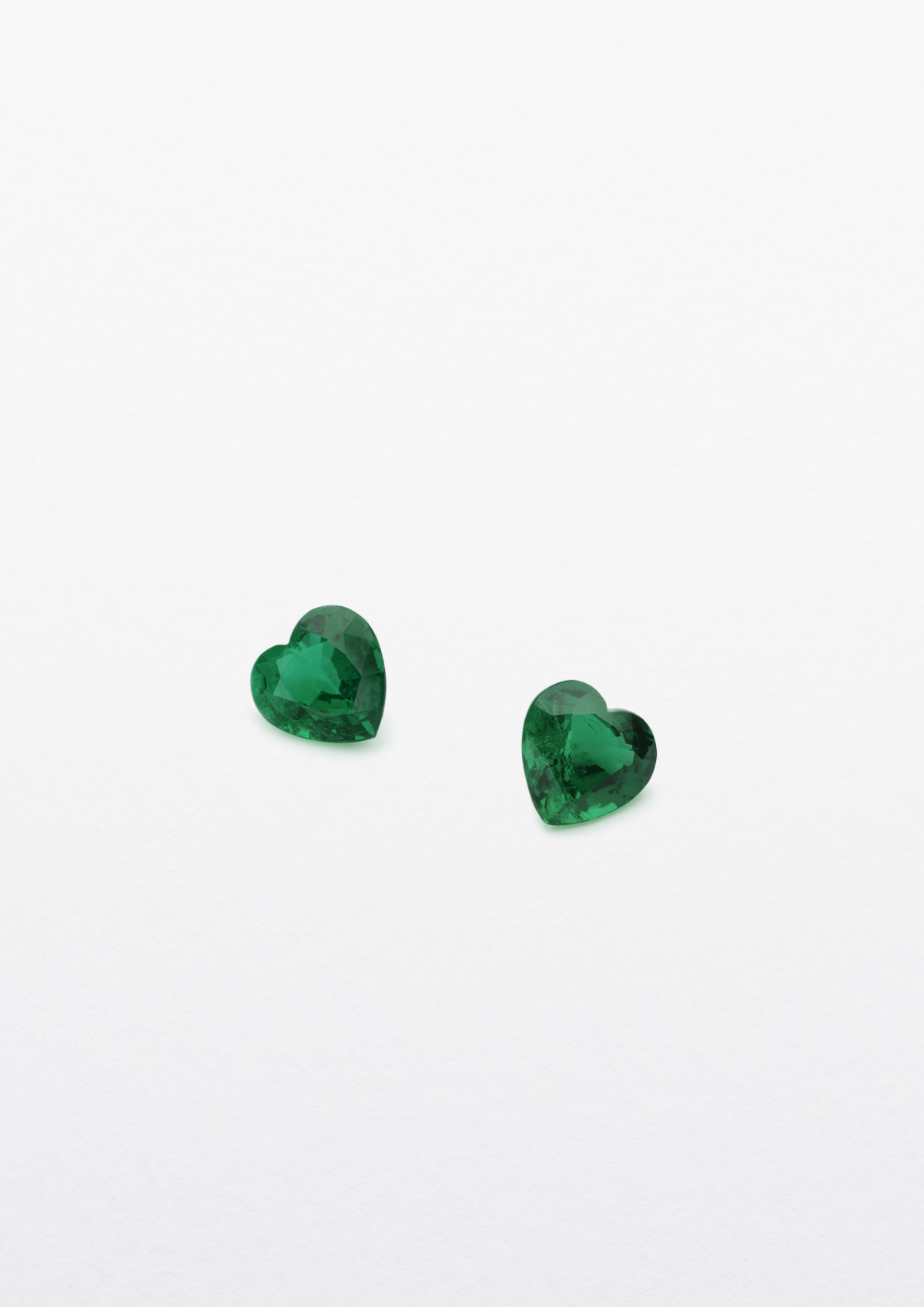 Exceptional stones and jewellery-making skills
In addition to these precious stones whose destiny has yet to be forged, Chopard is also presenting the Parisian public with some jewellery fresh from its Haute Joaillerie workshops. Among them is a creation fit for a queen: a white diamond necklace flowing into a fantastic burst of sunshine in the shape of an over 100-carat fancy intense yellow diamond. As Caroline Scheufele explains: "Because of my family's history as jewellery specialists across several generations, my life has been marked by encounters with the rarest gems. Impressive in size and captivating in colour, this yellow diamond immediately caught my attention and our Maison is proud to present it today."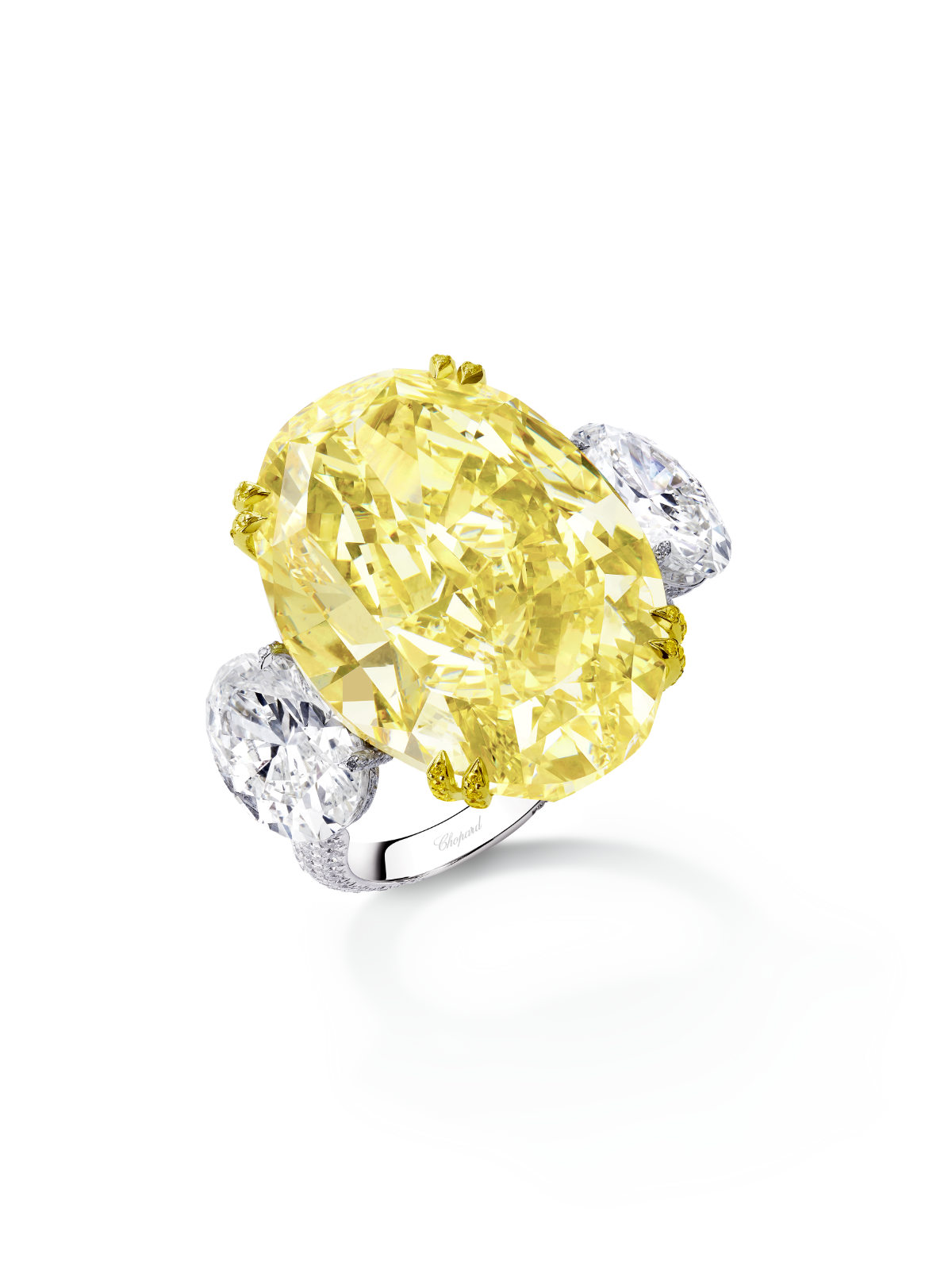 There is also a ring featuring a 30.63-carat fancy intense yellow oval-cut diamond and entirely adorned with diamonds; as well as a necklace graced with sculpted rose gold, diamond or pink sapphire motifs and inspired by the lace collars of 17th century courtiers' costumes – a reminder of the enduring ties between the artistic crafts of couture and jewellery.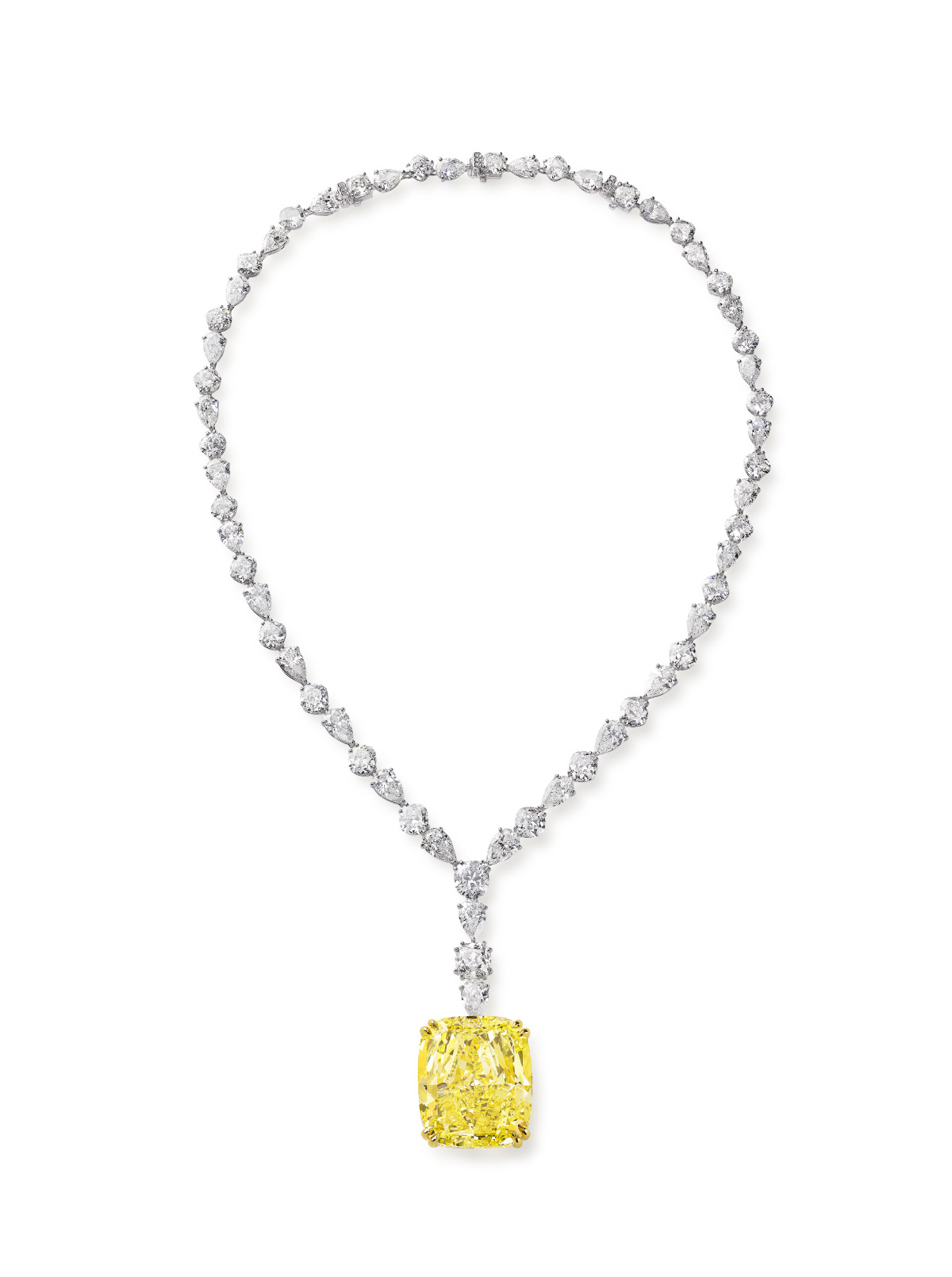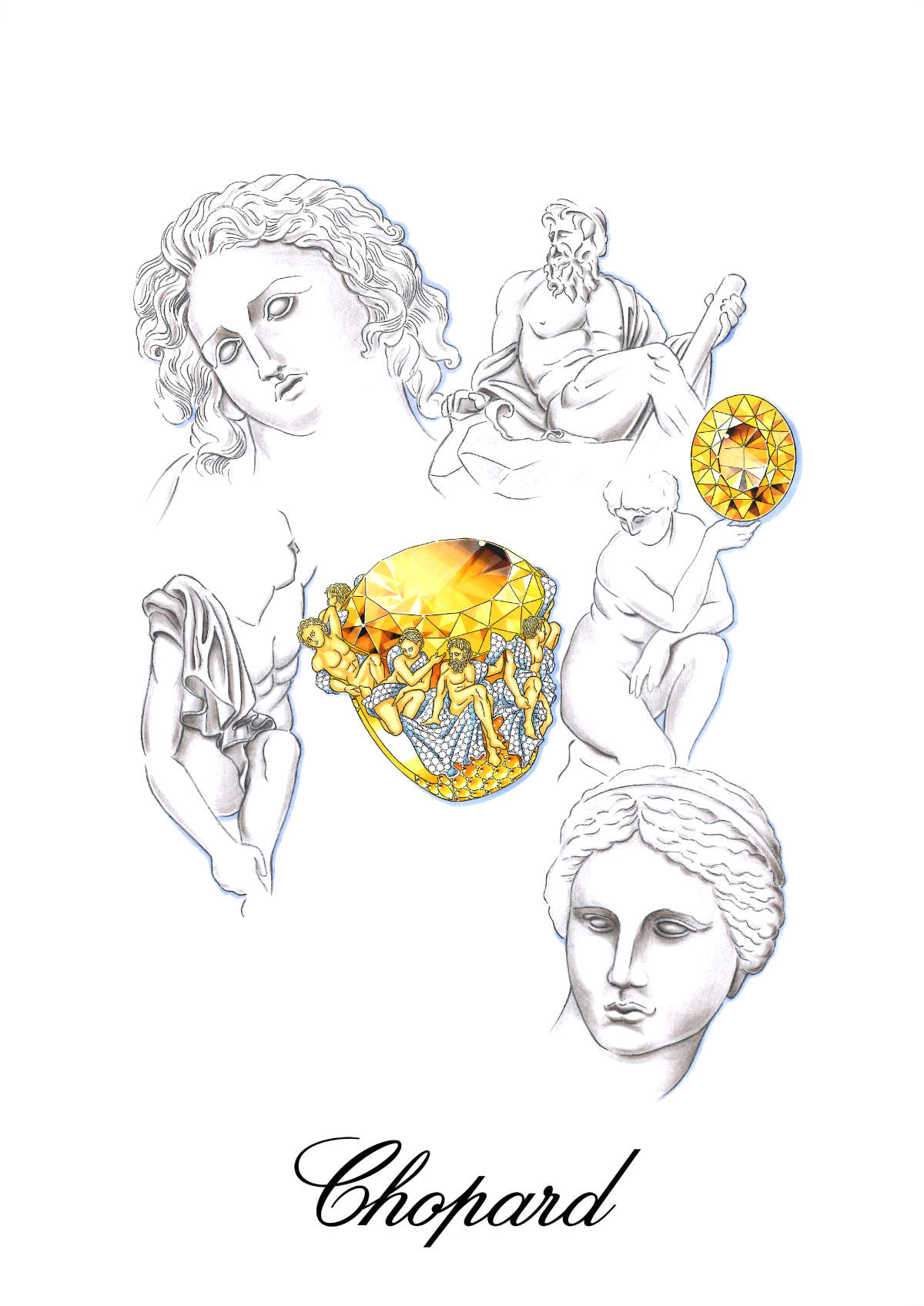 ---