---
"I will show your lordship what a woman can do." – Artemisia Gentileschi (1593 — c. 1656)

For the Chloé Autumn-Winter 2023 show (AW23), Creative Director Gabriela Hearst explores the imperative need for women's stories and their contributions to society—too often overlooked or suppressed—to be brought out of the shadows so they can play a leading role in the race to find climate solutions.

Inspired by 17th-century Baroque painter Artemisia Gentileschi, who overcame a range of societal and personal struggles to emerge as one of the most celebrated female artists of her time, the AW23 collection forms the third chapter in Gabriela's exploration of climate success and the urgent need to champion women as leaders.
Although climate change impacts everyone, as gender inequalities continue to persist around the world, women and girls are disproportionately affected. According to the United Nations Development Programme, four out of five people displaced by climate change are women. Yet research shows that women's innovations and expertise have transformed lives and livelihoods, and increased climate resilience and overall well-being. As a recent article in The Economist stated: "Climate change is a threat multiplier, but women can be solution multipliers."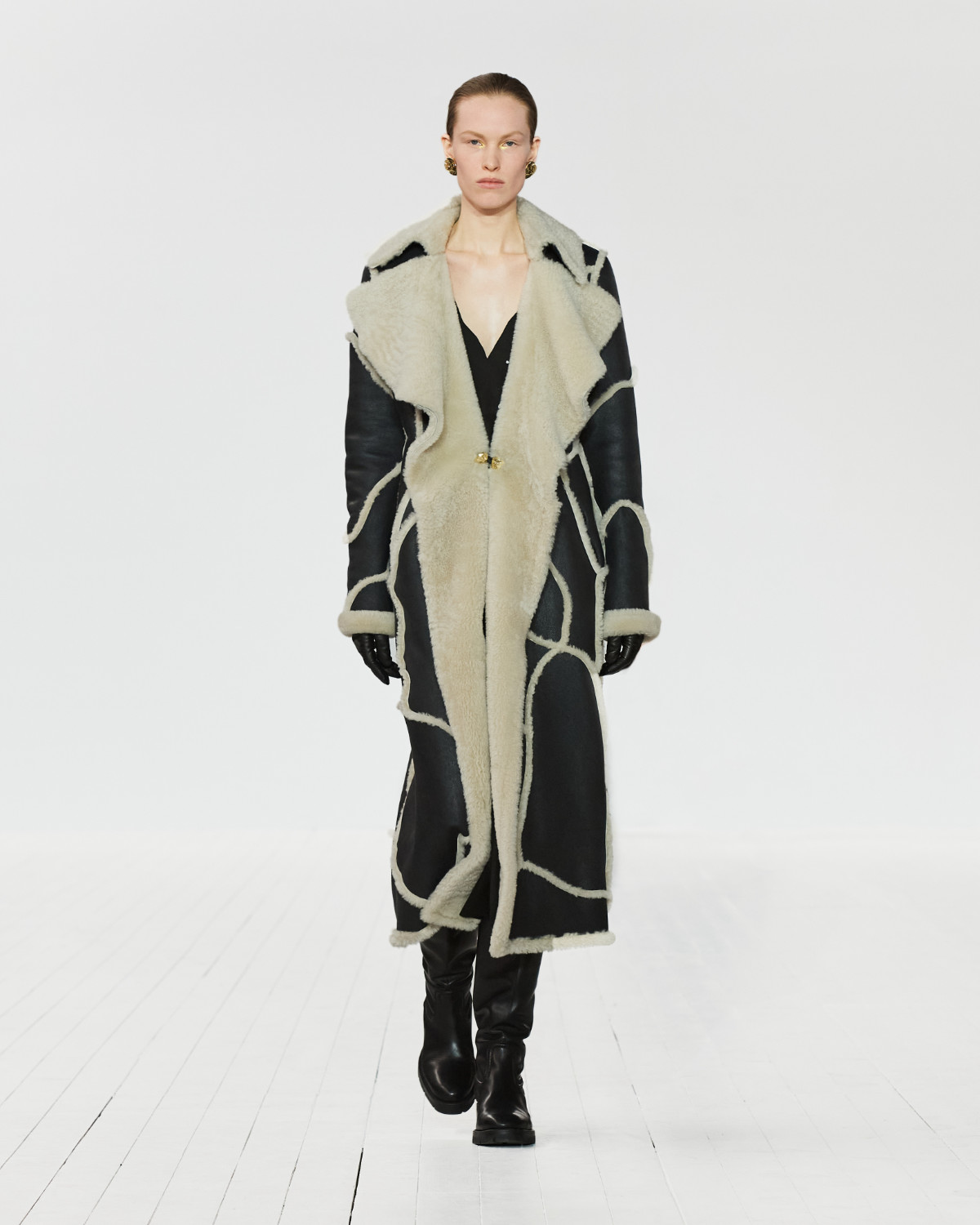 Creative Director Gabriela introduced a new approach to structuring her Chloé collections as chapters—each dedicated to a pioneering climate solution, turning the fashion show into a vehicle for disseminating these ideas to a wider audience. Autumn-Winter 2022 looked at the planet's proven intrinsic ability to rehabilitate itself when it is left to do so. Spring-Summer 2023 explored the potential for abundant, scalable, clean energy to wean people off fossil fuels. Now, chapter three—AW23—focuses on the need to see women in roles of leadership and the power of an almost Renaissance-like approach; where visionary artists, creatives and scientists come together to create a future where people and the planet thrive.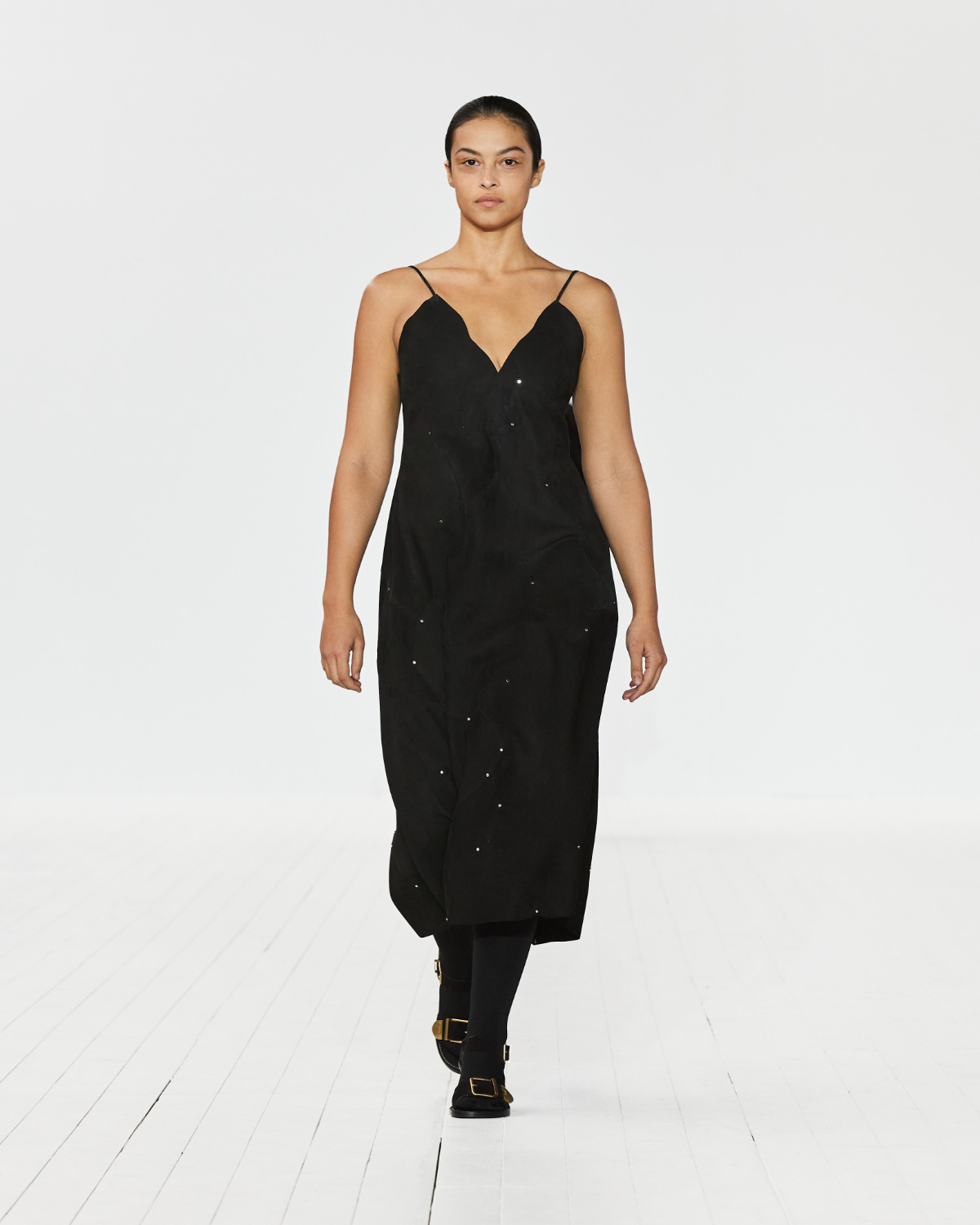 It is the life as much as the work of Artemisia that is the muse of the season. Artemisia lived at a time when women's bodies and choices were strongly regulated, but she managed to subvert the norms of the time and use her art and voice to advocate for women, and overcomes biases around women's creative potential.
Almost all of Artemisia's surviving works feature women as key characters, often depicted in a higher position to men—a representation of dominance that was unusual at the time—and many centre on themes relating to powerful women. One allegory in particular that runs through the AW23 collection, is the story of Esther before Ahasuerus (c. 1629). The painting depicts the heroic figure of Esther as a vision of truth and power—risking her life to successfully convince the formidable King Ahasuerus—who had ordered the execution of all Jews in the Persian Empire—to spare her people. Coincidentally, the AW23 Chloé show occurs just days before Purim —the Jewish holiday that commemorates the events of the Book of Esther.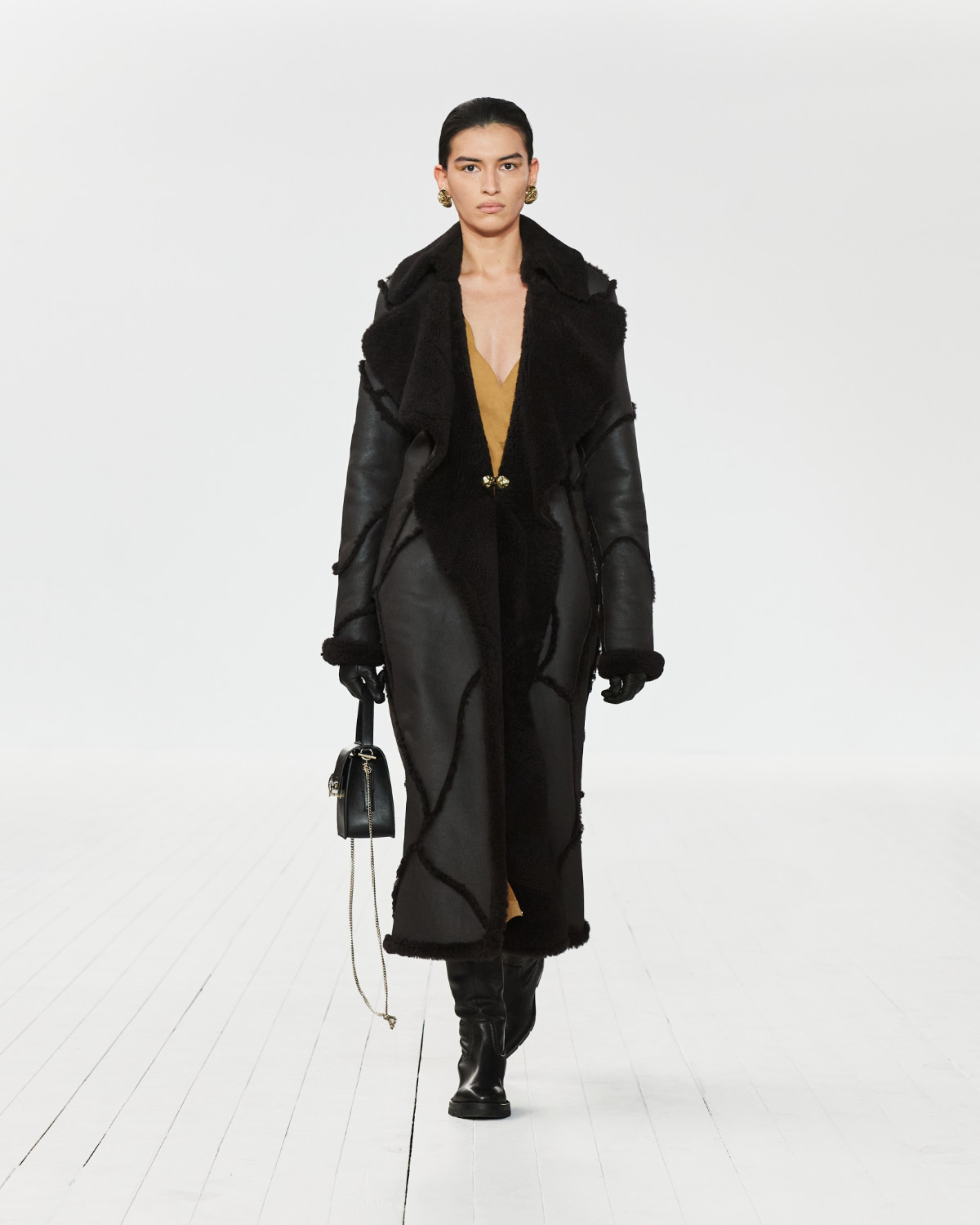 In the AW23 collection, the Book of Esther is transposed onto dresses and bags as a graphic, multicoloured, tapestry—the work of the Mumbai-based Chanakya International embroidery studio, which through its craft school provides women from low-income communities with a high-quality education in hand embroidery. The Book of Esther is also reinterpreted in black and brown contrast embroideries on a leather skirt and matching jacket.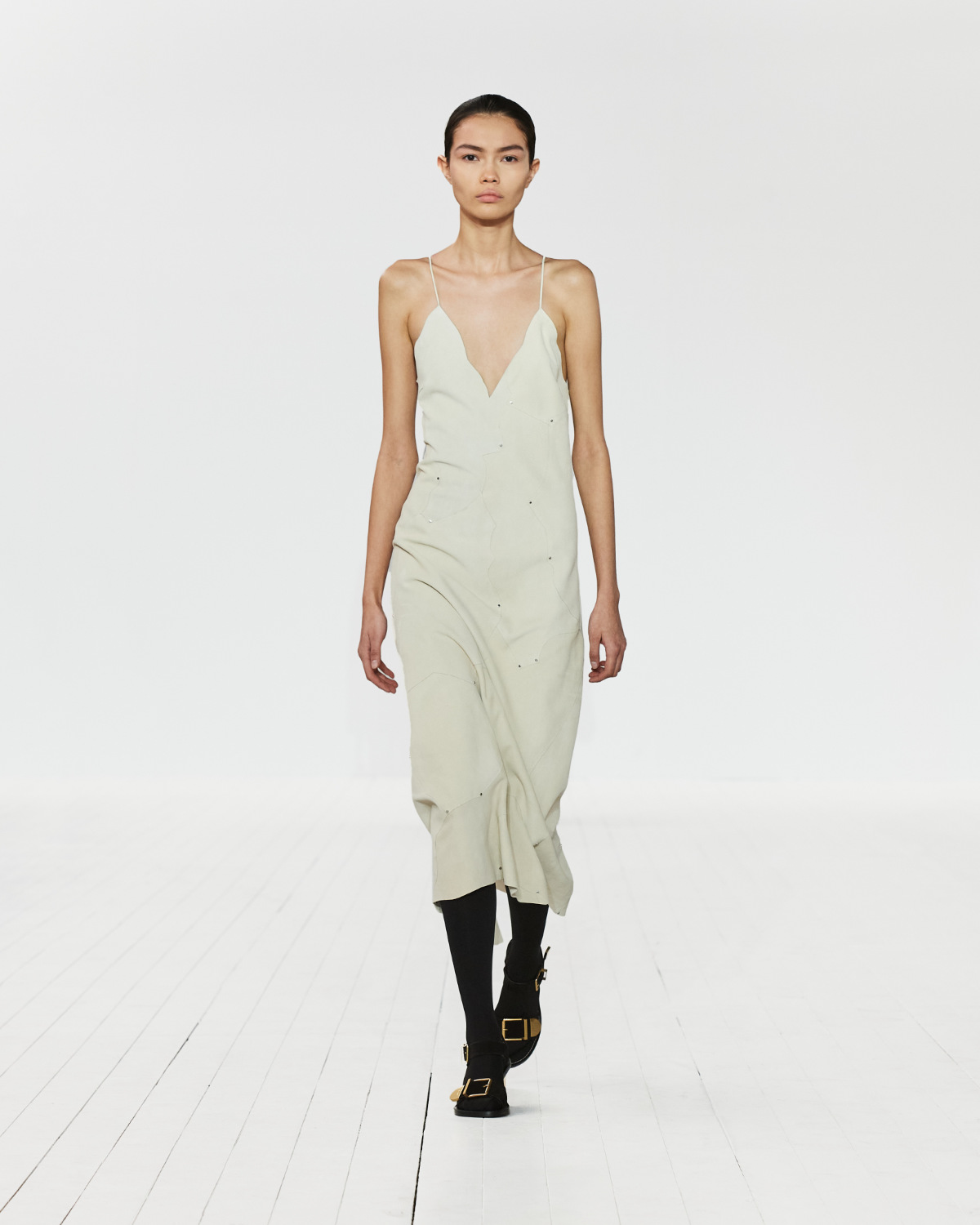 Renaissance-inspired silhouettes, innovative fabrications and unexpected materials reflect the feminine power of Artemisia's paintings and her steely conviction. A puffer cape coat with ruching along the seams is made from recycled nylon. An off-the-shoulder dress cut above the knee with bishop sleeves is cut from Nappa leather—a modernist, graphic take on the Renaissance. The use of black and white contrasting fabrics accentuates the heart-shaped waists and high necklines of dresses, imbuing these historic references with a contemporary aesthetic. Lower-impact wool gauze—a Chloé pillar fabric—delivers a subtle statement of feminine power with its ethereal quality and is used in a range of garments including capes and long dresses.
Renaissance architecture inspired a multitude of fabrications that demonstrate the Maison's savoir-faire. A dégradé pattern of black satin diamonds is handappliquéd onto wool. A graphic material made from thin strips of black, white and yellow fabric is sewn together by our partners Akanjo and is used for coats. Trousers are assiduously constructed from intricate lattice formations of handinserted leather braids and pintucks.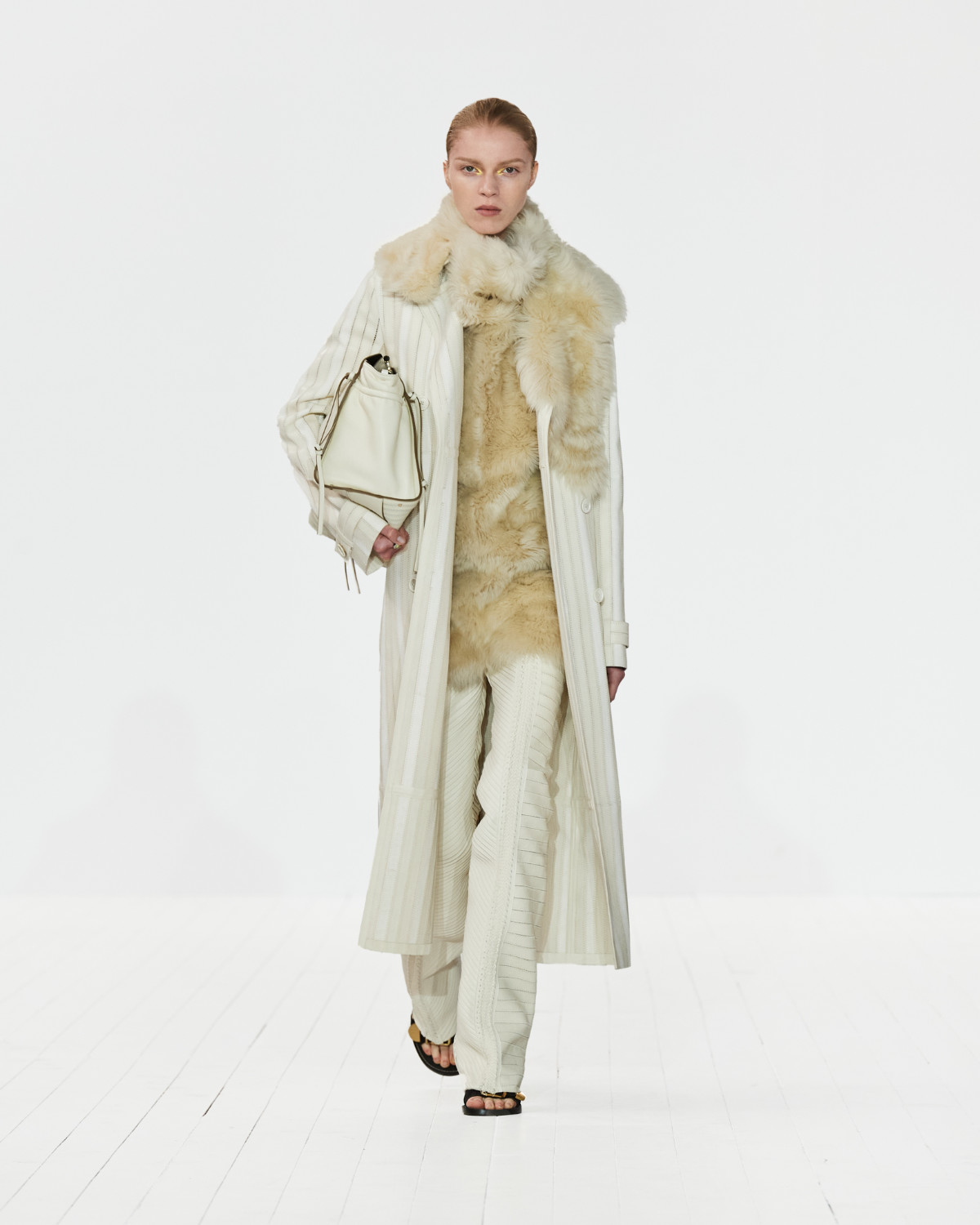 The boundaries of fabric development has been explored. New lace techniques have been developed for a figure-hugging dress to give it stretch and ease for the active woman. An oversized cape dress is knitted from a cashmere and silk 'faux fur'. The panelling of dresses with horizontal and vertical lines is based on crinoline pattern pieces but engineered on the knitting machine to introduce a sense of Chloé flou and femininity into the knitwear.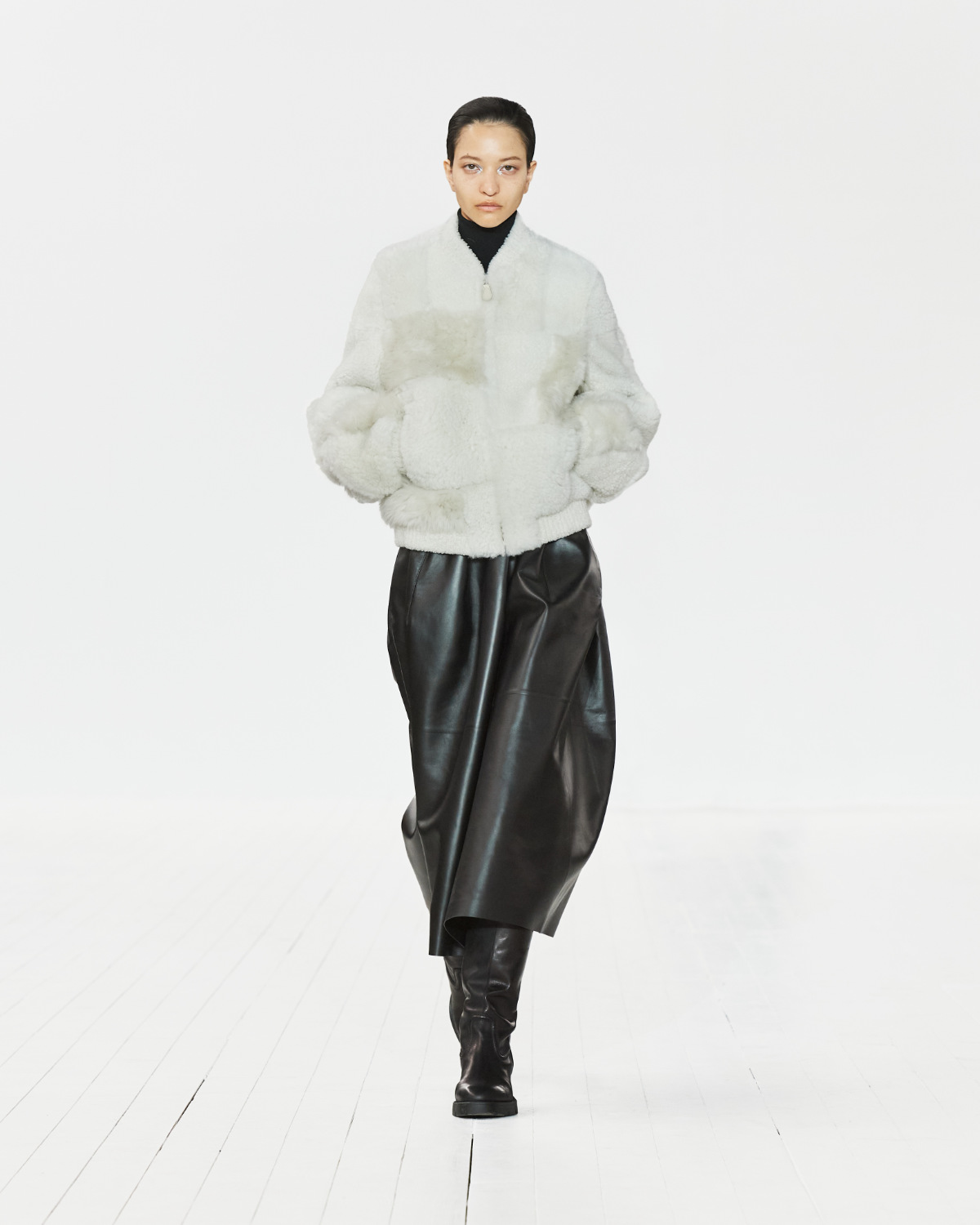 The Marcie, which turns 13 this year, transcends its iconic bag silhouette and is deconstructed into a leather biker jacket and matching trousers as well as loafers. Footwear designs based on the new Raina rainboot's Bio-based TPU sole are transformed into thigh-high styles with leather uppers. A feminine touch is brought to boyish boots in the form of a golden heel and sandals are adorned with a buckle inspired by the Chloé archives.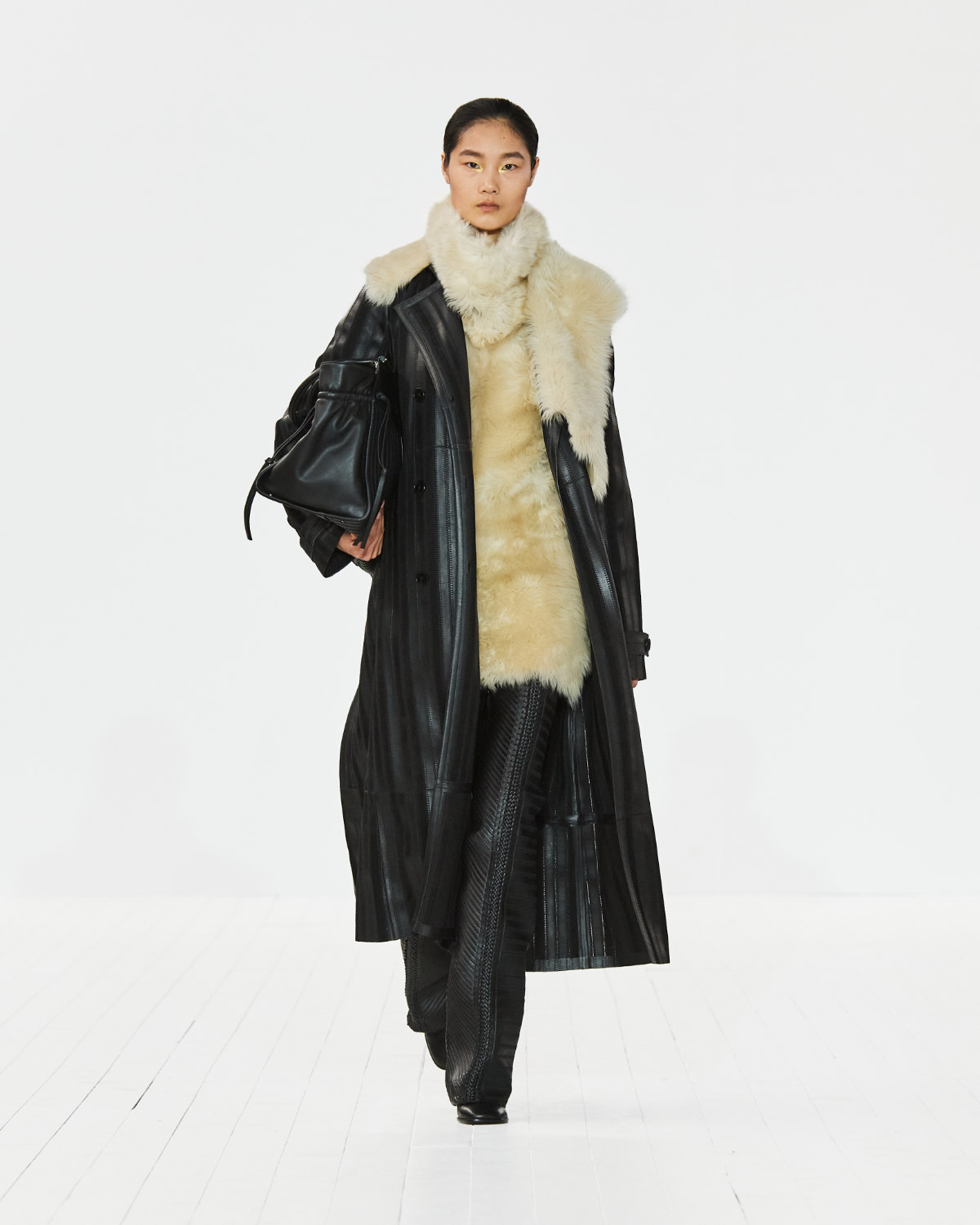 Leather bag designs inspired by Medieval coin purses are carried in hand. The Penelope bag, which debuted in the Summer 2023 collection, comes in box leather, suede patchwork and embellished shearling, and is finished with artisanal touches, such as braided leather and a signature metal coin closure inspired by the Maison's jewellery archive. A new mini version for AW23 is embellished with a chain.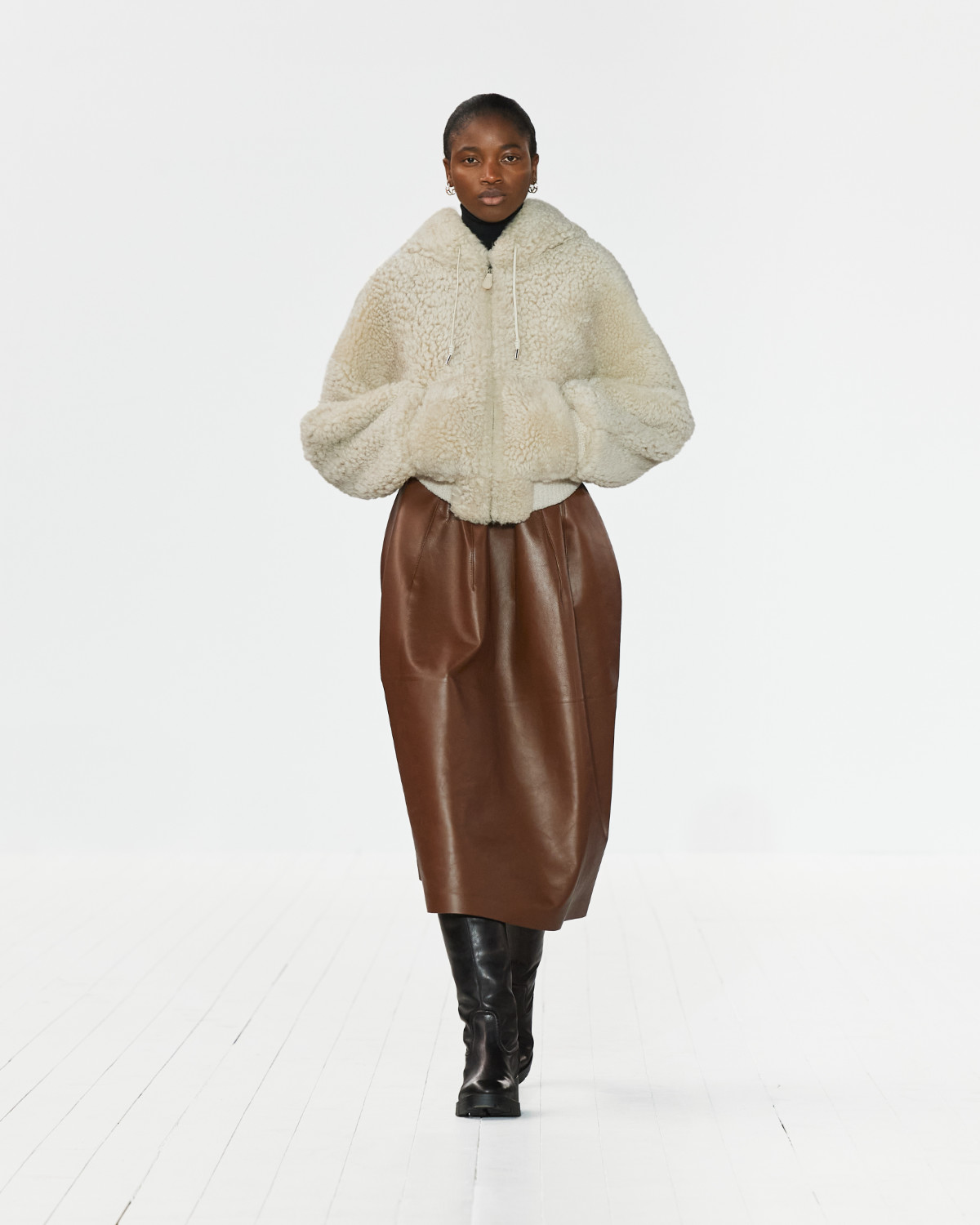 Gayia eyewear, which is made using the innovative ReAce material—a 100% recycled acetate derived from pre-consumer scraps—is available in three new shapes and the limited edition seasonal palette of 'Forest Brown', 'Sparkling Sand', 'Neon Green' and 'Amethyst Violet' as well as the Black and Havana continuity options.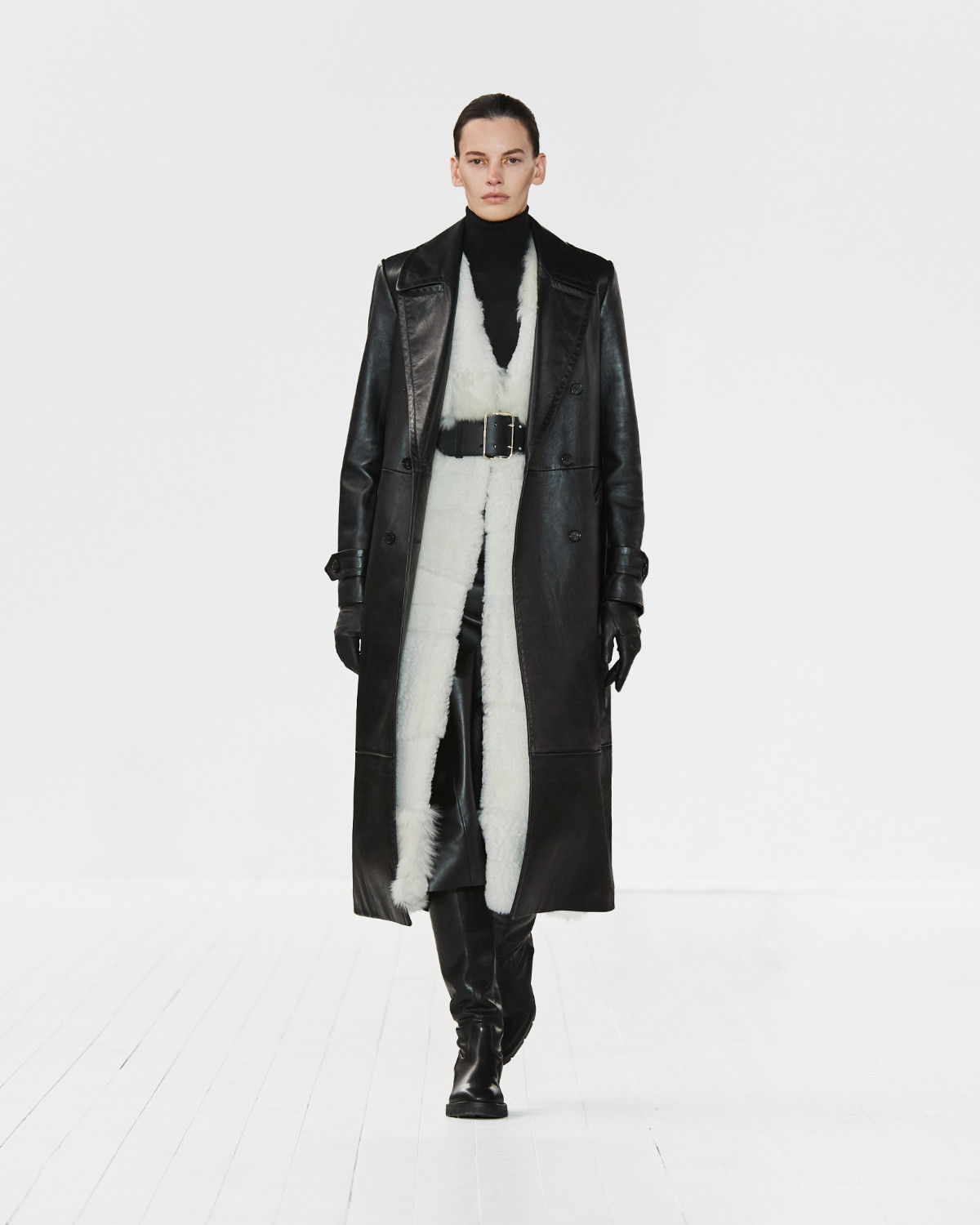 Baroque pearls, hand-blown glass droplets and raw semi-precious stones are all centrepieces of the AW23 jewellery, which spans necklaces and earrings and body jewellery that directly reference Artemisia's paintings. The jewellery's organic shapes and formations—reminiscent of cameos—are symbolic of how nature creates beauty with the same prowess as an artisan's hand.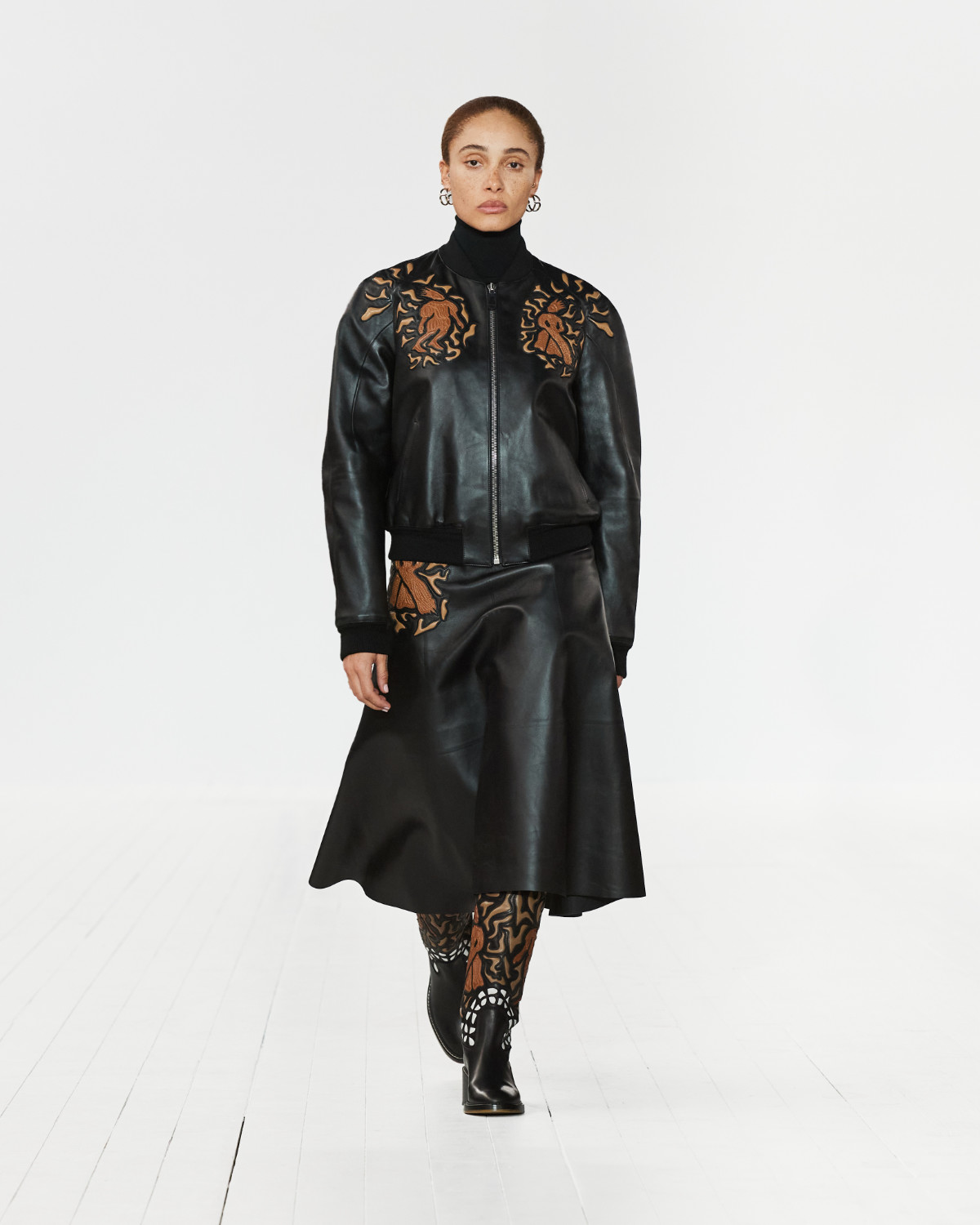 Chloé's continuous efforts to reduce its carbon footprint extends beyond its use of lower-impact materials for its collections—this mindset is followed through to the fabrication of its show concepts. The seating at the show was designed by Antoine Dumas and Benjamin Gavron of Gavron Dumas Studio and will be used in Chloé boutiques before being donated to charity for reuse and repurposing. The Maison also fosters its existing partnerships with social enterprises that have a common goal of uplifting women and eliminating the barriers that stop them from reaching their full potential.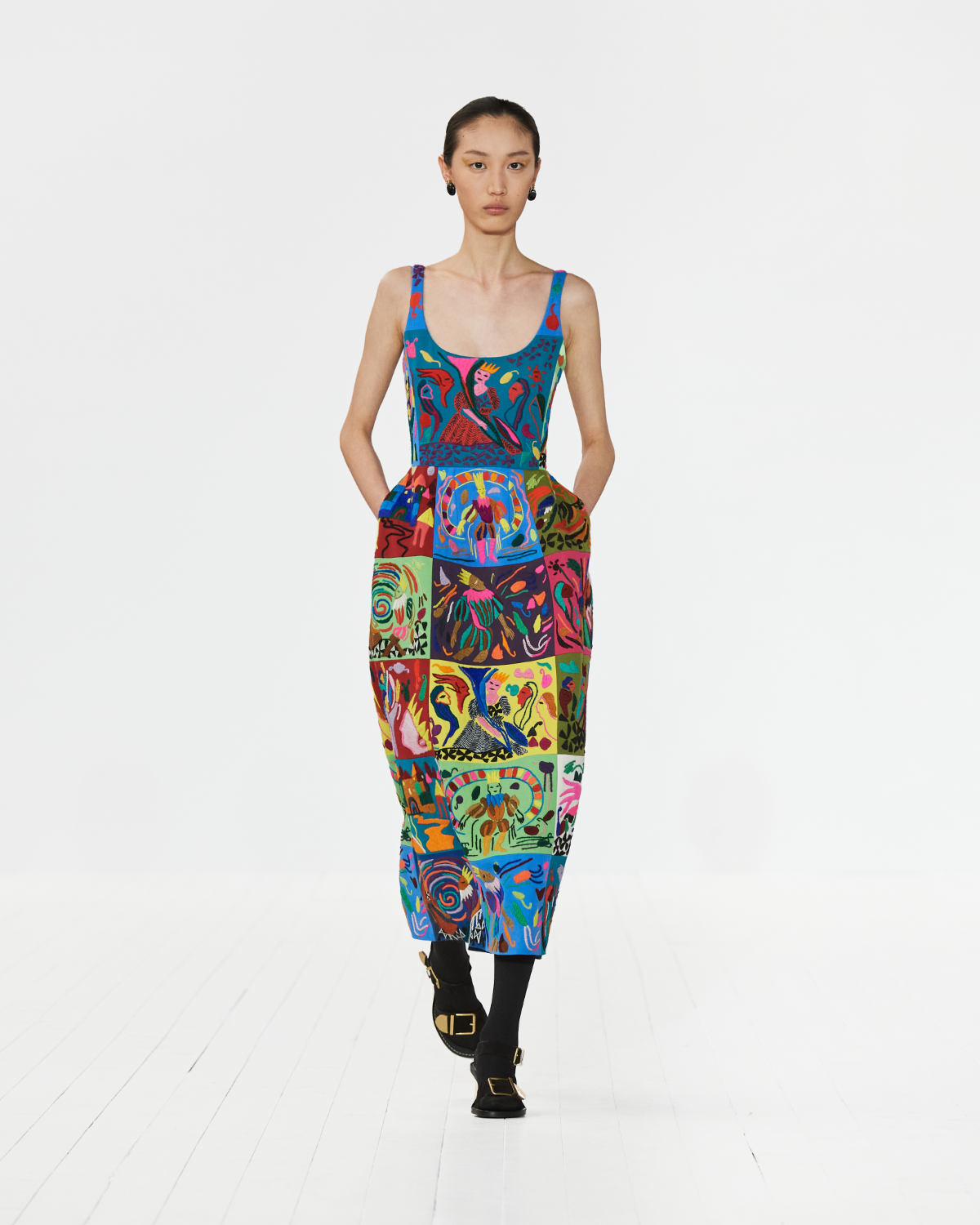 It has also initiated new partnerships with the likes of the Ethical Fashion Initiative (EFI), which aims to transform fashion into an engine for poverty reduction and women's empowerment, whose artisans in East Africa handcrafted the golden nugget embellishments and buttons that run throughout the collection.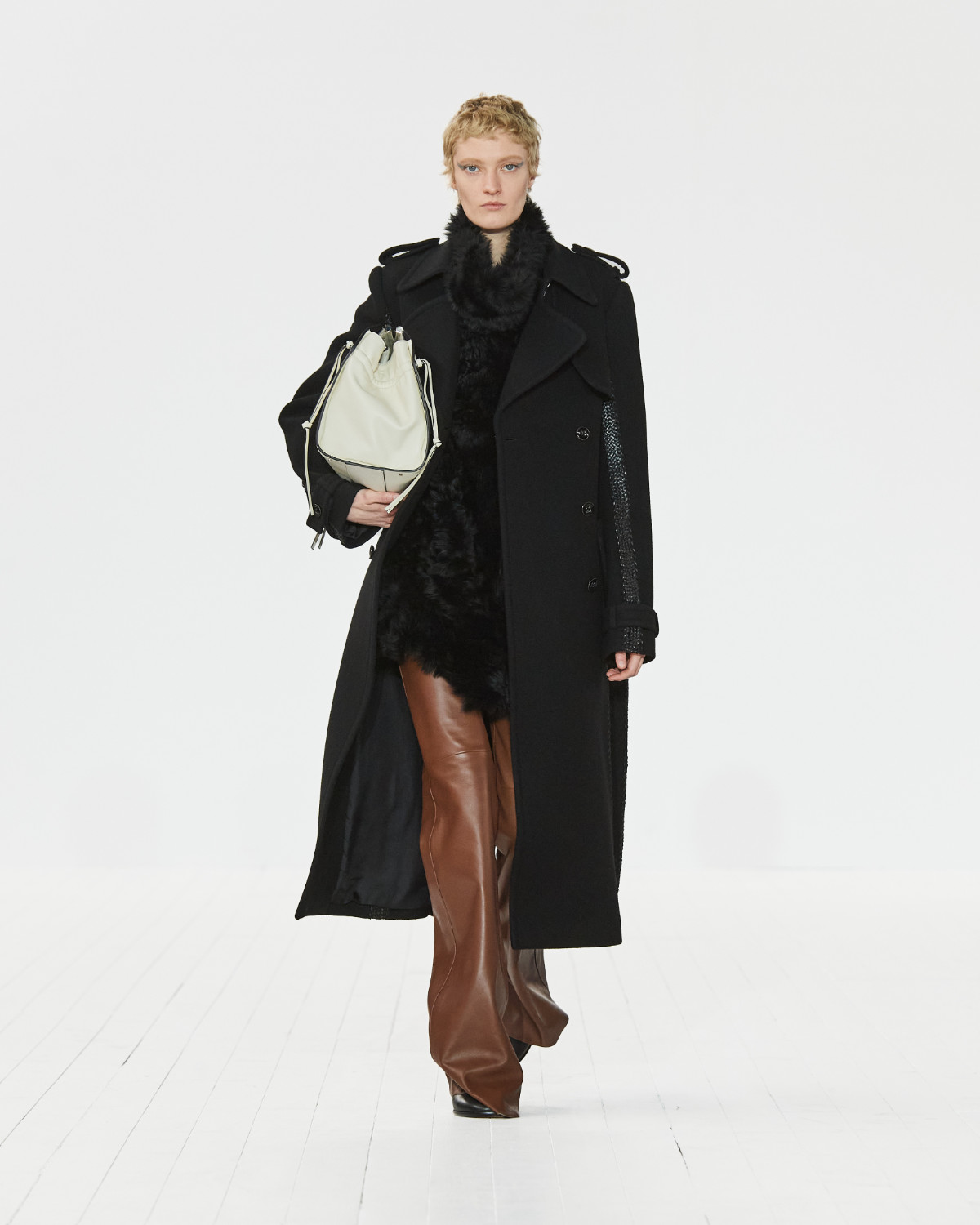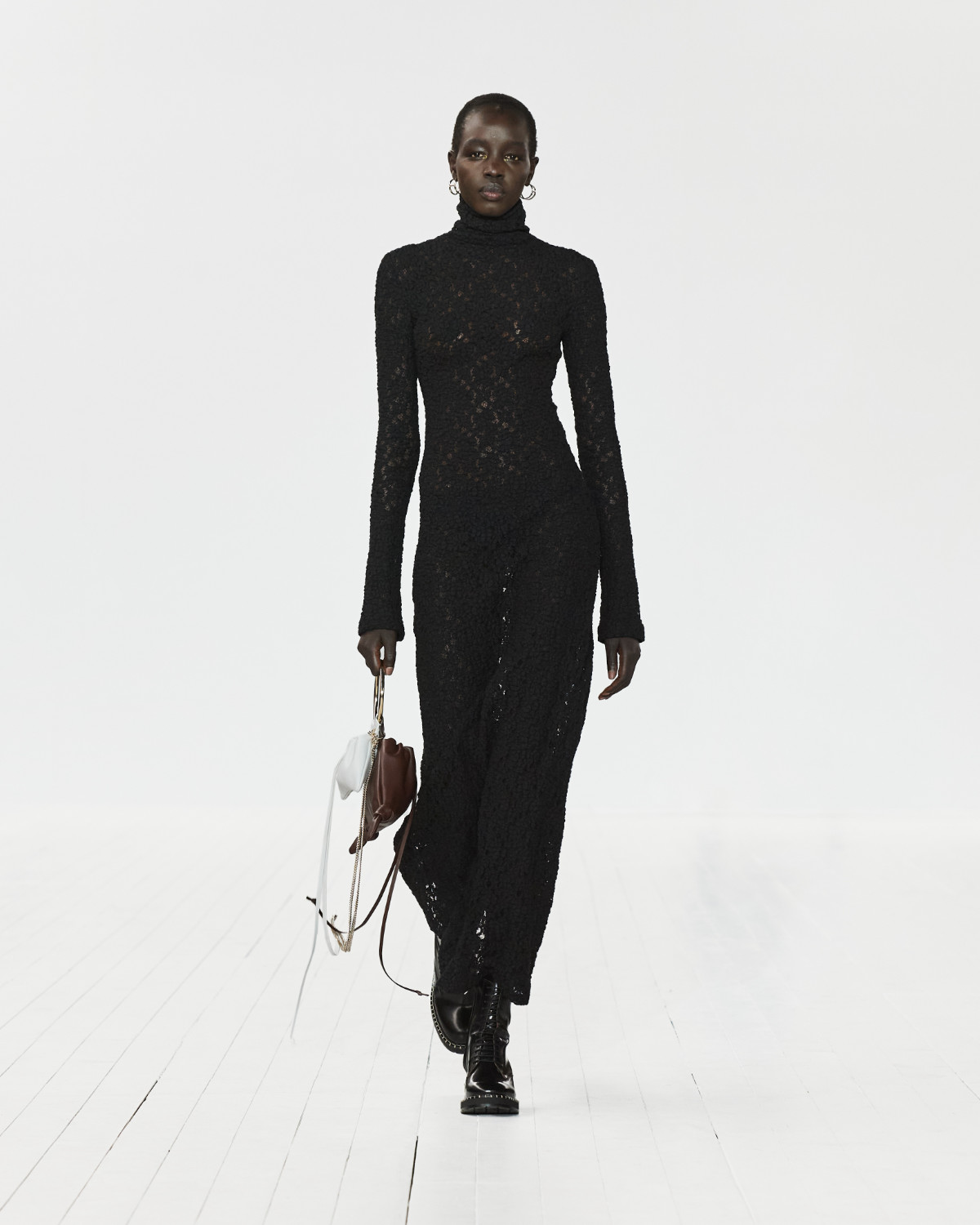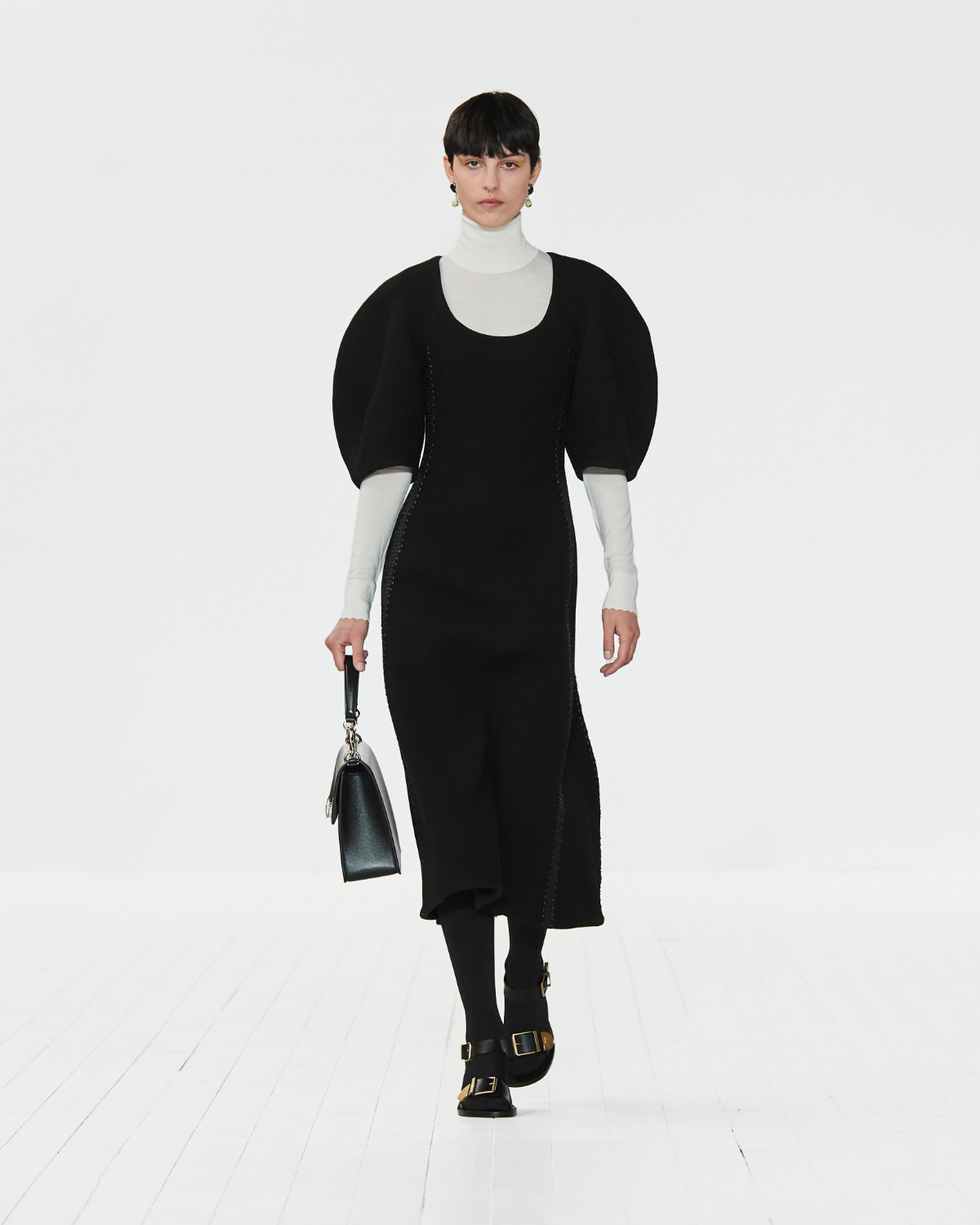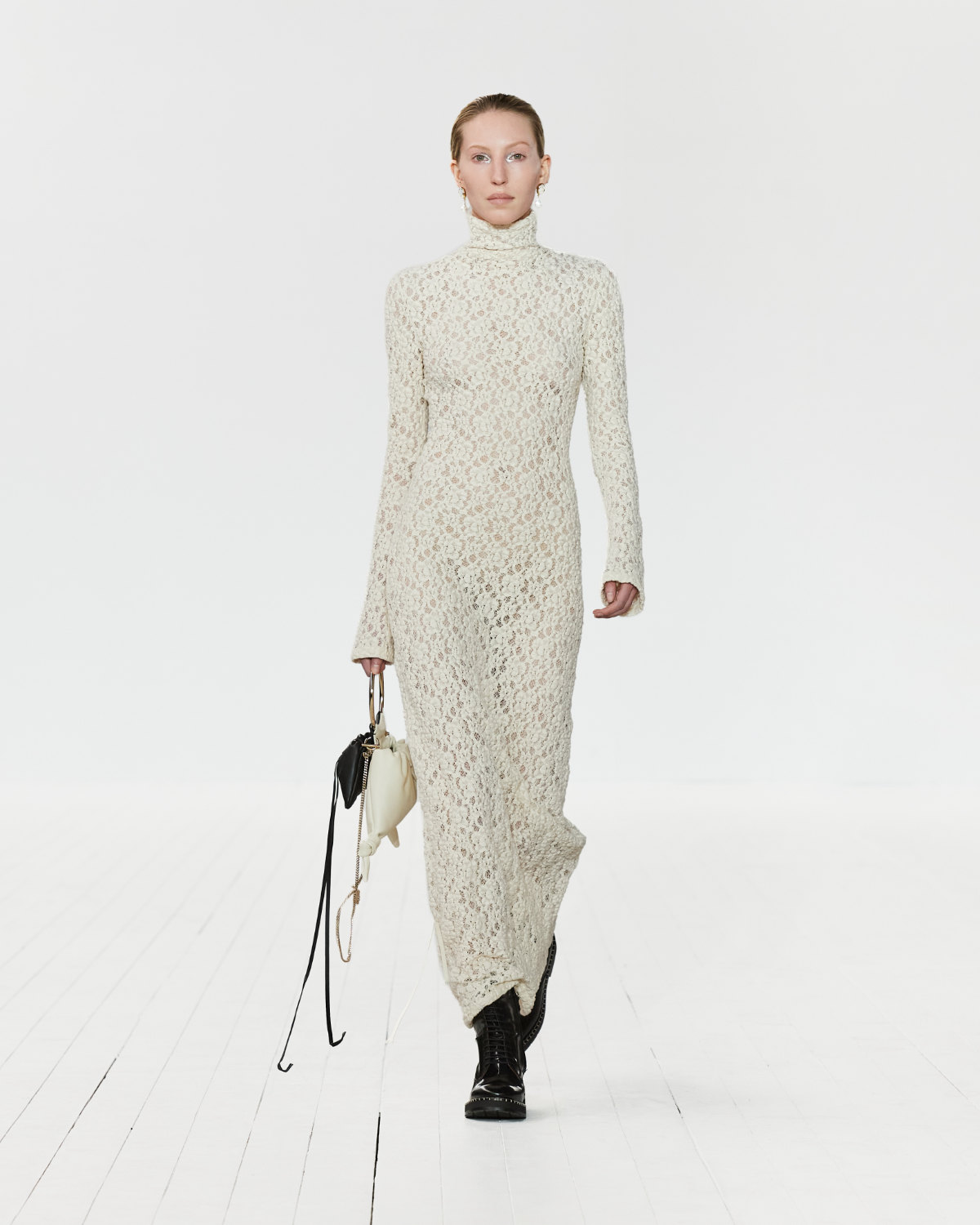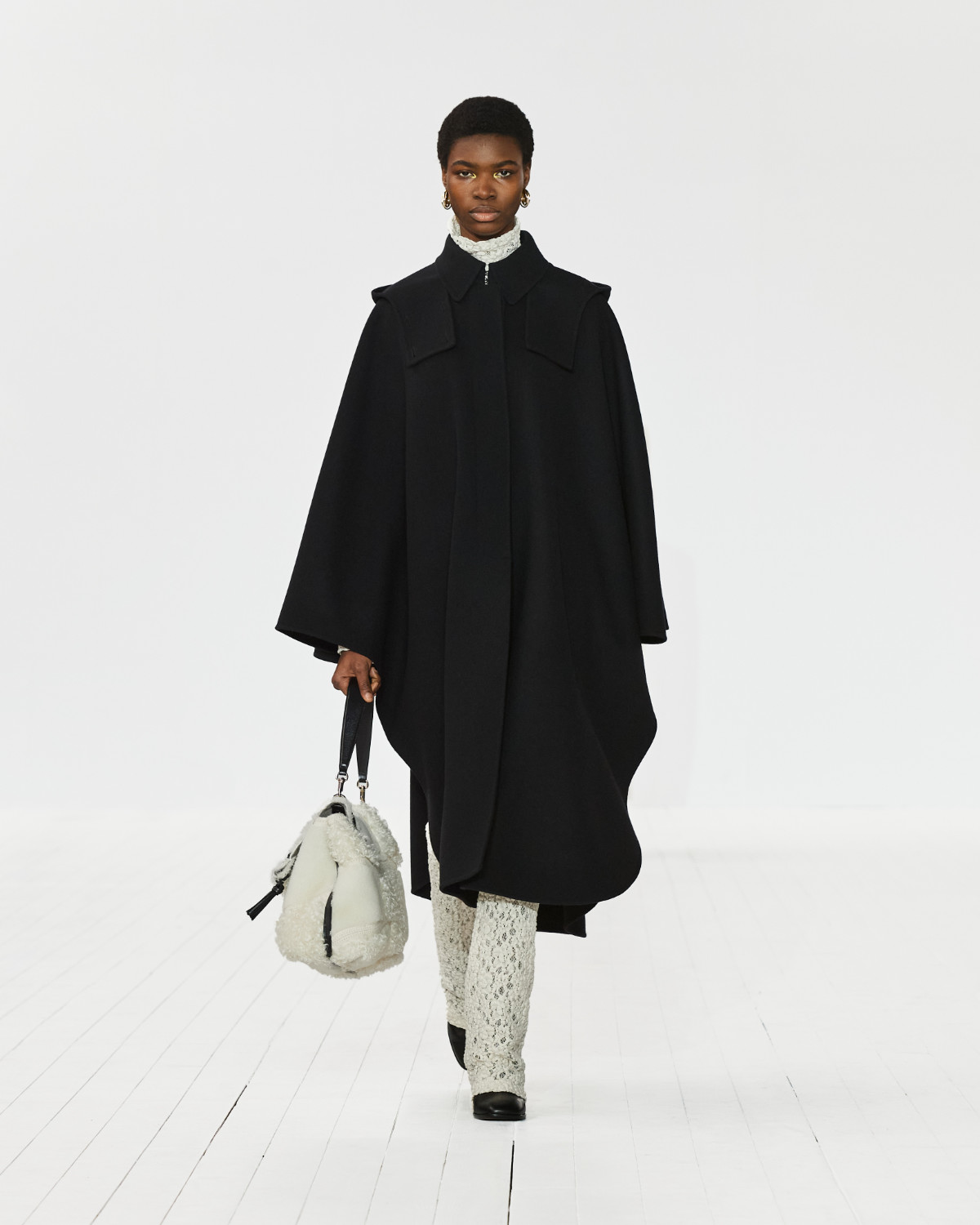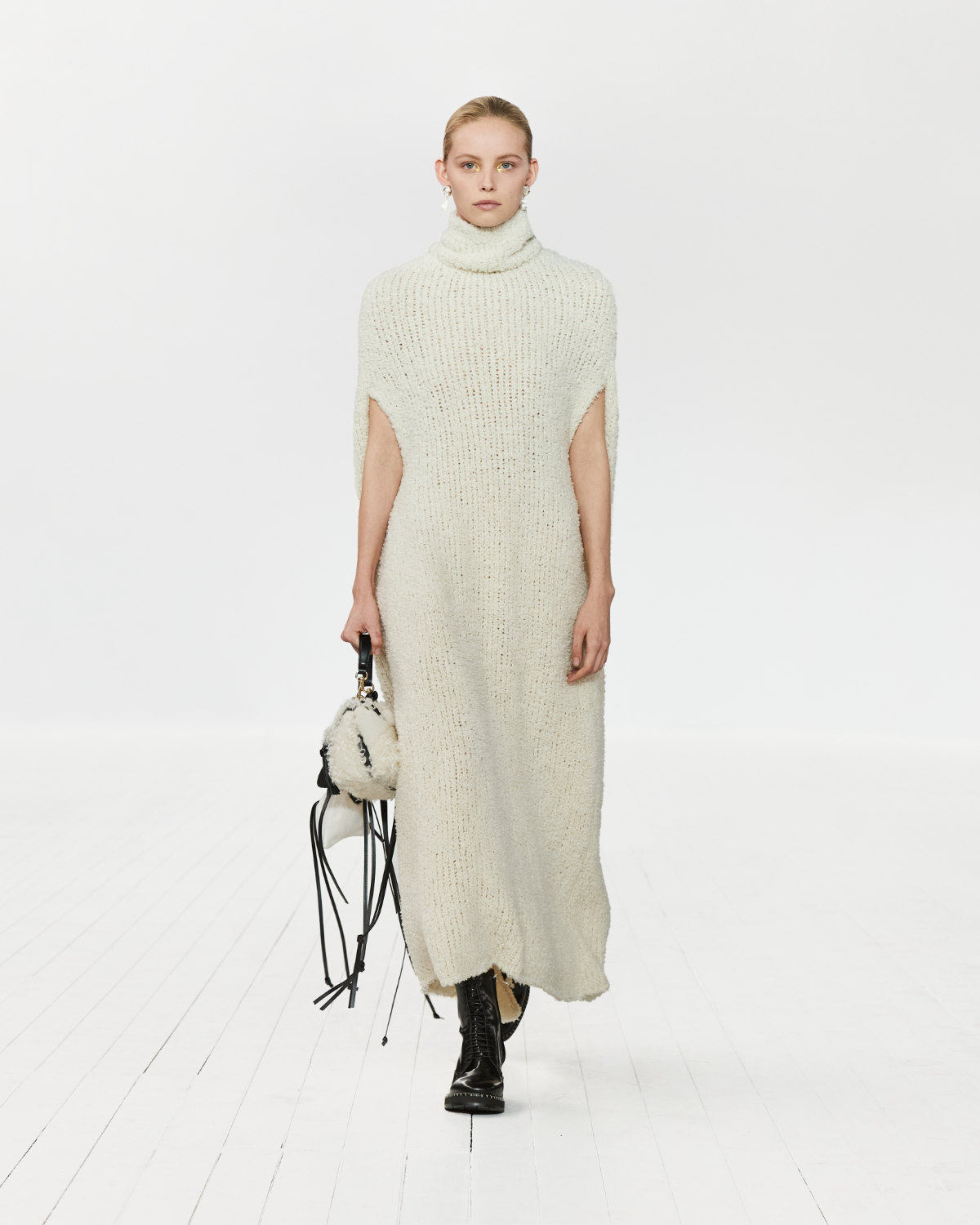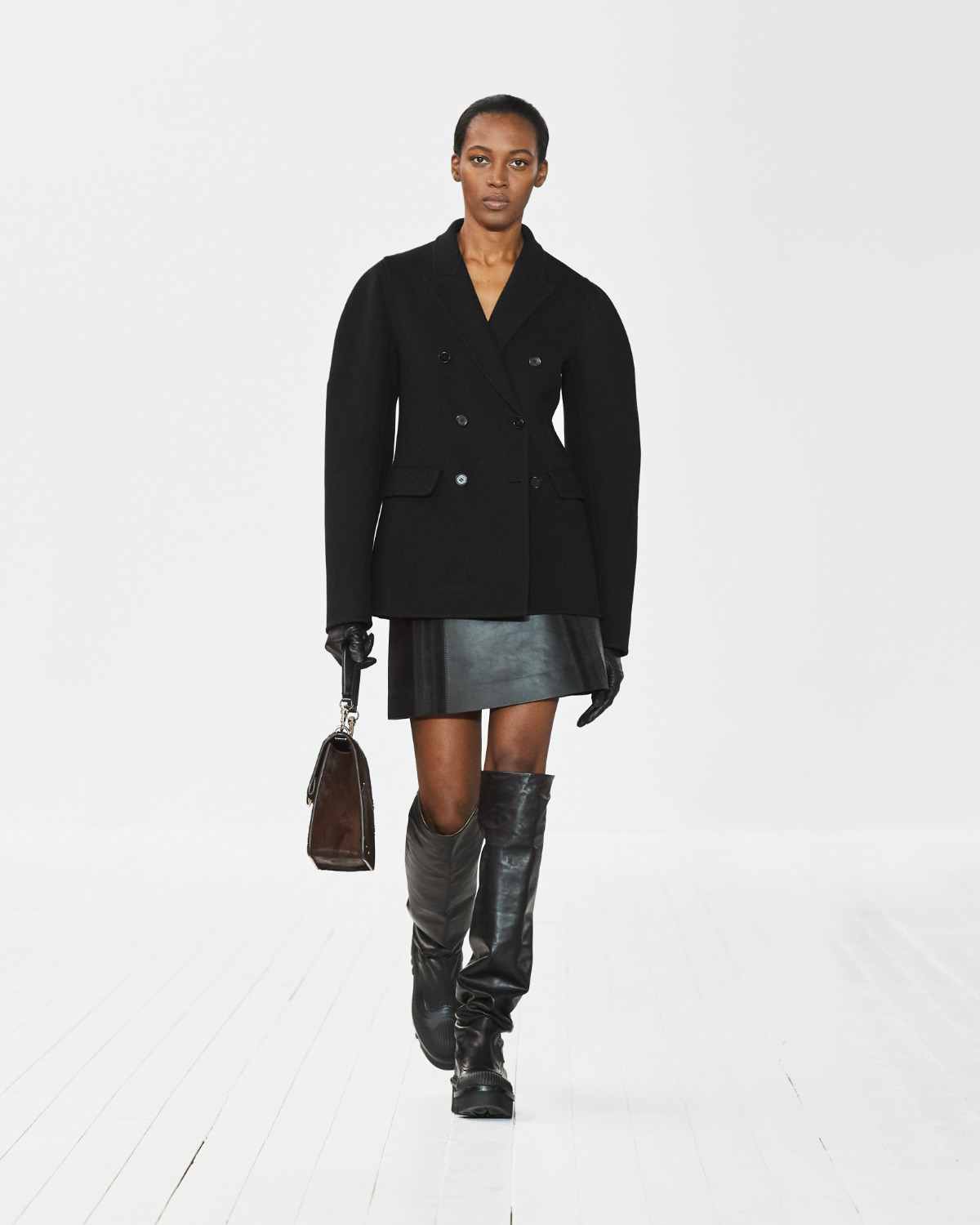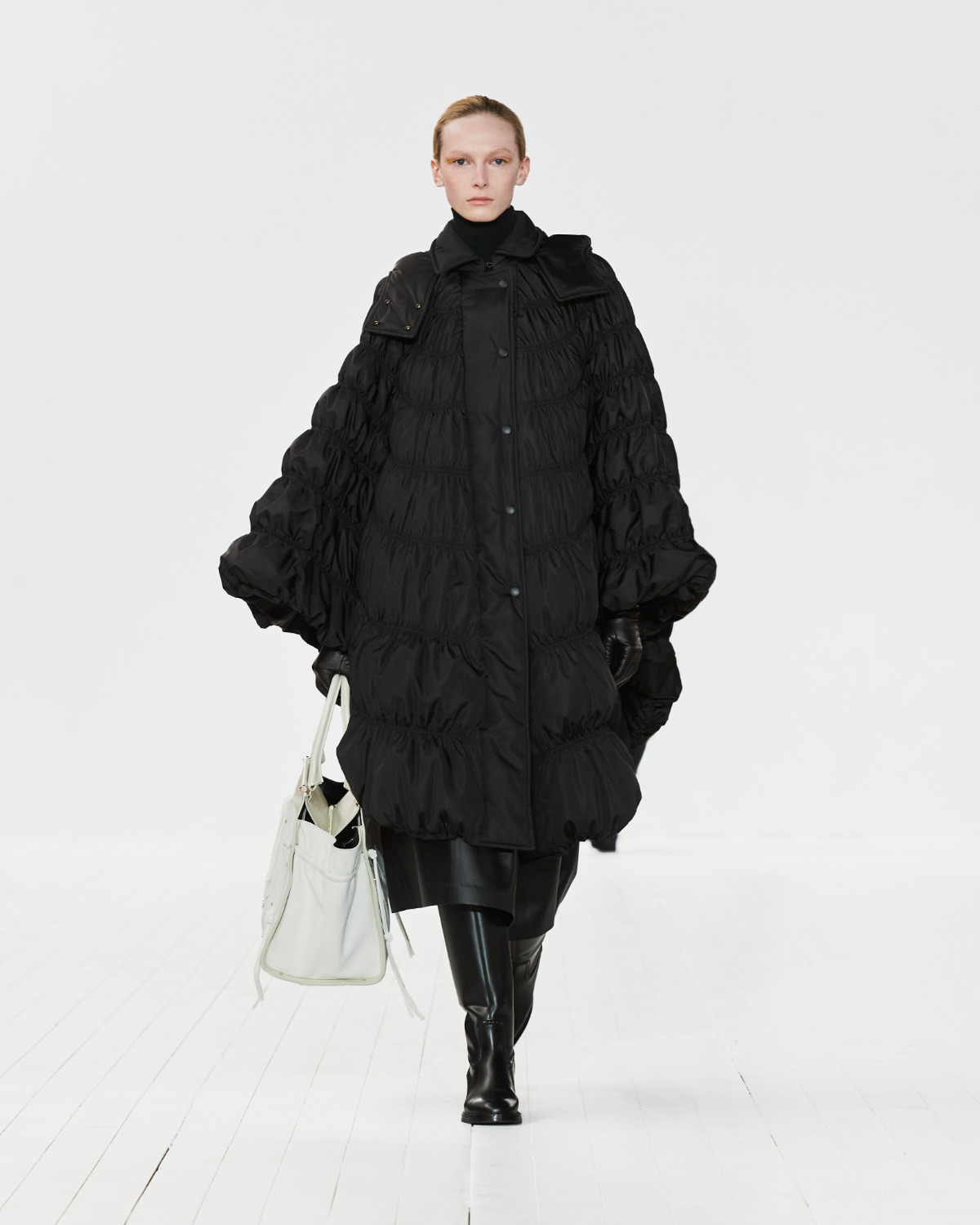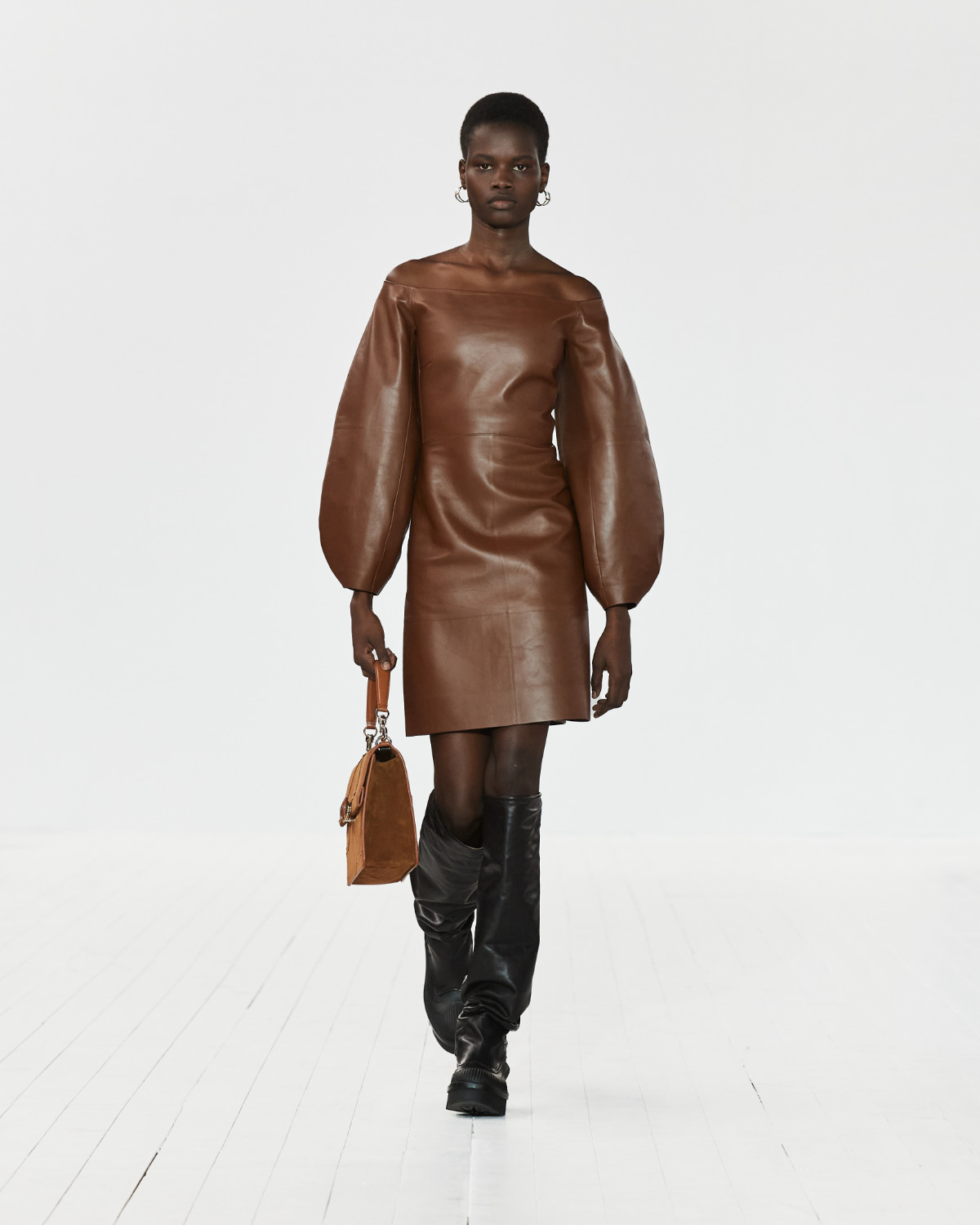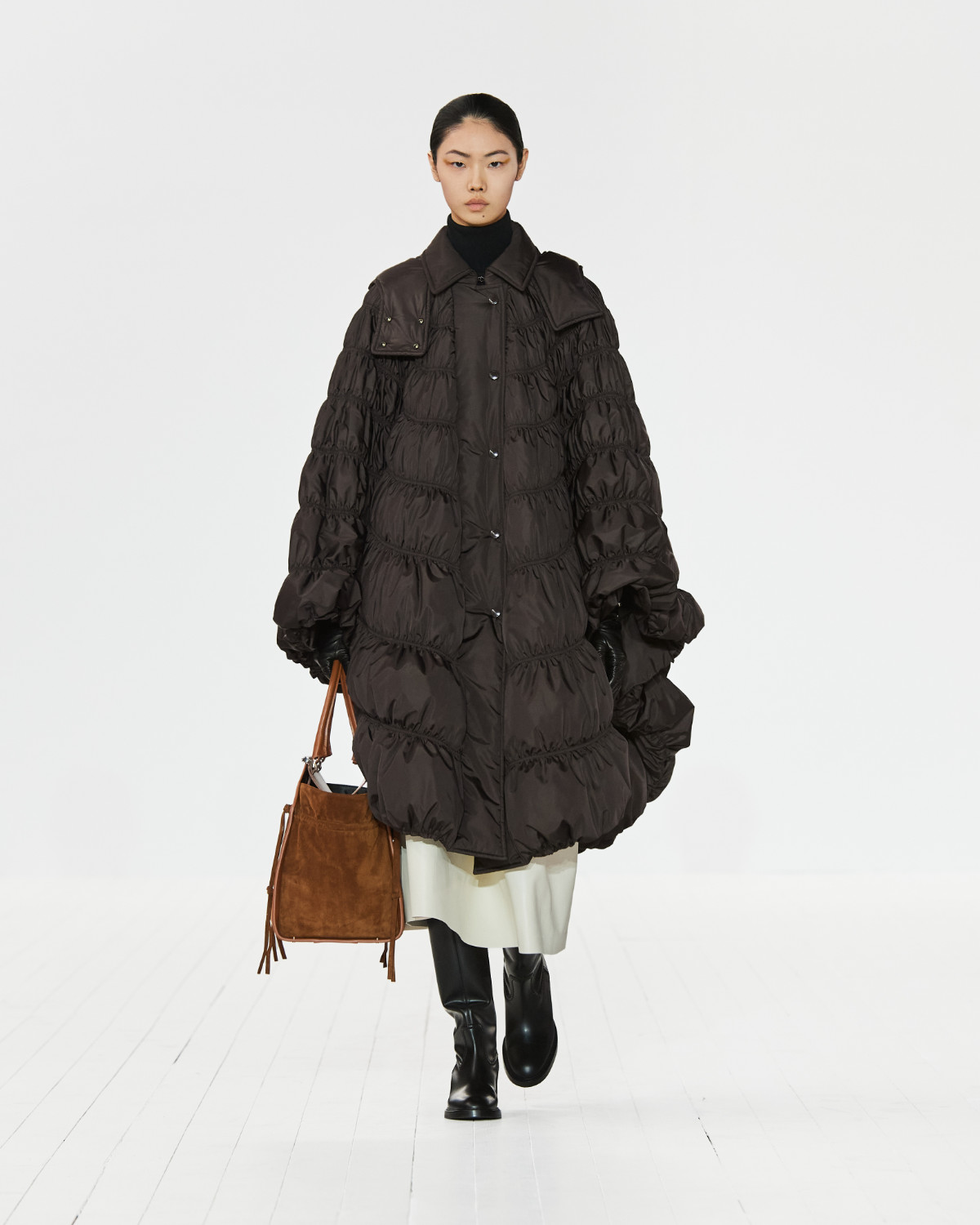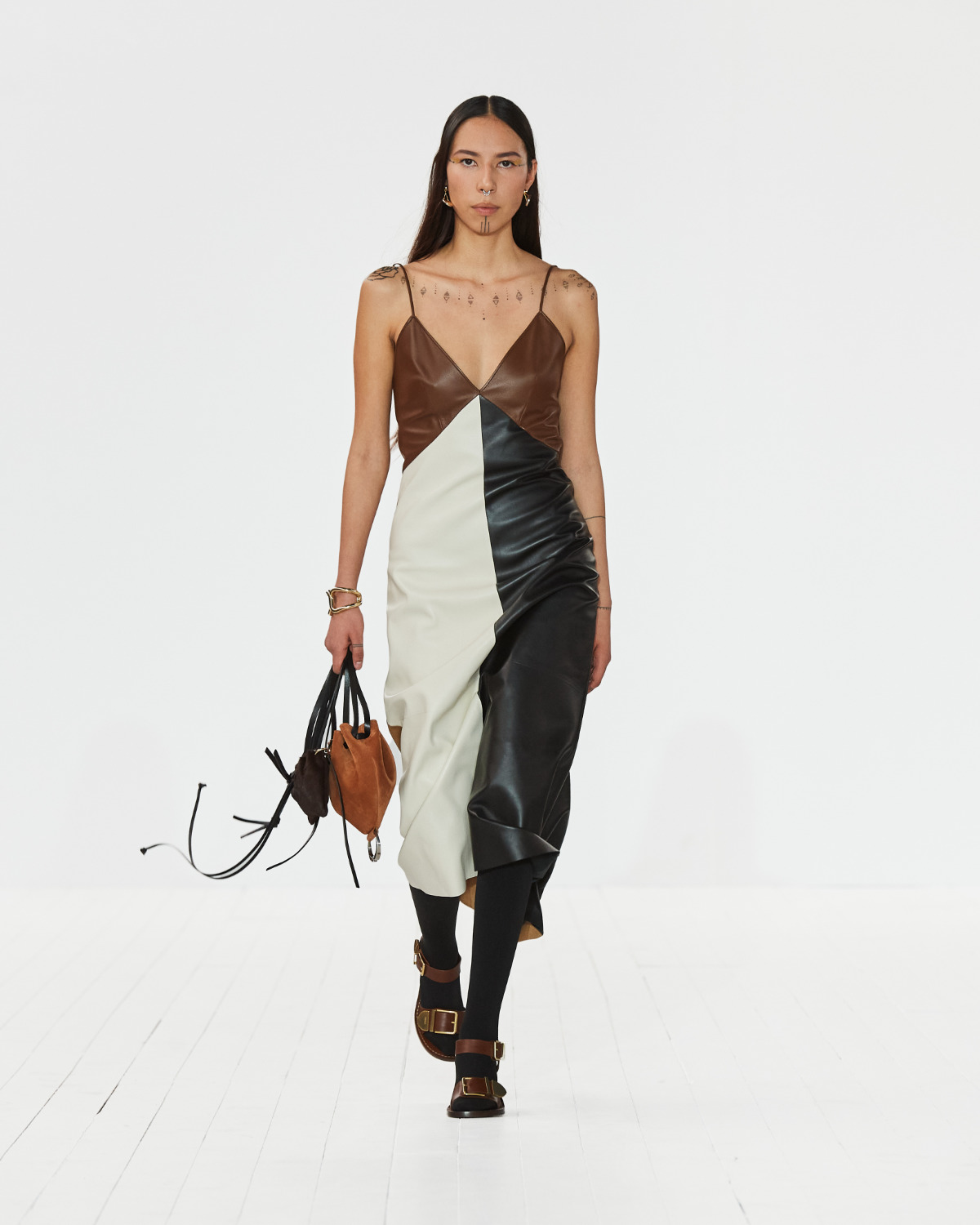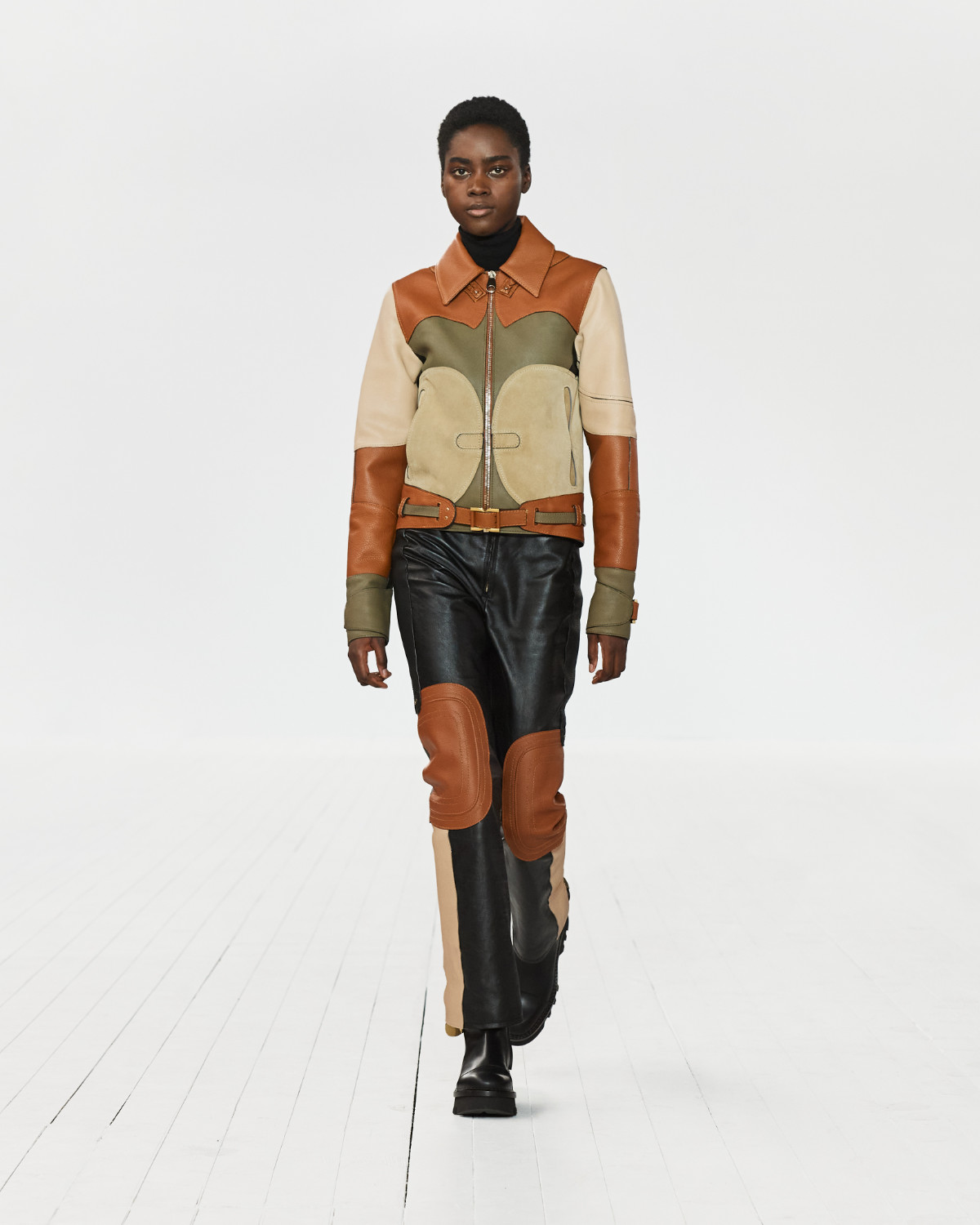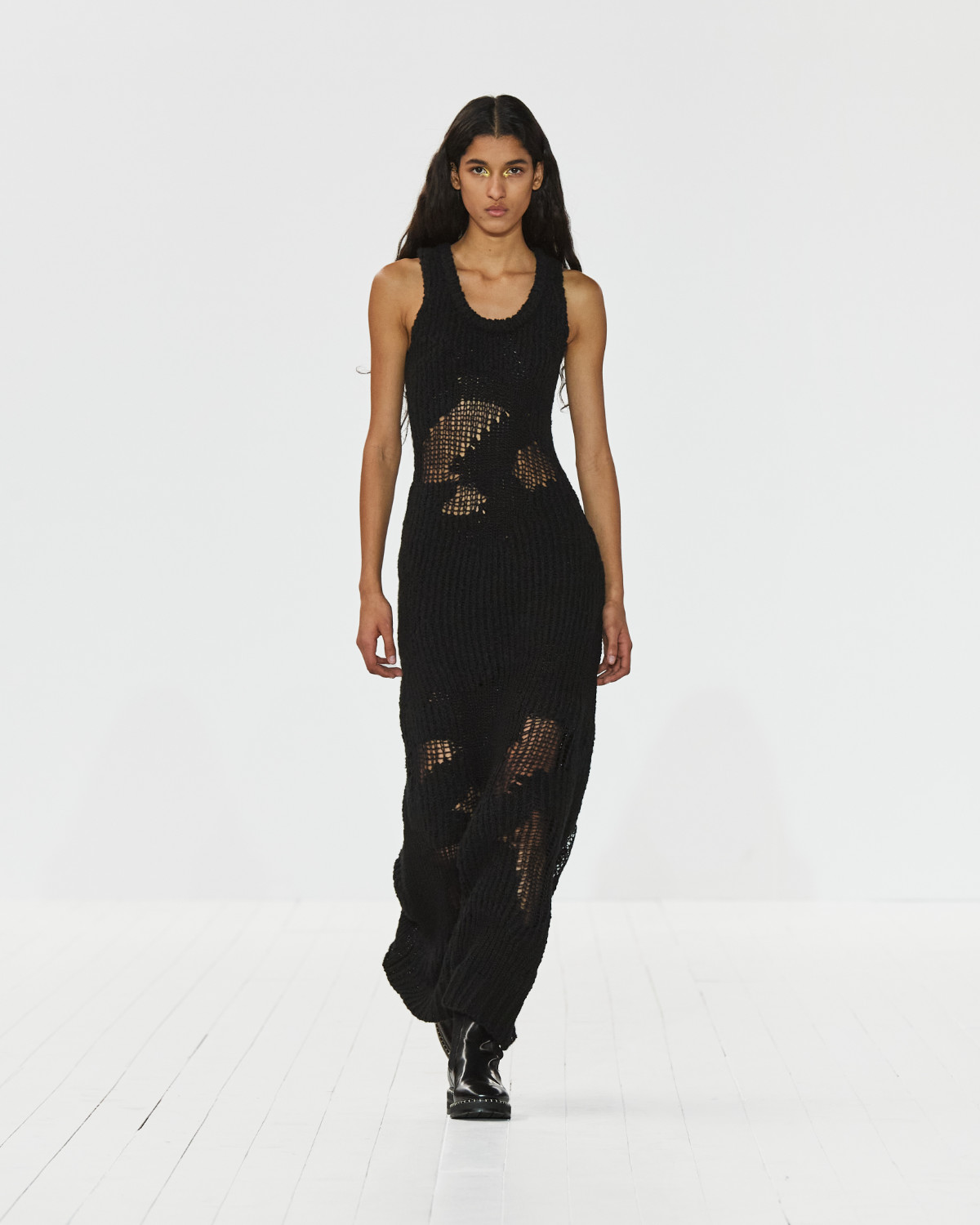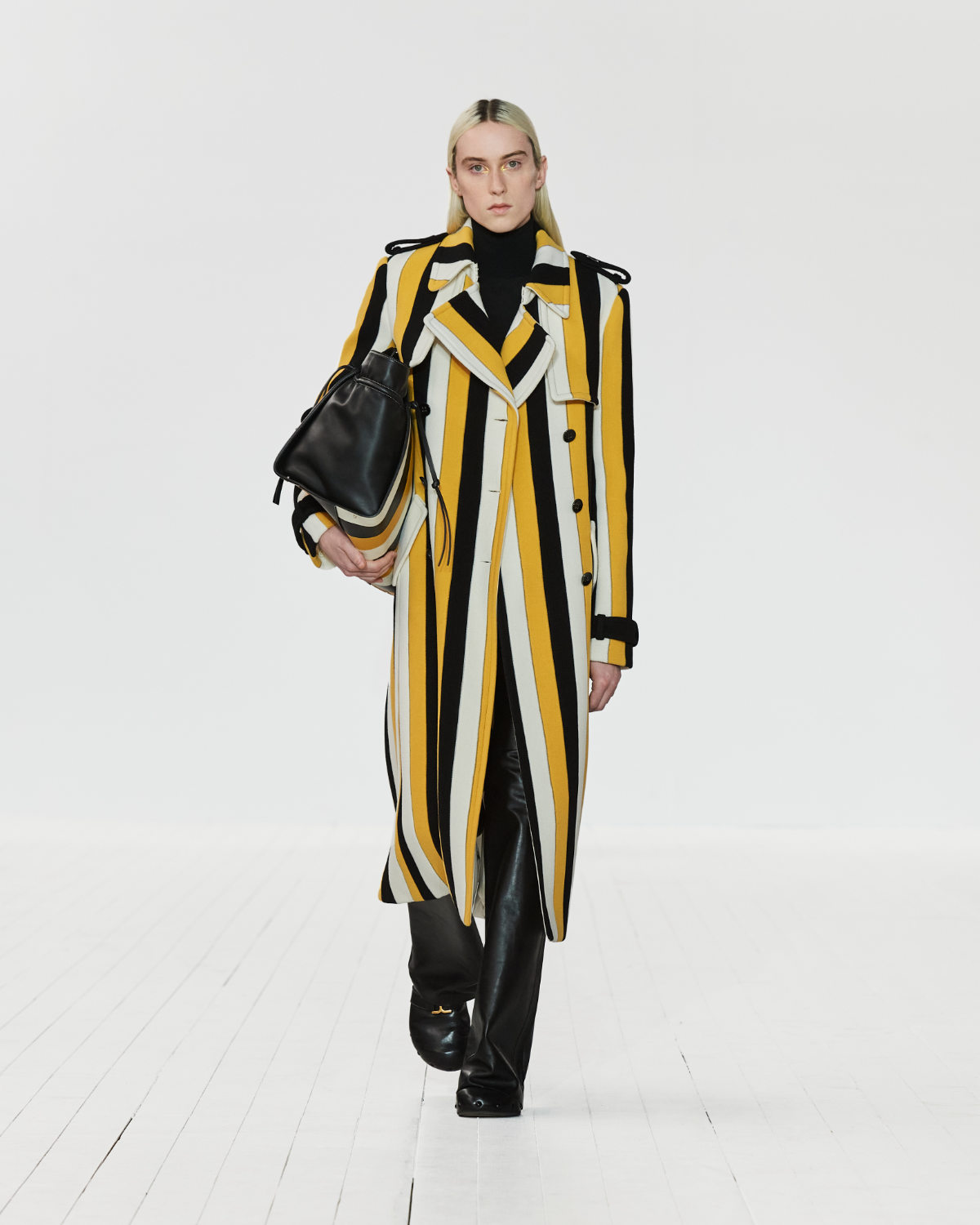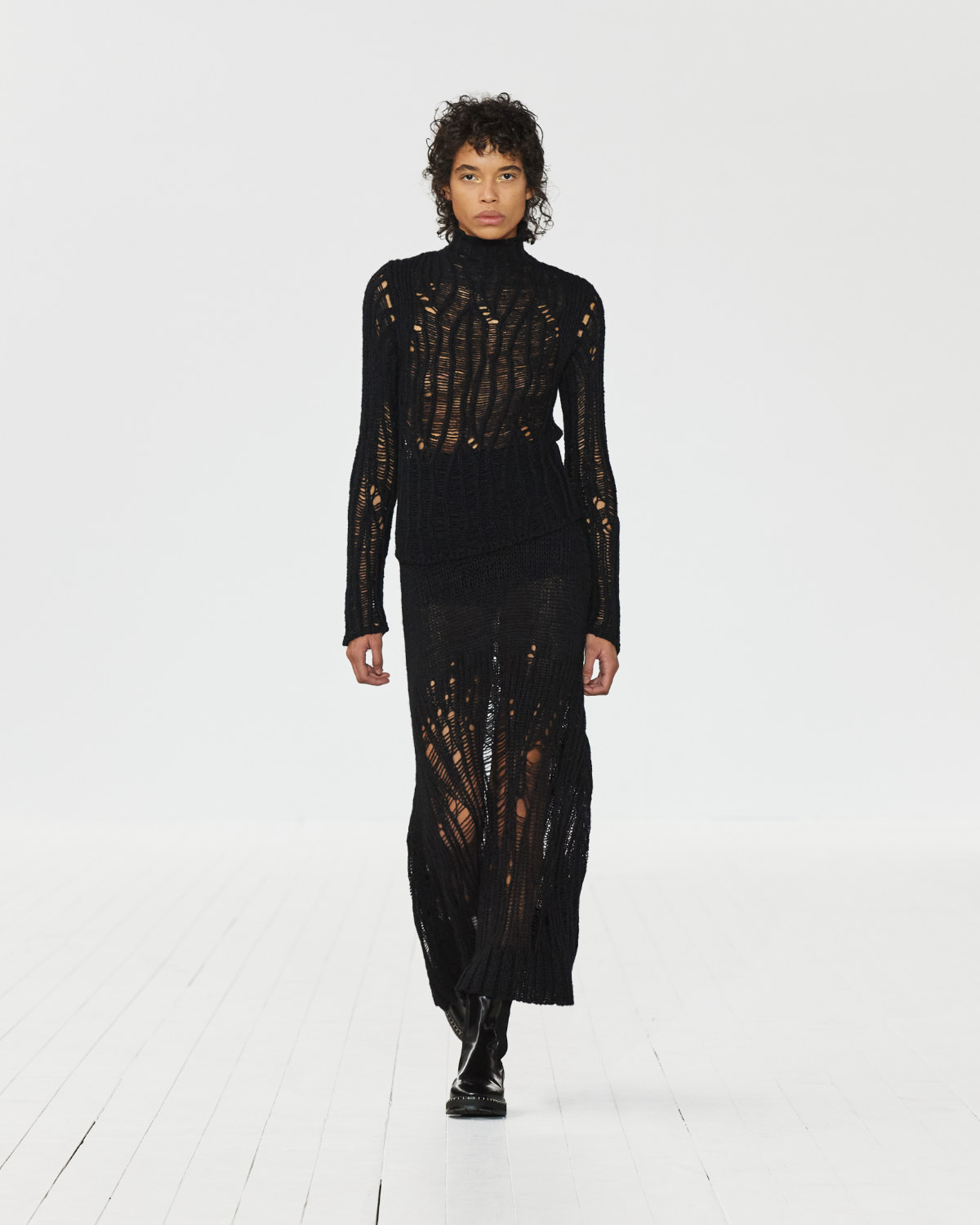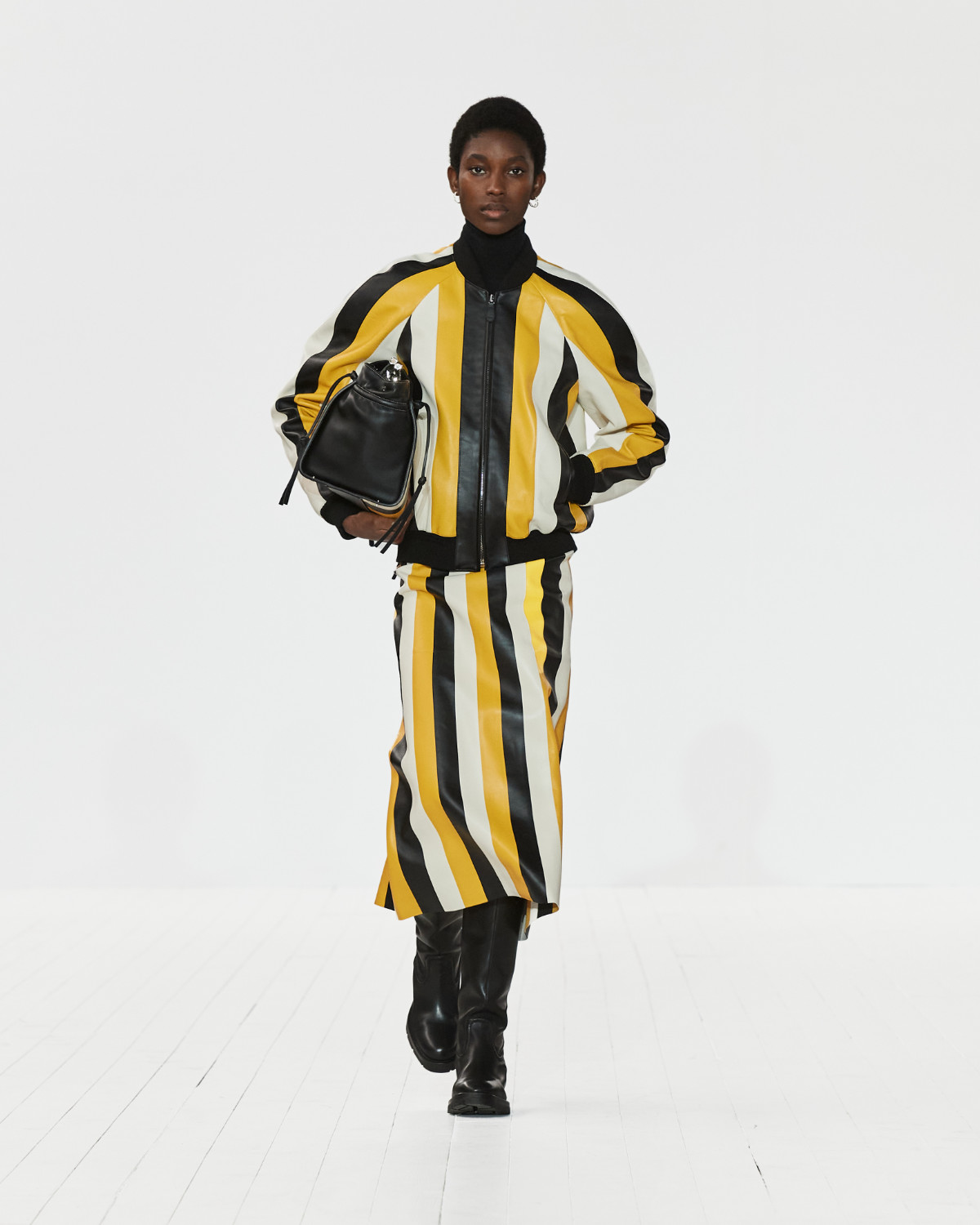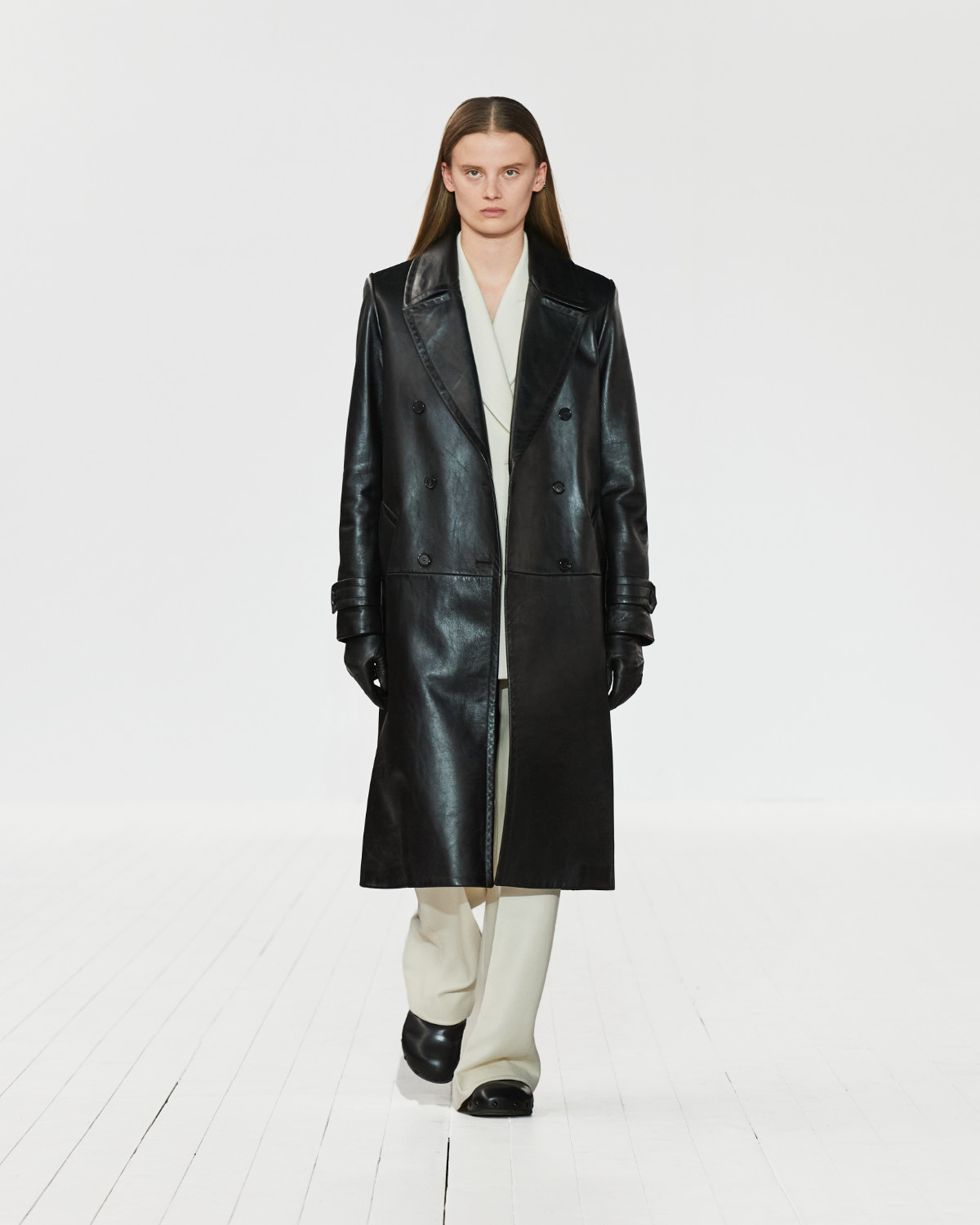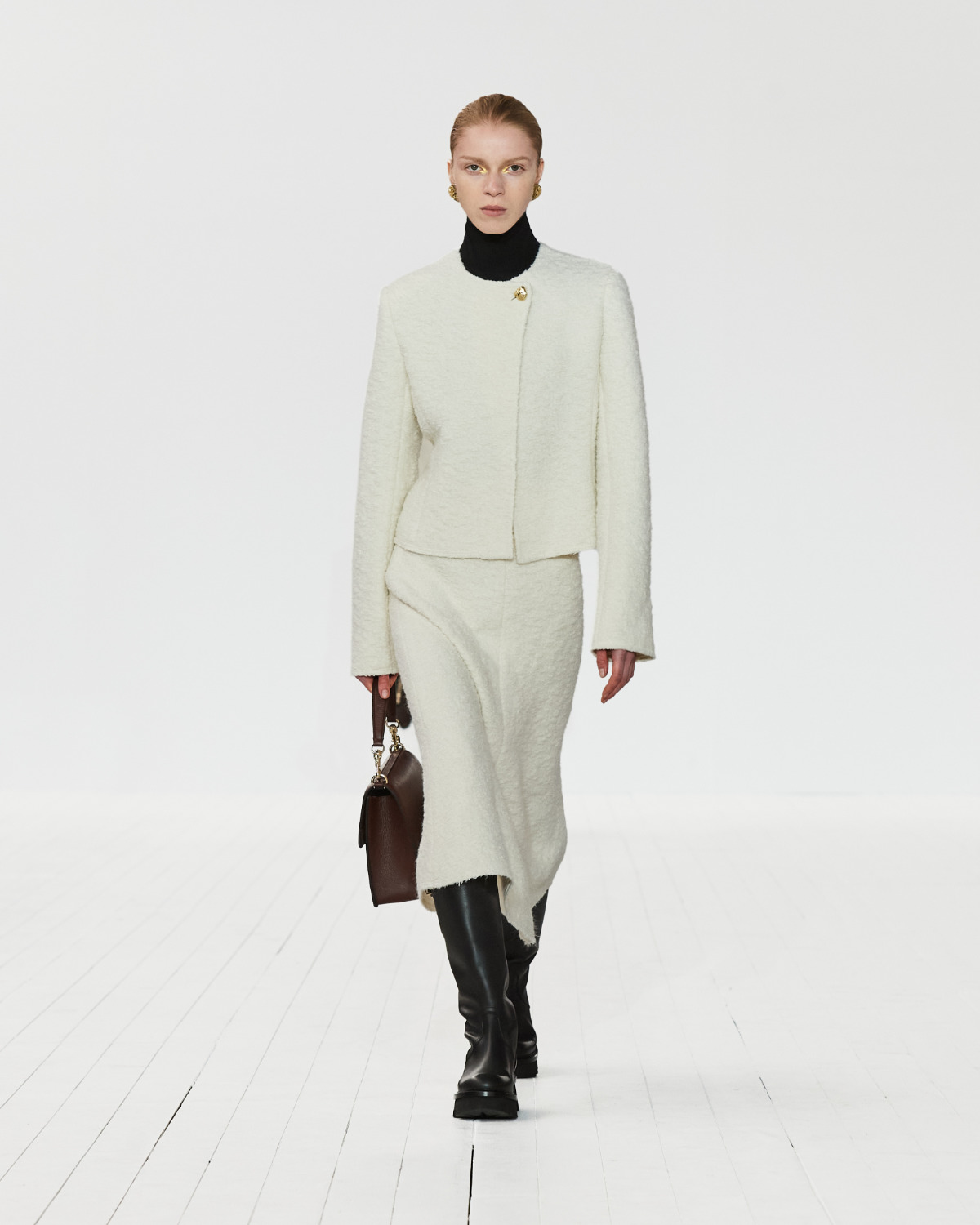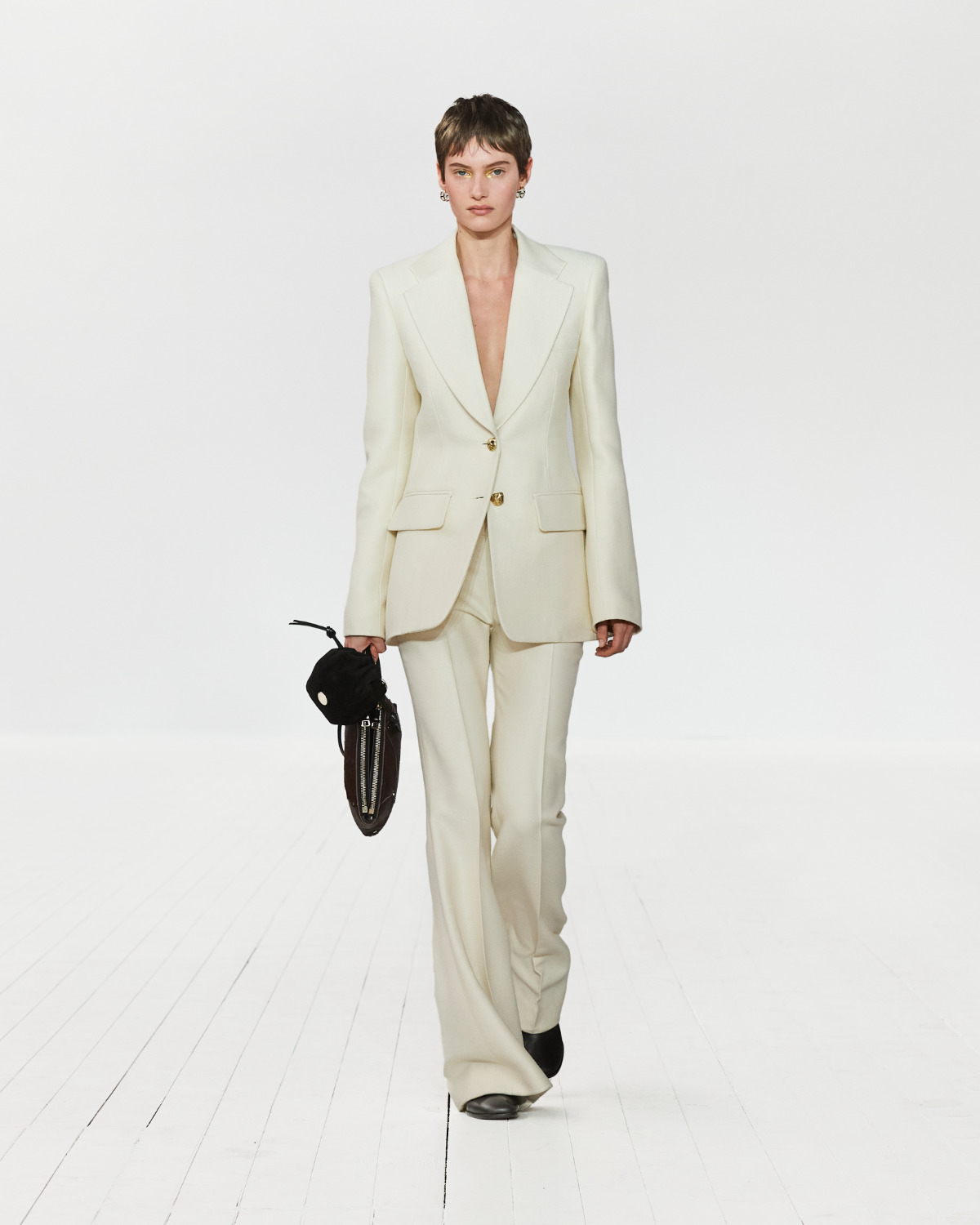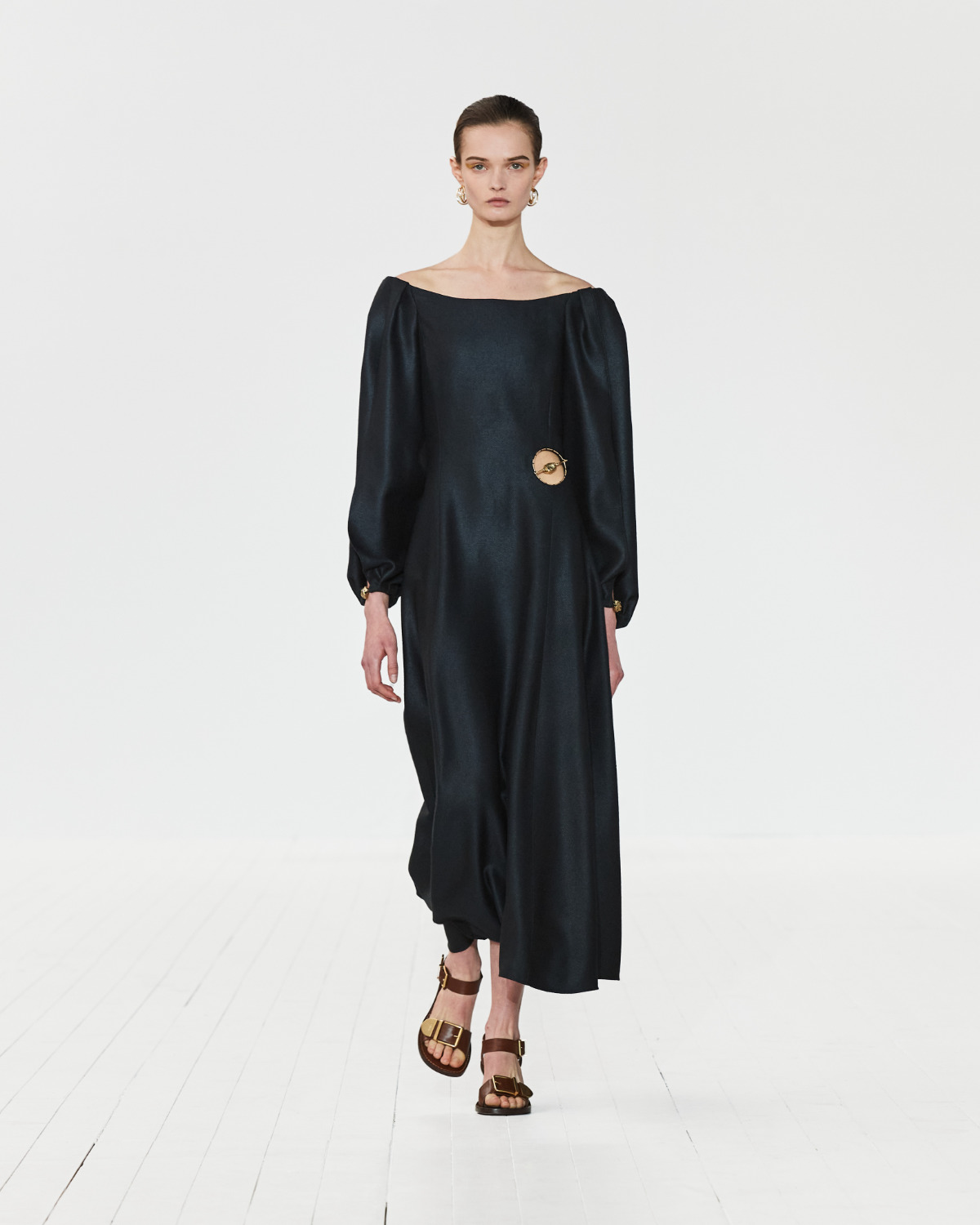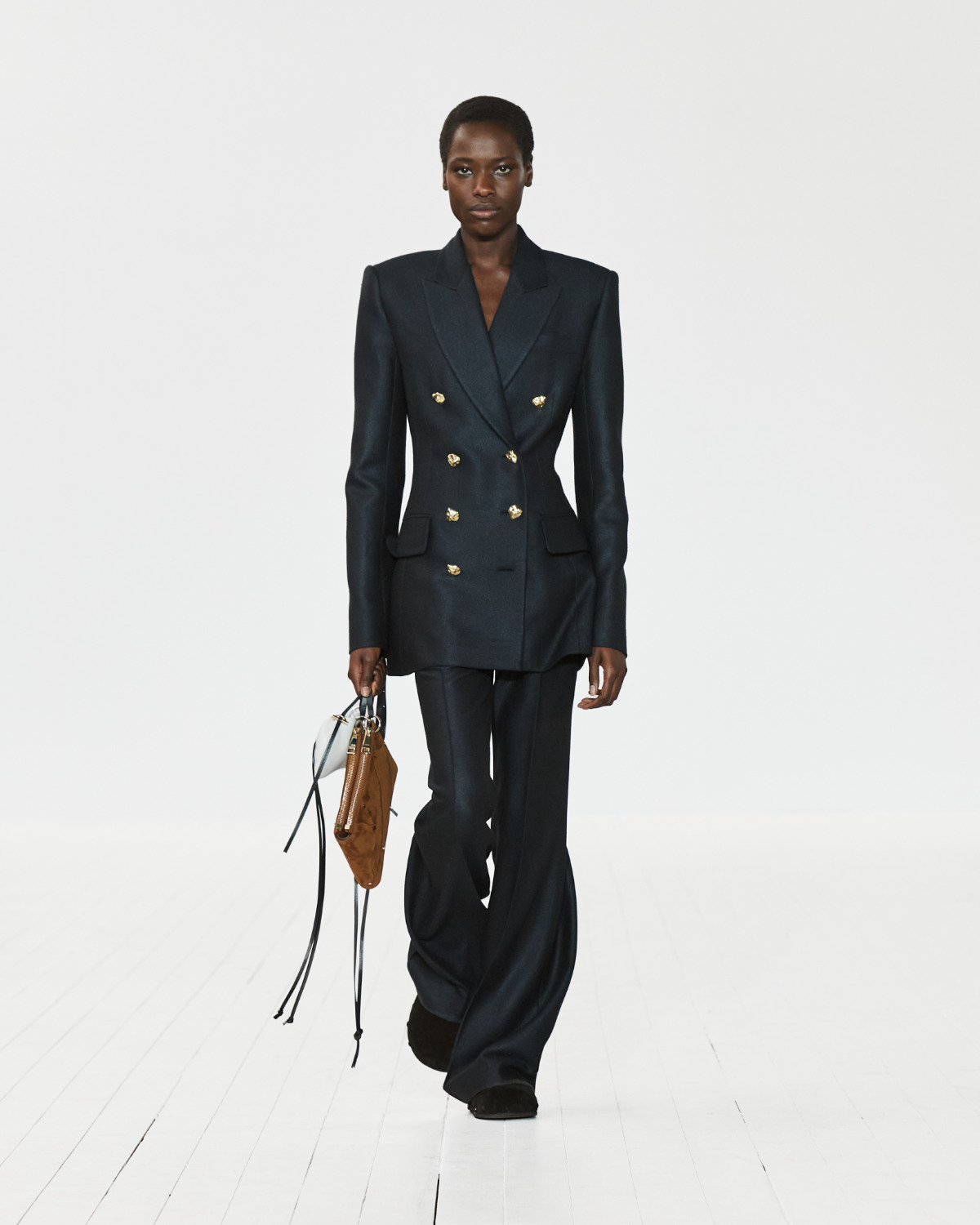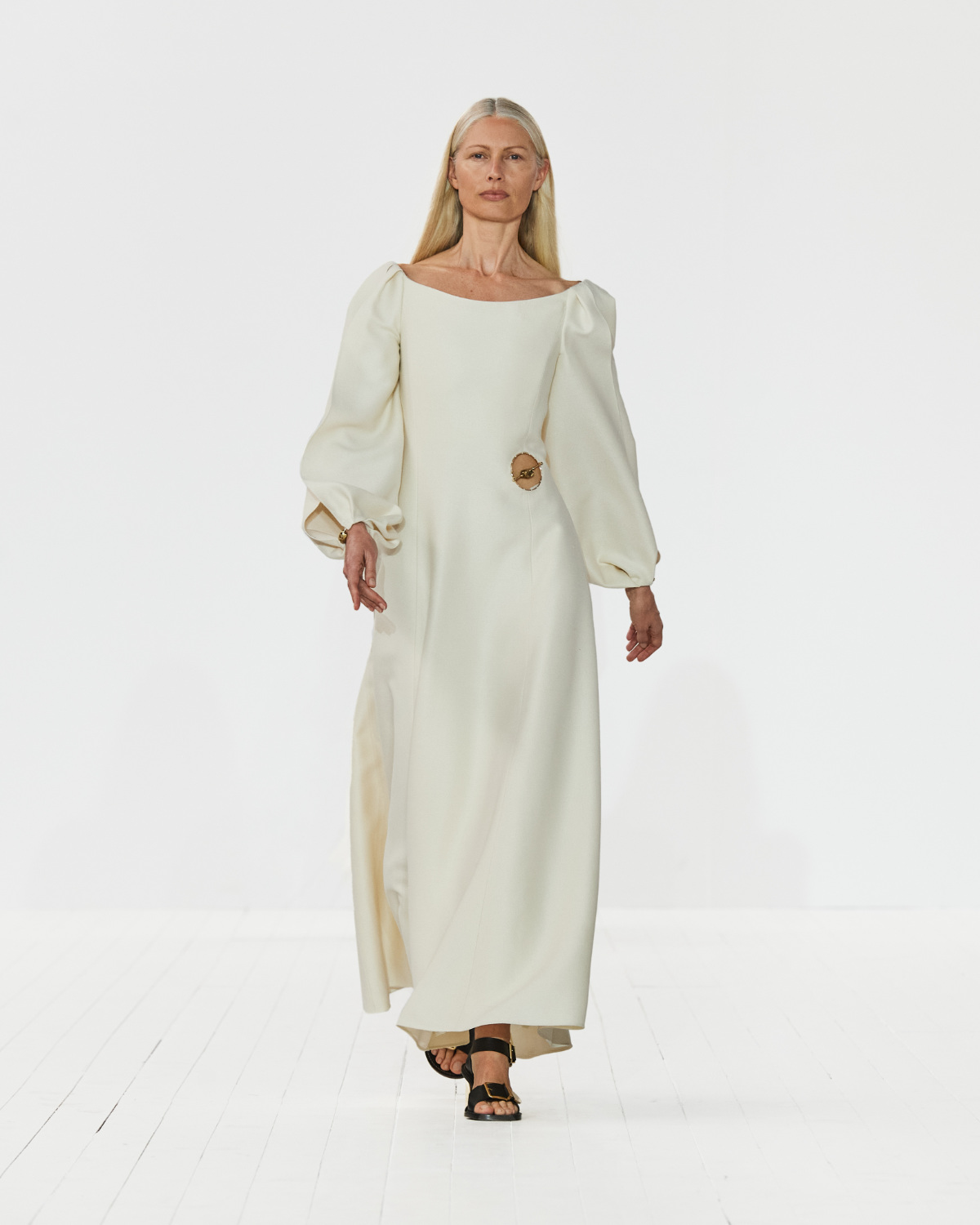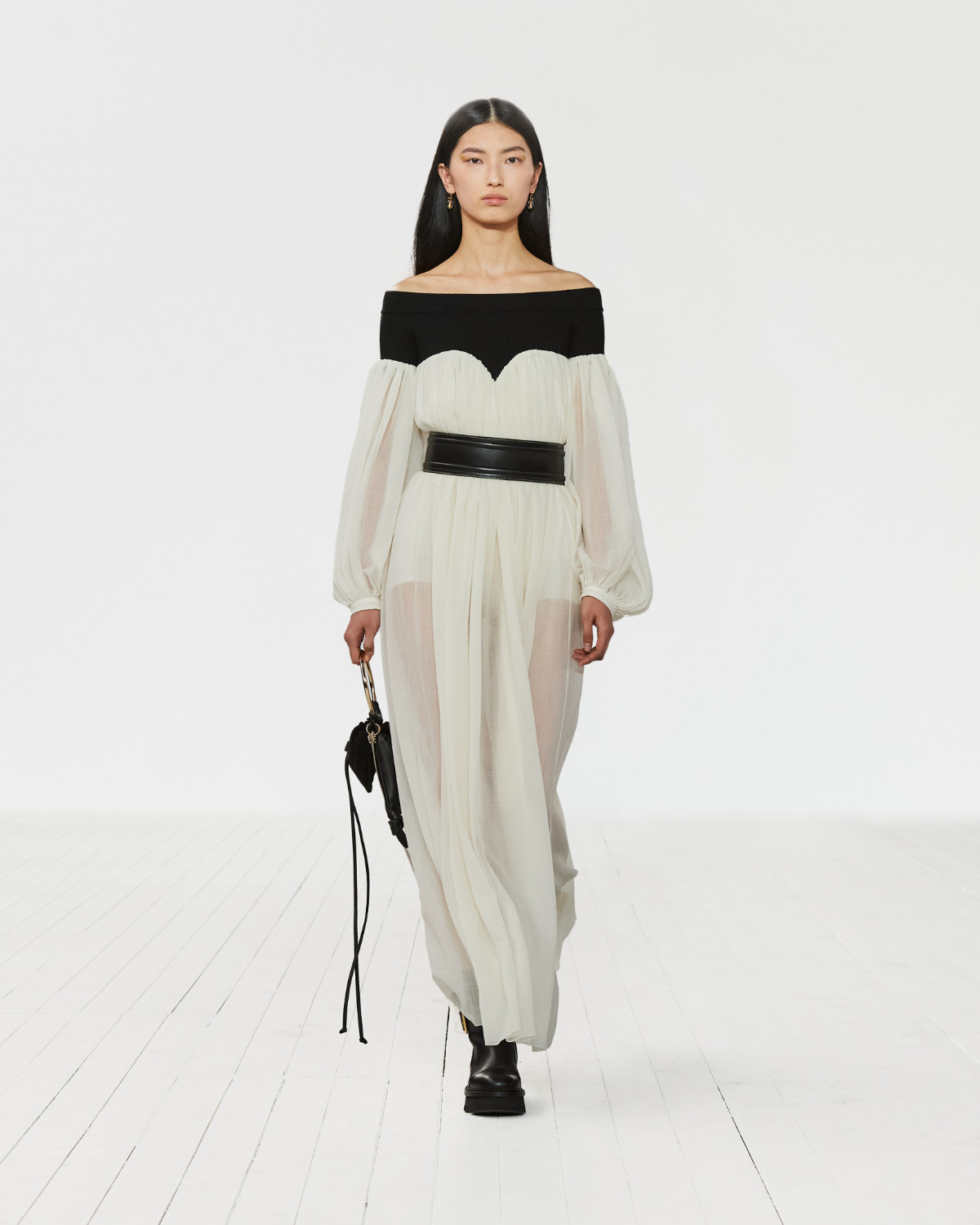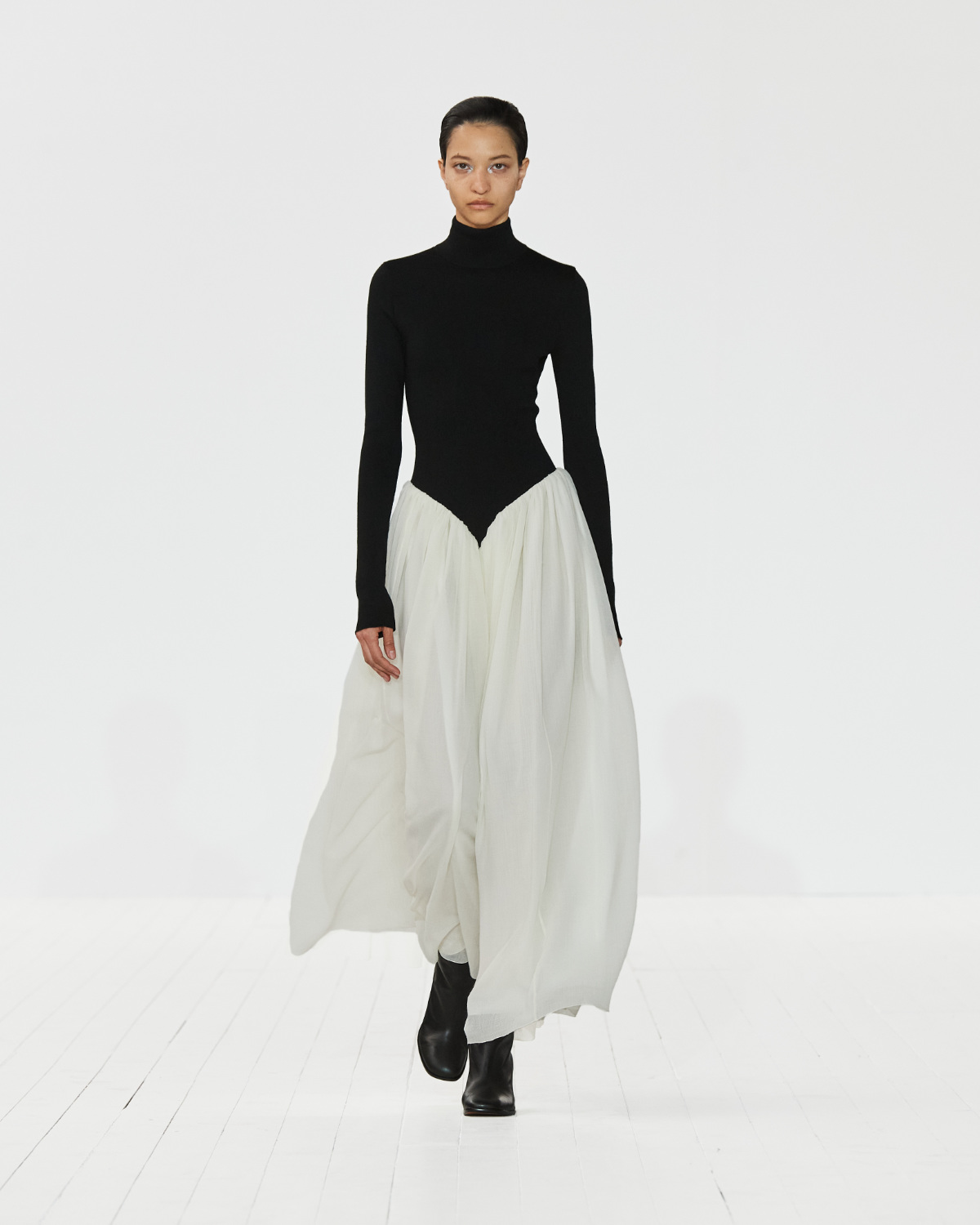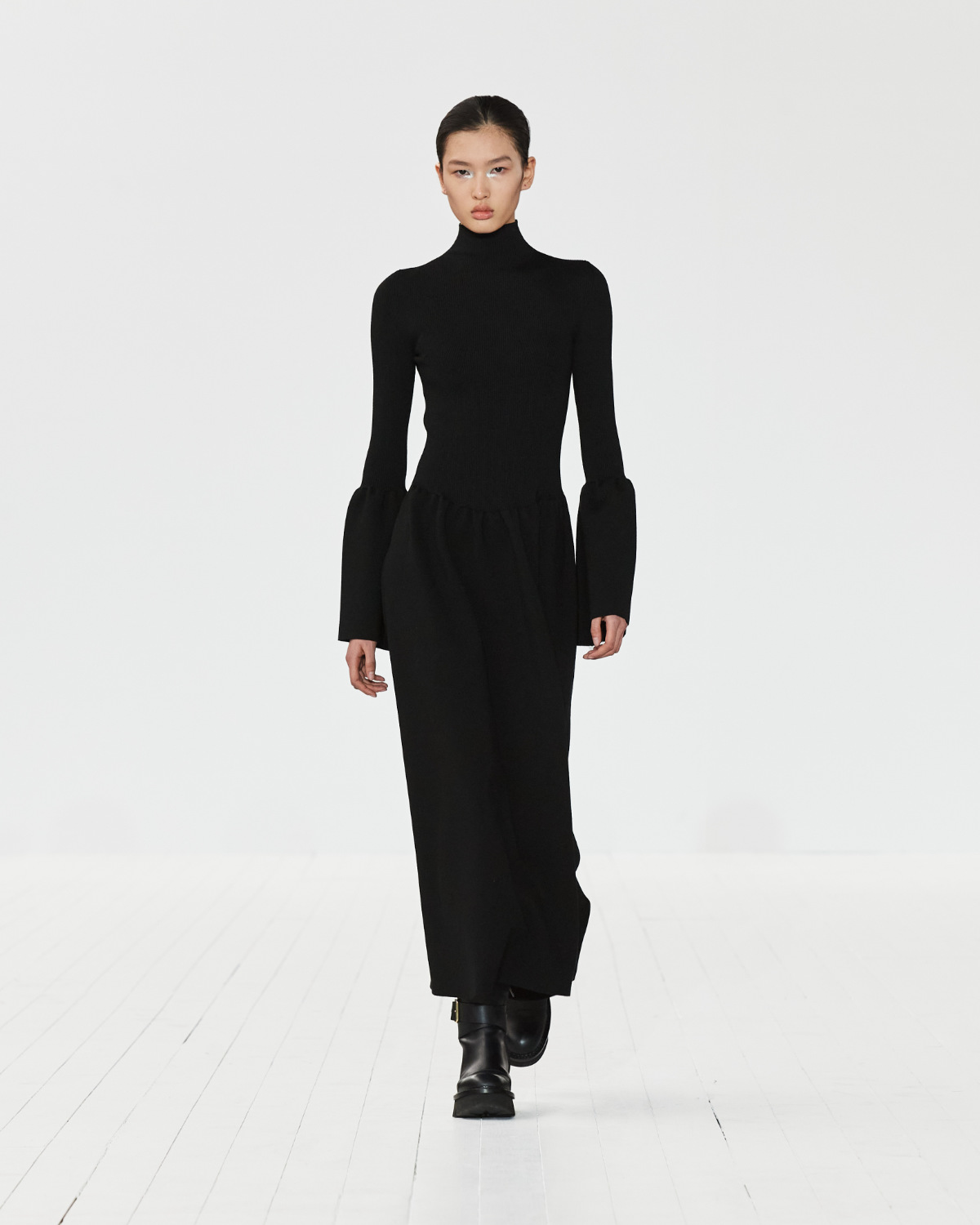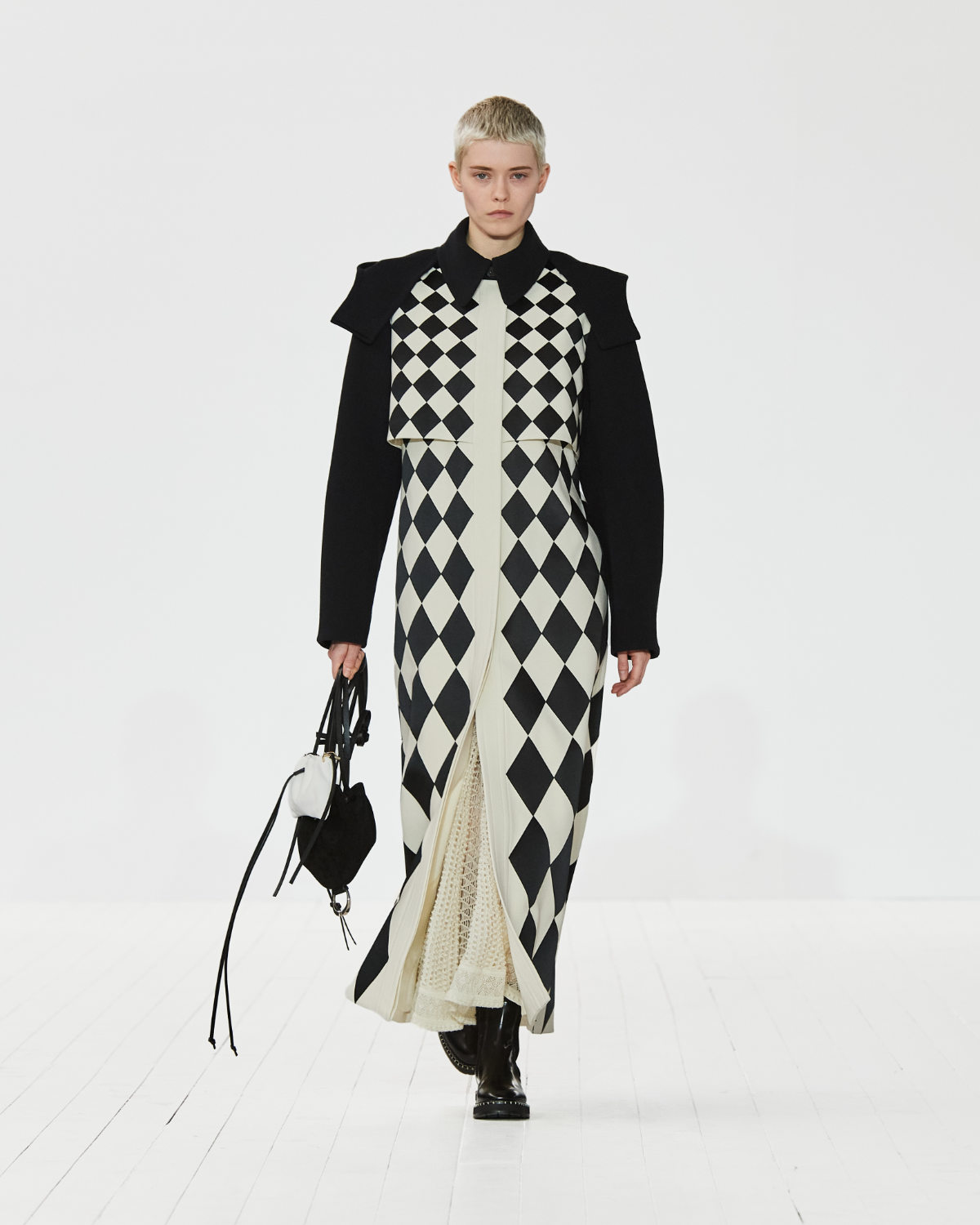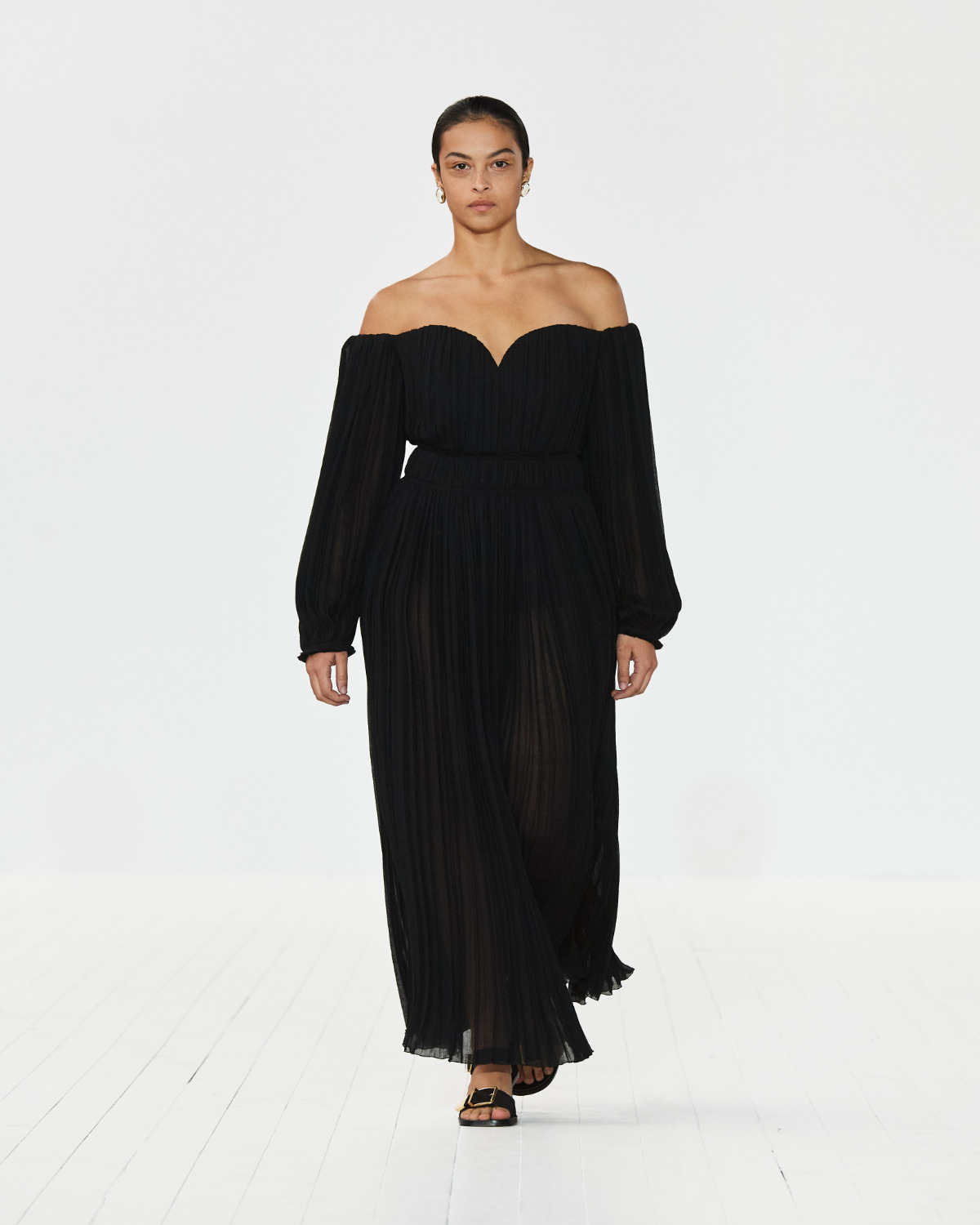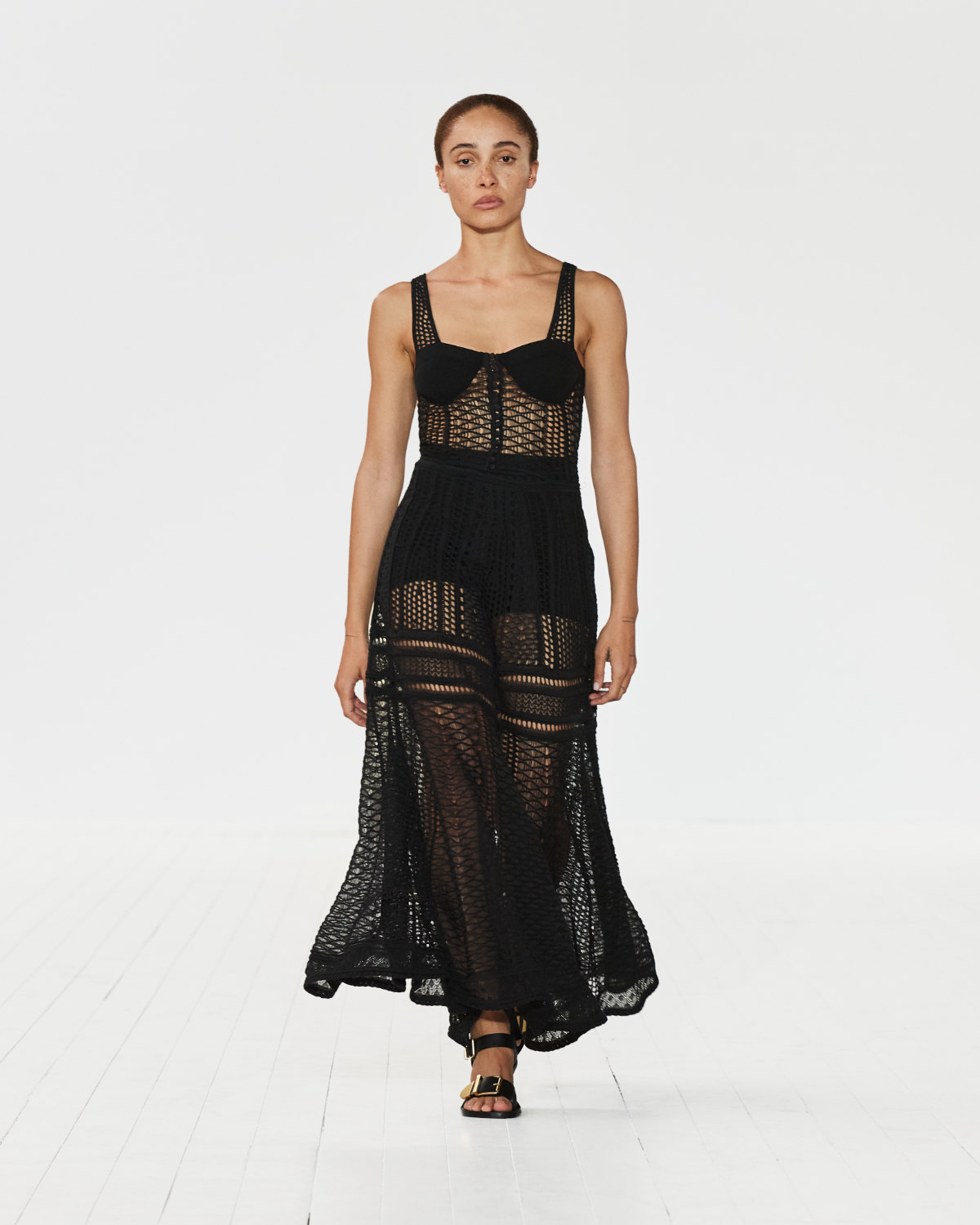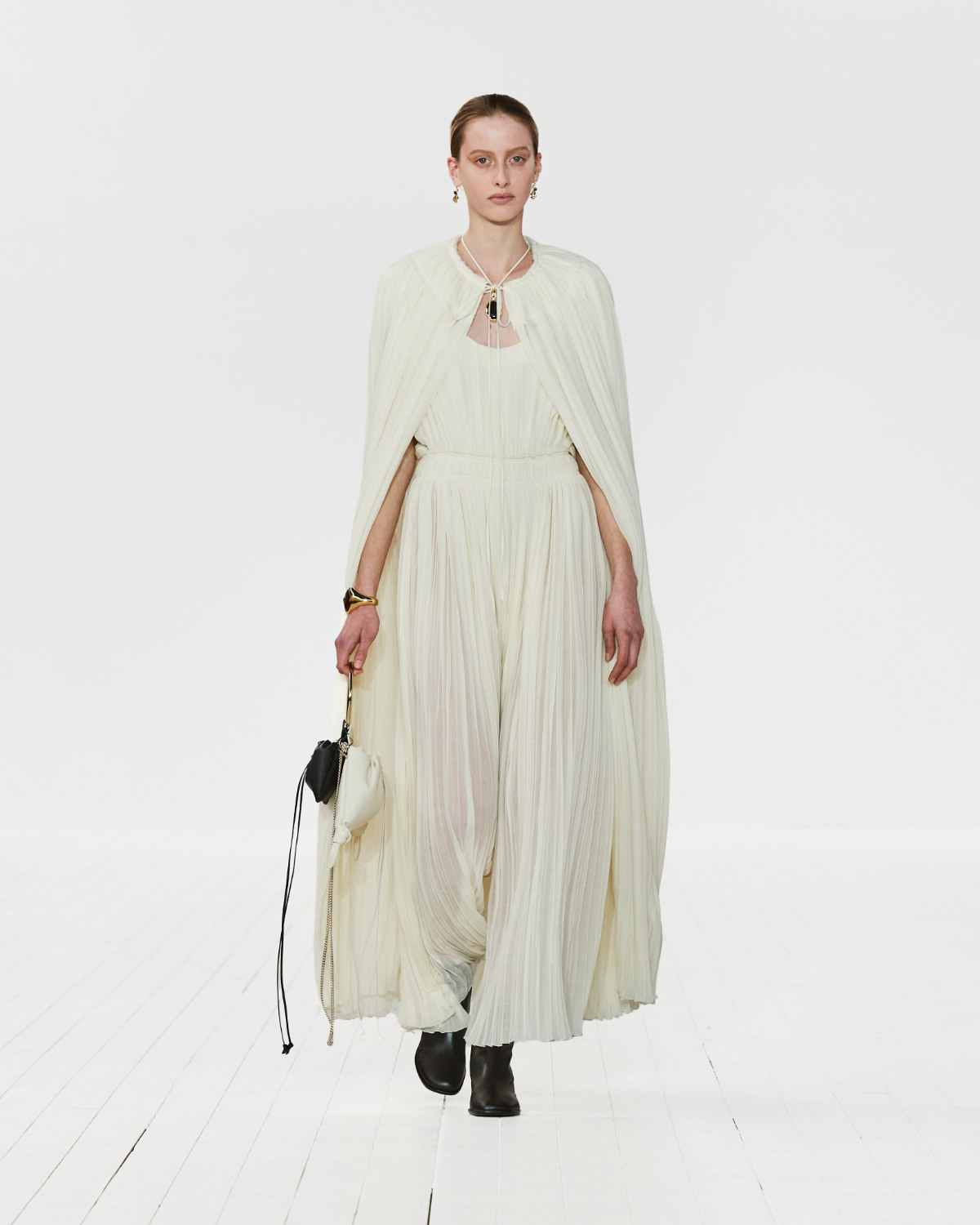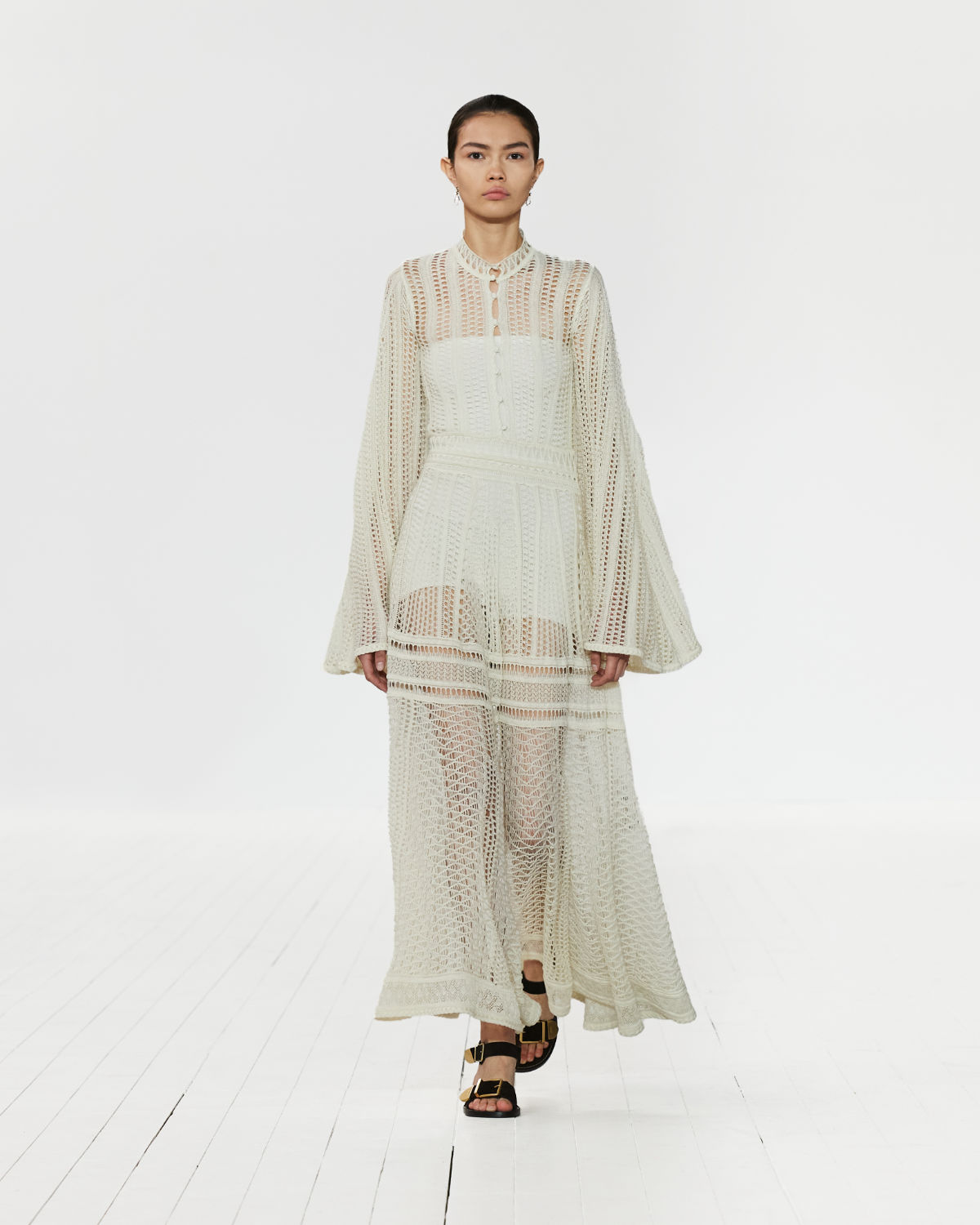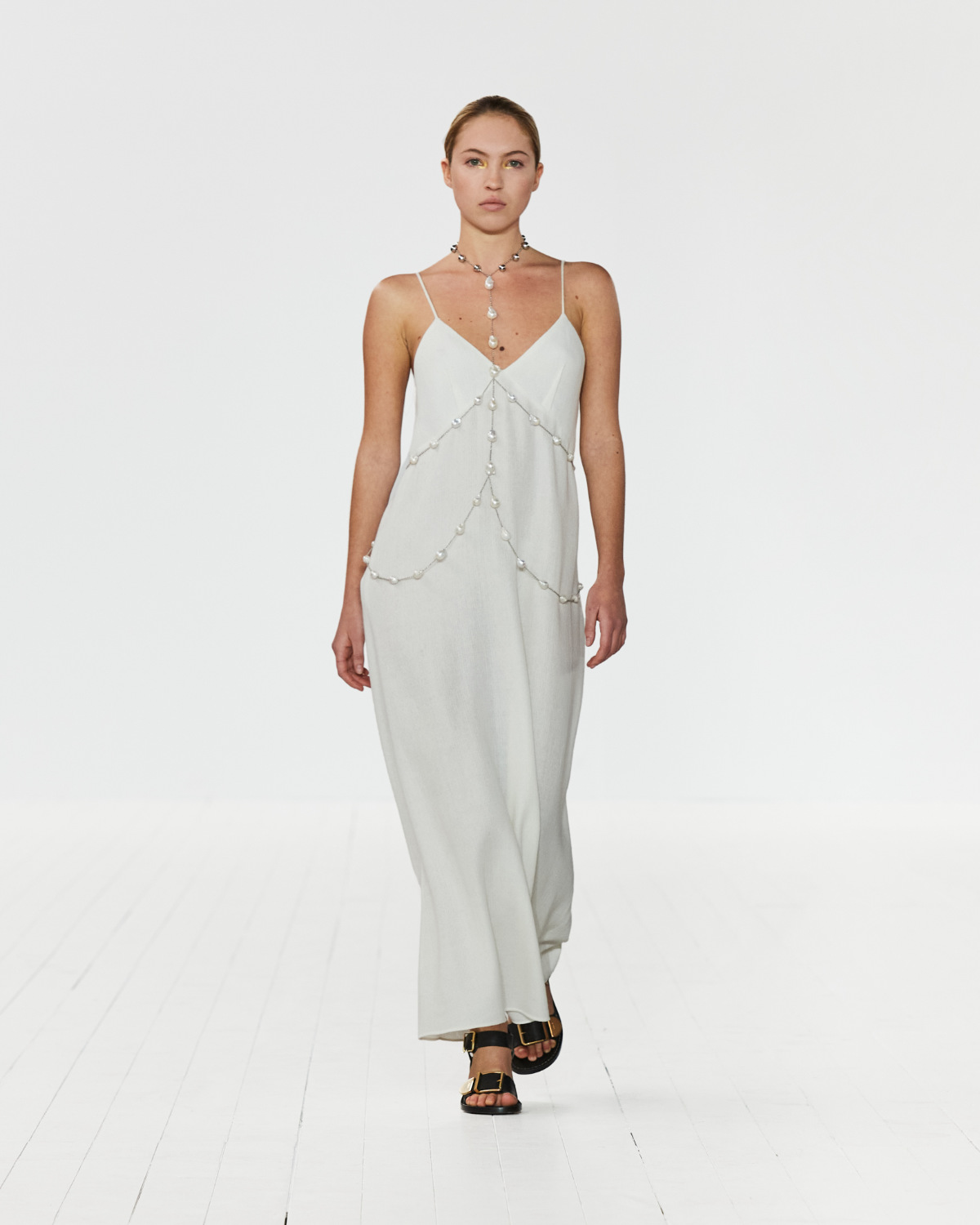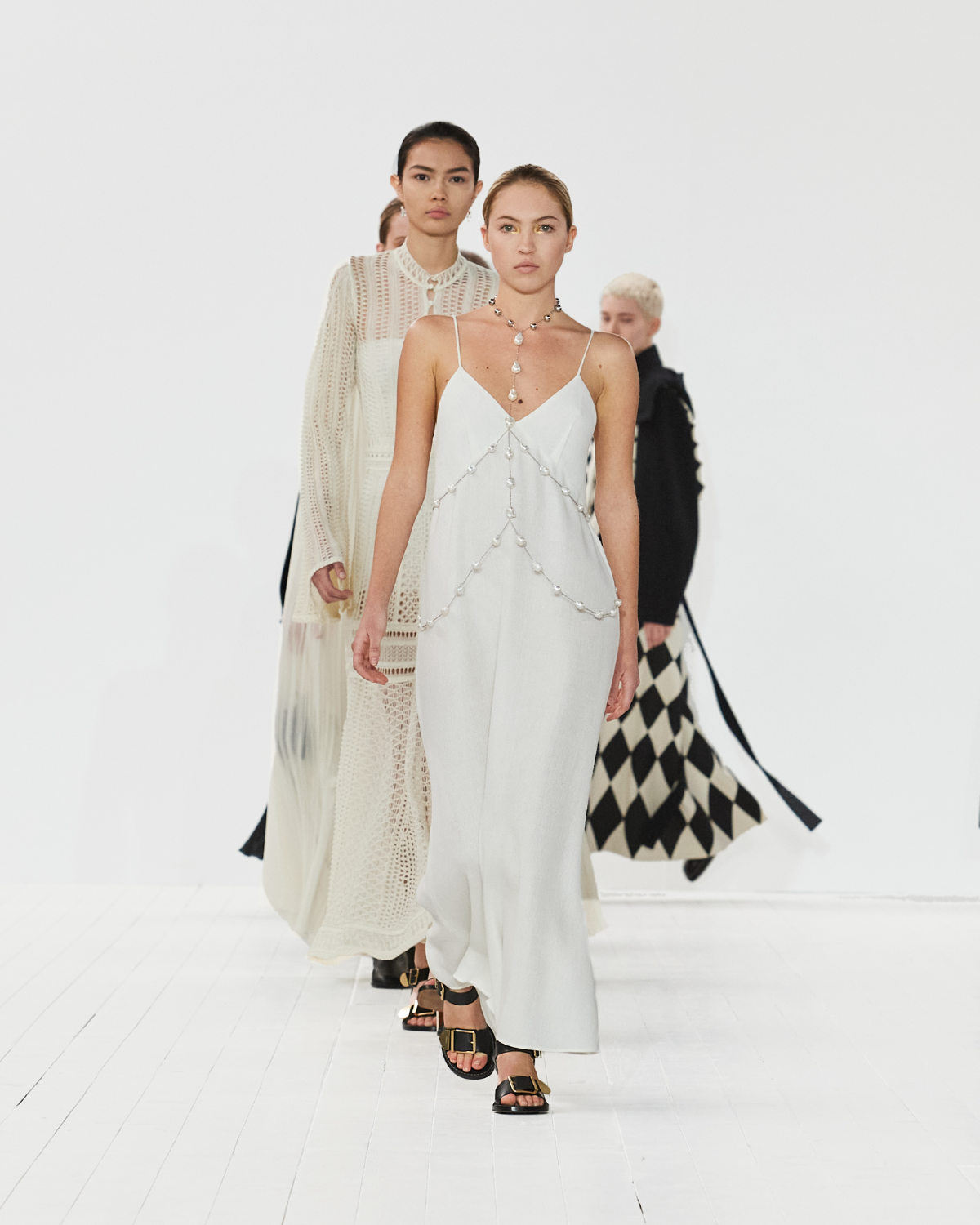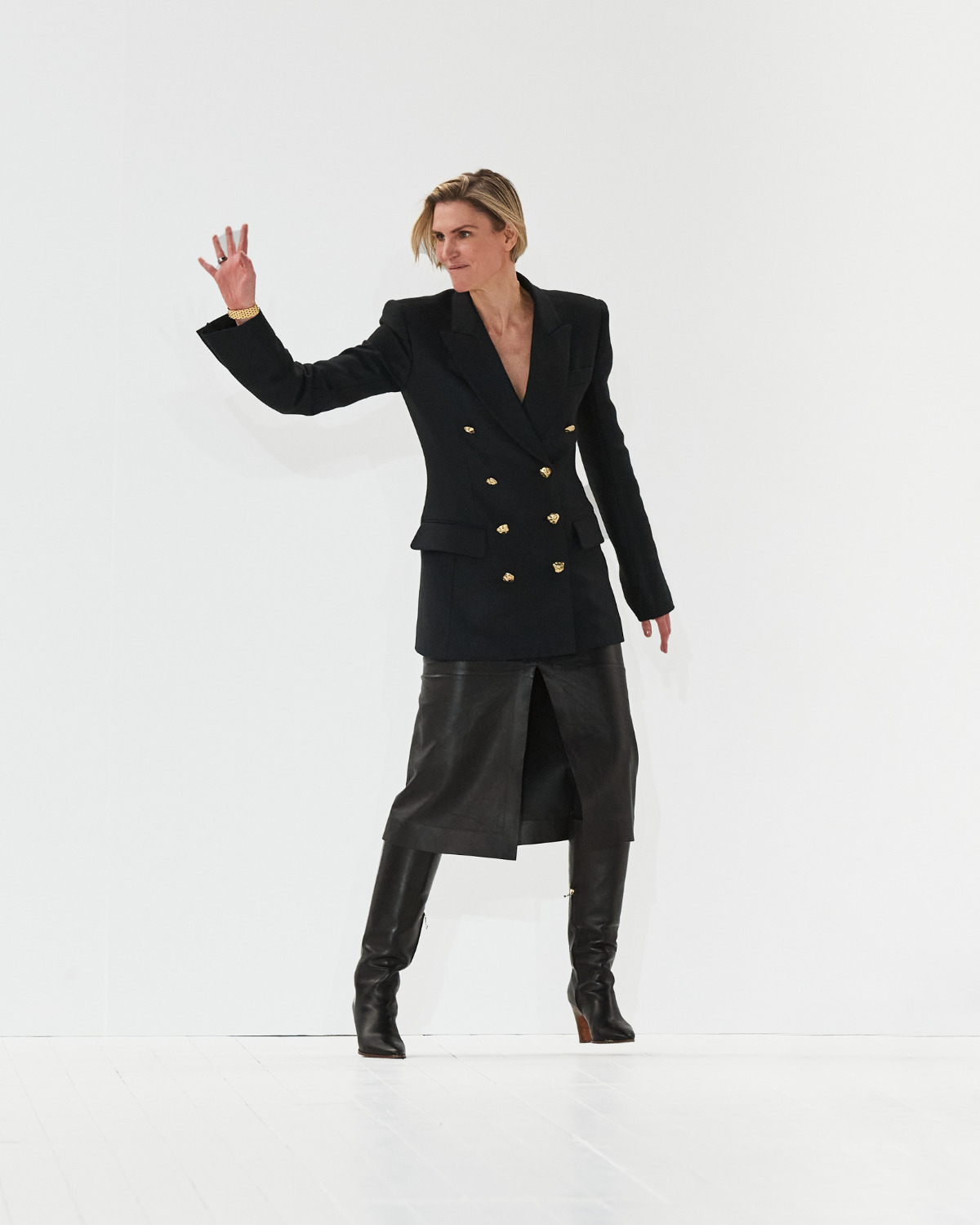 CHLOE'S COMMITMENT TO POSITIVE SOCIAL IMPACT

Through various partnerships, Chloé is working towards women's economic inclusion to close the gender gap and provide women with the possibility to earn a decent living and drive change for their communities.
READY-TO-WEAR
Chloé continues its long-standing partnership with Akanjo, which spans more than 15 years. Akanjo—a World Fair Trade Organisation (WFTO)1 guaranteed social enterprise based in Madagascar that is committed to training and promoting craftsmanship—manufactured part of the ready-to-wear collection.
HANDBAGS
There are two partnerships with social enterprises: Mifuko in Kenya for the 10th consecutive season, and the Lebanon-based Sarah's Bag for the sixth season.
- 'Mifuko' means 'pocket' in Swahili. With fair pay and less dependence on unpredictable farming as a source of income, Mifuko empowers its artisans in Kenya and ensures no one is left with empty pockets.
- Established in 2000, Sarah's Bag provides a livelihood for over 200 under privileged women through the creation of elevated handcrafted fashion pieces; empowering both the women who make them and the women who wear them.
FASHION ACCESSORIES
There are two partnerships with SilaiWali for the second season and the Ethical Fashion Initiative (EFI) for the first season.
- SilaiWali is a social enterprise in New Delhi that up-cycles waste fabric generated from apparel scraps to create handcrafted decorations by Afghan women refugees in India. Their products are environmentally minded and support sustainable incomes that help in building communities of marginalised artisans. Silai Wali is a WFTO member and partner of Made 51 and the UNHCR (The UN Refugee Agency). SilaiWali created some of the bag charms for AW23.
- Artisan Fashion is a social enterprise of the Ethical Fashion Initiative that has been connecting artisans living in urban and rural poverty with the global fashion chain since 2009. Today, they engage 50 communities in East Africa (Kenya, Uganda) supporting 2,693 artisans, 95% of whom are women. EFI artisans hand-crafted the golden nugget buttons and embellishments for AW23.
CHLOE'S COMMITMENT TO REDUCING ENVIRONMENTAL IMPACT

READY-TO-WEAR

Chloé has worked to limit the environmental impact of the AW23 collection through the use of lower-impact materials (up to 62% in line with the Maison's annual commitment of 60%).
The list of what Chloe considers to be lower-impact materials is available on Chloe.com and was previously approved by external experts. The Maison published an updated version of this list in May 2022 based on certification requirements as well as Life Cycle Assessment (LCA).
BAGS AND ACCESSORIES

More than 90% of the leather used in the bag offer is sourced from Leather Working Group (LWG)2 certified tanneries and 90% of the bag offer is lowerimpact. Chloé continues to develop its textile lines and grow its vegan offer. 100% of the leather used on fashion accessories is sourced from LWG-certified tanneries. 100% of the silk scarves SKUs are made of organic silk.
FOOTWEAR

90% of the shoe SKUs are lower-impact. 95% of the shoe leather offer is sourced from LWG-certified tanneries.
Chloé is launching a new version of its Lauren sneaker made from an innovative material consisting of natural rubber-coated canvas as an alternative to leather and for reduced environmental impact.
Always looking to improve its practices, Chloé has partnered with ACBC—a product development consultancy specialising in sustainability—on the new Raina rainboot, which is made from Bio-based TPU—reducing greenhouse gas emissions, water usage and the overall weight of the product.
EYEWEAR

Chloe is the first luxury Maison to offer eyewear made from ReAce, a 100% recycled acetate derived from pre-consumer scraps. Thanks to new pioneering processes, Chloe has been able to use this existing waste to make the Gayia frames, which are composed of 100% ReAce.
THE CHLOÉ DIGITAL ID

All ready-to-wear products come with a digital ID in the form of a QR code (located near the composition label) so you can trace their production journey from the fabric to the finished product. The digital ID will also provide access to care and repair information.
Several shoe lines including the Nama and Lauren sneakers, Lauren ballerinas and Marcie loafers also come with a digital ID in the form of a contactless microchip located in the interior of the left shoe.
The Penelope bag line comes with a digital ID. In addition to production journey information and care and repair instructions you can also access the product's ownership certificate, which enables instant second-hand resale. Better traceability is central to improving our materials as well as social and environmental practices.
A RECENT TIMELINE OF CHLOE'S COMMITMENTS TO REDUCING ENVIRONMENTAL IMPACT AND CREATING POSITIVE SOCIAL IMPACT

October 2019: Chloe signs a four-year partnership with UNICEF to launch the Girls Forward initiative, which supports UNICEF's gender equality programs.
June 2020: Chloe launches the Women Forward. For a fairer future plan, shifting
to a purpose-driven business model with the ambition of becoming B-Corp certified in 2021.
September 2020: Chloe signs a partnership with World Fair Trade Organisation (WFTO) to create the first-ever luxury fair-trade collection that is ethically produced and environmentally responsible.
7 December 2020: Chloe announces the arrival of Gabriela Hearst as Creative Director, the first Latin American woman at the helm of a French Maison with a powerful vision of more responsible fashion.
14 December 2020: Chloe joins the Fashion Pact with a plan of reducing 25% of greenhouse gas (GHG) emissions by product and offsetting 100% of GHG emissions across its supply chain by 2025.
4 January 2021: Chloe debuts its partnership with Institut Francais de la Mode and Conseil National des Arts et Metiers to create a Social Profit and Loss methodology to be shared as an open-source.
21 January 2021: With 70% of top management positions worldwide held by women, Chloe proudly signed the UN's Women Empowerment principles.
8 March 2021: Chloe launches its first fair trade luxury collection in partnership with the WFTO.
14 April 2021: Chloe finalises the B Impact Assessment to become B Corp certified in 2021.
June 2021: Chloe is part of His Royal Highness The Prince of Wales' Sustainable Markets Initiative (SMI) Fashion Taskforce, which at the G20 in Rome in October
2021, committed to rolling out a Digital ID along with a circular data protocol.
5 July 2021: Chloe publishes its environmental impact report for the first time
30 August 2021: A new Sustainability section launches on Chloe.com.
October 2021: Chloe achieves B Corp Certification.
November 2021: Chloe becomes a member of the Ellen MacArthur Foundation3.
February 2022: As part of its commitment to greater transparency, Chloe publishes a list of its main partners, from finished goods and raw material suppliers and licensees to logistics and packaging suppliers.
June 2022: Chloe publishes its first sustainability report.
October 2022: Chloe introduces its Vertical Project, a range of products with a unique digital ID that enables users to trace a product's journey from field to finished product. Chloé introduces the Women Forward Partnerships between partnering NGOs and social enterprises working tirelessly to close the gender gaps.
December 2022: Chloé finalises its first assessment on Biodiversity using the Global Biodiversity Score methodology.
March 2023: Chloé announces two new Women Forward Partnerships to nurture girls' understanding of science, technology, engineering, and mathematics (STEM) as well as environmental literacy so they can become tomorrow's change agents.
REFERENCES

1. The World Fair Trade Organisation (WFTO) Guarantee System is an international verification model focused on social enterprises that put the interests of people, artisans, and the planet first. They impact one million livelihoods, 74% of whom are women.
2. The Leather Working Group (LWG) is an international organisation made up of stakeholders across the leather supply chain, working to promote best environmental practices within leather manufacturing and related industries.
3. The Ellen MacArthur Foundation is a charity that develops and promotes the idea of a Circular Economy, which is designed to eliminate waste and pollution, circulate products and materials, and regenerate nature.
---