---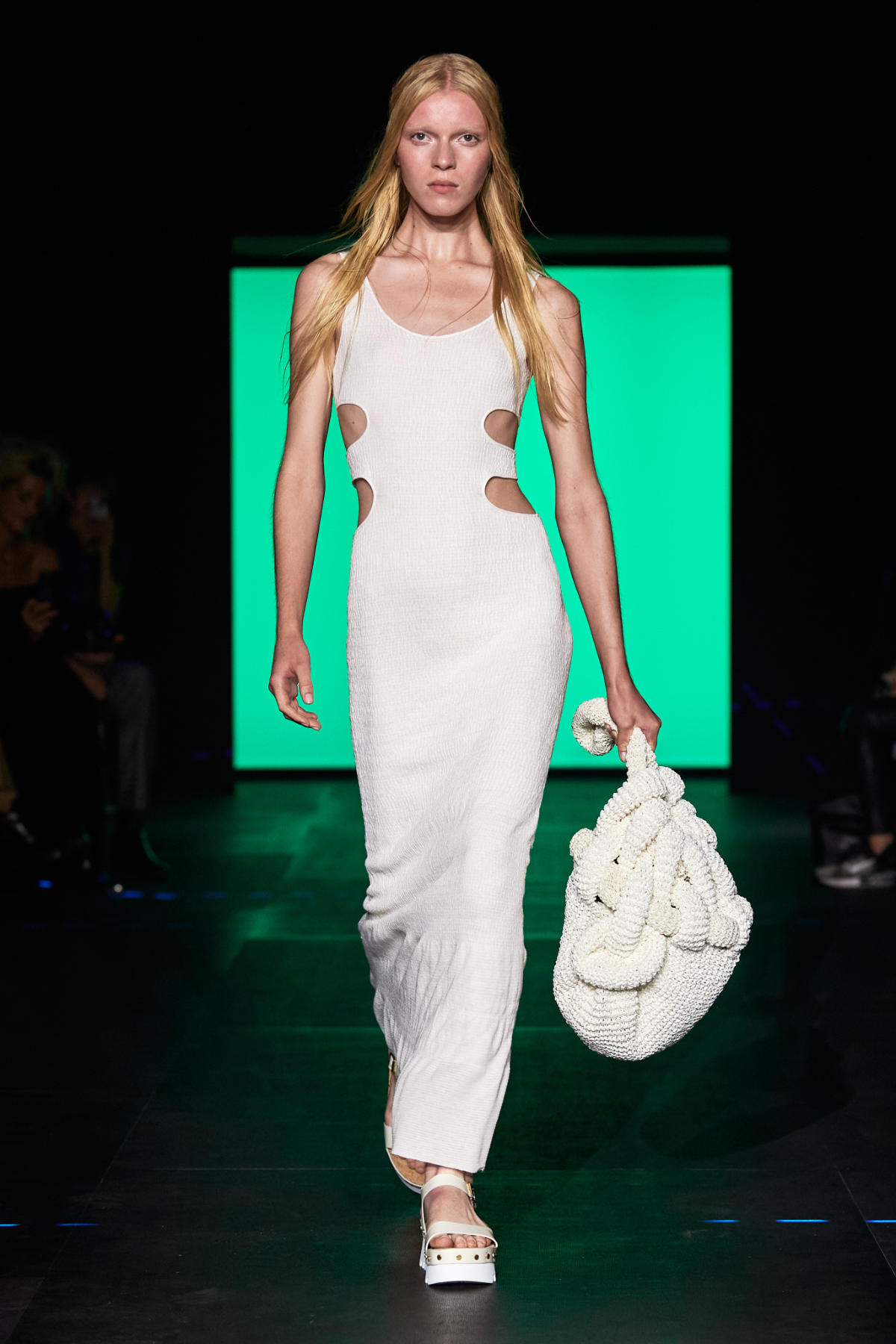 "I would like nuclear fusion to become a practical power source. It would provide an inexhaustible supply of energy, without pollution or global warming." – Professor Stephen Hawking
"In this chapter of climate success, the focus of our research was fusion energy as a large-scale, peaceful, clean energy source. What I didn't expect to experience from our visits to ITER (public sector), Commonwealth Fusion Systems and Helion (private sector) was the powerful passion that overtook me to tell the good news to everyone that would listen. The energy that moves our universe will, in the not so distant future, help power our world and solve many of our concerns today. I have deep gratitude for the star builders that not only deal with one of the hardest challenges in physics—plasma—but also, through their eyes, see a future that is as bright as the stars we are made of." – Gabriela Hearst, Chloé Creative Director
"Our lives are already powered by fusion—the hydrogen fusion at the core of our Sun delivering light and heat on Earth. For humans to imitate this force of nature—to build mini-Suns as a concentrated clean energy source—is both outrageously ambitious and a tsunami of hope for the future. At ITER, 35 countries are pooling their best scientific and engineering minds to make this dream a reality." – Laban Coblentz, ITER Head of Communication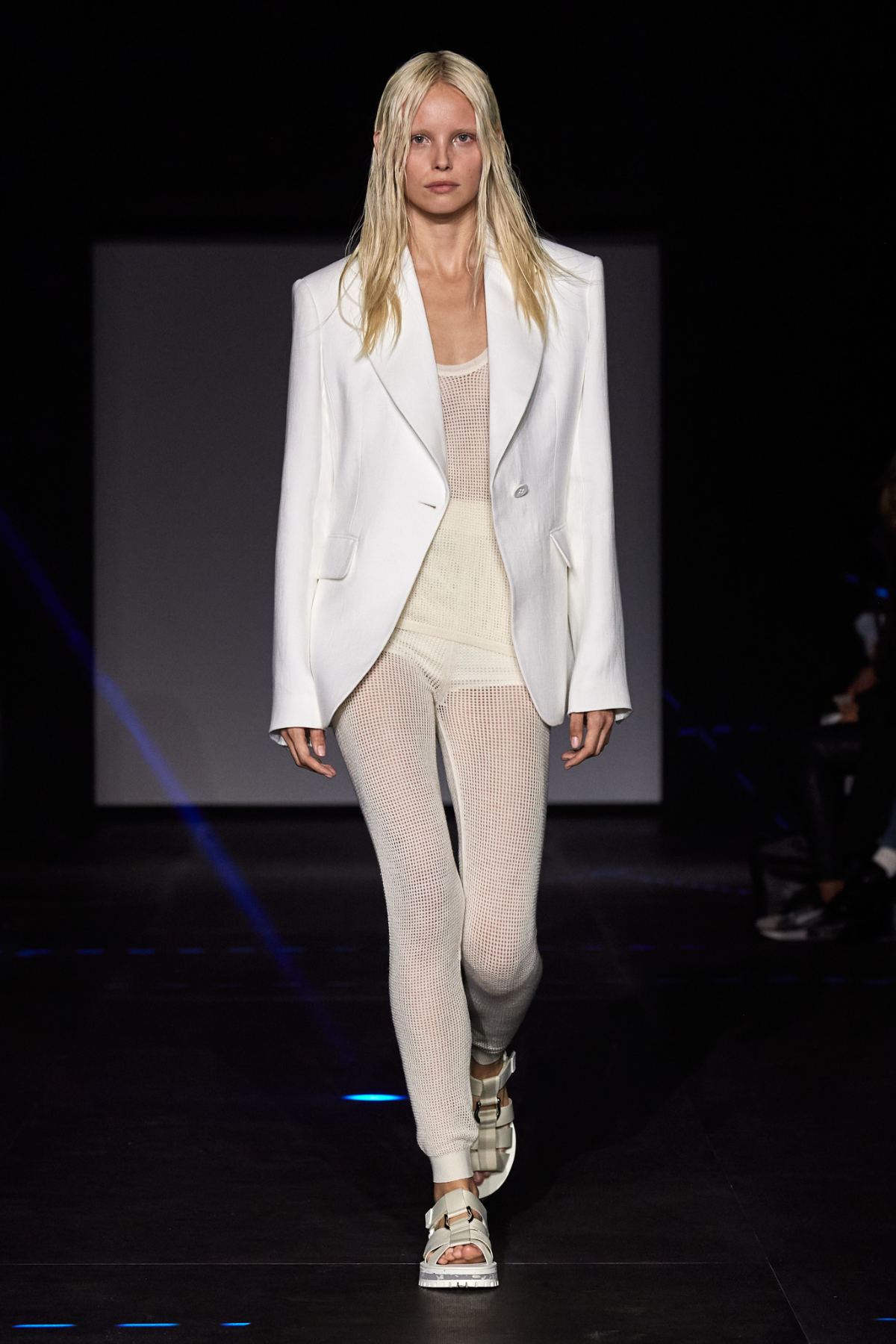 "Commonwealth Fusion Systems is working to bring limitless, clean fusion energy to the world to combat climate change. We are inspired by Gabriela and the Chloé team and their incredible work to raise awareness of this joint mission." – Brandon Sorbom, Chief Science Officer and co-founder of Commonwealth Fusion Systems
"Our team was very excited to hear from Gabriela about her vision for this fusion-inspired collection. She has the foresight to see with great clarity the things that will have a tangible, sustainable impact on the world, and fusion definitely fits into that mix. It's great to see how she has highlighted fusion technology to bring it to the world in such a beautiful way." – David Edwin Kirtley, CEO of Helion Energy
The Chloé Spring-Summer 2023 (SS23) collection marks the second chapter of the Maison's research into climate solutions. While Autumn-Winter 2022 focused on rewilding—a progressive approach to conservation where nature is left to take care of itself—SS23 continues the Spring 2023 collection's line of inquiry into fusion energy.
For Creative Director Gabriela Hearst, if there is one sure way of achieving climate success, it is the rapid elimination of fossil fuels, which account for around 84% of the world's primary energy consumption. One ray of hope is fusion: the recreation of the reaction that occurs in all stars. Scientists estimate that one glass of fusion fuel will create enough electricity to power a home for more than 800 years. Now, thanks to advances in technology and an influx of funding, it looks like fusion will soon become an infinite source of clean energy that lights up our universe.
Gabriela and the Chloé design team conducted extensive research into fusion for the SS23 collection, speaking to engineers and scientists as well as visiting Commonwealth Fusion Systems, Helion Energy and ITER. Meaning 'the way' in Latin, ITER is one of the most ambitious energy projects in the world today. Bringing together 35 nations, the goal of this unprecedented global scientific partnership is to build the world's largest tokamak reactor; a device designed to prove the feasibility of fusion as a large-scale source of energy.
To reflect ITER's sense of unity, the SS23 show space was conceived in collaboration with the visual artist Paolo Montiel-Coppa, who created a light installation that reimagines the Fusion for Energy emblem as a mandala for humanity.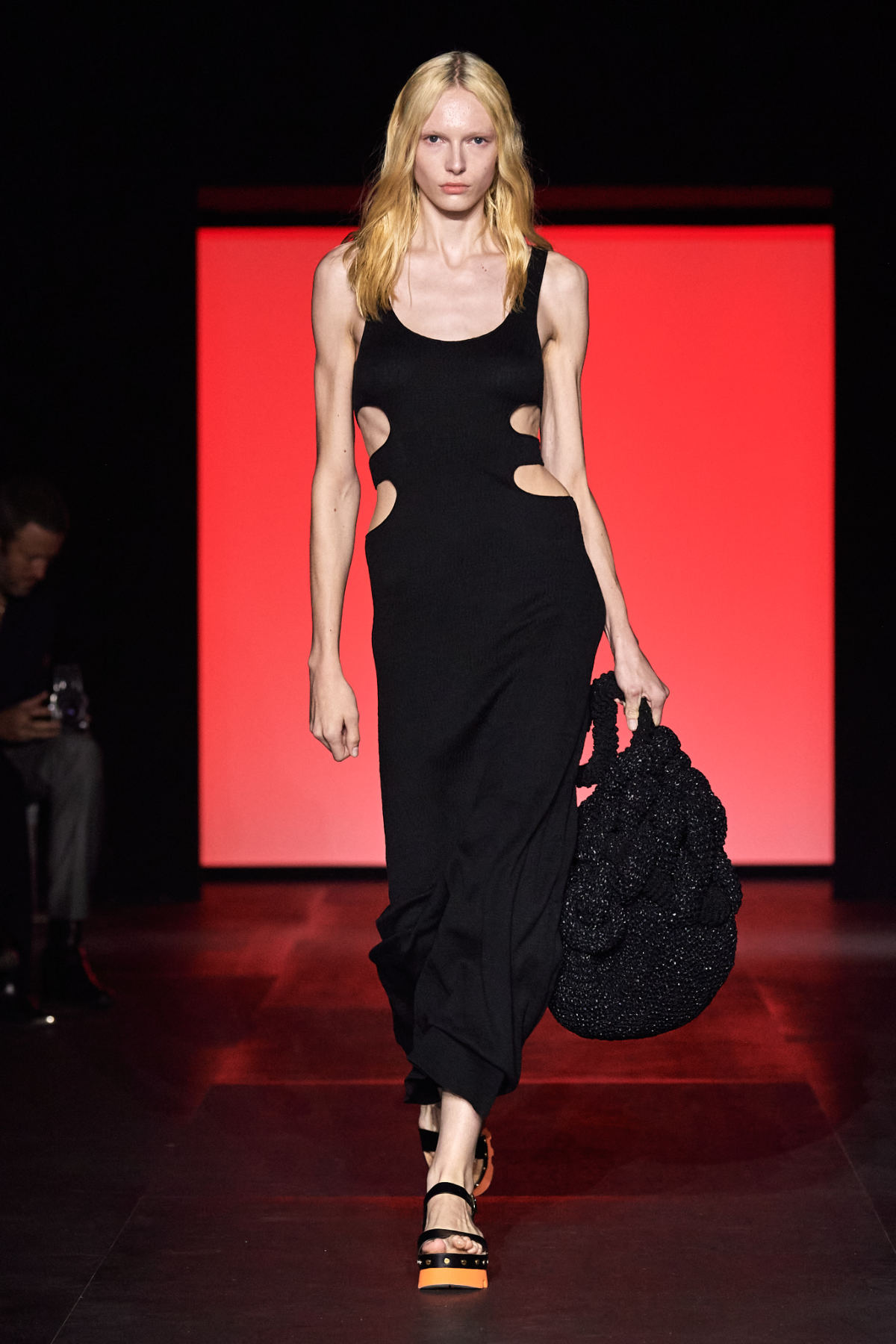 The colossal ITER tokamak, its various components and the site of the reactor served as inspiration for many of the SS23 fabrications. Layering garments made from lower-impact knitted cashmere mesh are complimented with textured linen tailoring. Coats in raw silk fasten down the centre front with industrial hardware; and the edges of a linen jacket and cape are finished with coloured leather tape for a utilitarian effect. Metallic hand-blown glass beads are suspended in cutouts on tunic tops and dresses, and metal rings and geometric suede panels are hand-crocheted together to form dresses.
The architecture of the tokamak also informed the collection's rounded but structured silhouettes. Dresses cut from leather are cinched at the waist with scaffold-like seamwork; asymmetric jackets with curved sleeves are styled with capacious rave trousers, and the volumes of winged and heart shaped dresses are amplified. For added dynamism, there are leather motorcycle-inspired jackets and long coats with whipstitching along the seams. Punctuating the whole collection is a fuschia suit—a nod to the fuschia-coloured plasma fusion produces.
"I was surprised how many people didn't know about fusion—the clear opportunity we have with this collection to tell the positive story and cross pollinate audiences. It is extremely rewarding to use creativity to visually express what we learnt and reflect it in garments and pieces of the collection. The show itself has a laser light installation resembling the magnet placement in a tokamak (the device used to produce Magnetic Confinement Fusion)." – Gabriela Hearst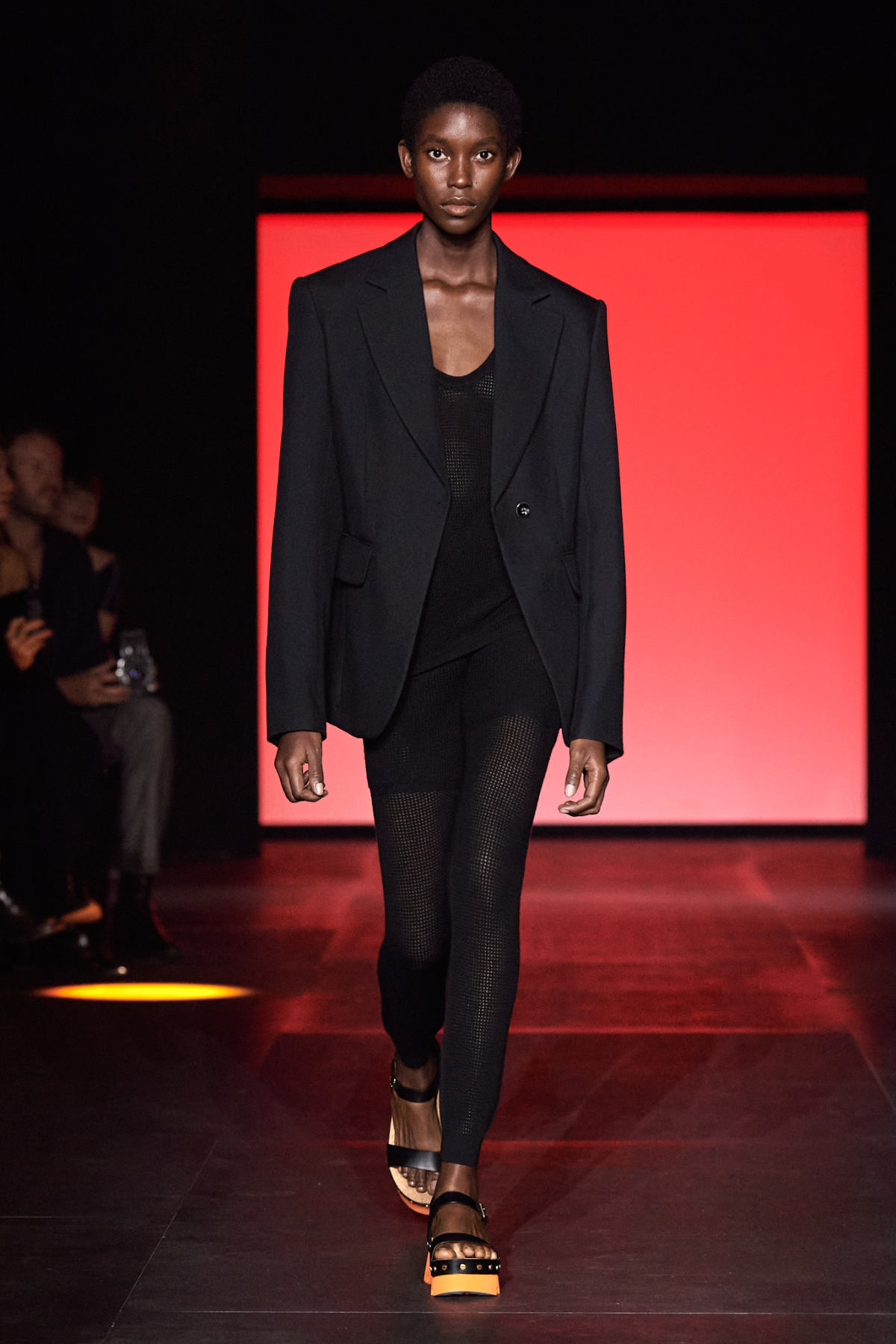 Embellishments form isotope compositions across garments. A floor-skimming gown with a racerback vest top is covered entirely with shimmering leather discs, and constellations of circular metal studs and eyelets decorate leather coats and full denim looks. The indigo denim, developed with Adriano Goldschmied, is composed of 87% recycled cotton and 13% hemp and is finished with a laser wash for reduced water usage. For the first time, Goldschmied has developed a white version of this material exclusively for Chloé, which doesn't involve any bleaching processes.
Technological references are quite literally fused with natural elements for this season's footwear. The Odina's cork platforms are burnished with gold or silver; the minimal transparent wedge of the Pip is contrasted by a braided leather trim; the Owena flat sandals are emboldened with chunky rubber soles and finished with brass screws, and the straps of the heeled Owena centre around metal hardware inspired by tokamak parts. The Nama—Chloé's signature sneaker, which is made entirely from lower-impact materials—gets a new look as a wedge high top and sandal.
SS23 sees the introduction of a new handbag style: the Penelope, in three variations. There's the day bag with its slouchy silhouette, which comes in three sizes and a variety of fabrics—from grained leather and linen to raffia or knit—all featuring handmade details such as braids and tassels. The flap bag version comes in classic box calf leather or woven gold leather. Finally the versatile clutch, which can be carried by hand or worn on the shoulder, also comes in an assortment of materials including knit, lustrous leather and metallic leather. The Penelope line is identifiable by its signature metal coin closure inspired by the Maison's jewellery archive. The Penelope coin earrings create a sense of continuity between the bags and jewellery.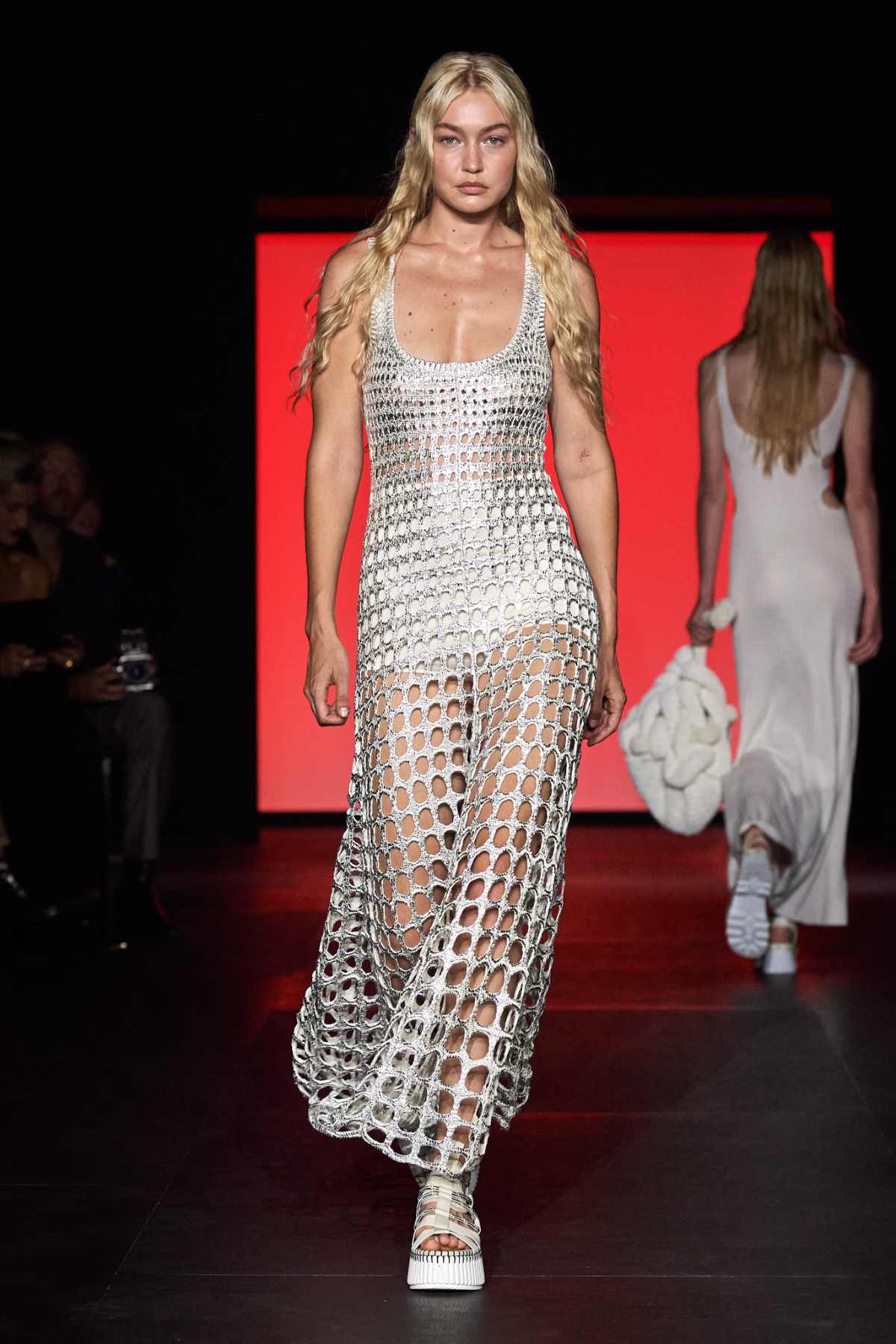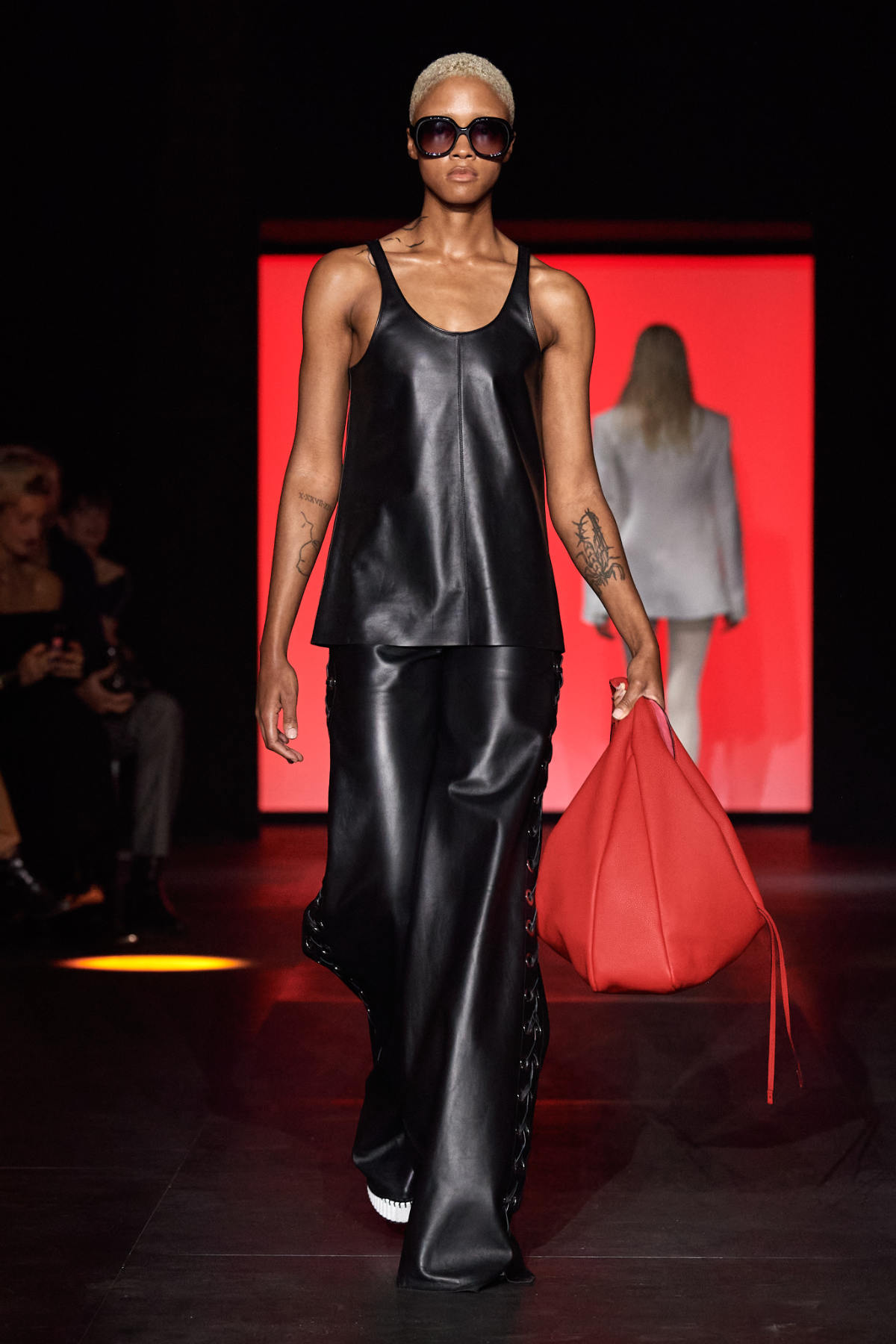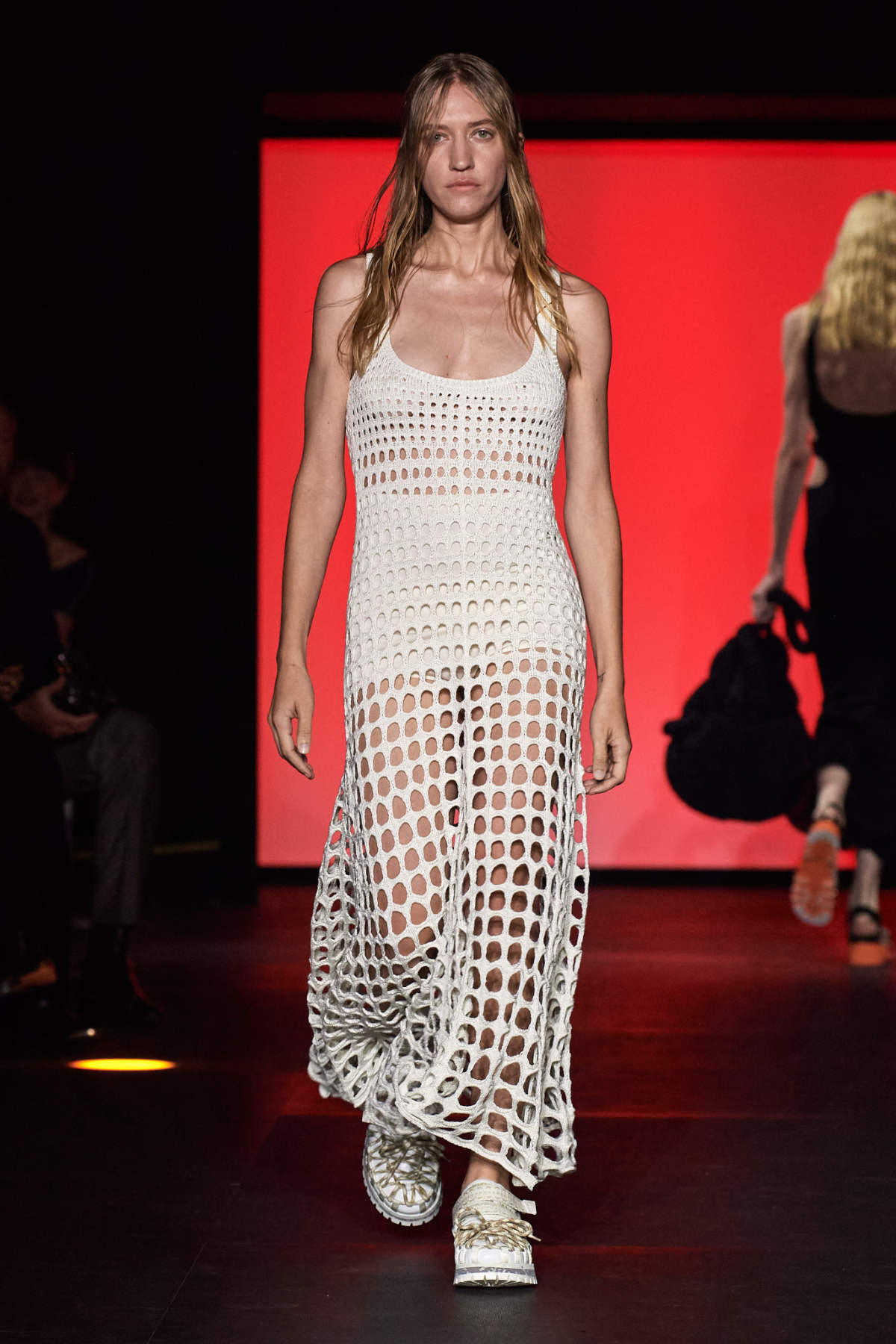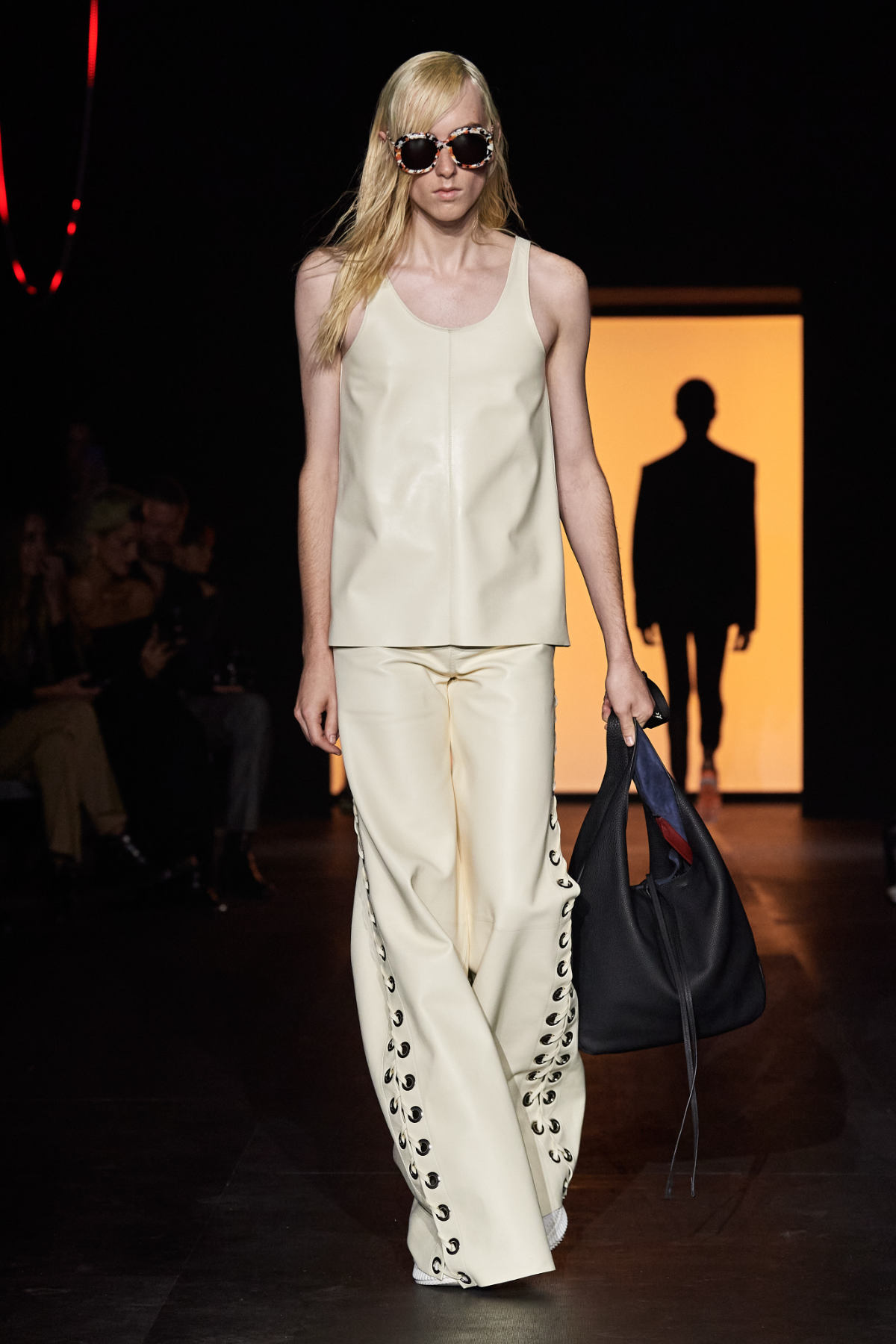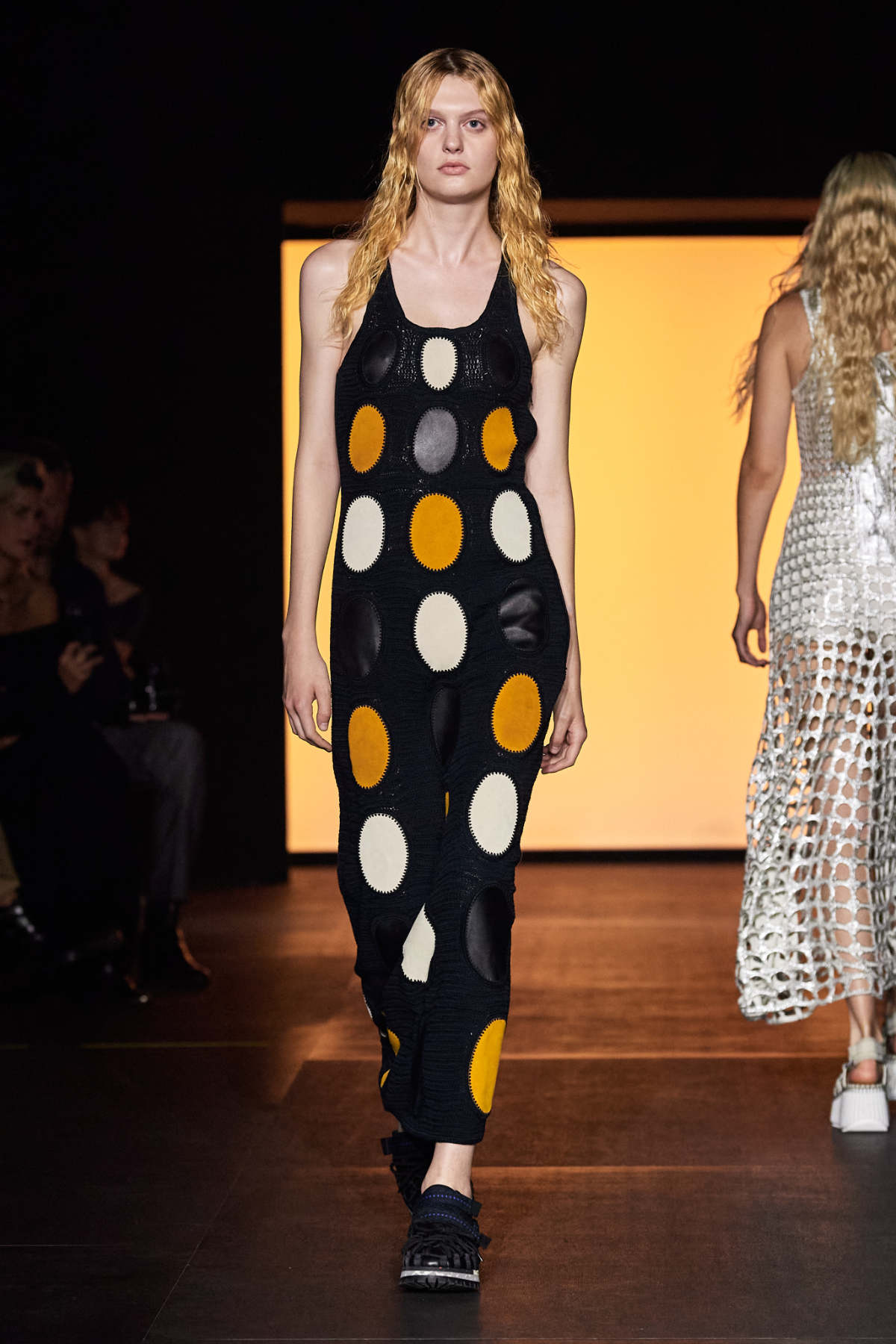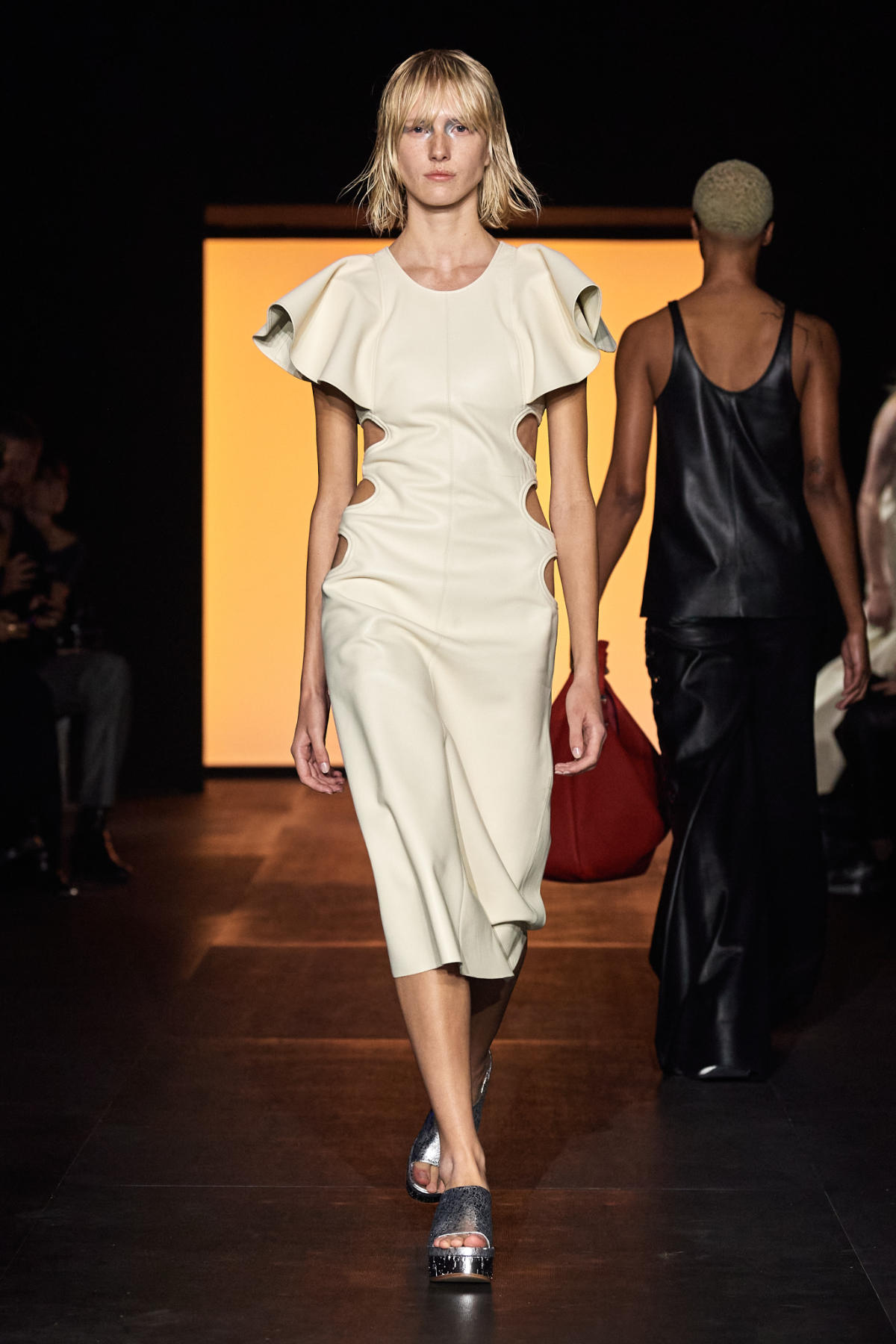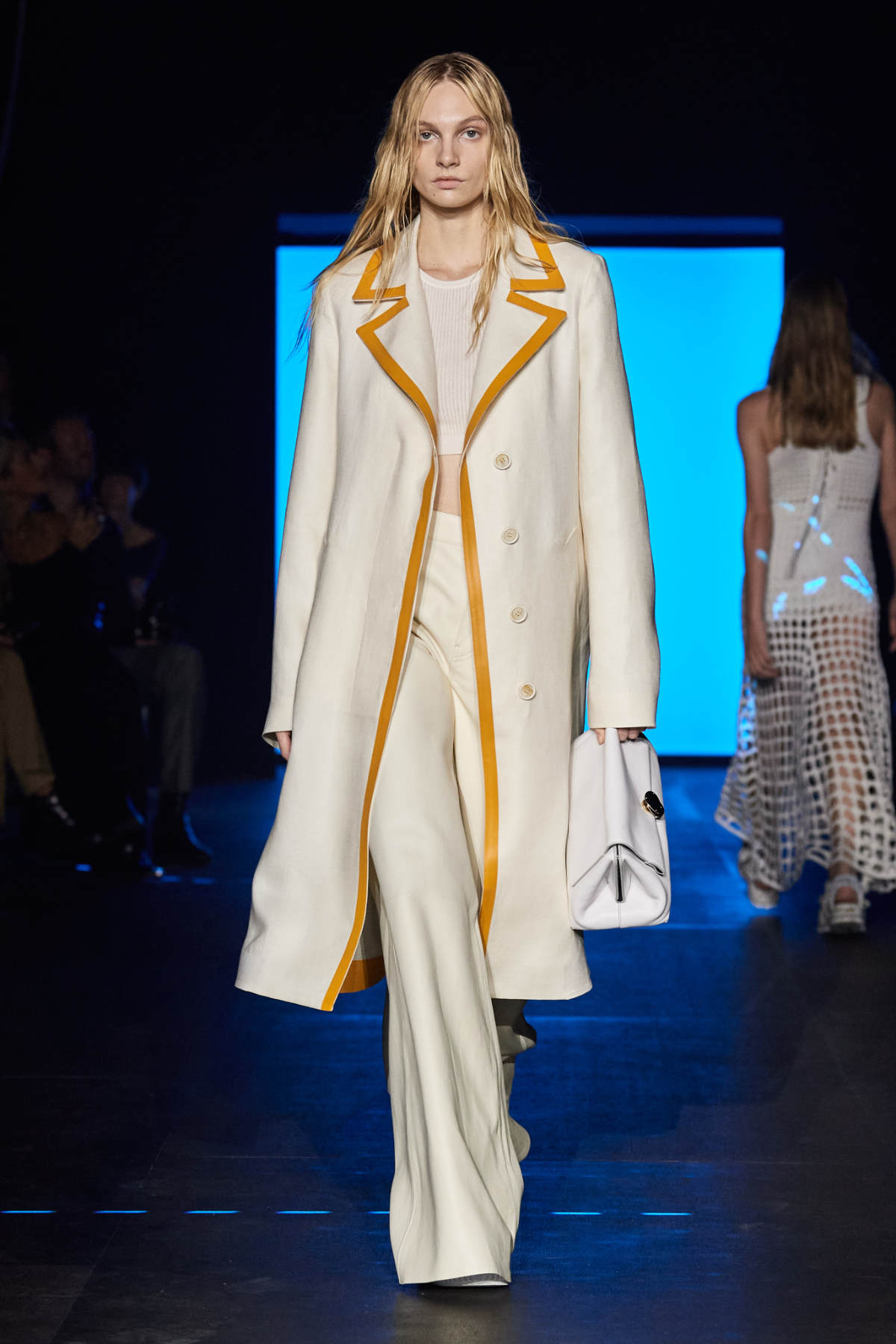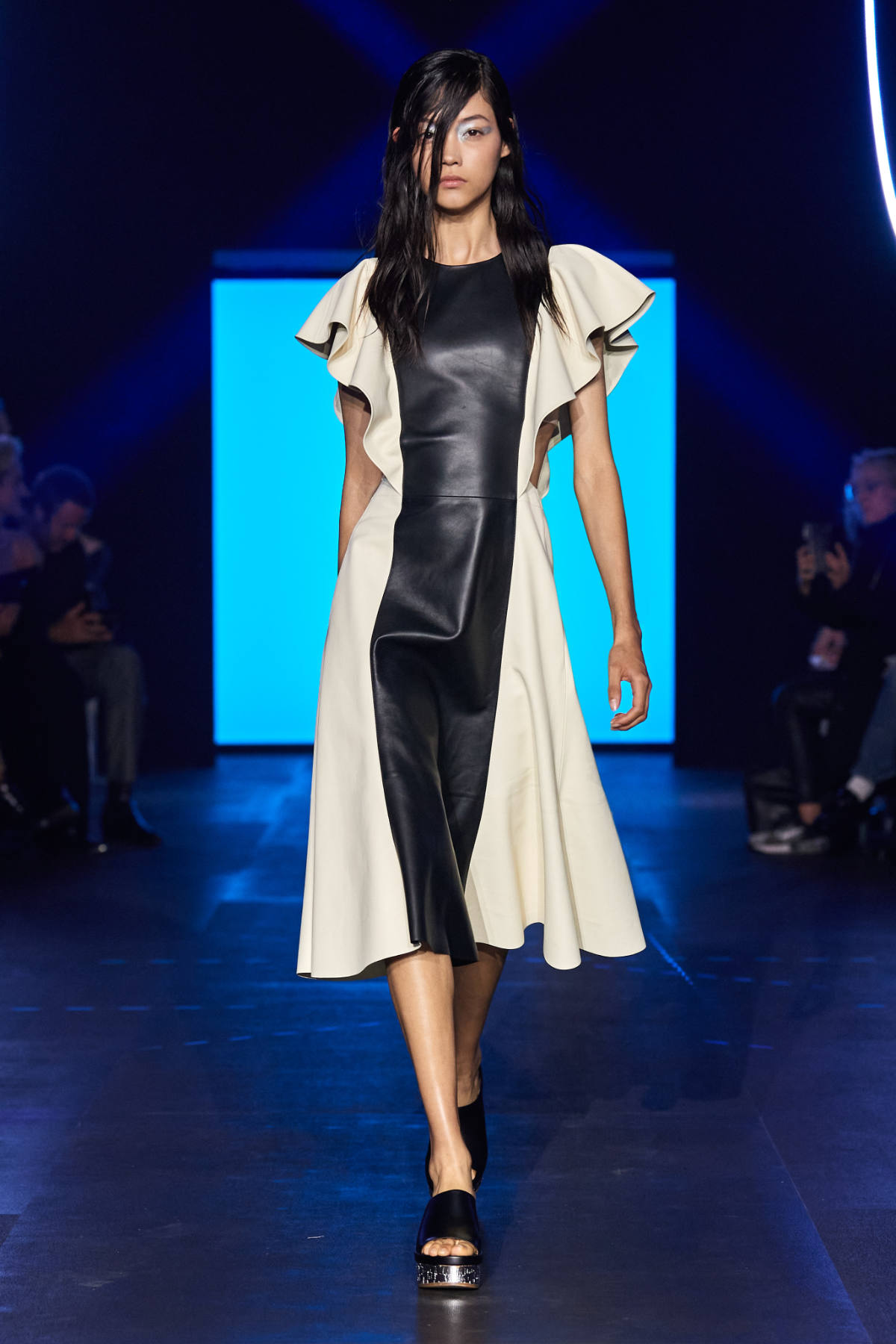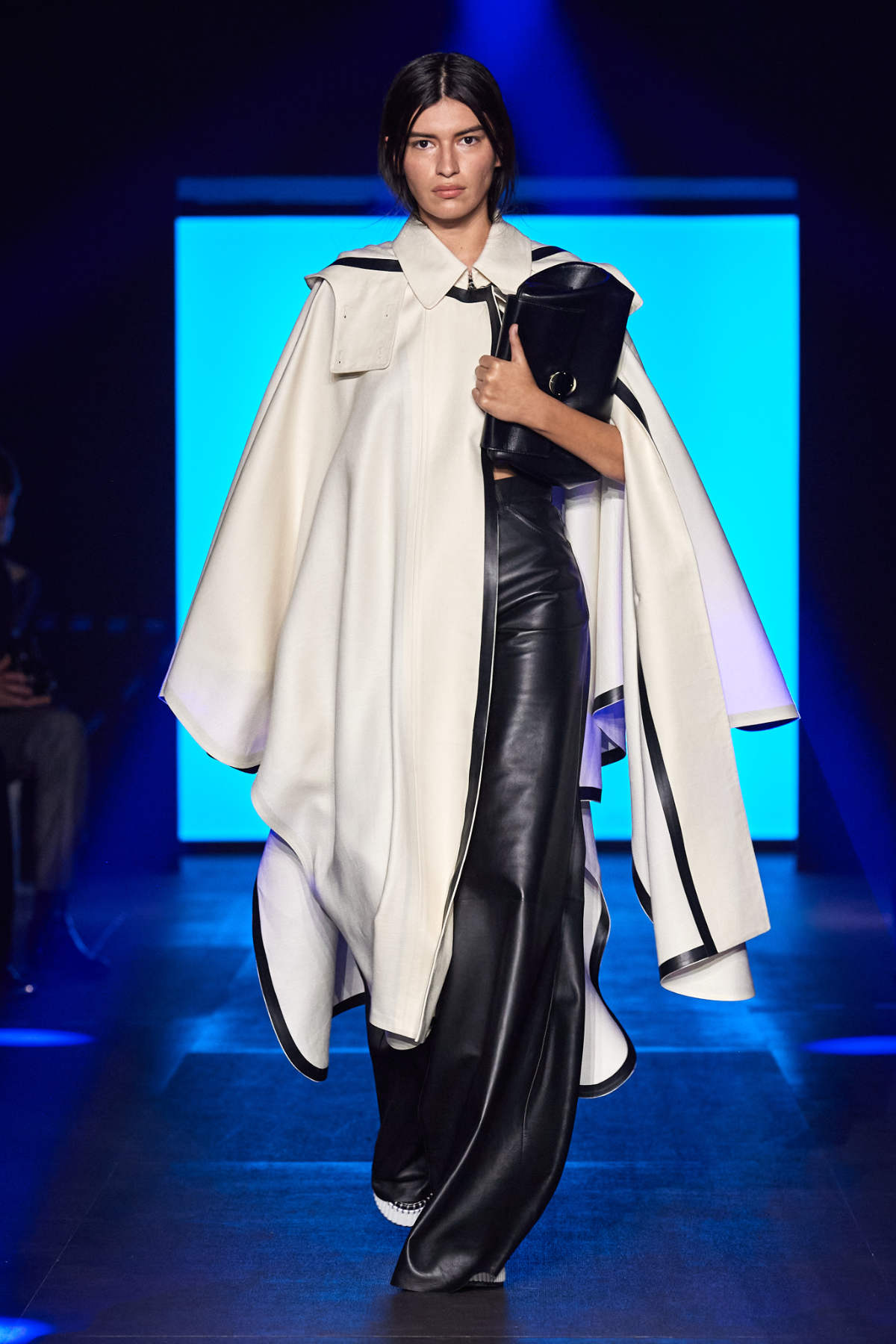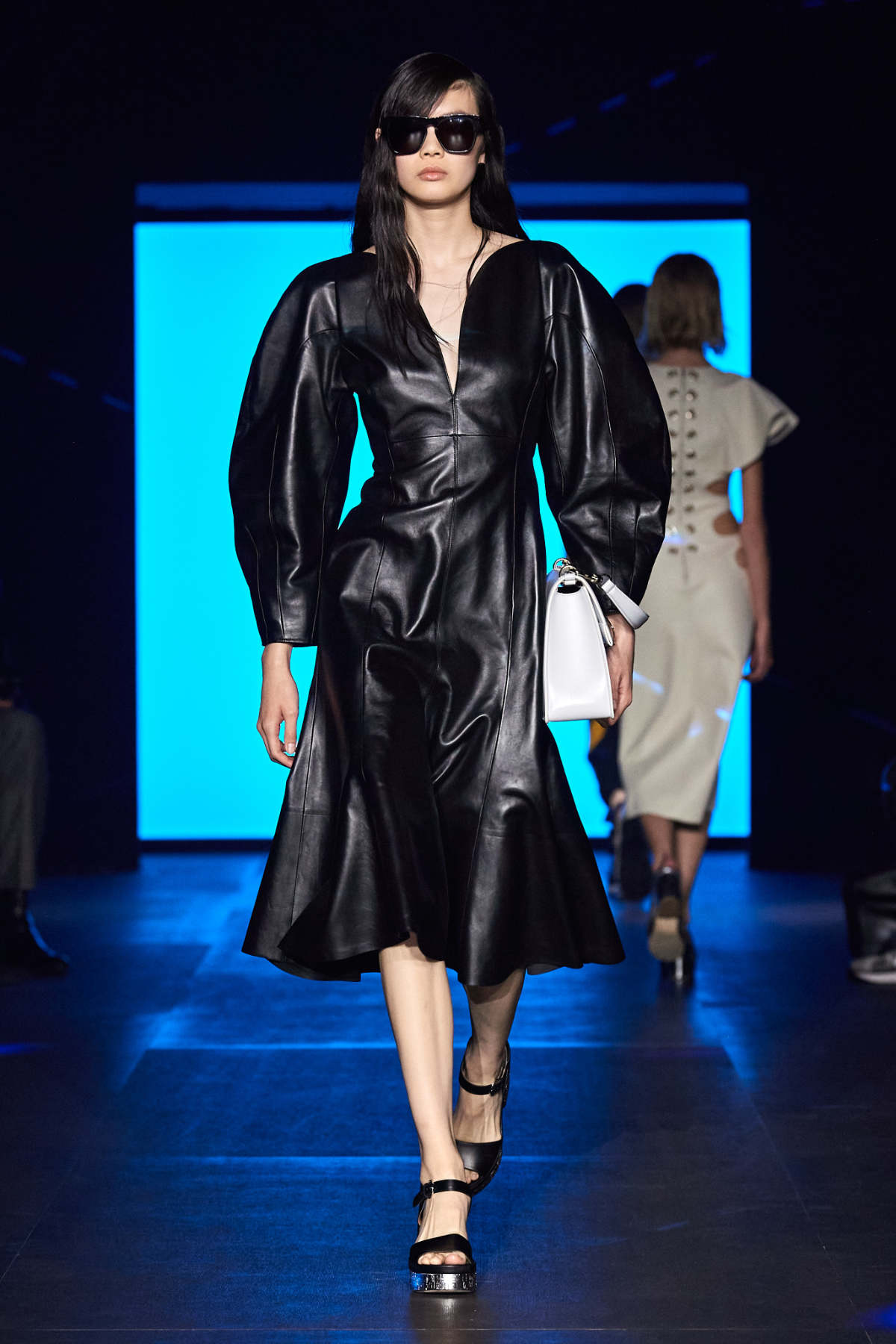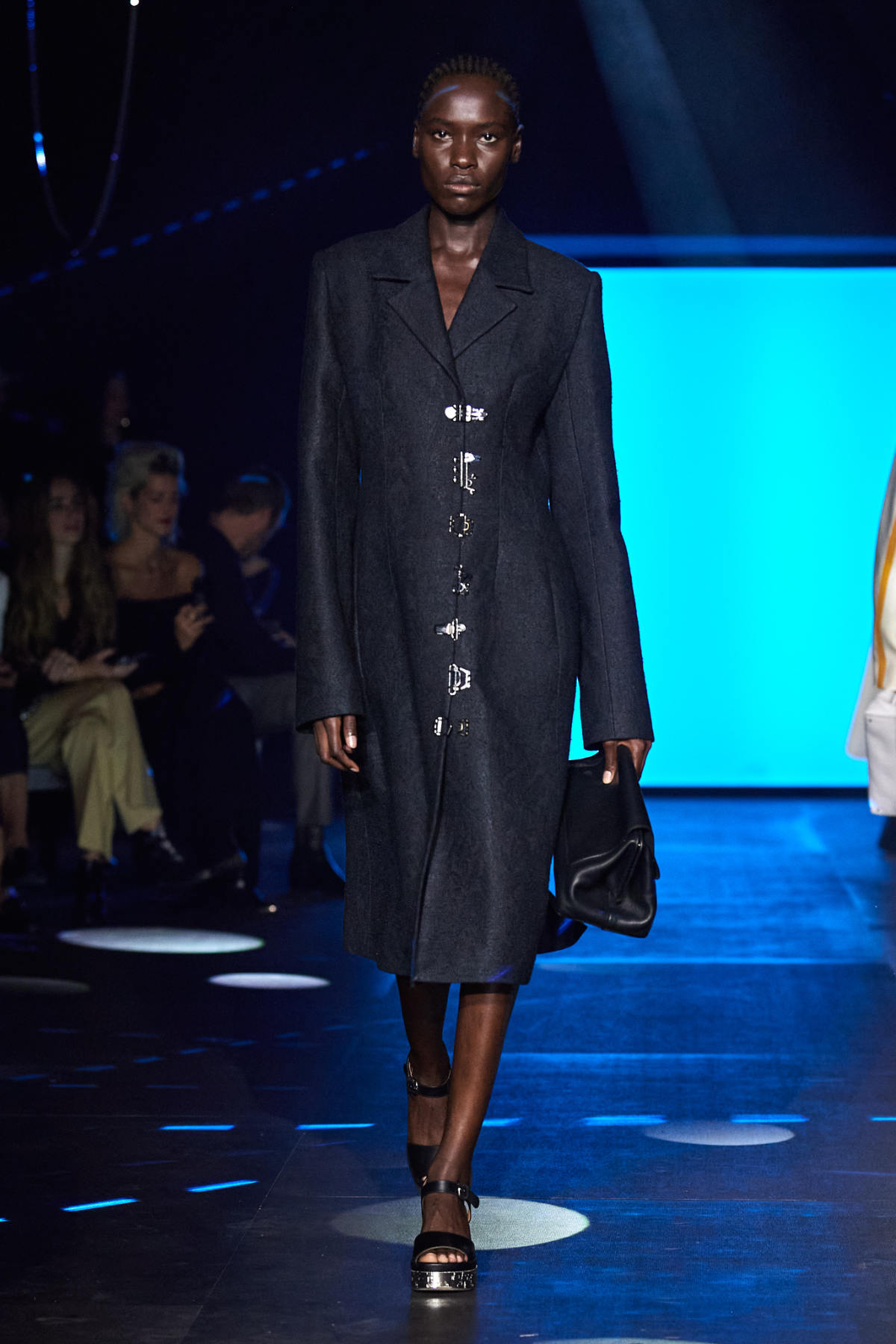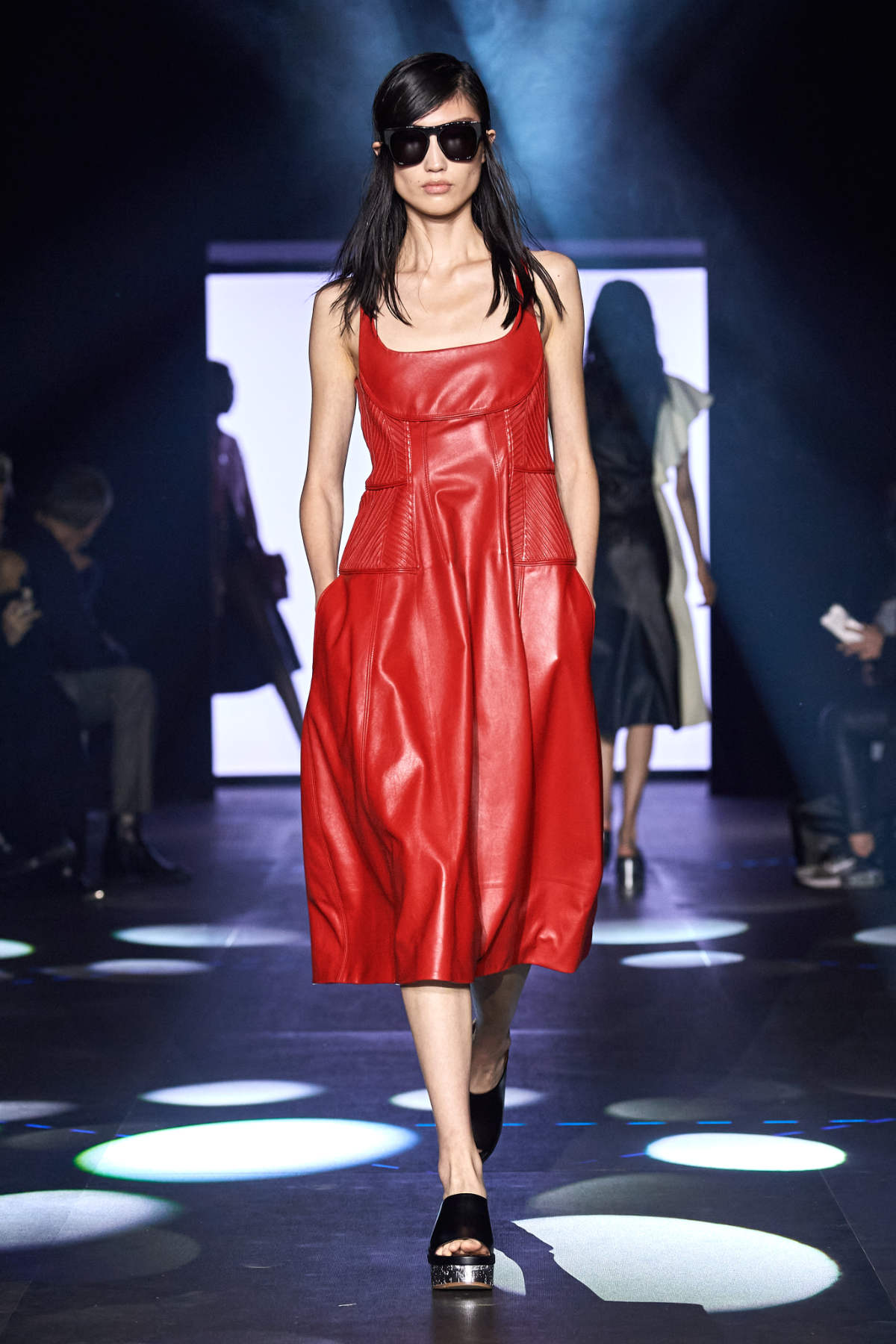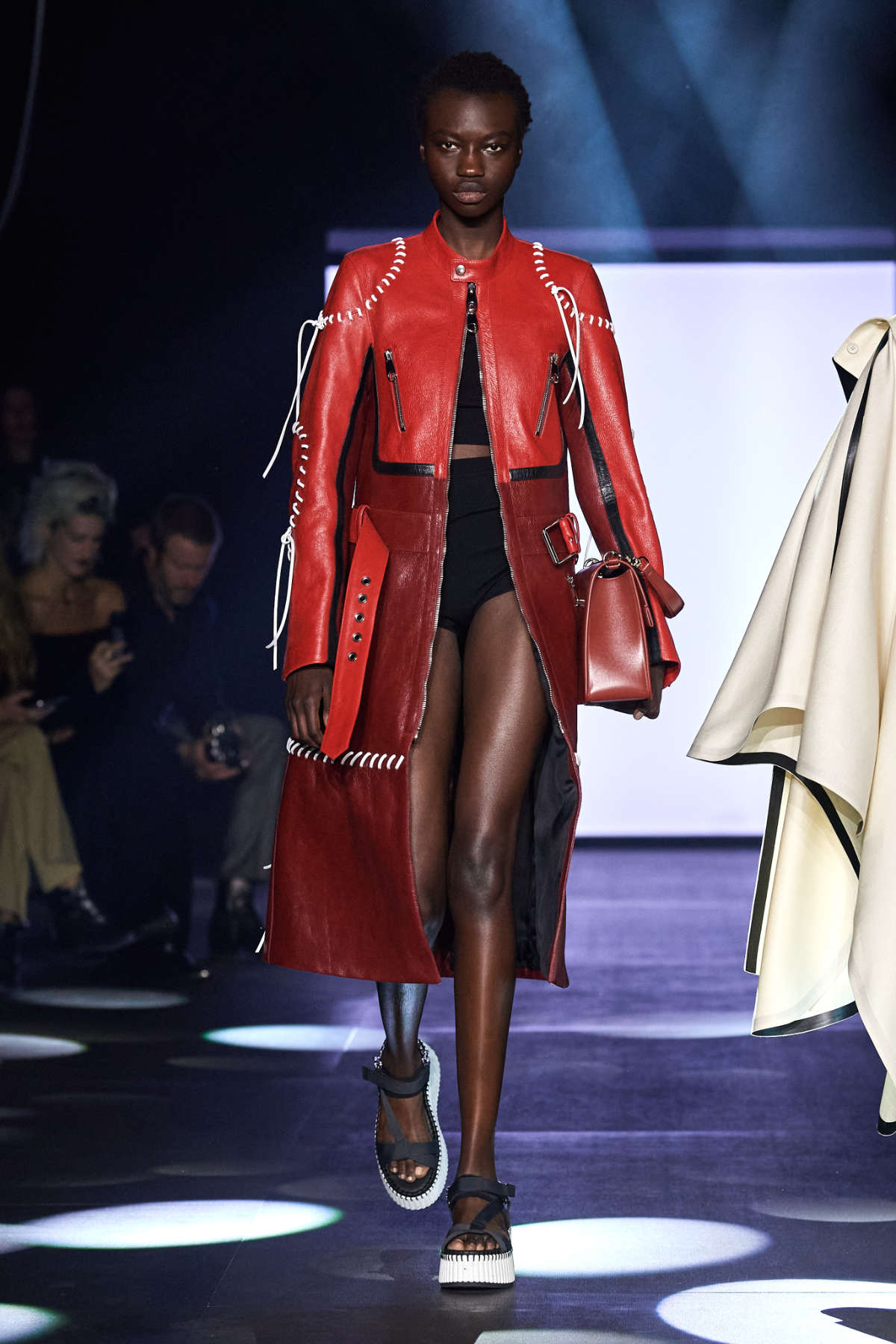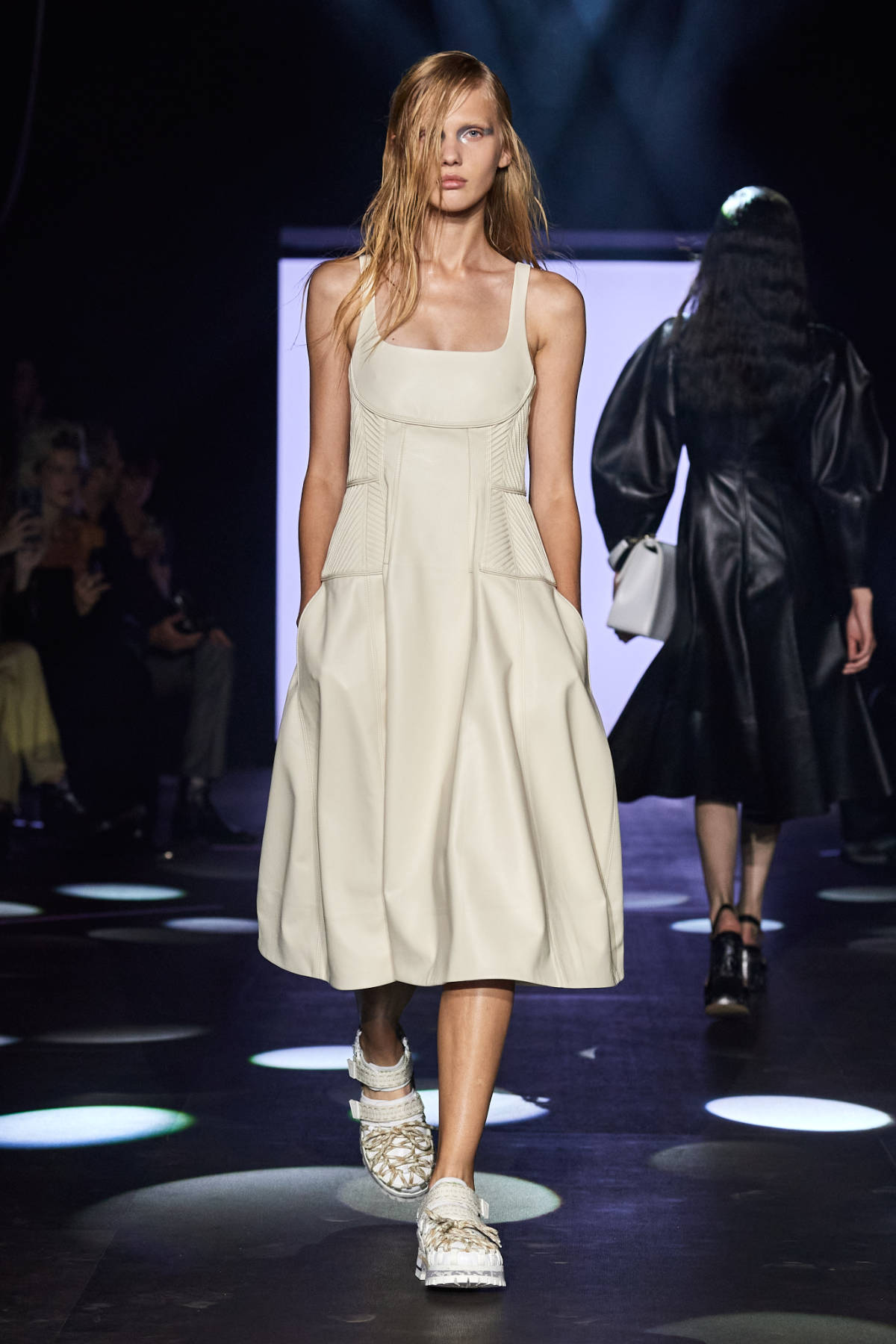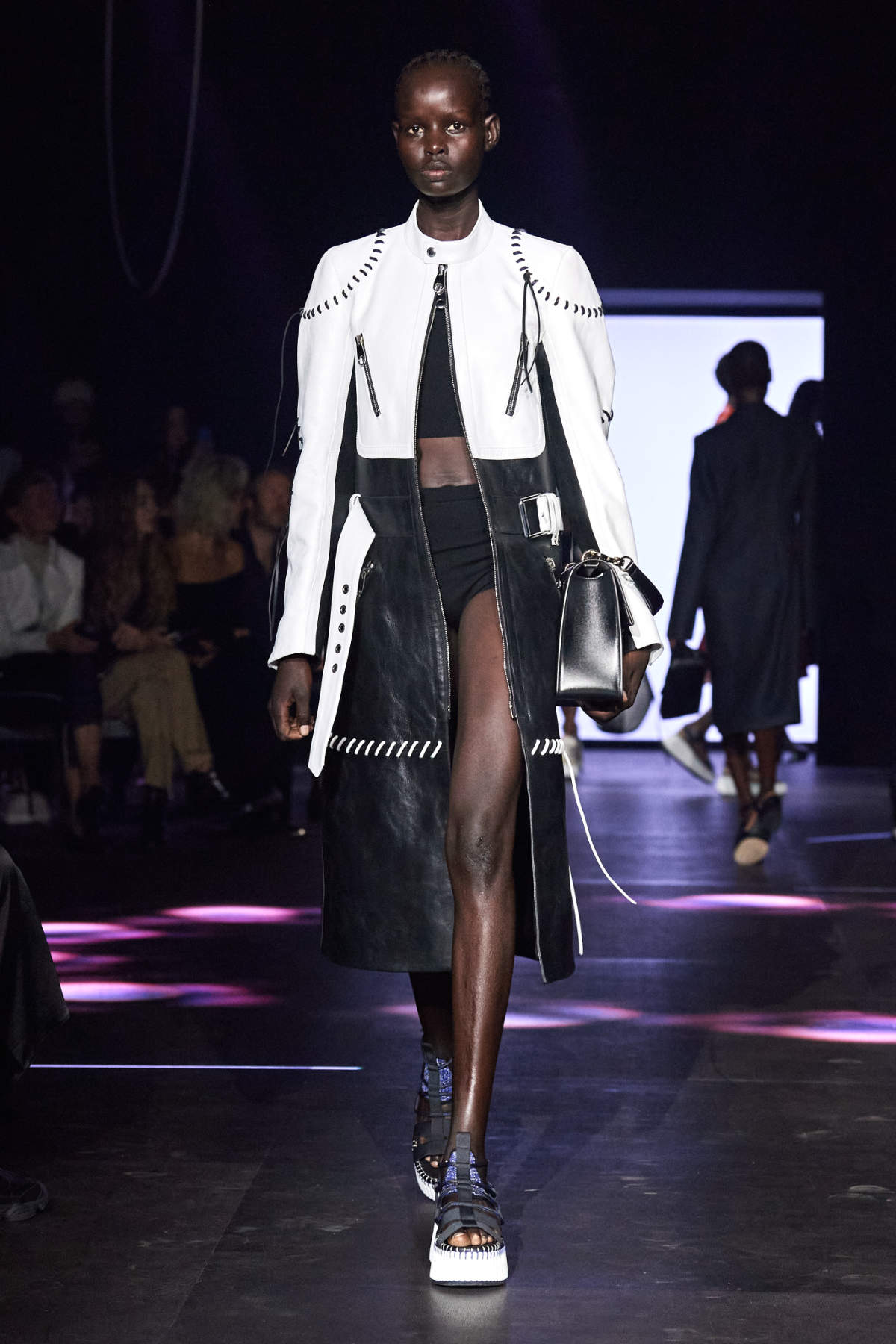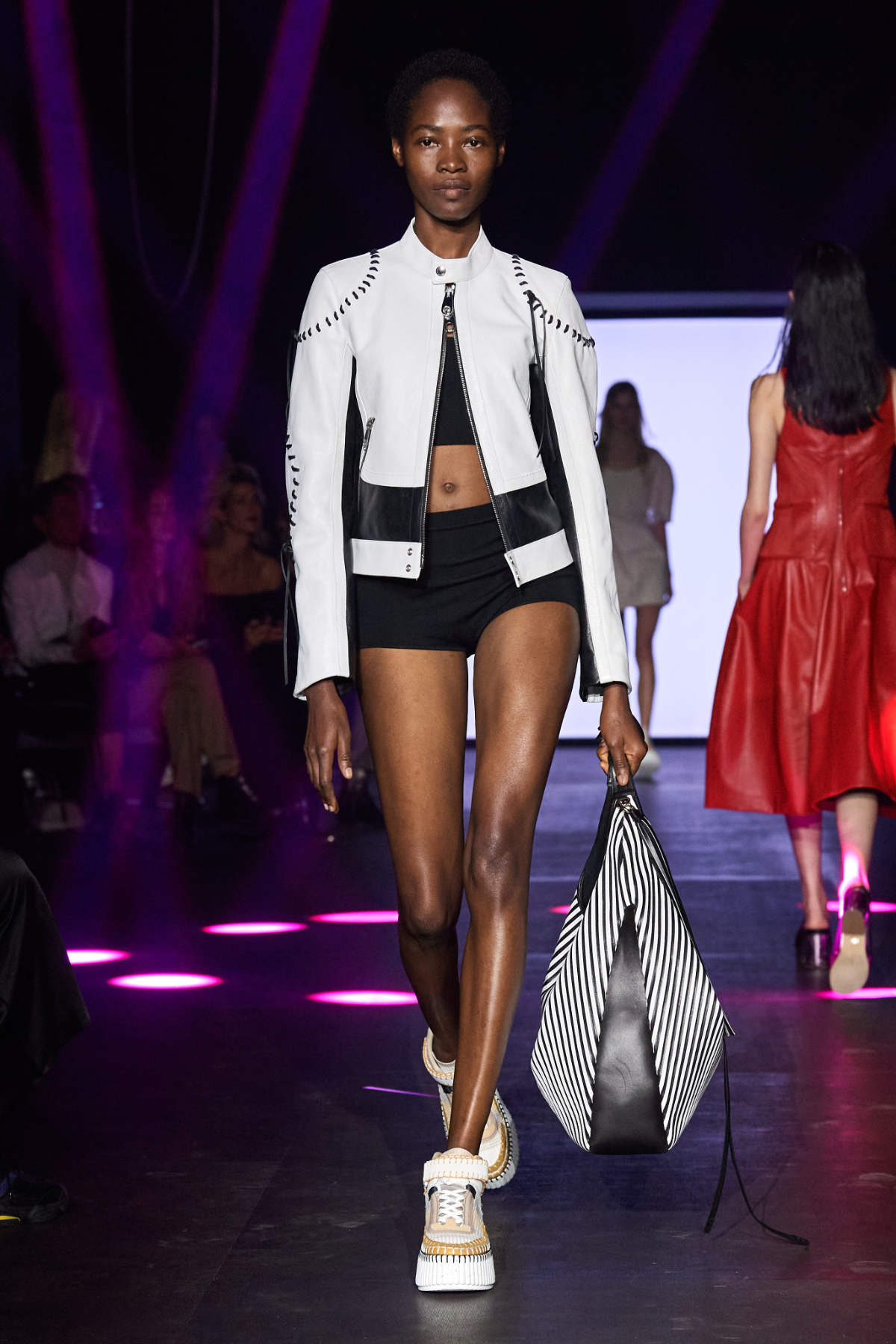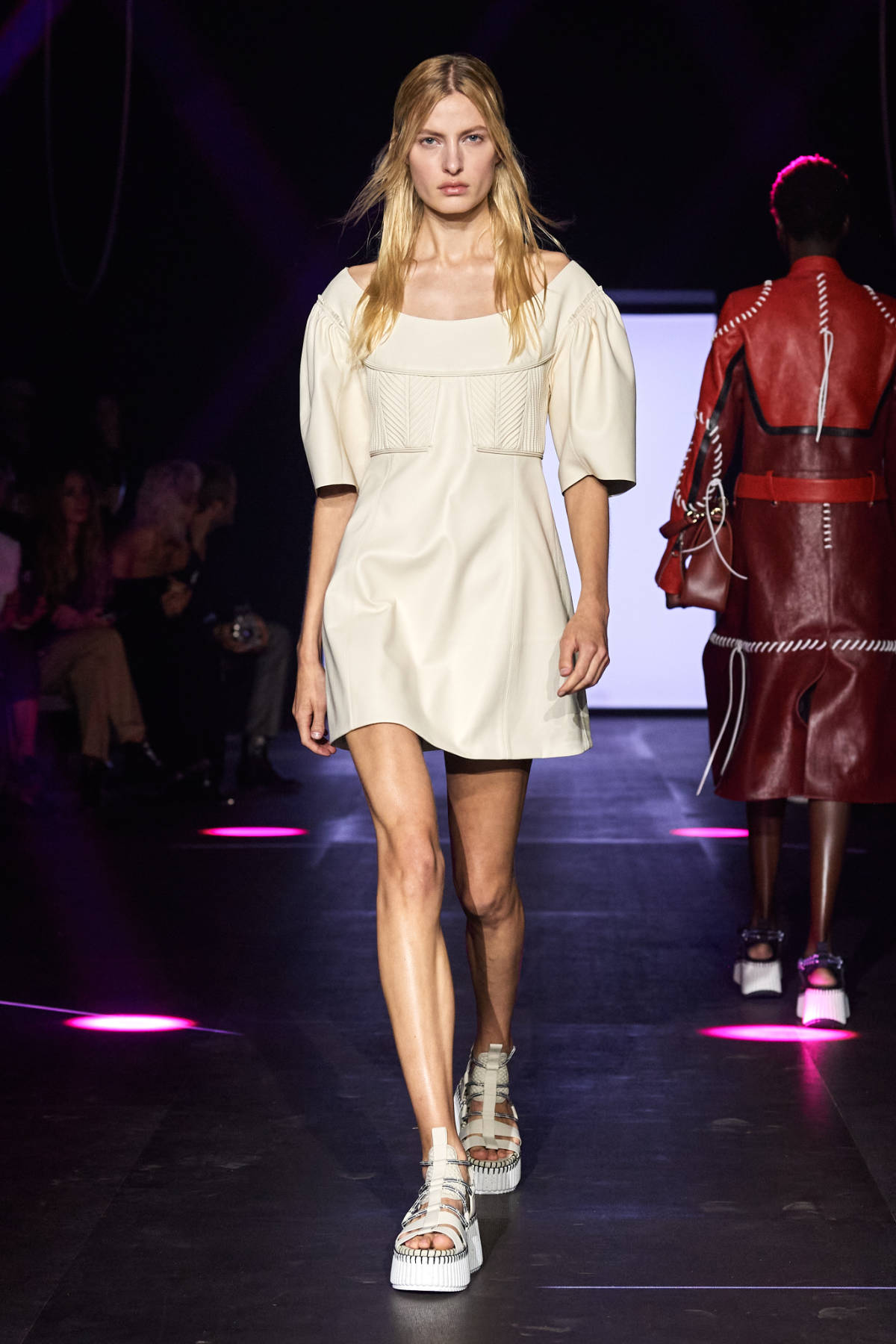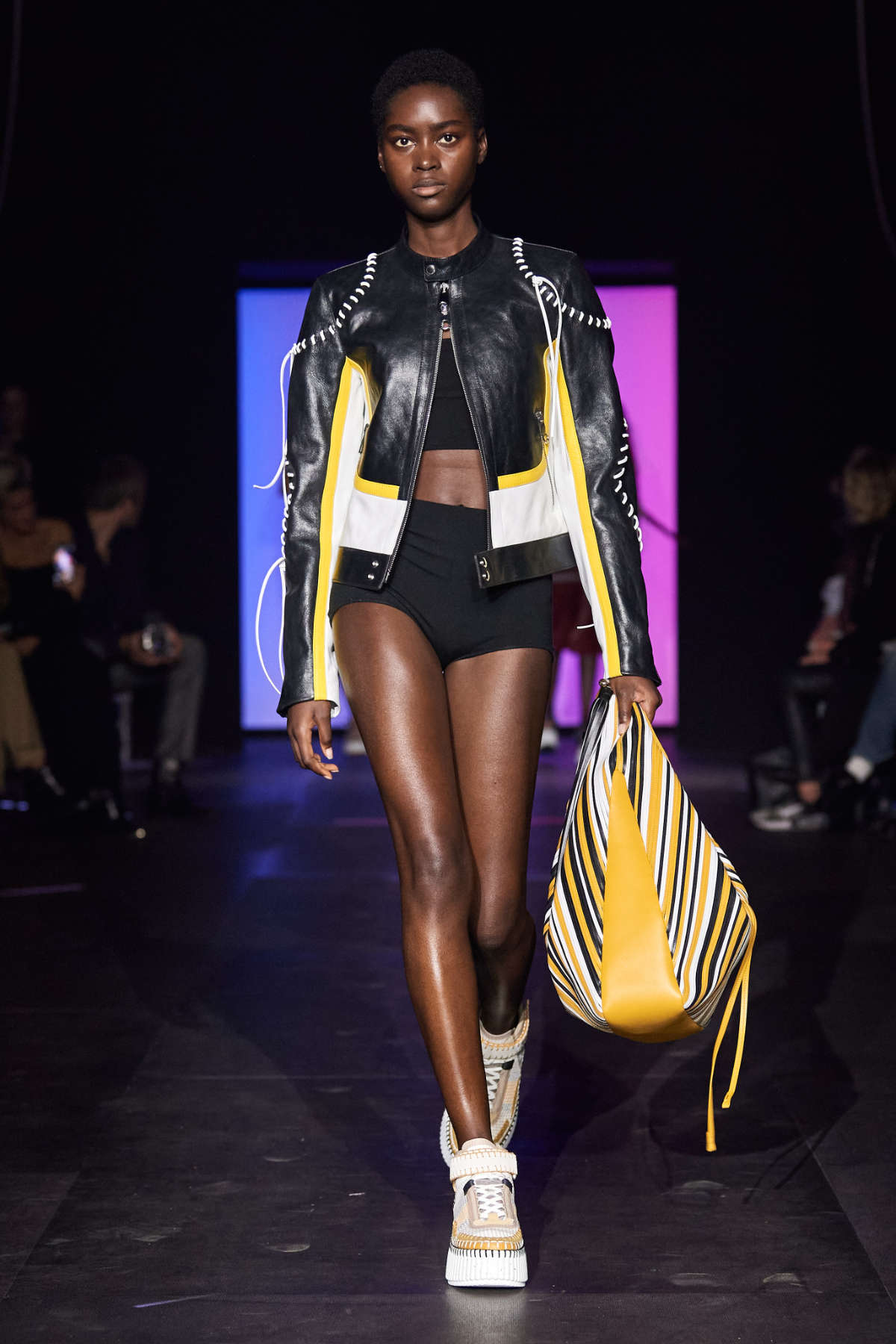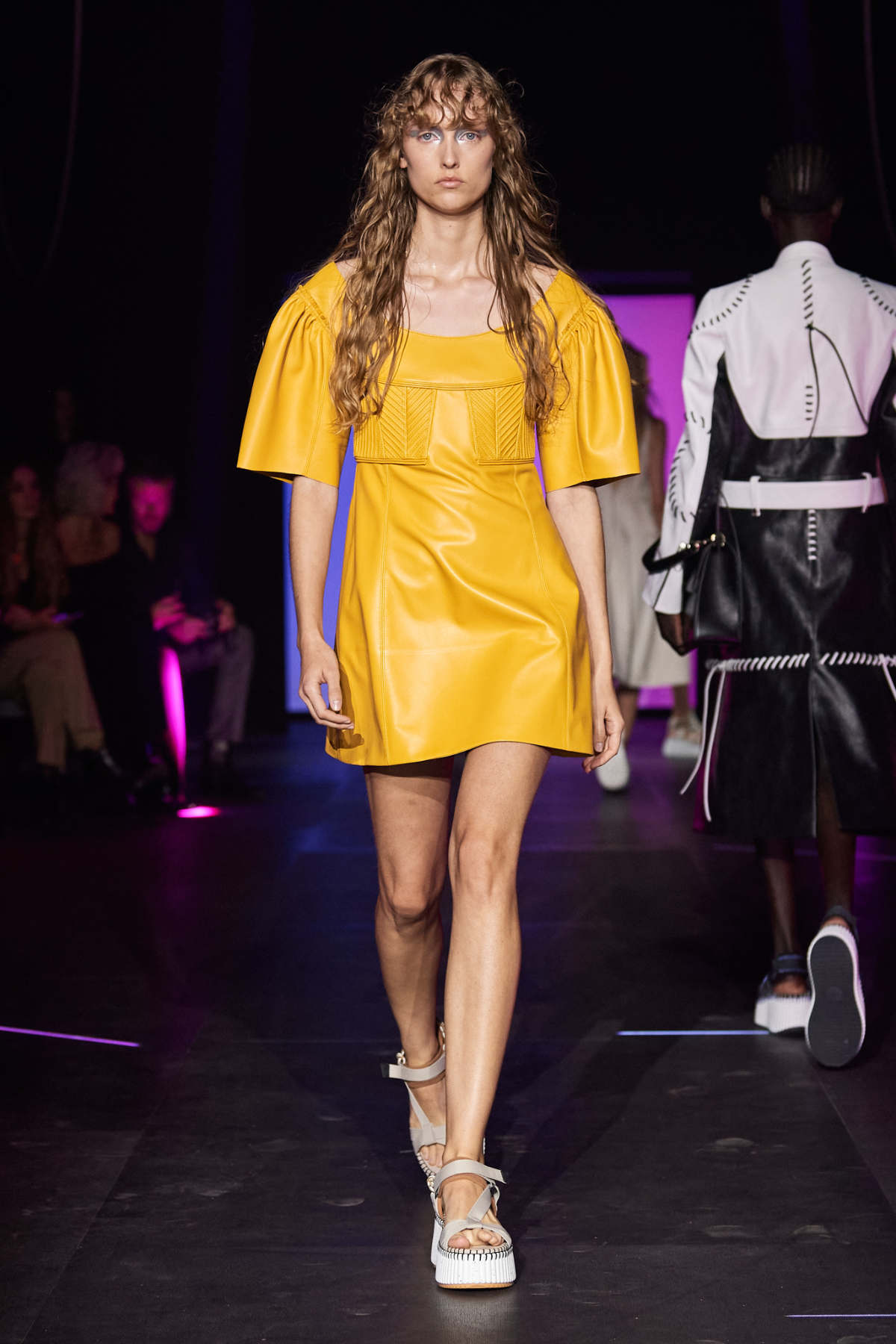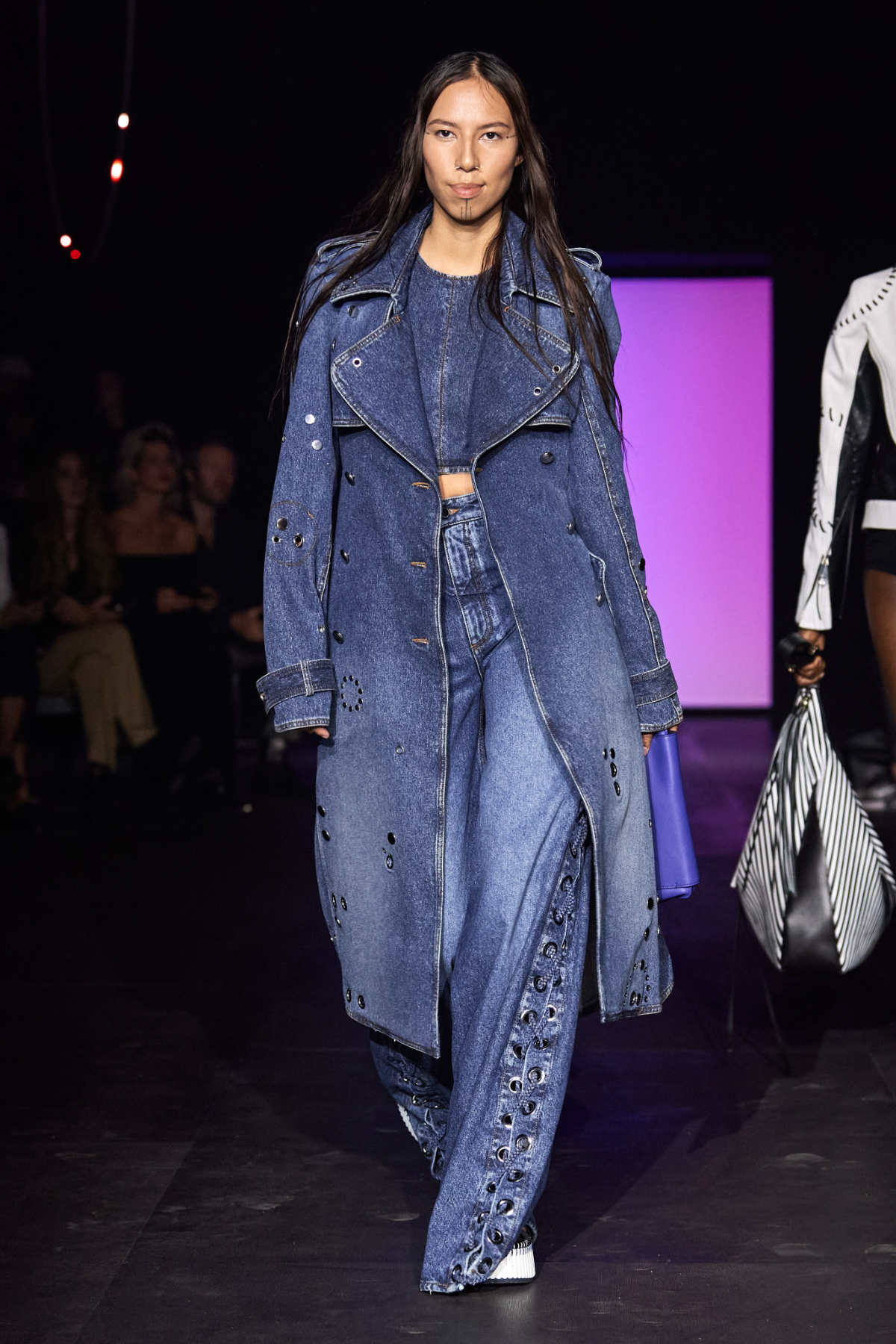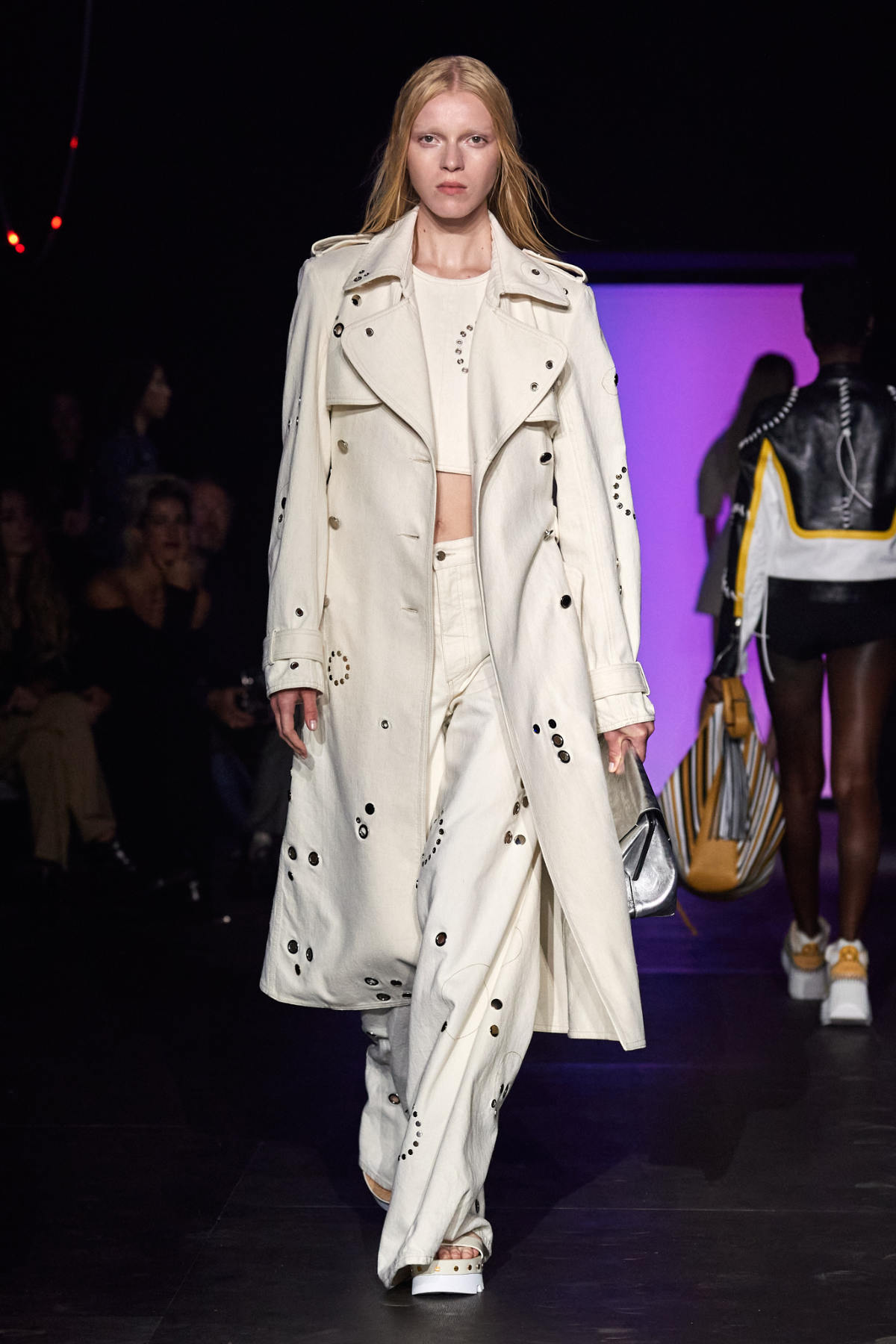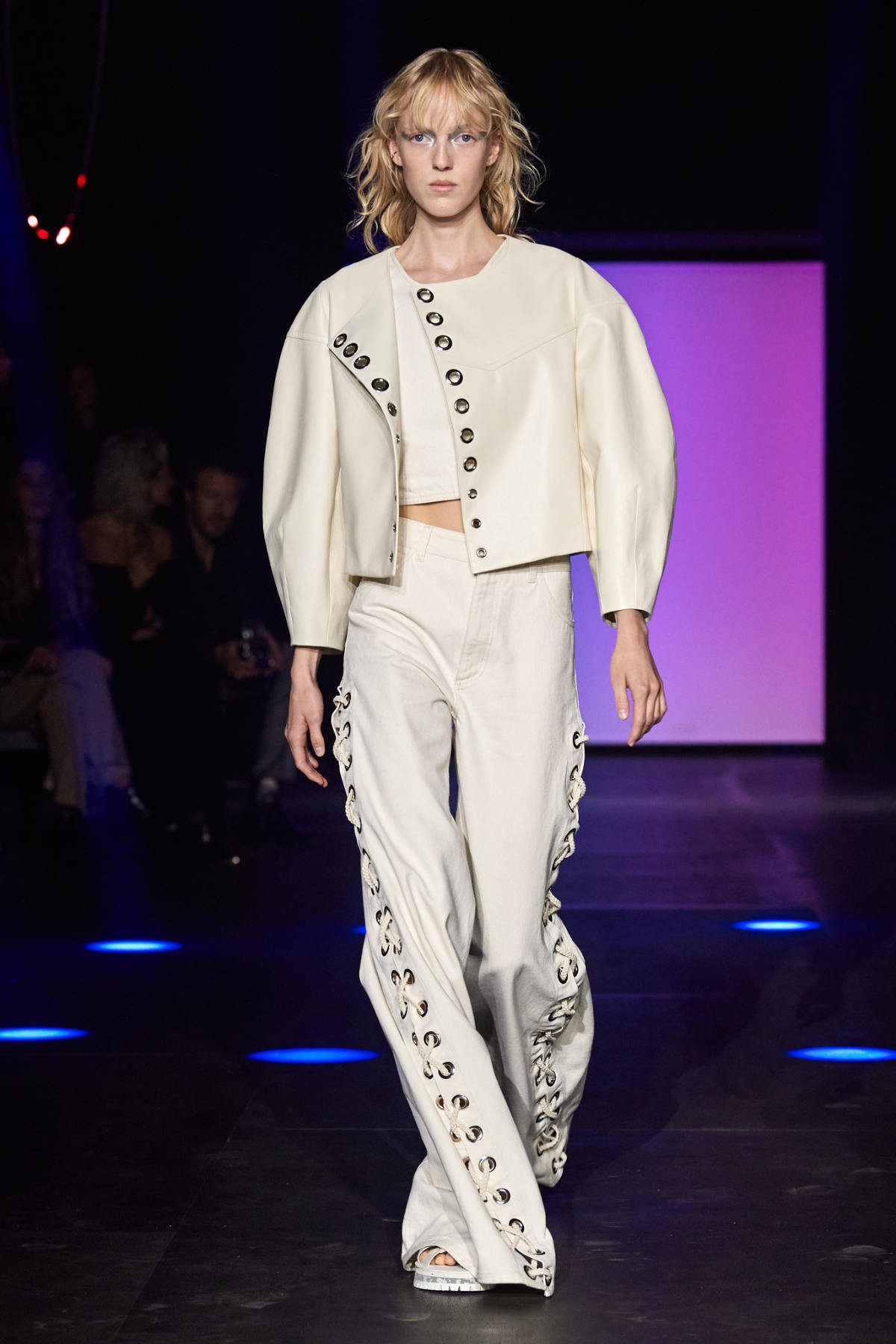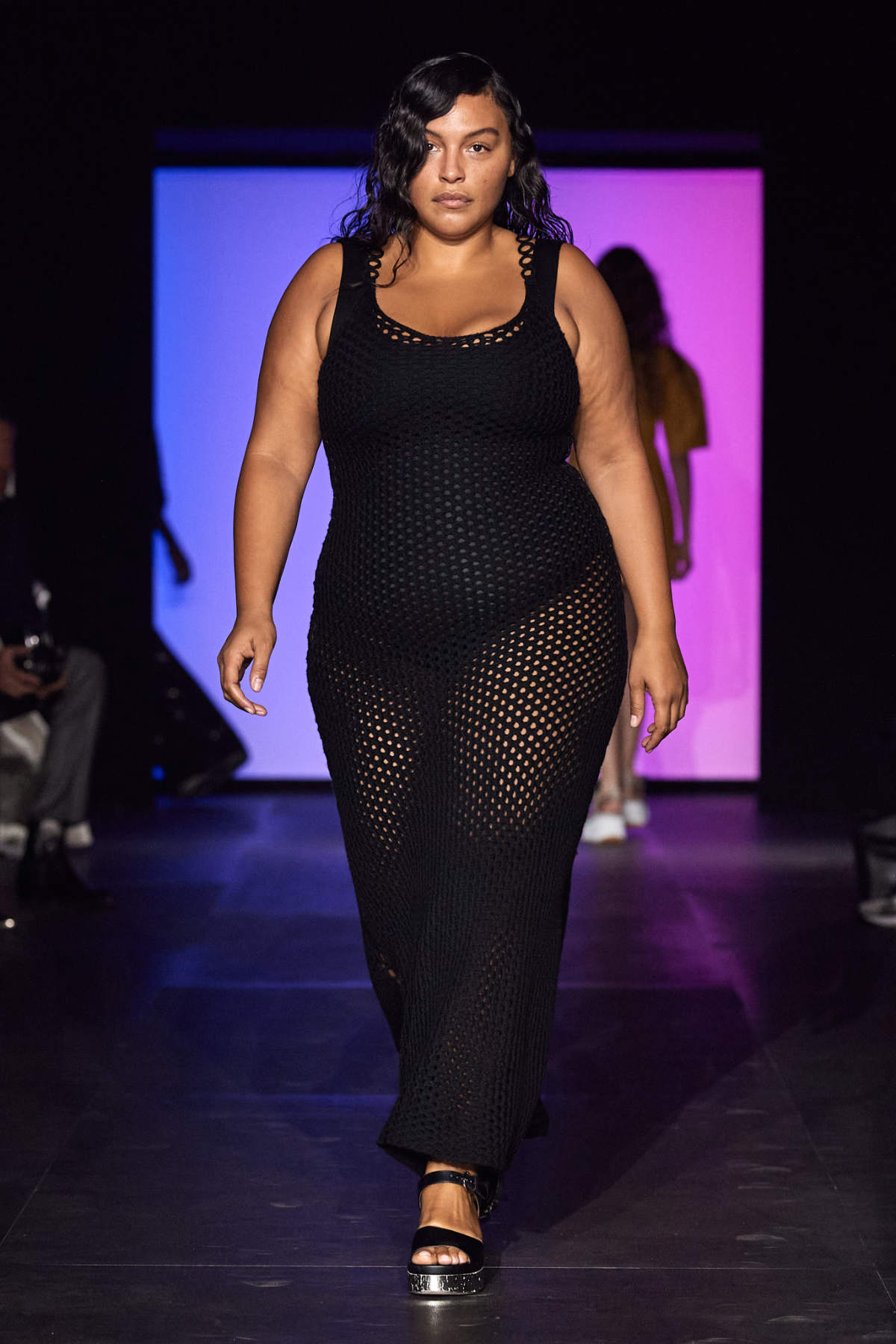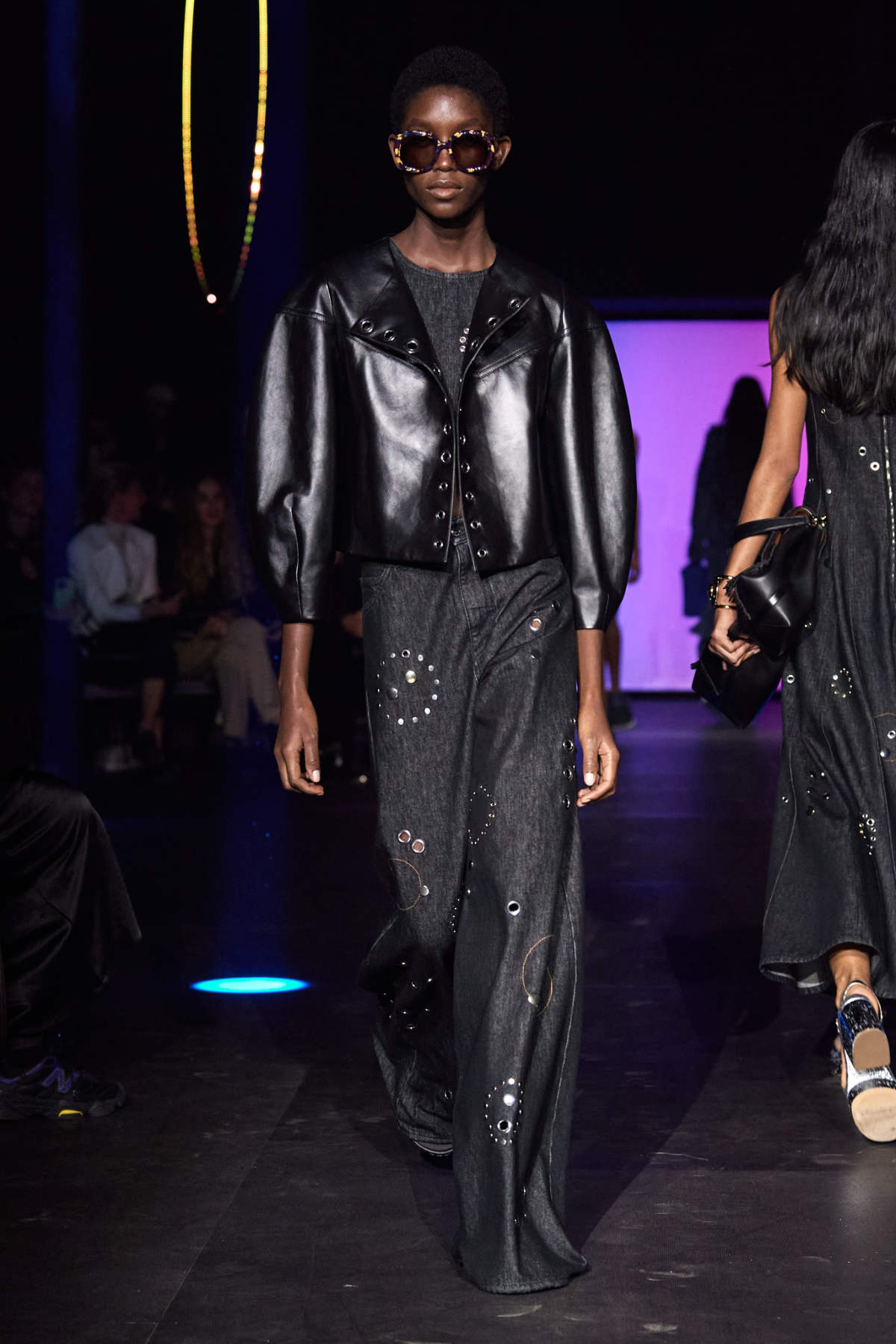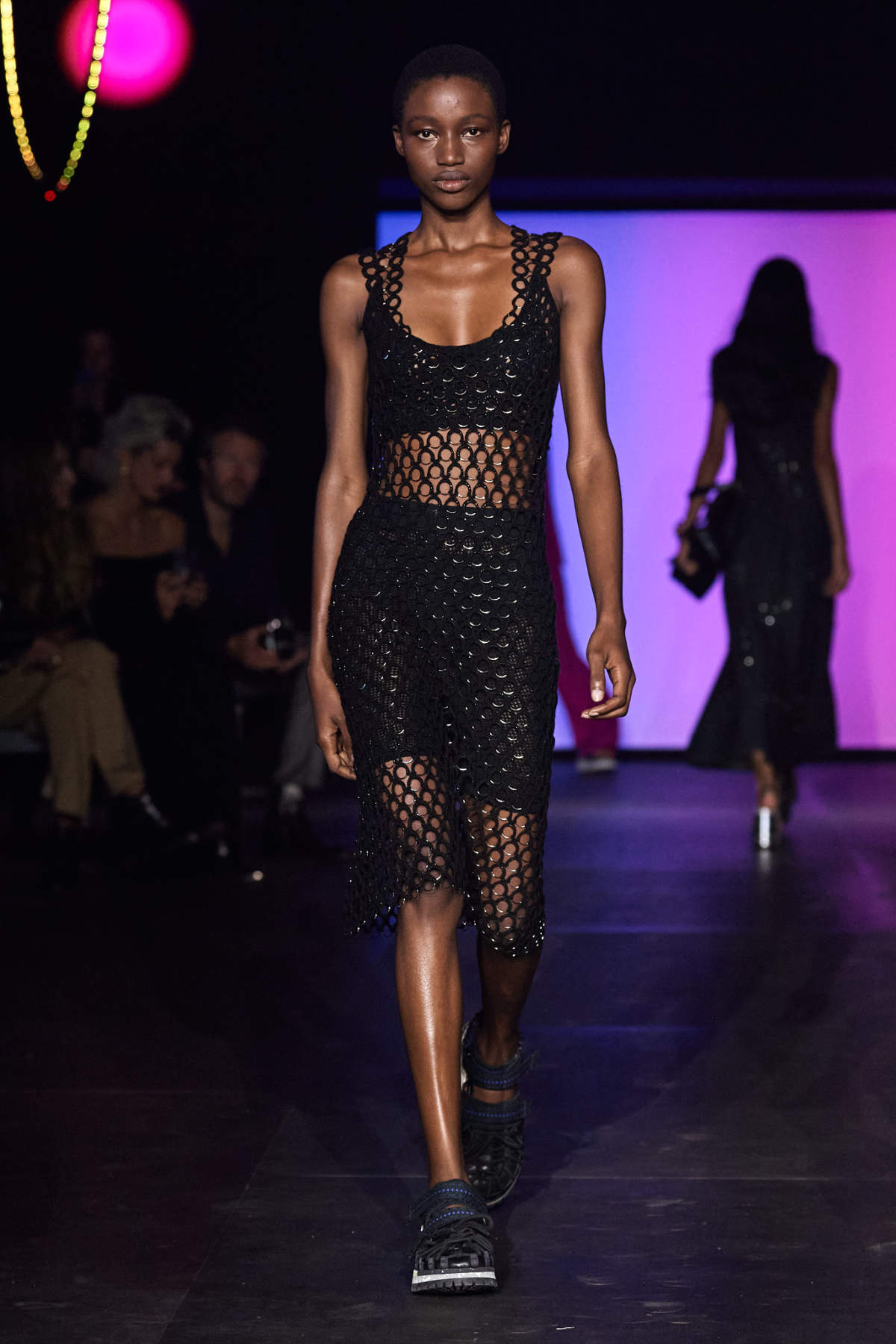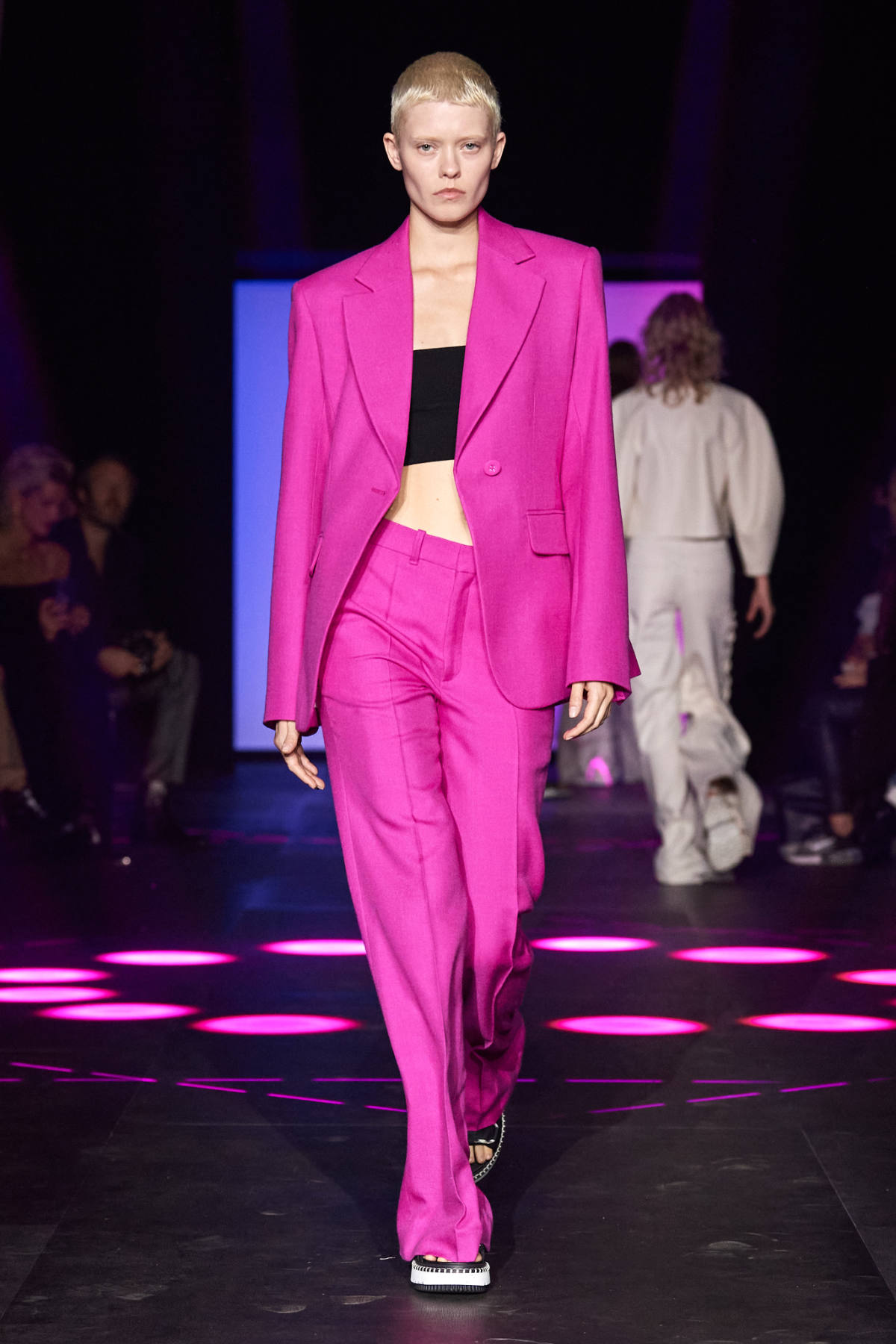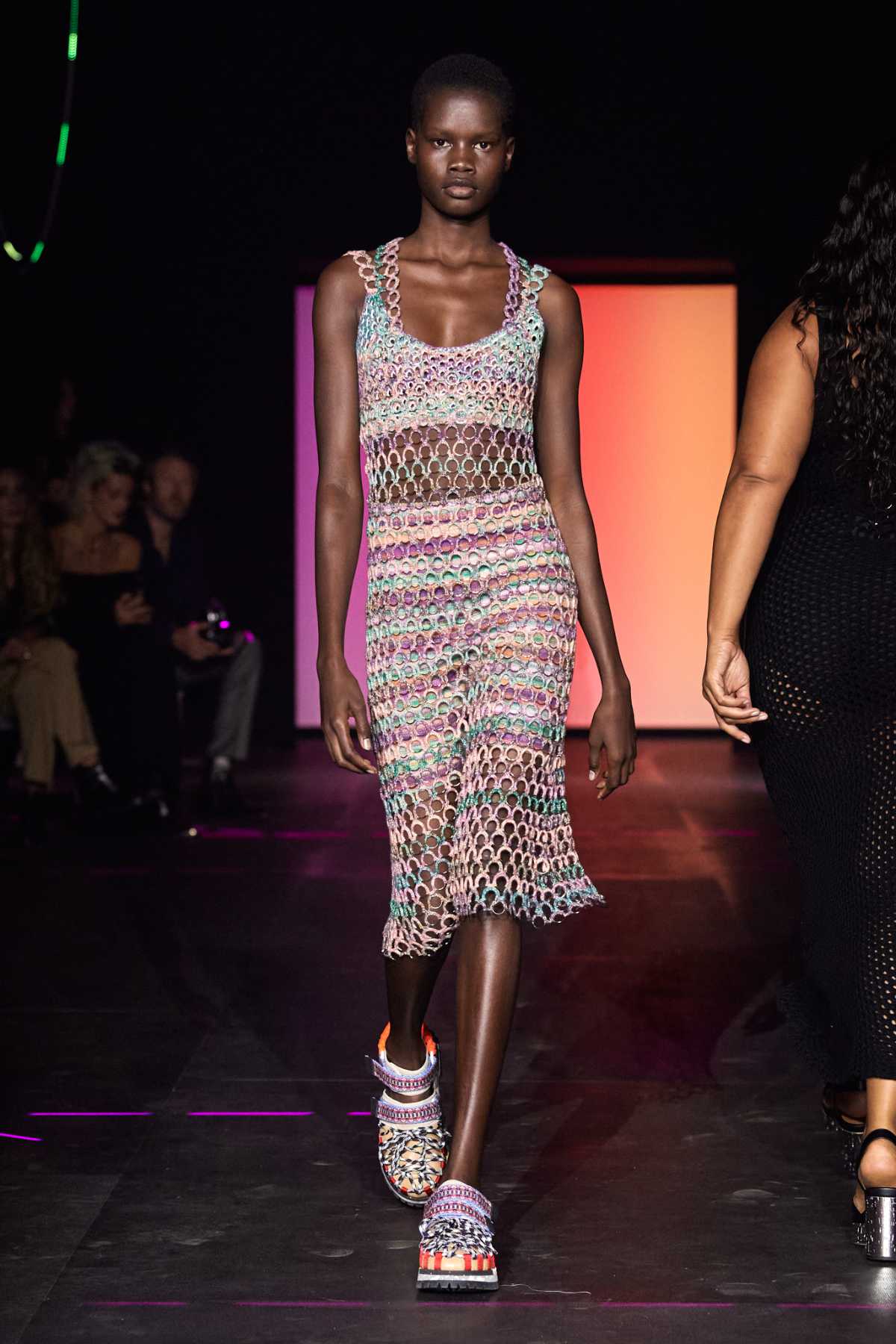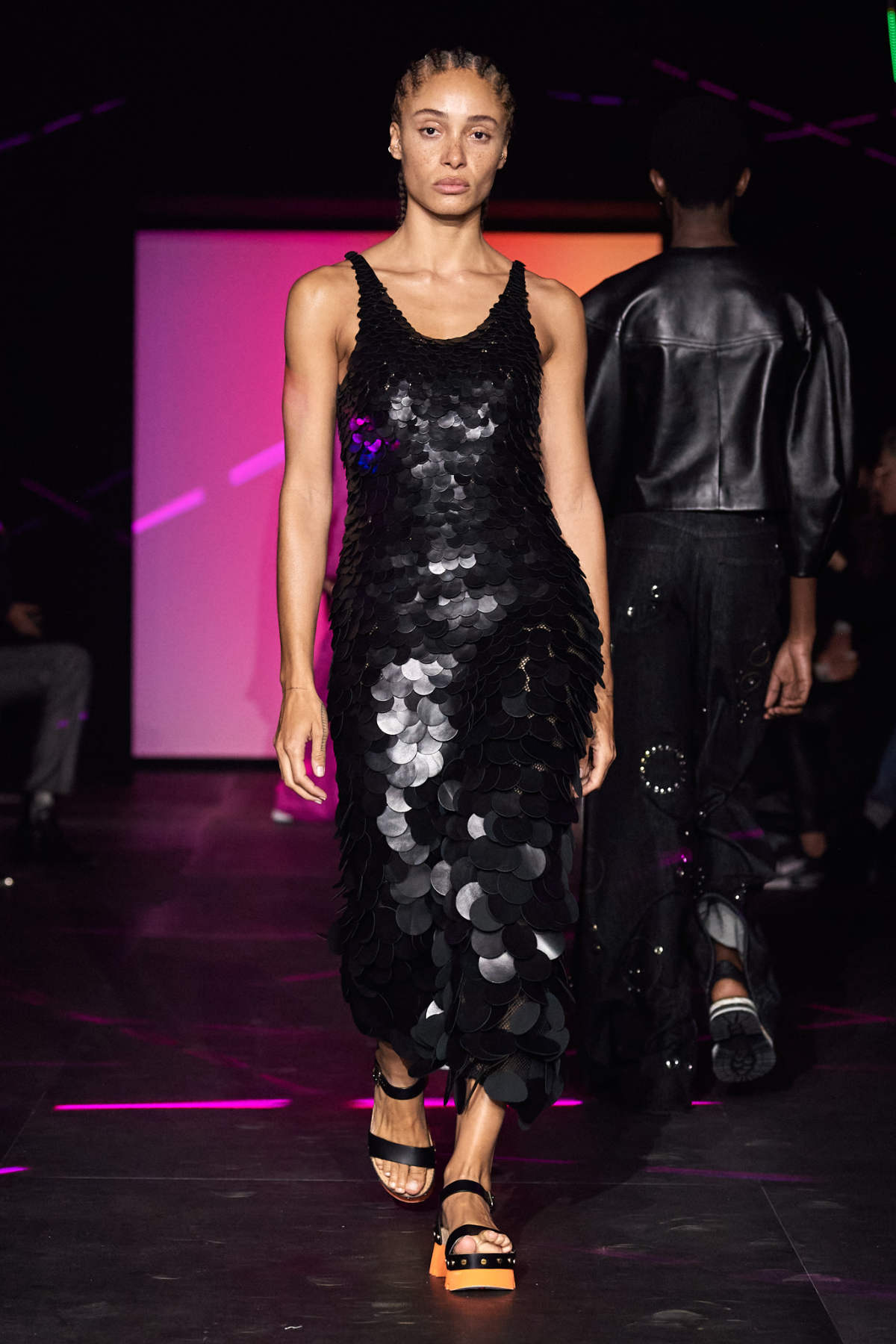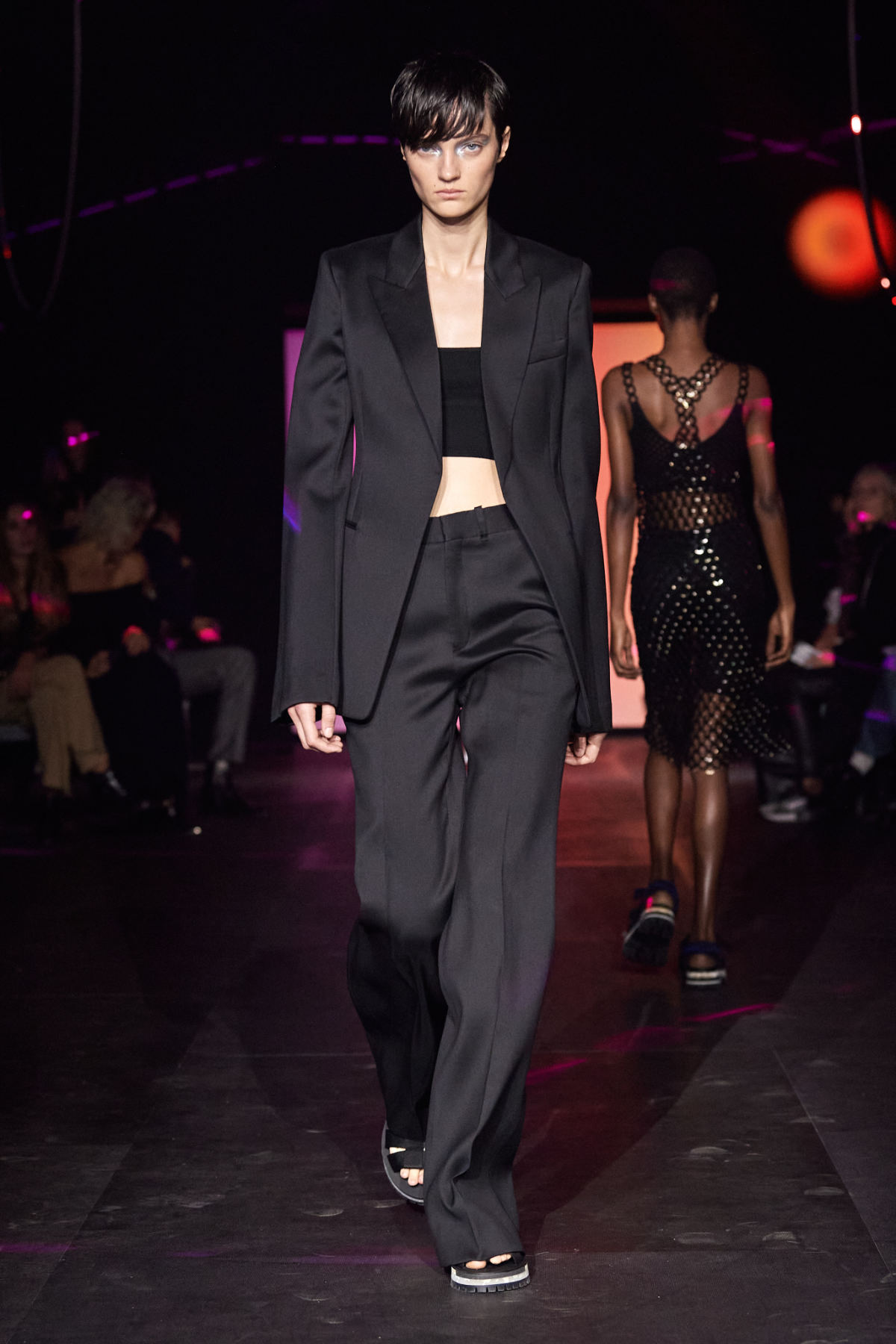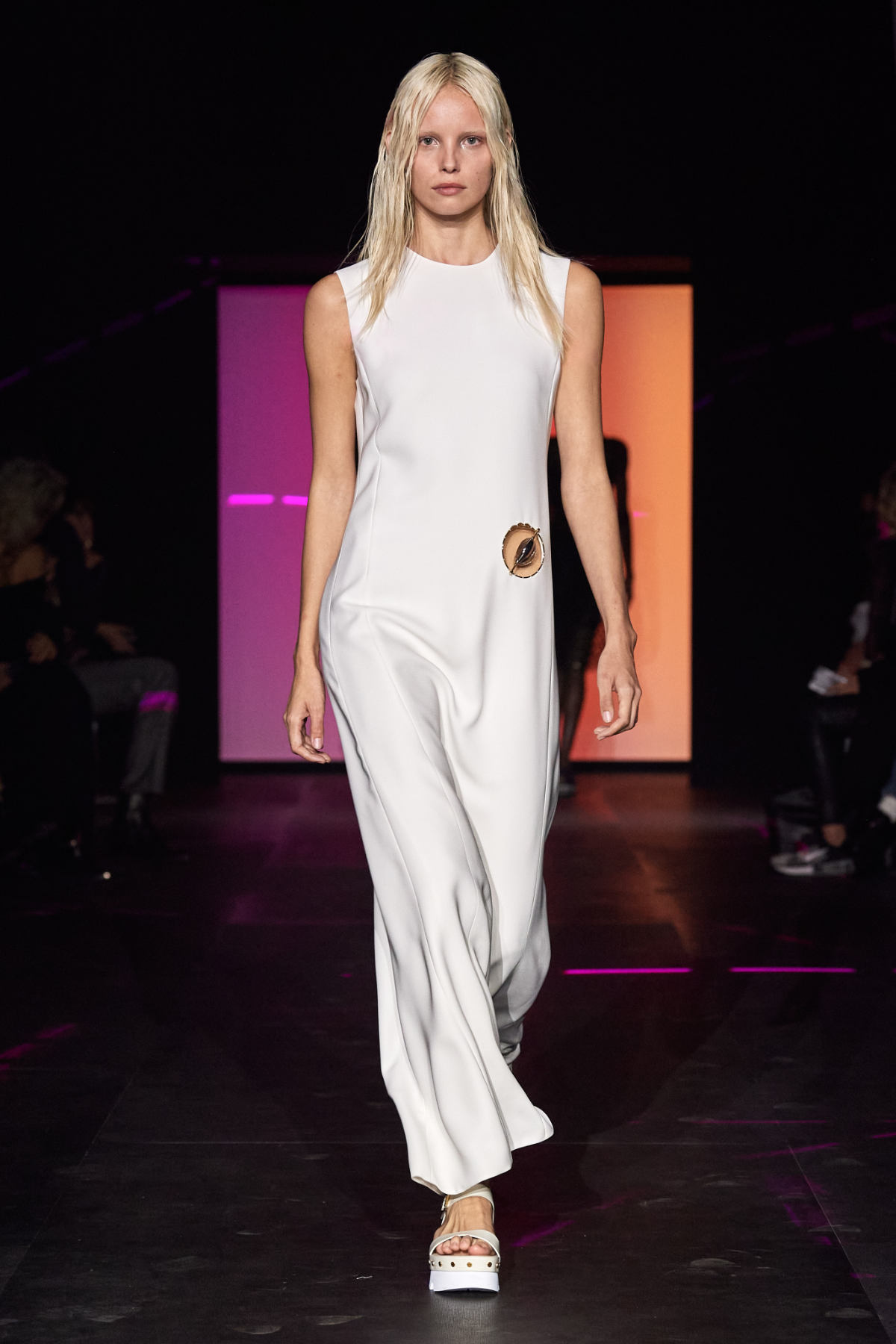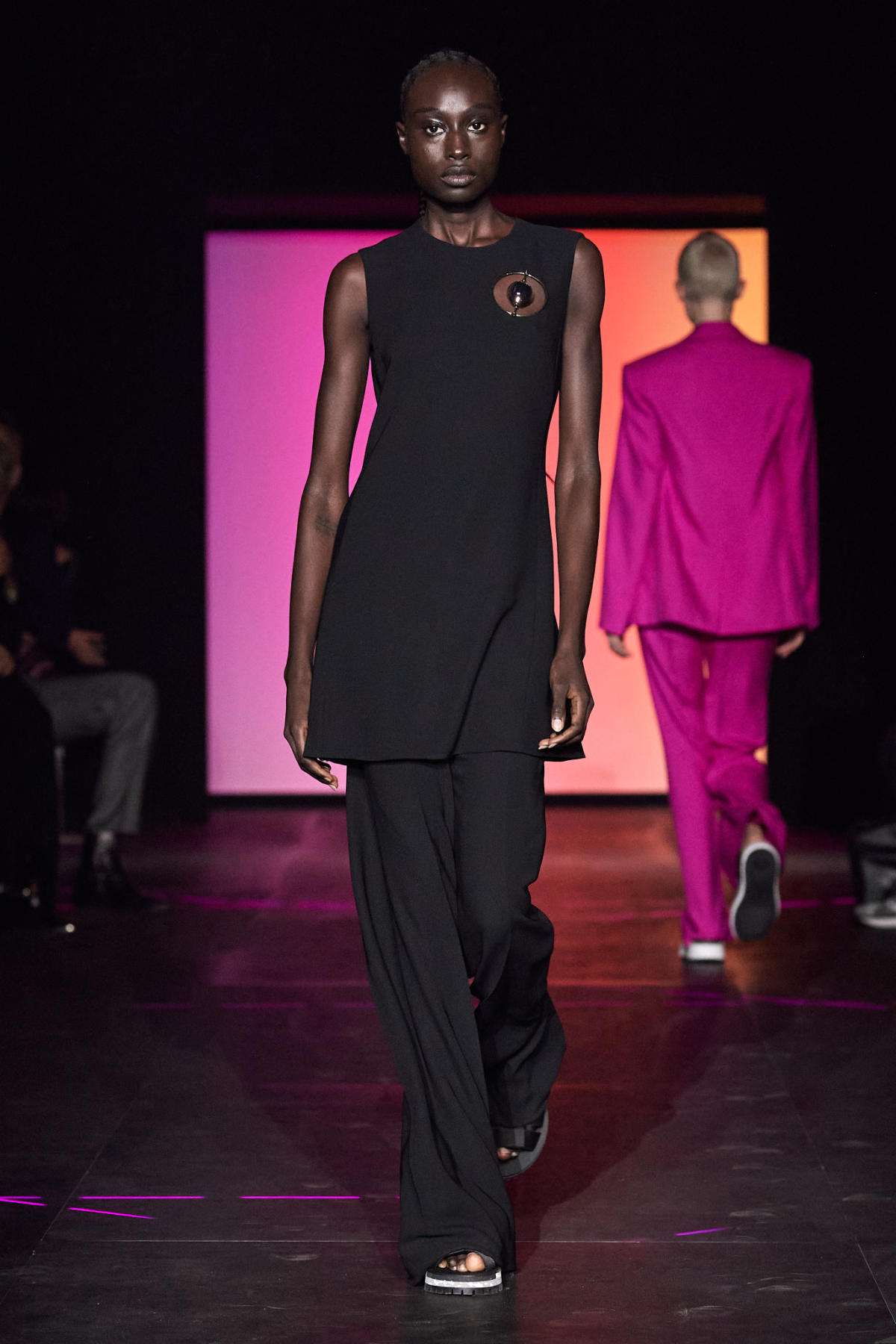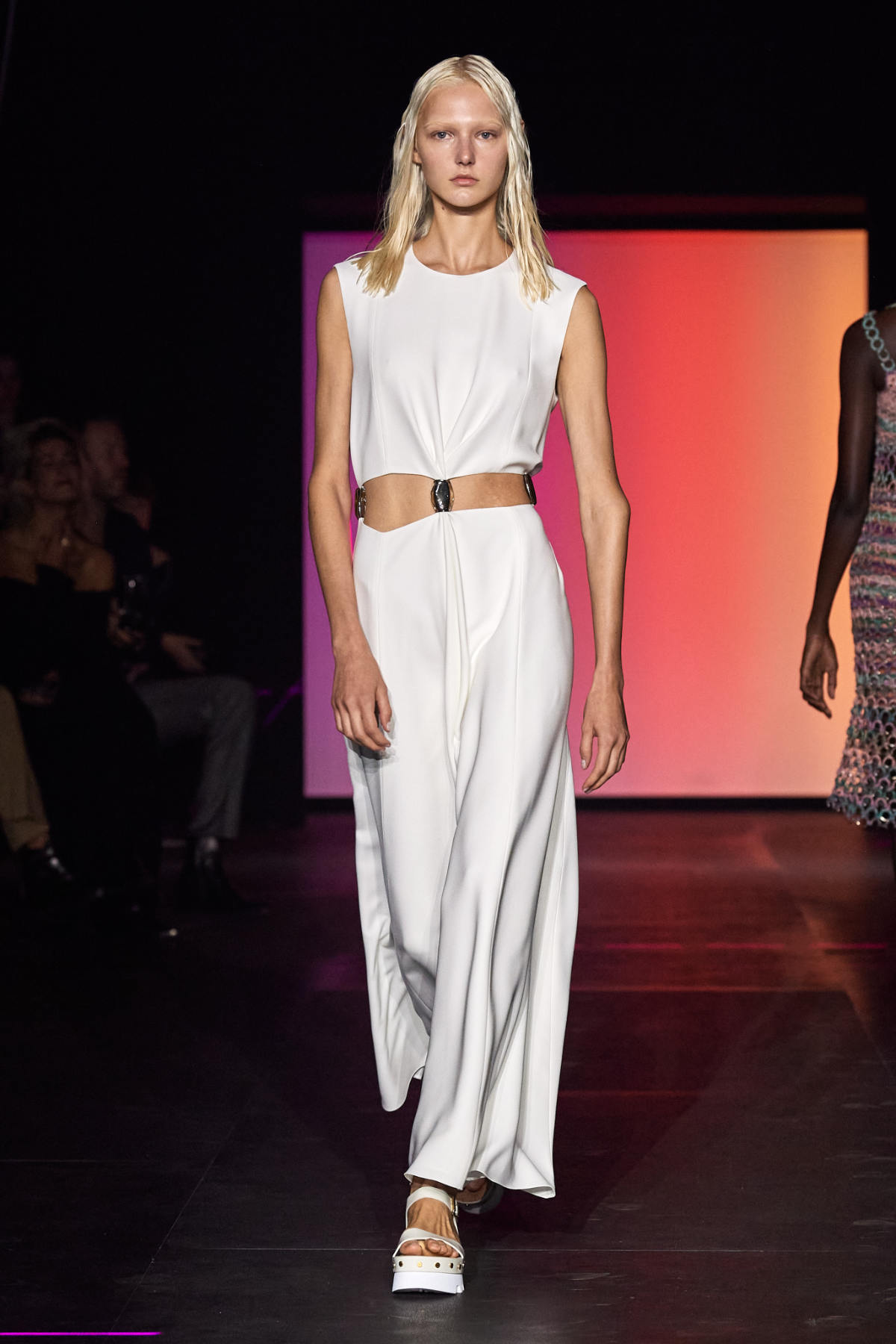 ---
INTRODUCING CHLOÉ VERTICAL

Honouring the commitment Chloé made to His Royal Highness The Prince of Wales' Sustainable Markets Initiative (SMI) Fashion Taskforce at the G20 in October 2021, Chloé Vertical is a unique and innovative project for improving social and environmental impact which is translated into digital ID's. It spans three categories—bags, shoes and ready-to-wear—and Chloé's suppliers and manufacturers have been involved in every step of the project; allowing the Maison to trace the entire production line of these products. The Chloé Vertical project will play a key role in learning, improving and accelerating the business model transformations needed in the fashion industry.
The 100% traceable materials used in the SS23 collection are linen, silk, wool and leather. All leather is sourced from French farms, the hides are then tanned by the French tannery Haas, which carries the 'Entreprise du Patrimoine Vivant' (EPV) or 'Living Heritage Company' label, and is part of the Leather Working Group (LWG)1. Working in partnership with Terre de Lin, the linen used for the ready-to-wear is from Normandy; it is grown using lower-impact farming processes; and is combed, dyed, spun and woven in France. Linen cultivation emits less greenhouse gases, consumes fewer pesticides and requires less water compared to other conventional natural fibres, which is why it is considered a lower-impact material. The silk is Global Organic Textile Standard (GOTS) certified, and the organic wool—for an added personal touch—is sourced from Gabriela Hearst's family ranch in Uruguay, before being spun and woven in Italy.
Applied directly to products, the ID can be scanned with a smartphone and has three main purposes. The first is to provide transparency with every purchase; there are several options for learning more about the entire manufacturing process, allowing users to trace their item from field to finished piece. Secondly, customers will also be able to access a certificate of authenticity complete with a unique ownership passport, acting as a guarantee as well as facilitating the product's second hand resale. Finally there is a section dedicated to care and repair advice. The Social Performance and Leverage (SP&L) tool currently being developed by Chloé will measure the social impact of its manufacturers, and a LCA will gauge the environmental impact of the four materials used in the project—both methodologies have been audited externally. The results will be shared as an open case industry document in line with the collection's release in 2023. Chloé has committed to rolling out a digital ID on all its products by 2025.
CHLOÉ'S COMMITMENT TO POSITIVE SOCIAL IMPACT

There are two partnerships: Akanjo and Creative Handicrafts. Chloé continues its long-standing partnership with Akanjo, which spans more than 15 years. Akanjo—a World Fair Trade Organisation (WFTO)2 guaranteed social enterprise based in Madagascar that is committed to training and promoting craftsmanship—manufactured part of the readyto- wear collection.
Creative Handicrafts is a social enterprise based in Mumbai that works to empower disadvantaged women through economic independence. They reinvest all their profits to benefit women producers, and their social mission is enforced by their board and management.
There are three partnerships with social enterprises—Mifuko in Kenya for the eighth consecutive season; the Lebanon-based Sarah's Bag for the fourth season and, new for SS23, Made for a Woman.
- 'Mifuko' means 'pocket' in Swahili. With fair pay and less dependence on unpredictable farming as a source of income, Mifuko empowers its artisans in Kenya and ensures no one is left with empty pockets.
- Established in 2000, Sarah's Bag provides a livelihood for over 200 underprivileged women through the creation of elevated handcrafted fashion pieces; empowering both the women who make them and the women who wear them.
- SS23 hat designs were handwoven by artisans from Made for a Woman—a social enterprise in Madagascar. Made For A Woman works with local women artisans, most of whom have had a challenging life. They are committed to giving each of these women a job, guaranteeing an equitable salary, but also an opportunity to grow and empower themselves thanks to free language classes, family planning, healthcare, and a kindergarten for the employees' children.
CHLOÉ'S COMMITMENT TO REDUCING ENVIRONMENTAL IMPACT

Chloé has worked to limit the environmental impact of the SS23 collection through the use of lower impact materials, which account for 64% of the product offer this season (above the Maison's annual commitment of 60%).
The list of what Chloé considers to be lower impact materials is available on Chloe.com and was previously approved by external experts. The Maison published an updated version of this list in May 2022 based on certification requirements as well as Life Cycle Assessment (LCA).
More than 90% of the leather in the handbag line is sourced from Leather Working Group (LWG) certified tanneries. 100% of the leather used on fashion accessories is sourced from LWG certified tanneries. 90% of the silk scarves SKUs are made of organic silk. 80% of our fabric canvas hats SKUs are made with recycled cotton.
70% of the shoes offered are lower-impact (% of SKUS).
Chloé is the first luxury Maison to offer eyewear made from ReAce, a 100% recycled acetate derived from pre-consumer scraps. Thanks to new pioneering processes, Chloé has been able to use this existing waste to make the Gayia frames, which are composed of 100% ReAce.
A RECENT TIMELINE OF CHLOÉ'S COMMITMENTS TO REDUCING ENVIRONMENTAL IMPACT AND CREATING POSITIVE SOCIAL IMPACT

October 2019: Chloé signs a four year partnership with UNICEF to launch the Girls Forward initiative, which supports UNICEF's gender equality programs.
June 2020: Chloé launches the Women Forward. For a fairer future plan, shifting to a purpose-driven business model with the ambition of becoming B-Corp certified in 2021.
September 2020: Chloé signs a partnership with World Fair Trade Organisation (WFTO) to create the first ever fair-trade luxury collection that is ethically produced and environmentally responsible.
7 December 2020: Chloé announces the arrival of Gabriela Hearst as creative director, the first Latin American woman at the helm of a French Maison with a powerful vision of more responsible fashion.
14 December 2020: Chloé joins the Fashion Pact with a plan of reducing 25% greenhouse gas (GHG) emissions by product and offsetting 100% of GHG emissions across its supply chain by 2025.
4 January 2021: Chloé debuts its partnership with Institut Français de la Mode and Conseil National des Arts et Métiers to create a Social Profit and Loss methodology to be shared as an open-source.
21 January 2021: With seventy percent of top management positions worldwide held by women, Chloé proudly signed the UN's Women Empowerment principles.
8 March 2021: Chloé launches its first fair trade luxury collection in partnership with the WFTO.
14 April 2021: Chloé finalises the B Impact assessment with the ambition of becoming B Corp certified in 2021.
June 2021: Chloé is part of His Royal Highness The Prince of Wales' Sustainable Markets Initiative (SMI) Fashion Taskforce, which at the G20 in Rome in October 2021, committed to rolling out a Digital ID along with a circular data protocol.
5 July 2021: Chloé publishes its environmental impact report for the first time (3rd edition).
30 August 2021: A new Sustainability section launches on Chloe.com.
October 2021: Chloé achieves B Corp Certification.
November 2021: Chloé becomes a member of Ellen MacArthur Foundation3.
February 2022: As part of its commitment to greater transparency, Chloé publishes a list of its main partners, from finished goods and raw material suppliers and licensees, to logistics and packaging suppliers.
June 2022: Chloé publishes its first sustainability report.
October 2022: Chloé introduces its Vertical Project, a range of products with a unique digital ID that enables users to trace a product's journey from field to finished product.
REFERENCES

1 The Leather Working Group (LWG) is an international organisation made up of stakeholders across the leather supply chain, working to promote best environmental practice within leather manufacturing and related industries. www.leatherworkinggroup.com
2 The World Fair Trade Organisation (WFTO) Guarantee System is an international verification model focused on social enterprises that put the interests of people, artisans, and the planet first. They impact one million livelihoods, 74% of whom are women. www.wfto.com
3 The Ellen MacArthur Foundation is a charity that develops and promotes the idea of a Circular Economy, which is designed to eliminate waste and pollution, circulate products and materials, and regenerate nature. www.ellenmacarthurfoundation.org
A SPECIAL THANK YOU TO THE STAR BUILDERS WHO ARE BRINGING US PRACTICAL HOPE
ITER:
Laban Coblentz, Head of Communications
Shira Tabachnikoff, Internal & Stakeholder Relations Manager
CFS / Commonwealth Fusions Systems:
Brandon Nils Sorbom, Chief Science Officer
Alexander James Creely, Head of Tokamak Operations
Ilavenil Subbiah, Head of Branding and Design
Kristen Suzanne Cullen, Head of Public Affairs
Helion Energy:
David Edwin Kirtley, CEO
Scott Gil Krisiloff, Chief Business Officer
Jessie Anne Barton, Communications Lead
---