---
Time for Cartier is a playground. A chance to explore new territories and constantly reinvent the Maison's stylistic grammar. This year, it is time for the classic cushion shape to undergo the process. The Coussin de Cartier watch is made for going out in the evening where it causes a sensation. This watch is part of a collection consisting of gold and diamond versions, twotone versions, and finally, more experimental versions, delicate watches paved with coloured stones or diamonds.
GOLD AND DIAMOND VERSIONS THAT INTRODUCE A TRIANGULAR SETTING

The Coussin de Cartier watch is above all a square hemmed with diamonds set in a spiral. Everything lies in the padded shape of the case, featuring stones of different diameters that accentuate the movement, with strong and graphic gold edges that emphasise its allure. This visual sensation is based on the Maison's savoir-faire. This was a chance for the workshops to introduce a triangular setting that allows the diamonds to be directly integrated into the case without using the traditional grain setting. The metal disappears to reveal the stone's beauty and intensify its luminosity.
TWO-TONE VERSIONS THAT DARE TO INVERT THE STONES.

In its two-tone version, the watch makes the chromatic choice of the duo. Two colours for the stones that Cartier inverts. Diamonds and black spinels, Paraiba tourmalines and tsavorites, the pavilion becomes a stud, a decorative element. Once again, this is an innovative, meticulous and technical setting for the Maison's craftsmen. The result is strong and textured, that of a jewellery watch with character.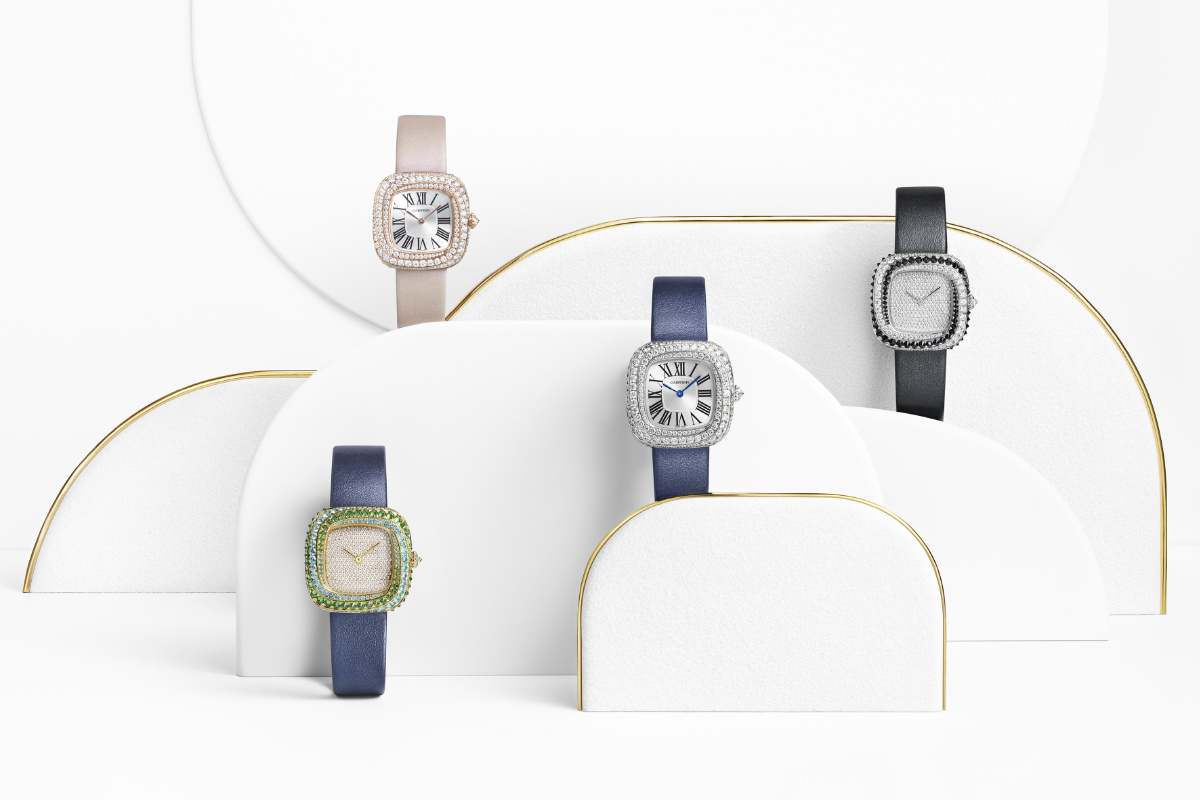 LIMITED EDITION: DELICATE AND INNOVATIVE VERSIONS

The Coussin de Cartier watch also comes in two limited editions from the Cartier Manufacture's research and innovation laboratory. A creative unit that designed a soft case, flexible to the touch and entirely paved with diamonds or coloured stones, emeralds, tourmalines, tsavorites and sapphires.
A delicate watch made up of gold links that intertwine to weave a grid pattern within which Cartier has integrated an innovative element. This allows the case to deform and retract to its original shape. Unprecedented at Cartier, the wide variety of diameters and the shades of stones makes this process even more difficult. This approach is made all the more complex by the fact that the watch is flexible, requiring the watchmaker to seal it with a resin before releasing it.
The Coussin watch is sensory on all levels. Beyond the sense of touch, the sight is electrified by the iridescence of diamonds and coloured stones.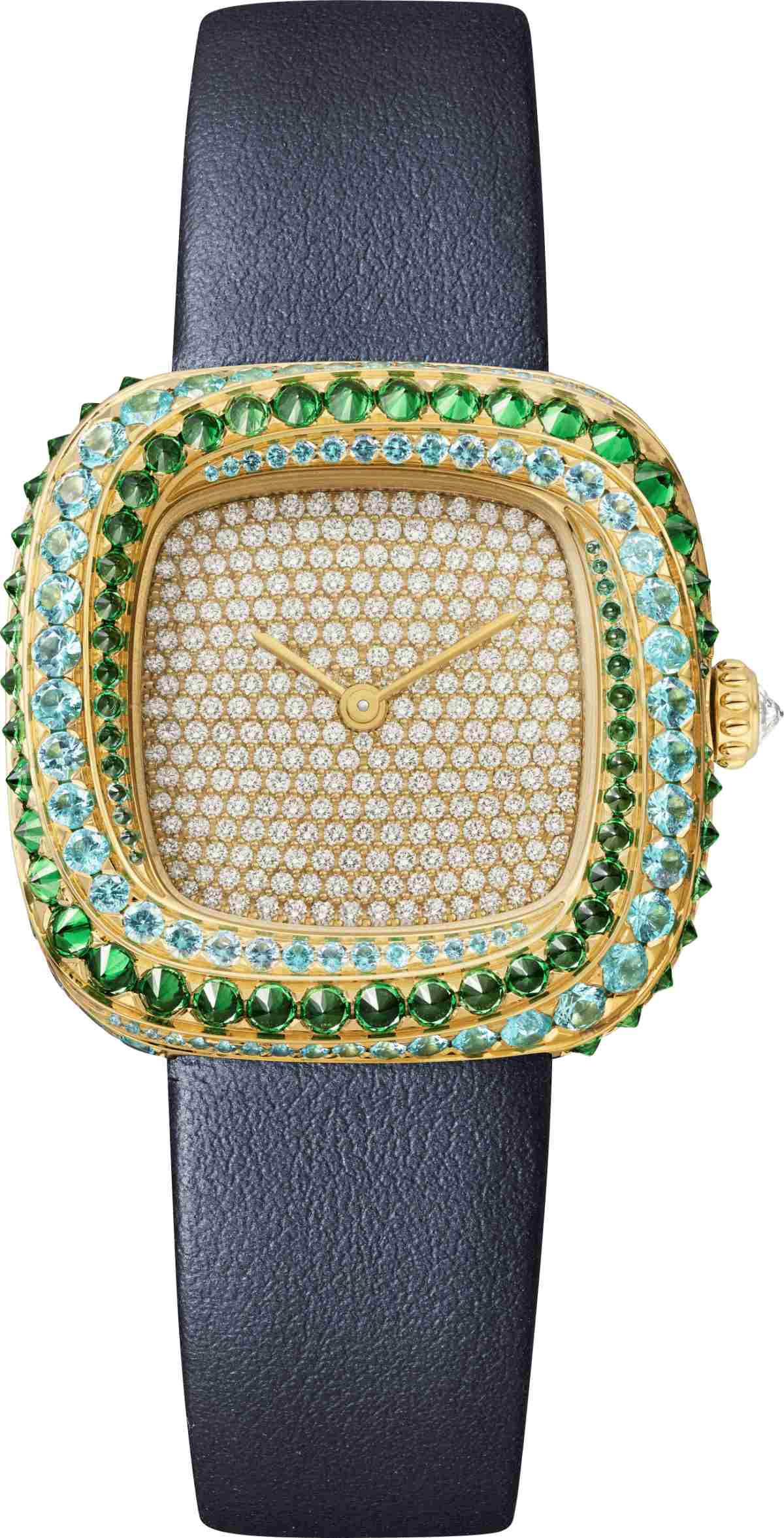 30.44 x 33.78 mm, thickness: 7.08 mm
Yellow gold 750/1000
Case, dial and buckle set with 279 brilliant-cut diamonds (1.35 cts), 56 tsavorites and 120 blue tourmalines
Crown set with a brilliant-cut diamond (0.13 cts)
Blue calf leather strap
Numbered limited edition of 30 pieces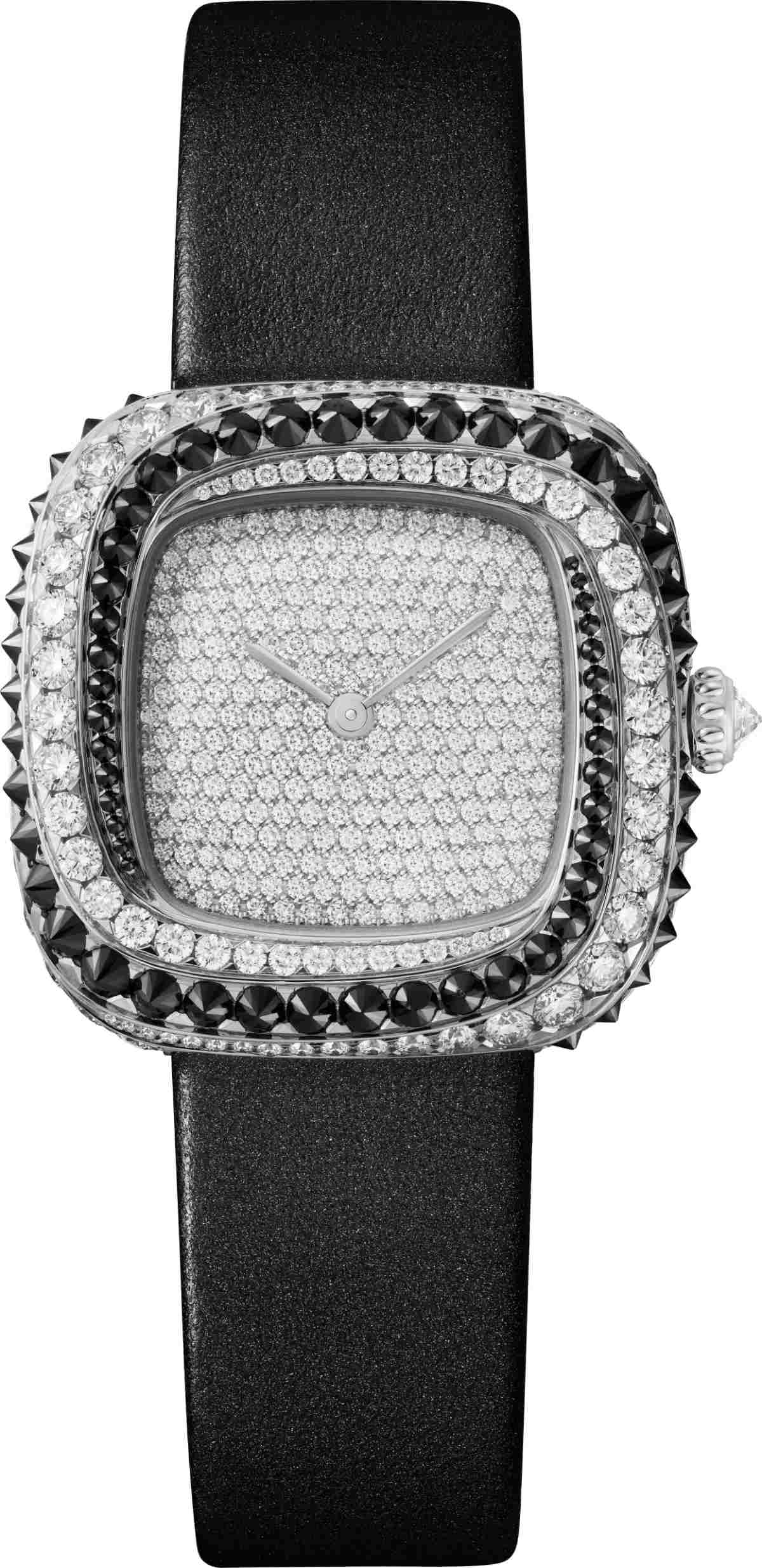 30.44 x 33.78 mm, thickness: 7.08 mm
White gold 750/1000
Case, dial and buckle set with 383 brilliant-cut diamonds (3.57 cts) and 72 black spinels
Crown set with a brilliant-cut diamond (0.13 cts)
Black calf leather strap
Numbered limited edition of 50 pieces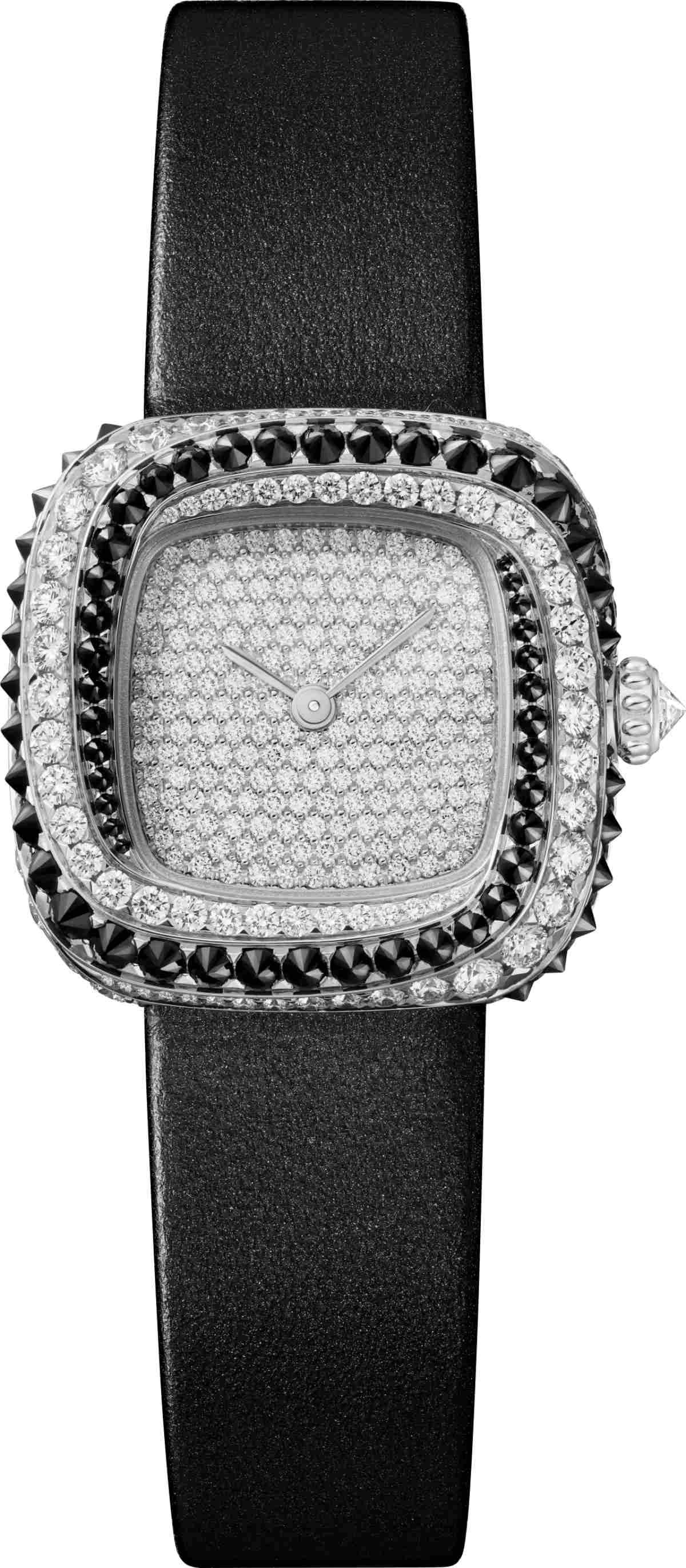 27.13 x 27.66 mm, thickness: 7.02 mm
White gold 750/1000
Case, dial and buckle set with 312 brilliant-cut diamonds (2.54 cts) and 66 black spinels
Crown set with a brilliant-cut diamond (0.13 cts)
Black calf leather strap
Numbered limited edition of 50 pieces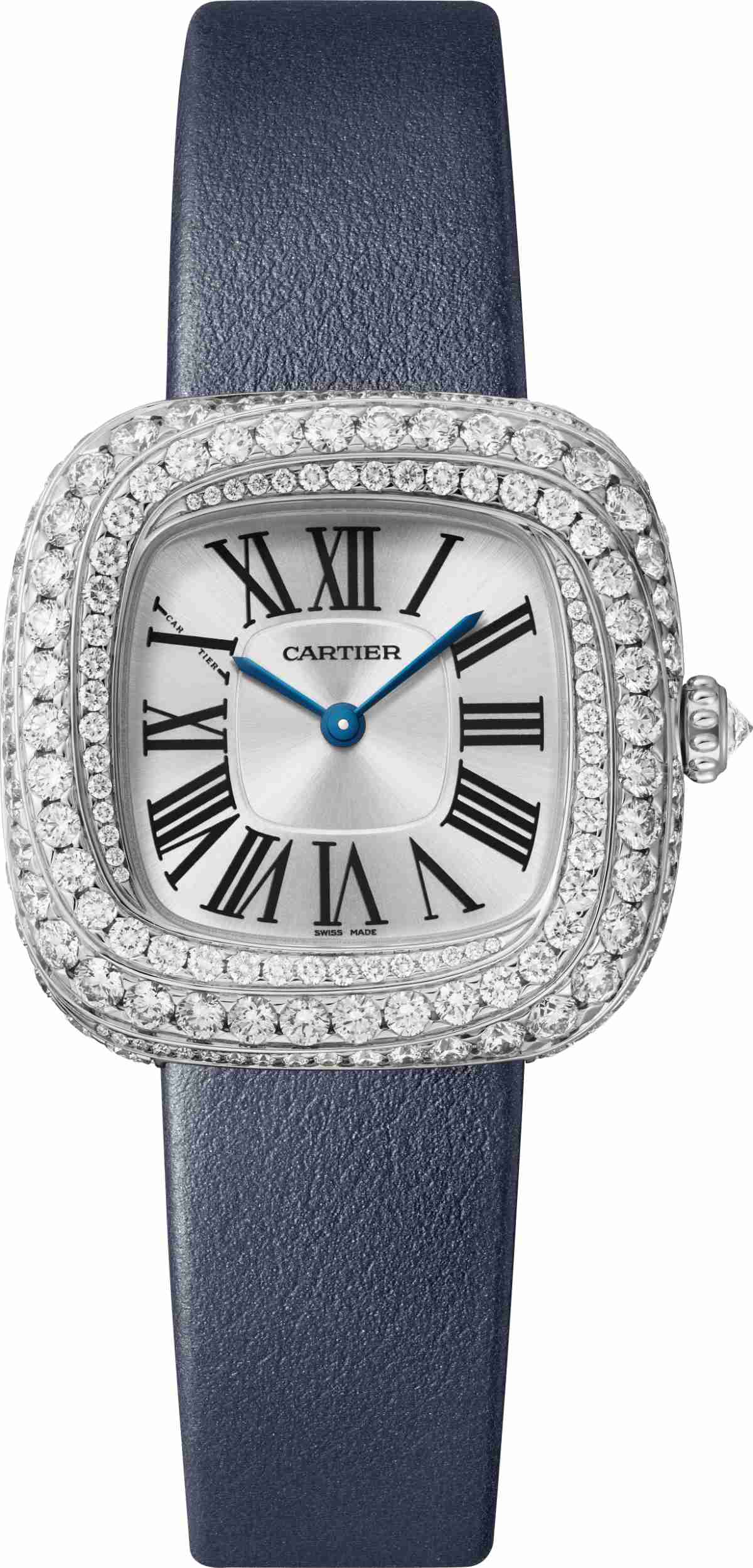 30.44 x 33.78 mm, thickness: 7.08 mm
White gold 750/1000
Case set with 176 brilliant-cut diamonds (3.97 cts)
Crown set with a brilliant-cut diamond (0.13 cts)
Blue calf leather strap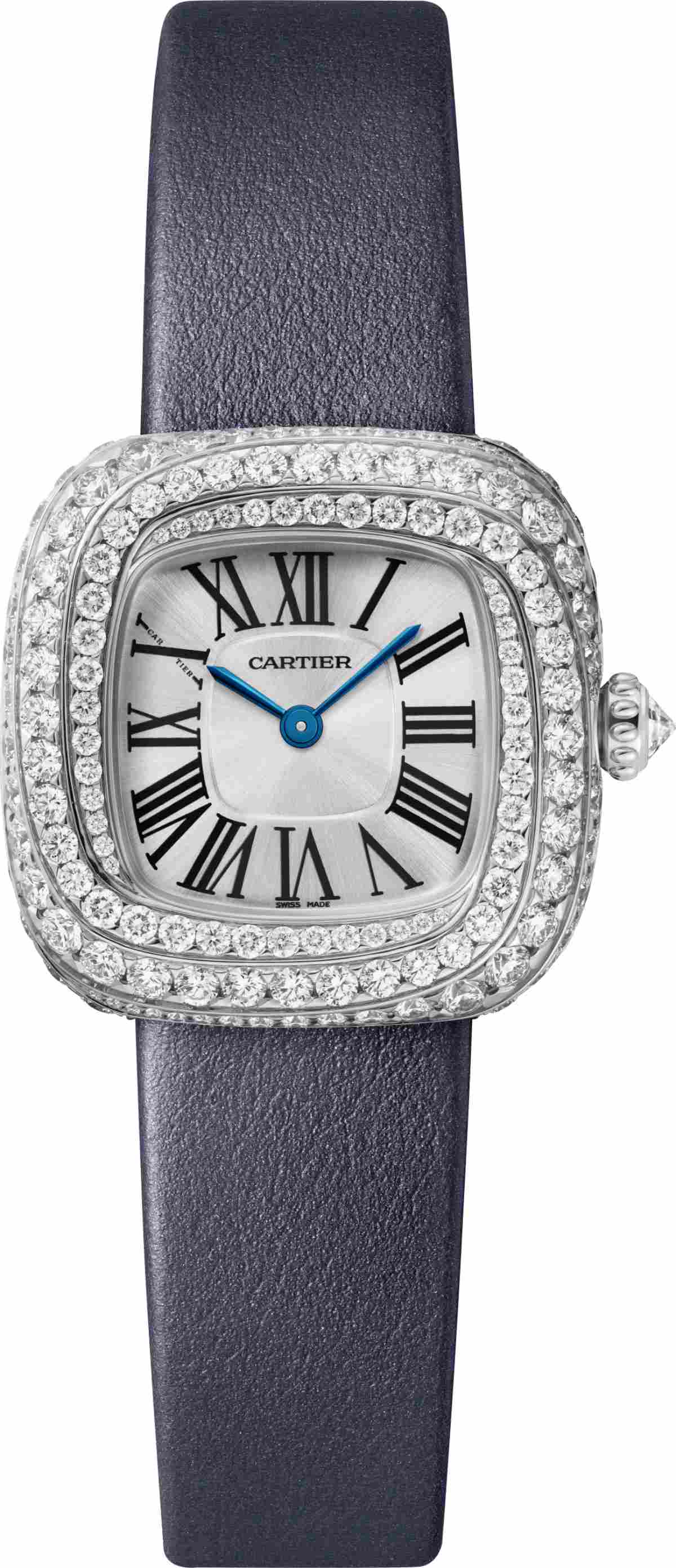 27.13 x 27.66 mm, thickness: 7.02 mm
White gold 750/1000
Case set with 165 brilliant-cut diamonds (2.91 cts)
Crown set with a brilliant-cut diamond (0.13 cts)
Blue calf leather strap
30.44 x 33.78 mm, thickness: 7.08 mm
Rose gold 750/1000
Case set with 176 brilliant-cut diamonds (3.97 cts)
Crown set with a brilliant-cut diamond (0.13 cts)
Beige calf leather strap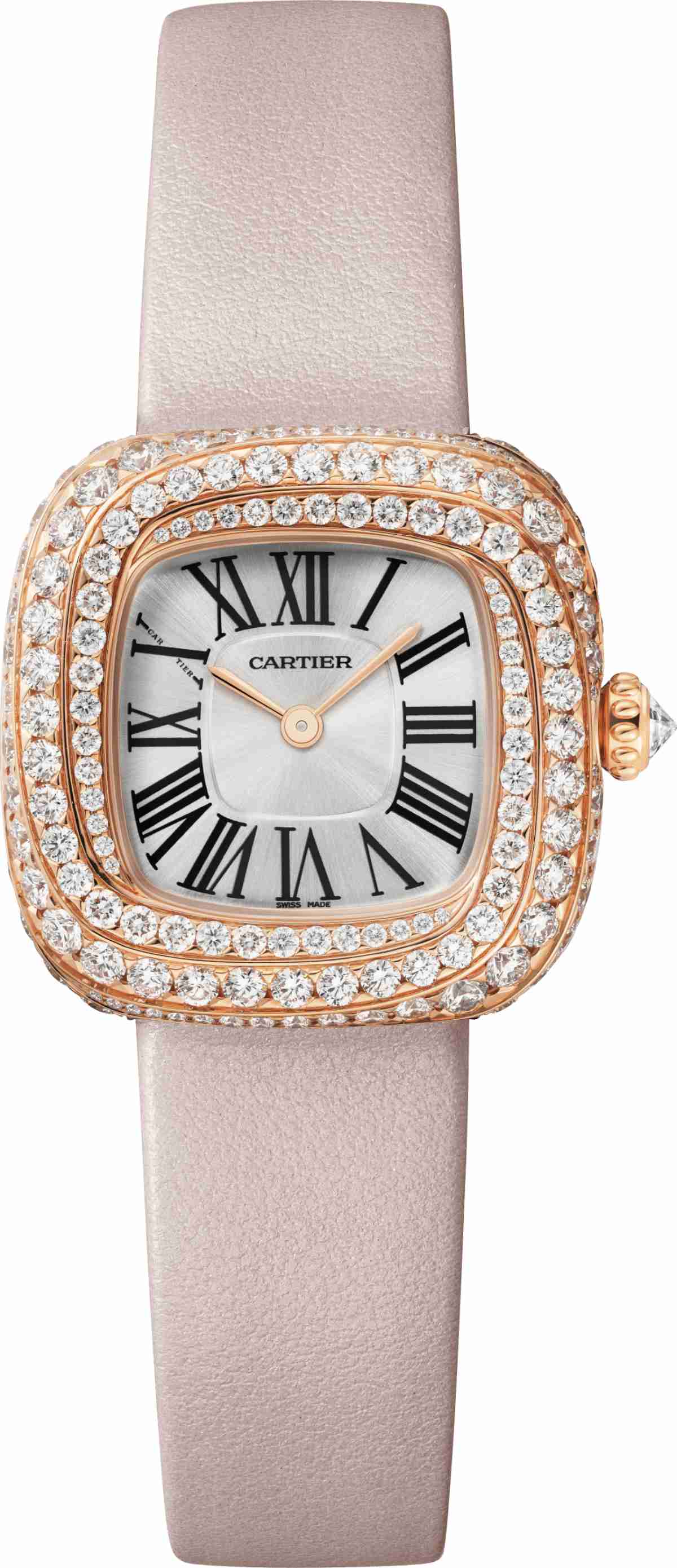 27.13 x 27.66 mm, thickness: 7.02 mm
Rose gold 750/1000
Case set with 165 brilliant-cut diamonds (2.91 cts)
Crown set with a brilliant-cut diamond (0.13 cts)
Beige calf leather strap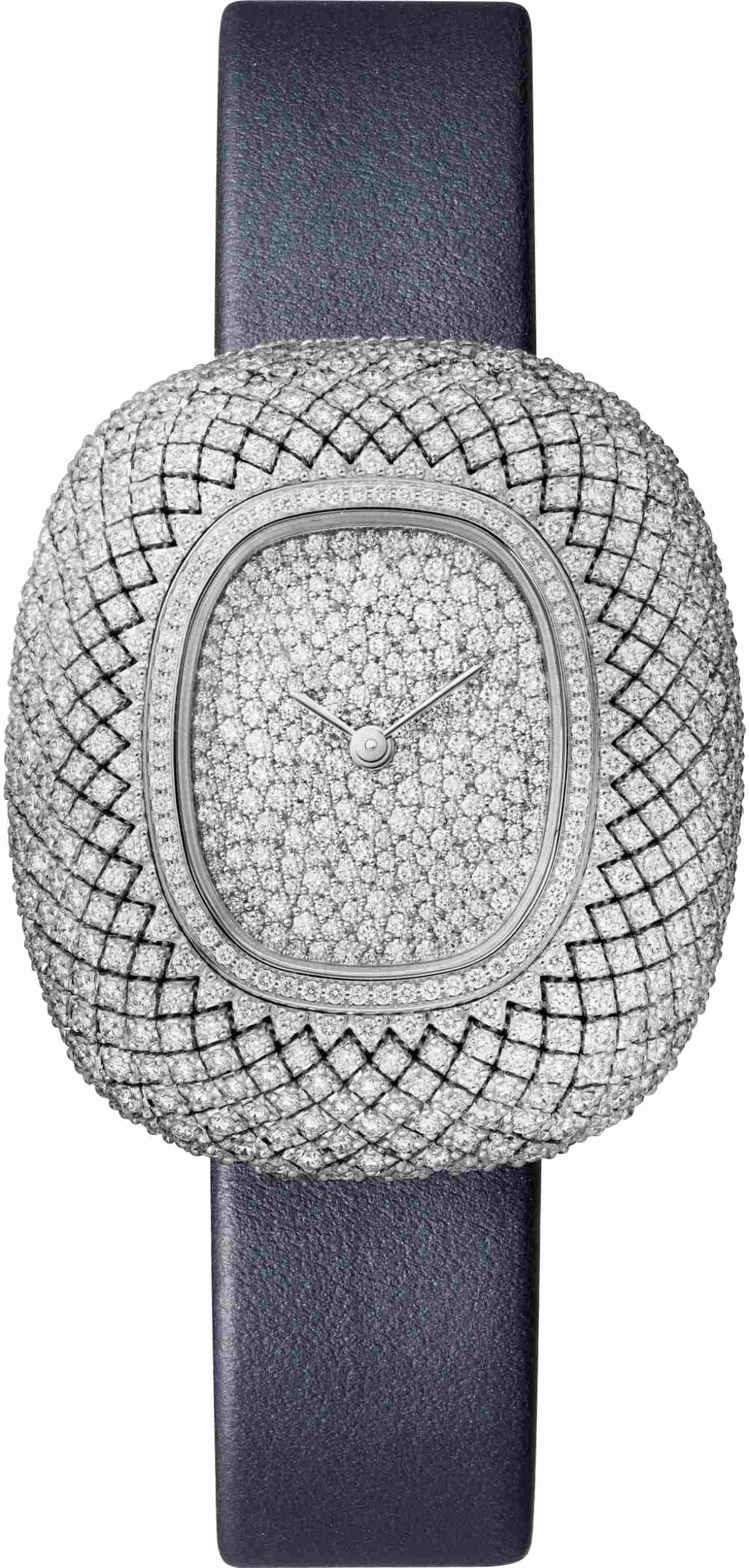 39.3 x 31.9 mm, thickness: 13.60 mm
White gold 750/1000
Case, dial and buckle set with 1011 brilliant-cut diamonds (5.45 cts)
Blue calf leather strap
Numbered limited edition of 20 pieces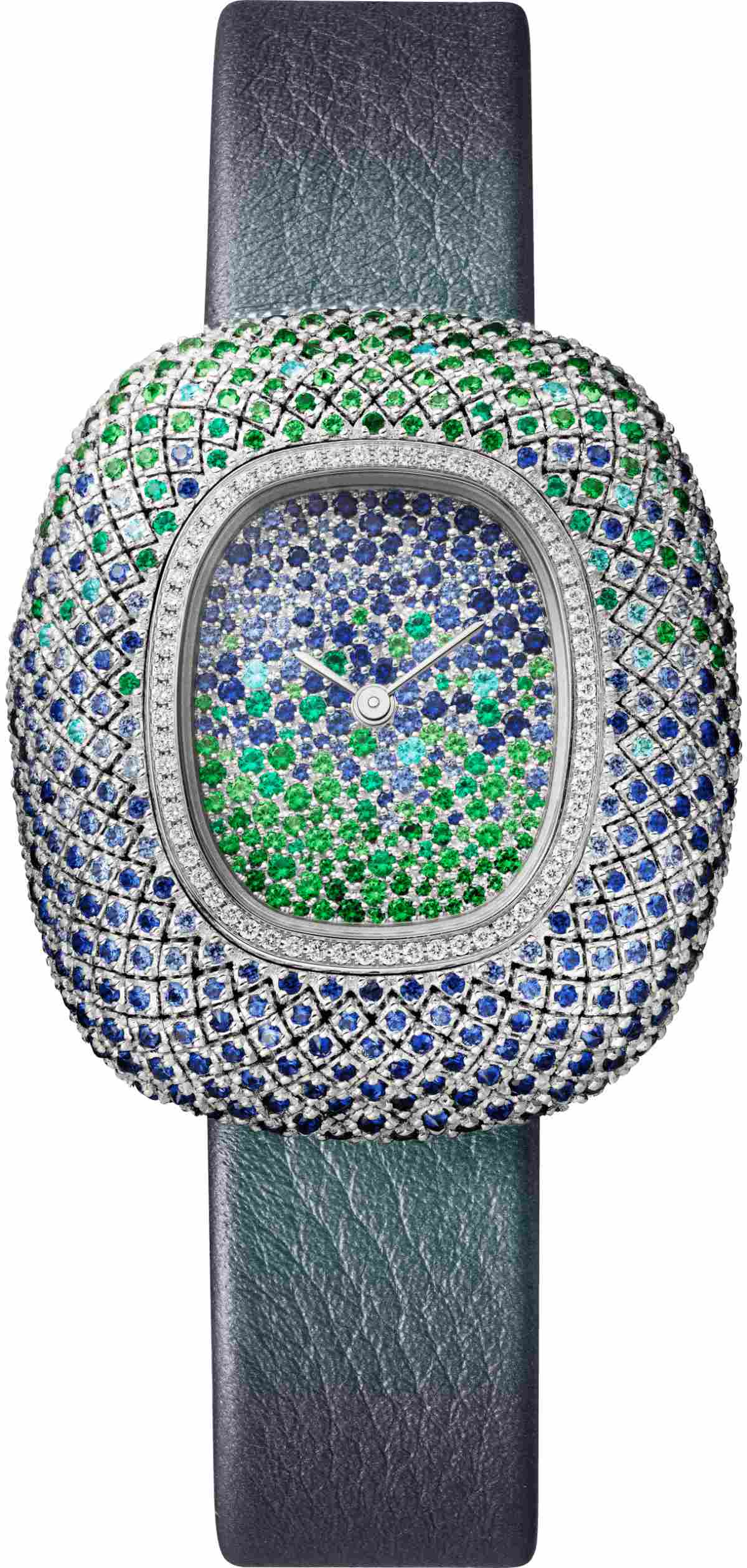 39.3 x 31.9 mm, thickness: 13.60 mm
White gold 750/1000
Case, dial and buckle set with 85 brilliant-cut diamonds (0.38 cts), 21 emeralds, 536 sapphires, 276 tsavorites and 18 blue tourmalines
Purple green gradient calf leather strap
Numbered limited edition of 20 pieces
---