---
Carl F. Bucherer And Caran D'ache: Two Iconic Swiss Brands Celebrate Life's Signature Moments
Luxferity, 12.10.2021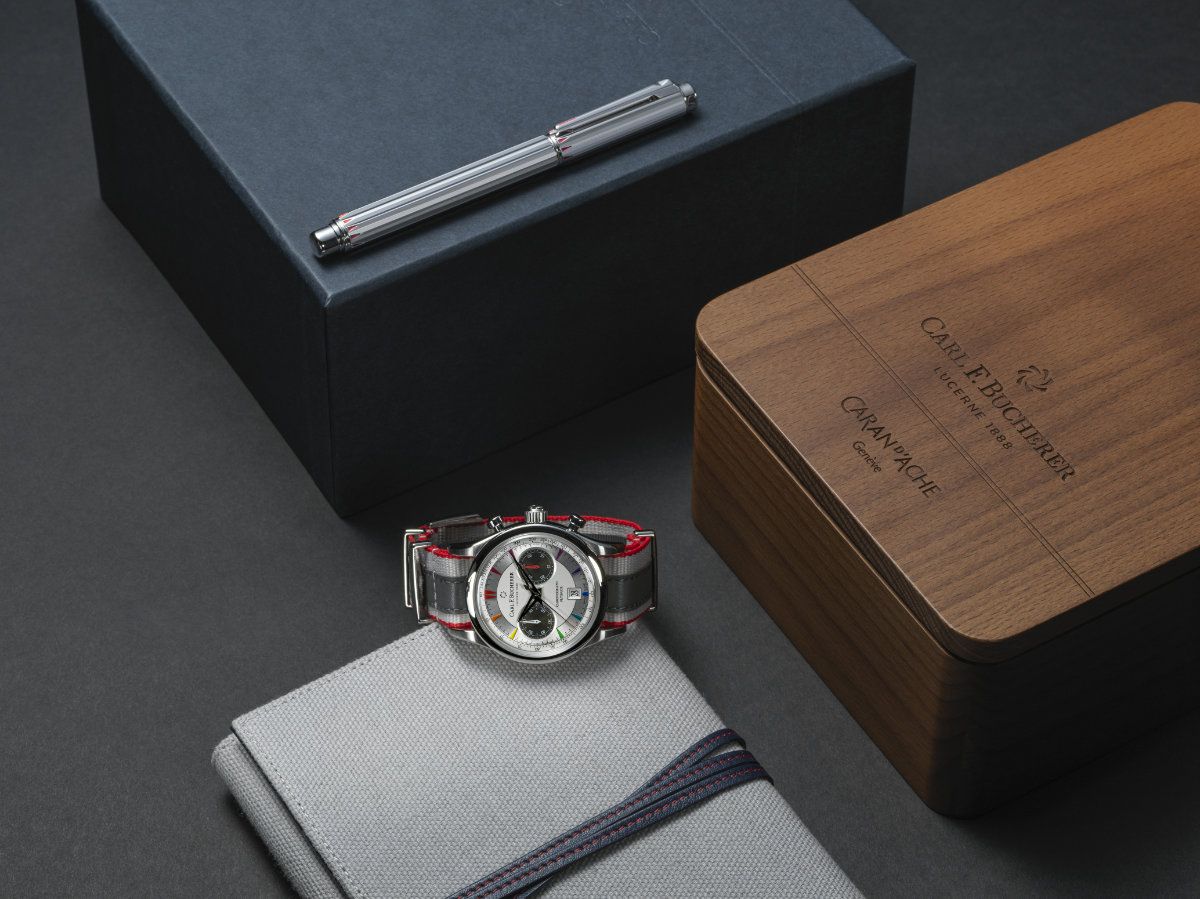 Carl F. Bucherer And Caran D'ache: Two Iconic Swiss Brands Celebrate Life's Signature Moments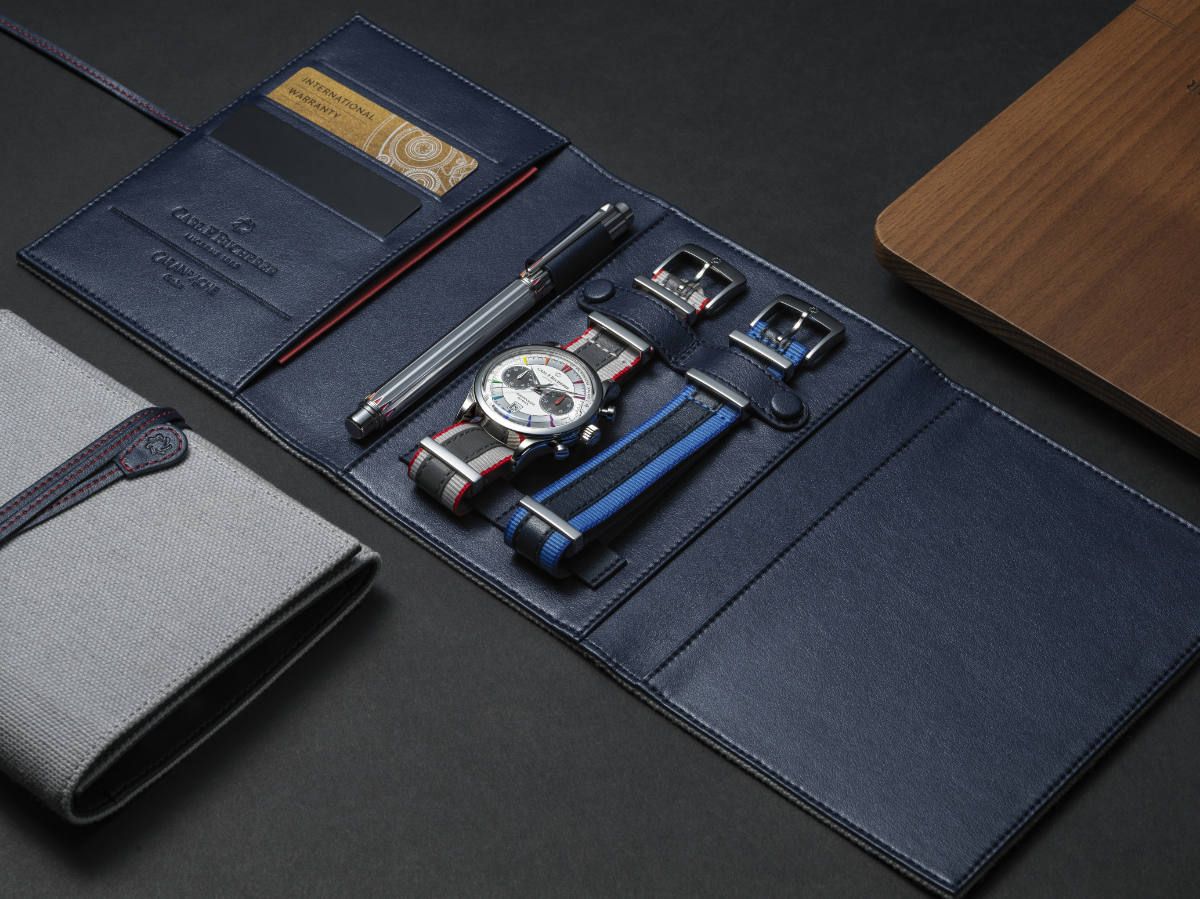 Carl F. Bucherer And Caran D'ache: Two Iconic Swiss Brands Celebrate Life's Signature Moments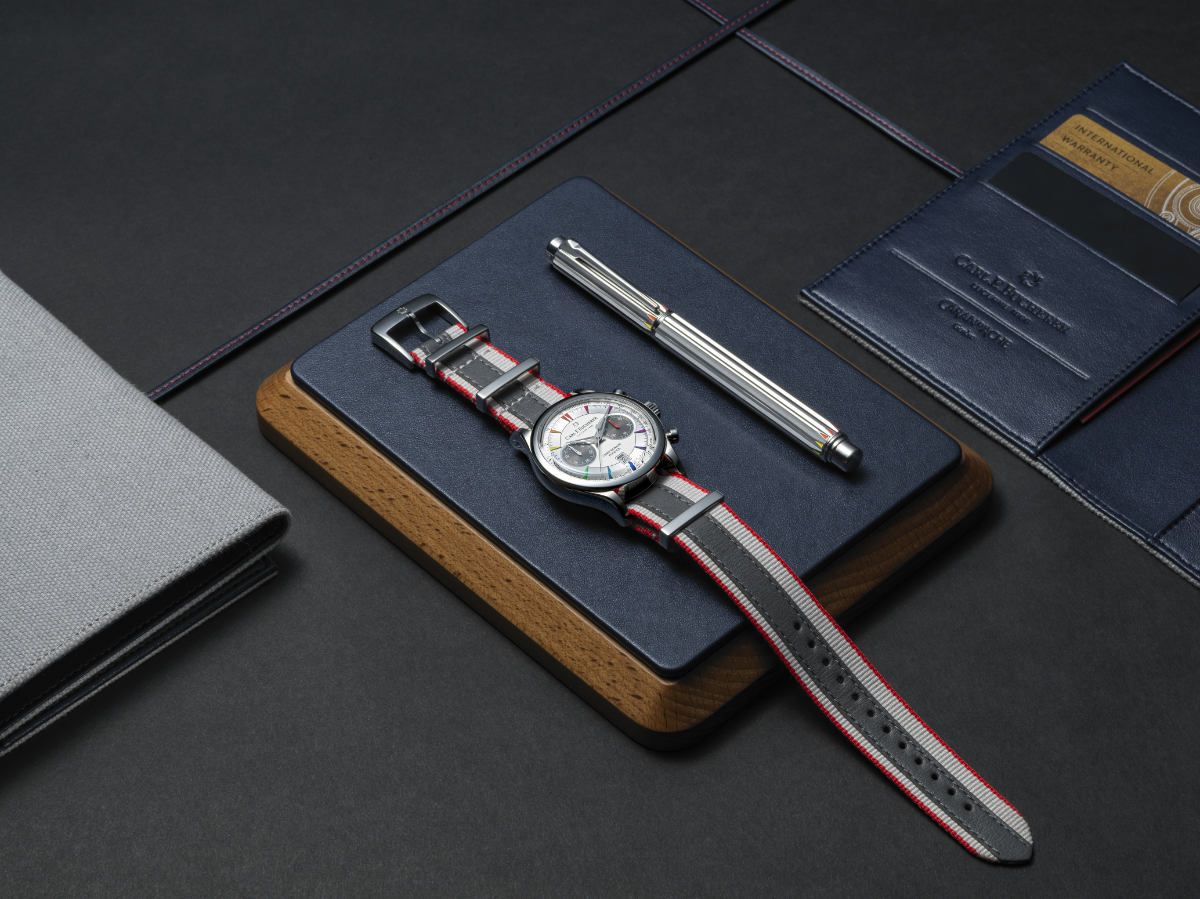 Carl F. Bucherer And Caran D'ache: Two Iconic Swiss Brands Celebrate Life's Signature Moments
Carl F. Bucherer And Caran D'ache: Two Iconic Swiss Brands Celebrate Life's Signature Moments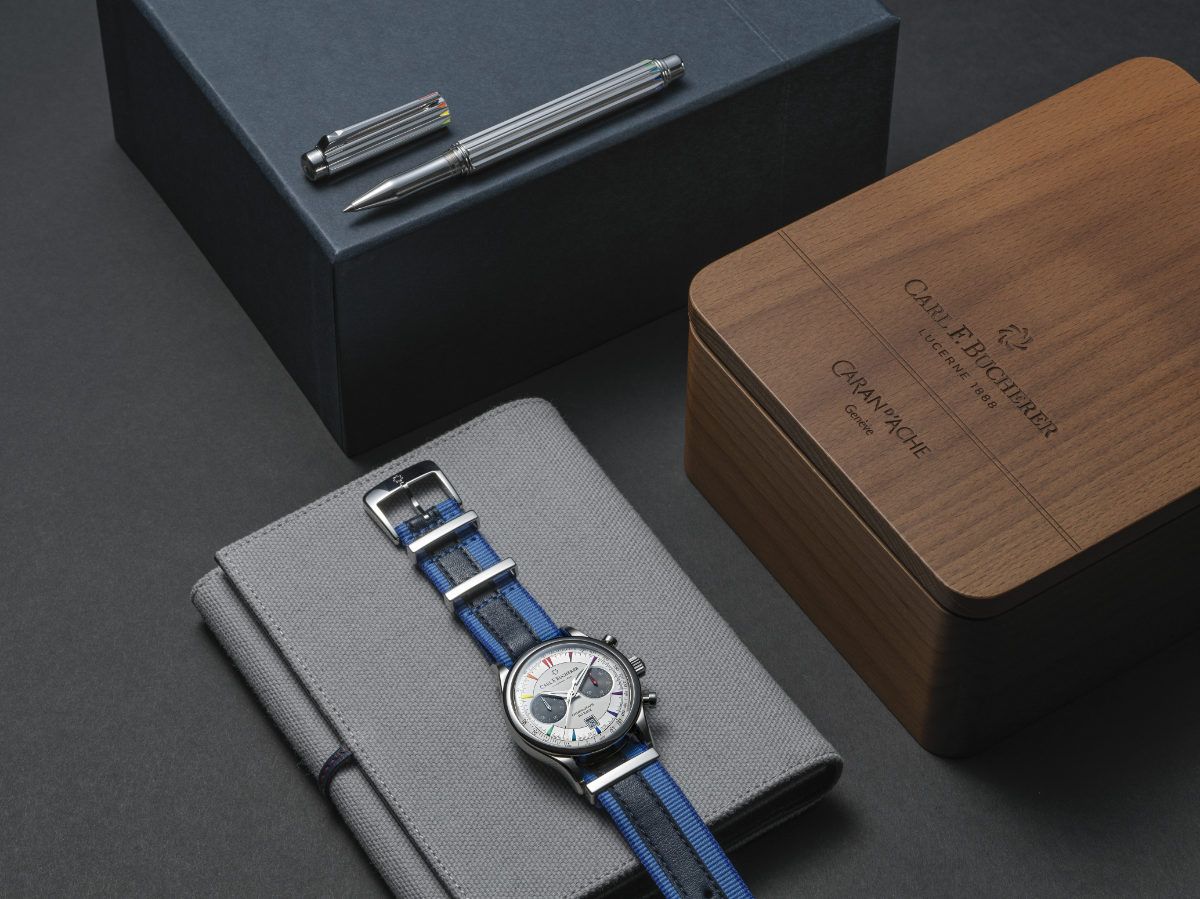 Carl F. Bucherer And Caran D'ache: Two Iconic Swiss Brands Celebrate Life's Signature Moments
Two globally renowned Swiss brands – prestige Swiss watch manufacturer Carl F. Bucherer and Caran D'Ache, the Geneva-based maker of outstanding writing and drawing instruments – have joined forces. In October 2021, they introduced the first product of their partnership: a pairing of a luxury watch and a striking writing instrument, which together celebrate life's signature moments. The brands are defined by shared core values, century-old family legacies, their dedicated craftsmanship, and their visions for a bright, sustainable future.
Carl F. Bucherer and Caran d'Ache have announced their Signature Moments project: a pairing of a special limited edition (188 pieces) of the Carl F. Bucherer Manero Flyback Signature watch and a superb Caran d'Ache Signature rollerball pen. The watch and the writing instrument are presented together in an innovative travel pouch made from eco-friendly material, which is delivered in a beautifully crafted wooden box. The brands, which earlier in the year announced their plans to work together on special projects, unveiled the Signature Moments project on October 8.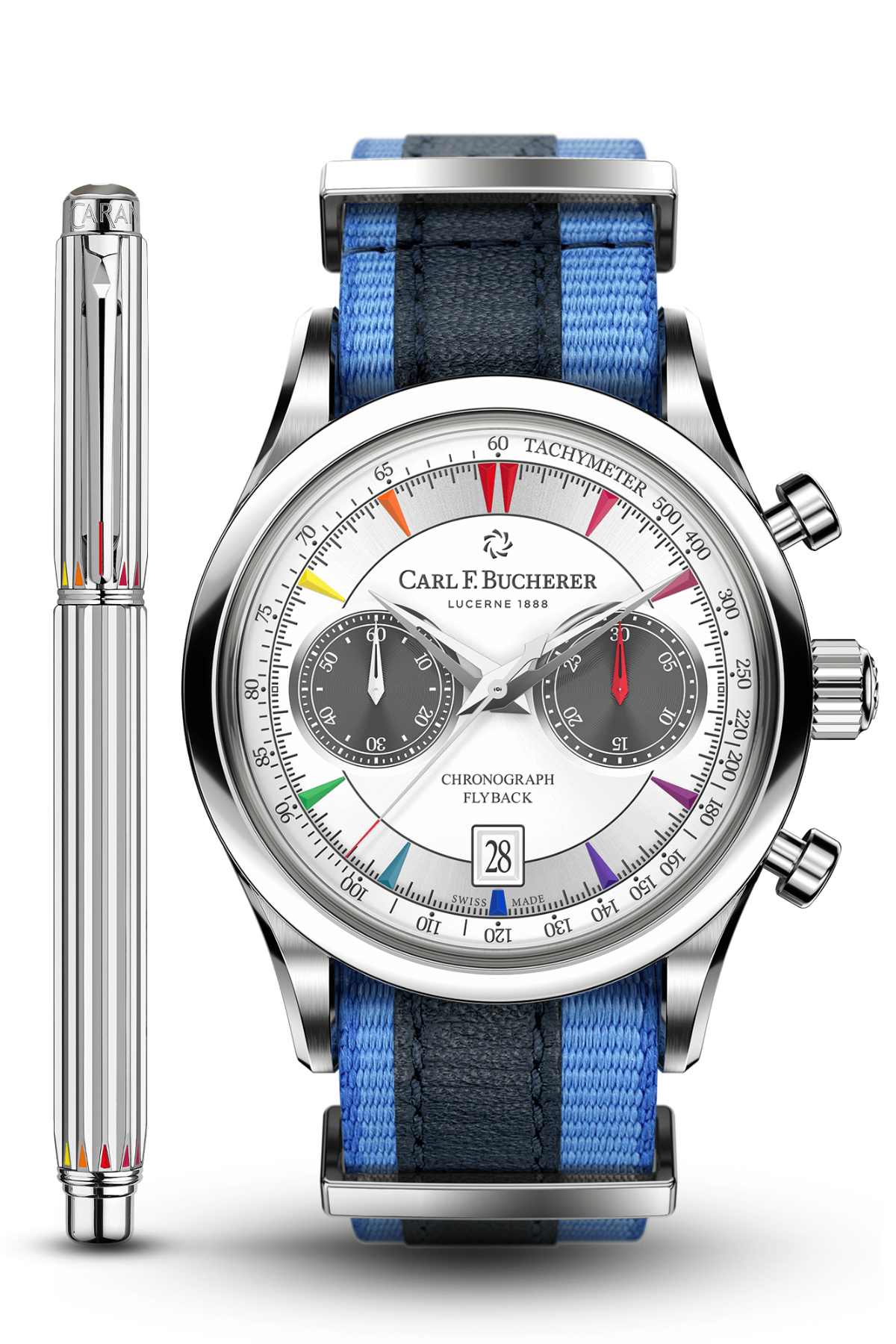 Natural Partners: Swiss Industry Pioneers Defined by Their Legacy of Partnership
Carl F. Bucherer and Caran d'Ache are the most natural of Swiss partners: both opened their doors well over a century ago and remain family-led companies. Both are admired around the world for their craftsmanship and timeless contemporary design. And, while Carl F. Bucherer and Caran d'Ache create analog products in a digital age, they are both prepared to take their quality, innovation, and creativity into the future.
A Celebration of Signature Moments and an Invitation to Dream
Sascha Moeri, Carl F. Bucherer's CEO, said that the product pairing focuses on signature moments – those events that change the trajectory of our lives forever – but it does something more: "The Signature Moments release through our Manero Flyback Signature watch and the Caran d'Ache Signature writing instrument also invite people to dream. Very often, these important moments in our lives mark the realization of long-held dreams. Carole Hubscher at Caran d'Ache and I love the idea of celebrating not only the attainment of a long-held aspiration but also the earlier times in a person's life that inspired that goal."
The CEOs were asked about signature moments in their own lives and offered interesting answers. Sascha Moeri of Carl F. Bucherer said that among many, there was his first meeting with Group Chairman Jörg G. Bucherer. "I didn't know it at the time," he says with a smile, "but it changed the trajectory of my life forever."
Carole Hubscher recalled an event celebrating the first 100 years of Caran d'Ache. "We had organized a fantastic exhibition called 'The Caran d'Ache de Picasso' in Interlaken. We had the opportunity to display original artworks Picasso had created with Caran d'Ache products. It was an exceptional moment for me because it was a perfect intersection of one of the most inspirational artistic geniuses of the past century and the history of our brand."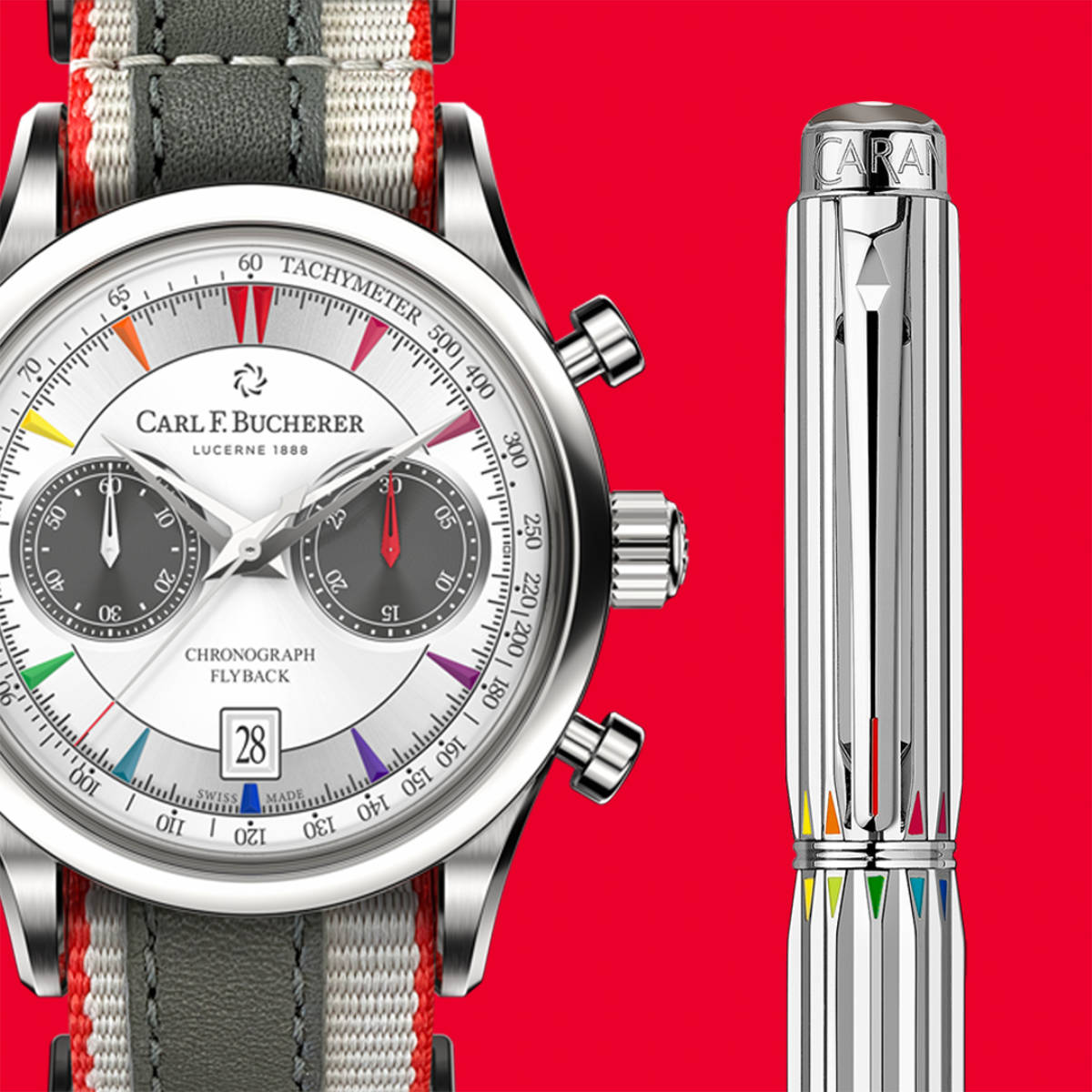 The Manero Flyback Signature: Technical Sophistication and Sporty Chic Design

The new Carl F. Bucherer Manero Flyback Signature combines technical sophistication, sporty chic design, and the cosmopolitan essence that characterizes the line. With its flyback function – the ability to reset and restart the chronograph timer with a simple touch – it is a stunning example of the brand's Made of Lucerne horological craftsmanship. Its graphite gray chronograph subdials offer a sharp contrast to the silvered dial, whose hour markers recall some of the colors of the pencils that are such an important part of Caran d'Ache's best-known products. Inside the 43 mm stainless steel case is the CFB 1970 automatic caliber with a power reserve of 42 hours.
The watch is presented on a stylishly striped beige and graphite gray NATO strap with red highlights, but anyone who wants to be able to make a different style statement or express a different mood in the space of a few seconds will be excited to find a second striped NATO strap – this one in two blue tones – nestled in the travelling pouch with the Caran d'Ache pen. Both straps are crafted from 100% sustainable materials. The watch is water resistant to 30 m (3 atm).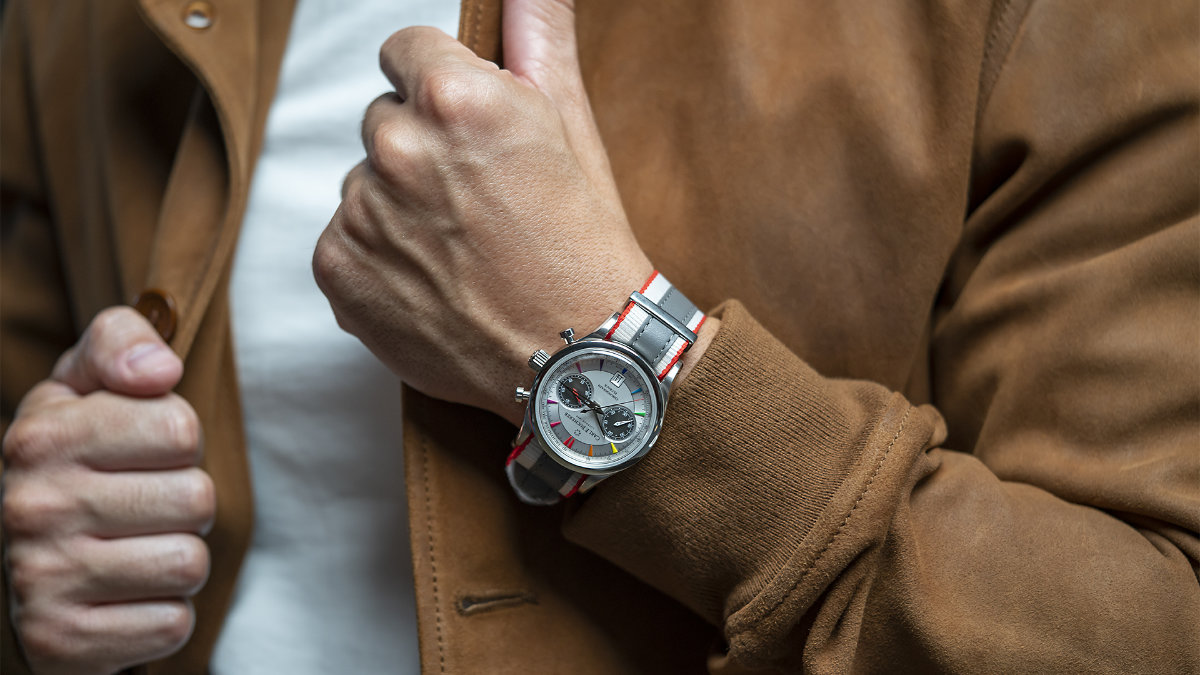 The Caran d'Ache Signature Writing Instrument: Timeless Elegance

The Caran d'Ache Signature writing instrument echoes the Manero Flyback's traditional form; its rhodium- and silver-coated body is adorned with a deep "crown effect" guillochage and decorated with hand-lacquered multicolored triangles that perfectly complement the watch's face. A thin red line engraved in the clip is reminiscent of the watch's hand and the cap features a delicately lacquered graphite grey hexagonal isotype.
The Caran d'Ache Signature rollerball pen is a subtle blend of precious materials that is magnified by the traditional guillochage and lacquering techniques, which are still upheld by Caran d'Ache today. With its streamlined body, this exceptional writing instrument offers easy handling and optimum writing comfort, complete with a touch of timeless elegance.
Carole Hubscher, the brand's CEO, comments: "I'm the fourth generation of my family to be involved in the company's management, and it is important to me to see that our legacy is carried forward. This Caran d'Ache Signature writing instrument has been created to invite future generations to dream big and to achieve their own signature moments. And, of course, it's a perfect pairing with the watch. Every signature moment happens at a specific time that will stay in your memory forever – and you'll note it precisely with your watch."
The Signature Moments of Carl F. Bucherer and Caran d'Ache
As Caran d'Ache CEO Carole Hubscher and Carl F. Bucherer CEO Sascha Moeri say, their Signature Moments partnership lives up to its name: the paired release is a joyous celebration of the most important events in our lives – the ones that are extensions of our most hopeful dreams and of the aspirations to realize those dreams. It is a homage to the moment that we glance at our watch to note the time and date and, with a pen in hand, sign a document that will forever change the trajectories of our lives.
Facts and Figures: Carl F. Bucherer Manero Flyback Signature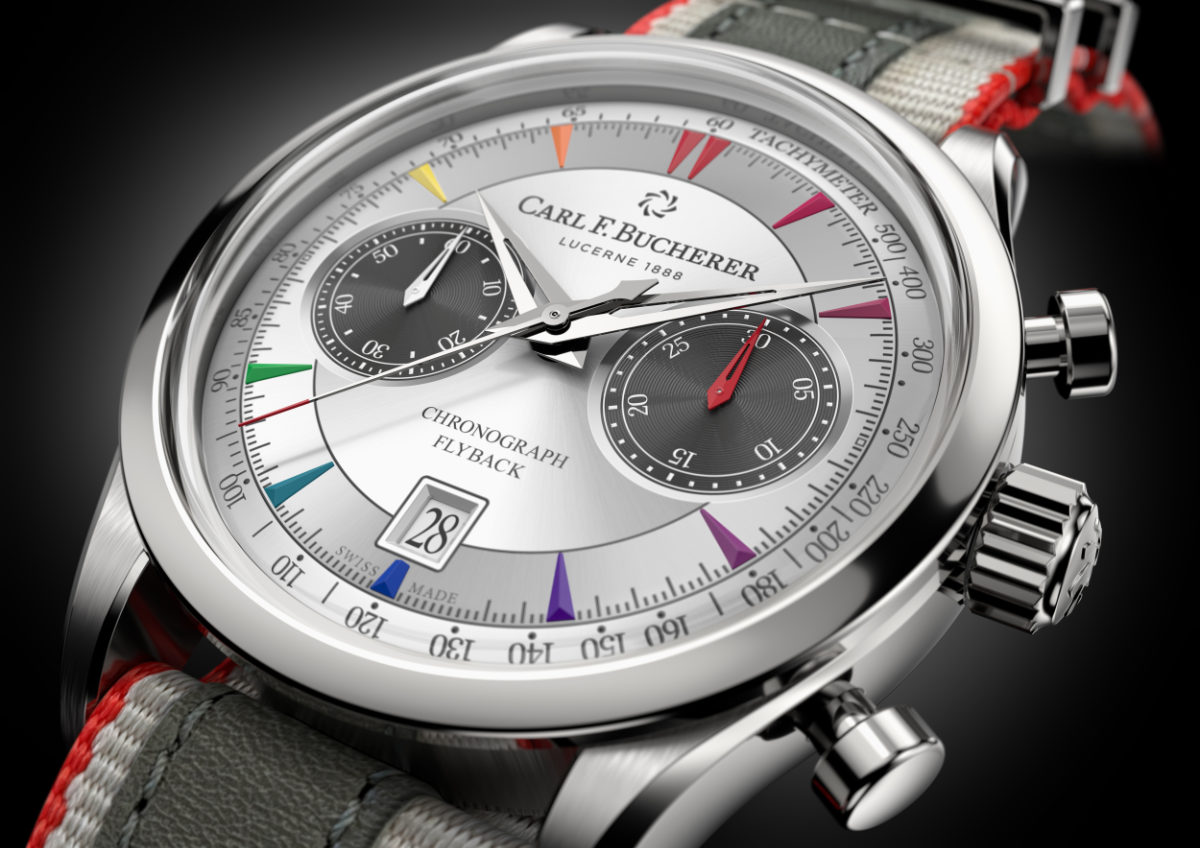 Reference number:
- 00.10919.08.13.98
Movement:
- Automatic, CFB 1970 caliber, diameter 30.4 mm, height 7.9 mm, 25 jewels, power reserve 42 hours
Functions:
- Chronograph: minute and seconds counters, flyback function, date, hour, minute, small seconds
Case:
- Stainless steel, double-domed sapphire crystal with anti-reflective coating on both sides, case back with sapphire crystal, water-resistant to 30bar (3m), diameter 43 mm, height 14.45 mm, numbered on the caseback - 001/188 until 188/188
Dial:
- Silver colored, indices in rainbow colors, graphite grey counters
Strap:
- NATO textile strap, 100% recycled PET with calfskin patch (beige/grey/red), stainless steel pin buckle
Additional strap:
- NATO textile strap, 100% recycled PET with calfskin patch (blue), stainless steel pin buckle
Limitation:
- 188 pieces
Facts and Figures: Caran d'Ache Signature rollerball pen


Body:
- Rhodium- and silver-coated body with deep "crown effect" engraving
- Diameter: 12.2 mm, length: 135.73 mm
- Body and cap decorated with hand-lacquered triangles in 12 different colors in reference to Caran d'Ache color wheel
Cap:
- Graphite grey hexagonal isotype in reference to the watch counters and Caran d'Ache graphite pencils
Clip:
- Hinged clip engraved with a line of Caran d'Ache red lacquer
Engravings:
- Engraved number on writing block – 001/188 to 188/188
Cartridge:
- Equipped with a black rollerball cartridge F
Limitation:
- 188 pieces
---