---
Bulgari Presents Its New 2022 Tubogas Jewellery Capsule Collection - The Return Of An Icon
Luxferity, 09.11.2022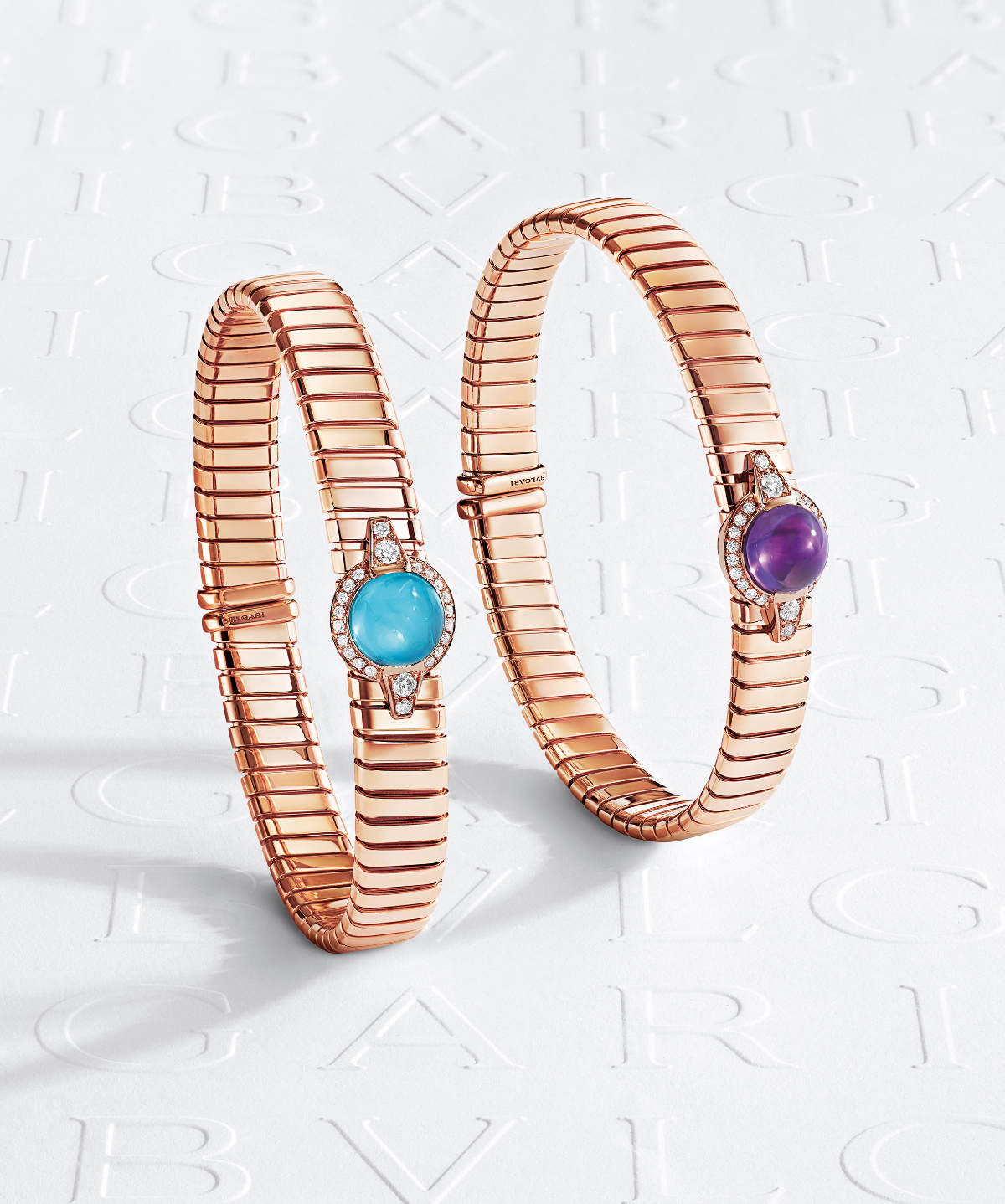 Bulgari's approach to jewellery has always been beyond convention and it is from this extraordinary convergence between creative originality and spirit of innovation that some of its most legendary icons were born.

This is the case of Tubogas - the flexible tubular band of precious metal, obtained without any soldering - which now marks its long-awaited return with a jewelry capsule collection made of colorful creations.
But to really understand what Tubogas represented in the history of Bulgari – and of jewellery itself - we need to take a step back to the 1940s, when the Roman Maison first started using this technique to craft supple and enveloping Serpenti bracelet-watches. Although it showed its versatile and contemporary soul from the very beginning, it was only with the arrival of the 70s that this industrial-inspired style, taking its name from the gas carrier pipes, turned into an emblem of Bulgari's modern spirit. In those years, Tubogas jewels brought glamour into everyday life, meeting a new generation of empowered women who were asking for jewellery to be worn from day to night. The use of grey steel in combination with yellow gold was also introduced in order to combine casual-chic affordability and impactful color contrast. A long research process was put in place to select a type of steel that was malleable enough, stainless and suitable for microfusion.
Bulgari's distinctive quest for chromatic effects also resulted in the creation of alternating yellow, pink, and white gold strips as well as bracelets that changed colour with every coil. The most impressive creations consisted of four or five bands placed one above the other.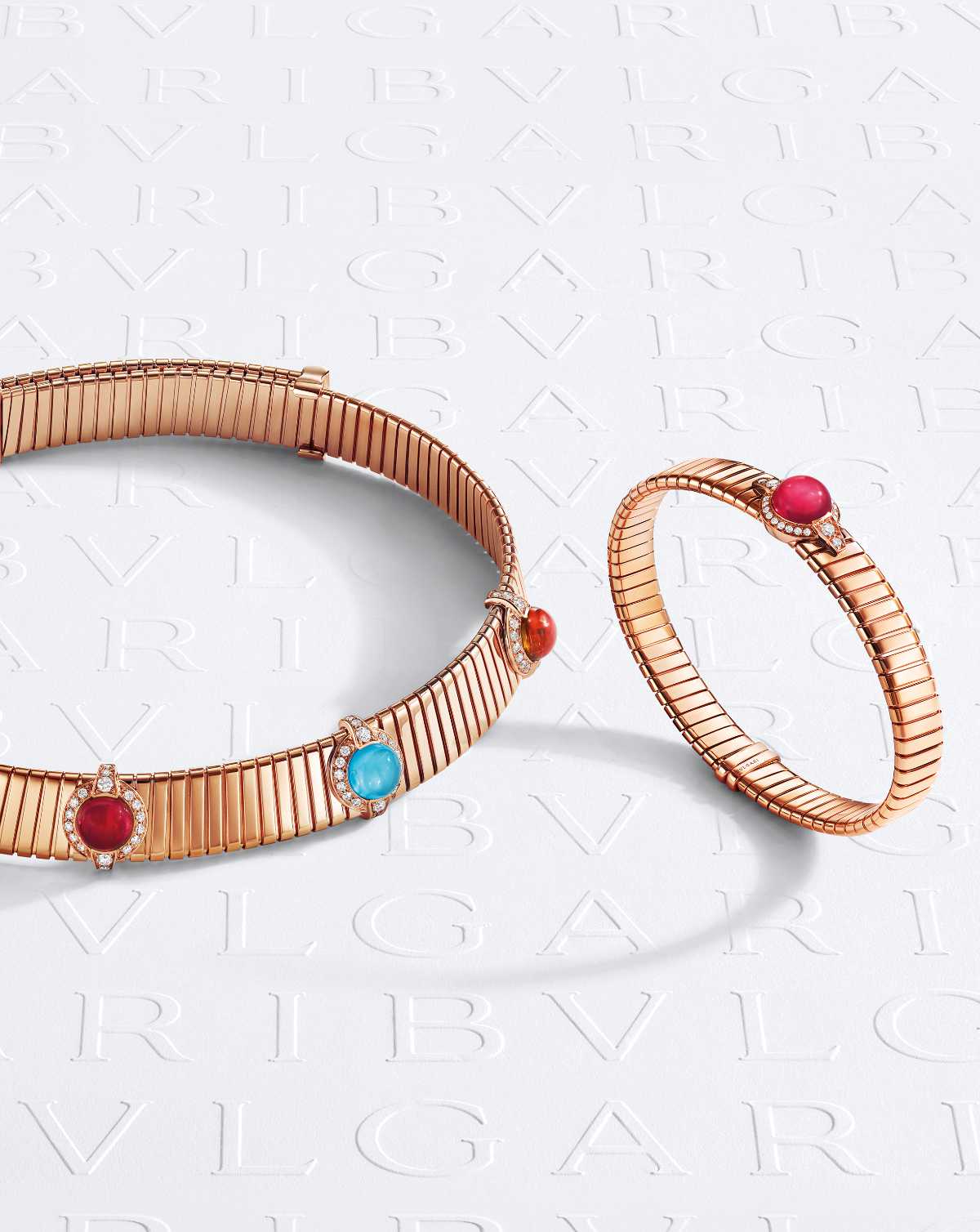 Marking a unique encounter between one of its most popular signs of all times and another of its unmistakable stylistic signatures, namely cabochon-cut coloured gemstones, Bulgari now brings to the fore the unfading charm of Tubogas with new jewellery creations.
Star of the collection is an 18 kt rose gold necklace, animated by the chromatic vivacity of five cabochon-cut coloured gemstones, namely an amethyst, citrine quartz, peridot, rubellite and blue topaz. Framed by a dazzling pavé diamond, highlighting their unique and exciting nuances, each gem features the smooth and gloriously glossy cabochon cut – another trademark of the Roman jeweller. To achieve its iconic flexibility and suppleness, the central body requires many hours of specialized work by a Bulgari artisan who wraps two long gold bands around a wooden or copper core – which is later pulled off - without soldering. Completed by a coulissante cloison, a clasp system that allows to adapt it perfectly to the neck, the chocker affirms its versatile spirit through each and every detail.
To be combined with the necklace or mixed and matched at wish, three bracelets in 18 kt rose gold are introduced in different colour variations: one with a fancy cabochon-cut rubellite, and two others – exclusive to Greater China - with a fancy cabochon blue topaz and a fancy cabochon amethyst, all embraced by a sparkling pavé diamond frame.
Much more than a simple jewellery crafting technique, Tubogas is a distinctive trademark of the Bulgari style, which over the years has proven its ability to blend in always new ways with other aesthetic codes of the Roman Maison.
Its timeless fascination continues to stand the test of time and this is only the beginning…
---