---
Bulgari x Ducati is an encounter between two Italian icons in the realm of mechanics, driven by all the attendant passion.

A shared quest for performance, design and cutting-edge technology, combined with a refined, contemporary style that is identifiable at first glance.
Bulgari and Ducati are teaming up to blaze a new trail, drawing inspiration from a common pursuit of innovation, while highlighting historical expertise, aesthetic sensibility and outstanding levels of excellence in their respective fields.
Made of aluminium, titanium and rubber, the inaugural Bulgari Aluminium Chronograph Ducati Special Edition is a perfect combination of mastery, strength, and passion.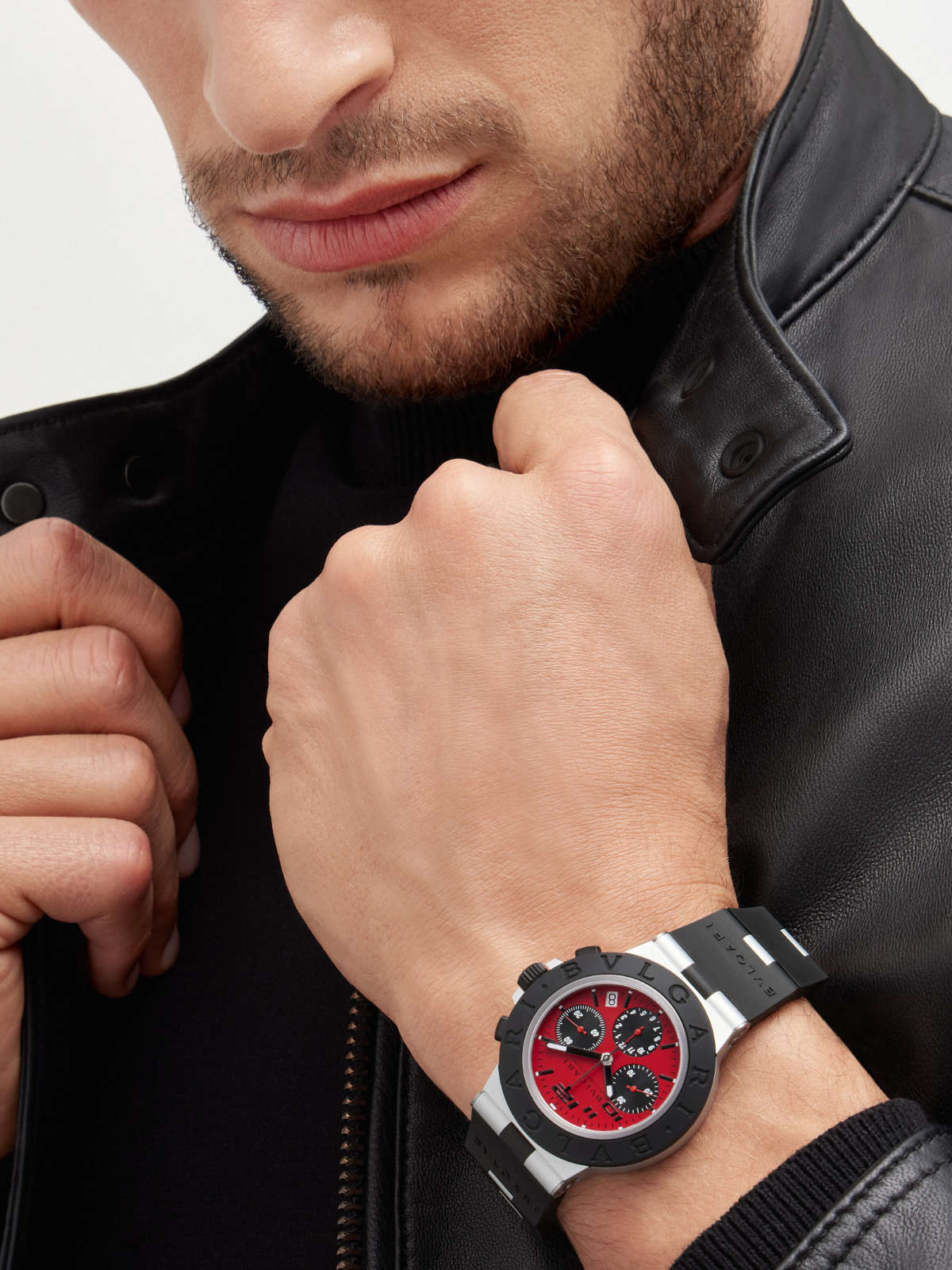 This sleek 40 mm-diameter chronograph is water-resistant to 100 metres and features a flamboyant red Ducati dial with three sporty counters and a date display between 4 and 5 o'clock. The 10, 11 and 12 numerals are the subtle and elegant nod to Ducati motorbike dashboards. Beating inside at the rate of 28,800 vibrations per hour, the mechanical automatic BVL 130 movement ensures tenth-of-a-second accuracy.
The model comes in a dedicated aluminium and rubber presentation box bearing the DUCATI and BVLGARI signatures.
BVLGARI ALUMINIUM CHRONOGRAPH DUCATI SPECIAL EDITION

Like a breath of adventure. Keeping one's gaze firmly fixed on the horizon does not prevent glimpses in the rear-view mirror to appreciate the road travelled thus far. The movement proudly paves the way to its own eternity. Are you ready to start a new journey? Every adventure has its companion, every major tale has its witness. Today, Bulgari meets Ducati, the legendary motorbike manufacturer.
The Bulgari Aluminium Chronograph Ducati Special Edition is an encounter between two icons, two legends of aesthetics and mechanics, embodiments of style and the self-confidence of natural-born adventurers. This visually eye-catching new model celebrates the union between the jewellery Maison and prestigious Ducati motorbikes.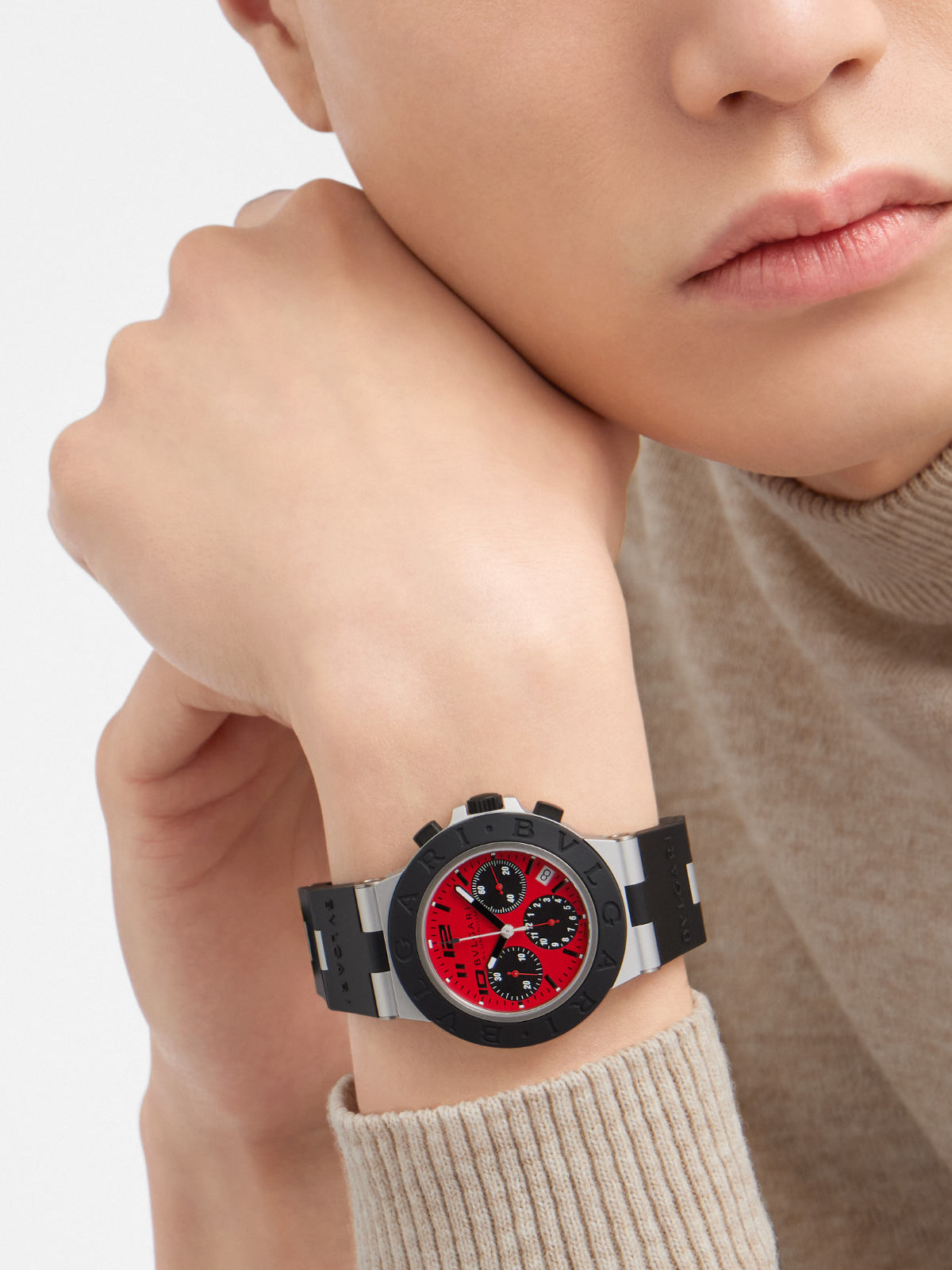 Resolutely modern Italian class and mastery

The new model features three counters recessed into a deep red dial, the signature colour of the historic Bologna-based factories. Black hour-markers and Bulgari's characteristic hours/minutes hands are filled with luminescent material. The 10, 11 and 12 o'clock numerals are a nod to the dashboards of Ducati motorbikes. The central hand measures elapsed seconds, while the black counters at 9 o'clock and 6 o'clock display the chronograph minutes and hours with red hands. The small seconds hand is located at 3 o'clock. The rubber bezel bearing the double BVLGARI BVLGARI logo is combined with the aluminium case, while the crown and chronograph pushers are made of titanium. The characteristically shaped supple strap enables all kinds of boldness. Together, these elements materialise the sensation of an accessory able to withstand any test, including those of time, travel, acceleration and performance. Italian-style class and craftsmanship that is resolutely modern, neo-retro yet firmly geared to the future, proudly flaunting its inherent vibrant nature. The ultimate accessory for spirited individuals and special witness to great escapes.
Founded in 1926, since 1946 Ducati builds premium motorcycles characterized by performance engines, distinctive design, and innovative technology. Ducati motorcycles are the purest expression of refined engineering, unmistakable design and above all, a great passion. The essence of Italian style shows through the lines of each motorcycle, in which lightness, technology and high performance are at the service of all motorcyclists eager to live an incredible experience on two wheels. The highest standards of quality, constant innovation and attention to rider safety are just some of the qualities that identify Ducati motorcycles and guide the development of each new product.
Bulgari with its designs that transcend conventions was naturally destined to share the energy and incandescence of this legendary brand. To encapsulate it in a precision watch model without curbing its passionate character nor compromising its spirit.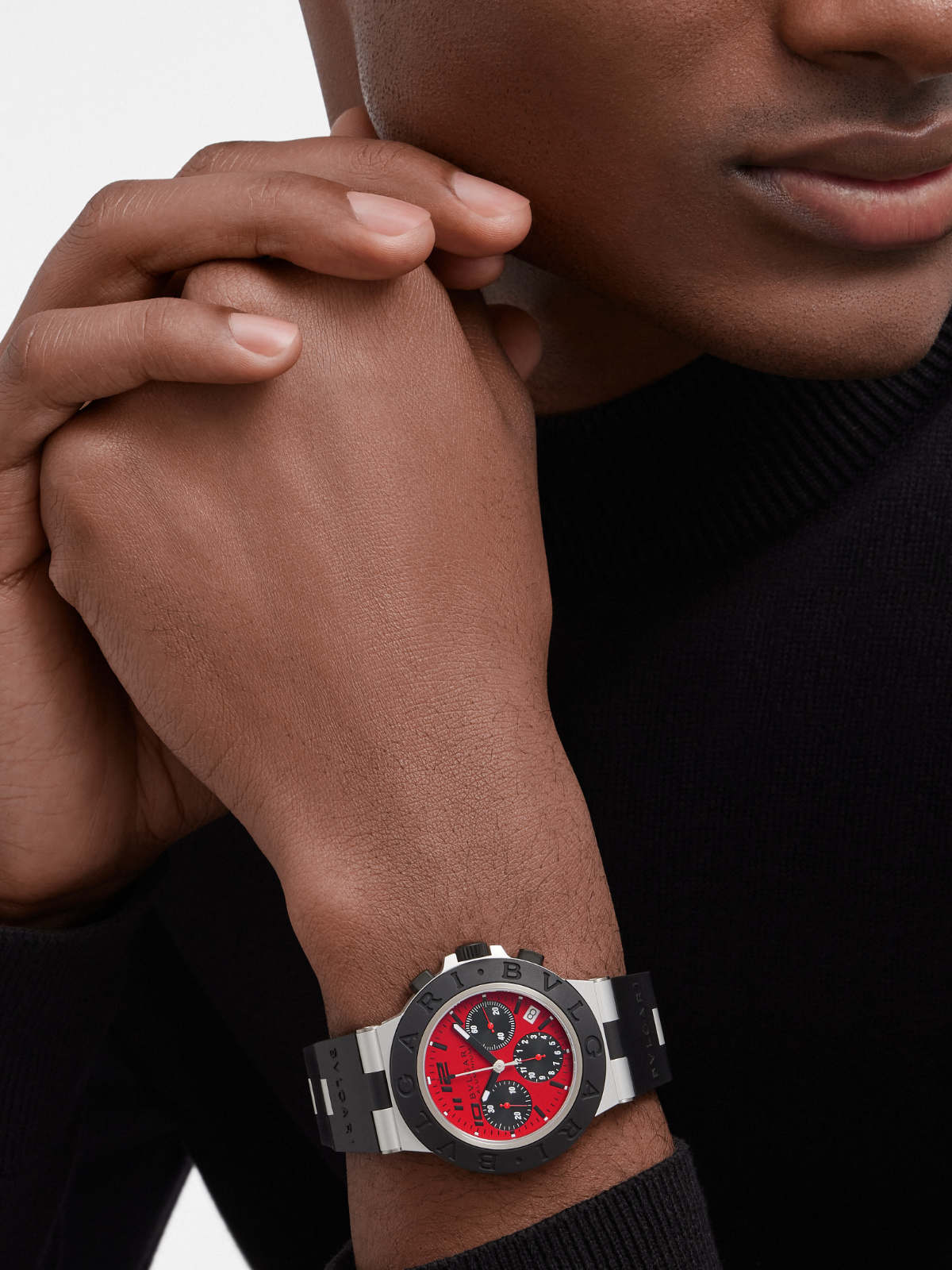 Formal audacity, a limitless attitude

Within two generations, the Bulgari Aluminium has asserted its unconventional approach. A vision born in 1998 from the aluminium and rubber combo giving shape to pure design and black & white graphics, defined by comfort and sportiness. Since 2020, an automatic mechanical movement has been installed in its case, adding a further touch of sophistication reinforcing the legend of a luxury watch known for its formal daring. The frequency of the BVL 130 mechanical calibre is 4 Hz, i.e. 28,800 vibrations per hour, enabling tenth-of-a-second precision.
While the innovations within the Bulgari Aluminium represent a break with the traditionally rigid constraints of watchmaking, comfort is definitely essential. Its smart Italian design does not sacrifice the feeling of having a uniquely styled modern watch on the wrist. It exudes an aura of self-confidence and of being up for any challenge, spiced up by timeless charm.
Like Ducati motorbikes, Bulgari has resolutely mastered the art of taking subtle detours and evokes Italian class with its inherent boldness. The Bulgari Aluminium epitomises the powerful crossfire of these multiple references, united within a watch model that in no way denies its historical and visual heritage.
Like a challenge to the constraints of time, the Bulgari Aluminium Chronograph Ducati Special Edition opens up a whole new road. It celebrates the exhilaration of great departures. Whether on a ridge, in the heart of lush valleys or amid the buzz of vibrant cities, it spells an end to routine and invites you to the pleasures of travel, to the renewed intensity of sheer experience.
TECHNICAL CHARACTERISTICS - BVLGARI ALUMINIUM CHRONOGRAPH DUCATI SPECIAL EDITION - 103701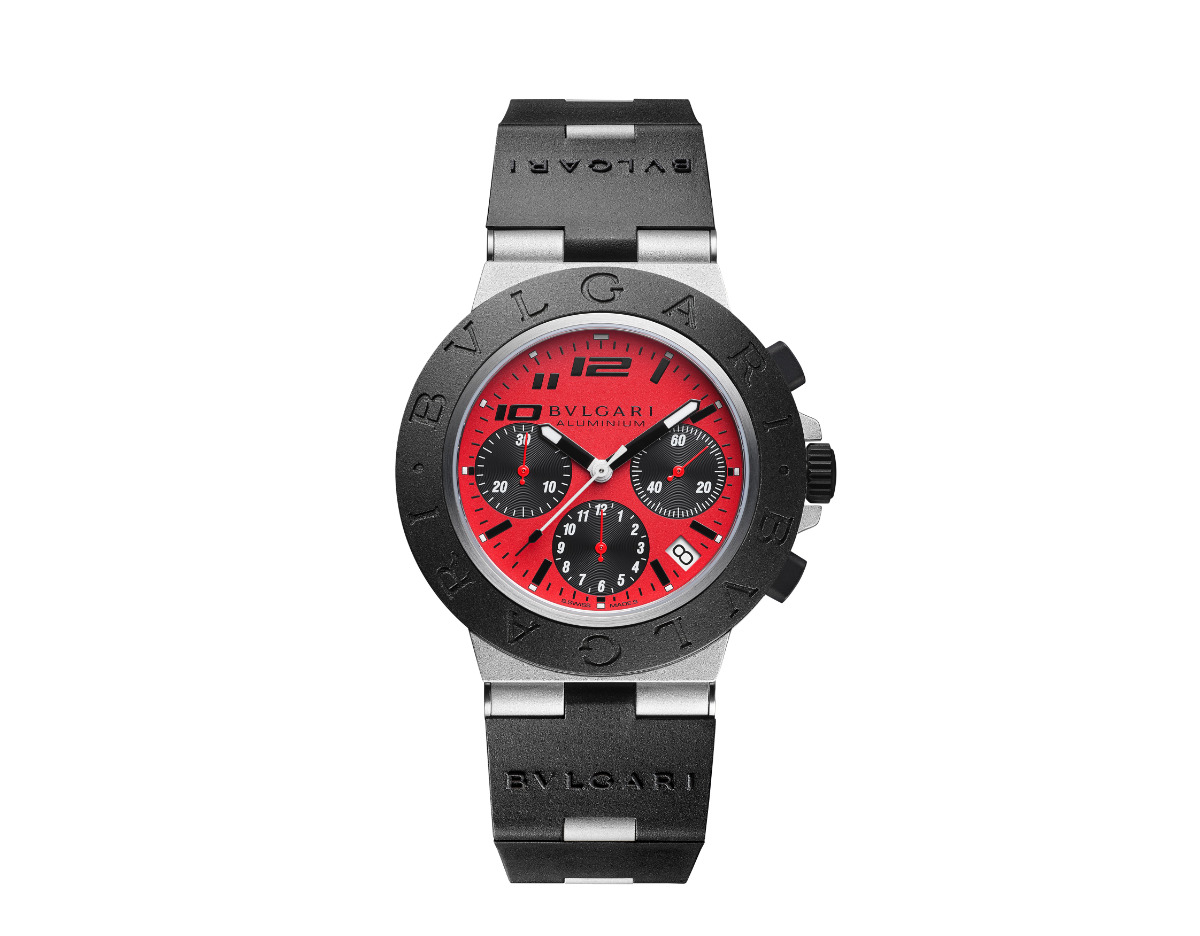 Movement:
Mechanical automatic movement, chronograph and date, Calibre BVL 130, 42-hour power reserve, 28,800 vph (4 Hz) frequency.
Case and dial:
40 mm aluminium case, titanium caseback with DLC coating and engraved Ducati logo; rubber bezel; crown and pushers in DLC-coated titanium; red Ducati dial, hour-markers and hours and minutes hands filled with Super-LumiNova®, three black counters with red hands; date window between 4 and 5 o'clock. Water-resistant to 100 m.
Bracelet:
Rubber strap with aluminium links, aluminium pin buckle.
Special 1,000-piece Ducati limited edition:
Dedicated aluminium and rubber presentation box bearing the DUCATI and BVLGARI signatures
---