---
Giorgio Armani Revealed The New MY WAY PARFUM Fragrance
Luxferity, 22.02.2023
INTRODUCING MY WAY PARFUM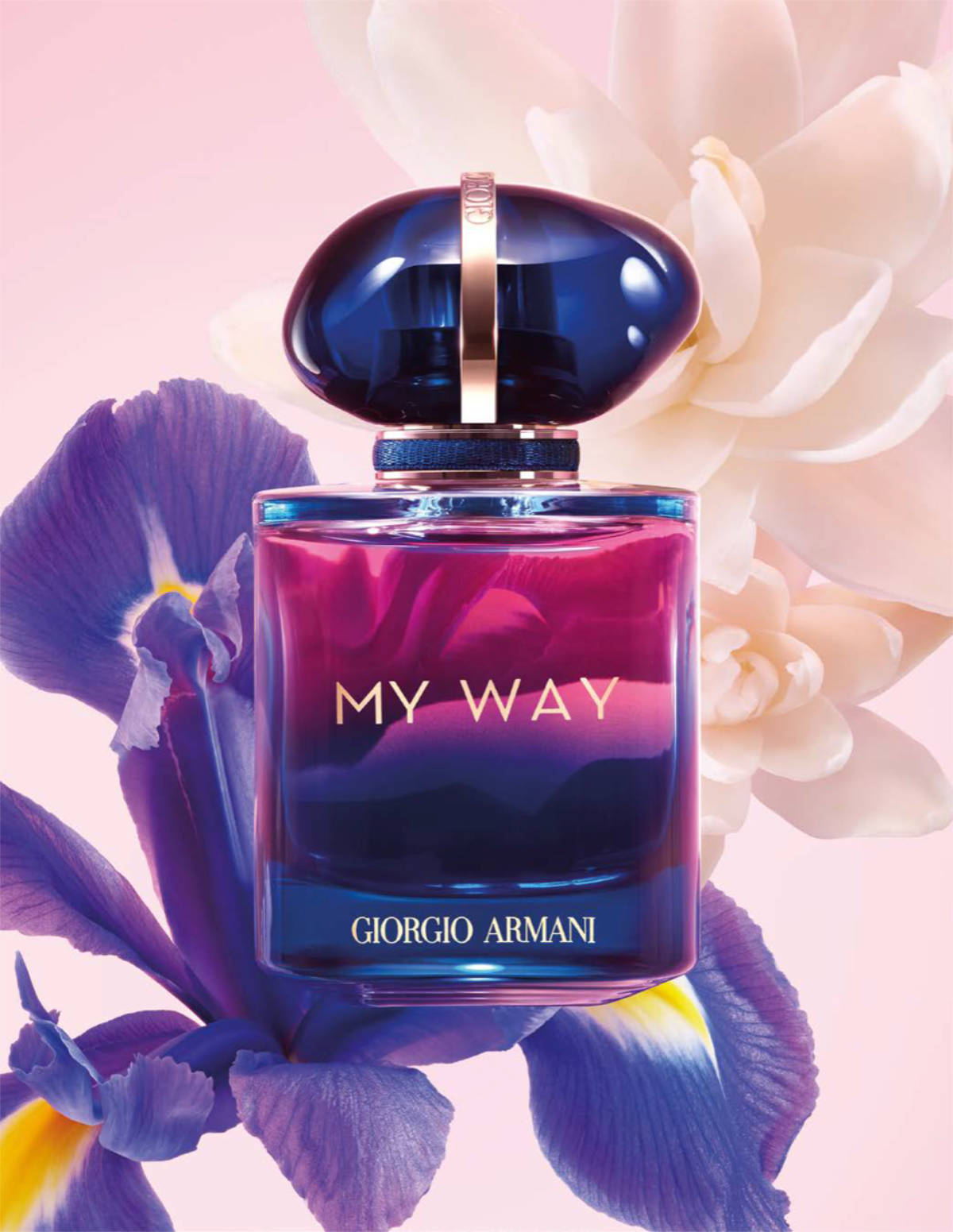 This year, Giorgio Armani reveals the new MY WAY PARFUM fragrance, opening a new chapter of the MY WAY story. At the heart of the MY WAY philosophy is "I am what I live". It captures a new vision of femininity, that is both profound and free-spirited. An invitation to explore new horizons and carve your own path.

American actress and producer Sydney Sweeney is the new face for MY WAY. Immersed in the new campaign film, the viewer shares Sydney Sweeney's unique perspective on the world. Through her eyes, the viewer is captivated by these experiences and the emotions that emanate from them.
A floral woody powdery fragrance, MY WAY PARFUM is characterized by its contrast between the bright, solar tuberose note and the majestic blue iris pallida. Among its composition are refined ingredients, including those that are sustainably sourced, crafted using the most advanced, meticulous extraction techniques.
The new refillable MY WAY PARFUM bottle creates a striking contrast between its deep blue cap and vibrant pink juice. The bottle is dressed in tones that graduate from inky blue at its base to radiant pink at its neck.
Reflecting Giorgio Armani's long-standing commitment to sustainability, MY WAY PARFUM, like all the MY WAY fragrances, is eco-conceived. MY WAY PARFUM's bottle is refillable and designed to last. In the fragrance's composition, Giorgio Armani favors using natural origin ingredients that are responsibly sourced through local programs based on fair trade principles, in collaboration with local NGOs.
I AM WHAT I LIVE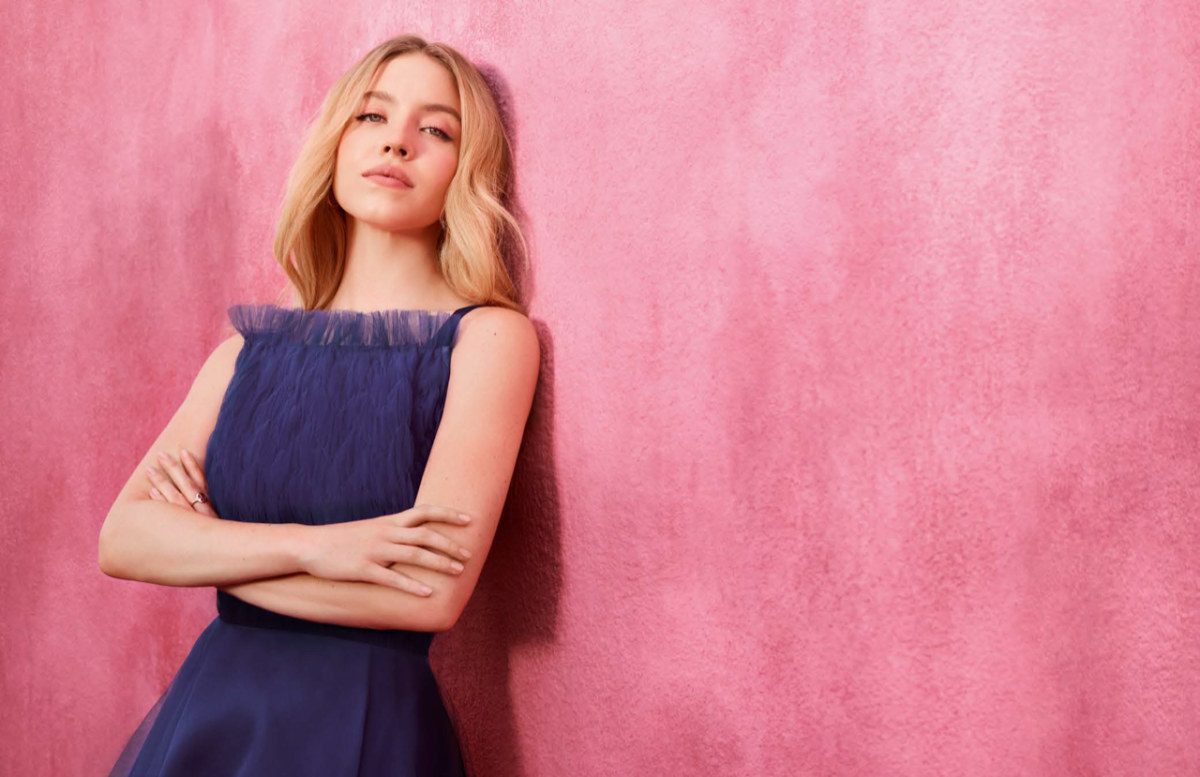 IMMERSE YOURSELF IN MEMORABLE EXPERIENCES
With the introduction of MY WAY PARFUM, a new immersive chapter unfolds within the Giorgio Armani world. The MY WAY unique ethos is "I am what I live", as the fragrance evokes the power of experiencing oneof-a-kind moments.
The MY WAY fragrance collection has been envisaged as scents for a new generation, that encapsulate a sense of curiosity. This idea is embodied in a woman who carves her own path in the world and lives her life guided by her own vision. A woman who is determined to experience life's multifaceted moments. Through living these significant experiences, she becomes more connected to her true self.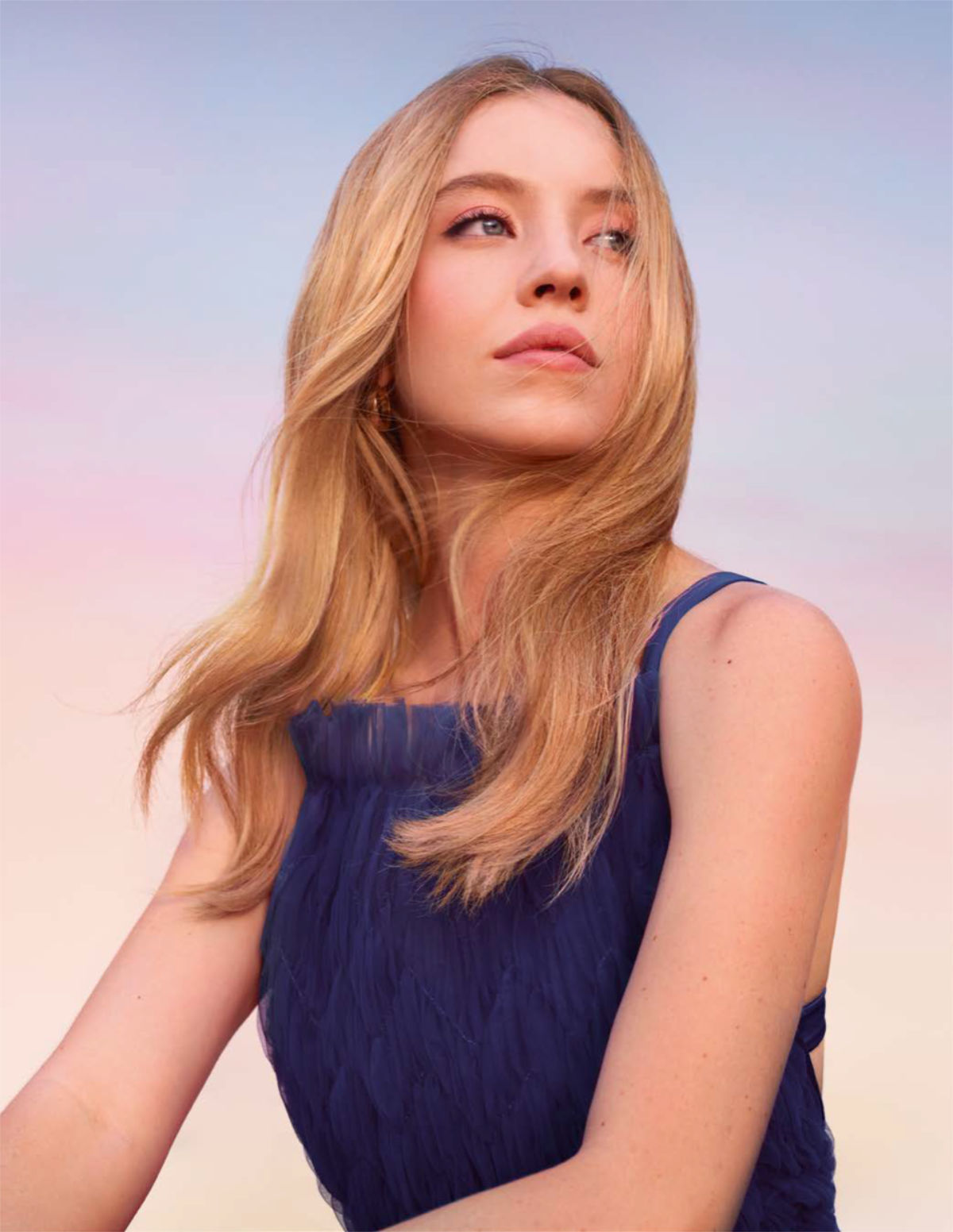 MY WAY PARFUM harnesses this open outlook and the idea of creating one's own life story. It conjures the powerful exhilaration of shaping one's own path and moving through the world on one's own terms, with an inimitable, unshakeable vision. MY WAY PARFUM evokes a willingness to be open to new horizons and plot one's own journey into the unknown.
"I believe that enriching experiences, capable of creating real progress, come to be through exchanges between cultures" - Giorgio Armani.
THROUGH SYDNEY SWEENEY'S EYES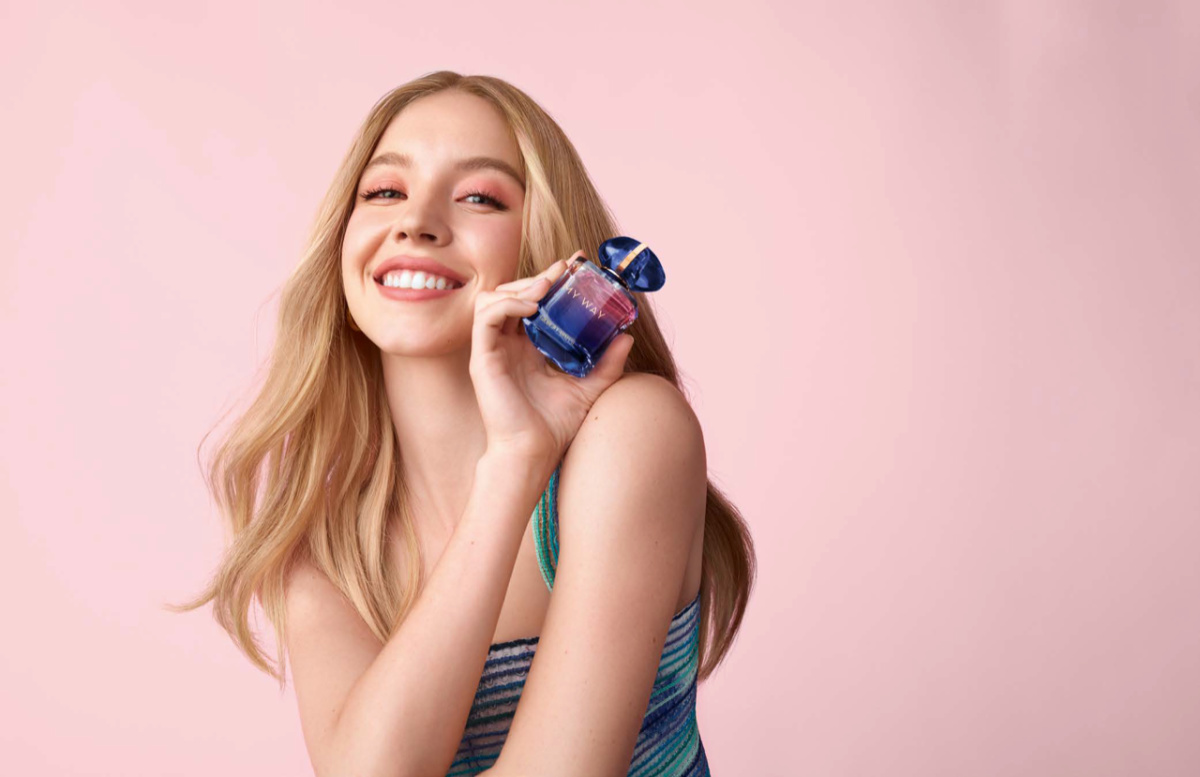 A NEW, UNIQUE VISION
Embodying the next chapter of the MY WAY fragrances is American actress and producer Sydney Sweeney. She gained recognition with her breakout role as Cassie Howard in the hit series EUPHORIA, HBO's acclaimed high school drama. The show, which as of 2022 was HBO's second most watched series since 2004, is entering its third season. Sydney Sweeney was nominated at the 2022 Primetime Emmy Awards for Outstanding Supporting Actress in a Drama Series for her performance in EUPHORIA. In tandem with her rise to prominence in EUPHORIA, Sweeney has also won plaudits for her role as Olivia Mossbacher in the first series of HBO's drama comedy THE WHITE LOTUS. For her performance in the series, Sweeney received a second nomination for a 2022 Primetime Emmy Award, as Outstanding Supporting Actress in a Limited or Anthology Series or Movie.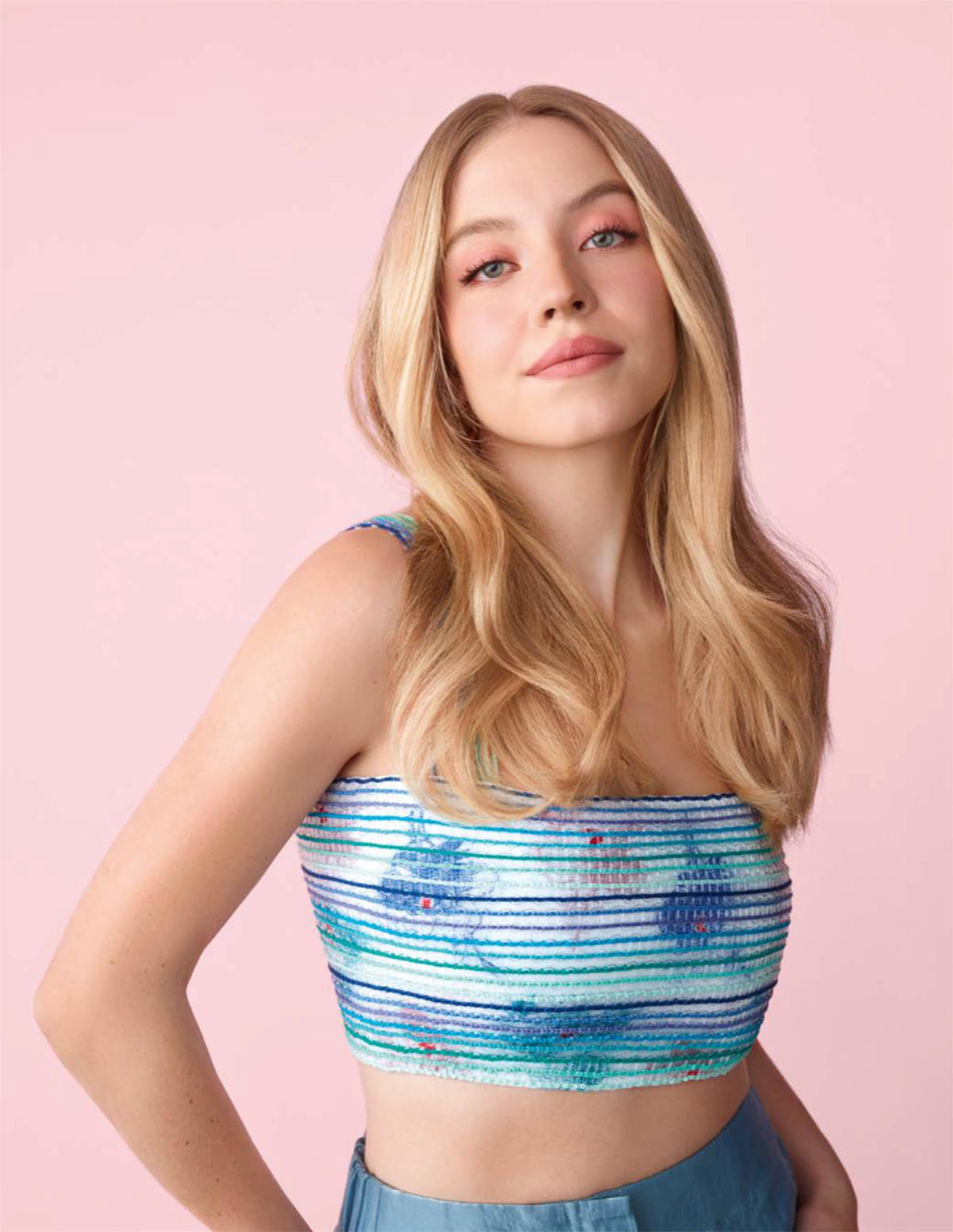 Since then, the actress has rapidly established herself as one of Hollywood's rising stars, forging her own distinctive path. Each of Sydney Sweeney's performances conveys depth, emotion, and intensity. In every character she portrays, Sydney Sweeney brings her own, unique interpretation to the role.
Sydney Sweeney has made her name by creating memorable characters who challenge her audience, drawing on her formidable emotional range. Alongside this, Sydney Sweeney is bringing her own vision to life via her production company Fifty-Fifty Films. In recognition of her growing influence within the industry – and the singularity of her vision – Sydney Sweeney was named as a "Phenomenon" on Time magazine's 2022 Time100Next list, which spotlights 100 of the emerging figures who are shaping tomorrow.
FOLLOWING HER OWN PATH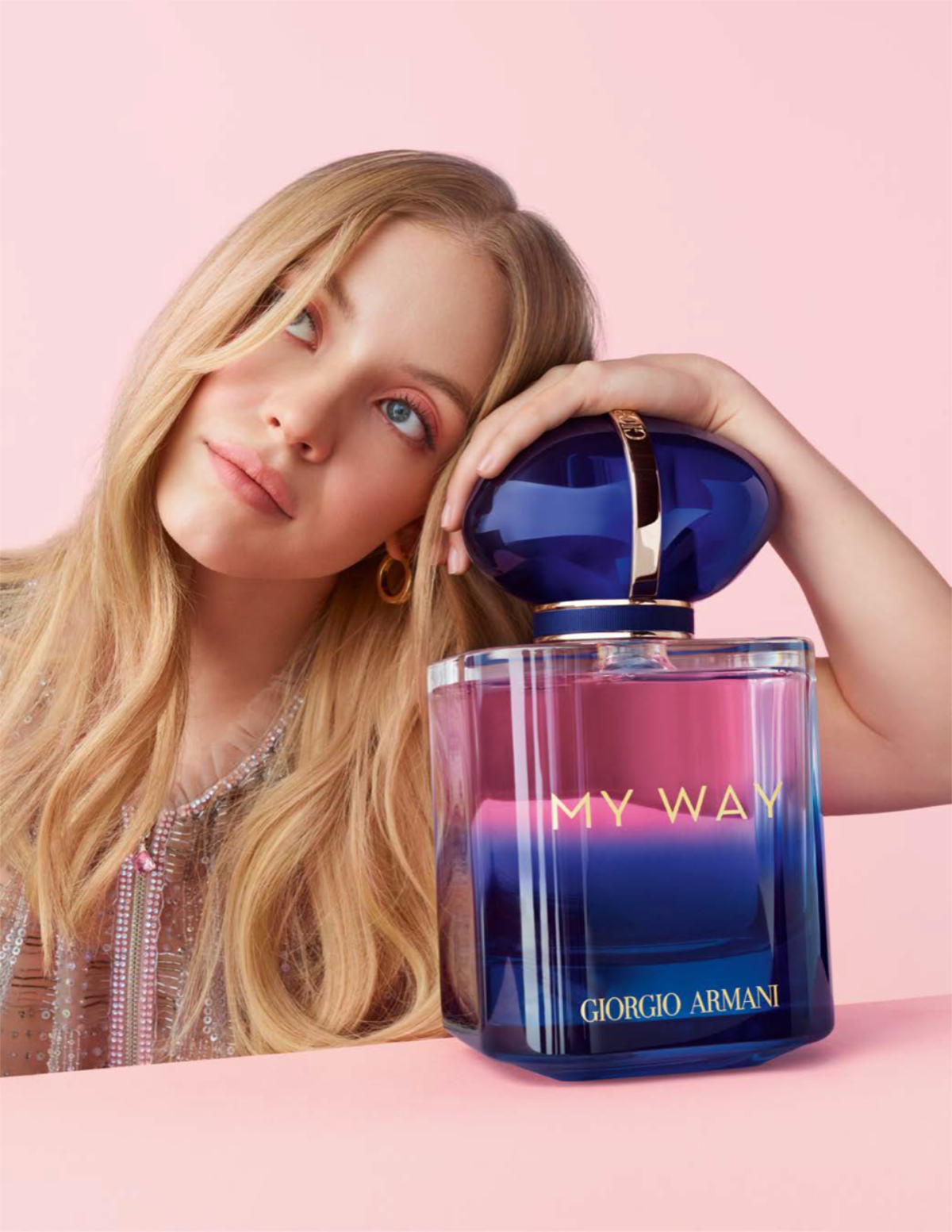 The actress and producer's upcoming roles promise to be just as compelling as her current and previous ones. Sweeney has joined the cast of MADAME WEB, a Sony's Universe of Marvel Characters film directed by S.J. Clarkson. She will star opposite Dakota Johnson in the film, due for release in Fall 2023.
Meanwhile, Sweeney has a slate of projects on her roster at her production company Fif ty-Fif ty Films. She is set to star in and executive produce projects including an adaptation of Marcus Kliewer's short story THE CARETAKER for Universal Pictures; an adaptation of Madison Lawson's novel THE REGISTRATION with Brad Fuller of Fuller Brand Media for Sony Pictures; and THE PLAYERS TABLE, a television adaption of Jessica Goodman's novel THEY WISH THEY WERE US. To add to this, Sweeney will star in BARBARELLA, a new take on the iconic 1968 film for Sony Pictures, which the actress will also executive produce.
A CONTEMPORARY, ELEGANT FEMININITY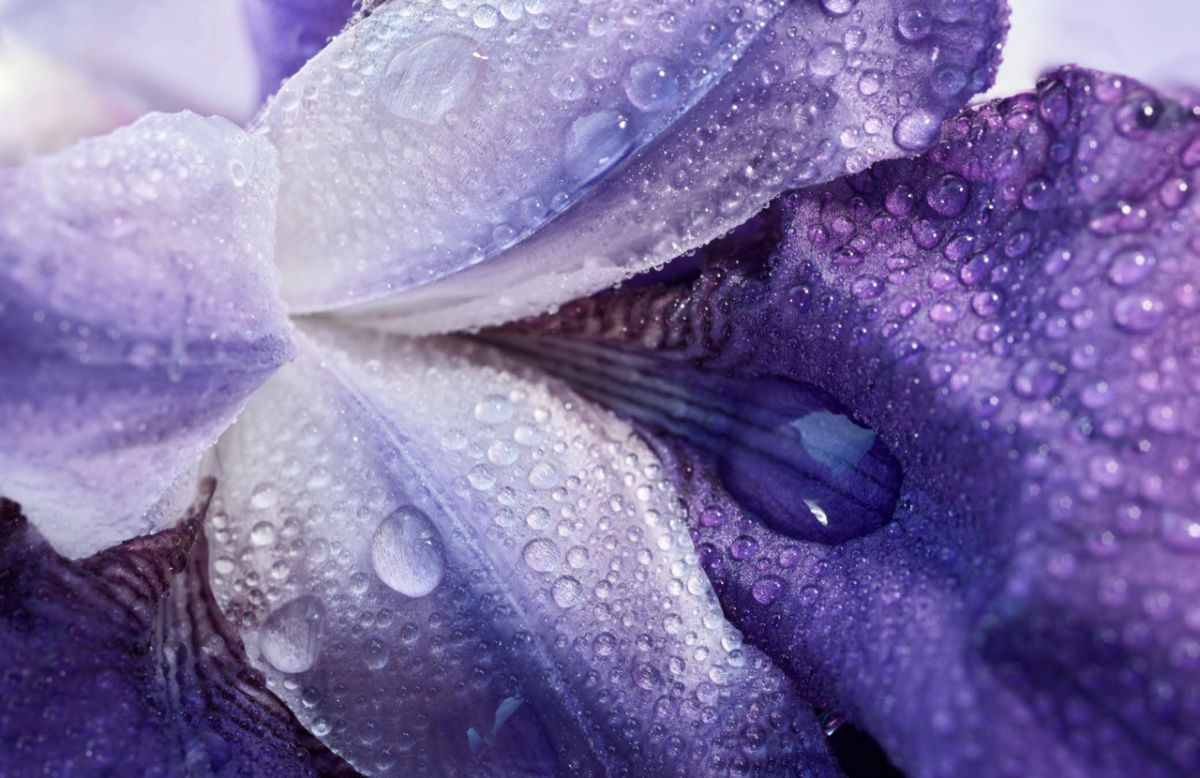 DISTINCTIVE CONTRASTS
MY WAY PARFUM unveils a new intense and woody, powdery interpretation of the MY WAY signature. The bright, solar tuberose note, around which all the MY WAY fragrances are shaped, in MY WAY PARFUM is contrasted with the majestic blue iris pallida. This play between the radiant and the intense defines the fragrance. This new, alluring scent has been crafted by master perfumer Carlos Benaïm (IFF) who composed the original MY WAY scent.
The fragrance opens with fresh, citrus top notes. It is characterized by bergamot oil from Calabria, Italy, which creates a sparkling, zesty effect, as well as. orange blossom from Egypt. The orange blossom note is obtained via a modernized version of an ancestral enfleurage method, resulting in the combination of the richness and complexity of the orange blossom flower with the power and energy of the fruit.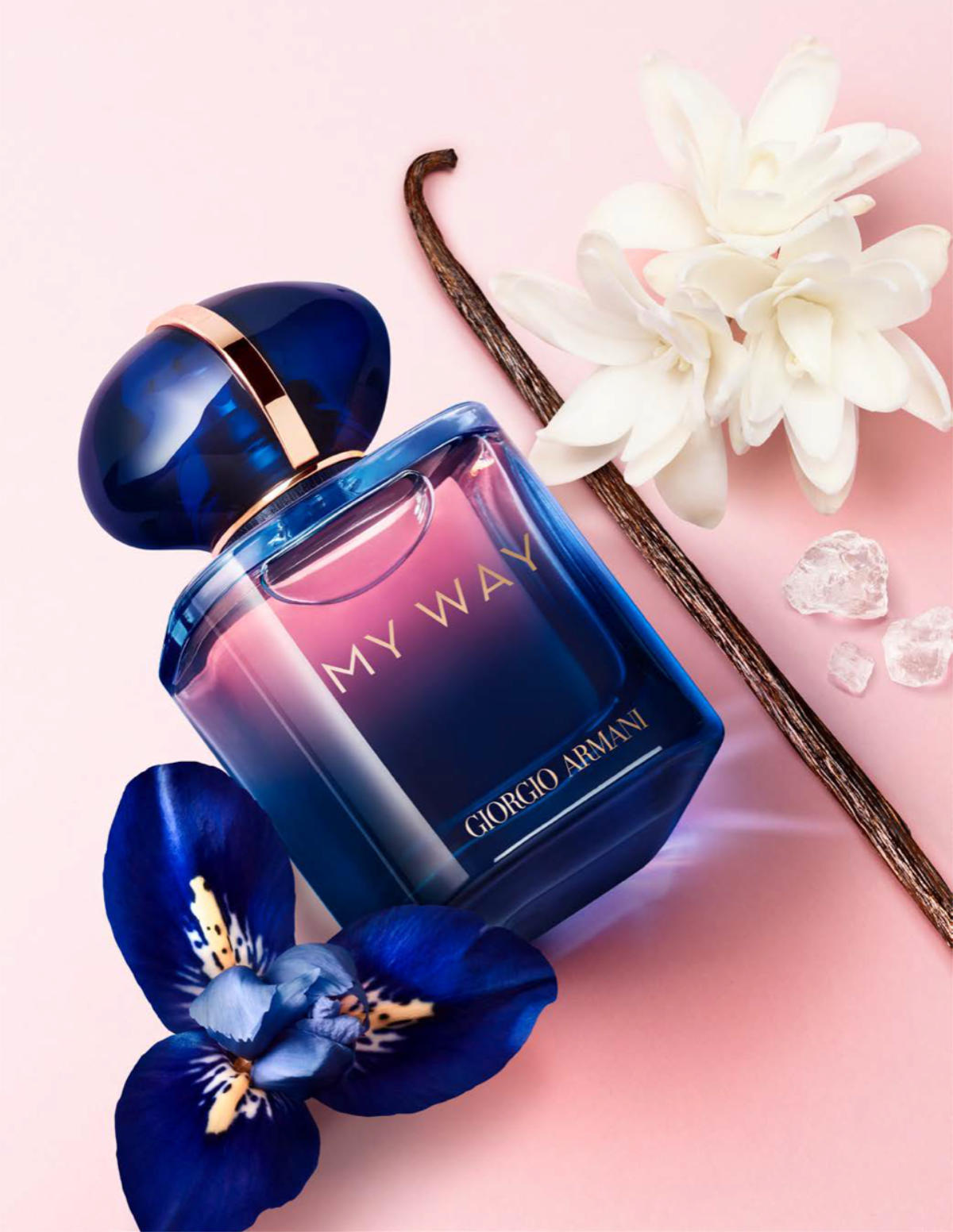 MY WAY PARFUM reveals a new, intense heart. It blends tuberose heart absolute from India, with its creamy and solar qualities, with iris pallida, which creates an edgy, majestic, and feminine effect. Amplifying these notes is ambrette, a warm and sensual scent with musky facets, obtained from the seeds of the hibiscus plant.
The powdery and woody base is composed of cedarwood from the USA, which creates a sensual creamy note and reinforces the woody character of the fragrance. This note combines with vanilla bourbon infusion from Madagascar, which is both suave and compelling. A white musk accord meanwhile, magnifies the iris' refined tonalities, and creates the fragrance's powdery, enveloping, second skin effect. Together, these base notes evoke MY WAY PARFUM's sensual and soothing trail.
A FINELY CRAFTED COMPOSITION
A fusion of traditional and innovative extraction techniques creates notes that are of the most refined quality, bringing both depth and radiance to MY WAY PARFUM's composition.
The orange blossom is of Egyptian origin. In a technique exclusive to Giorgio Armani, the orange blossom note is obtained using a modernized version of the artisanal enfleurage extraction process. This revisited process involves repeatedly macerating the Egyptian orange flowers in bitter orange essence to achieve a cold extraction of the scent. This achieves an orange blossom note with a more intense and enduring florality, as it captures the flower's most complex and volatile molecules. This exclusive crafting of the orange blossom note evokes both the flower's richness and complexity and the fruit's power and energy. It conjures a sparkling floral quality, lending MY WAY PARFUM's top notes a natural and youthful radiance, and the fragrance its distinctive character.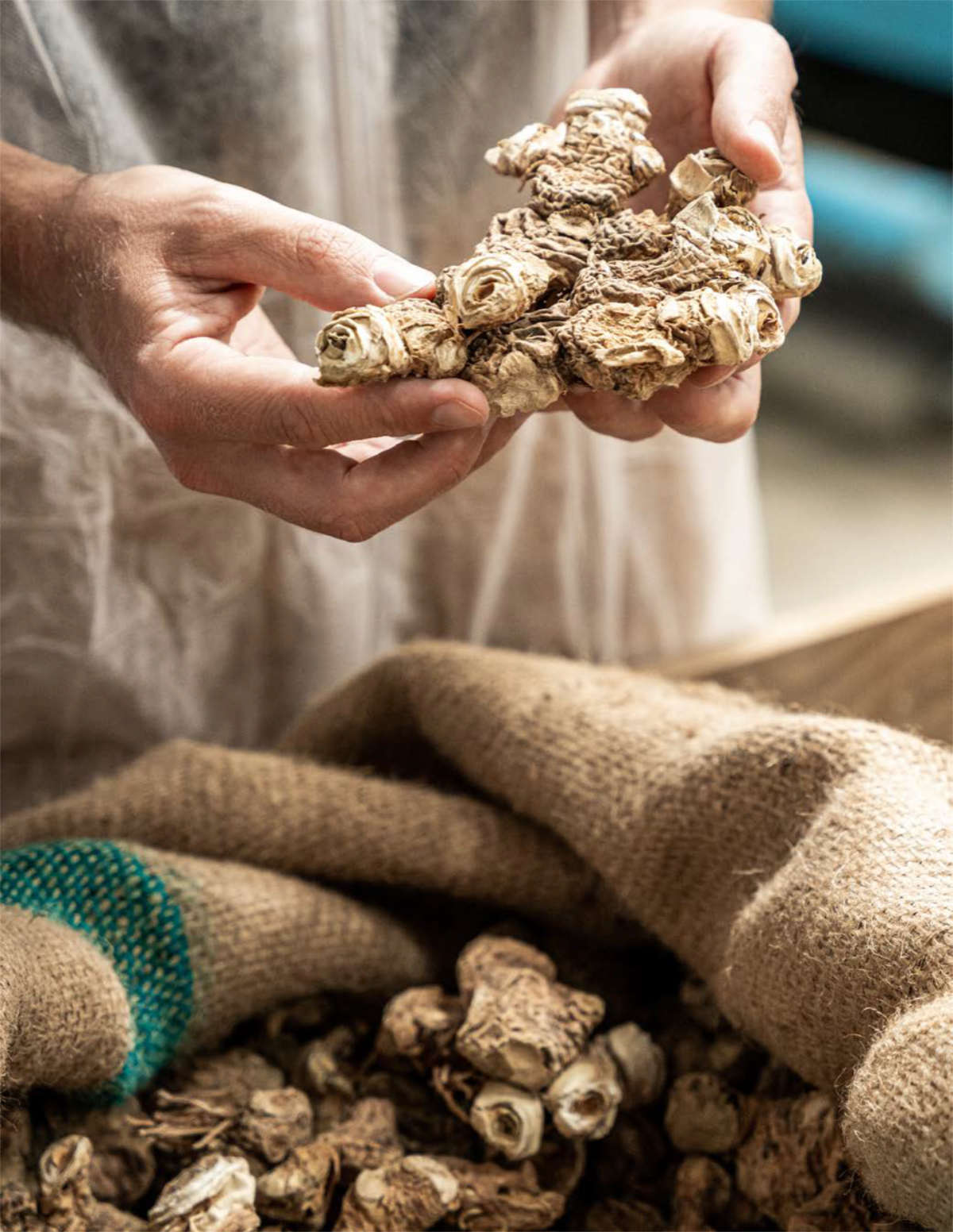 The tuberose heart absolute from India is extracted using molecular distillation, allowing the perfumers to select a specific molecular segment of the tuberose that is tailor-made for the MY WAY fragrance collection. This results in creamy, velvety facets that conjure an olfactory experience evocative of diving into a field of tuberose flower petals.
Part of the iris pallida is sustainably sourced in France. To create the precious iris pallida butter, from which the iris pallida note is derived, the Iris roots are dried and naturally oxidized for 3 years. Then they are transformed into powder and hydro-distillated to obtain the concrete. This creates an iris note that brings a natural and majestic freshness to the fragrance.
THE MOST REFINED, NATURAL INGREDIENTS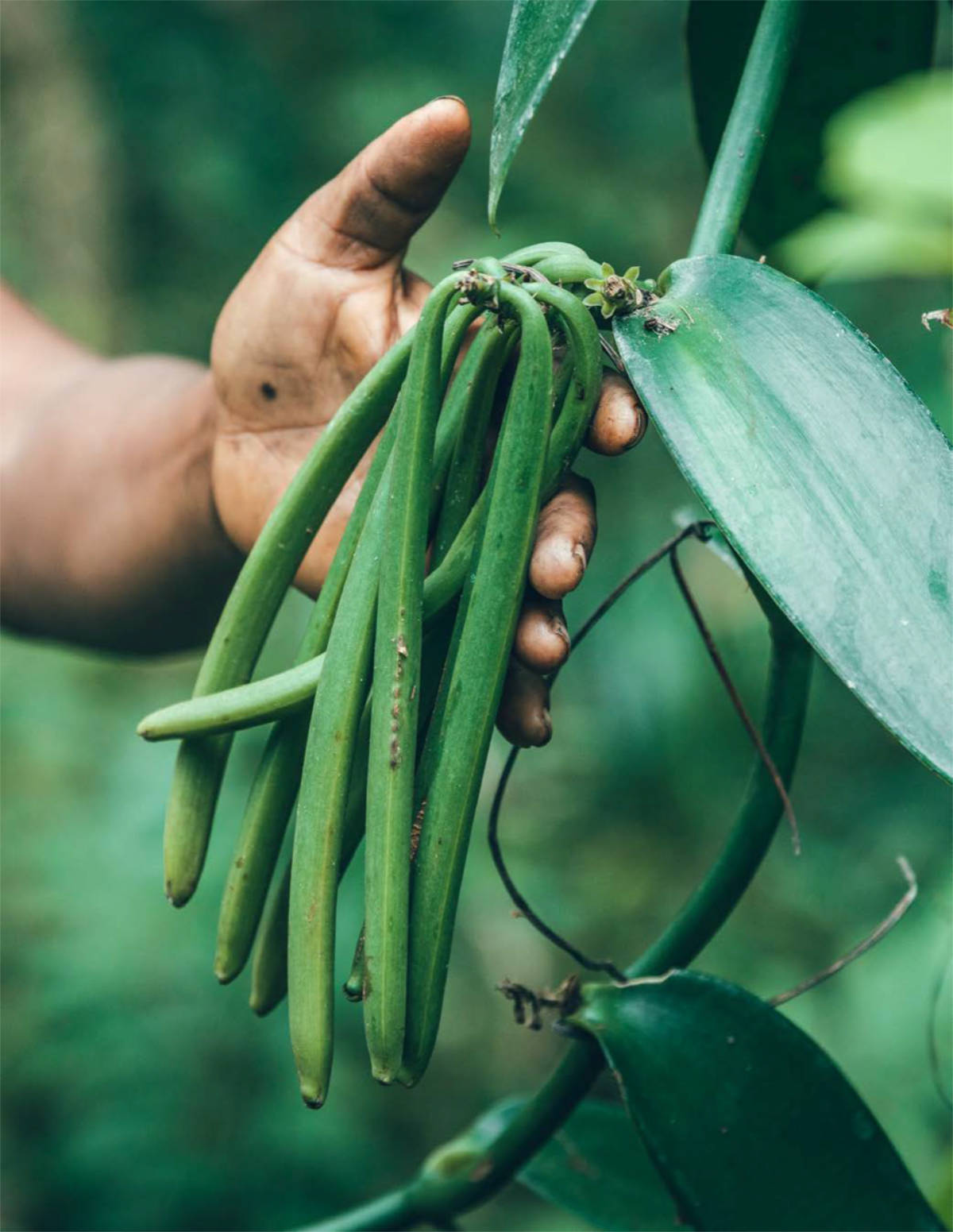 MY WAY PARFUM counts among its composition some natural origin ingredients of a unique quality.
The orange blossom is sourced from Egypt, where it is hand-picked when the flowers are at their optimal maturity, during the budding stage. The tuberose hear t absolute, meanwhile, is sourced in the south of India, where it is harvested by hand.
The vanilla, sustainably and solidarity sourced in Madagascar, is obtained via a closely controlled production process, ensuring that the vanilla is consistently of a high, refined quality. Its gentle extraction method creates a note that evokes a fresh vanilla pod.
EVERY FACET OF FEMININITY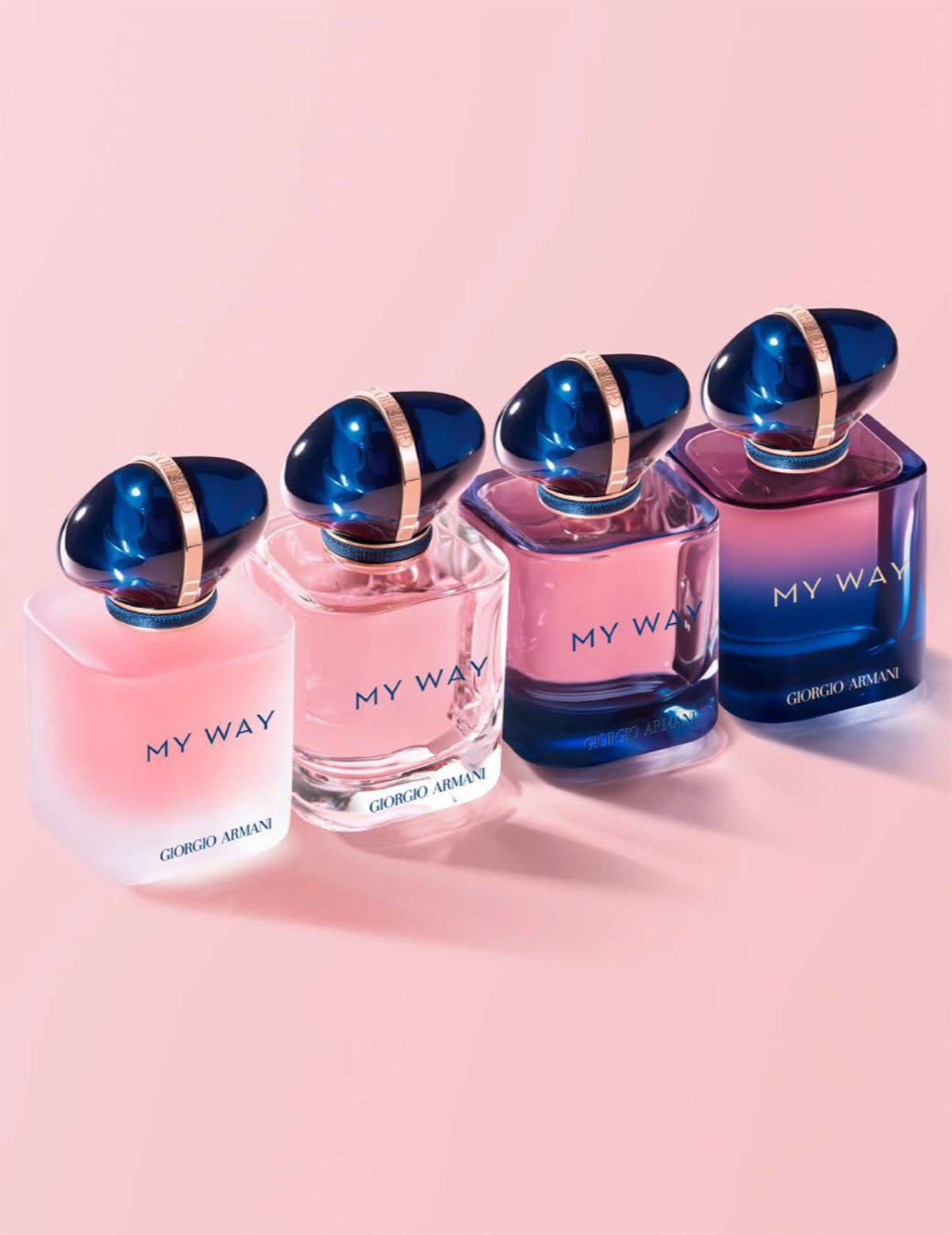 The MY WAY collection is now composed of four captivating fragrances, all of which share the signature of the tuberose heart, with each scent interpreting this facet in its own unique way.
The original MY WAY scent's contemporary floral fragrance is characterized by its powerful bouquet of bright, white flowers, creating a radiant femininity. Luminous top notes of bergamot and orange blossom blend with a heart of Indian tuberose and jasmine. Its base of vanilla bourbon premium infusion, cedarwood, and a white musk accord acts like a reassuring talisman.
MY WAY INTENSE boasts an amplified floral heart and an intense, woody trail. This fragrance's heart notes take MY WAY's signature heart of Indian tuberose and jasmine and infuse it with a heightened florality. The fragrance opens with bergamot and enfleurage of orange blossom in bitter orange essence, with a base that blends the richest facets of sandalwood and a vanilla bourbon premium infusion.
MY WAY FLORAL is a fresh, multi-faceted interpretation of MY WAY's contemporary signature, blending a white floral bouquet with luminous, fresh green notes. It combines top notes of green mandarin superessence and petitgrain oil, tuberose heart absolute and neroli oil, and a base defined by a coextract of neroli, a white musk accord, and vanilla bourbon premium.
The newest addition to the MY WAY collection, MY WAY PARFUM creates its powerfully radiant, feminine effect with a heart that blends powerfully textured blue iris pallida, solar tuberose absolute, and musky ambrette. These evocative notes combine with top notes of bergamot oil and orange blossom, and a base that fuses cedarwood, vanilla bourbon infusion, and a white musk accord.
AN ECO-CONCEIVED BOTTLE, IN CONTRASTING BLUE AND PINK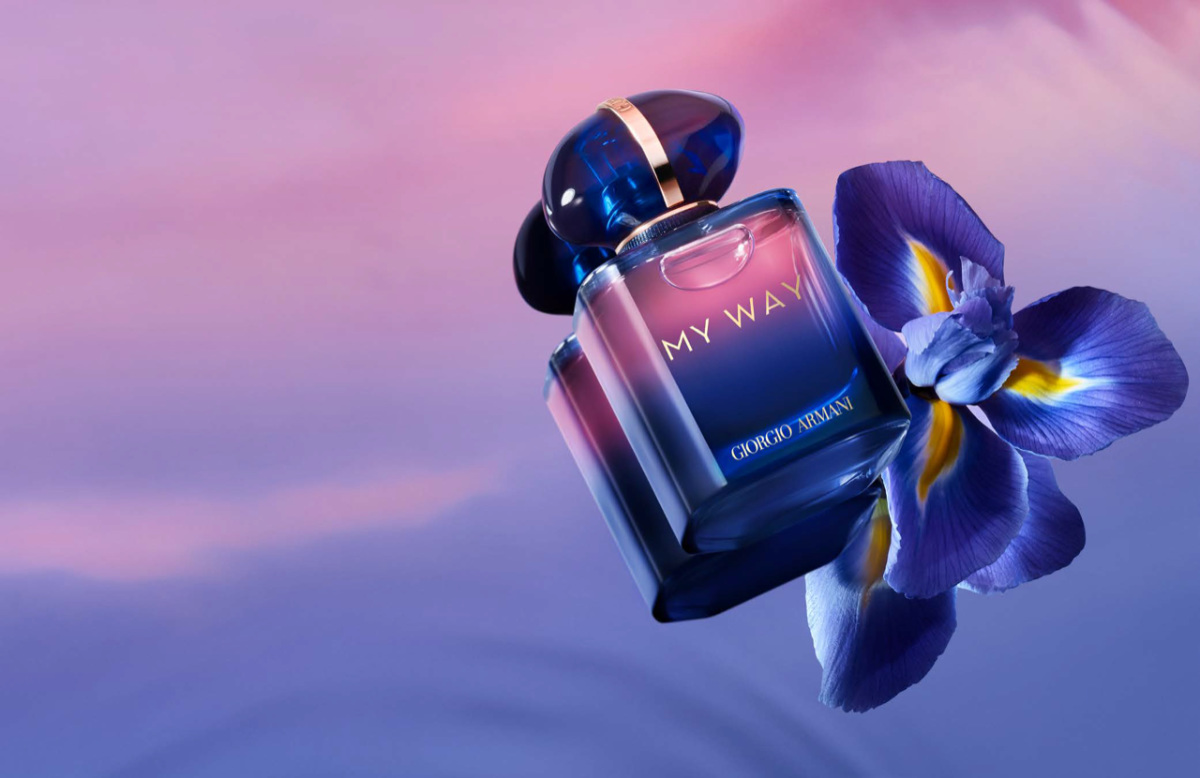 TONES SYMBOLIC OF RADIANCE AND INTENSITY
MY WAY PARFUM's elegant and striking new bottle design is crafted in a graduated, deep blue hue. This tone, the most intense shade of all the MY WAY fragrance collection's bottles, reflects the richness of MY WAY PARFUM. In the rounded yet square silhouette that is the signature of the MY WAY collection, the glass flacon's ombré tones graduate from deep blue at the base, to pink at the top. The graduated colors also reflect the contrast of the fragrance's notes, with the deep blue at the base evoking the iridescent, musky aspects, while the floral tuberose absolute is captured in the pink at the top.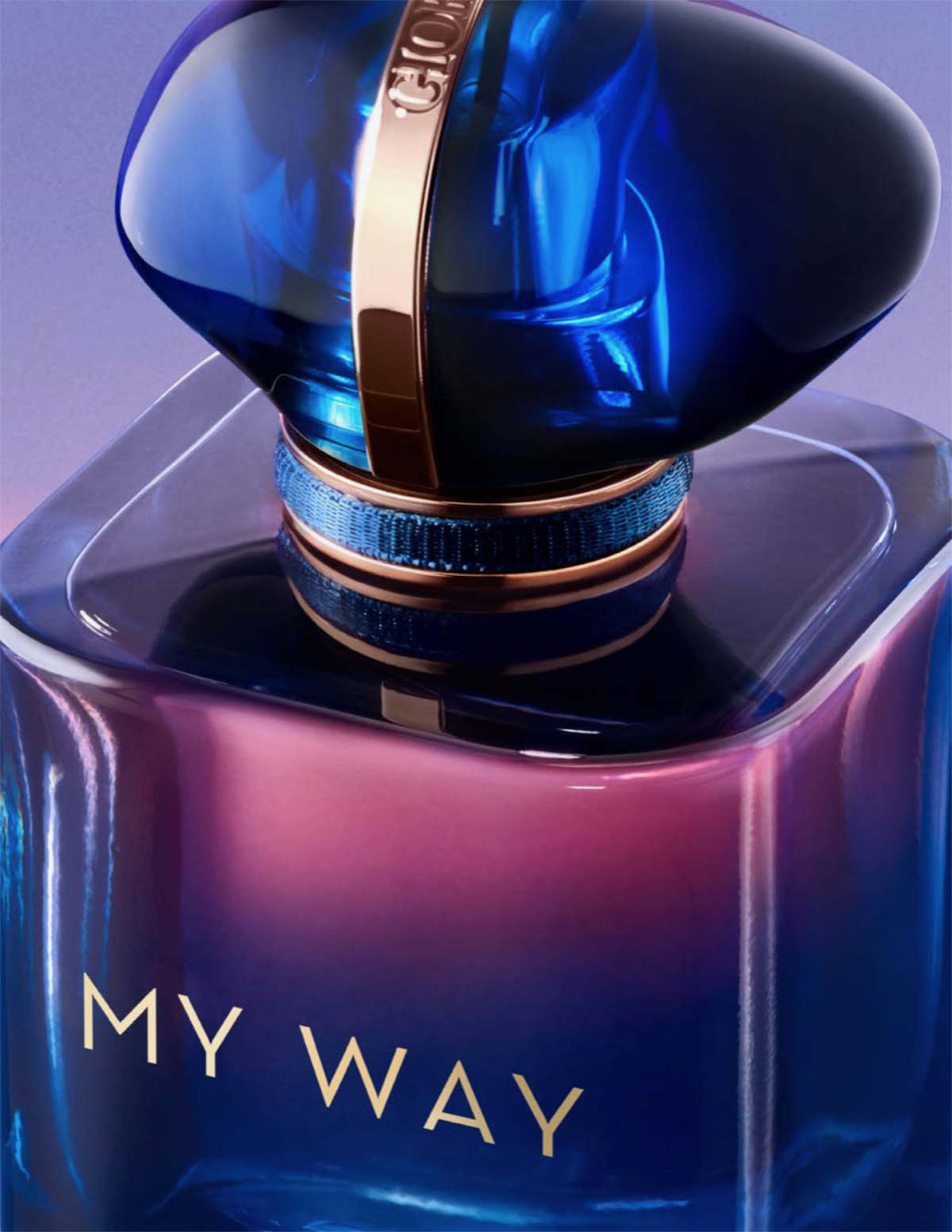 The MY WAY PARFUM bottle creates a further striking contrast between the cap's expressive curves and the flacon's sleek, clean lines. The deep blue, tactile cap is designed to conjure an organic-looking stone, adorned with a golden band. The cap's deep blue in turn reflects the bottle's translucent wash of color. The cap serves as a powerful talisman, too, capturing the transformative experiences that inspire MY WAY PARFUM. Encircling the stone is a shimmering gold ring engraved with "Giorgio Armani ", that symbolizes the path into the unknown that MY WAY PARFUM evokes. Another striking touch of blue is the fabric collar around the bottle's neck, which nods to Giorgio Armani's fashion heritage.
DESIGNED TO LAST, EFFORTLESSLY REFILLABLE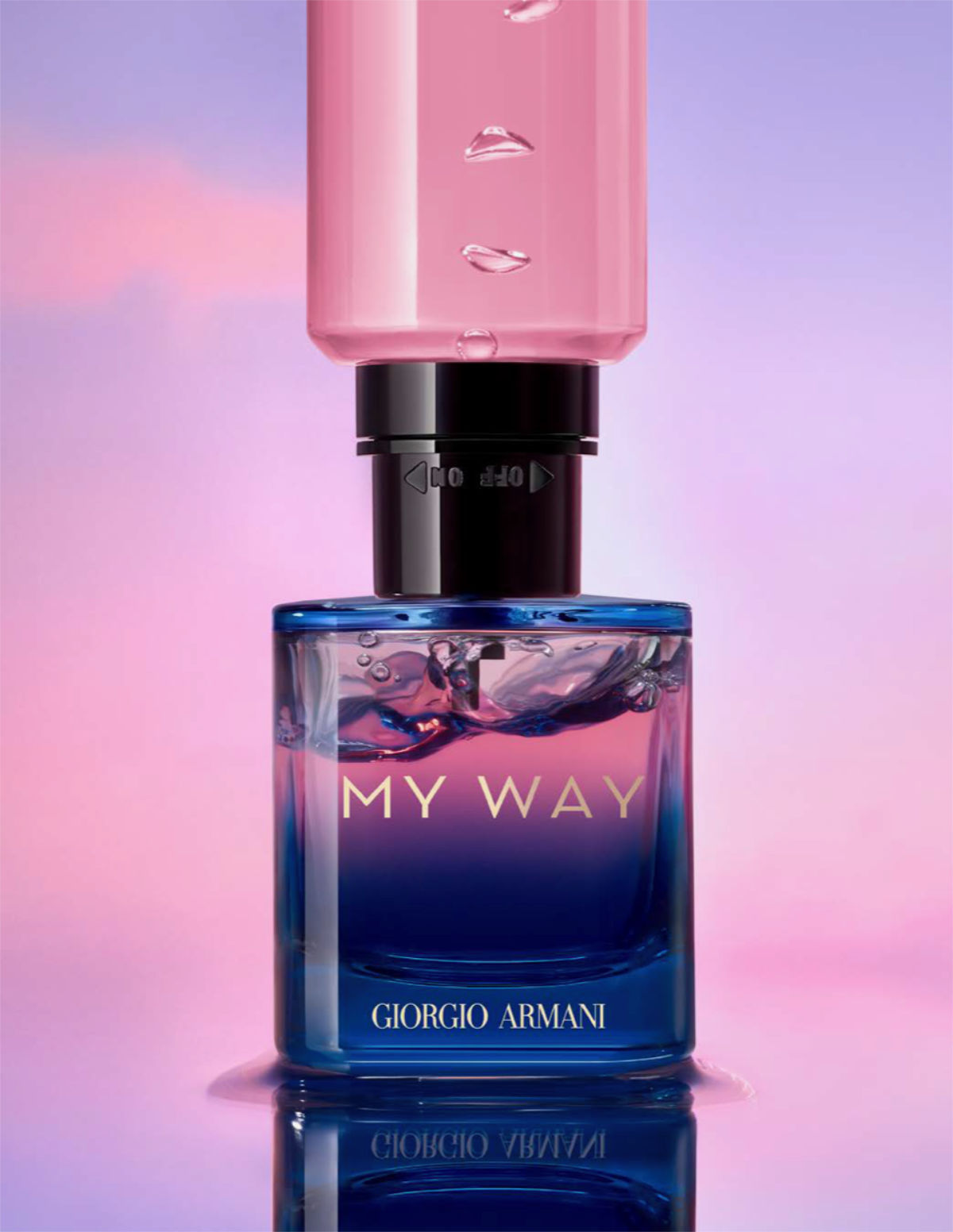 MY WAY PARFUM, through its eco-conception, is emblematic of Giorgio Armani's ongoing commitment to protecting the environment. Like all the MY WAY fragrance bottles, MY WAY PARFUM's bottle is refillable and designed to last. Its bottle is created with a functional refill system, allowing the original spray bottle to be refilled seamlessly, without using a funnel.
ON A UNIQUELY MOVING JOURNEY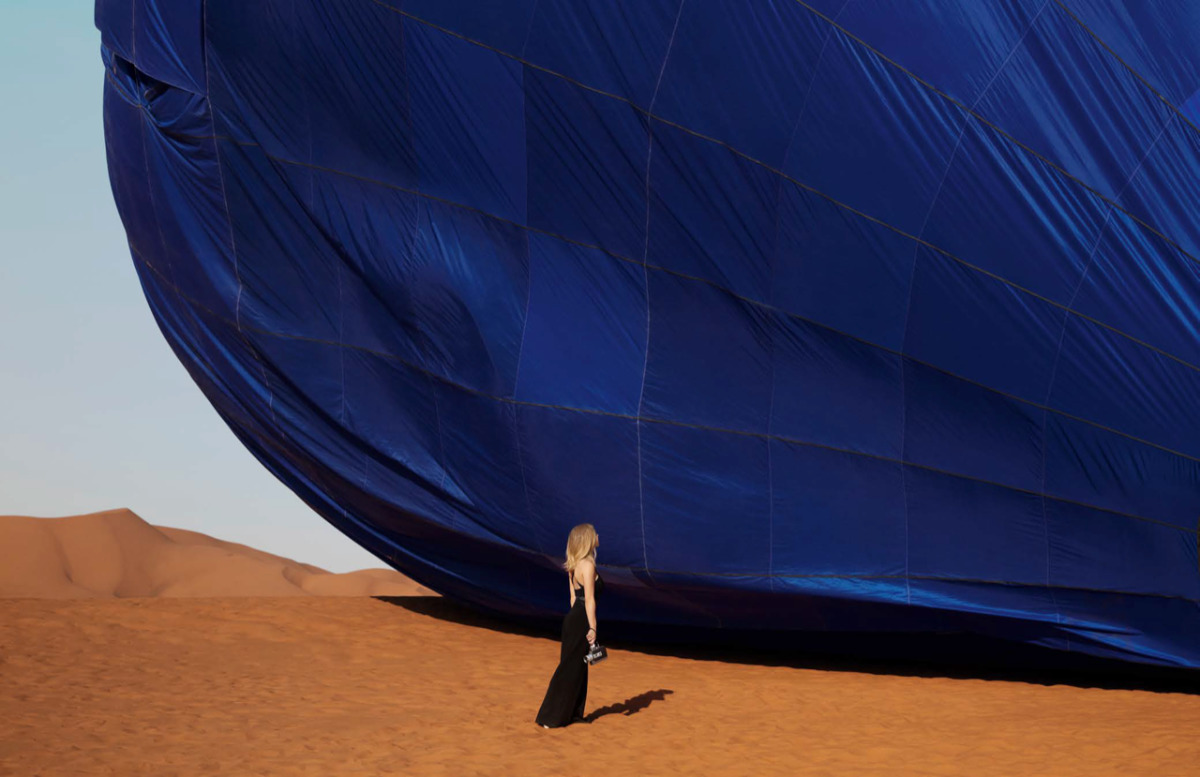 UNFORGETTABLE EXPERIENCES
The MY WAY PARFUM campaign, directed by Jonas Lindstroem, is an ode to the power of experiencing truly unique moments. The film depicts Sydney Sweeney being fully engaged in the emotions evoked by the experiences she is living. As she races a motorcycle across the desert, the film conveys her exhilaration and determination. Then, in a hot air balloon crossing a sea of sand dunes, Sweeney looks on in awe. In the blue streets of the Moroccan city of Chefchaouen, the film captures Sweeney's sense of wonder. The campaign conveys all the intensity and sensory impact of these unforgettable moments. In each of these scenes, Sydney steps out of the familiar and into the unknown, completely immersing herself in these intense experiences.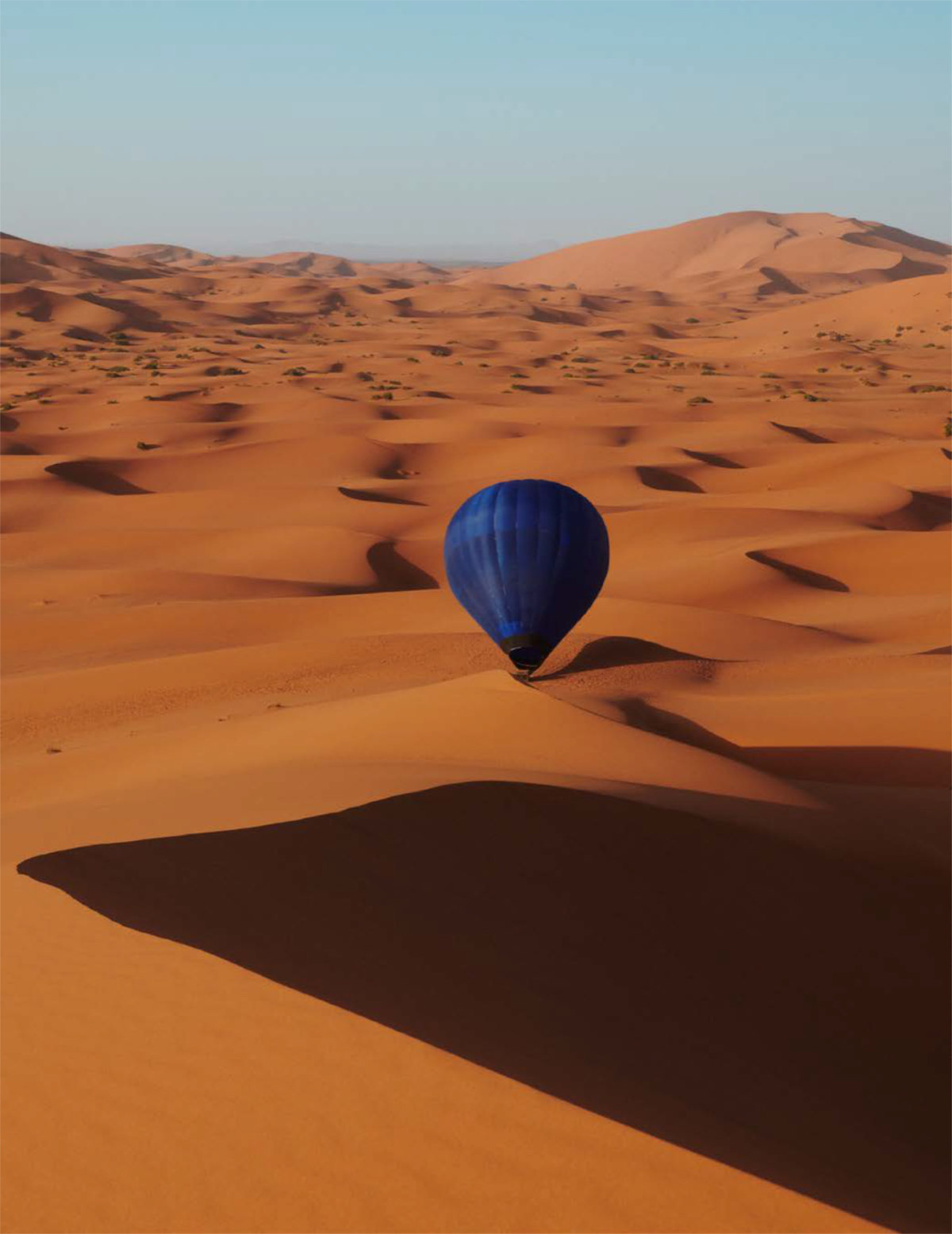 To accompany the film campaign is a new MY WAY print campaign, shot by Dario Catellani. The campaign's uplifting imagery pictures a serene-looking Sydney Sweeney dressed in blue against a vibrant pink backdrop, drawing on MY WAY's signature tones.
LIVED FROM AN IMMERSIVE POINT OF VIEW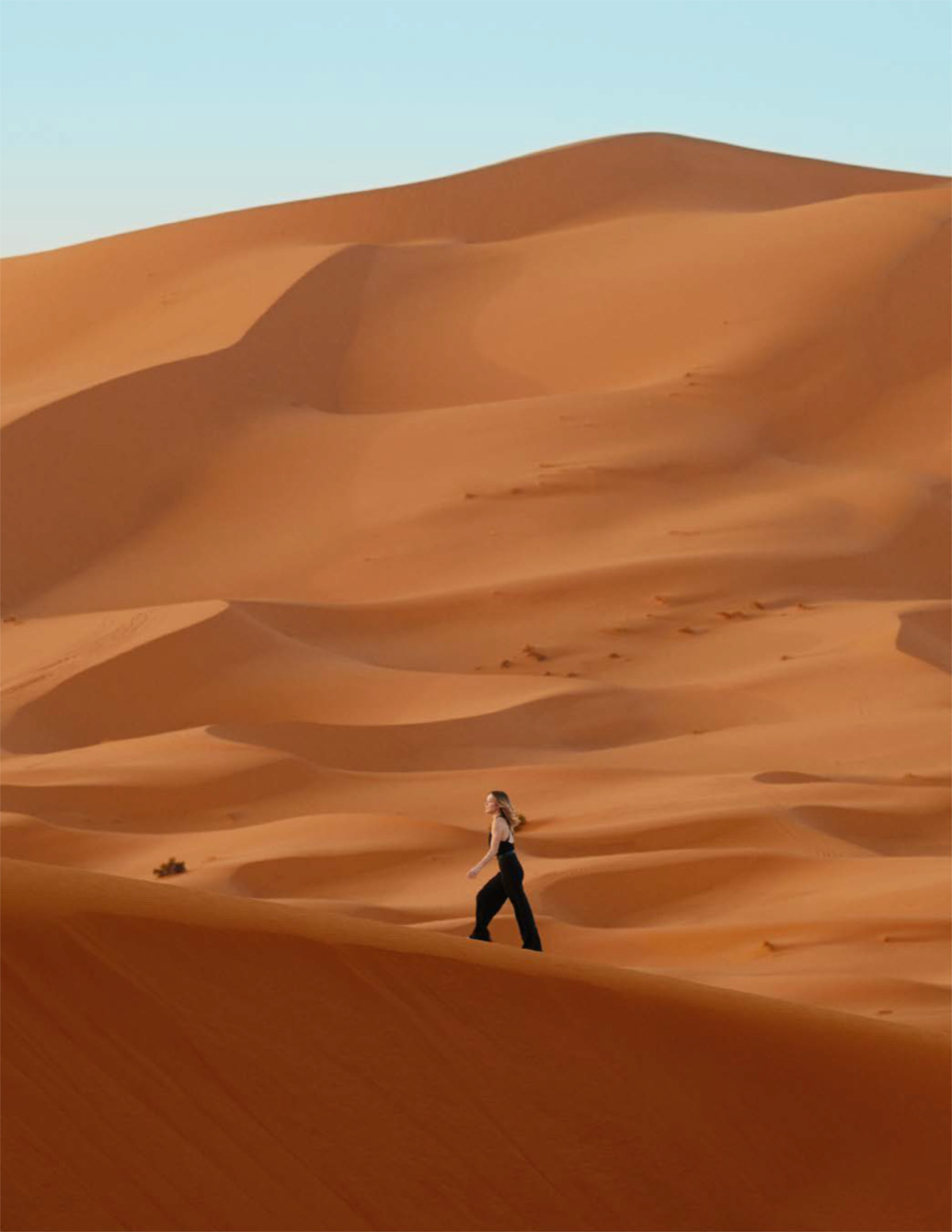 Immersed in the campaign film, the viewer shares Sydney Sweeney's unique perspective on the world. Using a vintage camera, Sydney Sweeney steps behind the lens and shoots a clutch of scenes from her own point of view, interwoven with the campaign's main action, shot by director Jonas Lindstroem. Directing these moments also reflects Sydney Sweeney's genuine passion for documenting her own travels. Through Sweeney's eyes, the viewer is captivated by these experiences and the emotions that emanate from them.
ENHANCED BY A TIMELESS SONG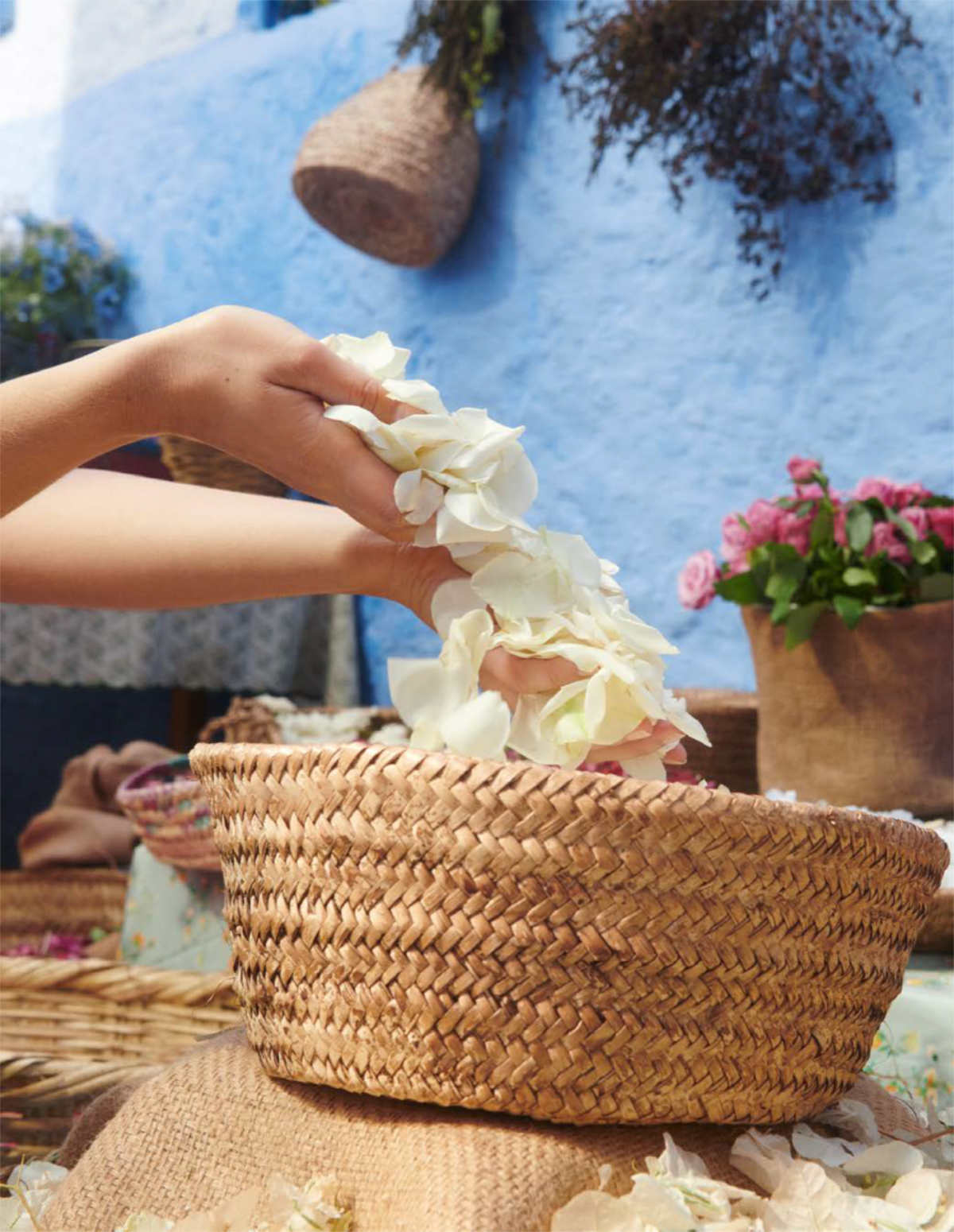 The film's soundtrack is a poignant remix of My Way by French singer-songwriter Clara Luciani. Originally written in French, this song was propelled to global recognition in 1969 with Frank Sinatra's English version of the track. Since then, countless artists have put their own unique spin on My Way. Its profound lyrics create another layer of meaning for the MY WAY campaign film, as Sweeney is driven by her desire to live experiences that are meaningful to her.
DEPICTED IN A PINK AND BLUE PALETTE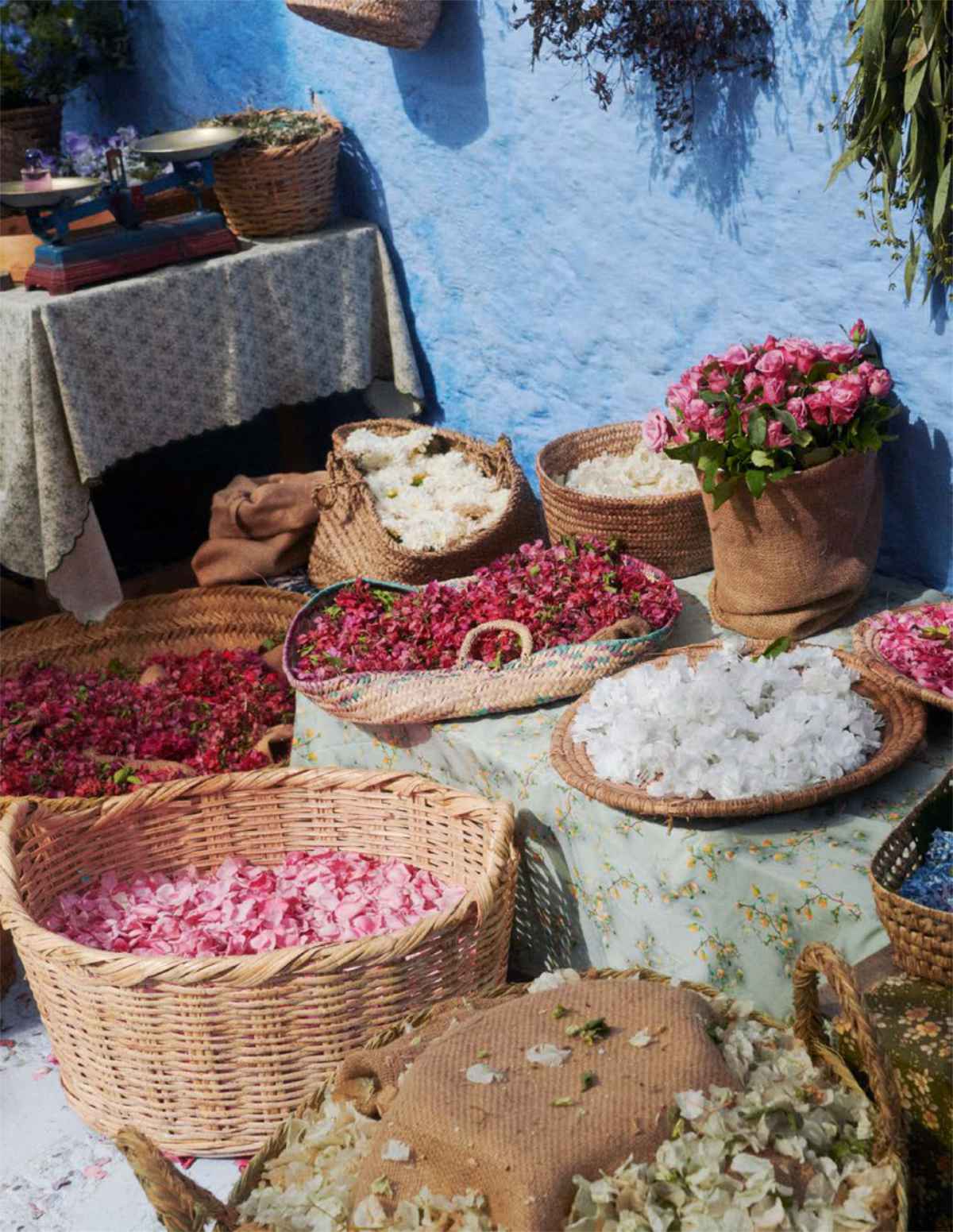 The film highlights the captivating contrasts of MY WAY PARFUM, bringing the striking pink and blue palette to life.
The film's pink-toned scenes span a mesmerizing, pink sun that sets against a backdrop of sand dunes. This is followed by a serene, pink desert lake that creates a mood of endless possibilities. Alongside this, the sight of a flock of pink flamingos taking flight transports the viewer.
Elegantly juxtaposed with the pink-hued scenes are the film's scenes painted in blue. These include the immersive, indigo-toned underground caves that the viewer discovers alongside Sydney Sweeney. Also evocative are those scenes that depict the winding streets of Chefchaouen, Morocco.
The dreamlik blue streets of Chefchaouen, known as "The Blue Pearl," are a visual signature of the MY WAY PARFUM campaign film. Situated in Northeastern Morocco, Chefchaouen was listed as an Intangible Cultural Heritage of Humanity by UNESCO in 2010.
A SUSTAINABLE PHILOSOPHY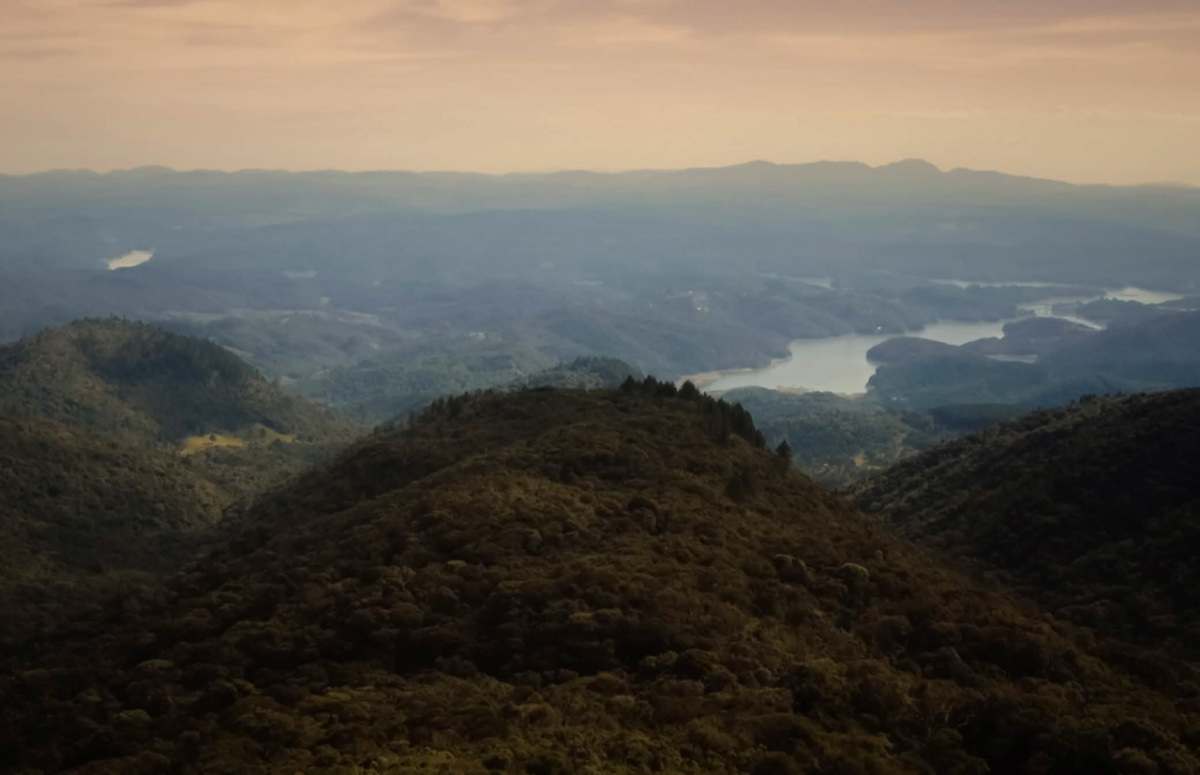 A COMMITMENT TO THE PLANET
Giorgio Armani is committed to preserving the planet's resources, amongst which forests and water. The 2020 debut of MY WAY marked an acceleration of the Giorgio Armani brand's commitment to the environment. In MY WAY's refillable bottle and ecoconception, Giorgio Armani strives to drive a shift in luxury consumption patterns, with the goal to combat climate change, which encompasses protecting ecosystems and forests.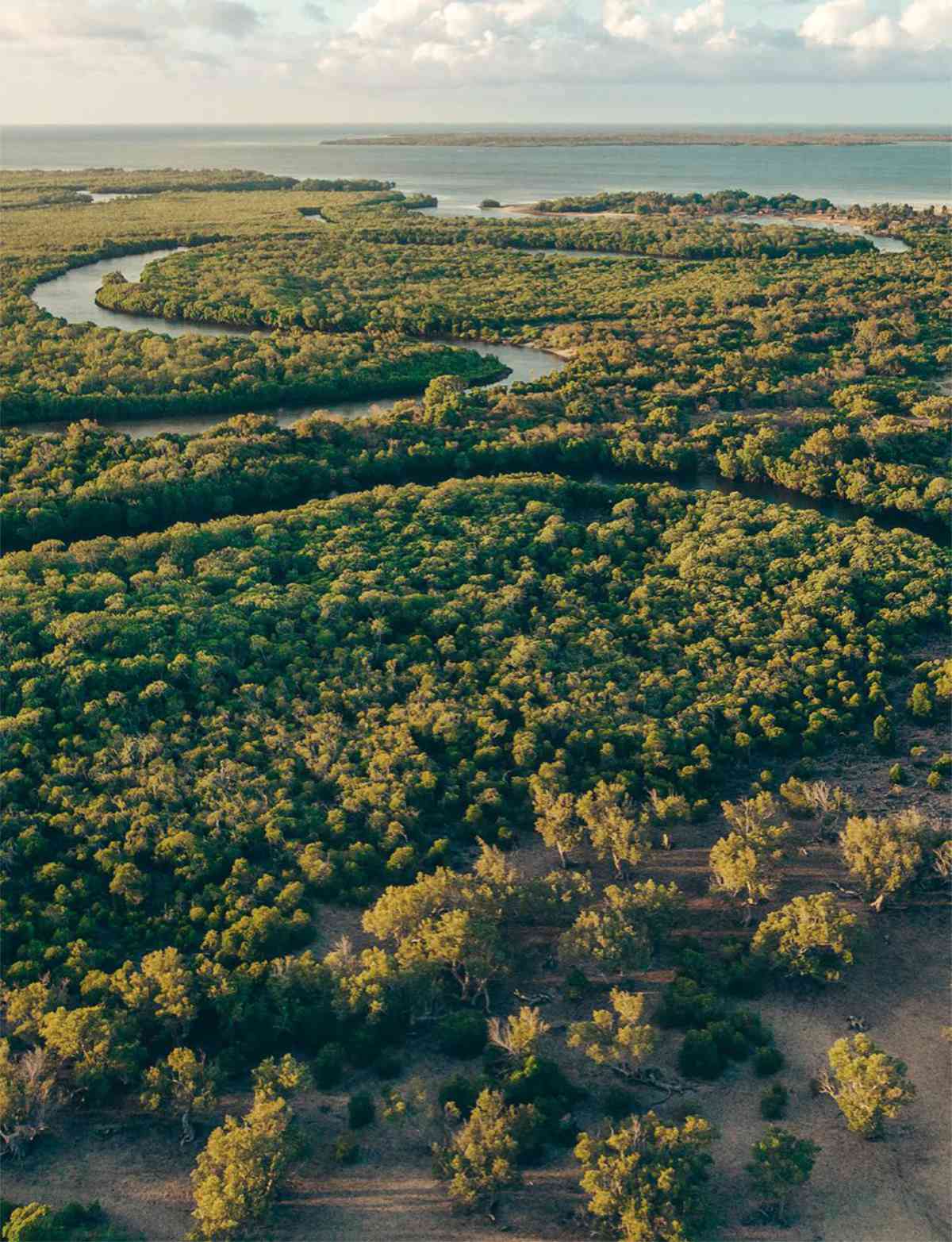 As trees have the power to absorb carbon dioxide from the atmosphere, via photosynthesis, protecting forests is a critical element of tackling climate change. Giorgio Armani also addresses the pressing issue of water scarcity, another effect of climate change, through the brand's Acqua for Life initiative.
CRAFTED TO LAST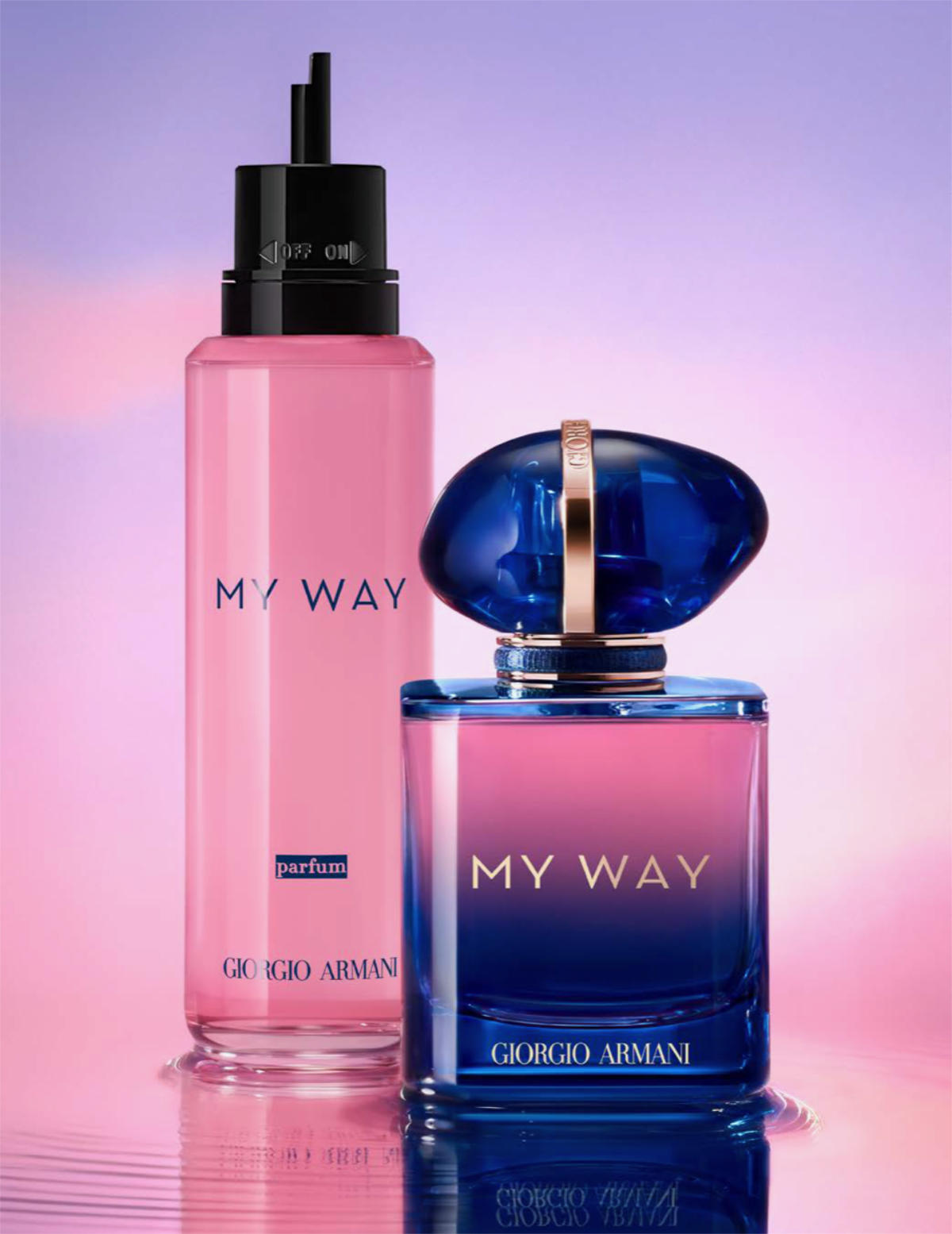 Giorgio Armani creates beautiful objects that are designed to last. Each product is crafted from carefully chosen materials into elegant, signature shapes, as a desirable object to keep.
The brand's commitment to sustainability reached a significant milestone in 2020 with the debut of a refillable bottle for the original MY WAY fragrance. That has continued with ACQUA DI GIÒ EAU DE PARFUM and ARMANI CODE PARFUM's refillable bottles and is now amplified with MY WAY PARFUM's refillable flacon.
Using a refill for MY WAY PARFUM's 50ml spray bottle results in a demonstrable reduction in raw material use: 45% less glass is used, 52% less plastic, and 66% less metal*. MY WAY PARFUM's refillable nature underlines the Giorgio Armani commitment to the planet 's future, and chimes with the sense of responsibility toward the environment of those who wear it.
SUSTAINABLY SOURCED INGREDIENTS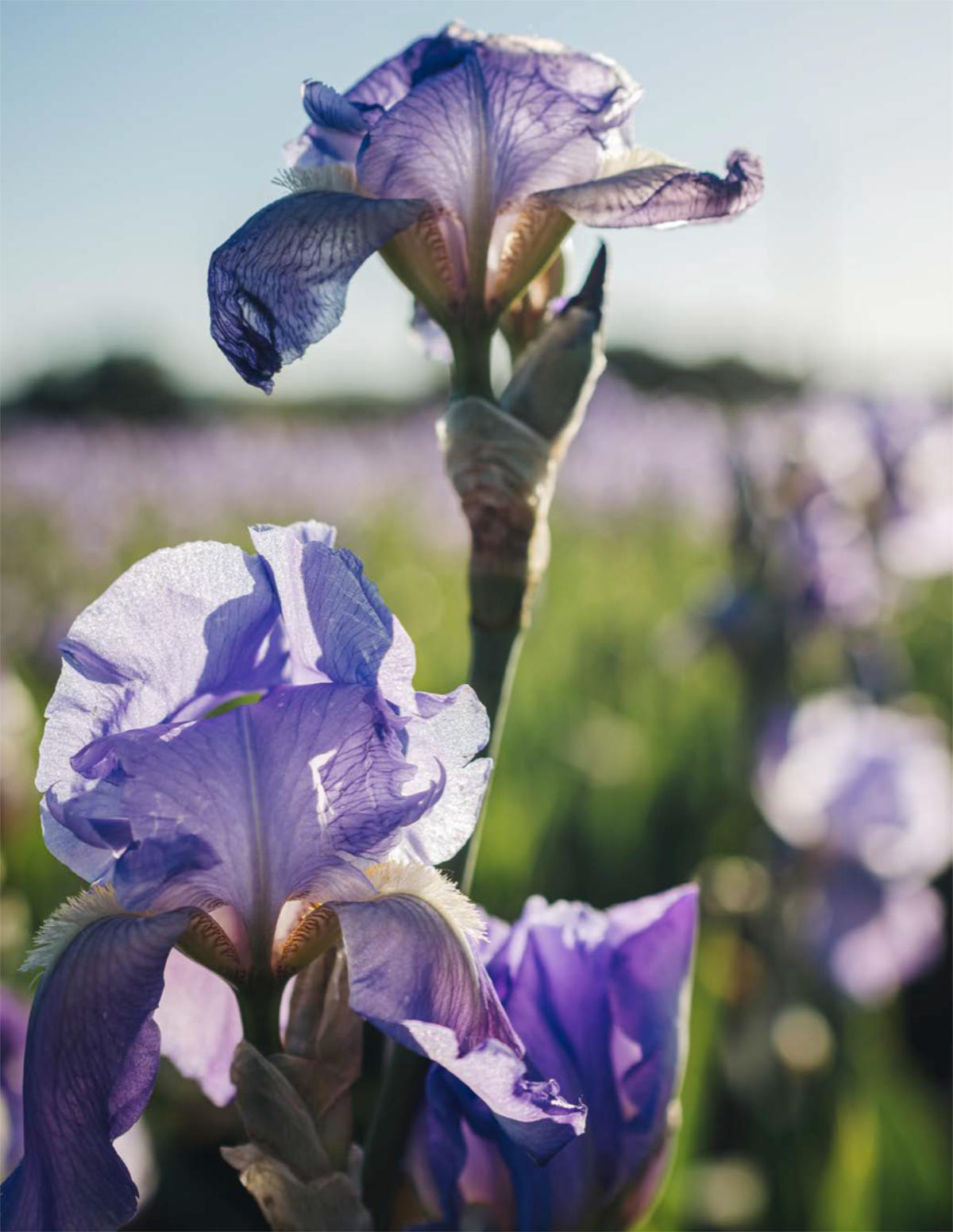 When creating fragrances, Giorgio Armani prioritizes the inclusion of ingredients of the most refined quality, while their sourcing respects the environment and the communities where they are found. Giorgio Armani collaborates with local NGOs to source natural ingredients through local programs. These programs, based on fair trade principles, seek to suppor t underprivileged and economically vulnerable communities.
Among MY WAY PARFUM's sustainably sourced ingredients is part of the iris pallida from France which is crafted for Armani. The precious iris pallida butter is obtained via a hydro-distillation of the dried Iris roots, which are naturally oxidized.
The vanilla bourbon infusion from Madagascar is both crafted for Giorgio Armani and sustainably sourced, as part of the brand's solidarity sourcing program with NGO Fanamby. This program is supported by Giorgio Armani to protect the environment and empower the local community.
The vanilla production process is controlled very closely, ensuring that the vanilla is consistently of a high, refined quality.
The vanilla ingredient's inclusive sourcing program promotes social inclusion by prioritizing suppliers who provide reliable work and income for vulnerable people. The program diversifies revenues to improve local livelihoods, supporting producers to grow rice and coffee alongside vanilla, thereby encouraging local entrepreneurship. Finally, the program, which was established in 2018, also protects biodiversity in the region, through the reforestation of 150 hectares of mangrove forest, a milestone achieved in 2020. It is estimated that this activity benefits at least 30% of smallholder farmers in the area.
PROTECTING FORESTS, PRESERVING BIODIVERSITY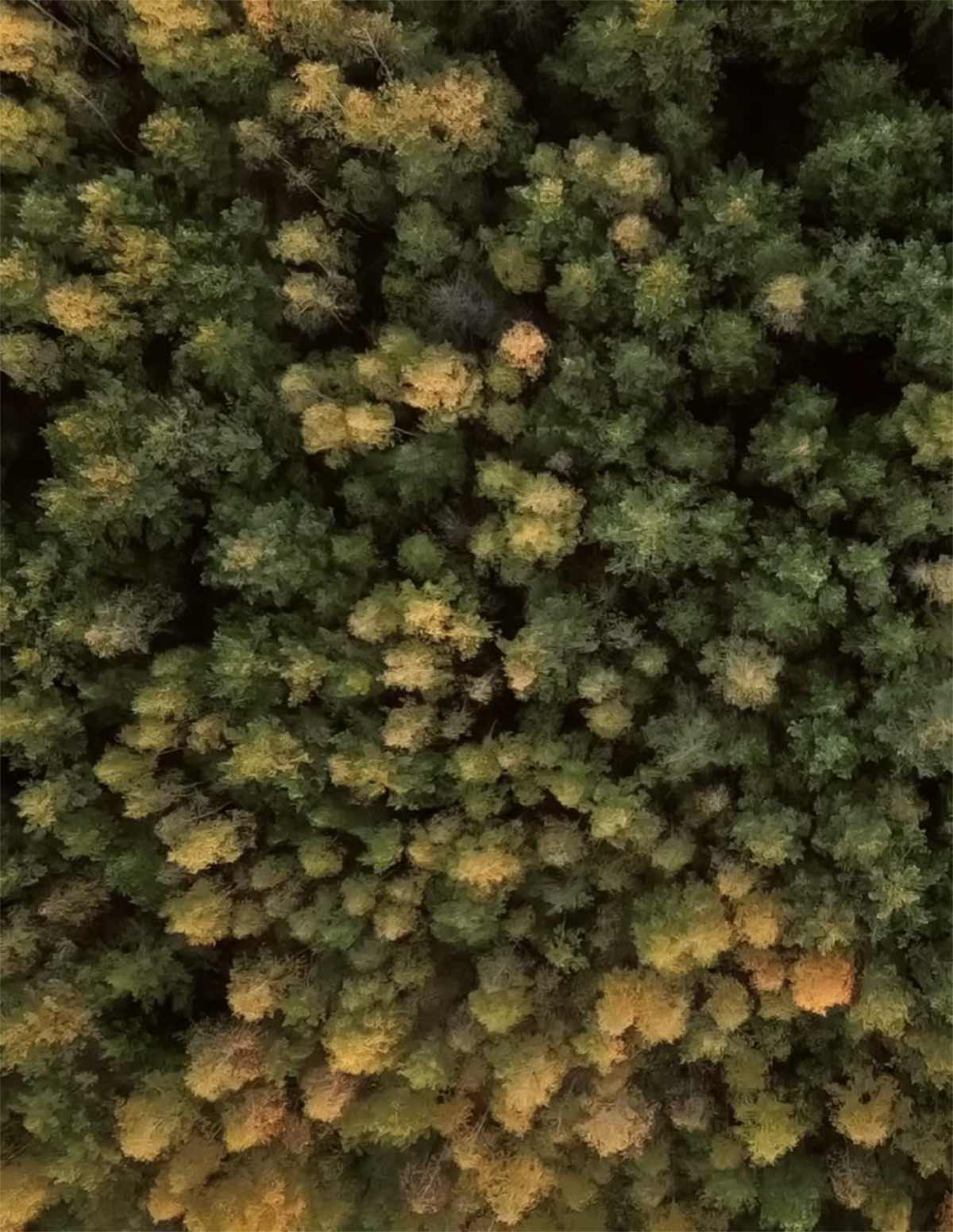 Climate change is a major factor that affects biodiversity. The rise in the global average temperature is attributed to an increase in greenhouse gas emissions resulting from human activity, also known as carbon - or CO2 - emissions. Trees inhale carbon dioxide and exhale oxygen as they grow, making planting and preserving forests a vital action in protecting the environment. This allows carbon dioxide to be absorbed from the atmosphere and oxygen to be released in its stead.
To contribute to a sustainable transformation, Giorgio Armani continues to focus its sustainability efforts on reducing its carbon footprint. Since 2019, Giorgio Amani has supported five forest preservation programs located across three countries: Brazil, Peru and Zimbabwe. Through these programs, over 15,000 hectares of forest have been preserved.
In tandem with this forest preservation initiative, those who purchase the MY WAY fragrances can now play their own part in Giorgio Armani's drive towards sustainable consumption. In select countries, for each purchase of a MY WAY fragrance, Giorgio Armani will plant a tree on the customer's behalf. Meanwhile, for every purchase of a MY WAY refill, Giorgio Armani will plant two trees. The customer receives a certificate for the tree or trees being planted thanks to their purchase, attesting their participation in Giorgio Armani's environmental initiative, and rewarding their own sustainable actions. This initiative has already resulted in the planting of more than 50,000 trees.
EMPOWERING COMMUNITIES THROUGH ACCESS TO WATER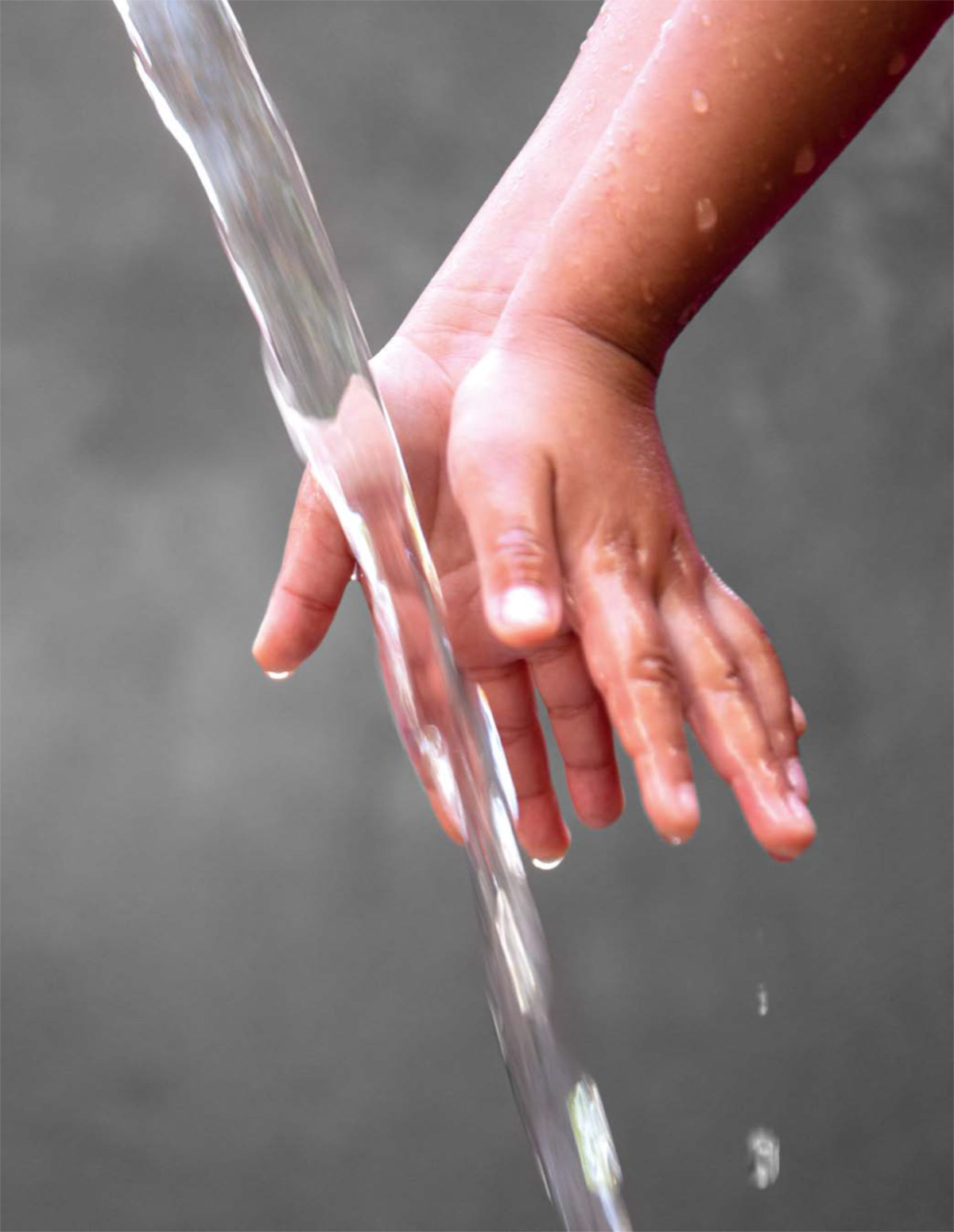 An integral part of Giorgio Armani's pledge to preserve natural resources is the Acqua for Life initiative. Its mission is to deliver universal access to drinking water in water-scarce regions around the world. Initiated in 2010, the same year that the United Nations recognized the right to water and sanitation as a human right, Acqua for Life has been a commitment for the brand ever since. Acqua for Life has, as of today, invested more than 12 million Euros in water projects worldwide. This has resulted in delivering access to safe water to over 450,000 people, in 21 countries, across three continents**.
As of 2023, this international water initiative encompasses nine projects, including four new initiatives in China, Kenya, Nigeria and South Africa, and five others in India, Madagascar, Malawi, Tanzania and Uganda. Acqua for Life partners and sustains an ongoing conversation with three main partners worldwide: Unicef, WaterAid, and Water.org.
Looking to the future, Acqua for Life is committed to continuing to expand its engagement with communities around the world to deliver universal access to safe drinking water.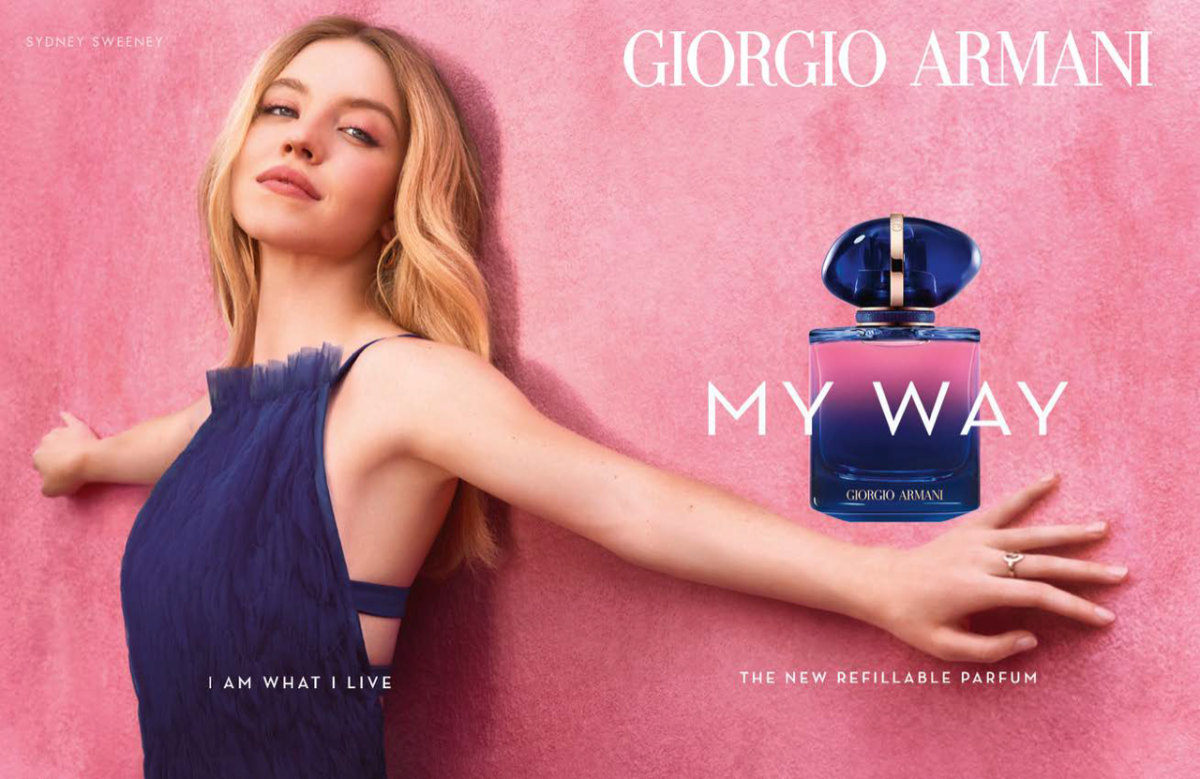 * Based on the use of 1 x 50ml MY WAY LE PARFUM bottle and 1 x 100ml refill, compared to using 3 x 50ml MY WAY LE PARFUM spray bottles.
** Donations include Green Cross International, Unicef USA, WaterAid and Water.org figures for the Acqua for Life program between 2010 and 2022. Beneficiaries include Green Cross International, Unicef USA, WaterAid and Water.org figures between 2011 and 2022.
---