---
Acne Studios Presents Its New Menswear Spring/Summer 2023 Collection
Luxferity, 24.06.2022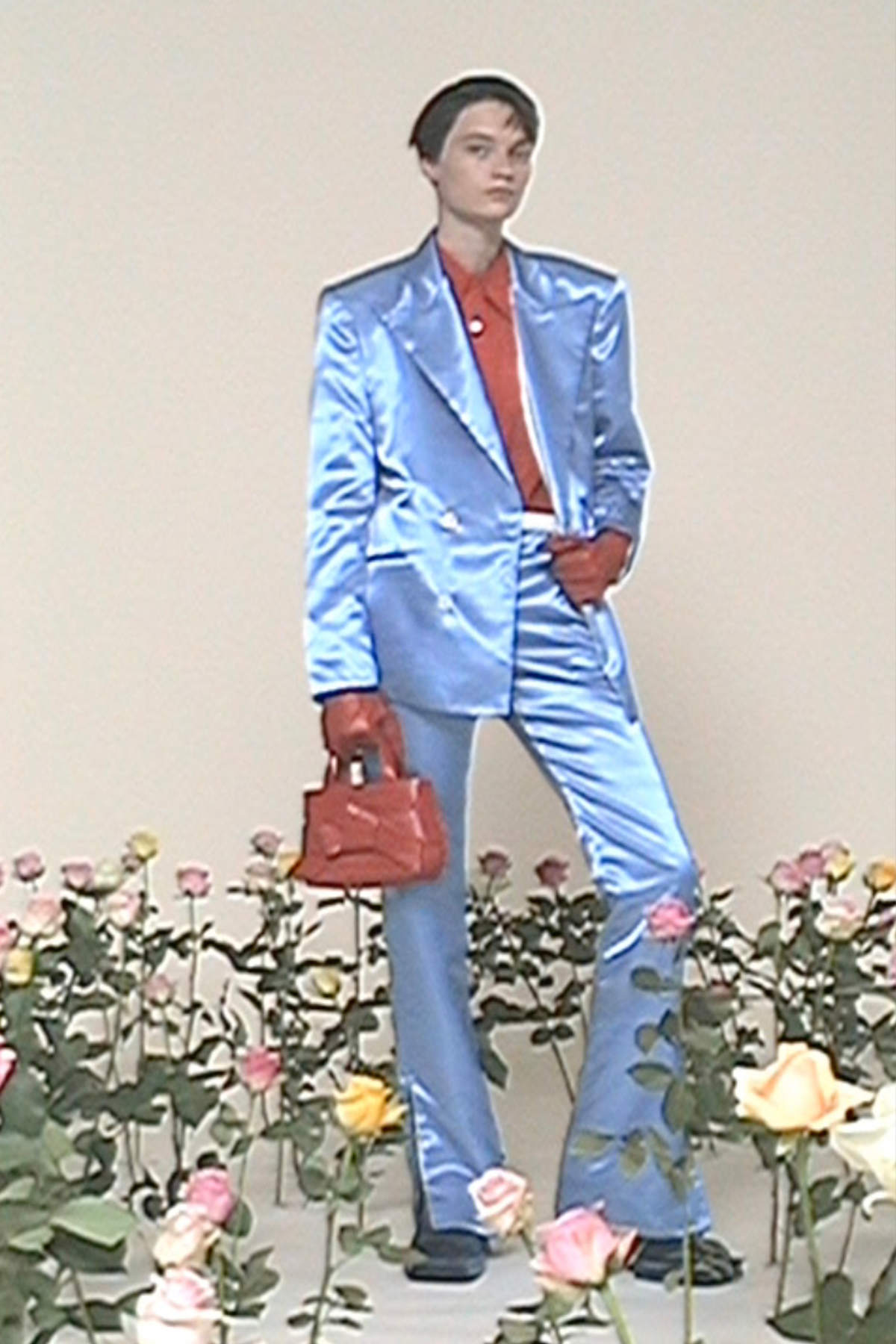 INSPIRATION

A wedding party – twisted. The Spring/Summer 2023 menswear collection celebrates the joy of dressing up with a hint of subversion, skewing traditional formal dress codes for a modern, idiosyncratic take on occasionwear.
QUOTE

"I've been reflecting a lot on my own wedding and the ones I've been to lately. I'm interested in the whole performance of it, the joyfulness, the dressing up, the kitschy-ness. In a sense, it's one of the most serious days of your life, but it's also fun and ridiculous. As I began researching and unpicking the proposition of occasionwear, different characters appeared. When you're going to a wedding, you take the best things from your wardrobe or you buy, build, or make something new. The parts I like have this kitsch, spontaneous feeling," says Jonny Johansson, Creative Director, Acne Studios.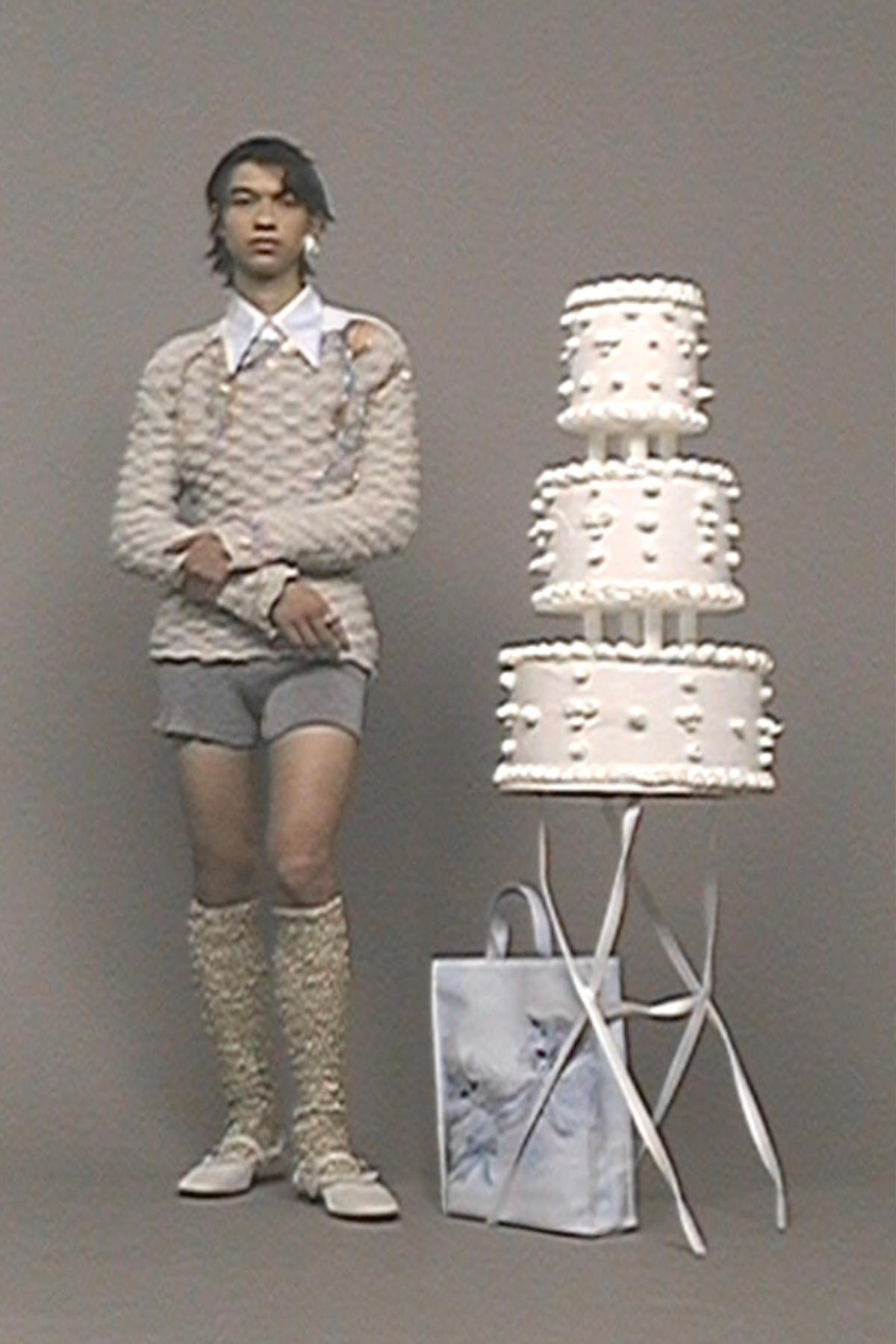 SILHOUETTE

Individualistic styling allows hints of eccentricity and a play on proportions: oversized shoulders and flared, floor-skimming hems meet micro-shorts and cropped, second-skin knits.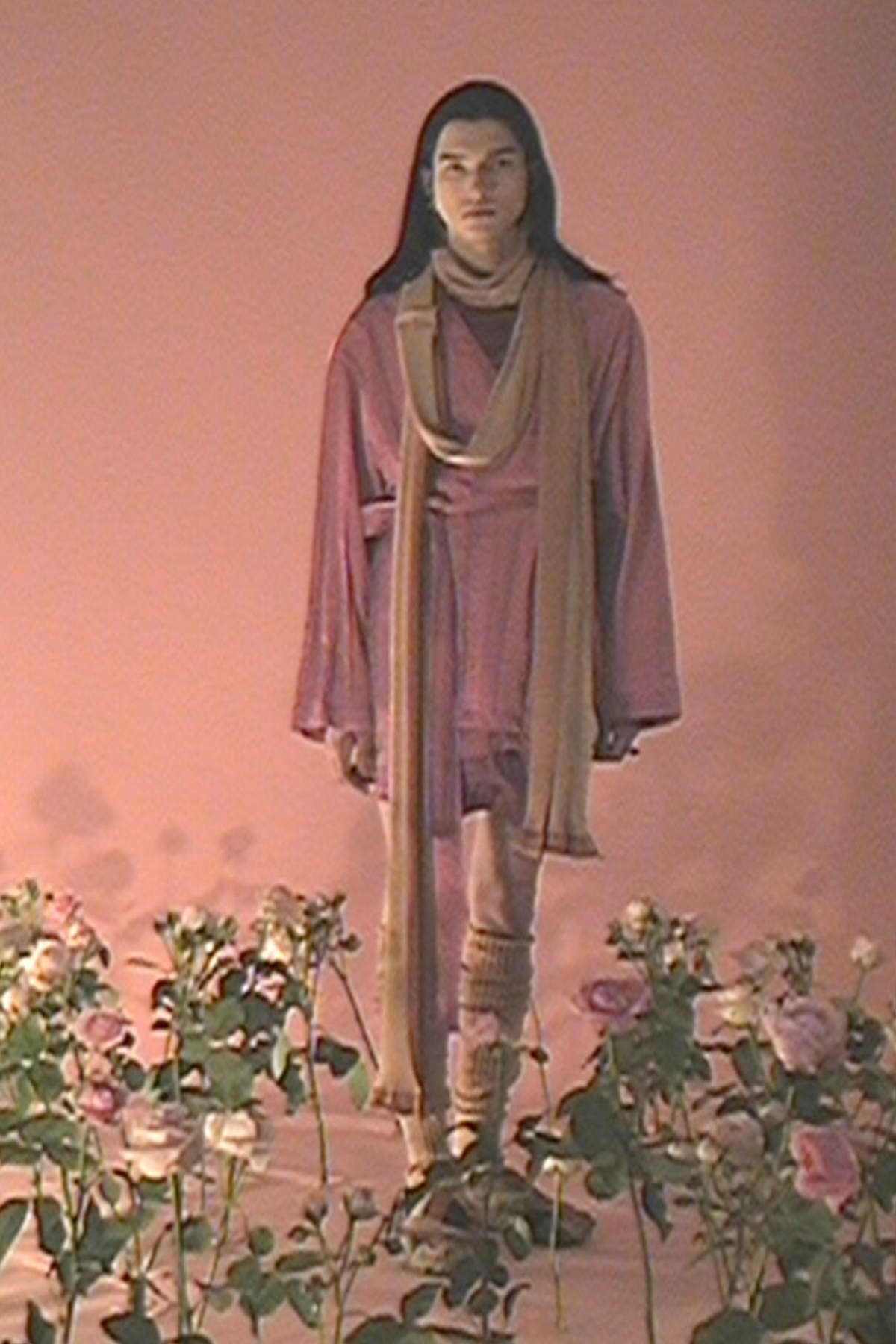 COLOUR PALETTE

Pastels and pearlescent tones are energized with shots of neon green, red, orange and royal purple.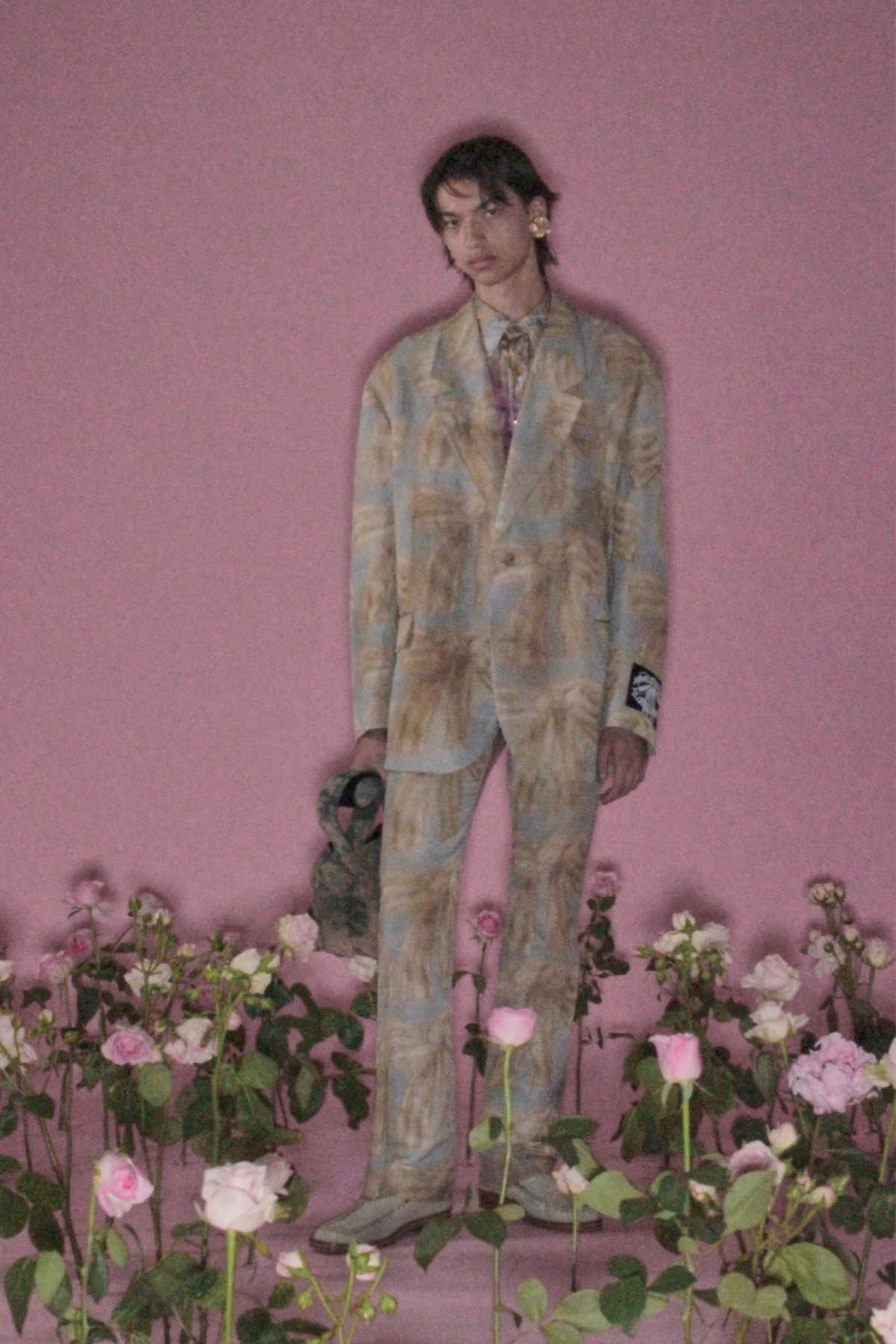 FABRICS

A rich mix of textural clashes are tied together by a mood of exuberance: wedding-night bed sheets find themselves reborn as silk suits with exaggerated lapels. Washed-out, rose-printed satin petticoats are reimagined as oversized shirts and delicate shorts. Metallic tinsel-flecked and fuzzy long-haired knitwear feel homecrafted. Then there are the trimmings: tiny satin bows on starched cotton shirts, studs and charms on crinkly-grain leather, tulle ruffles on form-fitting knits.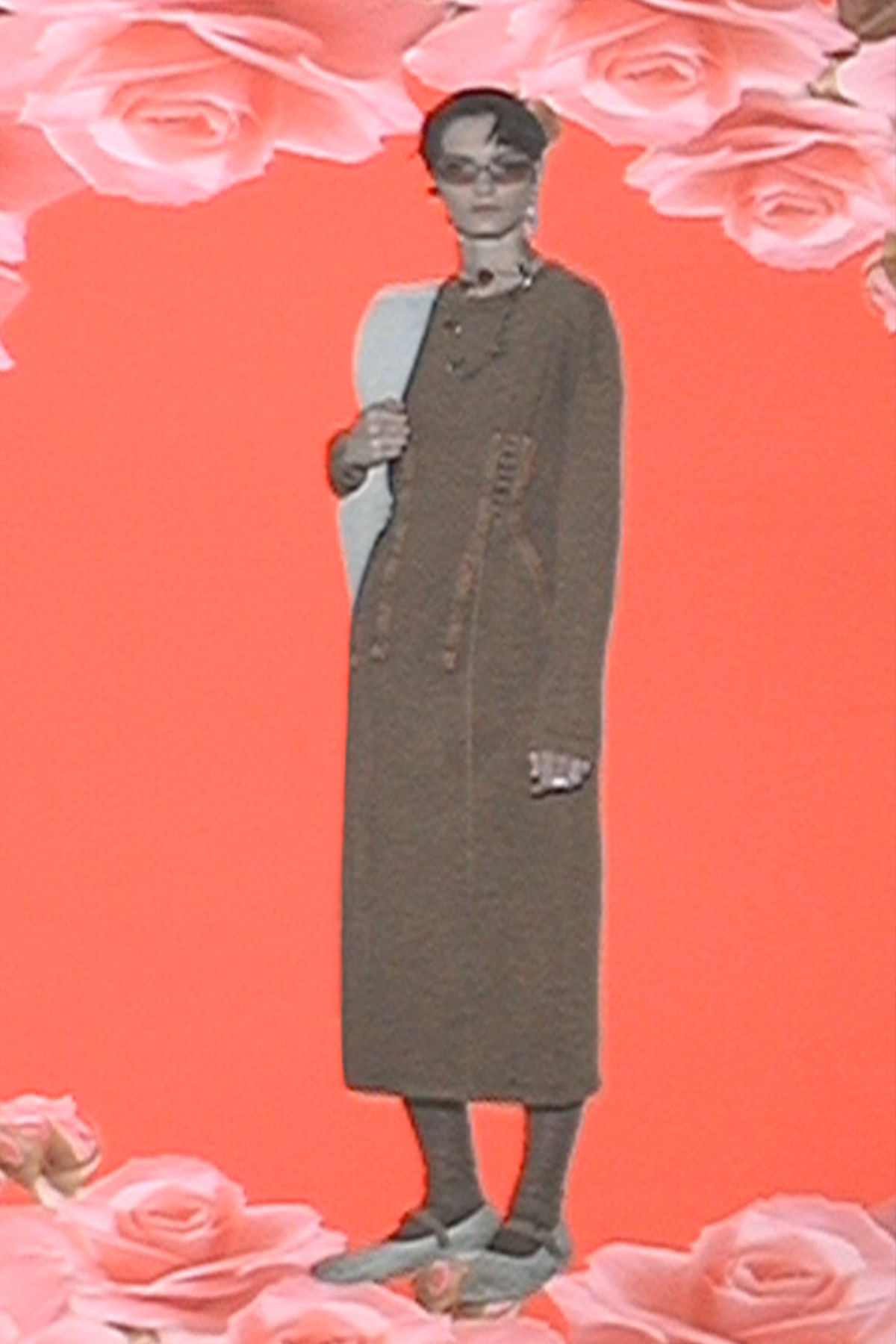 PRINTS

Works by the American artist Karen Kilimnik (b, 1955) comprise prints and appliquéd adornments. Preoccupied with distorting romantic traditions and appraising consumer culture, Kilimnik's knowingly naïve pastel paintings of silk bows and mischievous kittens appear hand-painted on the back of leather jackets and as prints on crinkled satin shirts and finely-woven knitwear. "I'm very inspired by Karen Kilimnik's art, which I discovered a few years ago, and by her views on pop culture. I like the aspect of her work that is feminine, sweet, and romantic – but also unsettling. She has a playful ability to put things in a new context," says Jonny Johansson.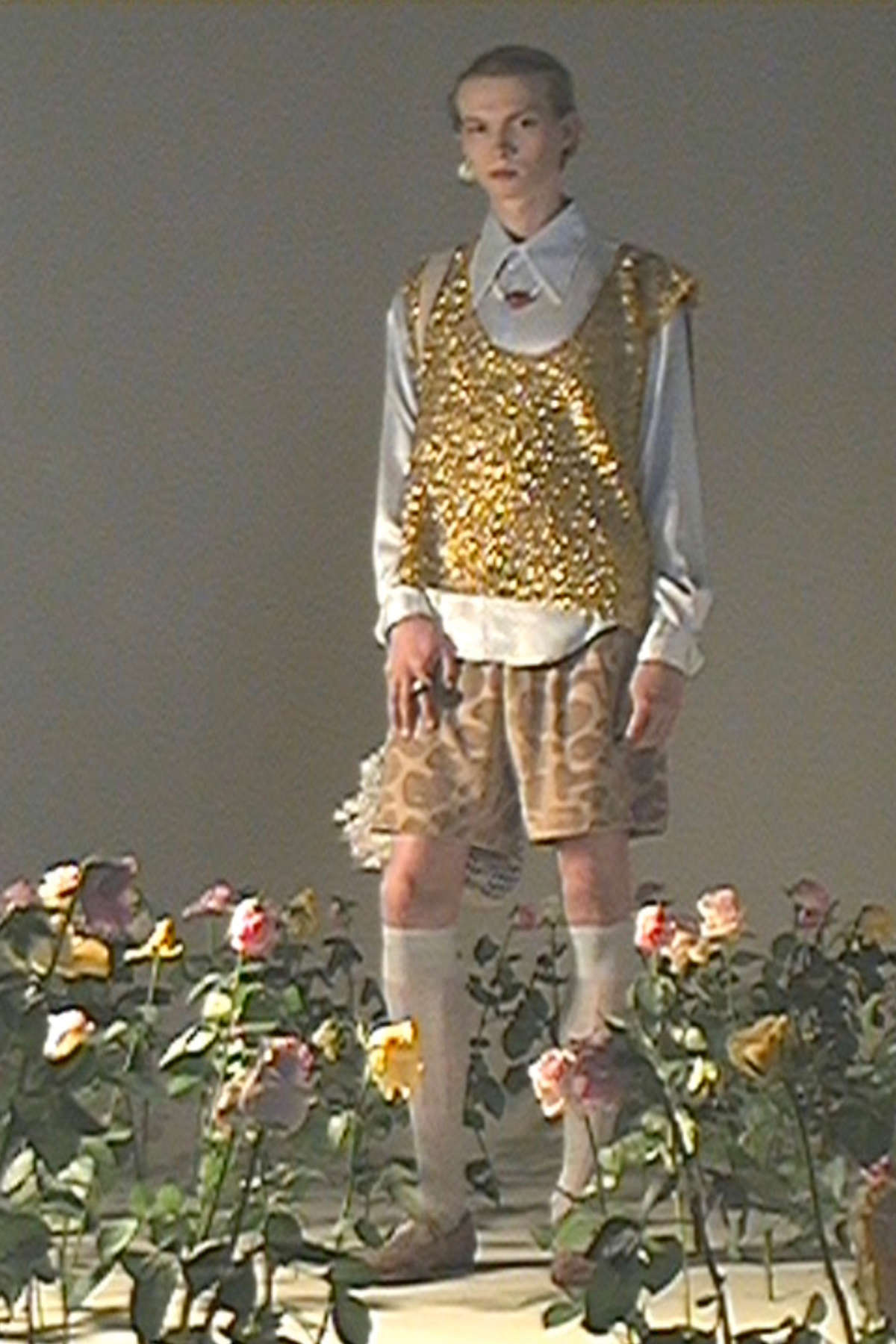 MONOGRAM

Monogram print is introduced for the first time in the form of patchwork bags made from denim and shiny coated-canvas, suiting and footwear.
GRAPHICS

Tongue-in-cheek slogans – 'For Better, For Worse,' 'Forever Mine, Forever Yours' – are traced in rhinestones on T-shirts, embossed into ribbed-jacquard matching sets and printed on lace patches. A new 'Acne Studios Floragatan 13' graphic label outlined in childlike letters and decorated with flowers and bows appears knitted on a sweater and as a logo on leather patches affixed to the inside and outside of garments.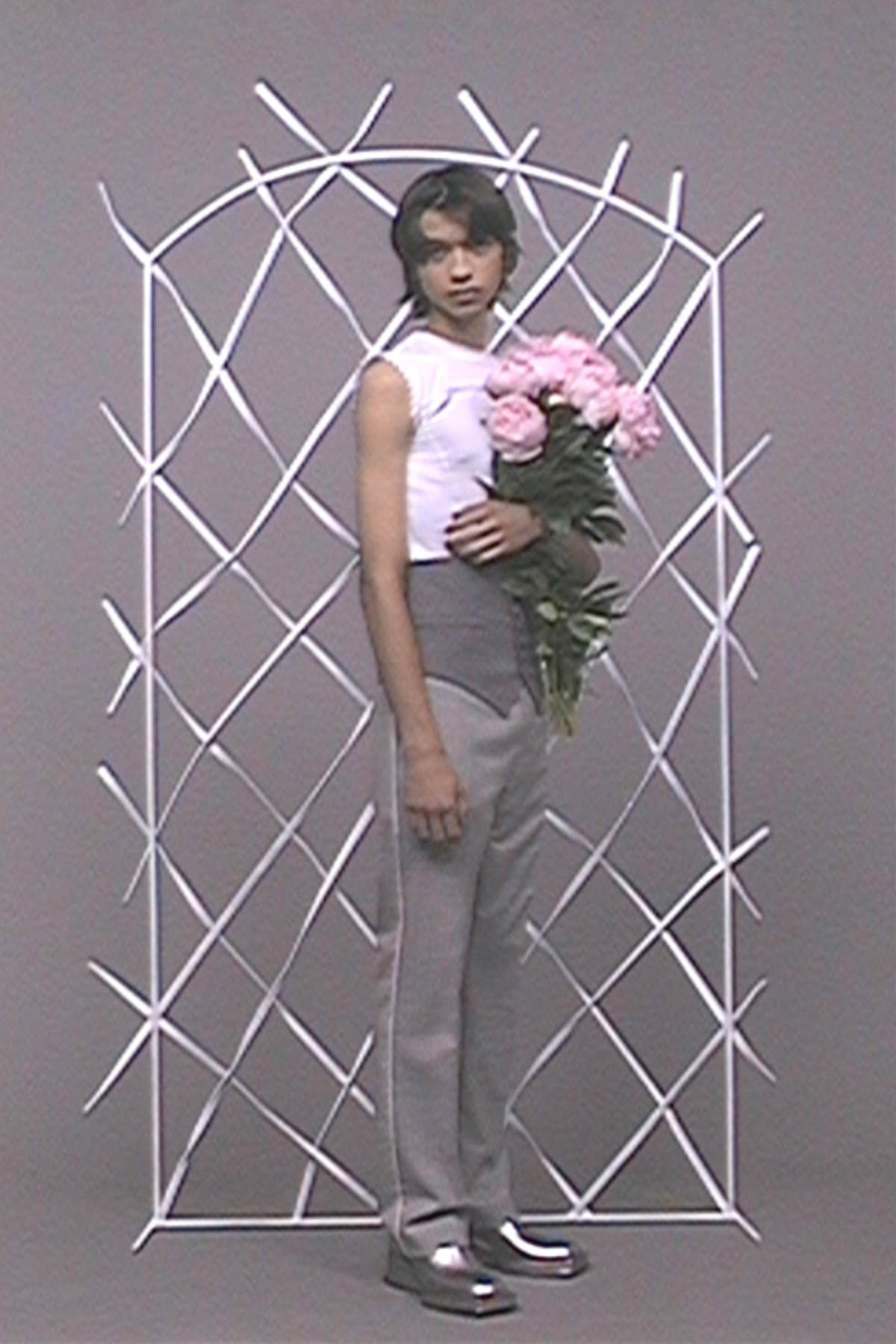 ACCESSORIES

Heart-shaped cut-outs leather gloves, rosebud-adorned chokers, and a crafty crochet take on a corsage. Elsewhere, hippie-kitsch crafty sensibility can be felt in transparent flower-buckle belts, shell-embellished earrings and necklaces, lacquered metal bracelets, tinted bug-eye sunglasses and knee-length tinsel and sheer-knit socks.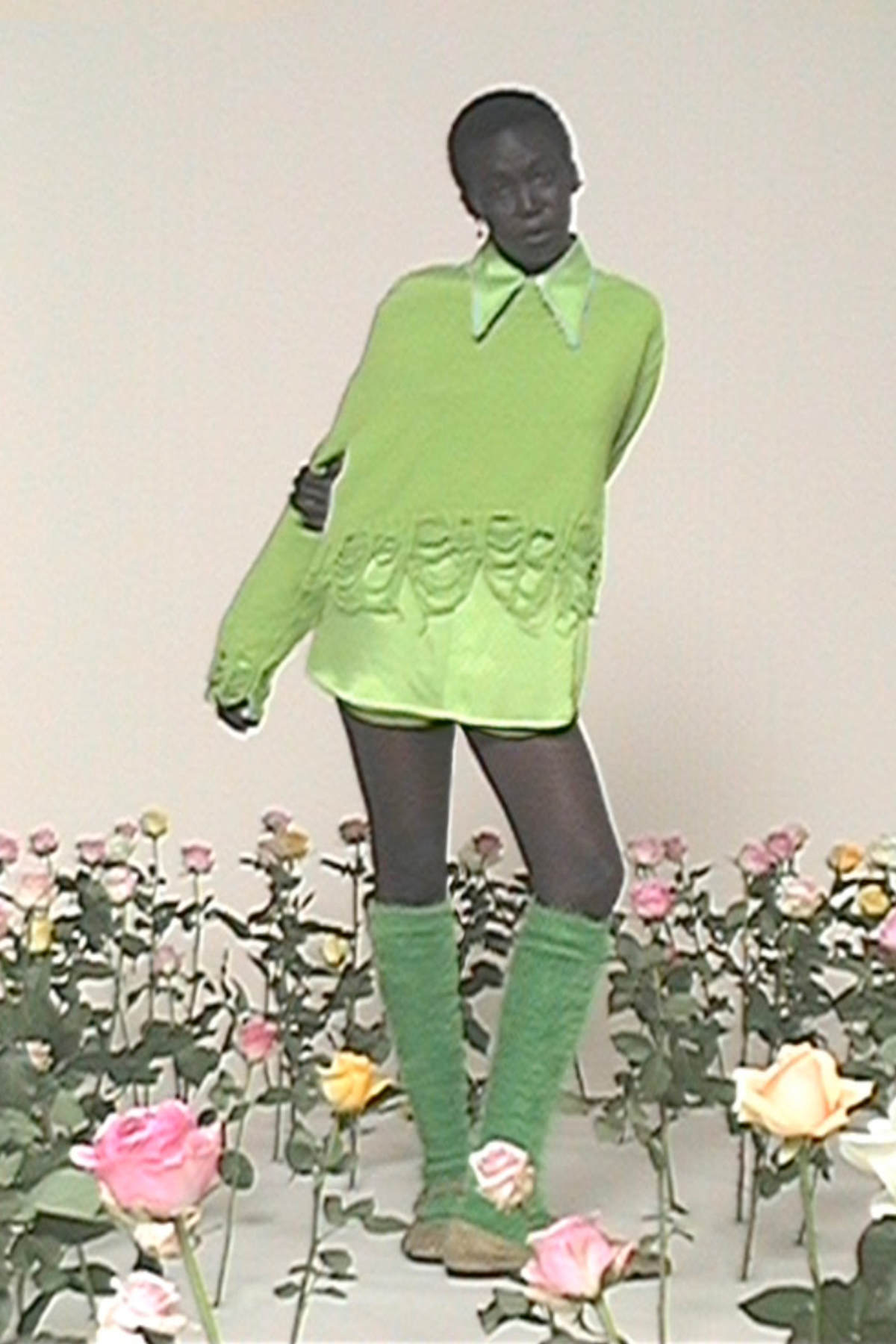 FOOTWEAR

Playing on occasionwear, smart leather evening derbies come daubed with paint, loafers are rendered in blue velvet boosted with platform soles or are totally transparent, and bridesmaid-style Mary-Janes are dressed down in raw-edged denim and faded lace.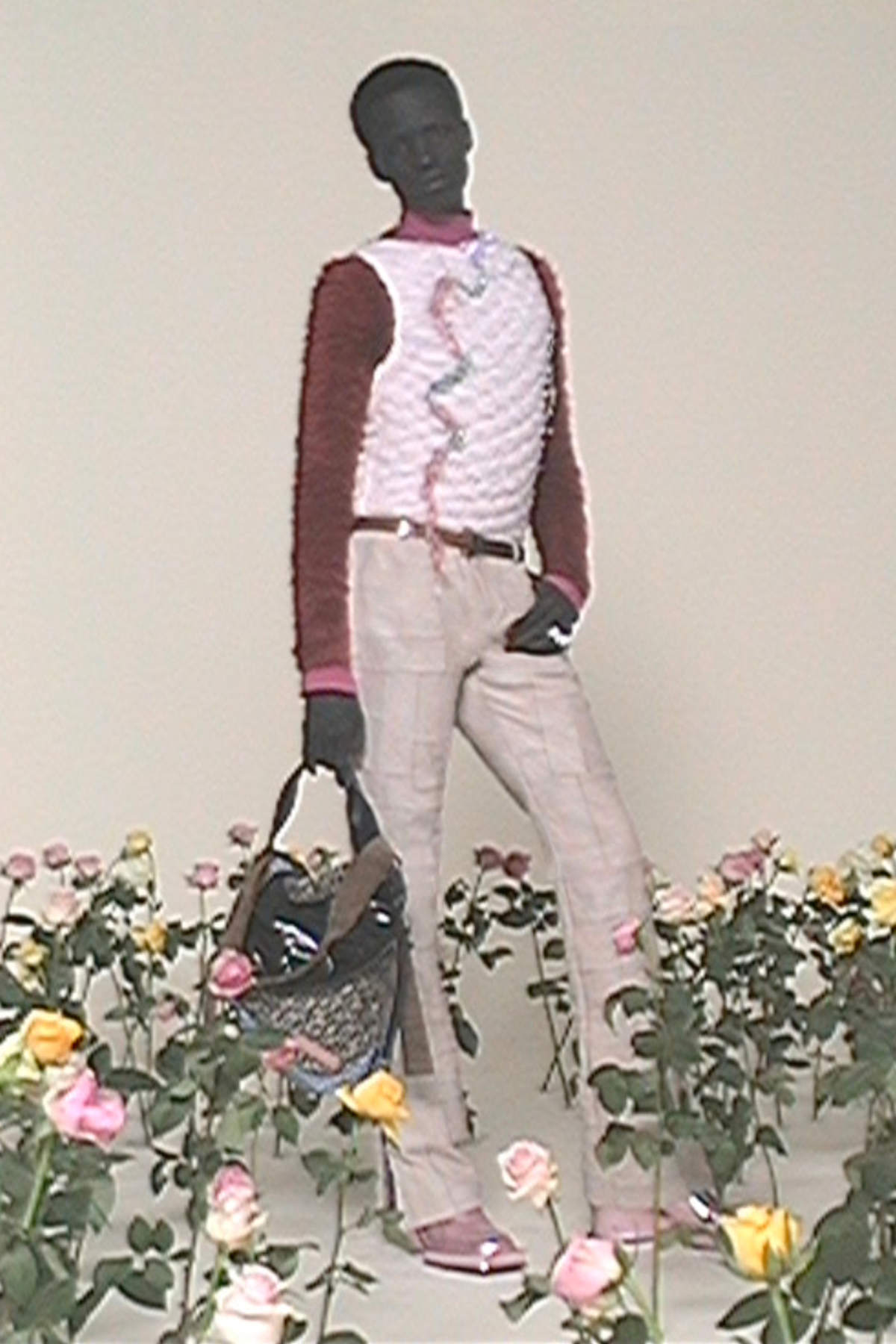 The Men's Spring/Summer 2023 collection will be available in Acne Studios stores worldwide and on Acnestudios.com.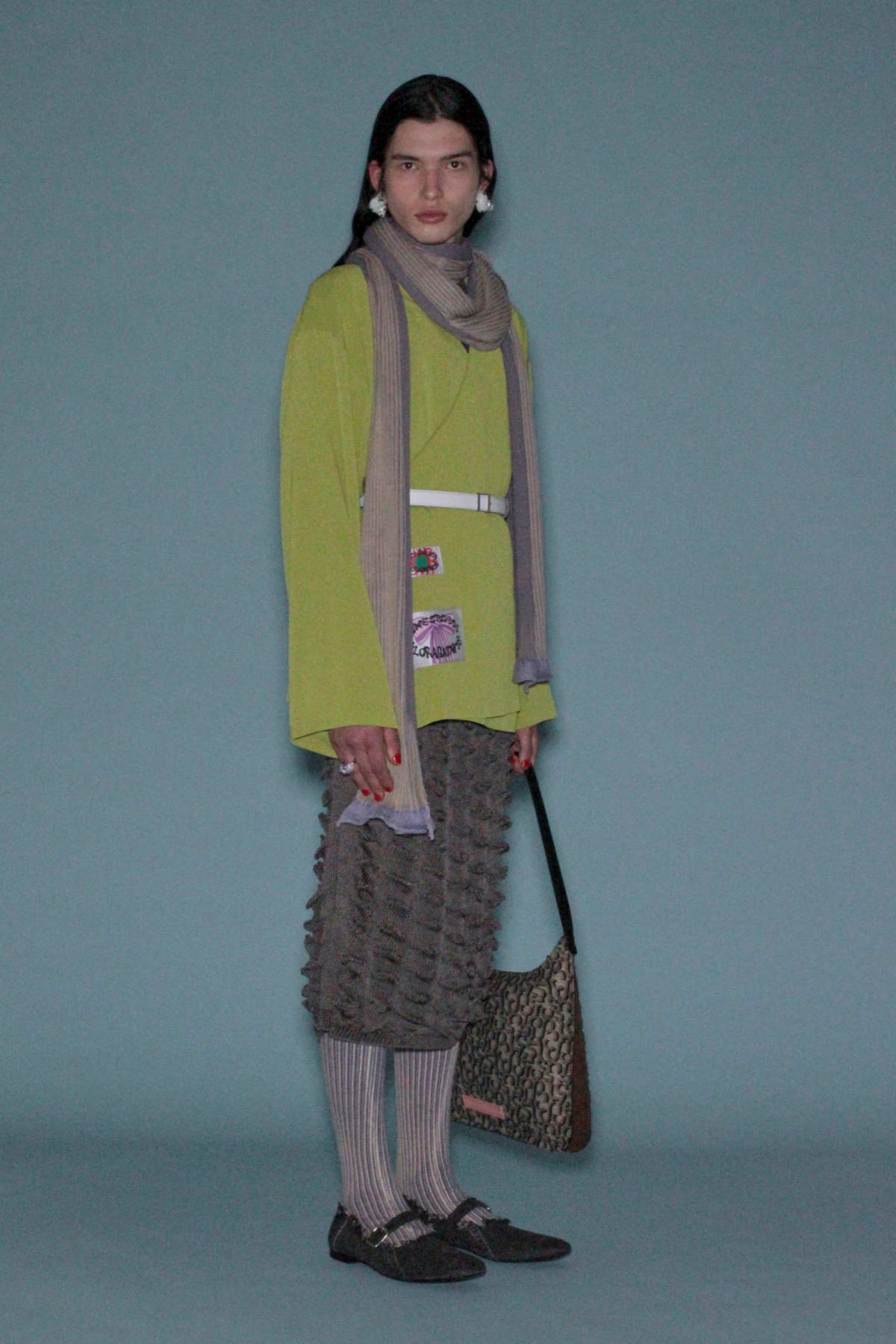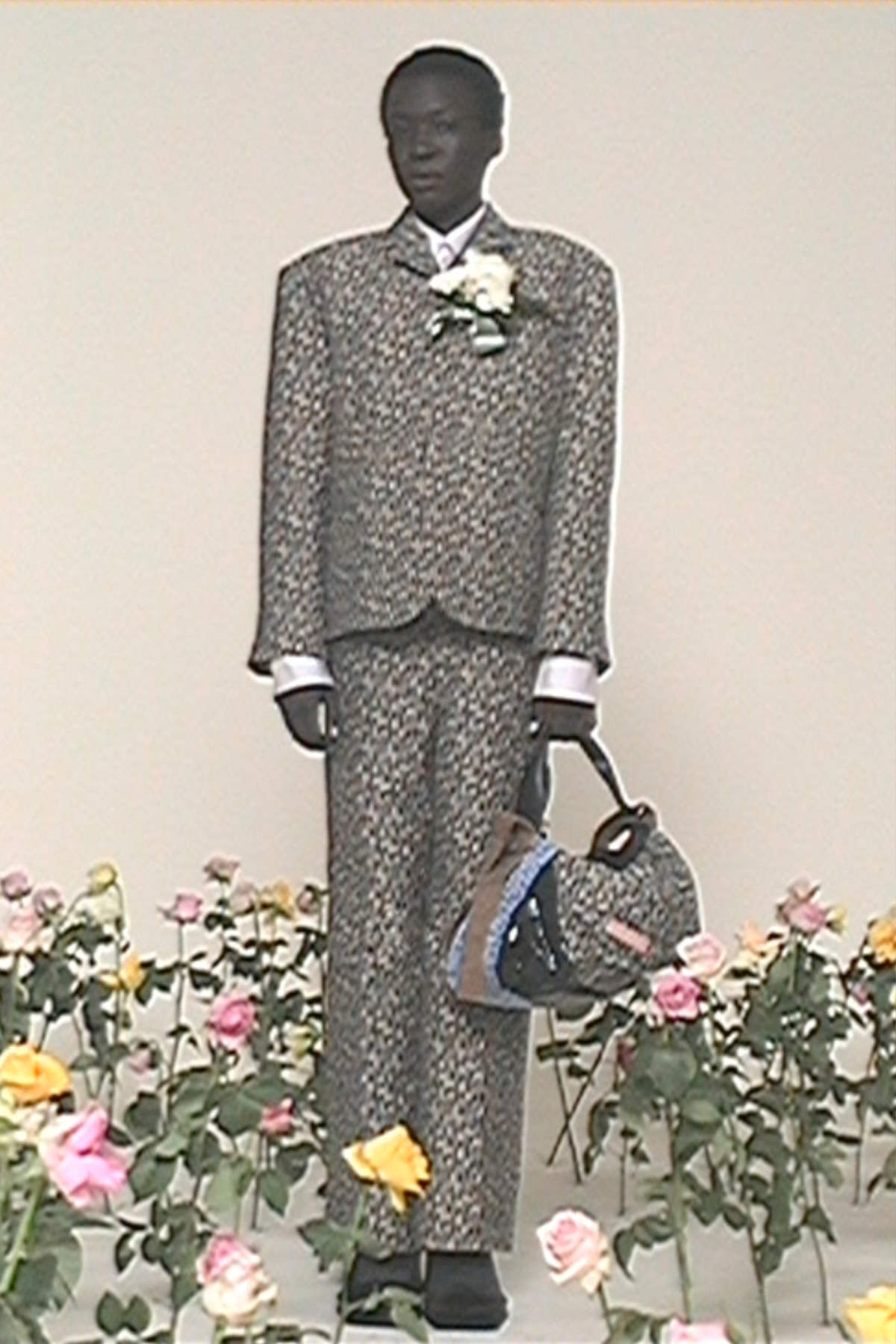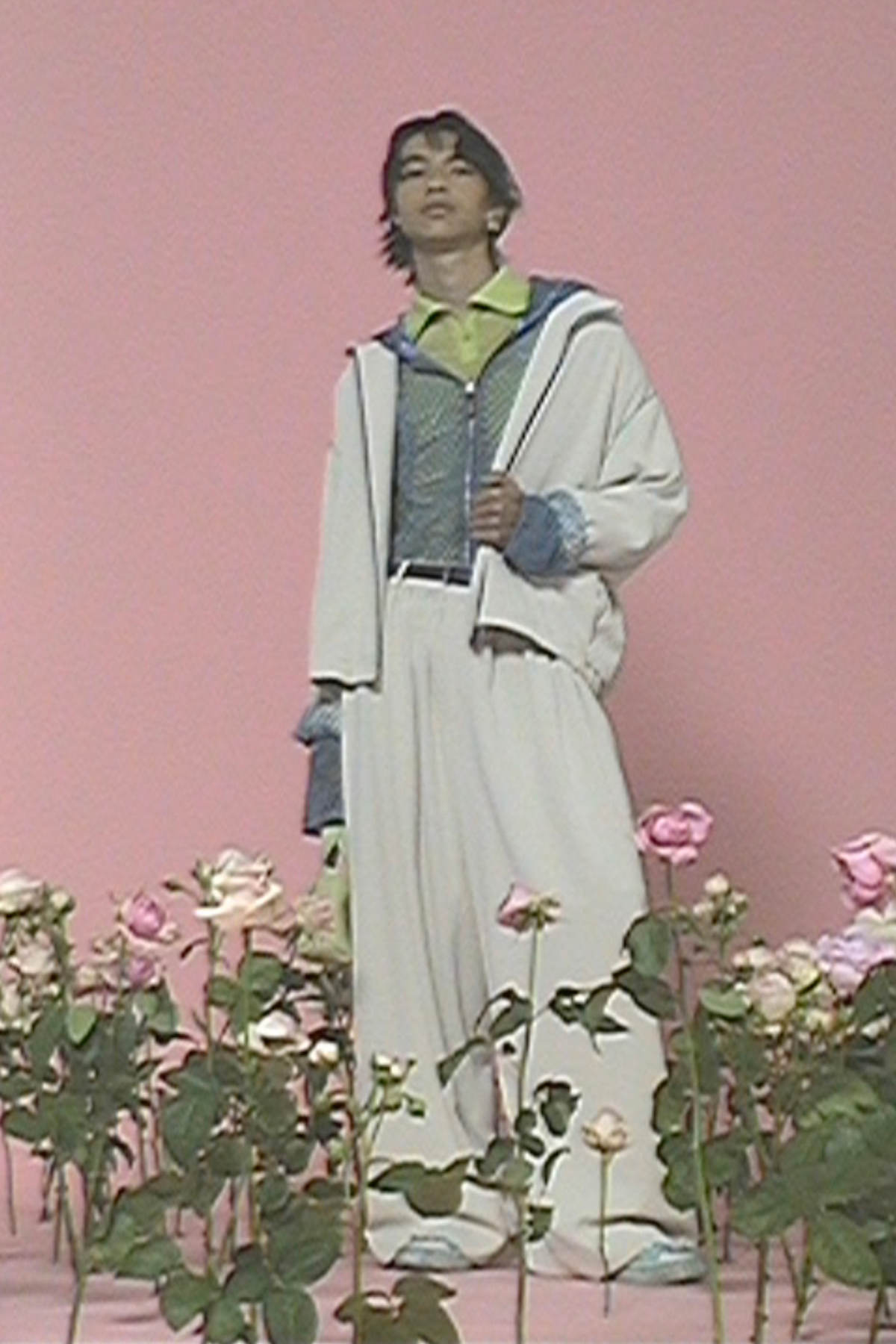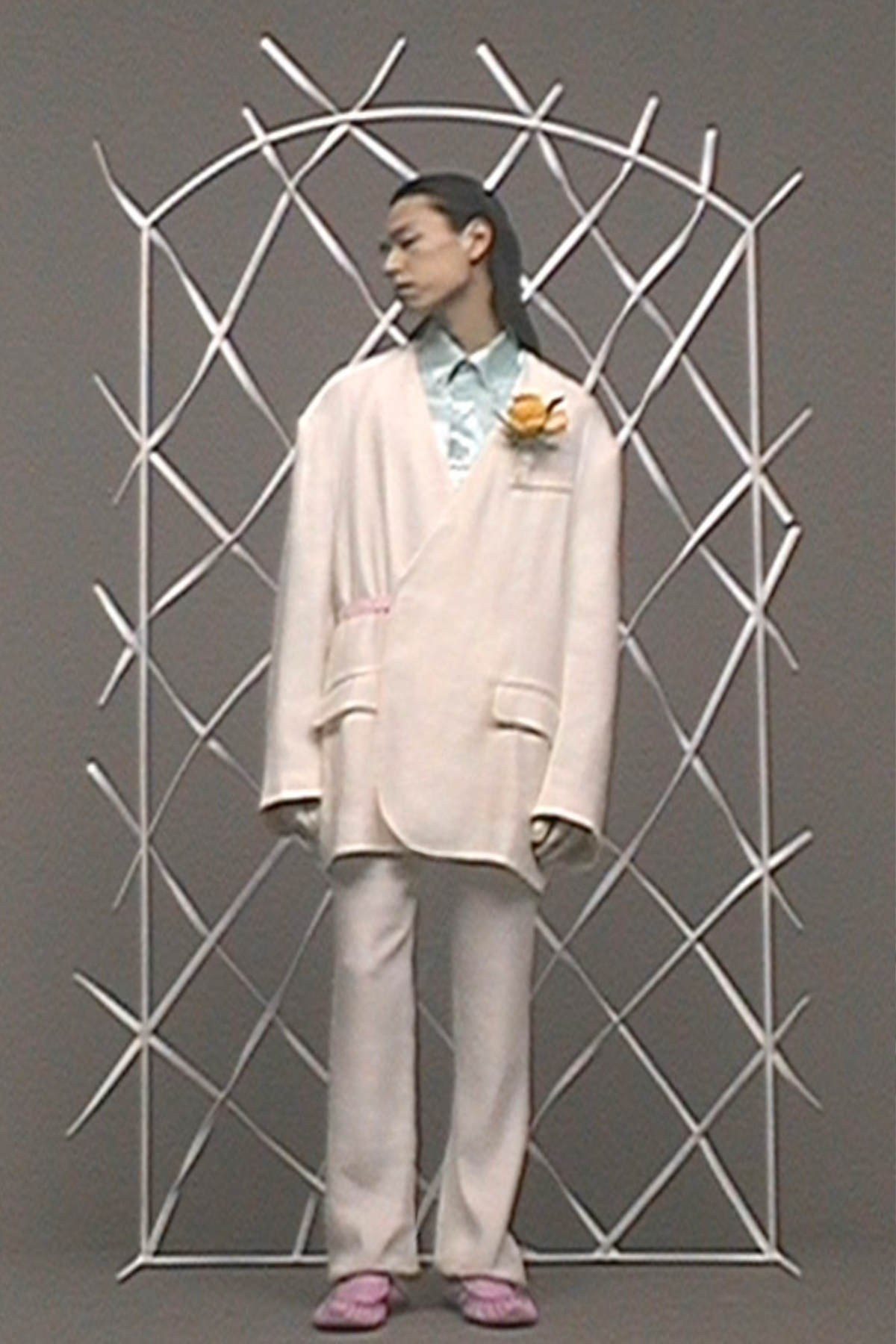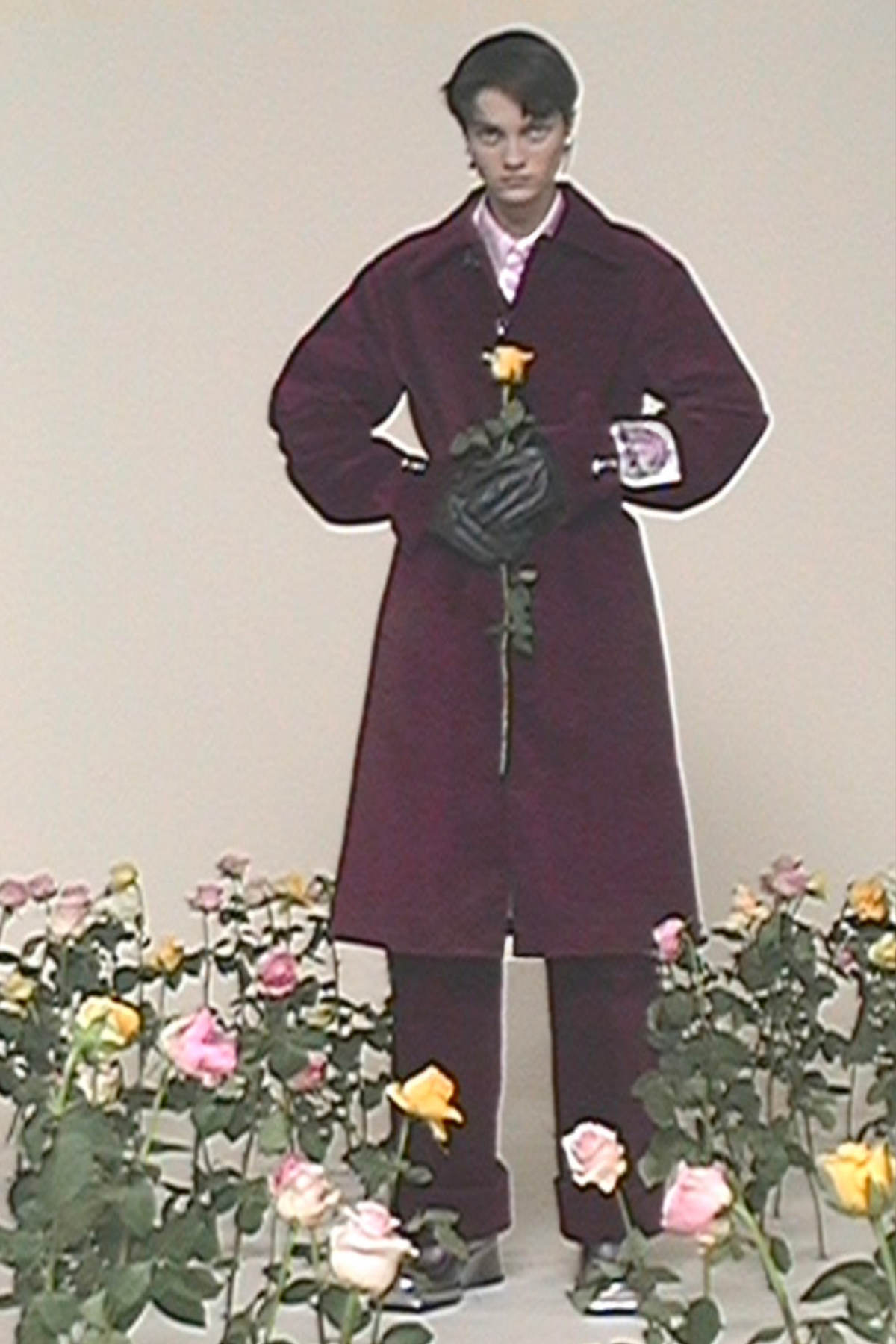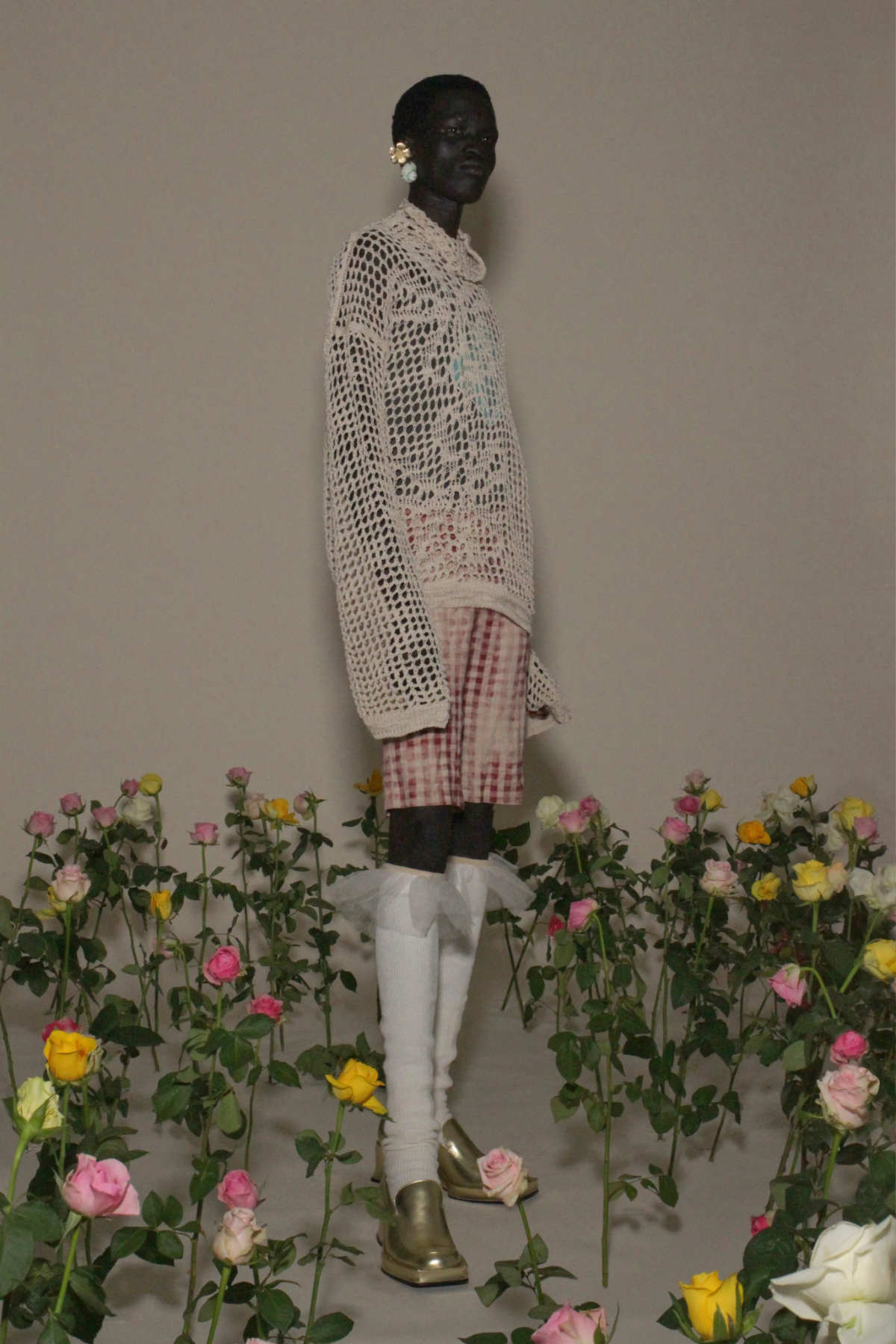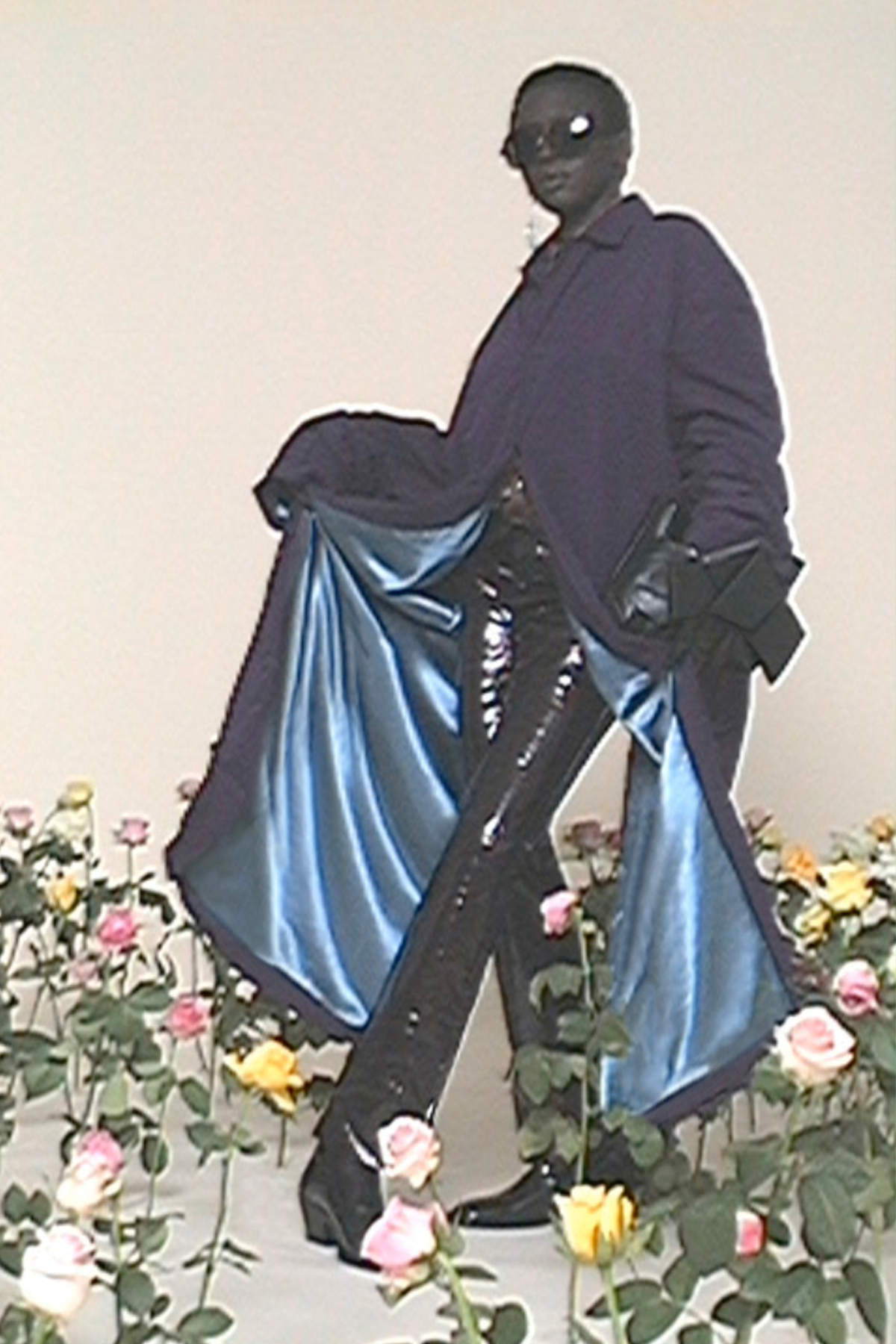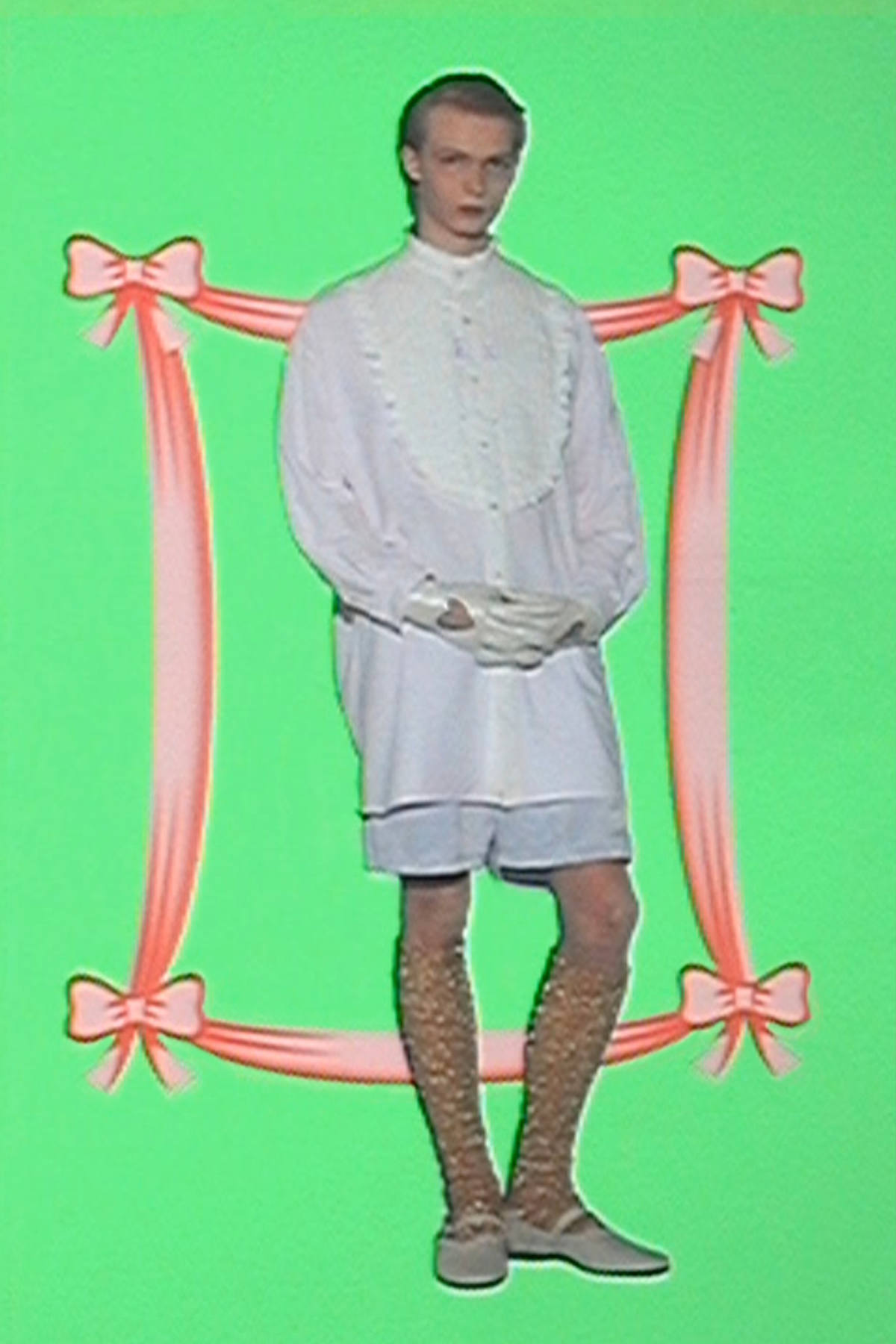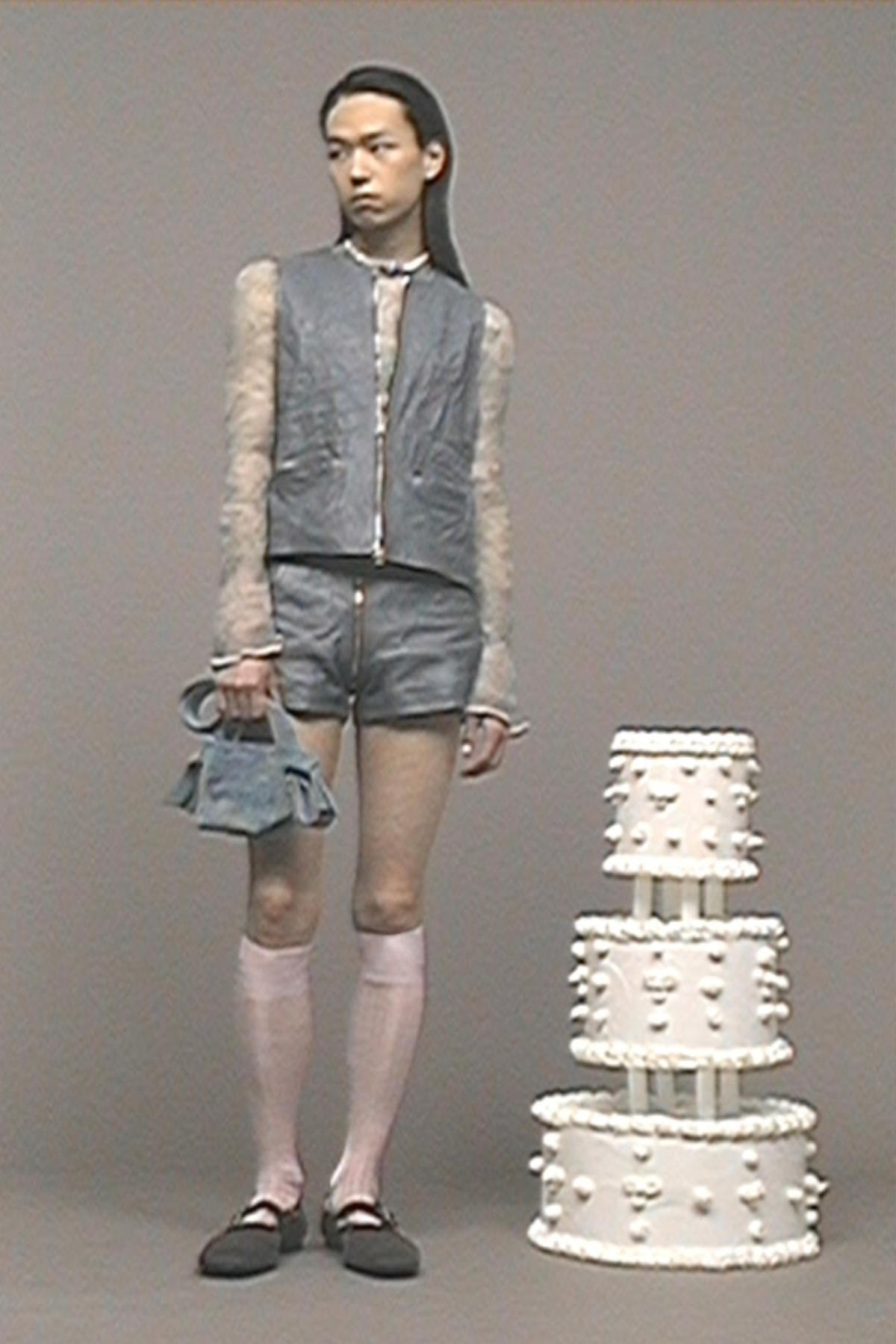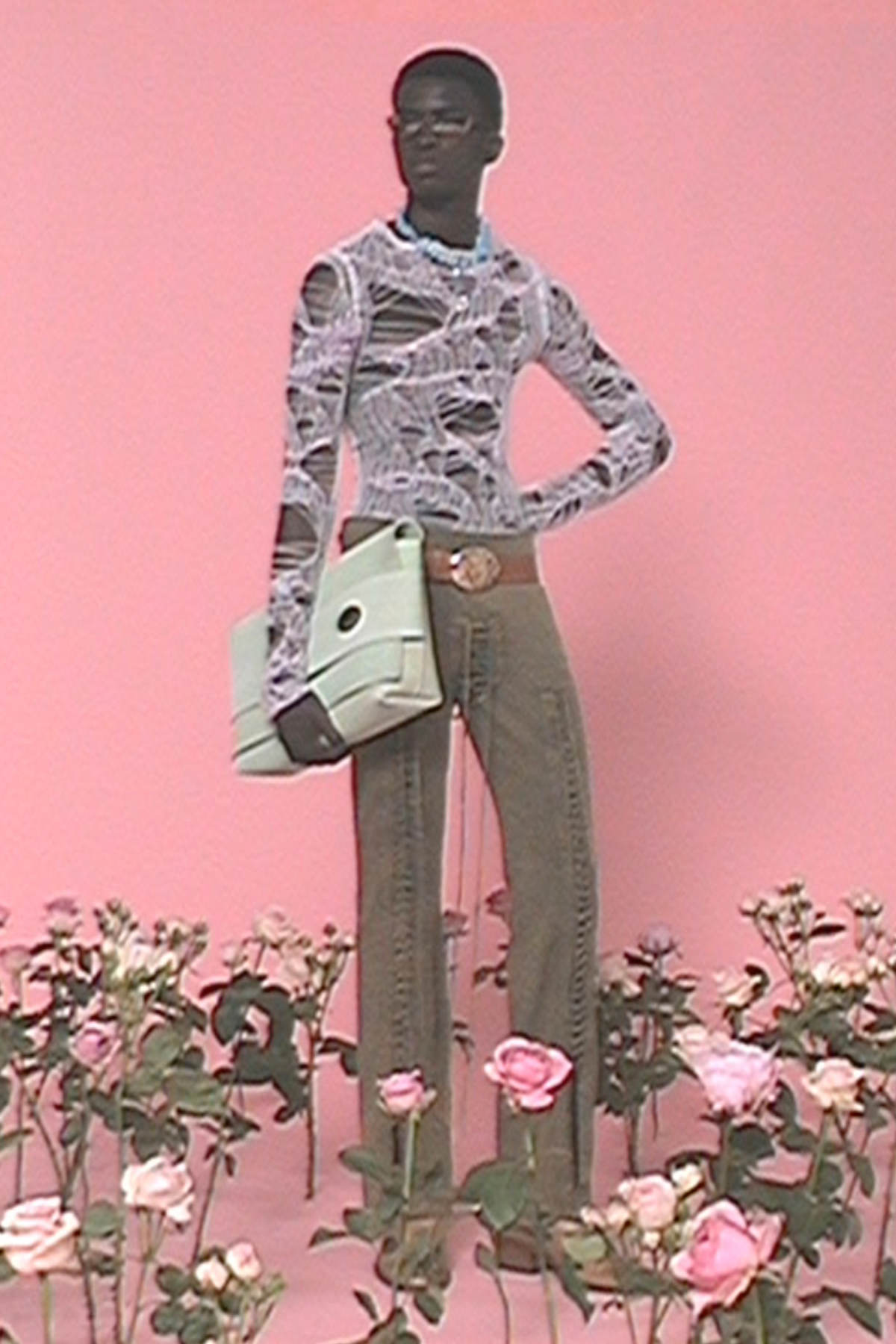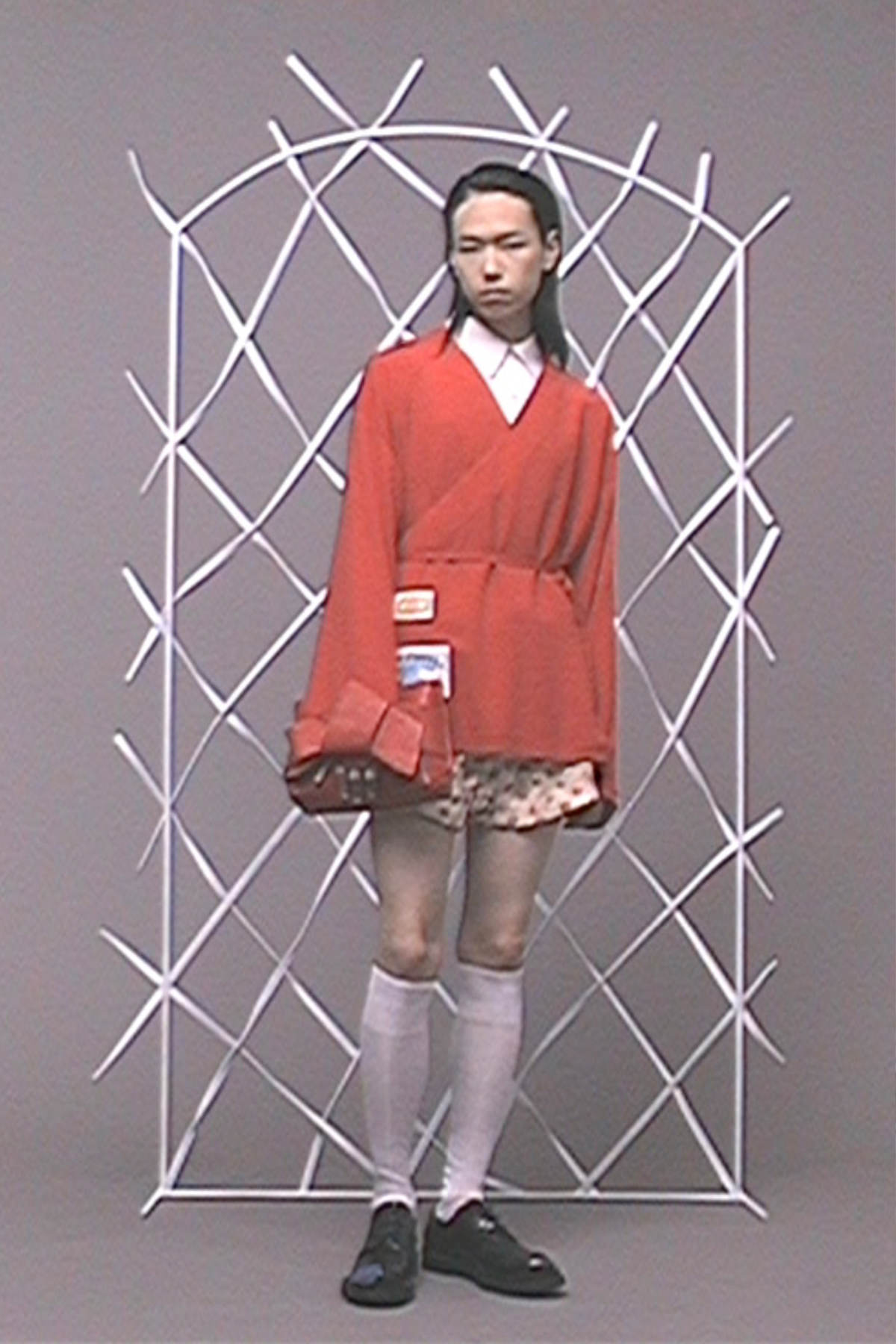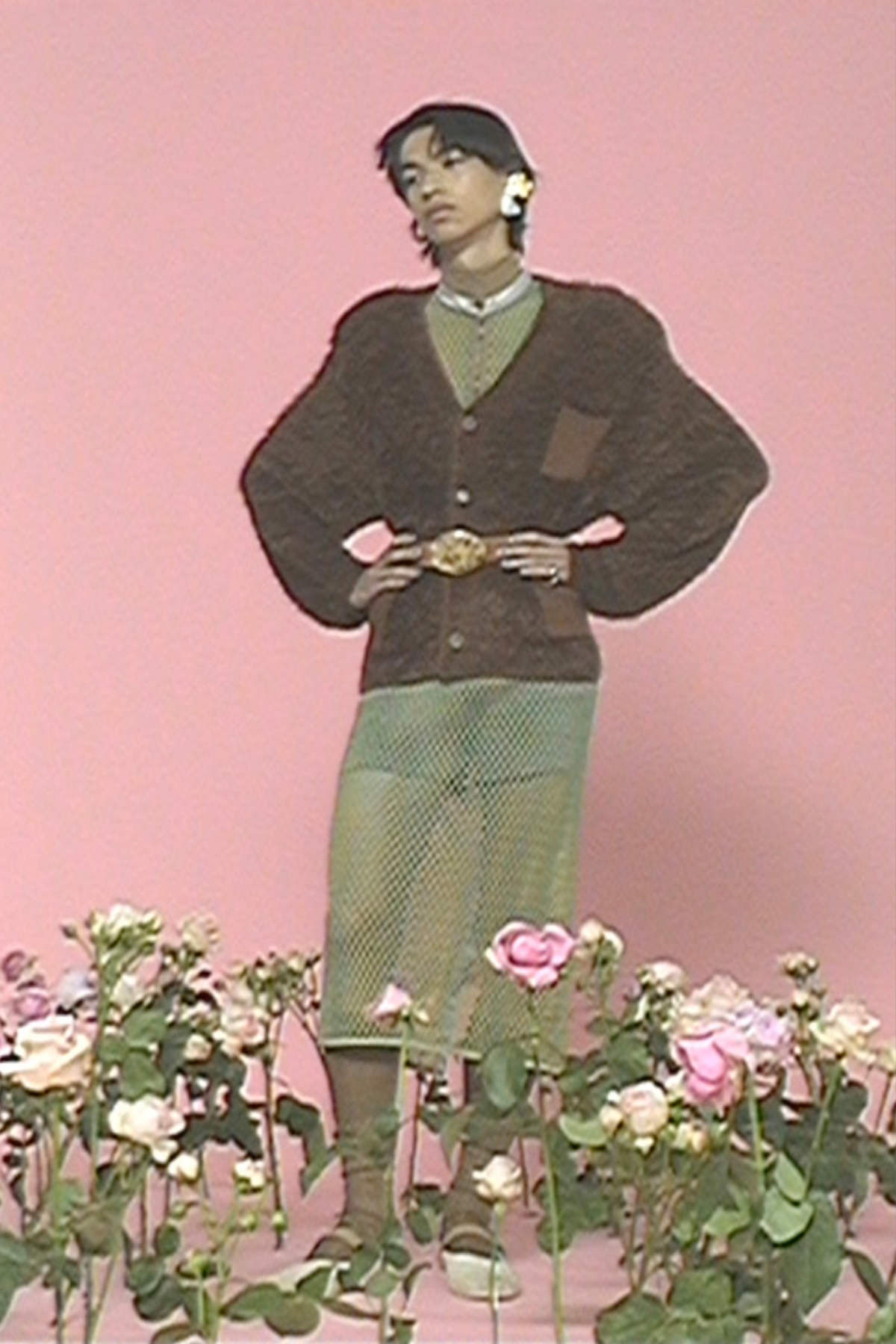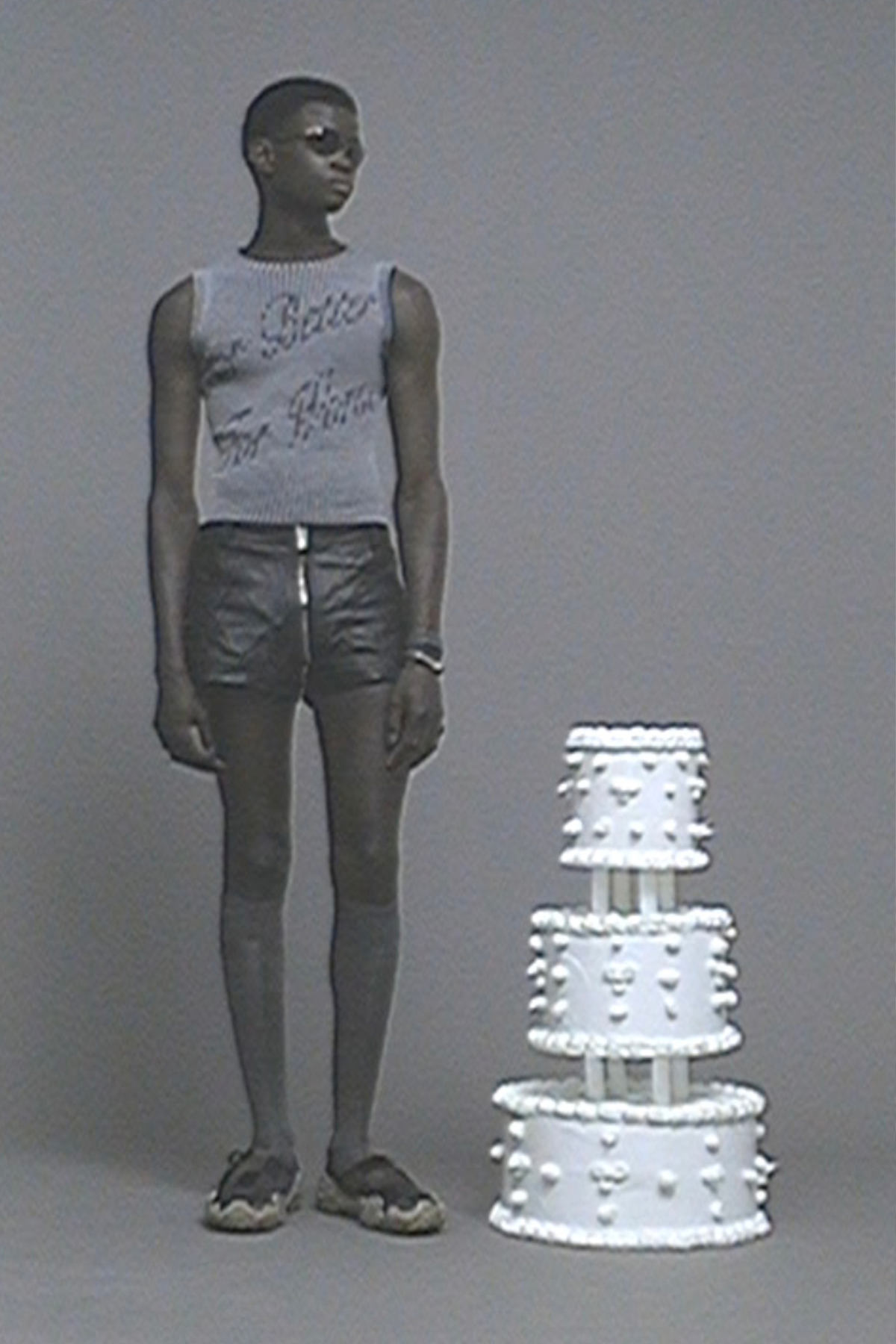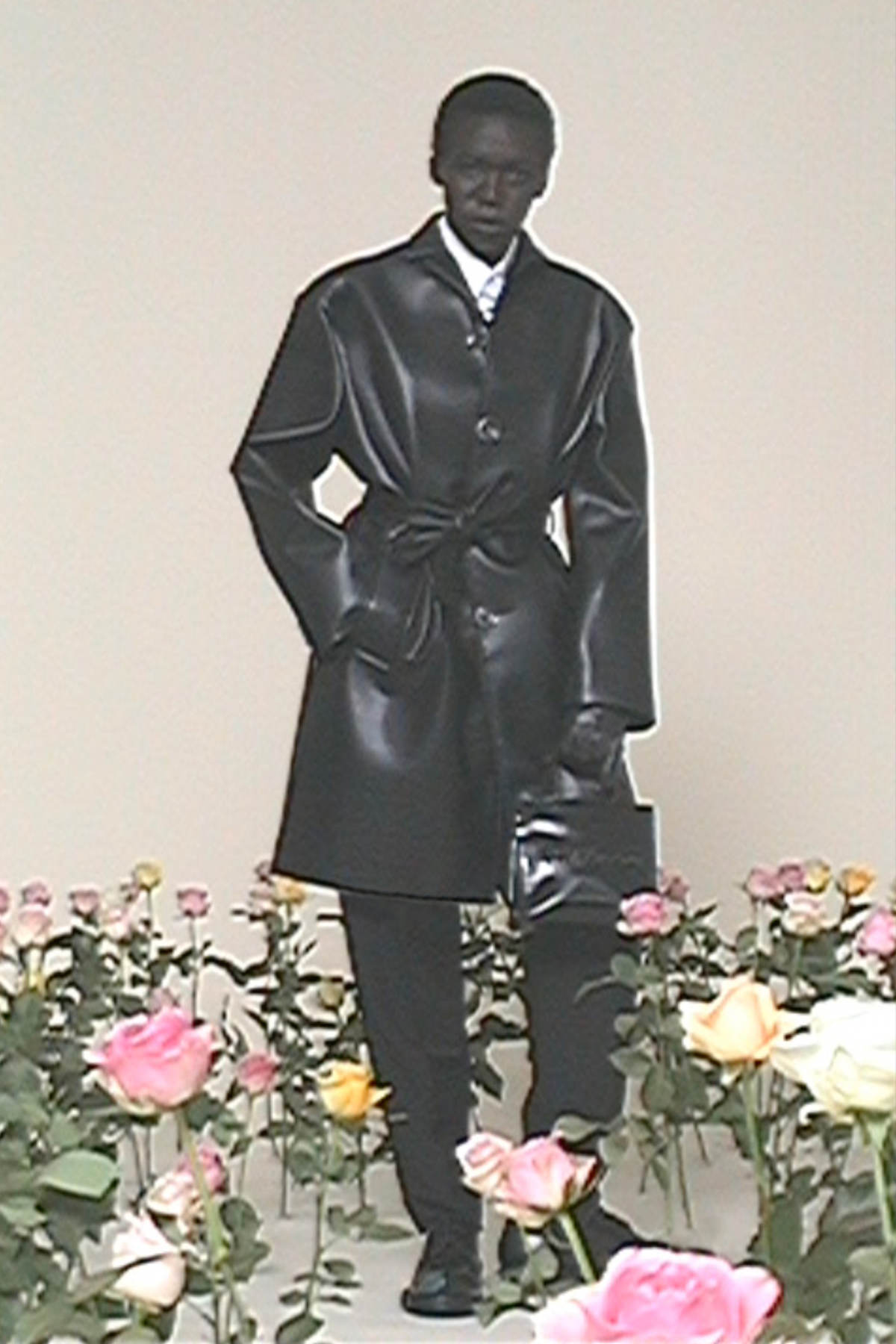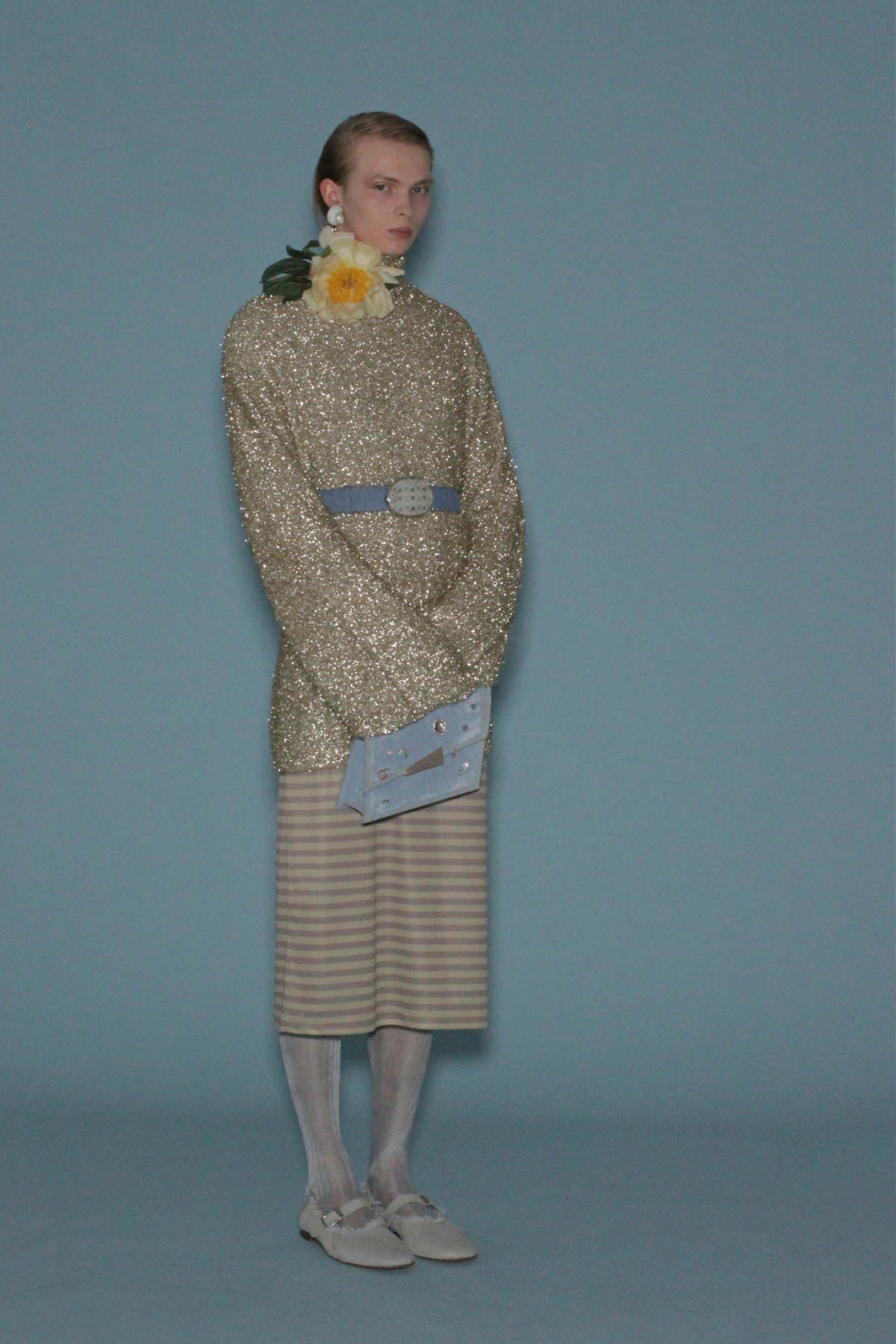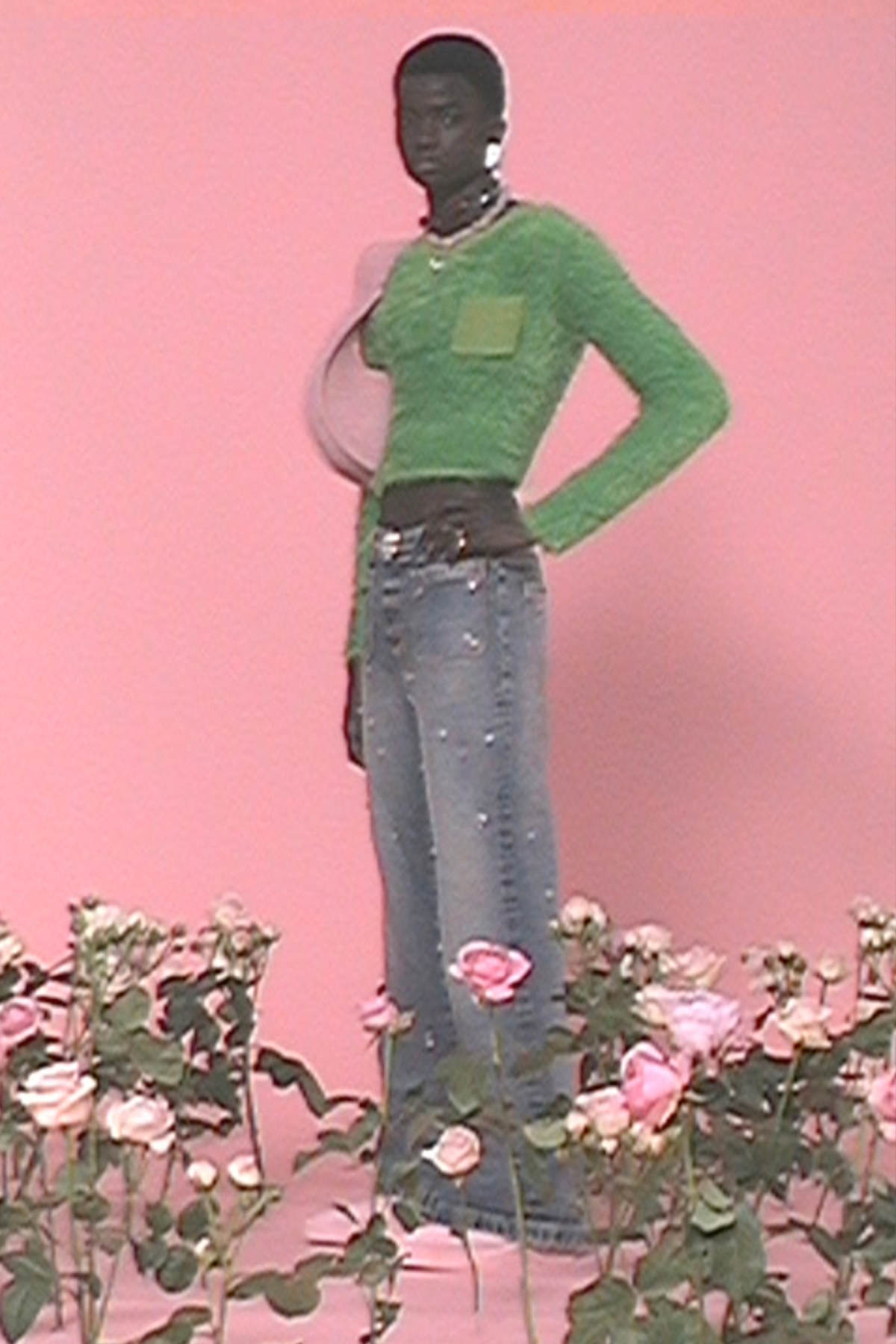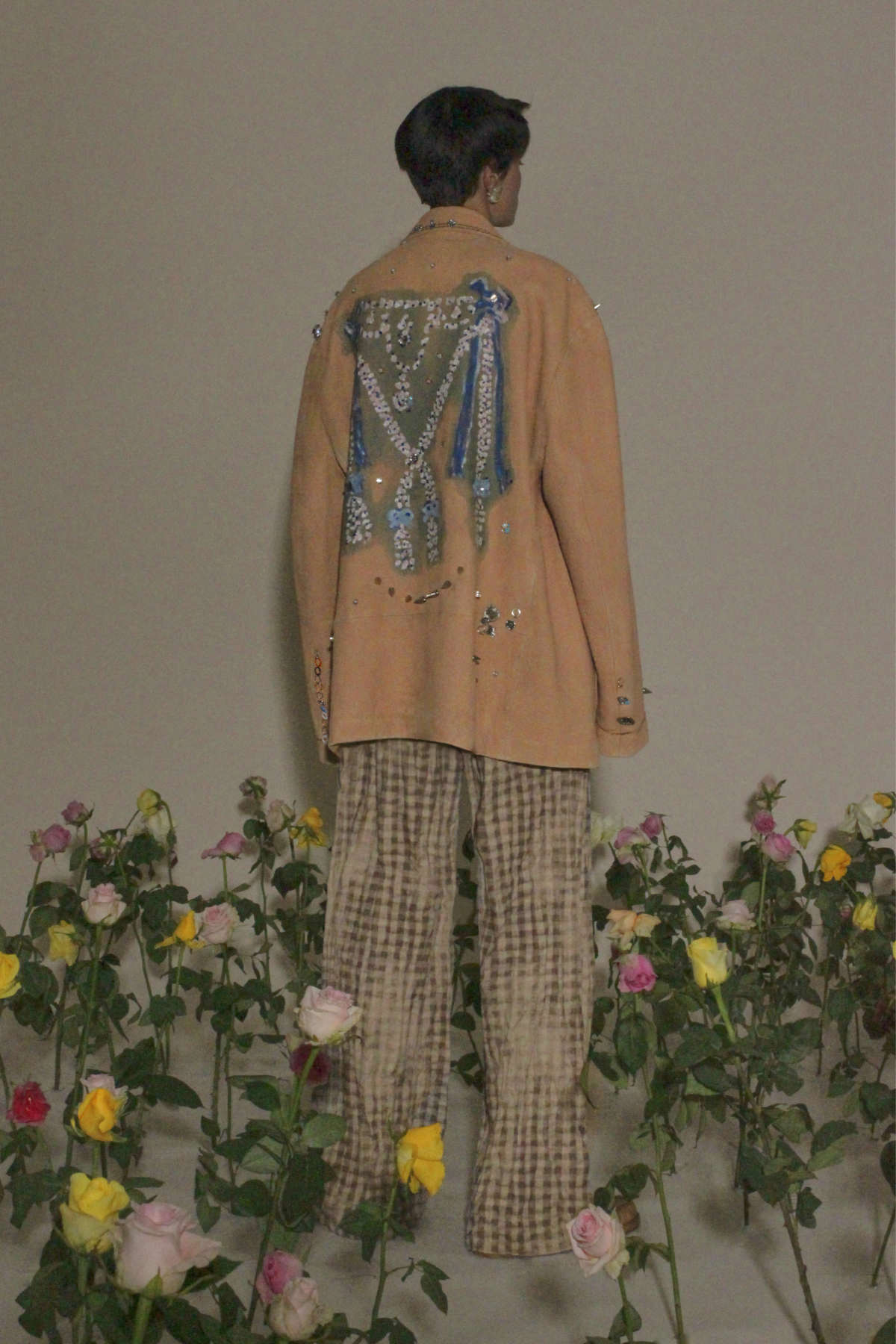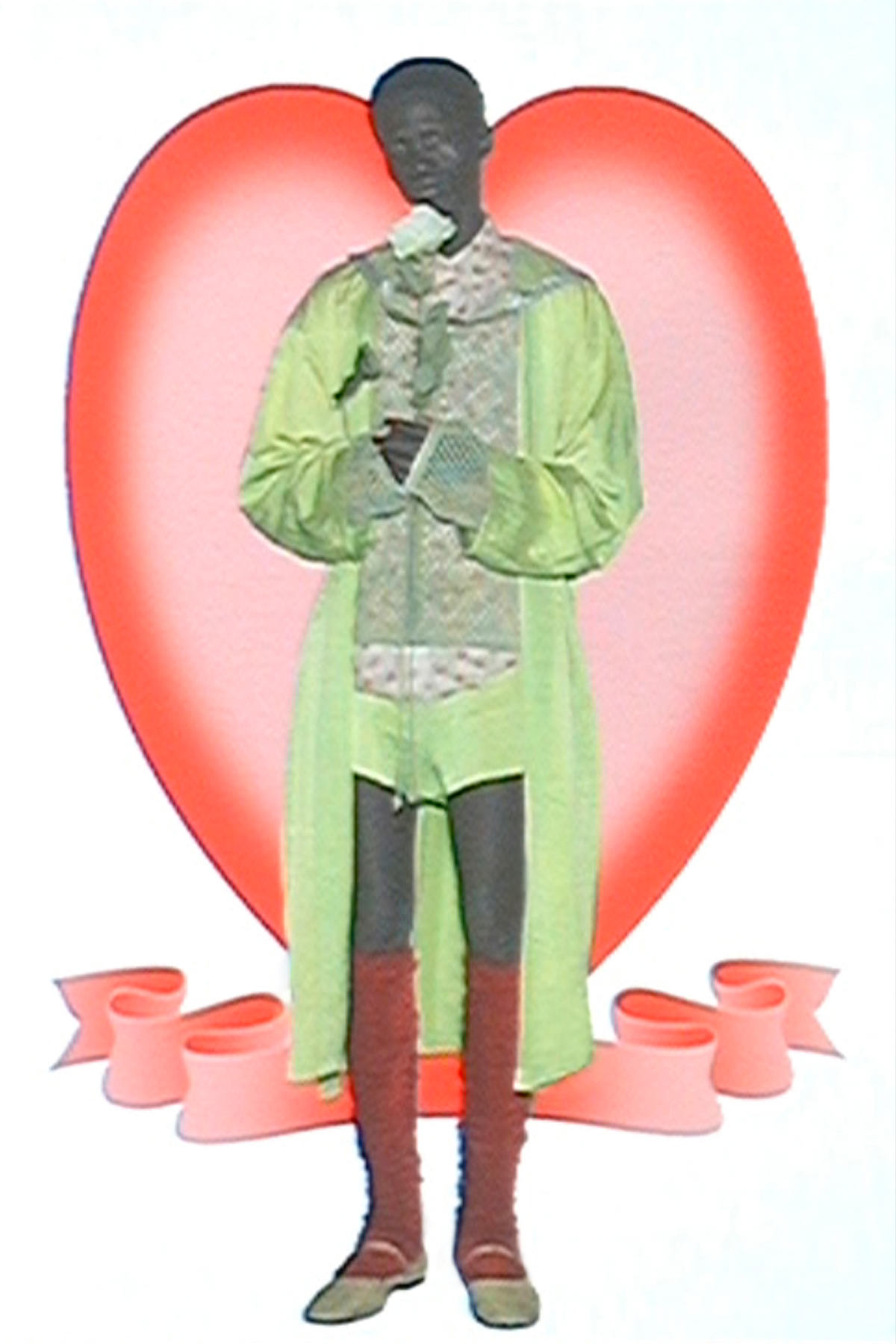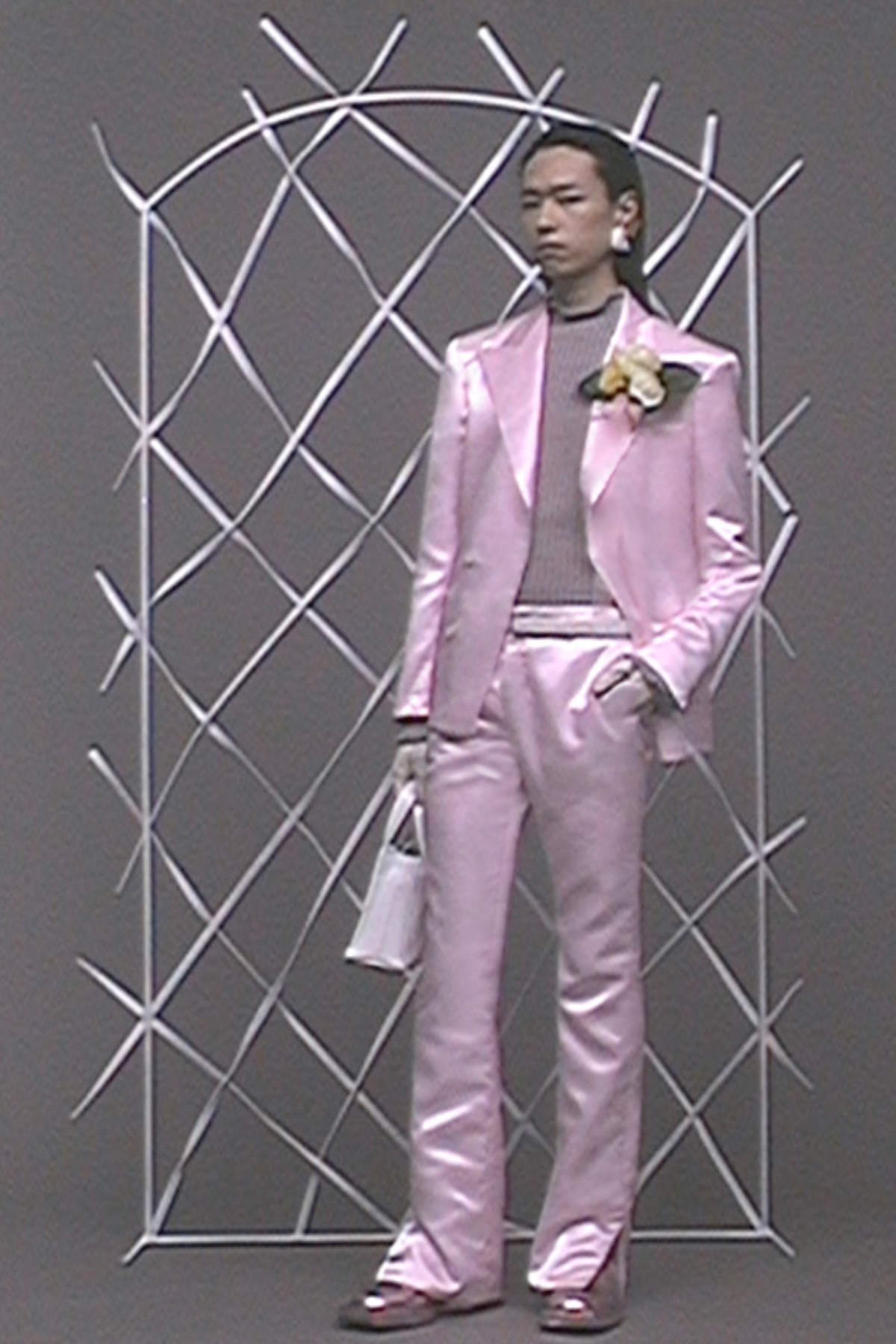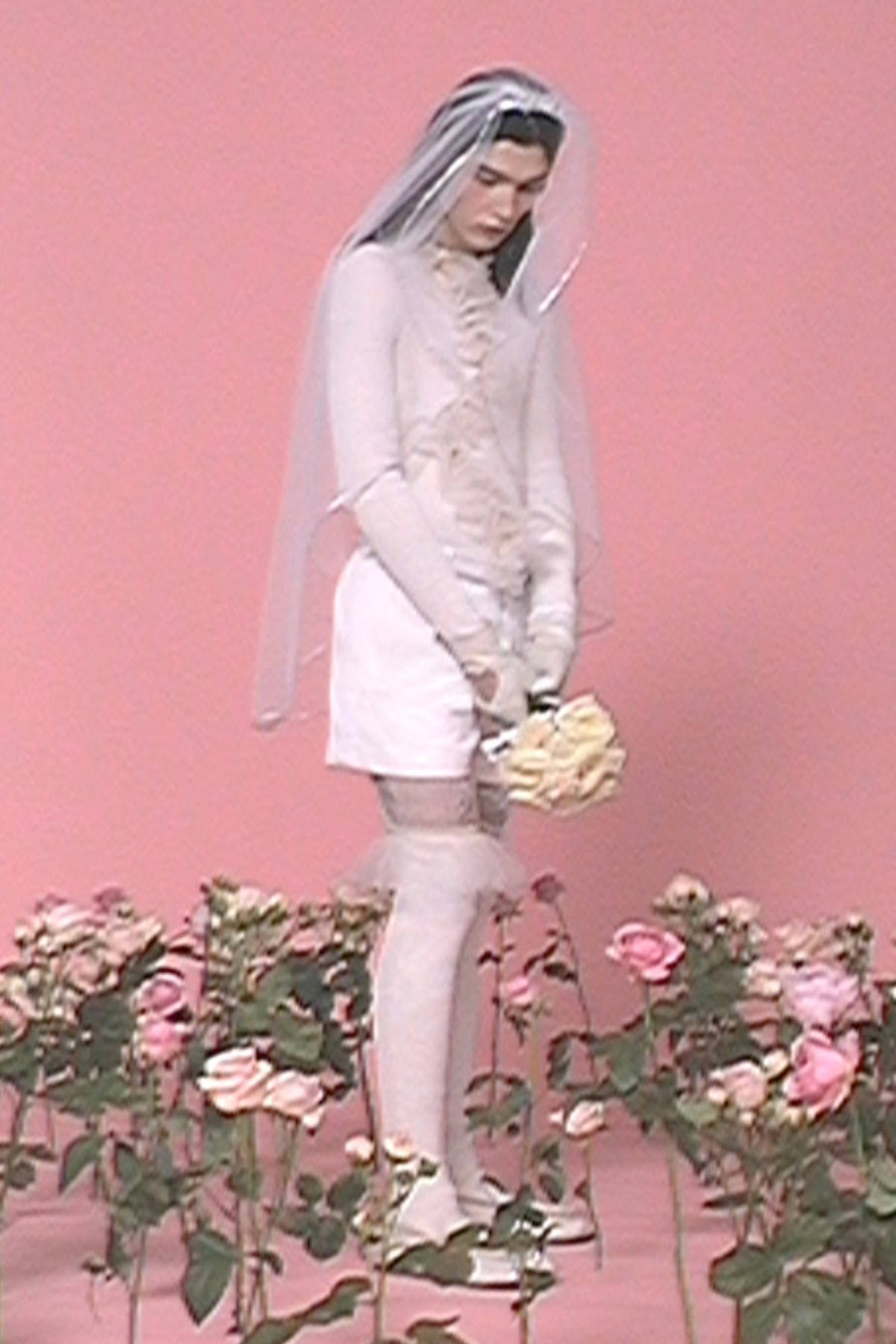 ---