Rochas Presents Its New Autumn Winter 2022 Collection: Taking Flight
Luxferity, 07.03.2022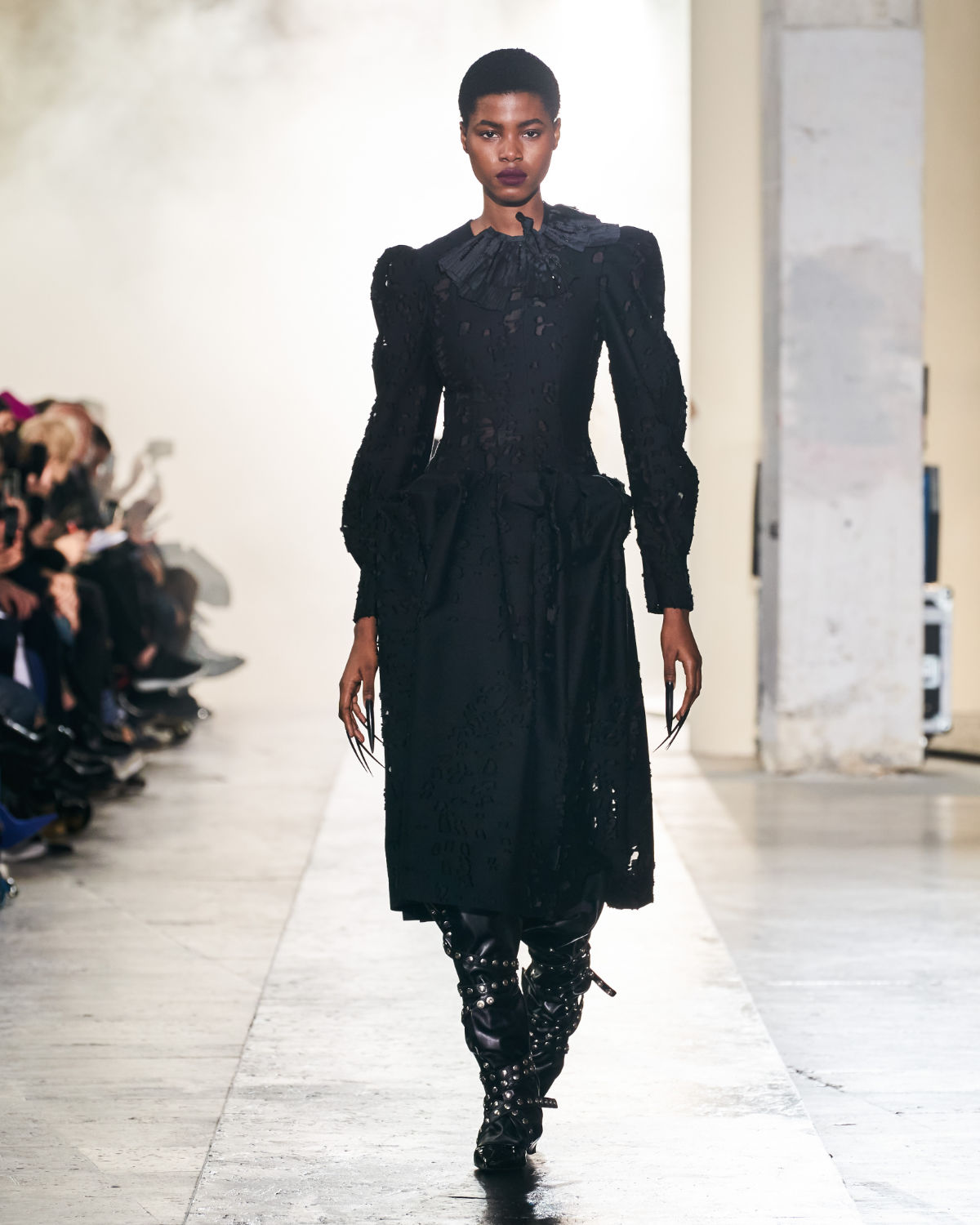 "The first show was radical. There was a faint techno vibe. I touched on manga, punk.
Now that I am embedded in the House, I find myself evolving towards more classicism, a sense of mystery but also lightness. This season, from the fluttering, pleated hats to fine shoes that graze the ground, I sought out the Rochas woman - at once strong and poetic. By day, in stylised outerwear and a high-waisted wide pant; for evening, a sensuous chrysalis silhouette. From the Rochas archives, I became enthralled by the energy of a winter black. A line undulating on a page transformed with texture: at turns matte and slick, deeply opaque or with transparency as though illuminated by a full moon. This is a black imbued with stories. But then a black garment speaks with absolute precision. It hides nothing. It also reveals, like a city in the black of night that pulses with electric blue, emerald, deep bronze, and crimson. The fabrics I have chosen are varied - shimmery bicolour lurex in p!isse soleil, fluid devore velvet and crisp taffeta. Graphic jacquards and vivid prints of birds, flowers and Arlequin diamonds are expressed whimsically while makeup of mauve glitter and blush-red cheeks is applied fantastically. There is an embrace of the theatrical, right down to the doll-like bags inspired by the Petit Theatre de la Mode. Yet the collection is neither a restaging nor a reproduction. This season plays out with the revived desire to celebrate Paris, its epic Joie de vivre. If black captures a quintessential French elan, ivory evokes a perpetual modernity. Their duality can be explored endlessly. I re-imagined the black jersey dress fronted with a large white bird designed decades ago by Marcel Rochas as an ivory mousseline dress with pleated sleeves like wings. Dramatic yet weightless, it is the Rochas spirit taking flight."
CHARLES DE VILMORIN.