Alpina Presents Its Very First 100% Recycled Stainless Steel Case
Luxferity, 08.06.2022
In support of World Oceans Day, Alpina presents the Seastrong Diver 300 Automatic Calanda, its first timepiece to feature a 100% recycled stainless steel case, and one of the first in the world to draw on this process. Fitted to a recycled plastic wristband, Alpina's new diver is available in just 300 units, and is part of a movement to protect our planet and its oceans, in step with the company's eco-friendly policy. Manufactured by Thyssen Krupp, this PuReSteel recycled stainless steel boasts the highest level of quality currently available on the market, and is primarily sourced from the maritime shipping industry. To mark the occasion, this new Seastrong Diver 300 Automatic pays tribute to the highly symbolic Calanda, the first ship to fly the Swiss flag.

Alpina has been taking concrete action to preserve the environment, reduce waste, and protect our coasts since 2020, in a move to shift towards greater eco-friendliness within the watch-making industry. The Seastrong Diver Gyre Automatic range is the latest example of this. A full 70% of its case is made from plastic fishing net debris, while the wristband is crafted from recycled plastic bottles. Its box is also made from recycled plastic (rPET). This year, Alpina has taken its commitment one step further in a gesture of support for World Oceans Day, by unveiling its very first watch to be fitted with a recycled stainless steel case.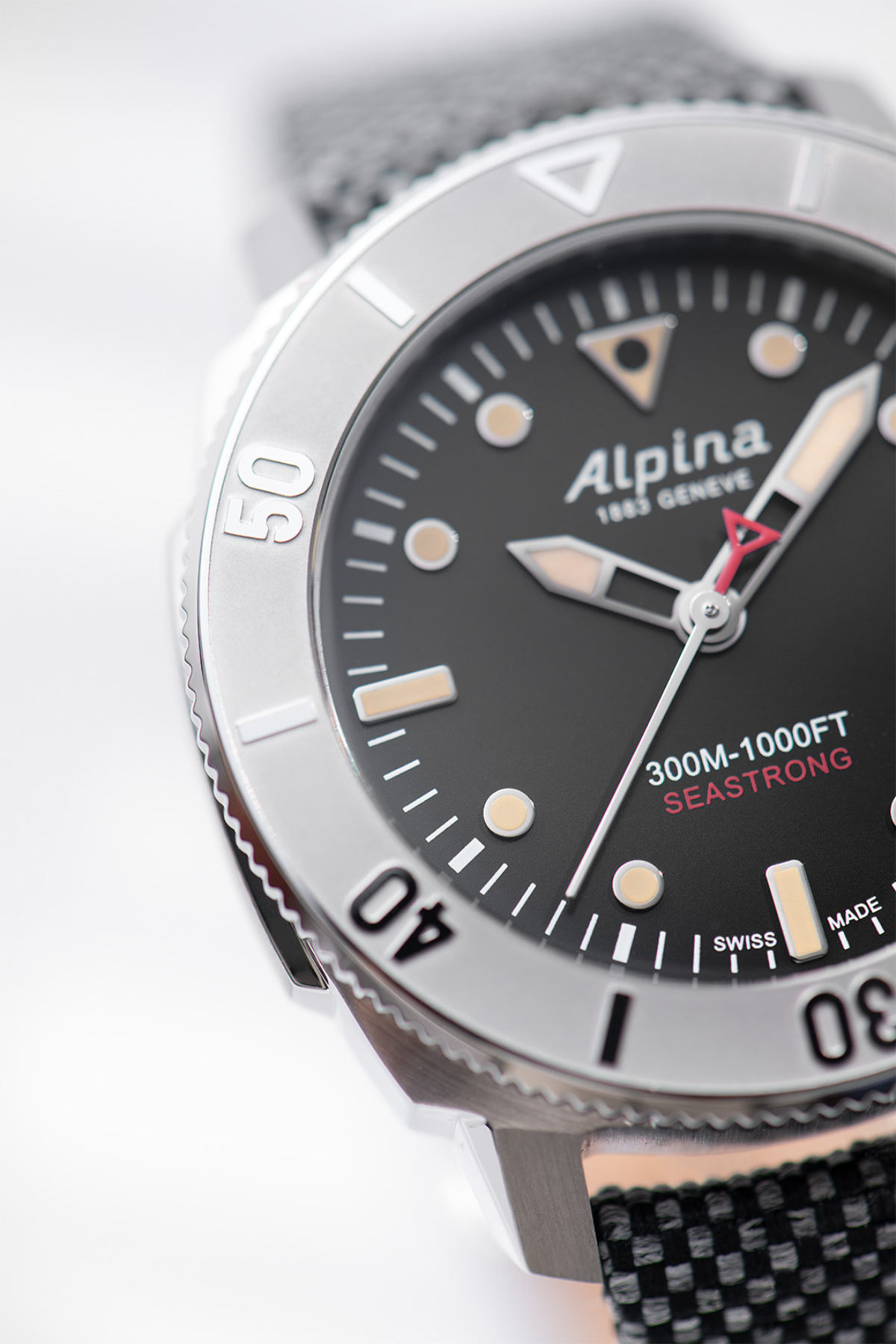 Recycled stainless steel: at the heart of sustainable development

Steel is one of the world's most heavily recycled materials, and is a central component of any sustainably-minded company. Fully recyclable with zero impact on its core properties, this metal can be produced cleanly and recycled without loss: one tonne of recycled steel saves 70% of its weight in energy, and 1.5 times its weight in CO2. Because recycling steel releases very little in the way of carbon dioxide emissions, it meets sustainability and corporate social responsibility criteria.
Available in just 300 units, the Seastrong Diver 300 Automatic Calanda is one of the world's first watches to feature a recycled stainless steel case. Made from Thyssen Krupp's ultra-highgrade recycled PuReSteel, it is certified 100% recycled, and boasts one of the highest levels of quality available on the market.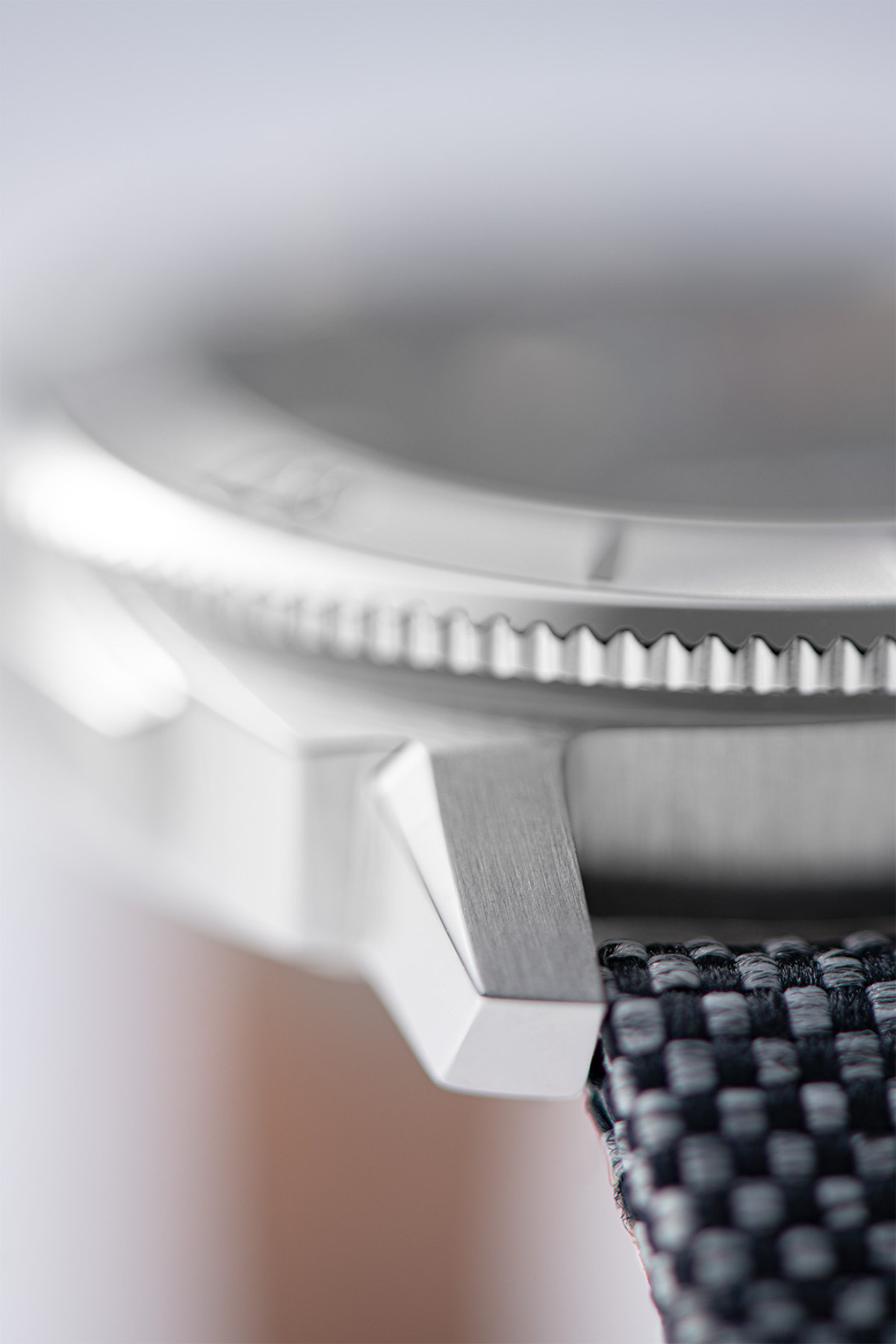 A tribute to Switzerland at sea
Alpina is now bolstering the support it ploughs into protecting Earth's biggest ecosystem, using recycled steel from the maritime industry as proof of its commitment to the cause. The PuReSteel used in the Seastrong Diver 300 Automatic Calanda is sourced from dismantled maritime carriers. In a tribute to Switzerland, where Alpina was born back in 1883, the Seastrong Diver 300 Automatic Calanda takes on the imagery of the first ship to have ever flown the Swiss flag, dismantled in 1953.
A single name, a single number: Calanda, 1. 'Calanda' after the eponymous cargo ship built in 1913, which flew under Switzerland's flag from 9 April 1941. '1' in a nod to the Calanda having been the very first ship to be recorded on the Swiss Boat Register, assigned Basel as its home and registration port. This was a powerful symbol for a neutral country, which had decided to equip itself with a fleet to ensure supplies could reach it by sea in light of the German and Italian troops encroaching on Greece.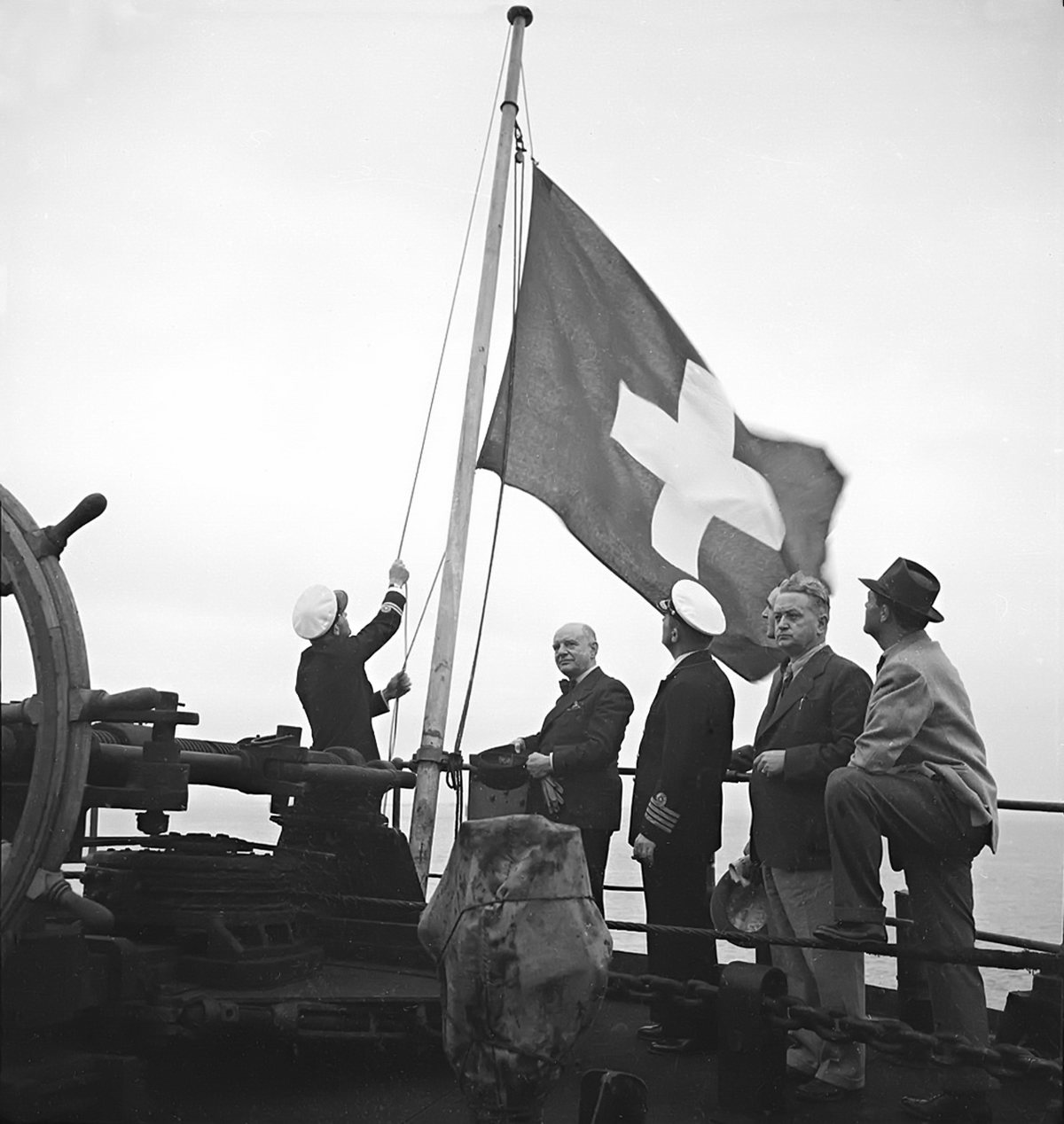 A diver through and through

Evocative of the rounded curves of a porthole, the Seastrong Diver 300 Automatic Calanda's recycled stainless steel 42 mm case is polished with a satin finish to the same high standards as a traditional stainless steel case. The unidirectional rotating notched bezel is made from traditional stainless steel with a brushed finish and a 60-minute scale, often used to time immersion and increments. The central hour and minute hands embedded with vintage beige luminescent matter count down the time, complete with a seconds hand with a red triangle tip – the Alpina logo.
A matte black dial encircles the whole, studded with appliqué indices with the same vintage beige luminescent detailing, and a date window at the three o'clock mark. The Seastrong Diver 300 Automatic Calanda is water-resistant up to 300 metres thanks to its full screw-in case back and crown, embellished with the Seastrong collection's hallmark motif: Alpina's beloved mountain peaks, layered under a trident in a nod to the watch's deep-sea personality. With its AL-525 automatic movement, the Seastrong Diver 300 Automatic Calanda boasts 38 hours of power reserve.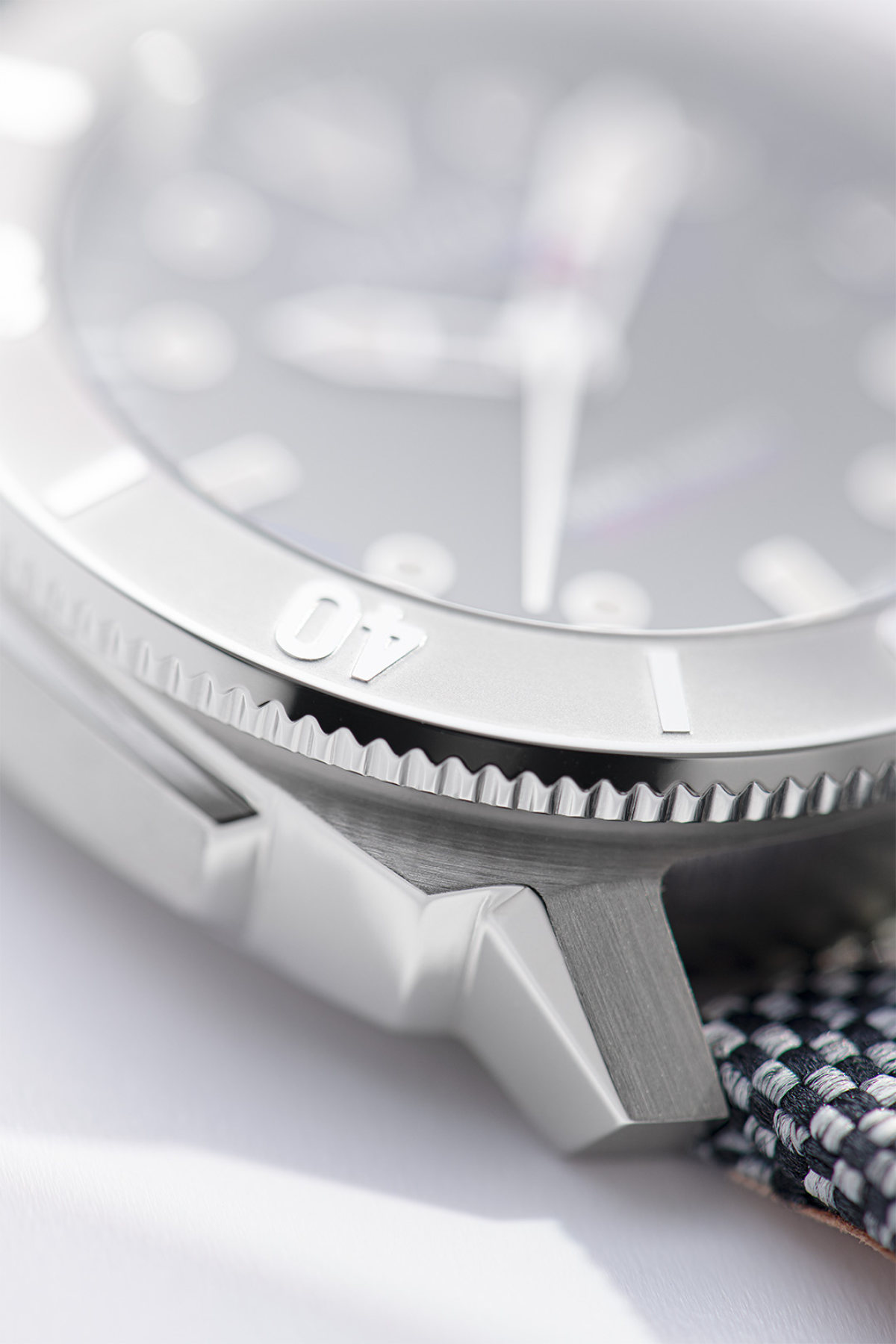 A commitment to a cause

In line with the company's eco-friendly policy, the new Seastrong Diver 300 Automatic Calanda sits atop a recycled plastic (PET) wristband in harmonious grey and black. Each watch comes in a case entirely made from recycled plastic, alongside a single-page warranty and a certificate of authenticity printed on FSC Recycled-certified paper, thereby cutting back on the amount of paper and ink used. The user guide, meanwhile, has gone paperless, and is available in digital format via a QR code printed on the box's inner packaging, here too made from recycled plastic bottles (rPET).
As part of Alpina's We Shape the Change eco-friendly policy, the Seastrong Diver 300 Automatic Calanda sets out to build awareness of the environmental issues and crisis our planet is currently facing, both within the industry and among the general public.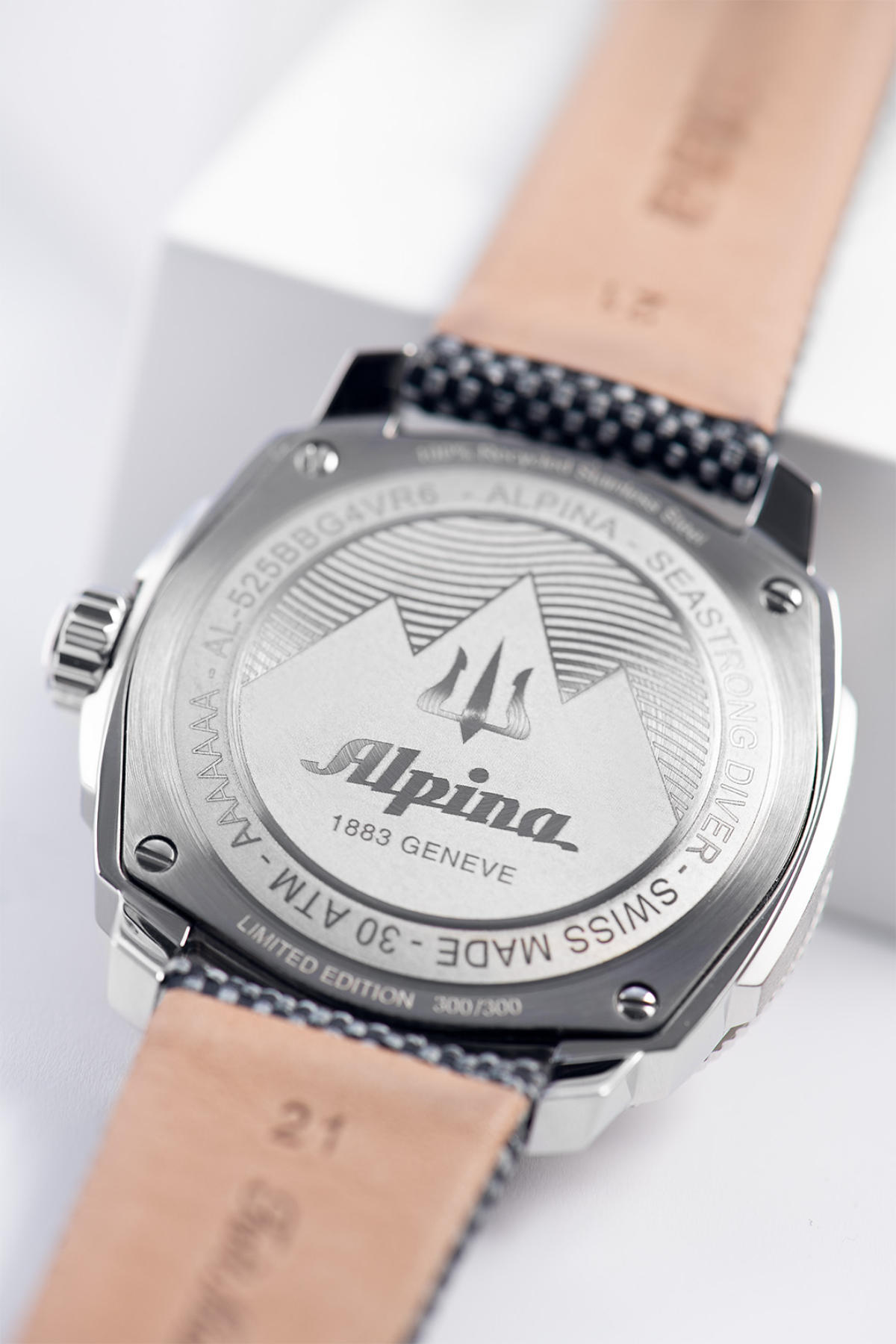 Technical Specifications - Seastrong Diver 300 Automatic Calanda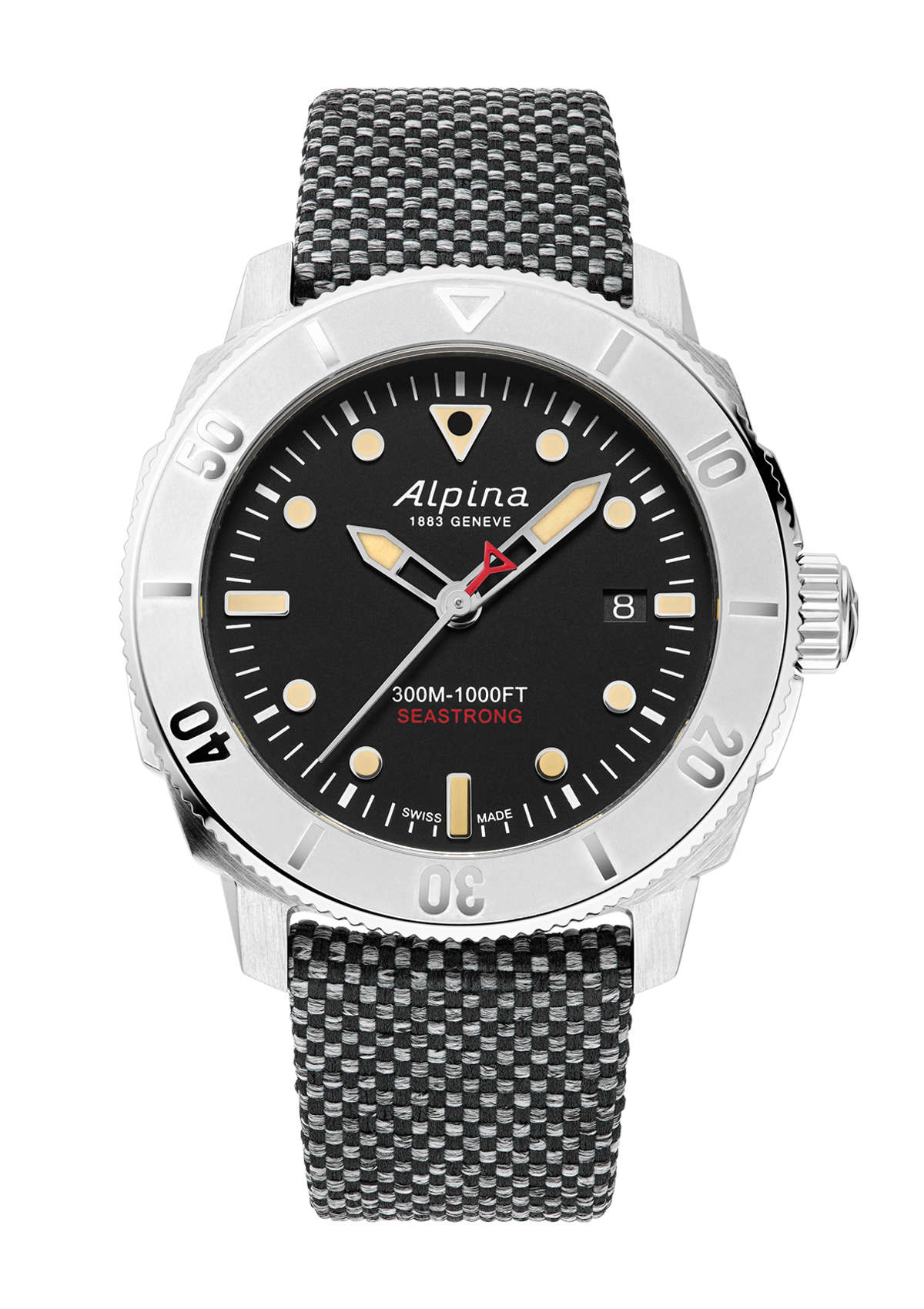 Price:
- CHF 1'795
Reference:
- AL-525BBG4VR6
Functions:
- Hours, minutes, seconds, date
Movement:
- AL-525 caliber, automatic
- 38-hour power-reserve, 26 jewels, 28'800 alt/h
Case:
- Brushed and polished recycled stainless steel 2-part case
- Unidirectional 60 minutes brushed stainless steel bezel
- Diameter of 42 mm
- Height of 12,66 mm
- Scratch-resistant convex sapphire crystal
- Water-resistant up to 30ATM/300m/1000ft
- Screw-in crowns and case back
- Engraved case back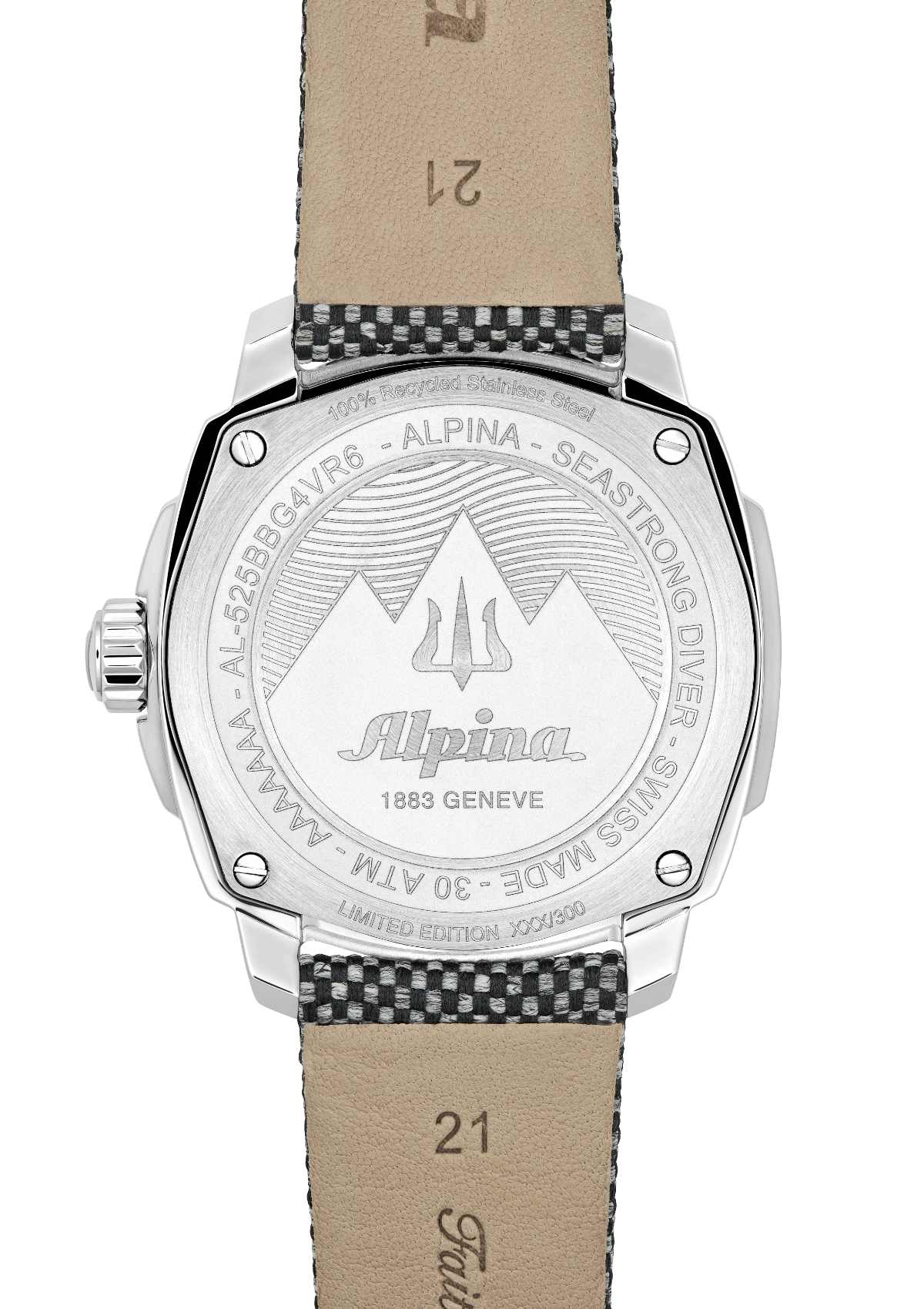 Dial:
- Mat black dial with grained finishing and white markers on outer ring
- Applied silver color indexes filled with old radium luminous treatment
- Silver color hour and minute hands filled with old radium luminous treatment
- White second hand with red triangle
Strap:
- Black and grey Recycled PET strap
Limited edition:
- Limited to 300 pieces
ABOUT ALPINA - SWISS MANUFACTURER OF ALPINE SPORTS WATCHES SINCE 1883

Founded in 1883 and famous for its iconic red triangle, Alpina is a Swiss watch manufacturer based in Geneva. The brand set out to design luxury sports watches offering exceptional accuracy and reliability in the most challenging sporting environments, like the Alps.
A true pioneer of the watchmaking industry, Alpina has been the source of numerous patents and innovative calibres over the past 138 years. At the beginning of the 20th century, Alpina became the official supplier of watches to military pilots, before revolutionising the concept of sports watches in 1938 with the legendary Alpina 4.
True to its long tradition of innovation, Alpina launched the first Swiss made Horological Smartwatch in 2015, creating a new segment in the luxury Swiss sports watch market. In 2020, the brand introduced the AlpinerX Alive, a new generation of connected watches equipped with a heart rate monitor and GPS, among other things. Also committed to protecting the planet, Alpina created the Seastrong Diver Gyre Automatic range using recycled plastic from the oceans. In 2021, the brand is doubling down on its promise to get involved with organisations fighting to protect the environment. Joined together by the unifying principle We Shape the Change – the environmental equivalent of Reach Your Summit – Alpina will undertake a variety of measures aimed at drawing public attention to current environmental issues.
Inspired by the Alps from the very beginning, Alpina has always been heavily involved in outdoor activities and mountain sports. The brand has established strong partnerships demonstrating its commitment to this world, as well as a team of 'Alpinists', including athletes and friends of the brand working in the most challenging environments.
Photo credits:
- Swiss National Library
- Annemarie Clarac-Schwarzenbach
- Archiv SwissShips
- Schweizerische Reederei AG SRAG Basel