---
Thom Browne Presents Its New 2022 Football Capsule Collection
Luxferity, 10.11.2022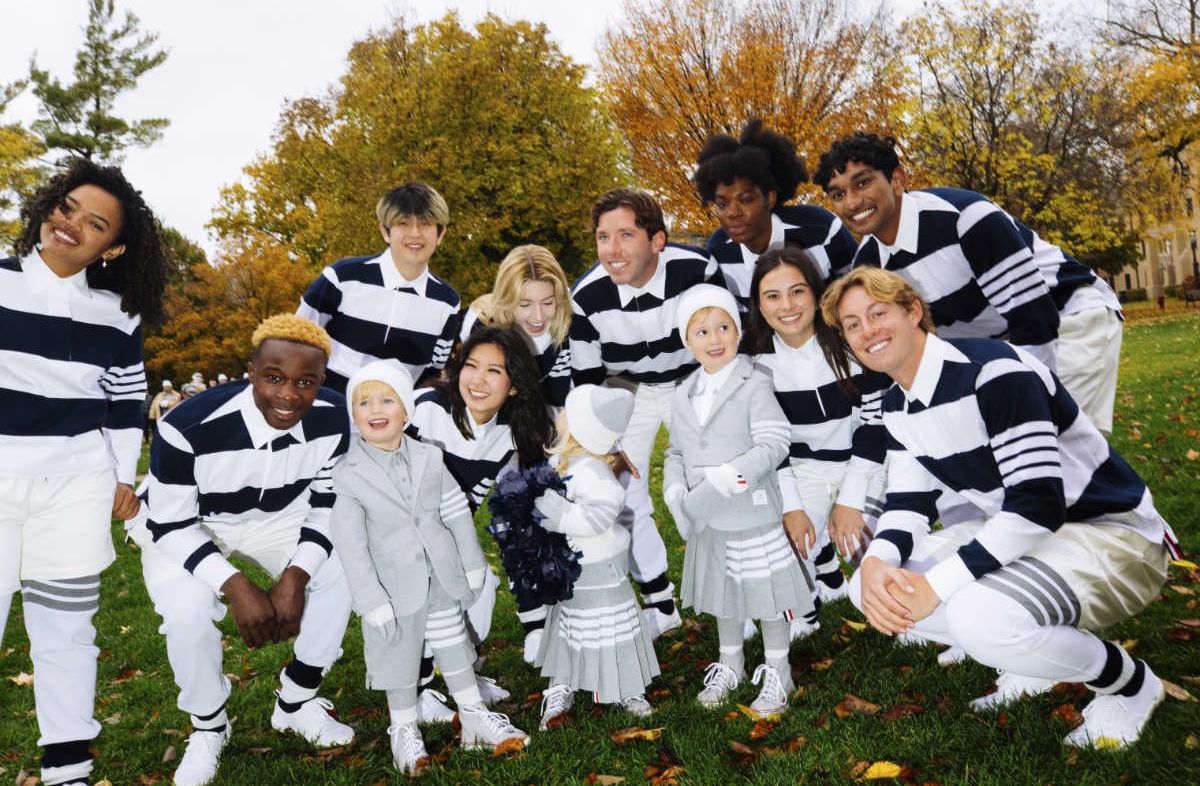 Thom Browne 2022 Football Capsule Collection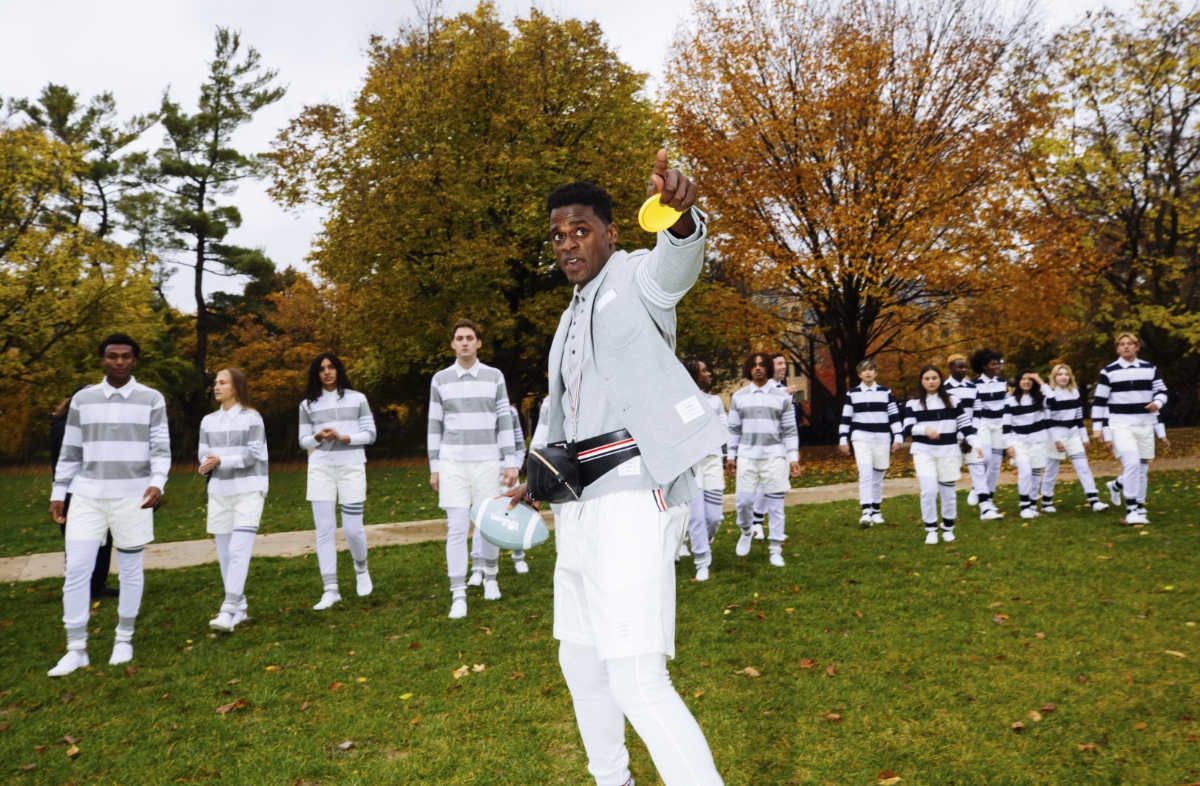 Thom Browne 2022 Football Capsule Collection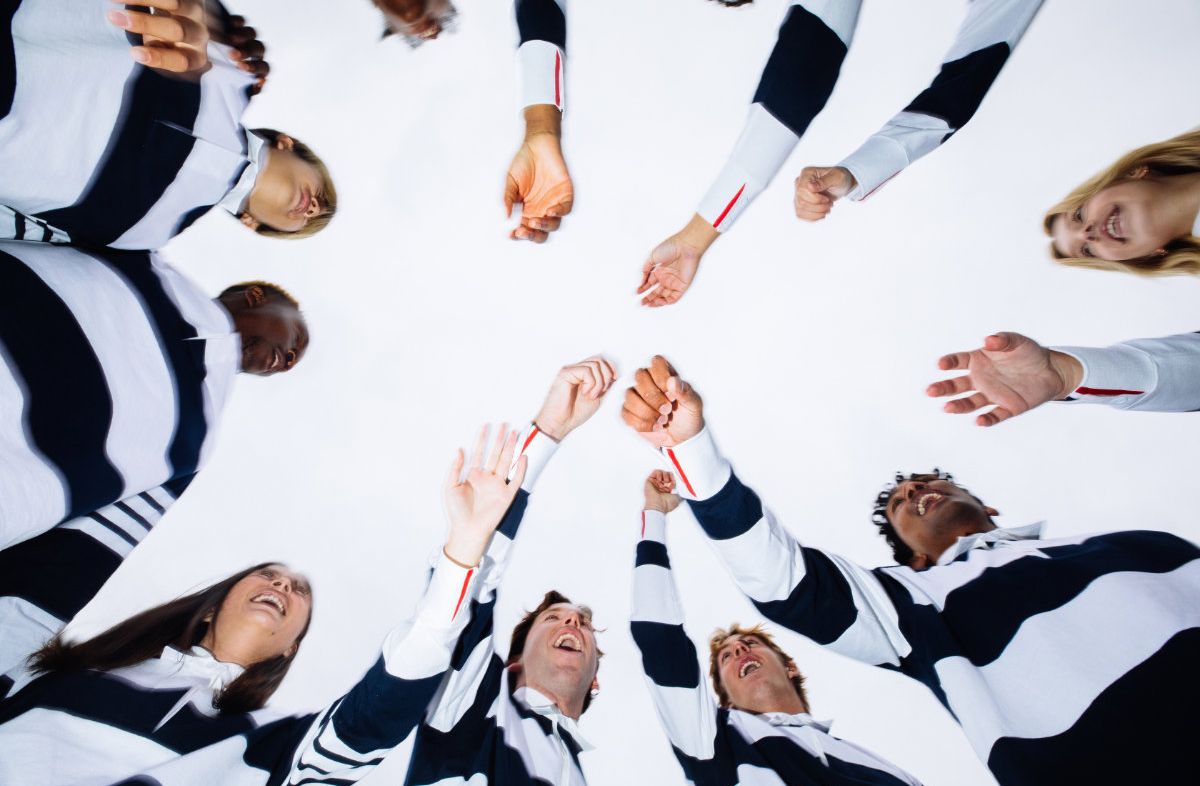 Thom Browne 2022 Football Capsule Collection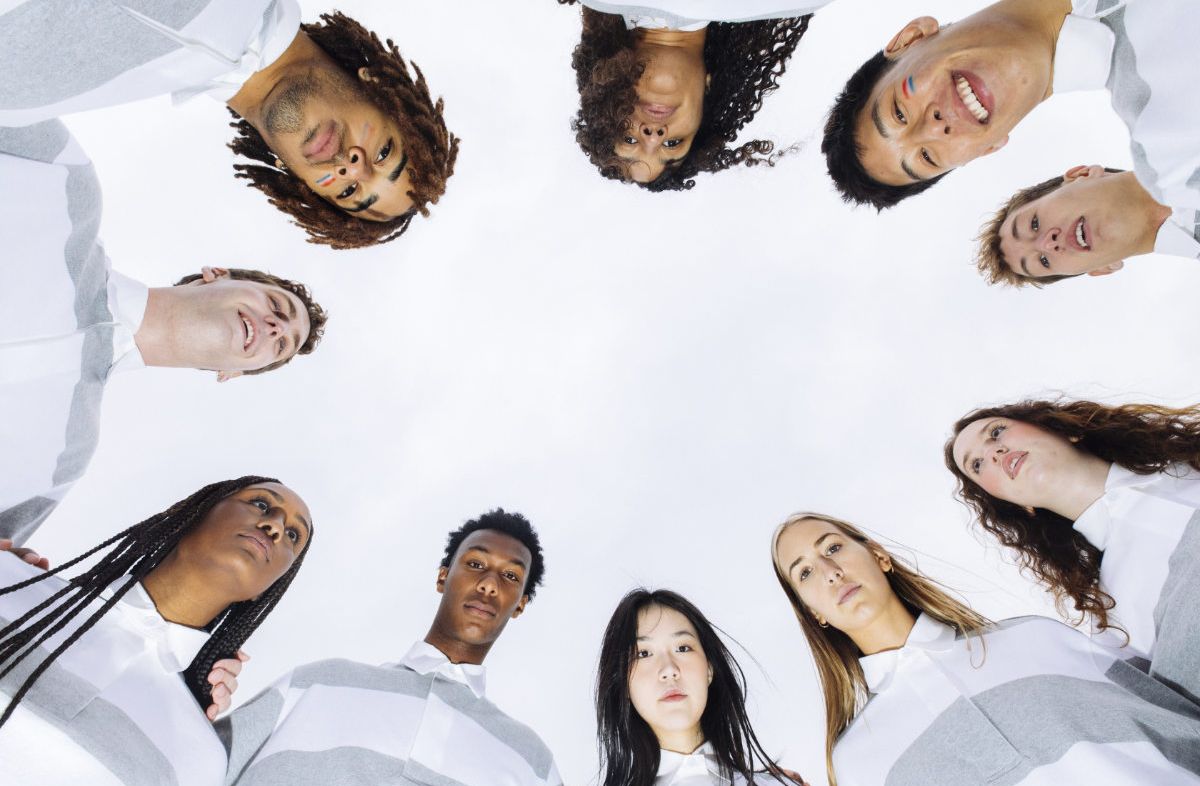 Thom Browne 2022 Football Capsule Collection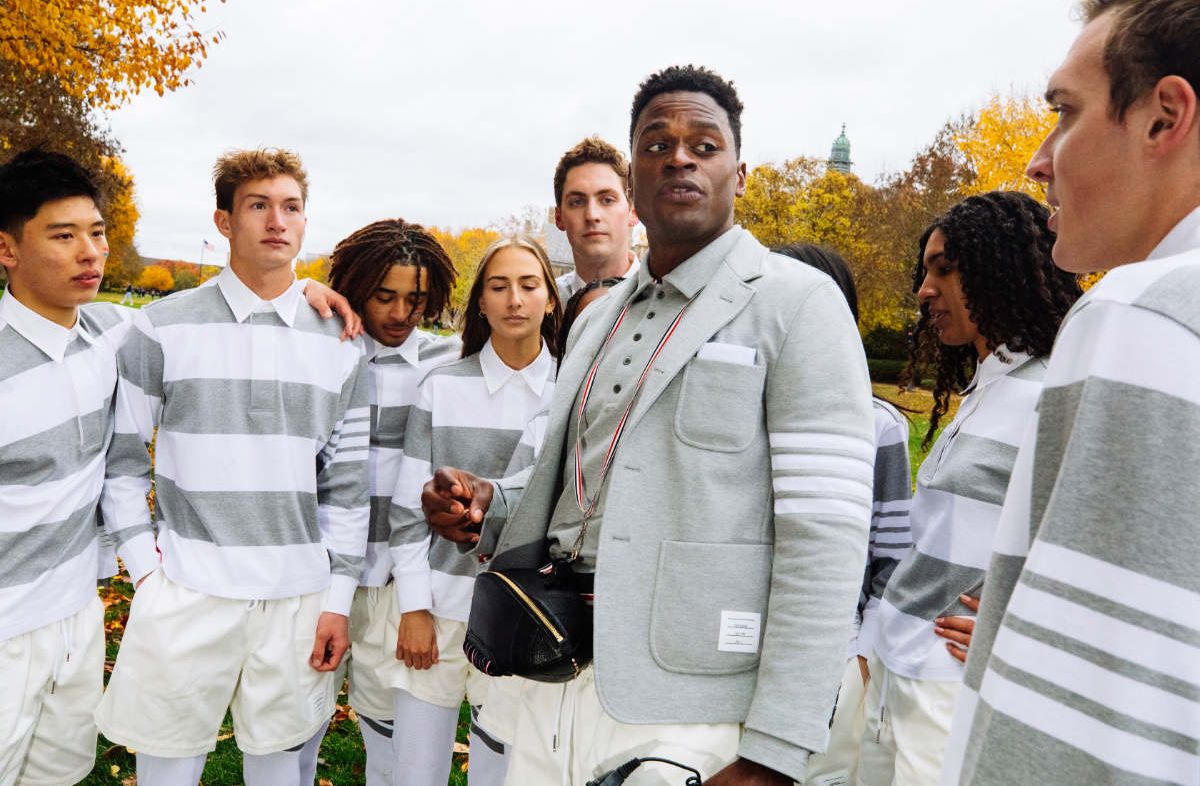 Thom Browne 2022 Football Capsule Collection
Thom Browne 2022 Football Capsule Collection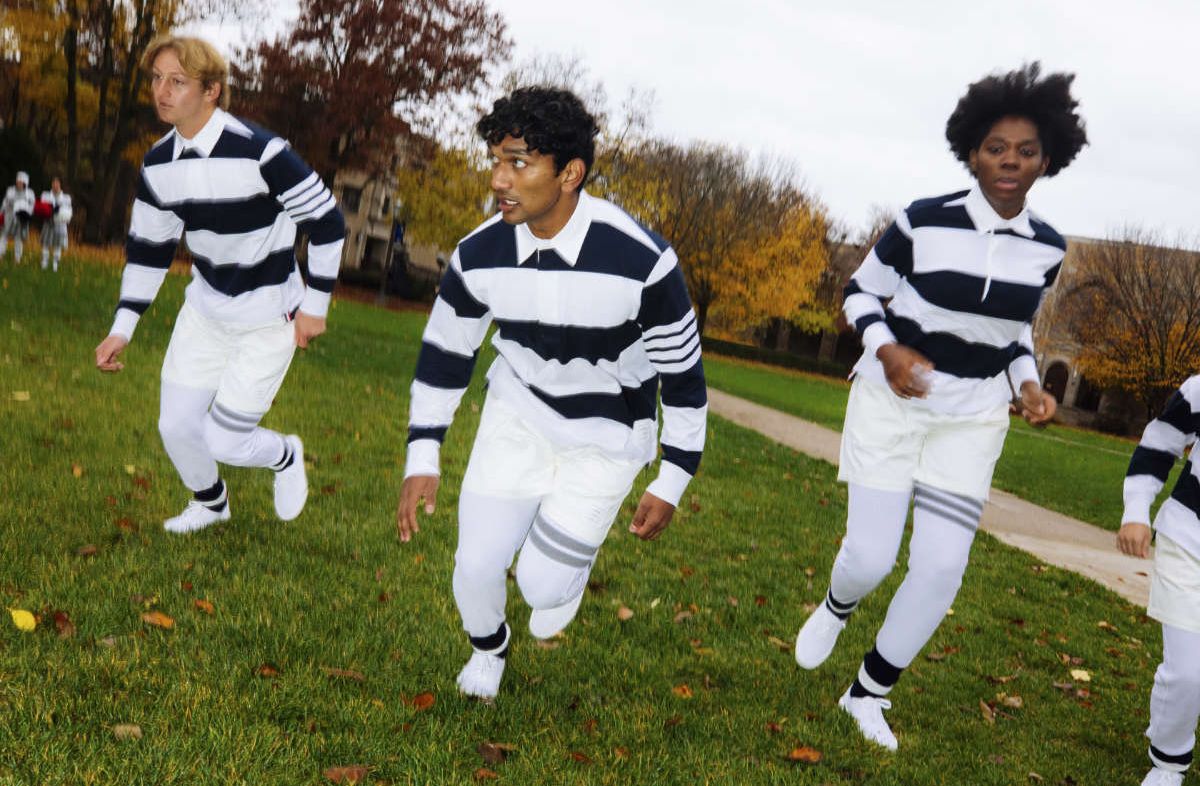 Thom Browne 2022 Football Capsule Collection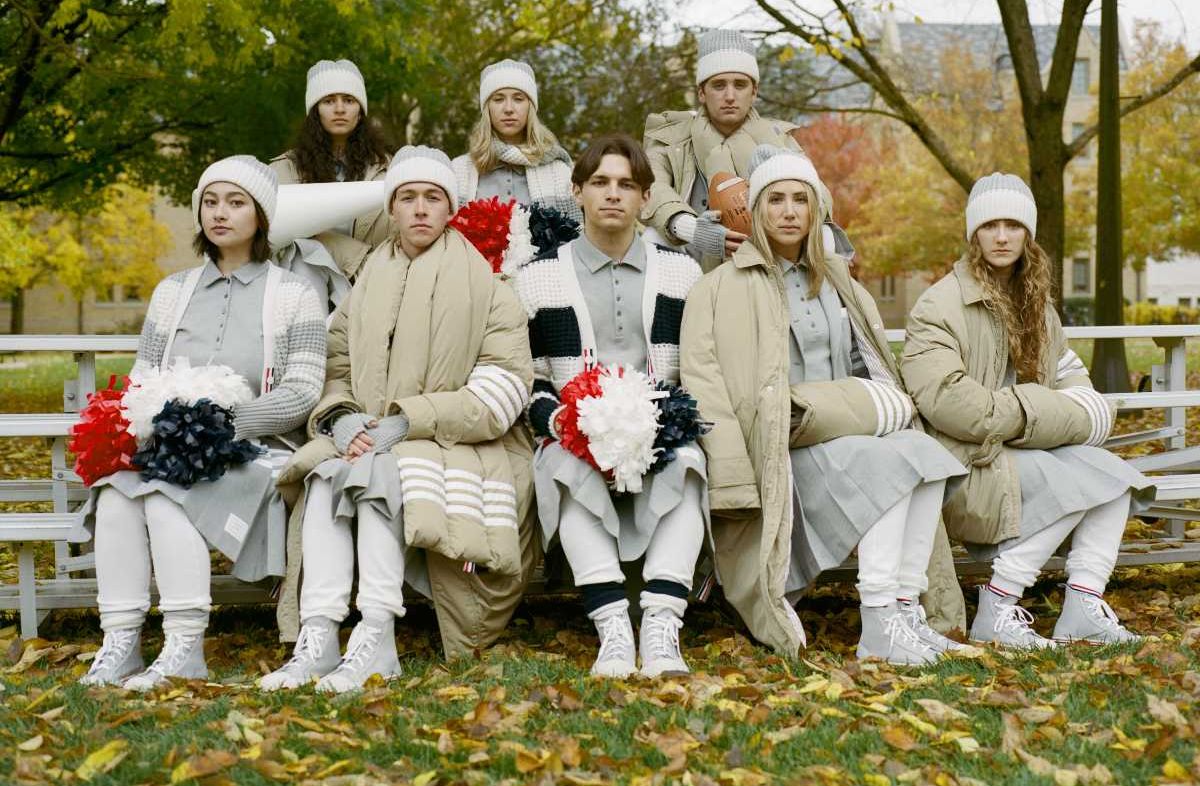 Thom Browne 2022 Football Capsule Collection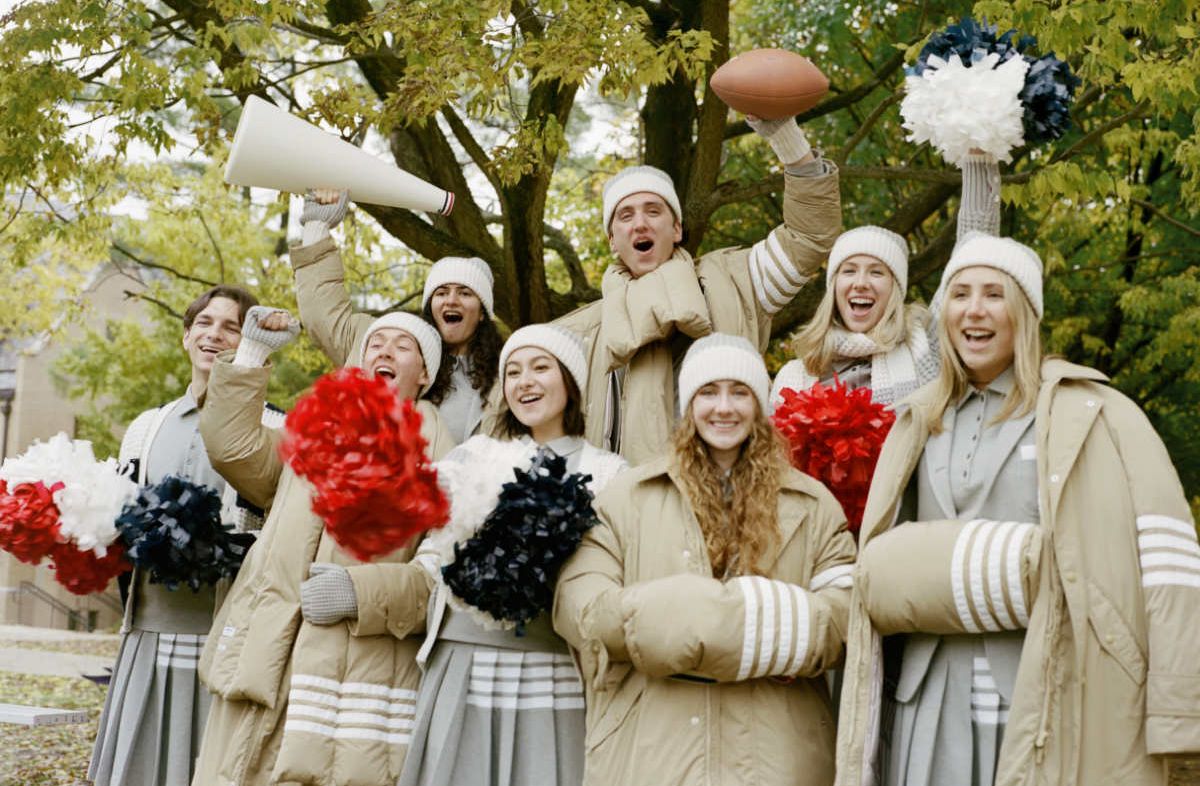 Thom Browne 2022 Football Capsule Collection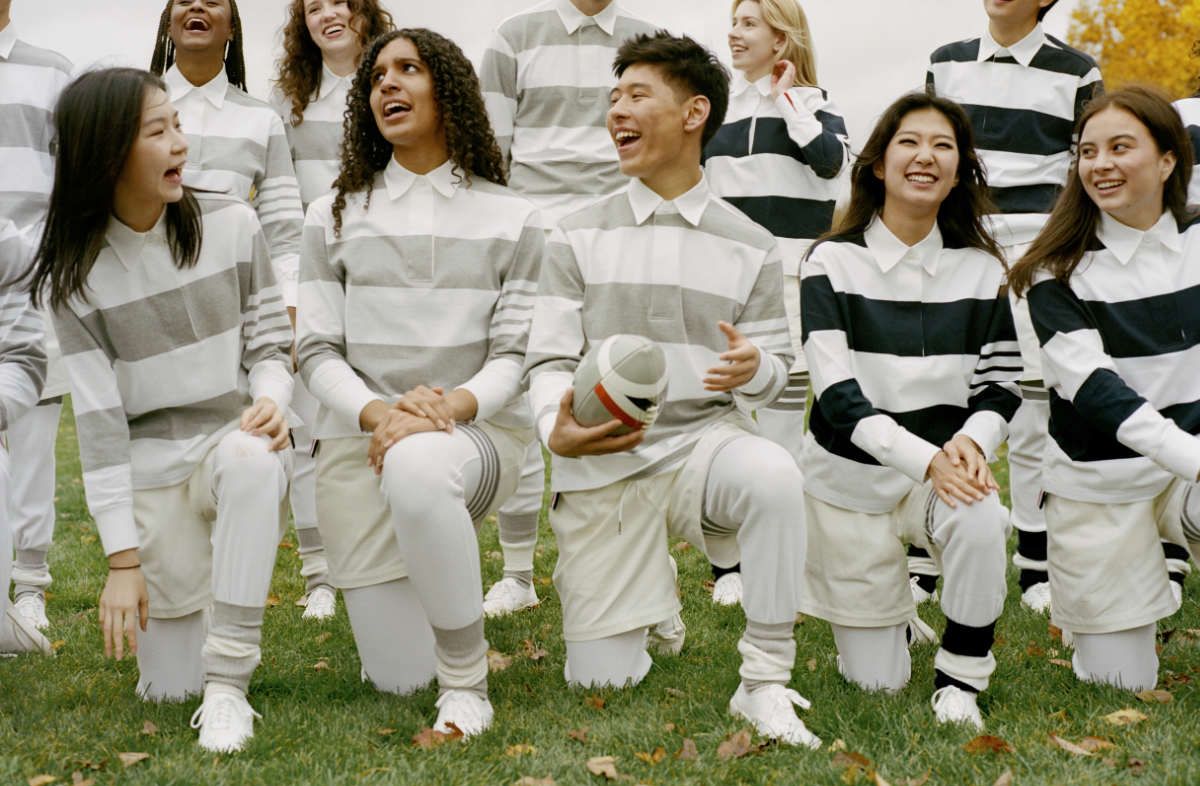 Thom Browne 2022 Football Capsule Collection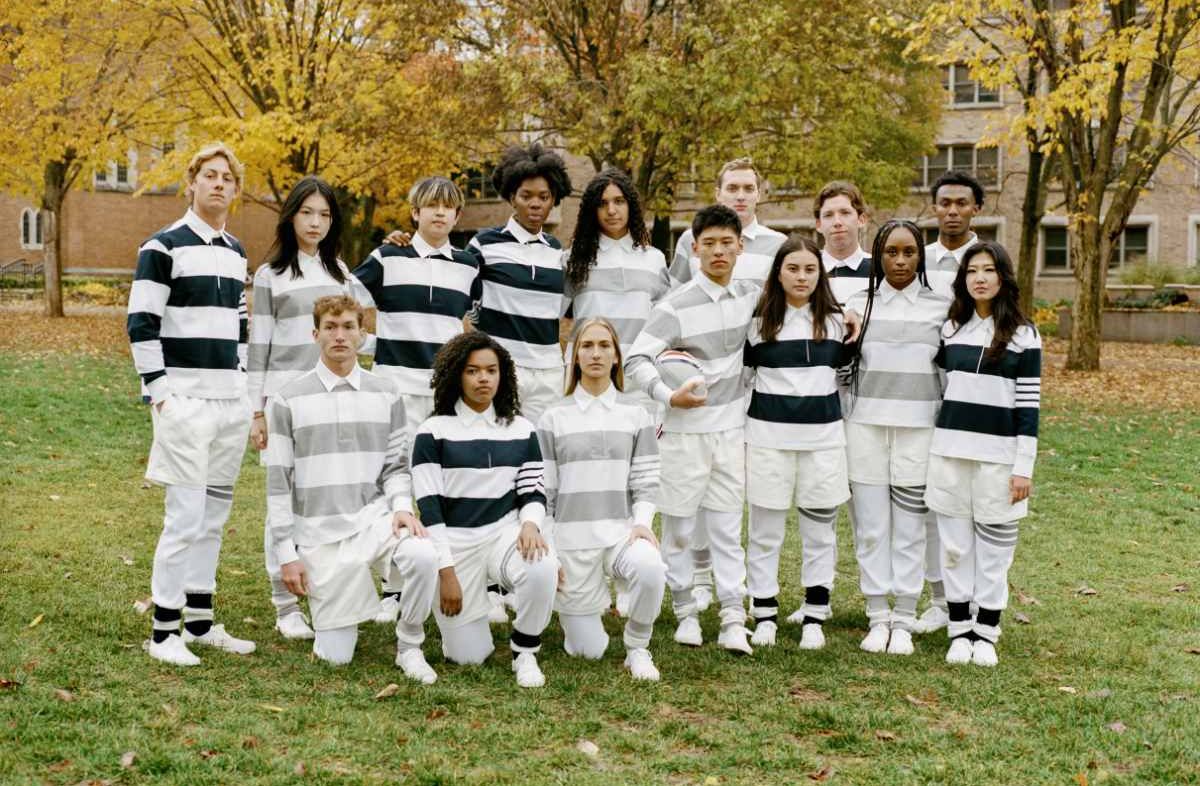 Thom Browne 2022 Football Capsule Collection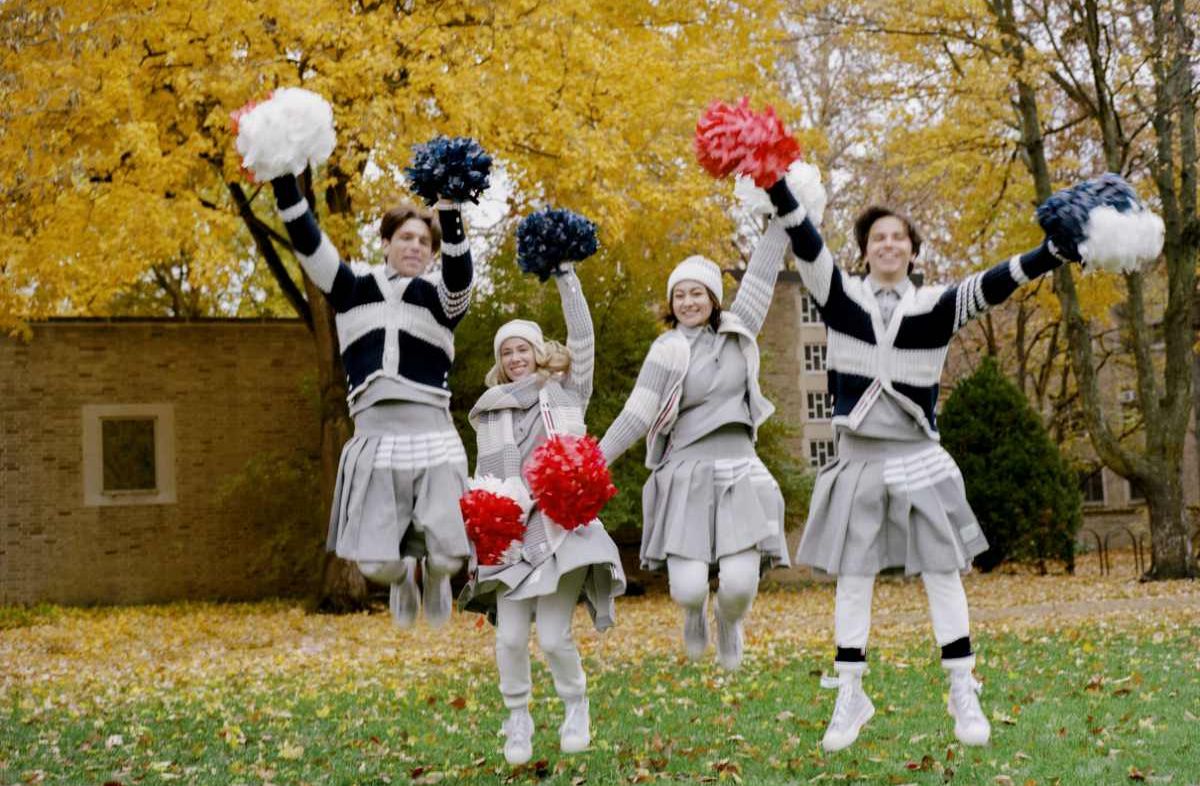 Thom Browne 2022 Football Capsule Collection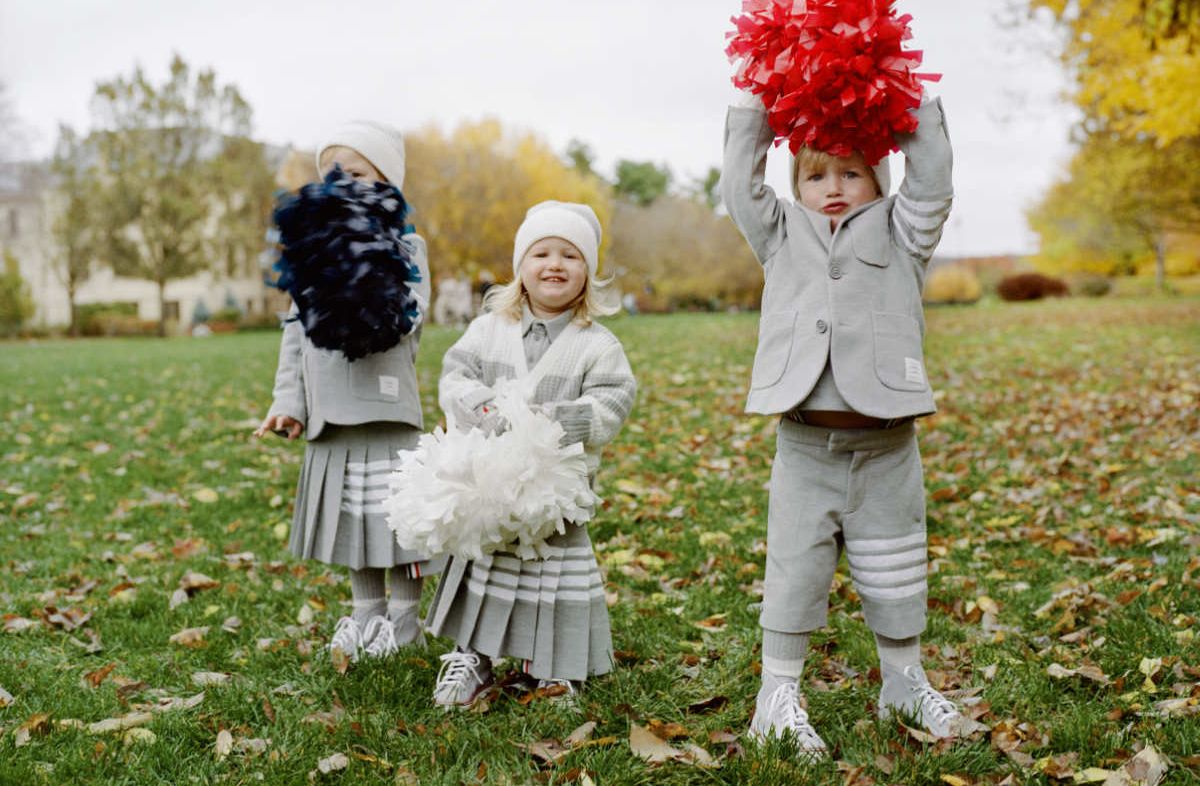 Thom Browne 2022 Football Capsule Collection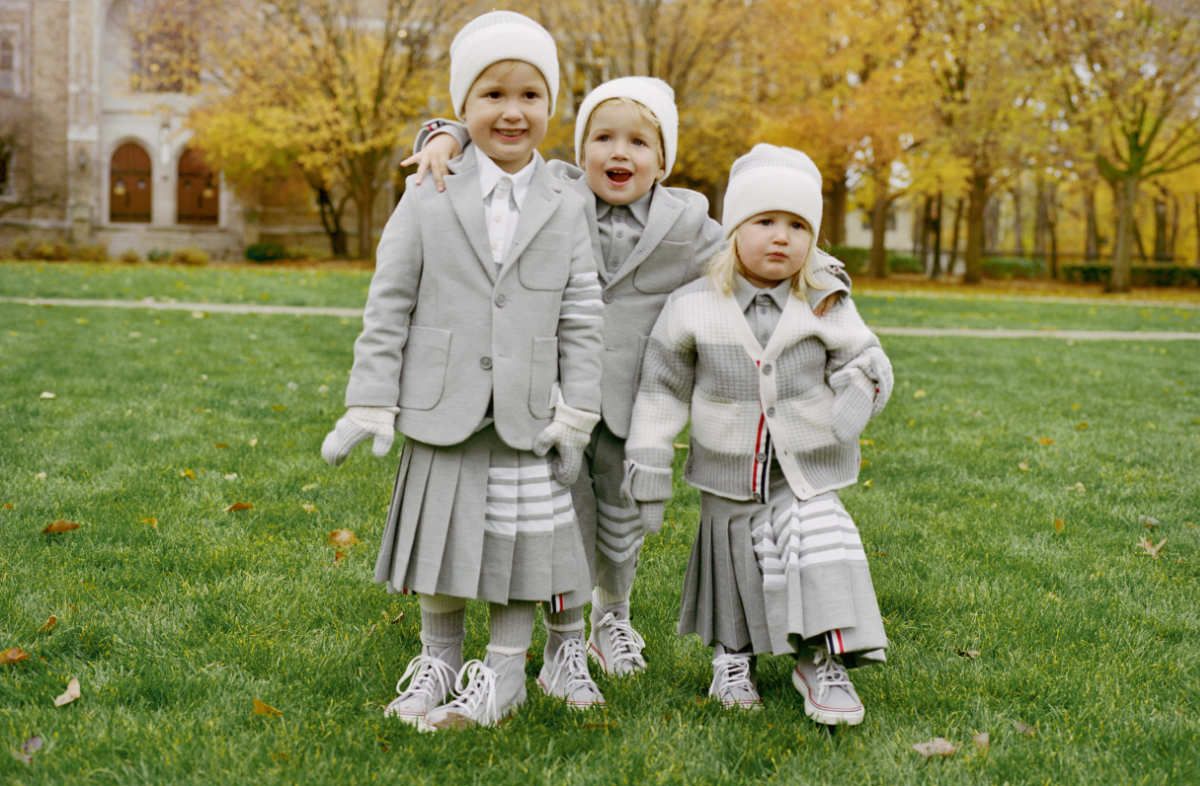 Thom Browne 2022 Football Capsule Collection
…thom's homecoming…
the annual football game goes to the university of notre dame

twenty students in position on the south quad…
when i say thom…you say browne…

team navy vs. team grey…
head-to-head…

in their rugby stripes…
a return to campus…
for traditions new and old…
in front of dylan… next to alumni...

ooh…it's gametime…

a tradition since 2014, thom browne's football game heads to the university of notre dame. held on the south quad of thom's alma mater, the match between teams grey and navy celebrates the family traditions and collegiate culture that remain central to his creative direction.
this year, notre dame students take on the roles of players, spectators, and cheerleaders. in grey, white, and khaki, the 2022 football capsule collection fuses classic varsity elements with modern americana. brand icons including the bal collar coat, sack jacket, and pleated skirt meet striped rugby polos, high-top canvas sneakers, and backstrap shorts. the brand's signature outerwear is front a center combining time-honored shapes like the raglan sleeve with iconic details like the 4-bar stripe. cashmere knits, long johns, a down-filled parka, and cozy muff nod to the autumnal season of the sport. as onlookers, the children and dogs have outerwear to match.
marked by the football capsule and the brand's first game day since 2019, it was a true homecoming celebration on the south quad.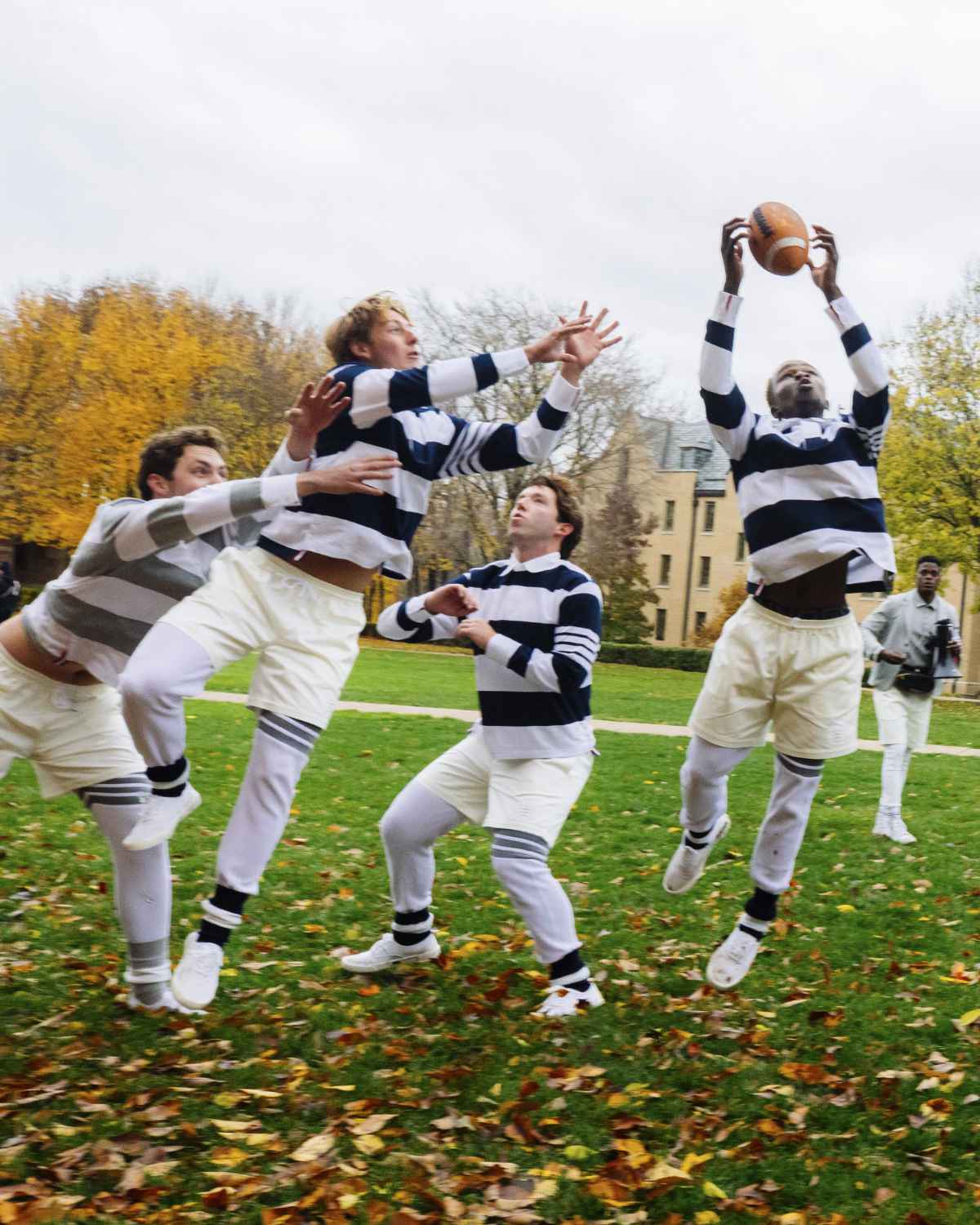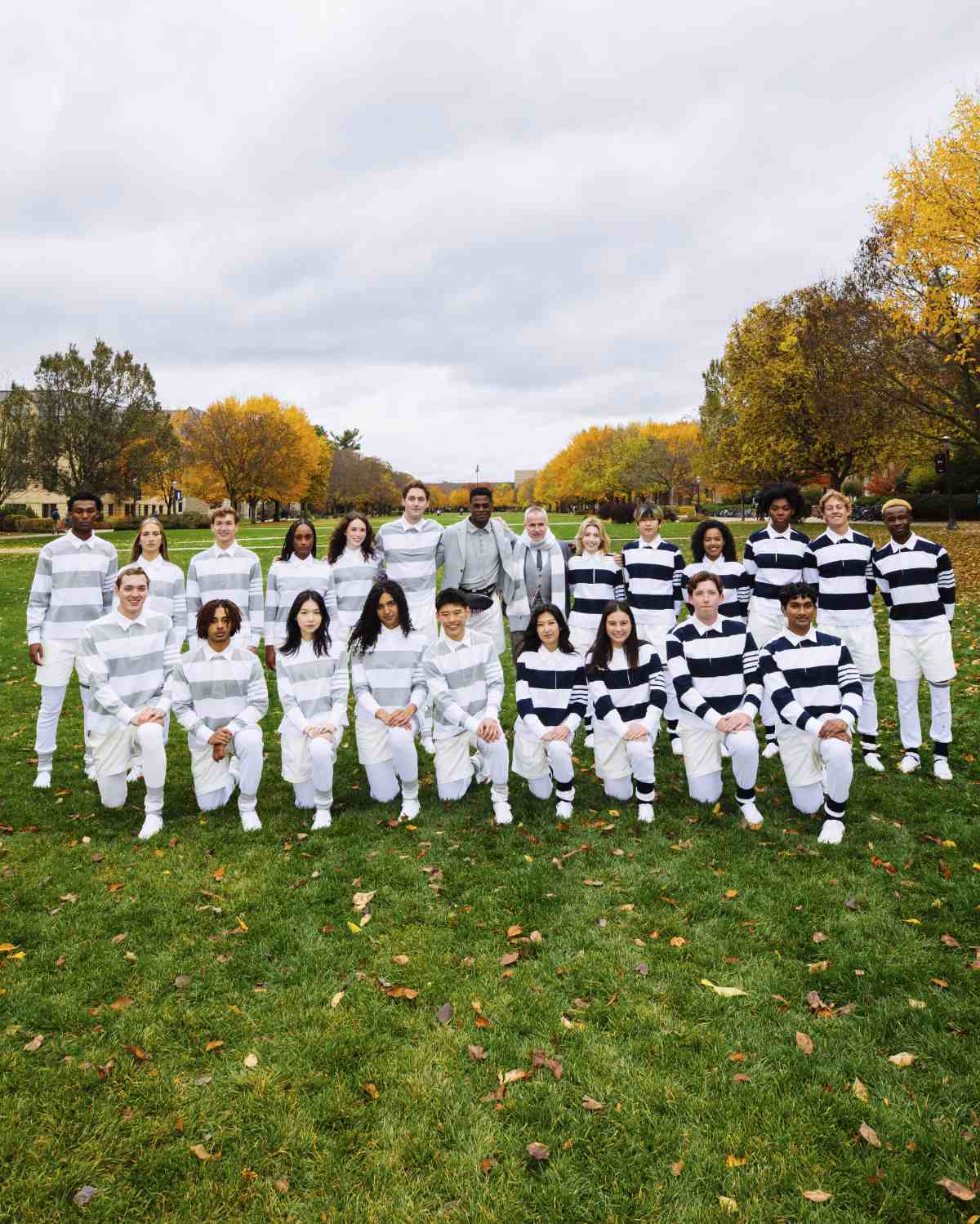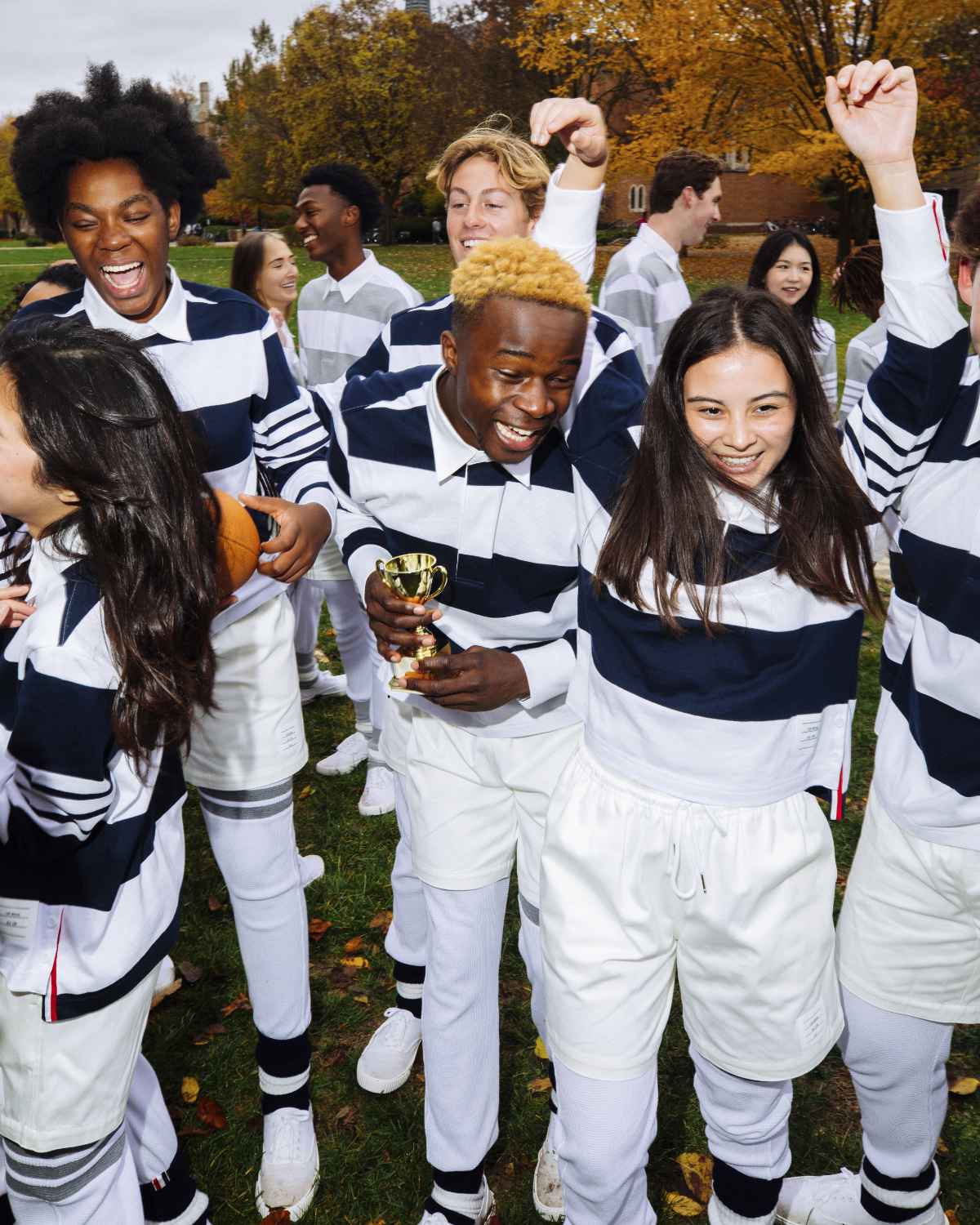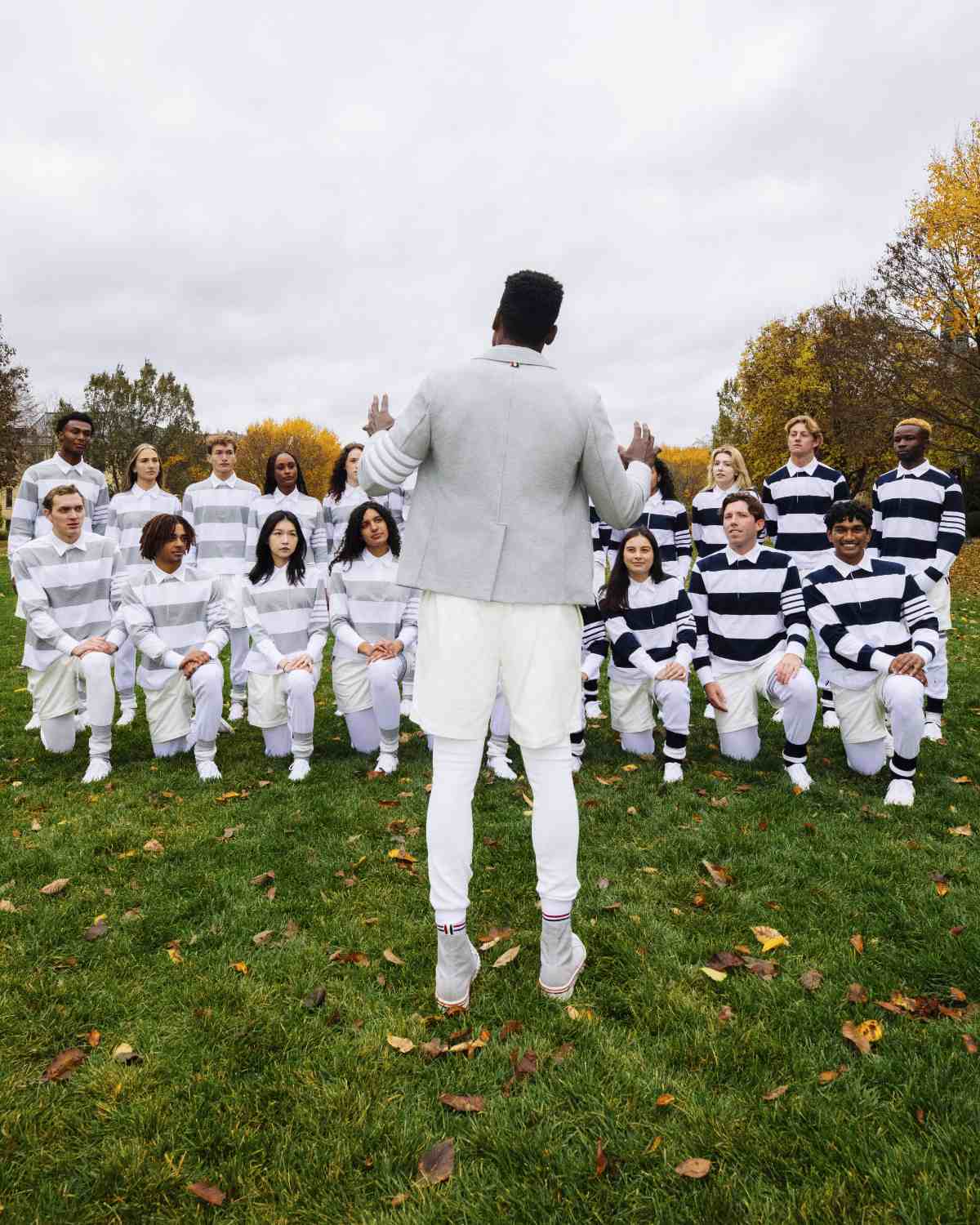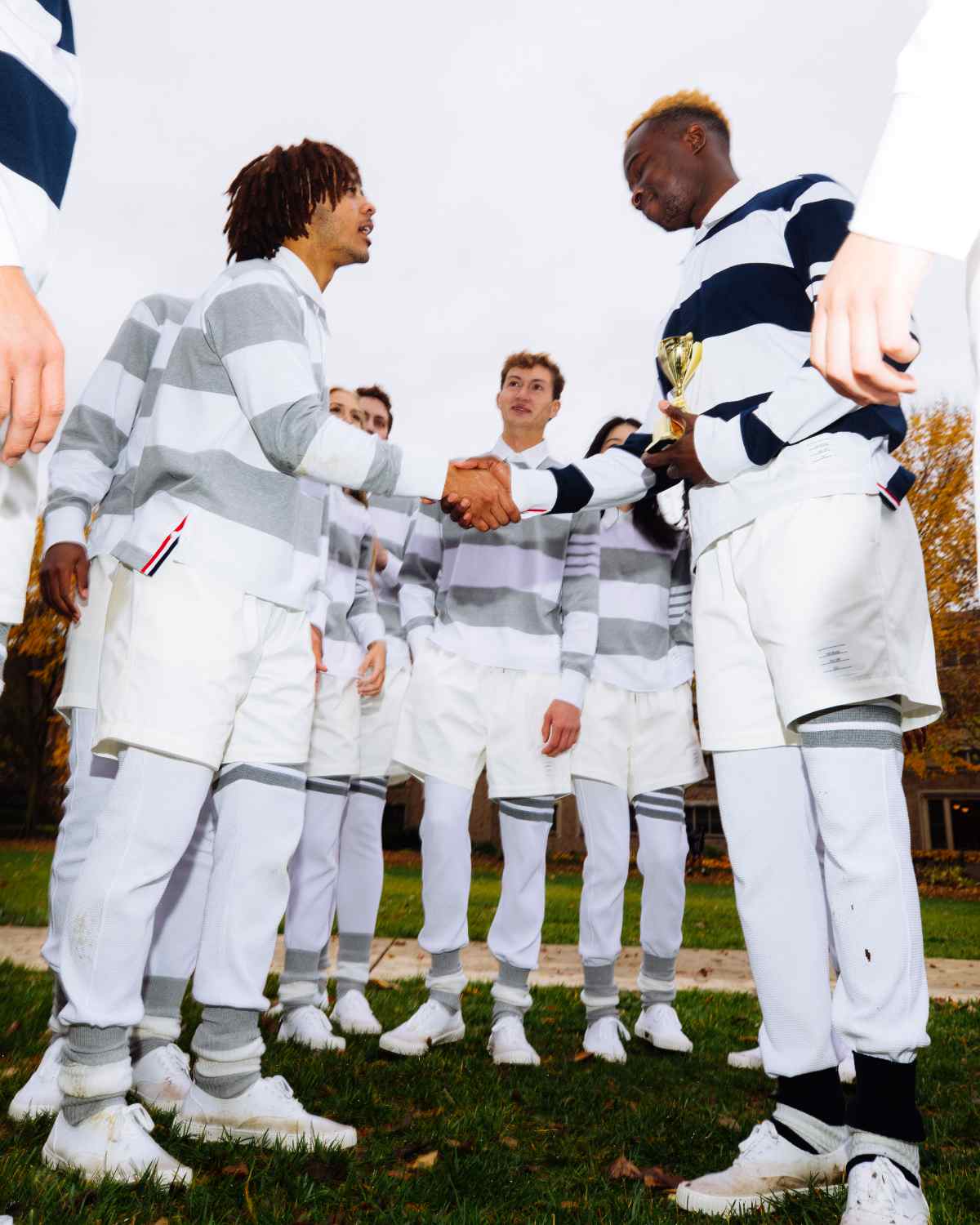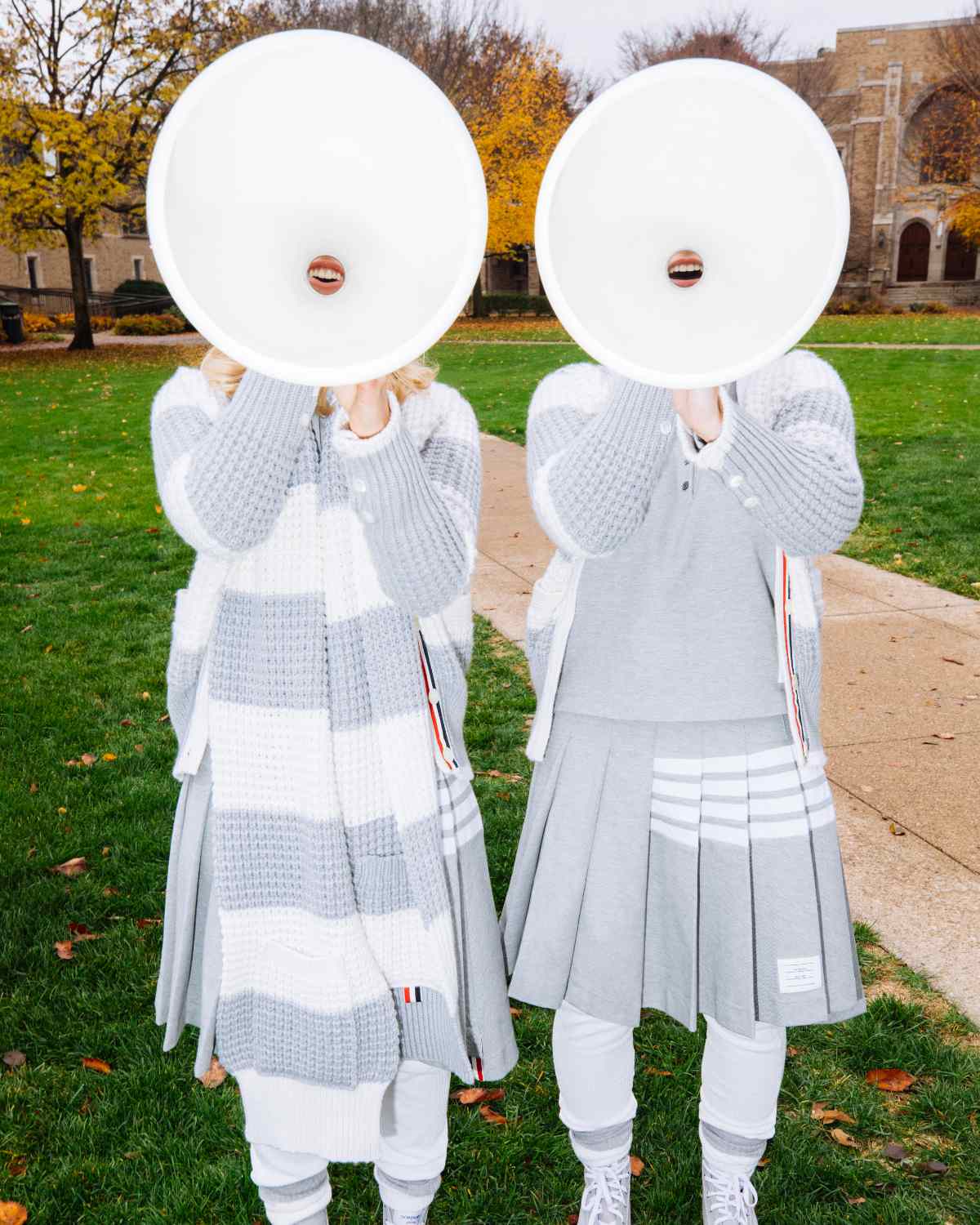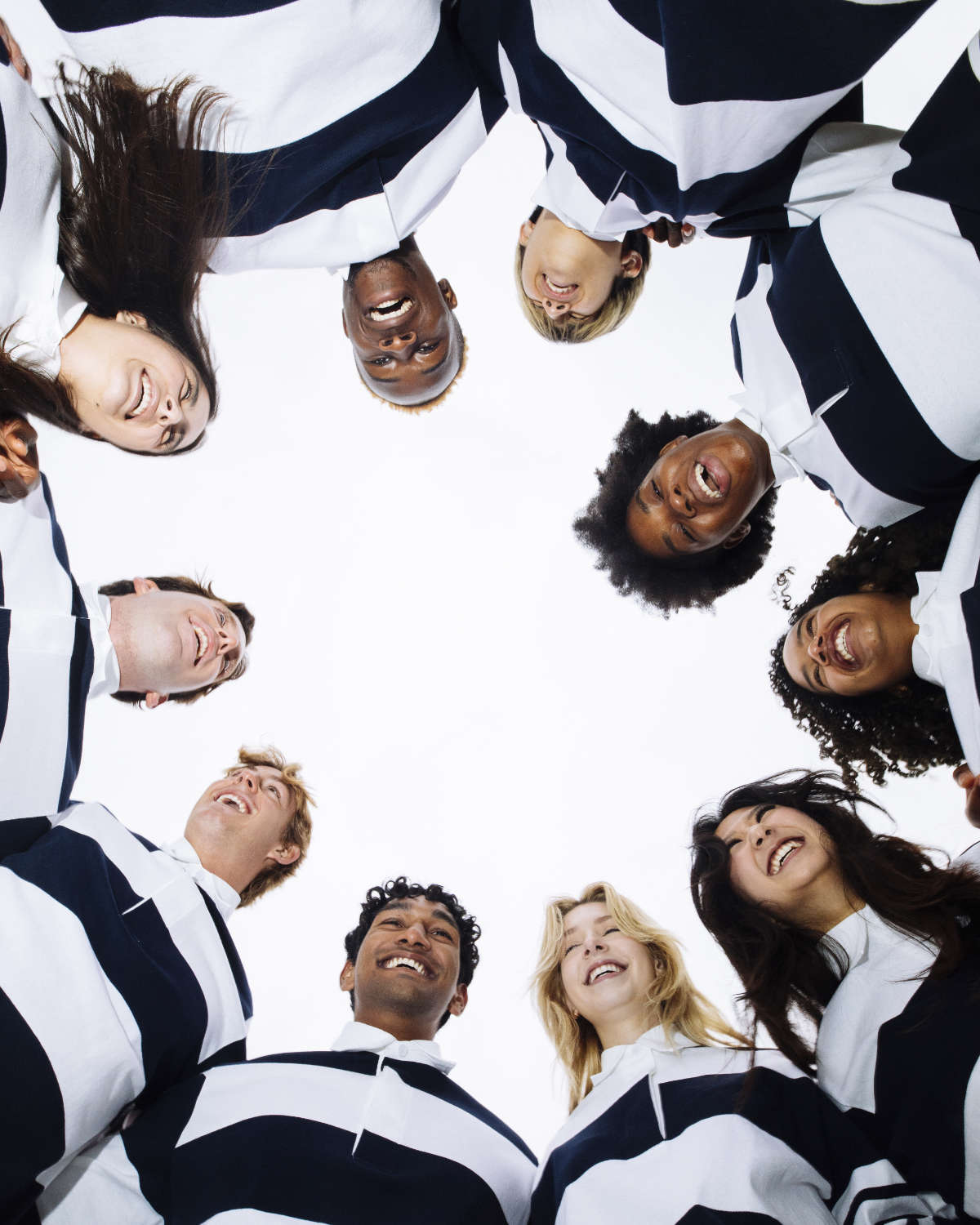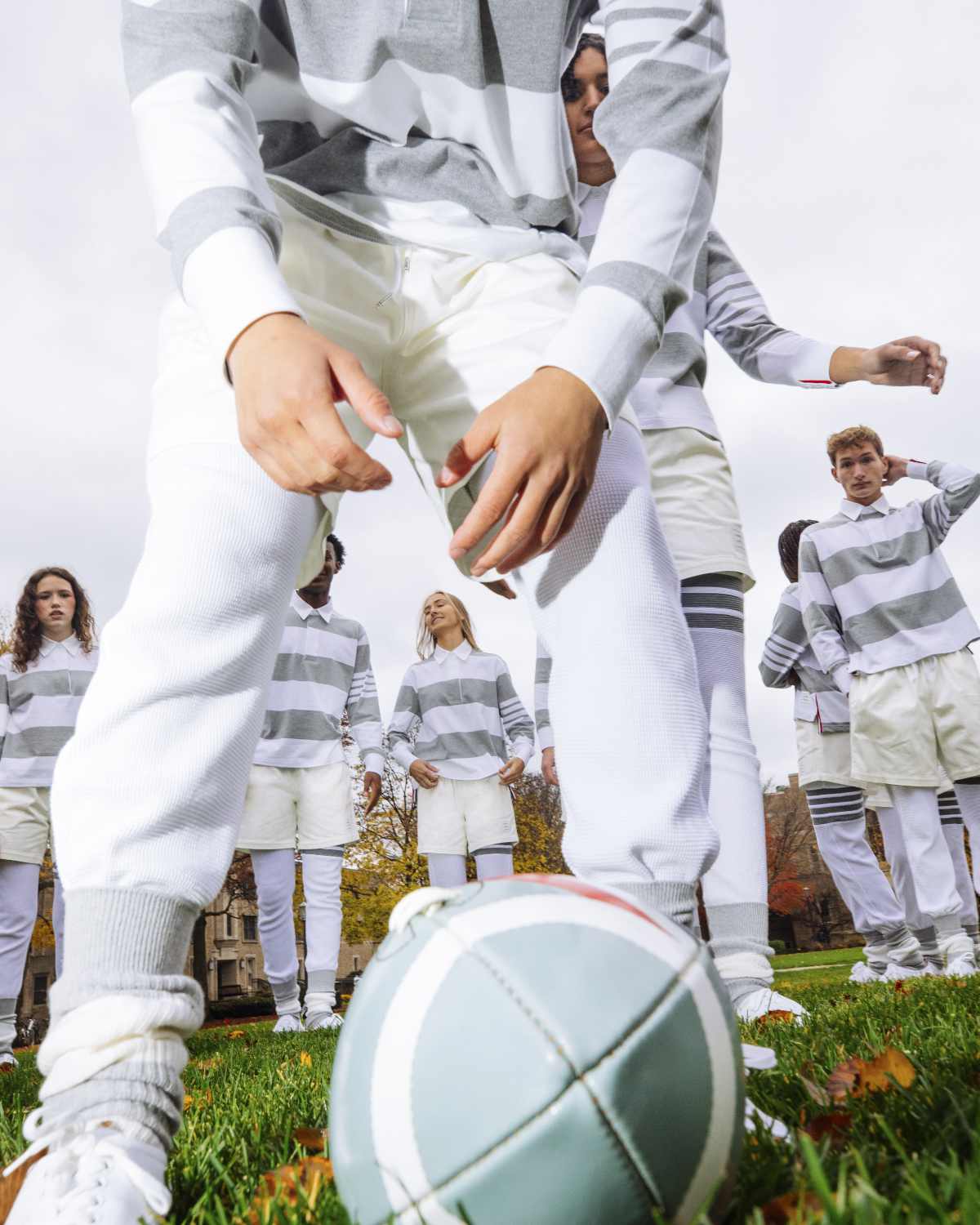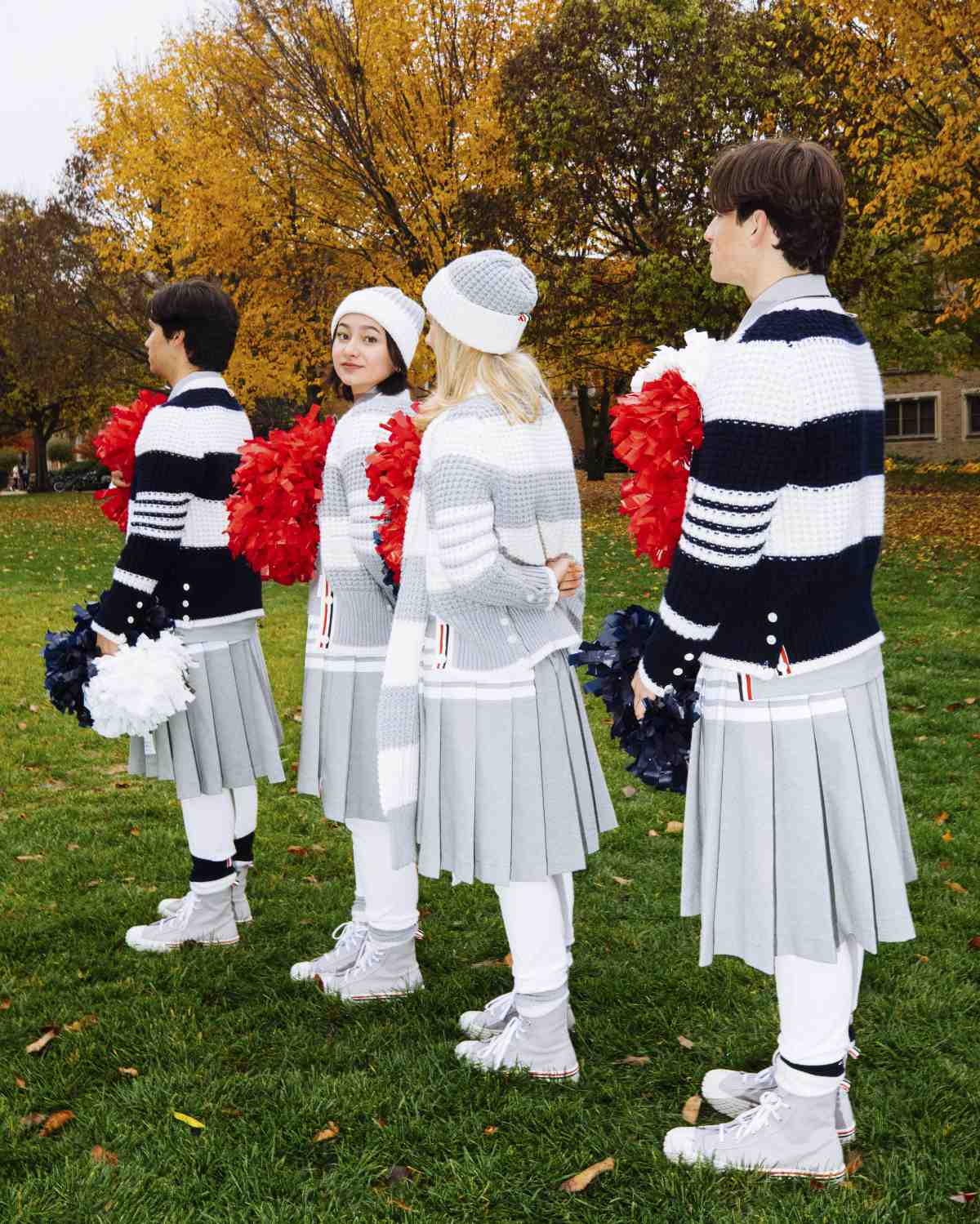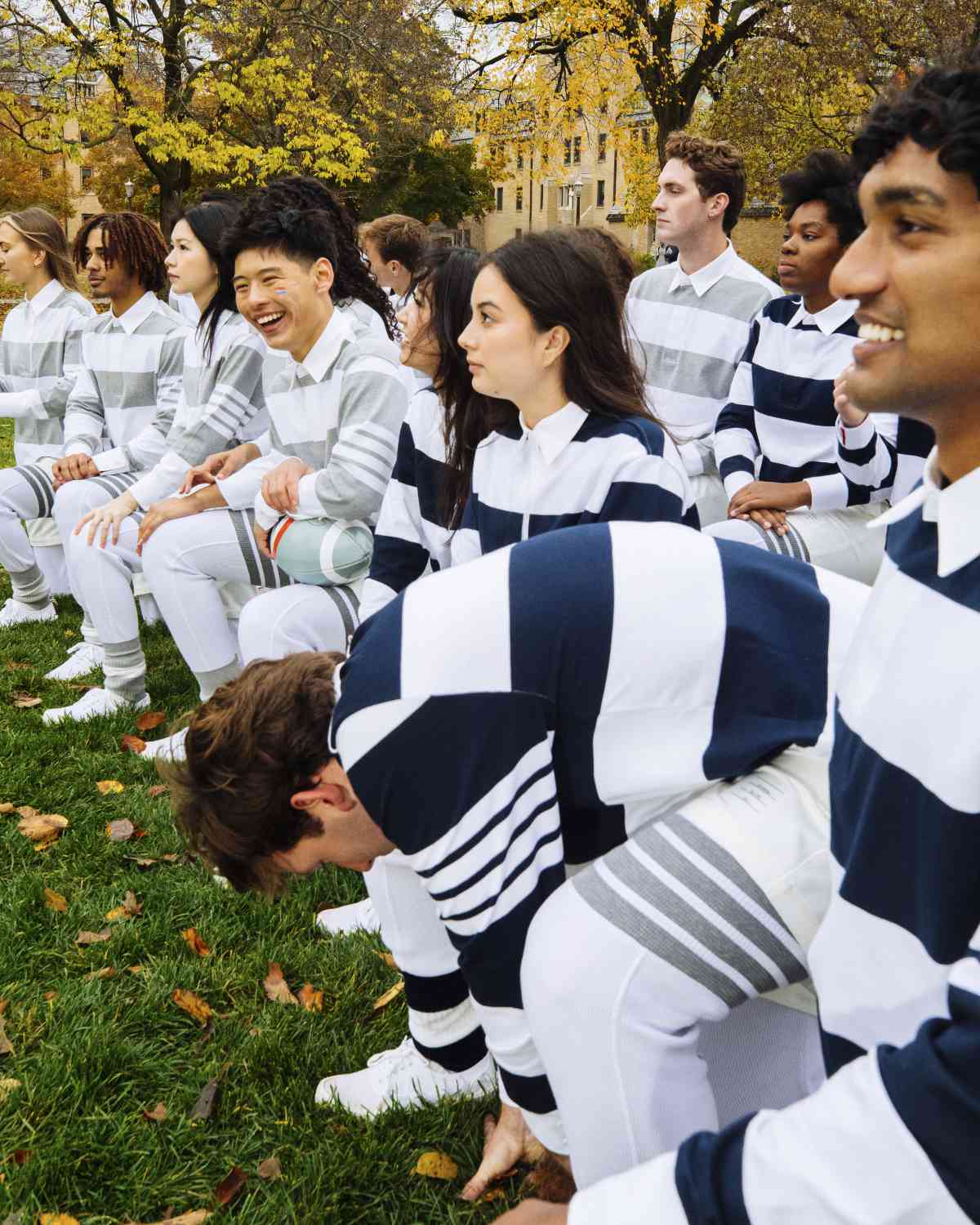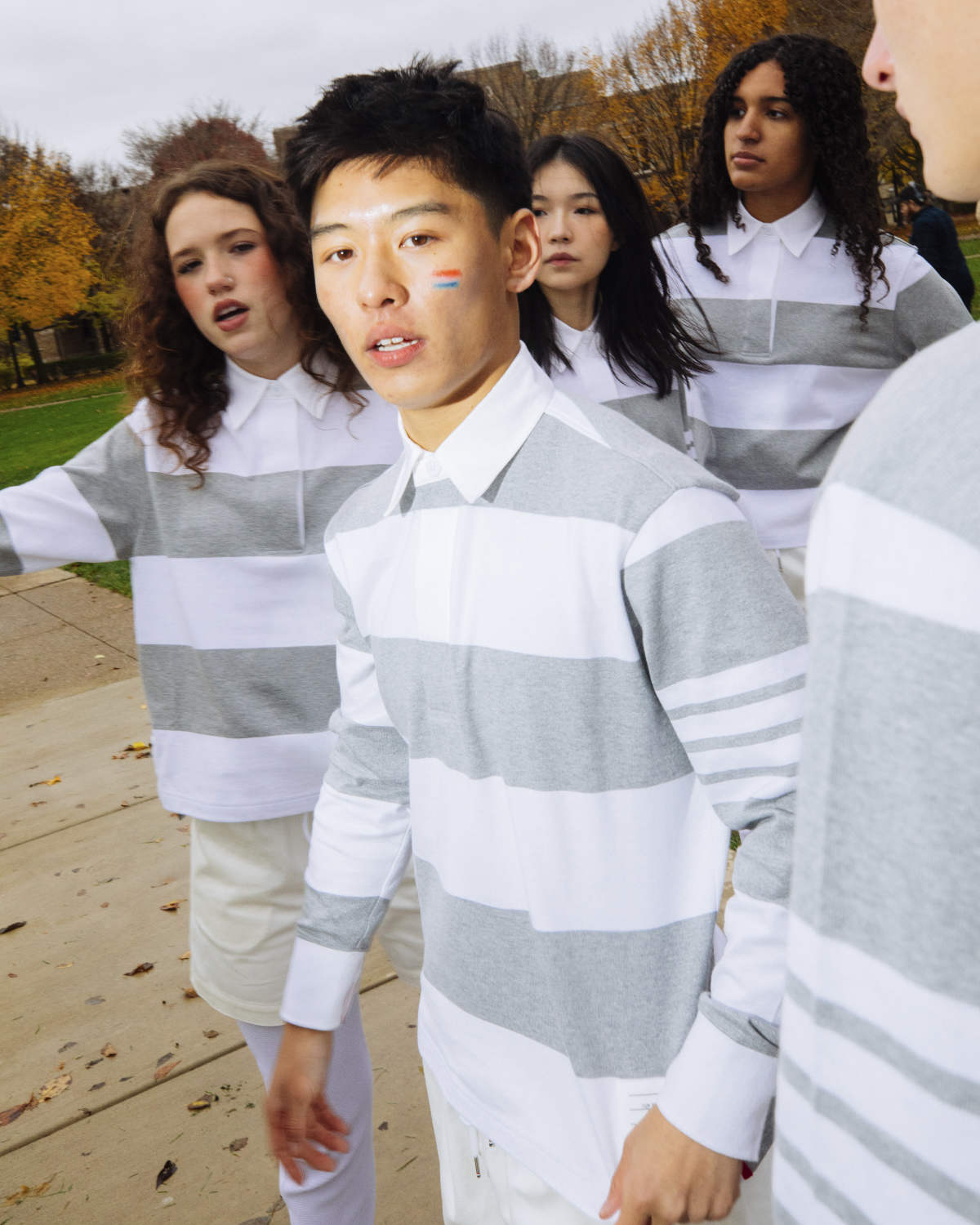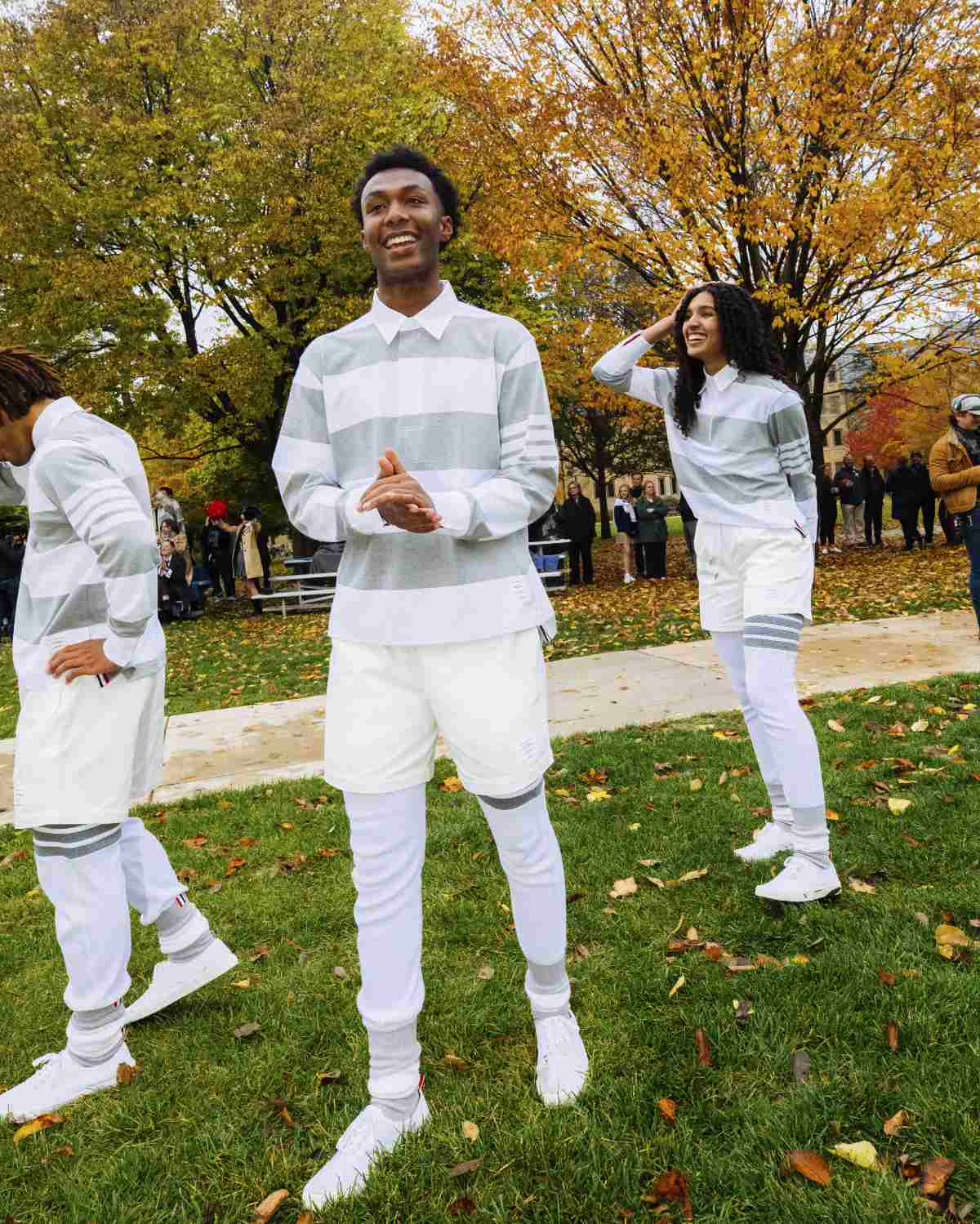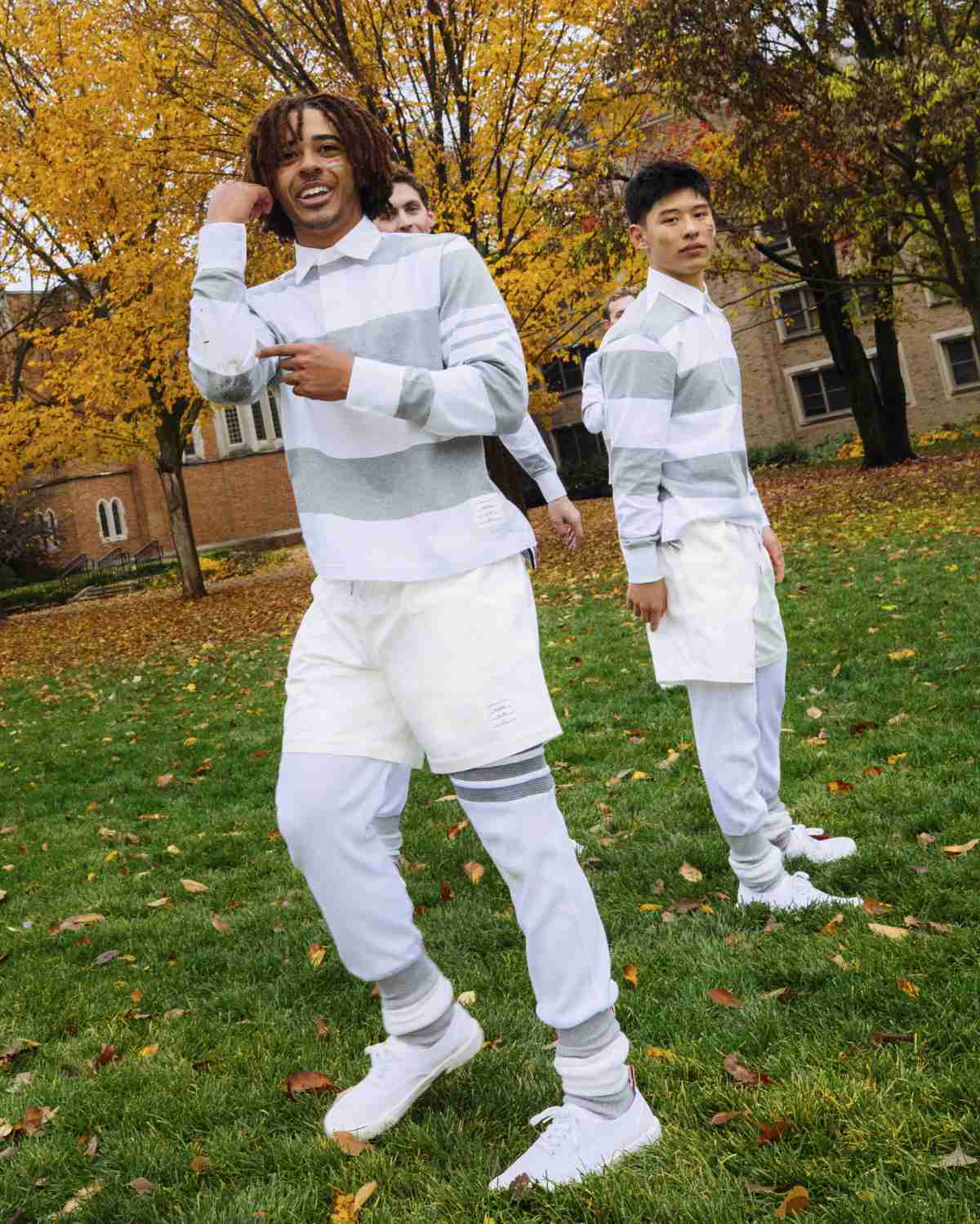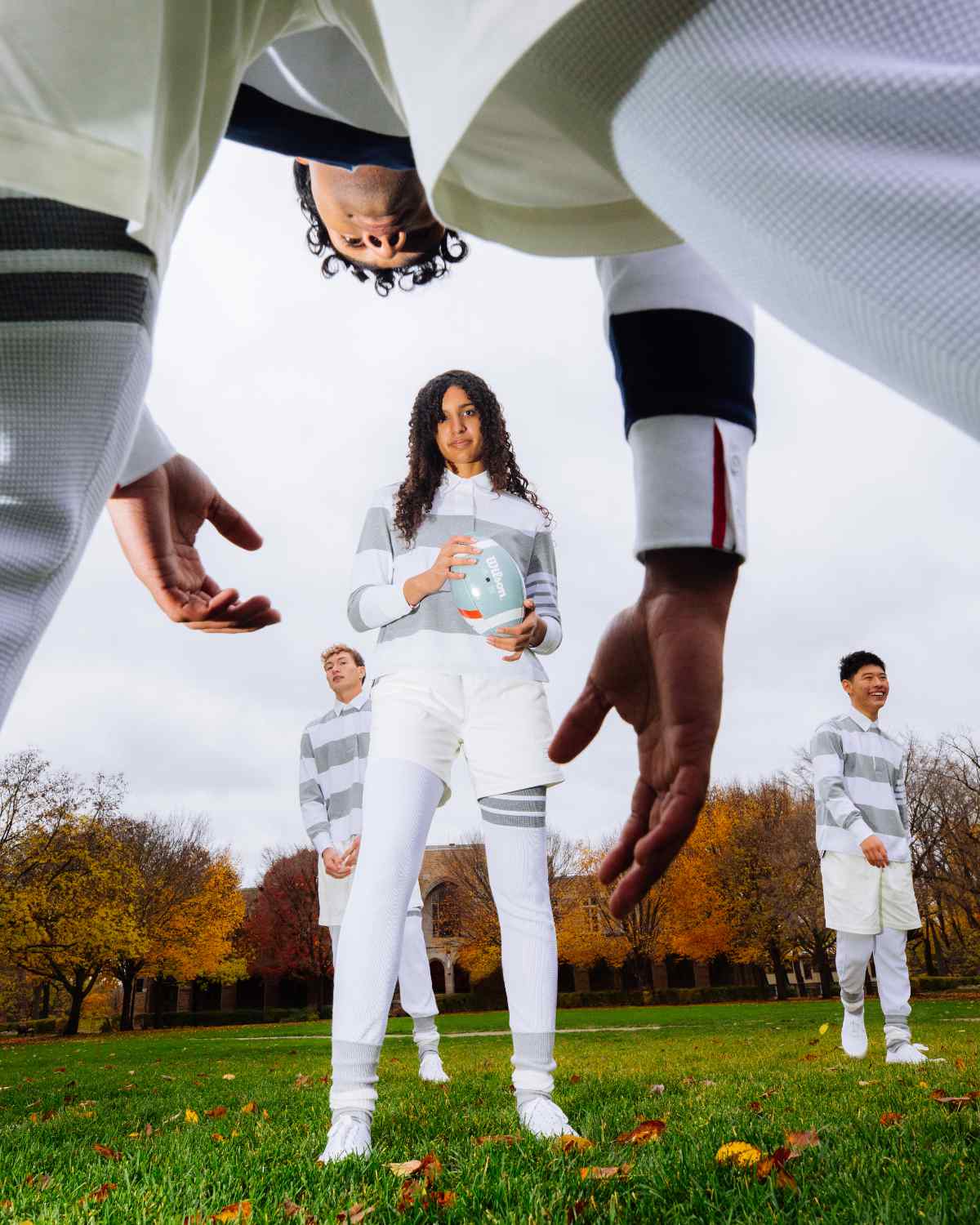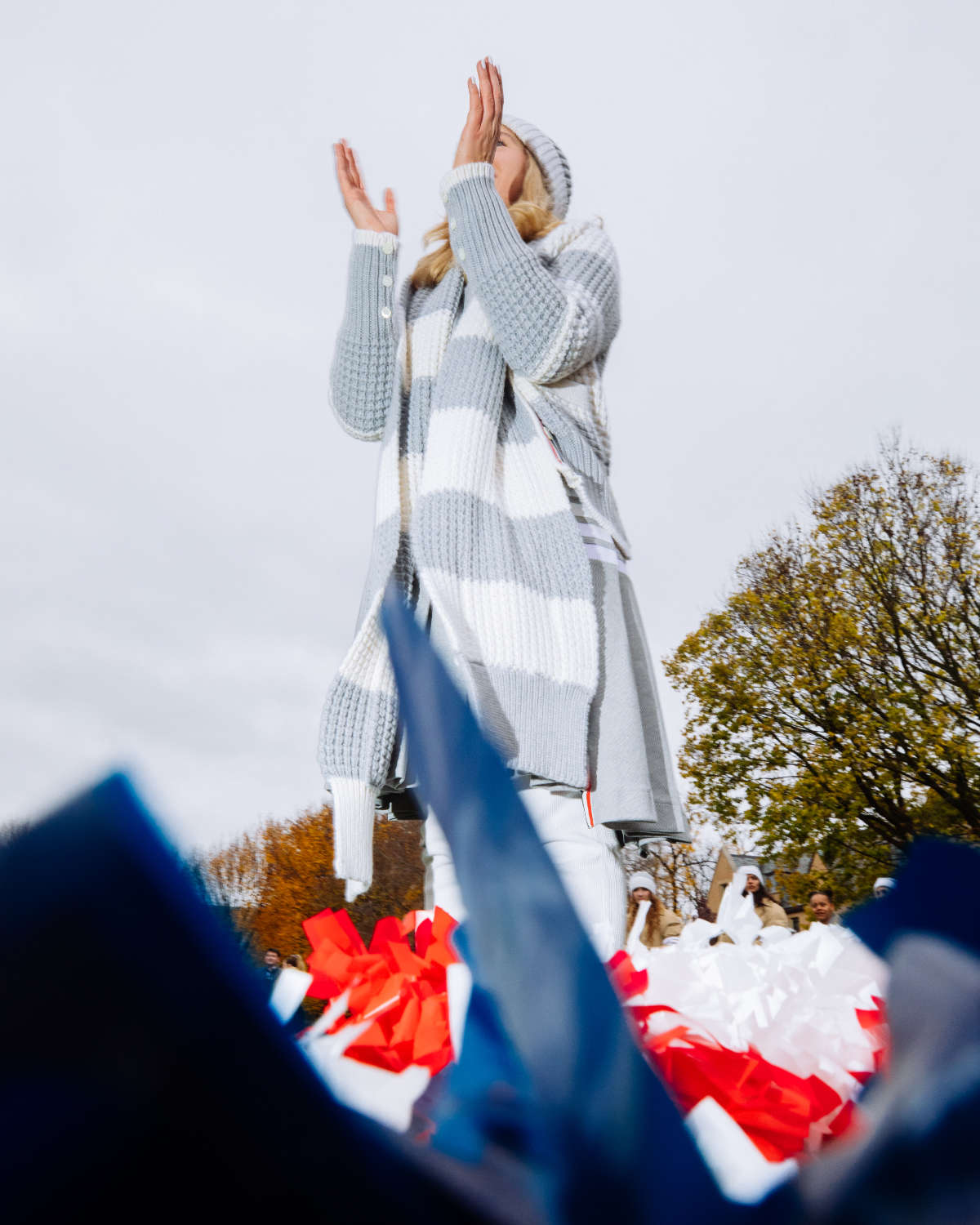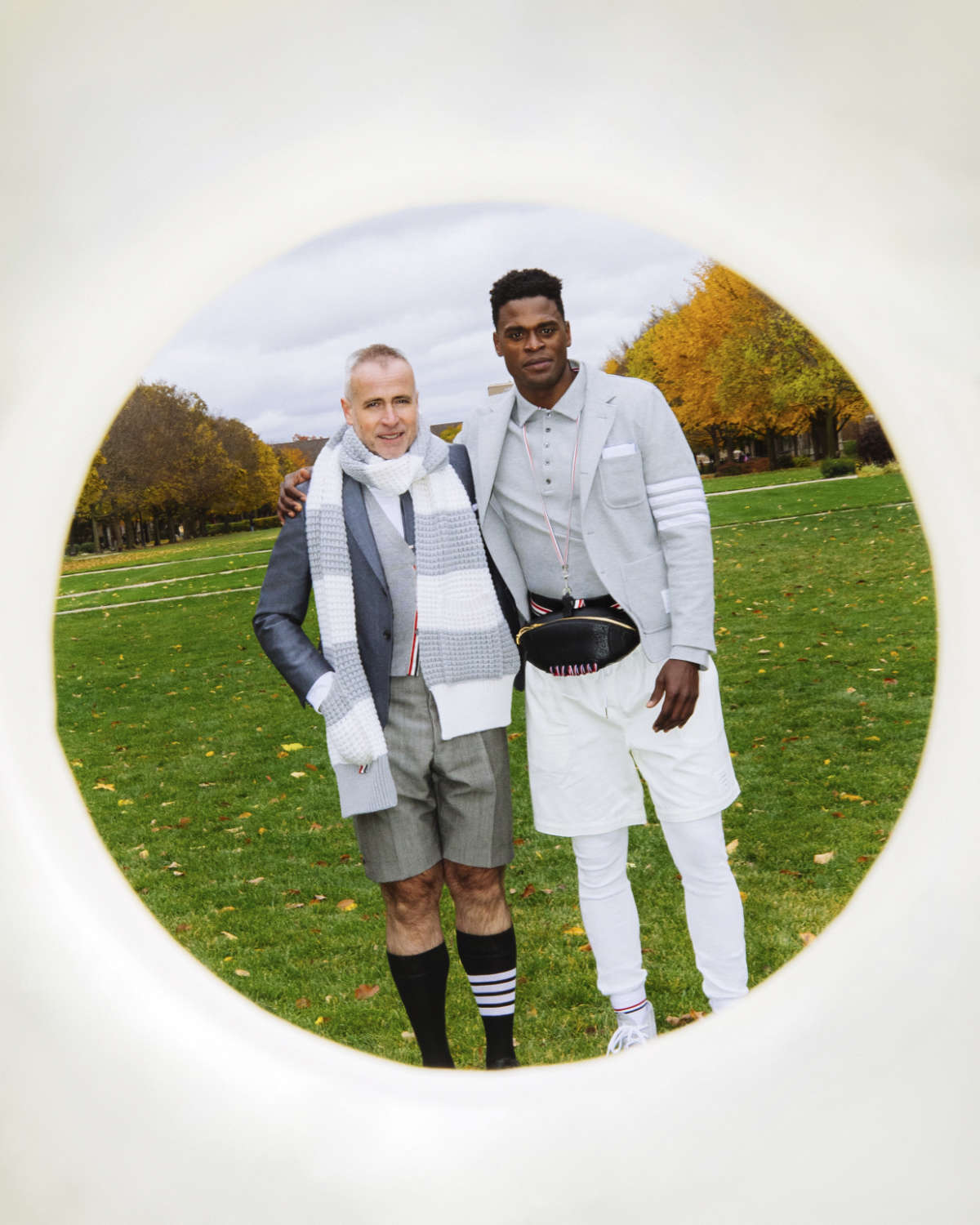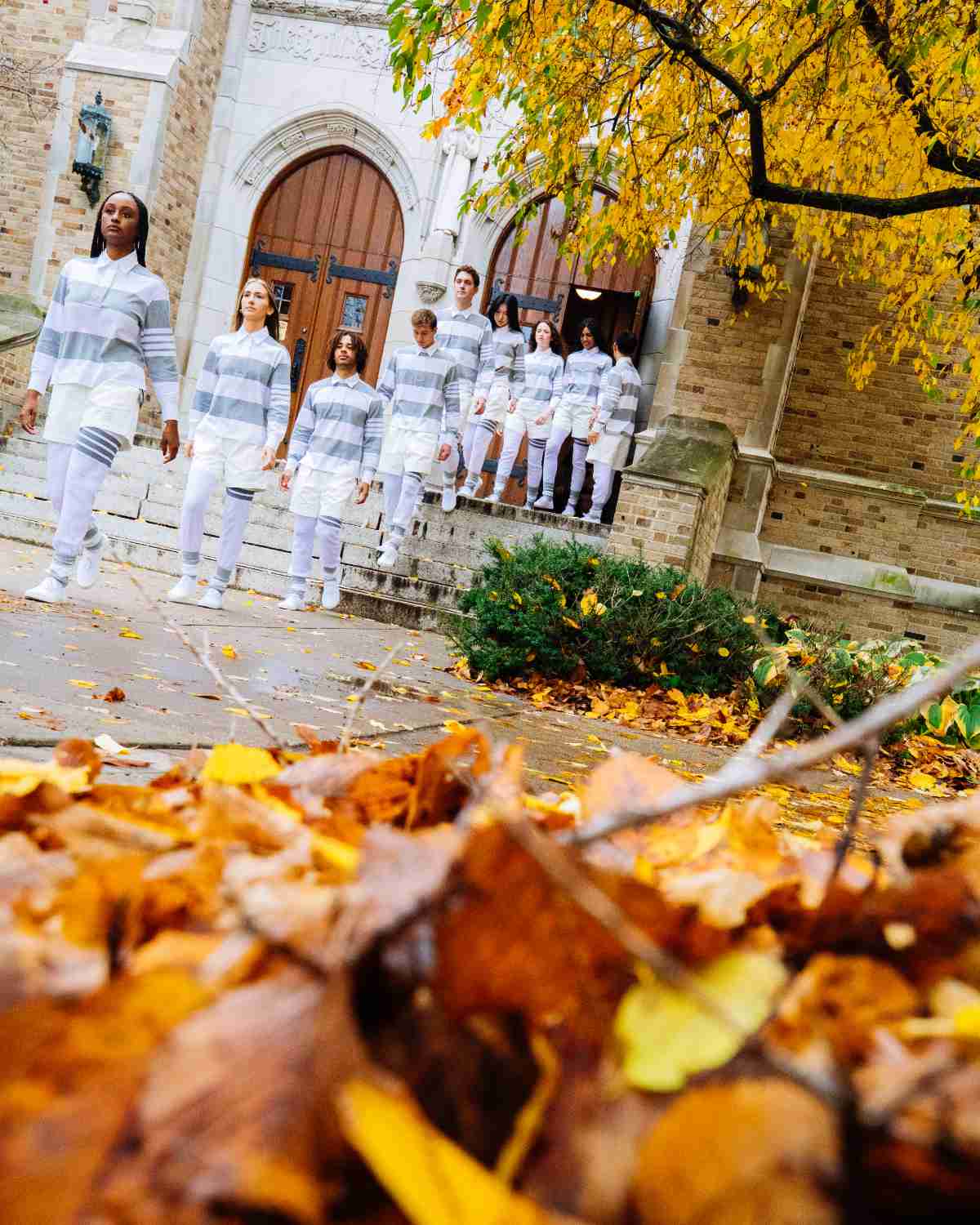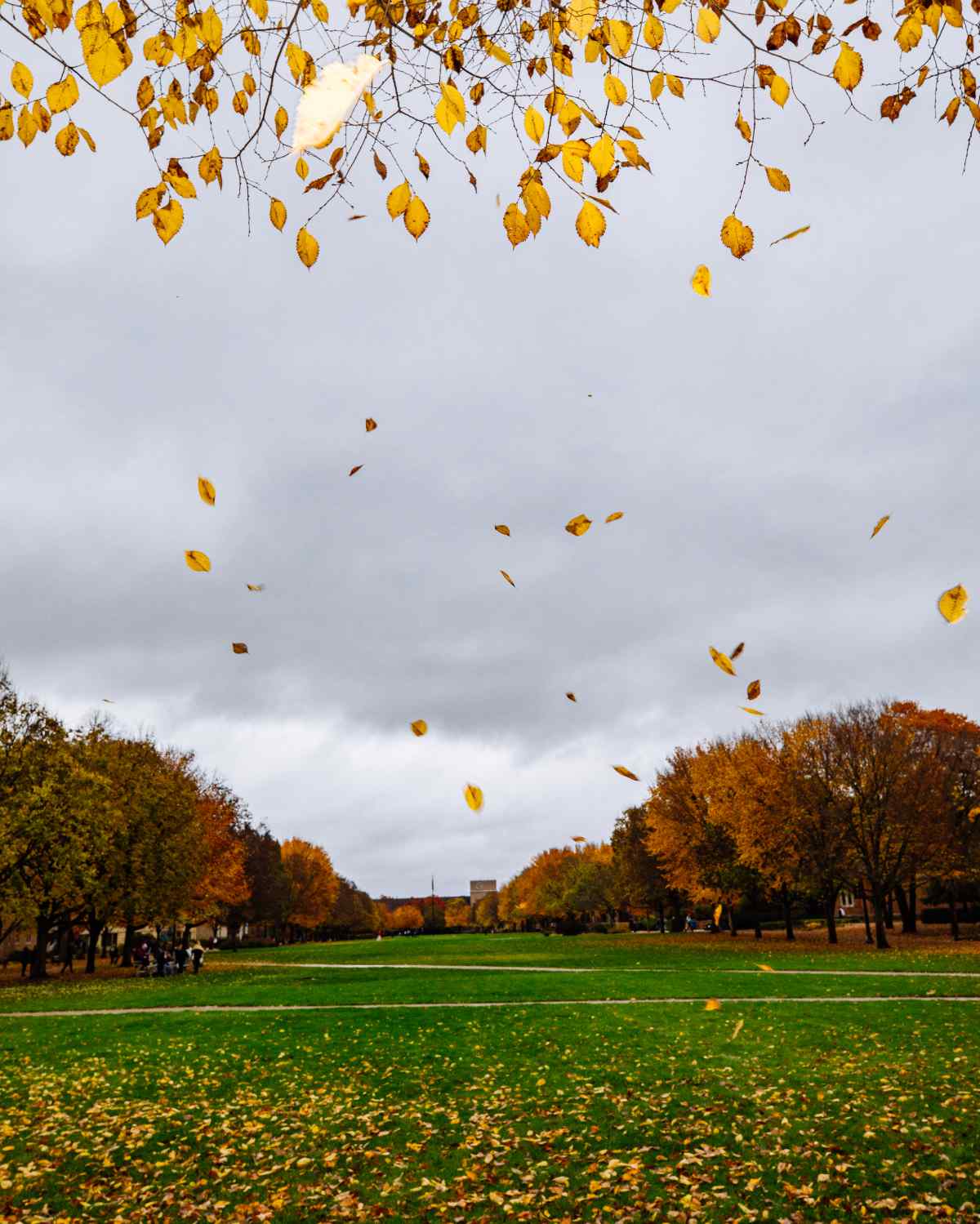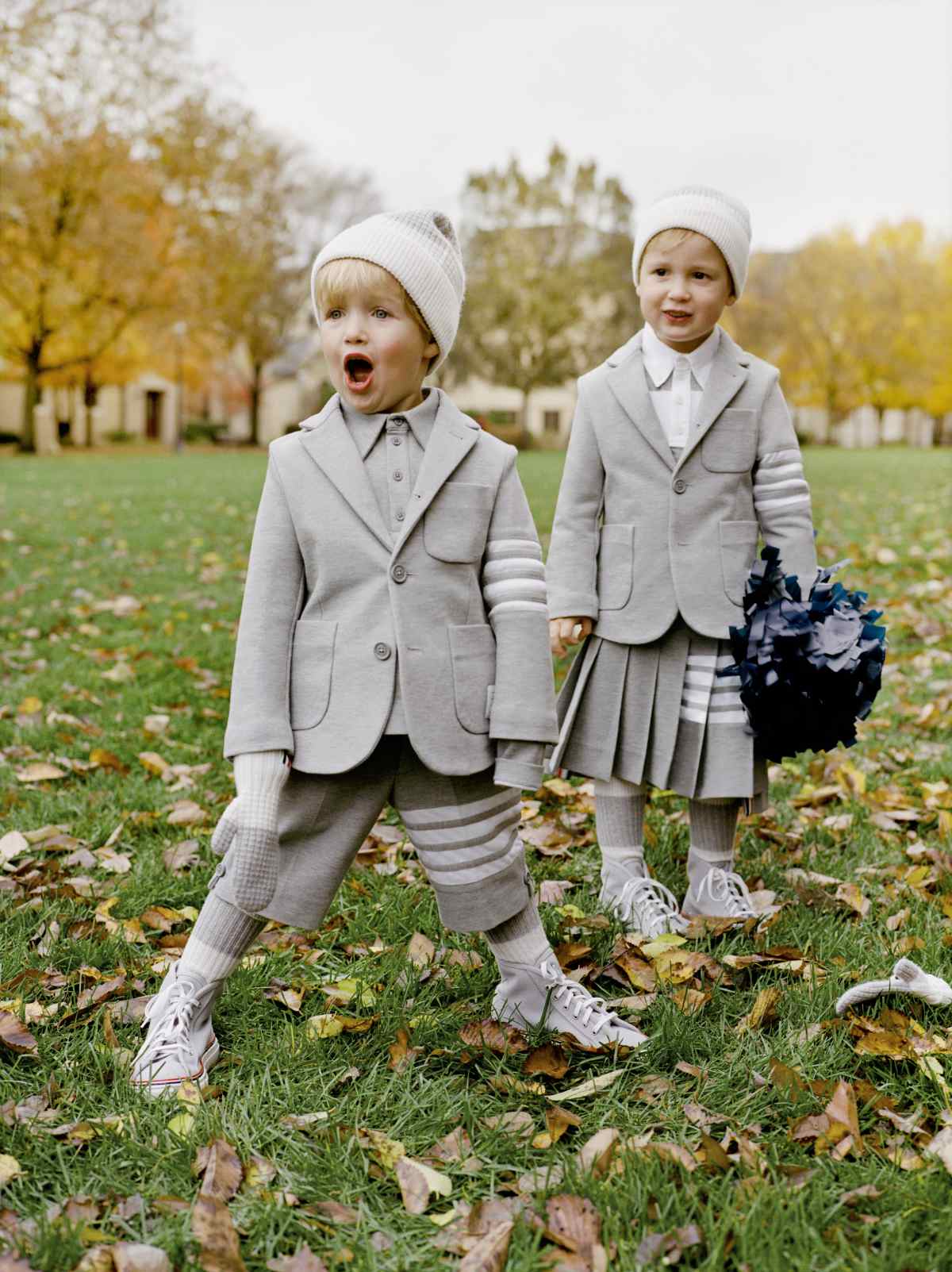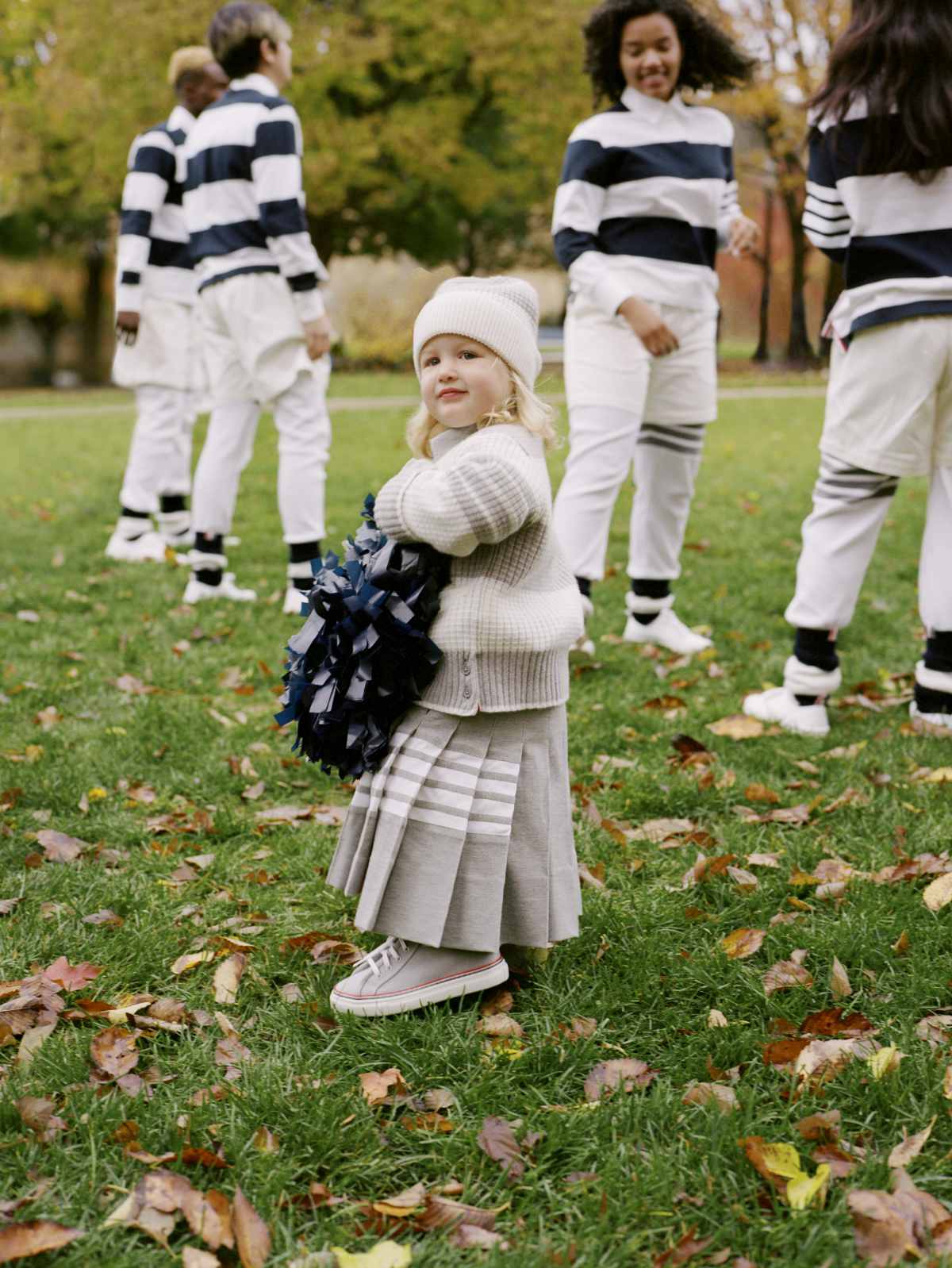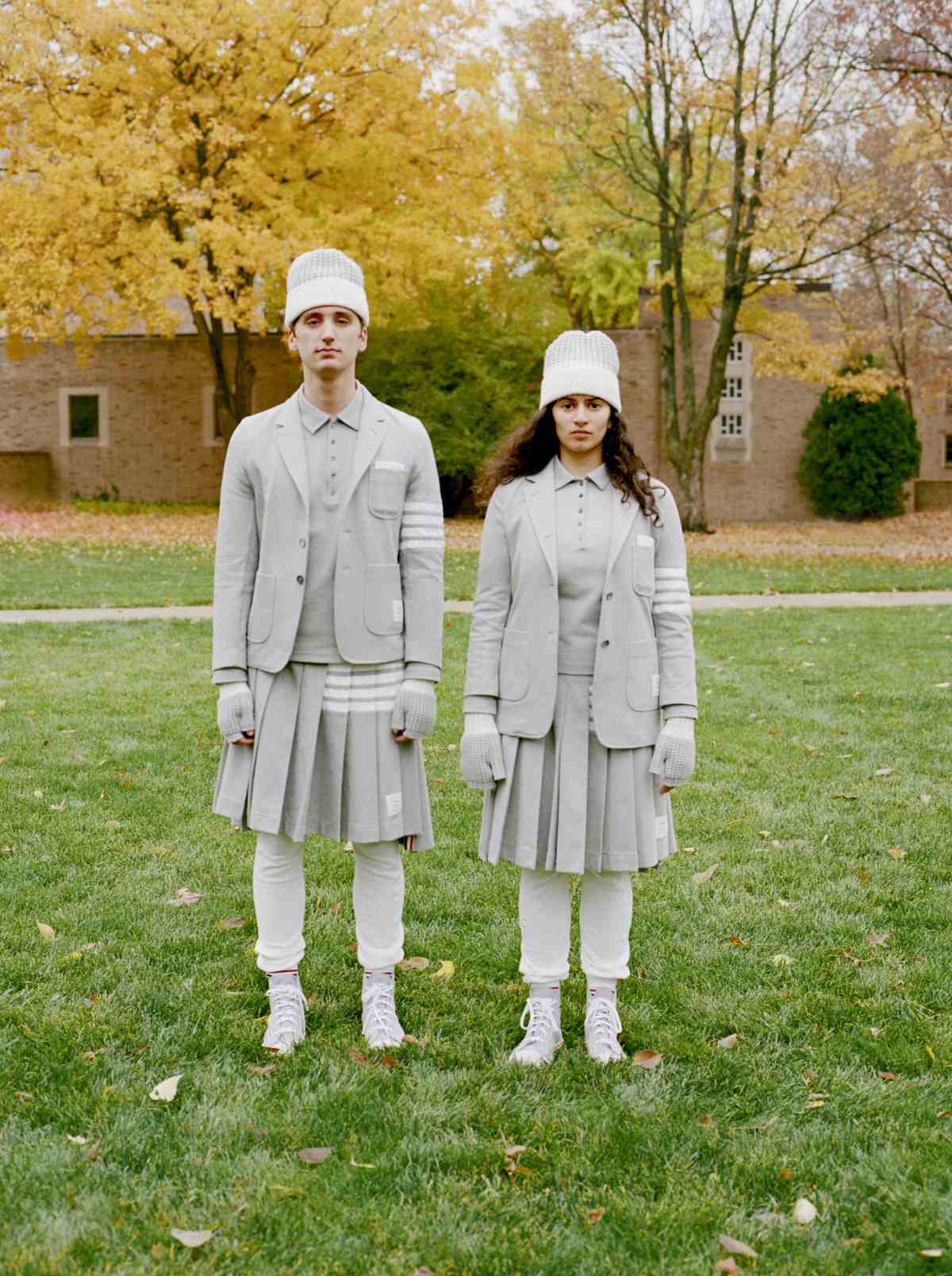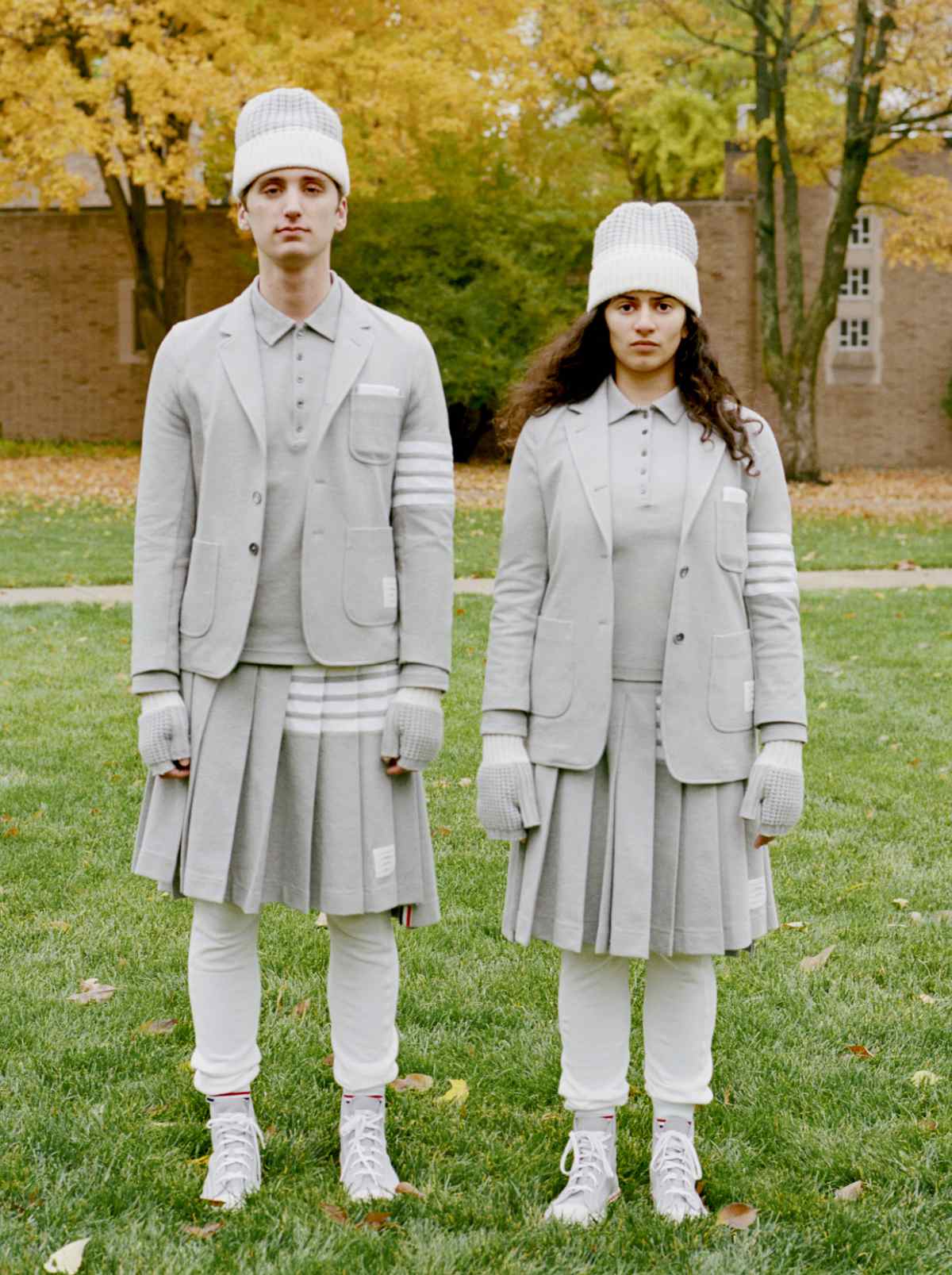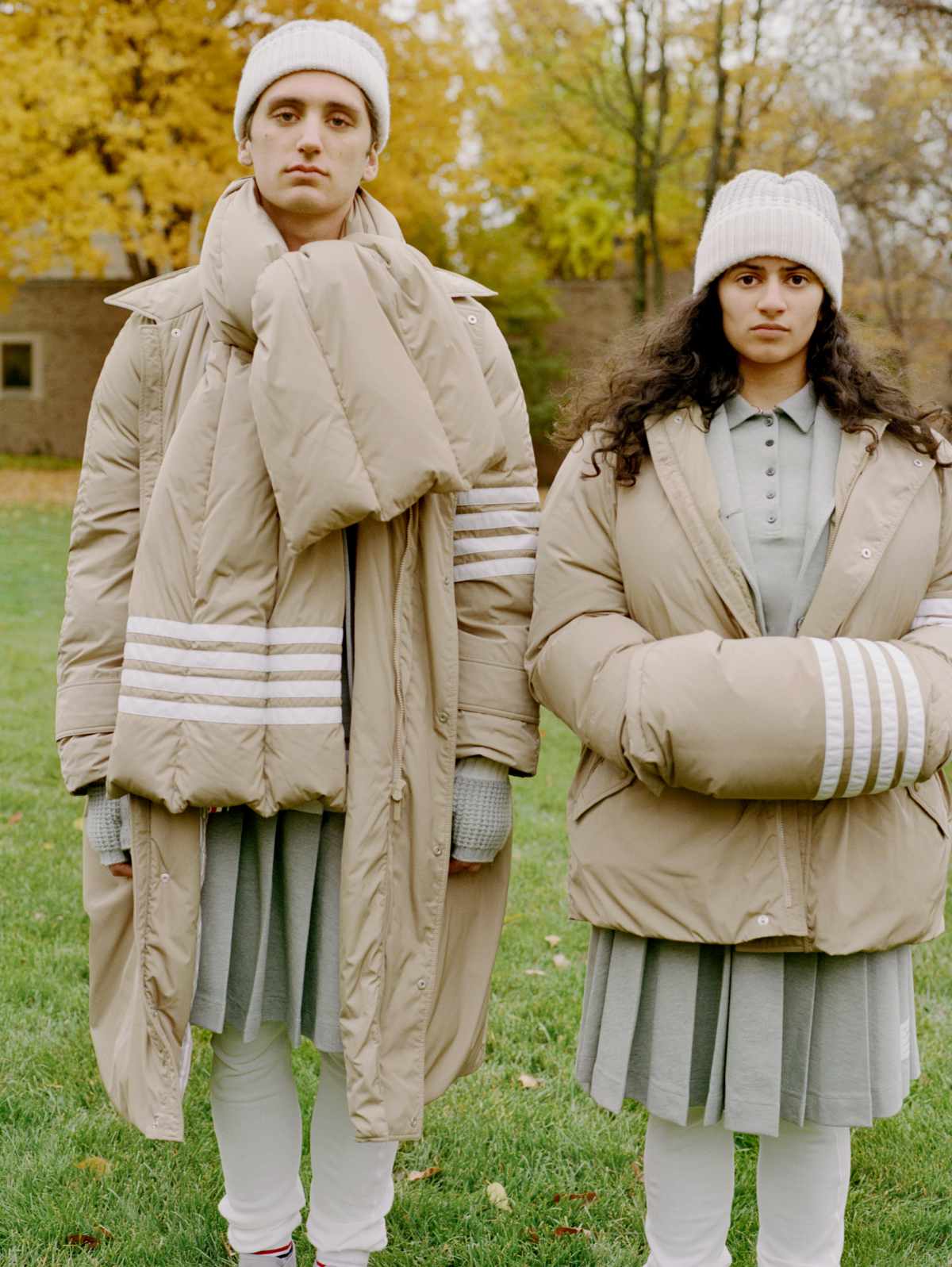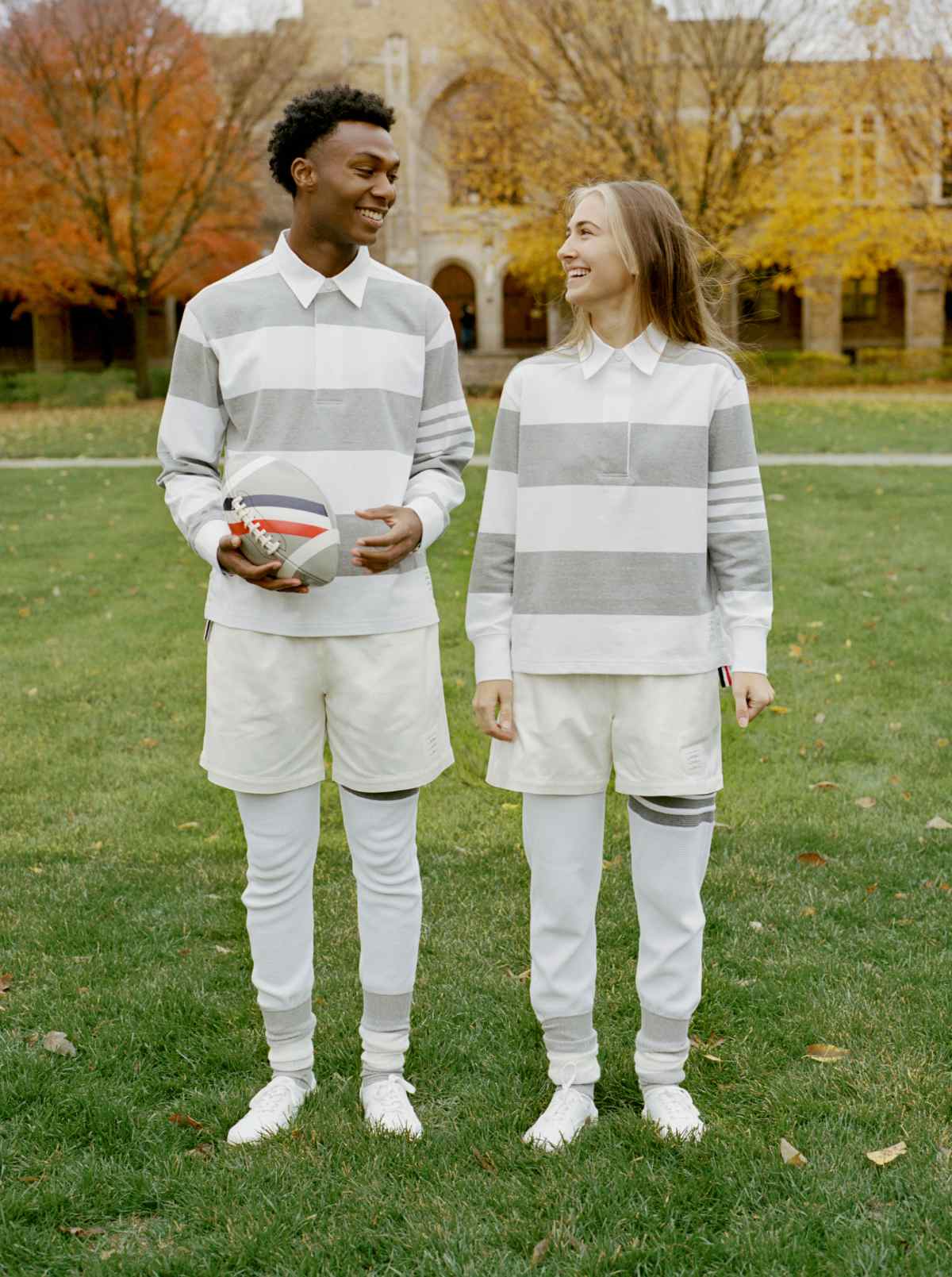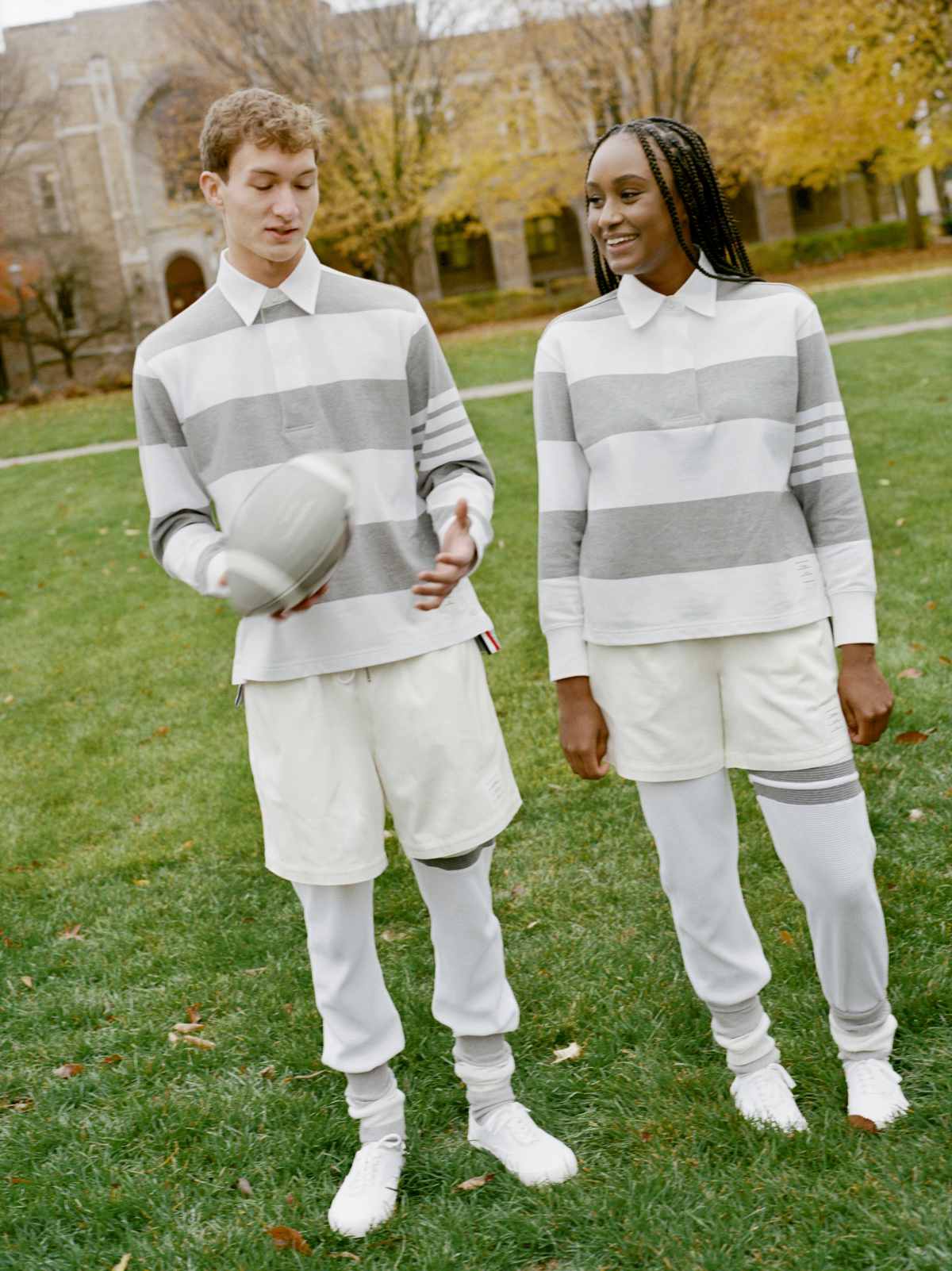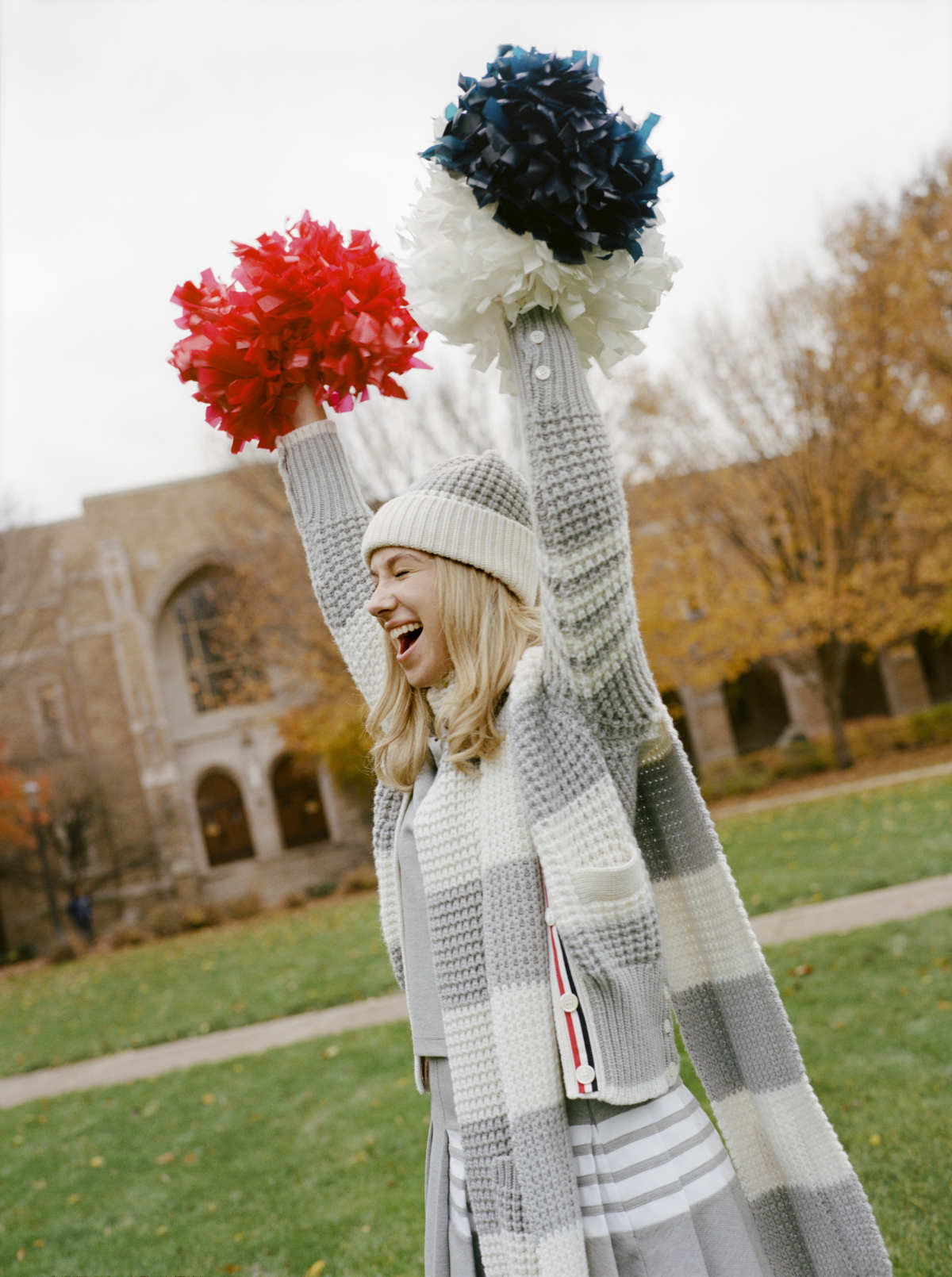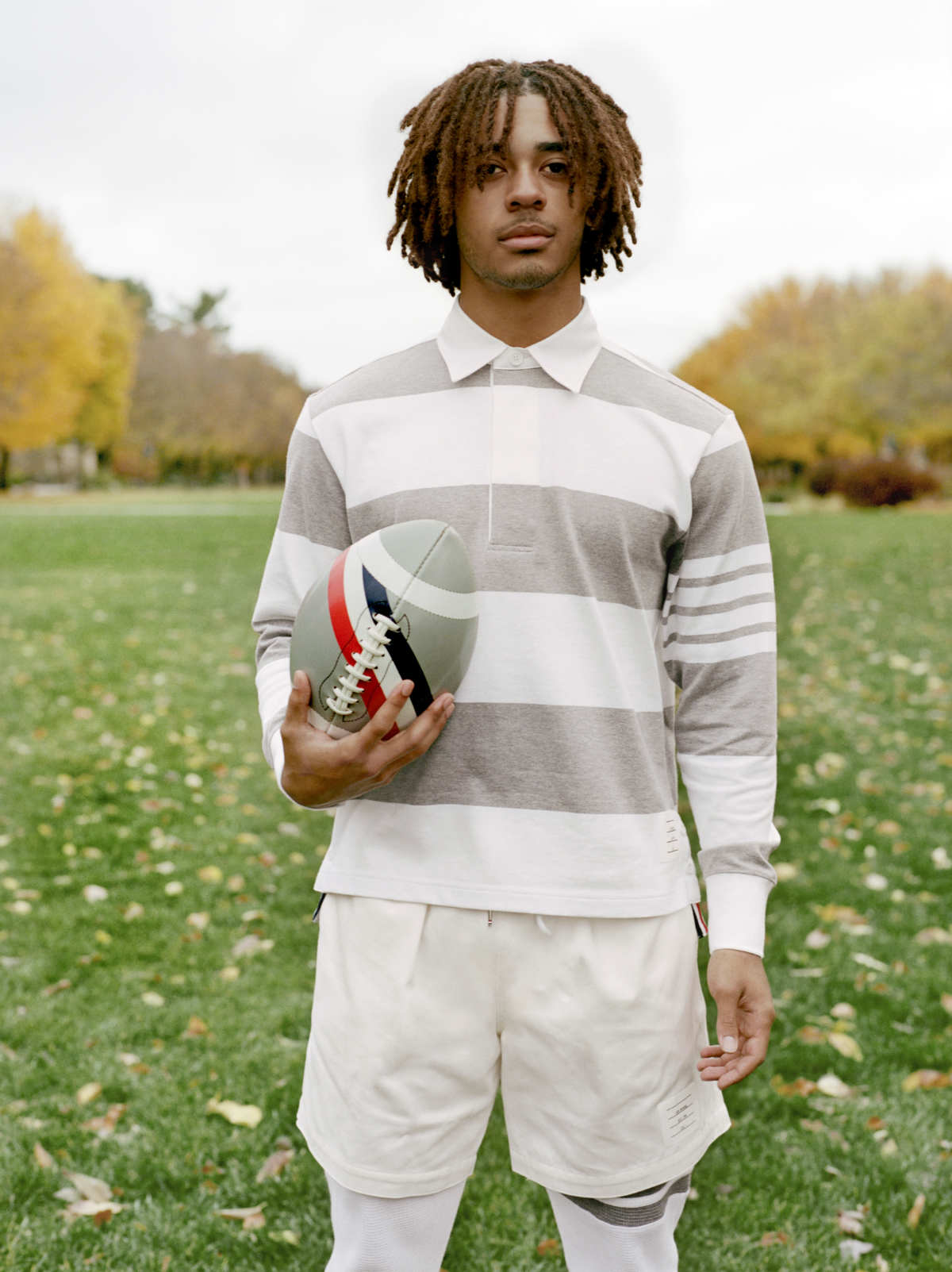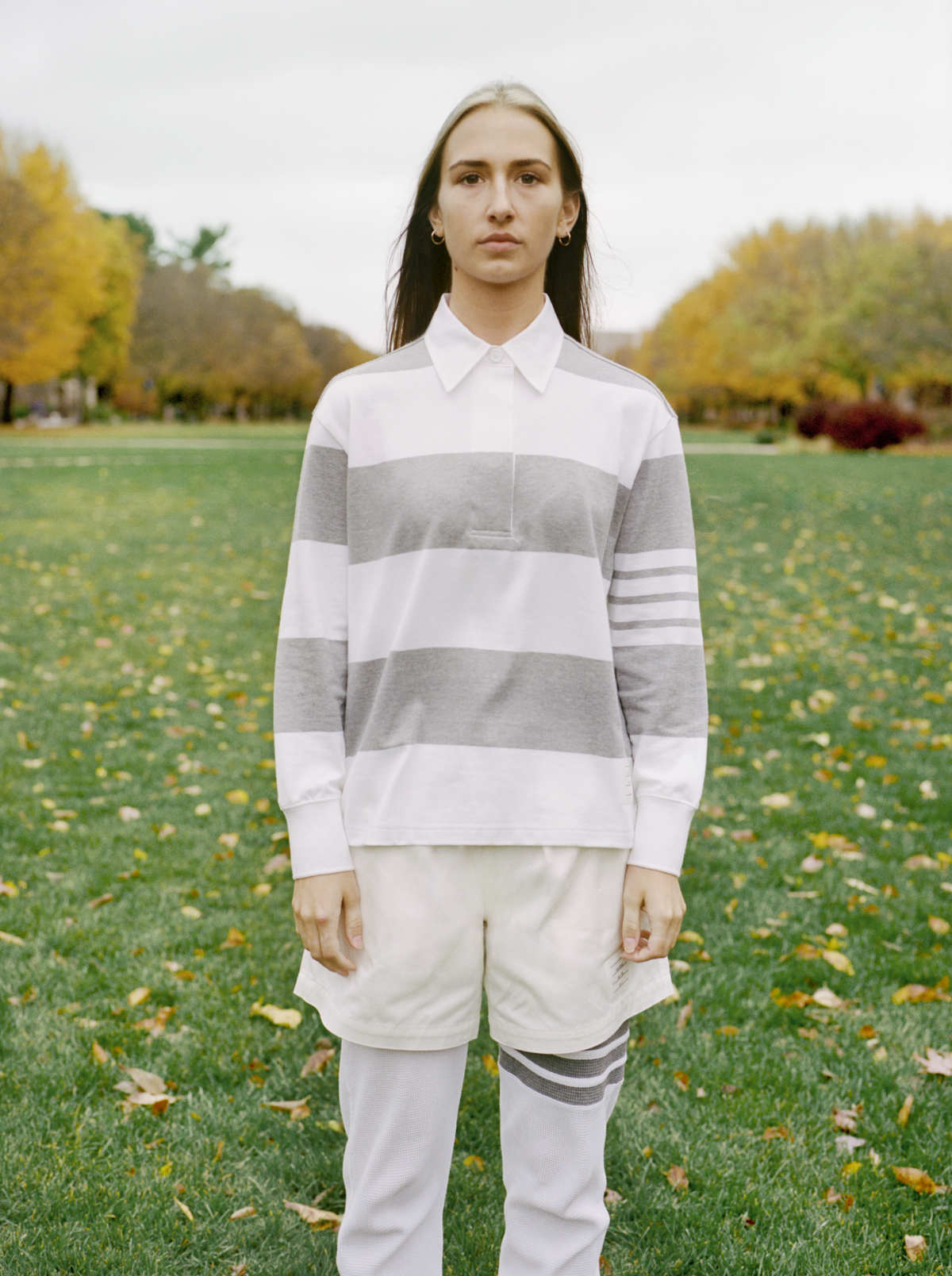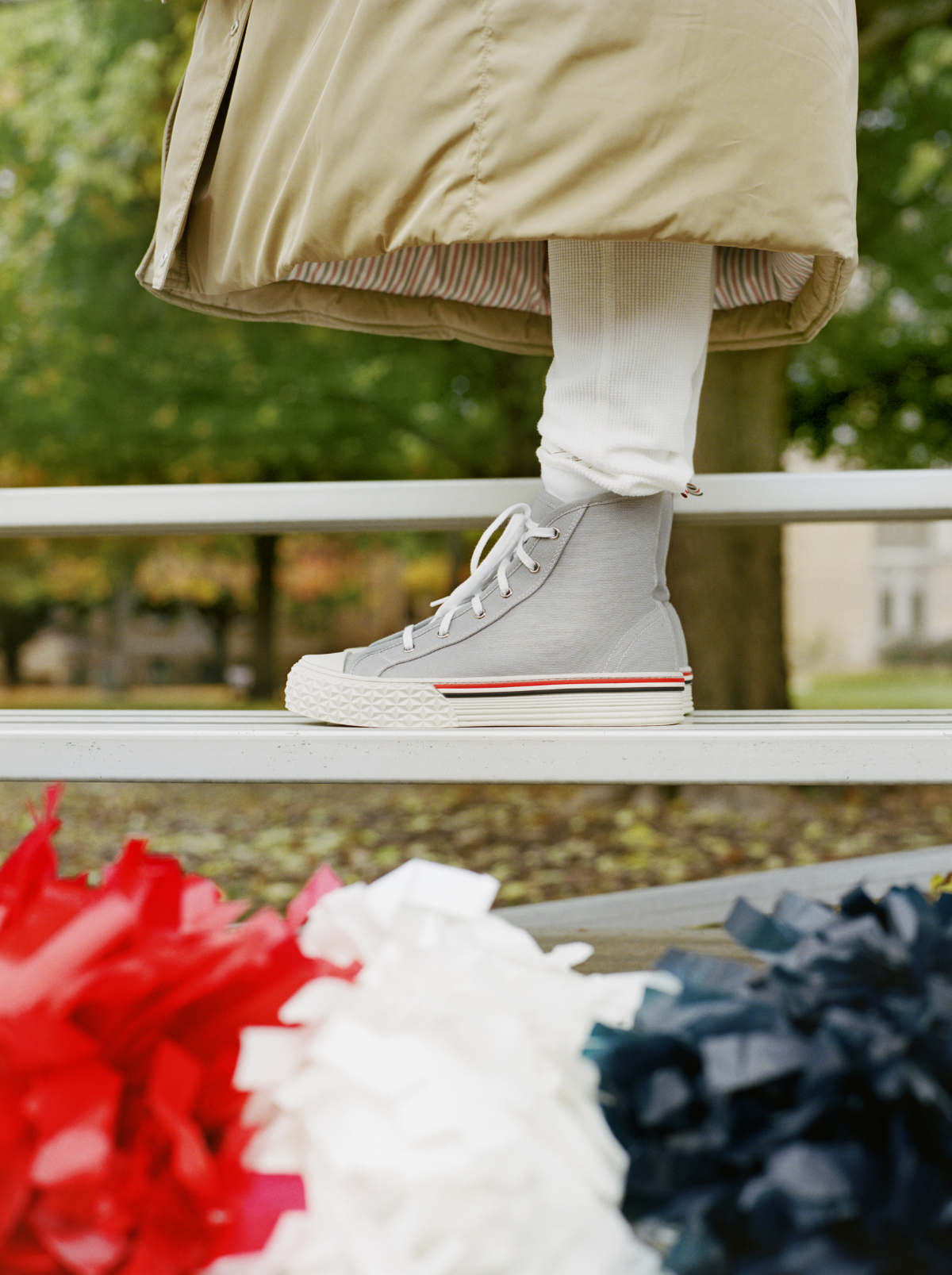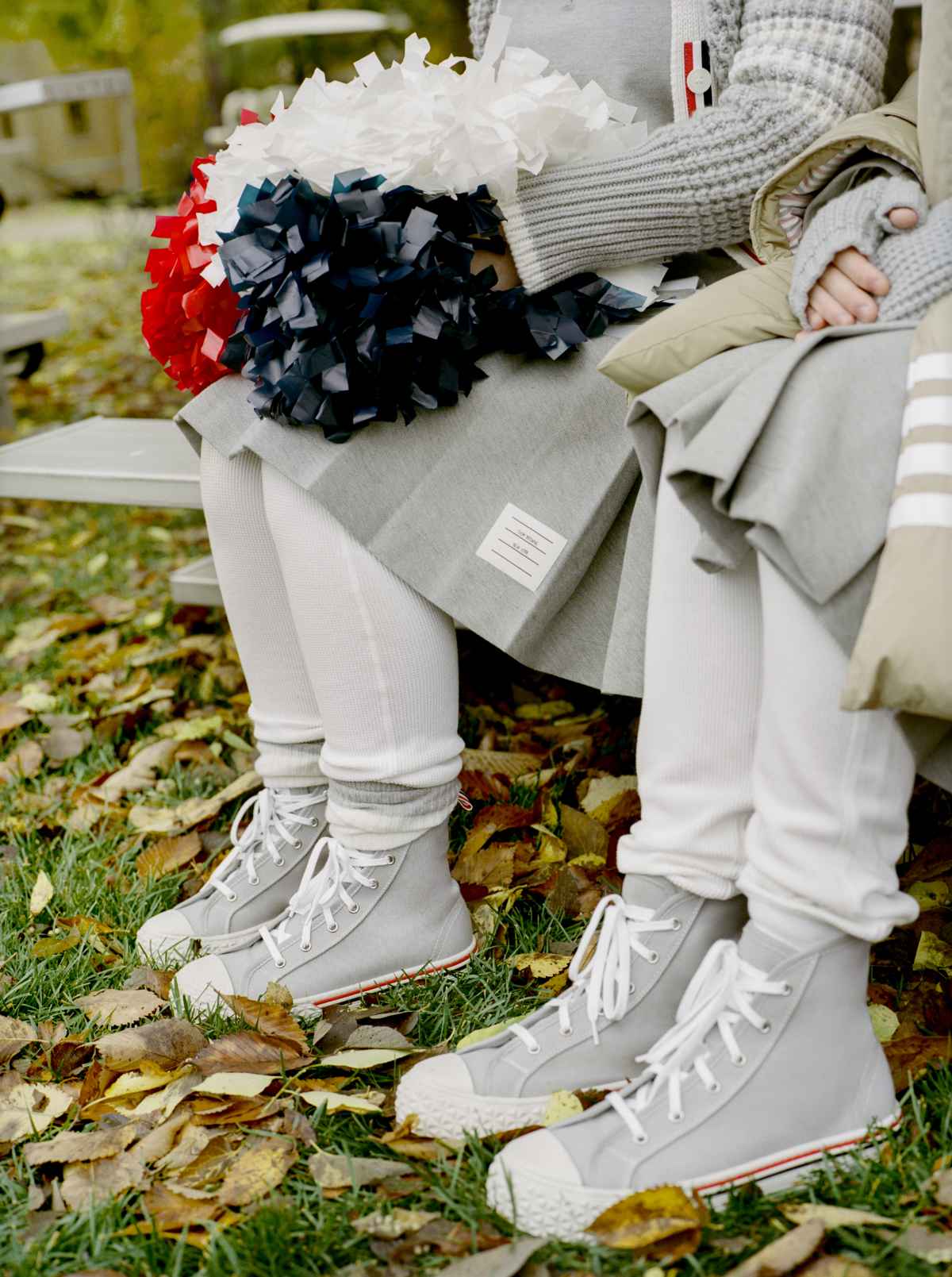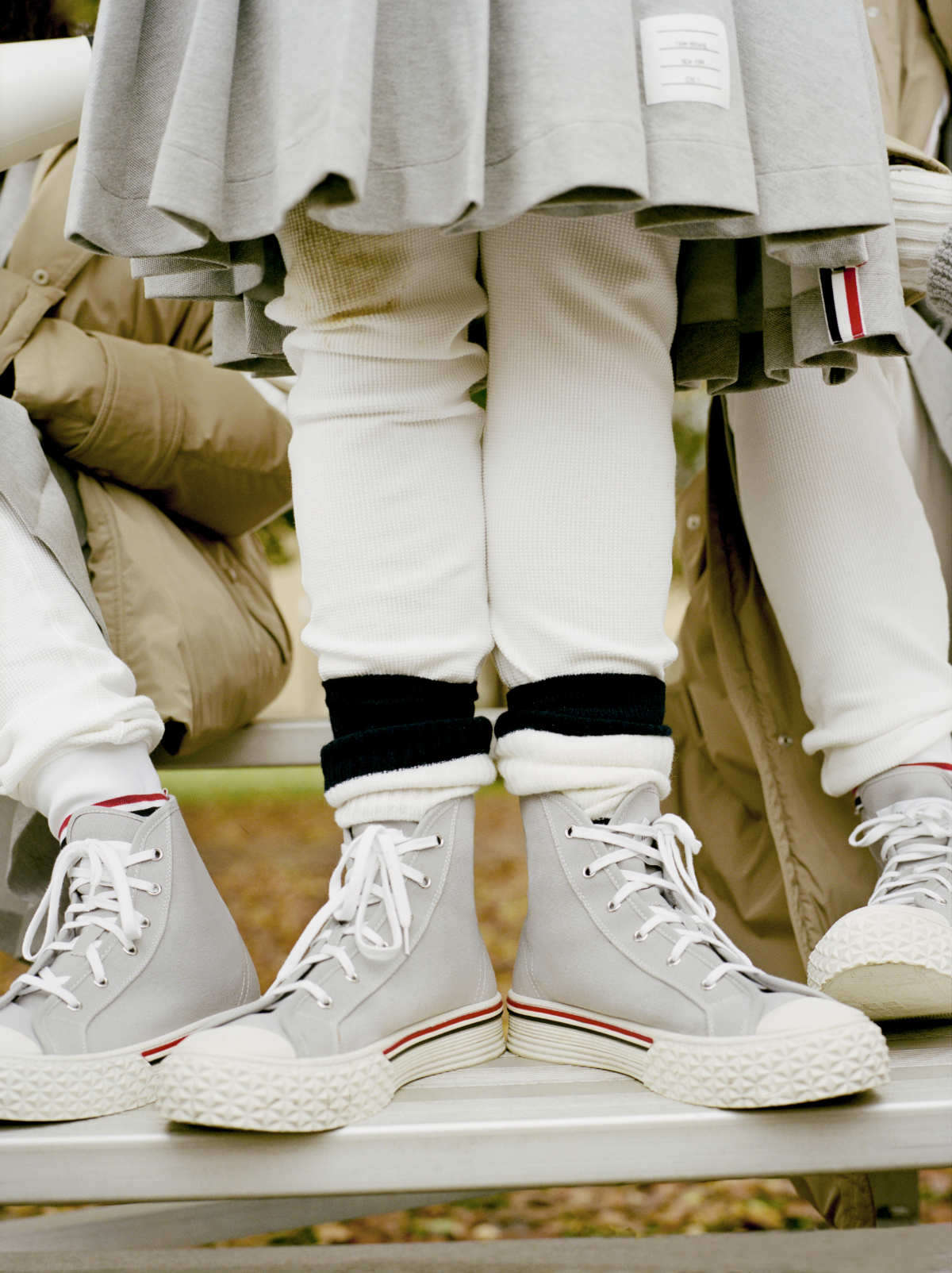 About Thom Browne:

Thom Browne is widely recognized for challenging and modernizing today's uniform. By questioning traditional proportions, Browne's designs consistently convey a true American sensibility rooted in quality craftsmanship and precise tailoring.
In 2001, Browne began his business with five suits in a small "by appointment" shop in New York City's West Village and, in the years following, expanded his business to include complete ready-to wear and accessories collections for both men (2003) and women (2011). Browne has also become known for his highly conceptual runway presentations which have gained global attention for their thought provoking and dramatic themes and settings.
Browne has been honored with the CFDA Menswear Designer of the Year Award (2006, 2013, 2016), the GQ Designer of the Year (2008), the FIT Couture Council Award (2017) as well as the Cooper Hewitt National Design Award (2012). His designs are recognized by museums around the world including the Costume Institute at the Metropolitan Museum of Art, the Museum of Modern Art, the Victoria & Albert Museum, the Costume Museum at Bath and the Mode Museum Antwerpen.
The brand is currently offered in over 300 leading department store and specialty boutique doors across 40 countries and through 96 retail stores, flagships and shop-in-shops in key cities such as New York, London, Milan, Tokyo, Hong Kong, Beijing, Shanghai and Seoul. Since 2018 Thom Browne has been part of the Zegna Group, which currently retains 90% ownership and is publicly traded on the New York Stock Exchange. In 2021 Thom Browne generated annual revenues of €264 million, with a 47% growth over the previous year.
---