---
In time for winter, Louis Vuitton has developed a new capsule collection dedicated to skiing. Designed for style as well as performance, this complete wardrobe transposes the traveling spirit of the Maison to alpine destinations where snowy days and nights are spent both outdoors and in.

The collection puts an elevated spin on active wear, whether a Monogram fleece, quilted jackets or sporty knits. Pieces can be matched as total looks suited for the slopes or mixed in countless ways as an individual après-ski statement.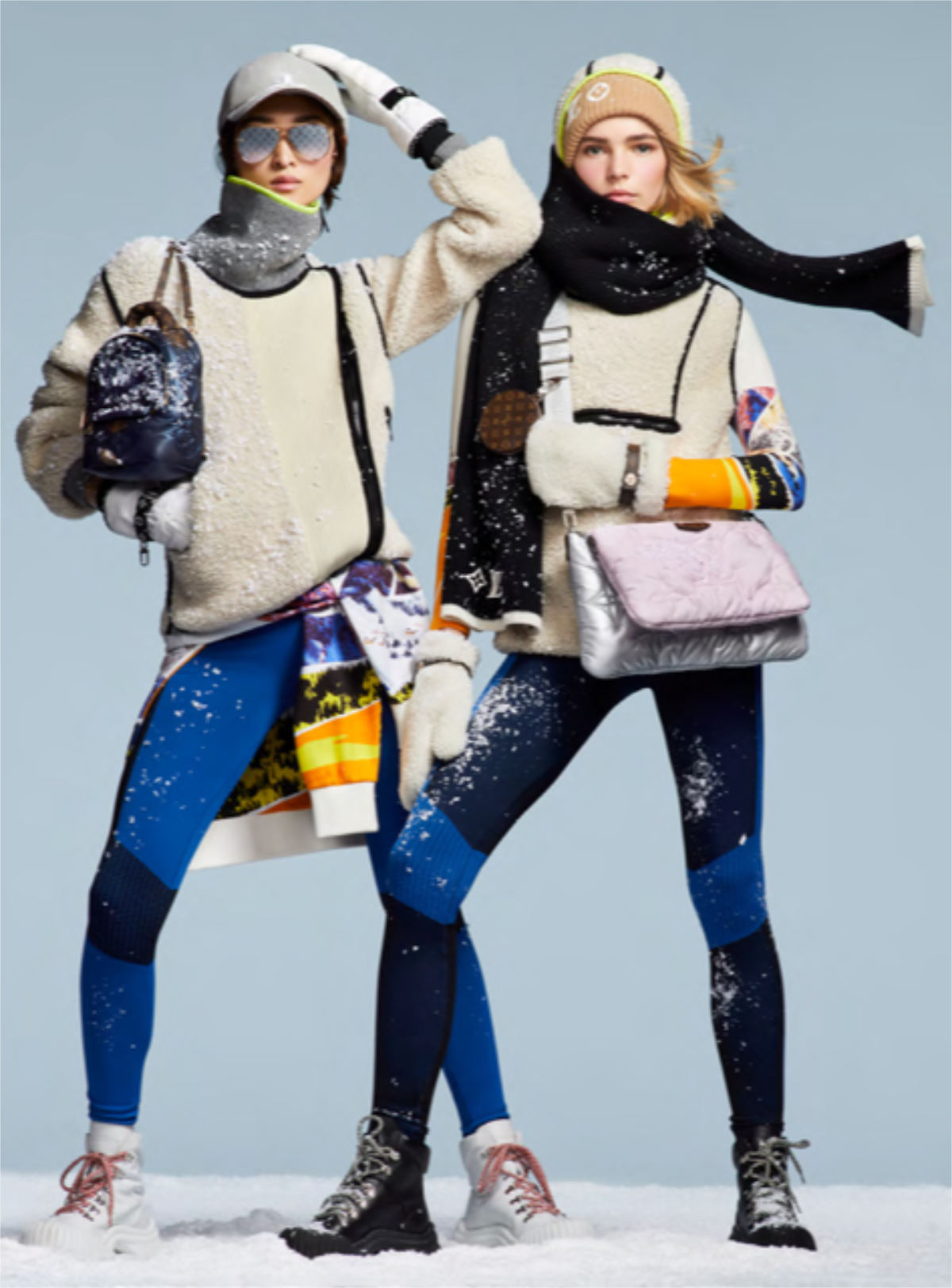 Like a shield against extreme weather, a series of puffer jackets combine the heat of a genuine goose down padding, sourced from responsible farming which ensures the respect of animal well-being, and the use of recycled nylon fabric, ECONYL®. (This material is made of waste nylon that would otherwise pollute the planet.)
Versatility, sophistication, and graphic impact define the collection. Outerwear that combines shearling and leather has an elegant look stylishly suited to ski and city dressing. A chic parka in Monogram double wool can be worn at least five different ways, as it features a reversible interior and a detachable inner puffer jacket. In light nylon satin, quilted Monogram pieces – including a reversible jacket, parka, and zip-front skirt – are sleek staples for staying warm.
Salopettes, trousers and a funnel-necked jacket are among the dedicated ski wear grouping made from technical nylon and waterproof stretch gabardine traced with white piping and Monogram inserts. Closer to the body, silhouettes are close-fitting with details that accentuate form. Technical compression jersey pieces in sporty tonal grey, blue and red are streamlined and feminine, while ribbed knits in sumptuous cashmere boast athletic stripes that give off a throwback allure.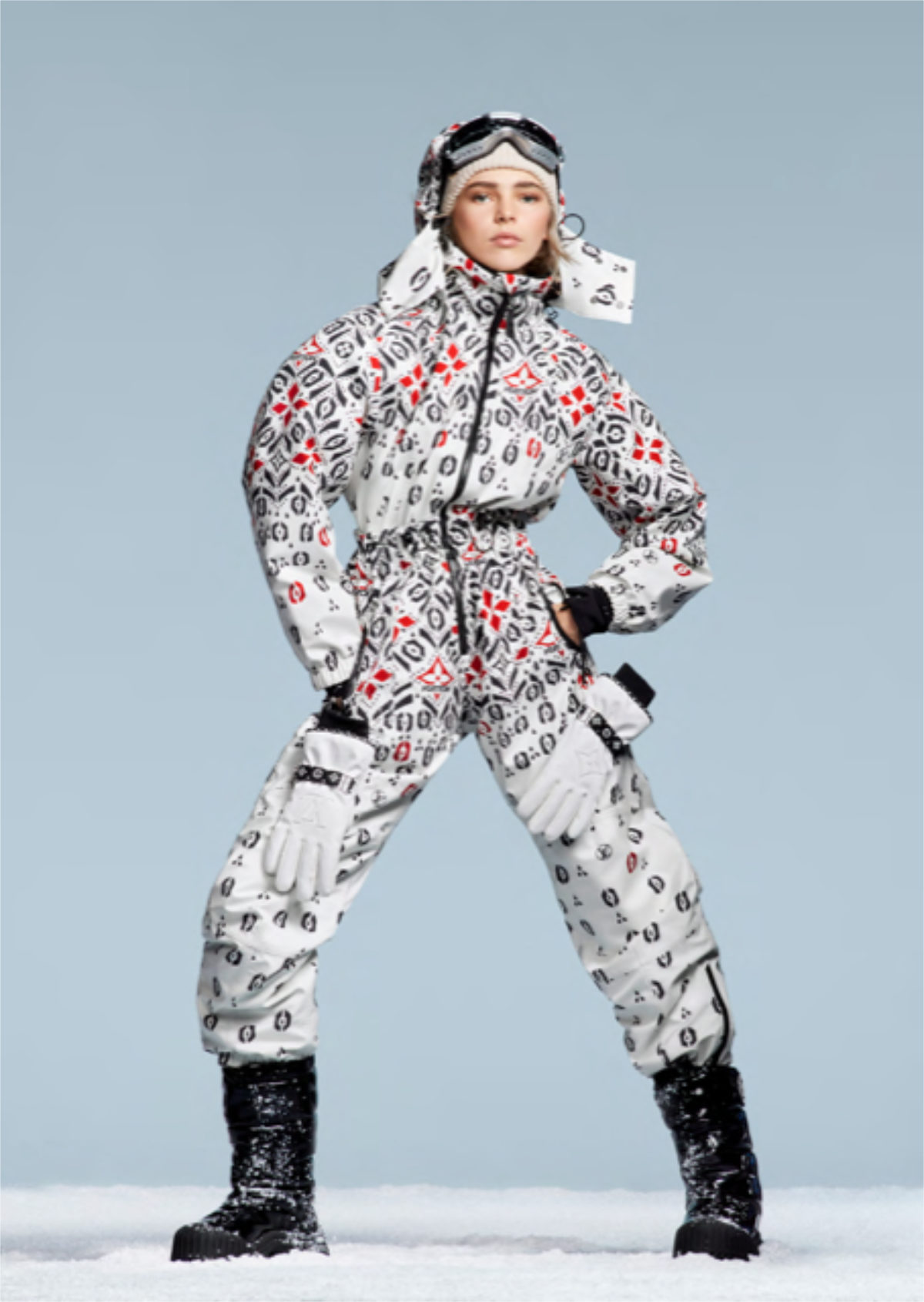 Unique to this capsule, the Monogram shifts into winter mode. The hybrid Snowflake motif has been reworked from the Fall Winter 2015 runway collection in crisp colours and signed with the LV Flocon logo, which also appears front and centre on comfortable separates in white cotton jersey. Just as impactful, the Magic Mountain landscape print is newly infused with crisp shades of blue and orange that splash across a puffer vest and jacket, hoodie, leggings, and bodysuit.
And since ski wear can also inspire looks worn far from the slopes, bi-material pieces crafted from quilted nylon and luxurious cashmere bring this sensibility into an everyday context. Overall,
emblematic Louis Vuitton details find fresh expression in garments that correspond to intense sport and lounging around.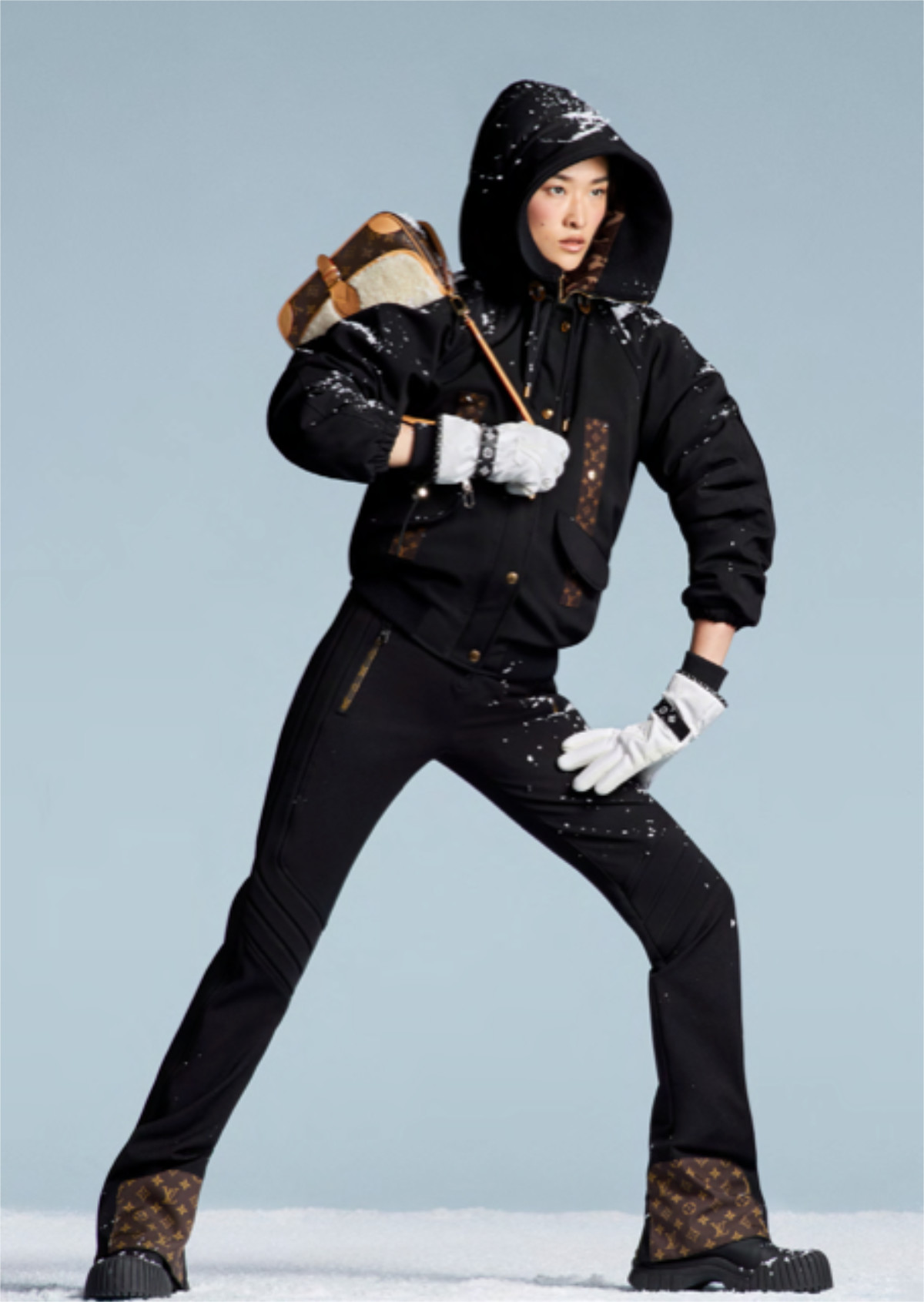 To optimise time outdoors, LV Ski includes the Ruby winter boots in three standout styles. The flat waterrepellent half boot with padded lining available in black, bold orange and electric blue, features a shiny vinyl finish. The flat ranger, in glacial white calf leather, is a chunky boot accented with rugged laces and the LV Flocon logo. A version in black calf leather offers added height while remaining warm and lightweight. From all-terrain to après ski, these must-have boots ground the looks as a masculinefeminine statement.
Accessories complement the collection through material and attitude. Wraparound scarves and bonnets in cosy ribbed knit feature the Monogram as though stencilled by the snow. Ski gloves are embellished with details that are identifiably Louis Vuitton, as are the bonnets and caps that will prove useful through the season.
Unveiled in 2021, the Louis Vuitton ski goggles are back this season with three new colourways: metallic navy, silver, and fuchsia pink. As per the original, each mask comes with a set of two lenses, one with all-over Monogram and specially made for low-visibility weather. It features full UV protection and anti-fog, anti-scratch, and hydrophobic treatments. The ski capsule also introduces a new sleek style, taking a cue from winter sports, the curvilinear extra-light frame and striking mirrored lens make bring forward focus to the face. Its Monogram flower detailing adds a touch of elegance.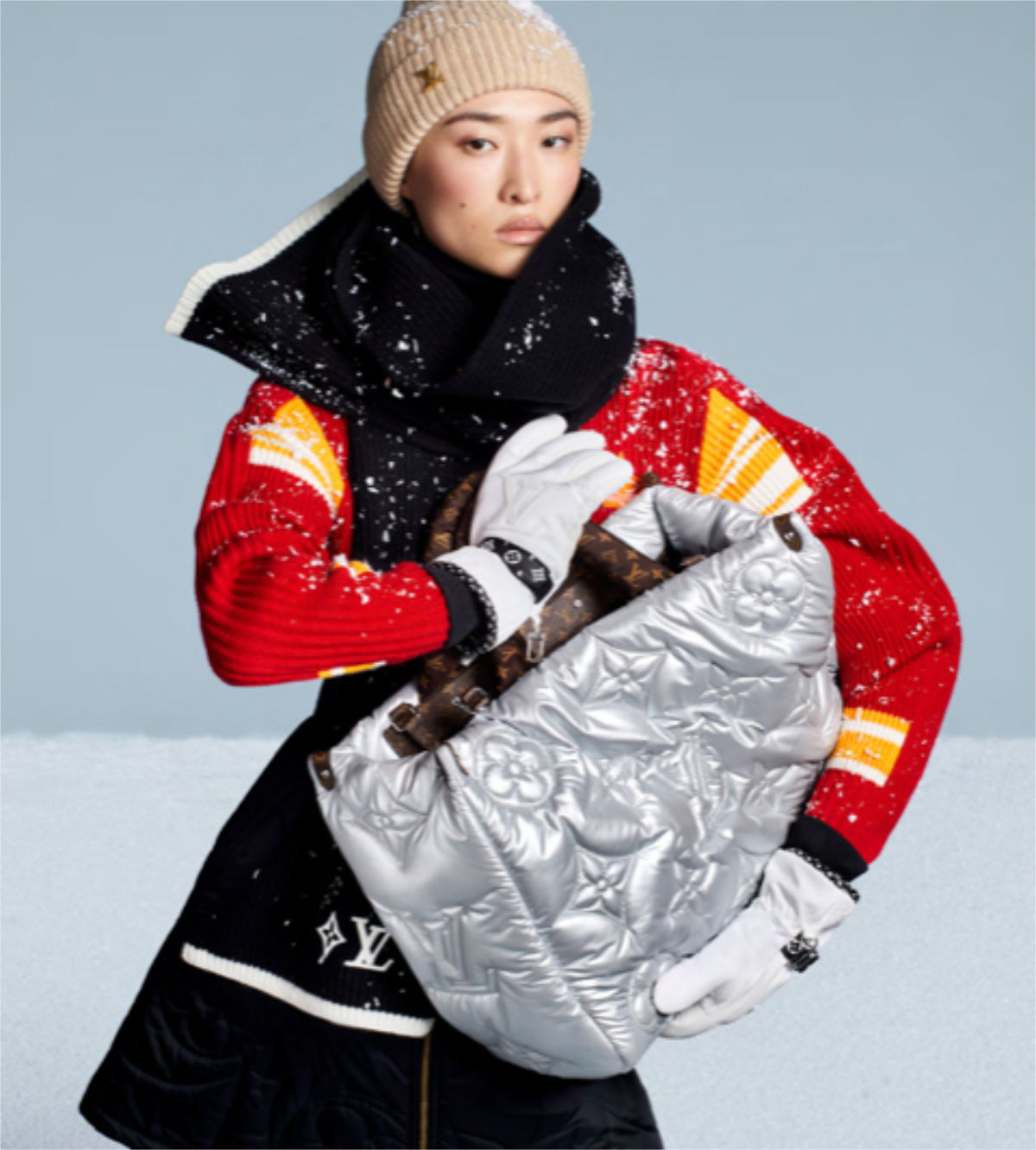 Finally, in line with Louis Vuitton's circular creativity approach, fashion and function take equal importance in the bags that accompany these looks. The bold LV Pillow model, padded with a recycled polyester wadding, returns in a version made of ECONYL® nylon fabric (a yarn made from 100% recycled waste nylon.) This season, its iconic Monogram Flower quilting, whose embroideries
are made of recycled polyester threads, is offered in a variety of shapes and finishes such as the Onthego or the Palm Springs mini backpack. The Cozygram marks the first time that Monogram canvas mixes with shearing. Irresistible for winter, it comes in multiple-carry shapes such as the Diane and Locky BB. Shearling also envelops the LV Twist, putting a shaggy spin on an iconic Louis Vuitton design. In blue jean and rose with a silver double chain and Monogram charm, this new variation is the peak of alpine chic.
---