---
Louis Vuitton Presents Its New Artycapucines Collection
Luxferity, 25.10.2022
The Artycapucines Collection sees six leading contemporary artists bring their unique visions to Louis Vuitton's timeless and feminine classic: the Capucines bag. This fourth chapter of the collection is further proof of how the iconic bag can inspire unbridled creativity.

Six international artists – Amélie Bertrand, Daniel Buren, Peter Marino, Park Seo-Bo, Ugo Rondinone, and Kennedy Yanko – have transformed the blank canvas of the bag named after Rue Neuve-des-Capucines, the Parisian street on which Louis Vuitton opened his first store in 1854.
Each bag in the 2022 Artycapucines Collection will be released in a limited edition of 200 and available in Louis Vuitton stores worldwide.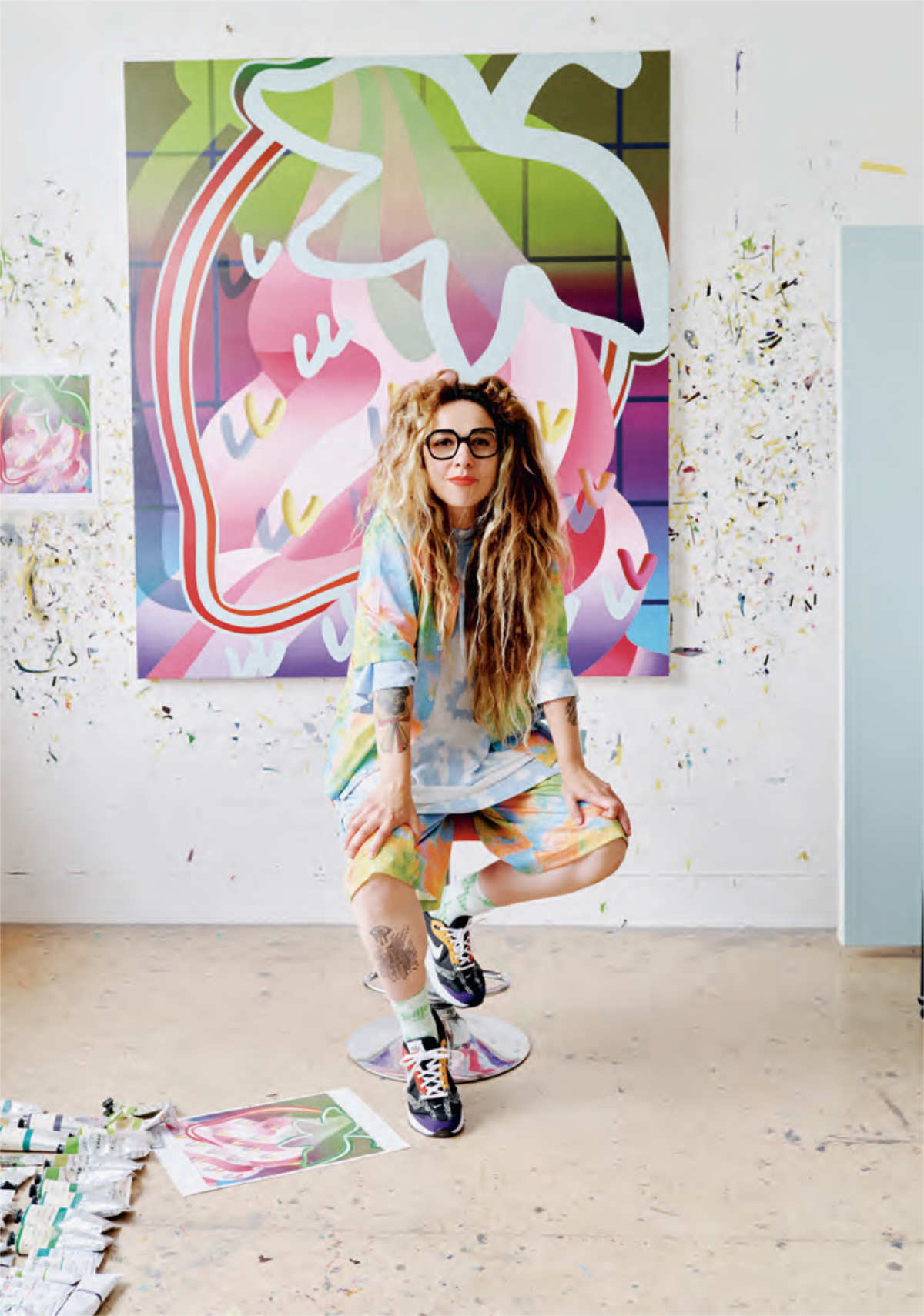 "I never attempt to create real spaces, only painted ones," says artist Amélie Bertrand of her visual universe of synthetic psychedelia, skewed perspectives and shallow horizons that is both entirely imagined and completely believable. Her hallucinatory images – with their leitmotifs of chains, camouflage, tiles and tropical plants, all in bright and gradated colours – feel both natural and artificial, a series of flattened landscapes that sit somewhere between saccharine dream and pop nightmare. Born in 1985 in Cannes, France, Bertrand graduated from the École des Beaux-Arts in Marseille in 2008 and has since exhibited widely in France and Europe. Her work is part of a number of collections, including MAC VAL, Vitry-sur-Seine; CNAP, Paris; and Les Abattoirs Musée – Frac Occitanie, Toulouse.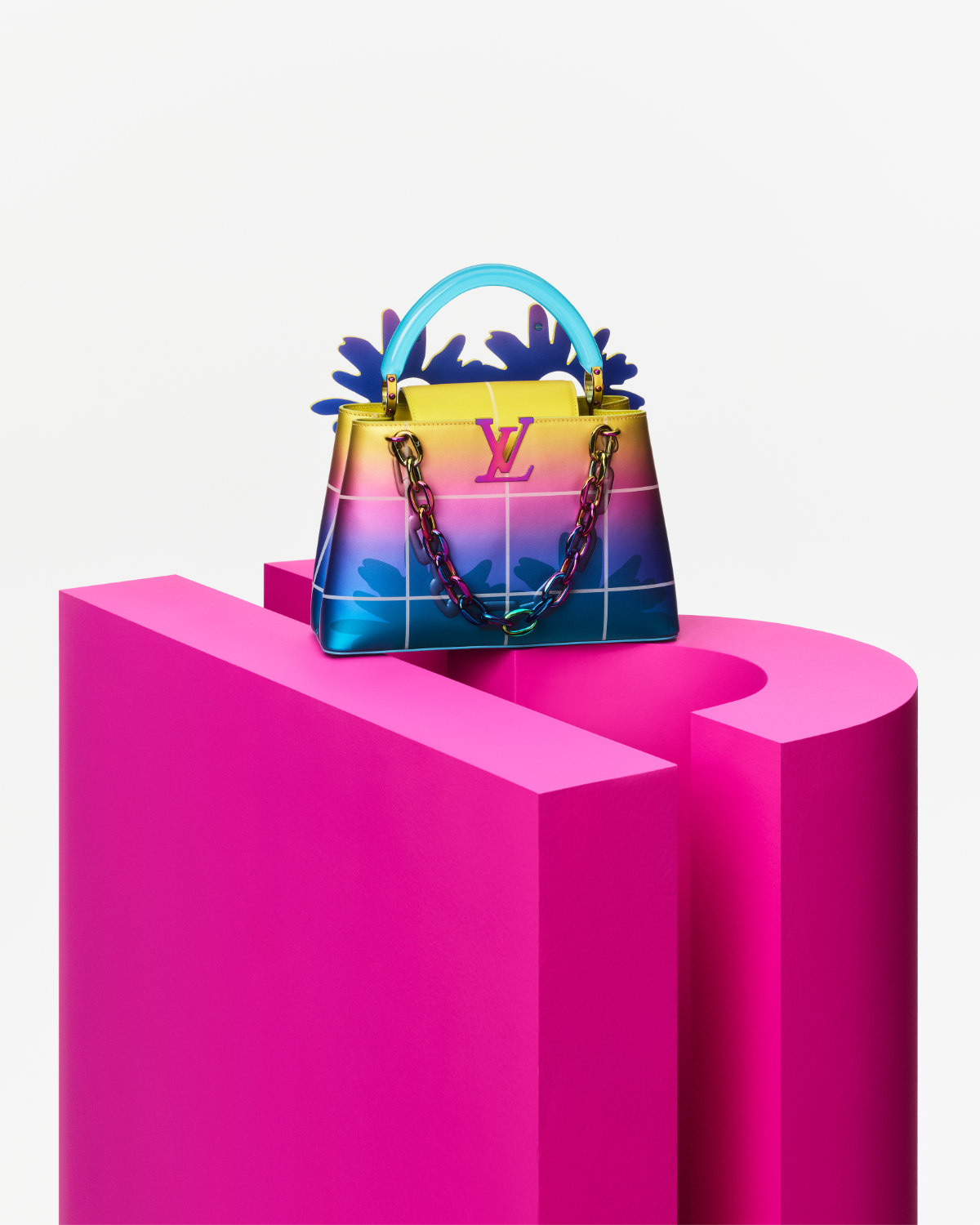 Tell us a bit about your background.
I am from Cannes, on the Côte d'Azur. When I think of my childhood I think of endless sunsets, which to this day are suggested in the colours and light I use in my paintings. My father is an artist and
graphic designer, and I was brought up in an environment where drawing was the most natural thing to do. That led me to study at the Beaux-Arts in Marseille, and then to pursue a life as an artist.
What's the first artwork you recall seeing that left an impression on you?
At school, I discovered Italian Renaissance painting, which totally blew my mind. Piero della Francesca and, in particular, Giotto. His work feels so contemporary in its conception of space, and its use of colour, decor and sense of artifice – such as the highly stylised clouds – has been a big inspiration to me.
Who or what informed your decision to pursue life as an artist?
From a young age, my father taught me how to use Photoshop. That quickly opened up a world of computer-generated drawing – which I kept secret from my tutors at art college – and its techniques and aesthetic influenced everything about my future working process.
Talk us through that working process.
My work is a study of surface. Each painting is constructed using layers upon layers of digitally sourced materials – tiling, pebbles, plant motifs, artificial nature – which are first composed as small-scale digital works and then hand-drawn and painted onto the larger-scale canvas. Unlike a lot of painting, there is only one single layer of painting itself in my completed works; the layers exist in the source material, not on the canvas.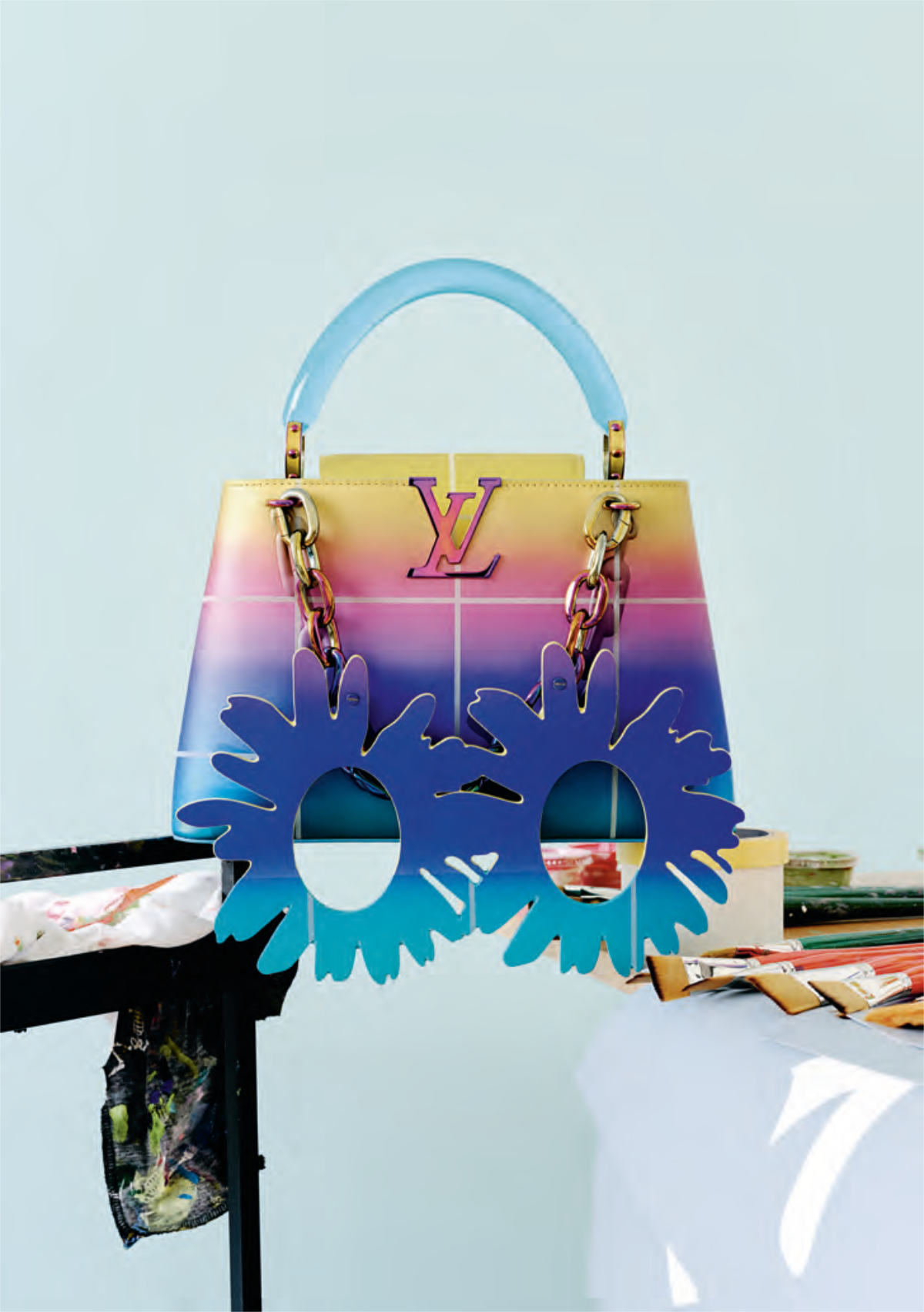 Tell us about working on your Artycapucines bag.
I immediately thought, a bag's an object, so let's treat it as a sculptural work. This made me consider how the light would hit its surfaces, and how the bag itself would throw light back, perhaps onto the owner's clothes. I wanted a bag that illuminated the night, like a nightclubbing bag, or like those scooters that people "pimp" using those bright artificial-light panels. You could say I wanted to pimp my bag! The bag's phosphorescent handle and surface components "charge up" using daylight in order to lighten the night, evoking the internal light that a computer emits.
How was the process of working with Louis Vuitton's expert artisans to transfer your work onto the Capucines bag?
It was like a highly creative laboratory. The process itself mirrors my own work: the gradual adding of different layers, finding the best possible application of those elements to the surface. As an artist you can be quite free form, whereas the Louis Vuitton artisans are more structured, so we pushed each other in different directions and landed on a final product that feels unexpected and exciting.
Do you consider this project as art or as fashion?
I see this project as intrinsically linking the two.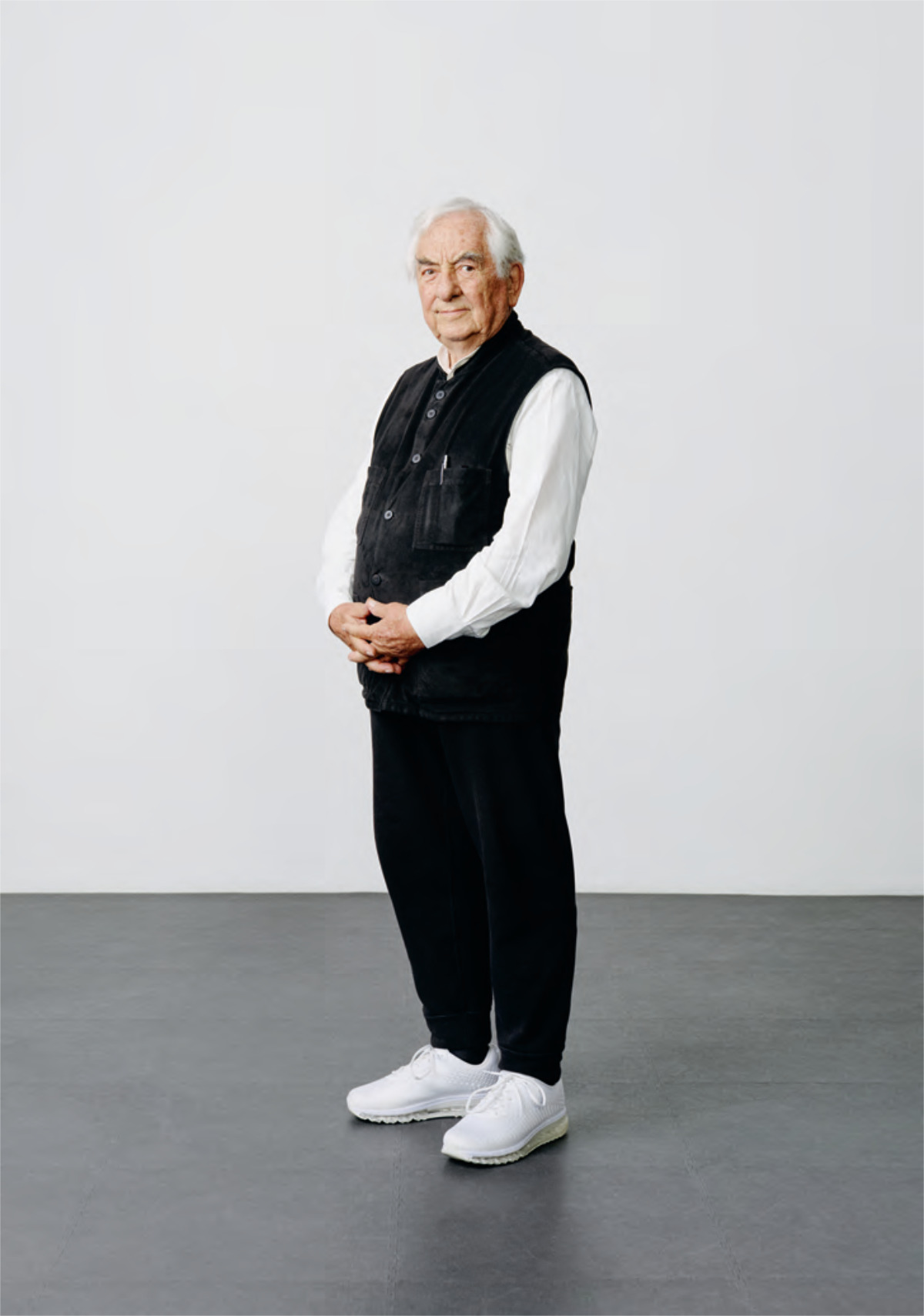 One of the world's leading contemporary artists, Daniel Buren was born in Boulogne-Billancourt, near Paris, in 1938. For over 60 years, he has constructed an oeuvre exploring the relationships between art and its physical and intellectual structures, and our perception of light and space. Seen in over 3,000 exhibitions, his exceptional works have, since 1965, often employed his nowtrademark vertical stripes. These include Les Deux Plateaux, situated in a courtyard of the Palais Royal in Paris. lnaugurated in 1986, the same year Buren won the Golden Lion at the Venice Biennale, the piece's 260 black-and-white columns of varying heights initially proved controversial, but have since become an icon of Paris's art landscape. ln 2016, he created Observatory of Light at the Fondation Louis Vuitton, a large-scale, in situ work that covered every other panel of the building's 12 glass "sails" with brightly coloured transparent self-adhesive vinyl sheets, following a rhythm of every 10 glass panels alternating white stripes and empty spaces of 8.7cm each, all the way long.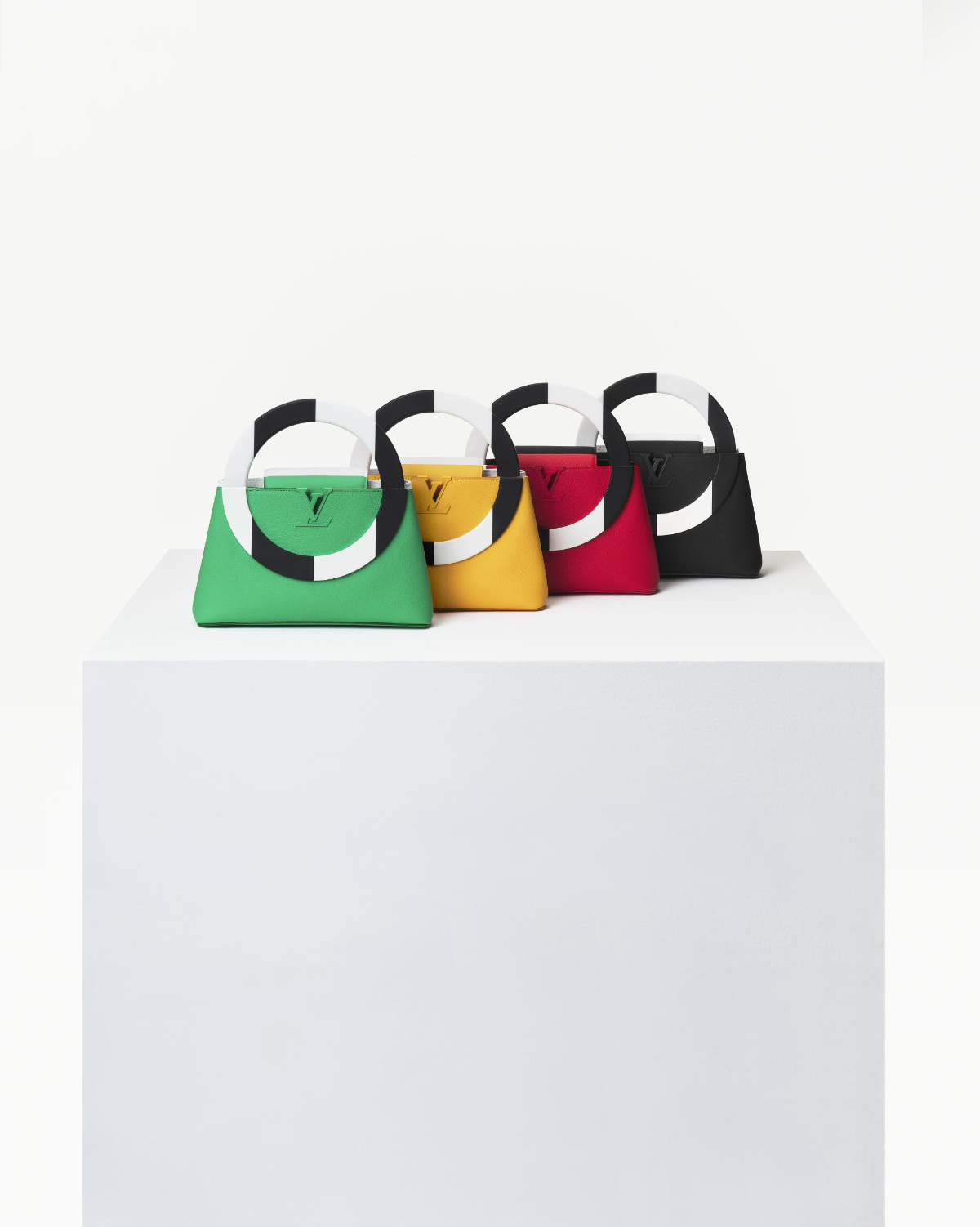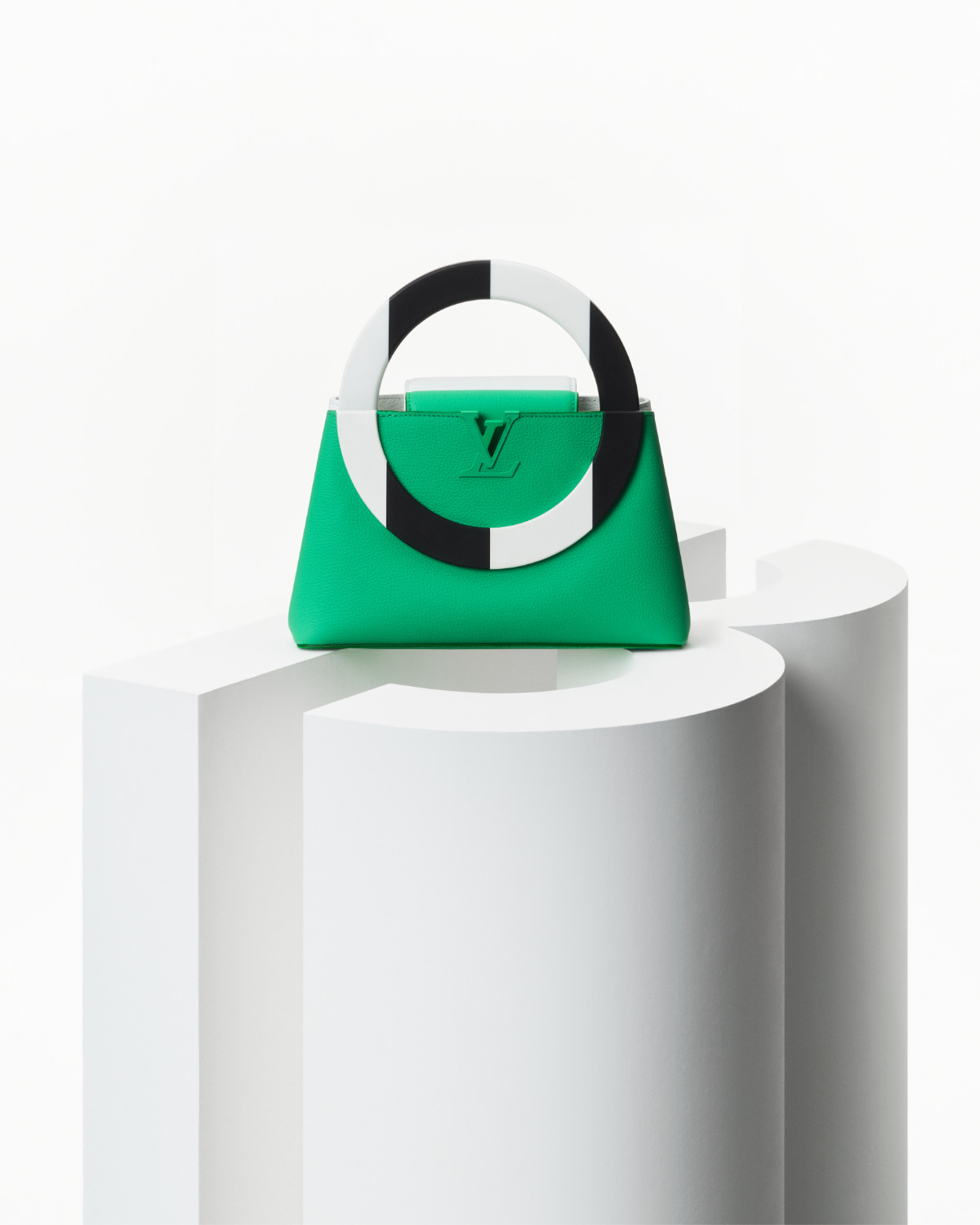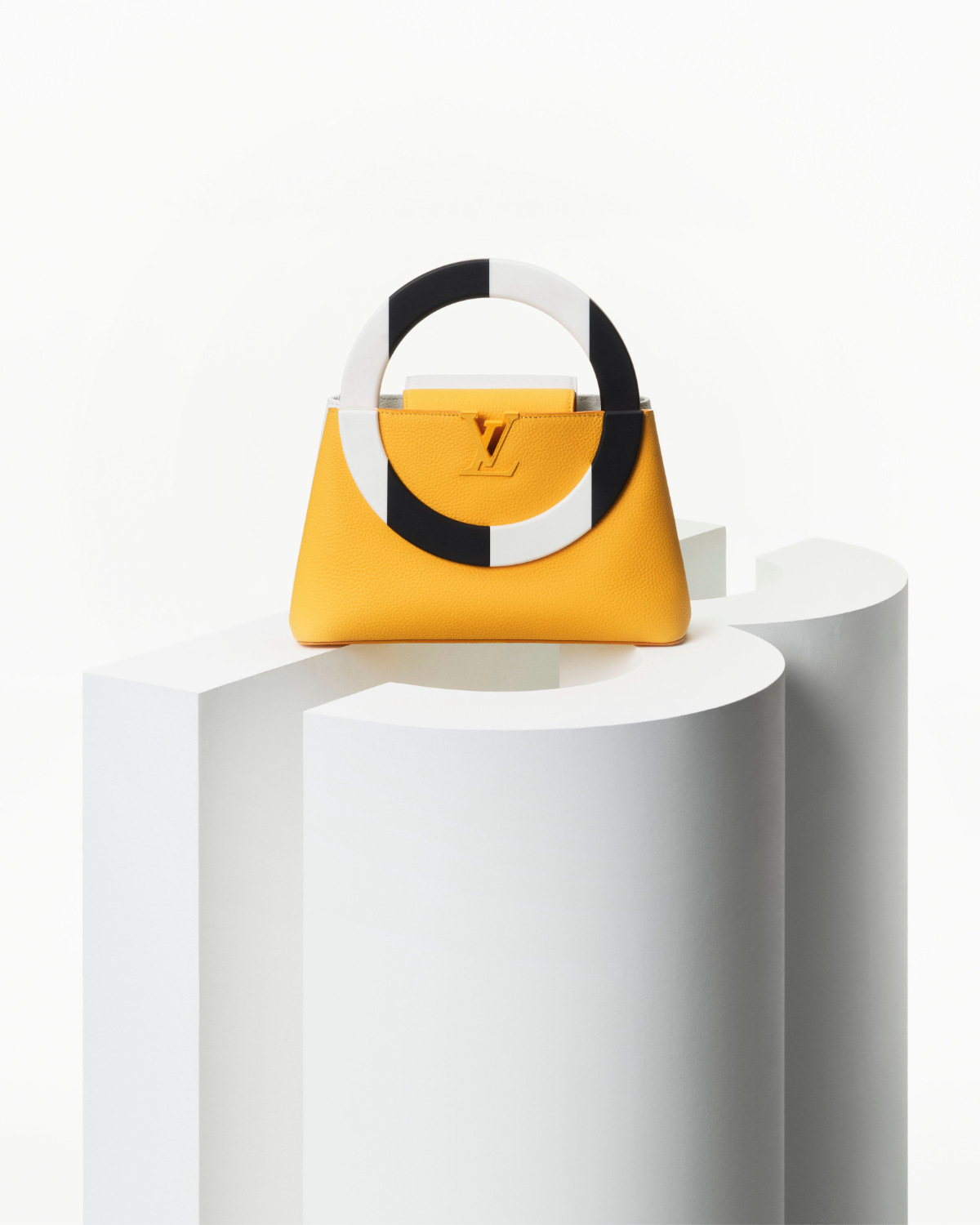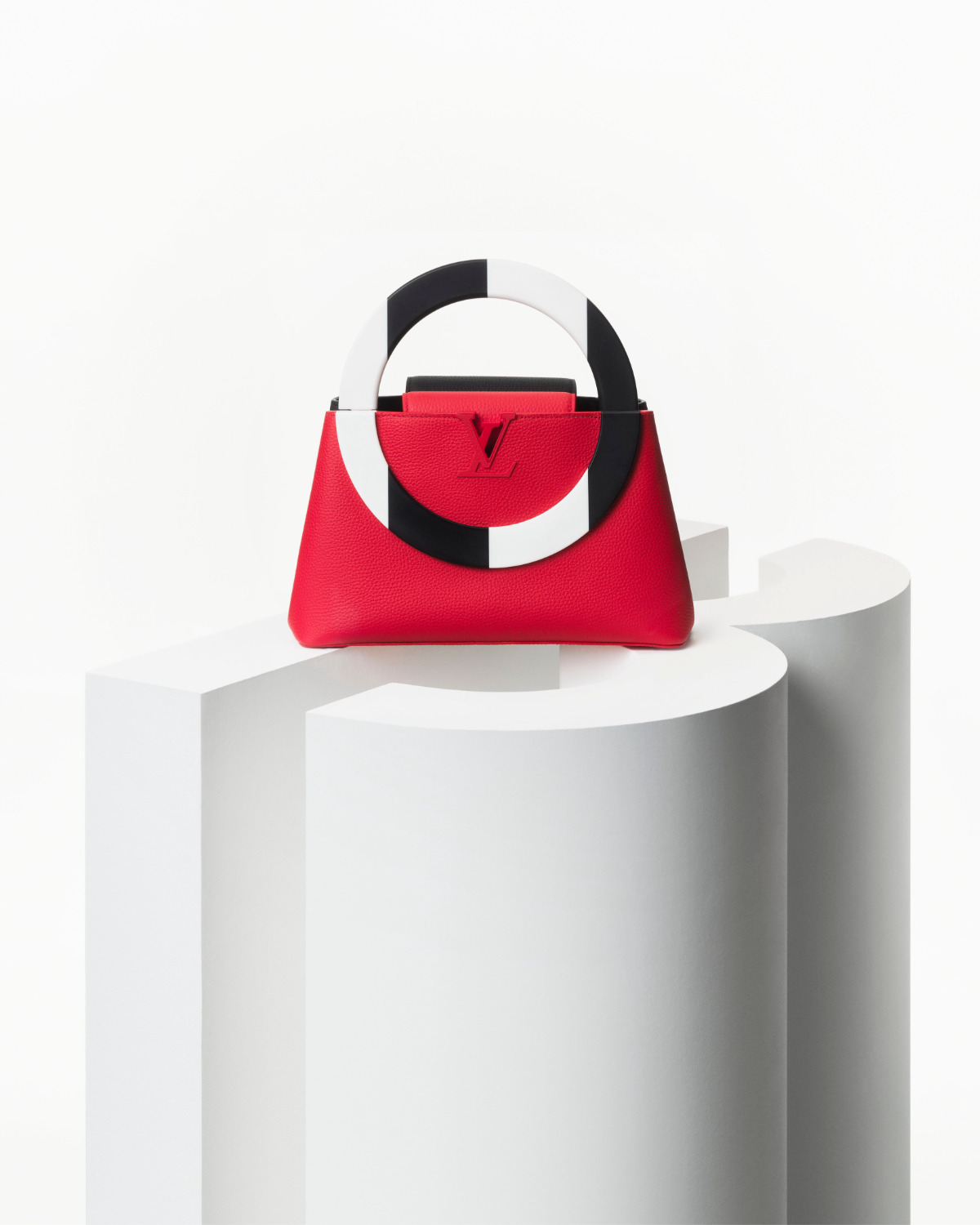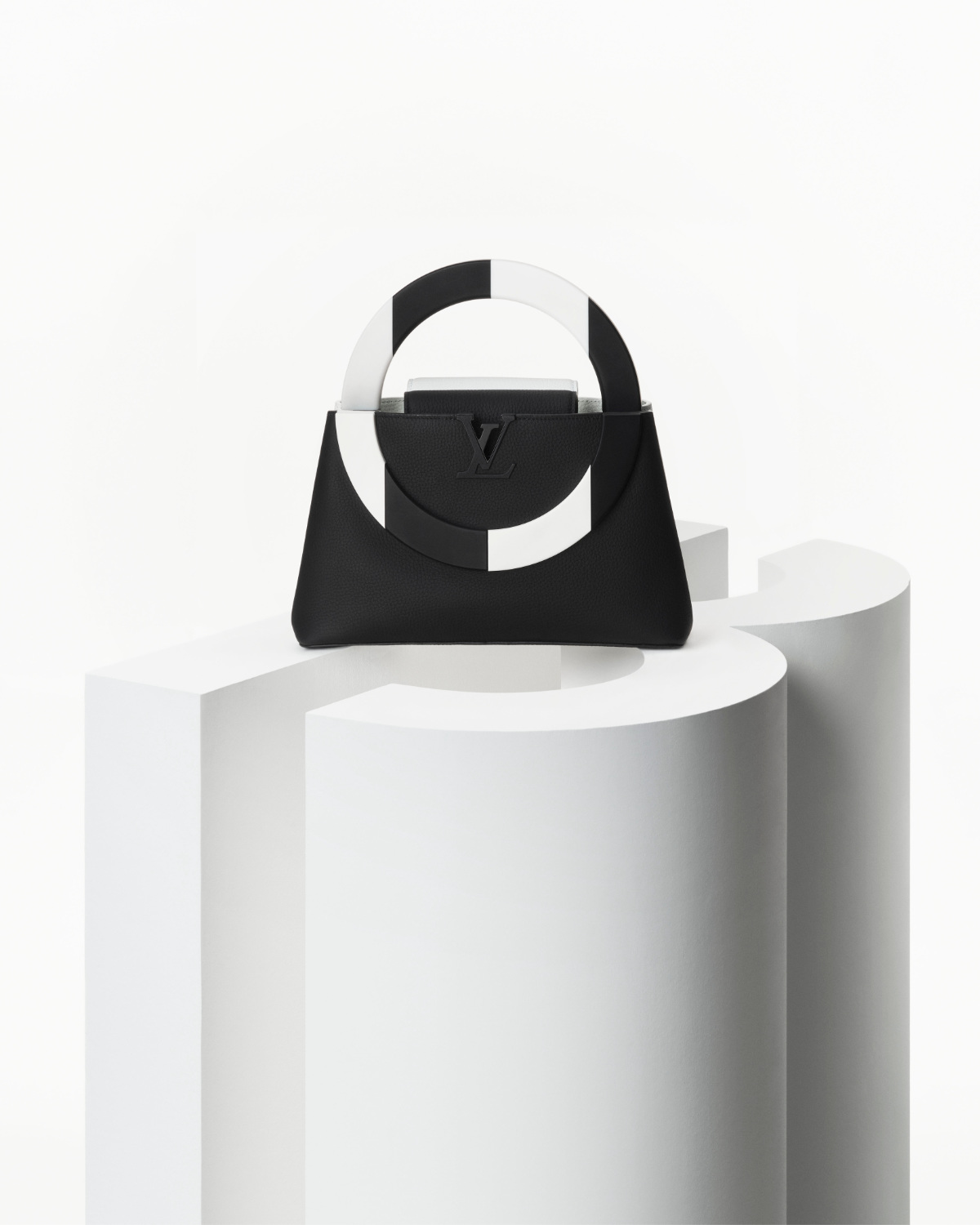 What was the first artwork that left an impression on you?
When I was 17, I roamed the south of France studying the relationship between the Provencal landscape and its representation in pictures from the likes of Cézanne to Picasso. The experience allowed me to meet over a hundred artists, including Picasso. He invited me to Victorine studios in Nice where he was filming The Mystery of Picasso with Henri-Georges Clouzot. I was fascinated
and returned several times. So it wasn't one artwork, but rather the attitude of one man that triggered my desire to create and pursue a career as an artist.
What are the recurrent themes in your work?
Since 1967, my work has been based on the importance of the space in which it is made. This began when I rubbed shoulders with those artists in their studios in Provence. I became convinced that something fundamental was lost when their work went from the studio to the exhibition spaces in Parisian galleries. Around the same time, I went to Mexico to study the Muralists, those 20th-century artists who after the Mexican Revolution painted huge frescoes on public buildings as educational tools. Each work was a direct reflection of its immediate environment – political, cultural, historical and geographical. This approach made me think about the spaces where I was going to create my own work, and the nature of that work. The answer was obvious: in the street. From then on, my work was dependent on its environment: where it was created, for who, why, and how. Which meant that I no longer required a studio.
Which elements of your work inspired your Artycapucines?
The subject of this work is not a specific space or precise environment, which are usually at the heart of all my work; rather, it's a fixed object with which I "compose". The Artycapucines has a really simple design: a trapezoid as a base and the arc of a circle as a handle. Everything starts from there. My initial sketch was rather abstract, but the object's function was still clear. By making the handle an exact semicircle, and transferring it to the body of the bag itself, two shapes emerged: a trapezoid and a circle.
How was your collaboration with Louis Vuitton's artisans to transfer the design to the bag?
I was so impressed by the Louis Vuitton artisans' ability to implement such high-quality solutions in such a record time. They constantly amazed me. Just three weeks after showing them my thumbnail sketch, they presented me with a prototype, which became the basis of our shared reflections on improvements.
Do you see this project as more art or fashion?
I've never had the pretention to say that what I do is art, even less so when it's a utilitarian object. I hope that my Artycapucines will be understood above all as a bag approaching the realms of the beautiful, and indeed fashion. If that were the case, it would be a good start!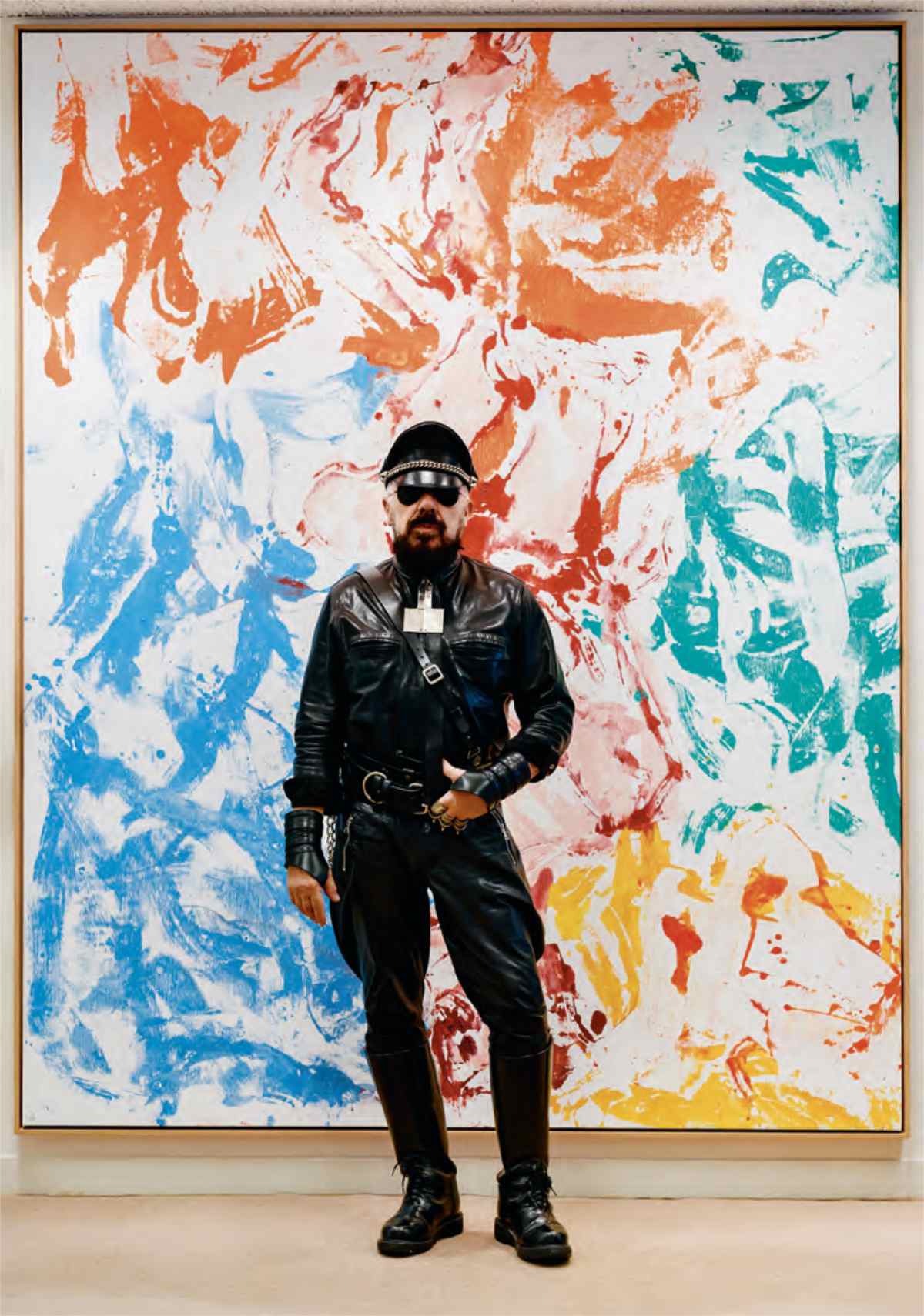 Peter Marino is the principal of Peter Marino Architect, a New York-based architecture practice founded in 1978, which works globally across a broad range of projects including residential, retail, cultural, and hospitality. The practice is credited with redefining modern luxury with its award-winning work that places equal emphasis on architecture and interior design. A well-known art lover, Marino has commissioned more than 300 site-specific artworks that have been integrated into his architectural designs, and in 2021, he opened the Peter Marino Art Foundation, based in a restored public library in Southampton, New York. Marino was made a Chevalier de l'Ordre des Arts et des Lettres in 2012 and an Officier de l'Ordre des Arts et des Lettres in 2017 by the French Ministry of Culture. Both he and his practice have a long association with Louis Vuitton, having designed flagship stores in Paris, London, Seoul, and Los Angeles.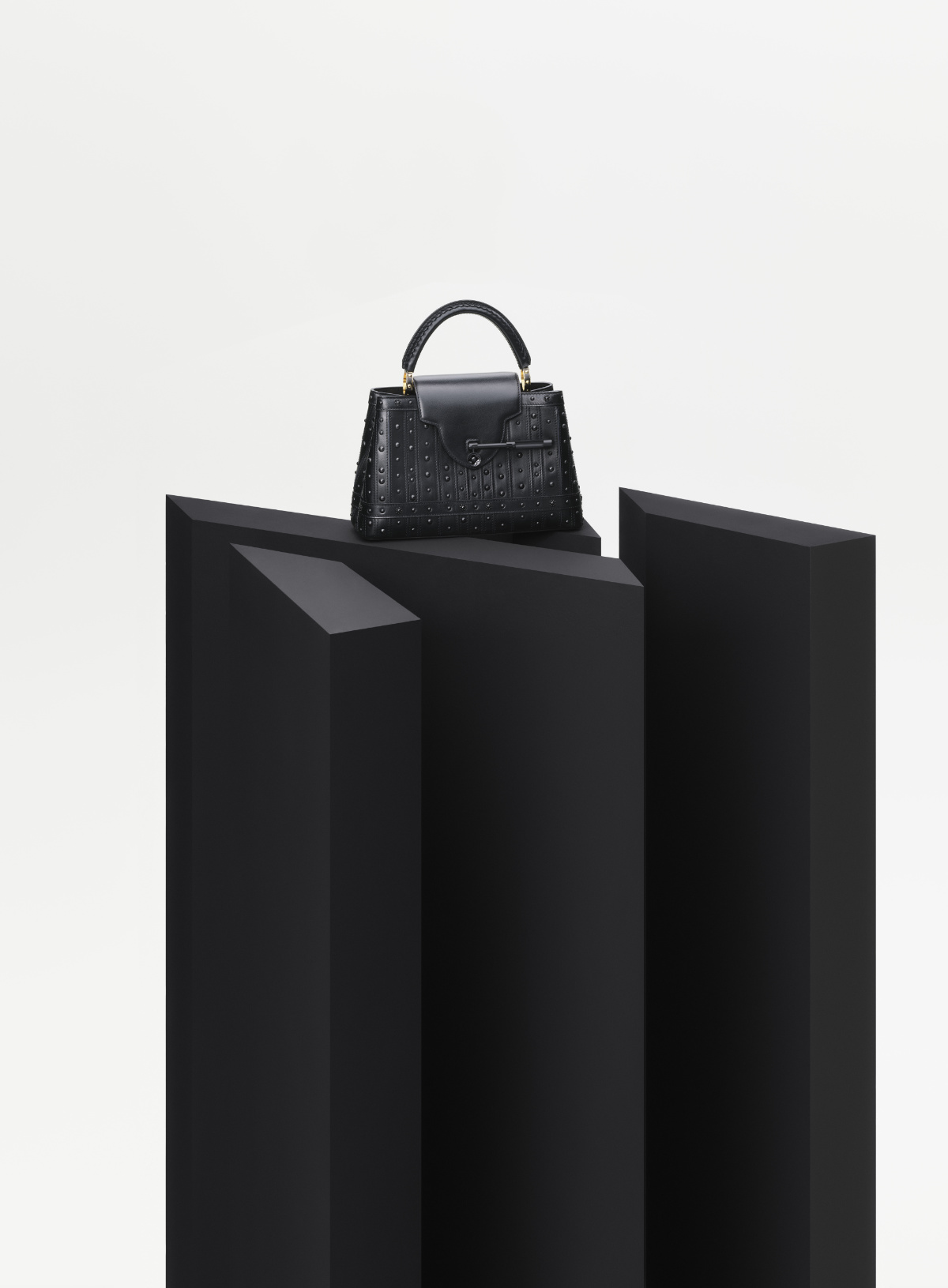 Tell us a little bit about your background.
I had a pencil in my hand from a very early age and was drawing at three years old. In high school, I did a special study of art. I went on to study architecture at Cornell University, but first I took sculpture, life drawing, and painting. My dad was an engineer and, starting when I was young, I went to his office on Saturdays and learned about engineering. In this way, I had a little bit of a head start in architecture school – knowing how to draft.
What's the first artwork you recall seeing that really left an impression on you? How did it make you feel?
I can say that the first contemporary pieces I ever bought were two small Polaroids by Lucas Samaras that I saw at Pace Gallery, which was right around the corner from my first job as an architect, at Skidmore Owings & Merrill. I remember the trauma of writing my first check to an art gallery.
Tell us about any significant events or people in your life that informed your decision to pursue life as a designer – or experiences that perhaps influenced the specific type of work you make?
I used to come to New York a lot and visit artists' studios, people like Roy Lichtenstein, Claes Oldenburg, and Andy Warhol. I saw what Pop Artists were doing, pushing things 20 years into the future,
and I didn't know if I could do that myself. Architecture came easily to me, so self-interest made me decide to pursue that instead. I thought, I've got a better chance of doing something good in architecture than in painting.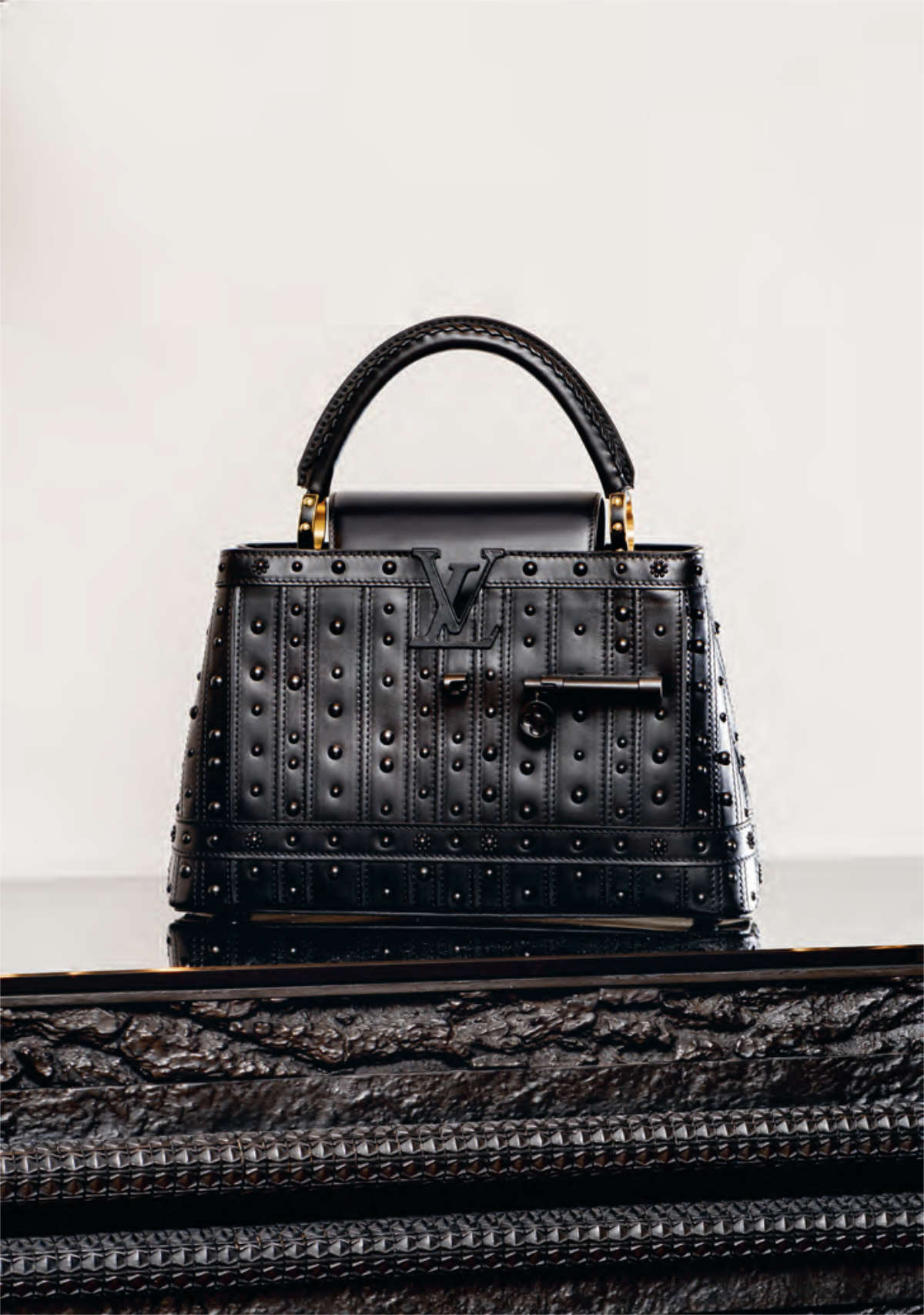 What do you see as the recurring themes in your work – the storytelling, the things that you look to express through your work?
Light. Materiality. Space. I want space, light and happiness in my projects. I've commissioned more than 300 artists for my projects and did a book documenting this with Phaidon, Peter Marino: Art Architecture. For me, integrating art with architecture is paramount.
Was your Artycapucines bag based upon a specific artwork?
I'm chairman of Venetian Heritage and we were raising funds to restore a 14th-century building in Venice called Scuola Grande San Giovanni Evangelista. One time when I was visiting, I noticed a medieval box near the monumental staircase designed by [Italian architect] Mauro Codussi. This box had straps and a medieval key. I was inspired by these elements, which I translated into this new Artycapucines bag.
Do you consider this project as art or as fashion?
No difference.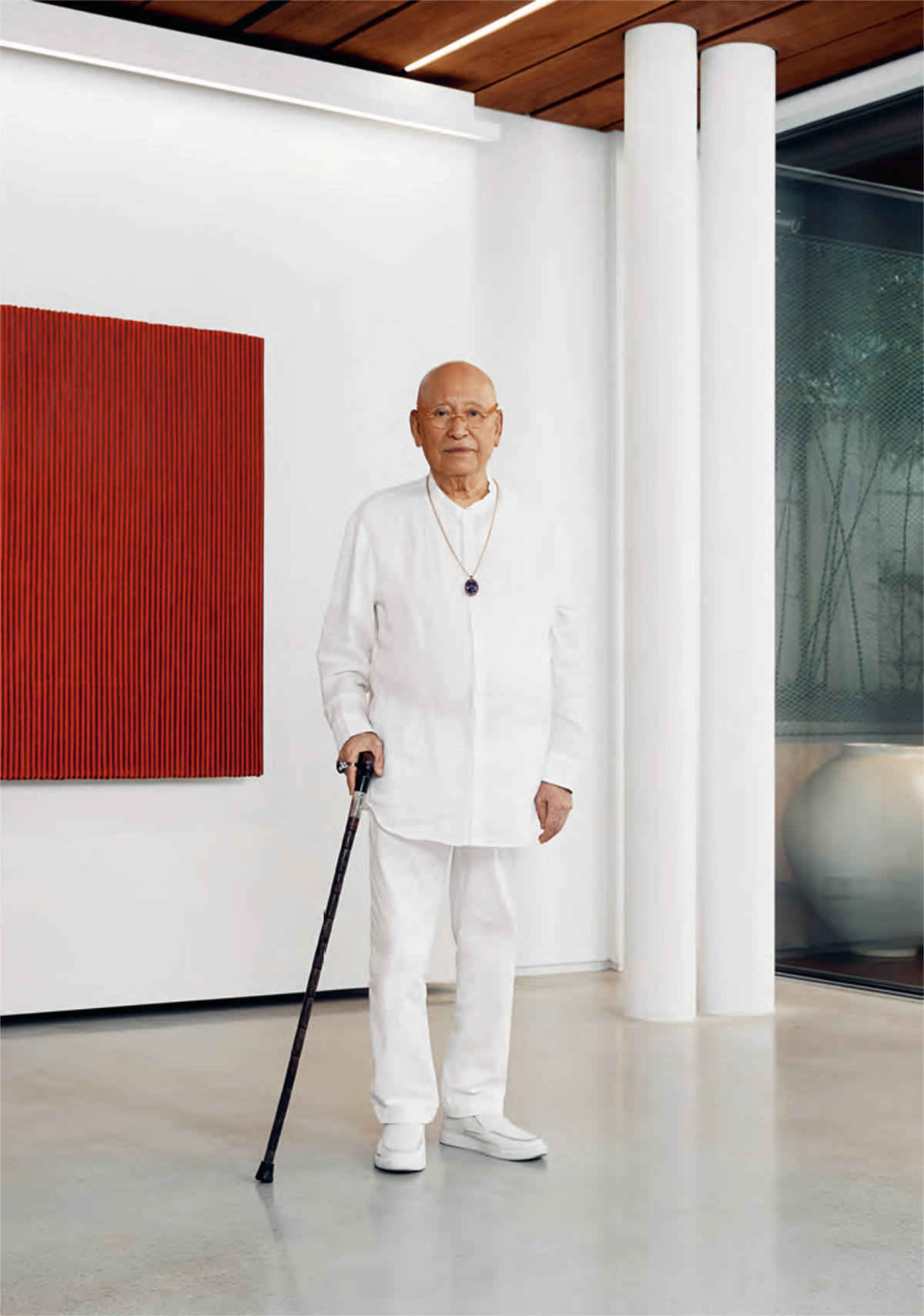 One of Korea's most celebrated artists, Park Seo-Bo was born in Yecheon in 1931. He is the founder of Dansaekhwa, a movement that began in the early 1970s and altered the course of Korean art with its ideas of the purposelessness of actions and the spiritual benefits of endless repetition. In the late 1960s, Park began working on his ongoing Écriture series, originally composed of pencil lines drawn on paint-covered canvas. Since the early 1980s, the work has used the specific properties of Korean Hanji paper, which Park soaks for weeks, applies to canvas, and works on in pencil and acrylic paint. He considers his painting method as a creative meditative exercise. Park's work is part of the permanent collections of art institutions including the National Museum of Modern and Contemporary Art, Seoul; Museum of Contemporary Art Tokyo; Solomon R. Guggenheim Museum, New York; and K20, Düsseldorf. In 2021, Park Seo-Bo was awarded the Republic of Korea Order of Cultural Merit.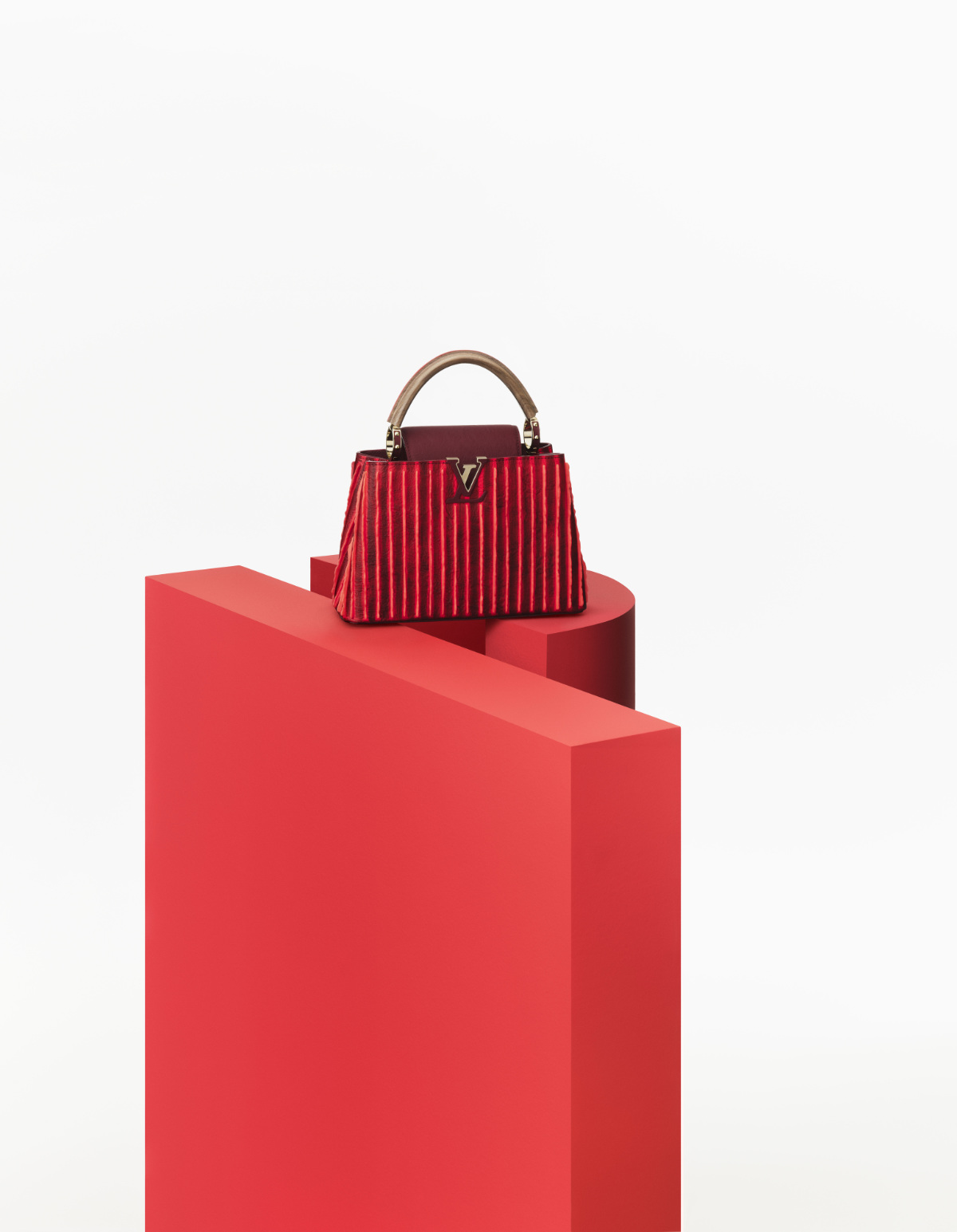 Tell us a little bit about your background.
My father was a devout Buddhist. He would go to the temple of his own accord to polish the gold glitter surface of Buddha. I, too, have been deeply absorbed in the philosophy of Buddhism. This ended up dominating not only my art practice but also my overall life. Park Seo-Bo [박서보(朴栖甫), his artist name] is an expression of this.
How would you say this philosophy manifests itself in your work?
Western people consider the canvas as a device upon which to express their thoughts through images; for me, though, the canvas is a "small yard" to clear my mind. I draw meaningless lines, using my hands to colour my works repeatably. In the same way that a Buddhist monk tries to keep his or her spirit pure and mind clear by repetitively sounding the wooden gong, my work has to be "purely purposeless" and must adhere to the notion of "infinite repetition". If there is no action of repetition, it is all fake. This is the primary spirit of Dansaekhwa, and it is one of the reasons why my paintings look deceptively simple.
Tell us about the red painting upon which your Artycapucines bag is based.
When I later started using colours in my painting, I did so by searching for "natural colour" instead of "ideological colour". One time, I was looking at a valley by Mount Bandai. The valley was aligned
with the sun, so it appeared to be almost neon red. The colour was so intense that it felt like I was looking at a flame that was chasing me to my death. That moment acted as a reminder that I'm only a tiny being in front of the vastness of nature. As the wind blew the clouds and the sunlight shone, one side of the valley remained neon red, while the other side became
shaded and much darker. I thought I should paint this "harmony of nature"; my red painting came from this moment – from nature.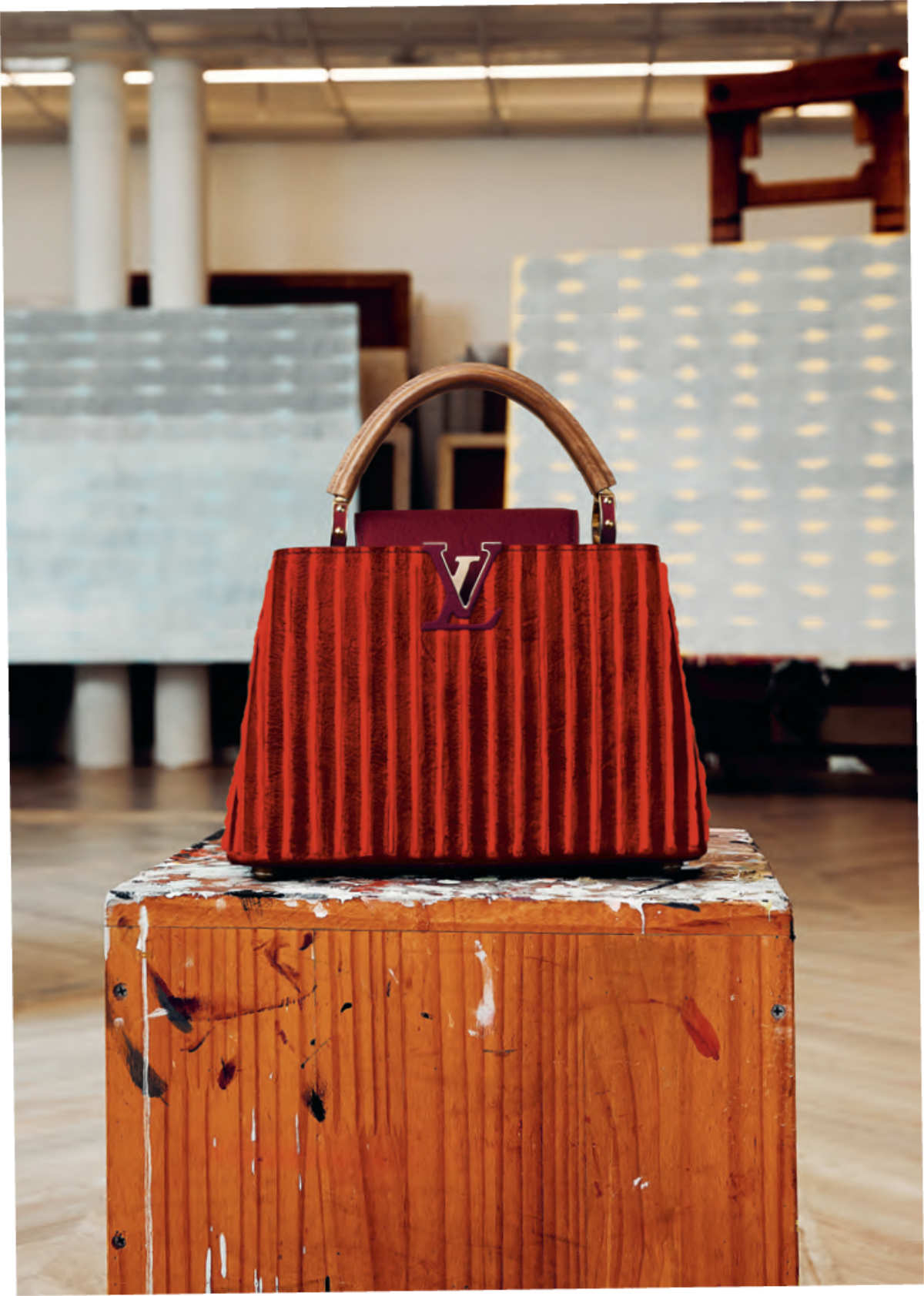 How was the process of translating your work onto the bag, and working with the Louis Vuitton's expert artisans?
My talented grandson is a graduate of London College of Fashion, and he was instrumental in adapting my painting to the Artycapucines' bag design. When I received the first prototypes, I was in awe of the incredible leather craftsmanship, achieved by the hands of Louis Vuitton's artisans. Honestly, I think it is impossible not to respect Louis Vuitton for its level of savoir-faire.
The Capucines bag is a moveable object, so your work will be out in the public space. How does that make you feel?
I love it. Art should not be regarded as precious treasure; it should exist in the public domain, in everyday life.
Do you consider this project as art or as fashion?
Both. Ultimately, I think this bag collaboration and my original artwork should be exhibited together, as a whole, as one object.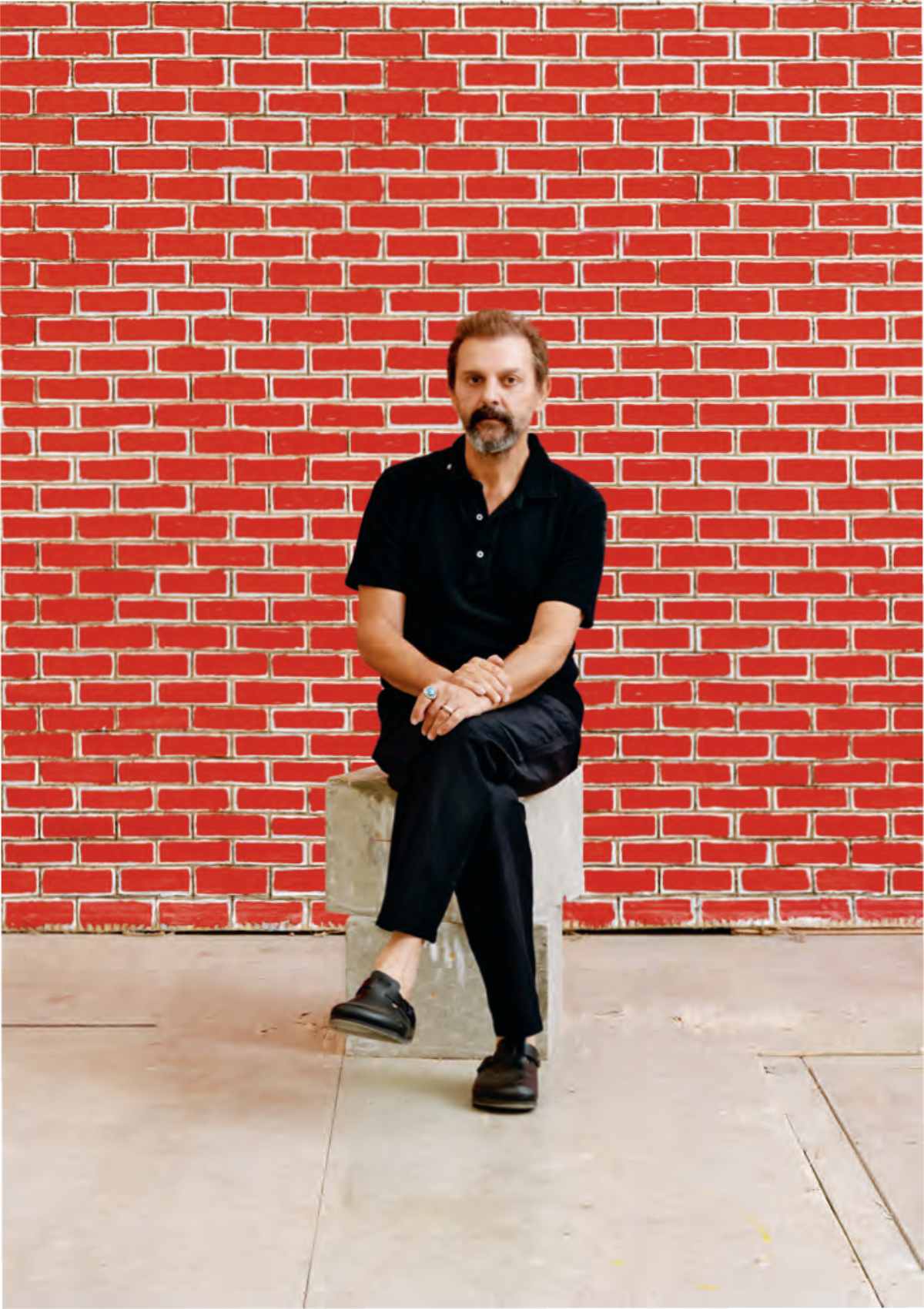 Ugo Rondinone, born in 1964 in Brunnen, Switzerland, is recognised as one of the major voices of his generation, an artist who composes searing meditations on nature and the human condition while establishing a formal yet organic vocabulary that fuses a variety of sculptural and painterly traditions. The breadth and generosity of his vision of human nature have resulted in a wide range of two-dimensional and three-dimensional objects, installations, videos, and performances. His hybridised forms, which borrow from ancient and modern cultural sources alike, exude pathos and humour, going straight to the heart of the most pressing issues of our time, where modernist achievement and archaic expression intersect.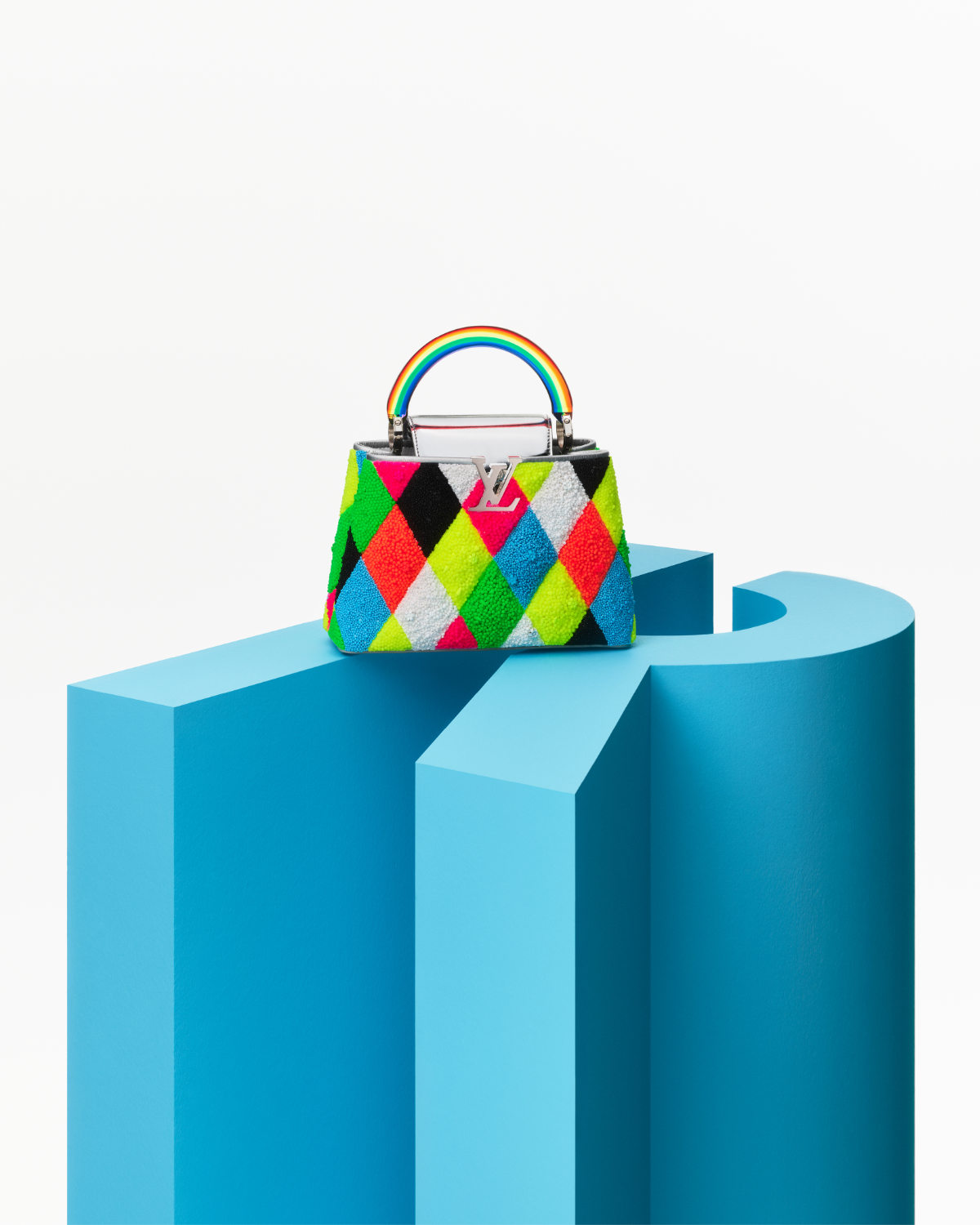 Tell us a bit about your background.
I grew up in a small Swiss lake-resort town called Brunnen, near Lucerne. It was a working-class environment; the only books in the house were my schoolbooks, and besides the circus coming to town each November, it was culturally inactive. As a teenager with no sporting talent I was lucky to be able to draw, and so I'd sketch people in exchange for, I guess, love. When I was 19, I went to Zurich for a few years, before studying in Vienna at the University of Applied Arts from 1985 to 1991. After that I lived in Berlin, and then relocated to New York where I have lived since 1997.
What do you see as the recurring themes in your work?
My work is embedded in an observation of nature and its relation to the human condition. It connects us to our sources in the natural world, its beauty and terrors and mysteries and connotations. For example, my Sun Paintings and my Sun Sculptures are not only an investigation of the mutable potential of paintings and sculpture as both physical media and rich sites of cultural disclosure, but also celebrations of life – its seasons and rhythms, and the plants, stones and wildlife with which we share the planet. Despite its diversity, my work does have unifying themes, most notably time and meditation, and as the work progresses I like to slow down and prolong the temporality as if nothing will ever end or be abandoned, where everything can reappear or reanimate itself, and past, present and future belong to one single and unique loop.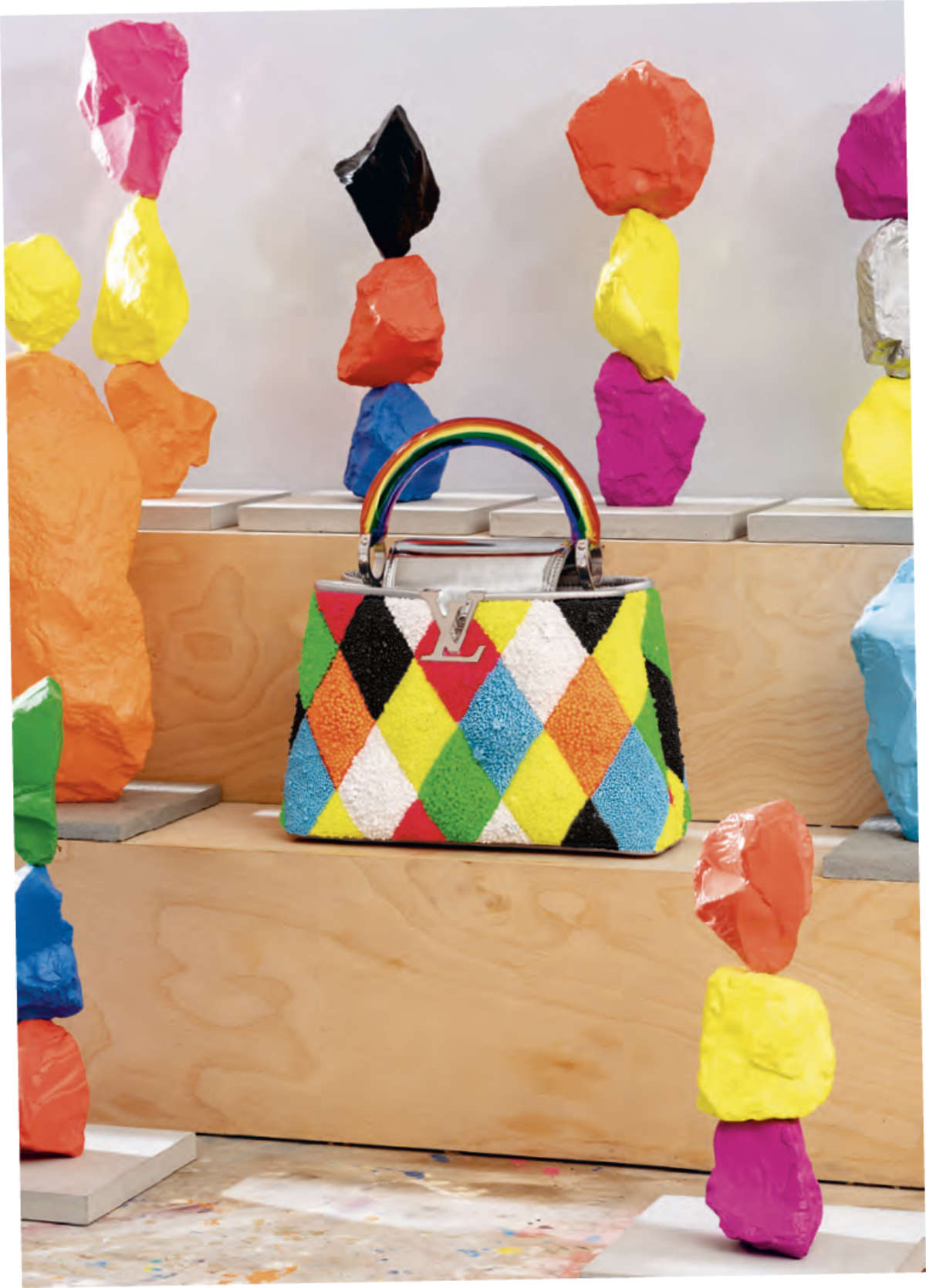 Tell us about the elements of your work upon which your Artycapucines bag is based.
I knew the bag had to please and chose to use colour as the main attraction. So I took two archetypal symbols that I often use in my work: the clown and the rainbow. The clown with its recognisable
nonbinary character and outlandish costumes, distinctive make-up, colourful wigs, and exaggerated footwear, is designed to entertain large audiences. In my work, though, I have turned it into a character who doesn't entertain, but instead just sits in contemplation. The rainbow is a communal archetype of unity and peace, while also referring to the gay-liberation movement. For example, in my first public work, in 1996, I made an illuminated neon rainbow sign that spelled out "Cry Me a River".
How was the process of working with Louis Vuitton's expert artisans to transfer your work onto the Capucines bag?
The collaboration was amazing. The team at Louis Vuitton's ateliers really made sense of what I wanted, and then went out of their way to develop the ideas even further, and so create different possibilities.
Do you consider this project as art or as fashion?
Definitely fashion. Working with a bag requires an appreciation of the functional "end use" that my artwork never does.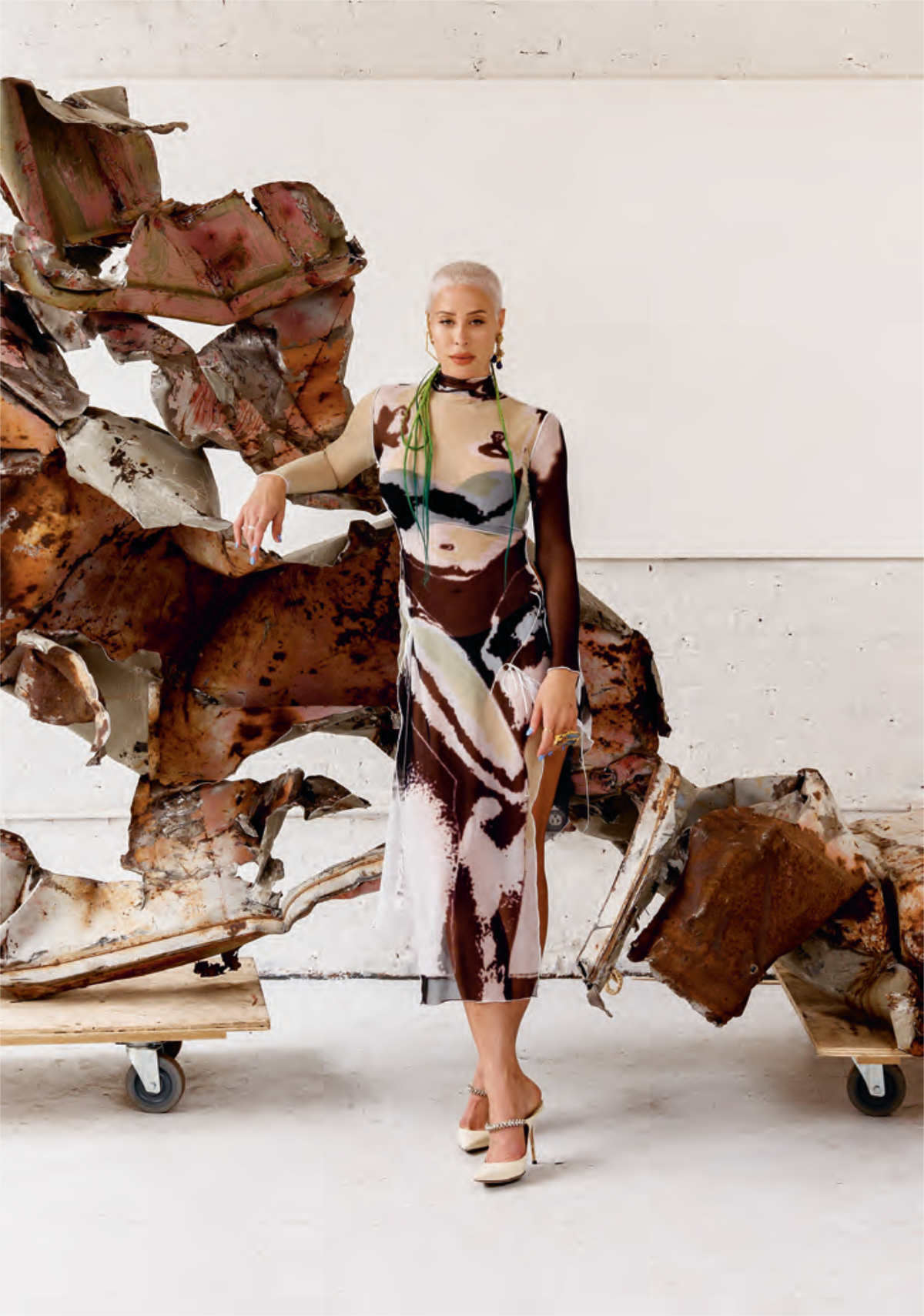 Artist Kennedy Yanko – born in St. Louis, Missouri, in 1988 – works in found metal and "paint skin", a material she makes by pouring large amounts of paint, letting it dry, and using the sheet-like form to create new sculptural compositions. The flowing, yet solid result is described by the artist as an "abstract expressionist-surrealist work with an anthropomorphic quality". In 2019, Yanko was an Artforum "Critic's Pick" and featured in 100 Sculptors of Tomorrow, published by Thames & Hudson; in 2021, she was the first sculptor in residence at the Rubell Museum in Miami. Her work has been shown in galleries and museums across the United States and internationally, including the Museum of Contemporary Art Detroit, and in Milan and Buenos Aires.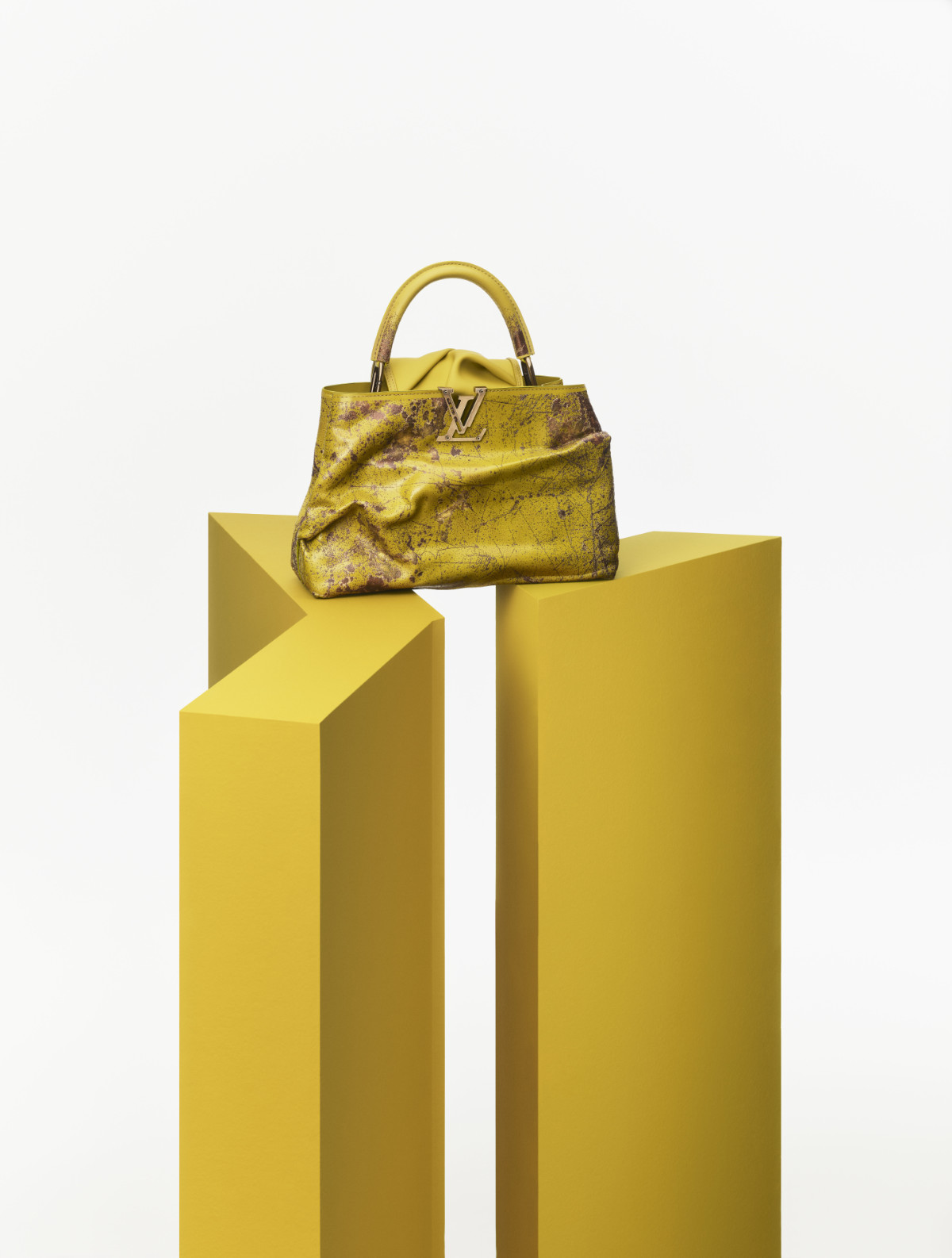 Tell us a bit about your background.
I grew up in St. Louis, Missouri, spending a lot of time adventuring with my dad, who's a painter and architect, taking photographs of industrial junkyards, and water, and things that looked like there was life and movement in them.
What's the first artwork you recall seeing that left an impression on you?
An Anselm Kiefer installation, consisting of maybe a million pieces of glass and metal. I remember looking at it as a little girl, and thinking, "Who put this here?" I was fascinated by the sheer ambition of the person who would think to make an object like that.
Talk us through the overall approach to creating your work.

I spend a lot of time looking around junkyards for metal material. Everyone thinks I use cars, but I prefer the specific colours and thicknesses of metal from shipping containers, gas barrels and broken dumpsters. Once they're back in my studio and cleaned up, I then start composing the works a bit like collages – taking the metal objects apart, repositioning them, welding them together, painting them, and then adding details. Back in 2009, I began pouring paint onto canvases, which I then removed to achieve incredible bodily blankets of "paint-skin material".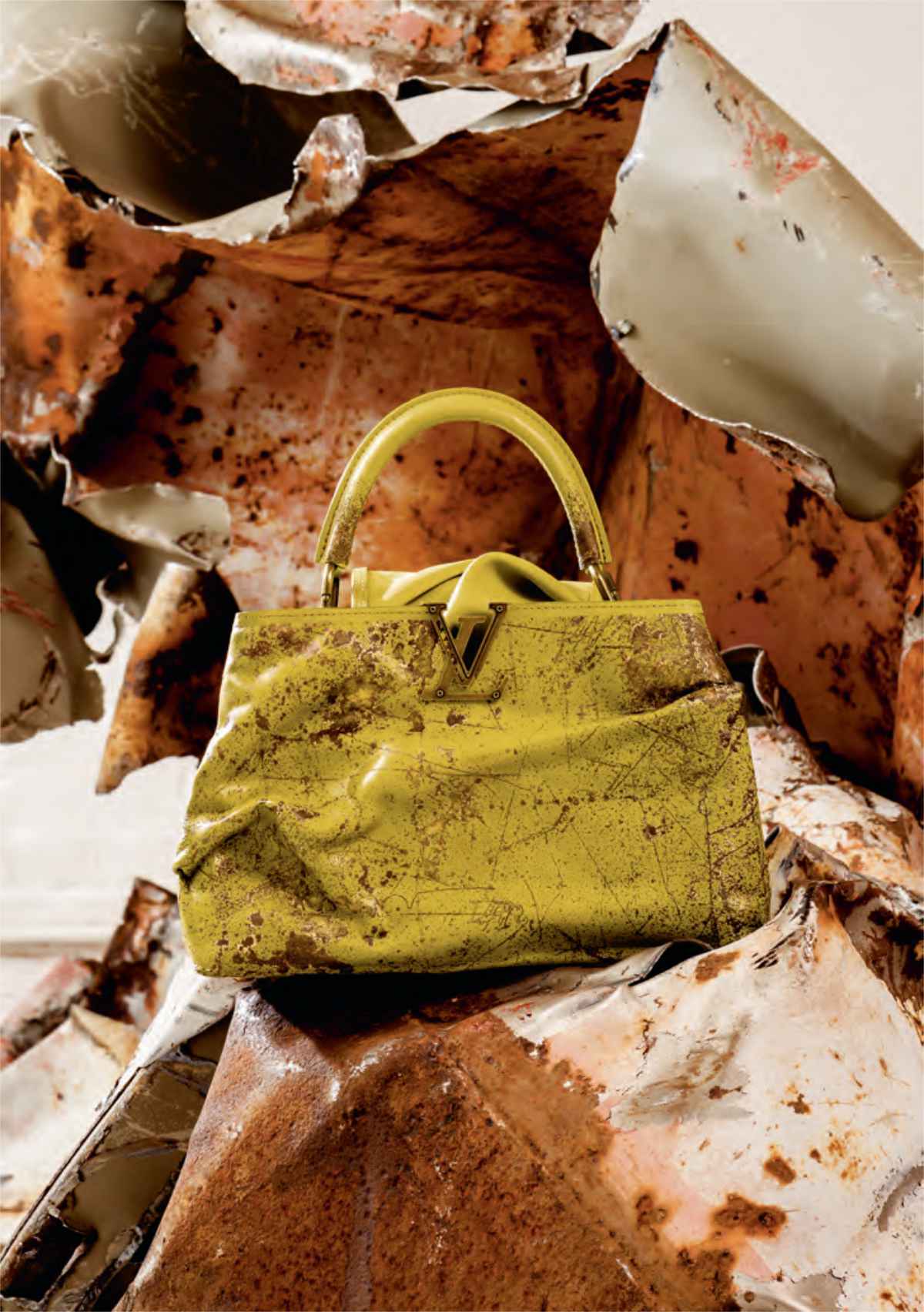 Tell us about working on your Artycapucines bag.
When the Louis Vuitton team first came in, I shared an idea of what I wanted to do. The next time I saw them they presented me with so many different options to choose from. It really expanded my mind of what this bag could be. Once we'd figured out the colours and style and how to create the bag itself, I was particularly interested in making something that was functional. I wanted a bag that you could use at any event and with any outfit; for example, the handle comes off, and there's a pouch underneath it, so you can slide your hand and then carry the bag as a clutch.
How was the process of working with Louis Vuitton's expert artisans to transfer your work onto the Capucines bag?
They were super experimental about recreating my paint-skin effect; it actually incorporates a rusting process that takes place using bacteria. They also experimented with over 20 different colour samples, using a spectrometer to get the exact shade. It was an intensive process, which I enjoyed a lot. It gave me new ideas of how I could sculpturally add volume and texture to my own work using different materials.
The Capucines bag is a moveable object, so your work will be out in the public space. How does that make you feel?
I'm excited to see it out in the world, like seeing a lady at the airport who's chosen to take the bag on a trip with her. You'd never get that with a piece of work on a gallery wall.
Do you consider this project as art or as fashion?
It's creation.
Credits

Photographers: Christophe Coënon, Sean Davidson, Jaehonn Kim, Charles Negre
Text and interviews: Jonathan Wingfield
Creative direction: Thomas Lenthal
---