---
Girard-Perregaux Unveils Its New Laureato Green Ceramic Aston Martin Edition Watch
Luxferity, 15.03.2023
Girard-Perregaux unveiled the Laureato Green Ceramic Aston Martin Edition, the first time a Laureato has featured a green ceramic case and bracelet. This is the latest collaboration between the Swiss Maison and the British marque, two companies that have designed products that have stood the test of time. While some of the materials used for these new co-branded watches may be ultra-modern, the essence of the inaugural Laureato has been respected. Offered in a choice of two case sizes (42mm and 38mm), each reference is a limited edition and thereby destined to remain a rare sight.
A productive relationship

Some of the finest luxury products are crafted with time-served hands. These scarce human skills, often amassed over many years, imbue an item with a distinctive character and an enduring quality. Such products are created free of concessions, using the finest components and they inevitably take an inordinate amount of time to make.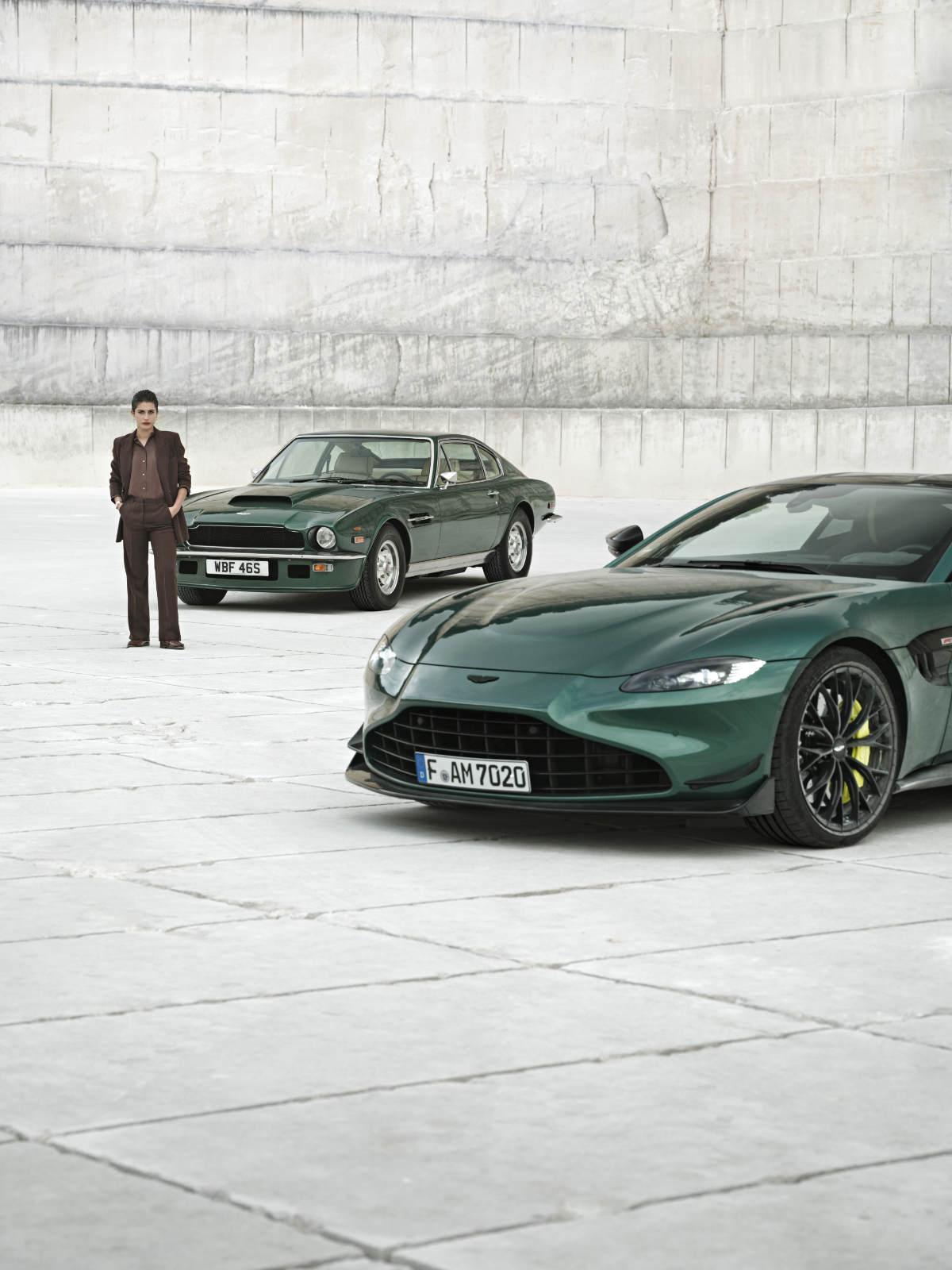 Both Aston Martin and Girard-Perregaux operate within this rarefied world of excellence, constructing rare objects that confer lasting appeal. In 2021, these two prestigious marques entered into a multi-year collaboration agreement and have since created a number of limited-edition, co­ branded products.
British Racing Green

In 1900, a race took place in France, the Gordon Bennett Cup. Cars would negotiate public roads between Paris and Lyon. Initially, various colours were assigned to cars based on the nationality of the driver, however, this would subsequently change and eventually the hue of the car's bodywork was determined by the nationality of the racing team. As a result, French cars were presented in blue, Italian cars were red, Belgian cars were yellow, German cars were white/silver and British cars were dressed in green. This latter hue has since graced many British race cars and is now employed on present-day Aston Martin cars. It therefore seemed logical that a co-branded model should be dressed in green, a colour that evokes thoughts of performance and success.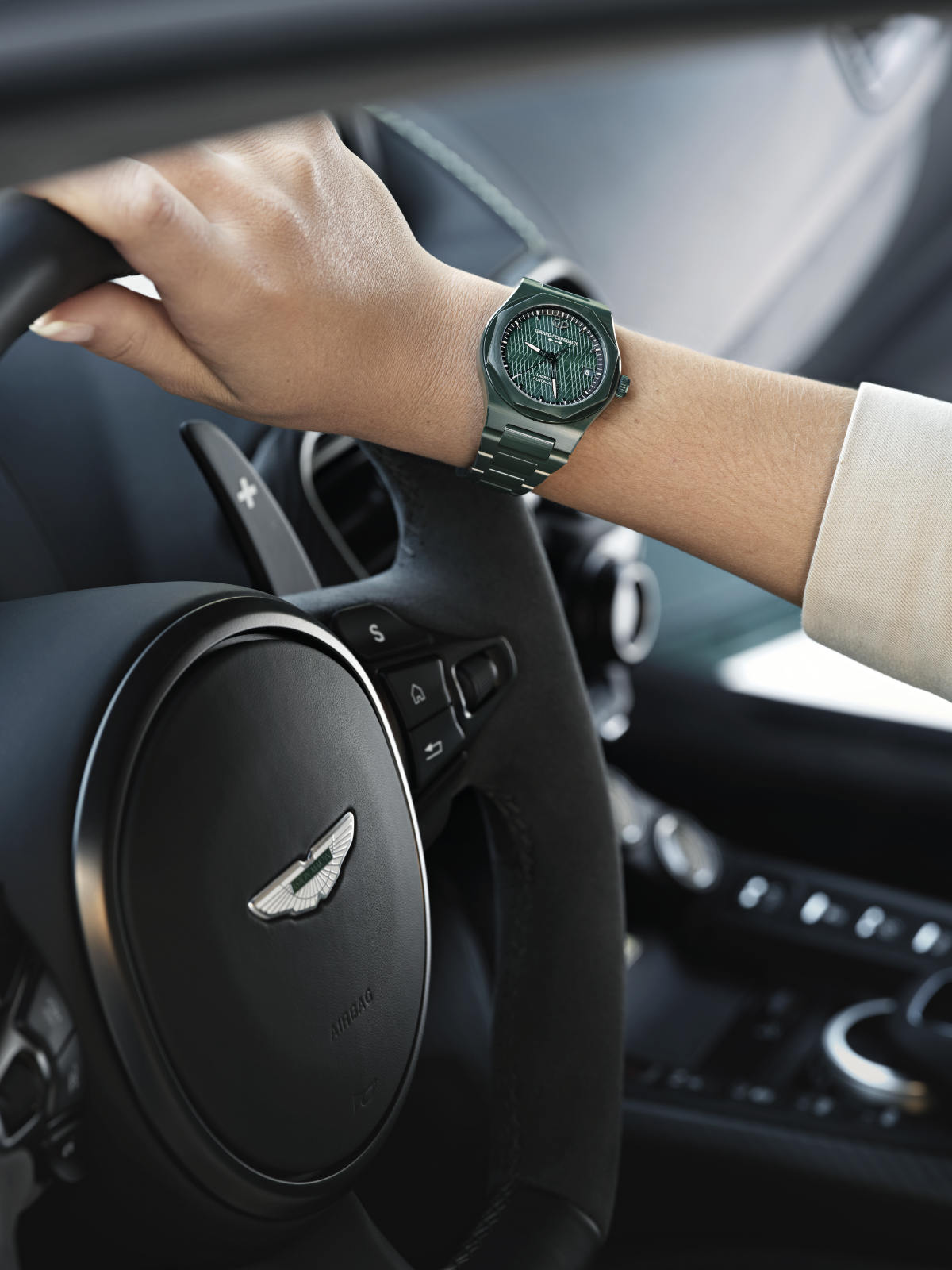 Technical ceramic, a complex attire

Launched in 1975, the first Laureato featured an octagonal bezel that sat atop a circular plinth which in turn was positioned above an angular tonneau-shaped case. The new Laureato Green Ceramic Aston Martin Edition respects these timeless elements but employs ultra-modern ceramic for the bracelet and case. This lightweight material comprises zirconium oxide and metallic oxides (the latter imbues the material with its distinctive green hue). The zirconium oxide selected by Girard-Perregaux is composed of an extremely fine powder, made of micro-beads, each measuring mere fractions of a micron in diameter (1 micron(-)= 0.01mm). By using this specific grade of micro-bead, the structure of the bracelet and case exhibit a notably homogenous appearance. This latter attribute allows the craftspeople at Girard-Perregaux to finish the ceramic components with a combination of polished and satin finished surfaces, an endearing characteristic common to all Laureato models.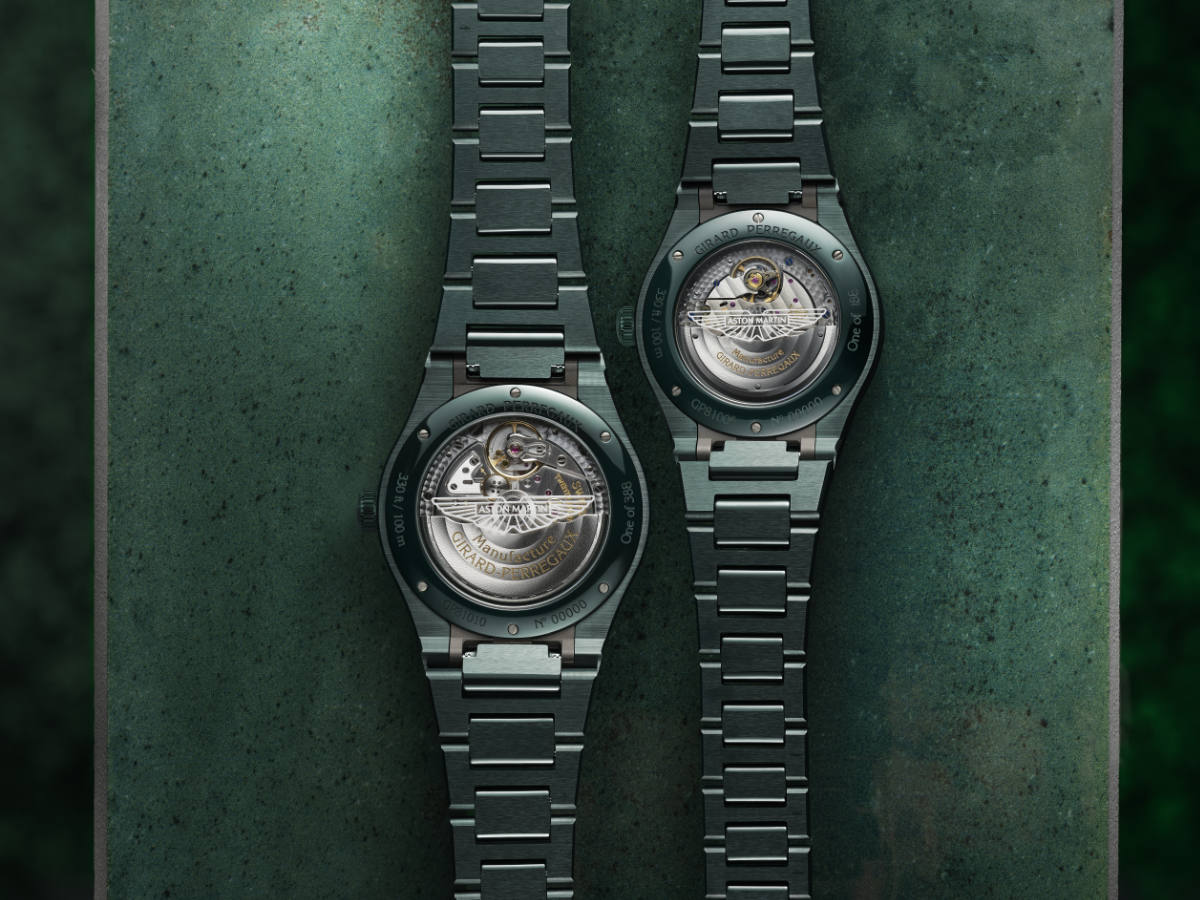 The green ceramic components are particularly hard, up to seven times harder than steel, delivering incredible scratch resistance, a quality that will ensure the watch retains its showroom-fresh appearance for years to come. Another attribute of the green ceramic components is that they will never age or fade with the passage of time. Furthermore, ceramic is unaffected by changes in ambient temperature, it's light, hypoallergenic and proves remarkably smooth, all factors that deliver extraordinary wearer comfort.
A shared philosophy

Sleek, contemporary and notably elegant, the design of the Laureato Green Ceramic Aston Martin Edition encompasses some elements inspired by Aston Martin cars. Powerful engines, sleek contours and lightweight construction are virtues synonymous with the British firm's products. It is this latter trait which encouraged Girard-Perregaux to equip this new model with skeletonised 'baton' type hour and minute hands, both light and functional. The watch dial is presented in a cross-hatch design, a diamond-like pattern found on the 'AM' logo (1921-1926) as well as the quilted seats found in some of the car marque's high-performance vehicles.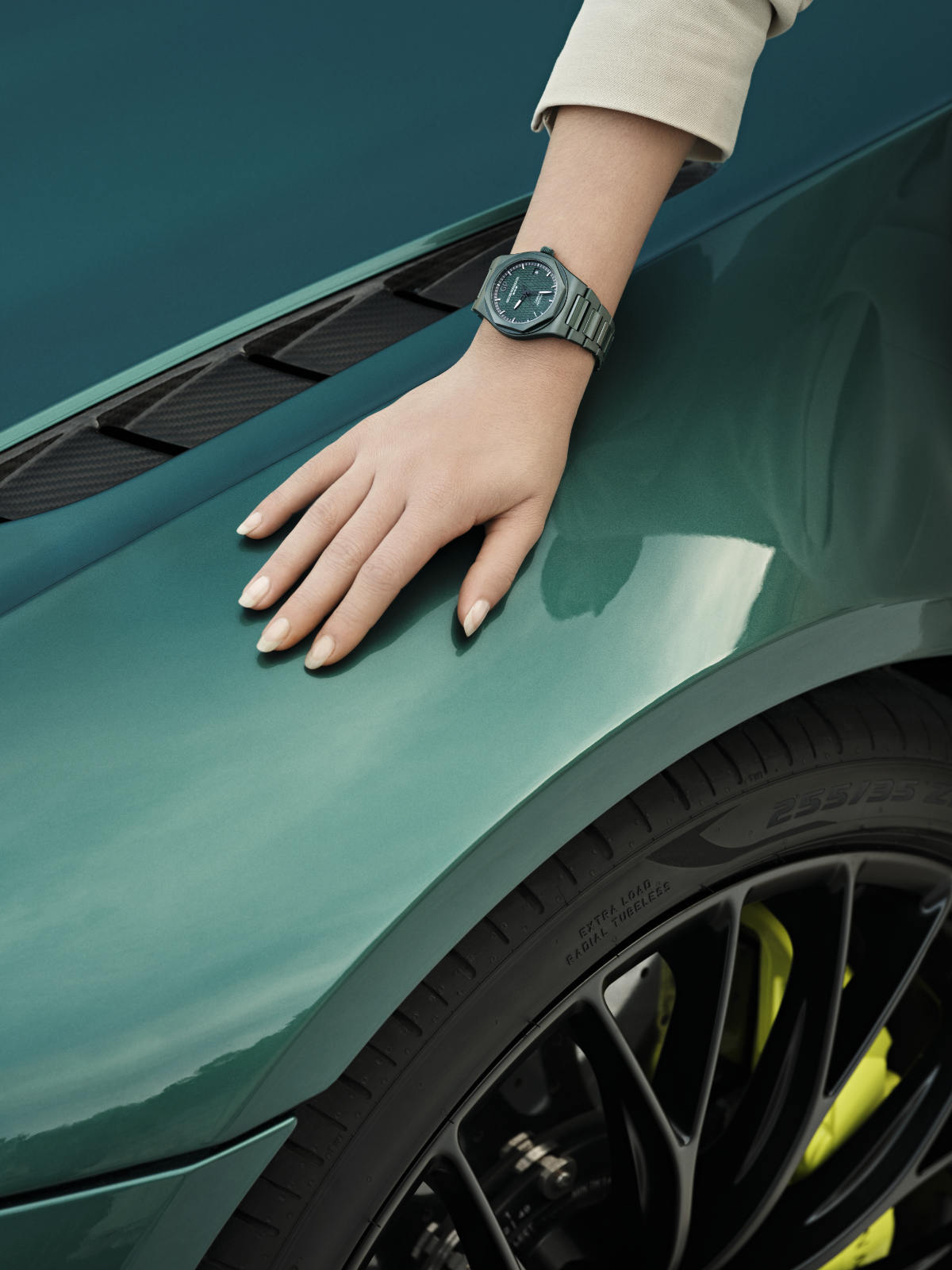 The timeless design of the Laureato has attracted the admiration of enlightened commentators and watch aficionados alike. Likewise, Aston Martin has repeatedly shown its prowess for sculpting iconic shapes that have never lost their eye-appeal. Whether it's a DB4 of the early 60s, a DBS VS of the 70s or a modern-day Vantage, all models share the same attributes of elegance, quality and performance.
Patrick Pruniaux, CEO of Girard-Perregaux, remarked "From the outset, the design of the Laureato was distinctive, yet cohesive. Its styling encompassed geometric, clean-cut lines while exhibiting a slightly gentle character. Contrasting polished and satin finished surfaces, an ergonomic integrated bracelet and, of course, as always, an in-house movement... these are the essential ingredients which have made the Laureato a remarkable success. The same ingredients are much in evidence with the new Laureato Green Ceramic Aston Martin Edition along with the addition of an interesting, highly contemporary material."
Marek Reichman, Executive Vice President and Chief Creative Officer, Aston Martin Lagonda, added: "Our goal was to conceive an advanced luxury product. Patrick and I spent a lot of time talking about the folklore of the Laureato and the design play between shape and proportion of its iconic bezel. When he shared GP's exploration into the optical properties of technical ceramics, micro beads and microns, I became quite enchanted by this idea of the past becoming the future. We're always exploring combinations of technology, colour, and materials in Aston Martin sports cars to enrich performance, functionality and owner enjoyment. Together we've fused these ideas and attributes to generate this cool new Laureato Green Ceramic Aston Martin Edition".


Behind the green

Both versions of the Laureato Green Ceramic Aston Martin Edition are housed in a slender case. The 42mm model is fitted with the Calibre GP01800, while the 38mm version is equipped with the Calibre GP03300. Both in-house movements are self-winding and can be admired though a see-through case­ back, personalised with the Aston Martin logo.
Consistent with the Maison's reputation for making wonderful expressions of Haute Horlogerie, each movement is beautifully appointed. Circular graining features on the main plate, while other components are endowed with bevelling, mirror-polishing, satin finish, snailing, sunray finish and various engravings. The bridges are decorated with straight Cotes de Geneve and the oscillating weight is embellished with circular Cotes de Geneve. Lastly, the movements have a power reserve of at least 46 hours (38mm) and 54 hours (42mm).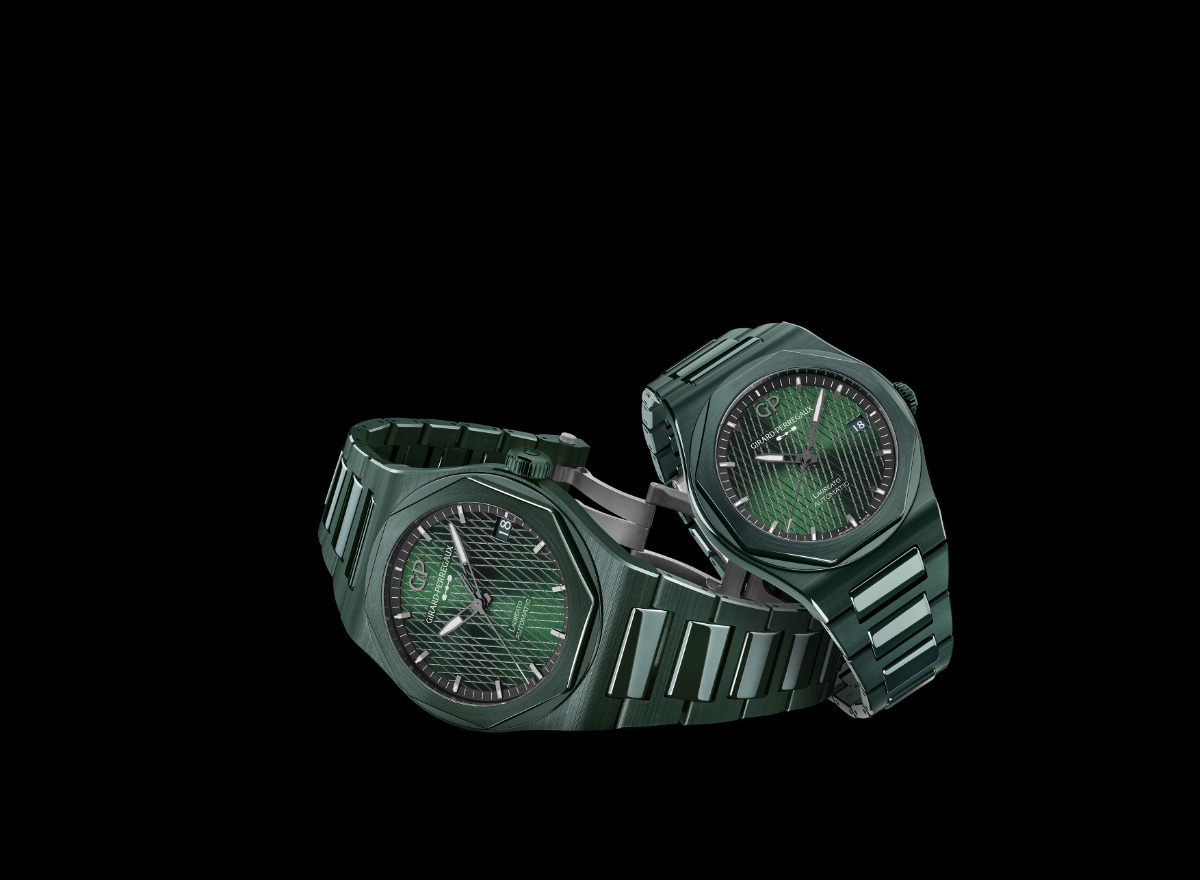 The Laureato Green Ceramic Aston Martin Edition (42 mm & 38 mm) will go on sale in June 2023 and will be available worldwide in selected Girard-Perregaux retailers.
Technical specification

LAUREATO 42 MM Green Ceramic Aston Martin Edition

Reference: 81010-32-3081-lCX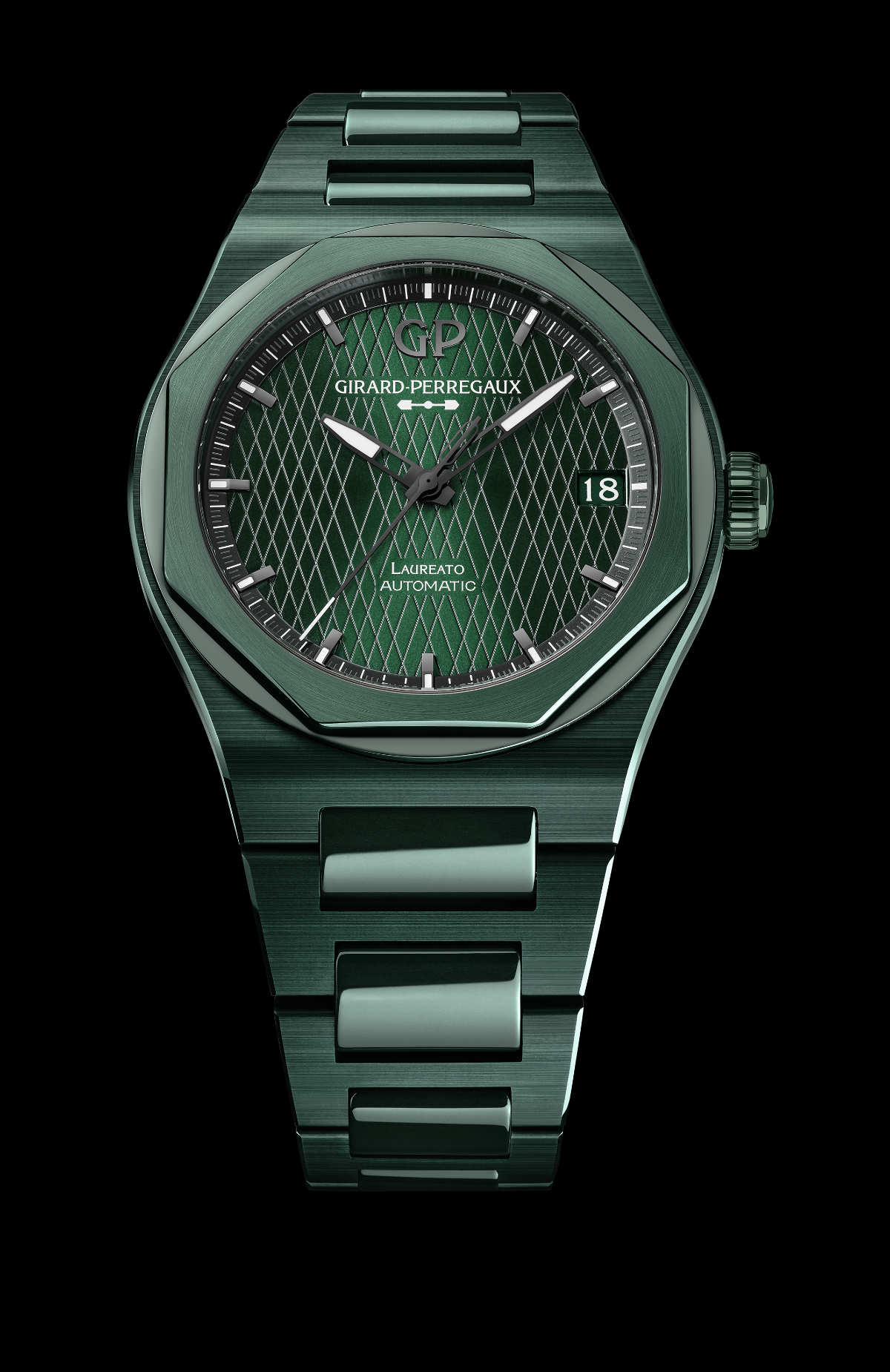 Suggested Retail Price*: GBP 19'900 / CHF 24,600 / USO 25'800 / EUR 25'900 Limited edition of 388 pieces, not numbered (one of 388)
Case
Material: green ceramic, polished and satin finished Diameter: 42.00 mm
Height: 11.08 mm
Glass: anti-reflective sapphire crystal
Case-back: sapphire crystal with white Aston Martin decal
Dial: sunray green with cross-hatching, 'baton' type rhodium-plated indexes with luminescent material (green emission)
Hands: skeletonised 'baton' type hour and minute
hands with luminescent material (white emission), central second hand with white lacquered tip
Water resistance: 100 metres (10 ATM)
Movement
Reference: GP01800-2165
Self-winding mechanical movement Diameter: 30.00 mm (13114"')
Height: 3.97 mm
Frequency: 28,800 Vib/h - (4Hz) Number of components: 191 Number of jewels: 28
Power reserve: min 54 hours
Functions: Hours, minutes, central seconds, date
Bracelet
Material: green ceramic, polished and satin finished
LAUREATO 38 MM Green Ceramic Aston Martin Edition

Reference: 81005-32-3080-lCX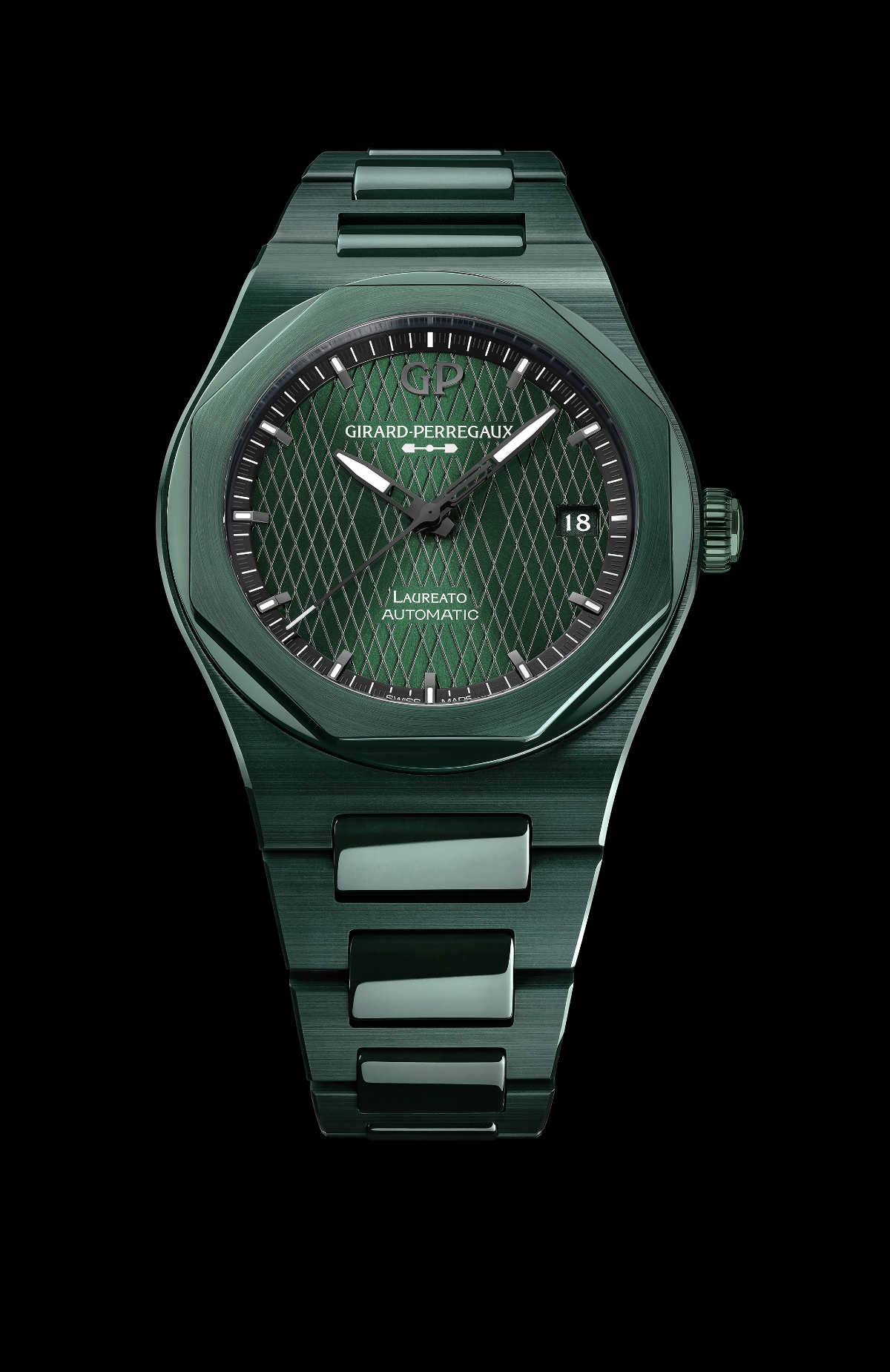 Suggested Retail Price*: GBP 19'300 / CHF 23,800 / USO 25'000 / EUR 25'000 Limited edition of 188 pieces, not numbered (one of 188)
Case
Material: green ceramic, polished and satin finished Diameter: 38.00 mm
Height: 10.27 mm
Glass: anti-reflective sapphire crystal
Case-back: sapphire crystal with white Aston Martin decal
Dial: sunray green with cross-hatching, 'baton' type rhodium-plated indexes with luminescent material (green emission)
Hands: skeletonised 'baton' type hour and minute
hands with luminescent material (white emission), central second hand with white lacquered tip
Water resistance: 100 metres (10 ATM)
Movement
Reference: GP03300-2166
Self-winding mechanical movement Diameter: 25.95 mm (11112'")
Height: 3.36 mm
Frequency: 28,800 Vib/h - (4Hz) Number of components: 218 Number of jewels: 27
Power reserve: min 46 hours
Functions: Hours, minutes, central seconds, date
Bracelet
Material: green ceramic, polished and satin finished
*Final prices subject to currency adjustments until the launch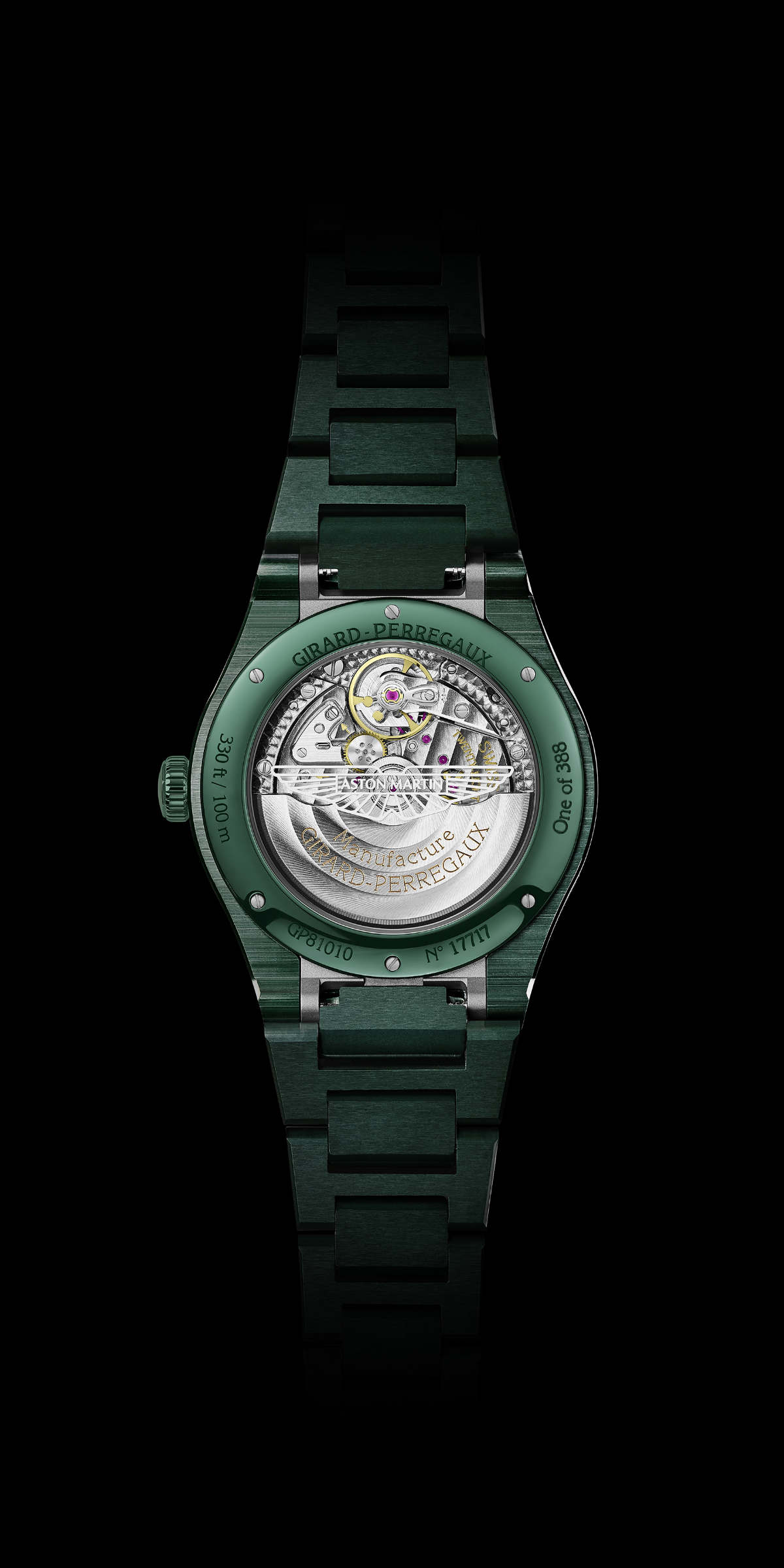 ---