---
Carl F. Bucherer Unveils A Stunning, Colorful Lineup Of Five New 40 MM Manero Flyback Watches
Luxferity, 01.09.2022
When it was first launched in 2016, Carl F. Bucherer's Manero Flyback enjoyed immediate global market success. The chronograph, in a range of colors, is a seamless blend of classic watch design and contemporary style. And now, the Lucerne-based brand has announced the Manero Flyback story's next chapter, which perfectly complements the current collection. These 40 mm timepieces have intriguing subdials and matching and sustainable textile straps, and are offered in five different colors: blue, green, red, white, and black. They are the ideal travel companions for anyone who prefers the road less taken, like, for example, Hannes Becker. Carl F. Bucherer charged the renowned nature photographer to capture the essence of each of the five colors of these new watches in a relaxing and calming setting – in Switzerland. The German photographer's pictures are inspired by the impressive natural colors that are unveiled every day in the breathtaking Swiss landscape.

Timeless elegance and a distinctive flair for color

Carl F. Bucherer introduced the first model of its popular Manero Flyback collection – a version with a 43 mm stainless steel case on a black leather strap – some six years ago. The response was so positive that the brand has regularly expanded the collection ever since. The prestige watch manufacturer is now introducing the complimentary new Manero Flyback 40 mm line. Like their larger cousins, these watches are synonymous with timeless elegance, but they have a distinctive flair for color that sets them apart from the rest of the collection. And each one is presented on a sustainable textile strap whose color matches that of the subdial.
Created for mindful individuals

Carl F. Bucherer's CMO, Uwe Liebminger, says that the new timepieces will attract cosmopolitan men and women who are ever-mindful of the world around them. He says: "The 43 mm Manero Flyback was a tremendous success. Listening to our global clientele – men and women – we decided to launch a complementary 40 mm version. It's a perfect way to engage with a younger, cooler audience with a conscious mindset who love minimalism with a great design. The collection resonates with what our young audience expects from a contemporary timepiece and an equally modern watchmaker."
What color inspires you?

Each of the five new Manero Flyback watches seems to ask, "What color inspires you?" To help answer that question, Carl F. Bucherer partnered with nature photographer Hannes Becker, who created striking landscapes that represent each of the five colors in the brand's new 40 mm collection.
Hannes Becker was intrigued by the project. He says: "When Carl F. Bucherer invited me to photograph Switzerland's beauty in colors that would complement the new Manero Flyback, I was thrilled by the opportunity. 'Swissness' is an essential part of the brand's identity, and with that in mind, it was an interesting challenge to take inspiration directly from Swiss nature."
The colors that inspired the photographer include the green of the rolling fields of the Emmental, the deep red of the impressive mountain range of the Berner Oberland before dusk, the changing shades of blue of Lake Lucerne (Vierwaldstättersee), the black and dramatic rock surface of the Grimselregion, and the eternal whiteness of the Aletsch glacier.
Uwe Liebminger and his Carl F. Bucherer team are thrilled with the results. He says: "It was a conscious decision to stay in Switzerland in order to keep the carbon footprint at a minimum. Hannes Becker is a young and extremely talented guy with an impressive attitude. He's well-travelled and his work and achievements are amazing, all of which makes him a perfect match for our brand, particularly in the context of the Manero Flyback 40 mm launch."
Exuberant green, blue, and red

The Manero Flyback in green reflects the explosion of green you might experience as you hike through the rolling hills in the countryside in spring. Its white dial has a sunraybrushed surface with boldly contrasting green subdials. It is presented on a sustainable textile strap whose color perfectly matches that of the subdials.
The Manero Flyback in blue suggests an expansive blue sky overhead as you recharge next to a peaceful lake in a mountain valley. Its blue subdials against the sunray-brushed white dial are complemented by the watch's sustainable blue textile strap.
The Manero Flyback in red recalls the stunning hues of the burning desert sands beneath your hiking boots as you walk toward a seductive crimson sunset at the end of a perfect day. Its dark red subdials against the striking sunray-brushed white dial match the timepiece's sustainable red textile strap.
Black and white: a shared expression of shadow and light

The last two versions are the ultimate shared expression of shadow and light. These watches are the yin and yang of the collection, each in its own way a flawless manifestation of timeless classic watchmaking. The Manero Flyback in white has a white sunraybrushed dial, white subdials, and a sustainable white textile strap. Gold-plated wedge indexes and hands add a touch of luxury and distinction. Its counterpart, the Manero Flyback in black, has a black dial, black subdials, and a sustainable black textile strap and it is also distinguished by its gold-plated wedge indexes and hands. Asked about which color gets him going, photographer Hannes Becker says: "That is a hard question to answer. Each color represents another element to me, shares a different story, and I'd say gives me a different reaction. I don't think I could choose a favorite among them, but I can say that I find the one in black very trendy and cool."
Superb chronograph performance Each of the five timepieces in the new Manero Flyback collection is powered by a CFB 1973 caliber, a fine automatic mechanical movement that delivers 56 hours of power reserve. Along with central hour, minute, and chronograph seconds hands, the dial features a date aperture at 6 o'clock. The chronograph counter and small seconds subdials complete the picture. The watches are presented on textile straps with a quick release system, which are made of recycled materials (vegan) and feature a stainless steel pinlock folding clasp.
A watch for all your journeys

Like you, the watches in the new Manero Flyback collection move effortlessly between the daytime and the night. Between the city and the country. Between work and play. In short, we created the Carl F. Bucherer Manero Flyback 40 mm with you and all of your journeys in mind.
What color inspires you?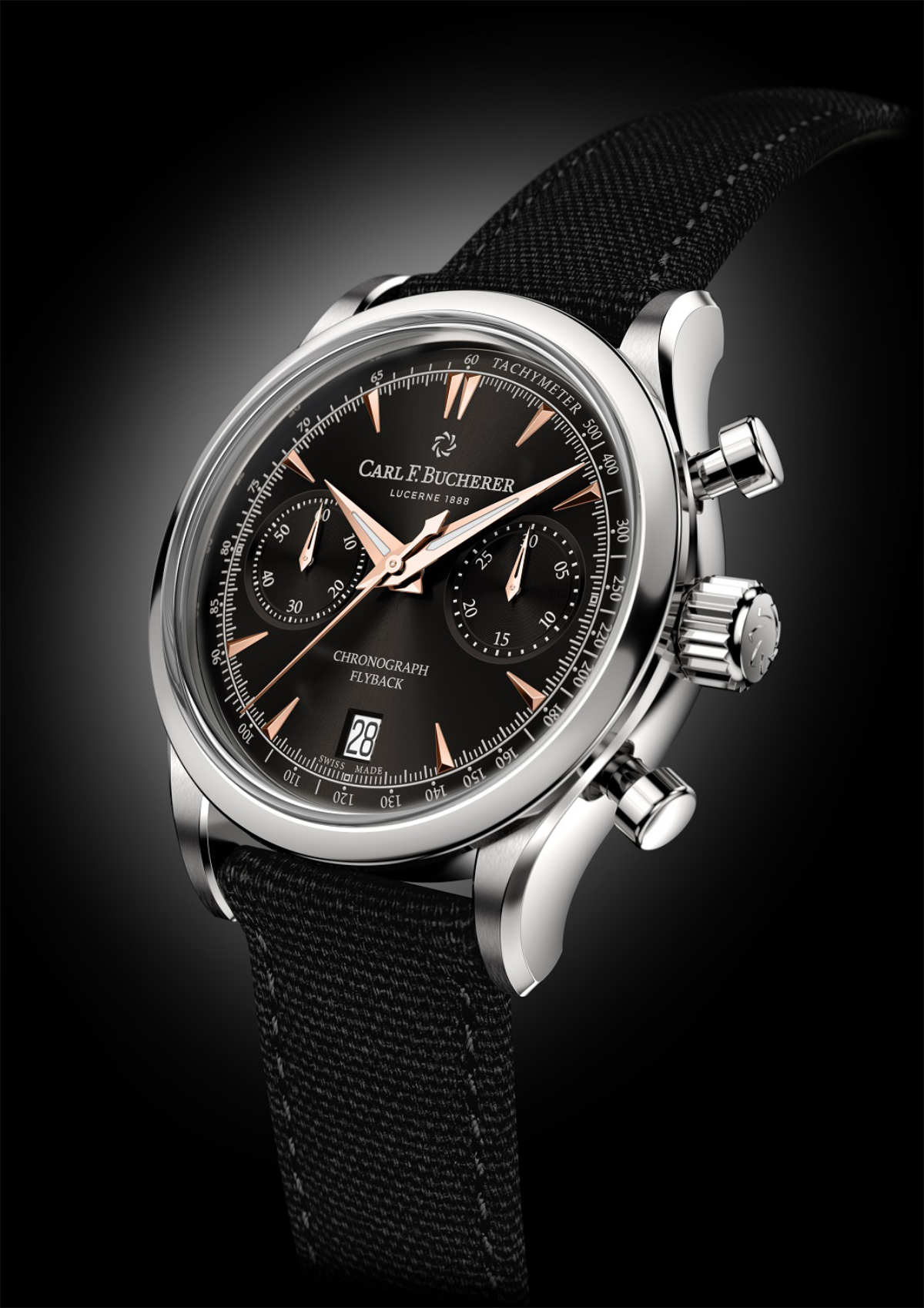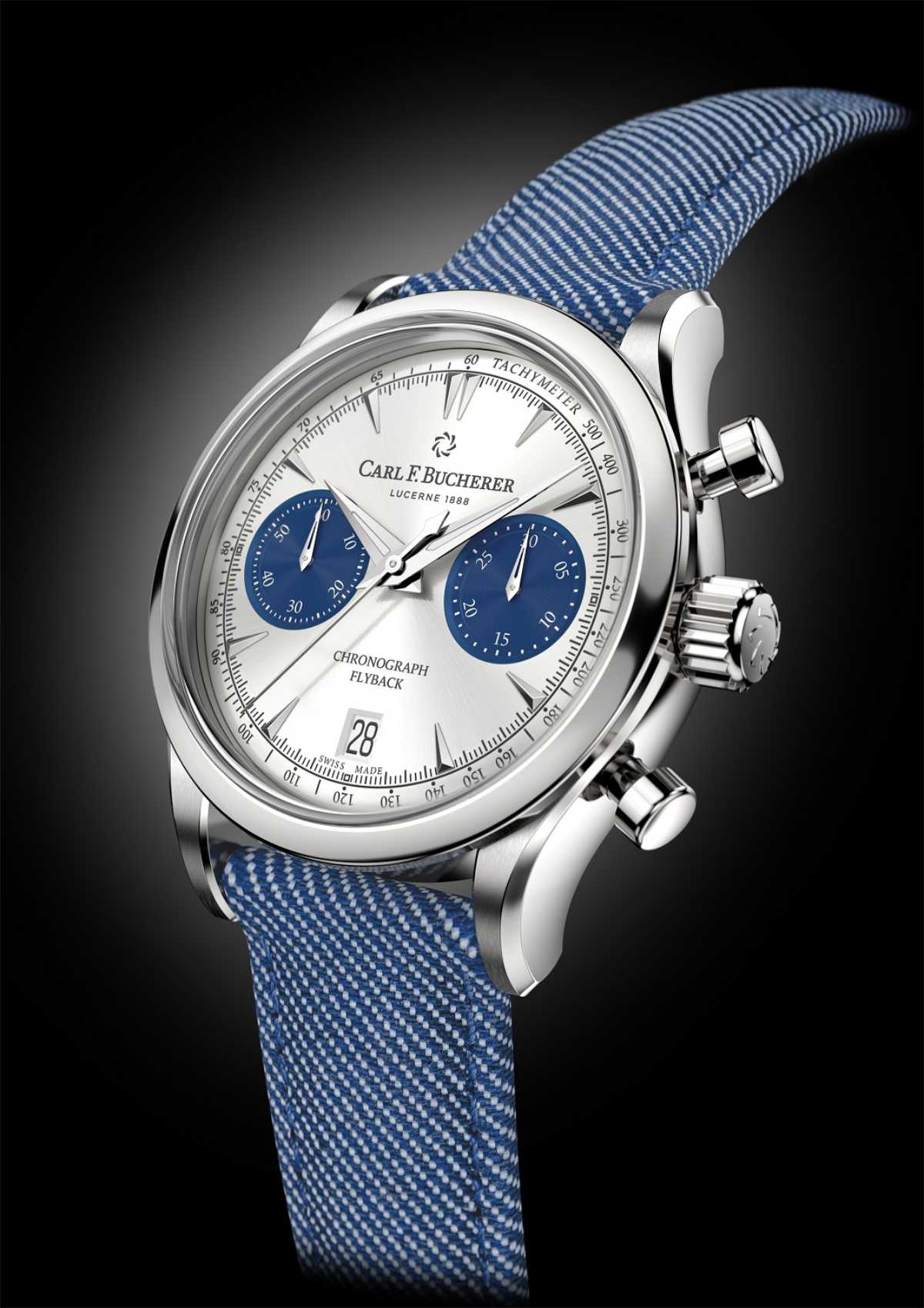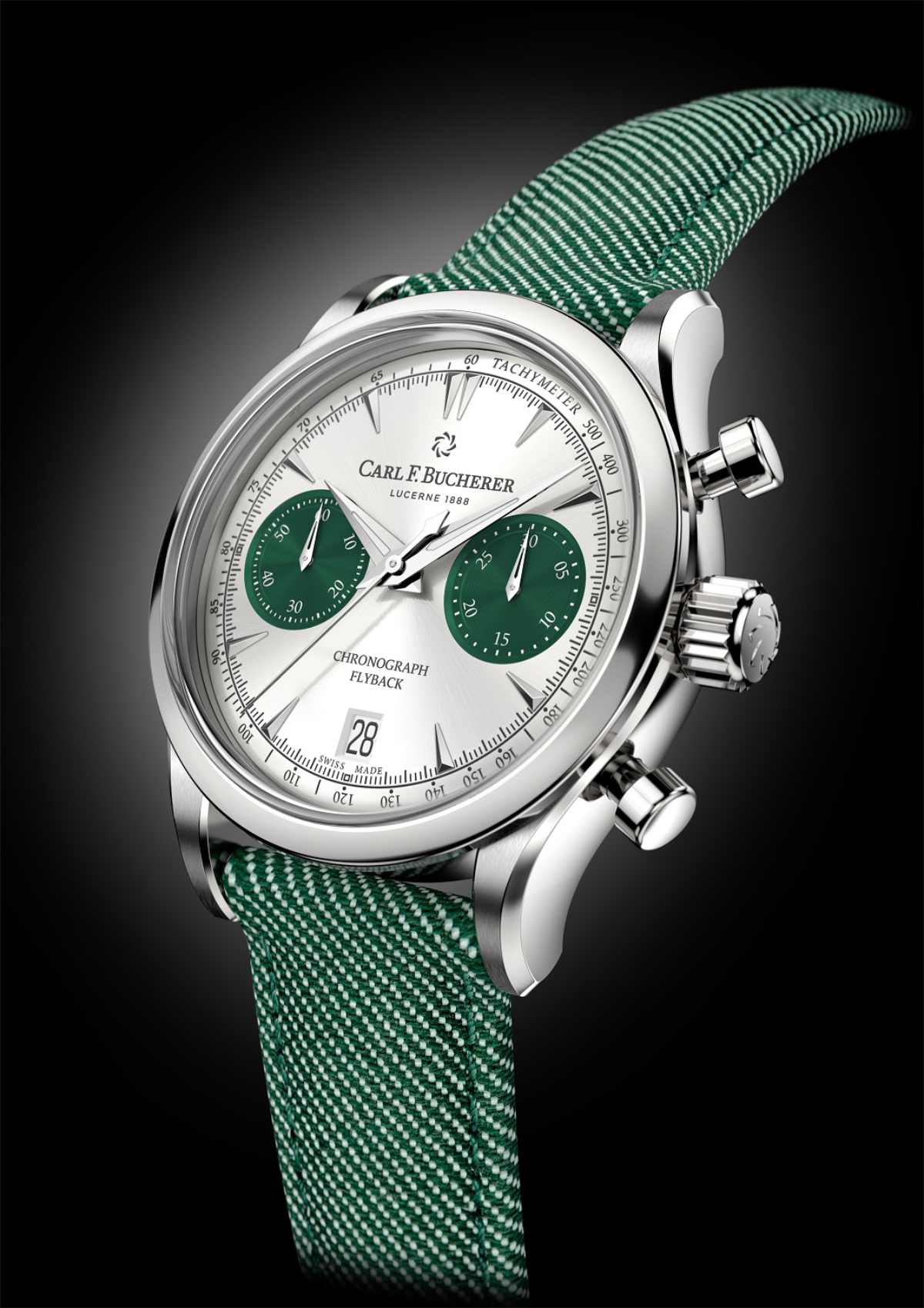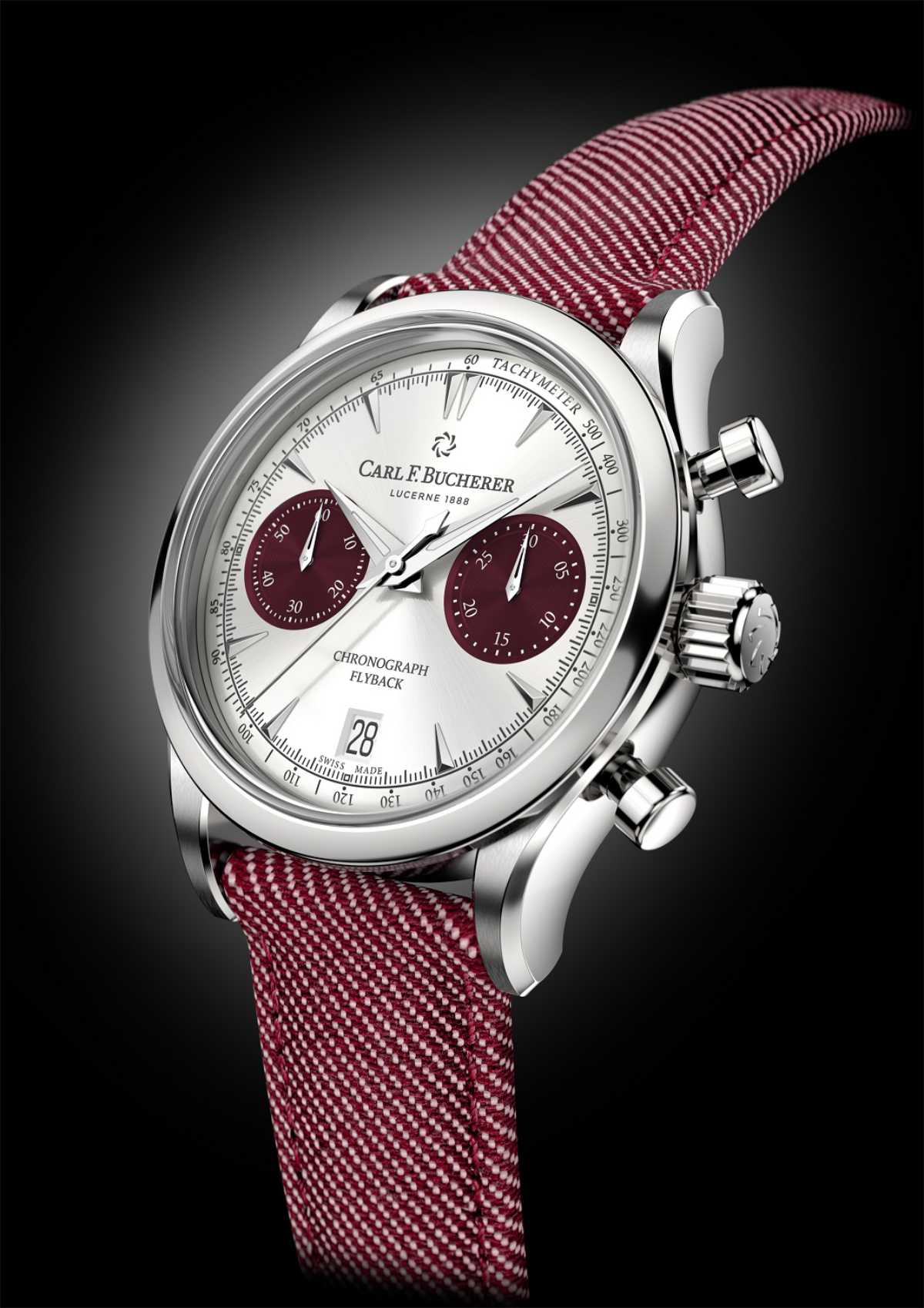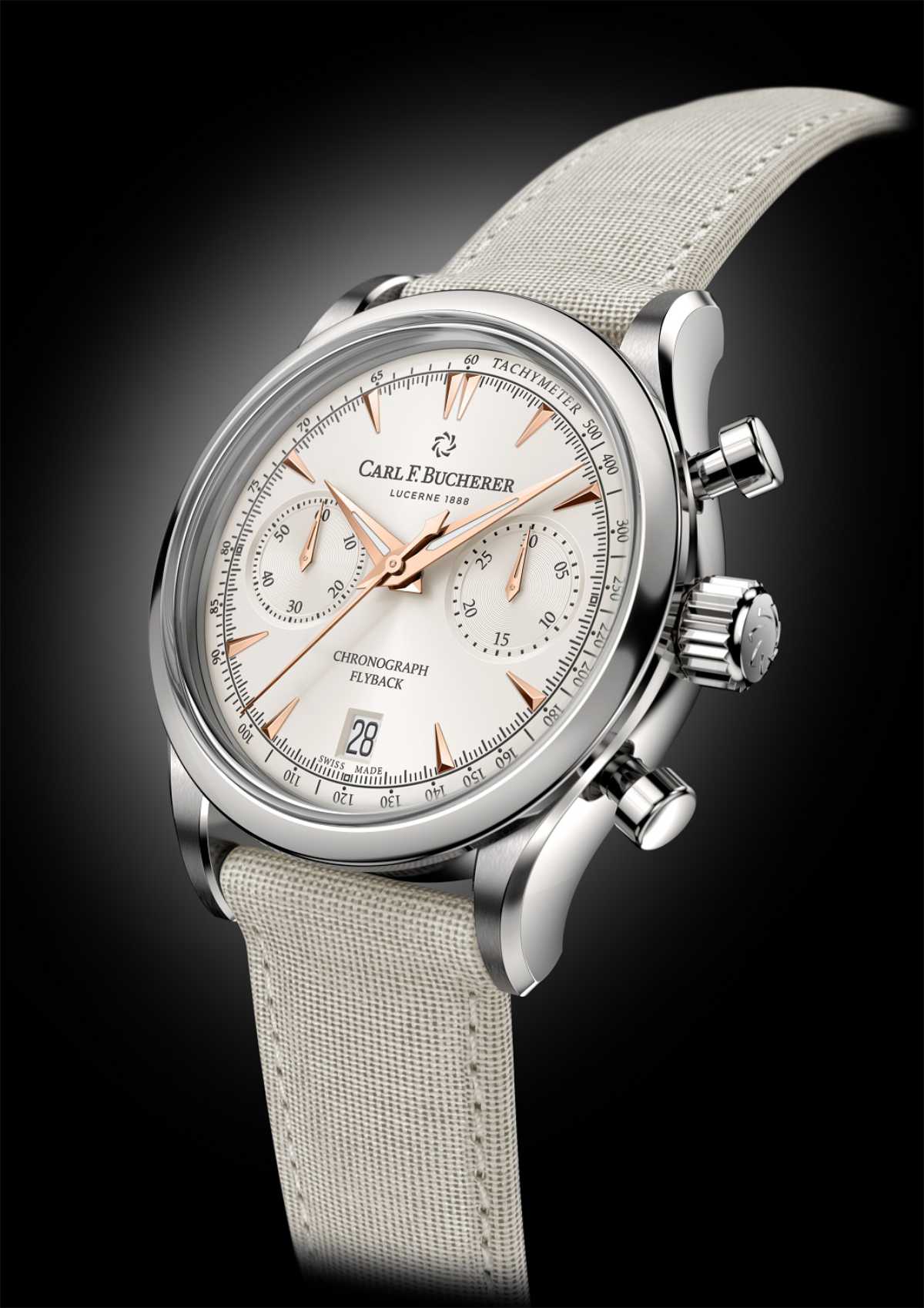 Facts and Figures: Carl F. Bucherer Manero Flyback 40 mm

Reference: 00.10927.08.13.01, 00.10927.08.13.02, 00.10927.08.13.03, 00.10927.08.13.04, 00.10927.08.33.01
Movement: Automatic, CFB 1973, diameter 30.40 mm, height 7.9 mm, 29 jewels, power reserve 56 hours
Functions: Chronograph with minute and seconds counters, flyback, tachymeter, date, hour, minute, small seconds
Case: Stainless steel, double-domed sapphire crystal with anti-reflective coating on one side, caseback with sapphire crystal, water-resistant to 3 bar (30 m), diameter 40 mm, height 14.45 mm
Dial: Silver color with red, blue, or green counters, silver-white or black, sunray brushed, wedge index marks in rhodium or rose gold color, wedge hands with SLN
Strap: Textile strap made of recycled materials (vegan) with quick release system, stainless steel pin-lock folding clasp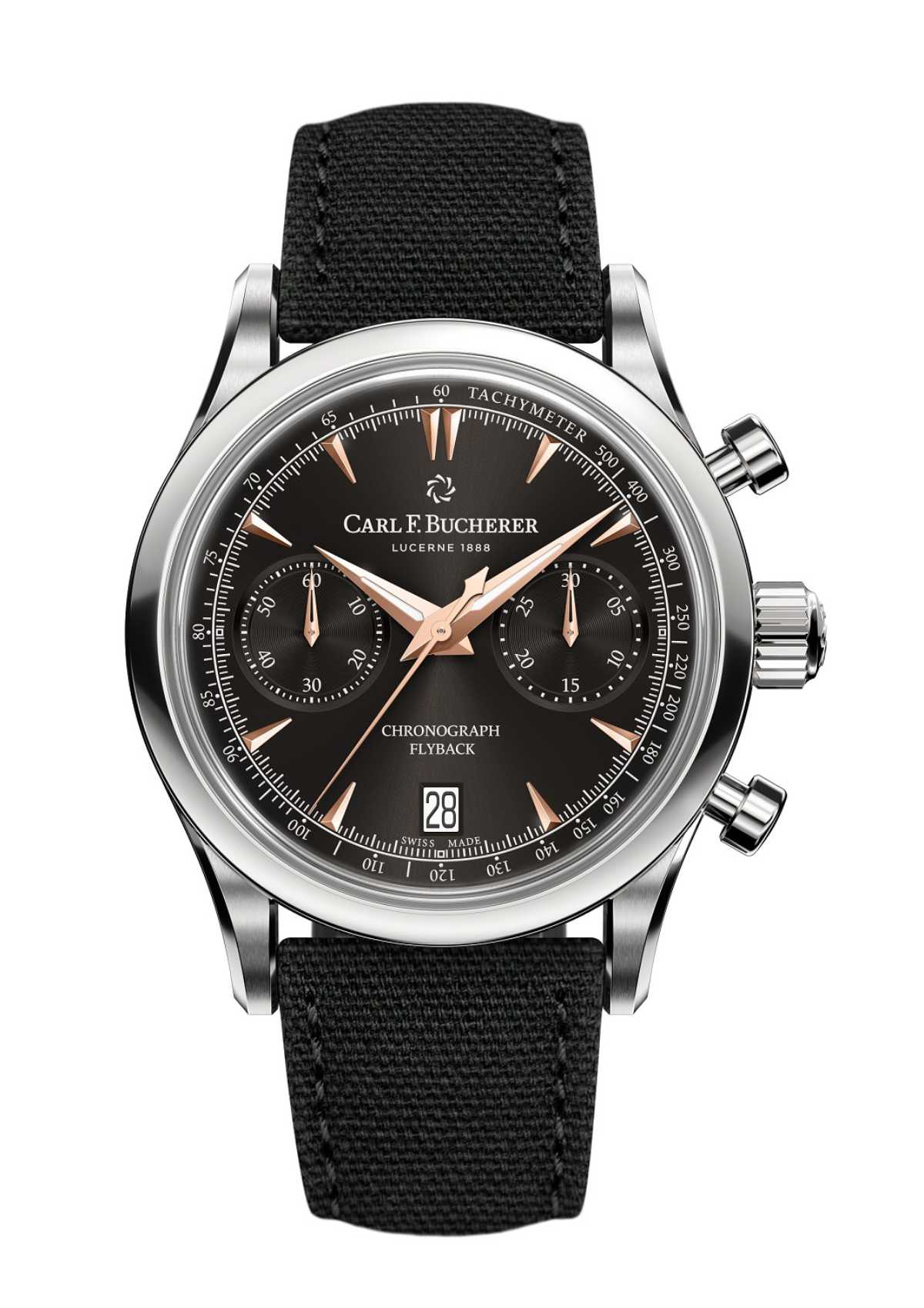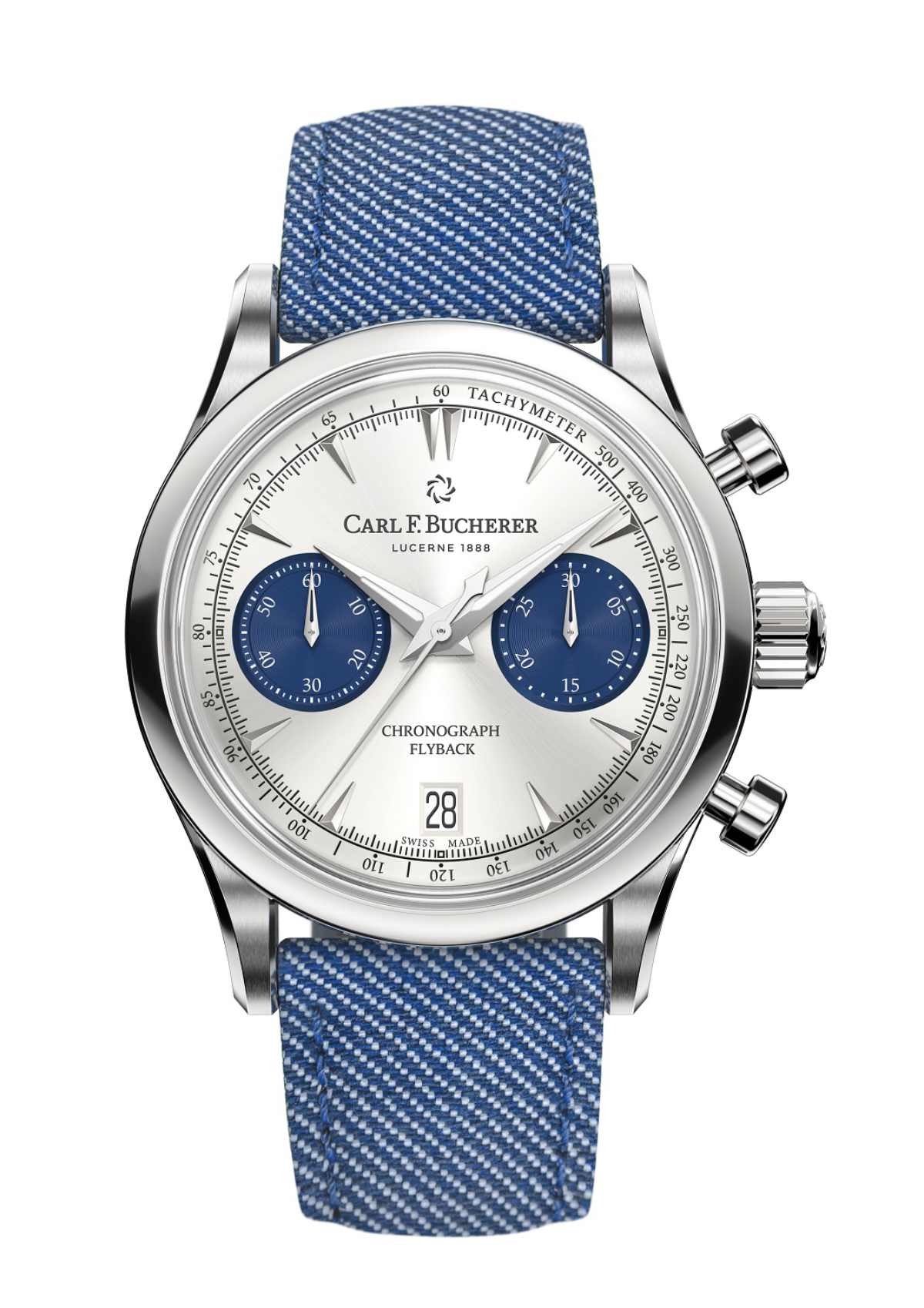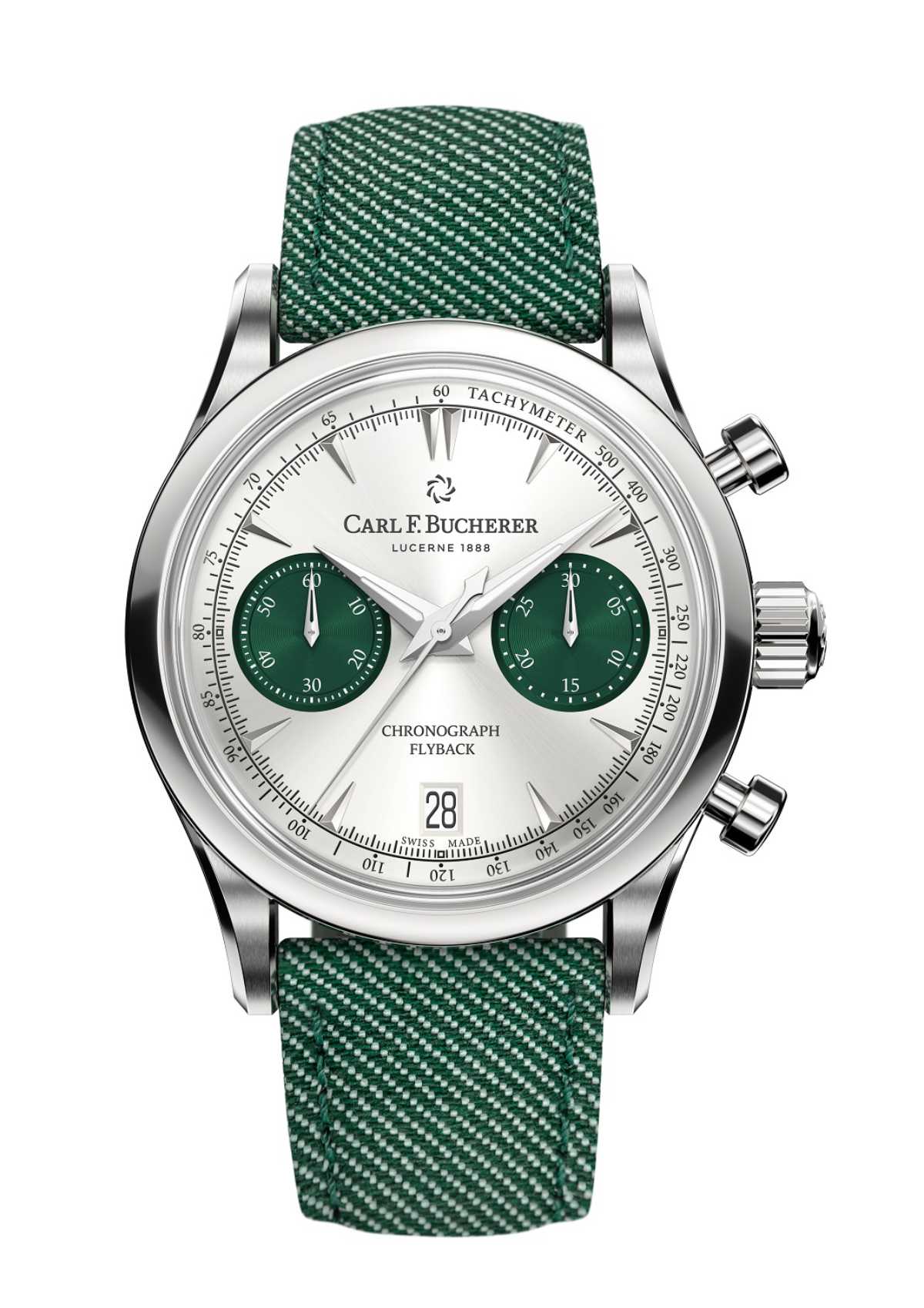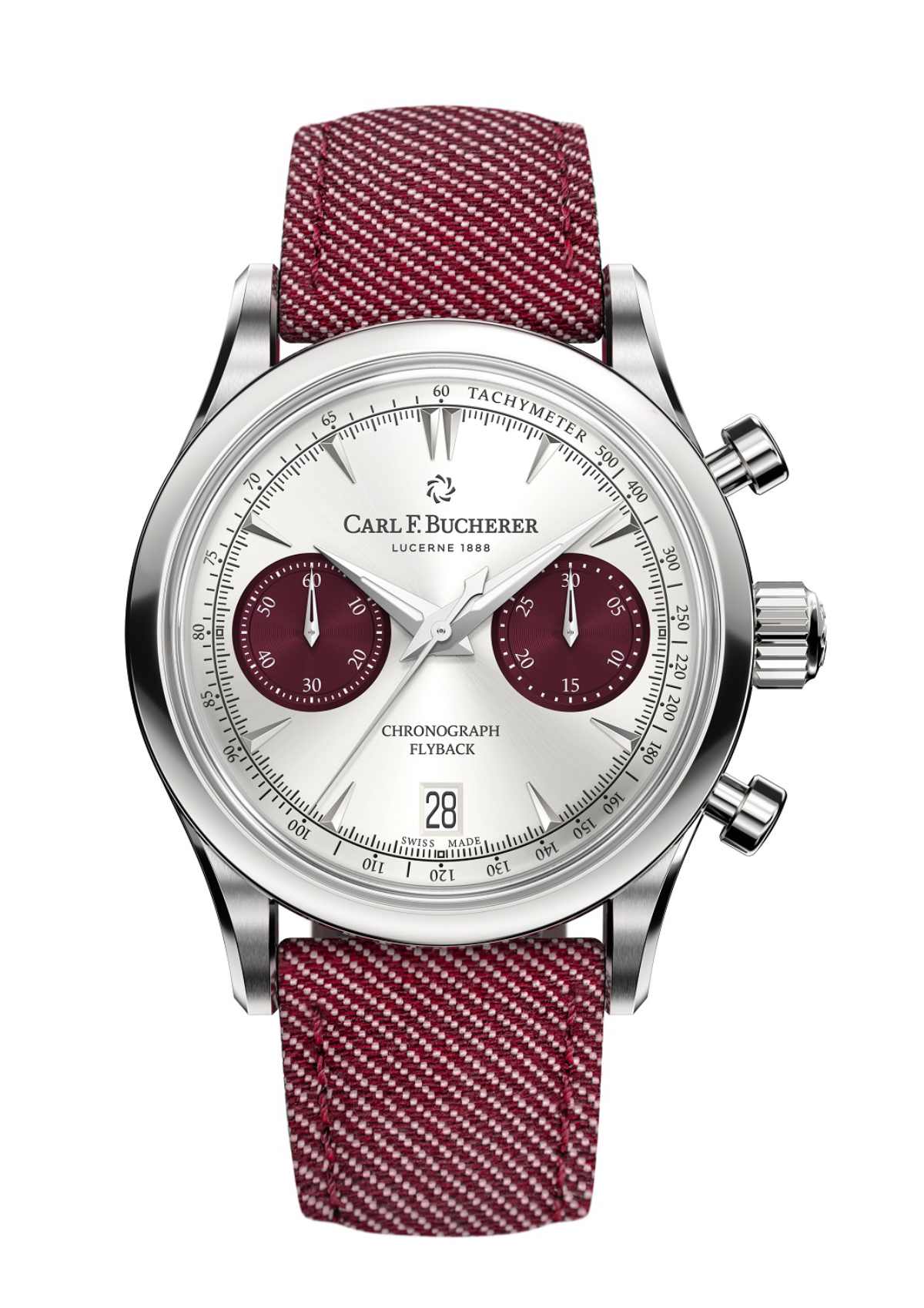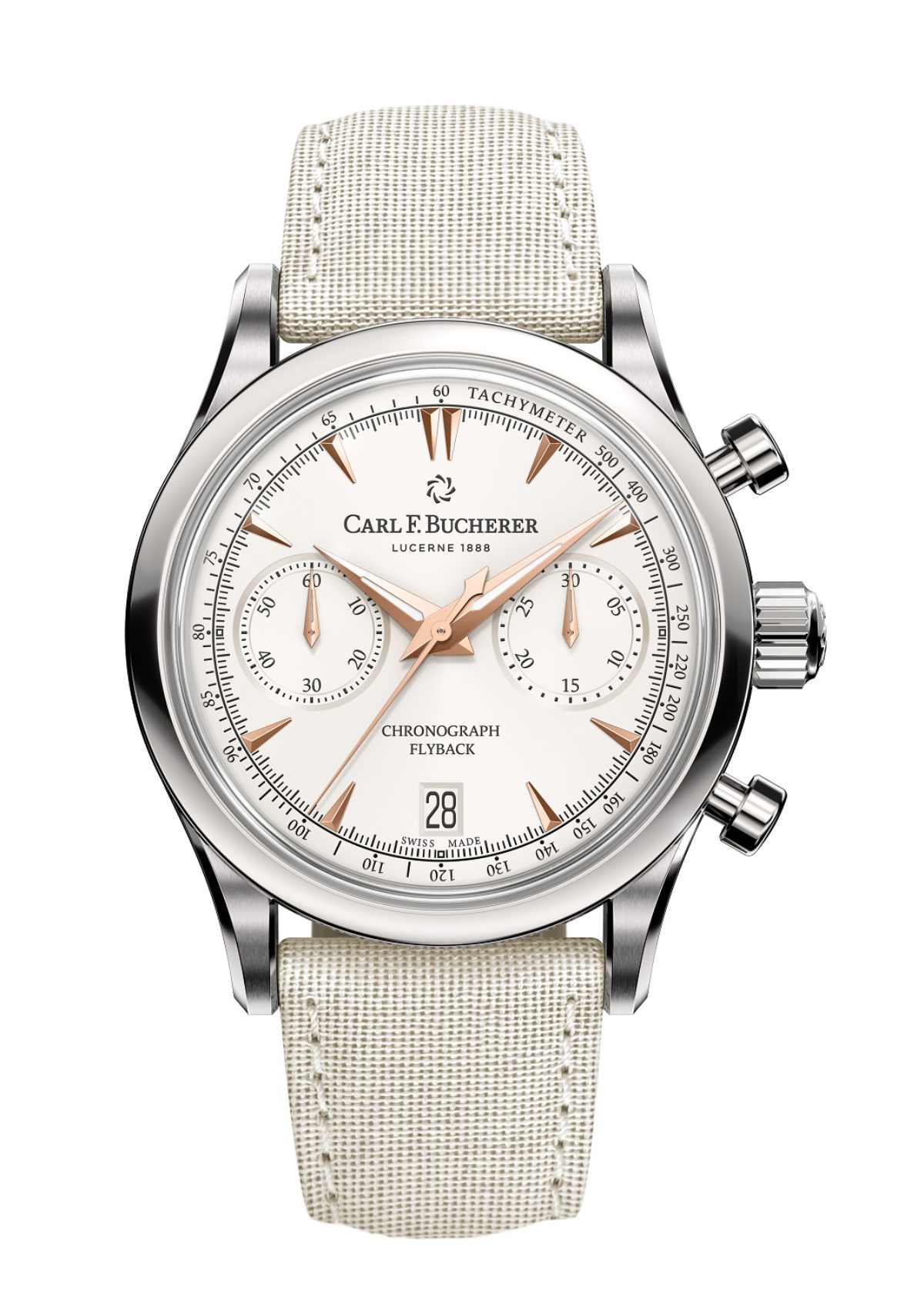 Hannes Becker: short biography

Hannes Becker is a freelance photographer who specializes in the adventure and landscape niche. Having grown up in rural Germany, his photography style was influenced by his surroundings early on. These days, he is inspired by Germany's wild north, and is often drawn to faraway places. To inspire the viewer and showcase his experiences in a realistic manner, he not only documents his travels, but makes part of his personal interpretation come to life within his photographs by emphasizing composition and lighting.
Hannes Becker/@Hannes_Becker
About Carl F. Bucherer

Carl F. Bucherer has been synonymous with excellence, innovation, and passion since 1888. The Swiss company has become an internationally renowned global brand with a presence throughout the world, characterized by its founder's pioneering spirit and the cosmopolitan esprit of its home city of Lucerne. Carl F. Bucherer is one of the few remaining independent family-owned Swiss watch manufacturers and is now headed in the third generation by Jörg G. Bucherer.
The contemporary timepieces produced by Carl F. Bucherer combine unique design with the utmost precision and outstanding functionality. Committed to technical innovation, Carl F. Bucherer is the market leader in peripheral technology and has patented not only a peripheral winding system but also a "floating tourbillon" in a peripherally supported cage and a peripherally mounted minute repeater regulator.
Carl F. Bucherer – Rooted in the heart of Switzerland but at home everywhere in the world
---