Moët & Chandon Captures The Story Of The Year 2013 In Its Grand Vintage 2013
Luxferity, 09.06.2021
The Champagne House releases two splendid vintages, in the nuances of golden autumn, remarkably mature yet chiseled and energetic.

Moët & Chandon is proud to unveil its Grand Vintage 2013, the House's 75th vintage made from grapes harvested in the autumn of 2013 and blended to capture the splendid maturity of its latest harvest in 30 years. Autumnal aromas, an energetic balance and a chiseled structure characterize the Grand Vintage 2013. Together with the Grand Vintage Rosé 2013, the House's 44th rosé vintage, these splendid wines embody the House's winemaking excellence that has produced spectacular vintages matured for 7 years in the House cellars.
WHAT IS A MOËT & CHANDON GRAND VINTAGE?

Every Moët & Chandon Grand Vintage tells the singular story of a specific year. A Grand Vintage is a true original, created around the Chef de Cave's freedom of interpretation, from a selection of a single year's most remarkable wines. Since 1842, when Moët & Chandon Grand Vintage champagnes were first created to meet the demands of British and American connoisseurs for more mature wines, each vintage has reflected the Cellar Master's subjective and emotional assessment of the personality and potential of each grape variety, and his respect for the individuality of each vintage in a given year.
"Creating a blend for a Grand Vintage at Moët & Chandon is like working with photo negatives: you can see shapes and contours, you may be confident in the result, but you cannot be certain what the photo will look like until after you have developed it," says Benoît Gouez, Chef de Cave at Moët & Chandon.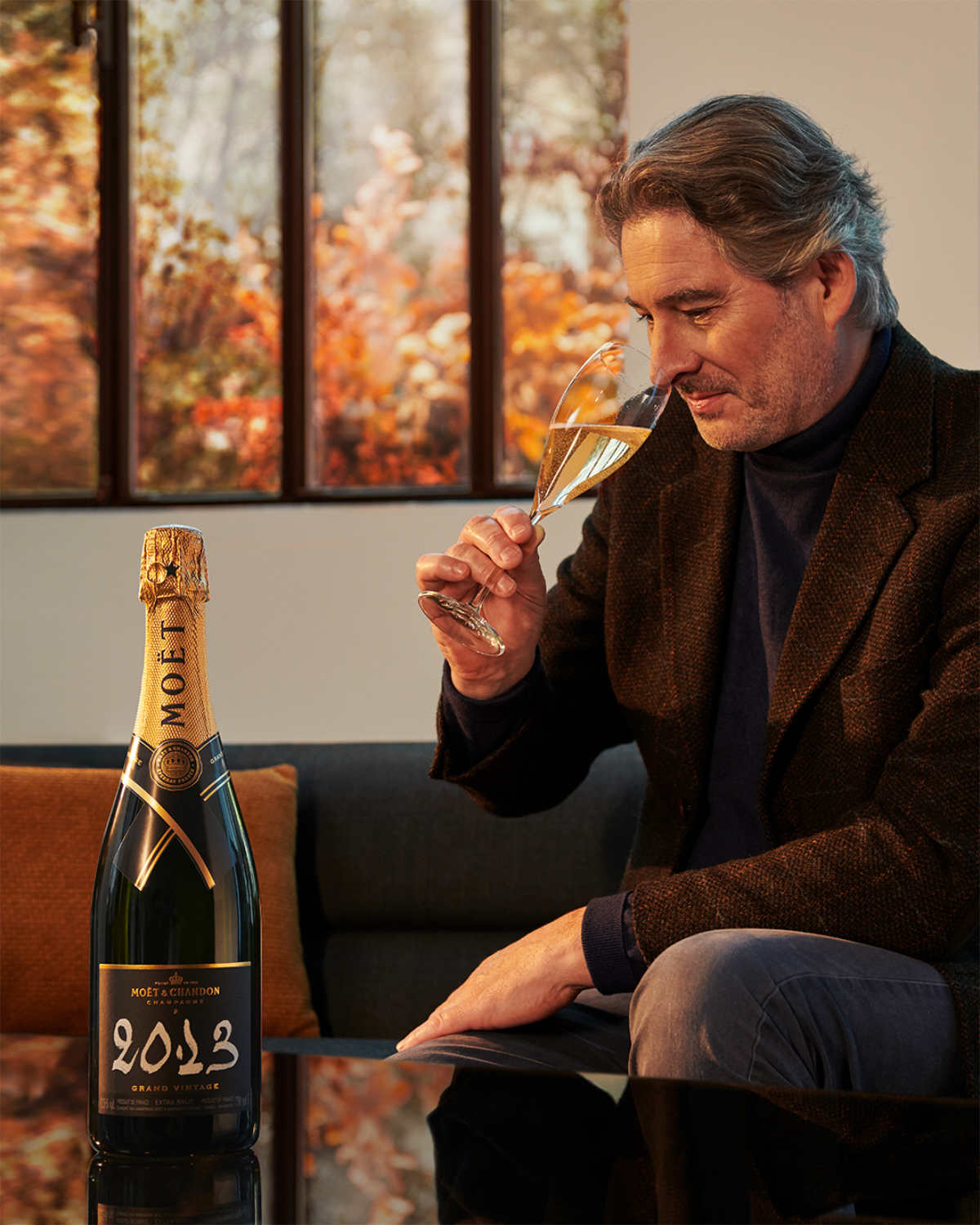 THROWBACK TO THE CONDITIONS OF 2013

Climate
The year 2013 was distinctive by its cold winter climate that delayed the growth cycle and resulted in a later than usual October harvest.
Average bud break was dated April 27, unprecedented since 1969. Spring brought moisture and extended cool periods favorable to growth. Flowering, initially disrupted in the earliest plots of chardonnay, took place in early July with the return of good weather, some 20 days later than the 10-year recorded average. In July and August, temperatures were normal to slightly above average, with low rainfall, though hailstorms managed to destroy some 600ha of vines. In those warmer conditions, the delay in ripening was reduced by about 15 days. September was rather cool and, notwithstanding sunny episodes, was rather wet.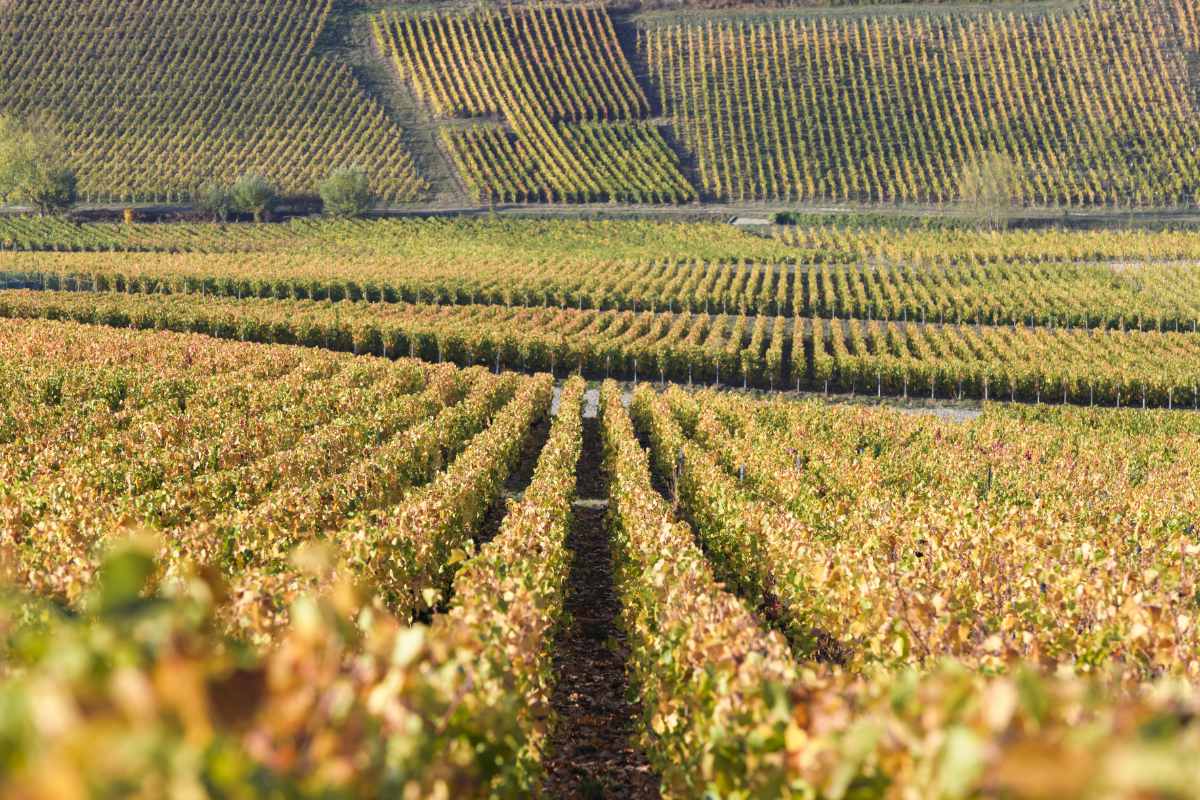 A belated but well-balanced harvest
Breaking a decade-long trend for early harvests, 2013 marked a return to an October harvest unseen since 1991. The challenge for winegrowers was to achieve a maturity that complied with the standards established in Champagne, while also keeping the vines in perfect health just as the days were getting shorter and temperatures were dropping. Though official picking dates in the region ranged from September 24 to October 9, picking on Moët & Chandon's vineyards began later, on September 28, and ended on October 15. For the first 10 days of the harvest, the weather was favorable, dry and relatively mild with cool night. In the sectors concerned, sorting operations slowed down picking. Ultimately, harvests first predicated to be shorter were in fact as long as previous years. The moderate yield (13,000 kg/ha) worked in favor of a good level of maturity.
While picking was difficult in some areas, the musts revealed levels of sugars and acidity that exceeded expectations, confirming the statistics of the harvest. The sugar content (9.9% potential alcohol) was identical to the average for the last 25 harvests, with the Chardonnay (10.4%) riper than the Meunier (9.6%) and the Pinot (9.75), which had a more difficult end-of-ripening period. Today acidity (8.5 g H2SO4/l) was above the ten-year average. Overall, through localized sorting at the time of picking, the health of the grapes was preserved. At the end of the fermentations, comments on the Chardonnay wines were full of praise. The Pinot Noir was found to be complex but with a little less power and substance than usual. The Meunier wines presented more variation. In this context, the House's superb estate, the largest and most prestigious in Champagne, supplemented by the extraordinary diversity of the wines provided by its vineyard partners, enabled the Cellar Master to select wines from three grape varieties whose quality met the requirements for a Grand Vintage.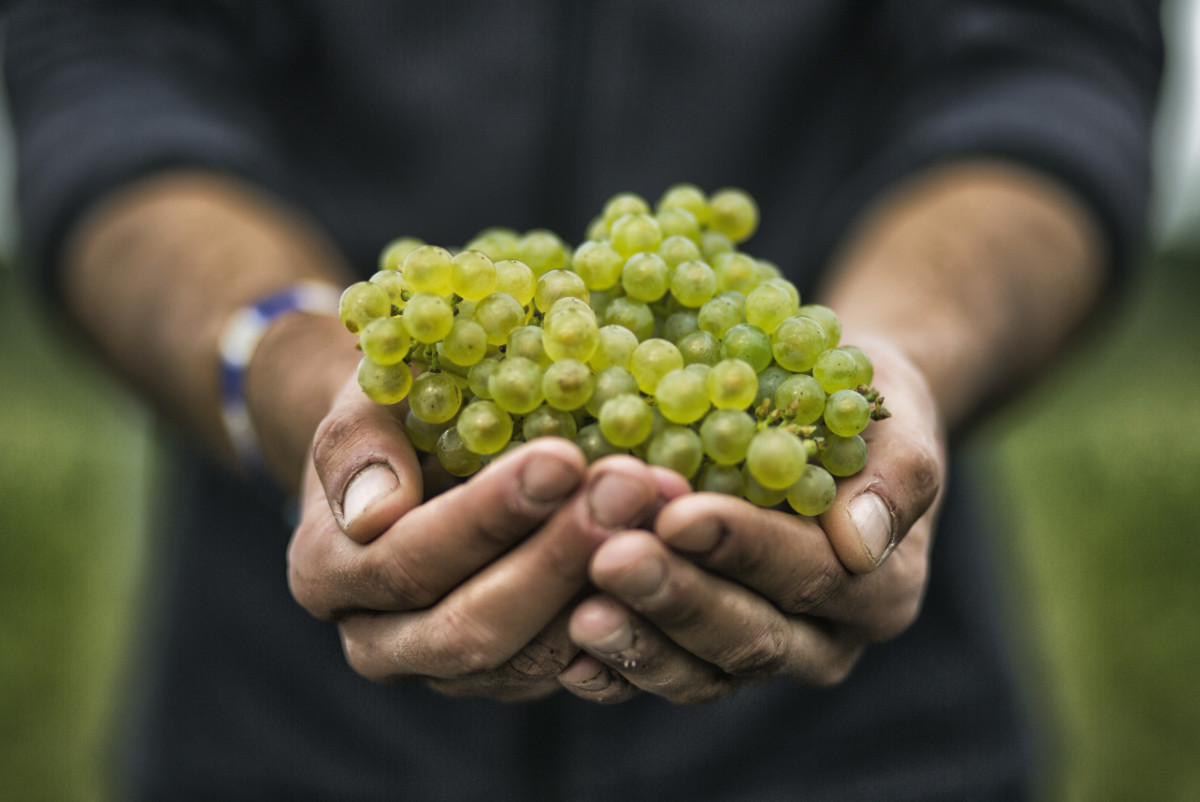 THE BIRTH OF TWO EXCEPTIONAL CHAMPAGNES

The climate in 2013 resulted in a later than usual harvest on Moët & Chandon's vineyards, unprecedented since 1991. A cold and rainy winter, drawn out into a cool spring, extended the growth cycle of the vines, pushing the ripening of grapes beyond a warmer-than-normal summer into early October. By the time the wines were born, all of Champagne was a gleaming shade of gold: the vines were blond and brown, the trees, a burnt sienna, and the hills painted red and orange. Those autumnal images nourished the Cellar Master's imagination as he created Grand Vintage 2013 in the House tasting room.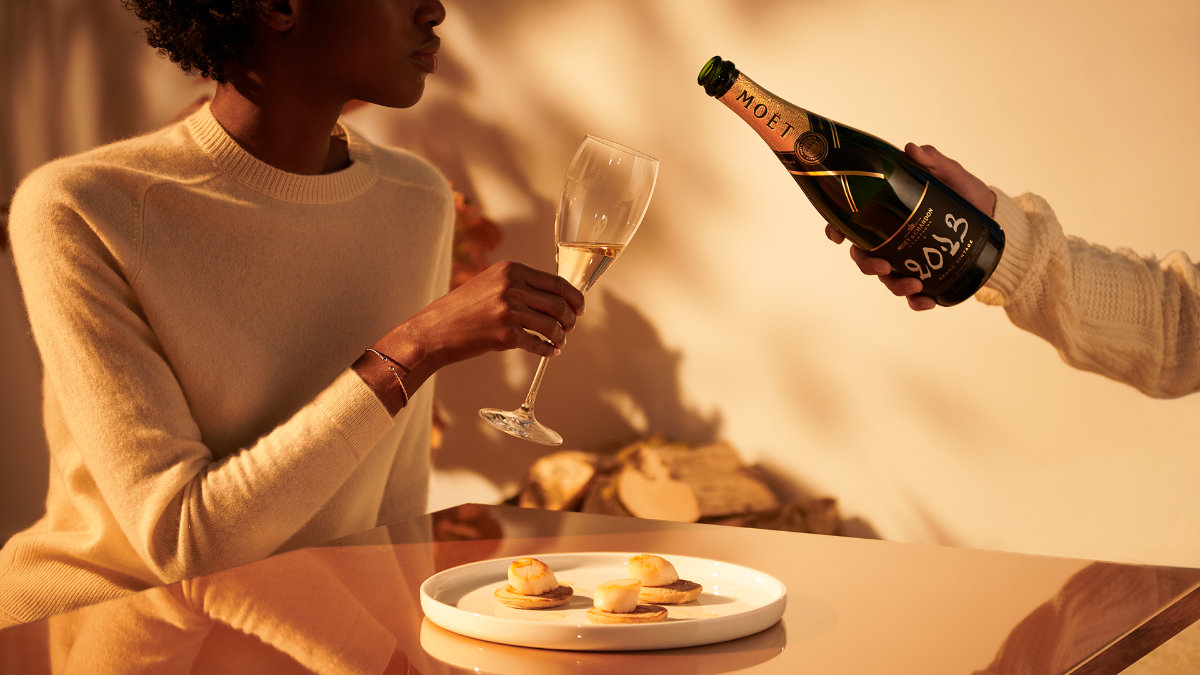 Grand Vintage 2013
True to the original spirit of the House's Grand Vintage champagnes, this Grand Vintage 2013 is an extra-brut champagne, distinctive by its chiseled structure and energetic balance on the palate, its light golden yellow color and its fine, persistent bubbles. In a year of beautifully ripened Chardonnays, the House's Cellar Master boldly chose to bolster the precisely selected Pinot Noirs, set aside especially for this Grand Vintage. The result is a slight predominance of Chardonnay (41%) balanced by the notable presence of Pinot Noir (38%), enveloped by the rounding contours of Meunier (21%), all of which make for a dynamic blend that captures the singular character of a truly exceptional year.
"In a year famous for its Chardonnays, this vintage could have easily been predominantly Chardonnay-based, but we boldly decided to magnify the carefully chosen Pinot Noirs, which demonstrated an outstanding chiseled structure. That is why Grand Vintage 2013 has nearly equal parts Pinot Noir and Chardonnay," says Benoît Gouez.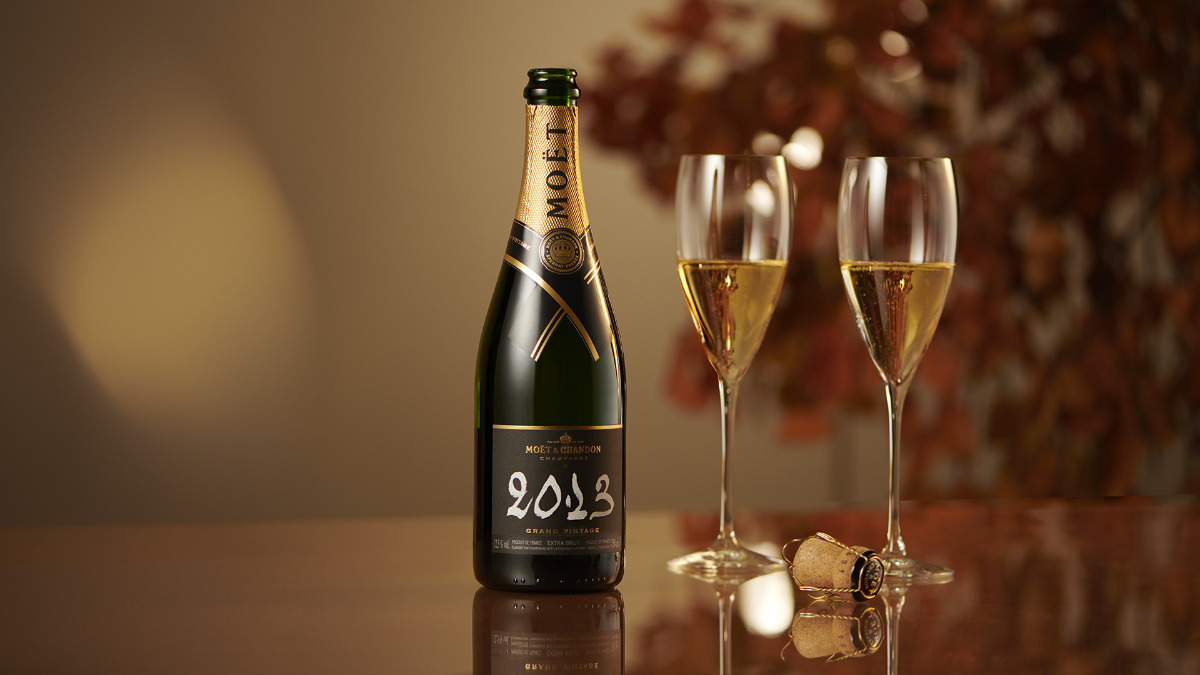 Grand Vintage Rosé 2013
Grand Vintage Rosé 2013, the House's 44th rosé vintage, is also finely chiseled, with generous aromas and a spicy fruitiness that defines its mouthfeel. Its structure is driven by the predominance of Pinot Noir (44% of its assemblage of which 14% is red wine), the elegance of Chardonnay (35%), and the presence of Meunier (21%).
With a dosage of 5g/L, Grand Vintage 2013 and Grand Vintage Rosé 2013 are extra brut, and qualified as such on their respective bottle label.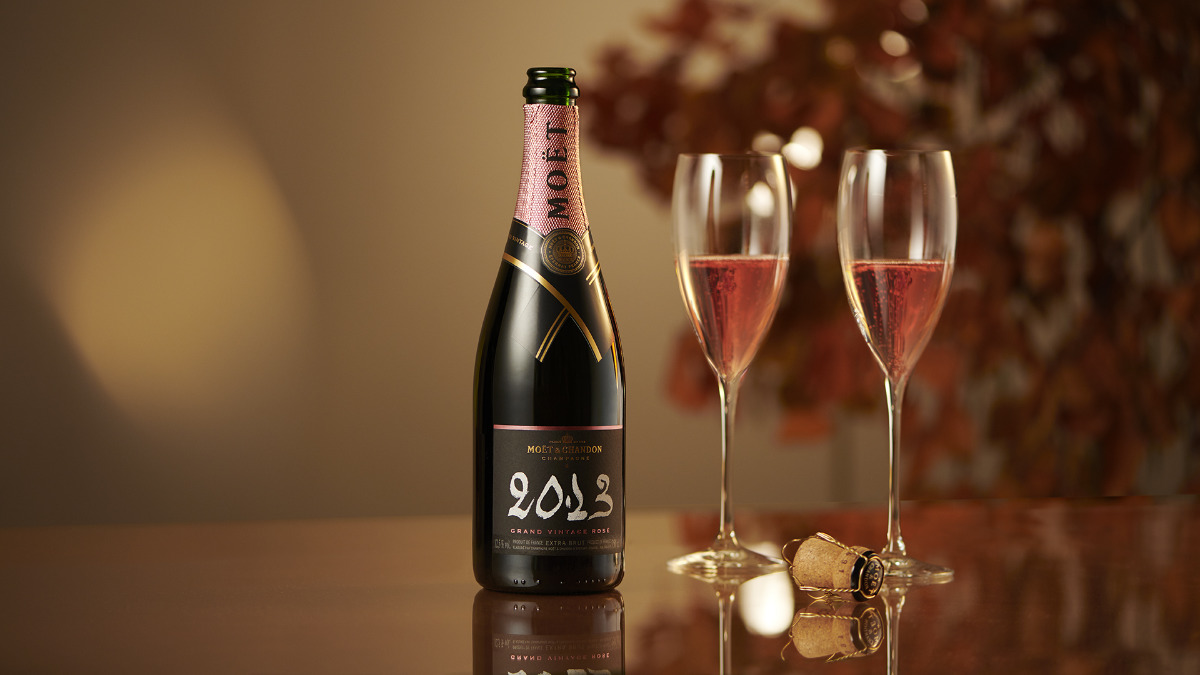 FOOD AND WINE PAIRING

The construction of a pairing with Grand Vintage 2013 begins with the choice of a main ingredient (meat, fish, vegetable, etc.) which will provide substance in terms of texture and juiciness, when cooked appropriately, to match the lightness of the wine.
The main dish is complemented by additional ingredients that bring warm, toasted notes to echo the champagne's soft, inviting style. A contrast created with a hint of bitterness bring out the notes of grapefruit on the finish. And as always, the pairing is completed by adjusting the salinity to underscore the flavors and highlight the dialogue between the dish and the Grand Vintage 2013.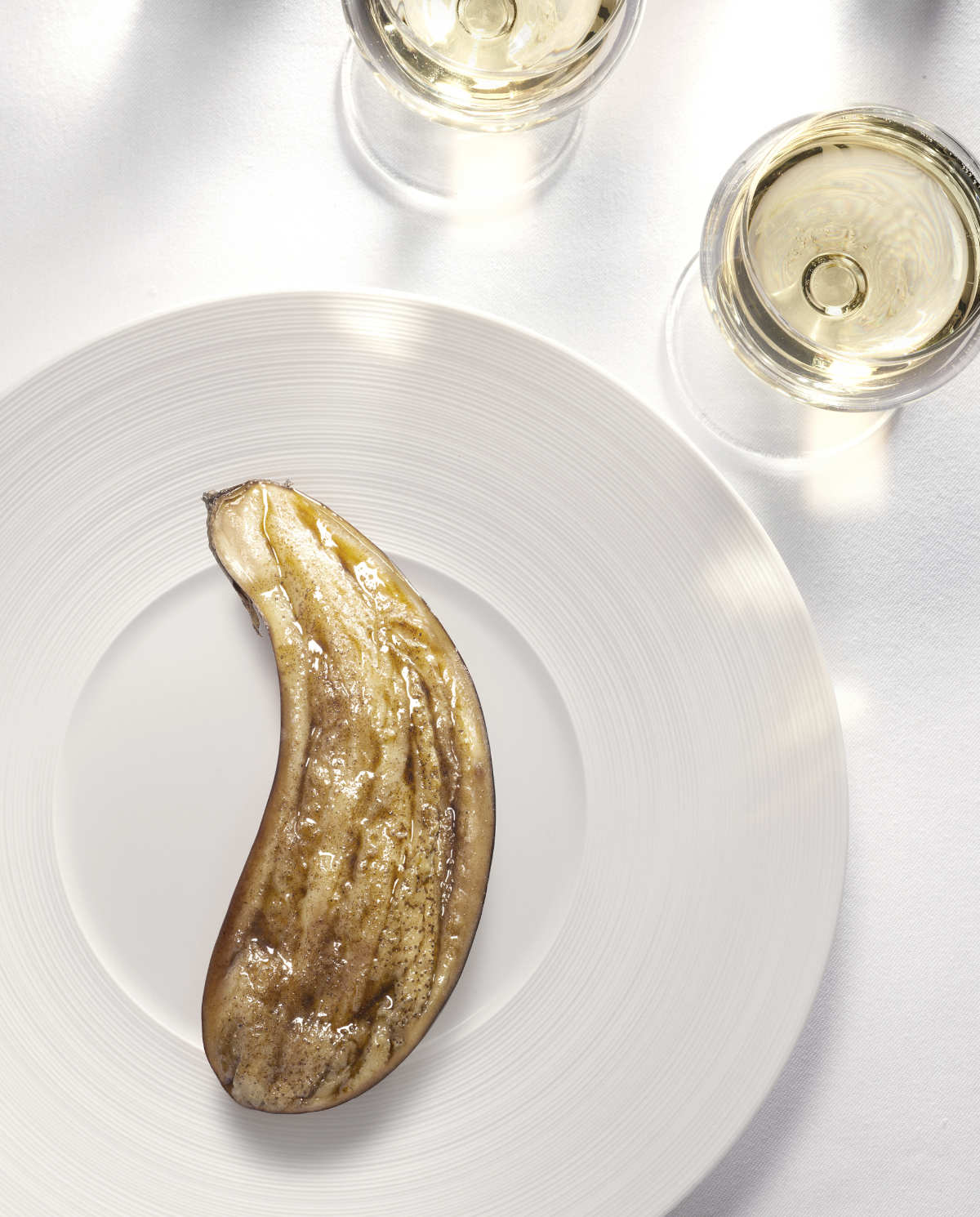 A tender veal rib is a suitable starting point for a "pairing construction" with the Grand Vintage 2013, while a lobster dish would suit the Grand Vintage Rosé 2013, from a texture and juiciness standpoint. Additional ingredients like preserved lemons for the Grand Vintage 2013, and passion fruit jelly for the Grand Vintage Rosé 2013, chosen to echo the champagne's soft, inviting style, provide contrasting elements that would bring out the refreshing notes of the deliciously tangy grapefruit on the finish. To wrap up, the salinity of cooked cockles or crispy lardo di colonnata would underscore the chorus of flavors at hand, creating a satisfying dialogue between the dish and the Grand Vintage 2013 and Grand Vintage Rosé 2013 respectively.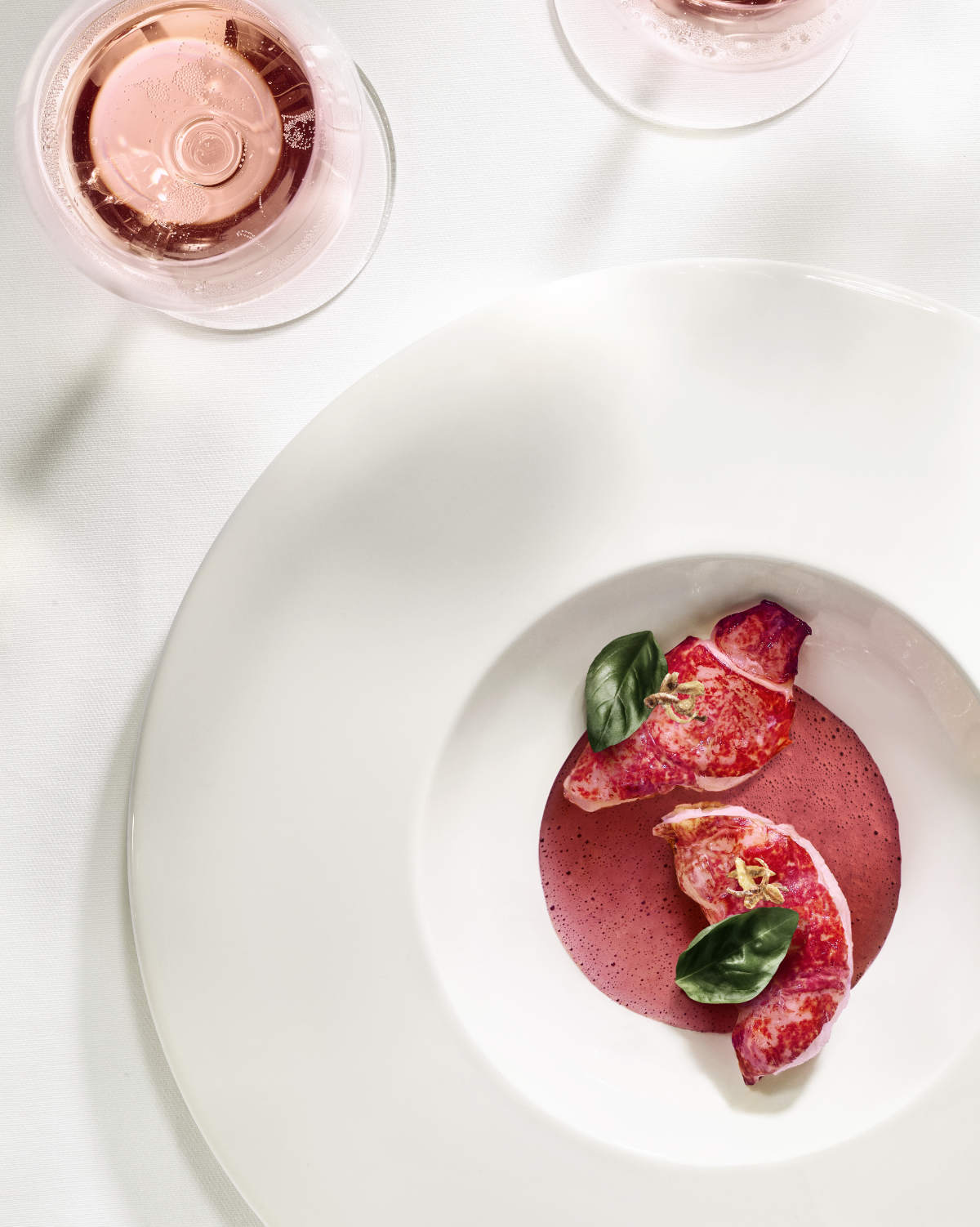 To find out more, please visit Moët & Chandon's food pairing online platform on www.moet.com.
Available at selective retailers and at the most exquisite bistros, Moët & Chandon Grand Vintages are ideal to celebrate milestone moments or to accompany shared epicurean experiences with gourmet delights.
MOËT & CHANDON GRAND VINTAGE 2013

Autumnal – Energetic – Chiseled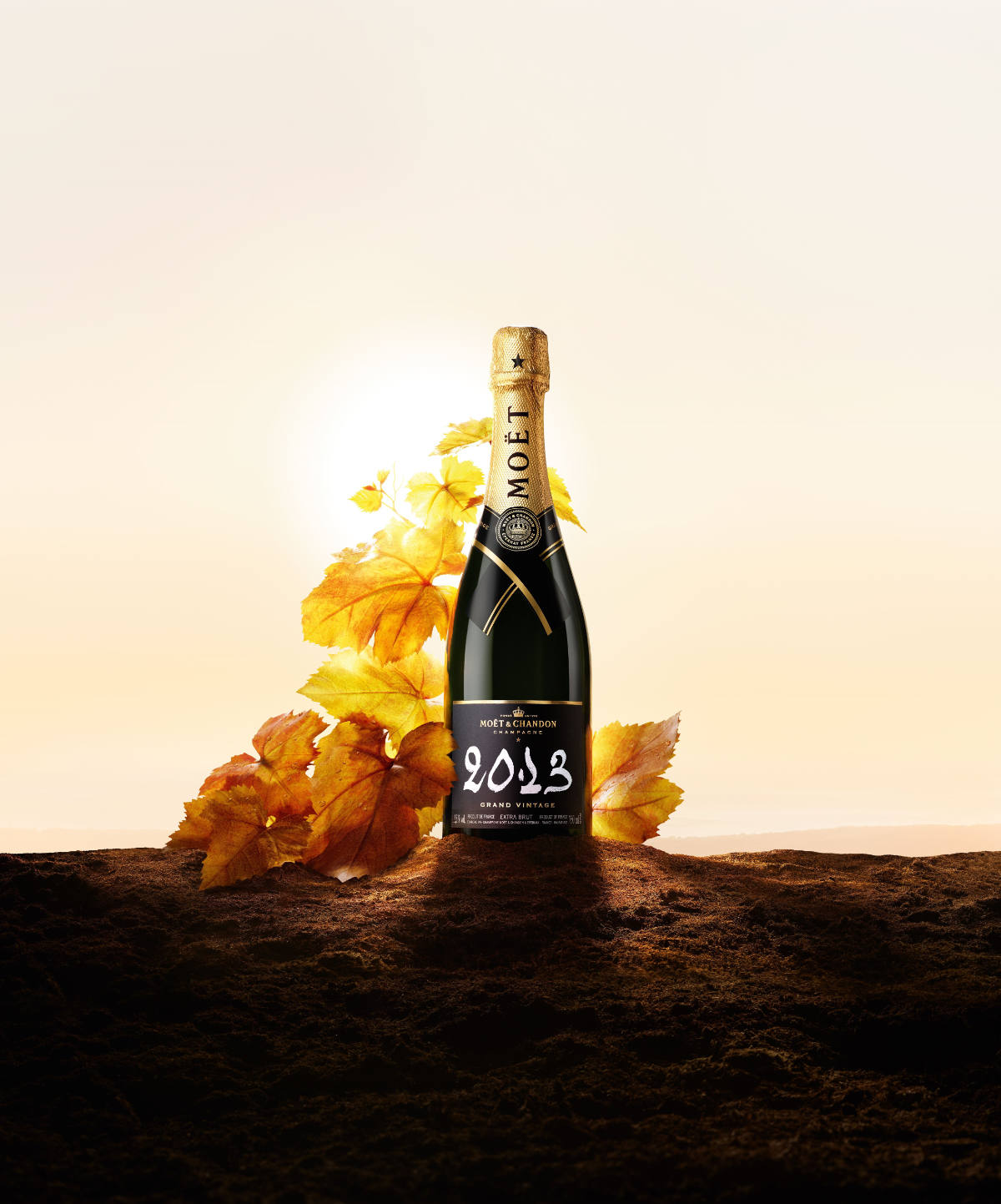 Moët & Chandon Captures The Story Of The Year 2013 In Its Grand Vintage 2013
Assemblage: Chardonnay 41%, Pinot Noir 38%, Pinot Meunier 21%
Disgorgement date: 2020
Dosage: 5 g/l
Maturation in cellars: 7 years minimum
Aging after disgorgement: 6 months minimum
A lightly golden color: light golden yellow color, with fine, persistent bubbles.
An autumnal bouquet: the wine's maturity is immediately apparent with autumnal notes of roasted chestnuts, toasted buckwheat, rich nuts, honey and nougat. Concentrated fruit is then reveled, reminiscent of lemons preserved in salt, or a perfectly ripe nectarine. Scents of iodine, dried flowers and pine sap complete the aromatic bouquet.
An energetic and chiseled palate: the palate is direct and energetic, supported by lively yet delicate acidity, and a finely chiseled structure, enveloped by a refined, grainy texture. The wine finishes with a pleasant hint of white grapefruit bitterness.
MOËT & CHANDON GRAND VINTAGE ROSÉ 2013

Generous – Spicy fruitiness – Chiseled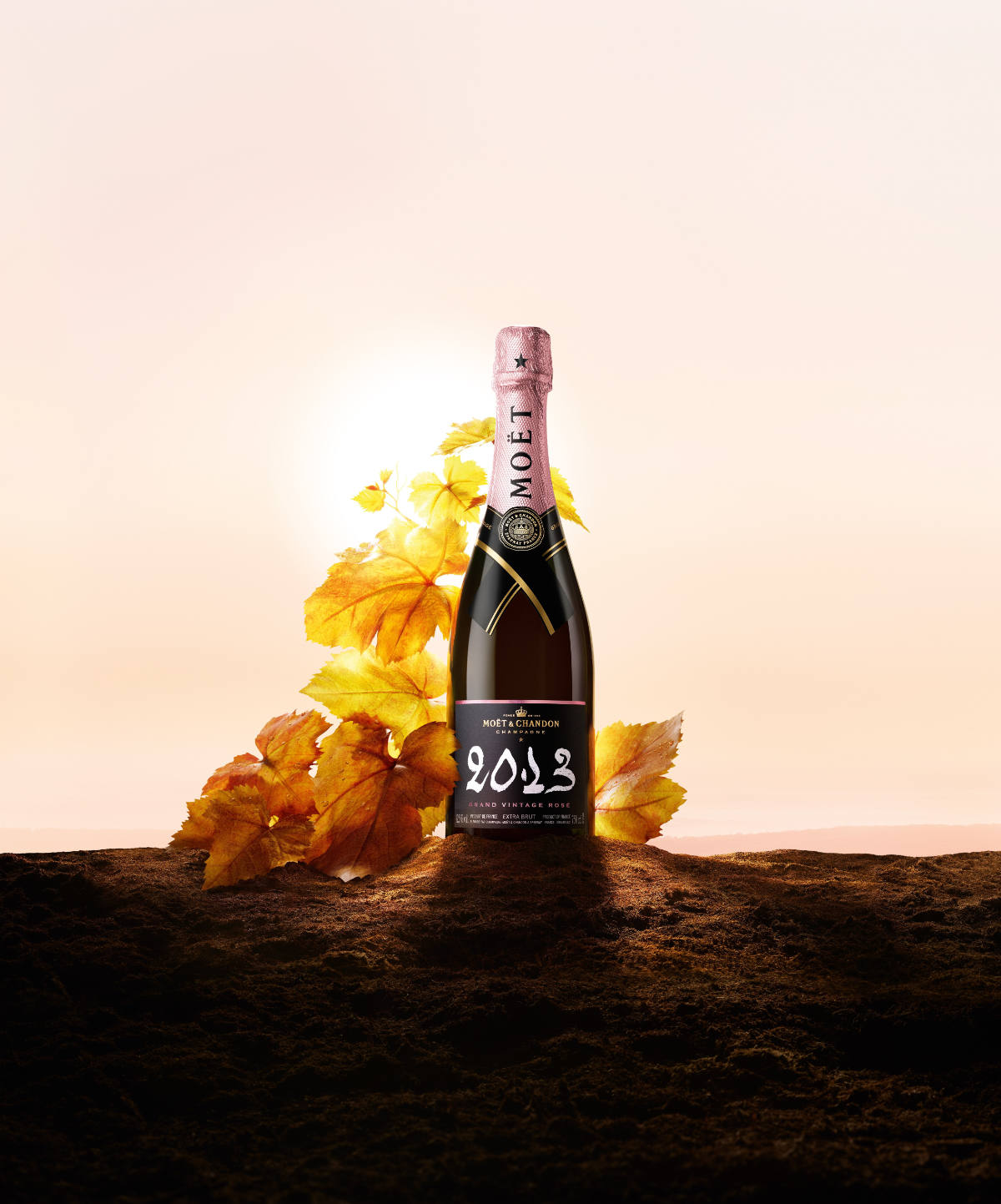 Moët & Chandon Captures The Story Of The Year 2013 In Its Grand Vintage 2013
Assemblage: Pinot Noir 44% (of which 14% red wine), Chardonnay 35%, Meunier 21%
Disgorgement date: 2020
Dosage: 5 g/liter
Maturation in cellars: 7 years minimum
Aging after disgorgement: 6 months minimum
A light pink color with hints of orange: a bright light pink with autumnal hints of orange.
A richly varied bouquet: the initial notes of the bouquet are sweet, tinged with a fruit salad of red berries (wild strawberries, raspberries, pomegranate seeds) which then develops a touch of acidity with blood oranges and star fruit. Scents of spice (black pepper, dark chocolate, cinnamon), dried flowers and fresh leather complete the bouquet.
A spicy and chiseled palate: the fleshy attack confirms the wine's voluptuous character. The chiseled structure of the Pinot Noir is accompanied by a sensation of crisp stone fruit (plums, cherries). The textures is finely powdered. A delicate astringency underscores the long finish (pink grapefruit, lime zest).
ABOUT MOËT & CHANDON

Founded in 1743, Moët & Chandon contributed to introduce champagne to the world by offering a range of unique wines for every occasion. From the iconic Moët Impérial to the Grand Vintage Collection, from the extroverted Moët Rosé Impérial to the innovative Moët Ice Impérial, each champagne dazzles and delights with bright fruitiness, an enticing palate and an elegant maturity. Since its founding, Moët & Chandon has been a champagne of choice to celebrate historical moments or private moments of great personal importance. For each of life's memorable moments, Moët & Chandon has a style of champagne that marks the moment in a very unique way.
Please drink responsibly