Helmut Lang Presents Its New Spring/Summer 2022 Collection For Men And Women
Luxferity, 13.09.2021
FRIDAY SEPTEMBER 10, 2021
40 WOOSTER STREET NEW YORK, N.Y.
UTILITY. CIVILITY. DEVIANCE.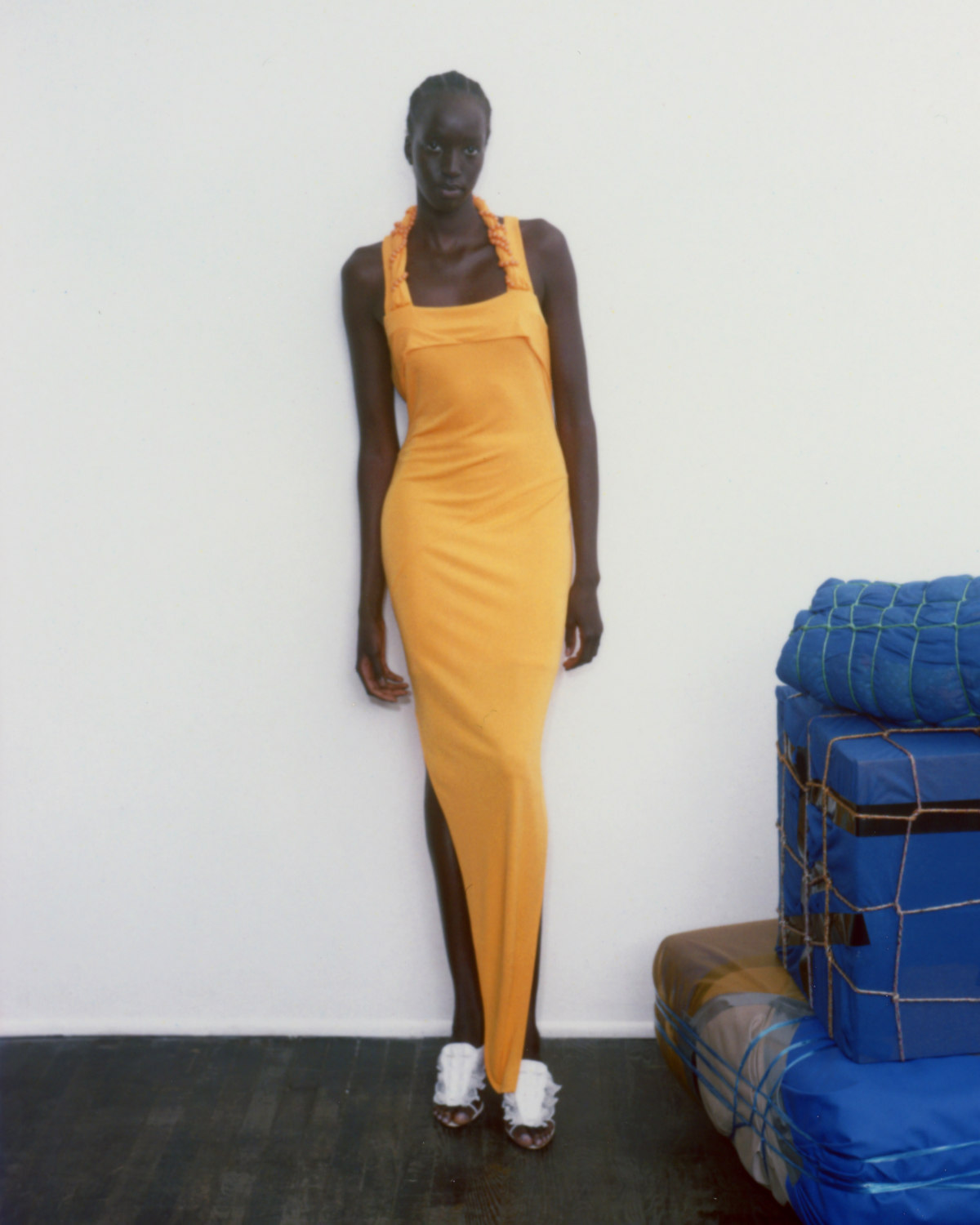 MATERIALS:
TECHNO COTTON JERSEY ∙ TECH ORGANZA
FISHERMAN LACE ∙ MICRO BOND ∙ CREPE HOSIERY
DRY SCALA JERSEY ∙ BASE DOUBLE RIB ∙ TRAPUNTO COTTON
COTTON NYLON FAILLE ∙ ASTRO COTTON NYLON
RAW COTTON ∙ CRINKLED COTTON LINEN ∙ MUSLIN
FRENCH COTTON TERRY ∙ FISHERMAN LACE ∙ GAUZE MESH
COTTON MESH ∙ DRY SCALA JERSEY ∙ LIGHT VISCOSE JERSEY
DETAILS:
RAW EDGES ∙ TRAPUNTO STITCHING
EYELETS ∙ LACING ∙ FISHING NET ∙ KNOTTING
CREASING ∙ ZIPPED GUSSETS ∙ SHEERNESS ∙ LAYERS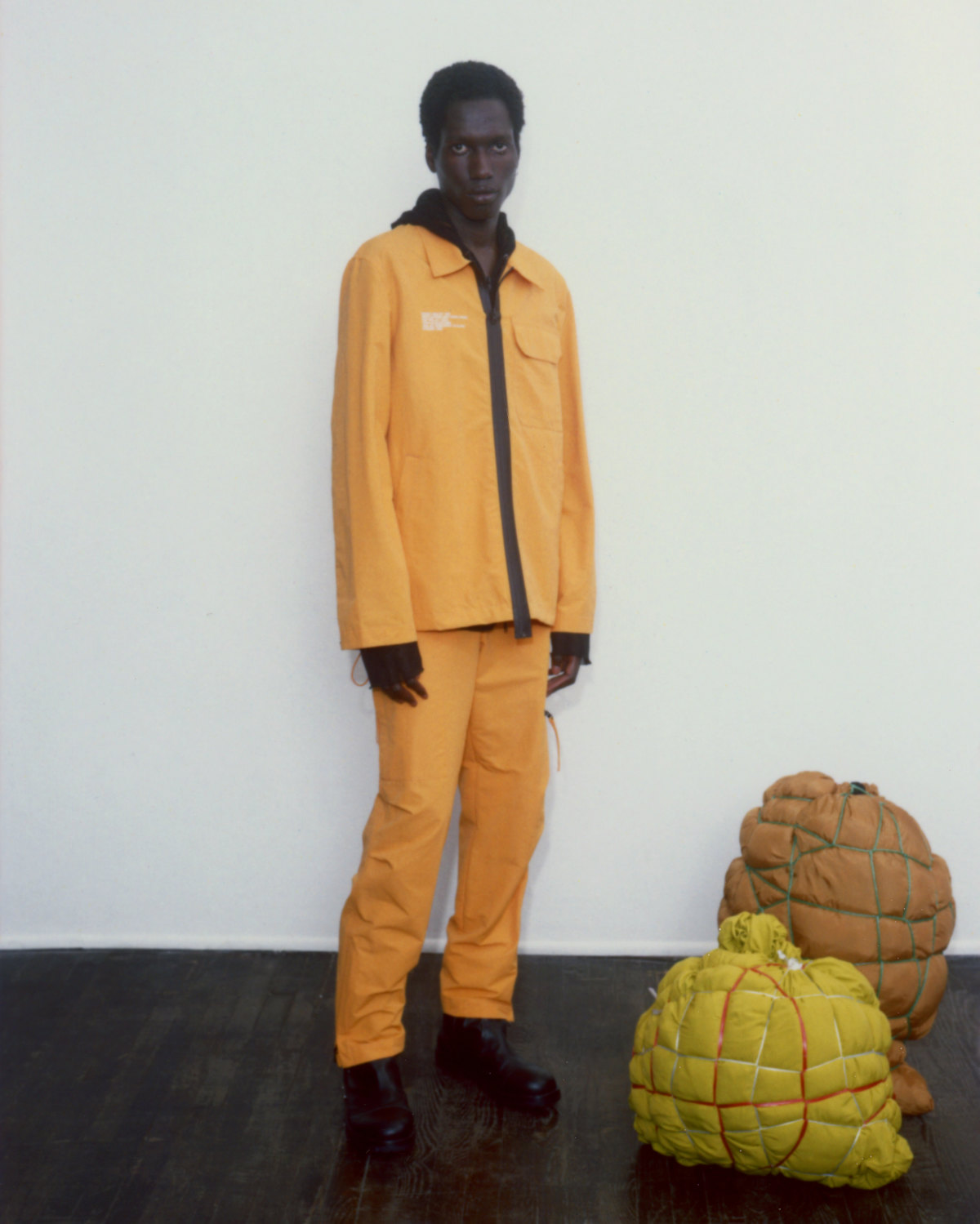 F.A.Q.:

DOES HELMUT LANG CURRENTLY HAVE A DESIGNER?

THAT'S A FAIR QUESTION. WE HAVE A TEAM OF SMART PEOPLE WORKING TOGETHER WITH A COMMON MISSION. WE FIND THAT THIS DYNAMIC WORKS WELL FOR US AND IT JUST FEELS RIGHT FOR THE TIMES WE ARE LIVING IN.
WHAT IS YOUR VISION FOR SPRING 2022?

FAMILIARITY AND NEWNESS. RIGHT NOW WE ALL NEED THINGS WE CAN RELY ON (IN OUR STUDIO WE LIKE TO REFER TO THE HELMUT LANG CODEX). AND YET THE DESIRE FOR CHANGE, A NEW VIEW, NEW AIR TO BREATHE IS VERY REAL. THE LATTER MIGHT EXPLAIN WHY WE CURRENTLY FIND OURSELVES IN A NAUTICAL MOOD.
IF I NO LONGER GO TO AN OFFICE. WHY DO I NEED A SUIT?

THE SUIT AS WE KNOW IT HAS BEEN AROUND FOR A LONG TIME. IT PREDATES MODERN OFFICE CULTURE. AS WE RETURN TO SEEING PEOPLE IN PERSON WITH GREATER FREQUENCY, A SUIT IS STILL THE EASIEST WAY WE KNOW OF TO COMMUNICATE THAT YOU HAVE MADE AN EFFORT. GRANTED WE HAVE TAKEN SOME BIG STEPS TOWARD COMFORT (YOU'RE WELCOME). FINALLY, WE PROPOSE NOT JUST A CLASSIC SUIT BUT ALSO A FLIGHT SUIT. MAKE OF THAT WHAT YOU WILL.
WHY DID YOU CHOOSE TO WORK WITH THE ARTIST MAIA RUTH LEE?

WE ARE ALWAYS EXCITED TO DISCOVER LIKE-MINDED COLLABORATORS BUT ALSO FRIENDS WHO STRETCH OUR THINKING. MAIA RUTH LEE IS BOTH. PLEASE CONSULT OUR ARTIST STATEMENT FOR MORE INFORMATION.
WILL HELMUT LANG SAVE ME?

PROBABLY NOT. BUT IT CAN'T HURT.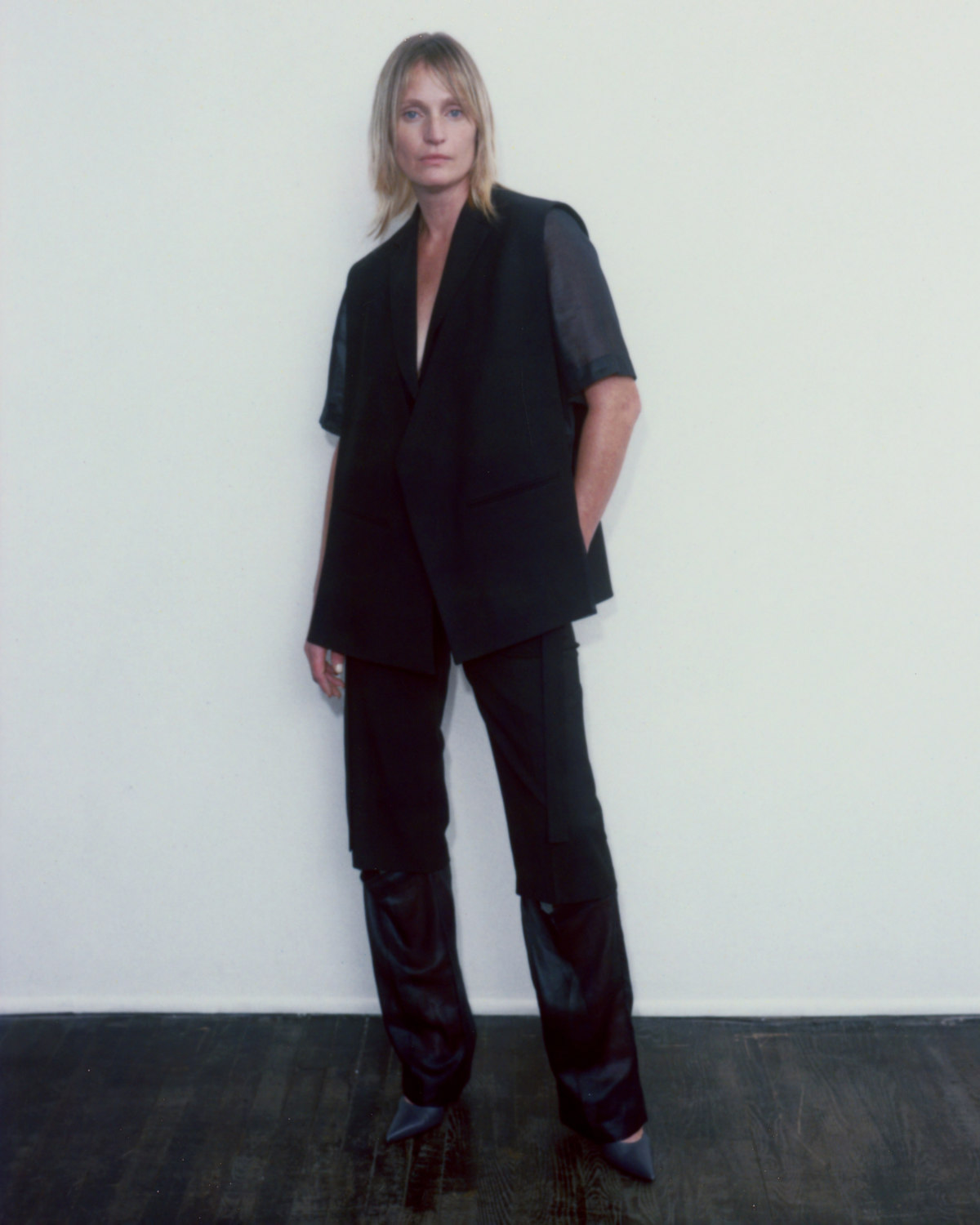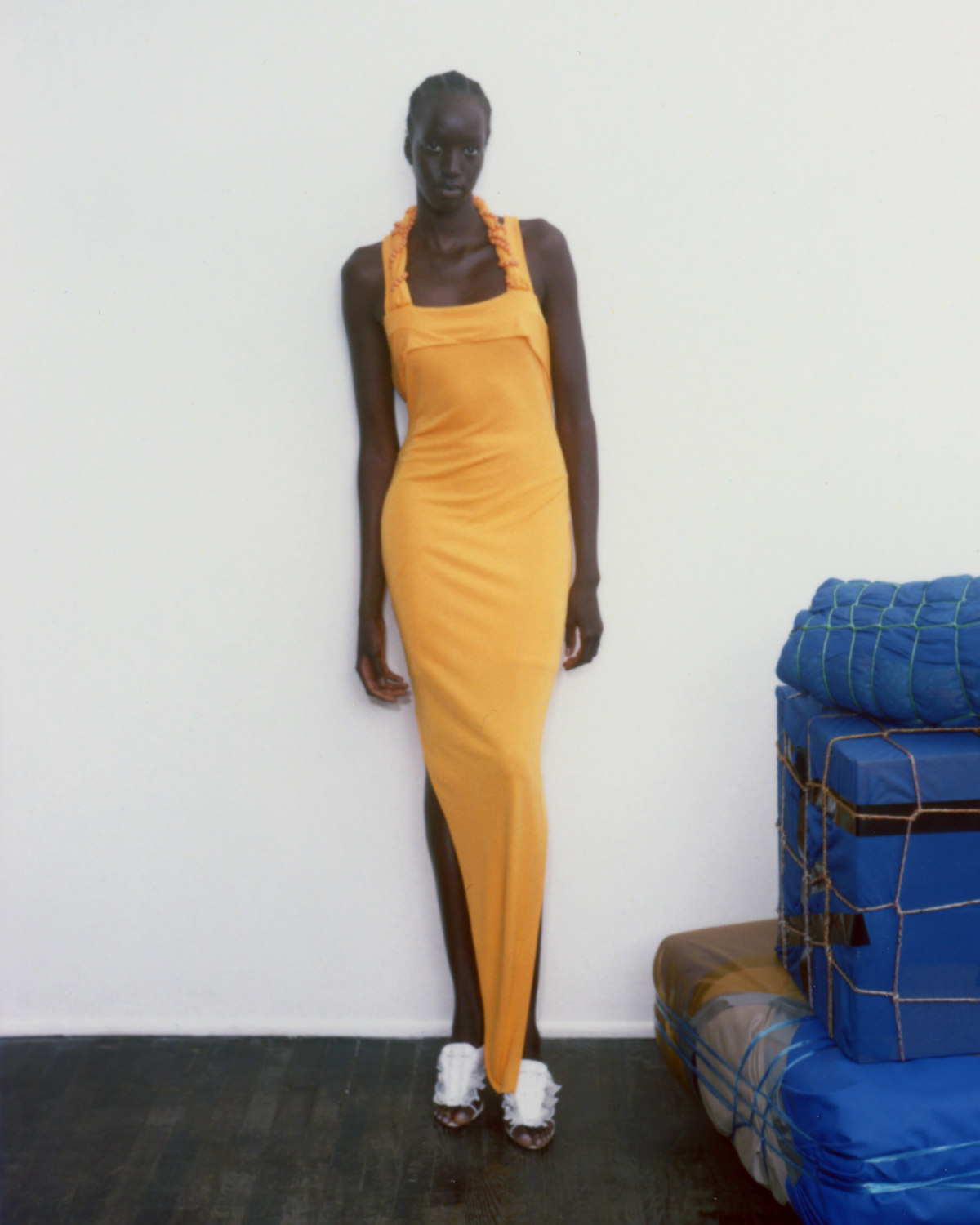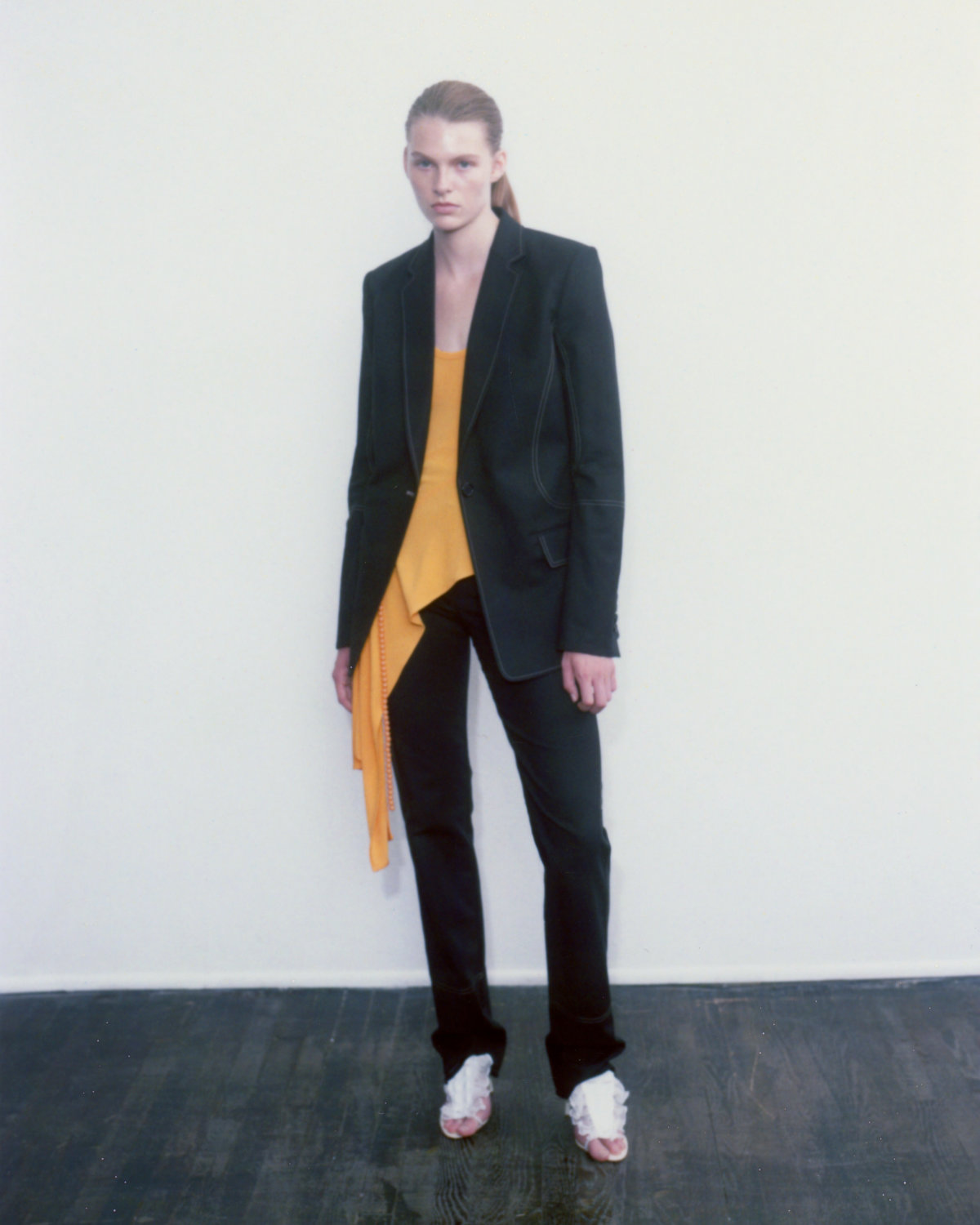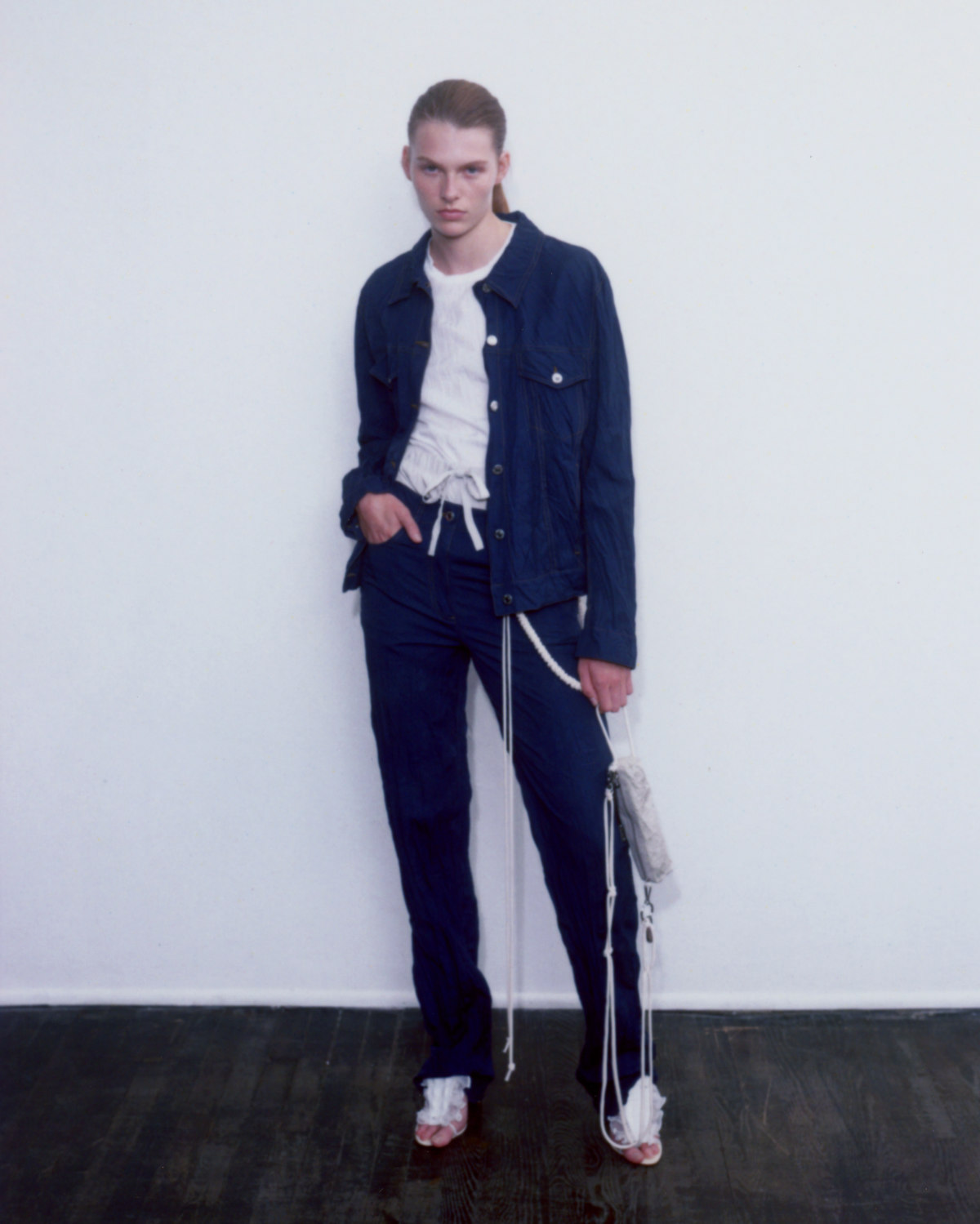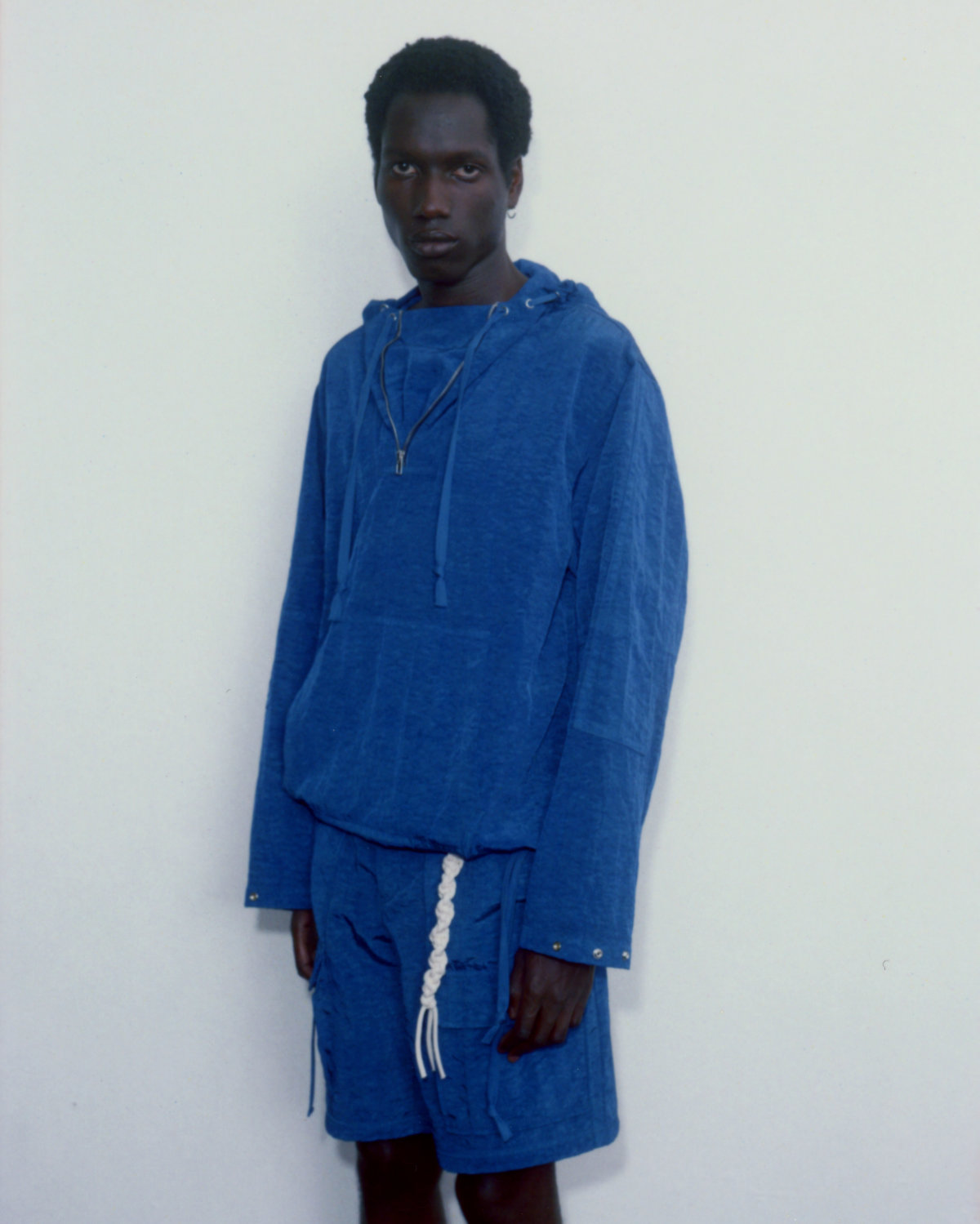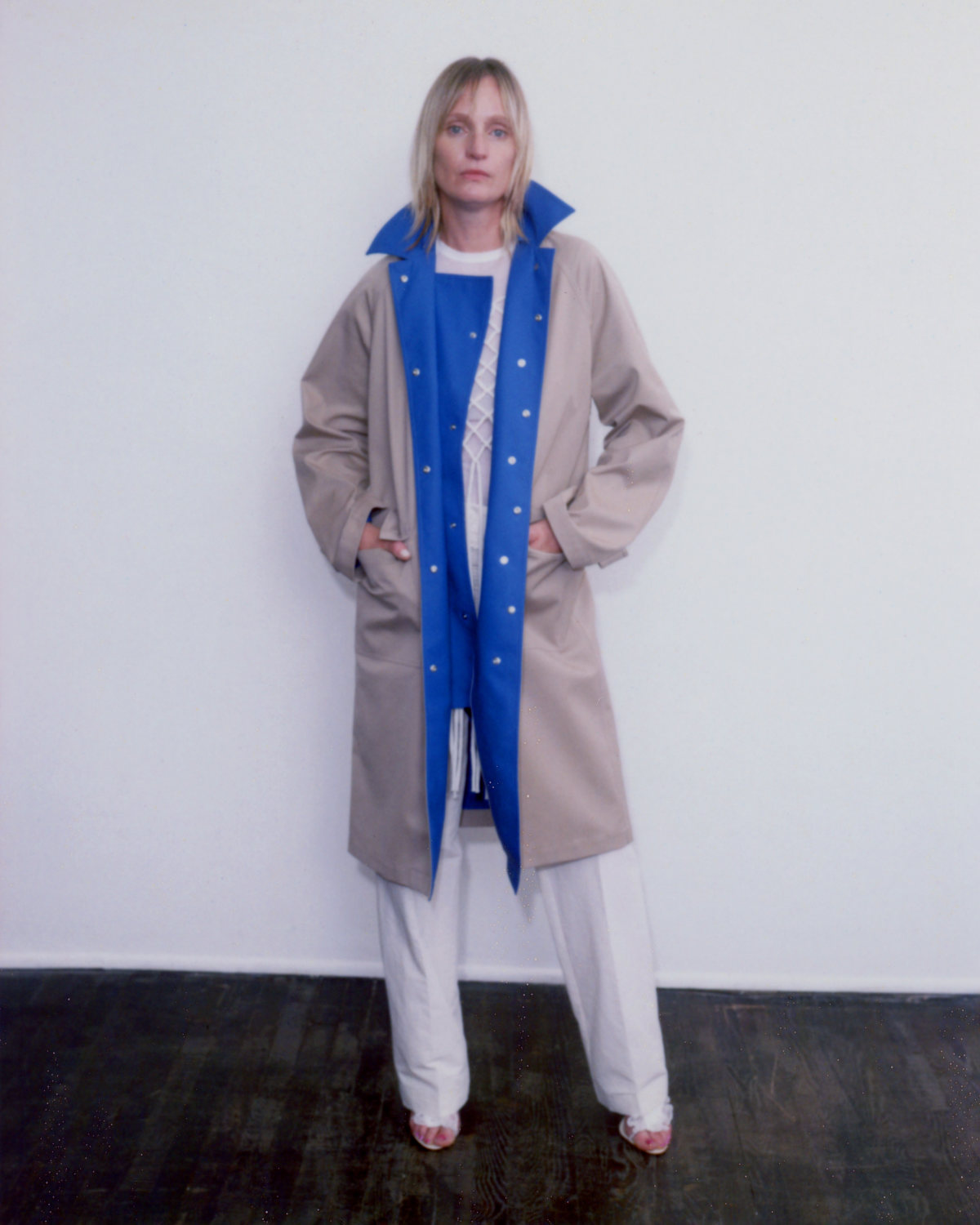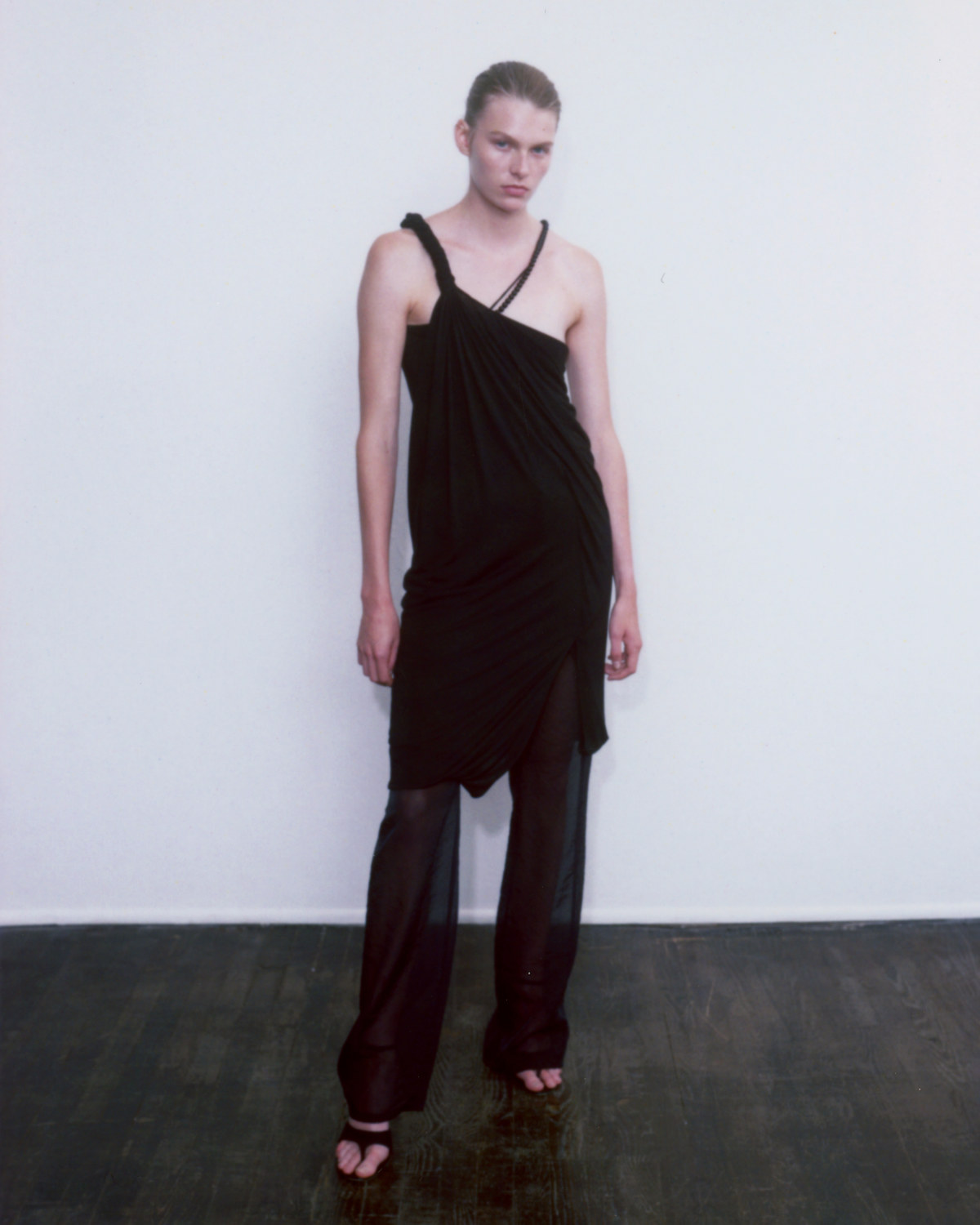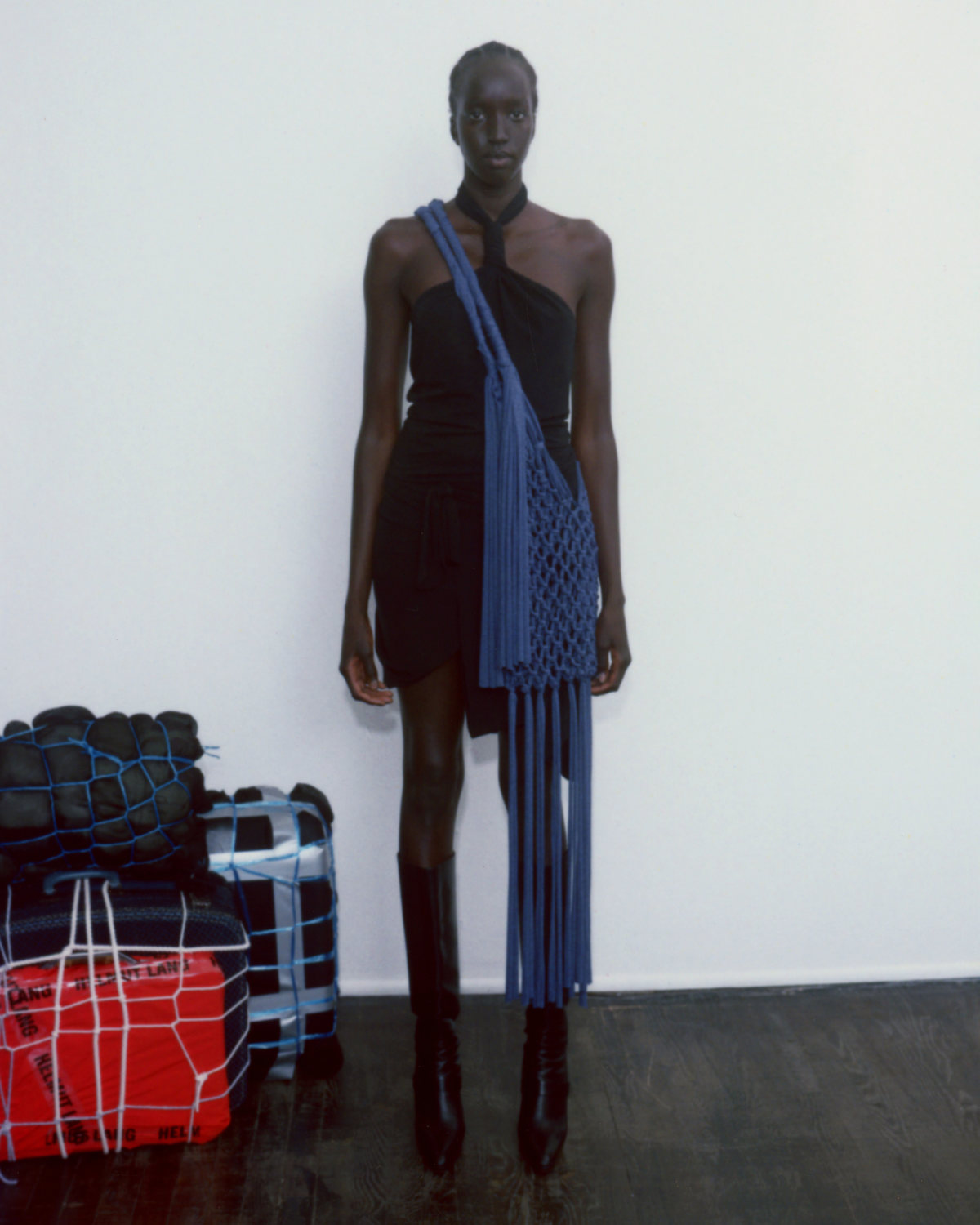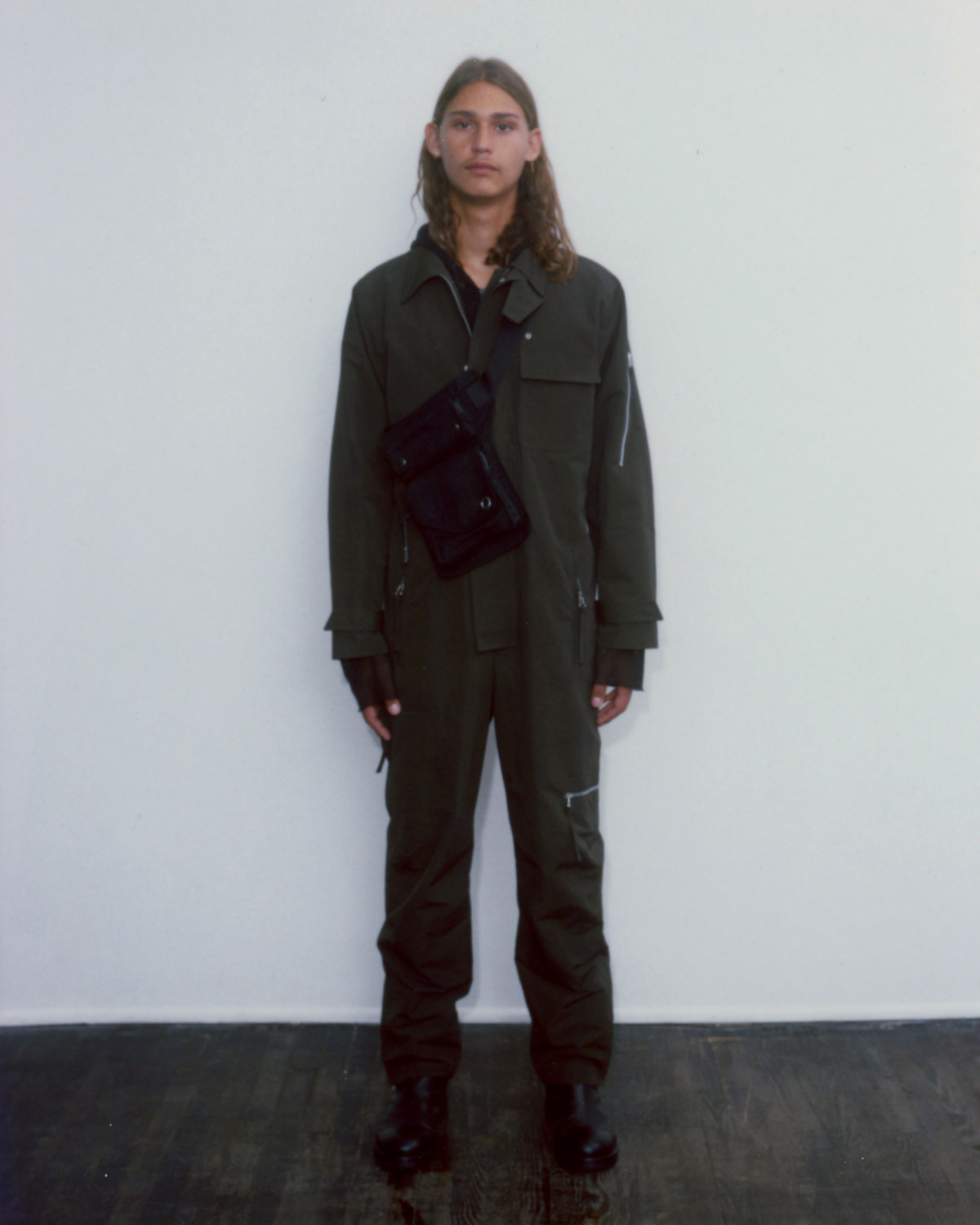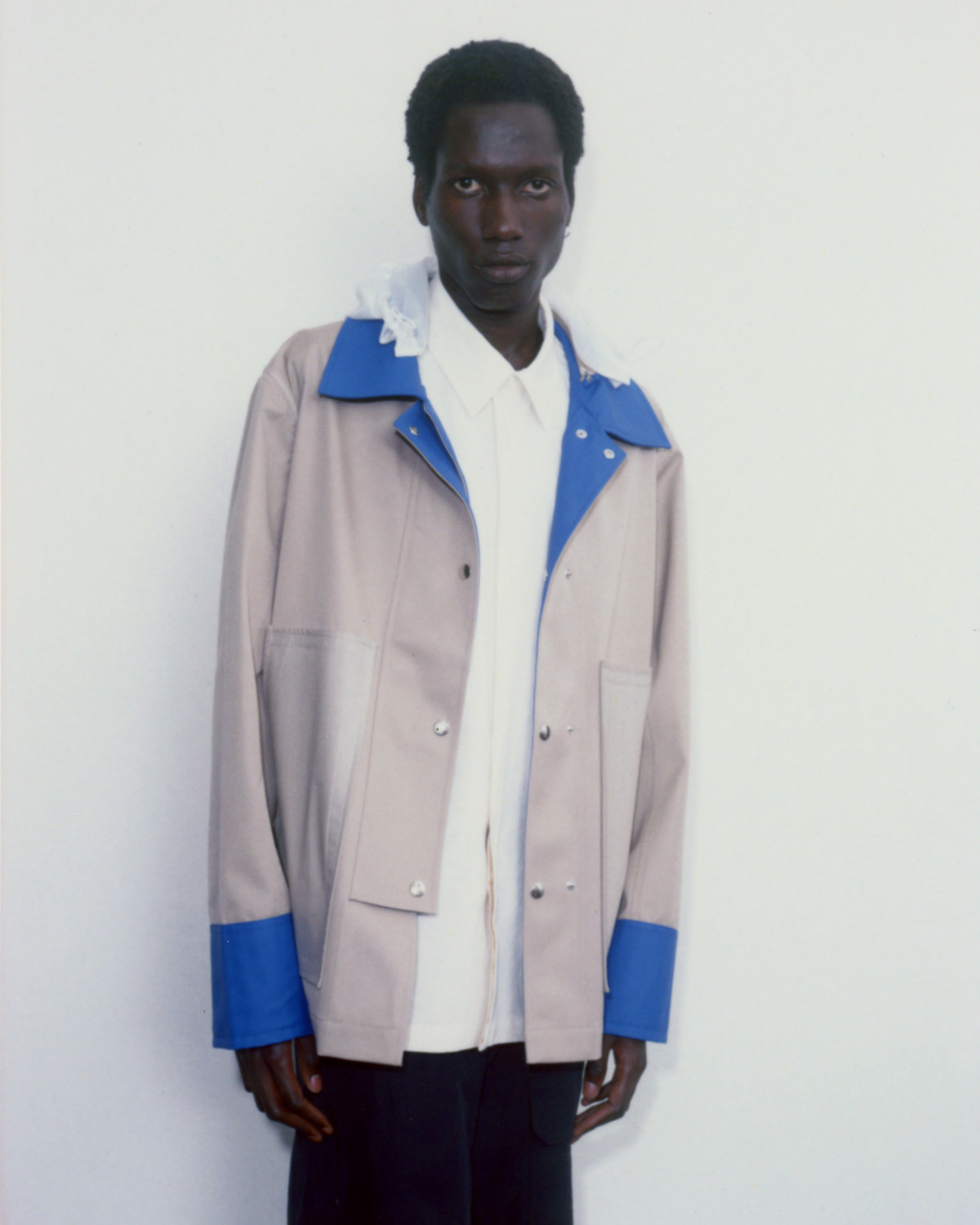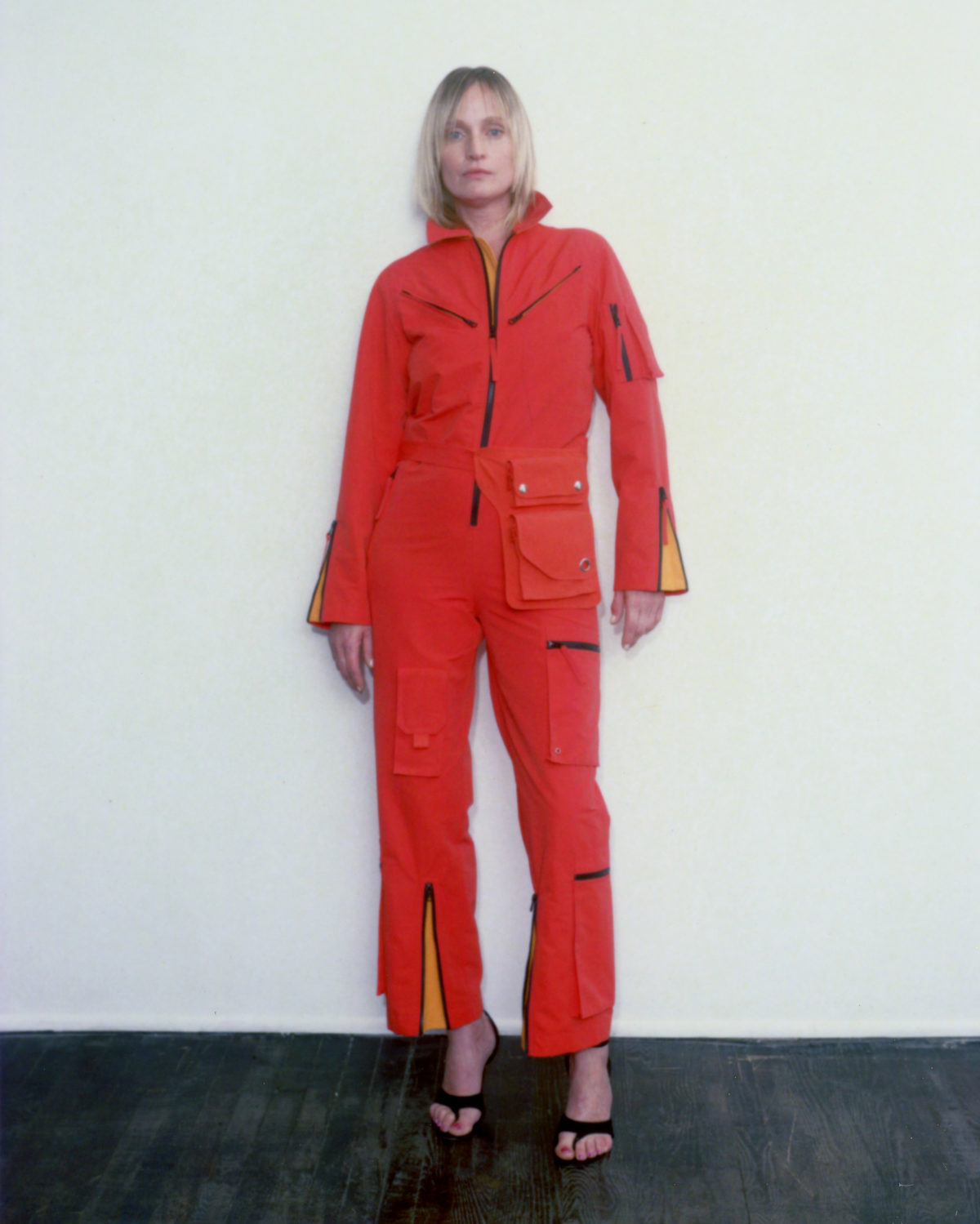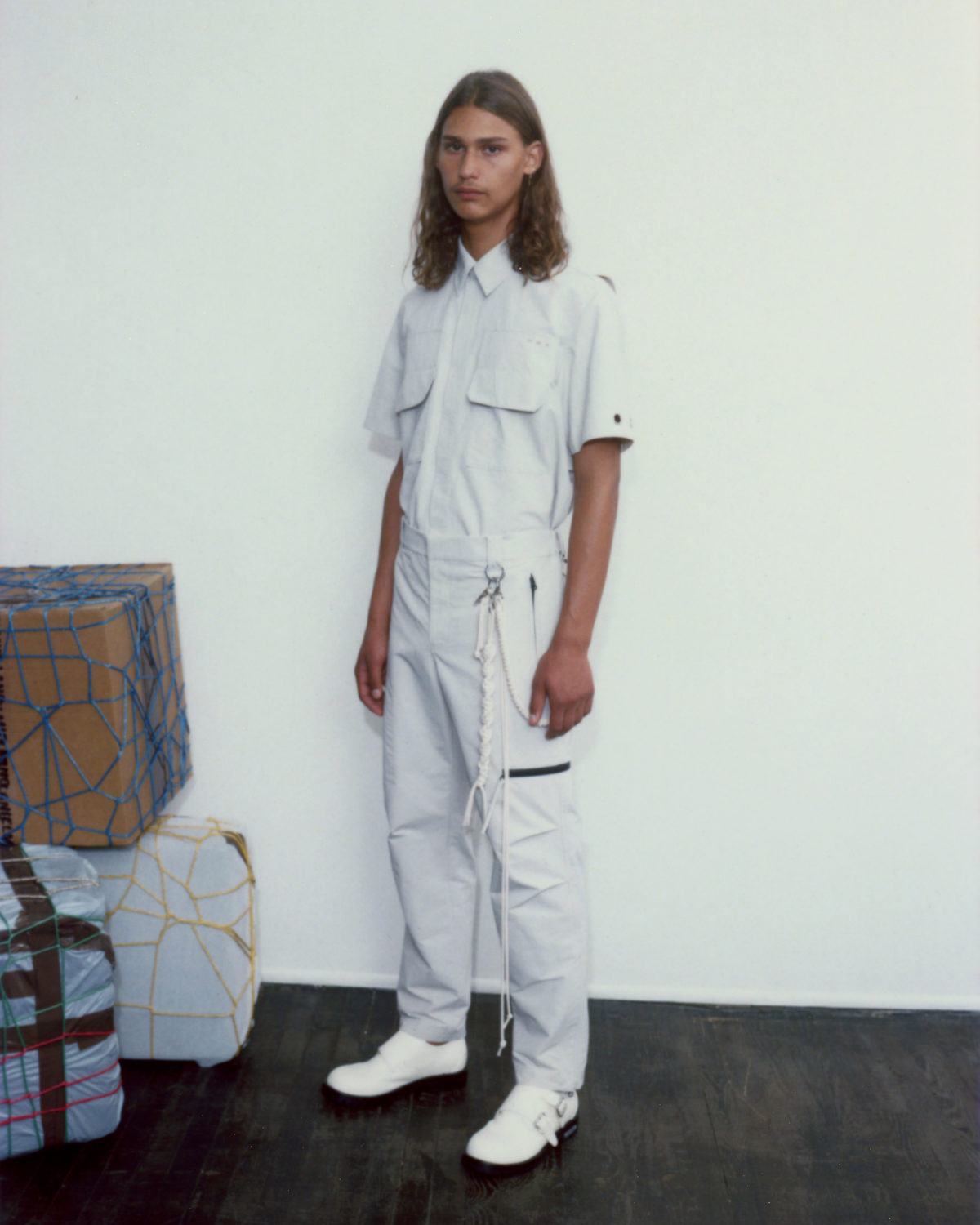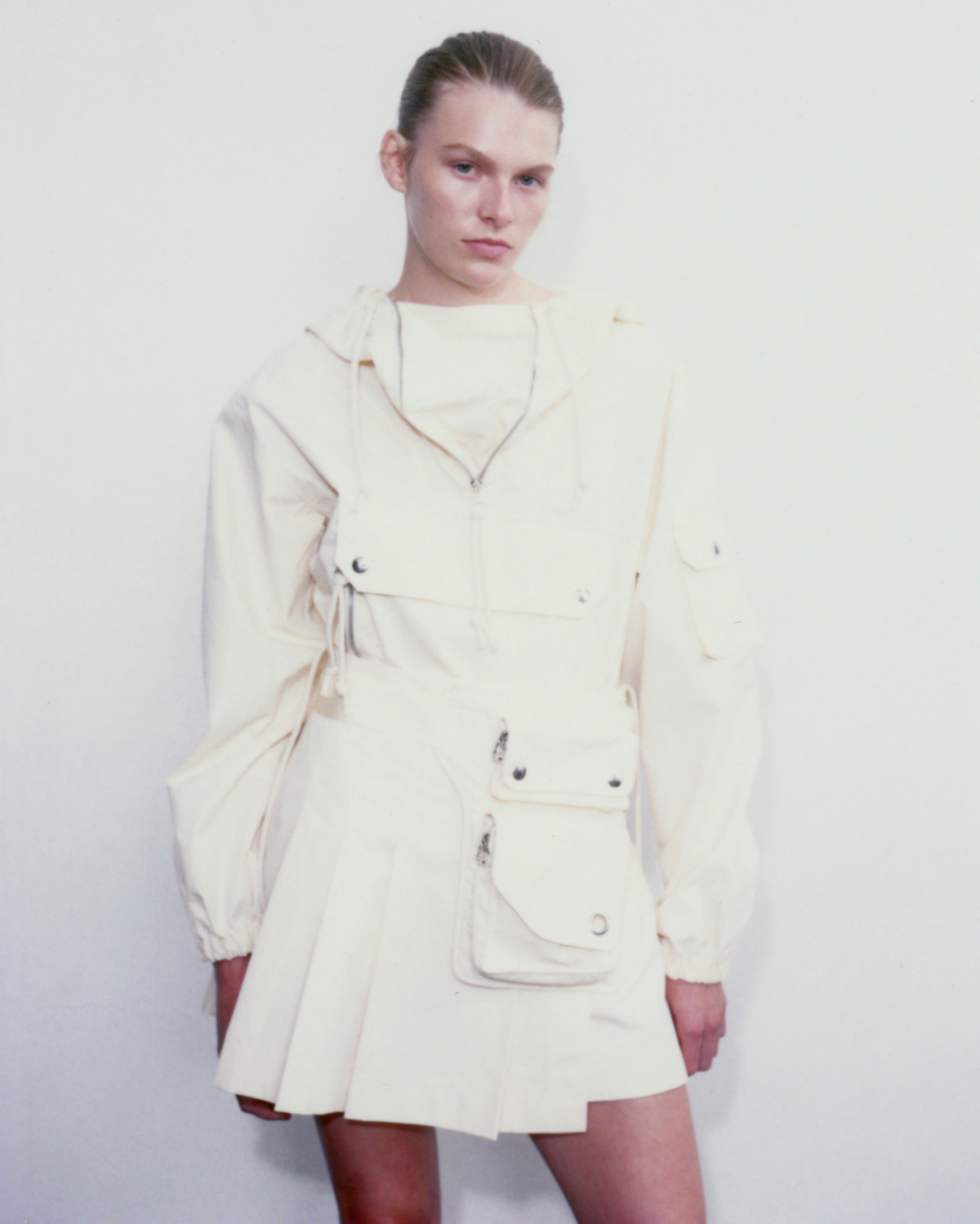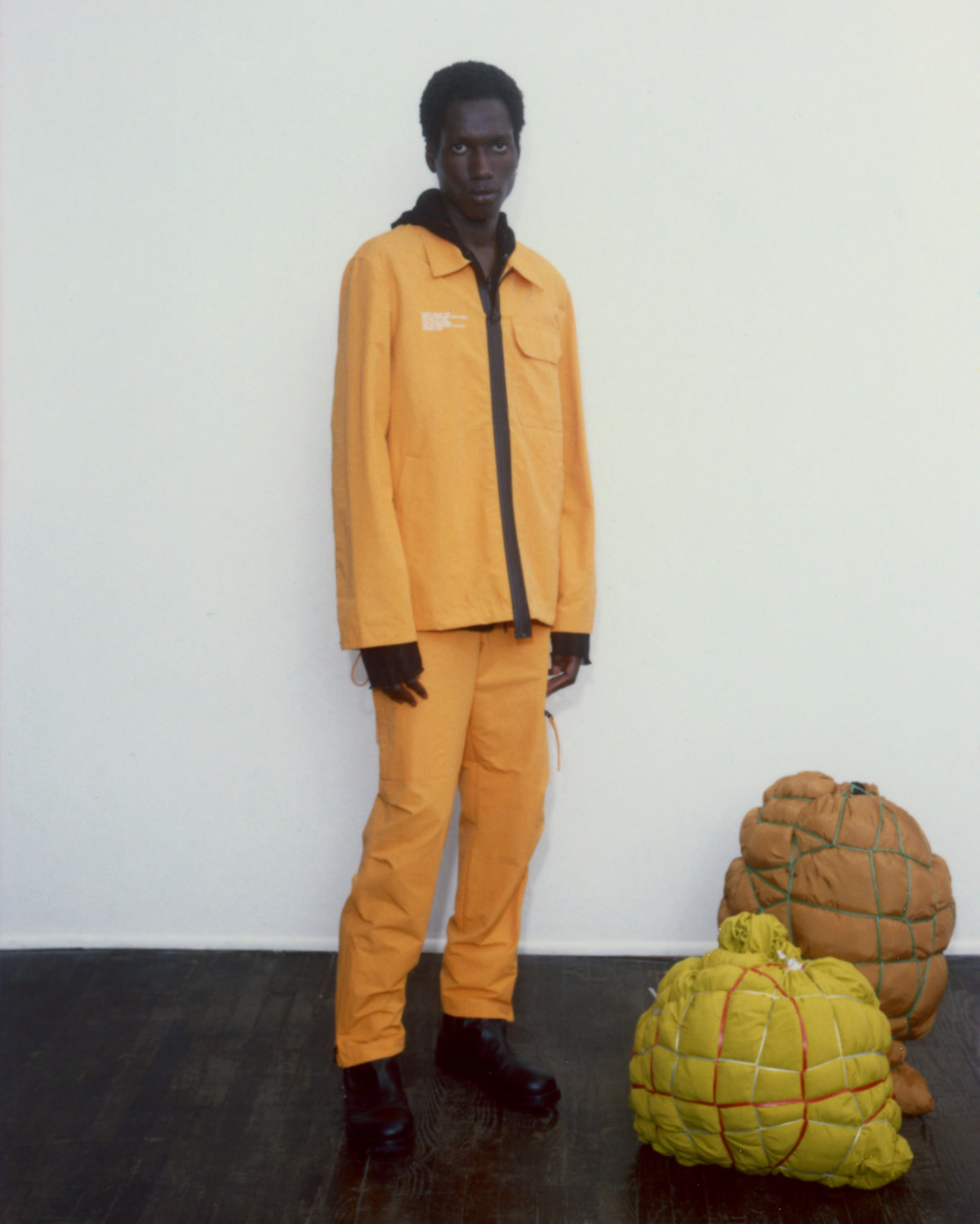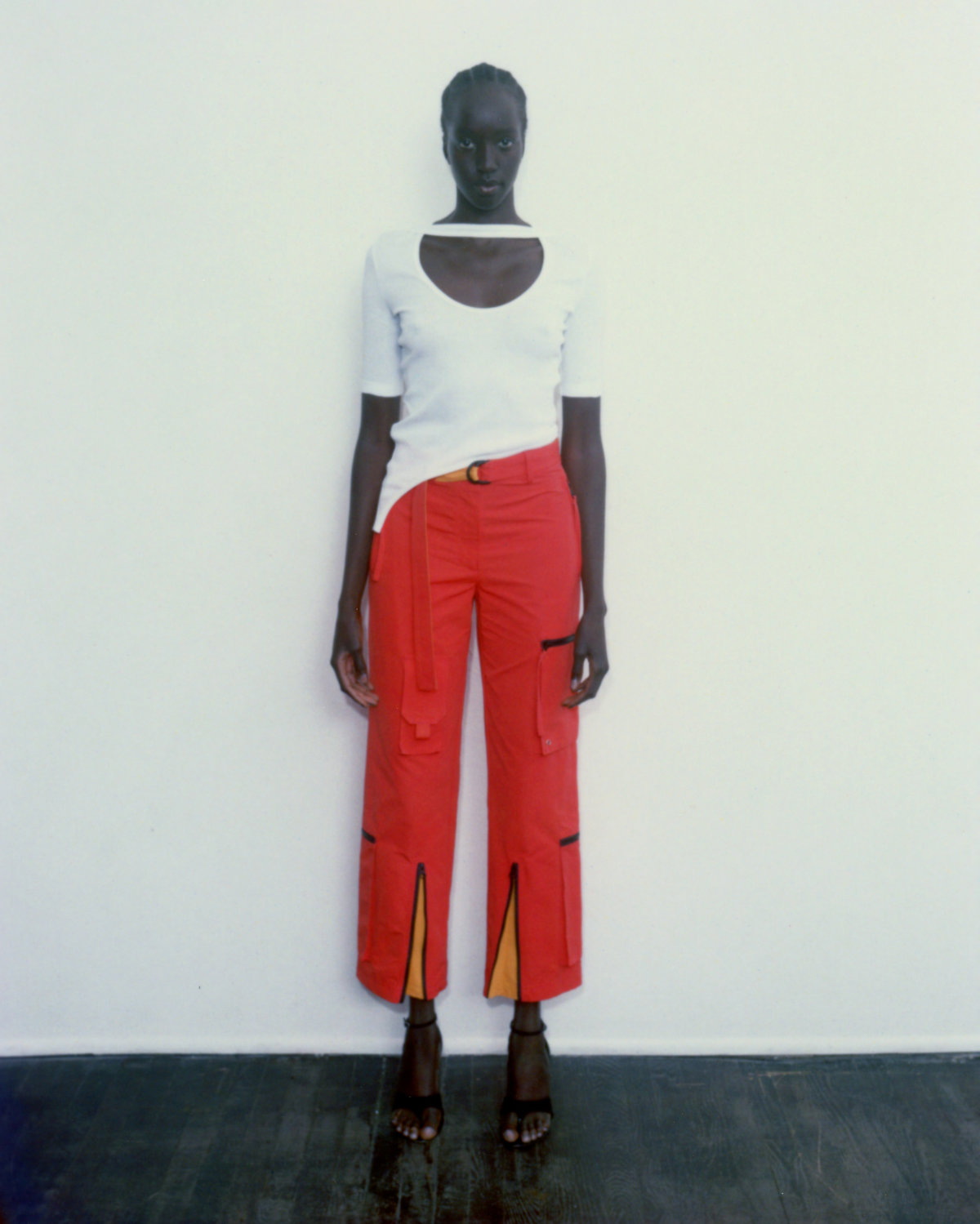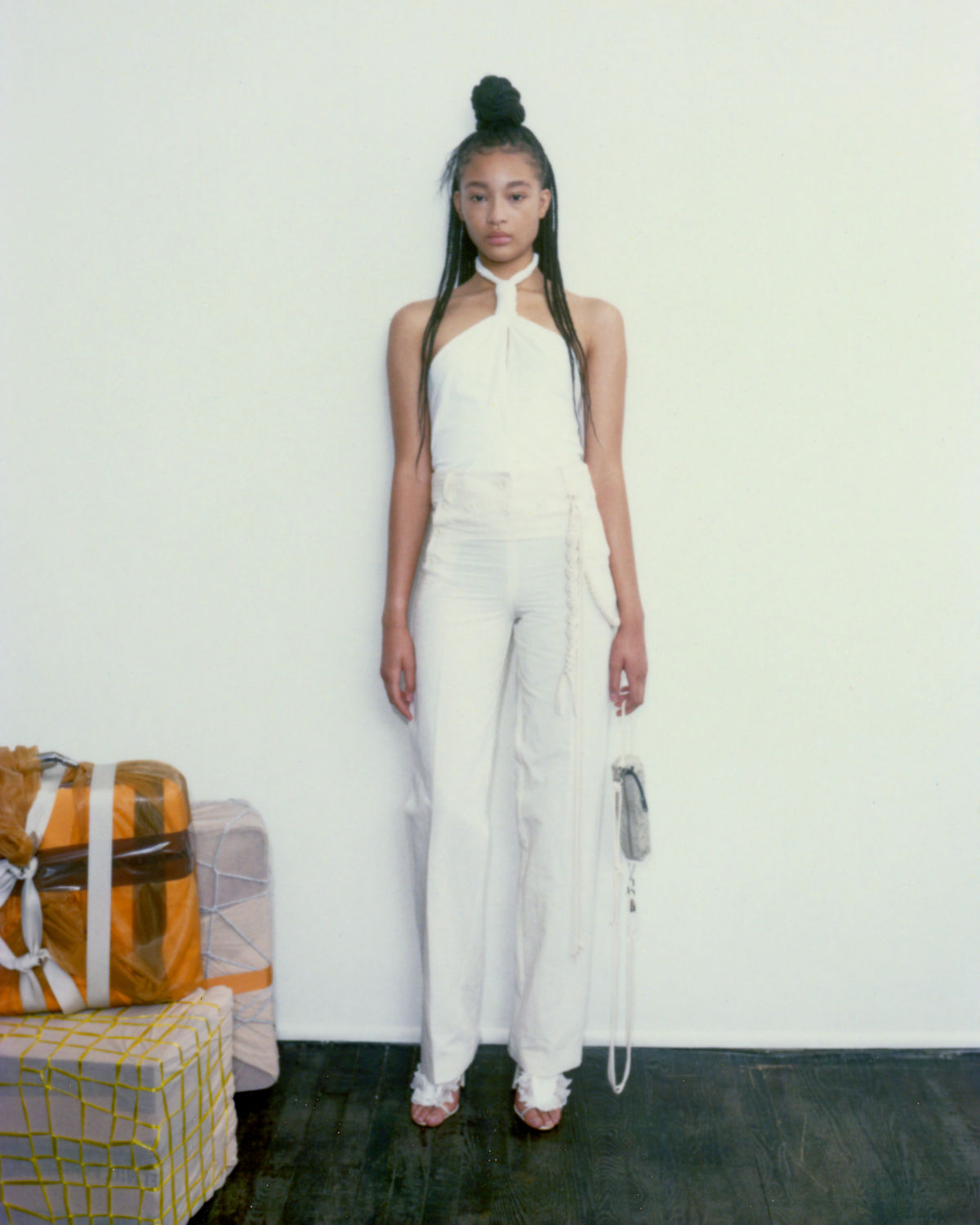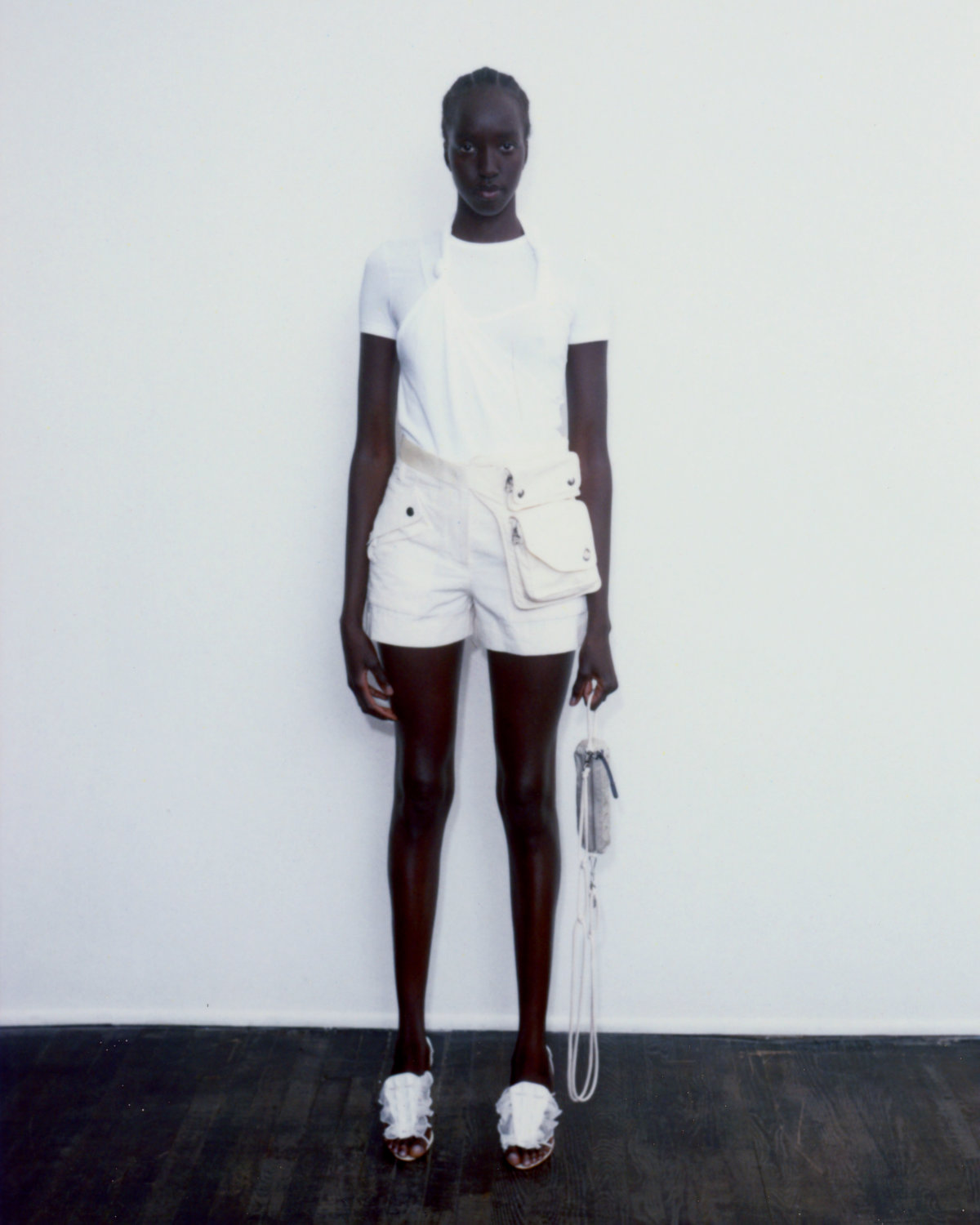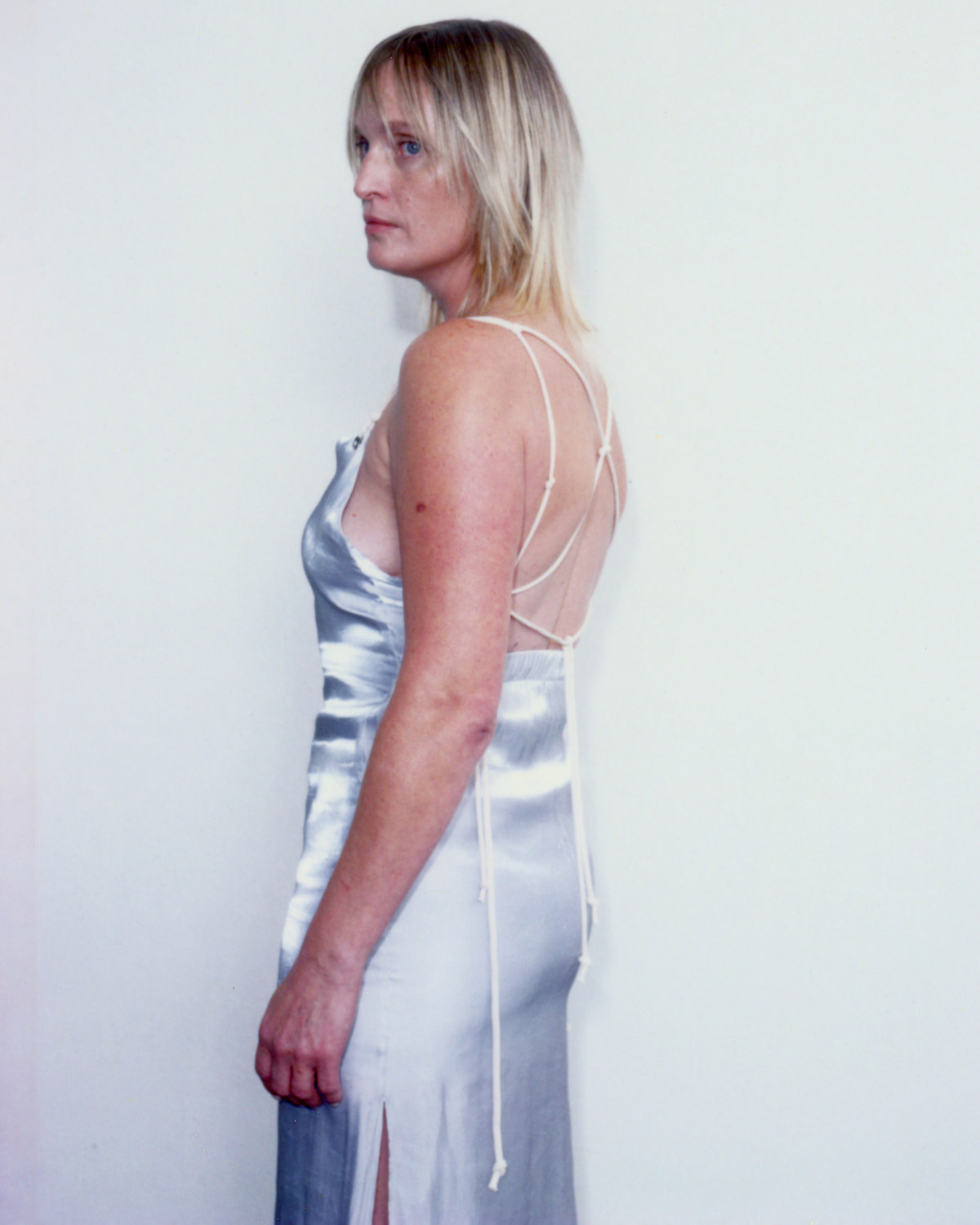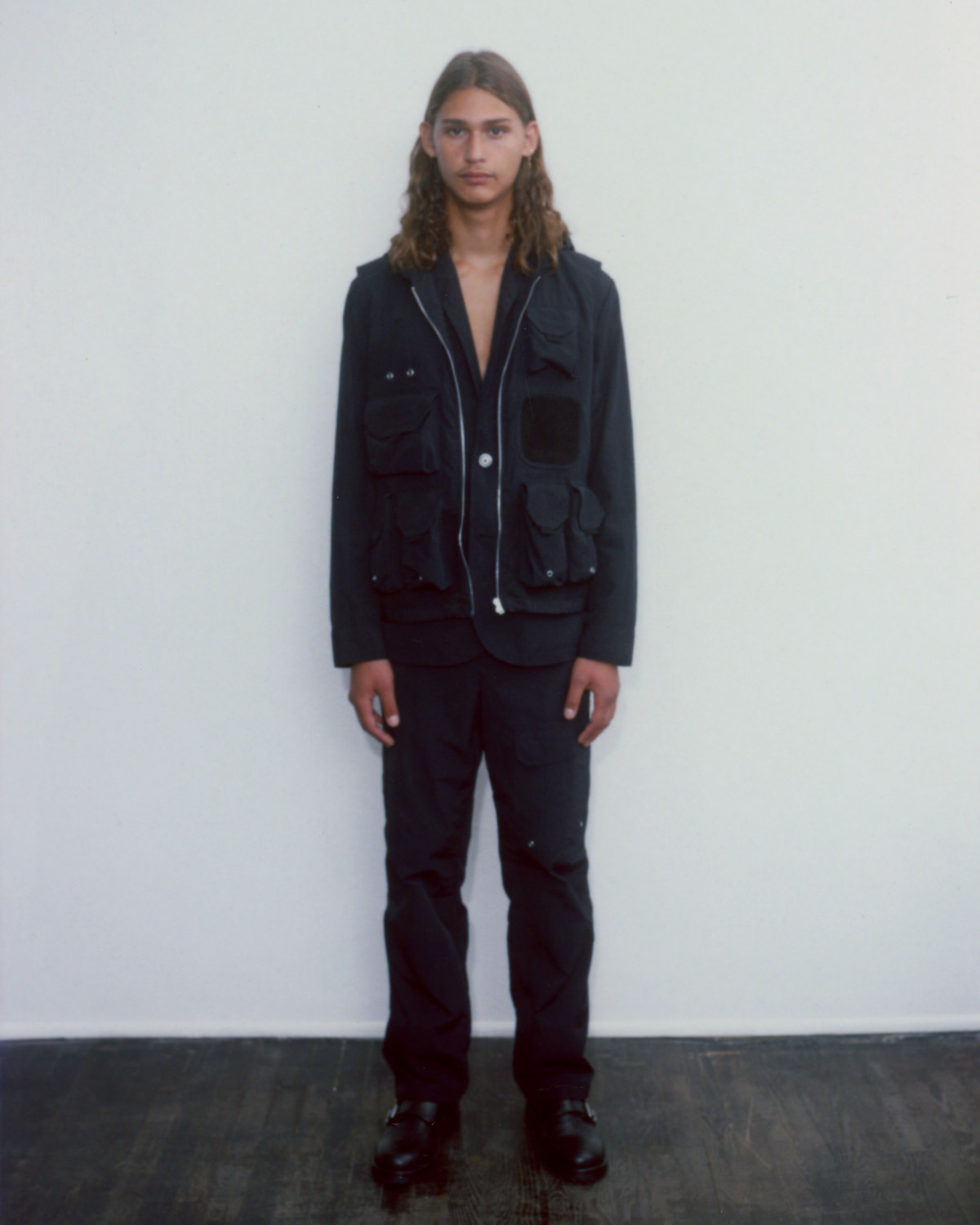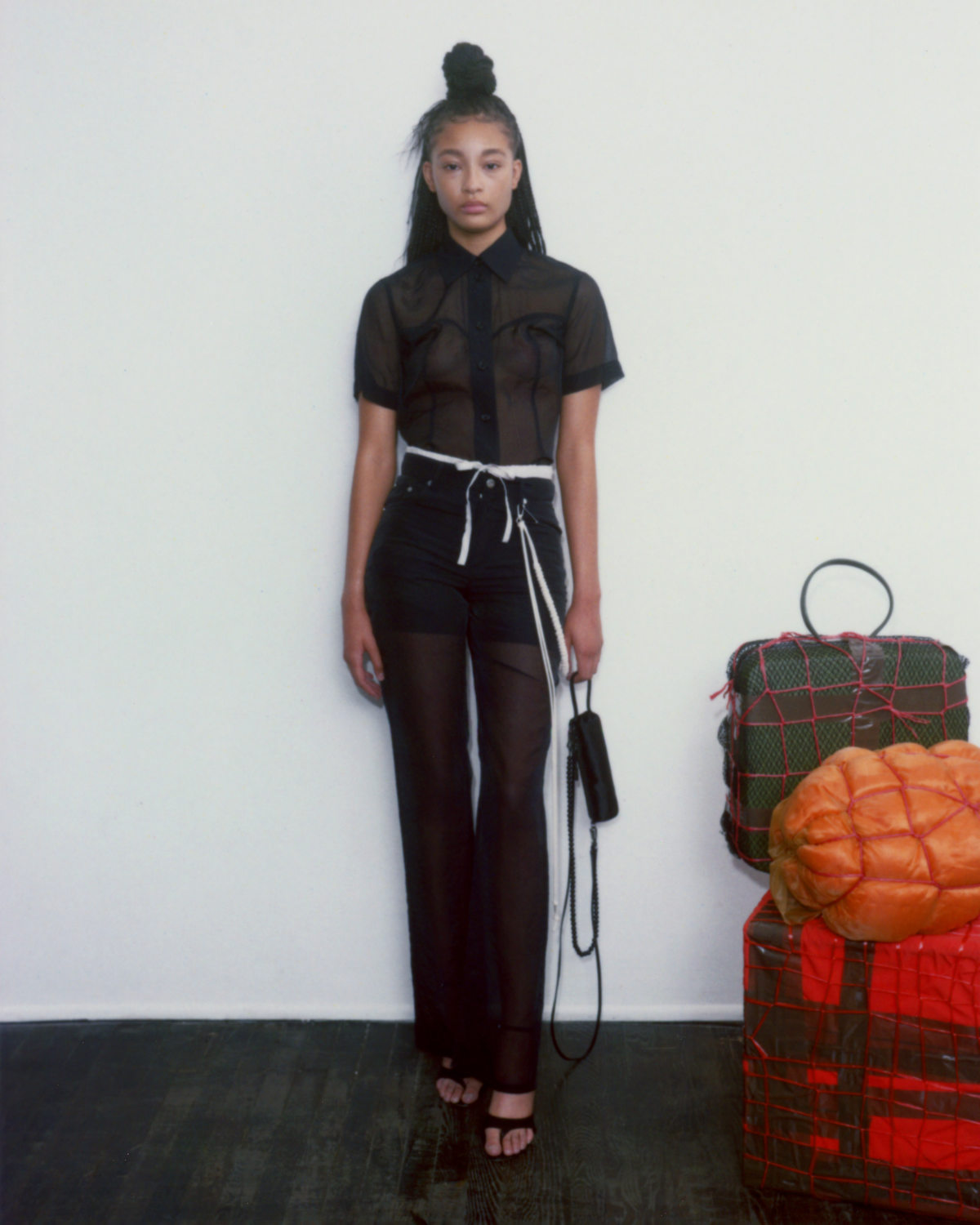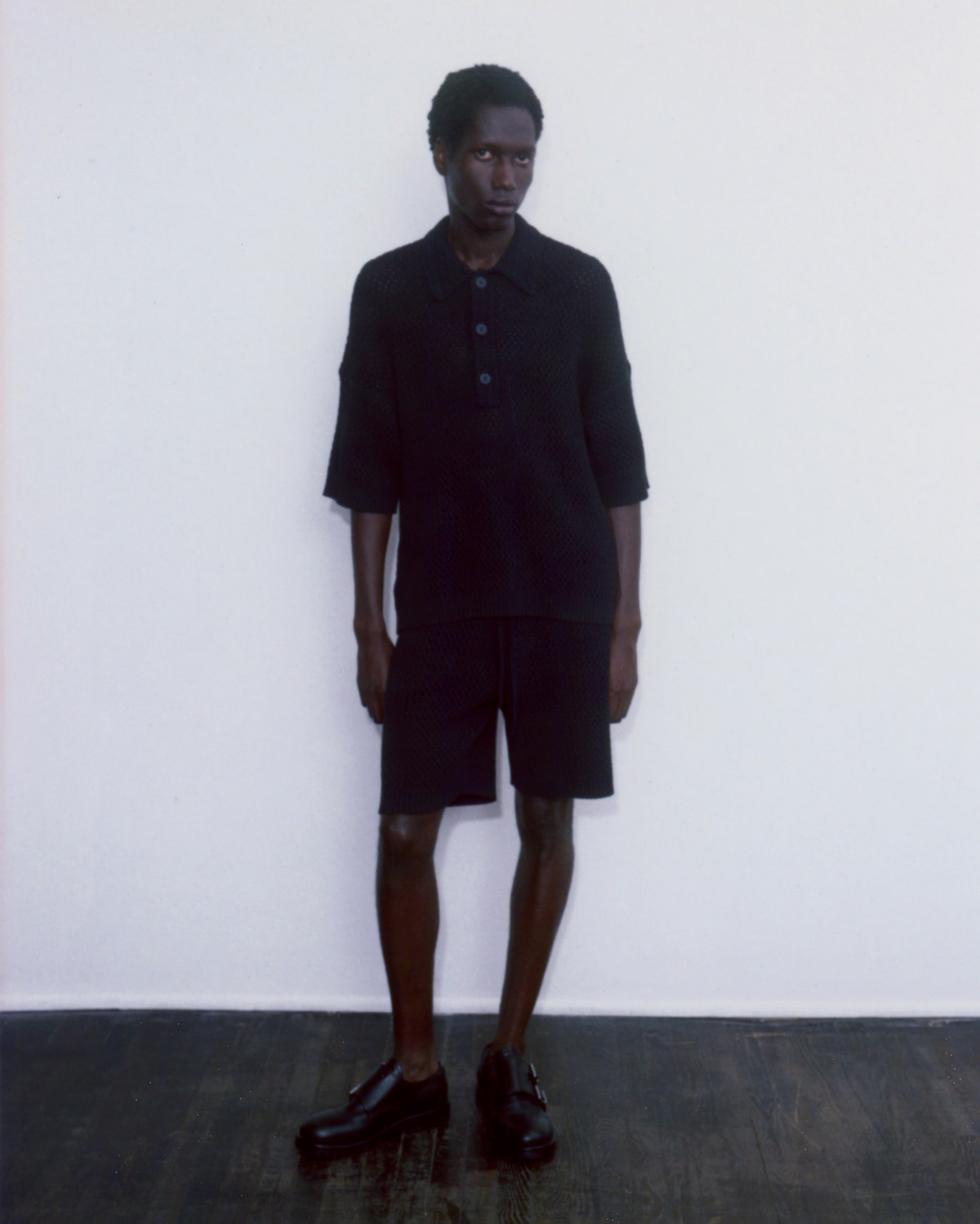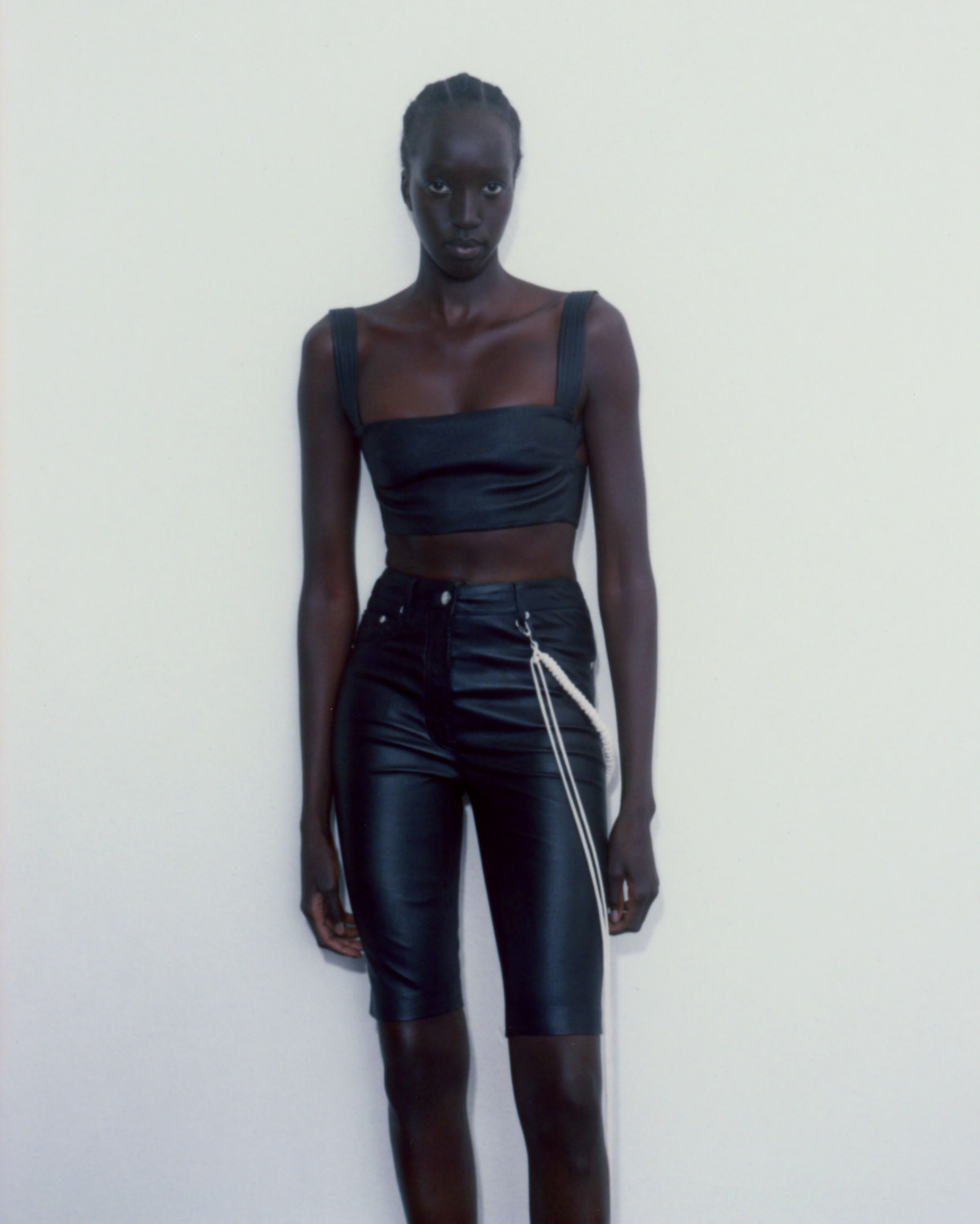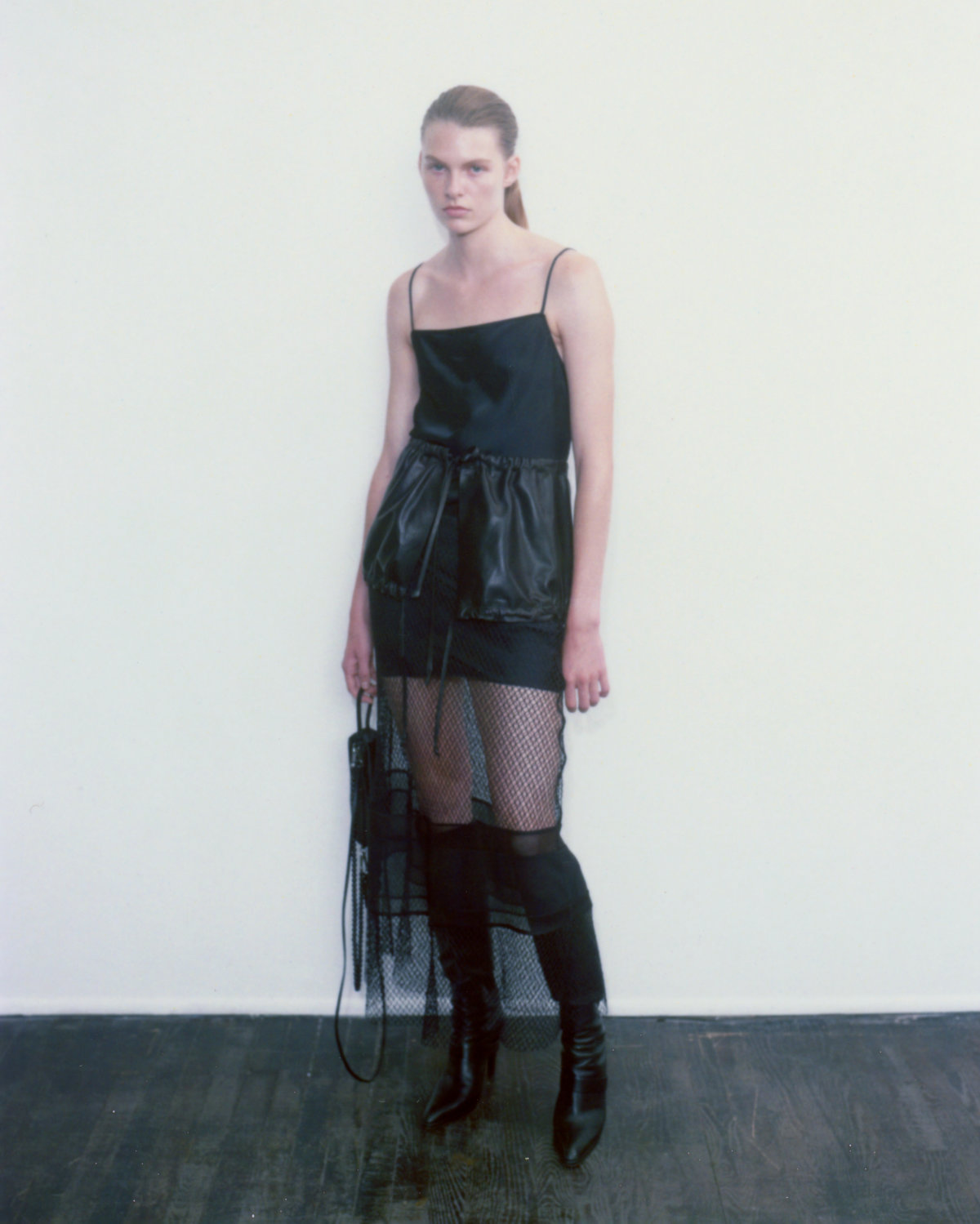 INTERVENTION BY MAIA RUTH LEE
BONDAGE BAGGAGE IS A SERIES OF SCULPTURES BASED ON LEE'S OBSERVATION AND DOCUMENTATION OF LUGGAGE AT AIRPORTS. WRAPPED AND BOUND WITH VARIOUSLY COLORED TARP, ROPE AND TAPE, THE PARCELS COMBINE PRACTICALITY AND GESTURE WHILE CARRYING THEIR OWN PERSONAL STORIES THROUGH SPACE AND TIME. "THESE WORKS ARE ABOUT LABOR, IMMIGRATION, FAMILY, DIASPORA, SELF-PRESERVATION, PRIVACY, AND TRAVEL."
BONDAGE BAGGAGE ATLAS IS A SERIES OF PAINTINGS CREATED FROM DECONSTRUCTED BONDAGE BAGGAGE SCULPTURES. LIKE AN ATLAS, THE ONCE SECURED STRUCTURES ARE UNKNOTTED AND RELEASED INTO A 2D FORMAT. THE PAINTINGS HOLD THE CONSTRAINTS AND MEMORIES OF THEIR FORMER SELVES.
FOR HELMUT LANG, LEE RETURNS TO THIS BODY OF WORK, FURTHER EXPLORING THESE ENIGMATIC PACKAGES USING HL ARCHIVAL MATERIALS, HL OVERSTOCK, AND FURNITURE FROM THE HL STUDIO AND INVITING US TO CONSIDER THE LANGUAGE AND THE STORIES IT CONCEALS IN ITS FOLDS.
MAIA RUTH LEE WAS BORN IN BUSAN, SOUTH KOREA IN 1983. SHE CURRENTLY LIVES AND WORKS IN SALIDA, COLORADO.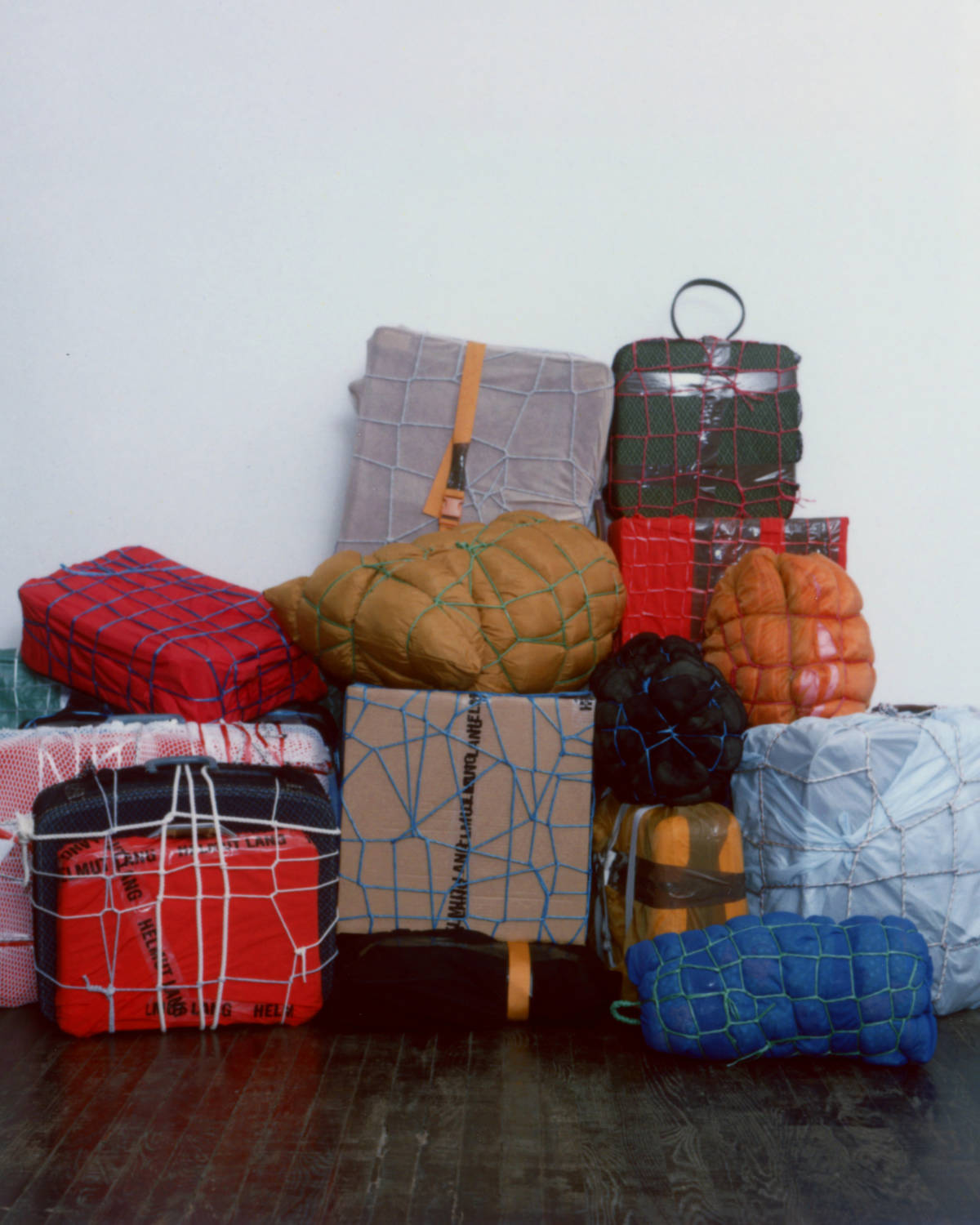 BONDAGE BAGGAGE, 2021
REPURPOSED HL FABRICS, CARDBOARD, ROPE, BOXES, BAGS, TARPS, TAPE
BONDAGE BAGGAGE ATLAS, 2021
REPURPOSED HL FABRICS, INDIA INK, ROPE
BONDAGE FURNITURE, 2021
REPURPOSED HL FABRICS, ROPE, TAPE