Dries Van Noten Presents Its New Fall Winter 2022-23 Collection
Luxferity, 08.04.2022
INSPIRATION

An ode to femininity and exuberance.
An erotic undertone.
The ultra-feminine contrasts with the toughness of menswear.
A sharp focus on shape, attitude, and Ideals of opulence.
Clashes and combinations…
Themes shared with the designs for perfume bottles of Dries Van Noten Beauty unveiled with this collection.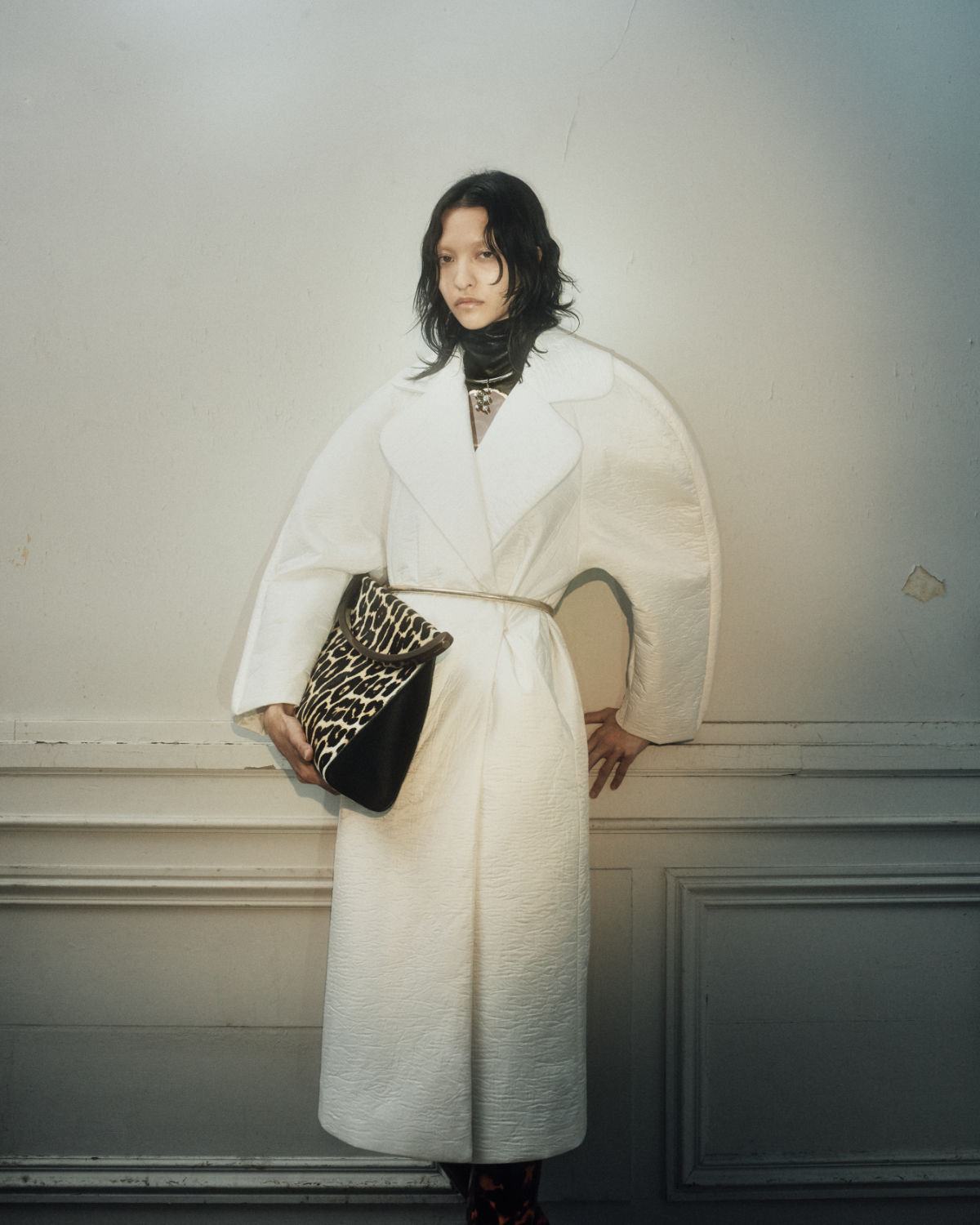 ITALY

Italian femininity and glamour.
Mina (La Luna Diamanté) Italian male icons, architect & artist Carlo Mollino & Marcello Mastroianni in his rendition of "Paradiso Perduto" – "Nostalgia del future".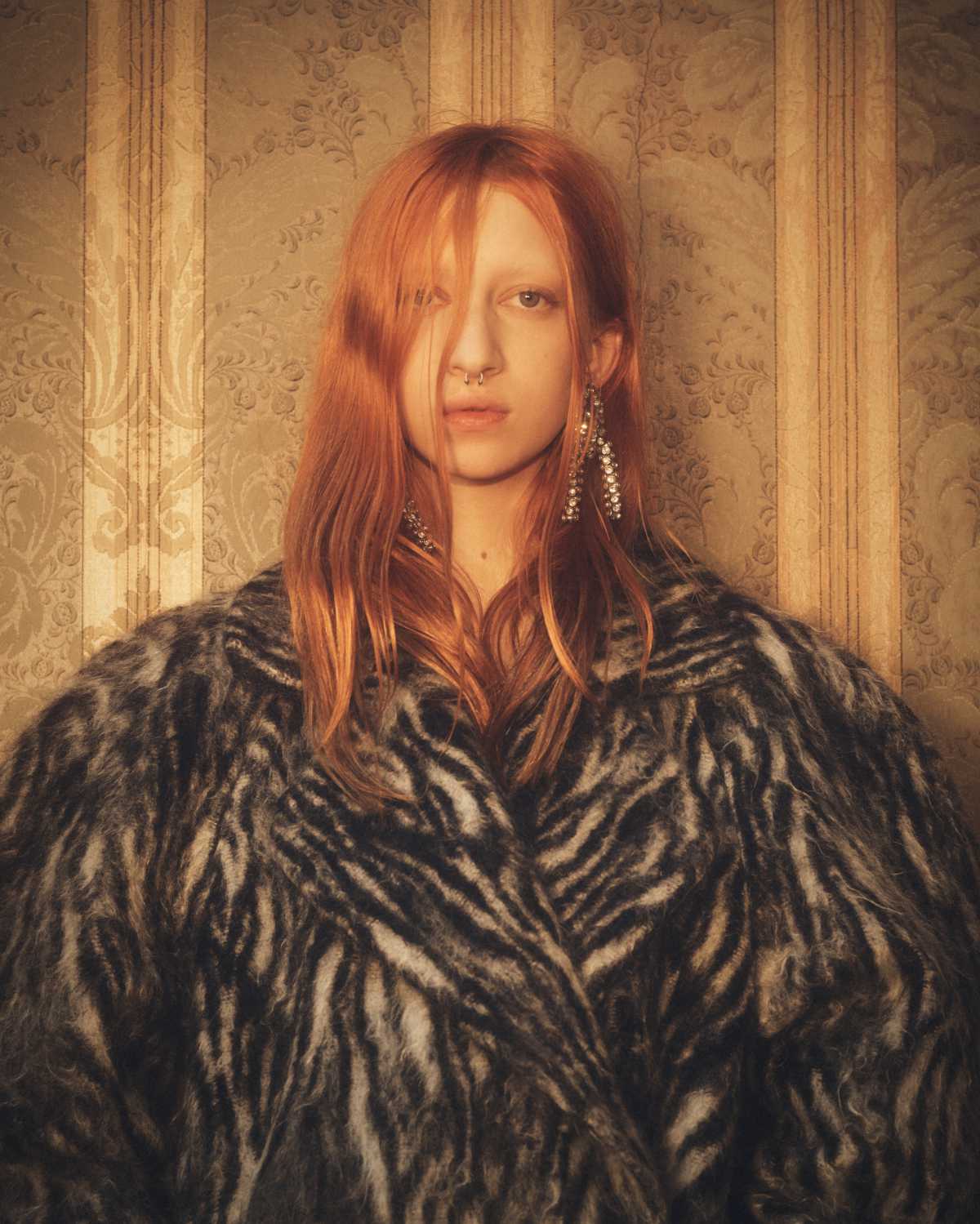 CARLO MOLLINO (1905-1973)

Architect and artist, master of furniture design and interiors, fascinated by aerodynamics, ski and flight.
Casa Mollino: his home in Turin decorated in the 1960's and conceived as a private project imagined with a strong symbolism. Inspired by a sense of curation, a precise mix of collectibles of contrasted age and value, it expresses a vivid feel of exoticism.
Carlo Mollino Polaroids: found after his death and composed like paintings eroticising Women.
They shape a complete, fully accessorised, and considered character. Mollino reworked the images by hand, colouring, and scratching to perfect his vision. His mise-en-scene, on a tiny set, created total intimacy and explored the ambiguity between muse and artist and what is revealed behind closed doors and curtains.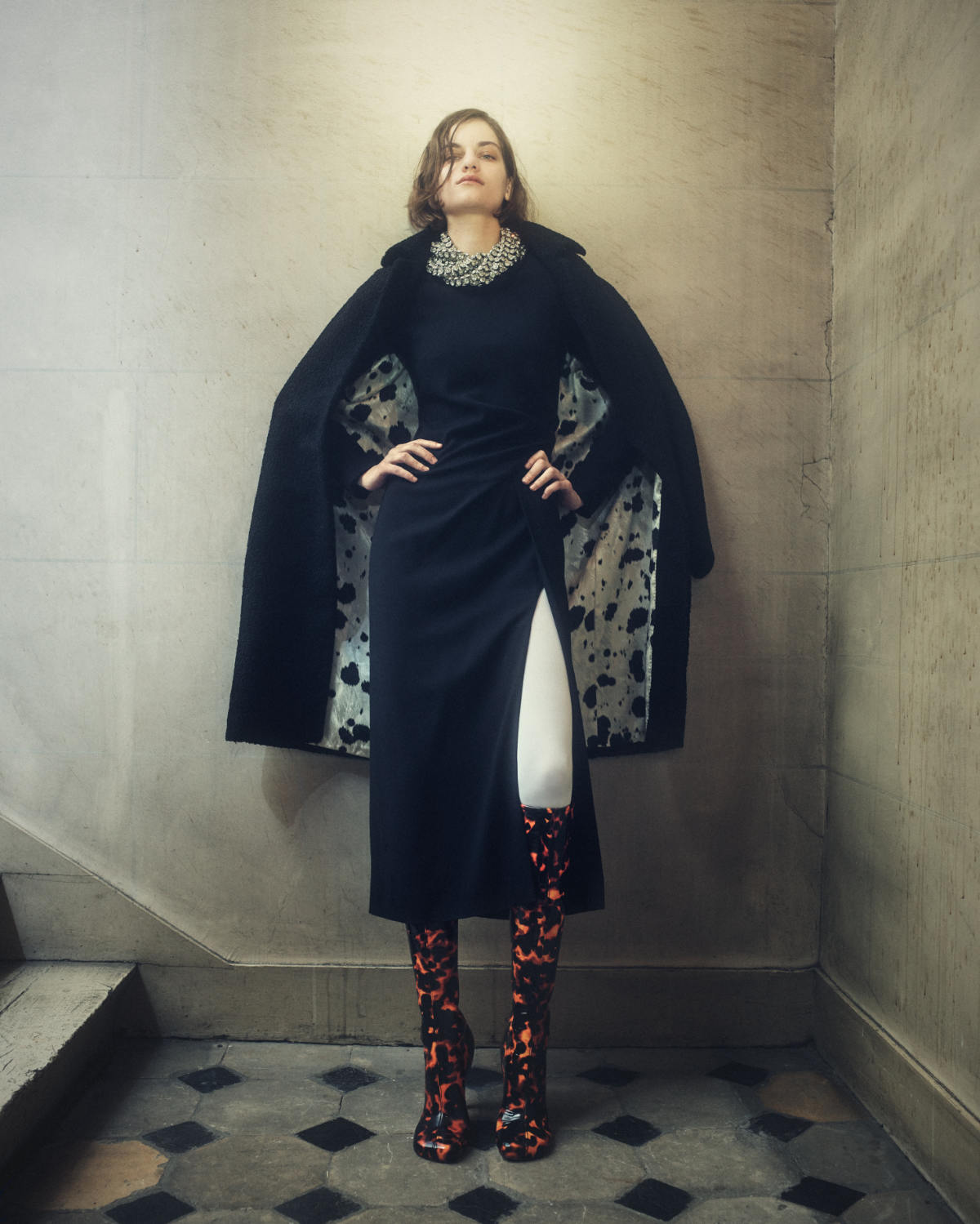 EROTIC UNDERTONE

Exploring the mood of kink - a play on peek and reveal, hide and seek.
Slits, pointed shoulders, strict waists and sharp lines.
Revealing - cut-outs and transparency.
Covering - bibs, gloves, and tights - A high neck dress with high sensual slit.
The excess of one material, print, garments, and accessories merge to create a new skin – in porcelain and tortoise prints, leather, and velvet.
A play on proportions creates tension - a big cocooning coat shaped by a thin sharp chrome belt.
An excess of jewels.
Tight knee-high laced boots fit like a glove and elongate legs.
Long gloves, bibs, chokers, and the signature Dries Van Noten banana shaped heel.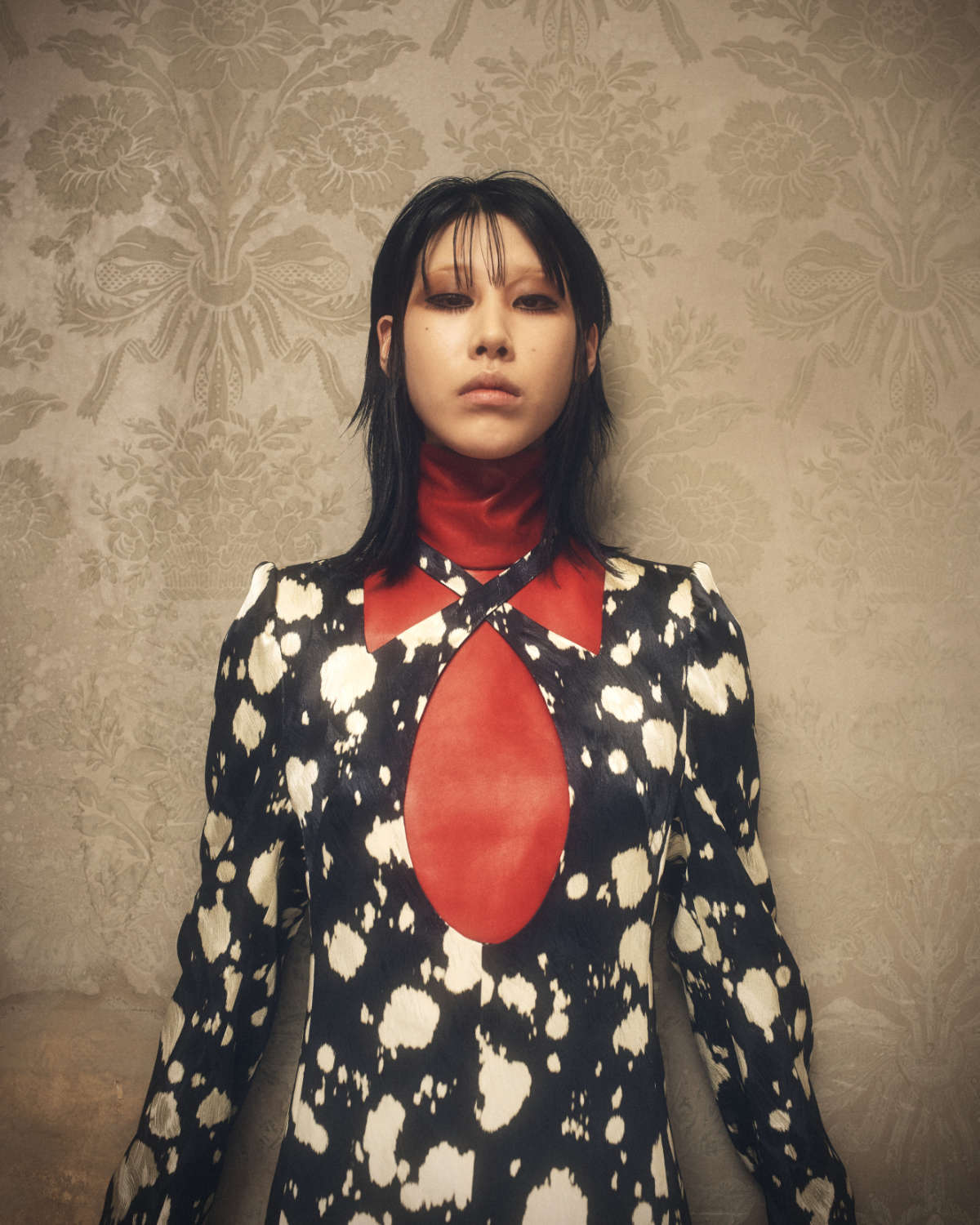 FORM

Sharp tailoring and soft curved lines, tactile & sensory - an exercise in volume and structure – stark contrasts - exaggerated contours, wide shoulders and cinched waists, oversized round, padding and quilting, soft draping.
A study on coats and outerwear – circular construction, embellished bomber jackets.
Padded piping accentuates silhouettes.
Shapes evoke couture - the volumes of exaggerated sleeves are tailored in front and draped in the back.
A new fabric bonds pleats to create architectural volume.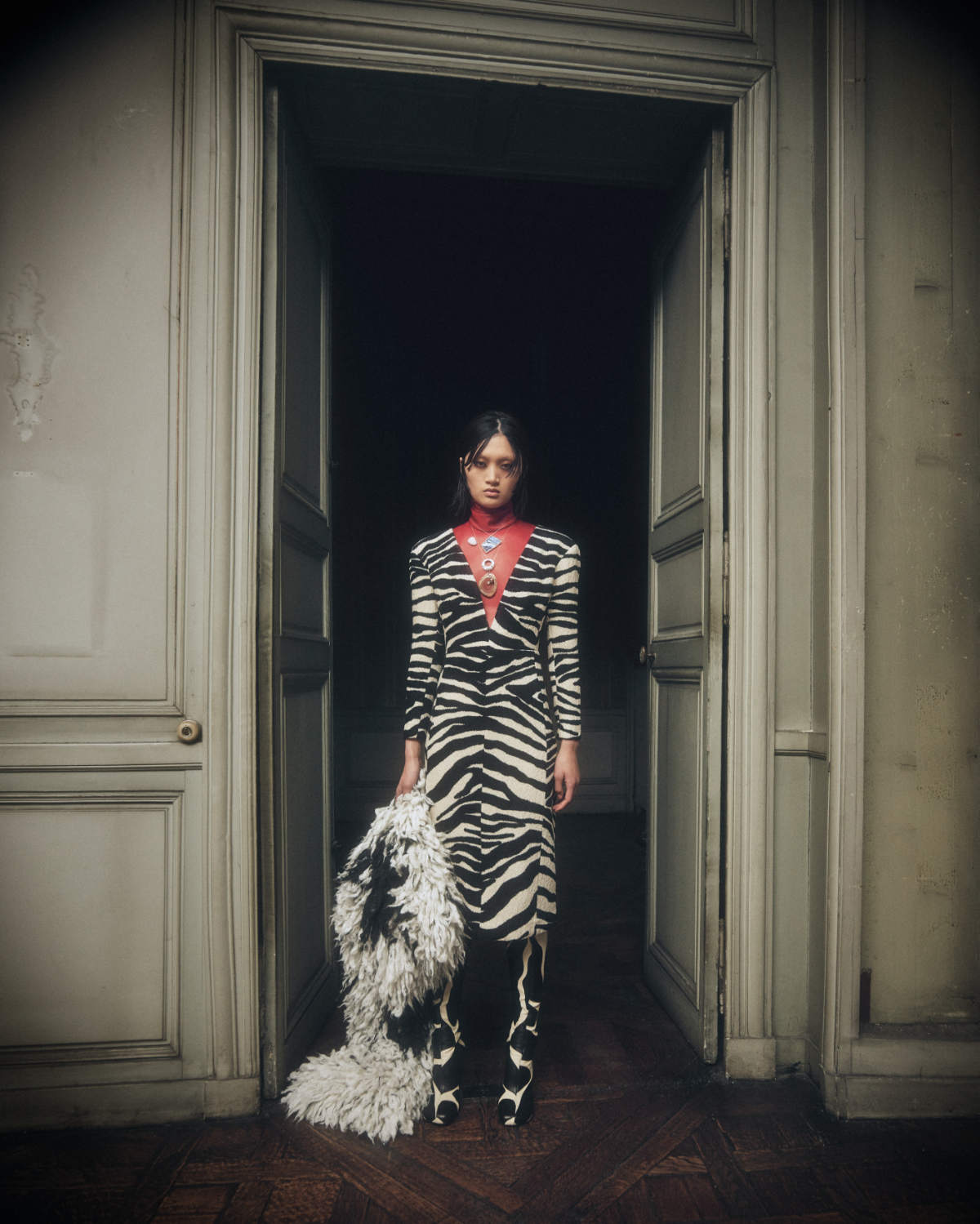 COLOURS

Black and white are treated as colour.
All hues and specific connotations - darkness, purity are heightened by fabric texture, opacity, and iridescence - lacquer, sheer, bouclette and velvet.
Optic and pearly whites in natural wools, and glossy satin.
Deep rich amber & wood tones, Delft blue, saturated lipstick colours - bubble-gum pink, magenta, cherry red, violet and chartreuse. Chrome silver & antique gold.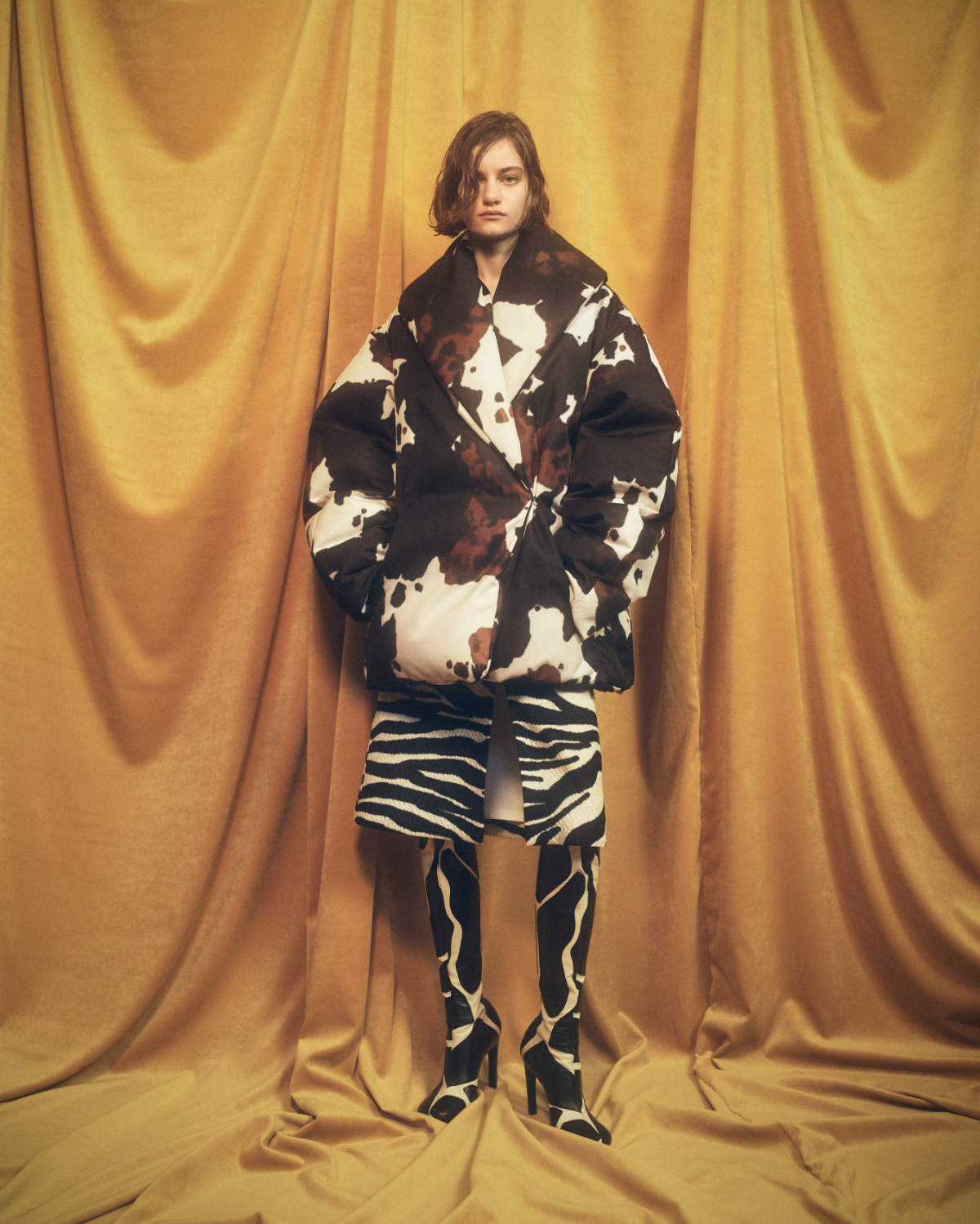 FABRICS

Lush, strict, languid, soft, rigid, diaphanous, glossy.
Leathers are dark or aerial - voluminous trousers in optic white, stark black or with blue delft motifs.
Men's tailoring, wools, faux fur, crepe, muslin, jacquard, velvet, cloqué, bouclette, chenille, mohair, languorous jersey, broken satin, felted wool, bleached denim, bonded, and laminated fabrics.
Jacquard in lurex and silk evoke flock wall coverings.
A newly devised bonded horizontal plissé brings rigor to shapes.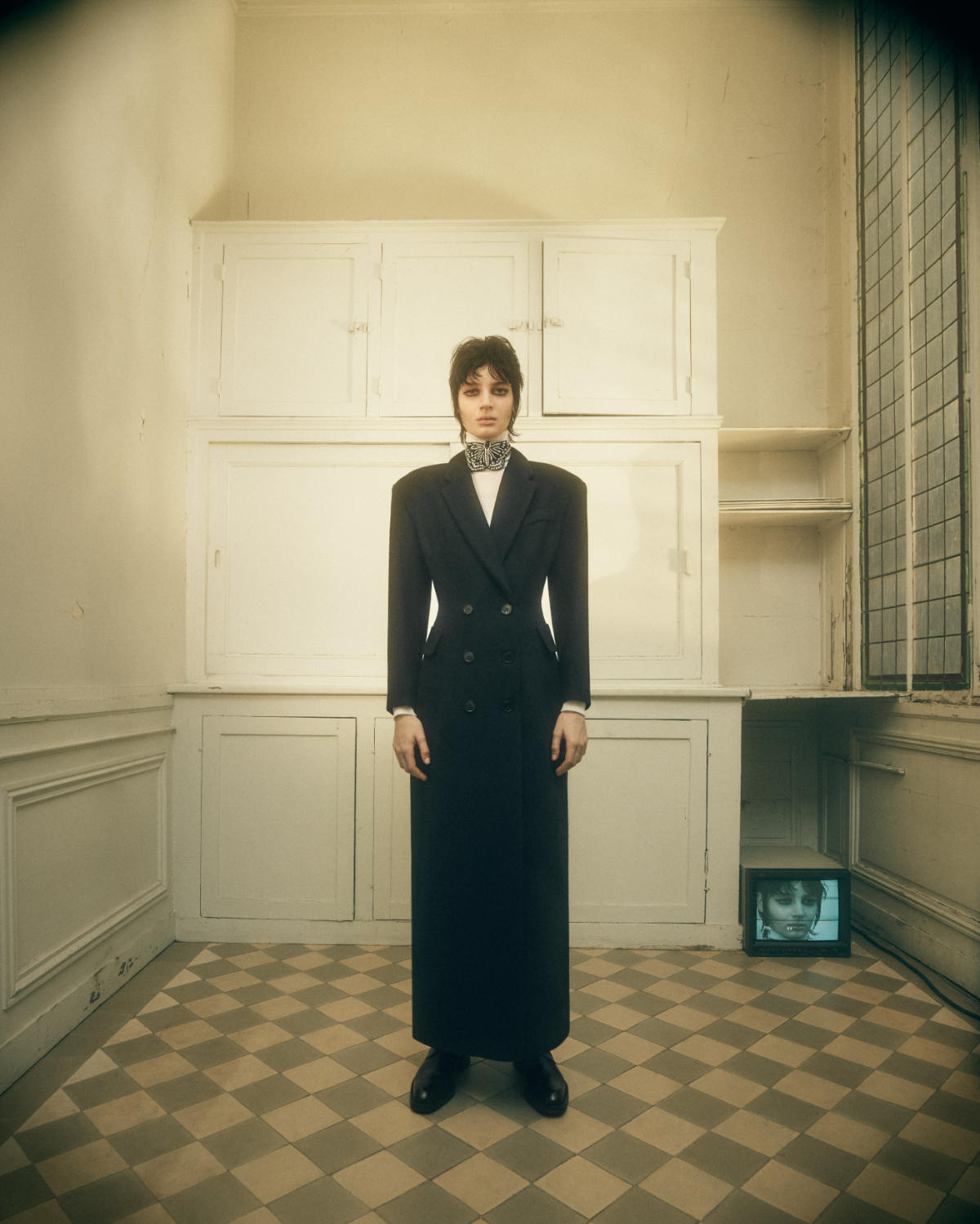 PRINT & EMBELLISHMENT

Curated, evoking the bold and exotic interior of the Casa Mollino - William Morris prints, baroque wallpapers, a butterfly lights inside on a richly coloured wall.
Exact and interpreted topes of the exotic and precious reference the exoticism of 60s couture.
Cherished collectibles - tortoise, leopard, giraffe, dalmatian, zebra, snake, crocodile, antique porcelain, stained glass, butterflies.
White leather printed as antique porcelain, velvet as William Morris, crocodile print jacquard printed with the markings of leopard printed.
Magnified blooms of hibiscus and poppy in black & white and bright colours reference 1950's and 60's couture.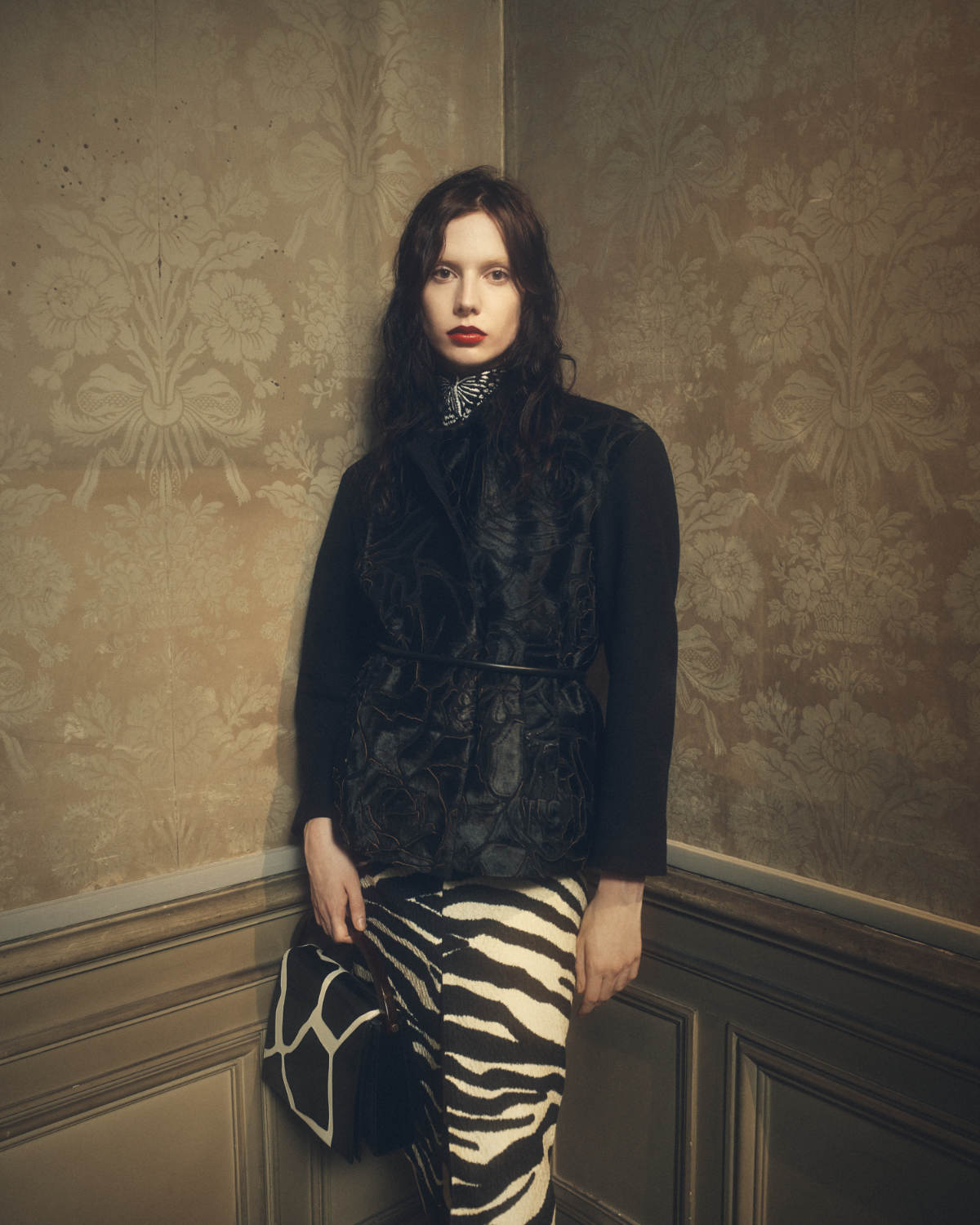 EMBELLISHMENT

Butterflies are ornate hand-crafted chokers and brooches - inspired by their presence at Casa Mollino.
Appliqué and embroidery define lines - Diamanté frames highlight shapes of garments and mimic animal prints.
A bejeweled moon shaped shoulder detail (Luna Diamanté)
Padded piping illustrates and emphasises structure.
Pearls & diamanté, hologram sequins.
Belts buckled with agate.
Appliqué patchwork of calfskin
Jackets in textured white sequins.
Swirling patterns mark garment exteriors and adorn their padded linings.
14 000 leather scales are hand sewn to mimic python skin.
Flames of gold with silver lined beads adorn the sleeves of a slender column evening dress.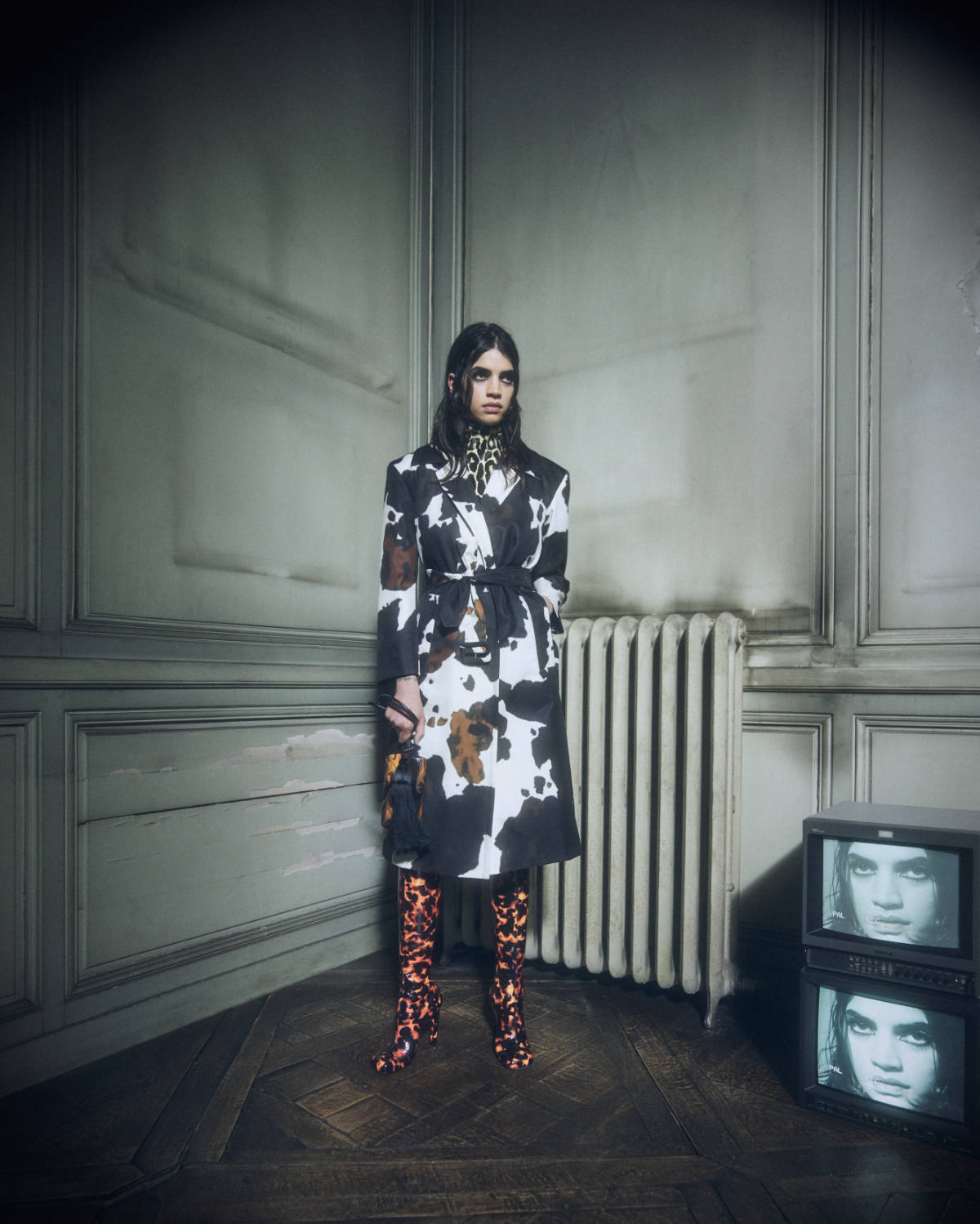 ACCESSORIES

Jewels suggest finds from a precious Wunderkammer of treasures and curiosities - shells trimmed in dipped gold, semi-precious stones, agate.
Intricate butterflies as bullion and beaded chokers.
Leather bibs and gloves match in key colours and prints of the collection.
Men's shoes ground ethereal femininity and thigh and knee-high laced boots evoke playful kink.
A new, pure-formed handbag in leather and skins is adorned with a turtle shell handle.
Opulent, multi-strand bright diamanté necklaces and bracelets.
HAIR & MAKEUP

Makeup: Lucy Bridge
Hair: Sam McKnight
Pronounced 1960 & 80's glamour. A gang of friends inspire one another and create a common edgy style. Defined two toned lips in strong shades from the upcoming DVN beauty collection. Bleached eyebrows. Dramatic exaggerated eyes in fine kohl and fake lashes are drawn in homage to Mina.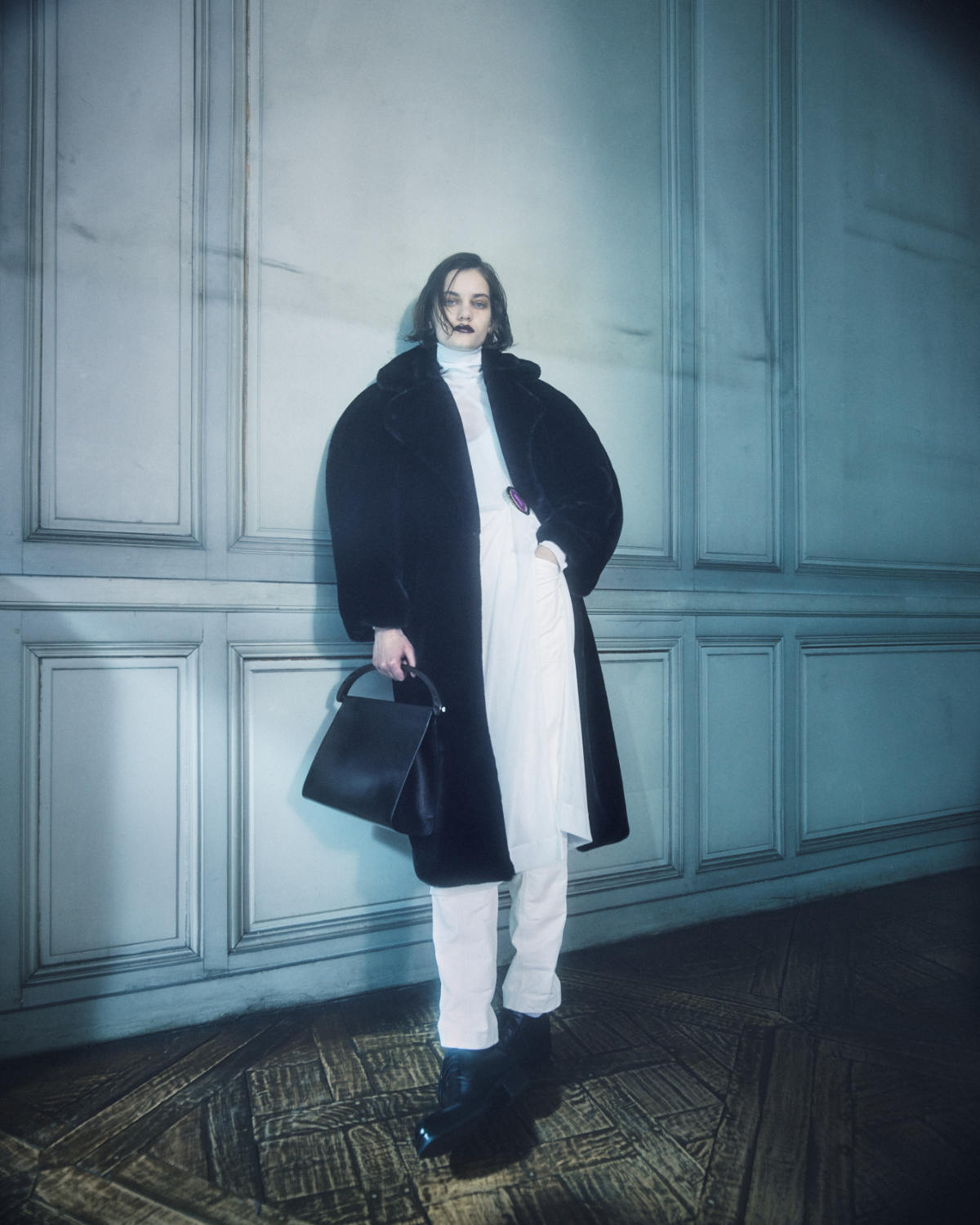 PRESENTATION

An ephemeral three-day curated exhibition in Paris presents the world of Dries Van Noten today.
The garment collections for women and men stand alongside the debut of Dries Van Noten beauty, perfumes, and lipstick.
The exhibit is housed at an abandoned Maison de maître, Hotel de Guise in the 7th arrondissement. Those invited view garments styled as outfits displayed on mannequins, accessories and a 'Wunderkammer' of jewellery. A short documentary film by Lisa Immordino Vreeland recounts the story of this exhibition and the photoshoot for women. A film by Casper Sejersen presents the recent collection for men.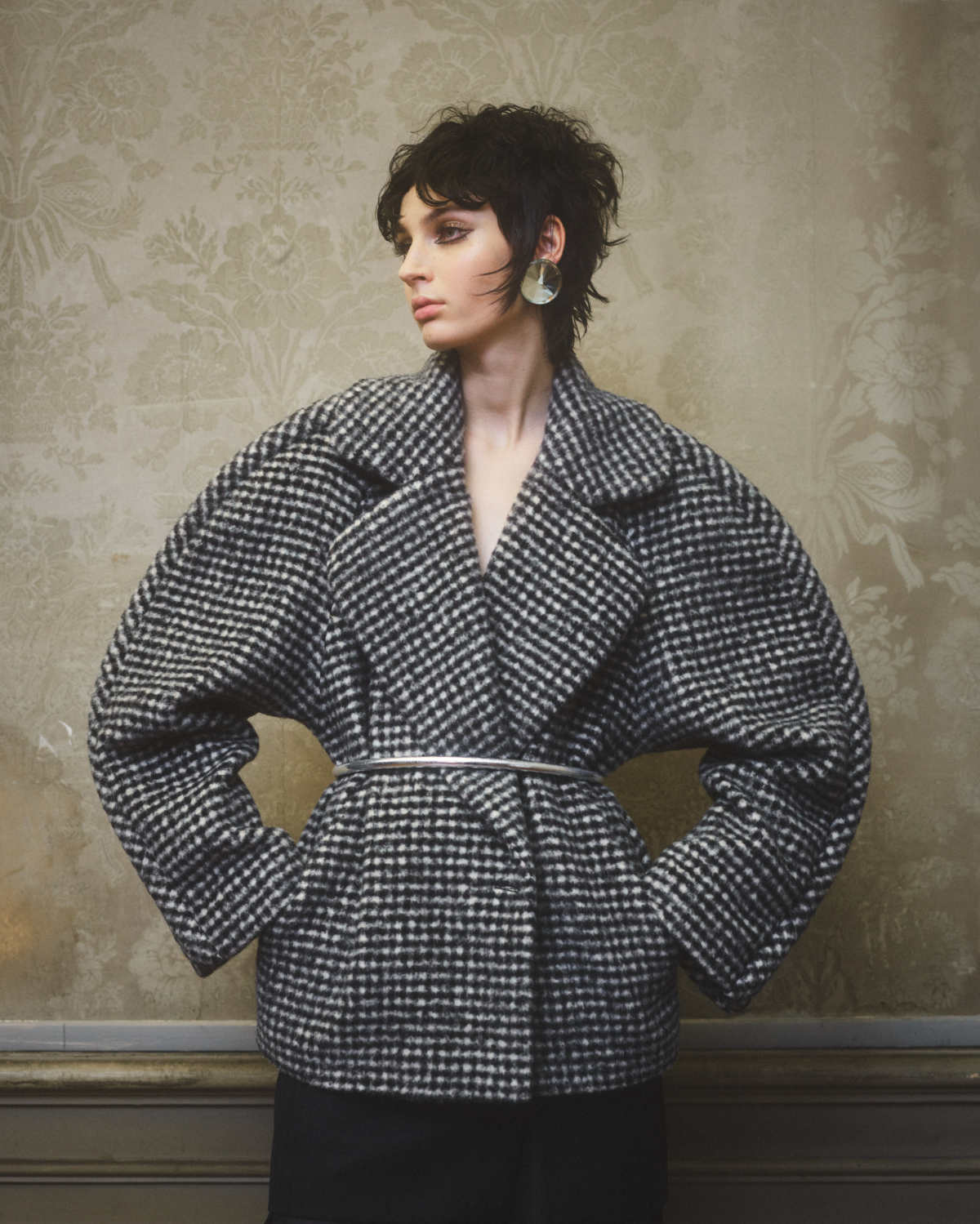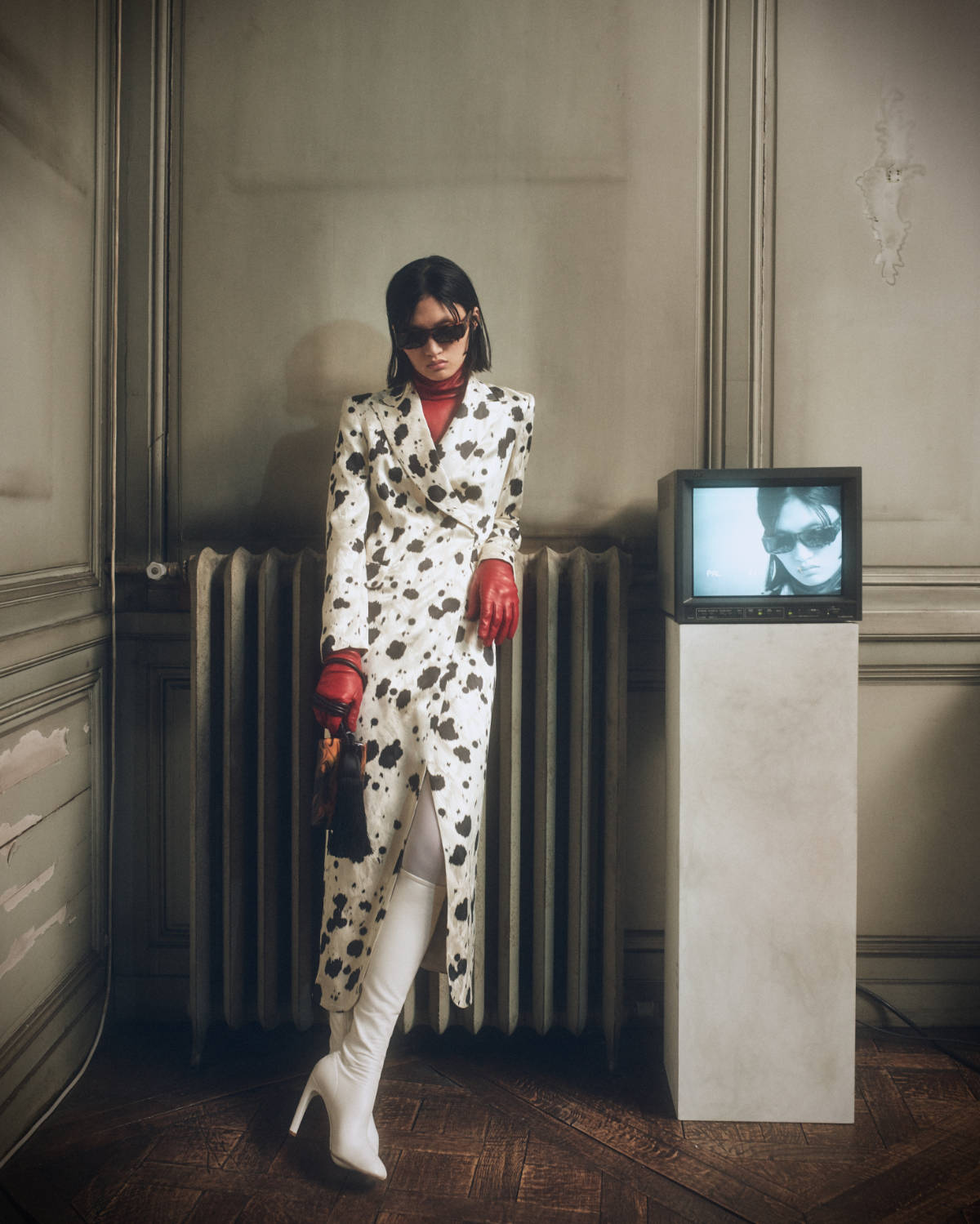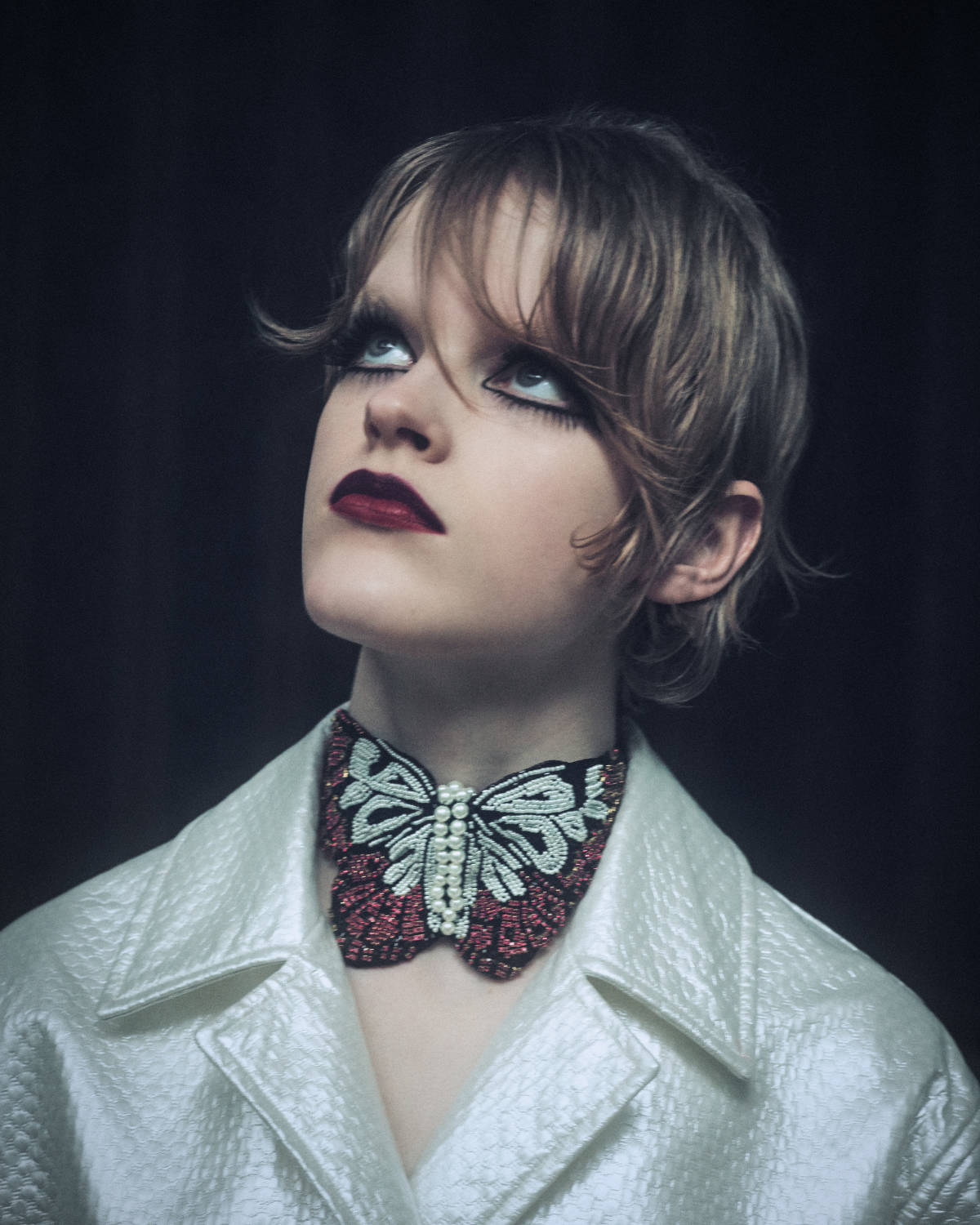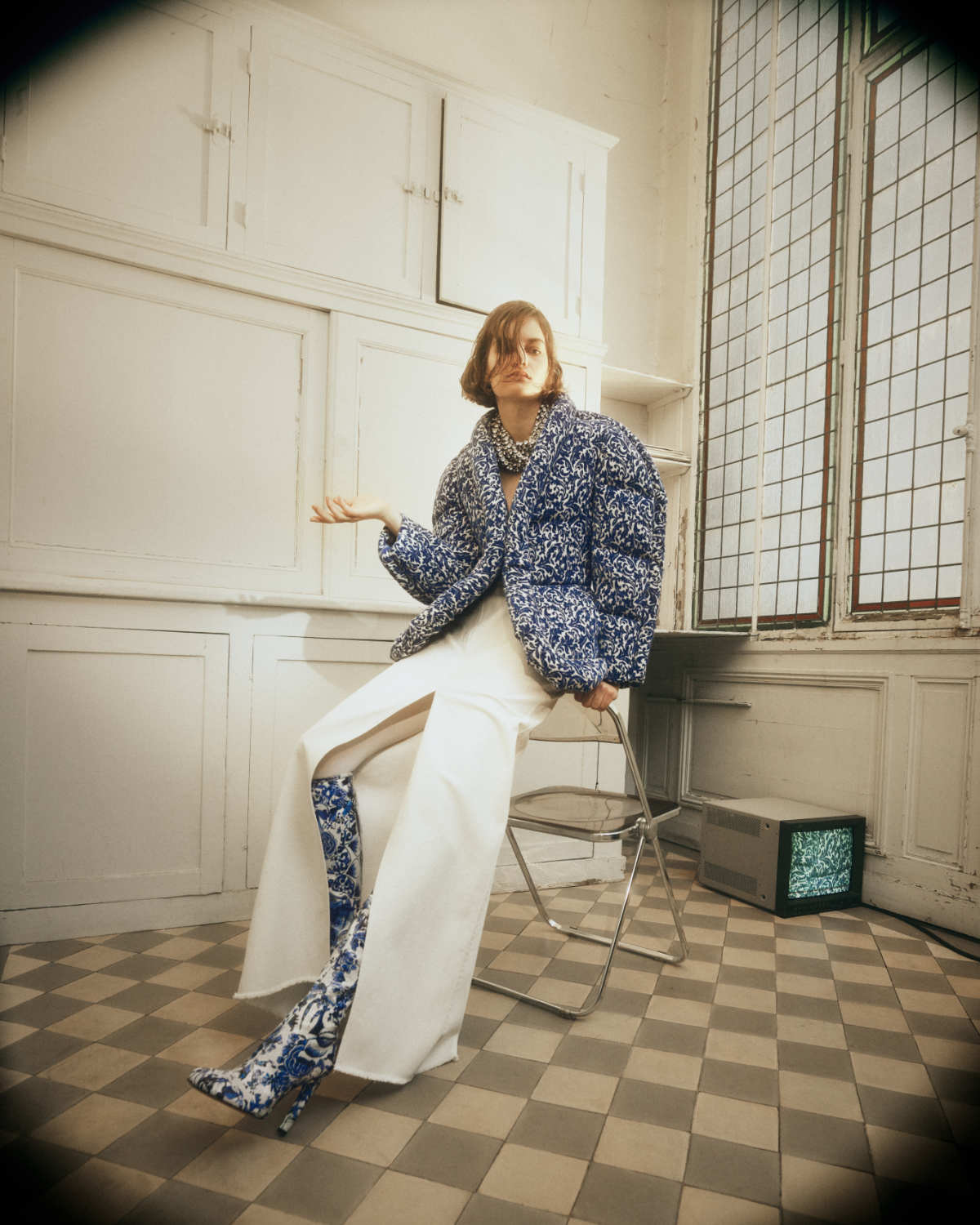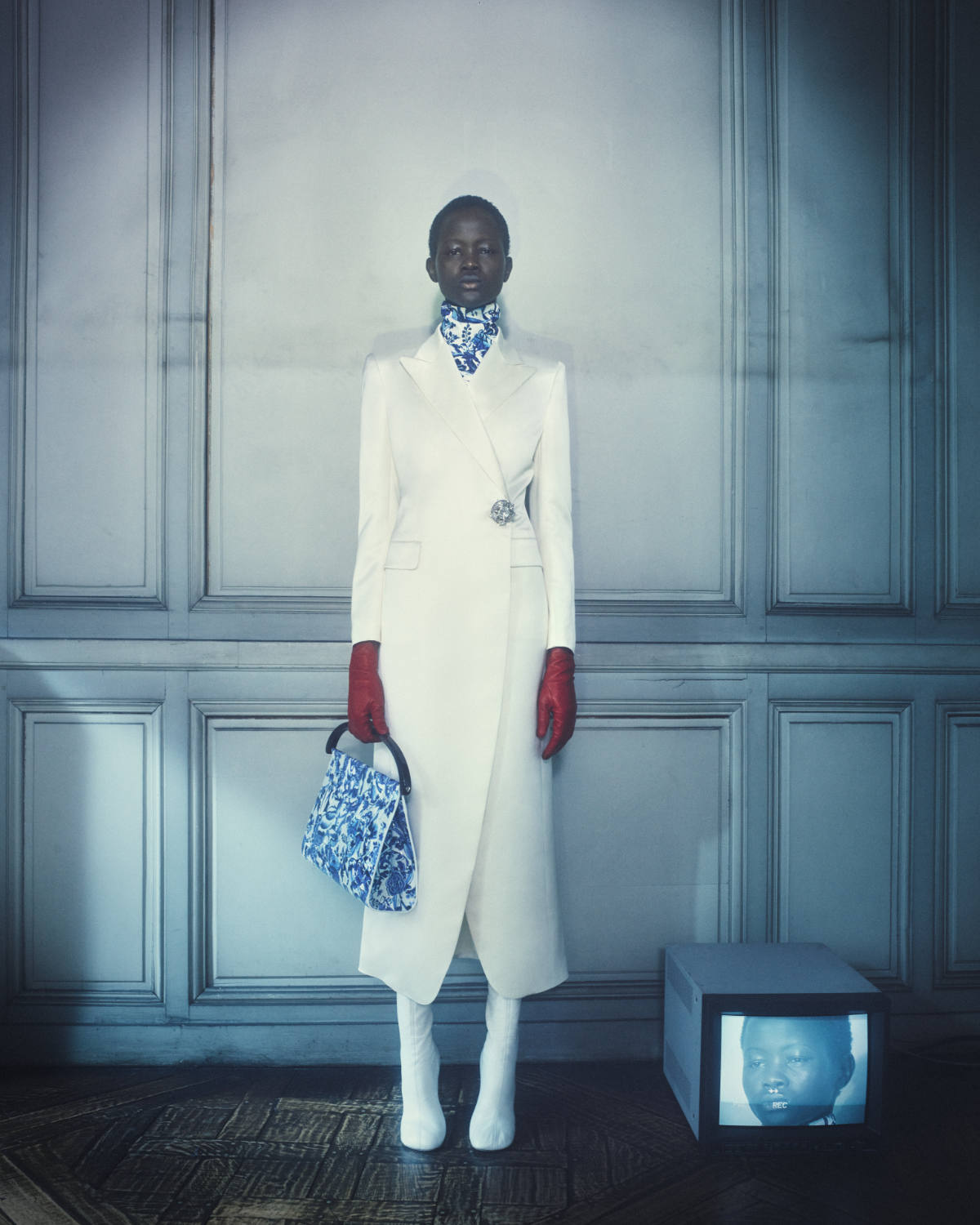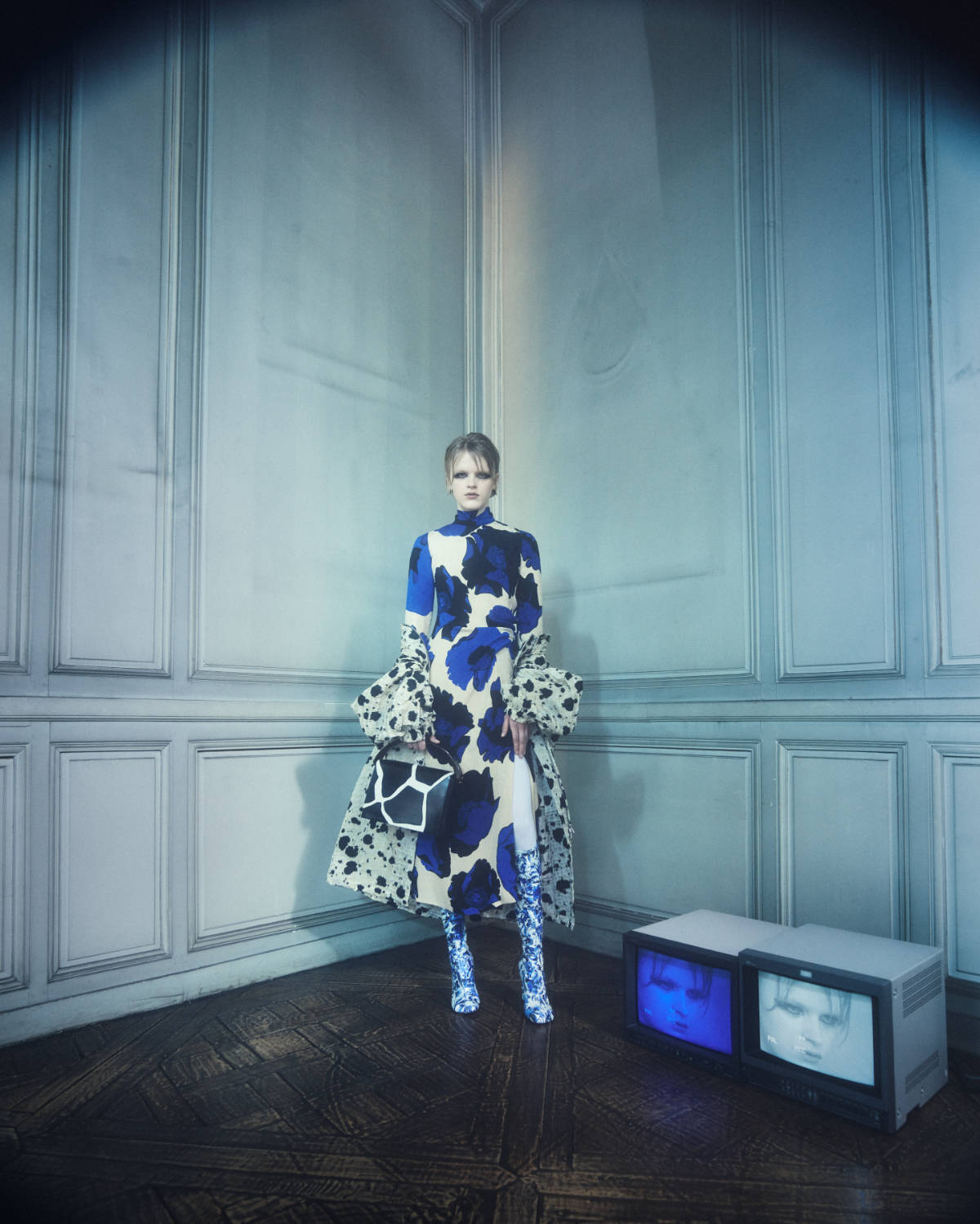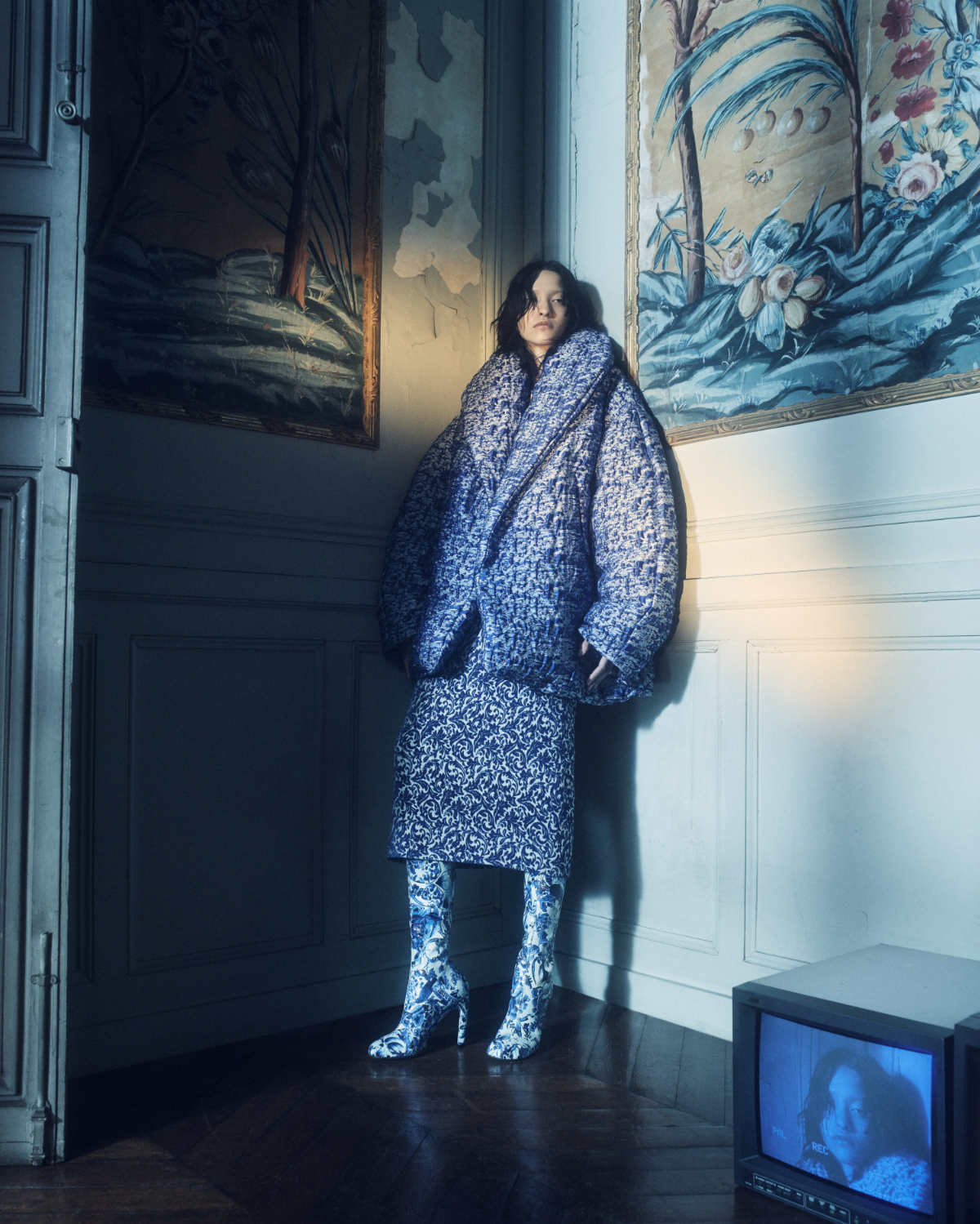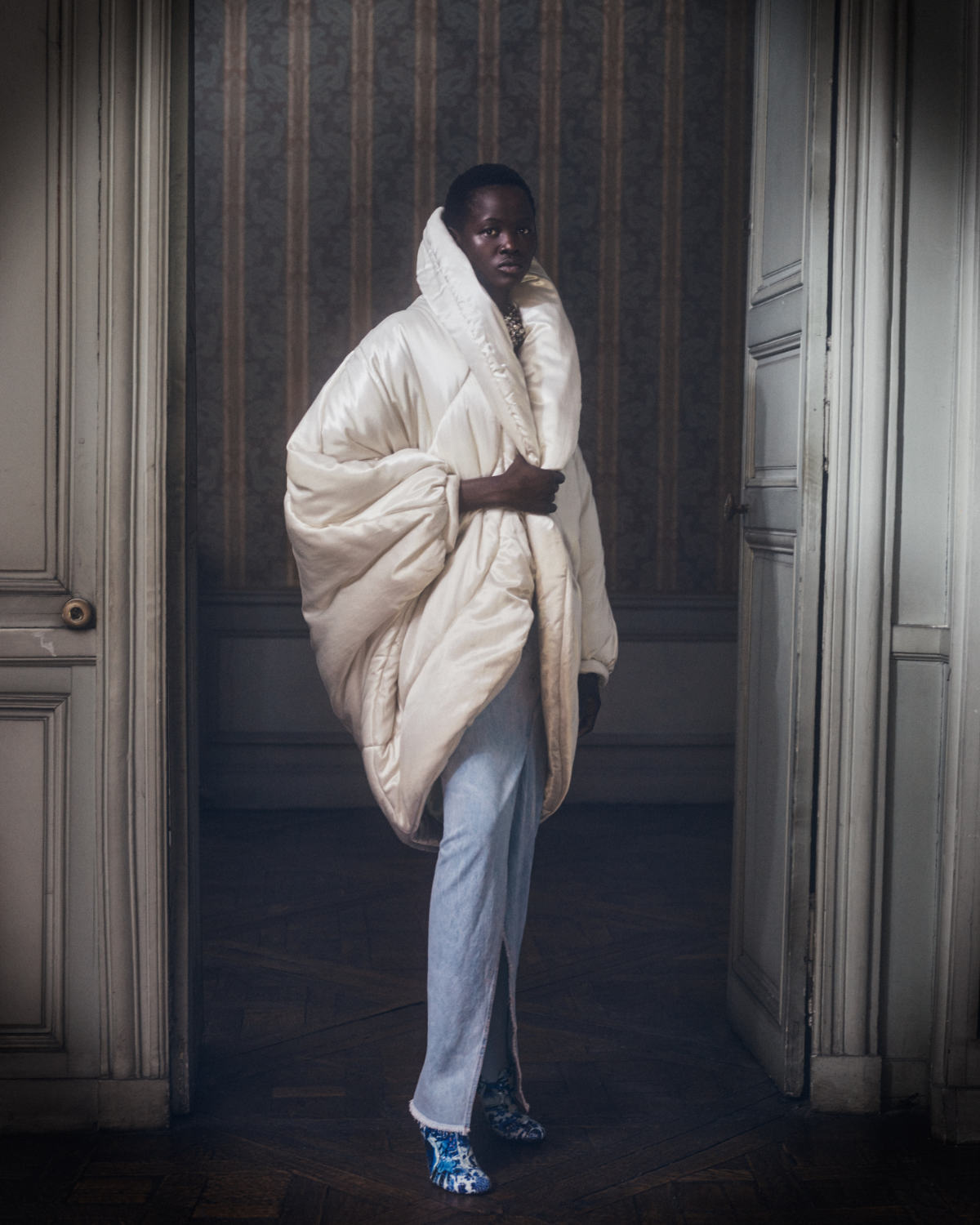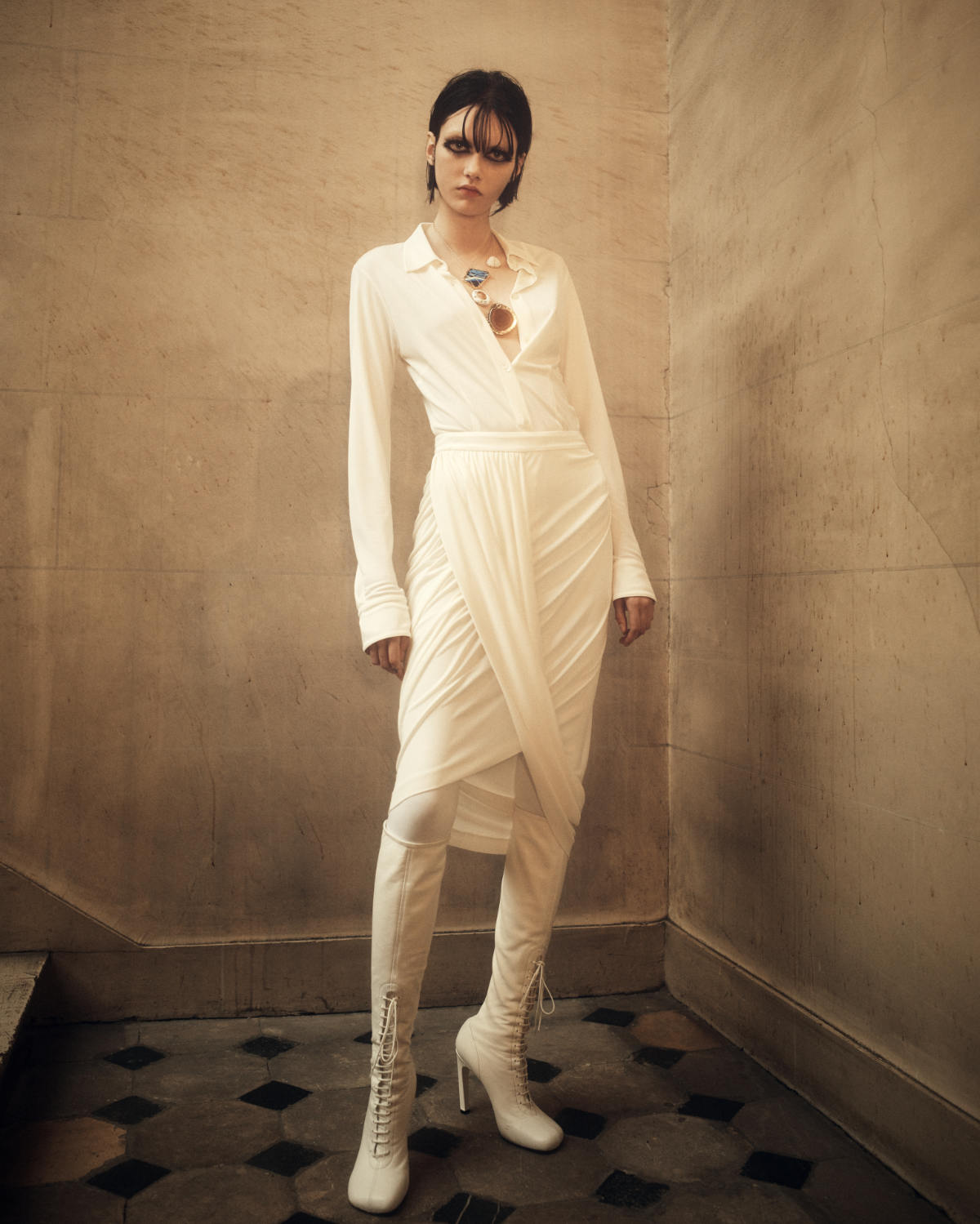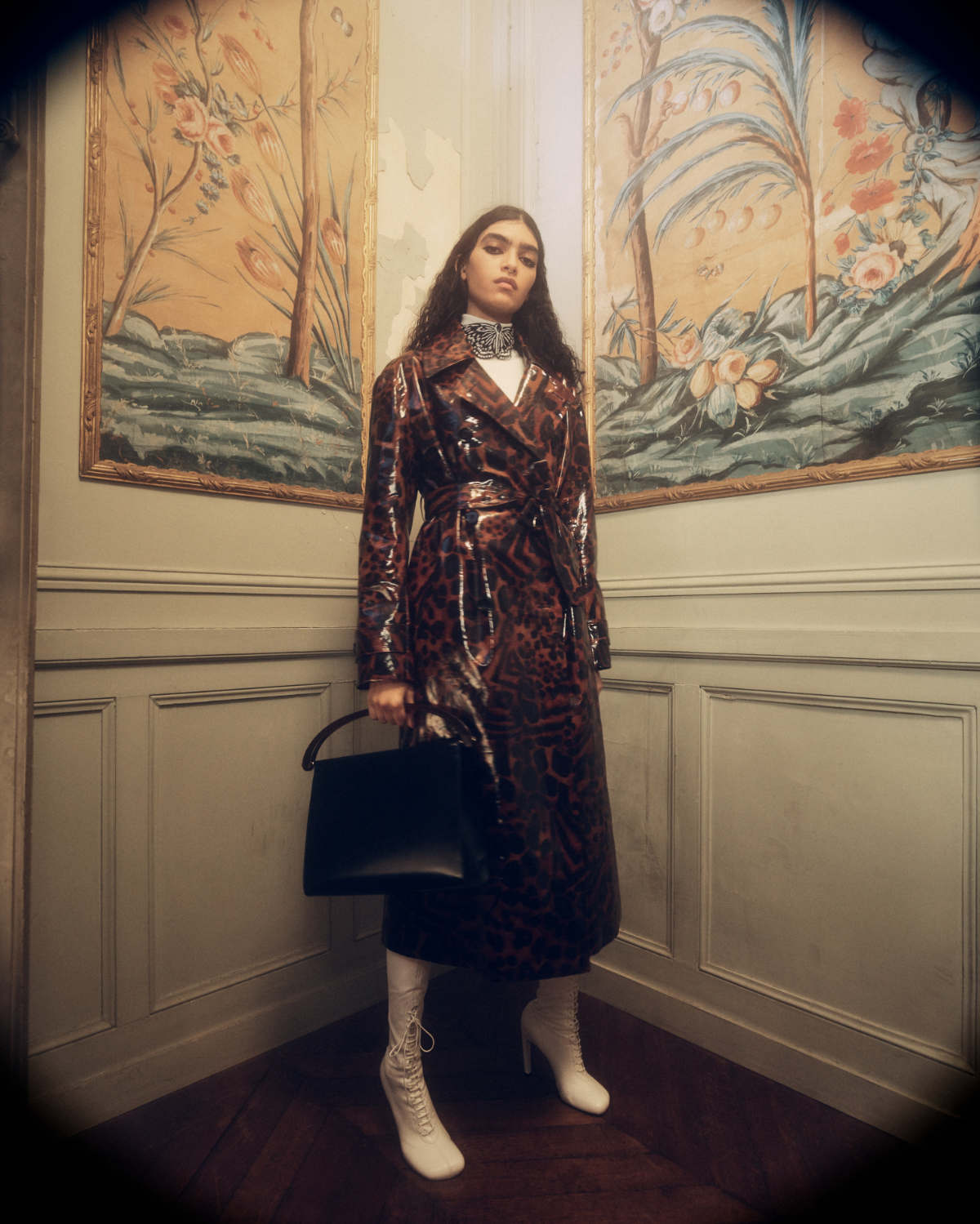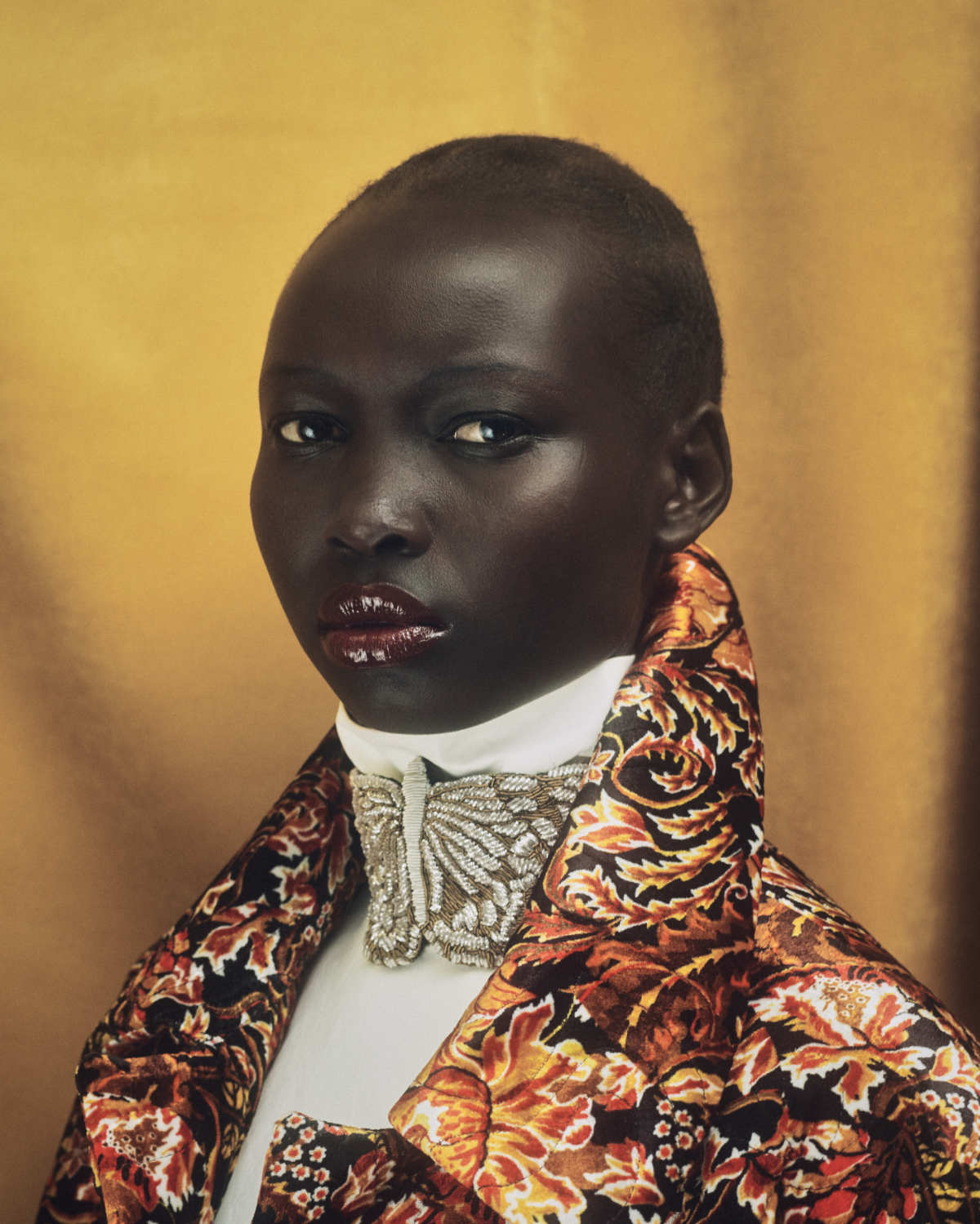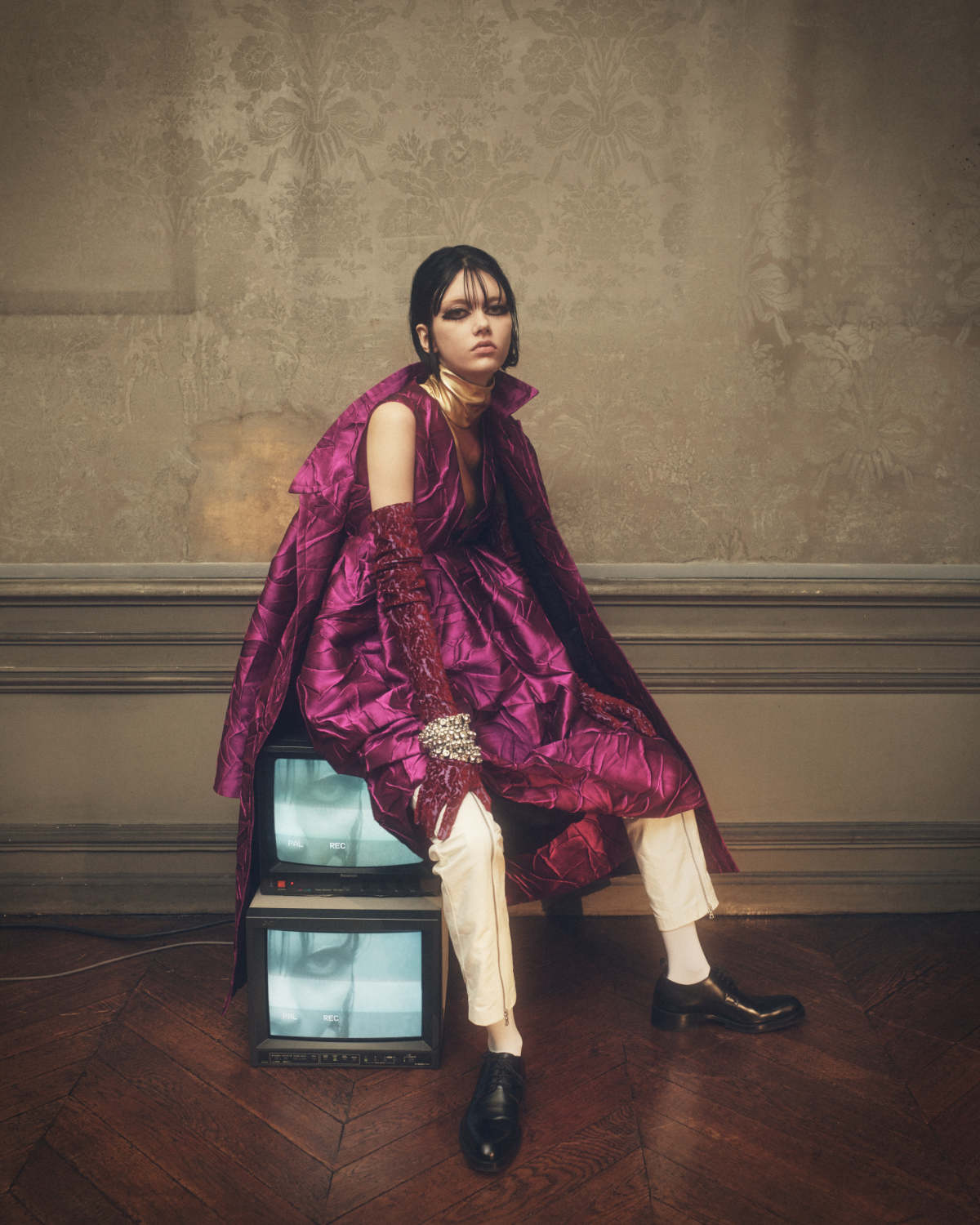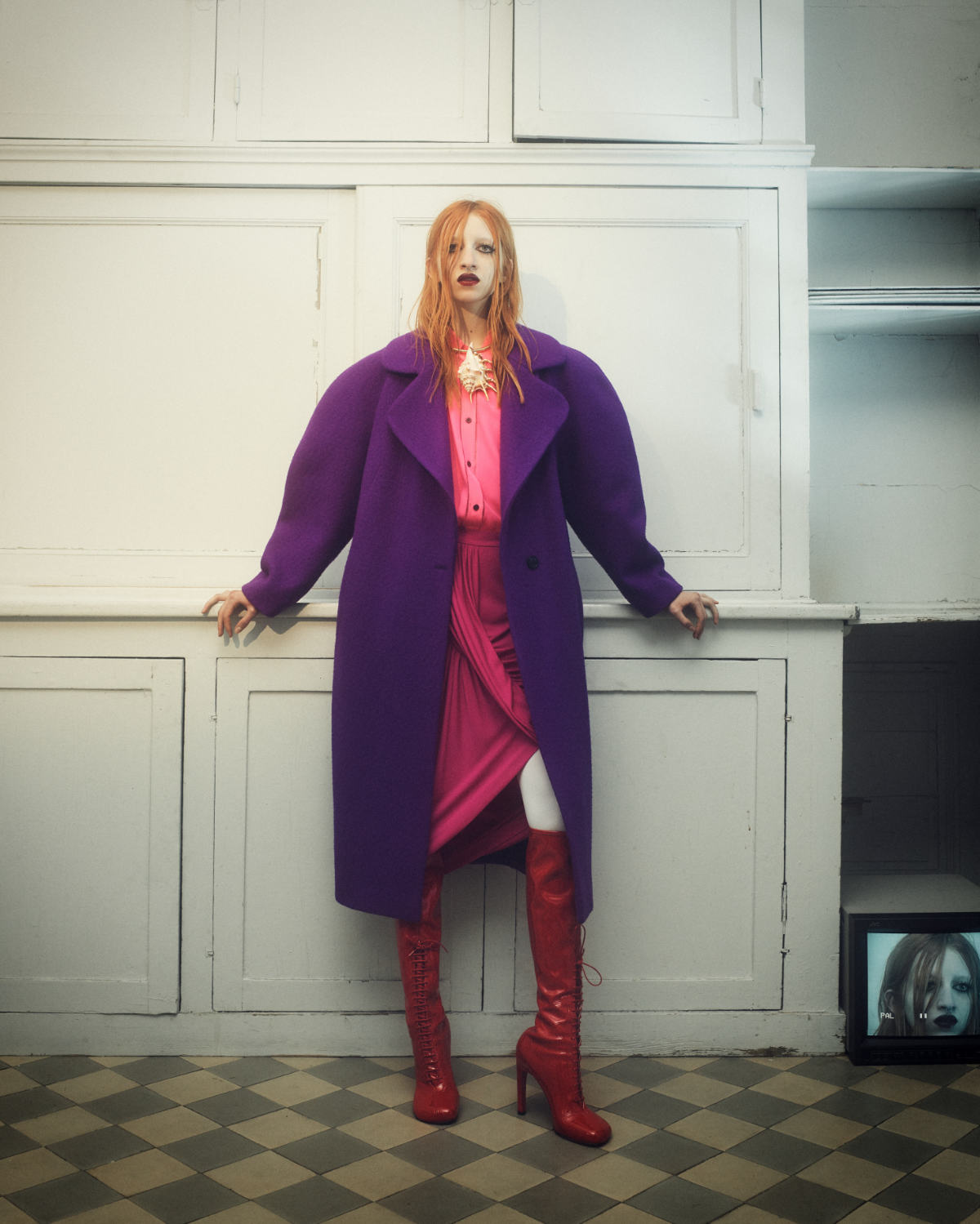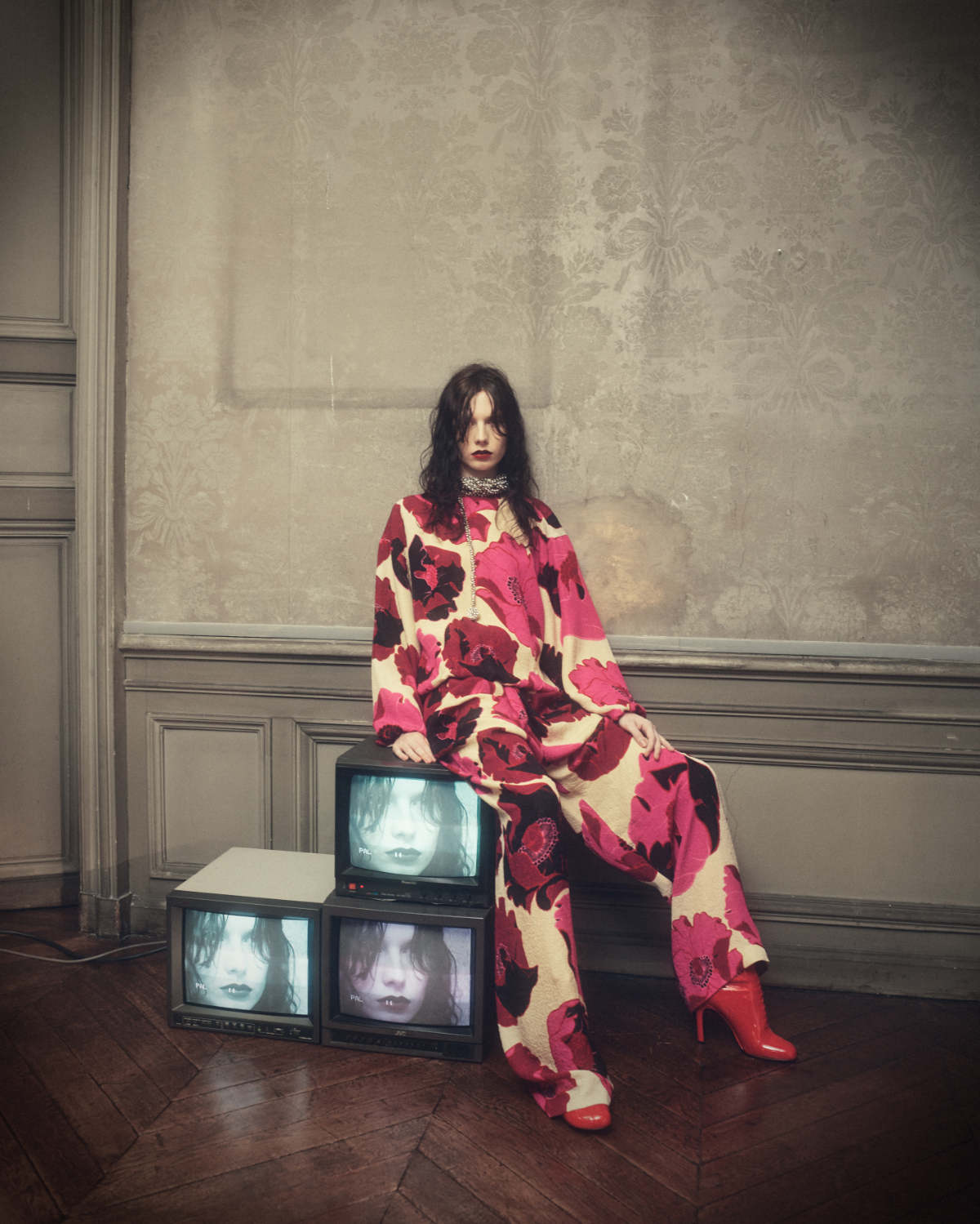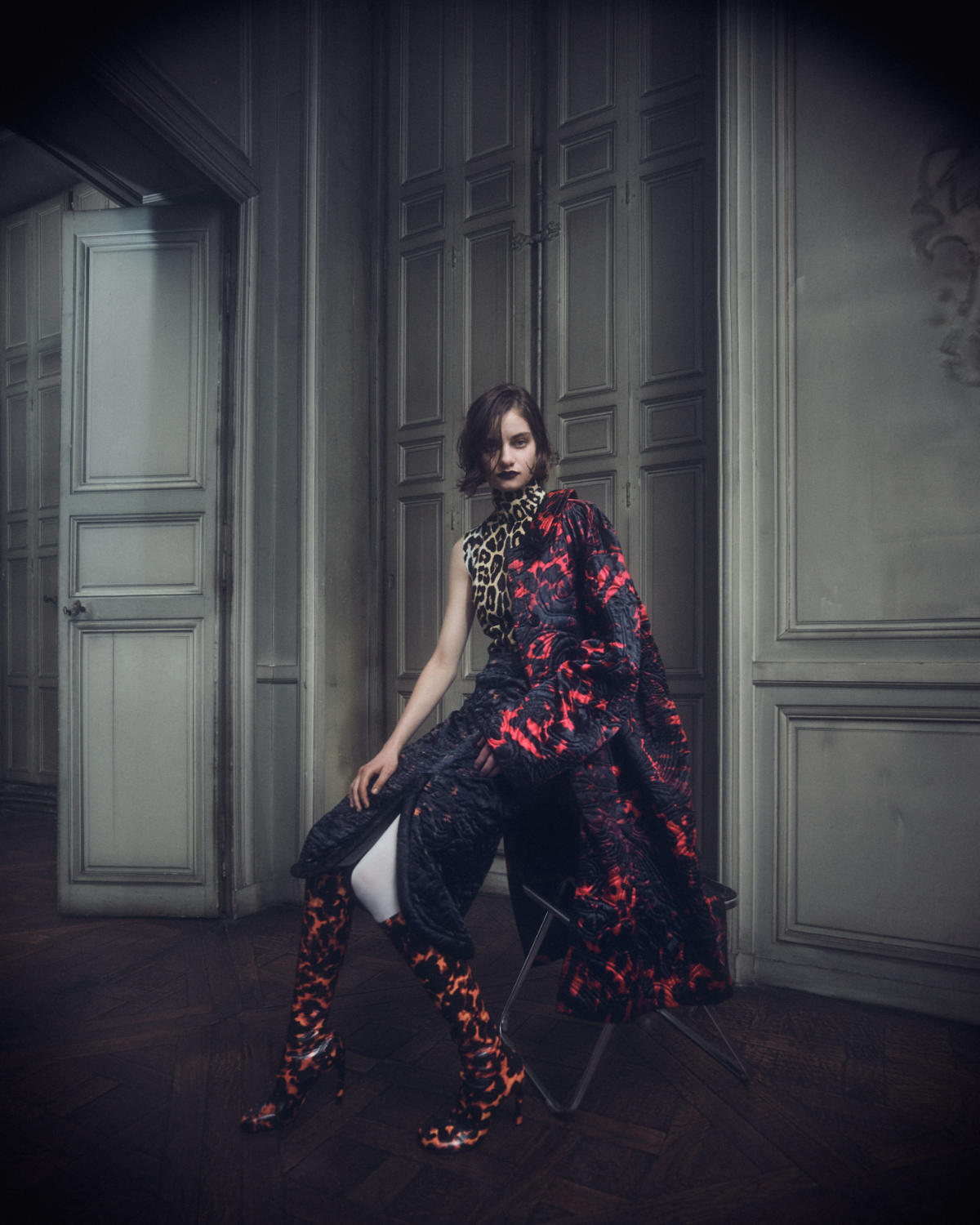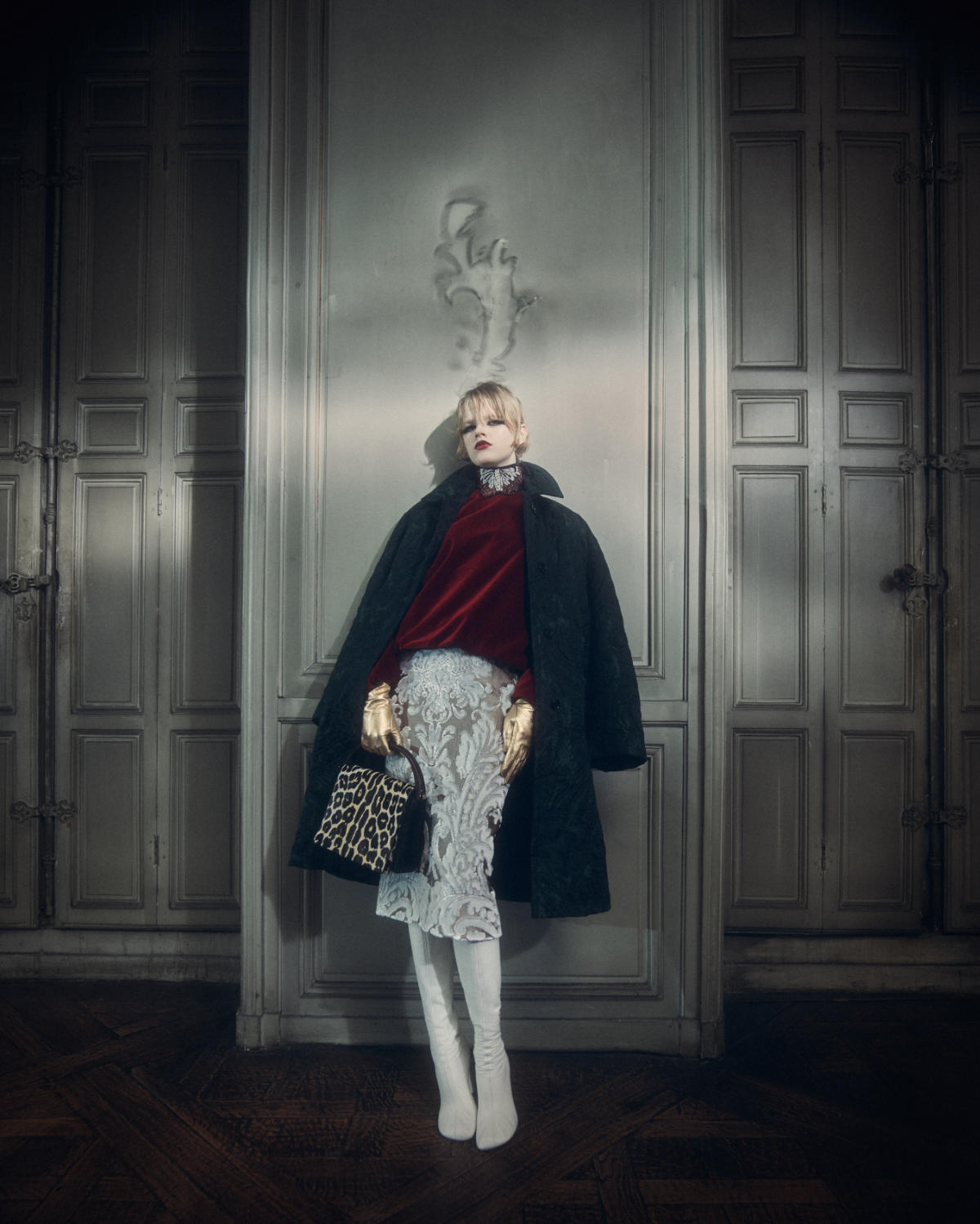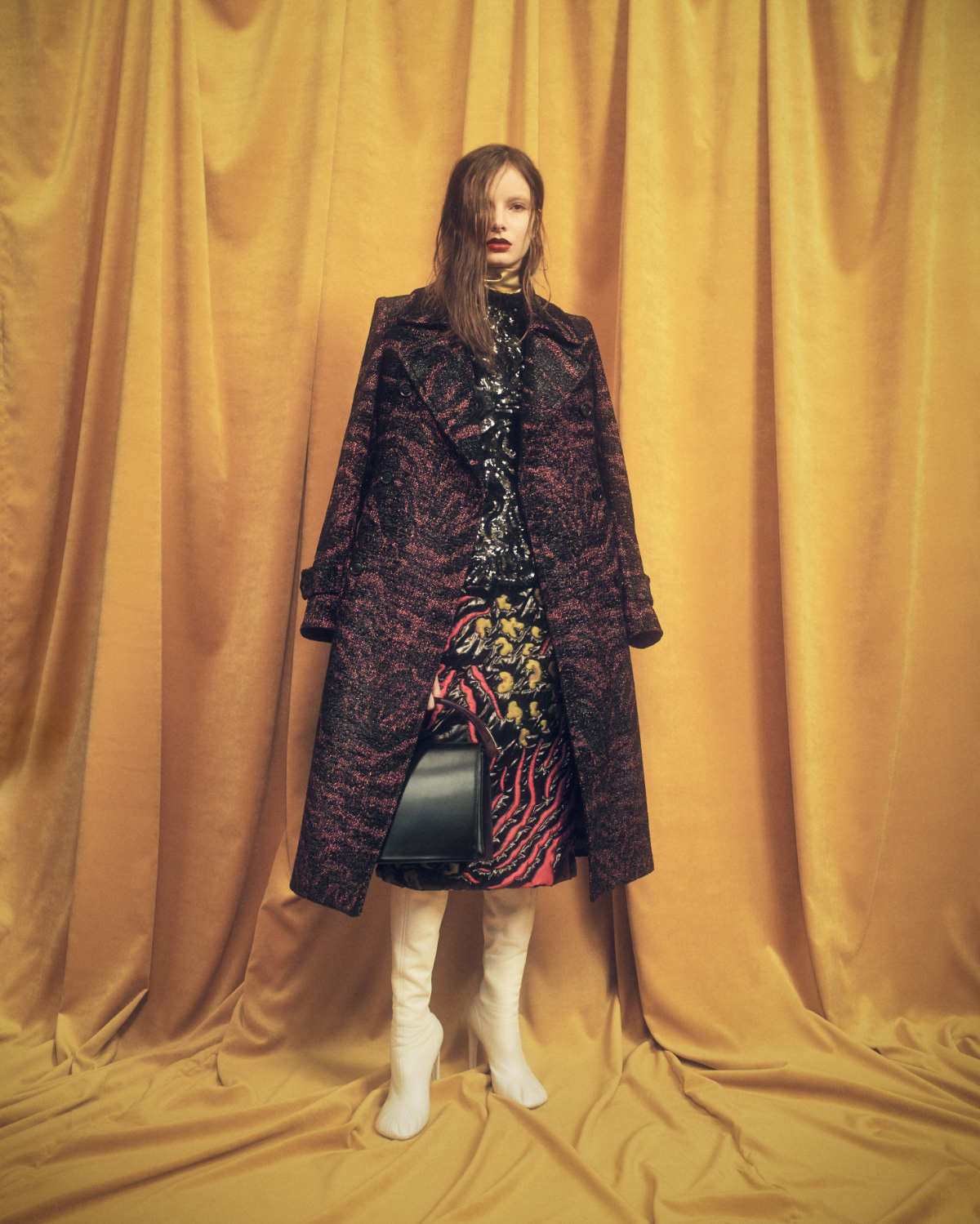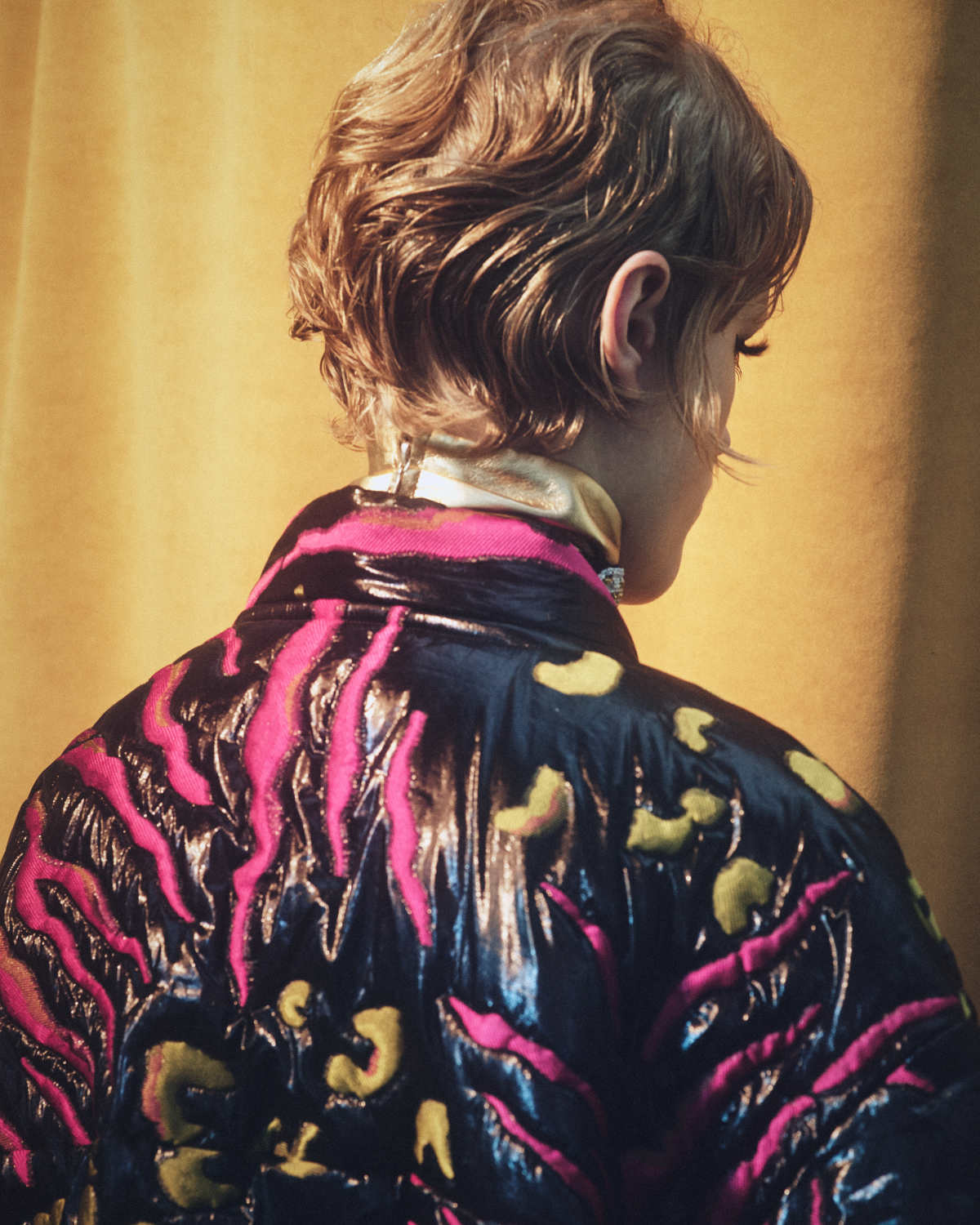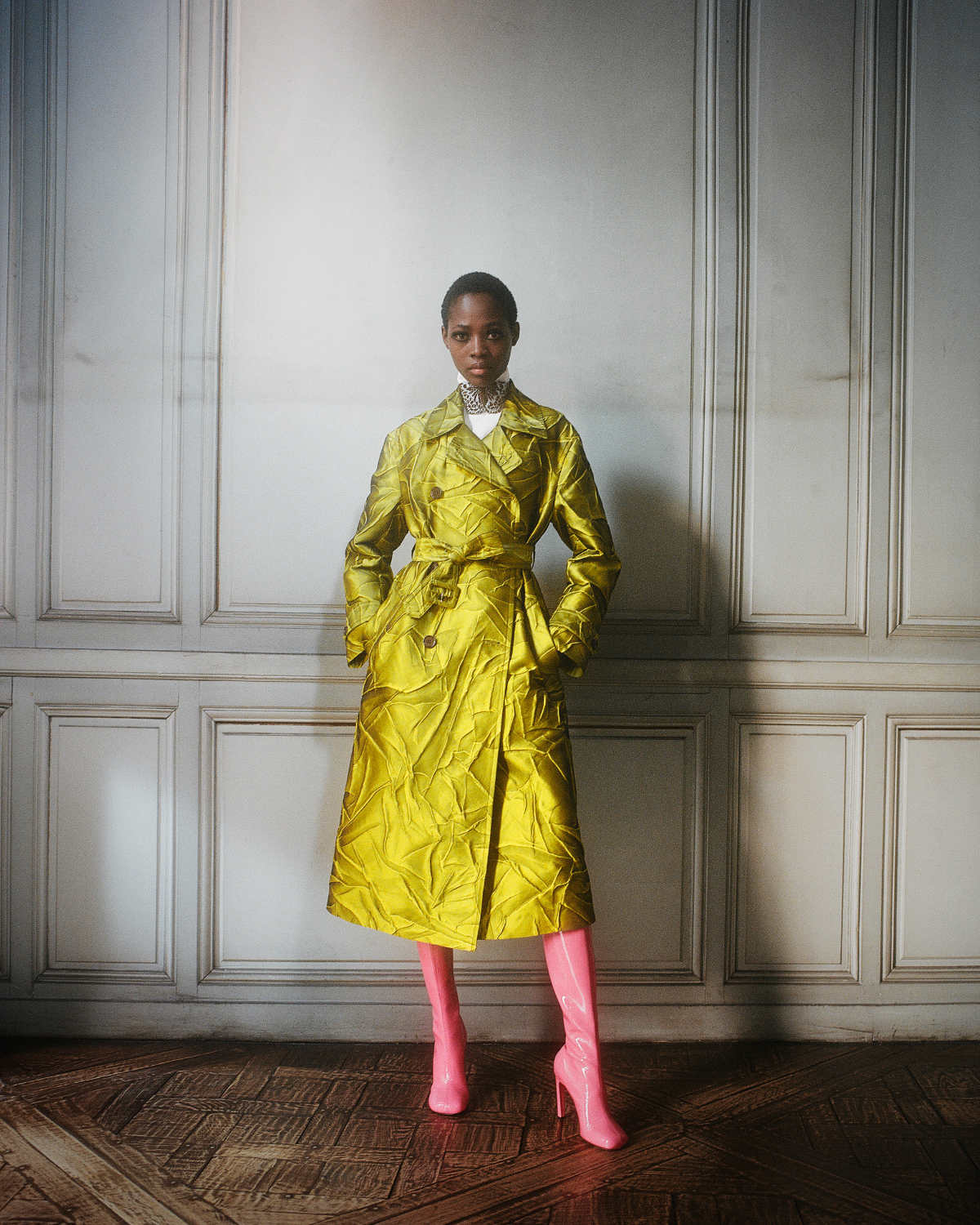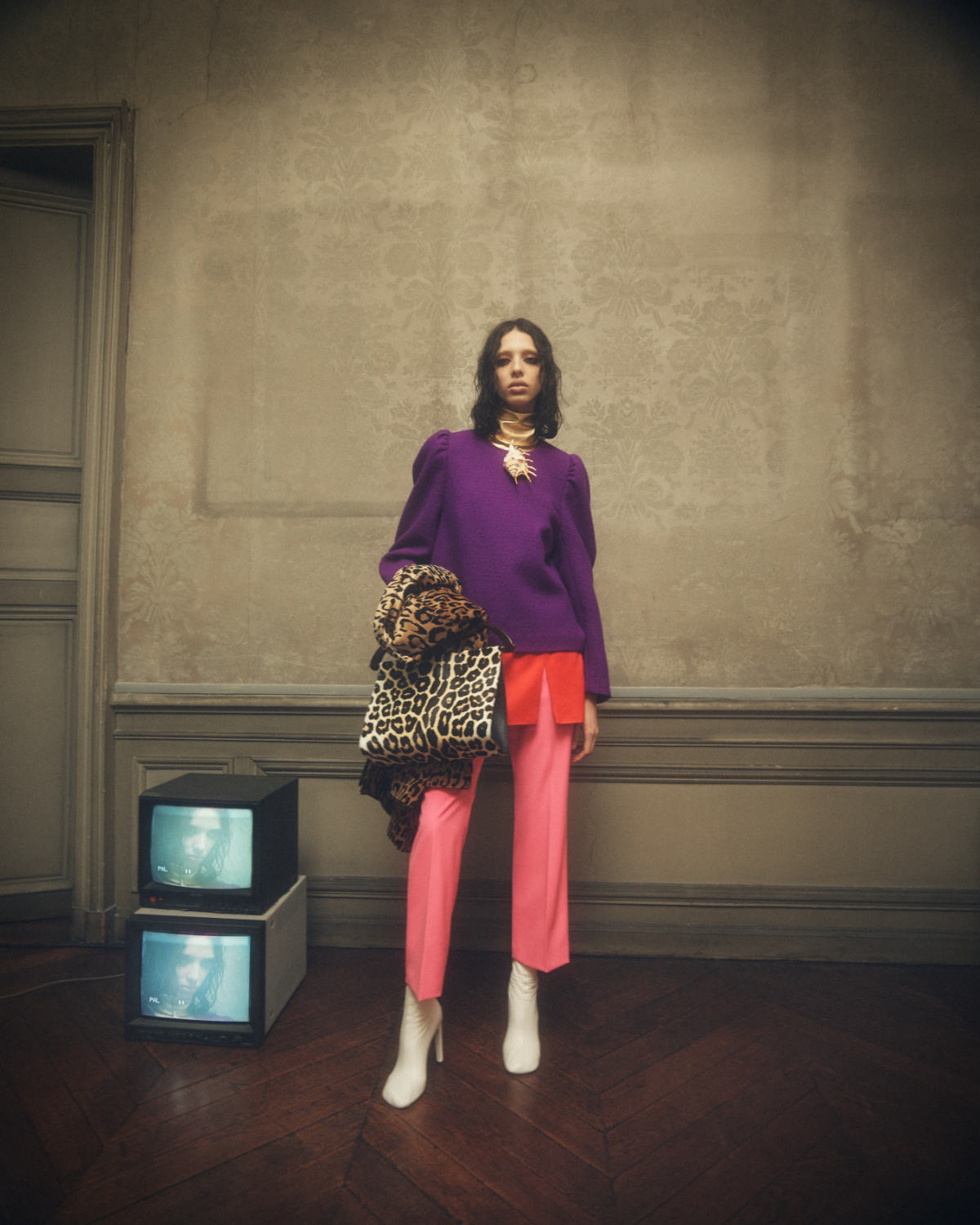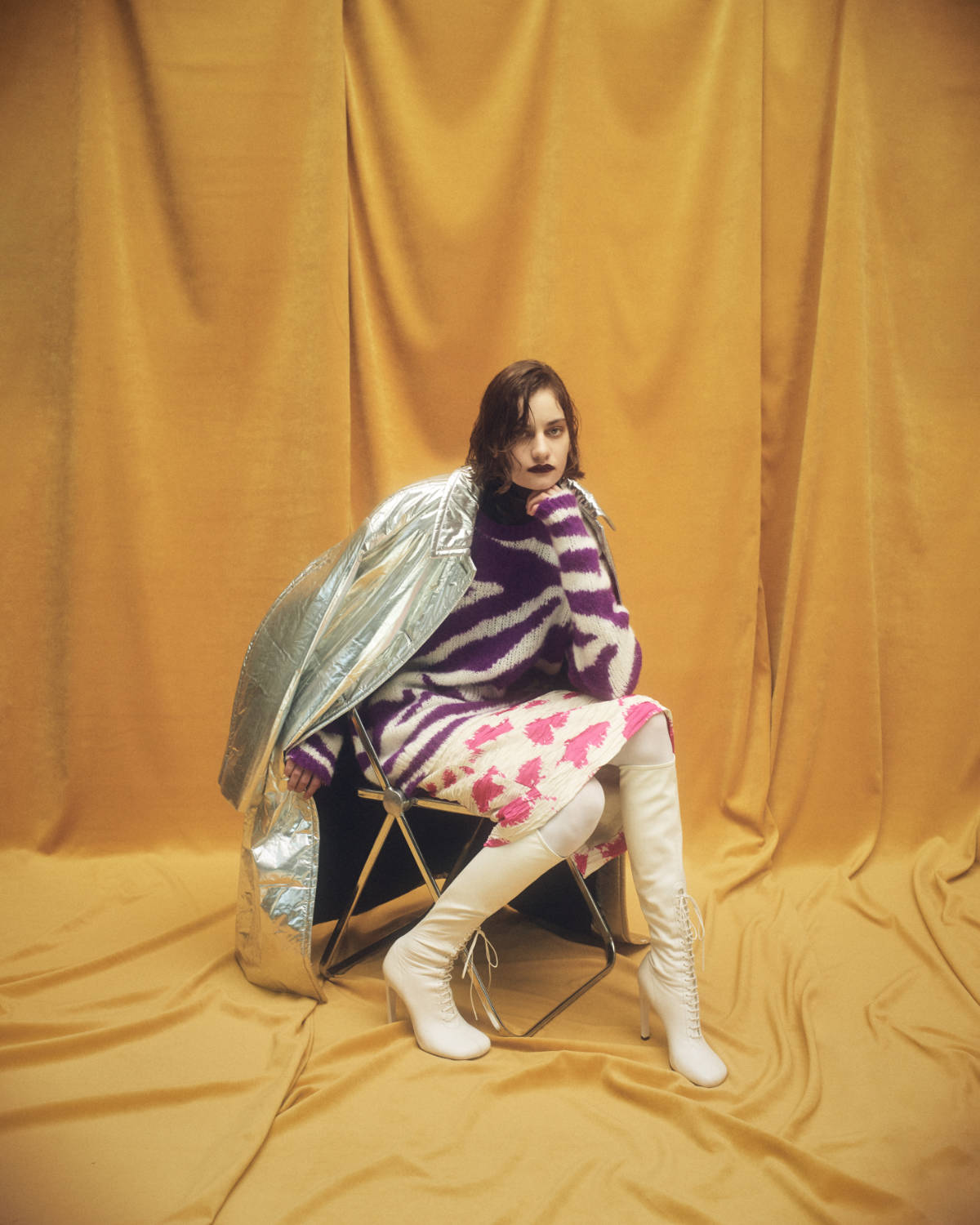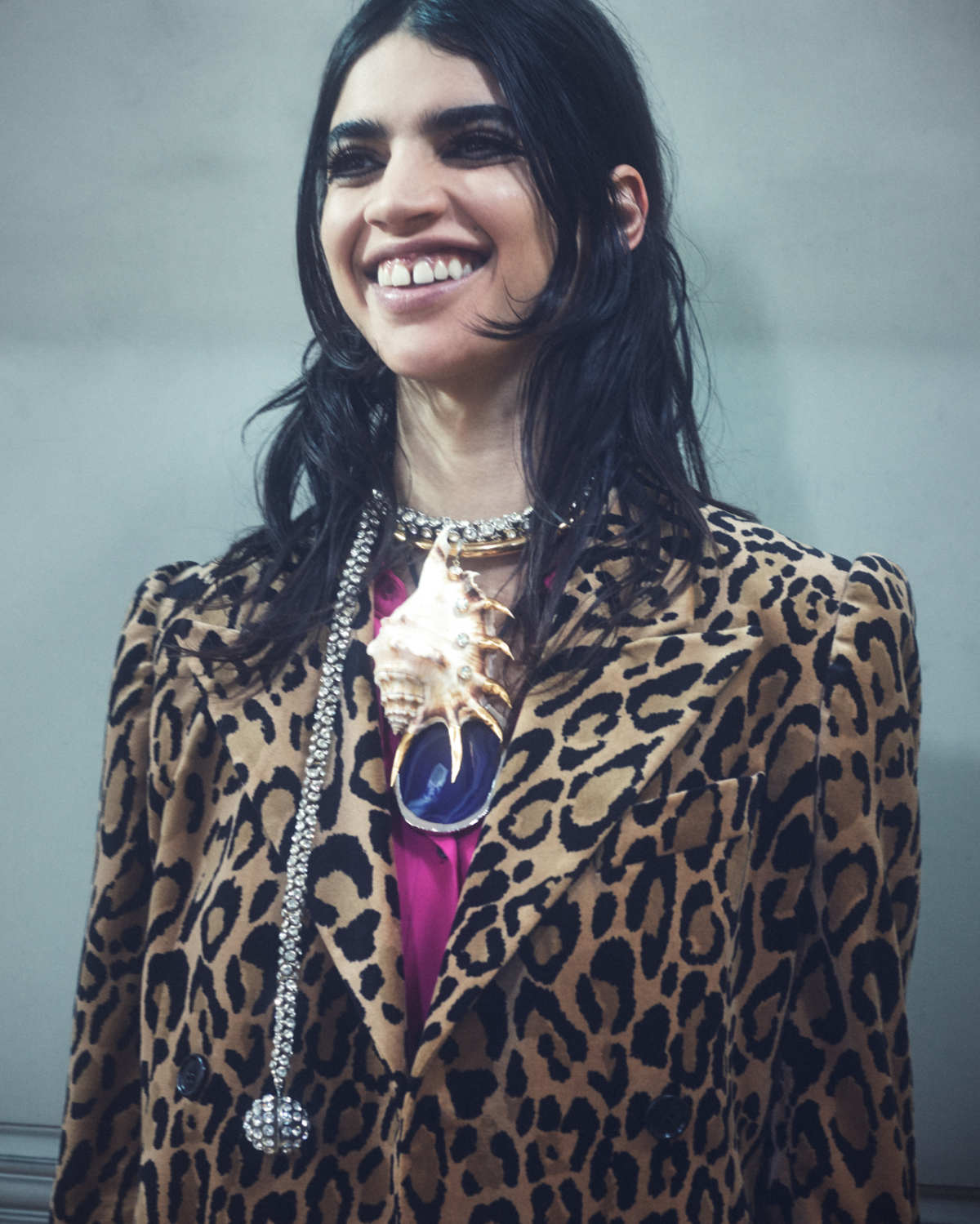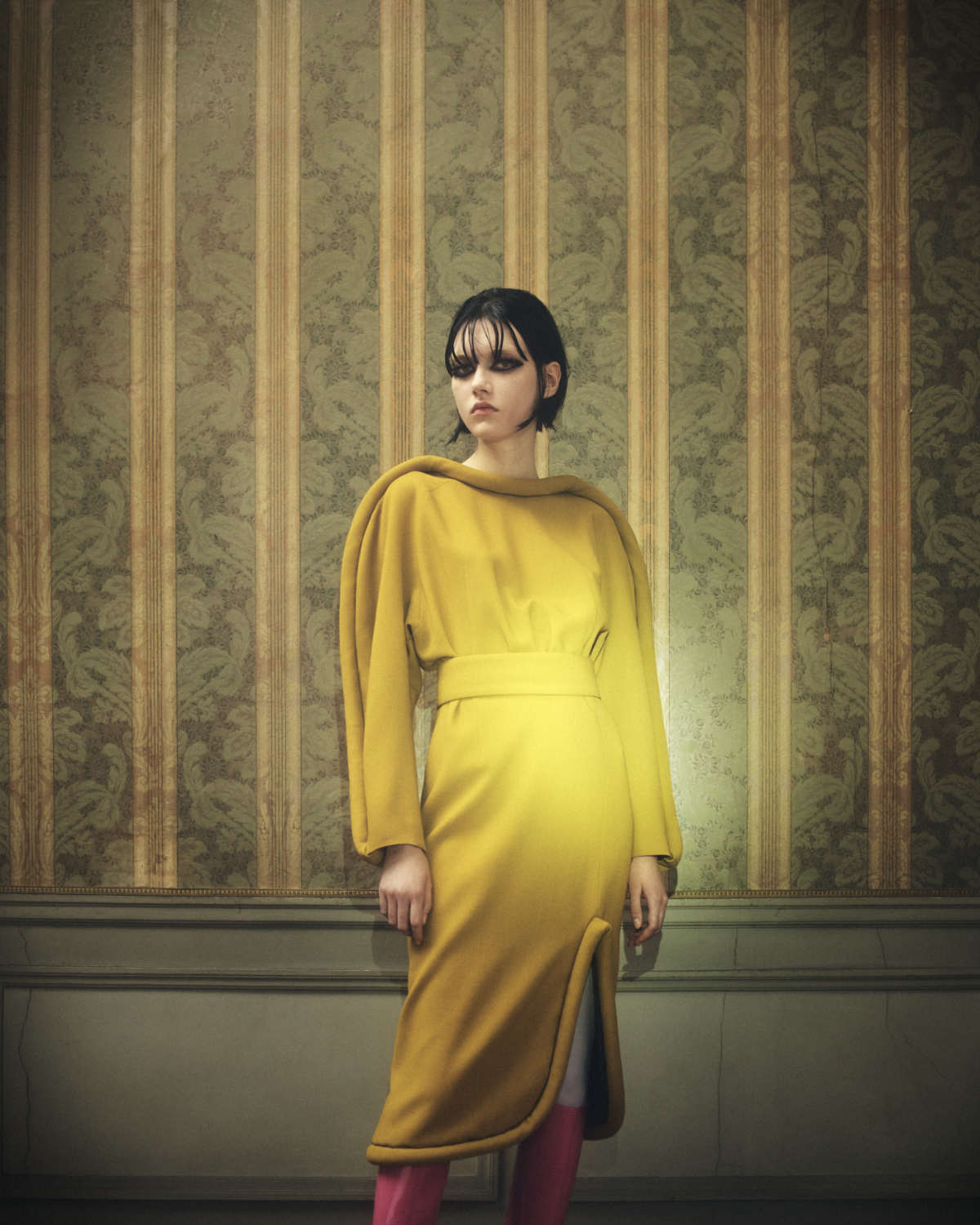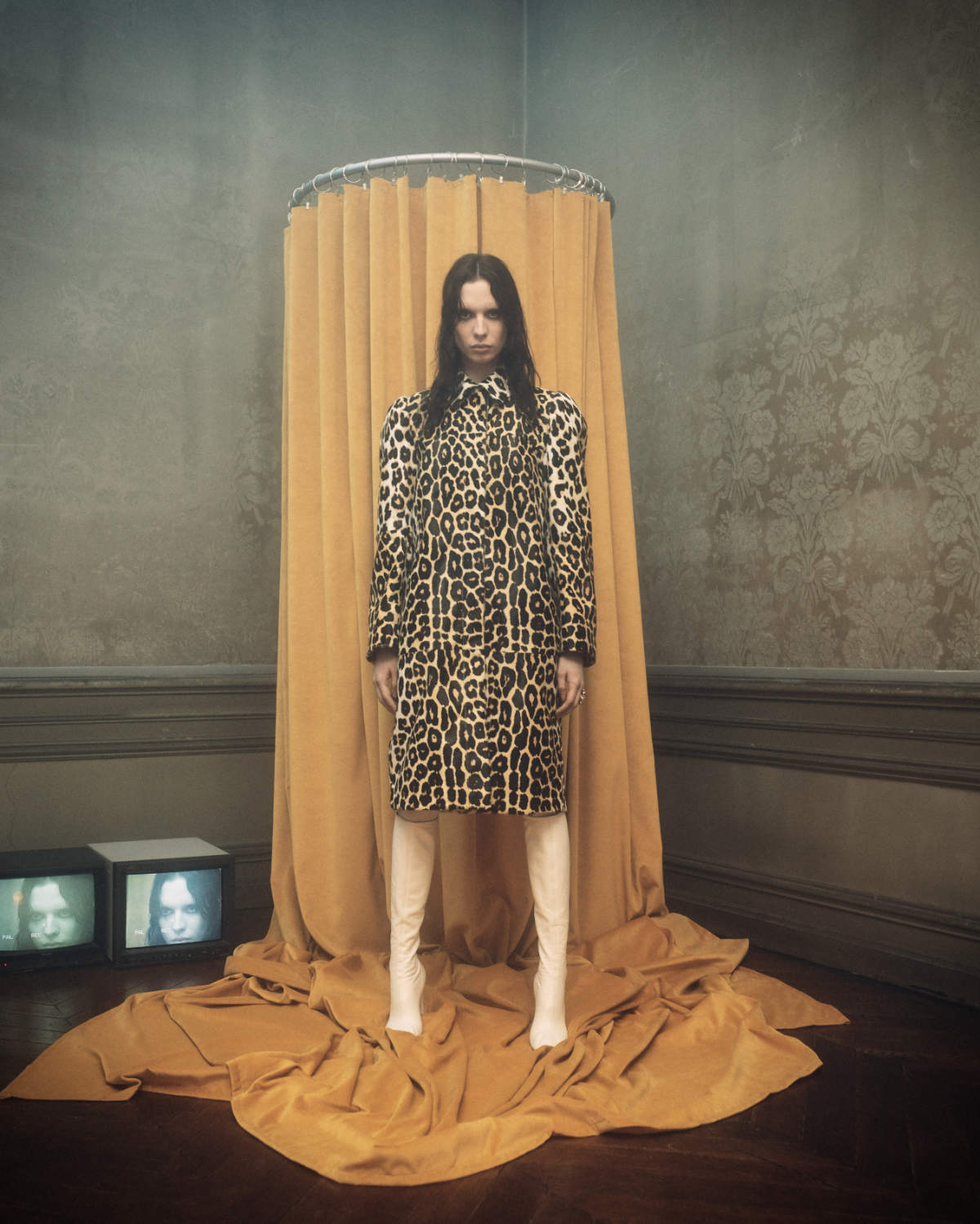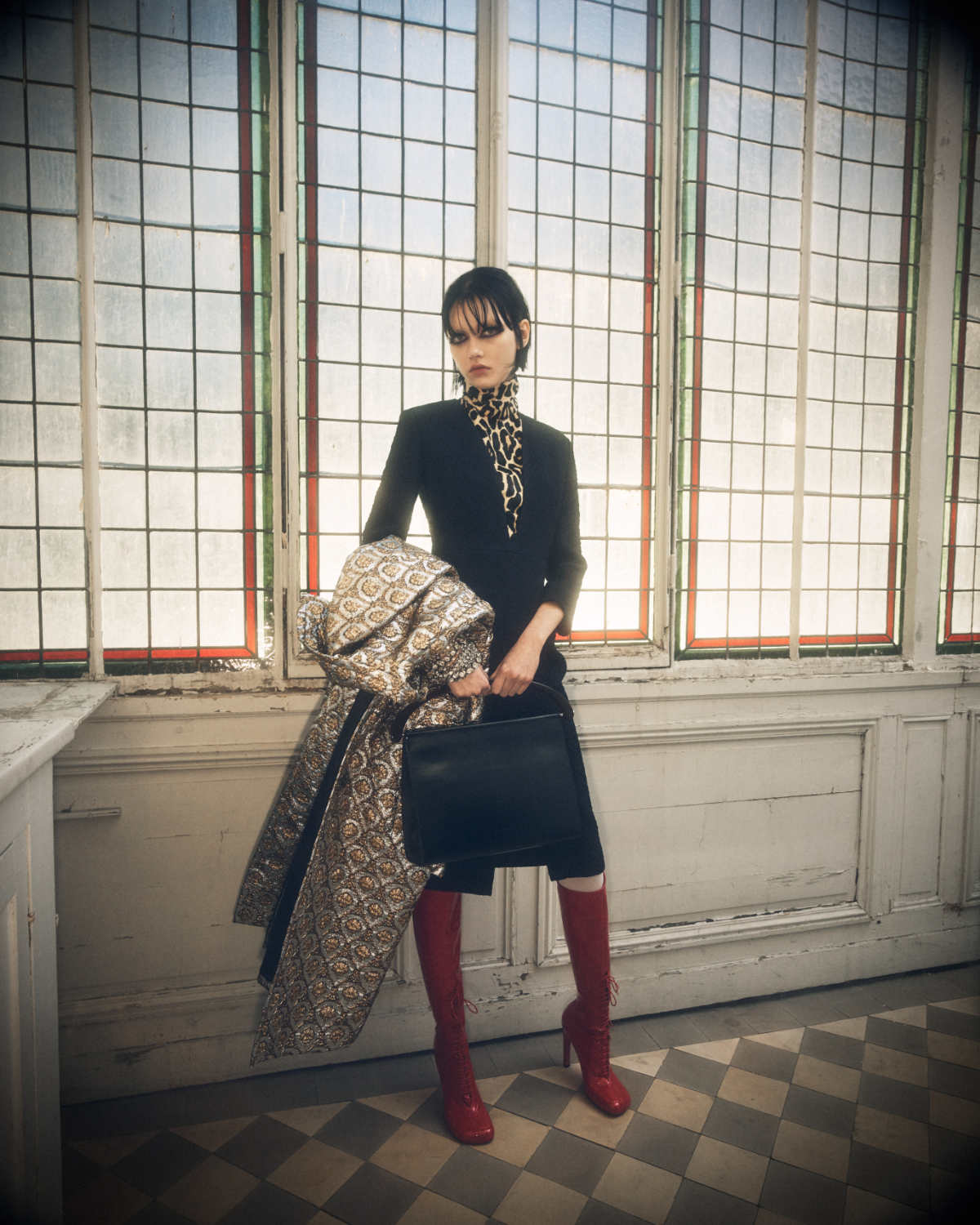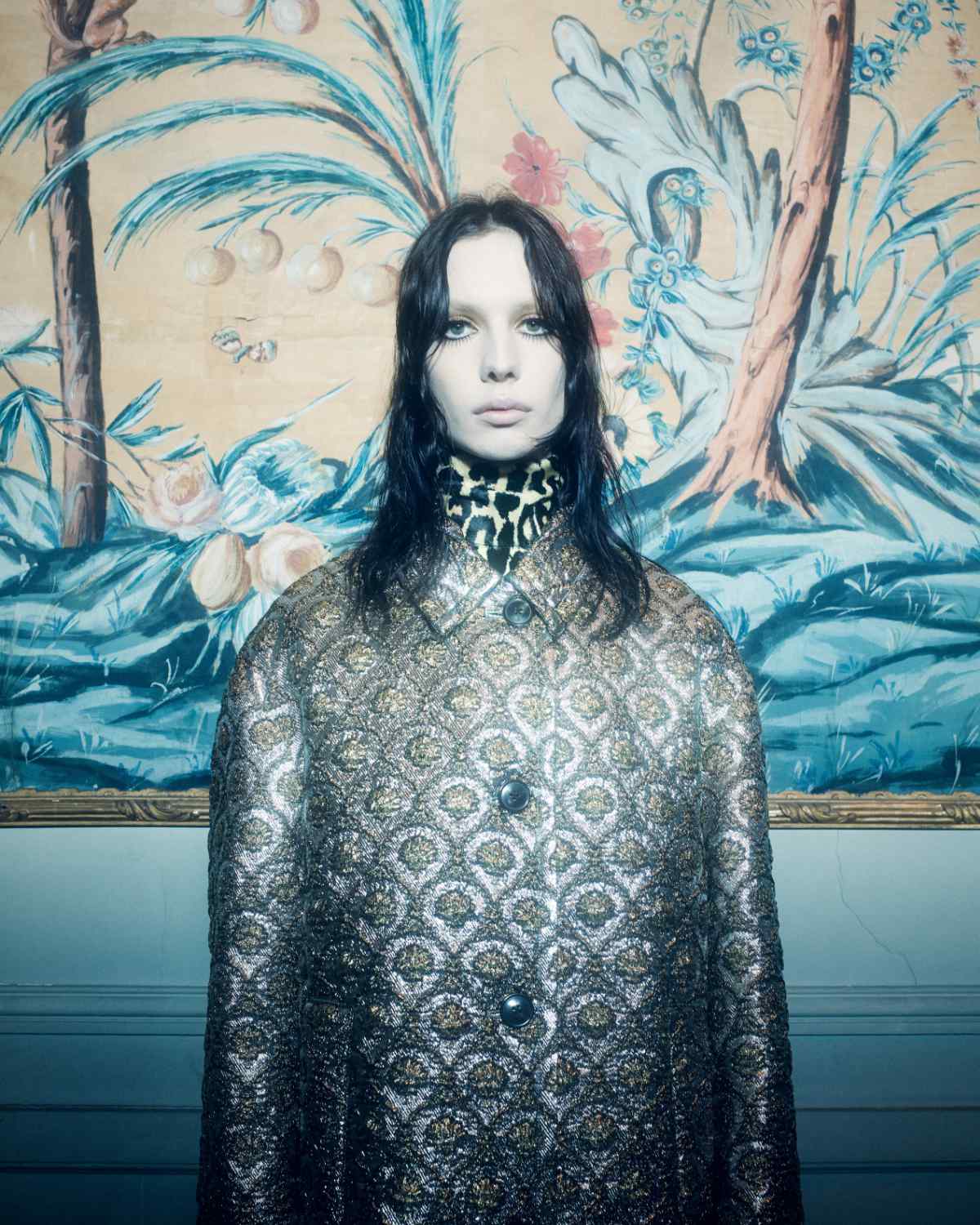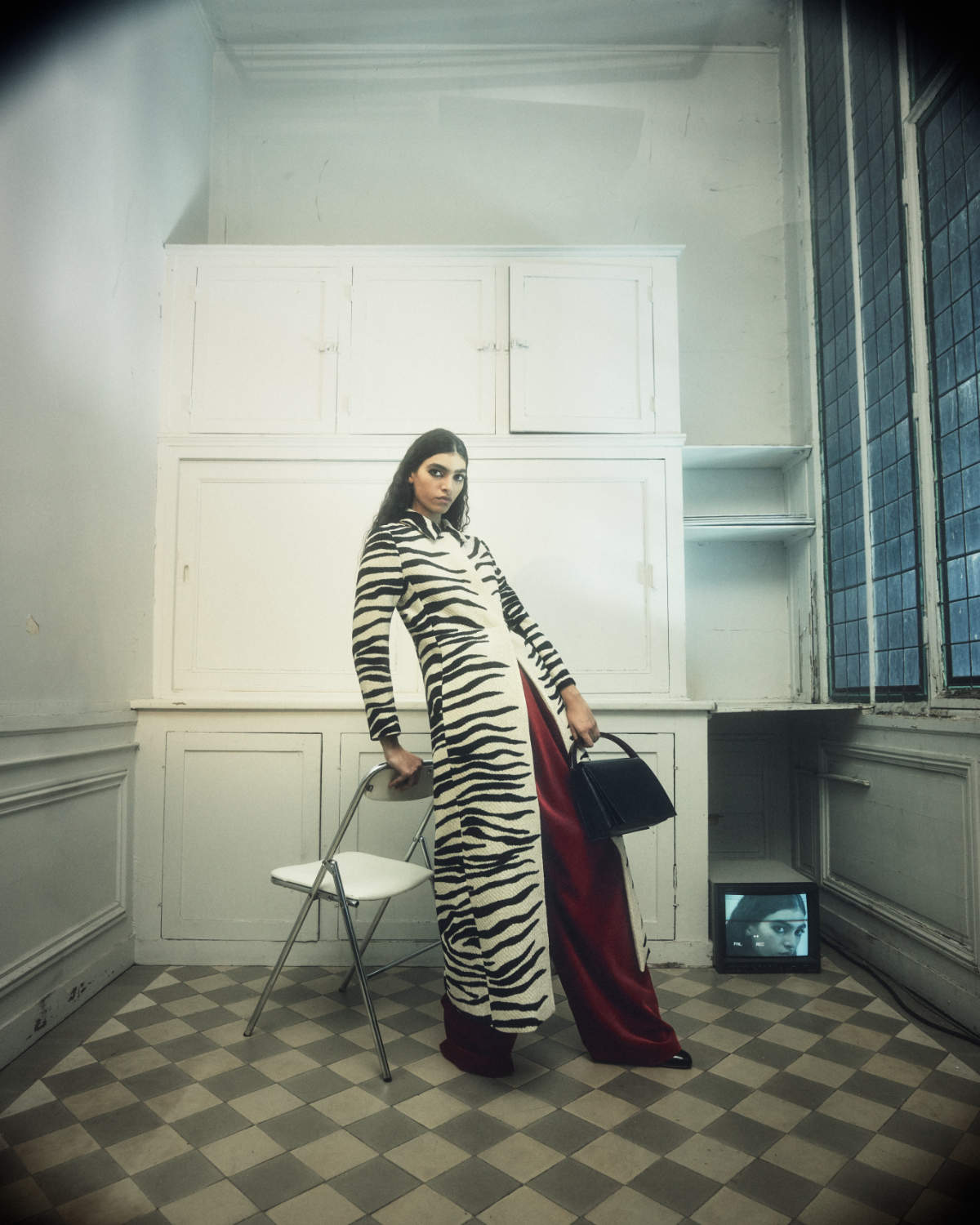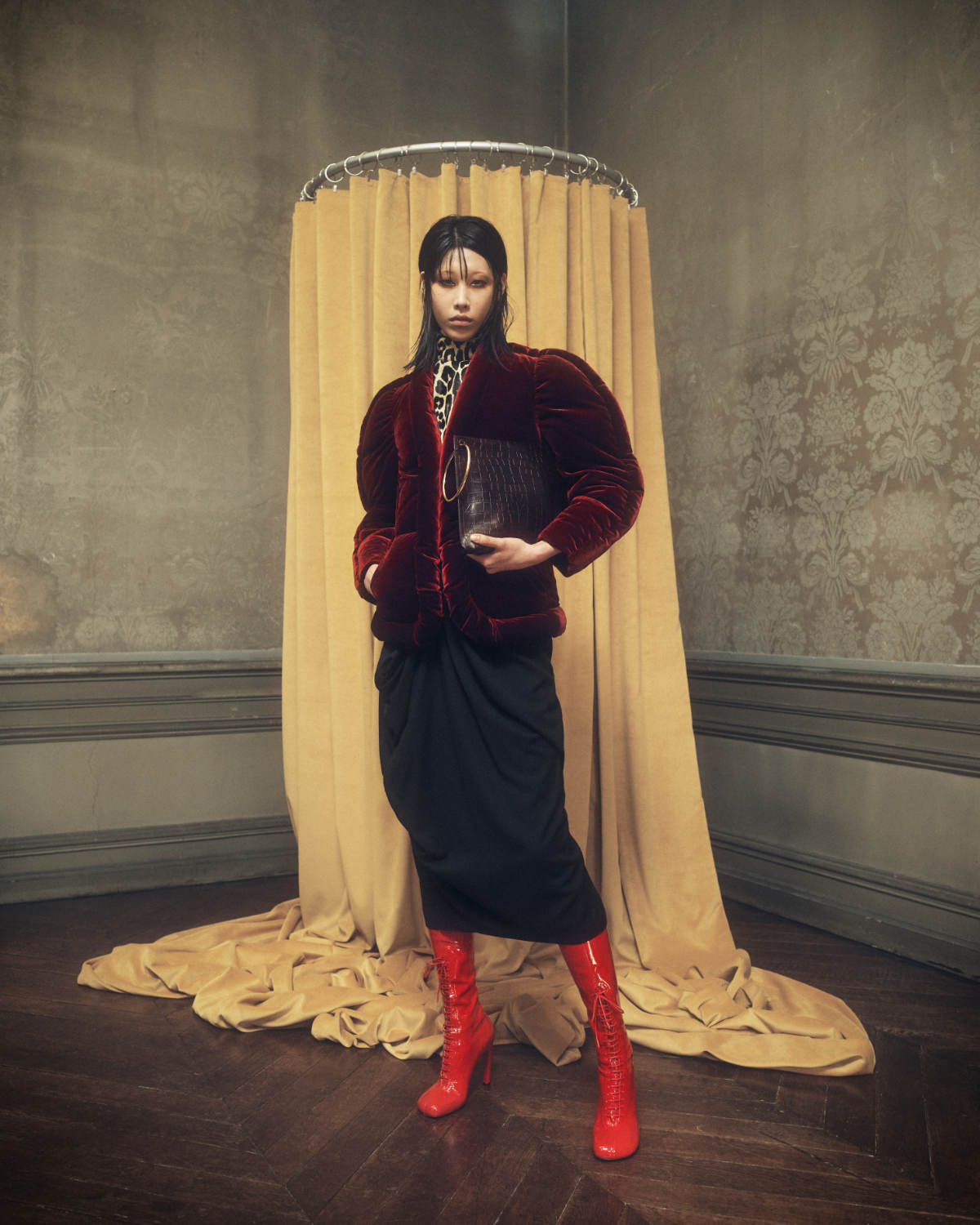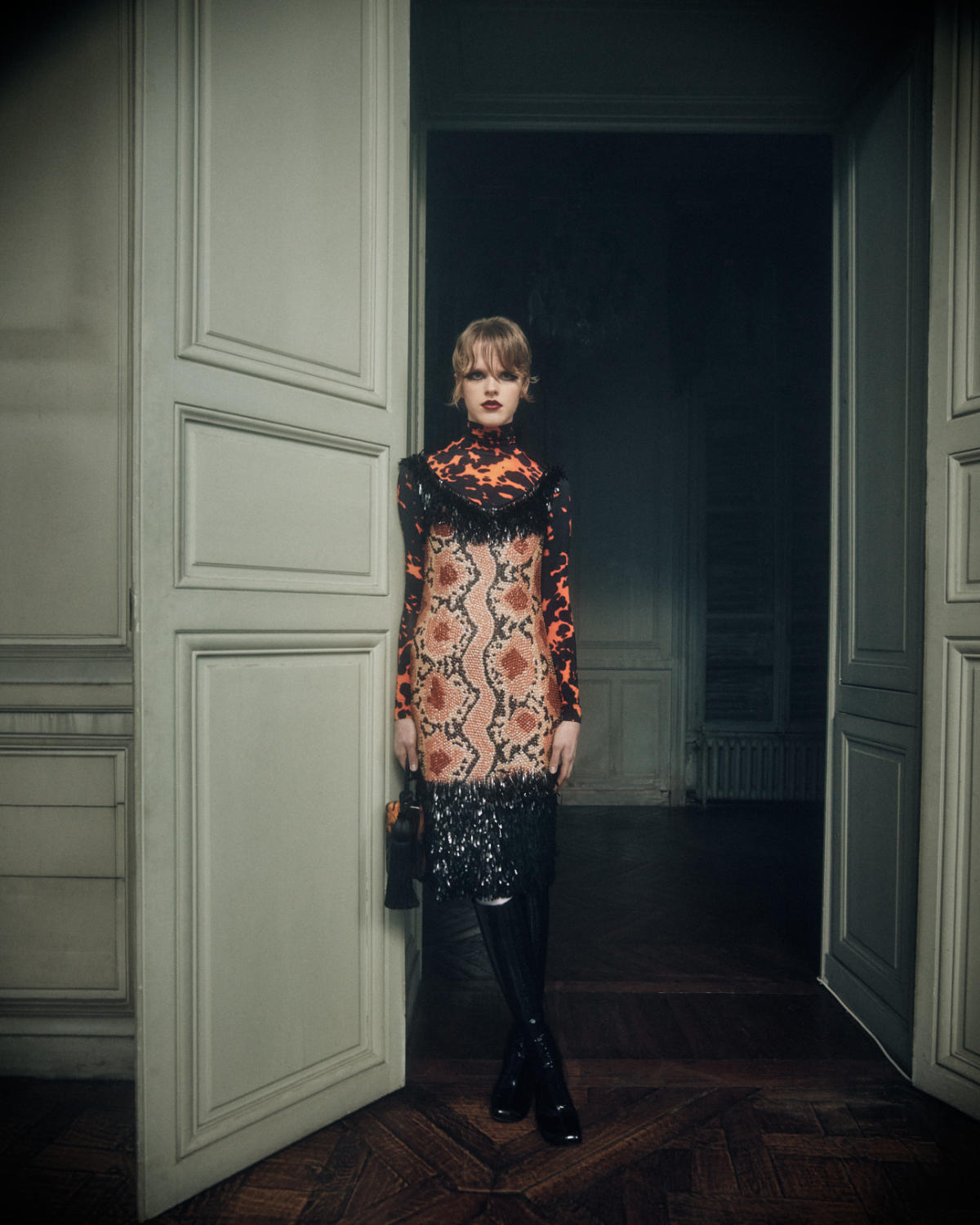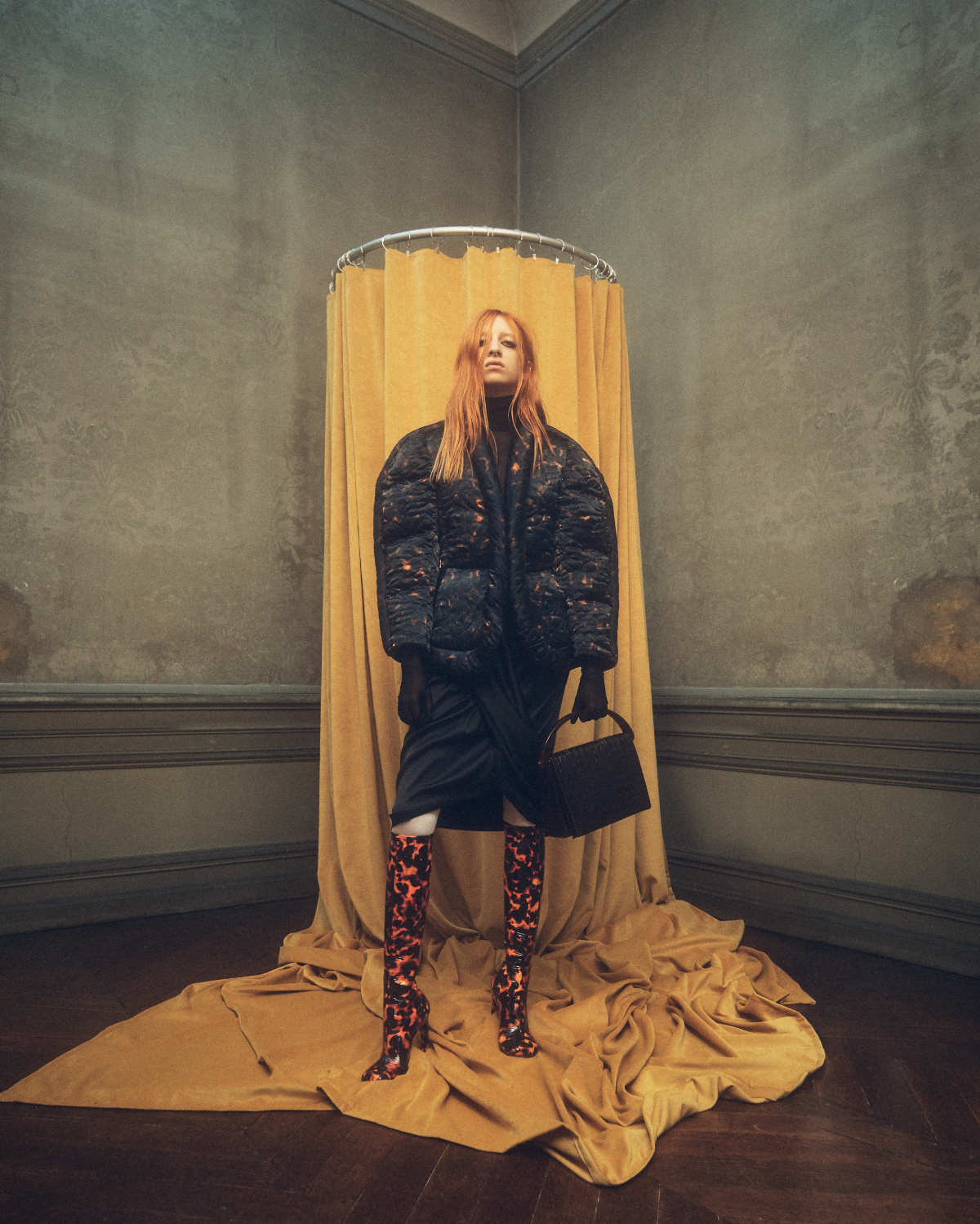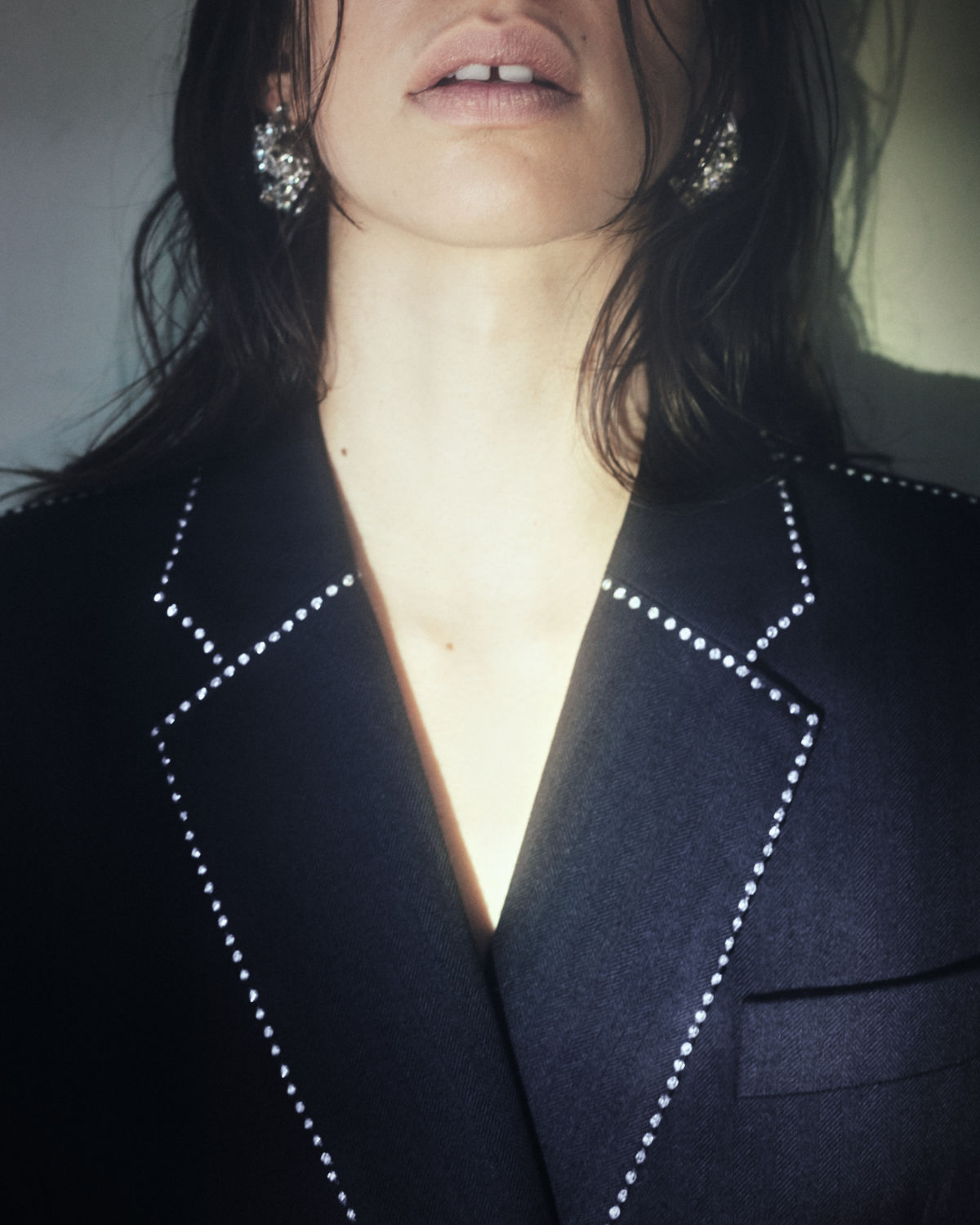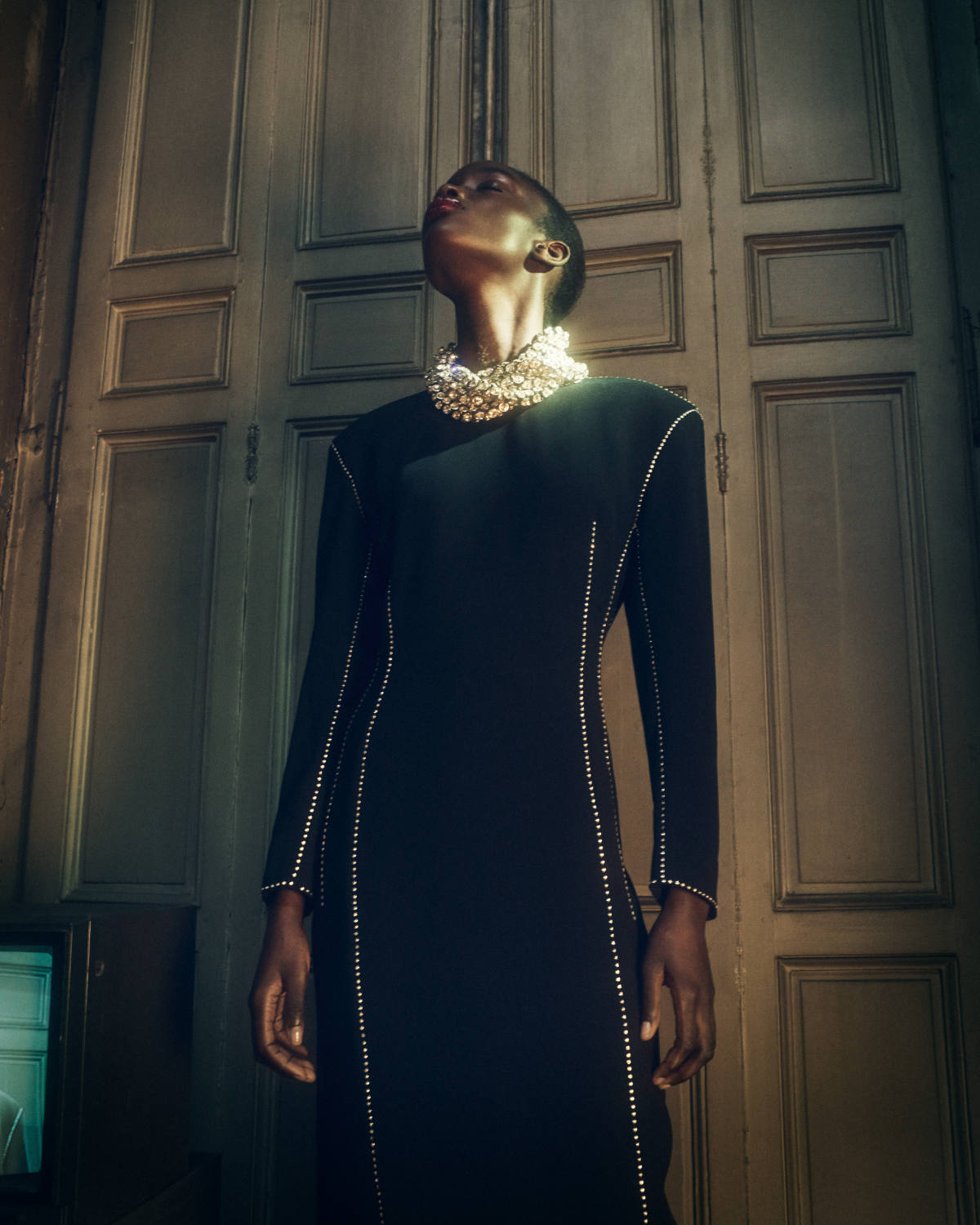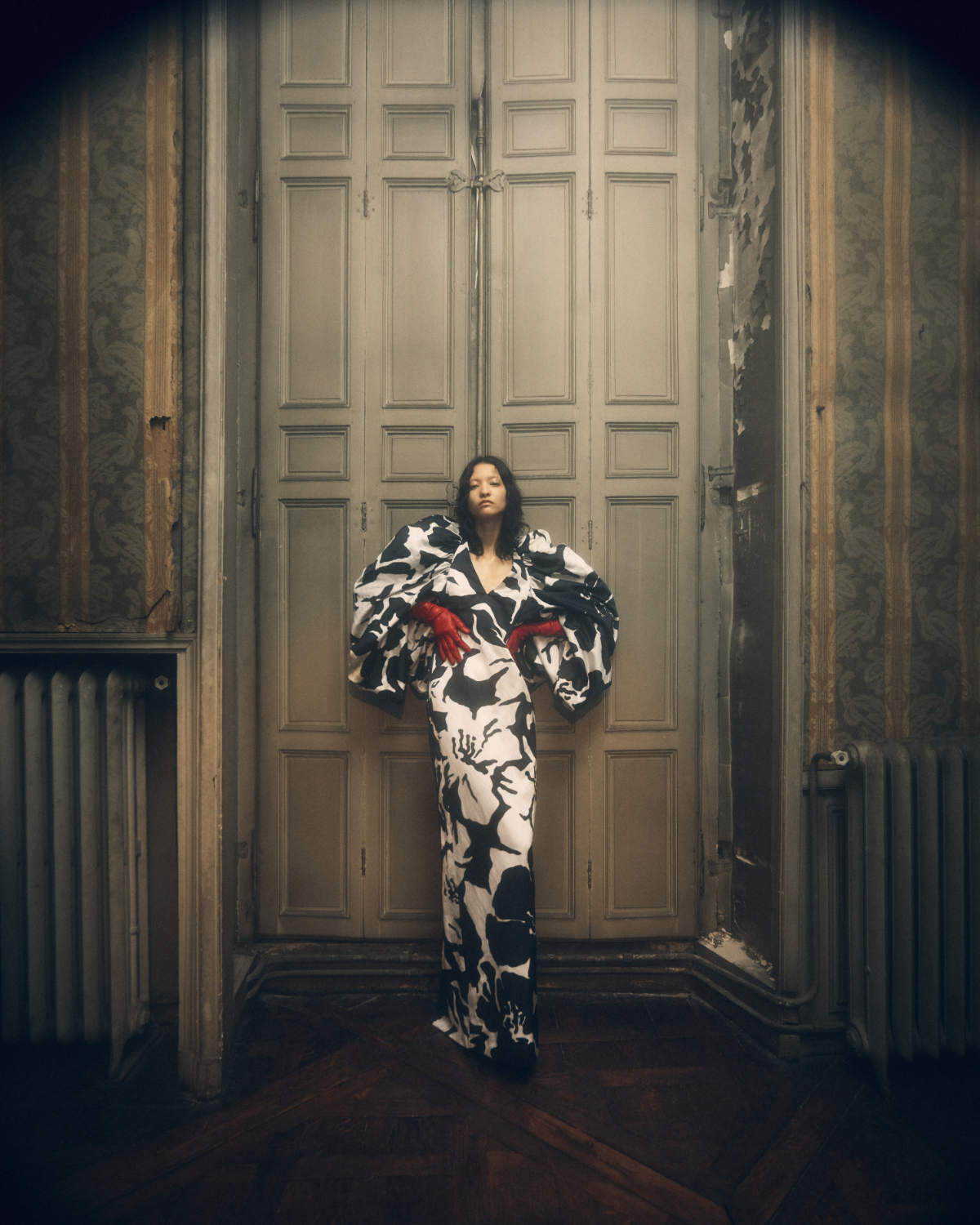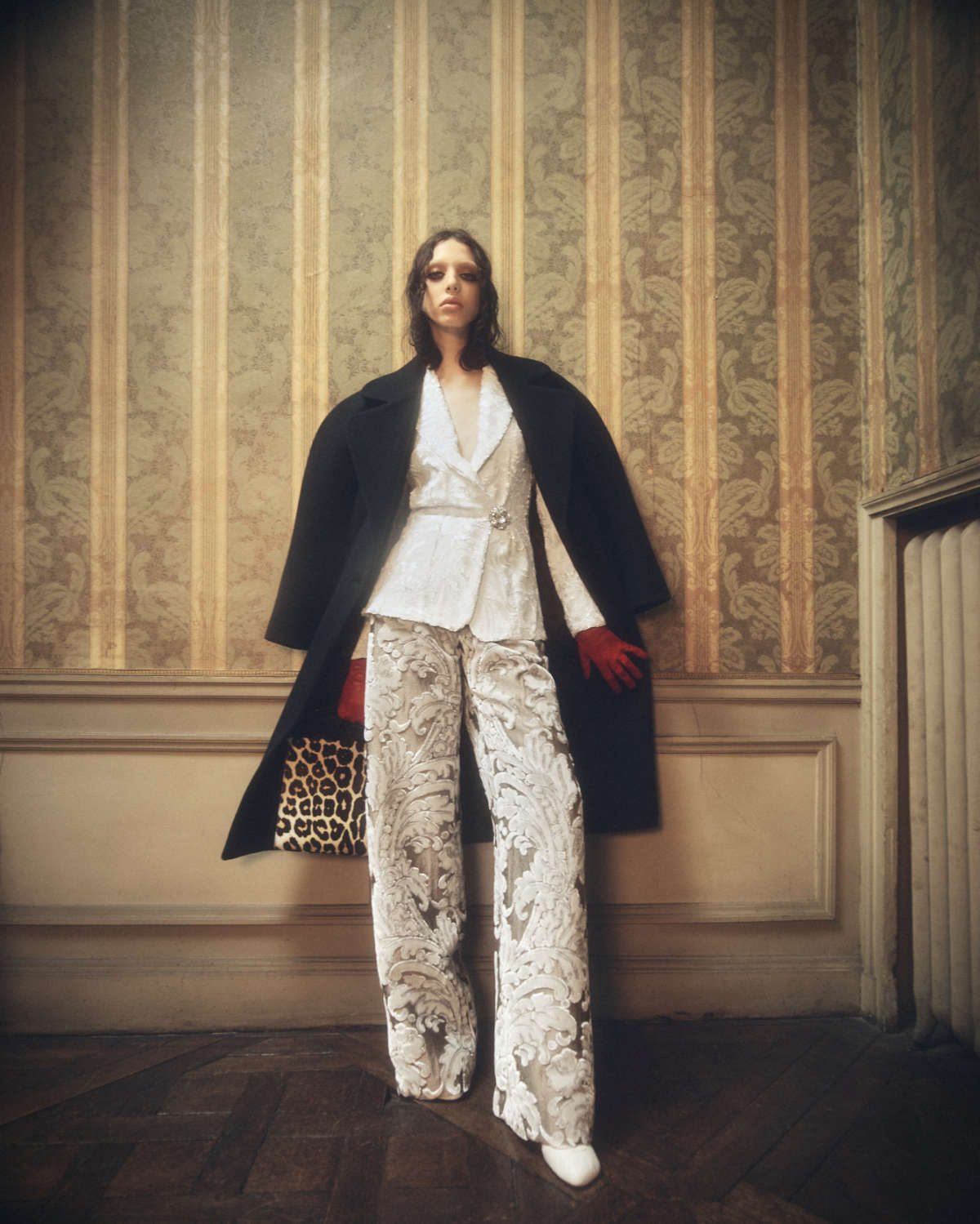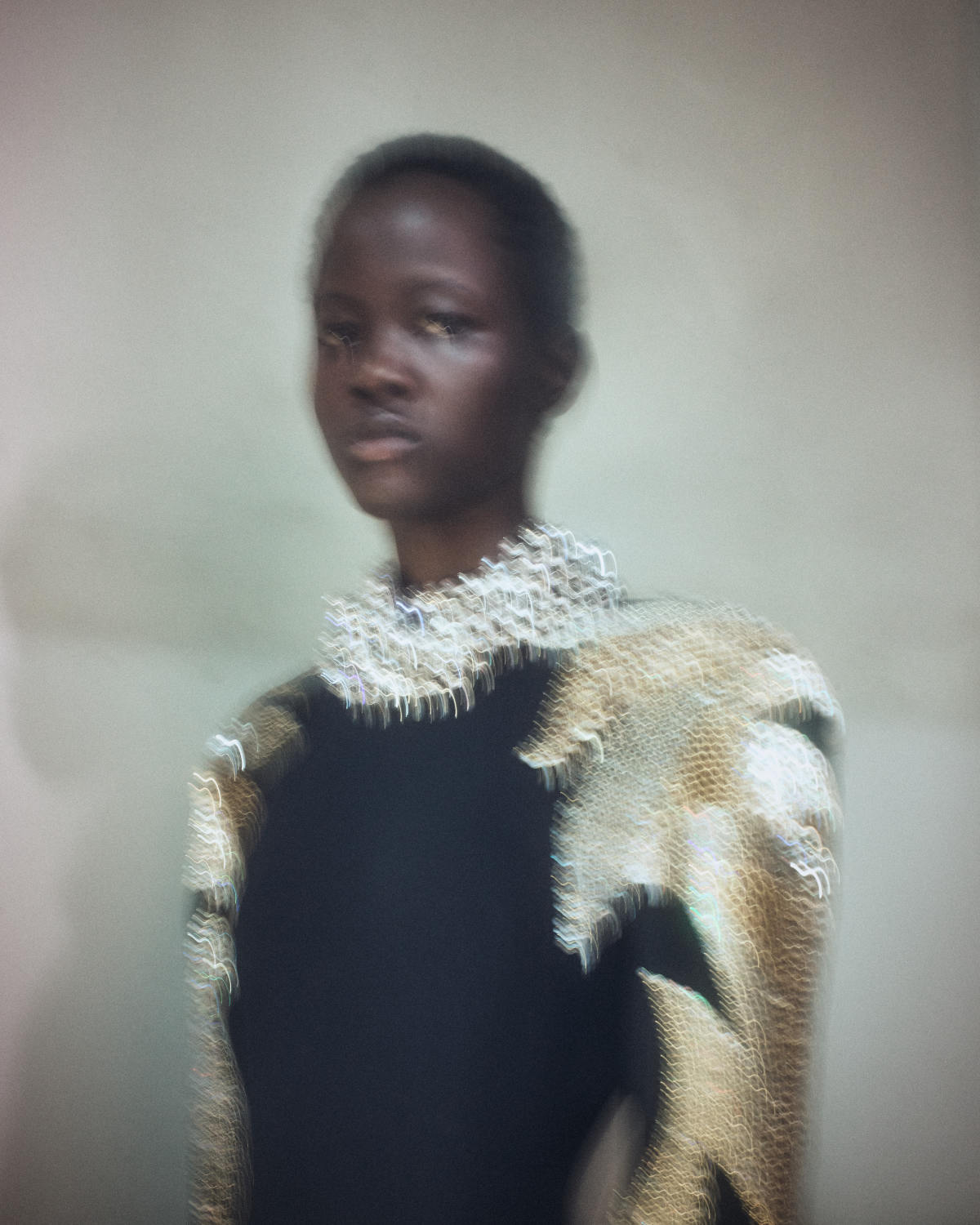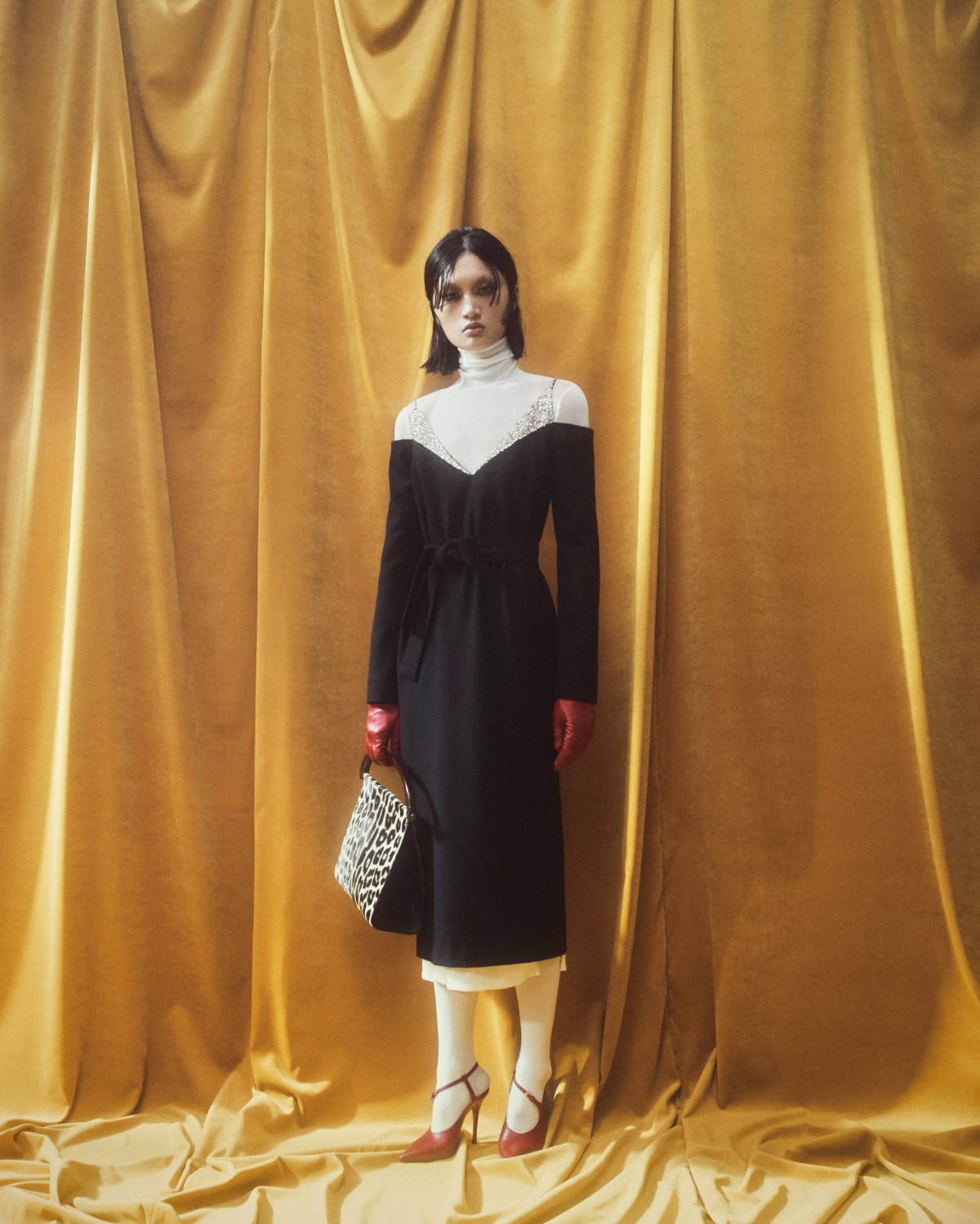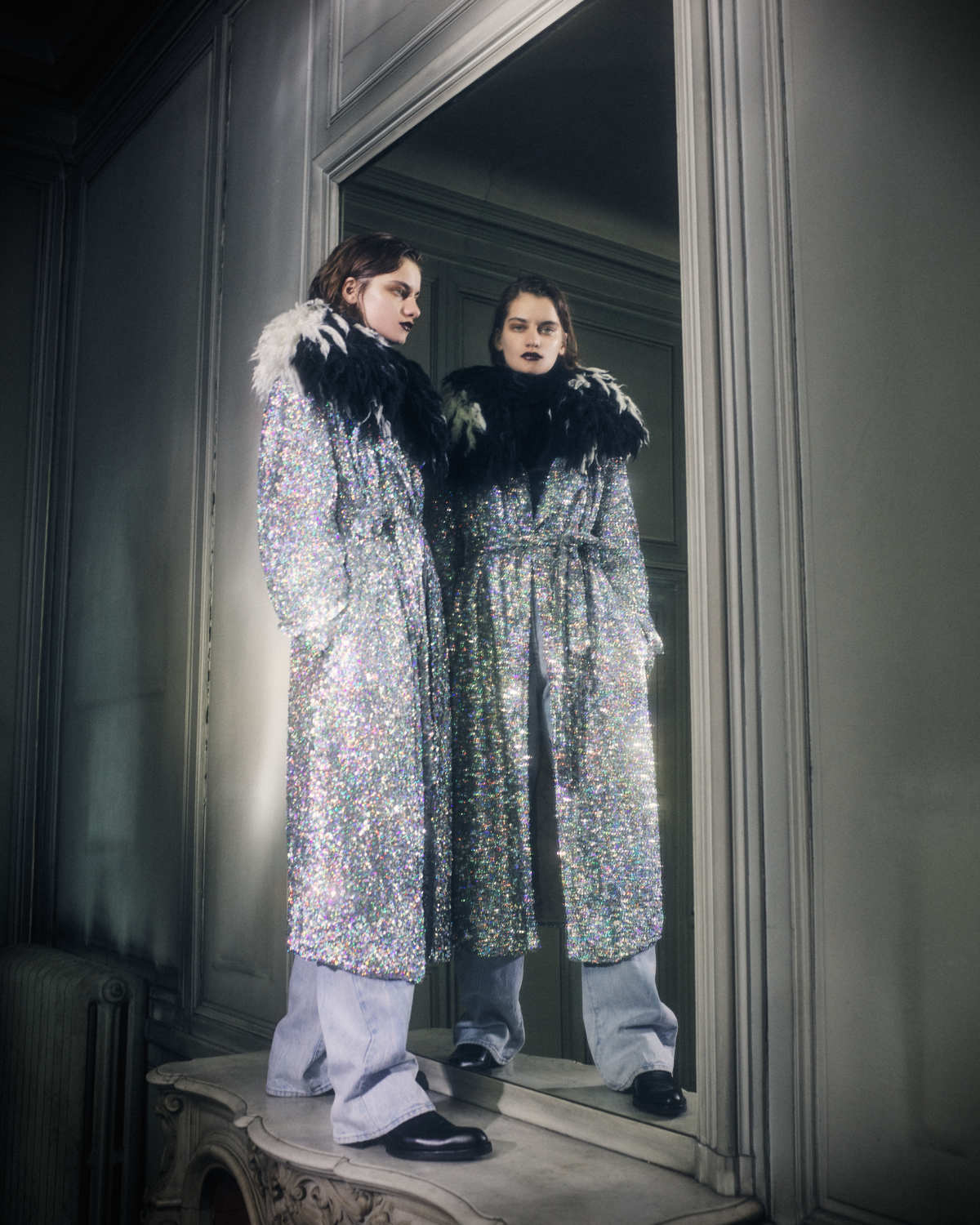 EXHIBITION CREDITS

Concept: Dries Van Noten & Geert Bruloot
Makeup: Lucy Bridge
Hair: Fabio Petri
Production: Artisty - Rachel Lequesne
PHOTOGRAPHY & FILM

Casper Sejersen is inspired by the exotic mood and colour frame of Carlo Mollino Polaroids of women in continuity of the mens. The shoots for photography and film for the women's and men's collections were each held at the Hotel de Guise.
DOCUMENTARY

A film by Lisa Immordino Vreeland documents the exhibition and photoshoot for women as well as behind the scenes of DVN beauty.