---
Tag Heuer Monaco Hits The Big Screen In 'Gran Turismo: Based On A True Story'
Luxferity, 07.08.2023
Tag Heuer shared that fans can catch a glimpse of its Tag Heuer Monaco watch on the big screen in Sony Pictures' upcoming sports/action film, Gran Turismo: Based on a True Story, exclusively in cinemas on August 11.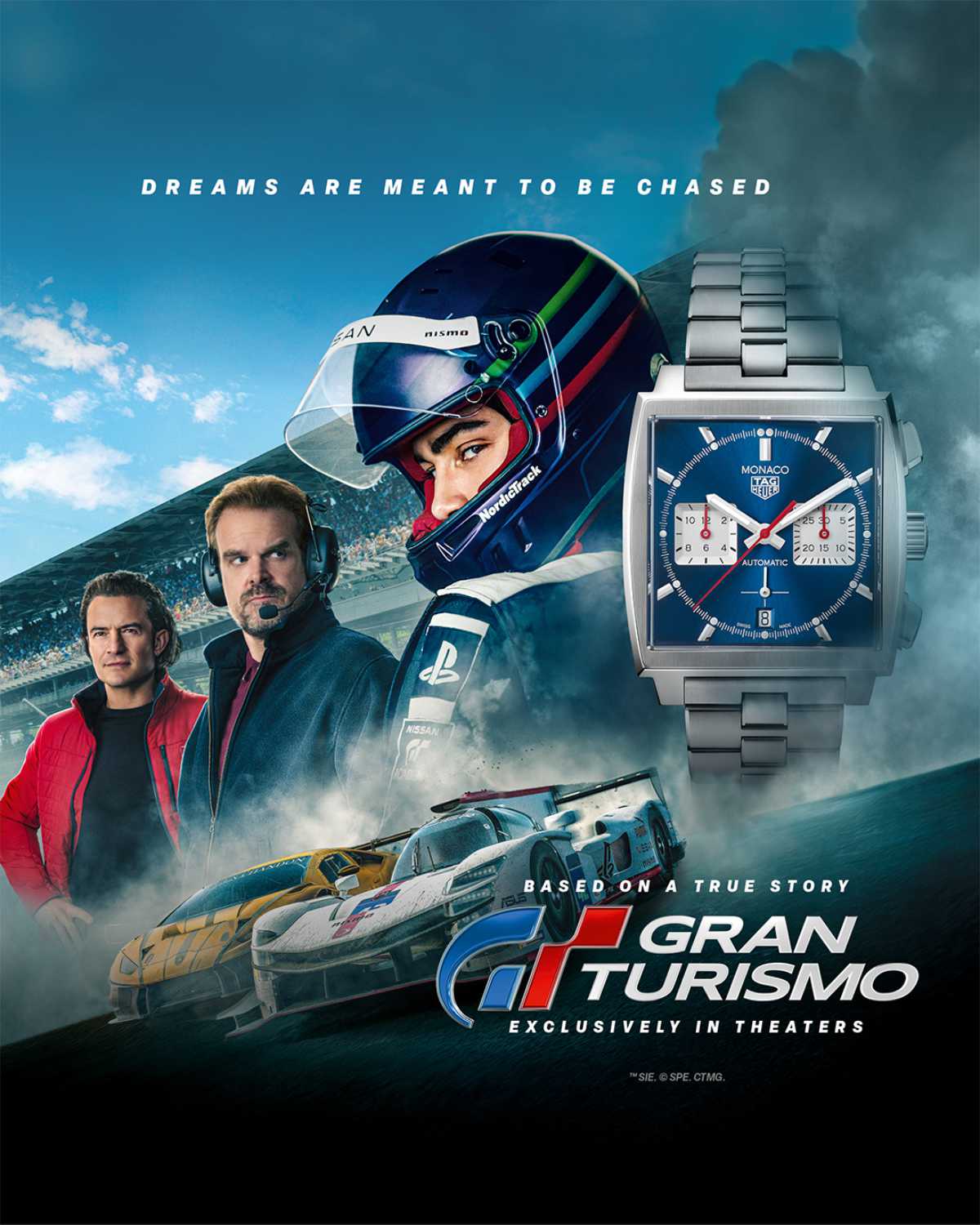 Drawing inspiration from the timeless Monaco watches of the early 1970s, the TAG Heuer Monaco, is the original square-shaped icon, representing the pursuit of doing things in a unique and unconventional way. The TAG Heuer Monaco embraces the spirit of breaking boundaries and chasing dreams making it a great match for Gran Turismo: Based on a True Story, a film based on the unbelievable true story of a team of unlikely underdogs – a struggling working-class gamer (Archie Madekwe), a failed former racecar driver (David Harbour), and an idealistic motorsport executive (Orlando Bloom). Together, they risk it all to take on the most elite sport in the world. Gran Turismo: Based on a True Story is an inspiring, thrilling, and action-packed story that proves that nothing is impossible when you're fueled from within. The watch can be seen worn by film character "Danny Moore," a motorsport executive.
Infused with captivating charisma, the TAG Heuer Monaco embodies individuality in every aspect. This powerful design is now offered on a distinctive steel bracelet: a rallying symbol for the audaciously rebellious. Beneath its striking façade, the watch is powered by the caliber Heuer 02, a true statement to the brand's legitimacy in the watch industry.
TAG Heuer embraces the shared passion for motor racing and the unique universe it creates. As the Gran Turismo: Based on a True Story movie unfolds, TAG Heuer's presence becomes evident, reinforcing the connection of the Monaco watch with the world of motor racing.
Prepare to be captivated by the fusion of gaming, racing, and TAG Heuer's Monaco watch in Gran Turismo: Based on a True Story, as dreams become reality on the silver screen.
---