---
OMEGA Presents Its New De Ville Prestige Watch Collection
Luxferity, 09.11.2022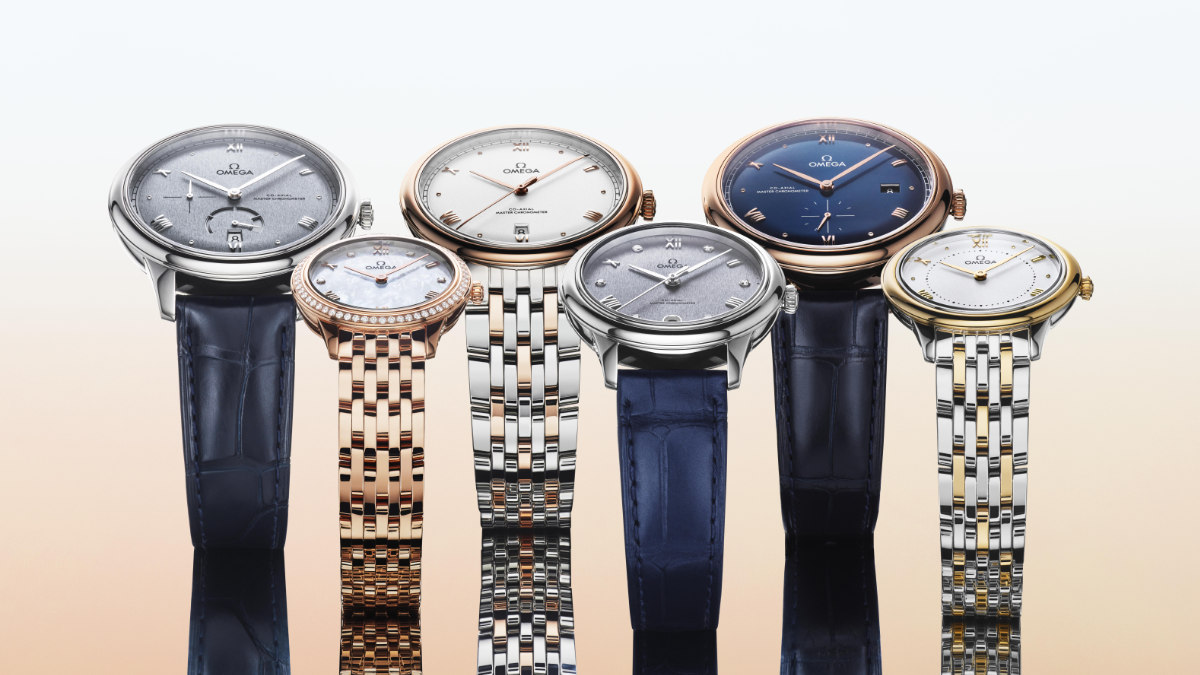 Introducing the Third Generation
Since 1994, the De Ville Prestige has become a symbol of classical design and refined elegance within OMEGA's collections. The pure look of each timepiece has captured a perfect balance between traditional watchmaking and modern beauty, with elegant and distinctive touches that have made them popular across the world.
This year, the De Ville Prestige will receive an overall upgrade, not only with Master Chronometer certification for mechanical models, but also with new and refreshing designs that offer a diverse assortment of dial pattern-finishes and colours to fit different lifestyles and personalities.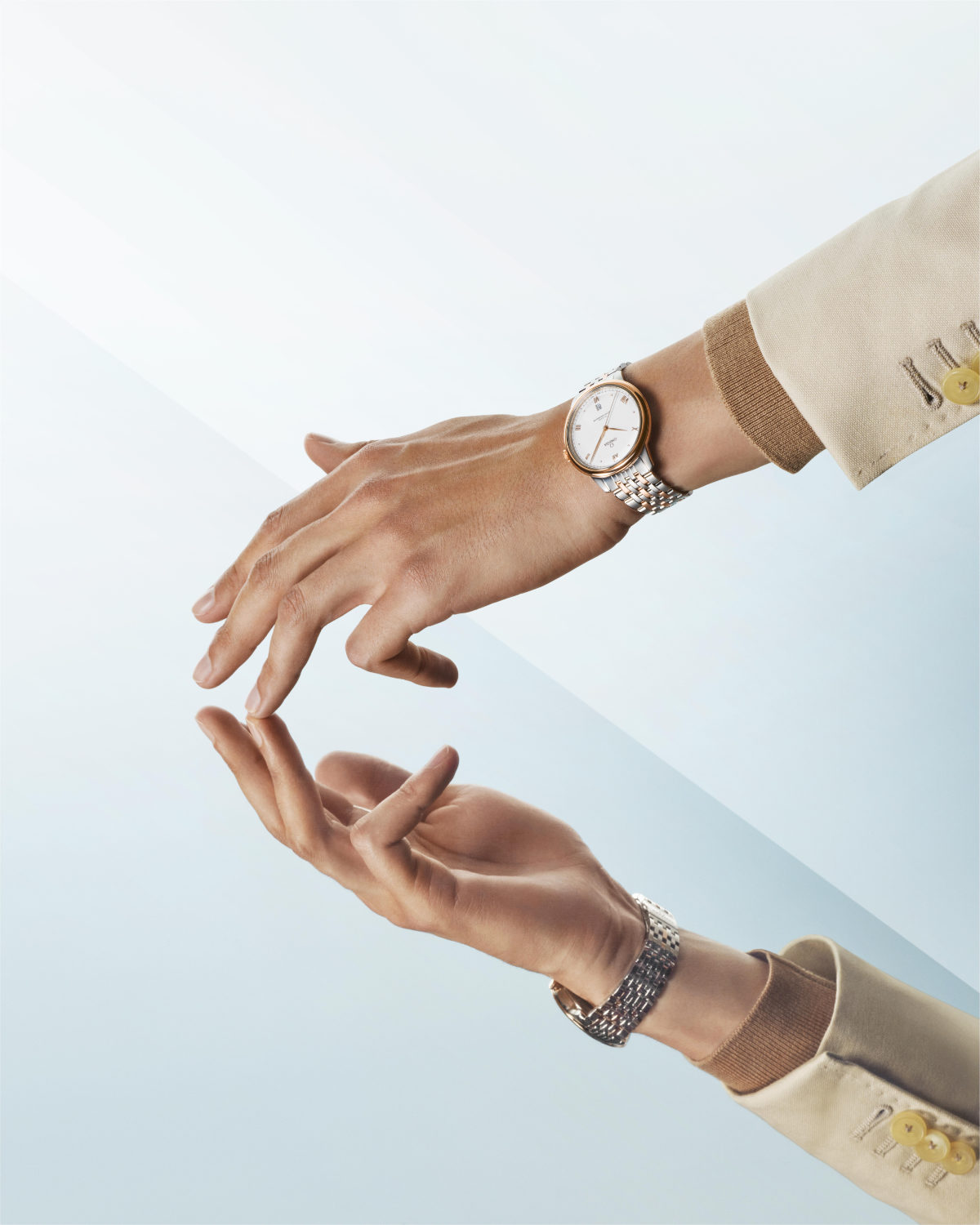 The History of the Collection
The "De Ville" name originates from the "Seamaster De Ville" line, which was the dressy segment of the sporty Seamaster collection in its early years. However, in 1967, "De Ville" became a collection in its own right and has represented the classical spirit of OMEGA's watchmaking ever since.
One particular advertisement from the 1960s perhaps described it best, with a slogan saying, "An OMEGA so slim it hugs your wrist." This reference to the watch's slender design proves that elegance has always been at the collection's heart and continues to be a wonderful fit for the Prestige models of today.
In 1994, the first De Ville Prestige models arrived, named for their sense of contemporary design and slim chic style. They introduced several signature design elements, such as the linked bracelet and the "triple-apple bassine" case shape, which have continued throughout the years. This includes the second generation of chronometer-certified Co-Axial models that were introduced in 2012.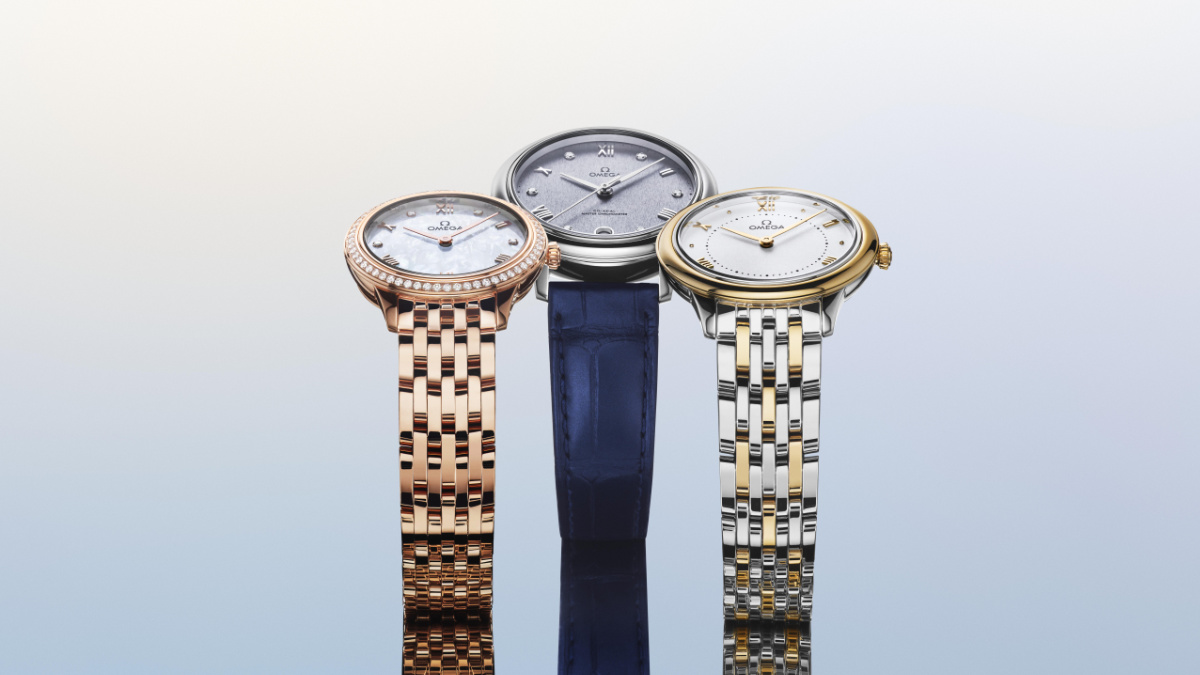 The New Arrivals
There's so much to love in the Third Generation of the De Ville Prestige. Take note of the slimmer profile, which sits beautifully on the wrist, as well as the Master Chronometer upgrade, bringing exceptional precision to every second of the day.
Introducing this extensive Third Generation collection, let's begin with six new watches in a range of different sizes and colours. In each one, it is clear to see the diversity and updates on offer, giving you an idea of the many styles that will be unveiled this year.
De Ville Prestige 41 mm - Power Reserve & Small Seconds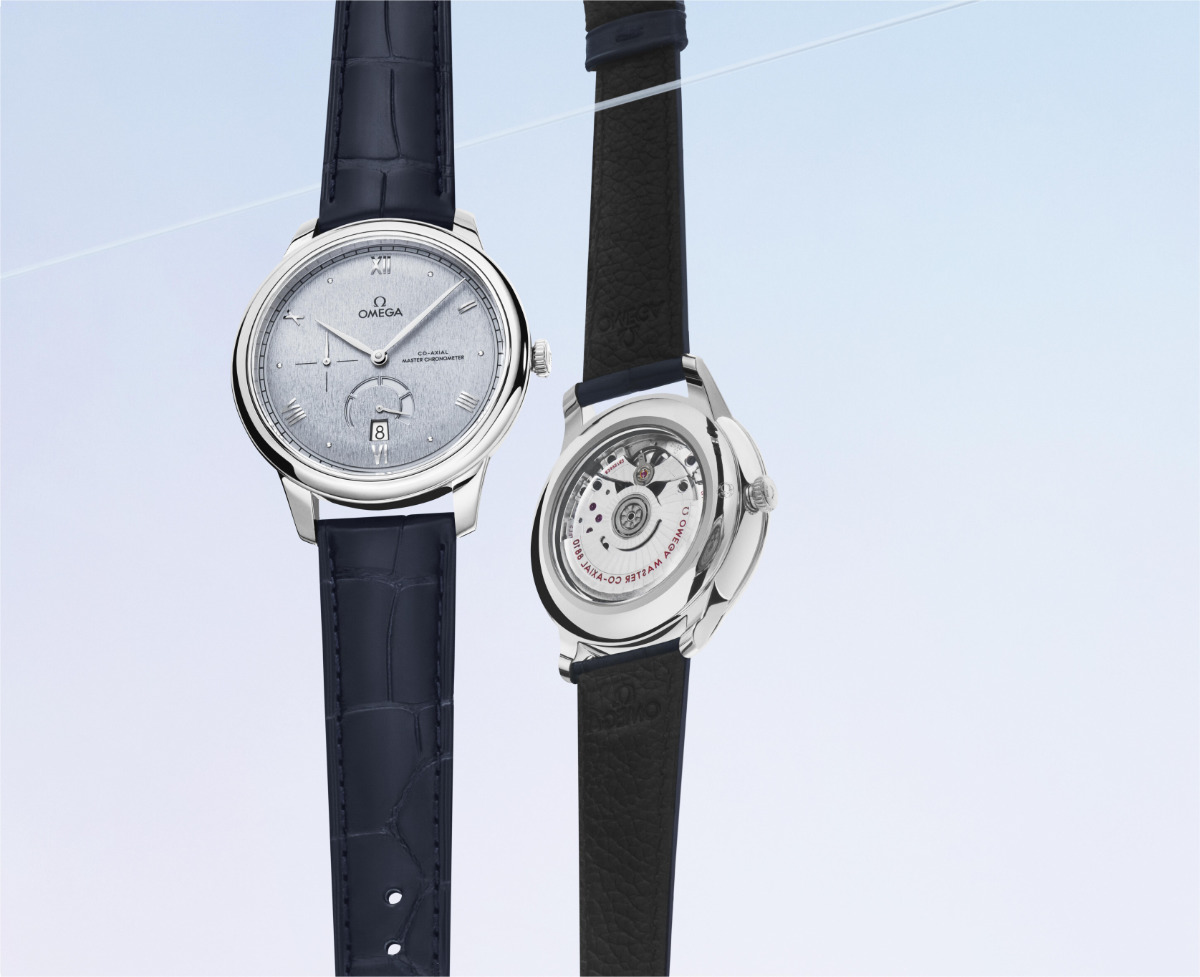 Most distinctive in this stainless steel watch is the domed PVD sky blue dial, one of the new colours in the collection. It features OMEGA's exclusive 2-in-1 finish, which combines a random vertical pattern as well as radiant sun-brushing. The power reserve displays over a 270° crescent indicator in 4 cut-through sectors at 6 o'clock.
434.13.41.21.03.001
De Ville Prestige 41 mm - Small Seconds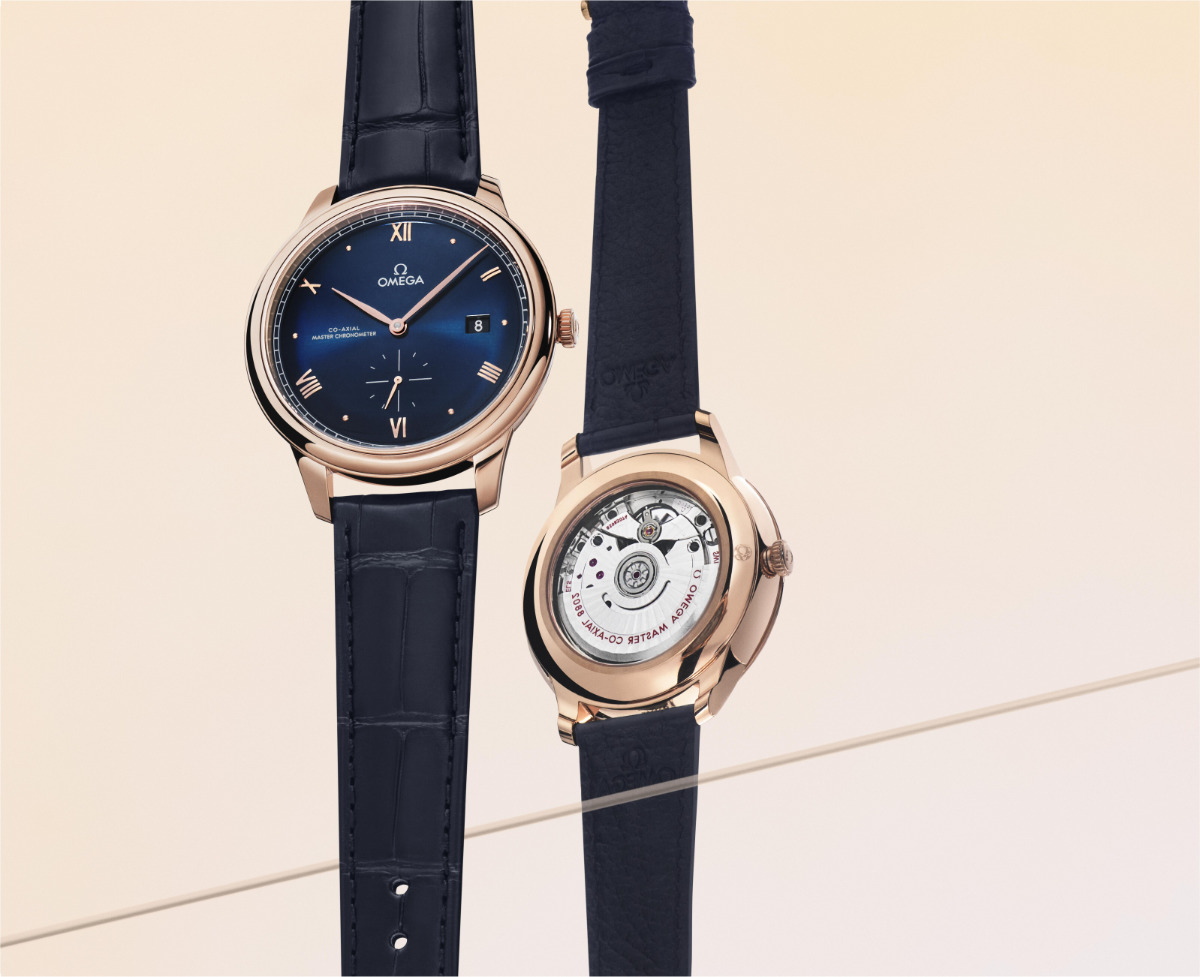 In a newly streamlined 18K Sedna™ Gold case, this Co-Axial Master Chronometer model features a domed PVD blue dial with a sun-brushed finish. It is presented on a blue leather strap and includes a Small Seconds display.
434.53.41.20.03.001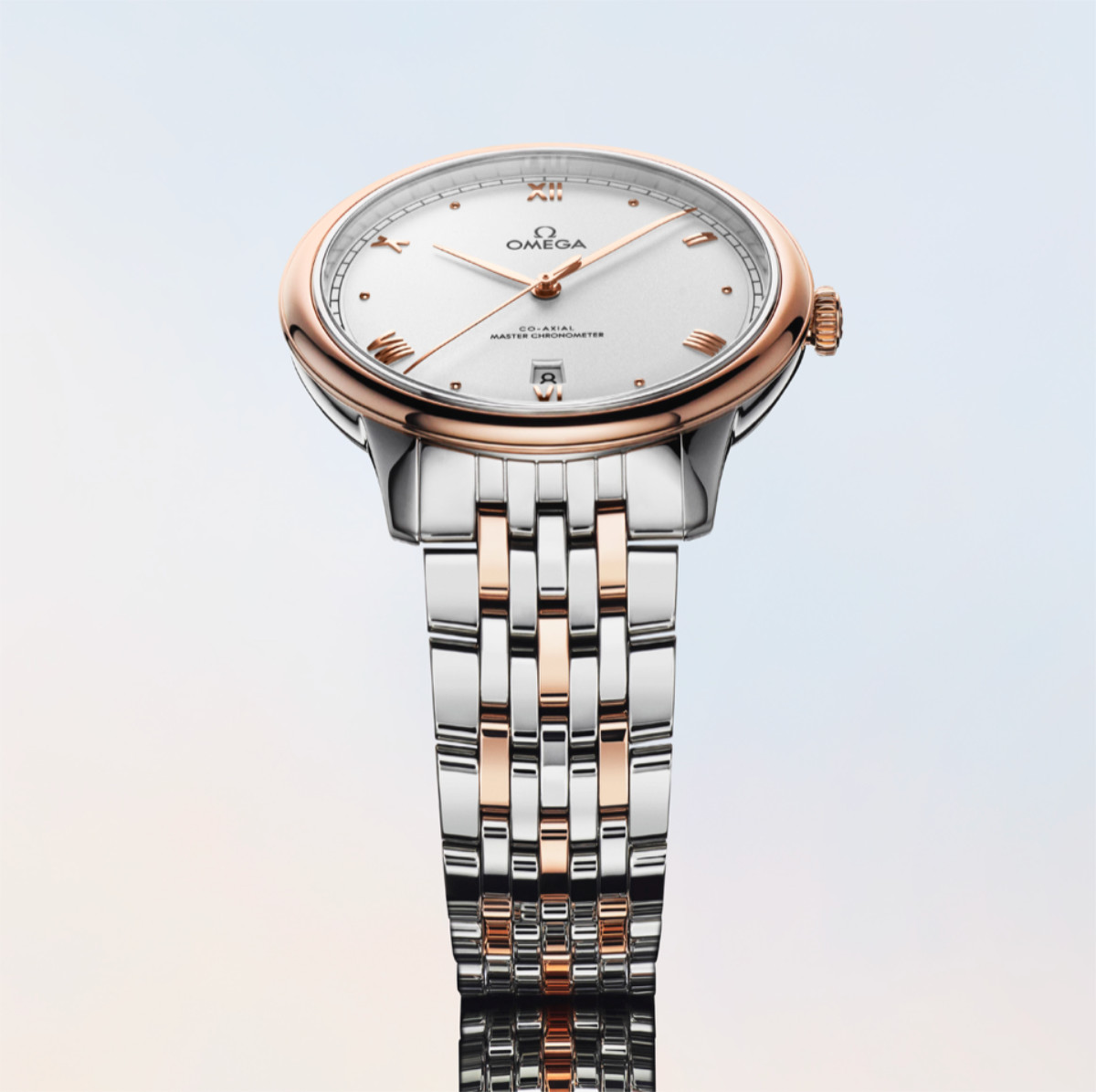 This is the classic Prestige look, updated with a domed silvery dial featuring a crystal finish. Along with a Co-Axial Master Chronometer movement, the watch is crafted in stainless steel and 18K Sedna™ Gold, which now replaces red gold in the collection.
434.20.40.20.02.001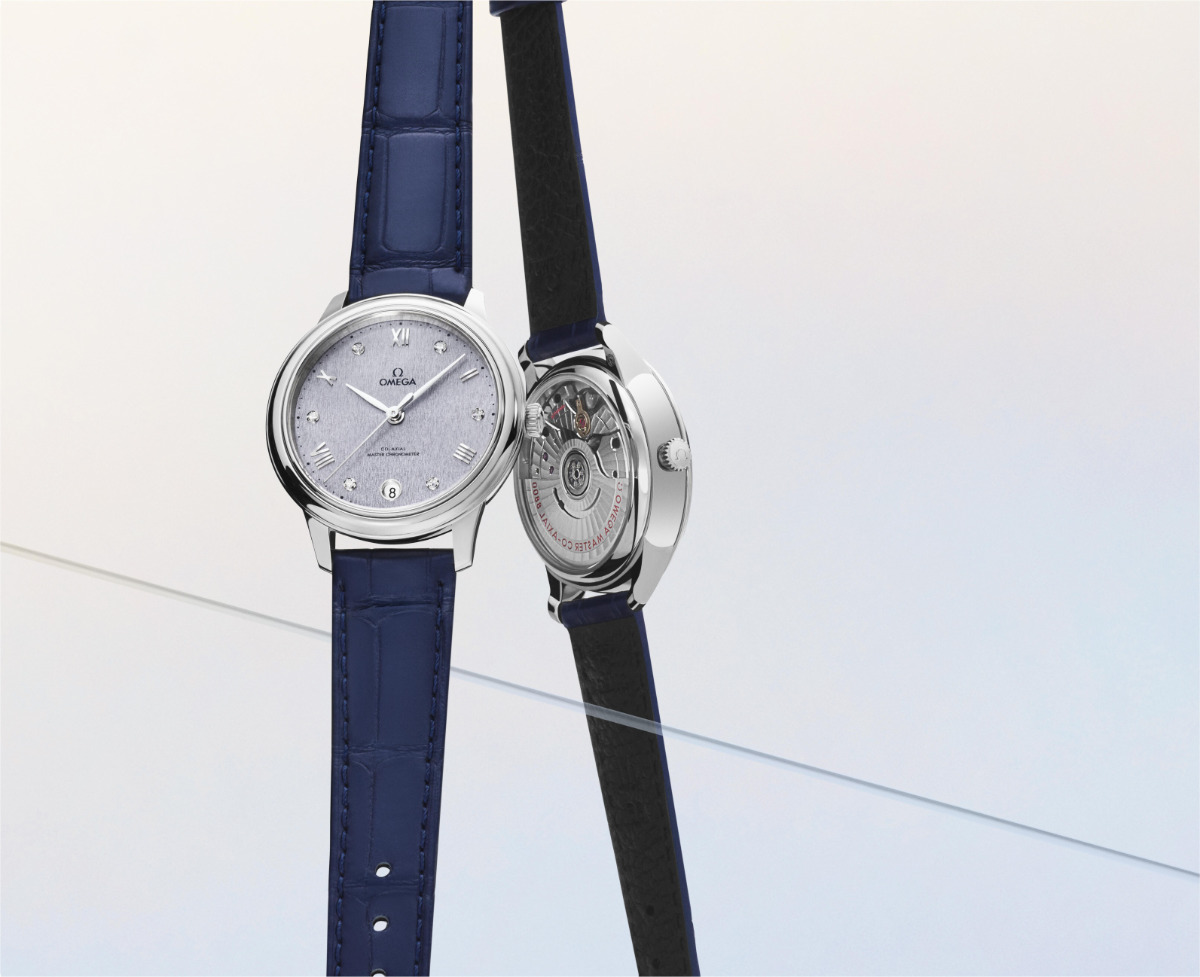 This stainless steel watch is distinguished by its PVD lavender dial, another new colour in OMEGA's 2-in-1 finish, with a random vertical pattern and radiant sun-brushing. Presented on a shimmering bright blue leather strap, this cheerful timepiece has its hours alternate between Roman numerals and diamond hour markers, along the dotted minute track on the outer zone.
434.13.34.20.53.001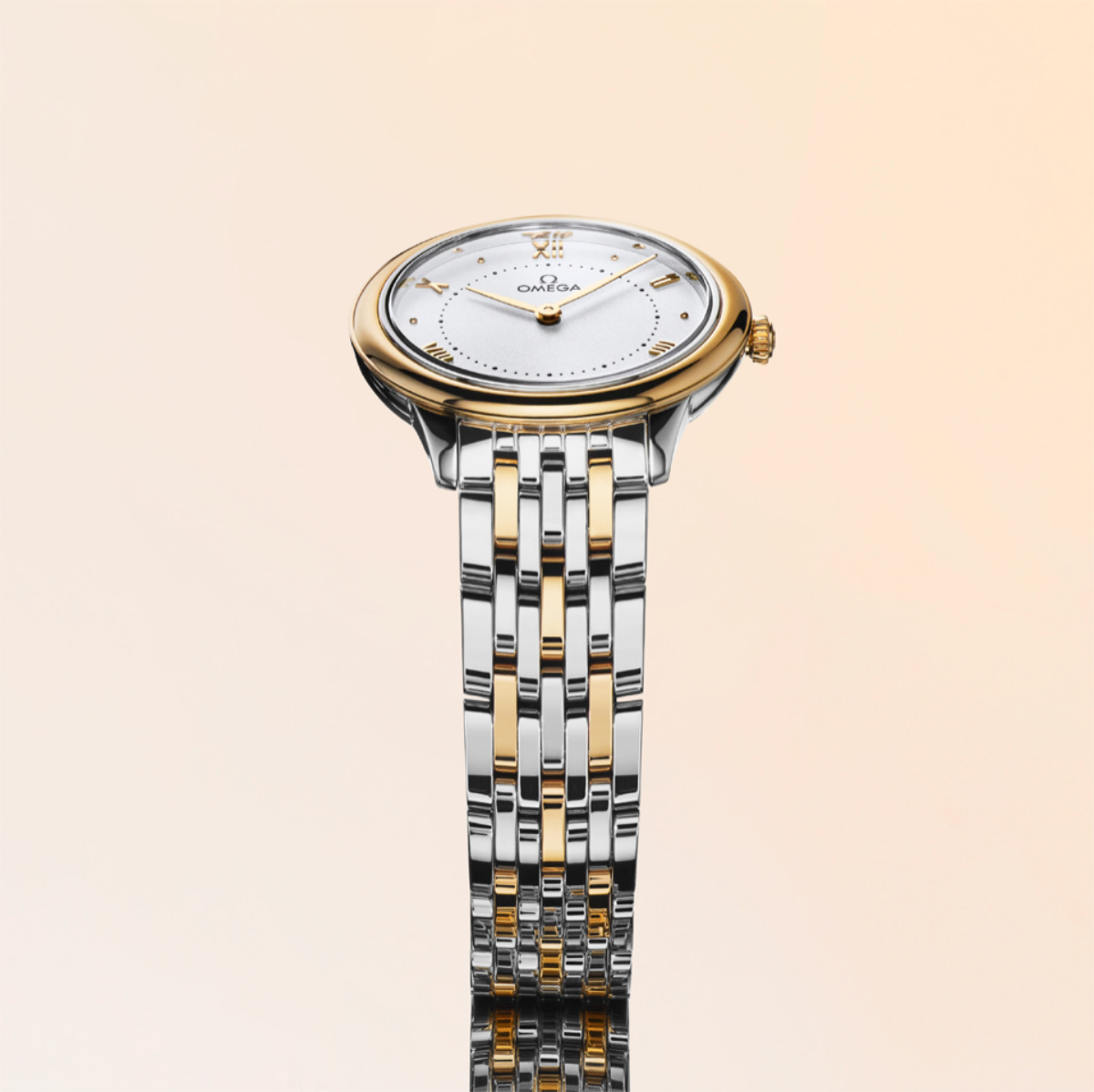 Smaller in size, yet equally elegant, this model delivers its look in stainless steel and 18K yellow gold. The silvery dial has a shimmering crystal finish, while the dotted minute track has been placed on the inner side of the hour markers.
434.20.30.60.02.002
De Ville Prestige 27.5 mm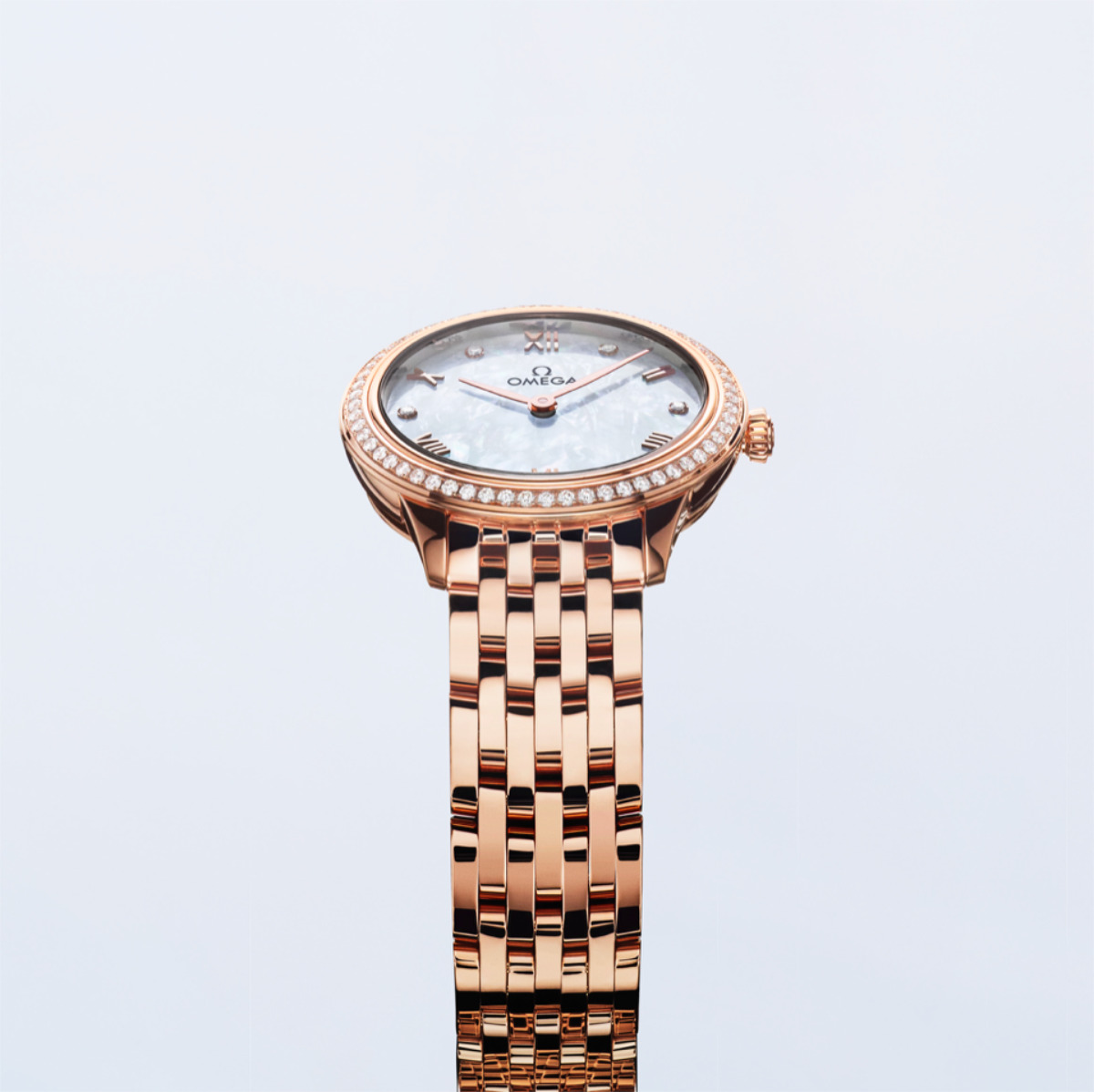 This piece of jewellery catches the eye with a full 18K Sedna™ Gold design, as well as a bezel paved in diamonds. The white motherof- pearl dial delivers a natural touch, while the Prestige bracelet is upgraded with a comfortable user-friendly butterfly clasp.
434.55.28.60.55.001
Notable Features
Now it's time to get up close and see how the details have been subtly revamped. The notable features within the collection are designed to bring out the best of the De Ville Prestige and keep it fresh for a new generation of wearers.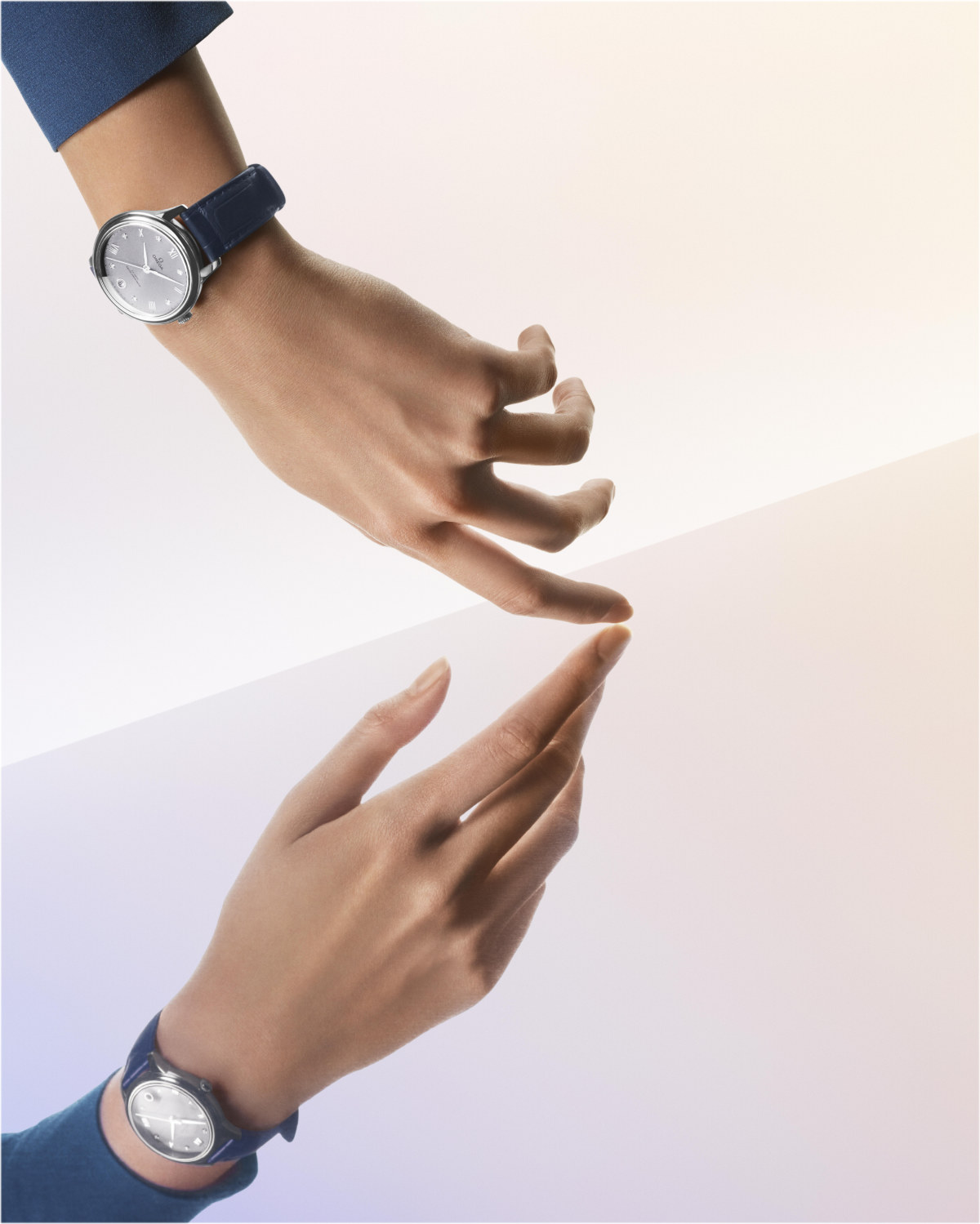 Respect For History
The core DNA of the De Ville Prestige has been retained. The front of the case still offers the "triple-apple" view (a reference to the unique case-bezel style), while the "bassine" shape offers a soft and slender profile. The wide opening of the dial offers a clear display and features Roman numerals. The popular 7-rang polished bracelet style remains. The historic look has further been improved with today's OMEGA technologies: 18K Sedna™ Gold replaces the standard 18K red gold. Colour treatments using PVD technology offer a wide range of aesthetic possibilities.
A Slimmed Down Case In Streamlined Style
For OMEGA, the De Ville Prestige Third Generation still had to be "so slim it hugs your wrist." This was achieved in various ways. Where sizes allow, notably for 40 mm and 41 mm Co-Axial Master Chronometer models, dials are hollowed underneath to accommodate the extra thickness of the movement. On the domed surface of the dials, you'll notice the applied Roman numerals. Not only are they perfectly domed on top, but also underneath, in order to seamlessly fit the domed shape of the dial – a simple-looking result, but a lengthy process to achieve. The dials are accompanied by domed hands and smoothly domed sapphire crystal, ensuring the cases of these sizes are even slimmer than the Second Generation. The curves of the Prestige have been refined to accentuate its slender design, adding an extra touch of elegance.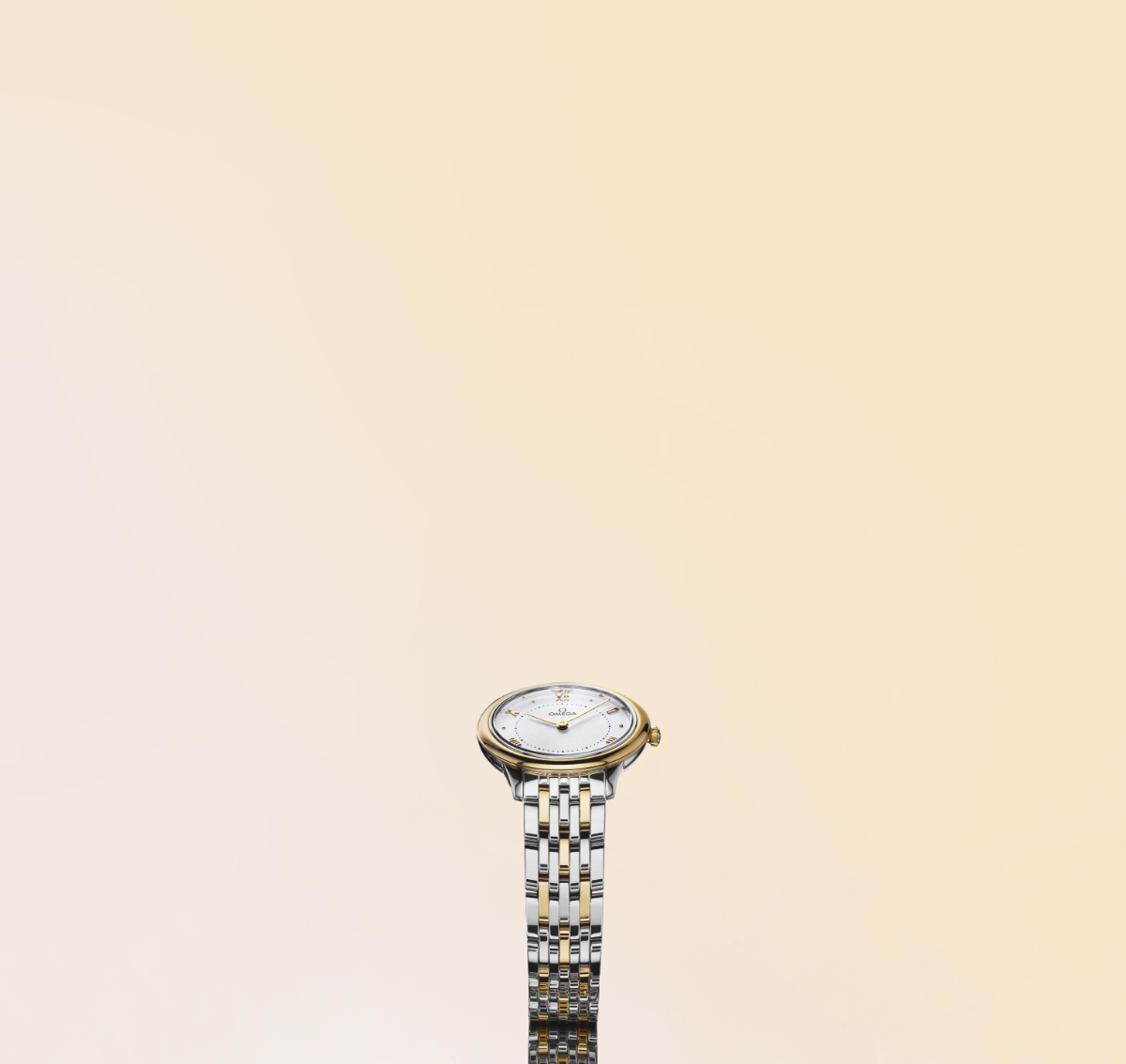 Harmony Throughout Sizes
Consistency is clear in this new collection, yet there is still some important differentiation. All sizes feature domed sapphire crystal with inner anti-reflective treatment. Crowns are redesigned, in men's and women's variants. While mechanical models are built with a sapphire crystal caseback, quartz models feature a caseback in metal with a God Chronos medallion - the emblem of the De Ville Prestige.
Timeless Dials and Hands
A cleaner and sleeker look, offering easy legibility. For most of the 40 mm and 41 mm models, the watches include new domed dials with a recessed railway minute track (except for 40 mm versions with diamond hour-markers, which feature flat dials). Dials in smaller sizes are flat, with a dotted minute track either on the outer zone for 34 mm or on the inner zone for 30 mm. The 27.5 mm remains pure without any minute track. Hour-markers are represented by applied Roman numerals, alternating either with cabochons or diamonds. Polished and rounded leaf-shaped hour and minutes hands complete the face of the watches.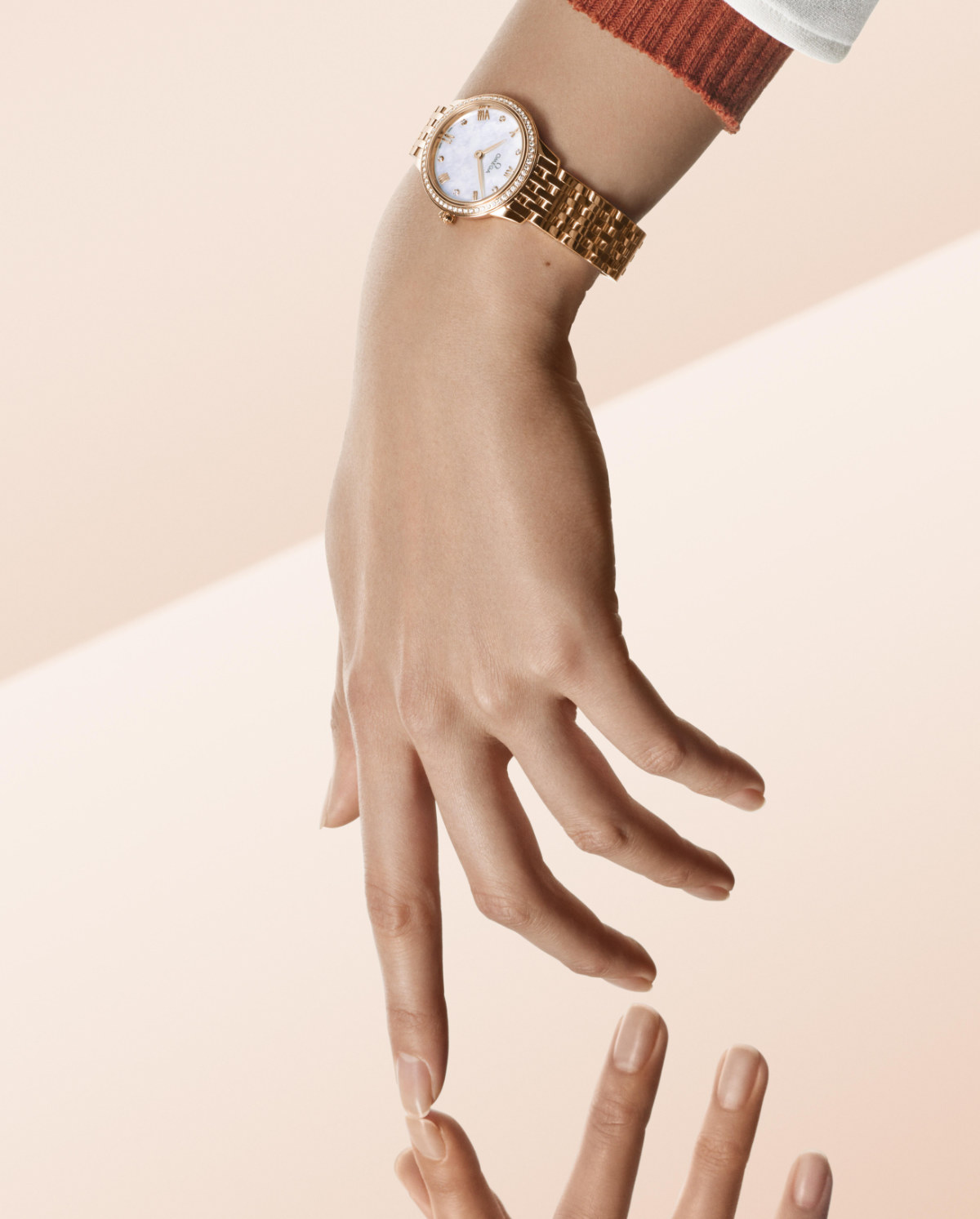 Dial Diversity in Pattern-Finishes and Colours
With all those different dials to choose from, there is a lot to catch the eye. Special dial materials include white or Tahiti mother-of-pearl. Each dial has its own unique pattern-finish, including sun-brushed, two different crystal finishes (for men's and women's), a "Clous-de-Bienne" pattern in an opaline finish, or OMEGA's exclusive 2-in-1 finish combining a random vertical pattern with radiant sun-brushing (except for the 40 mm PVD linen dial with diamond hour-markers that comes with an opaline finish). There's a wide choice of dial colours across the sizes. In addition to the standard silvery and rhodium-grey colours, many new light and cheerful hues are also offered thanks to PVD colour treatments: platinum-gold, rose silvery, sandy rose, linen, Moonshine™ Gold, salmon, lavender, sky blue, blue, matcha green, pine green, dark green, purplish burgundy, wine burgundy, grey, black.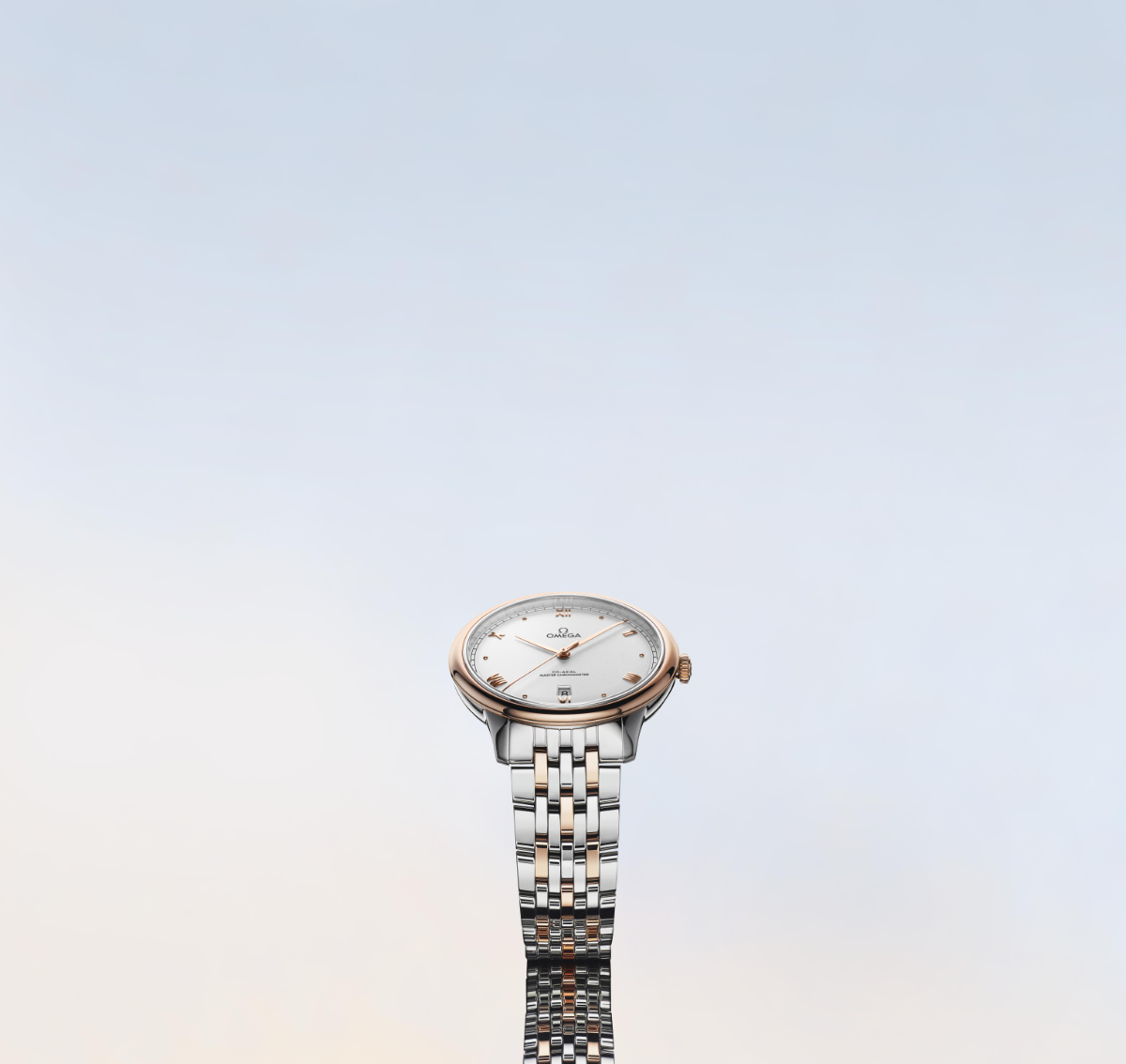 Re-proportioned Updated Bracelets and Leather Straps
Once again, OMEGA has gone slimline to create a more distinctive look around the wrist. The link width has been re-proportioned, along with refined bracelet tapering, and a reworked connection to the case. Sliding clasps now give way to butterfly clasps with pushers on the cover. For men's models, these covers are rectangular, while for women they are curved. Colourful leather strap options on updated buckles liven up the collection.
Collection Structure
Aside from the full 18K gold watches, it is possible to play with metallic bracelets and leather straps, and use them as additional accessories for steel-gold and steel models. The basic collection is structured as follows:
Women's collection:
Dial differs:
Models featuring cabochon indexes come exclusively with a metal bracelet.
Models with diamond hour markers come exclusively with a leather strap.
Men's collection:
The same dial is offered on both metal bracelet and leather strap.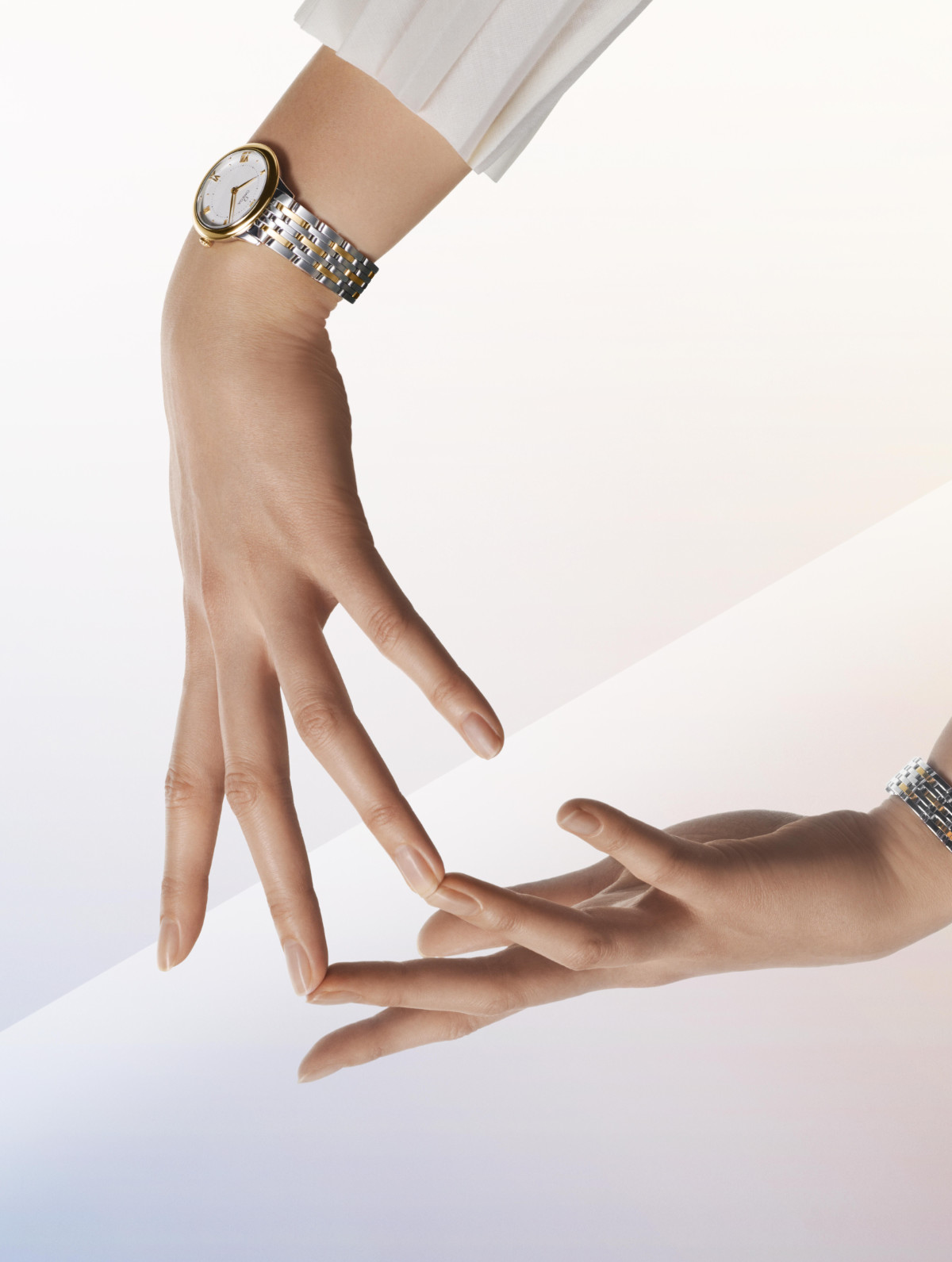 Diverse Functionality for Different Sizes
Four different calibres are presented in the collection, each with their own functions.
Calibre 8810 – mechanical, with Power Reserve and Small Seconds – for 41 mm
Calibre 8802 – mechanical, with Small Seconds – for 41 mm
Calibre 8800 – mechanical, with standard 3 central hands – for 40 mm and 34 mm
Calibre 4061 – quartz, with 2 central hands – for 30 mm and 27.5 mm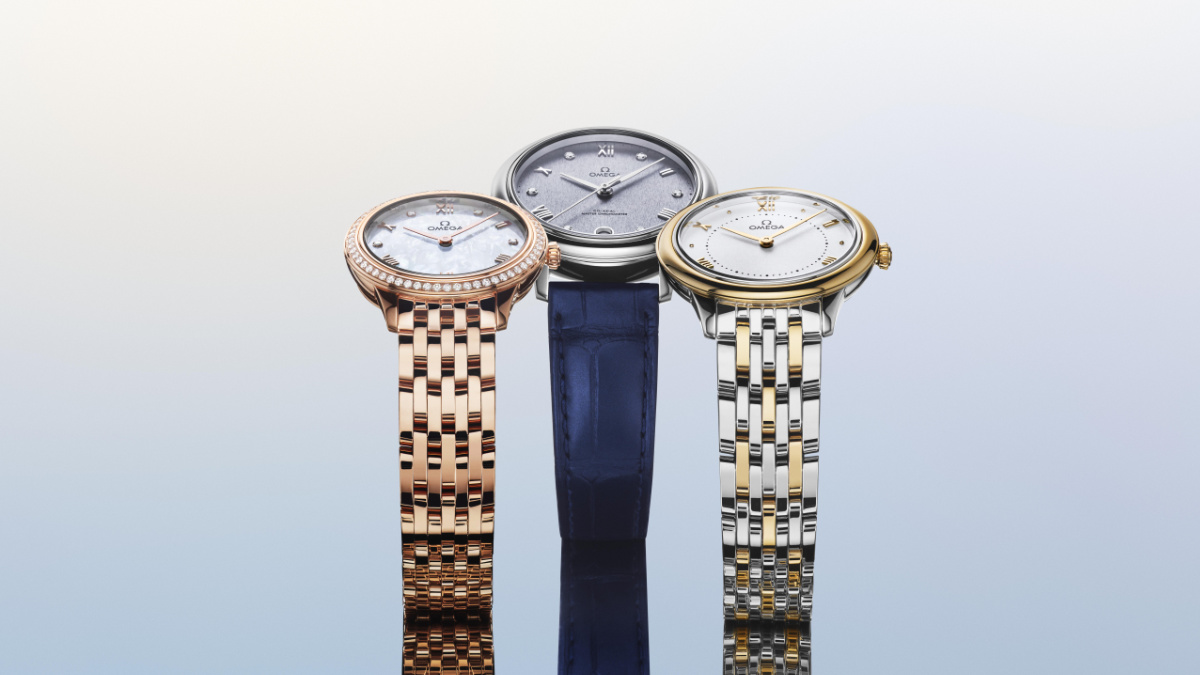 Master Chronometer Certification
All mechanical models have now been upgraded to Switzerland's highest standard of precision, performance and magnetic-resistance.
International Warranty. All watches come with a 5-year warranty.
---