---
In 2022, the famous emoticon will blow out its fifty candles. This presented an opportunity to invite fifty big names in fashion, watchmaking, and jewelry to create limited editions that are certain to make anyone smile. In celebration, Messika unveils three novel jewels – two unique Lucky Move necklaces and a My Move bracelet - which Valérie Messika had lots of fun designing.
When Smiley decided to celebrate its 50th anniversary, it naturally surrounded itself with brands which share a similar "joie de vivre" and mischievous spirit; two values which Valérie Messika cultivates on a daily basis. Her contribution to this anniversary was impulsive yet instinctive, sharing many commonalities with Nicolas Loufrani, who runs The Smiley Company. Coming of age as part of the same generation, both Valérie Messika and Nicolas Loufani have set themselves apart as two business leaders who followed in their father's footsteps. The daughter of a diamond dealer, Val rie has chosen to dedicate her life to the diamond – daring to release it from a sacrilege attitude, making it light, free and easy to wear. Similar in timing, Nicolas was born as his father launched an acclaimed column in French newspaper, France-Soir. For good news only, the column was entitled "Prenez le temps de sourire!" (Take the time to smile!), with a smiley as a logo. Twenty-five years later, the instantly recognizable Smiley first appears on a laptop. Following which, Nicolas had the ingenious idea to launch emoticons, creating a universal language that quickly took hold of the planet. Each at the head of a thriving business, the two creative heads and leaders in their respective spheres retain the same light-hearted attitude and approach which make one look at the bright side of life.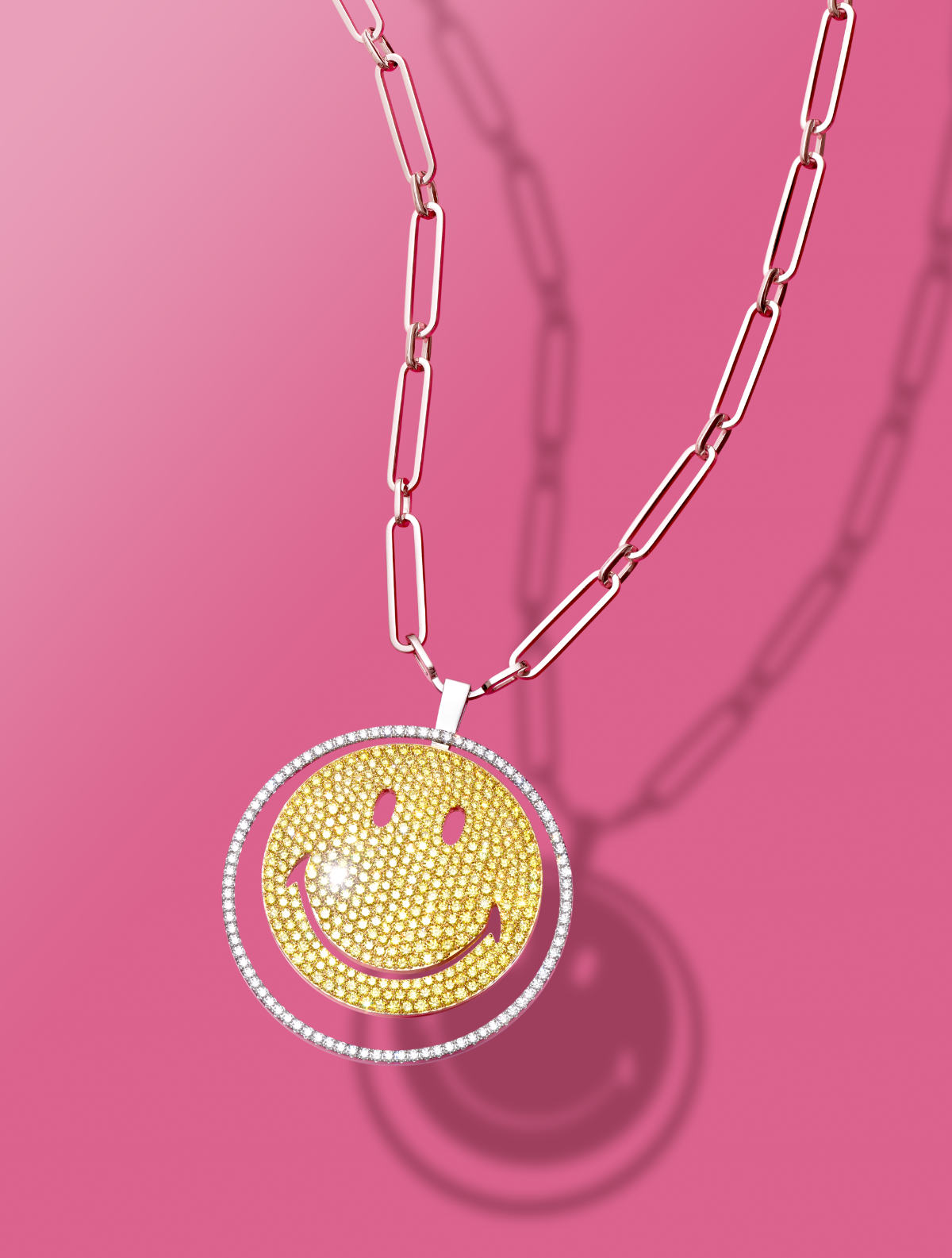 "Like many people, I have always had a loving attachment to this motif, a strong symbol of pop culture. It conveys so many values and principles in which I believe, including an ever-positive spirit, a smile, and a step back. I was truly delighted to be one of the fifty guests invited by The Smiley Company. The overall exercise was a fun task, which doesn't detract from the technicality of the jewelry. I'm confident that the project will deliver what everyone desires, positivity!"Valérie Messika.
TAKE THE TIME TO SMILE
In honour of its fiftieth anniversary, Smiley turned to artist André Saraiva, renowned for his graffiti signed : "Mr. A." Under his mischievous pencil, the smiling face was joined by an enthusiastic imperative, "Take the time to smile!". André's proposal inspires two necklaces from Valérie. The design of the Lucky Move collection, launched as a talisman line in which each piece of jewelry becomes a lucky charm for the person who chooses it, quickly established itself.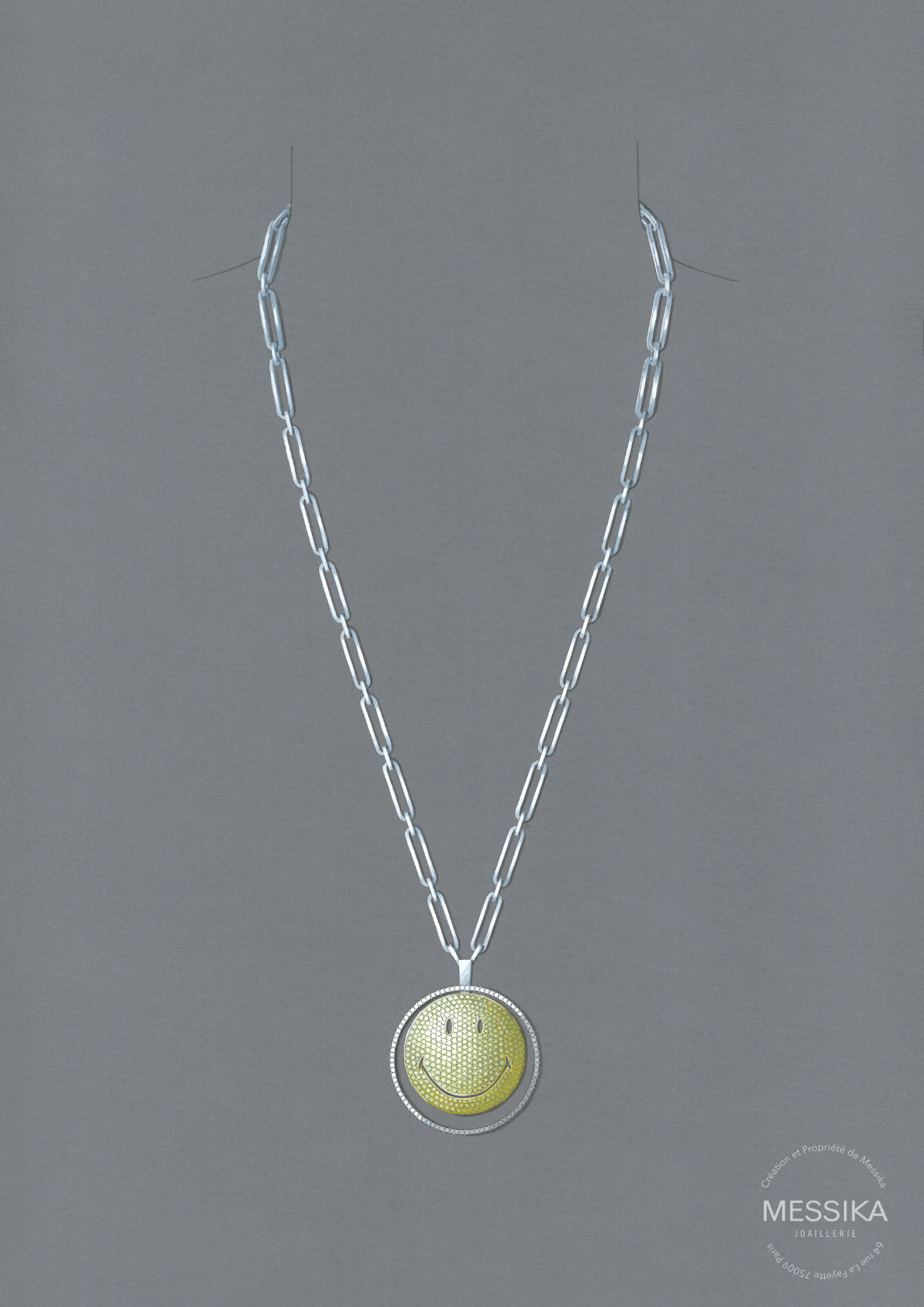 LUCKY MOVE
On a first proposal, the Lucky Move small pendant unveils a Smiley in yellow diamonds in a pavé white gold ring. The moving diamond steps aside. In its exclusive version, the second jewel within this collection is a Lucky Move XXL necklace which competes as the most expensive Smiley in the world. Offered with wide chain links, in a generous 43 mm diameter, the laughing face emerges through the meticulous pav setting of several hundred yellow diamonds and white diamonds which come to total 7.90 carats. The number 50 is inscribed on the back of both necklaces, reminiscent of the anniversary edition.
"When Smiley decides to celebrate its 50th anniversary, it naturally surrounds itself with brands which share a similar joie de vivre and mischievous spirit."Valérie Messika.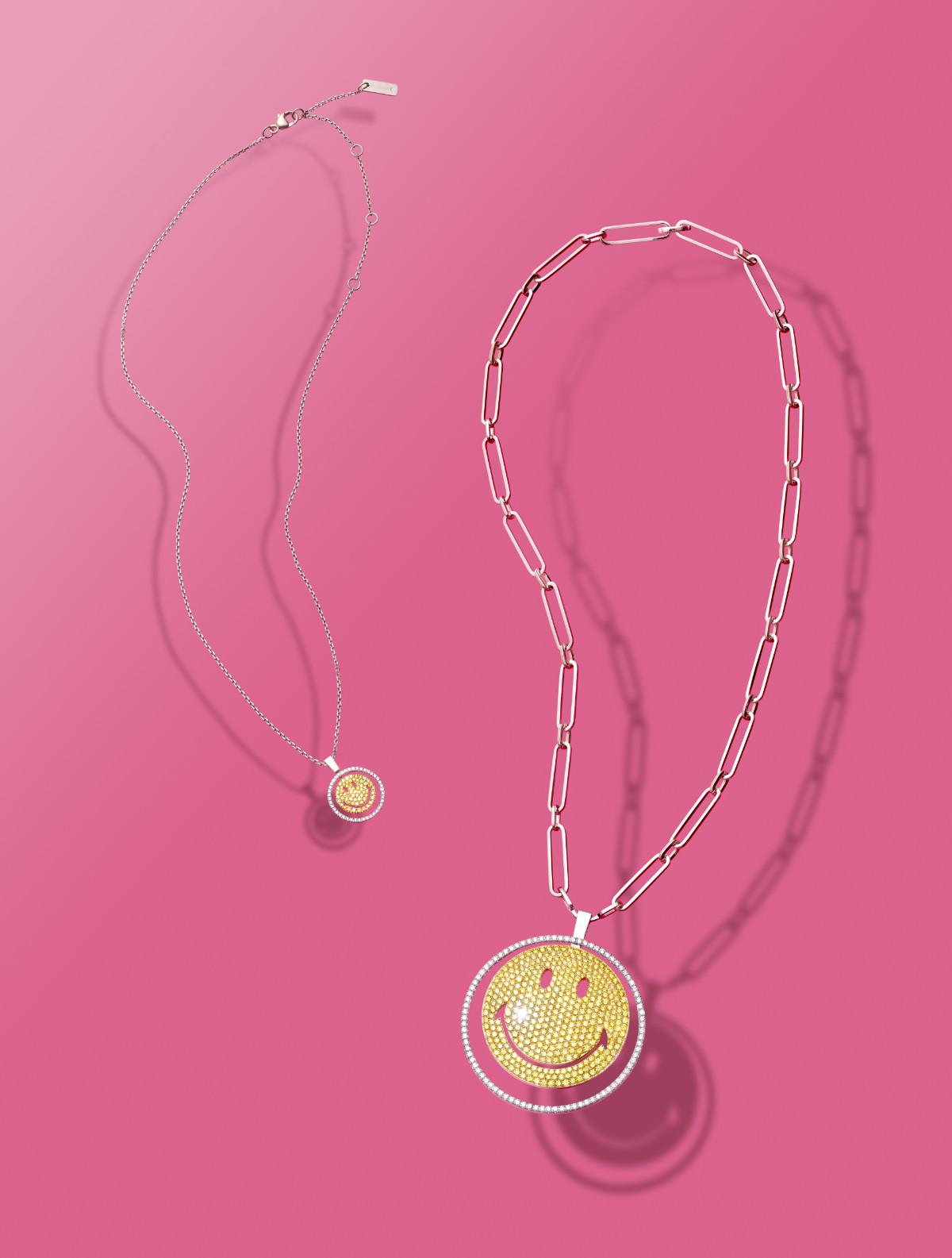 MY MOVE
The third piece of jewelry conceived in celebration explores the Smiley motif in a different setting. Valérie revisited one of her latest novelty jewels – the recently launched My Move collection. Made up of pieces which can be transformed at will thanks to interchangeable bracelets, the line allows everyone to create a unique jewel corresponding to their mood, style and personality. In its Smiley edition, the bracelet is offered in black rubber on which Smiley motifs dance in different colours, black and white, as well as black and yellow and in various sizes.
On show in the Maison's Parisian boutique on rue Saint-Honoré, Smiley x Messika jewelry will also be available at Galeries Lafayette Haussmann. These will be dressed in the Smiley birthday motif by "Mr. A" from February 22nd to April 10th 2022. Contributing to the celebration by capturing all creations, Assouline editions will be offering a collector's book compiling the fifty collaborations. From April 10th 2022, the Smiley x Messika pieces will be available in Asia. At fifty, Smiley has never looked so young and trendy.
"In its precious cage, the moving diamond joyfully slides with these new accomplices."Valérie Messika.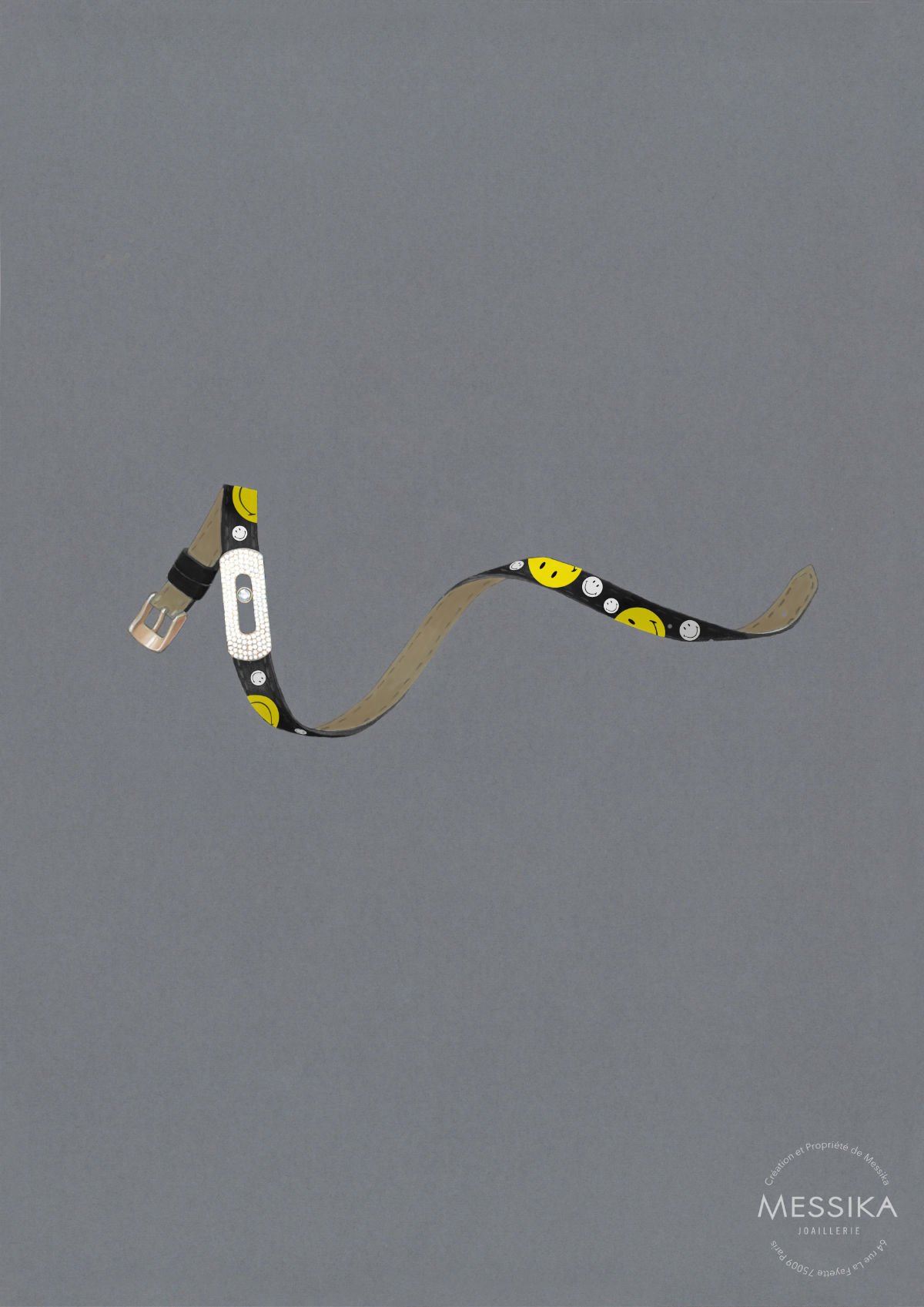 ABOUT MESSIKA
Driven by a desire to create diamond fashion jewelry of unwavering beauty, Valérie Messika created her own jewelry House in 2005. In her work, she reinvents the richly symbolic and meaningful stone into a desirable and disruptive object that lends self-confidence to anyone who wears it. Valérie constantly innovates to realize this vision, creating new designs and new techniques. She conceives jewelry that is as individual as it is explosive.
She is a jewelry designer, of course, but above all, she is a trend-setter. Valérie Messika brings a liberating breath of fresh air to the jewelry industry. In her hands, the diamond comes alive: it moves, it dances, it has fun and most importantly, it is never boring.
Messika pieces are jewelry with character, reflecting the designer's own femininity and modernity. Messika creations are admired by the most influential women in the world, women respected for their talent and personality.
Between 2017 and 2018, the House collaborated with Gigi Hadid, the highly regarded global supermodel, with whom the House co-designed two capsule collections. For 2020 and 2021, Valérie Messika and her muse, Kate Moss, co-created a High Jewelry collection composed of 2 opus. A collection honoured through a unique High Jewelry show in the gardens of the Ritz Paris.
2022 promises to see Valérie Messika, the rulebreaker of the jewelry industry, push the boundaries even further, with her new brand ambassador, Kendall Jenner.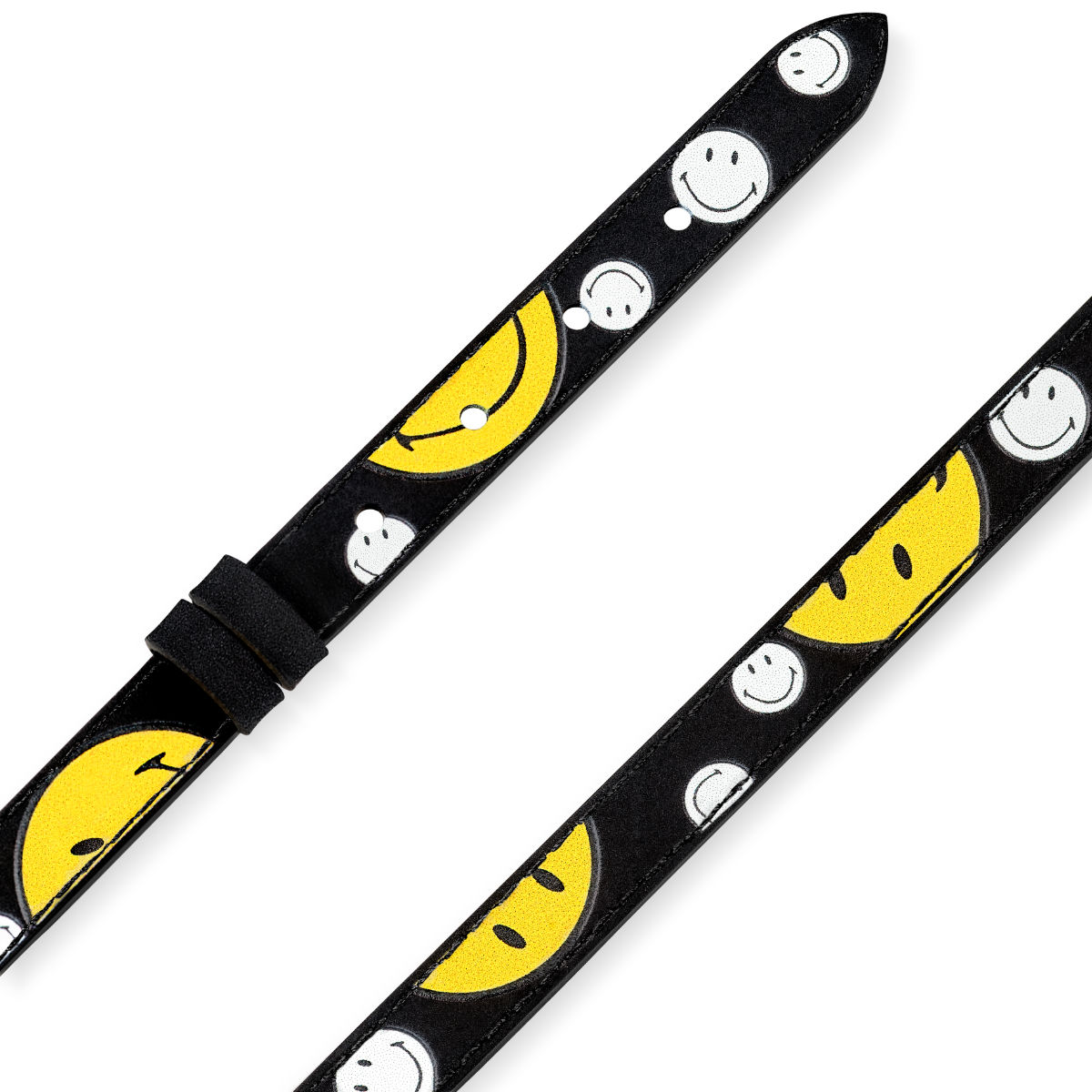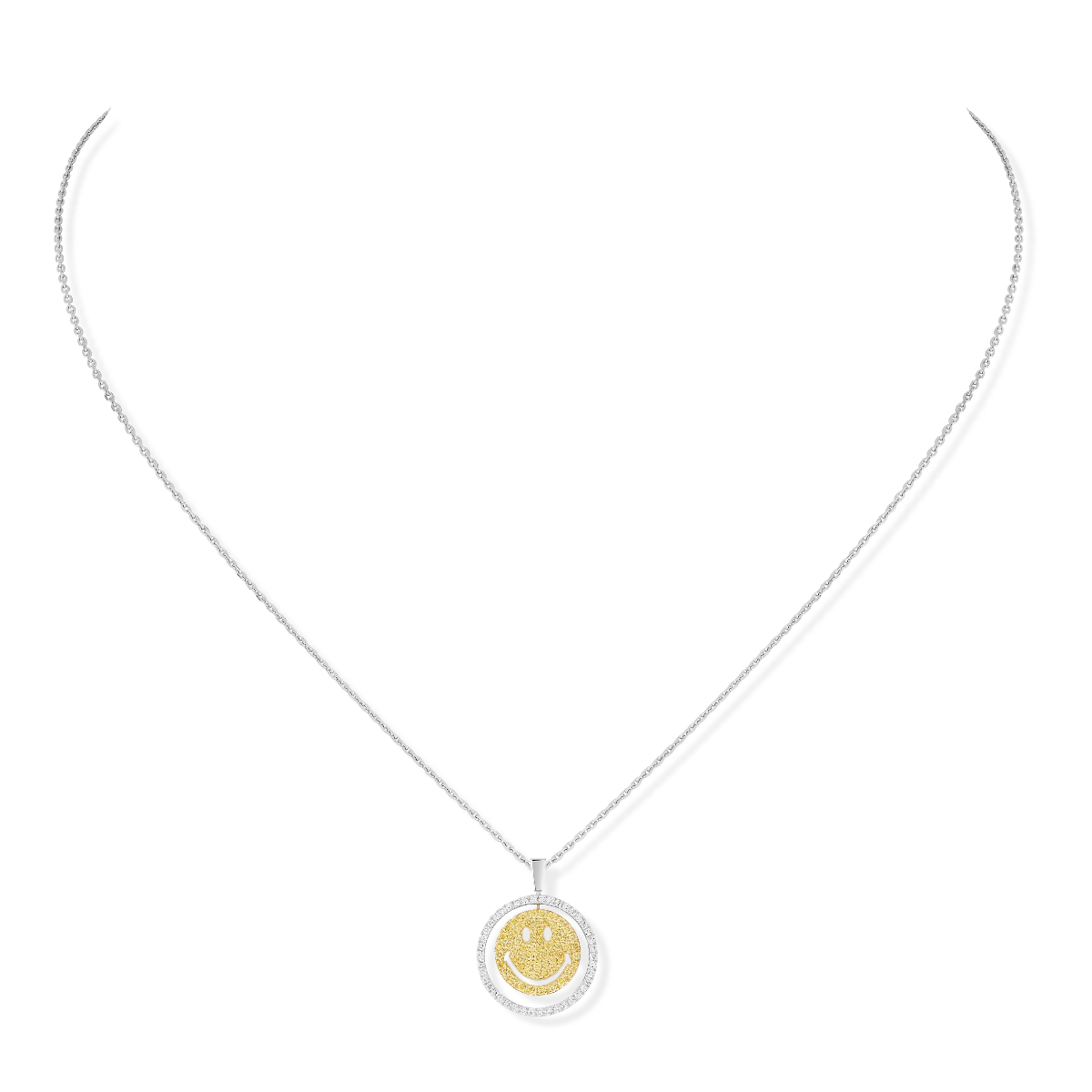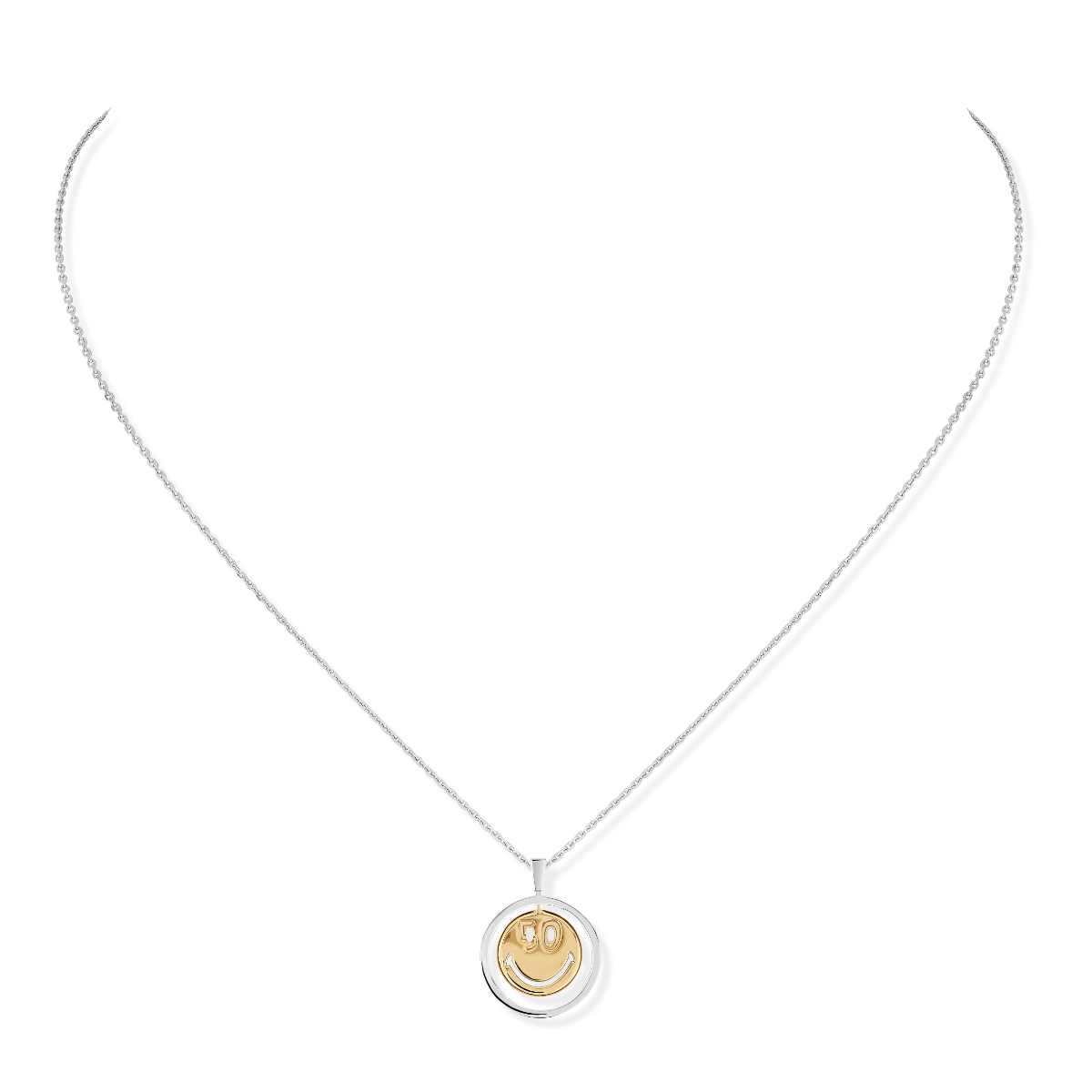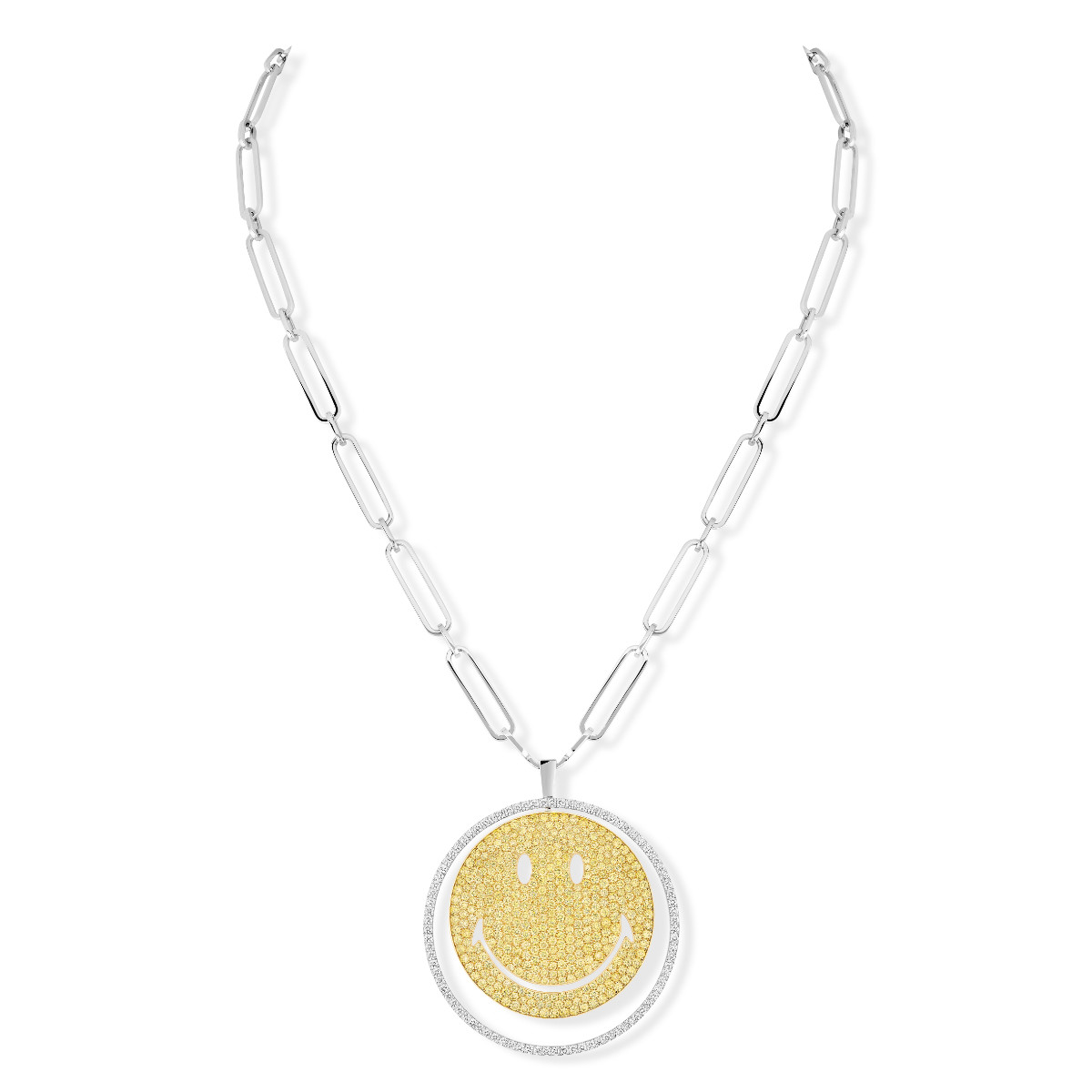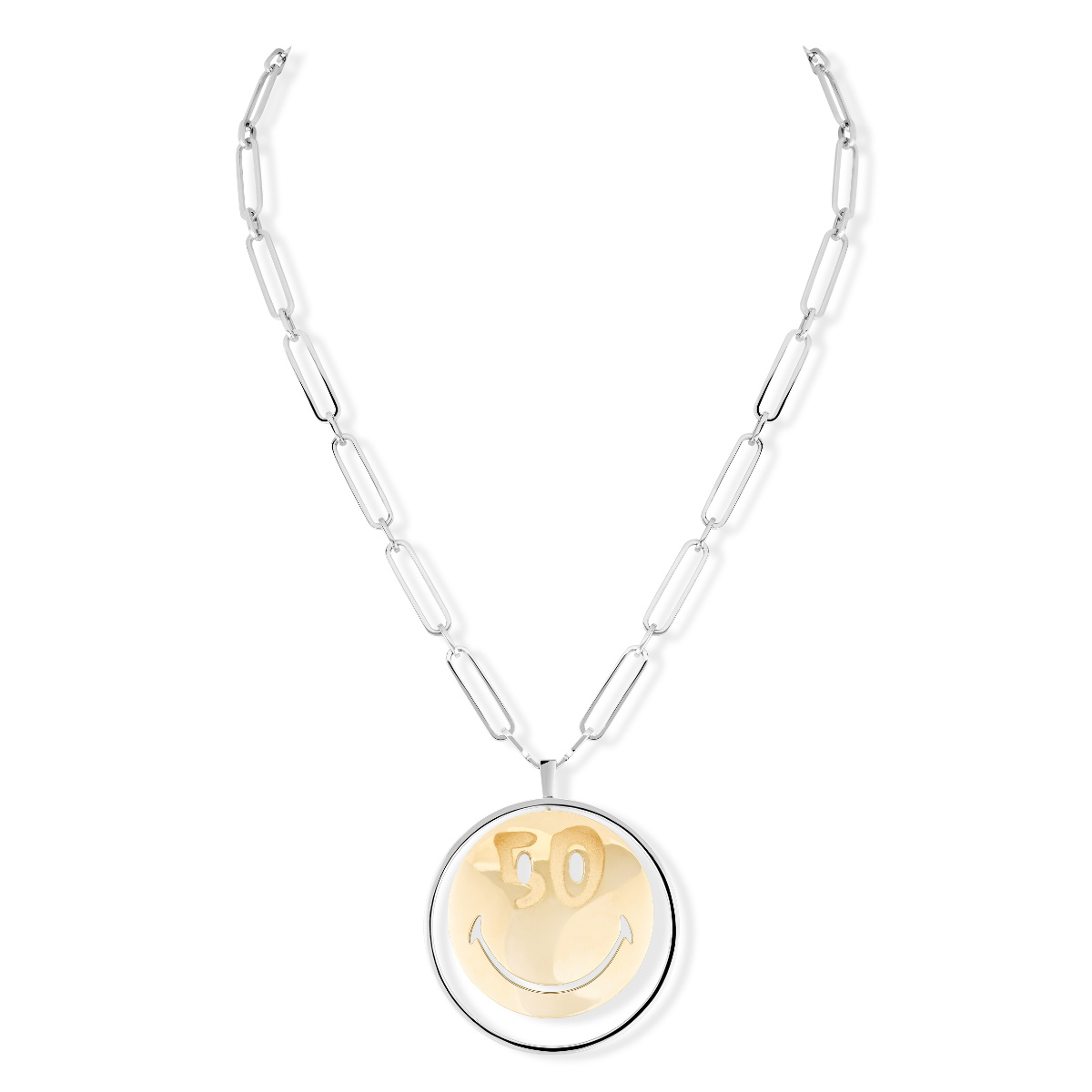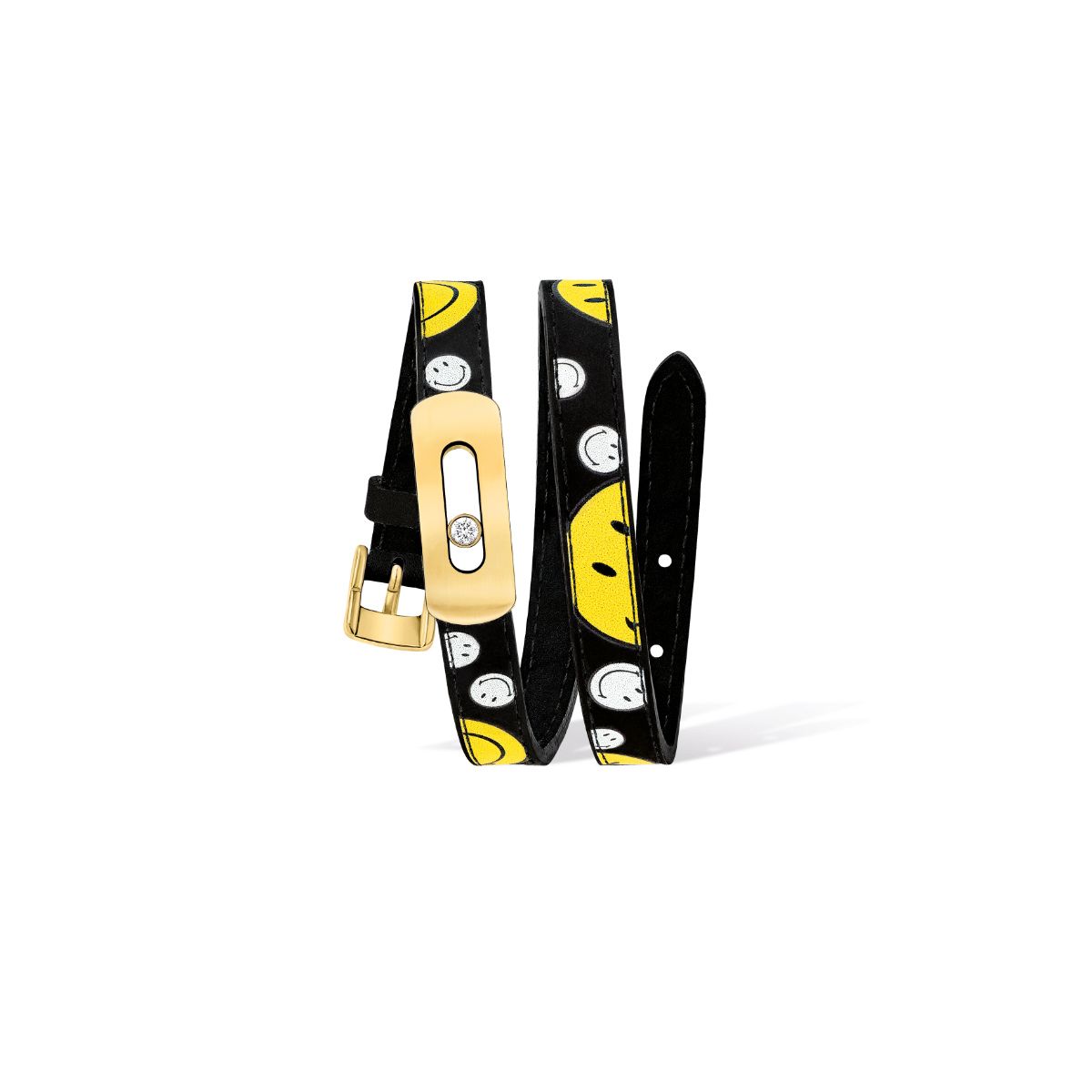 ABOUT SMILEY
Created in 1972, by French journalist Franklin Loufrani to spread feel-good news, the Smiley would go on to become one of the most important icons in graphic design, bringing people together through a creative message that spreads positivity and putting social and emotional learning at the top of the agenda. Smiley is a universal counter culture icon with a message of positivity that has influenced generations across the globe. Reinvented and redefined by generations of activists, artists and creators, Smiley continues to thrive and influence future generations.
In 1996 Nicolas Loufrani, son of Franklin, took the helm whilst the world was in the midst of the digital revolution and saw a huge opportunity to bring Smiley into the digital world. Nicolas created a whole new way of communicating, using a variety of facial expressions on the original Smiley to convey emotions. His emoticons are now used by everyone around the world every day.
Pursuing Smiley's goal to make the world a happier, kinder, more conscious place, Loufrani created Smiley Movement in 2017.
Smiley Movement is a non-profit community which aims to inspire positive change in society addressing urgent societal and environmental problems. Smiley Movement provides a cross-media platform of news, videos, events and awards that connect the non-profit sector to the broader public to enlighten minds and empower people to take positive action.
Today, The Smiley Company is one of the worlds top global licensing enterprises that extends across fashion and homewares, through to food and beverage and continues to embrace collaboration as an opportunity to spread this important message. For 2022 Smiley will bring back its original message of 'Take the Time to Smile' which is still as relevant as ever, by spreading this positive message through global activations, brand collaborations and feel good experiences. More than an icon, brand and lifestyle, Smiley is a sprit and philosophy and a reminder of how powerful a smile can be.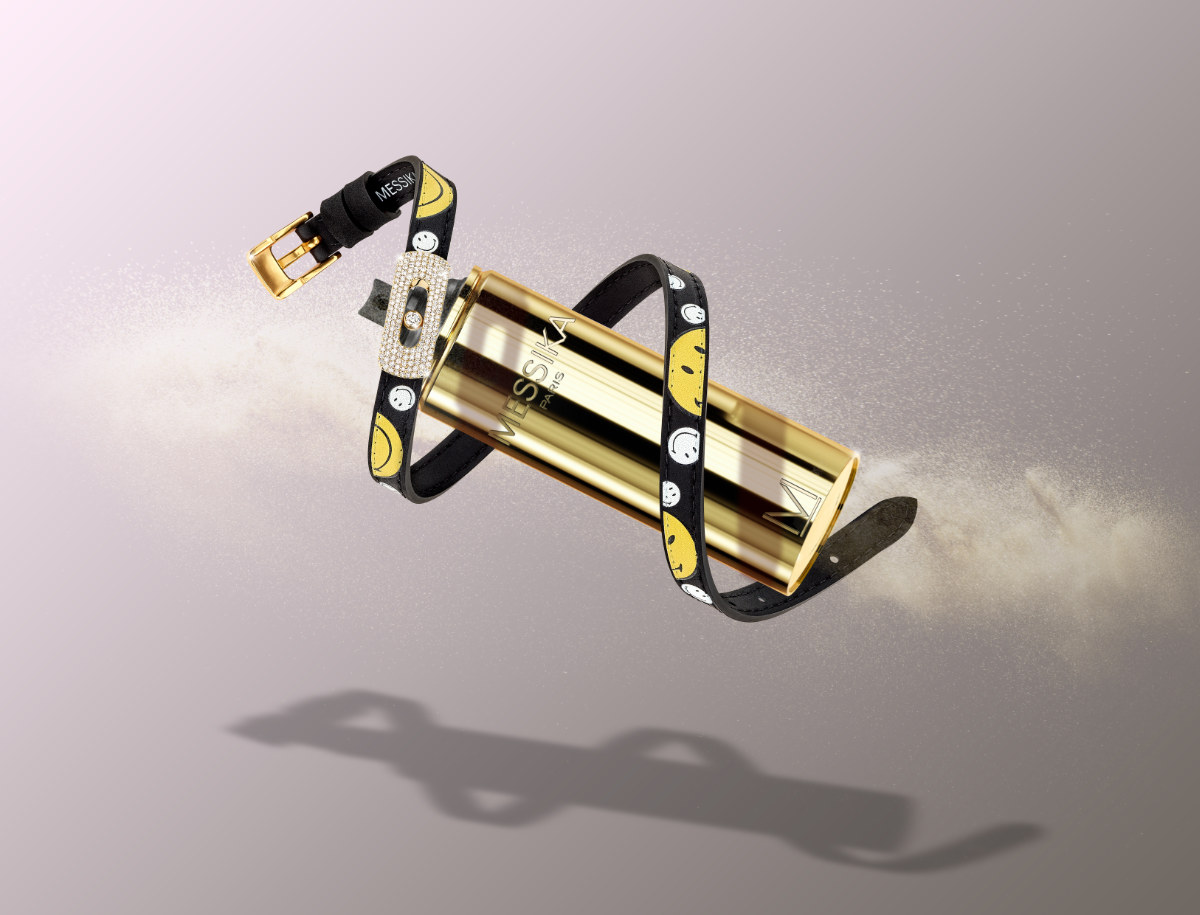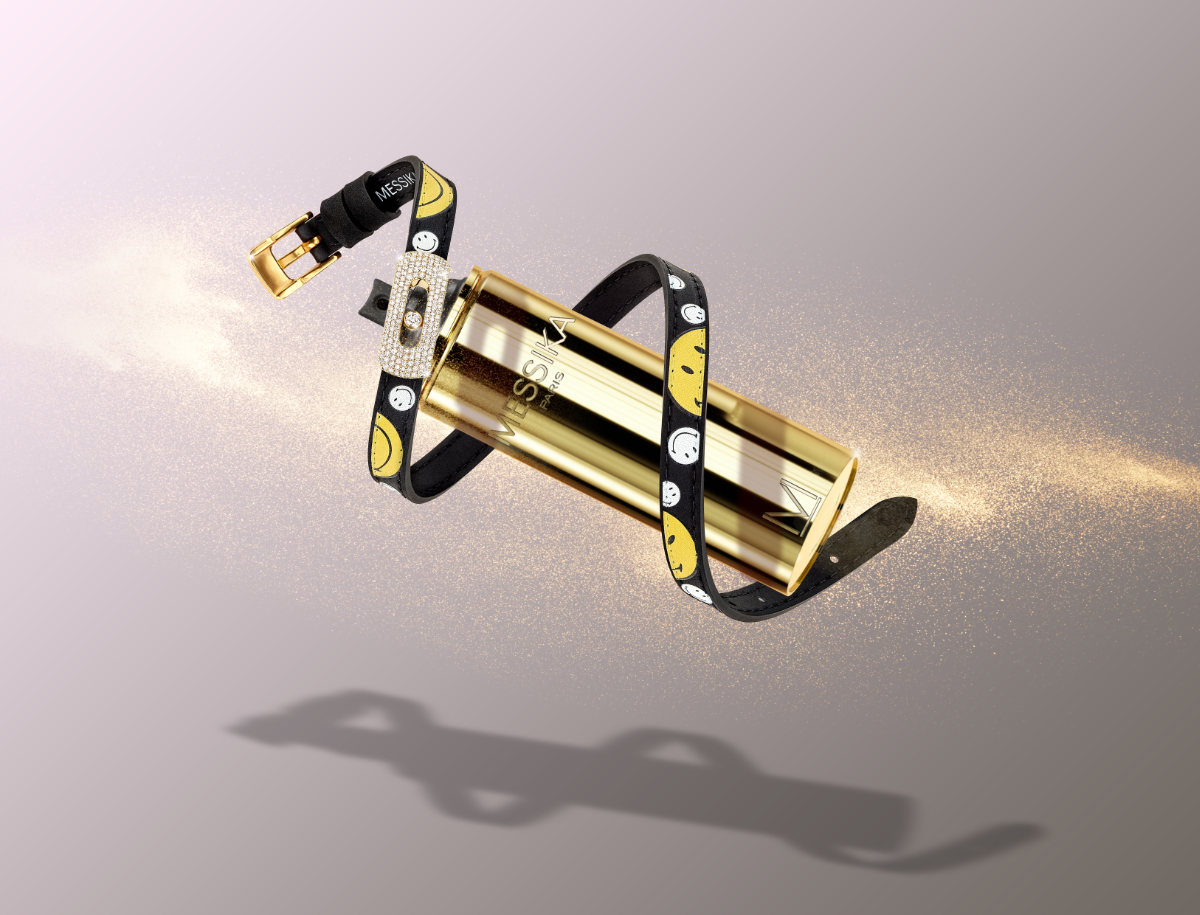 ---