---
Diamonds in motion for an exceptional driver

It's the most natural fit: the renowned French driver Romain Grosjean, and the Messika Maison. Radiant and authentic, Romain Grosjean poses with ease for photographer Sonia Sieff in a "casual chic" campaign far from the racetrack, specially designed by Artistic Director Valérie Messika. "We are a very fashion focused Maison, and I wanted to bring Romain to a setting that was different from the usual sports images," explains Messika. Surprising and offbeat, Valérie Messika has created three new styles full of nuance: Three inspired attitudes that bring out the many faces of this incredible driver.
The authentic look
With an assertive edge and My Move leather straps, this clean style is true to Romain Grosjean's nature. An inspired variation on the model, with chocolate and rose gold tones that perfectly complement Grosjean's complexion.
The all-black icon
Understated and stylish, here Grosjean poses in an all-black look. In monochrome chic, black brings out the strength of titanium and power of diamonds in the Move Titanium collection.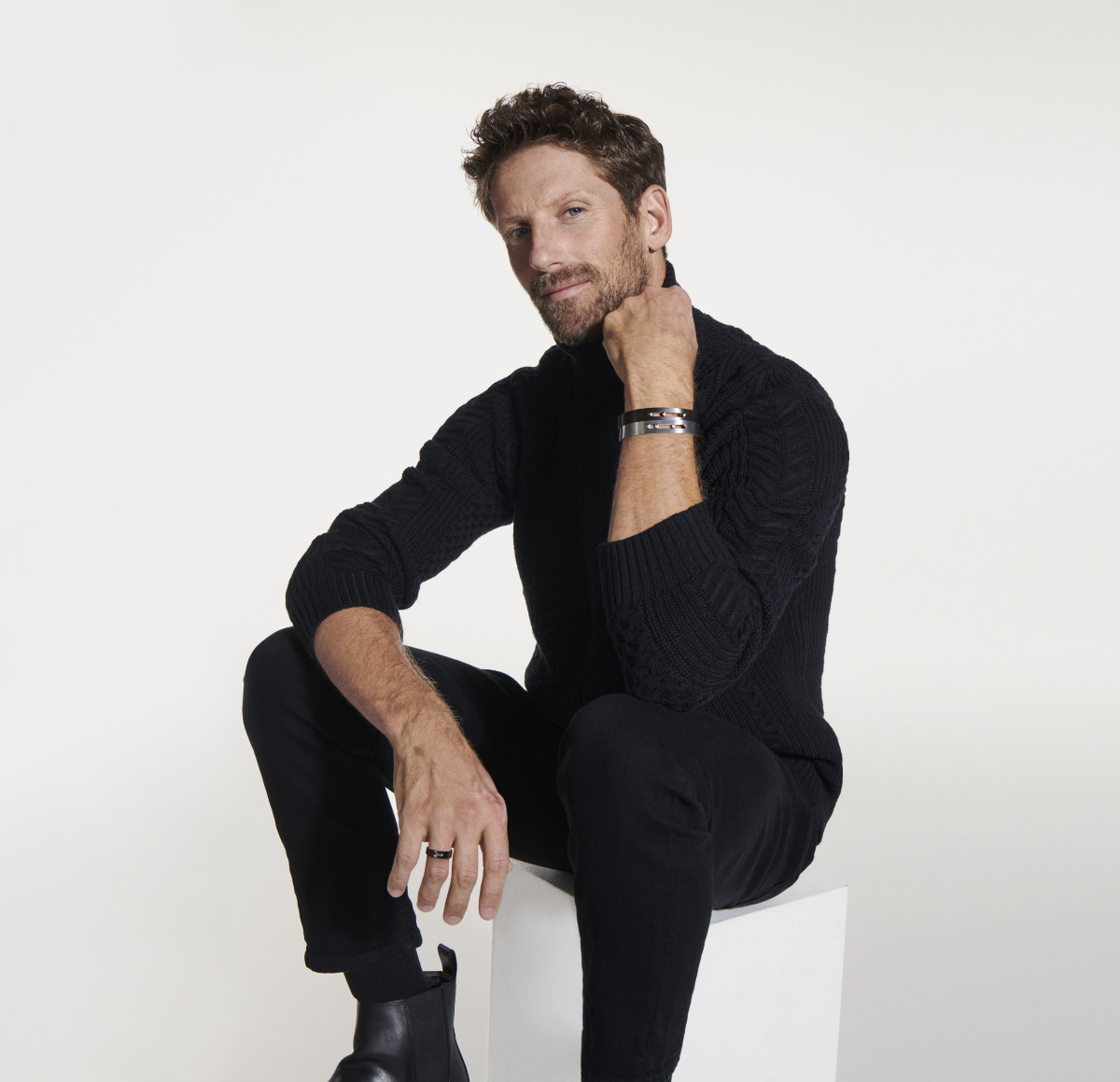 The TIMELESS look
In laidback jeans and a white t-shirt, Romain Grosjean looks at home in the Move Titanium Cord collection. A modern, refined look for a casual strap that fits every pace of life.
A skilled Formula 1 racer and great sportsman, as well as father to three young children, Romain Grosjean is a determined man with great mental strength. It's a power that starts him up every day, in his career and personal life alike. Pushing your limits, always surpassing yourself, knowing how to reinvent yourself: these are all values that resonate with the spirit of the Messika Maison.
The combination of Messika and Grosjean is built on sincerity: "Romain has been a friend of the Maison for several years, and I greatly admire his positive, radiant energy. The idea for this shoot was a natural fit for both of us."
A spontaneous, instinctive project marking an original, illustrious campaign for the Messika Maison. And the perfect challenge for a sportsman used to zooming round the track to slow down for the occasion, showing himself in a new light.
"Romain is a brilliant man with great resilience. Coming through his appalling accident in 2020, he has always known which steps to take and how to bounce back. He embodies values that I hold in high regard," Valérie Messika.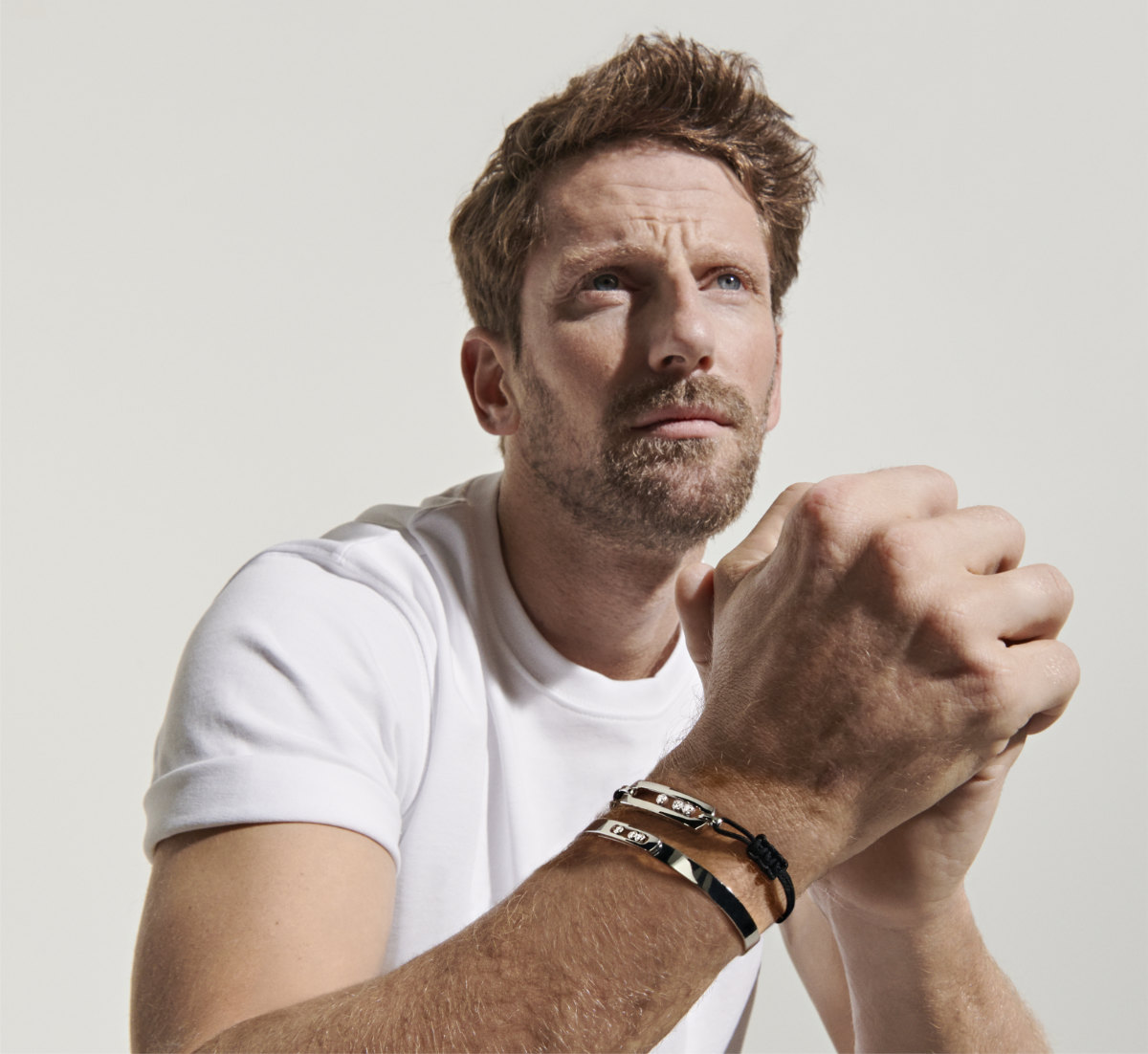 Romain Grosjean
The 2003 season marked Grosjean's first foray into open-wheel racing after having started his career in karting in 2000. Racing in the Formula Renault 1.6 Swiss Championship, Grosjean steered his way to a clean sweep of 10 wins from 10 races to earn his first motorsport title. From there he graduated to the French-based Formula Renault 2.0 Championship, earning one win in 2004 before going on to launch another championship assault in 2005.
Learning both the car and the circuits in 2006, Grosjean finished the season with one podium to his credit and a 13th-place classification in the points. Switching teams in 2007 and armed with a full year of experience, Grosjean's second season in the Formula 3 Euro Series paid dividends. Recording six wins, Grosjean captured the championship with a round to spare and, in doing so, caught the attention of two major teams that would help advance his career. First he was announced in 2008 as a test driver for the Renault F1 Team. At the same time he confirmed he would compete in Formula One's official feeder category, the GP2 Series. Racing for two-time GP2 Series champions ART Grand Prix, Grosjean's 2008 season started on a high as he contested, and duly won, the inaugural GP2 Asia Series, held before the regular GP2 Series got underway. Four victories from five double-header rounds secured Grosjean yet another championship. He would go on to score two regular-season GP2 wins en-route to a fourth overall finish in the category.
Qualifying third on the grid for the season-opening Australian Grand Prix behind former World Champions Lewis Hamilton and Jenson Button, Grosjean's pace was showcased perfectly – a trait that would be evidenced throughout the season. His first career Formula One podium finish came just three rounds later as he claimed third at the Bahrain Grand Prix. A second-place finish in Round 7 at the Canadian Grand Prix remains his career-high, while a third podium finish in Hungary followed. Grosjean placed eighth overall in the driver standings at the end of the year, having scored 96 points in his first full-time season.
In 2021, Romain begins a new chapter in his career as he sign with Dale Coyne Racing to race in NTT INDYCAR RACING SERIES.
---