---
Messika Opens Its First Pop-up Café At Printemps Haussmann
Luxferity, 12.04.2023
CAFÉ MESSIKA 7ème CIEL

In time for summer, Maison Messika is taking over an extraordinary Parisian setting: 7ème Ciel, the heavenly rooftop lounge at Printemps Haussmann, where it will open its first pop-up café. Café Messika promises unforgettable moments over the rooftops of Paris.
Open from May to October 2023, the striking rooftop lounge on the seventh floor marks the unprecedented collaboration between two major Parisian institutions. More than ever, Messika is asserting itself as a decidedly couture jewelry Maison, and its partnership with Printemps, an iconic fashion destination, grew from a clear, natural connection.
A MODERN MEETING OF MINDS
Artistic Director Valérie Messika is reinterpreting Printemps Haussmann's 7ème Ciel rooftop lounge, creating an elegant, relaxed setting to enjoy breath-taking views over the capital and its iconic Eiffel Tower.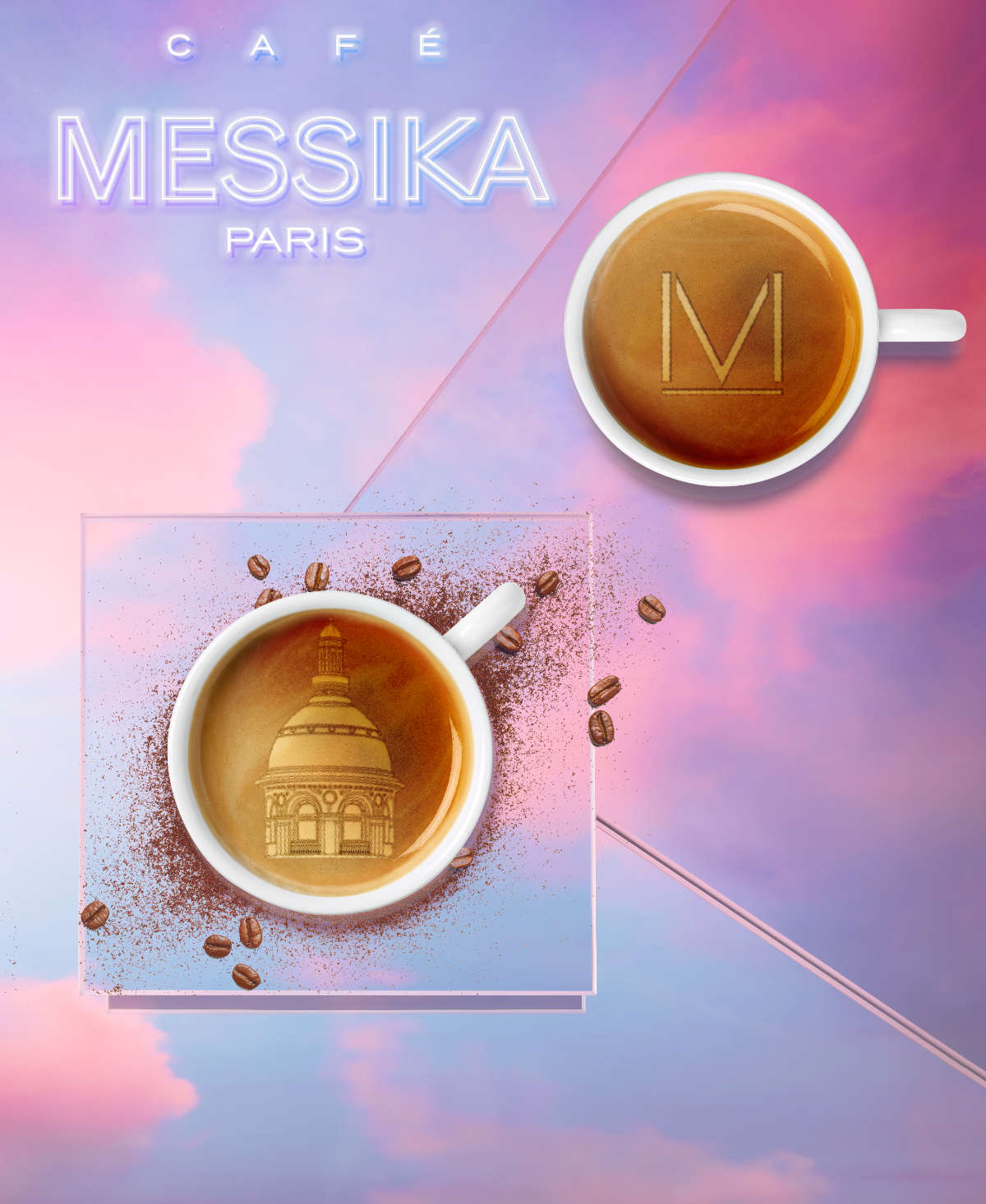 With its exceptional panoramic view, Café Messika is an open-air space, where the beauty of its materials meets clean, sweeping lines. The space is designed in the image of the Maison: shards of gold, contemporary neon lights, fine marble and polished mirrors create a luxurious, modern feel.
"For me, this project is a new door opening. It's my first foray into the art of living, and a unique opportunity to be invited to take over such an extraordinary setting." - Valérie Messika, Founder and Artistic Director of Maison Messika
AN OUTDOOR CAFE THAT TURNS THE MUNDANE INTO A MOMENT
A new destination where visitors can take to the skies and escape for a cocktail or gourmet treat, Café Messika is already establishing itself as an unmissable spot. From the sun's first rays to the moment it dips behind the rooftops, the space adapts to the time of day: freshly made smoothies for vitamin-infused mornings; healthy lunches with a little fizz at midday; gourmet snacks with a delicious "ice cream and cookies" menu; and evenings of cocktails, champagne and DJ sets to celebrate the sacred hour of the French aperitif under the stars.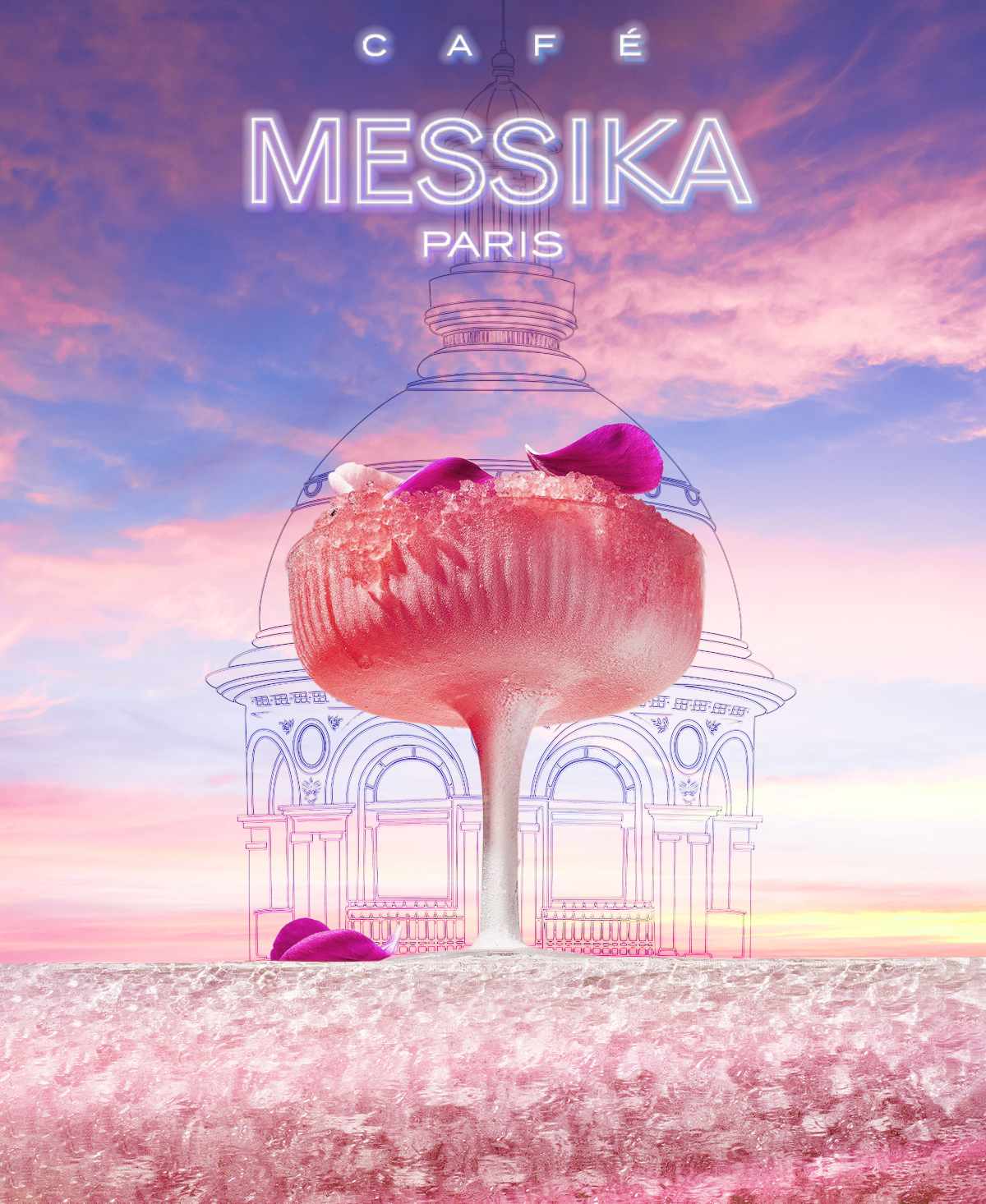 The ephemeral open-air setting offers a multitude of experiences not to be missed, with celebratory gourmet moments on offer throughout the day. Café Messika promises a season where the sky's the limit, where you can take the time to savour every moment.
"We want to make this concept café a warm meeting place with experiences that go far beyond a simple drink or dinner outside." - Valérie Messika
SUBLIME DÉCOR
Everything in Café Messika is a nod to the Move collection. The space plays with arches and mirrors, floating and moving lights, and a central bar with curved lines. The whole space hums with energy, a jewel in and of itself. With art deco accents, the atmosphere pays homage to the Maison's iconic collection in its entirety.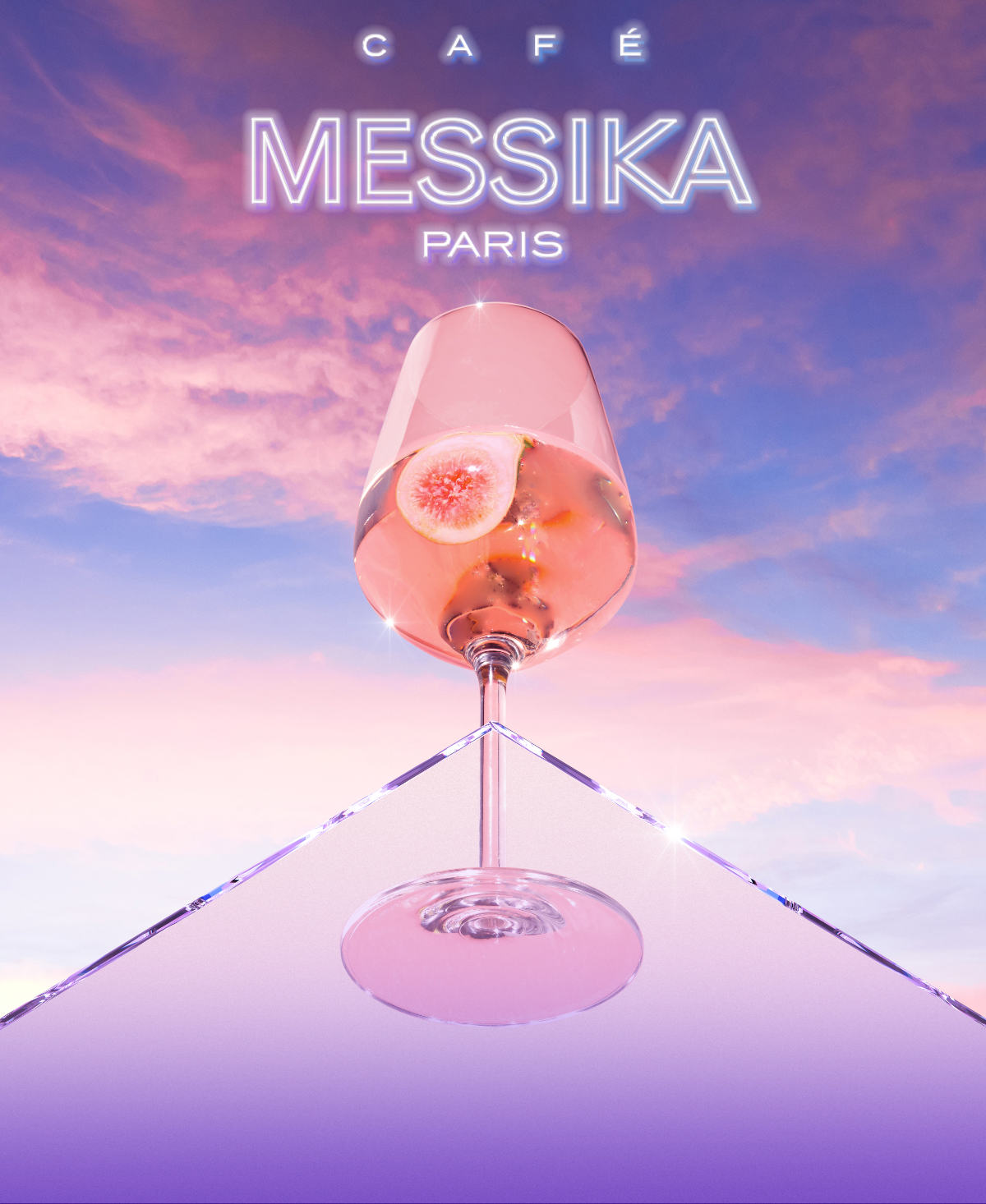 Echoing the Messika 2023 aesthetic, the Artistic Director has also distilled the setting's colors into a beautiful play between red, blue and purple. The tones punctuate the space, with touches of color visible on the cushions, menus, porcelain mugs, and even in the bar's cocktails. It's a chic, gourmet, colorful vibration that serves to awaken the senses.
"I designed the setting with authenticity in mind. It was important to me to welcome my customers in an atmosphere that reflects who I am, almost as if I were welcoming them into my home. I see this project as an opportunity to express myself a little more as a person, and not just as the director of a jewelry Maison." - Valérie Messika
THE FRENCH ART OF LIVING
In this ephemeral rooftop café, warm moments of togetherness coexist with gourmet experiences through a collaboration with famous chef and friend of Valérie Messika, Juan Arbelaez. The menu is crafted in the image of Messika designs: simple, pure, masterful. A mix of guilty, not guilty: a search for indulgence and pleasure through healthy products.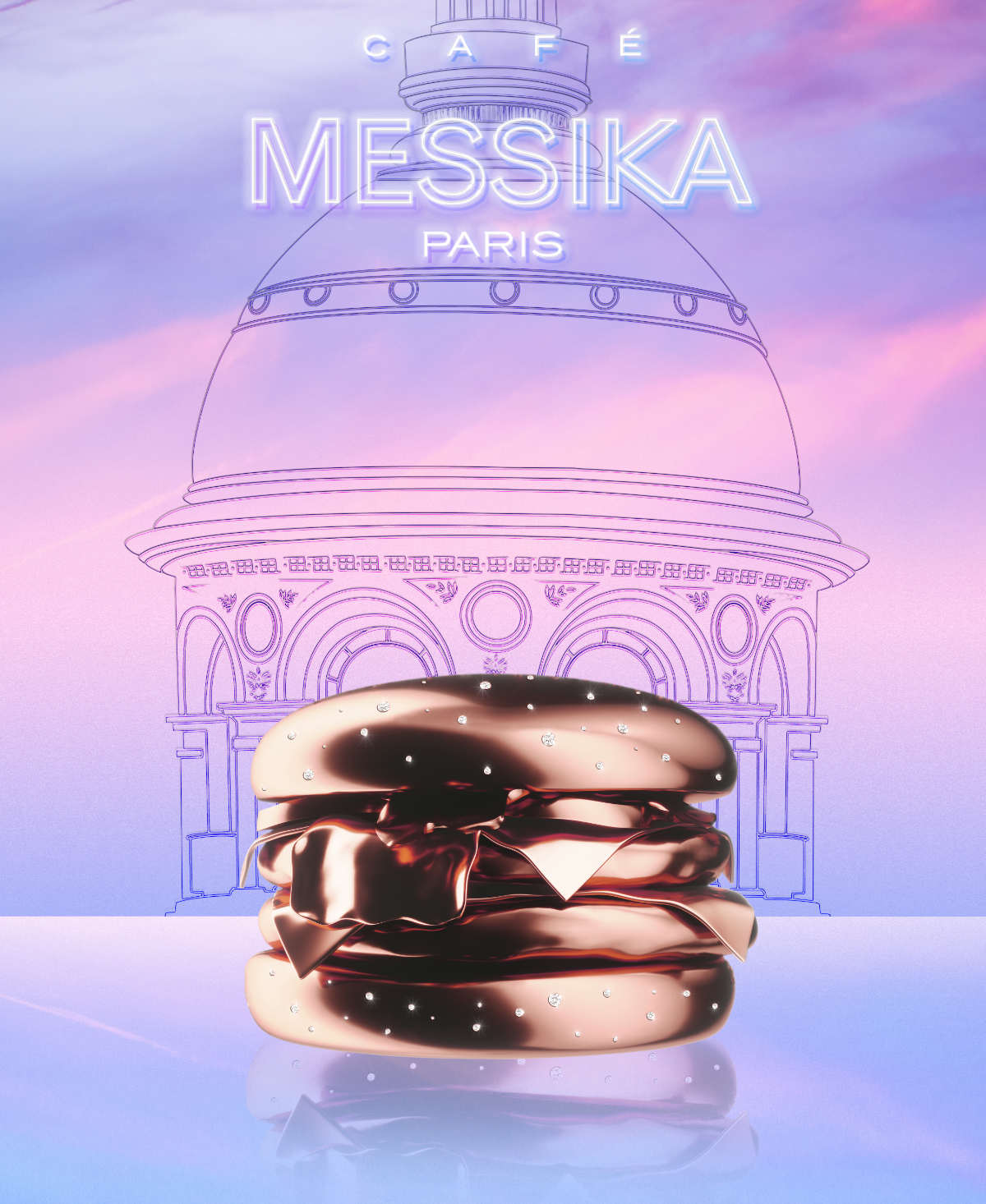 These unique creations bring together ingenious contrasts of flavor and texture: hot and cold, sweet and salty; every dish is a new culinary experience to be discovered and shared. The menu also features a selection of pastries for a memorable gourmet moment.
As multi-faceted as a diamond and perched on the 7th floor of Printemps, Café Messika lights up the Parisian sky. The ultimate destination to escape and dream, for a summer season that touches the heavens.
In the wake of its launch, Artistic Director Valérie Messika discusses the project of Café Messika, a first for the Maison.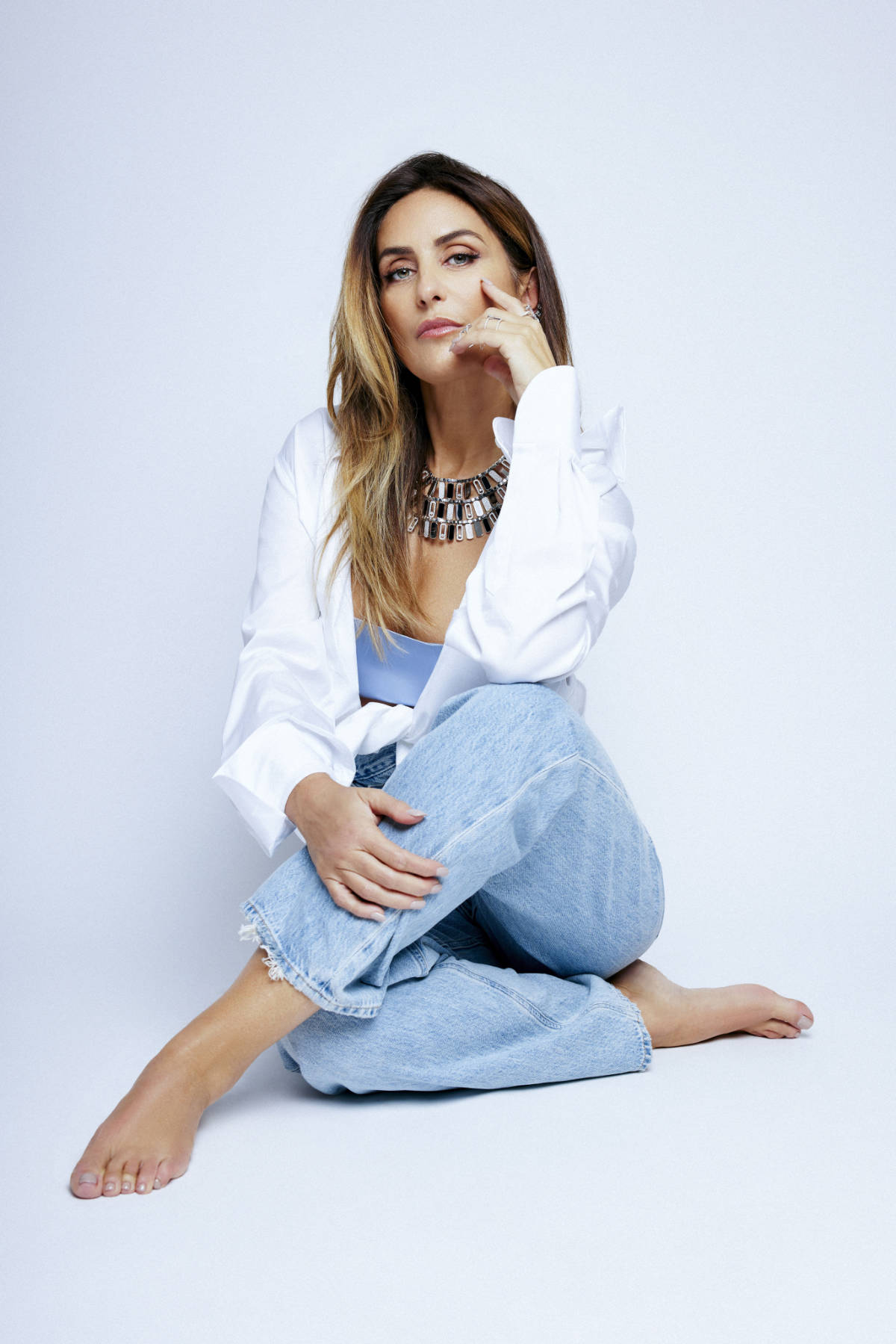 Why create a Café Messika?
We are a Maison for jewelry and High Jewelry, and for me, luxury is connected to the art of living. Creating something like a café is a natural progression for us because when you visit a Messika boutique, you are warmly welcomed to our Maison. The design of each of our stores helps create a unique bond with our customers, reminiscent of visiting a friend's home.
With Café Messika, I saw an opportunity to go even further and express myself in every aspect of the art of living, from decor to drinks and food service. It was a way to say a little more about me and create a complete café concept.
And why at Printemps?
Printemps is an institution we've worked with for more than ten years. For 158 years, Printemps has been one of the big names in Paris fashion, and Maison Messika has always been a part of that
world. This project is a completely natural bridge for both of us. When Printemps offered me such an exceptional setting, I was immediately inspired. I'm very drawn to unobstructed views and I love open spaces; I've chosen all of my apartments for their light and the view.
For me, light is equivalent to a diamond; it's the reflection of that energy. It's a part of who I am, so it was a setting I couldn't refuse. When I discovered the beauty of the rooftop lounge with its iconic dome and view over all of Paris, I fell in love.
What was your inspiration for this setting and the menu?
We wanted to create an elegant, warm, celebratory café that gets people dreaming of summer. There are quite a few color schemes: red, blue, purple, gold and mirrors around the space to reflect the light. The central curved bar pays homage to the Move collection and echoes all the arches throughout the space. For me, Move is truly an iconic collection, and I wanted this pattern to permeate the entire space.
We've also added a few nods to art deco and femininity, as well as contrasting patterns and materials: warm and dark hues paired with marble, matte and shiny with chrome. It's a duality that's always in balance.
The idea is to give the café a cosy feel that's not intimidating. There are various experiences, from a strong central bar that brings people together to more intimate alcoves; everyone will be able to use the space as they desire. Music also plays an important role in the space, with curated playlists and DJ sets. We really want to awaken the senses: sight, sound, and taste, with a guiltfree gourmet menu that brings together healthy, delicious products for an even more pleasurable experience. It was really important for me not only to create an aesthetic setting, but also a place to discover fine flavors.
#CaféMessika
PRINTEMPS HAUSSMANN

Printemps Woman
7ème Ciel rooftop lounge, 7th floor
58 Bd Haussmann, 75009 Paris
SCHEDULE

Monday - Saturday : 10am - 8pm
Sunday: 11am - 8pm
Phone: +(33)1 42 82 77 58
---