---
Kenzo Presents Its Spring-Summer 2023 Women's And Men's Collection By Nigo
Luxferity, 04.11.2022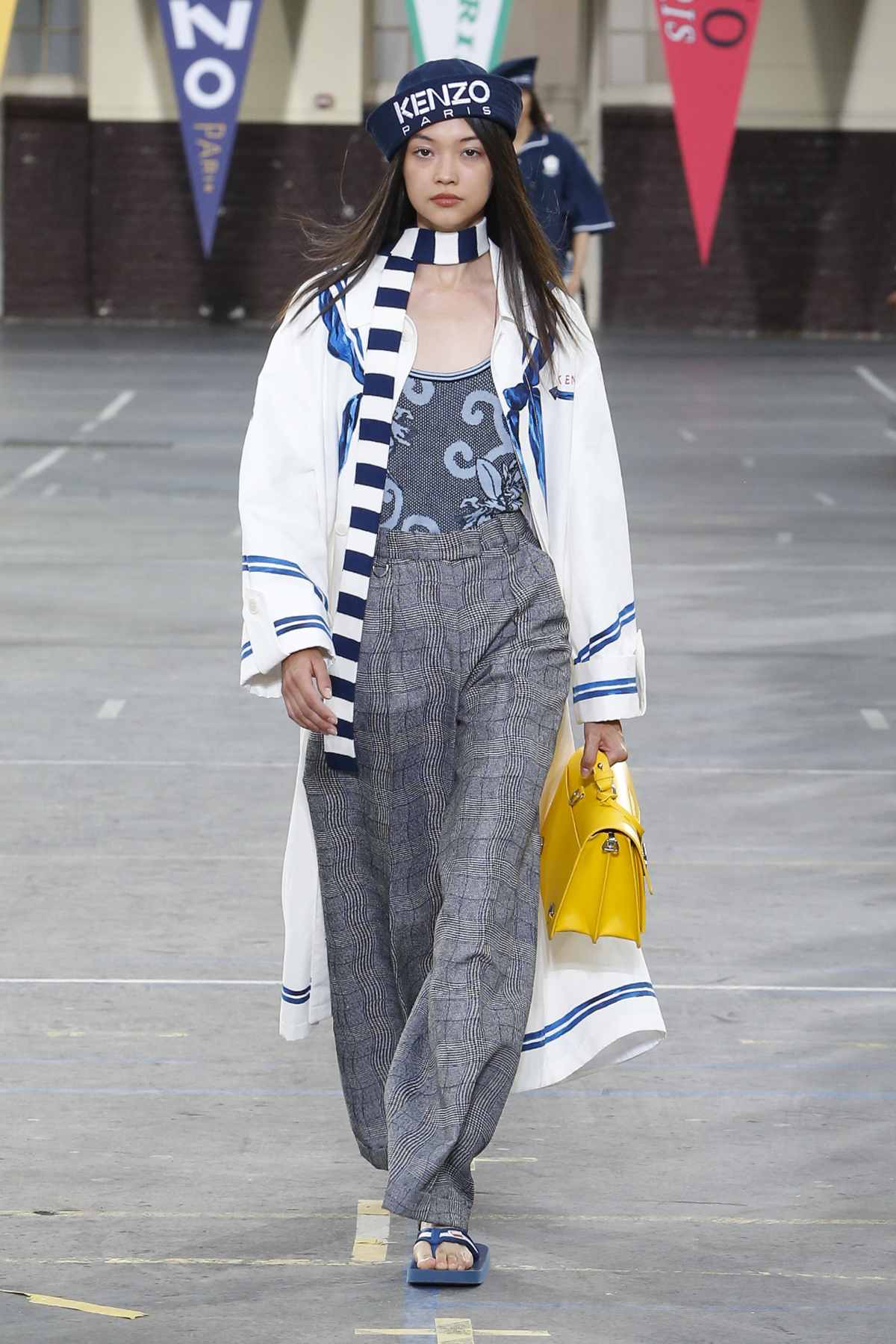 KENZO BRAND BOOM: a wardrobe for everyday life founded in an enduring approach to fashion. For the KENZO Spring-Summer 2023 Women's and Men's Show, Artistic Director Nigo expands and refines the universe established in last season's debut collection. Inspired by the attitude of Kenzo Takada – who steadily developed his ideas from season to season – Nigo hones the codes of the real-towear philosophy behind his practice at the Maison and creates a continuity that builds on the ethos and youth-driven sensibility of his inaugural show. Underpinned by silhouettes and motifs from the archive, the collection de- and reconstructs the iconography of Kenzo Takada through a uniquely Japanese view of Paris shared by the founder and his heir. For Nigo, the creative process evokes memories of his own KENZO discovery as a teenager and the fashion landscape that surrounded it: the DC Brand Boom of 1980s' Japan, a time when the work of the internationally renowned Japanese Designers of Paris Fashion Week co-existed with a local influx of casual, pop-driven Character labels distinguishable by their use of colourful and cartoonish animal motifs. The contrast between the two created a multi-faceted style milieu in Japan: a graphically-driven niche scene imbued with a yearning for the fashion culture of Paris, the spirit of which invigorates the KENZO Spring-Summer 2023 collection.
Silhouettes

New interpretations of graphics and patterns from the archives of Kenzo Takada characterise a wardrobe composed of tailoring, workwear, dresses and skirts. With preppy undertones, the suiting silhouette continues to build on the subcultural British tailoring values brought to the KENZO universe by Nigo, while workwear takes its cues from the uniforms of American railway workers and army repairmen of the 1930s and '40s. Dress shapes are founded in expressions from the 1970s and '80s files of the archive: soft, long volumes prettified by puffs and flounces, occasionally interrupted by sporty tightness and scanty hemlines. In dialogue with the community and workwear codes of Nigo – varsity jackets, bomber jackets, boots – they create a youthful silhouette for a distinctly contemporary womenswear proposal ultimately engrained in empowerment.
Themes

The DC Brand Boom is celebrated in intricate intarsia knit, varsity jackets and gilets with graphic character appliqué. Nautical influences – sailor collars, caps and baton stripes – nod at a 1980s' Japanese view of Parisian couture and its elevation of the maritime uniform. The motif is echoed in wavy checks and 'dripping' jacquards, and in naval bunting, which in turn echoes in college pennants employed in jackets, tops and foulards. The patchworking of flags is a Kenzo Takada reference closely related to his love of reinventing his logo and labels, an affinity shared by Nigo, who adorns garments in reproductions of labels from the KENZO archive. Pixelated floral patterns pay homage to the retro-digital sensibility of the 1980s, the Boke flower is morphed with leopard and cartoons, and Aloha floral prints hint at early Hawaiian shirts constructed from cut-up kimonos.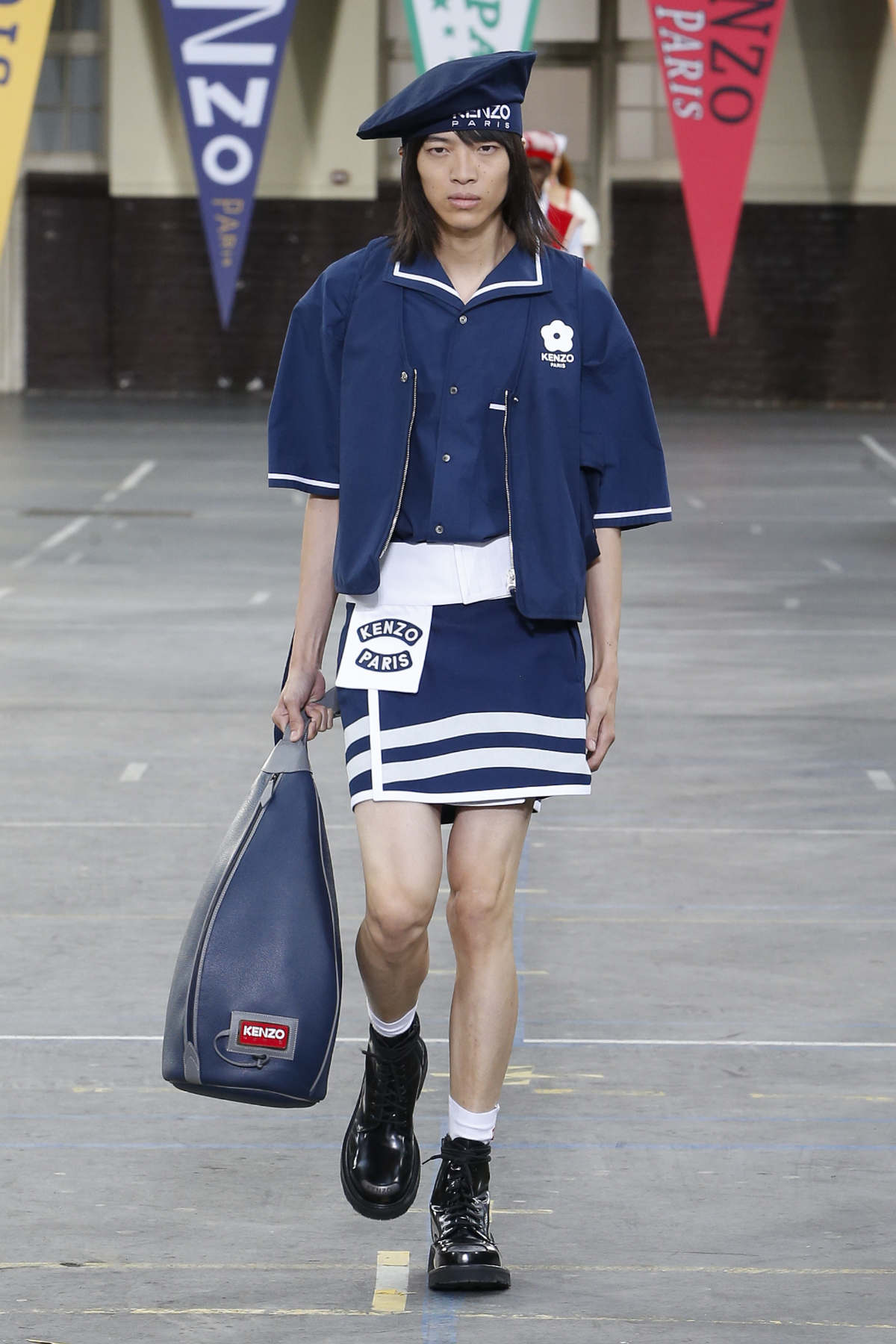 Florals, stripes and checks

The Pixel Rose Camo, an archive print redrawn as an almost exact replica, appears in nylon, knitwear and denim pieces, while pixelated animations feature in accessories and logos. As a take on camouflage, the motif splices one of the most defining features of Nigo's fashion language with KENZO's floral genetics. The Kenzo Micro Pixel adorns striped fil-coupé cotton shirting as well as jerseys and heavy baton-striped cotton drill as micro-embroidery. The Wavy Check is re-designed jacquard from the Fall-Winter 1992 collection used in tailoring and outerwear. The Wavy Stripe is a motif from the Fall-Winter 1988 collection distorted into a wave pattern on shirts with matching ties, in knitwear and in jacquard suiting. The Misshuassuhu fuses the 'dripping' jacquard of a jacket from the Fall-Winter 1992 collection with a patchwork waistcoat from the Spring-Summer 1993 collection and appears in cotton wool jacquard tailoring. The Patchiwāku is a jacquard patchwork of stripes and checks on poplin and oxford fabrics, which references a motif from the Spring-Summer 1993 collection.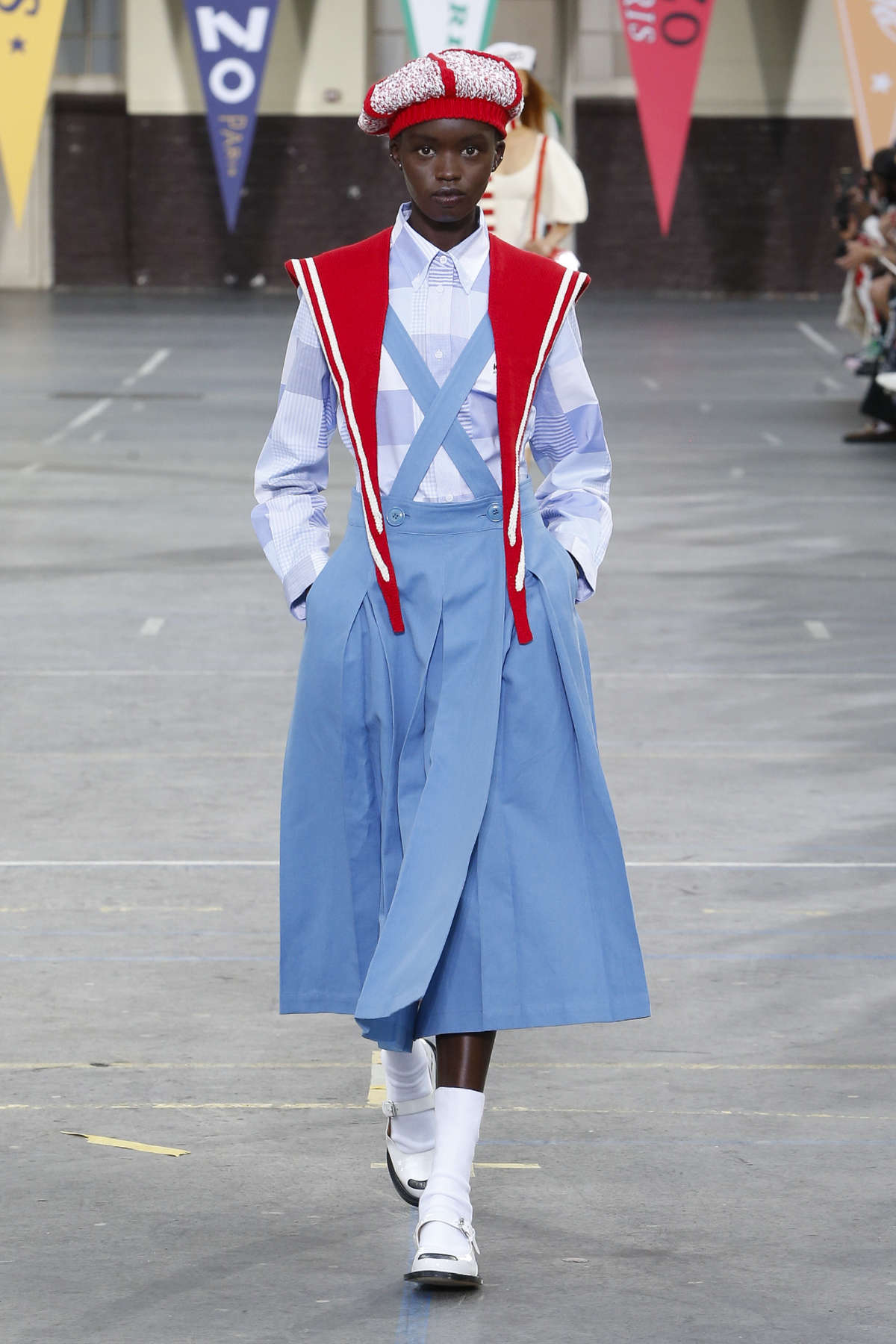 Graphics, flags and labels

The Hana Leopard is a flower and animal hybrid pattern featured across garments and accessories. KENZO Pennants informed by sports-inspired flag pieces from the 1980s' archive become patterns on foulards and patchwork print jersey pieces. KENZO Labels are reworked into an all-over flag print. Checks derived from the archive appear throughout the collection. Boke Boy revisits the boke flower motif from the previous season in a cartoonish mascot interpretation employed as prints and embroideries in jersey, knitwear and accessories. Ken Zō – the latter, the Japanese word for 'elephant' – celebrates Kenzo Takada's favourite animal in graphics featured in towelling embroidery on bomber jackets, in chain embroidery on jersey, and as motifs on accessories. Kenzoo denotes the all-over animal pattern created as appliqued patchwork and embroidery in suede outwear and as a print on jersey pieces.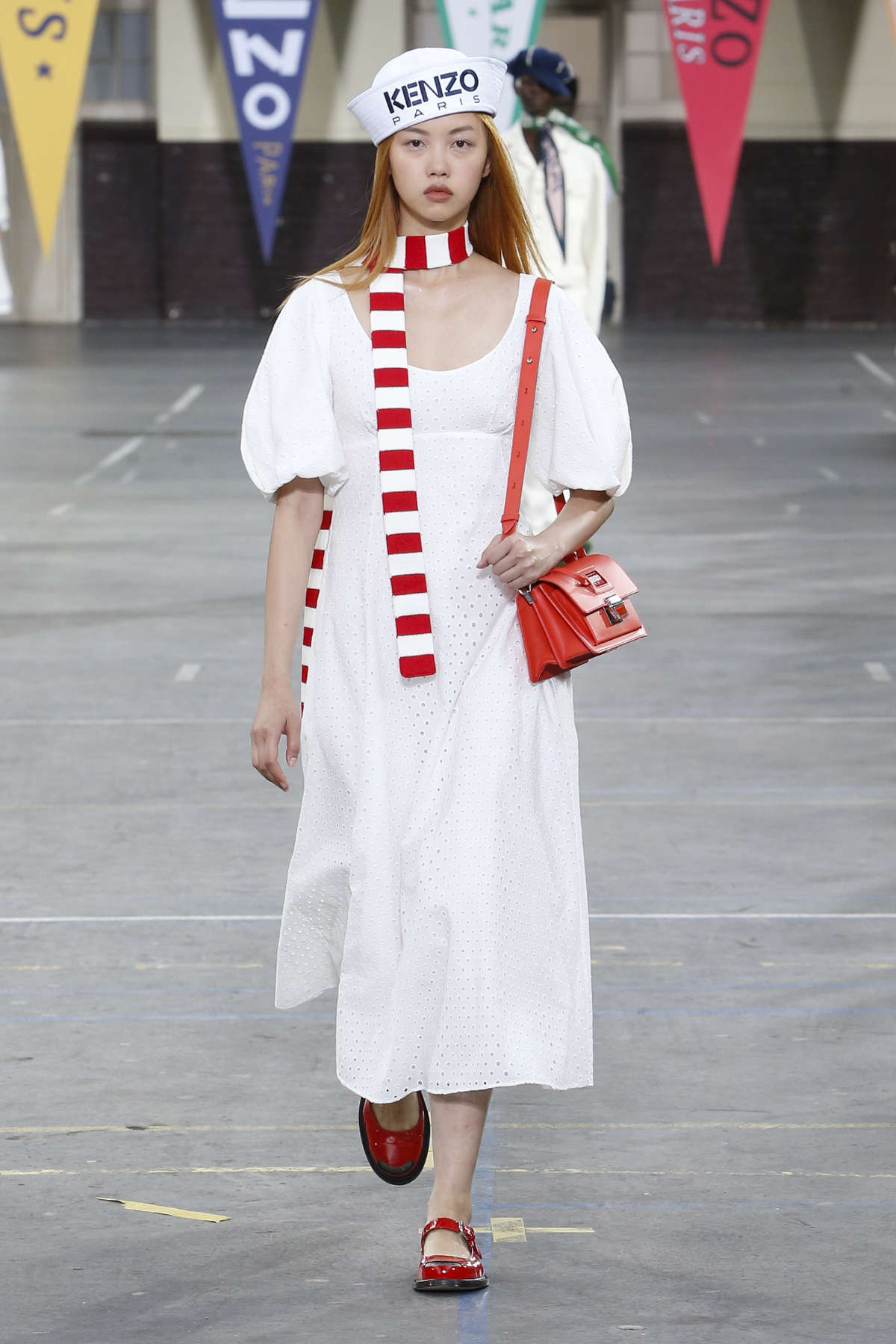 Materials

A key component in the collection, Nigo expands and finesses the KENZO denim proposal for Spring-Summer 2023. In a focused development of denim fabrication and construction, workwear crafted in highly refined Japanese denim materialises in black, white and indigo in various washes ranging from deep indigo to light blue stonewash. Cottons appear as drill, linen, ripstop, washed, and broderie anglaise across garments. Wools manifest in jacquards and moleton in suiting and workwear, while nylon, satin and lace feature throughout.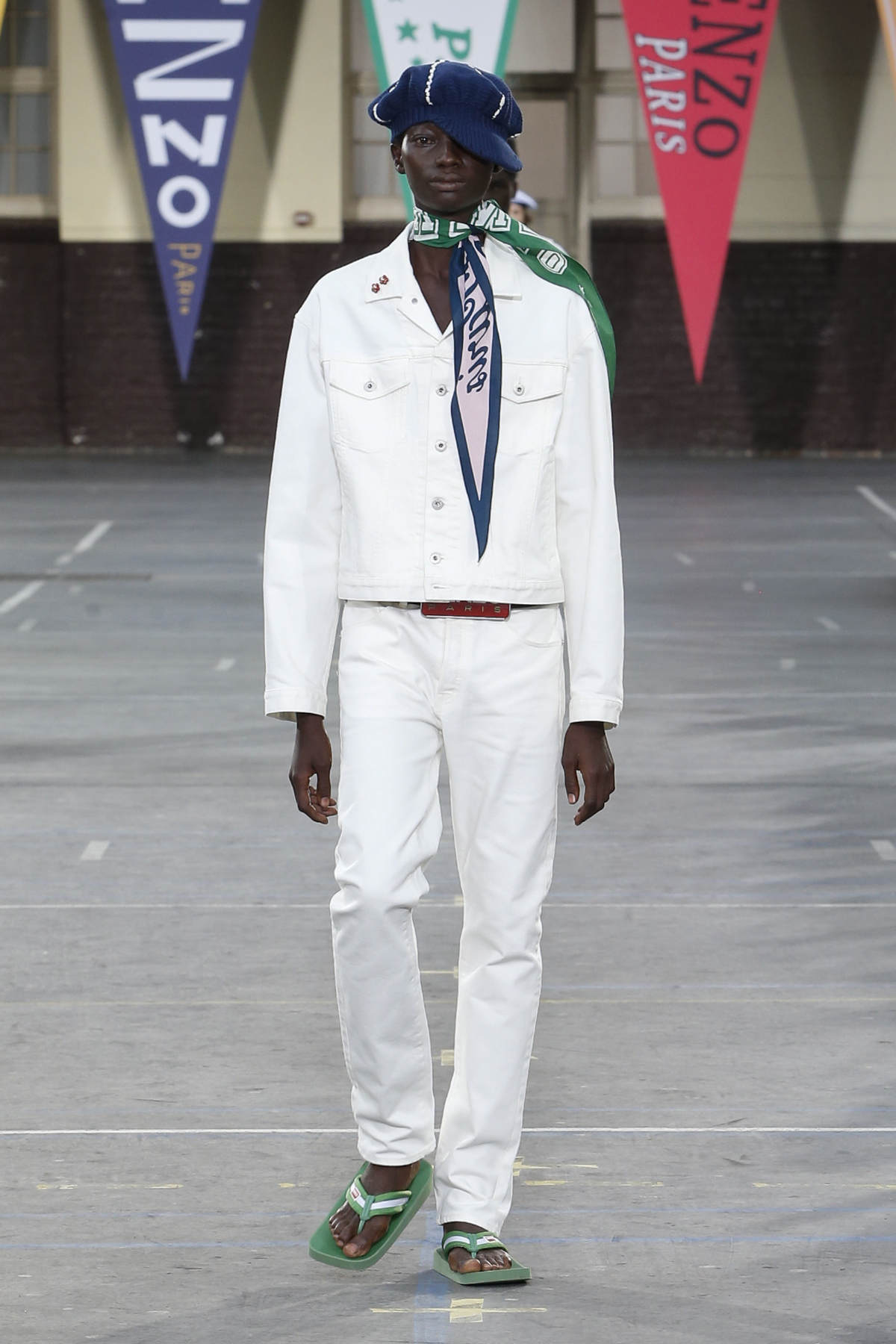 Shoes
The collection proposes a new basketball shoe and a new running shoe characterised by the KENZO Smile detail. A Mary Jane as well as high-top and low-top loafers are added to the City Smile line. A boat shoe fuses the properties of an espadrille and a deck shoe. The Japanese Zori sandal is introduced as a rubber slide.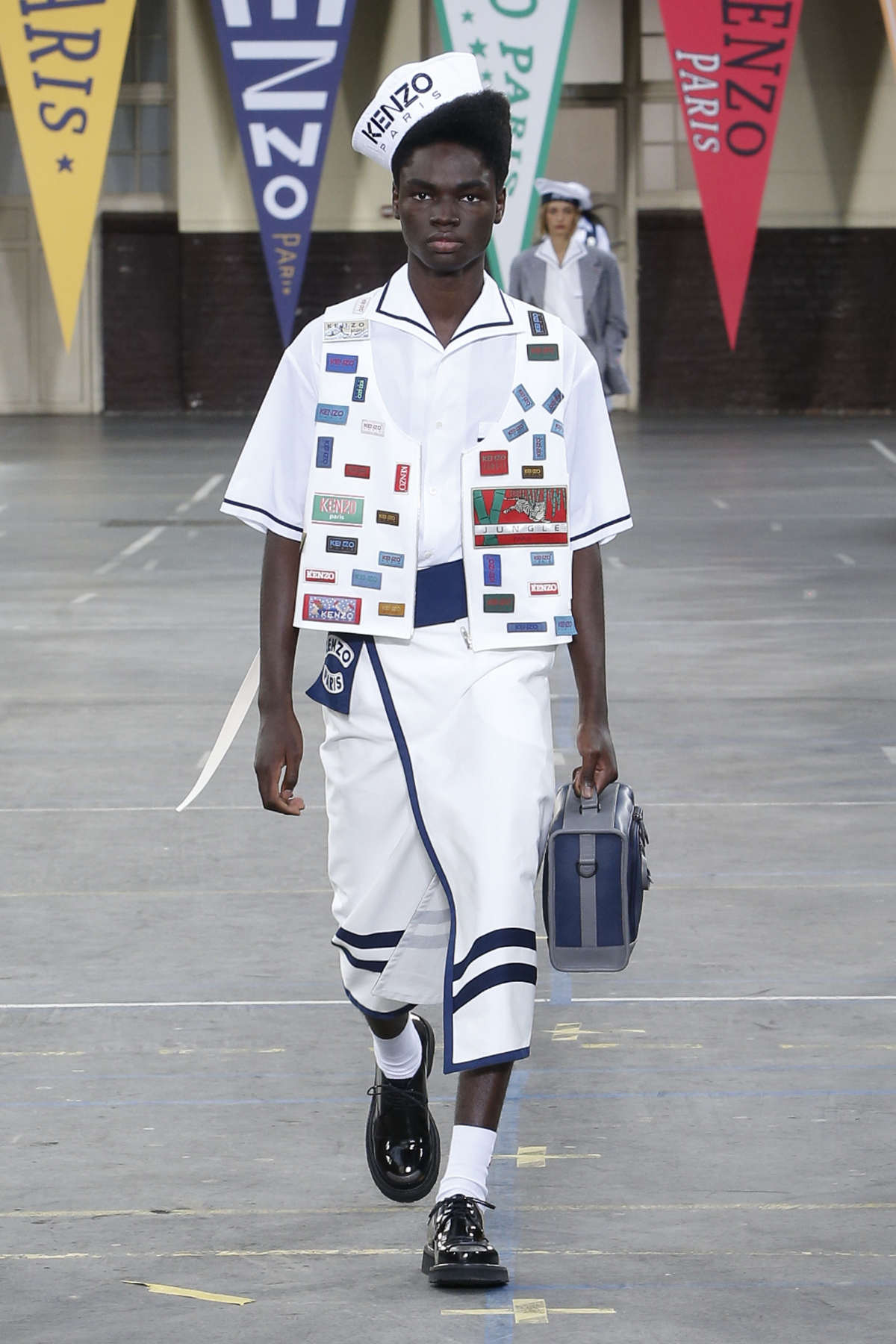 Bags

Evoking the community codes of youthful college dressing, women's bags include the Rue Vivienne leather satchels with matching reflective schoolboy clip fastenings in a variety of colourways in mini, small and medium sizes. A women's shoulder bag features a boke flower lock, while the Jungle bag line is expanded with a leather design. New luggage pieces manifests in handheld suitcases and tubular backpacks.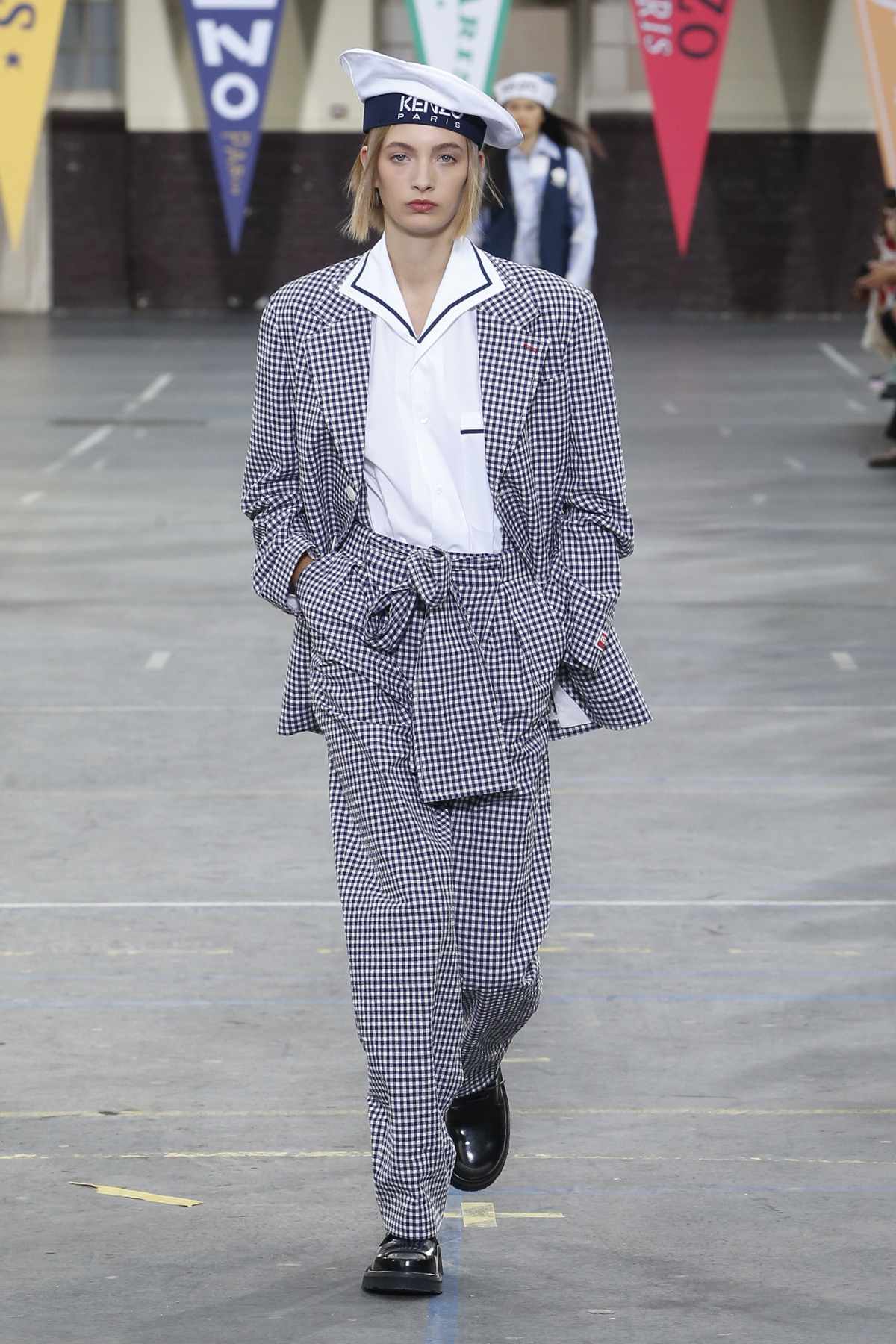 Hats

Created in a dialogue between KENZO and Mühlbauer – the heritage Viennese milliner frequented by Nigo for fifteen years – straw trilby hats, straw visors, bowler hats and tie caps appear throughout the collection alongside interpretations of sailor hats created by KENZO.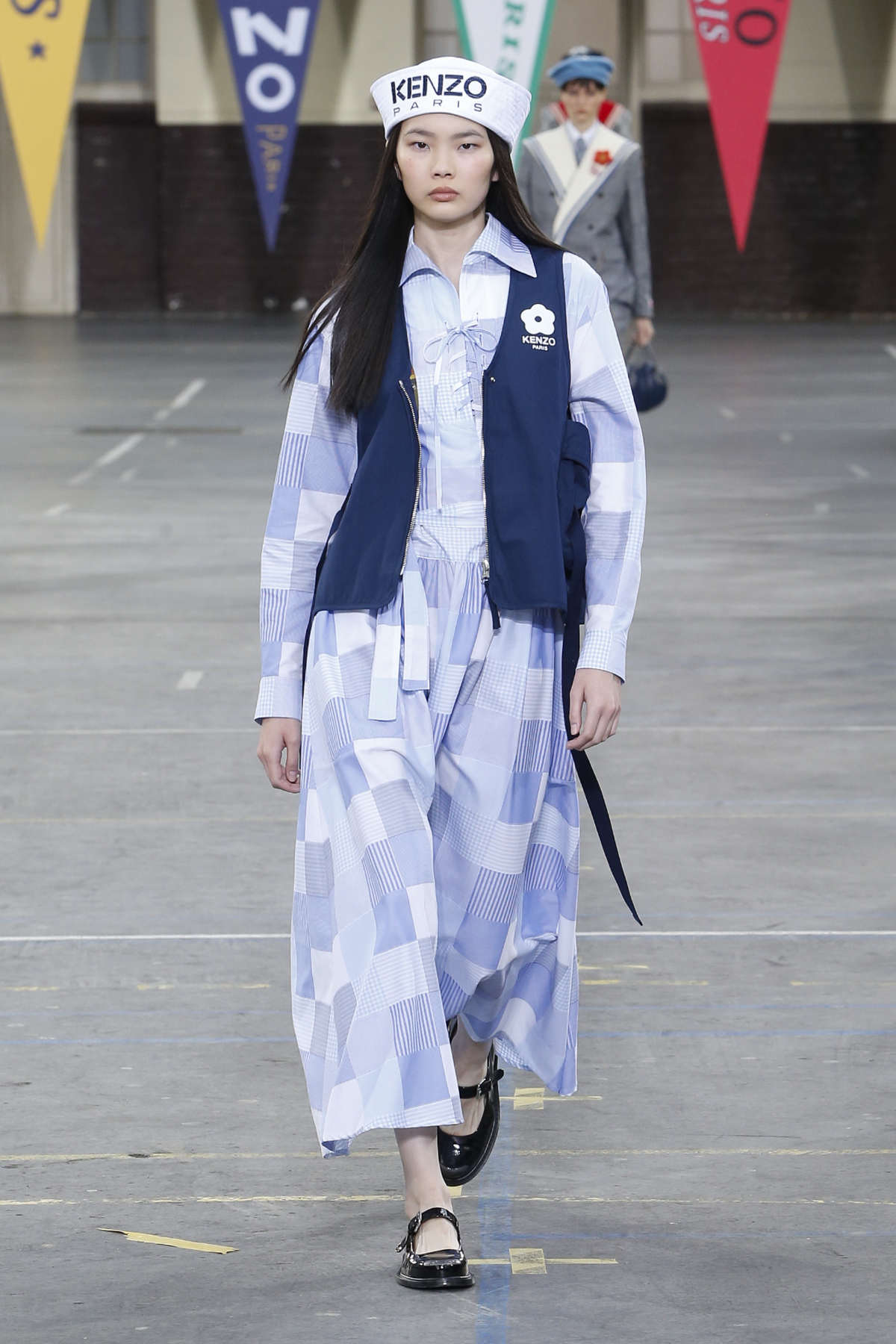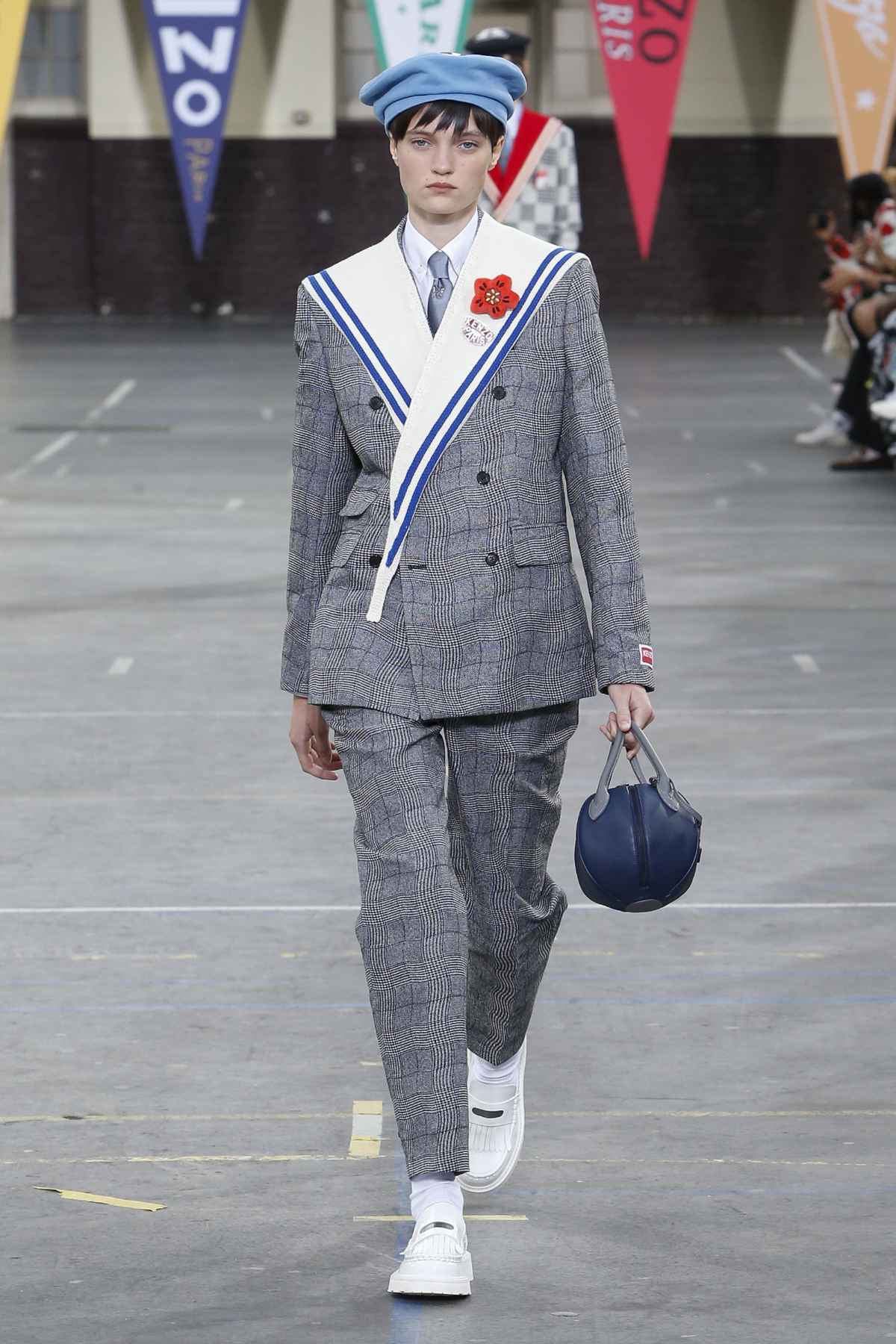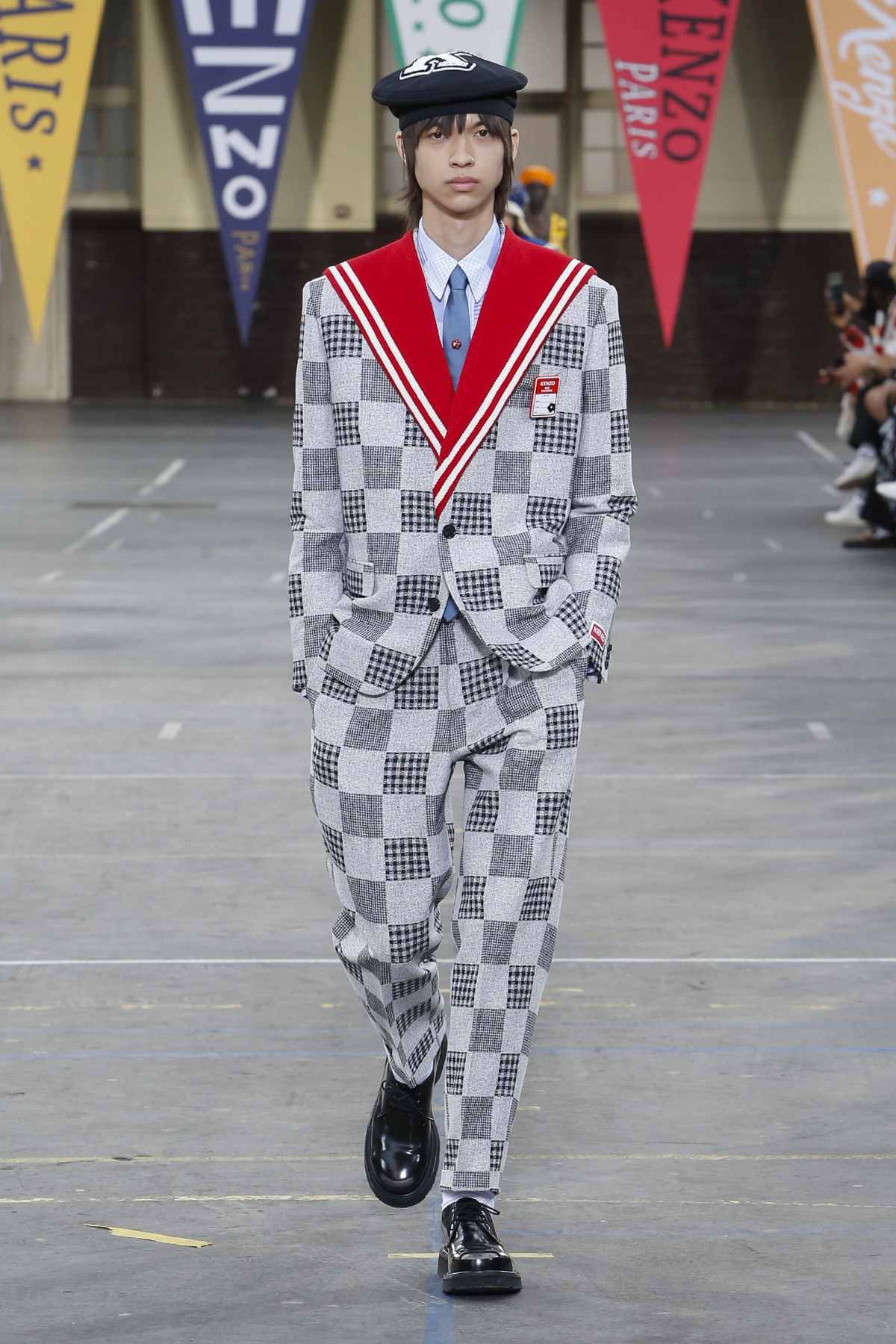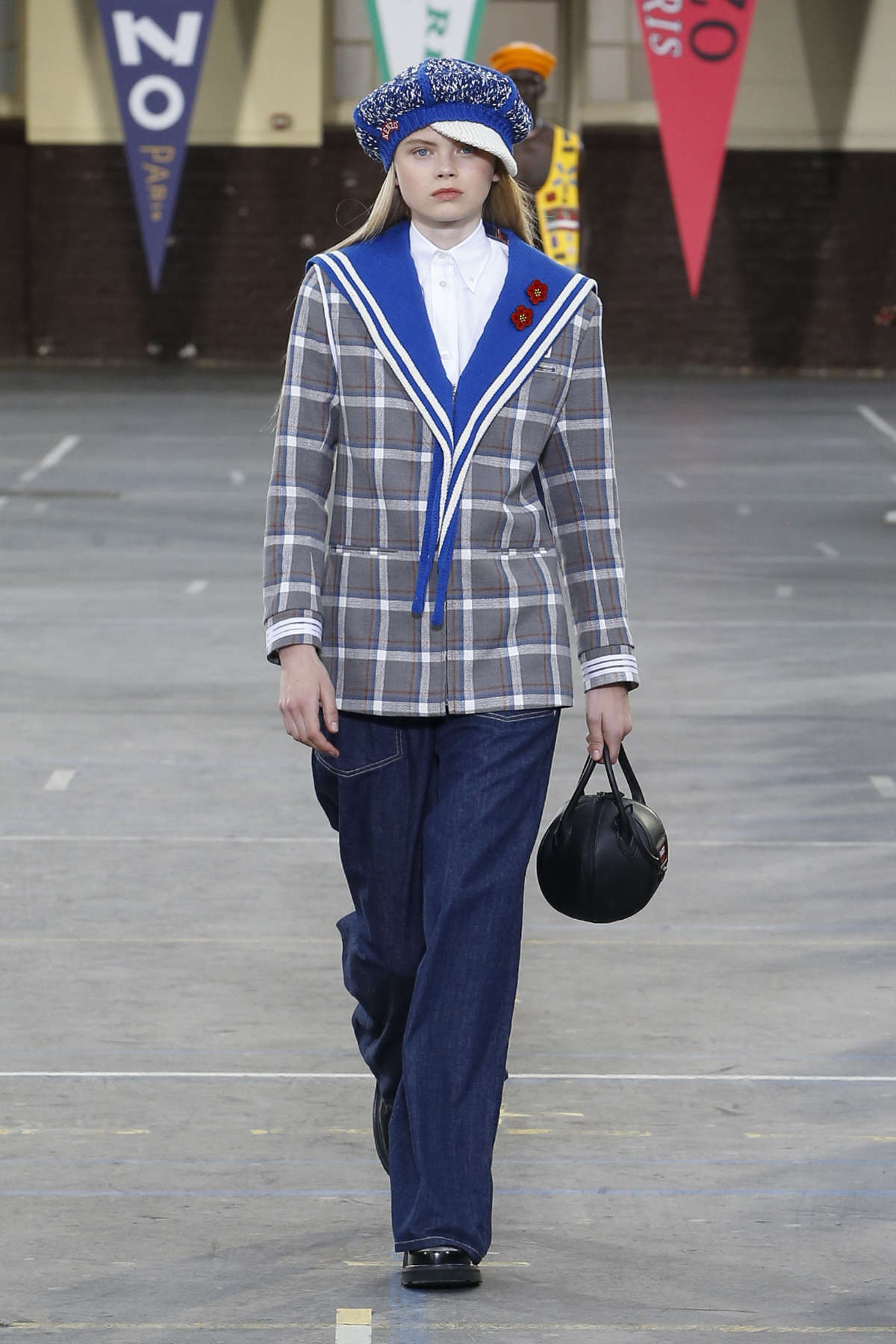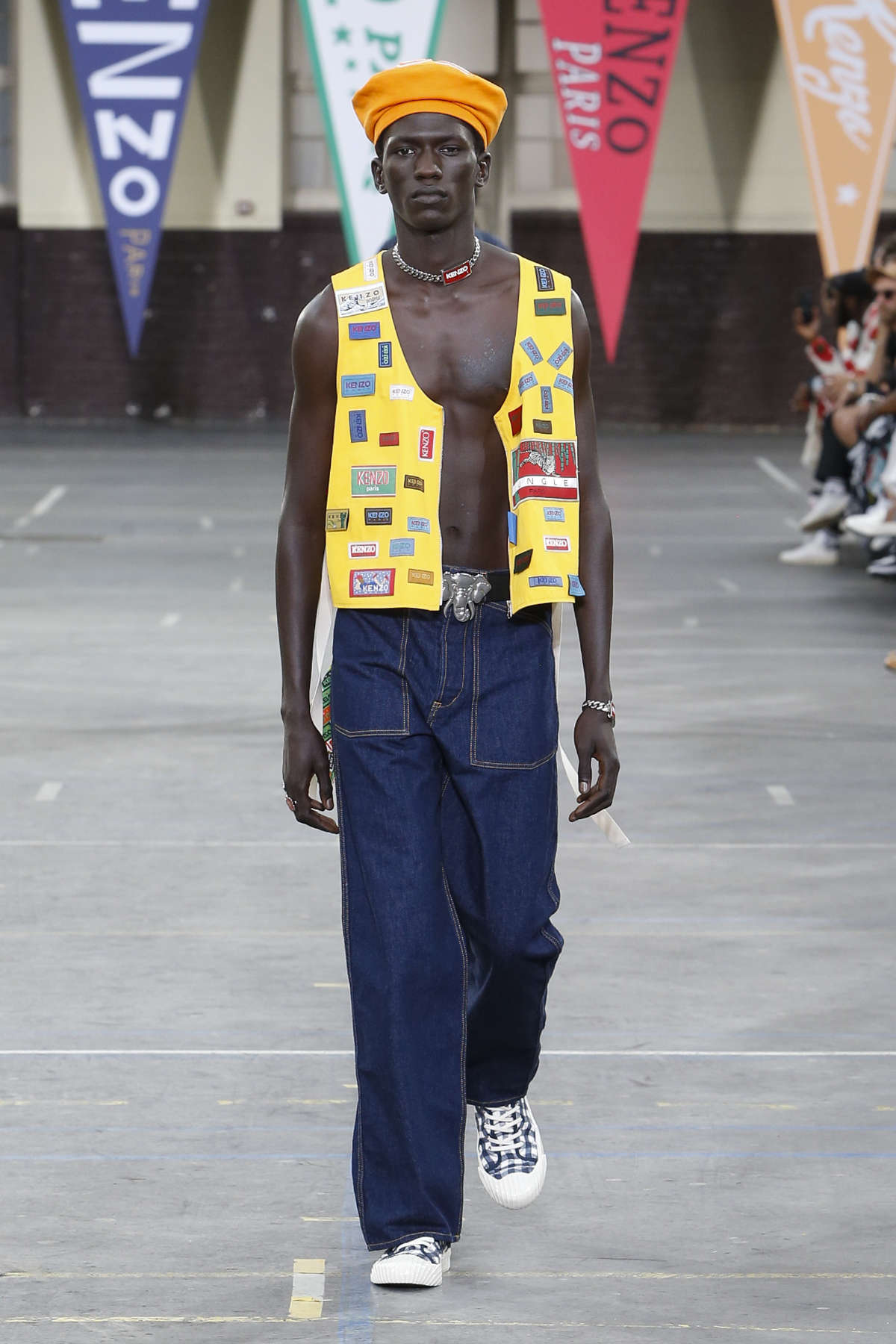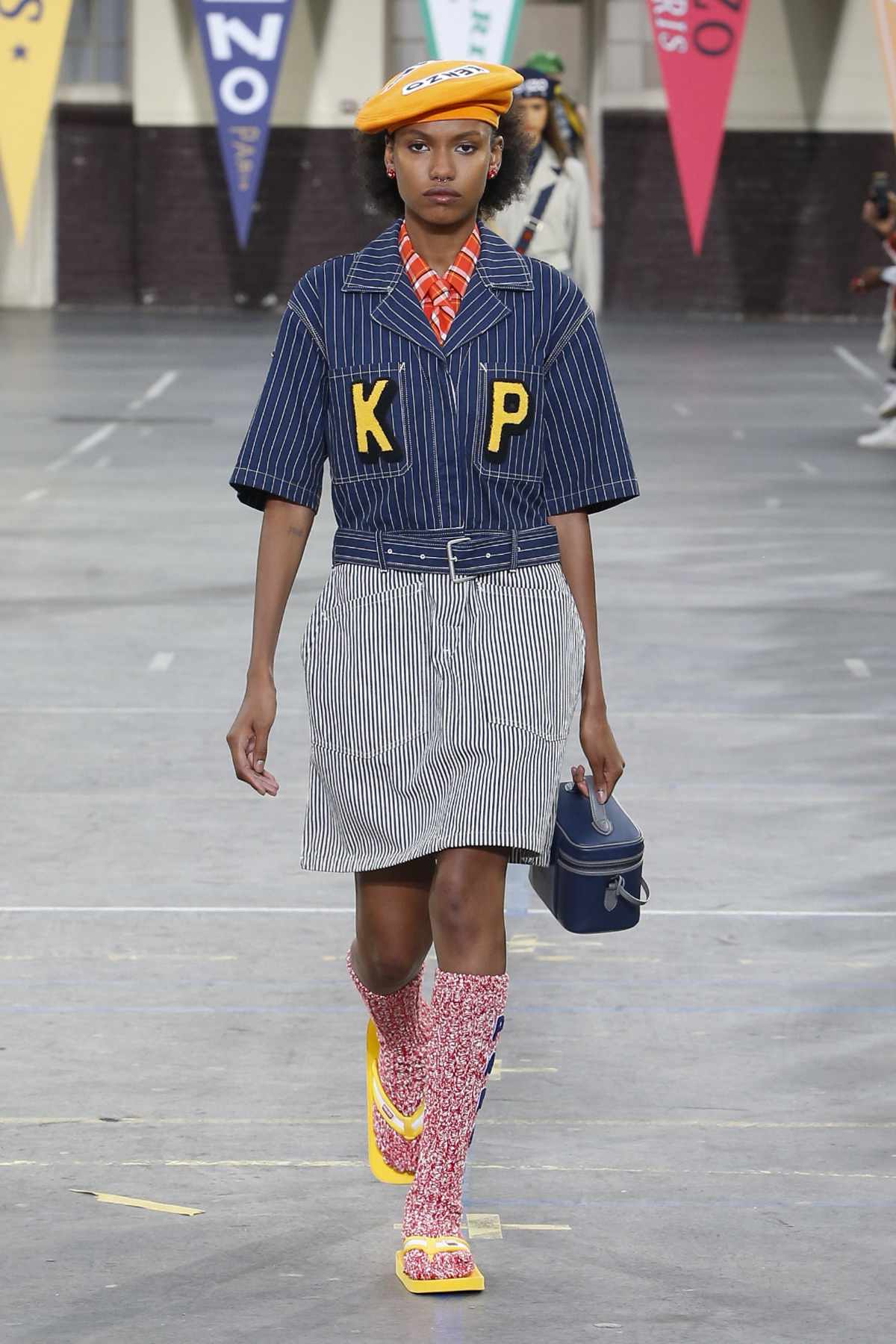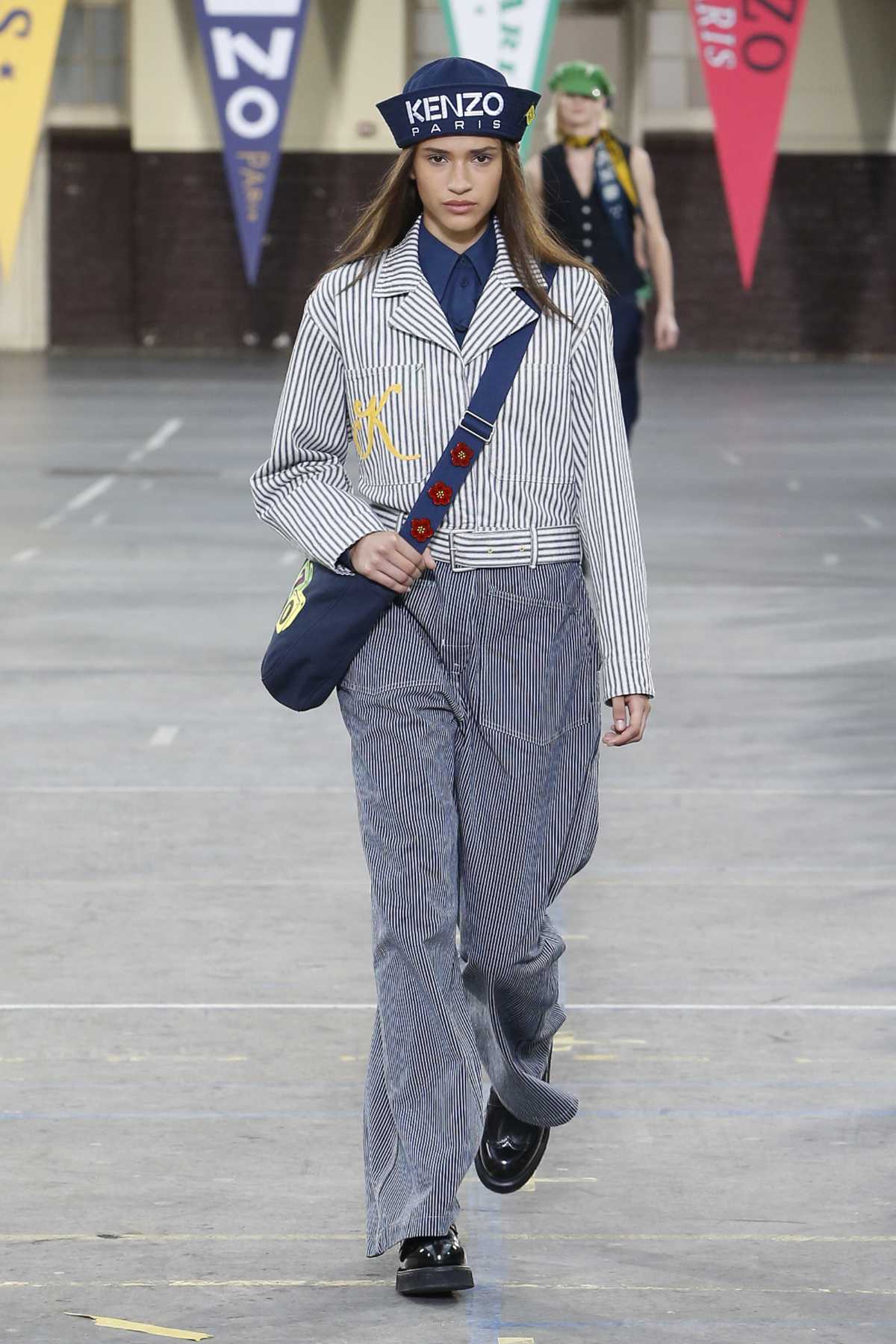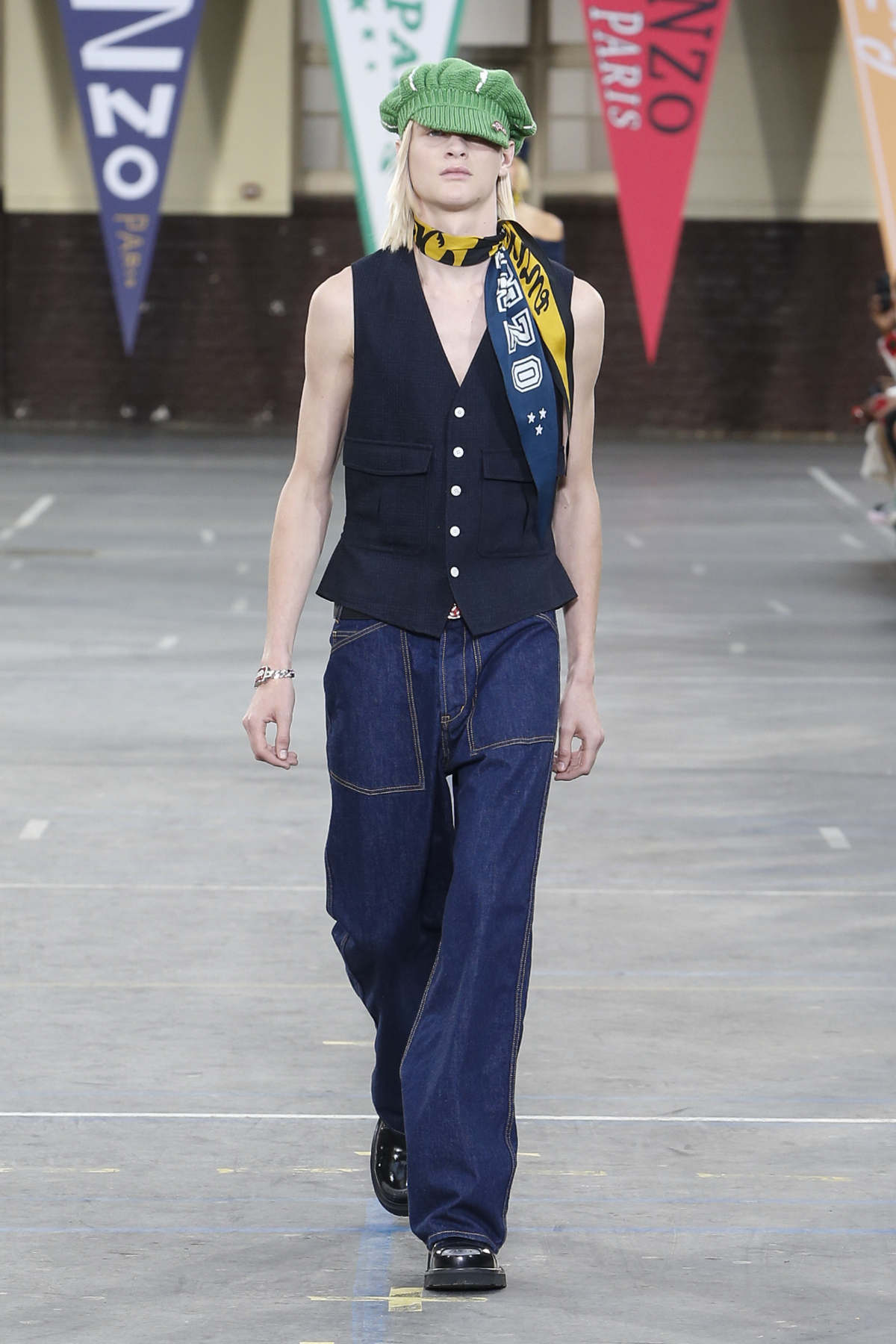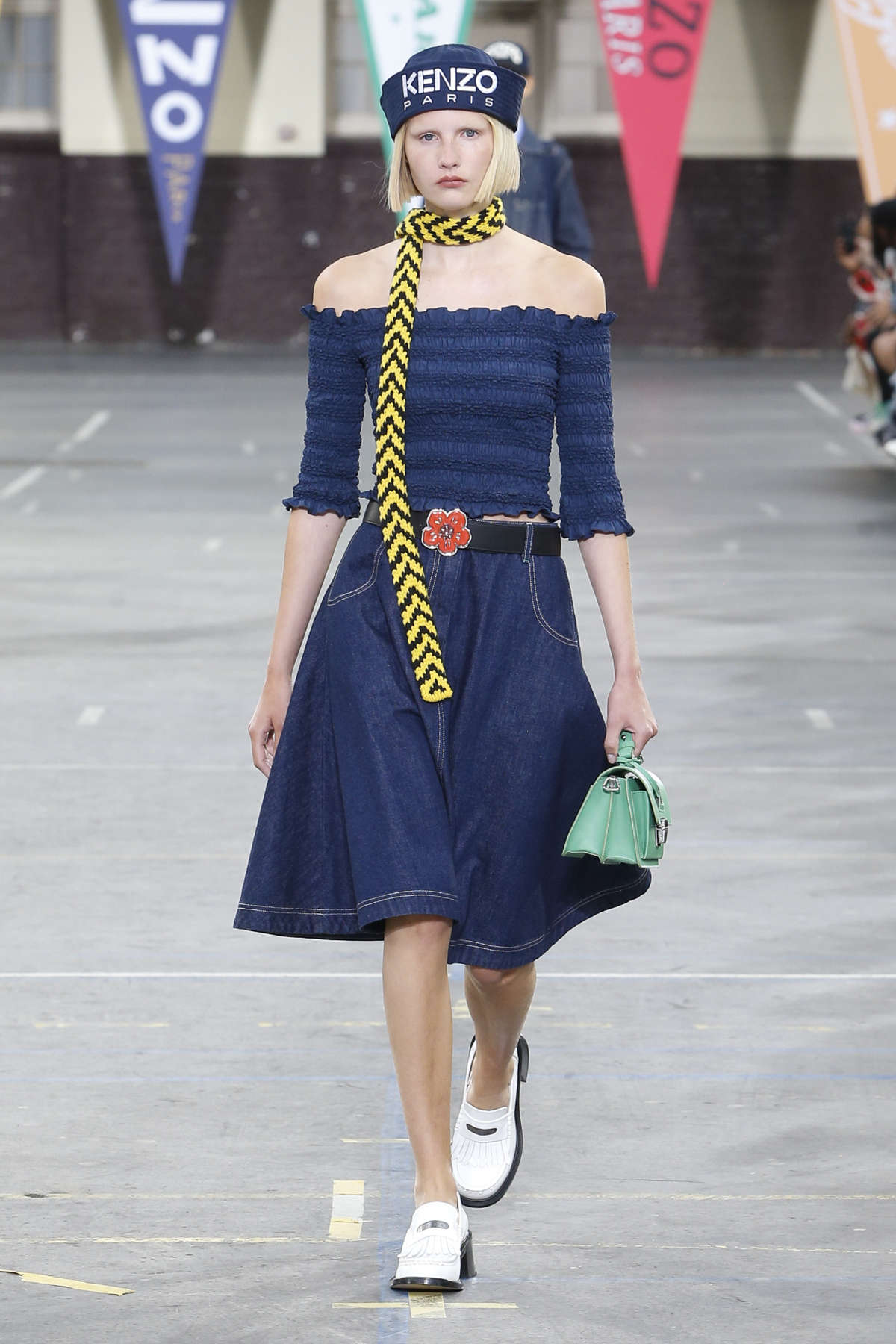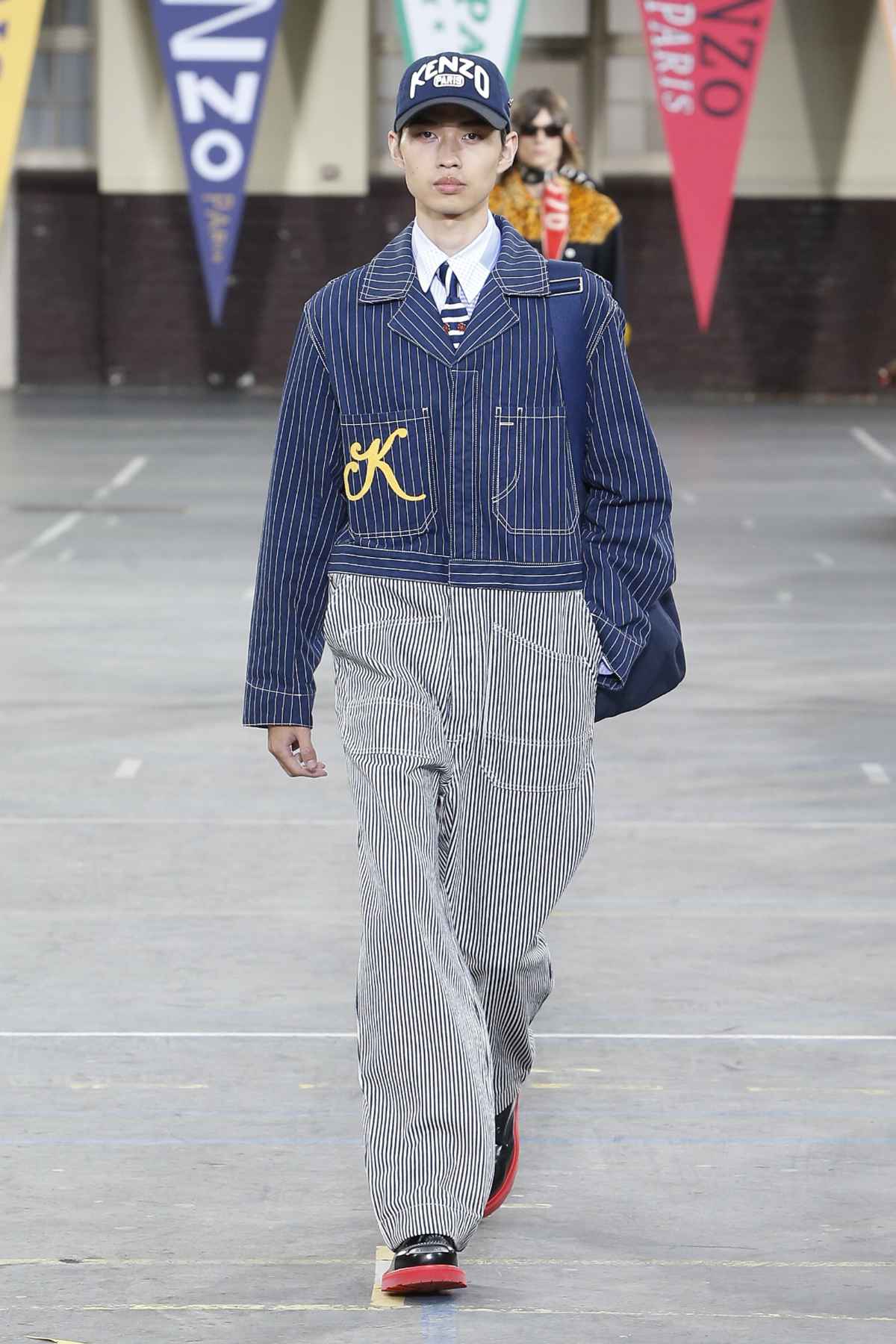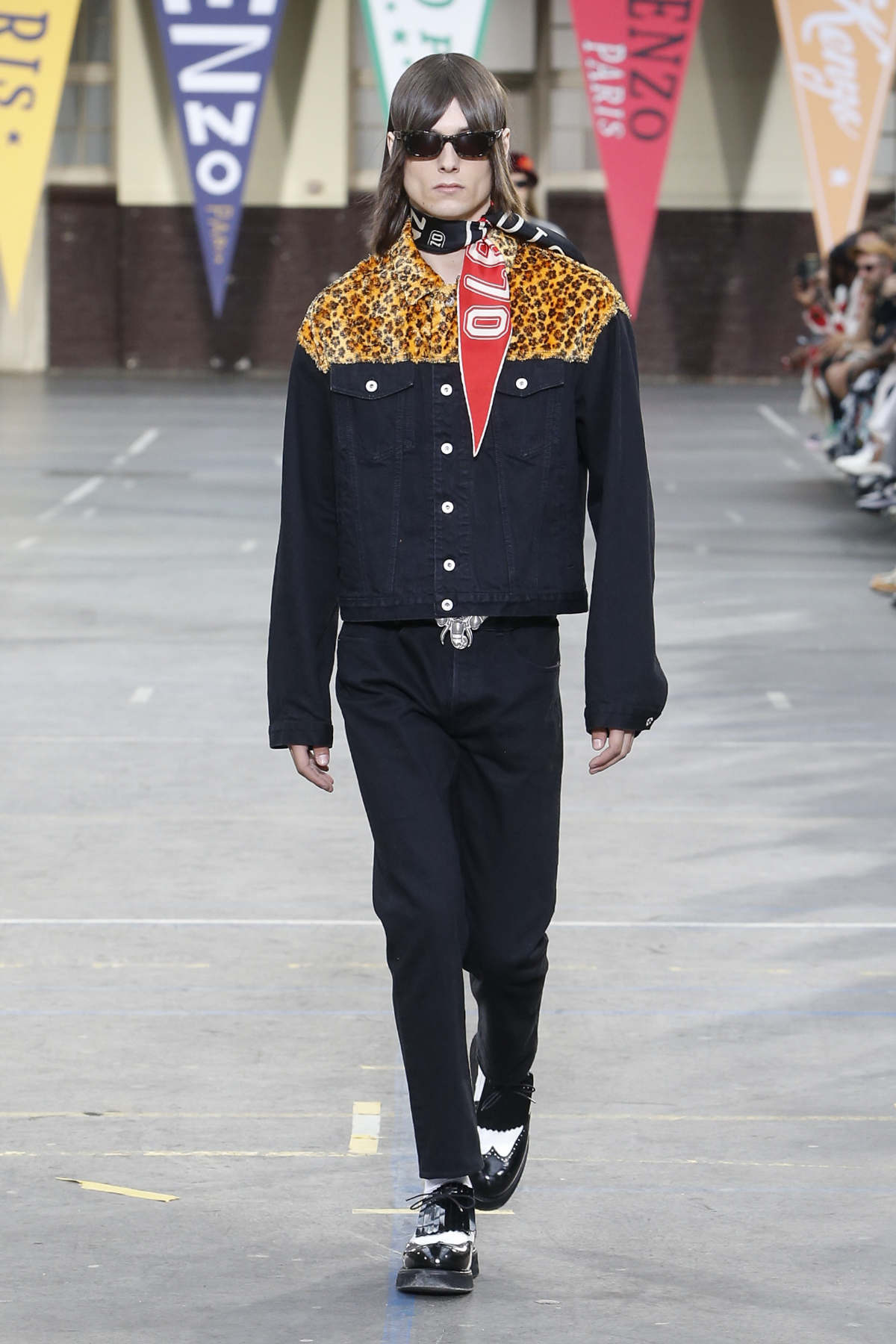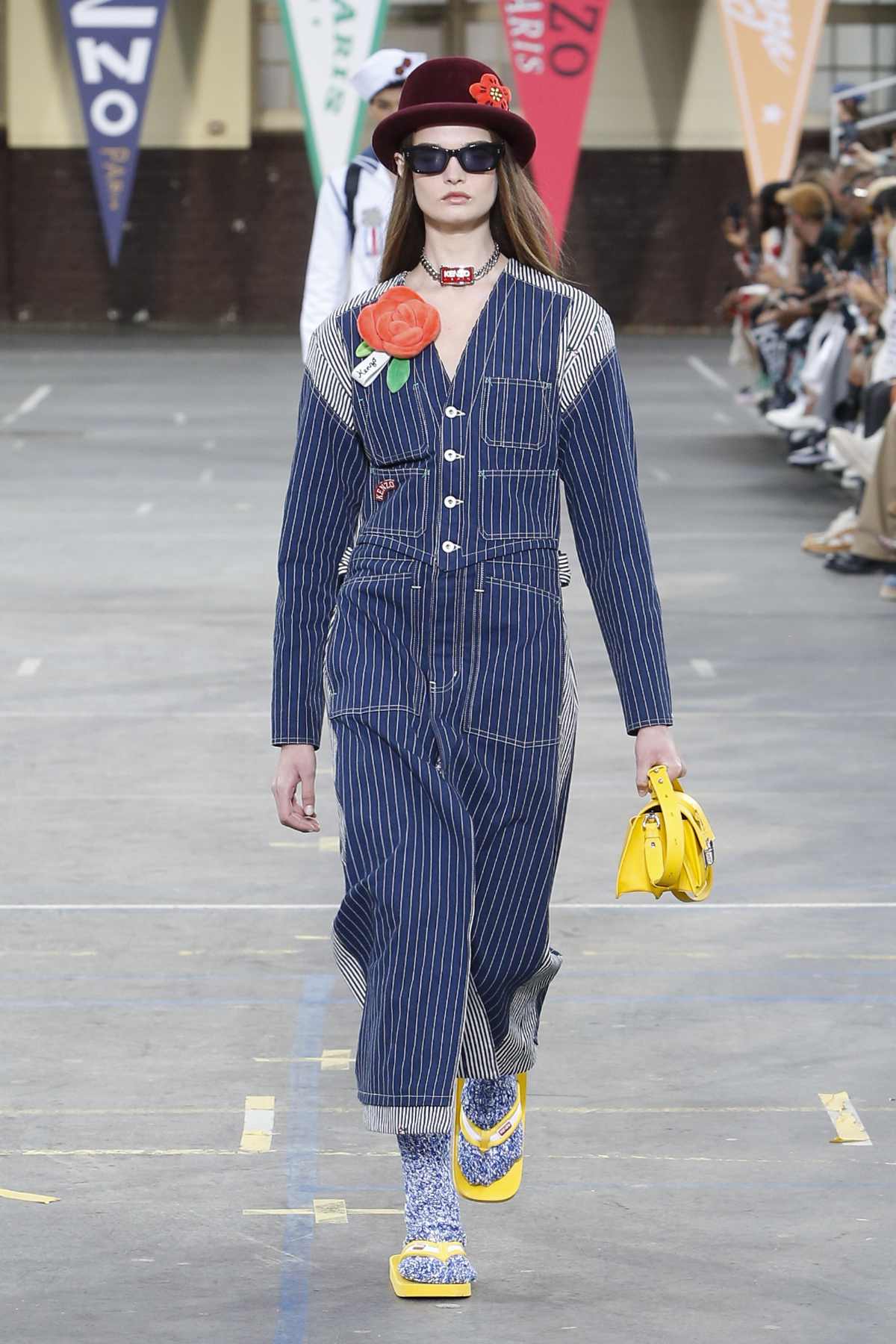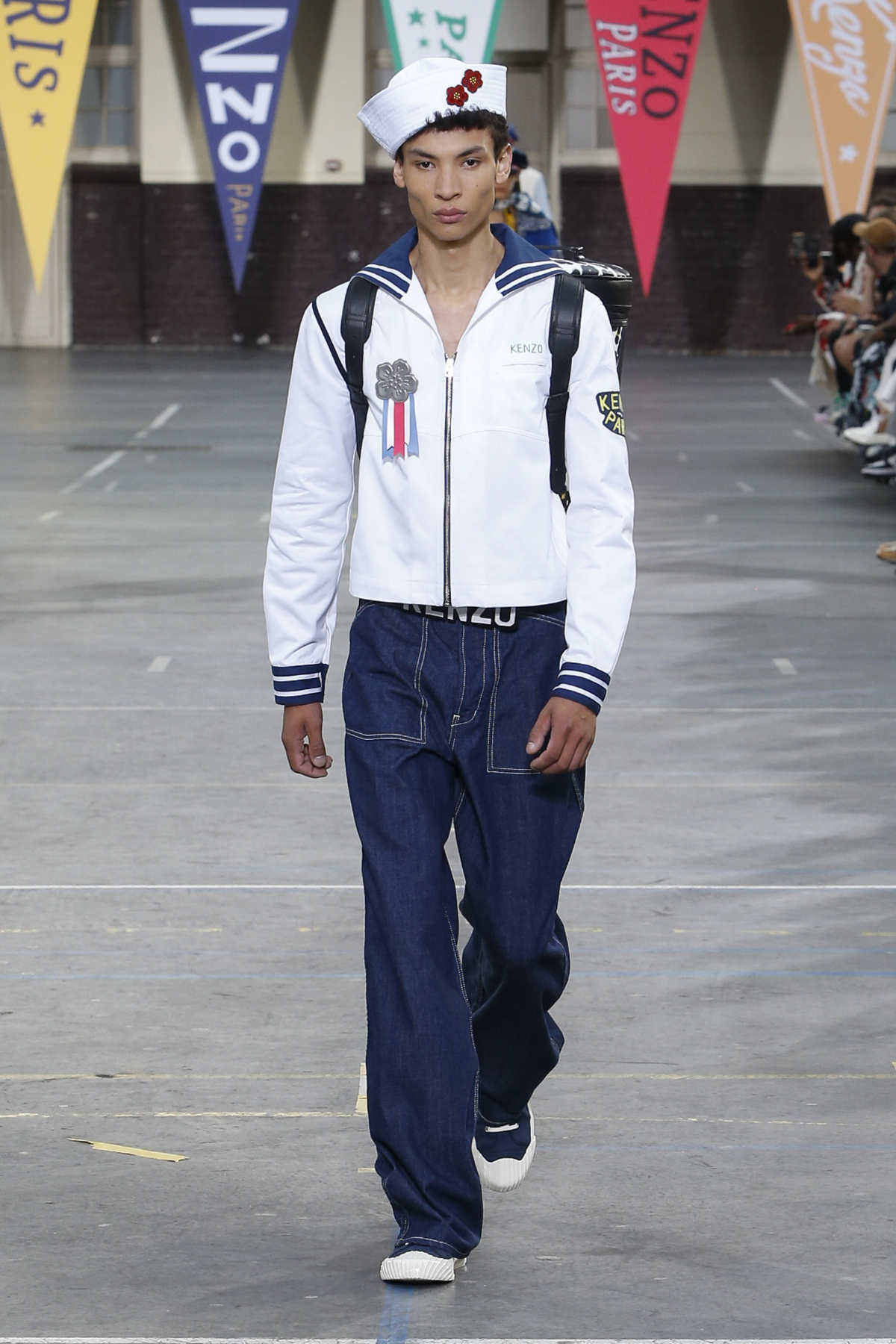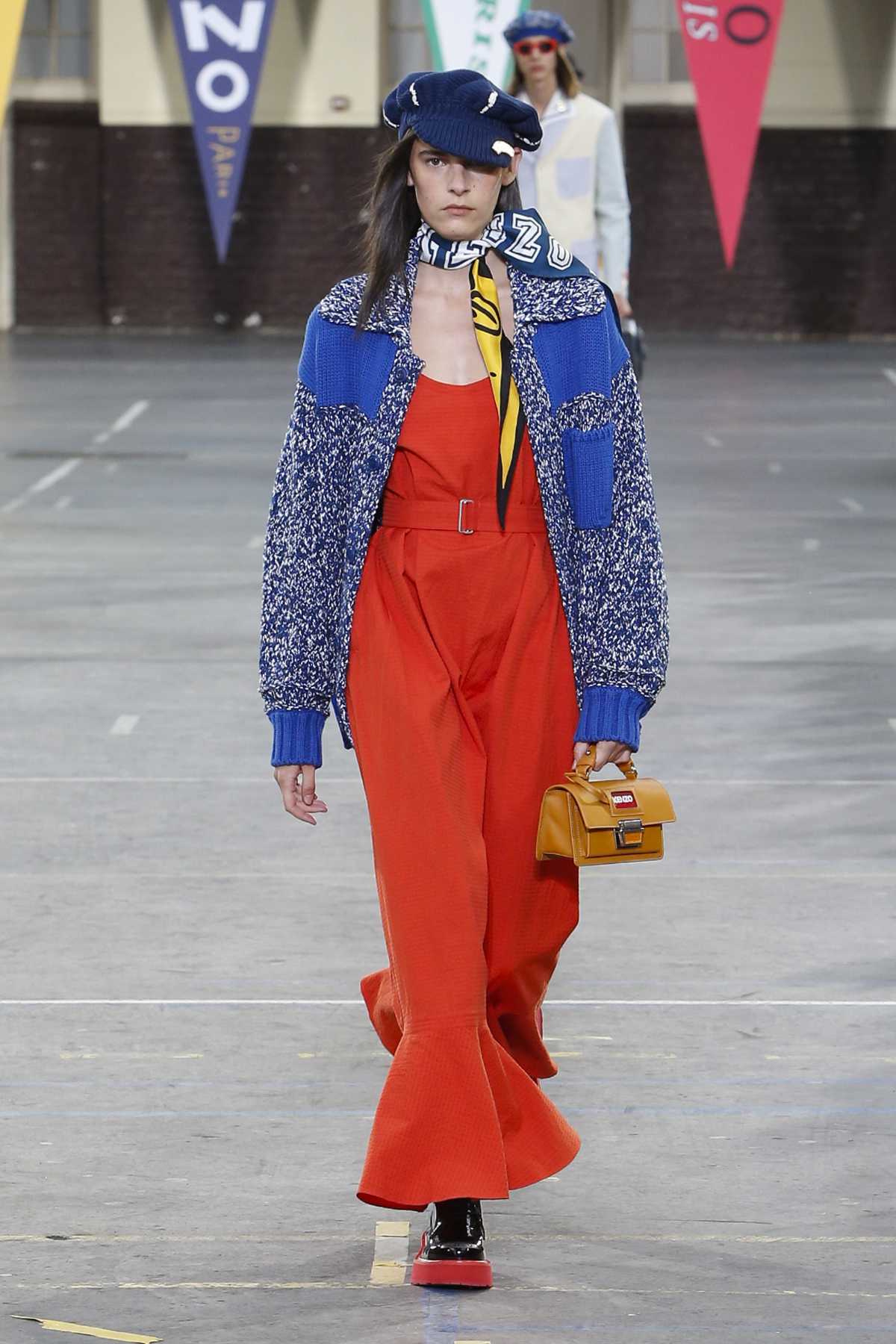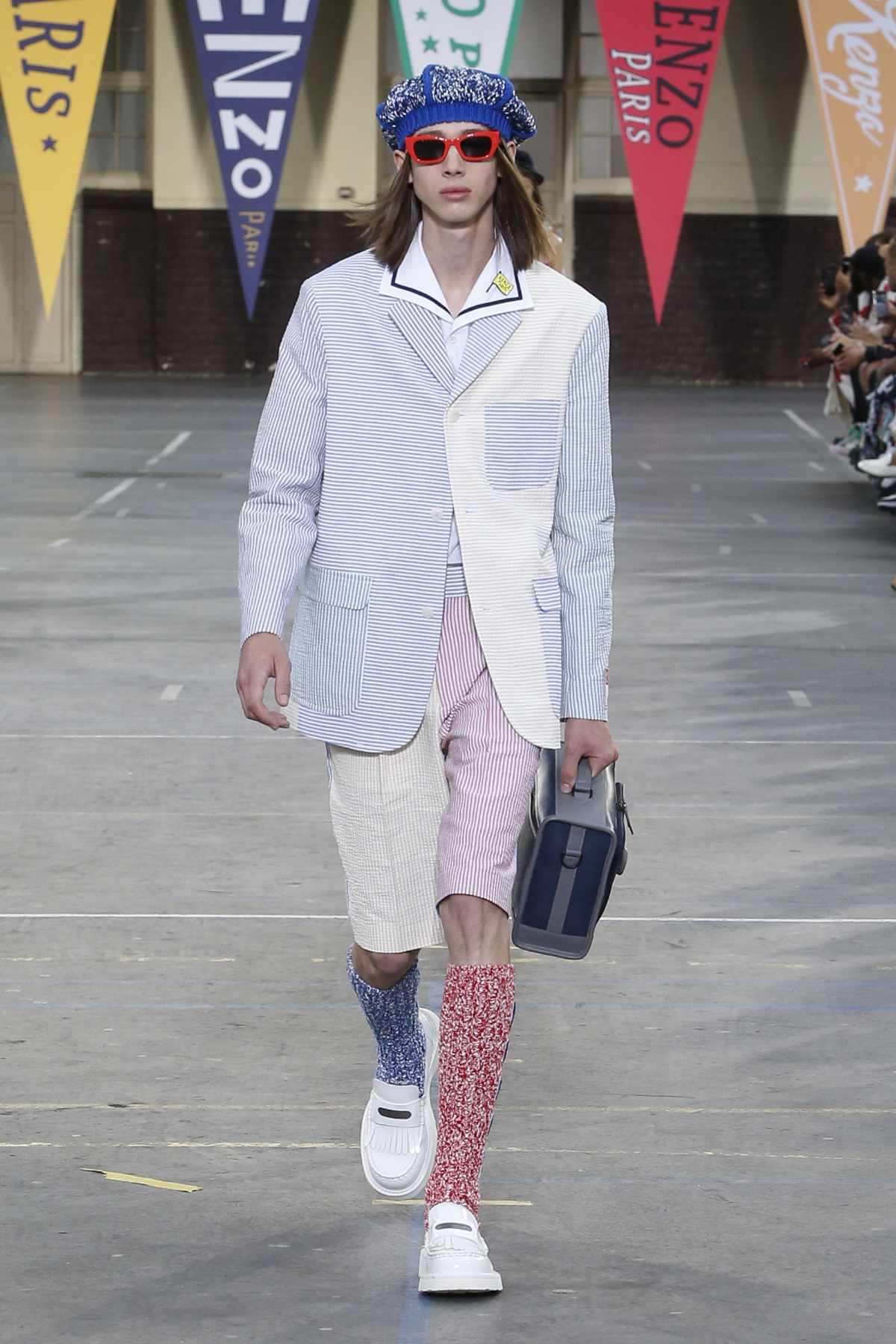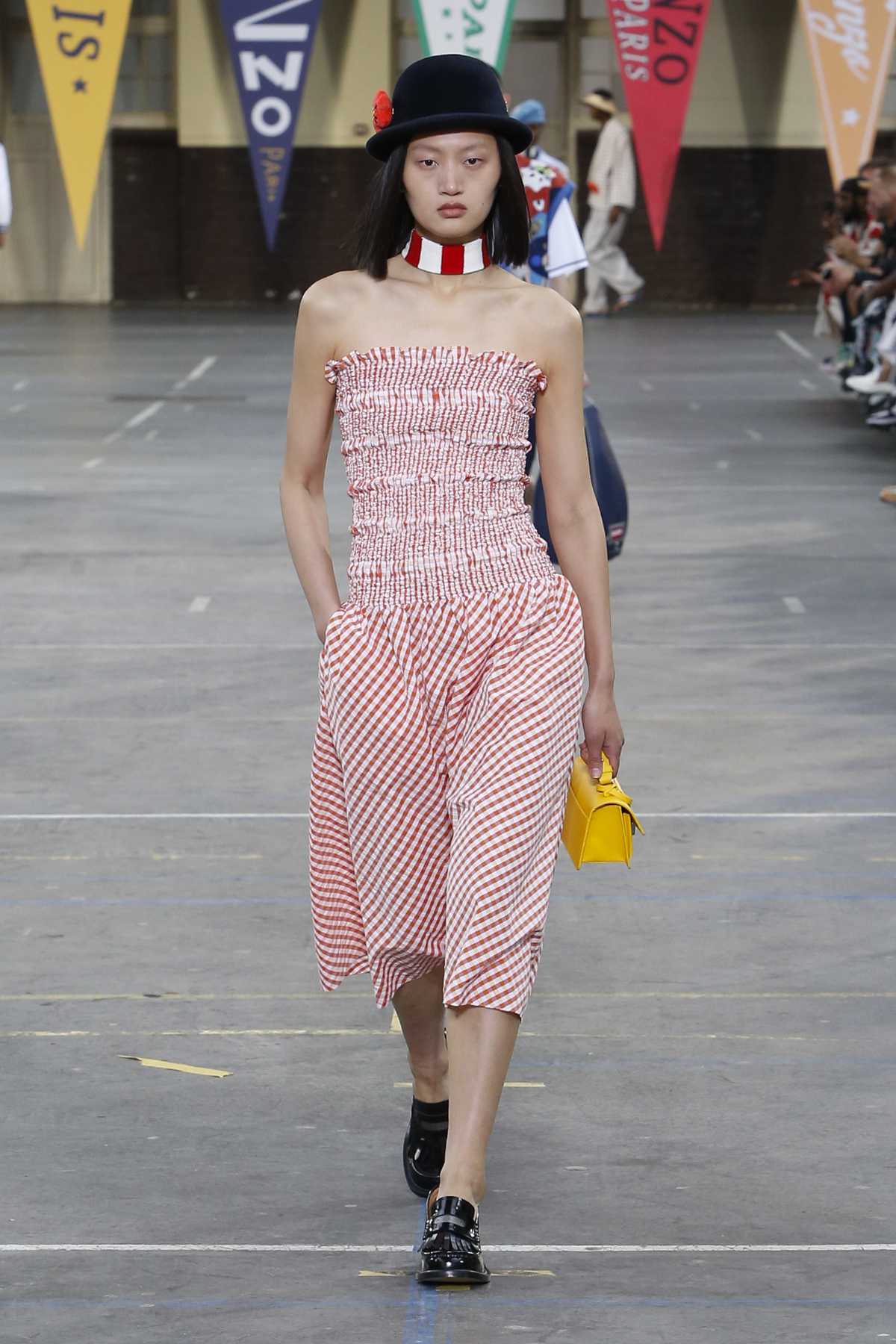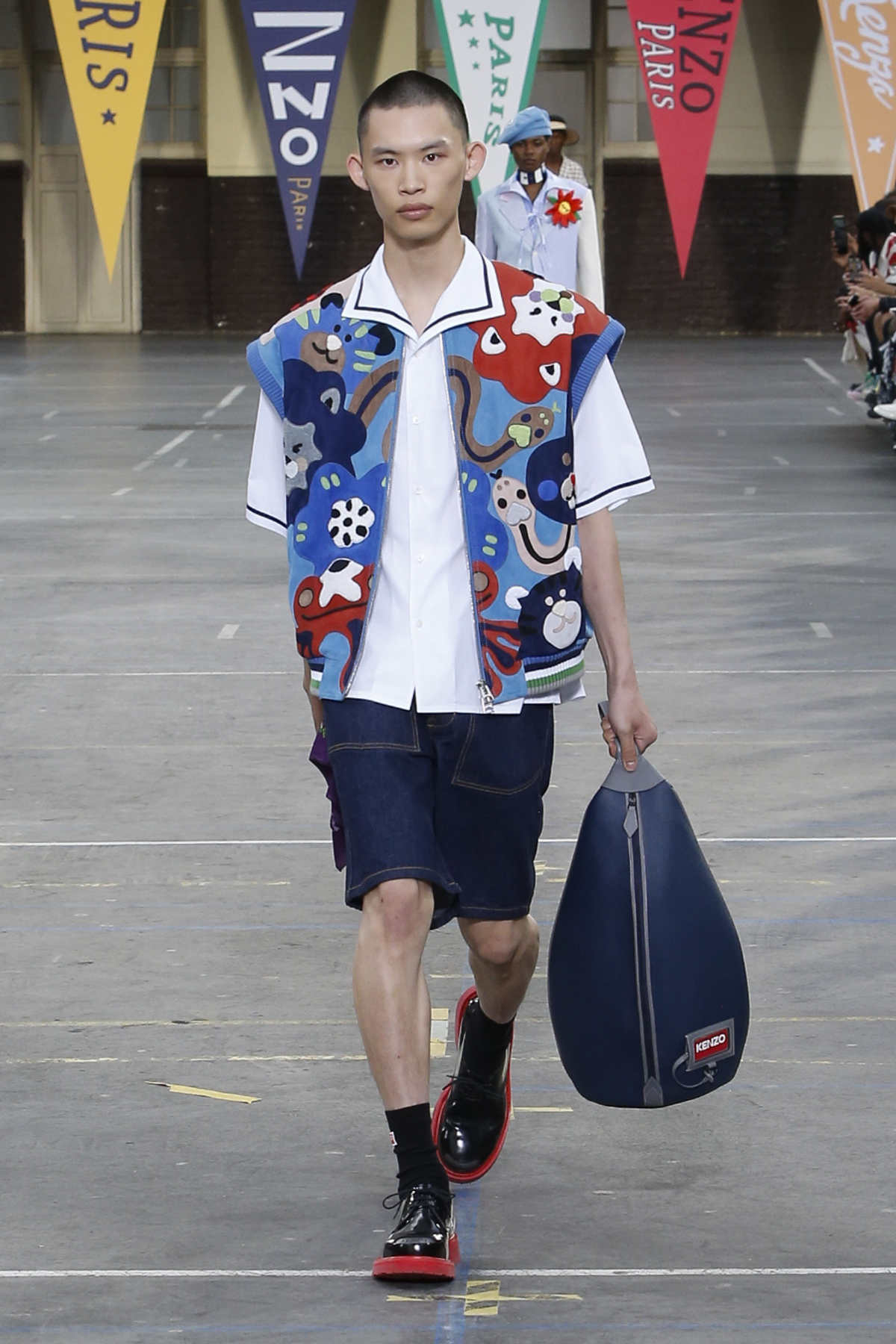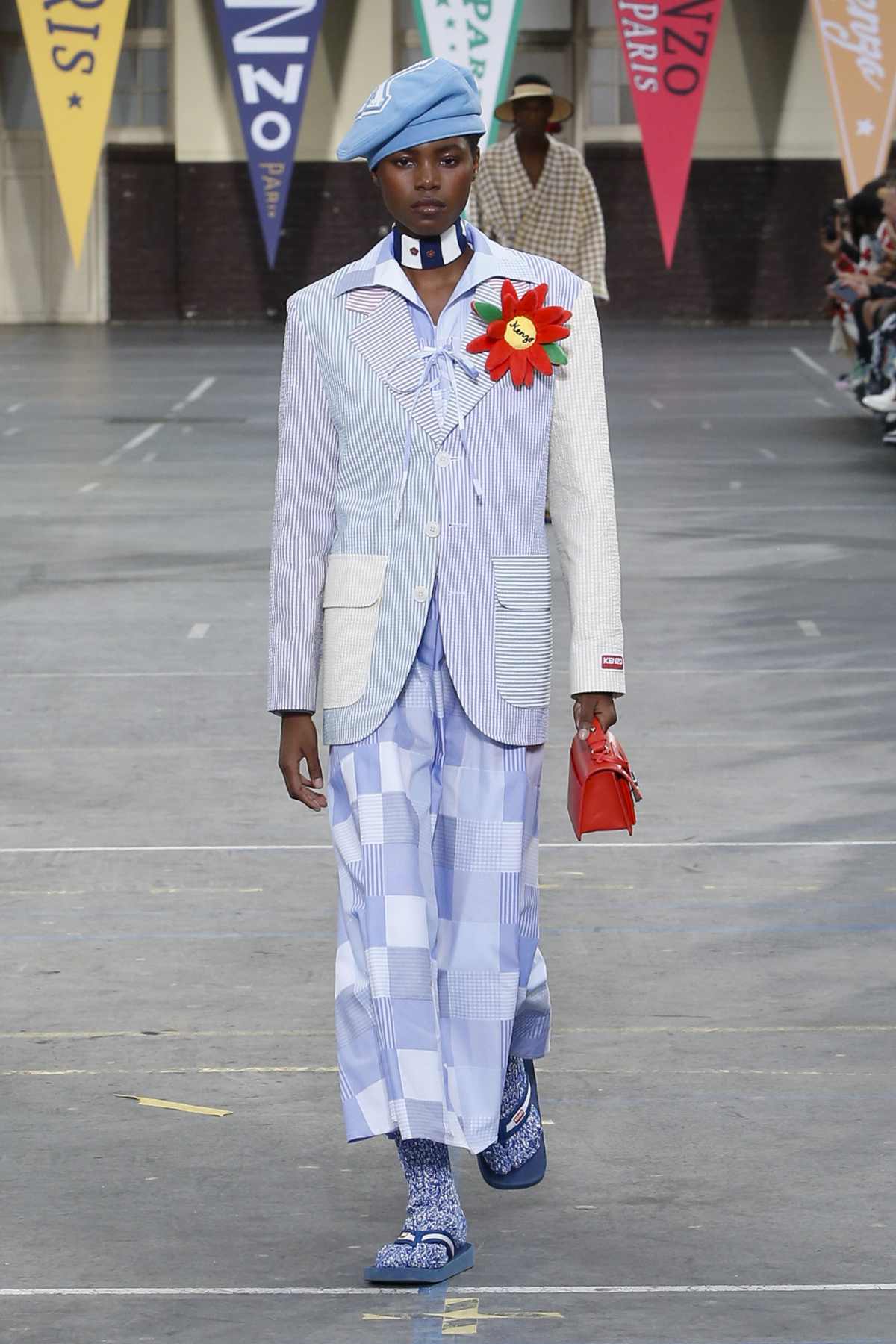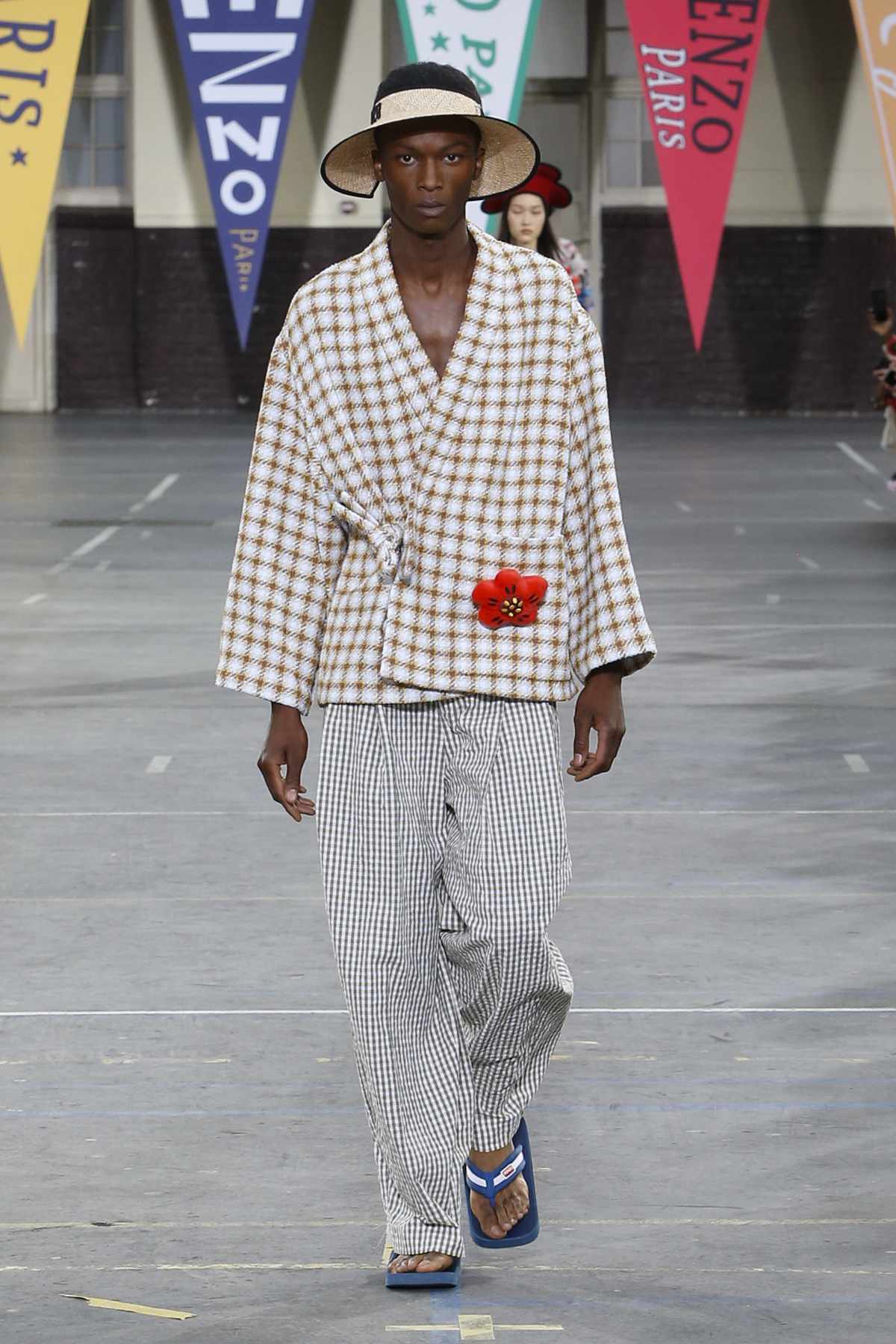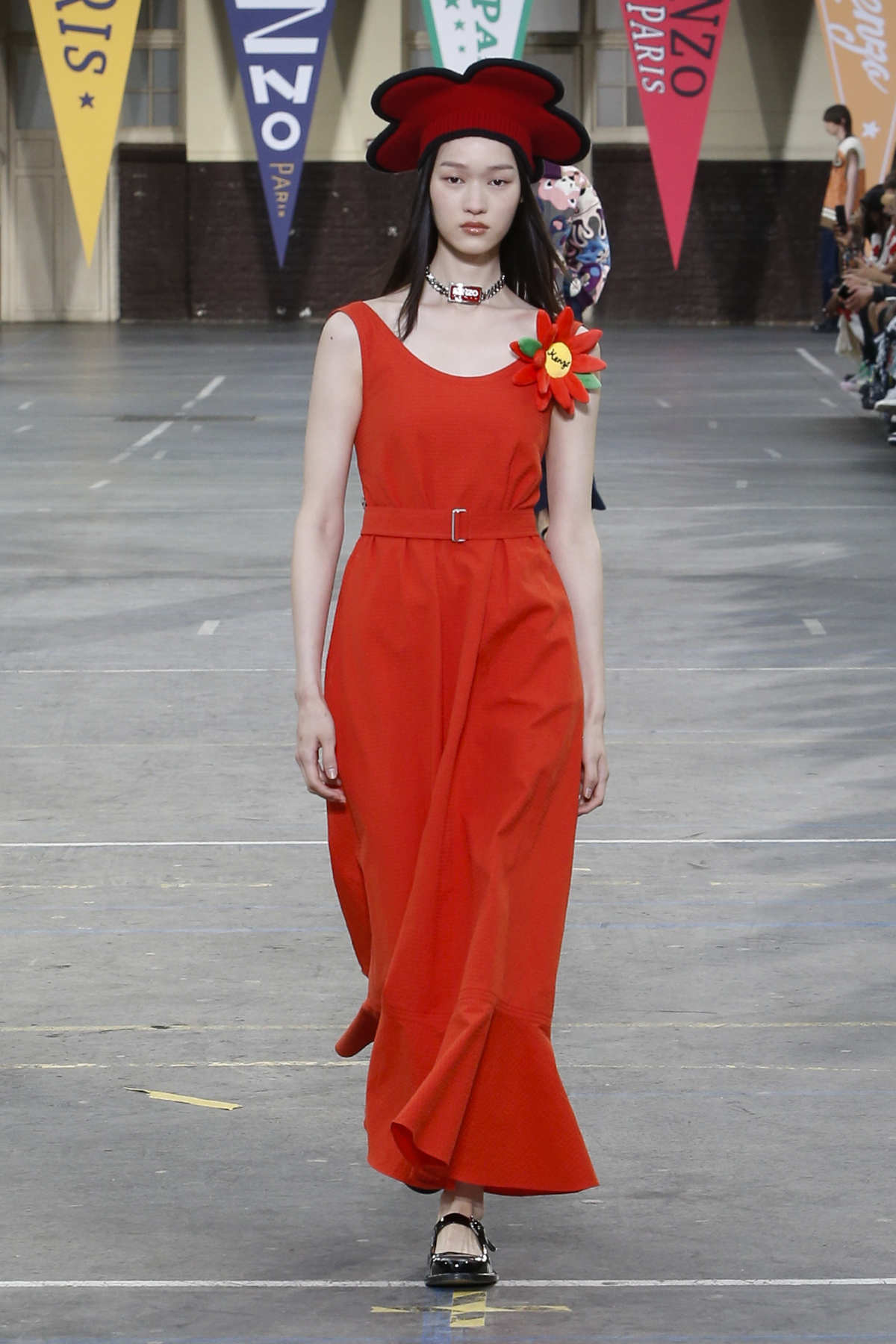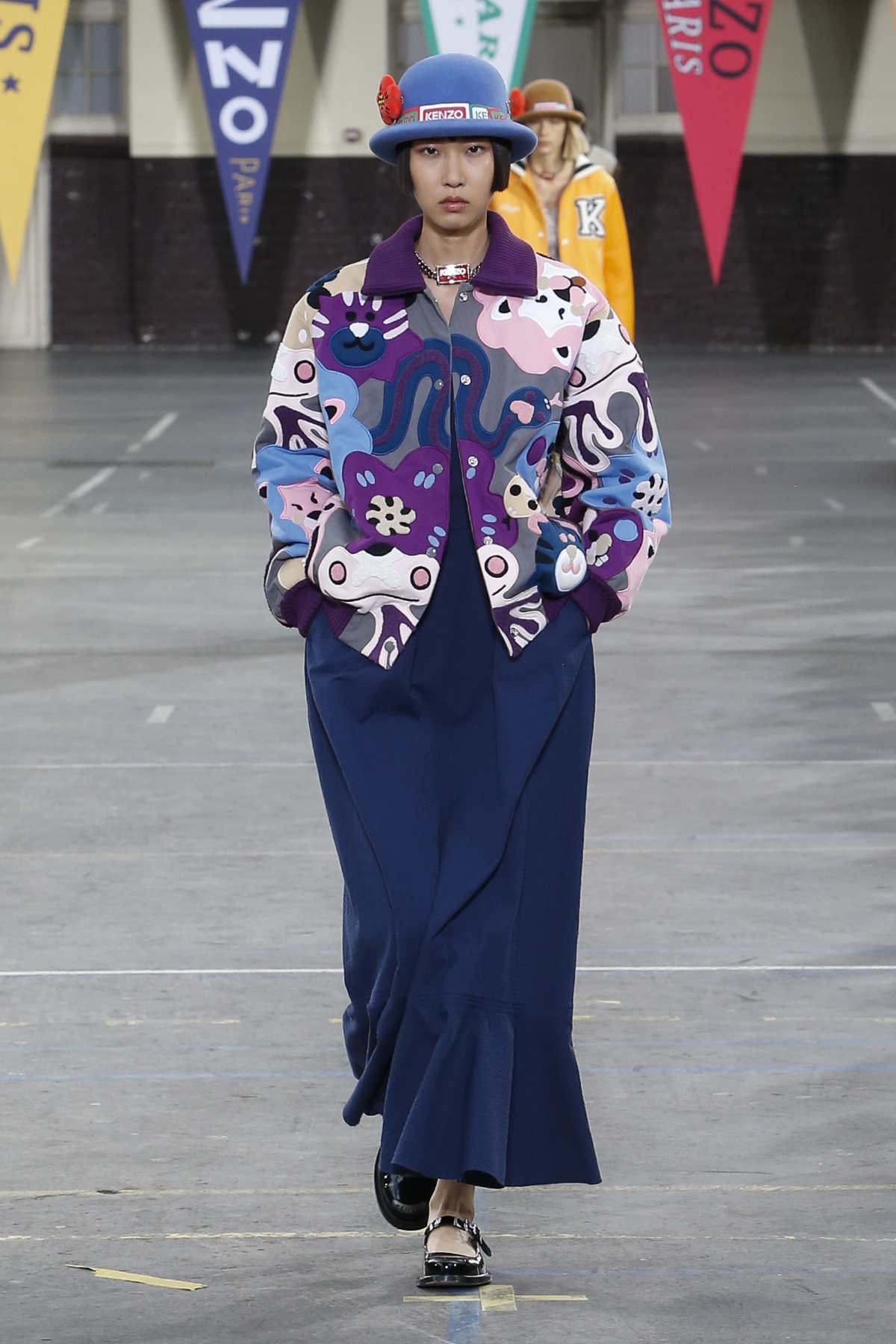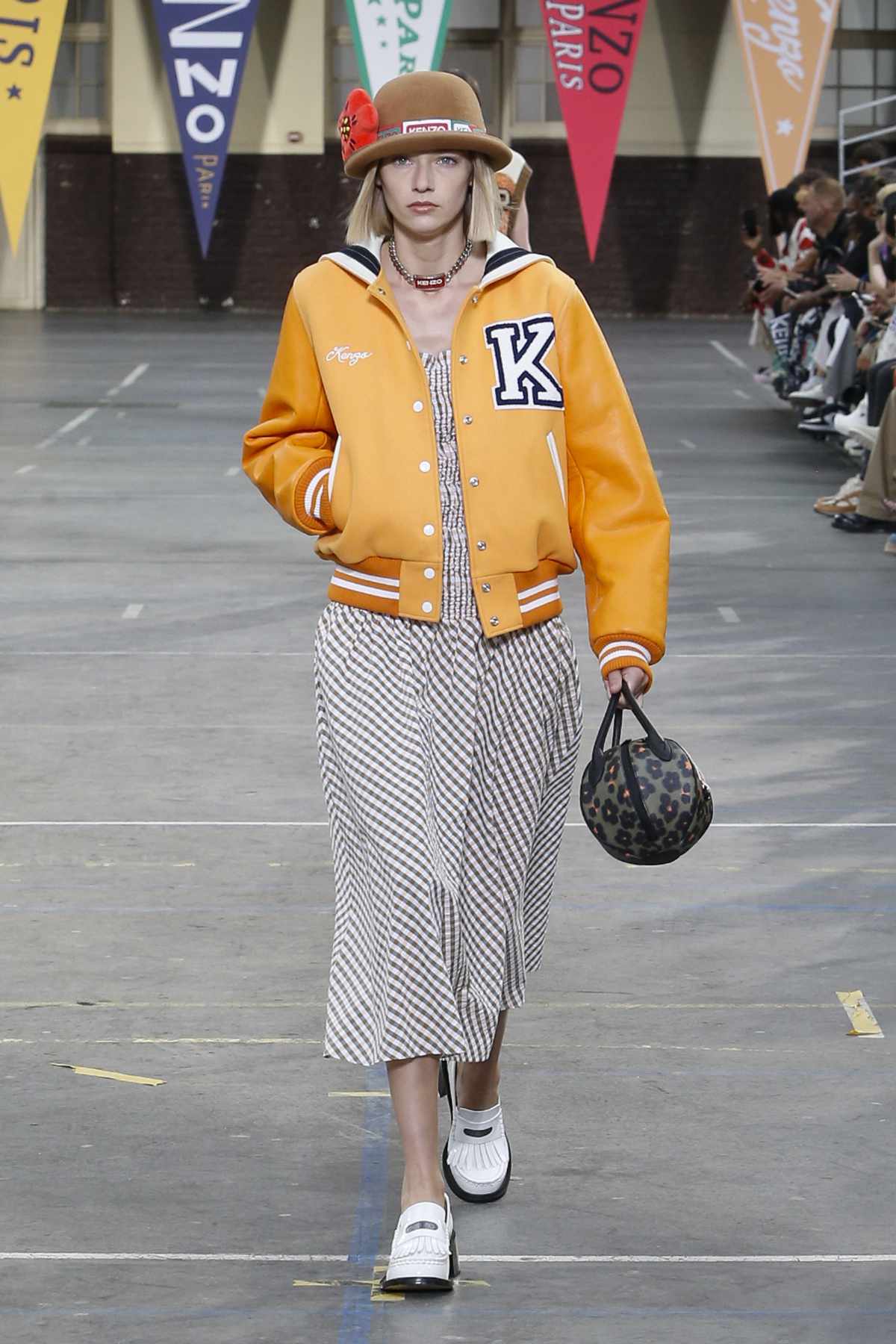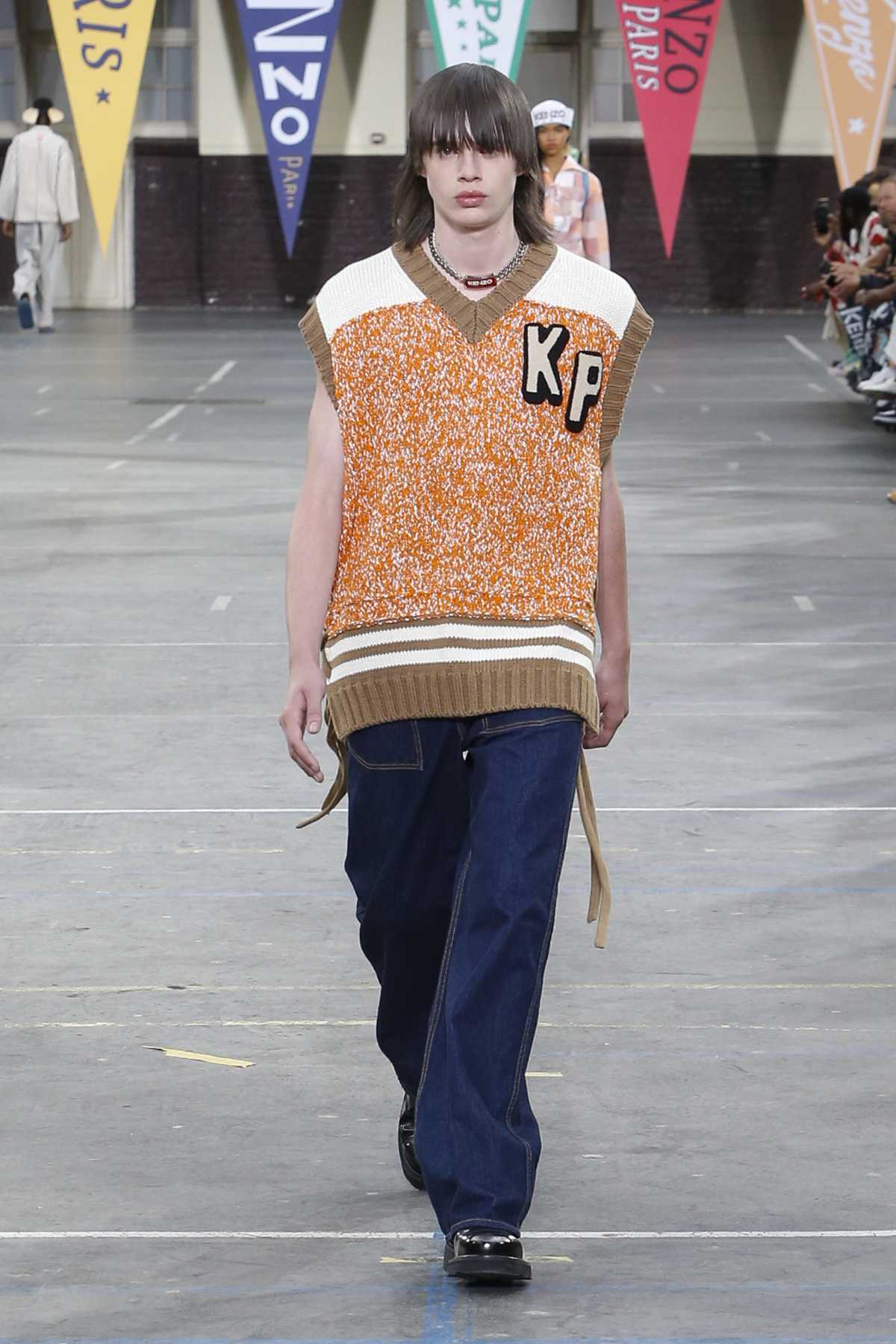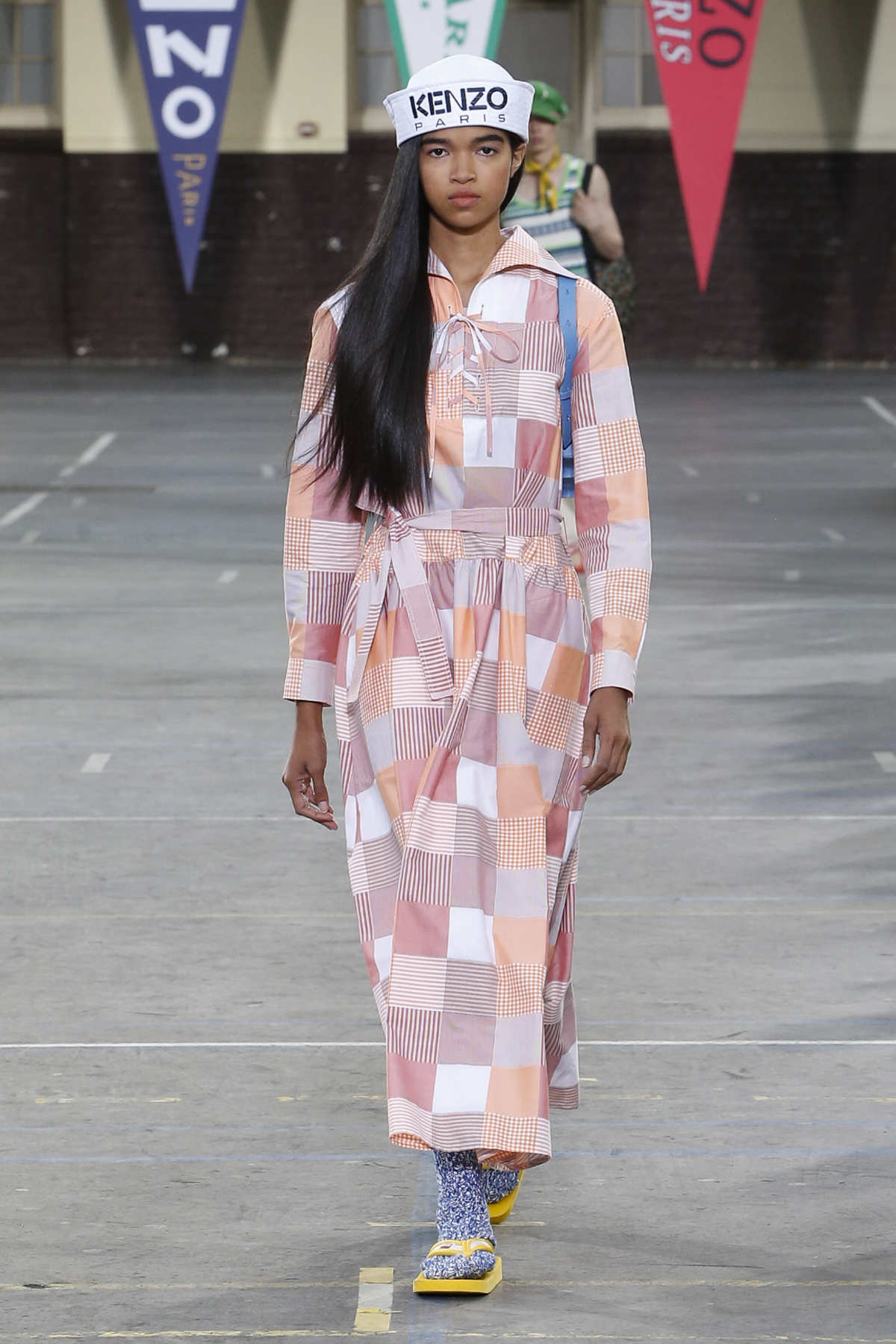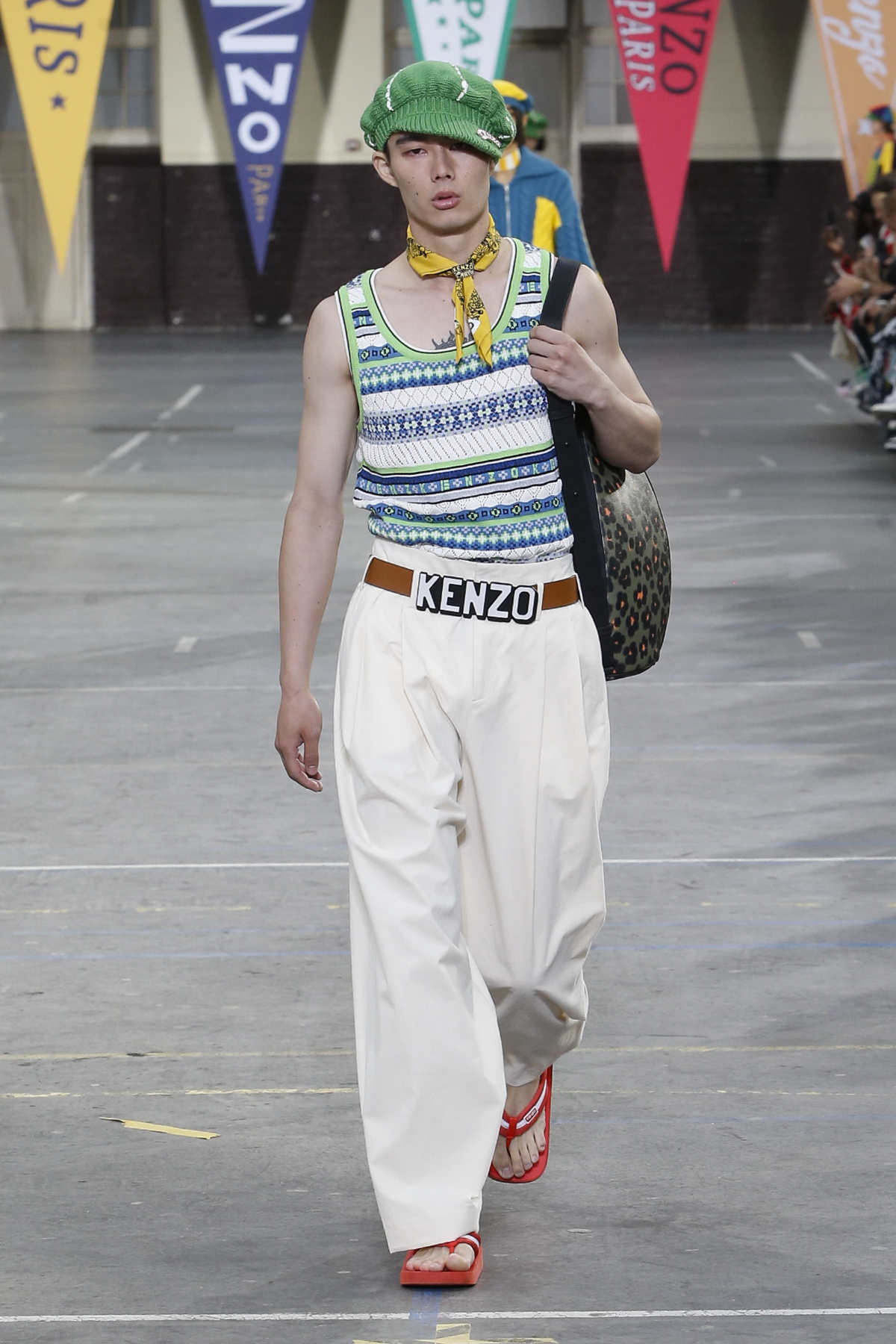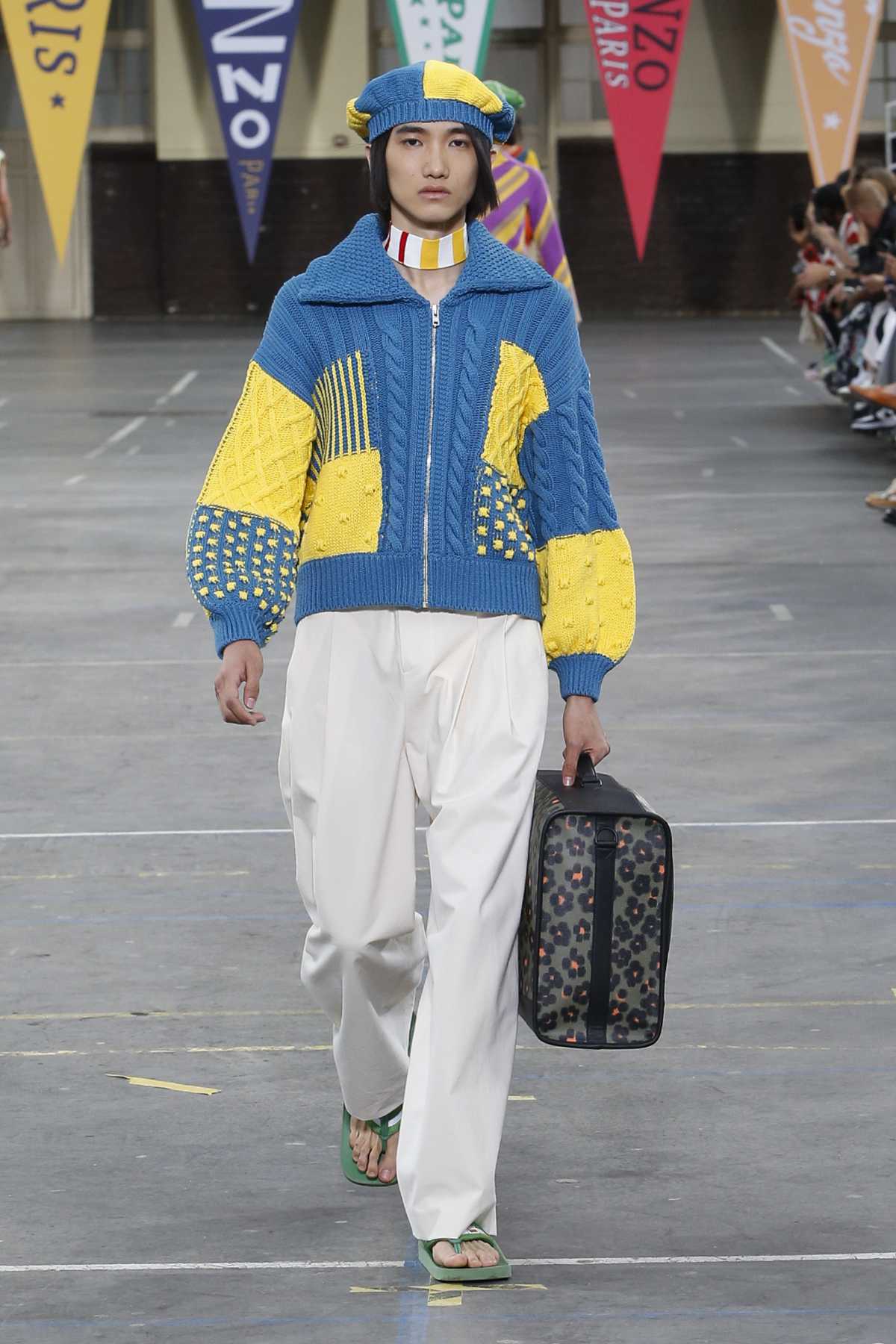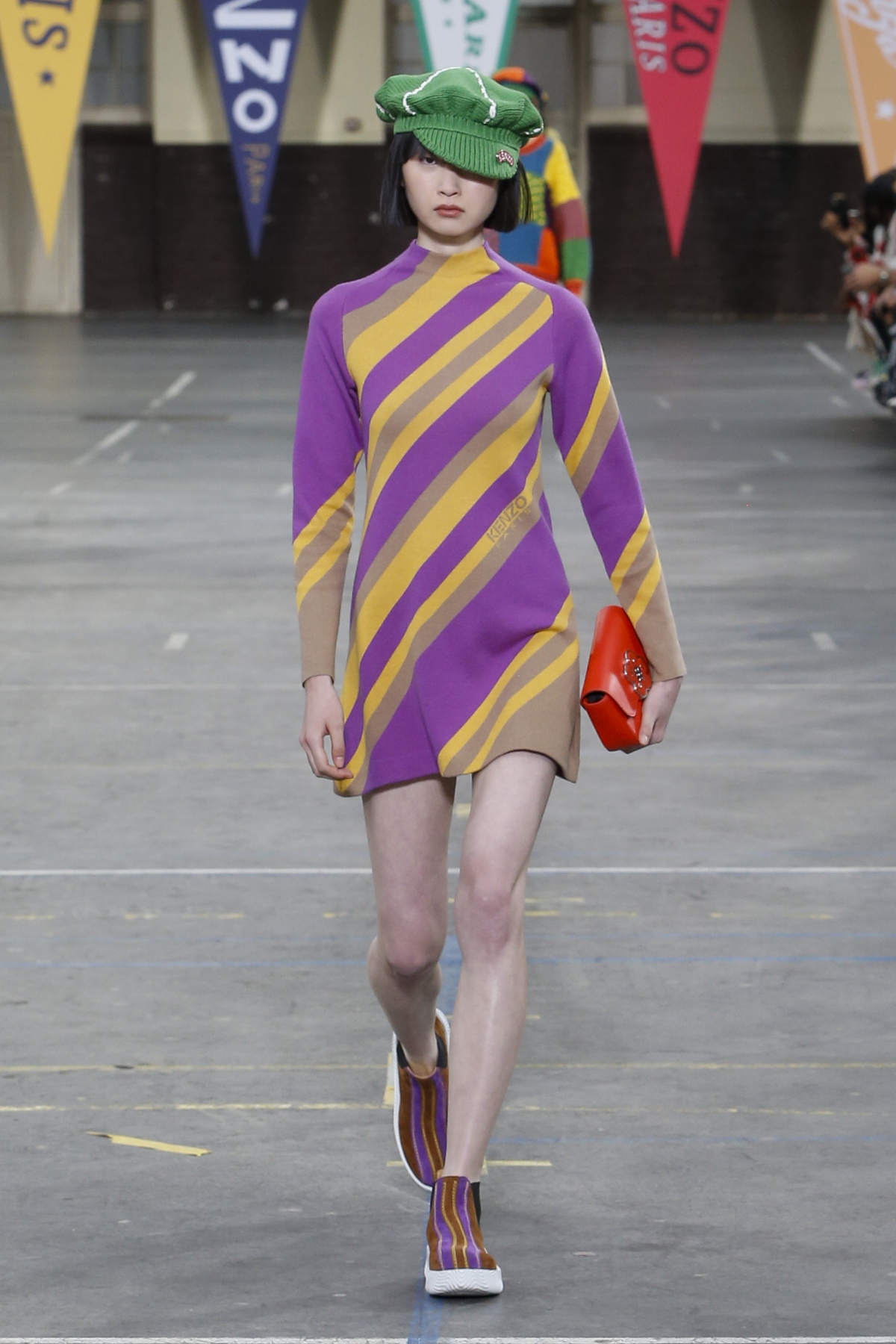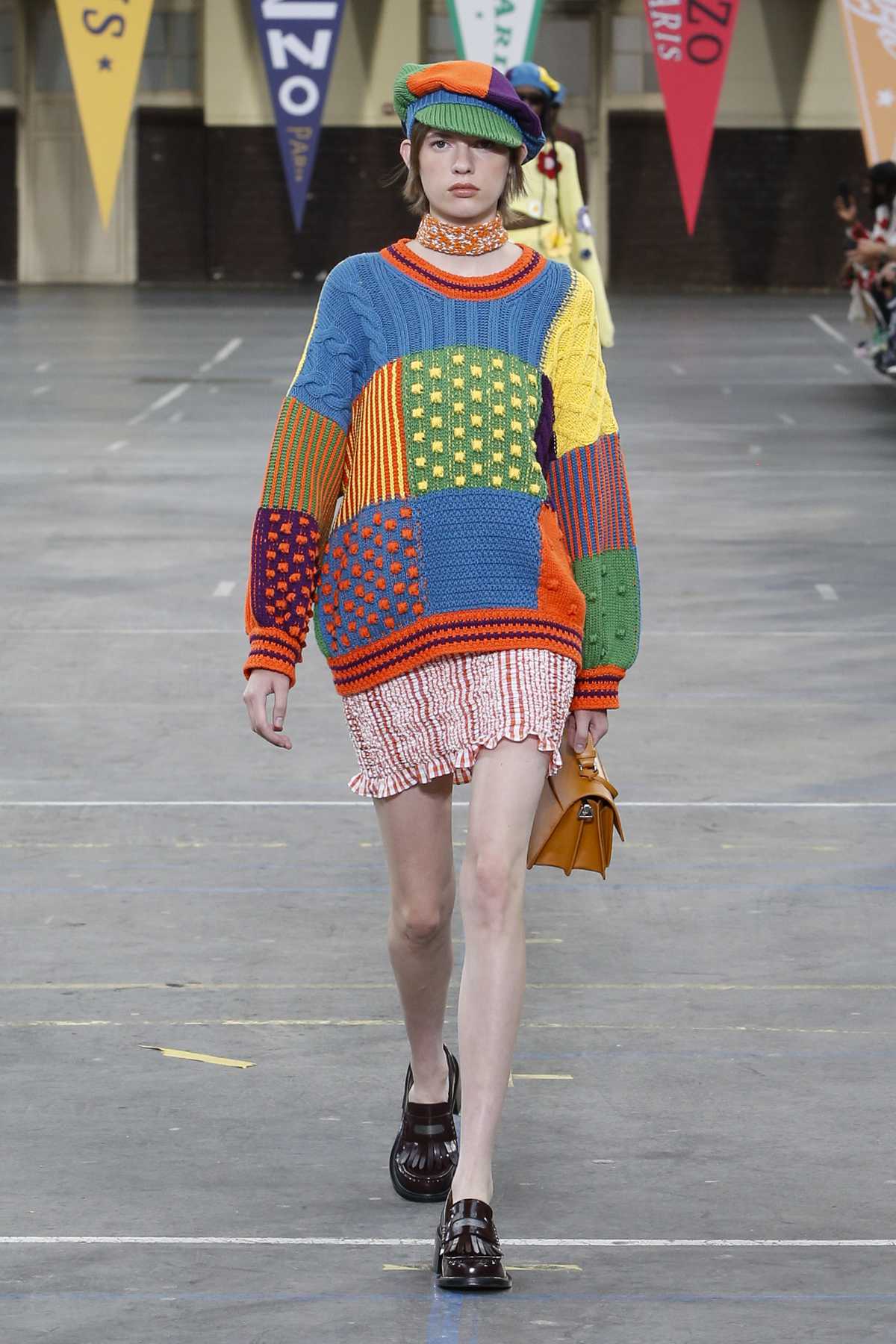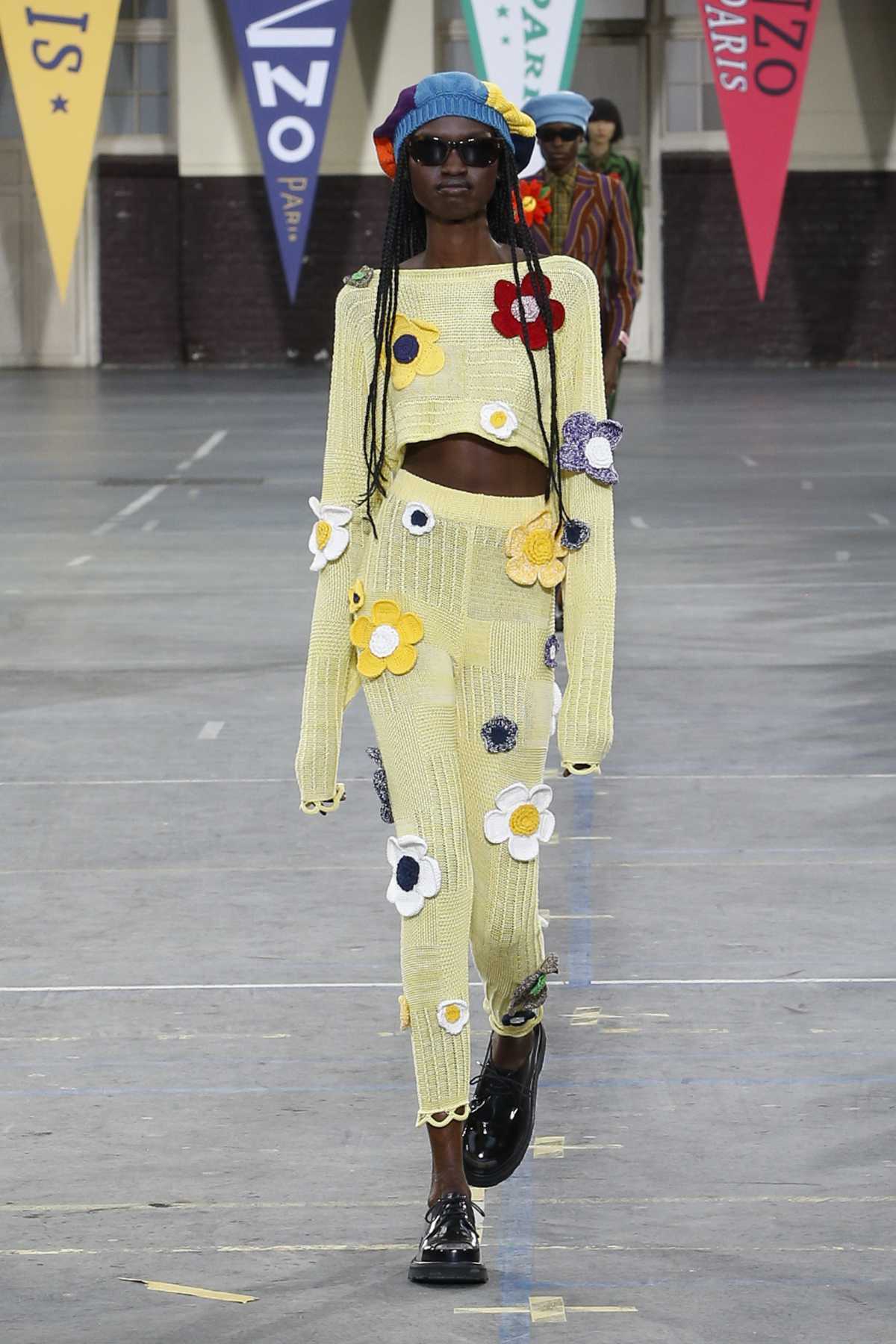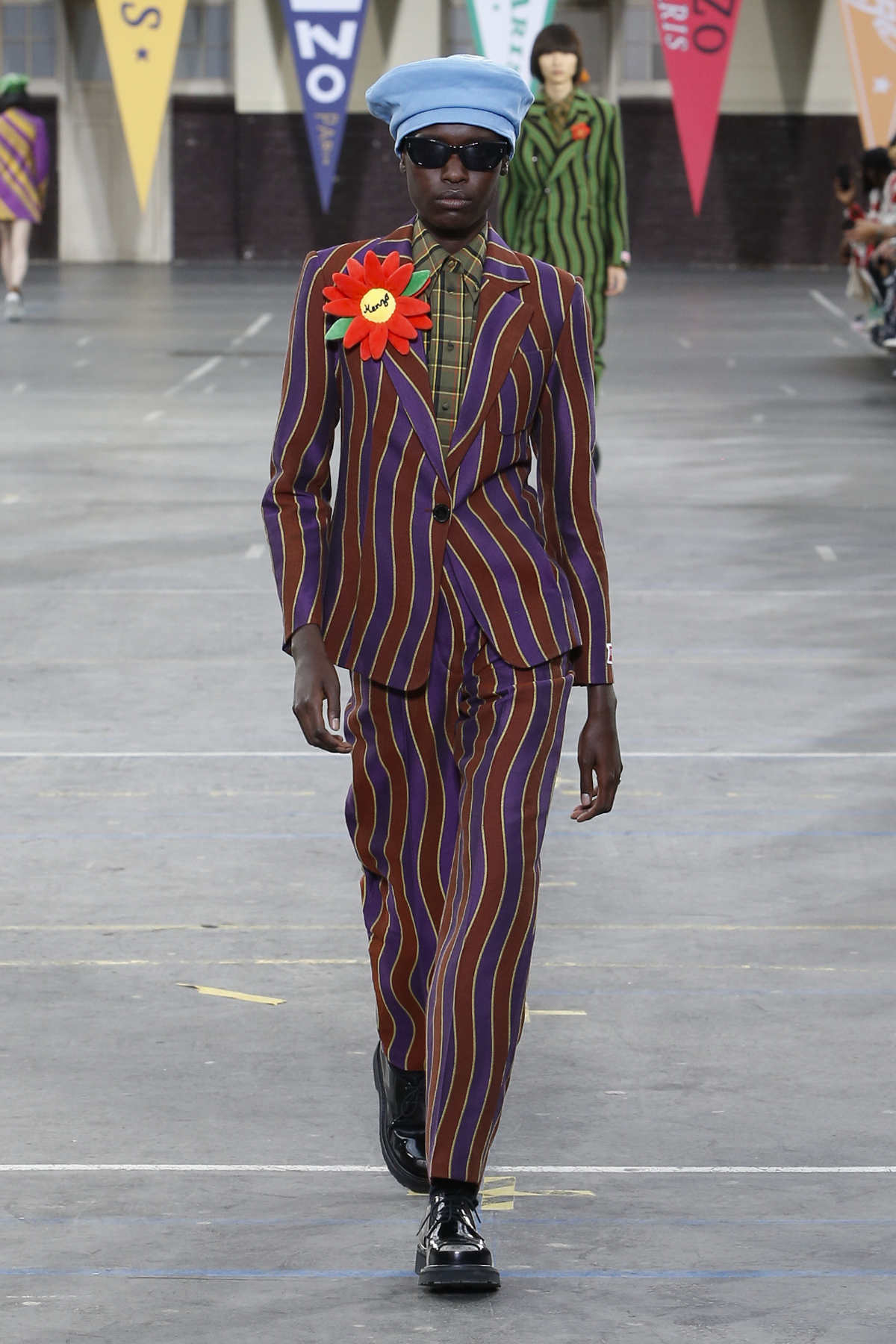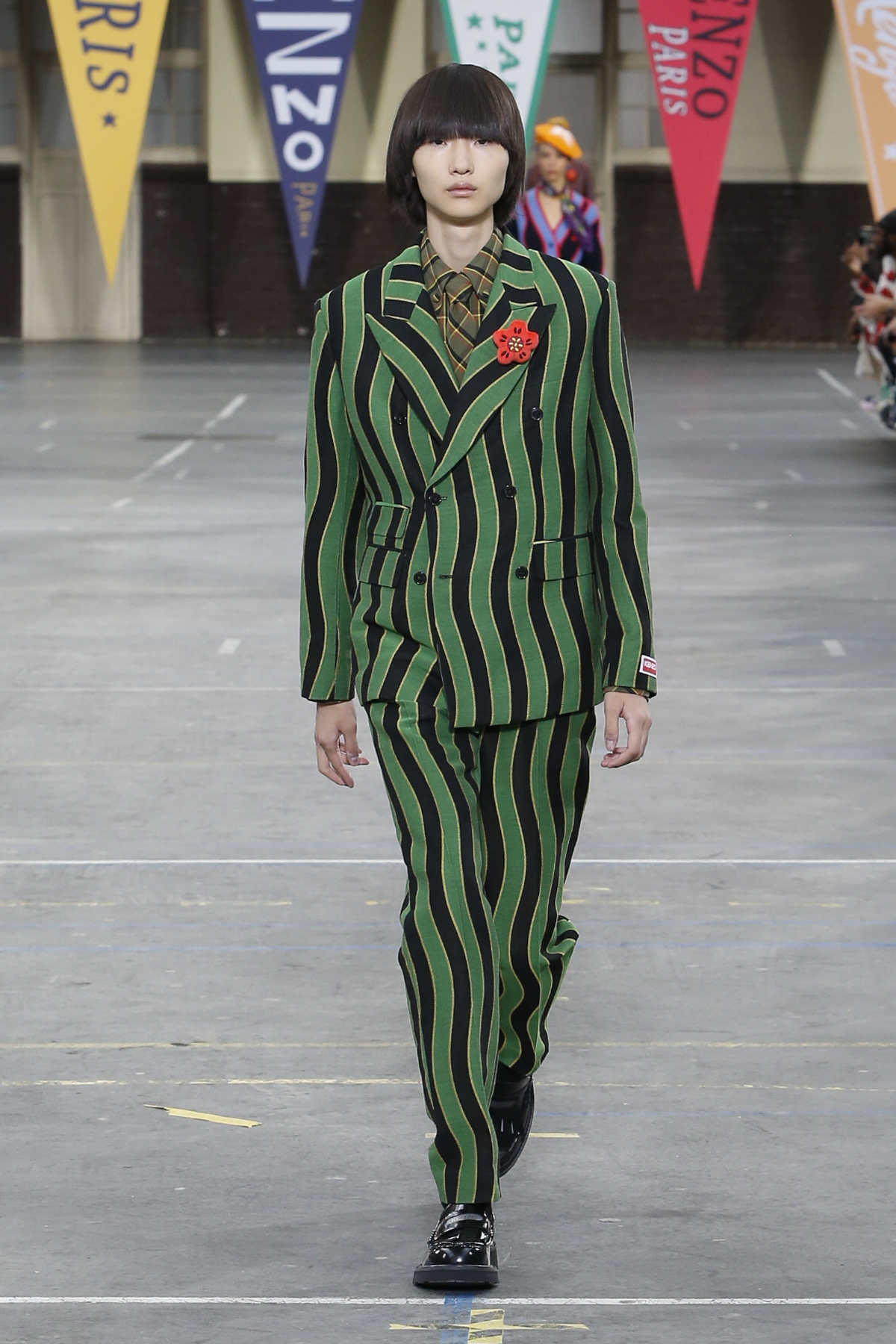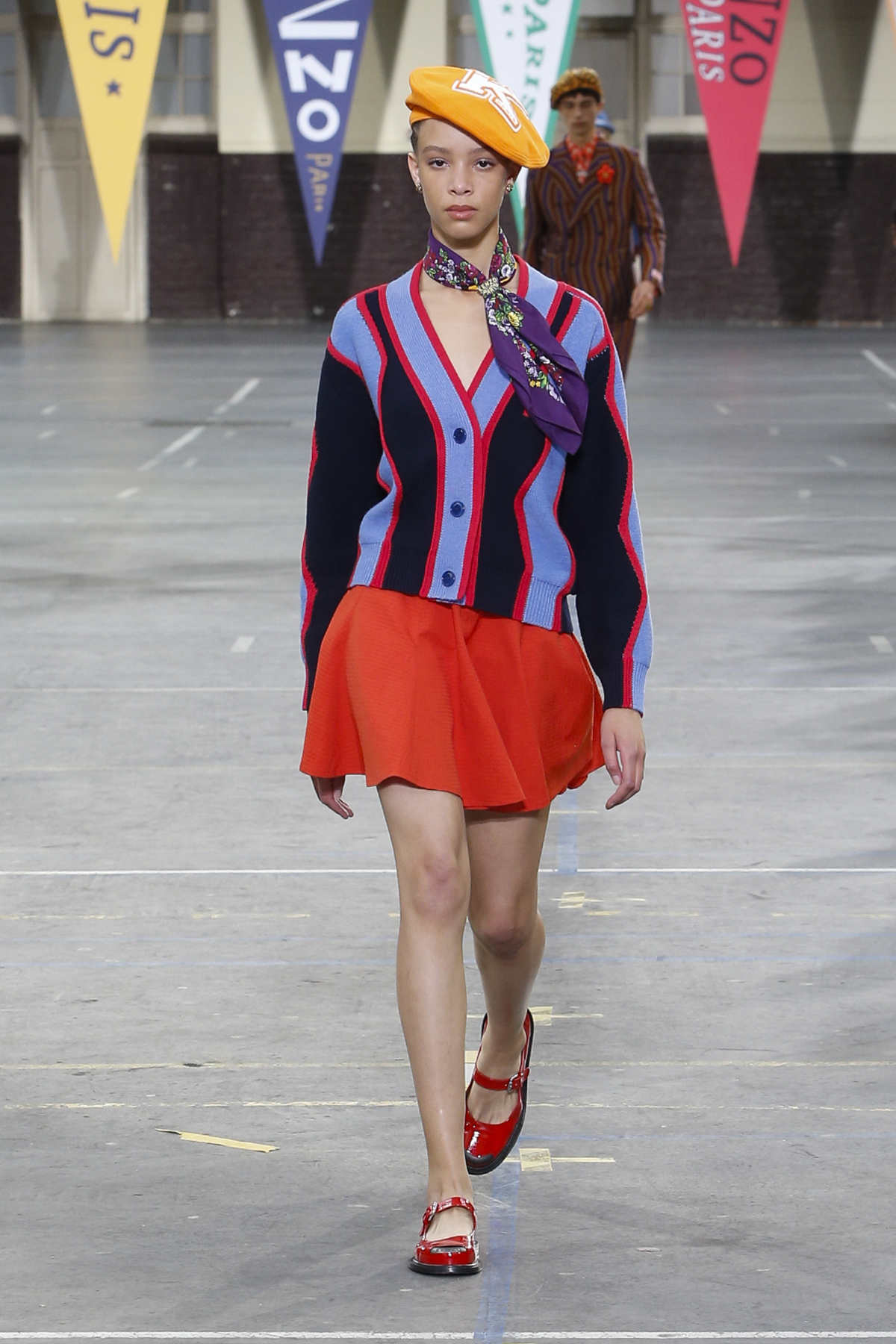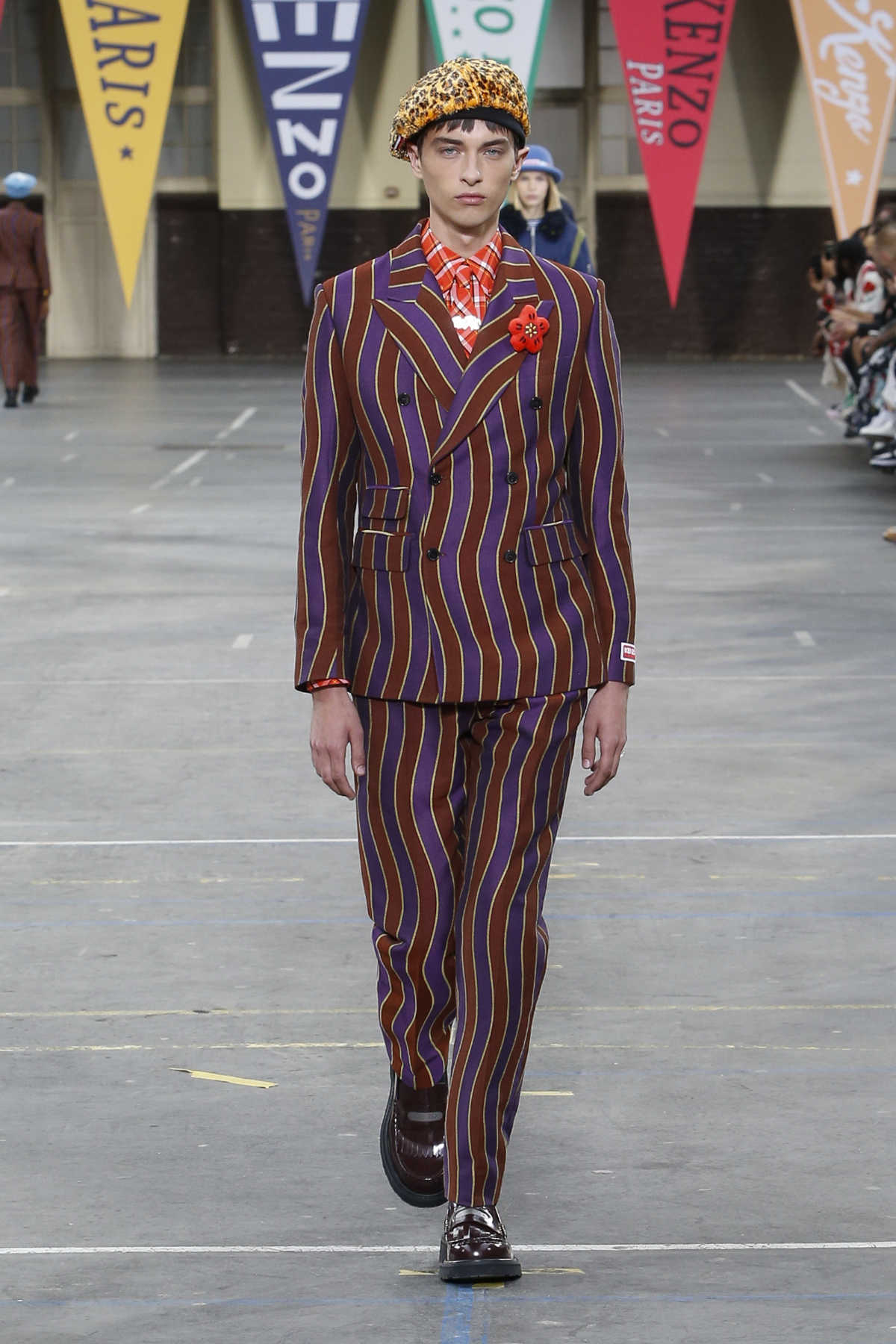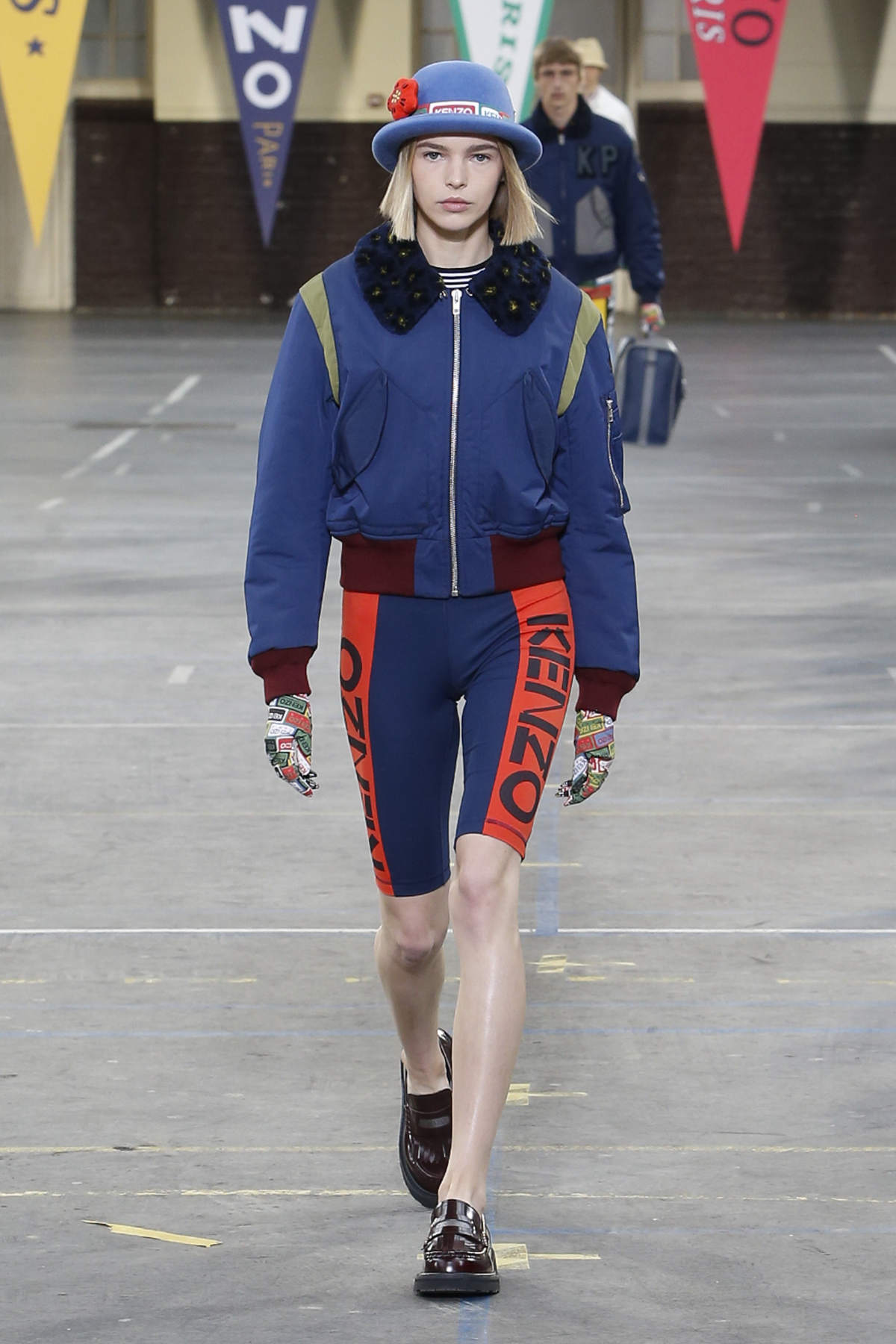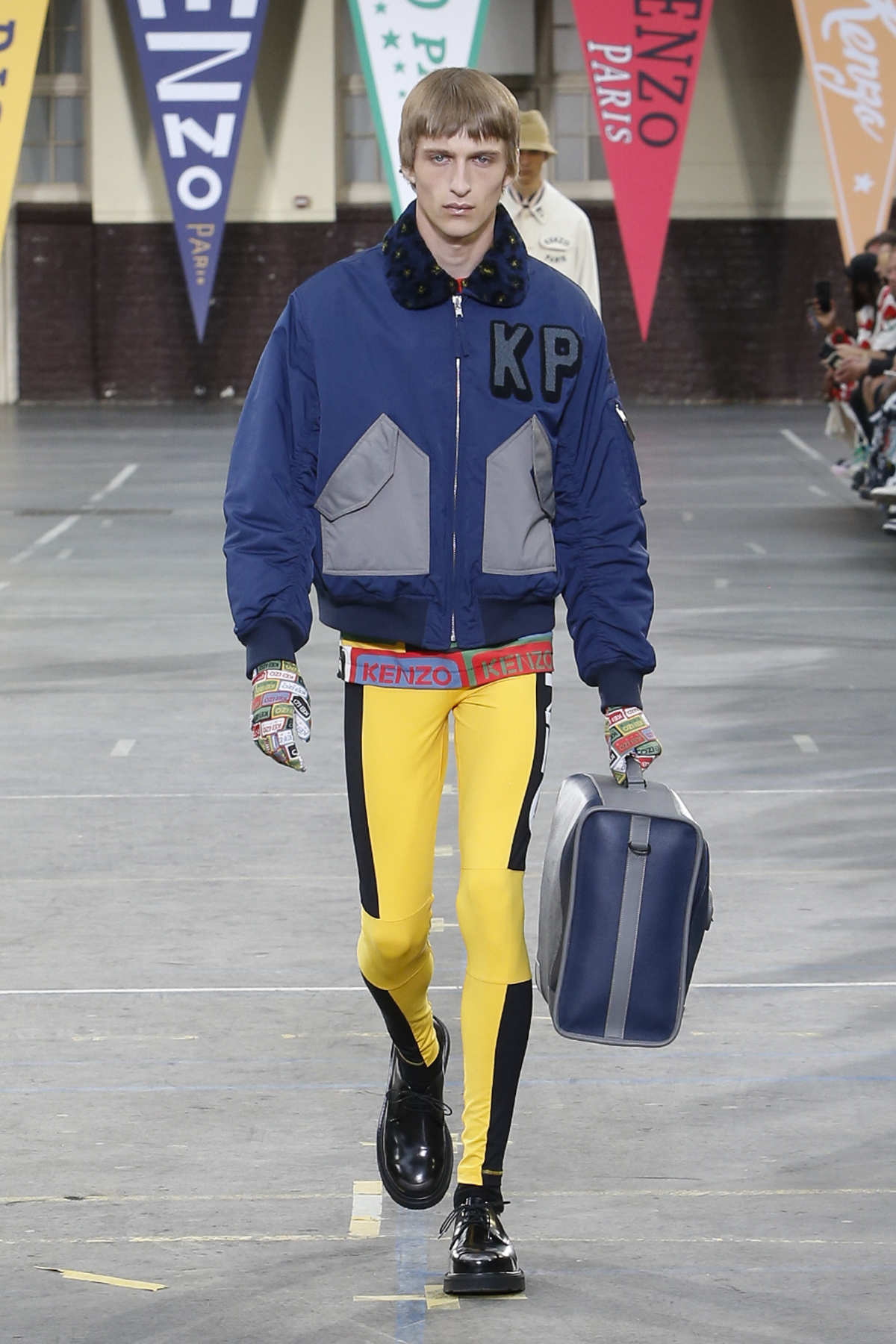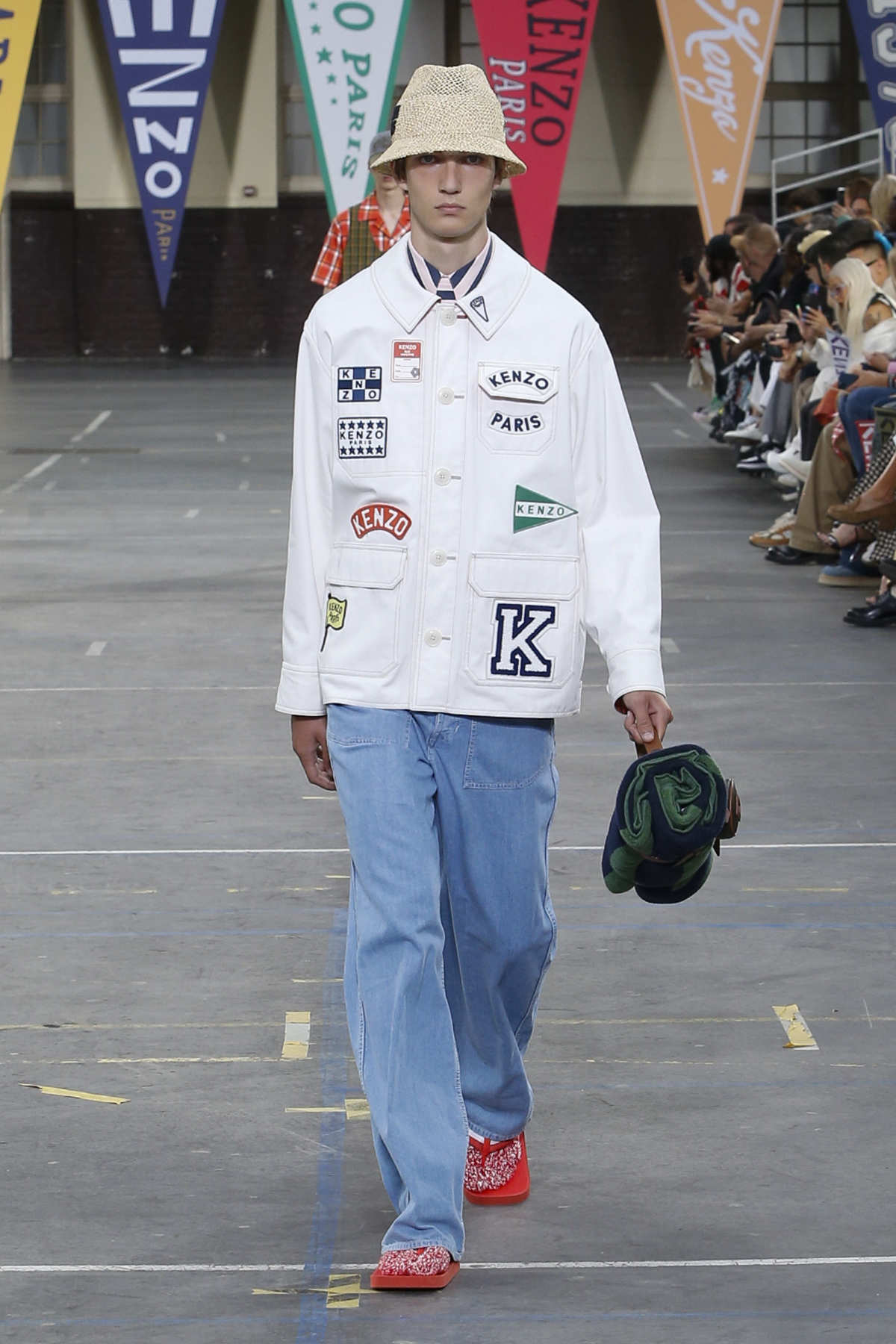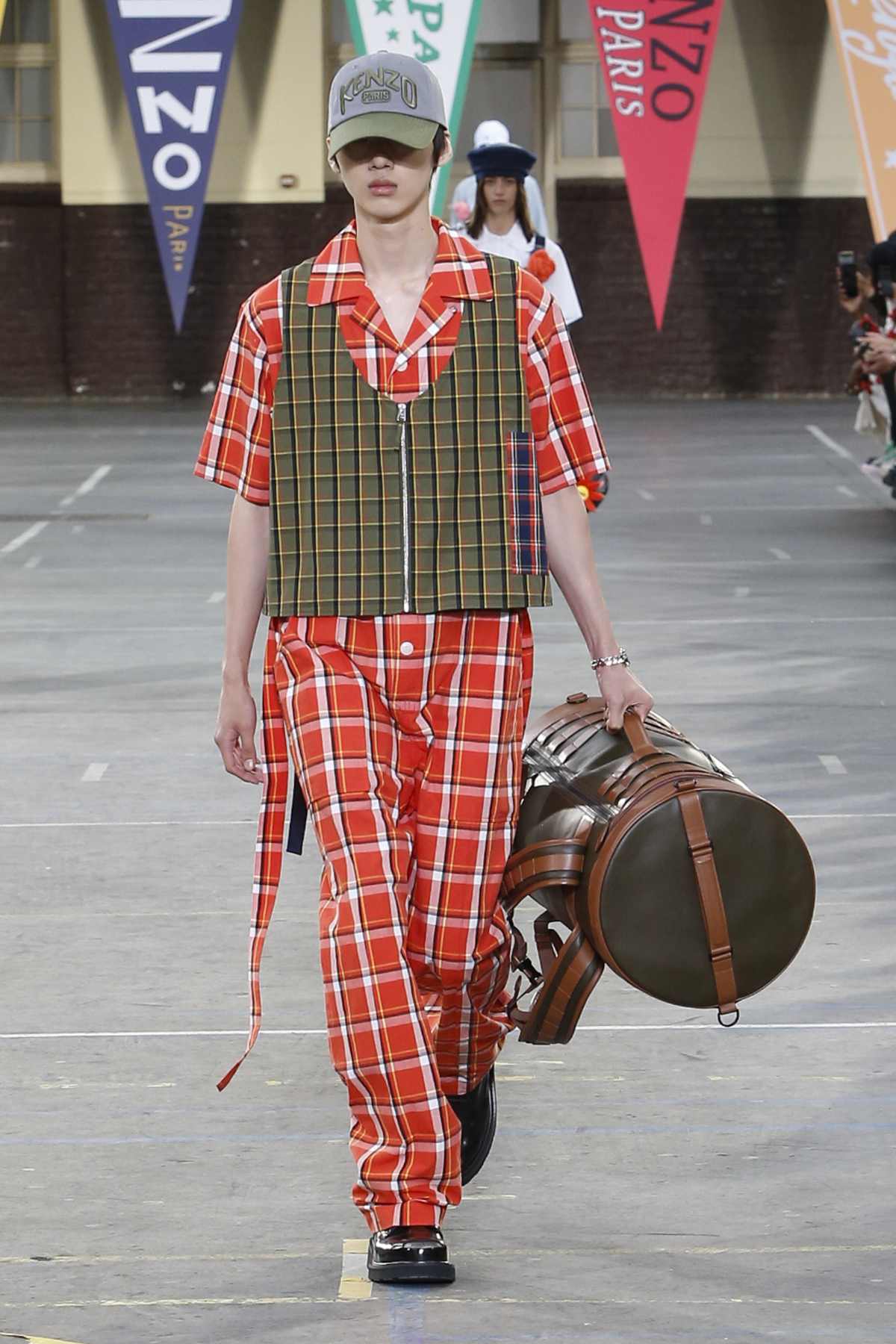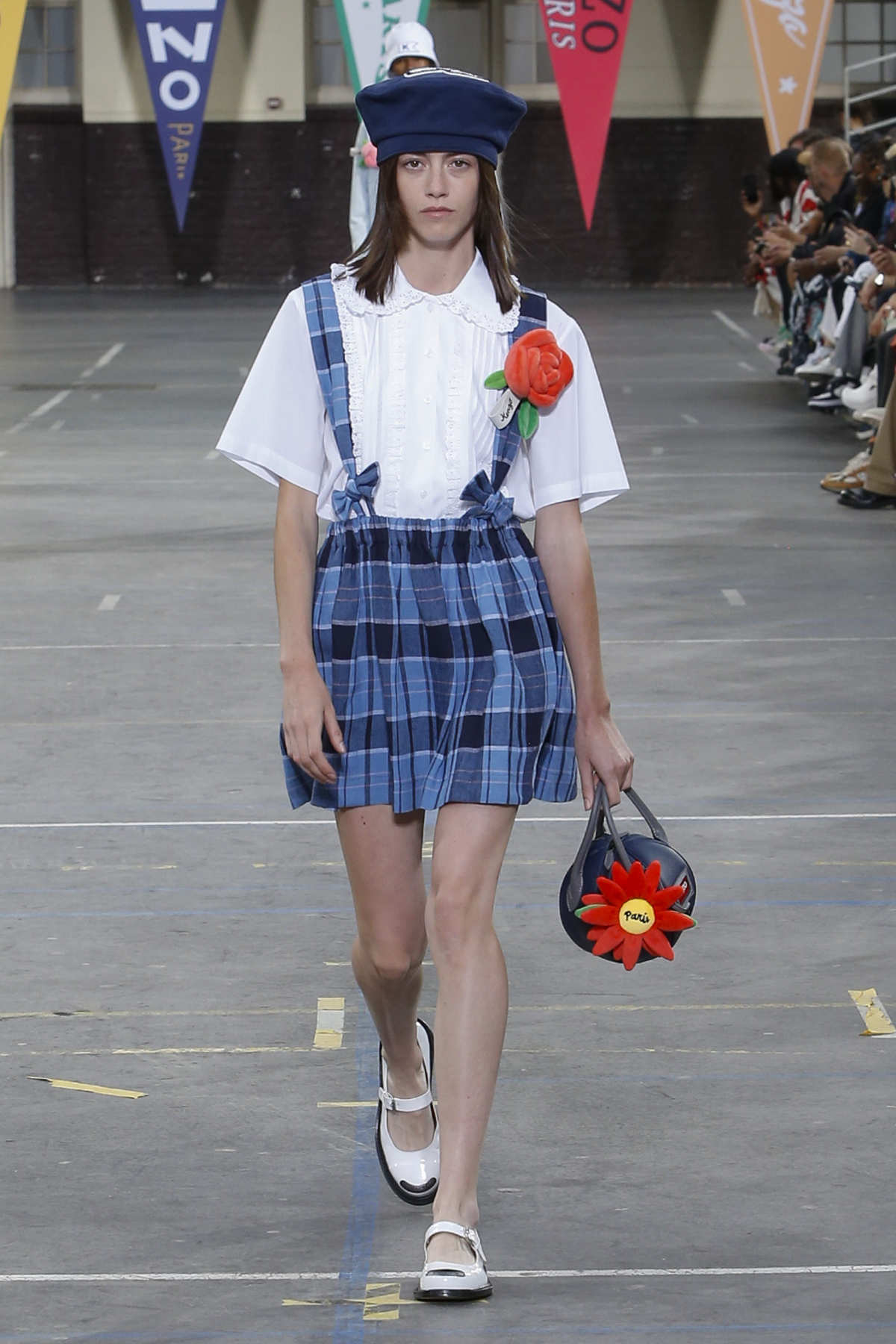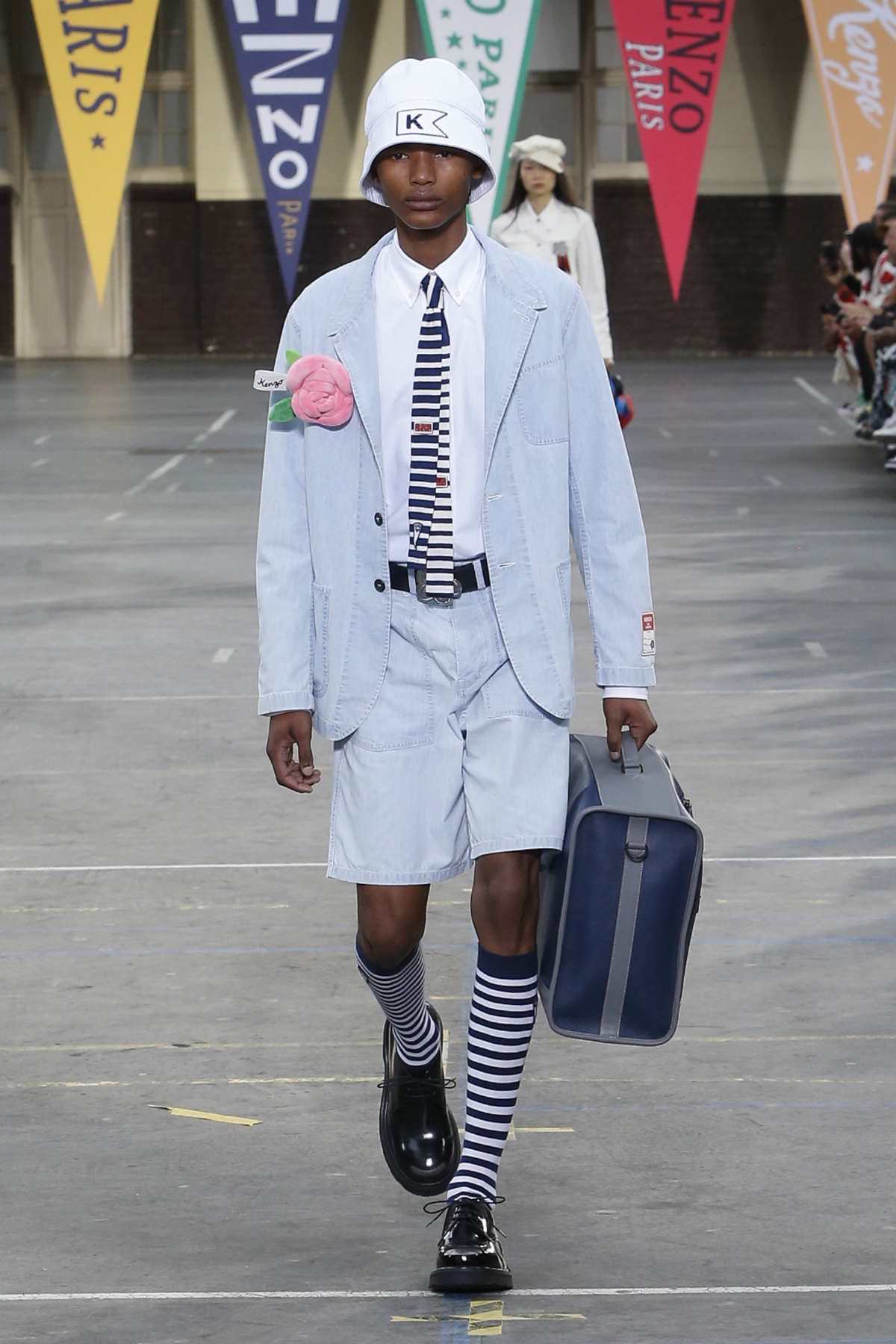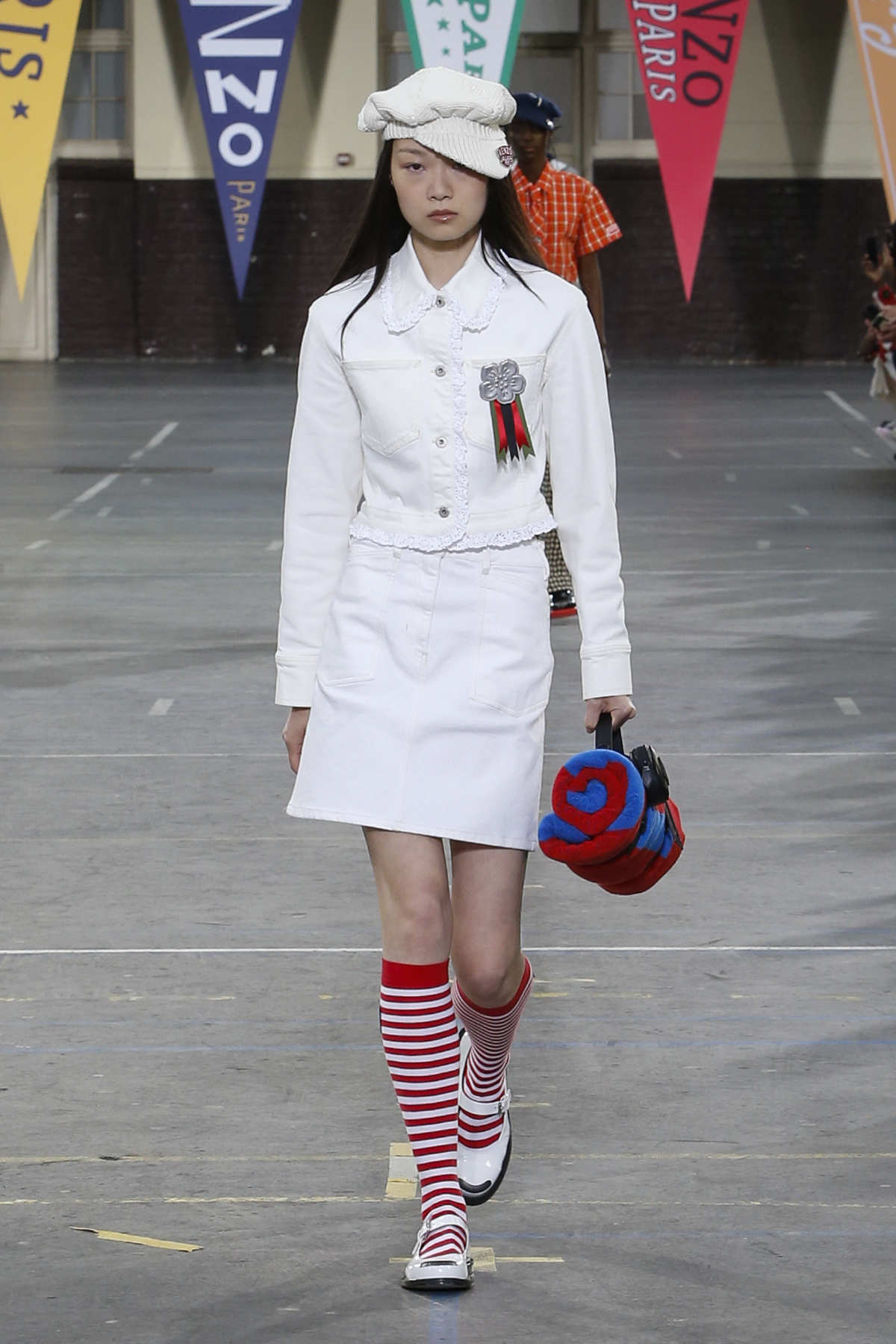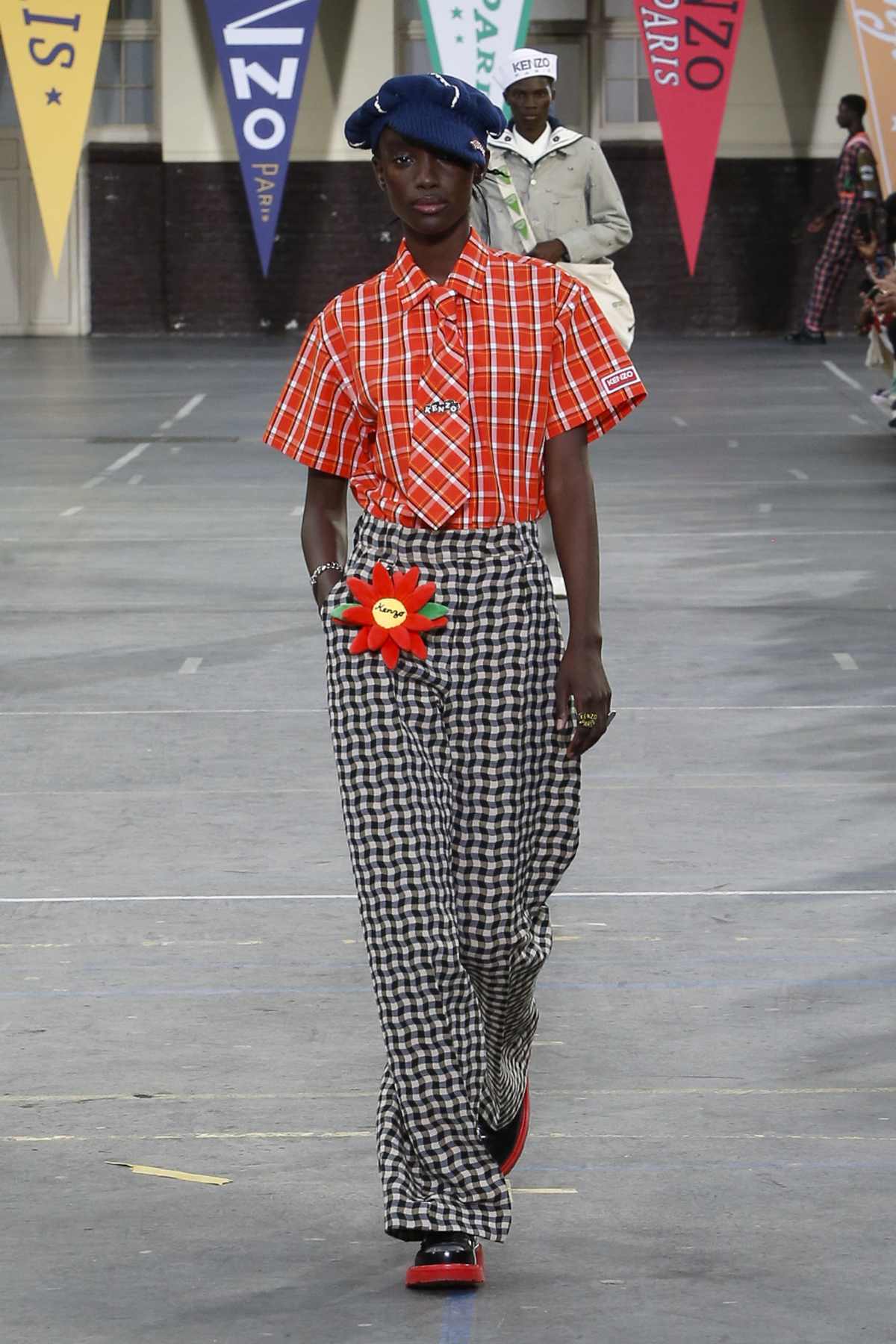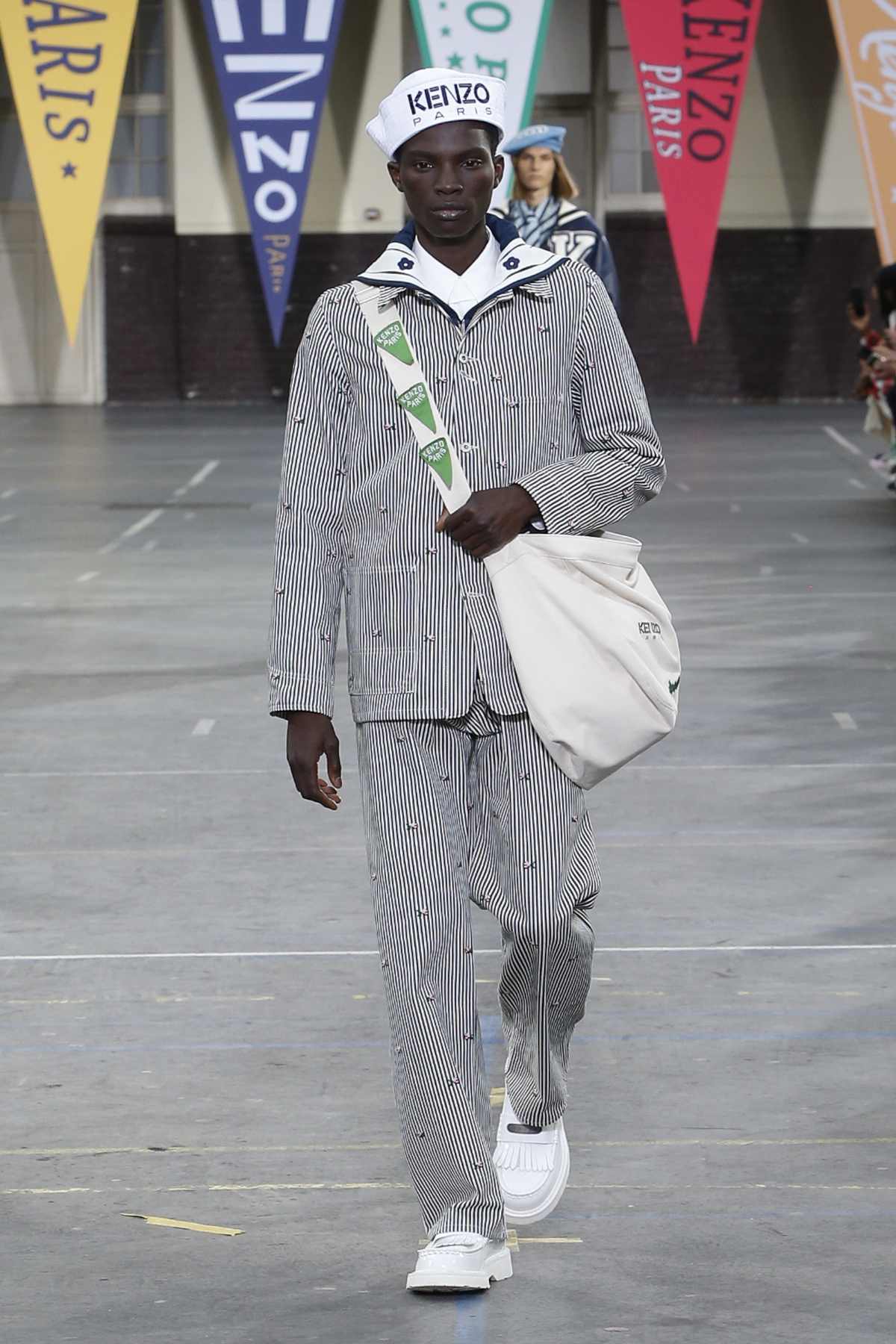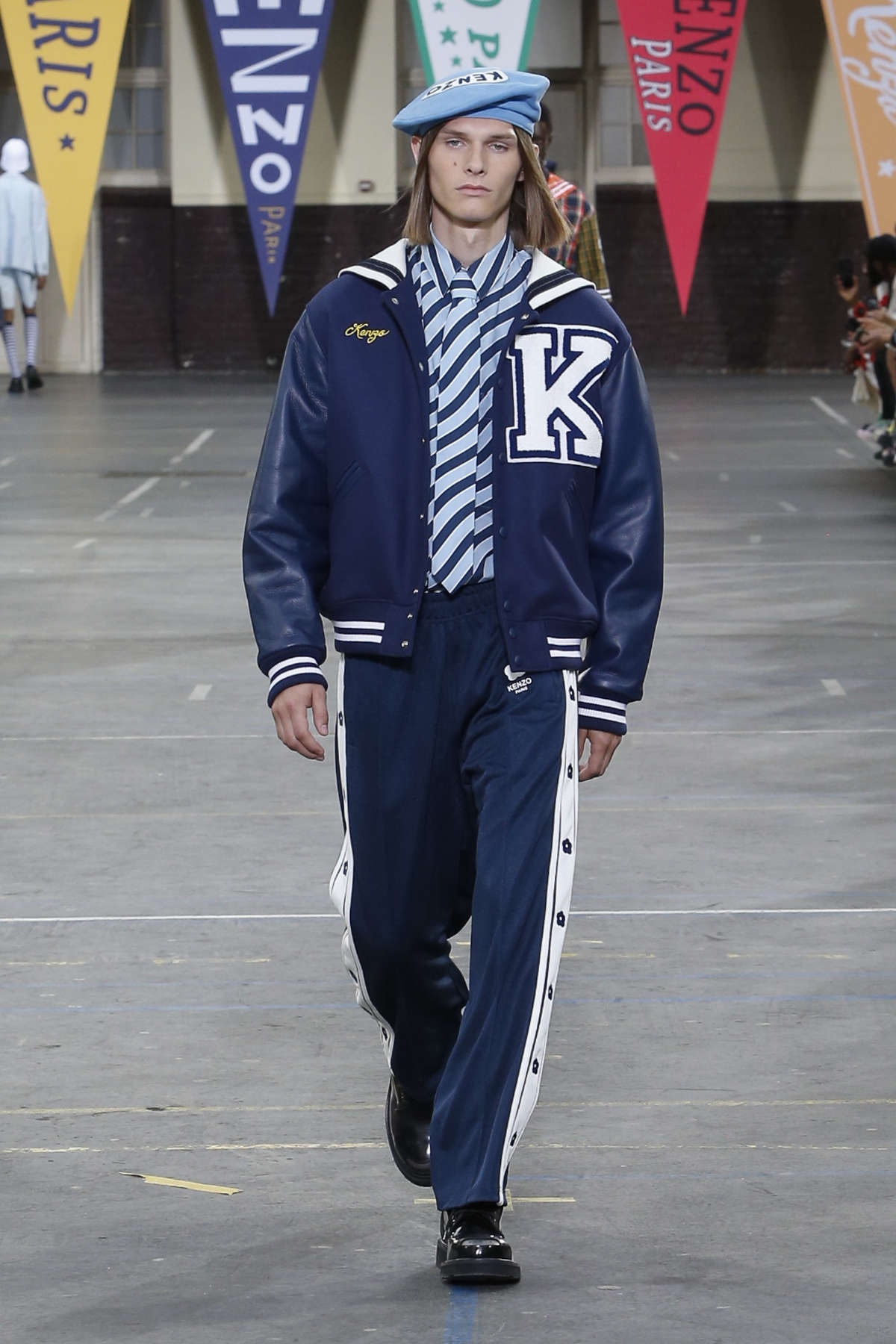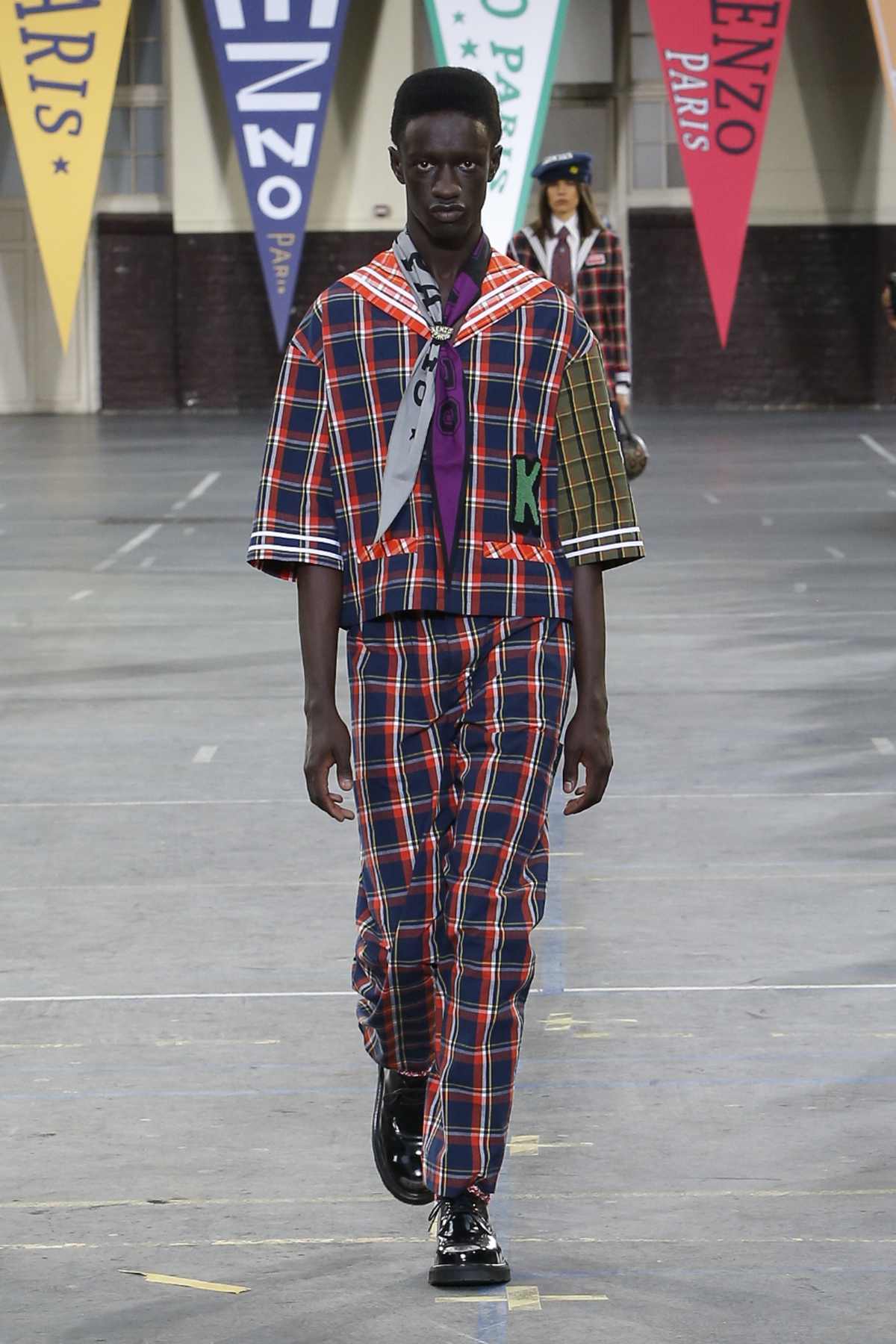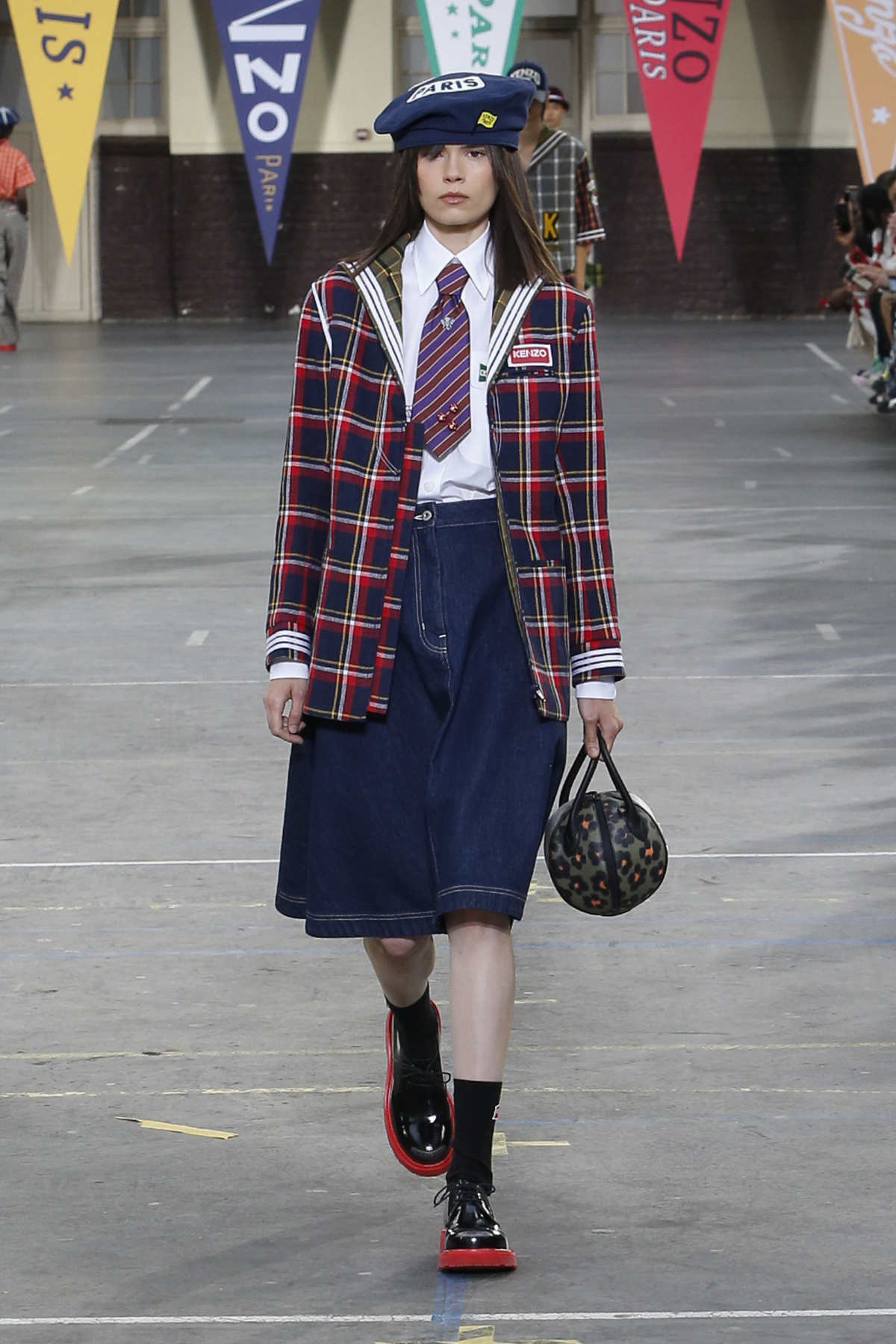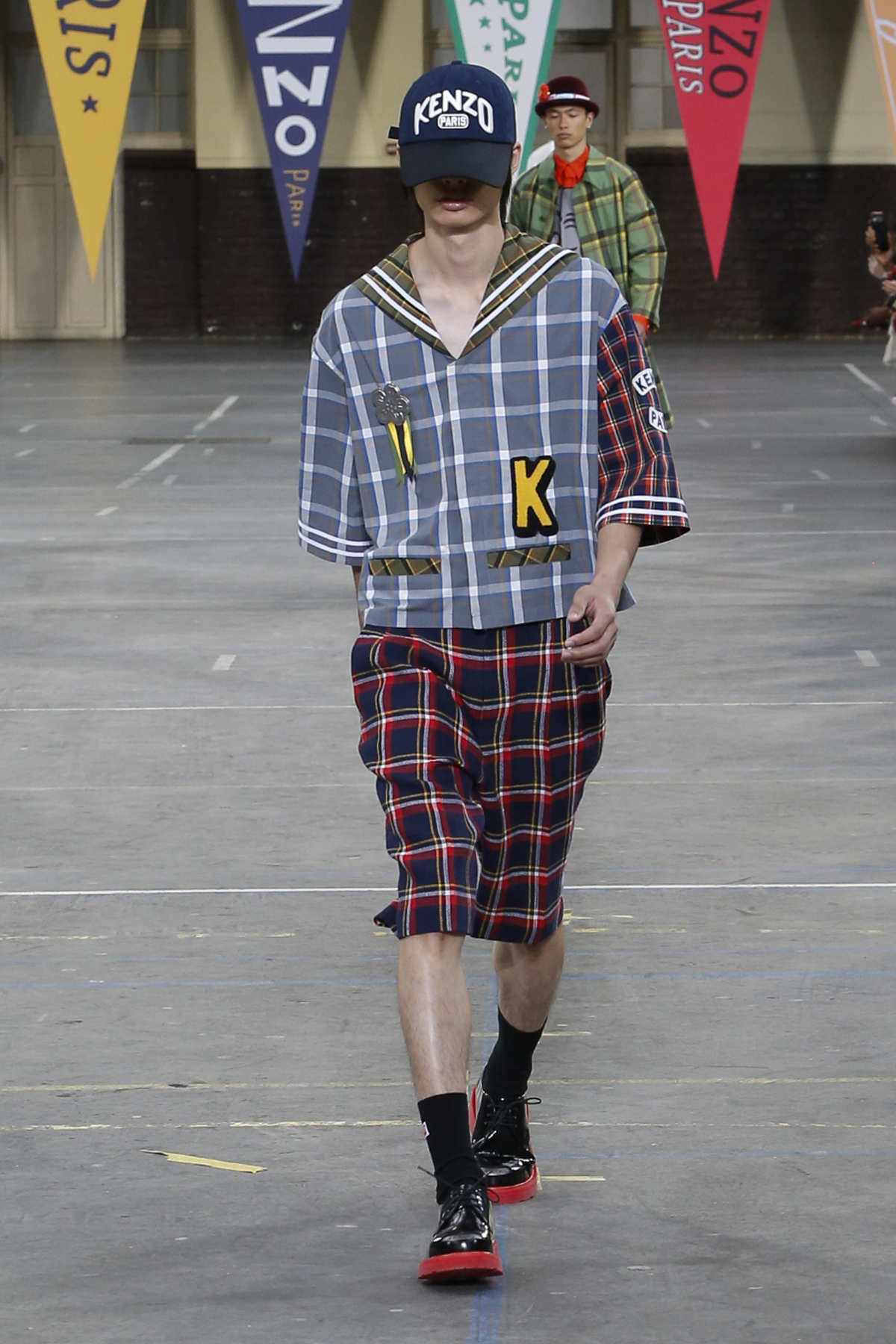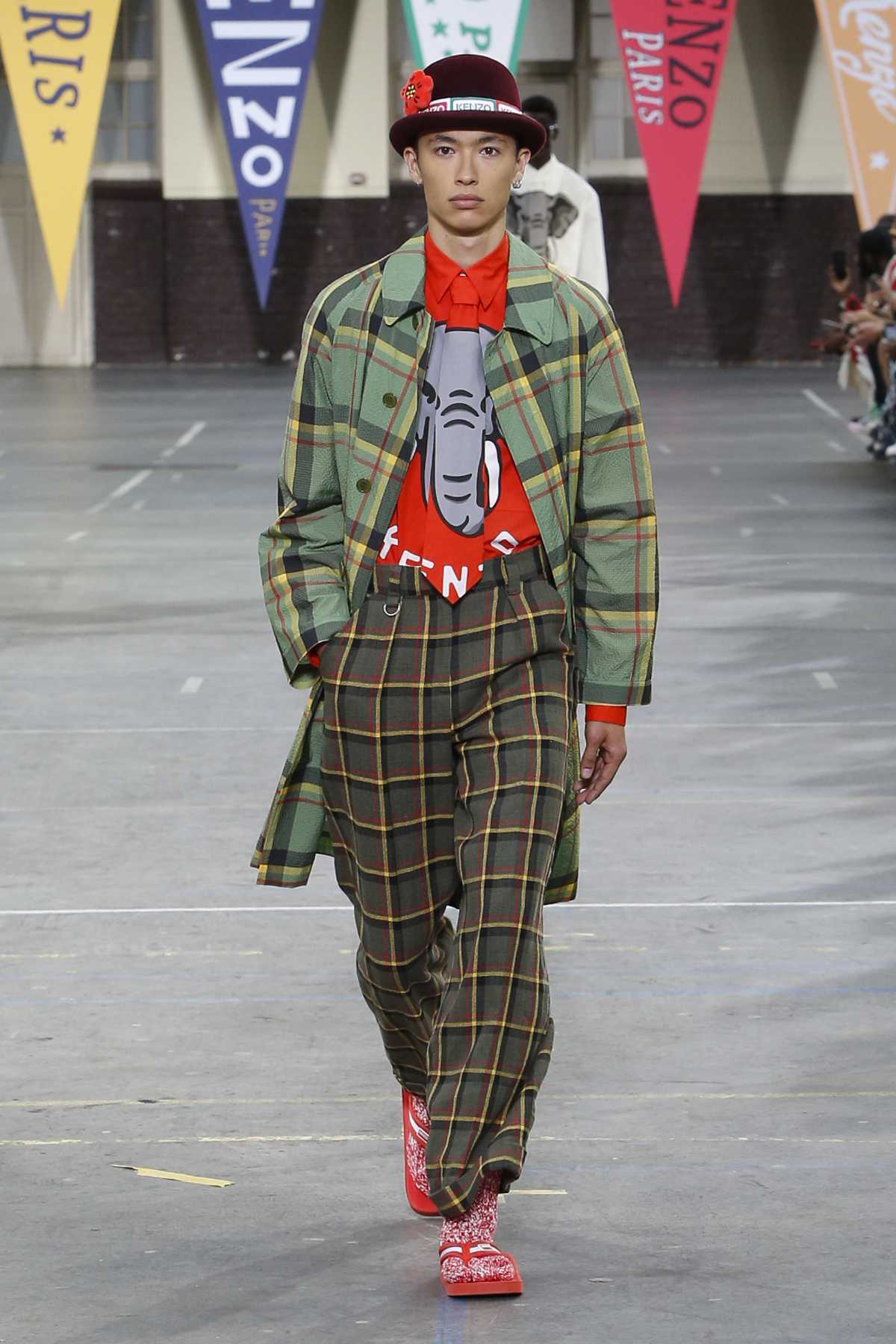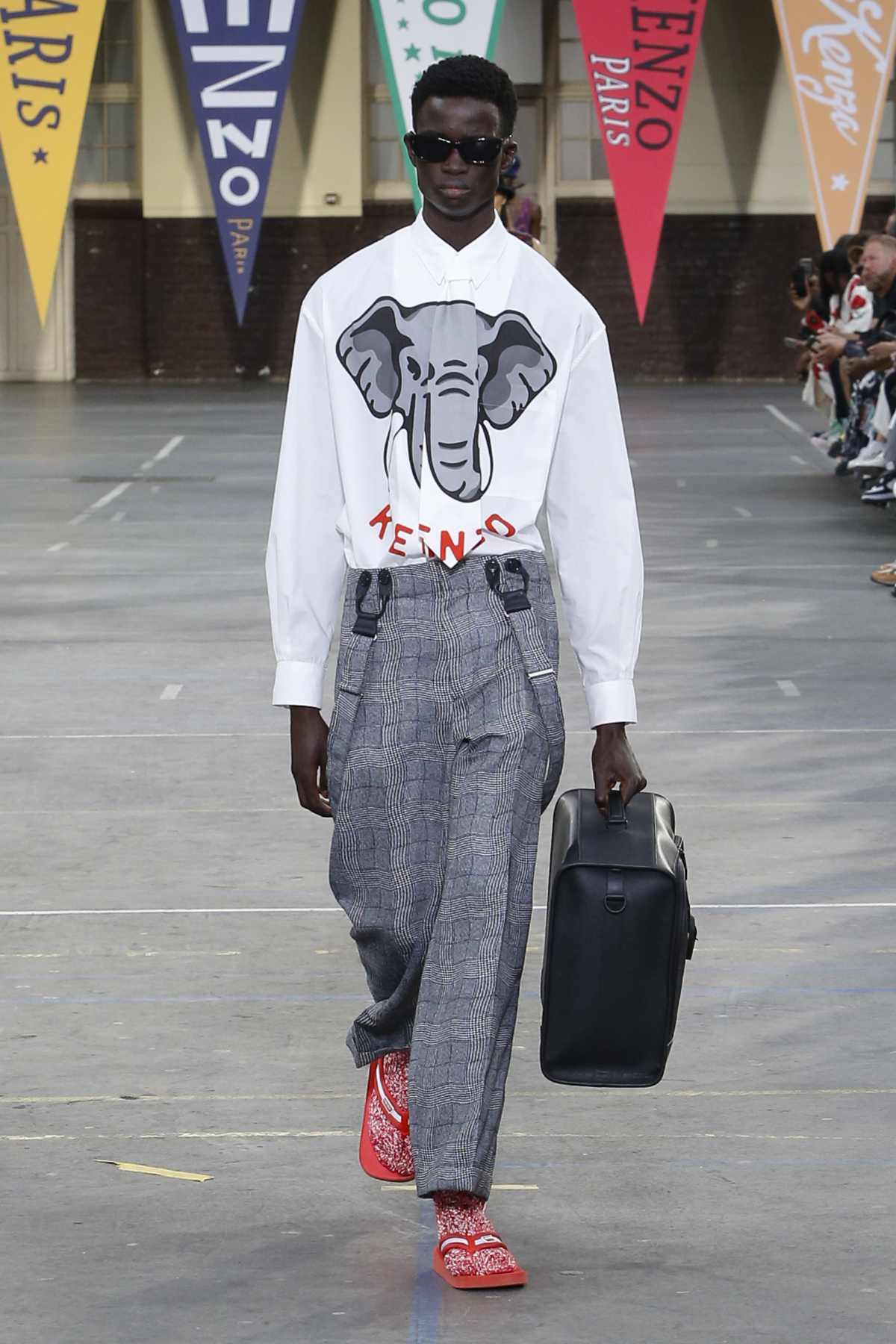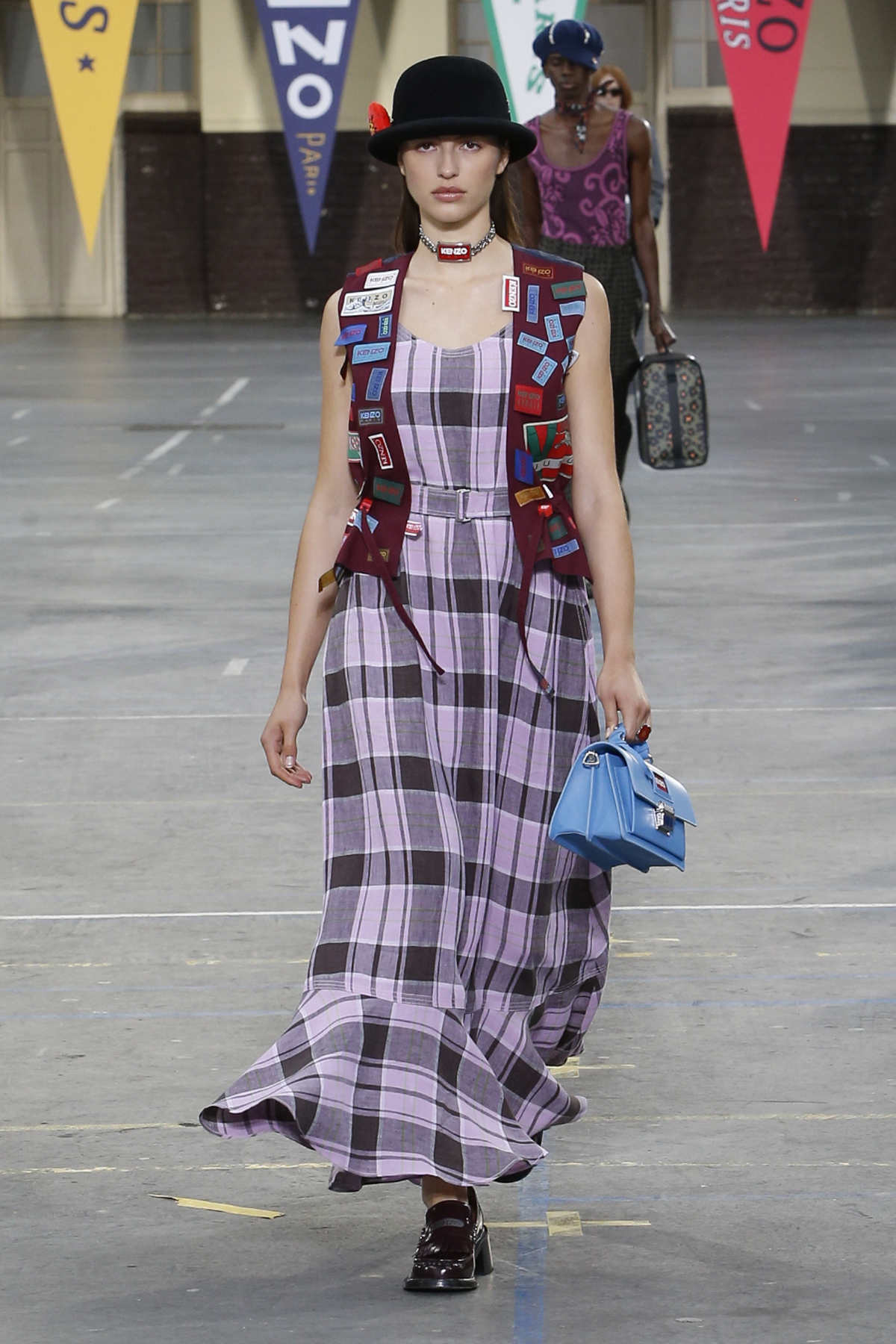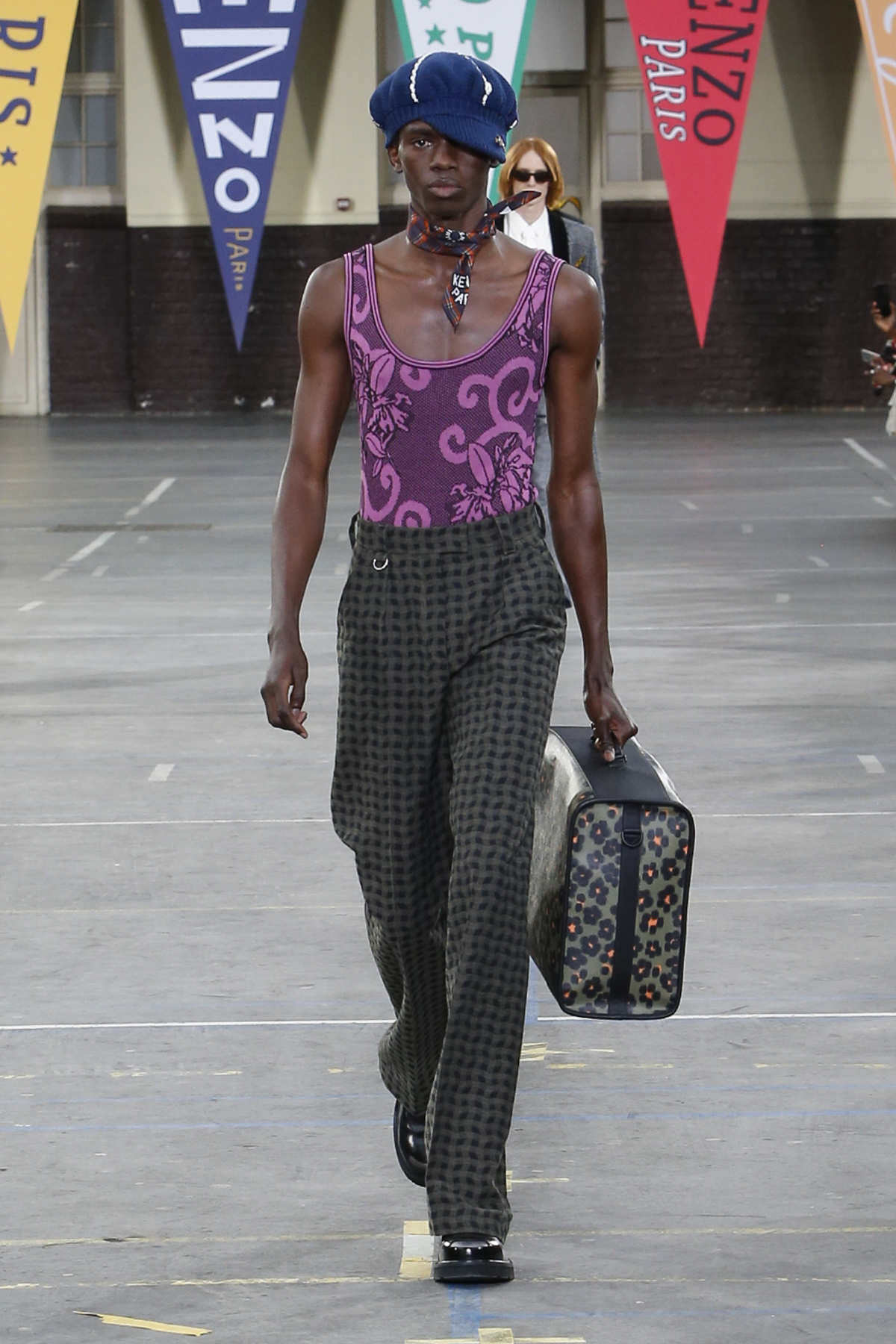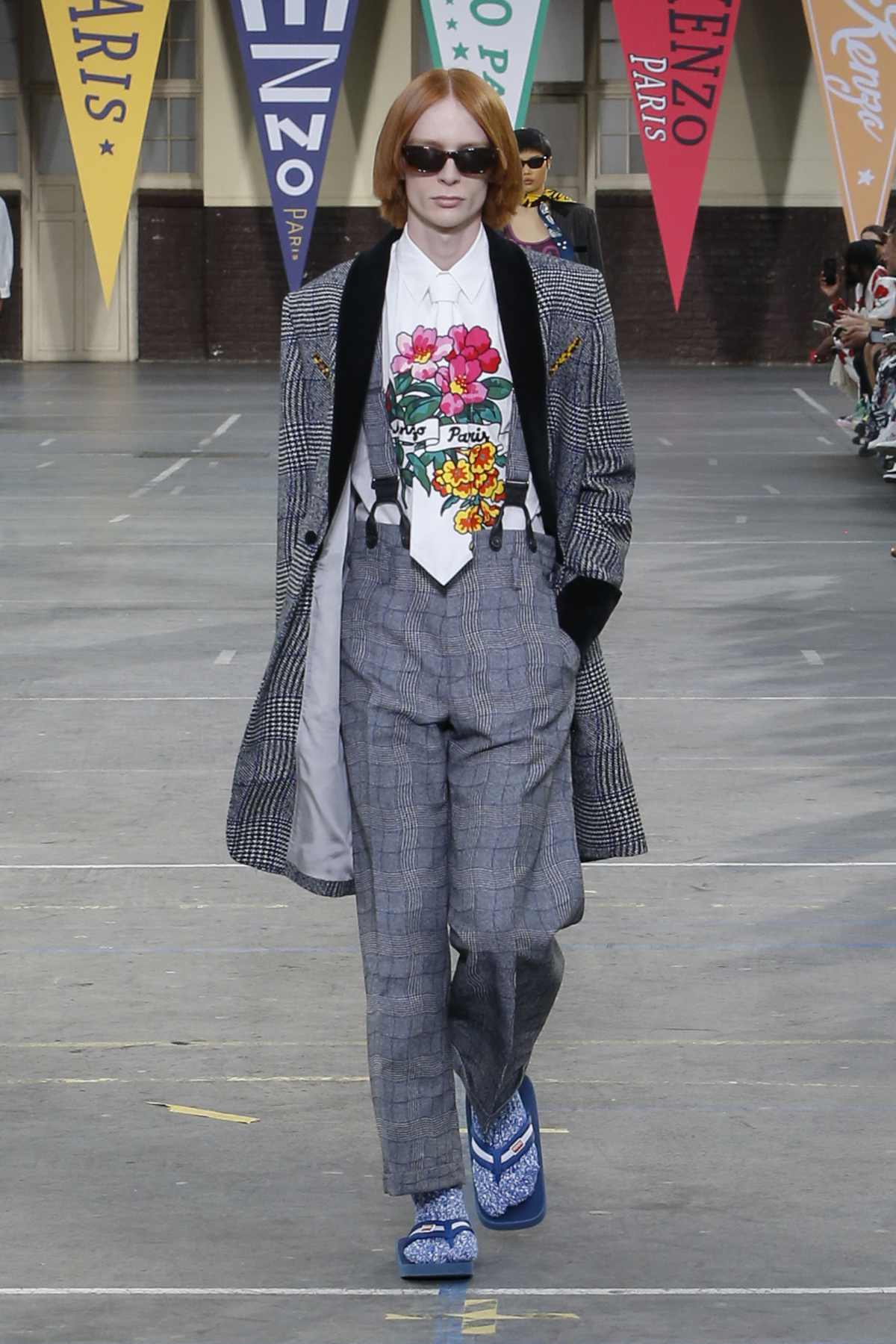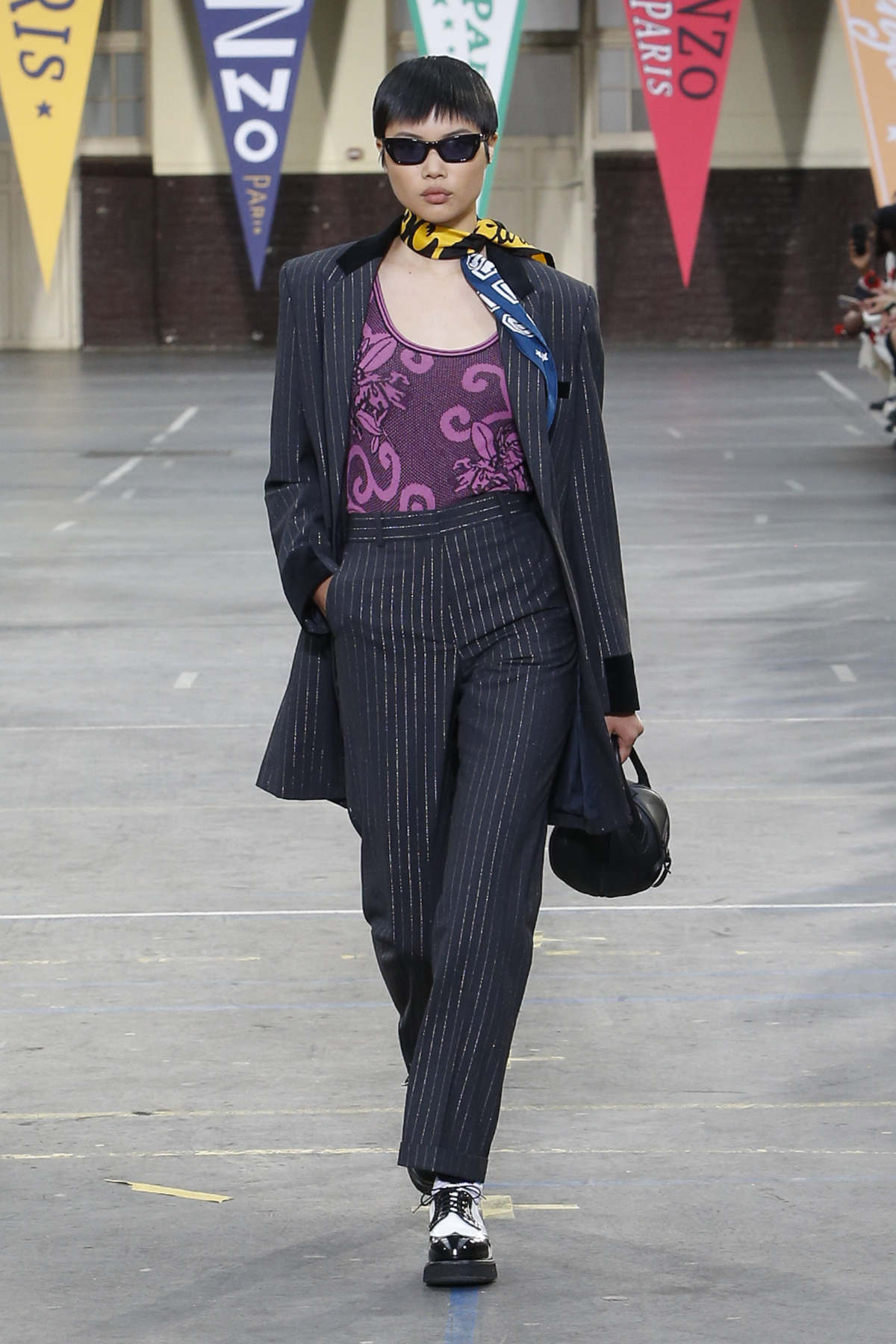 Credits:
Production by Back of the House
Show mix directed by Nigo, with a selection of tunes capturing the era when Nigo discovered Kenzo
Finale song produced by Axl
Content production by Kitten
Styling by Marq Rise
Casting by Samuel Ellis Scheinman for DM CASTING
Make up by Lucy Bridge and the Make Up For Ever team
Hair by Anthony Turner using Bumble & Bumble
Nails by Ama Quashie using Dr Barbara Sturm
---