---
Hublot's Square Bang Unico: A New Watch-shape Takes Form At Watches & Wonders
Luxferity, 05.04.2022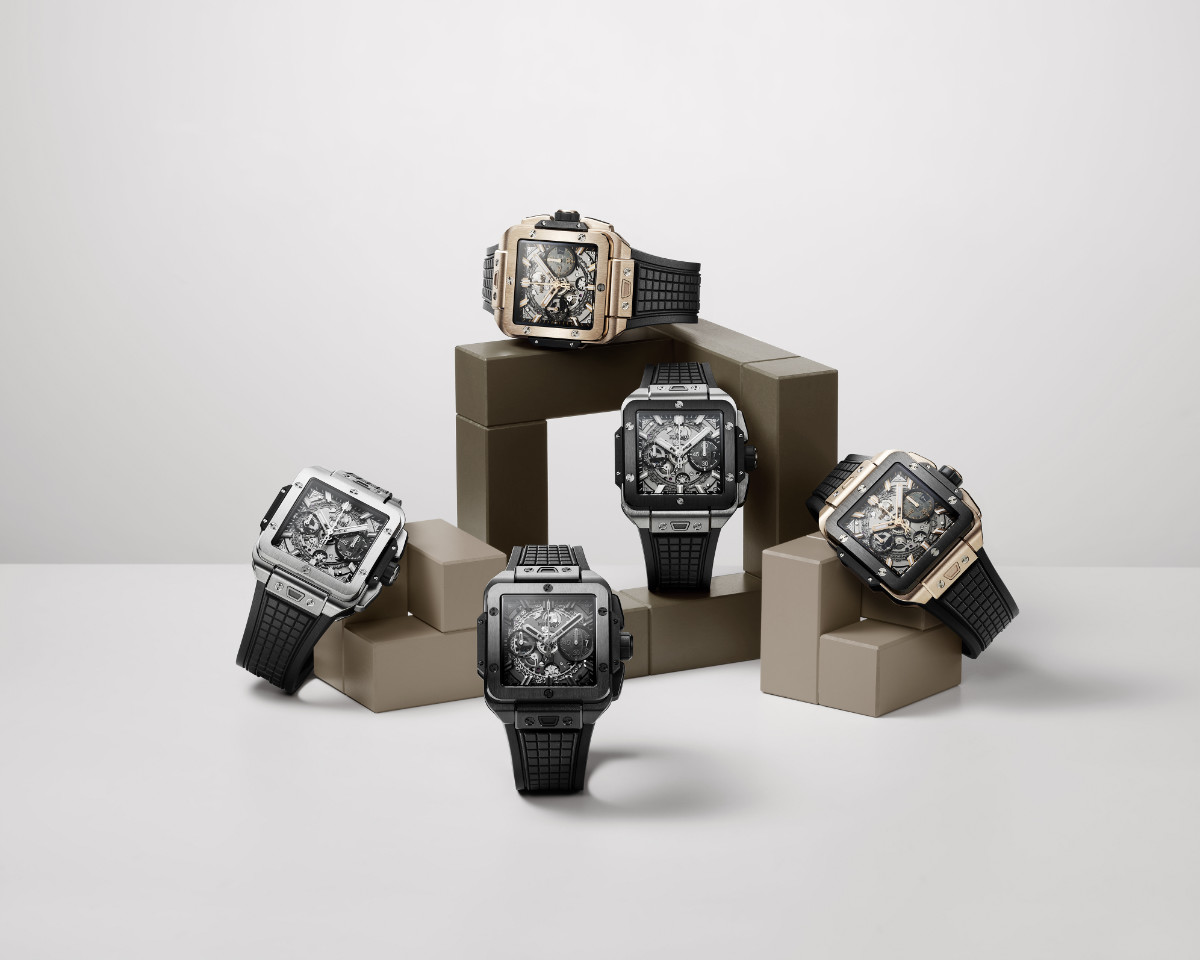 Hublot unveiled its own interpretation of the square watch, a totally new geometry for the watchmaker. Inspired by the Maison's iconic Big Bang, this Square Bang Unico adds a new pillar, 'The Shaped Collection' to sit alongside the Spirit of Big Bang.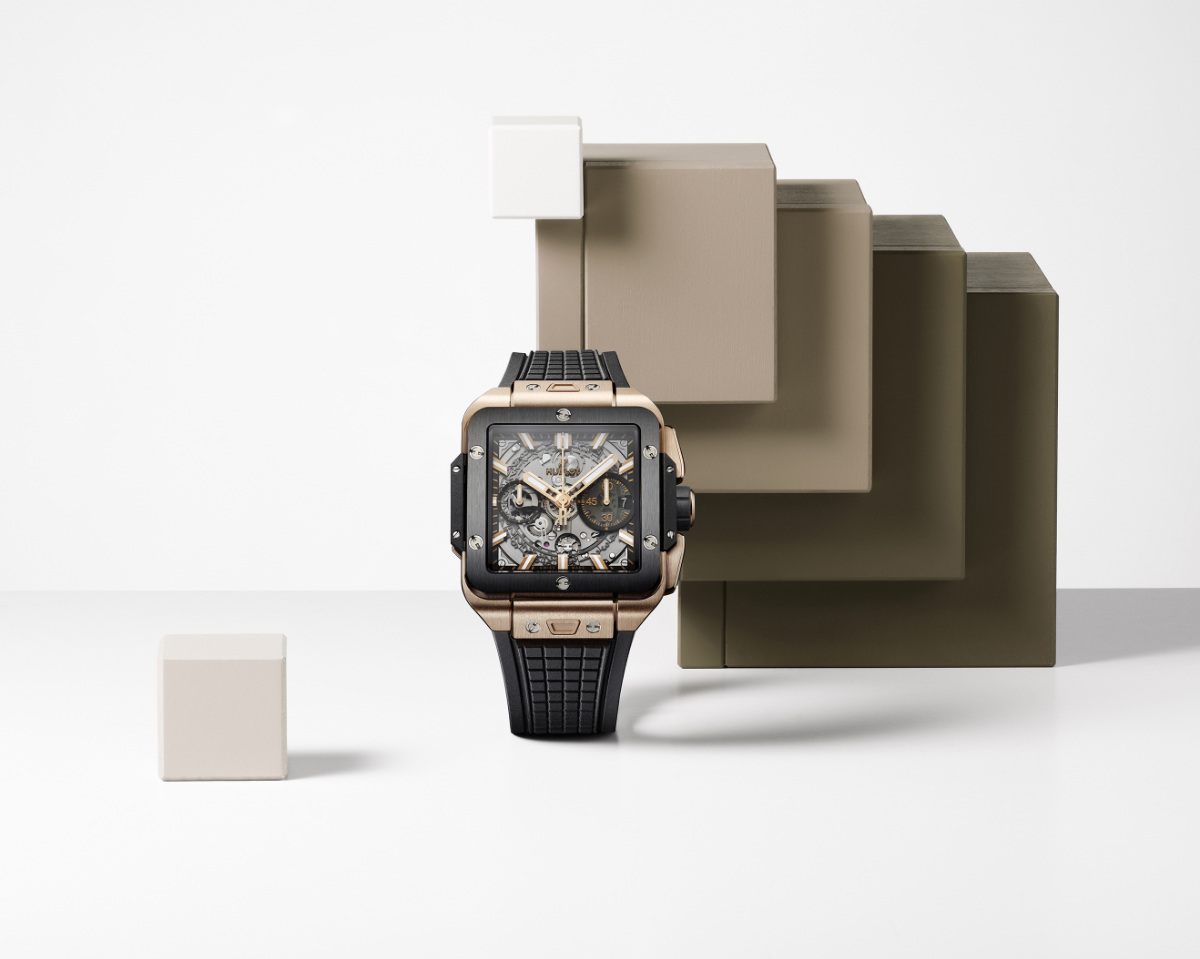 "The square watch is a very specific object that most watchmakers dare not tackle. This is a divisive, disruptive, and unconventional shape that no one has known how to rework for decades: it was just waiting for us! Hublot decided to get to grips with the shape in order to explore its power and create a totally unique time piece. Like any Hublot, the Square Bang Unico has no equivalent!" RICARDO GUADALUPE, HUBLOT CEO.
Is there anything that has not been explored in watchmaking? This is the question that Hublot's R&D department asks itself every day. When you have created the most resistant materials, set up the craziest of partnerships and developed extraordinary complications, the answer is often very simply... In the shape. Hublot currently masters three: a round watch, a barrel-shaped watch, and the MPs, those 'Master Pieces' have that have broken free from all conventions.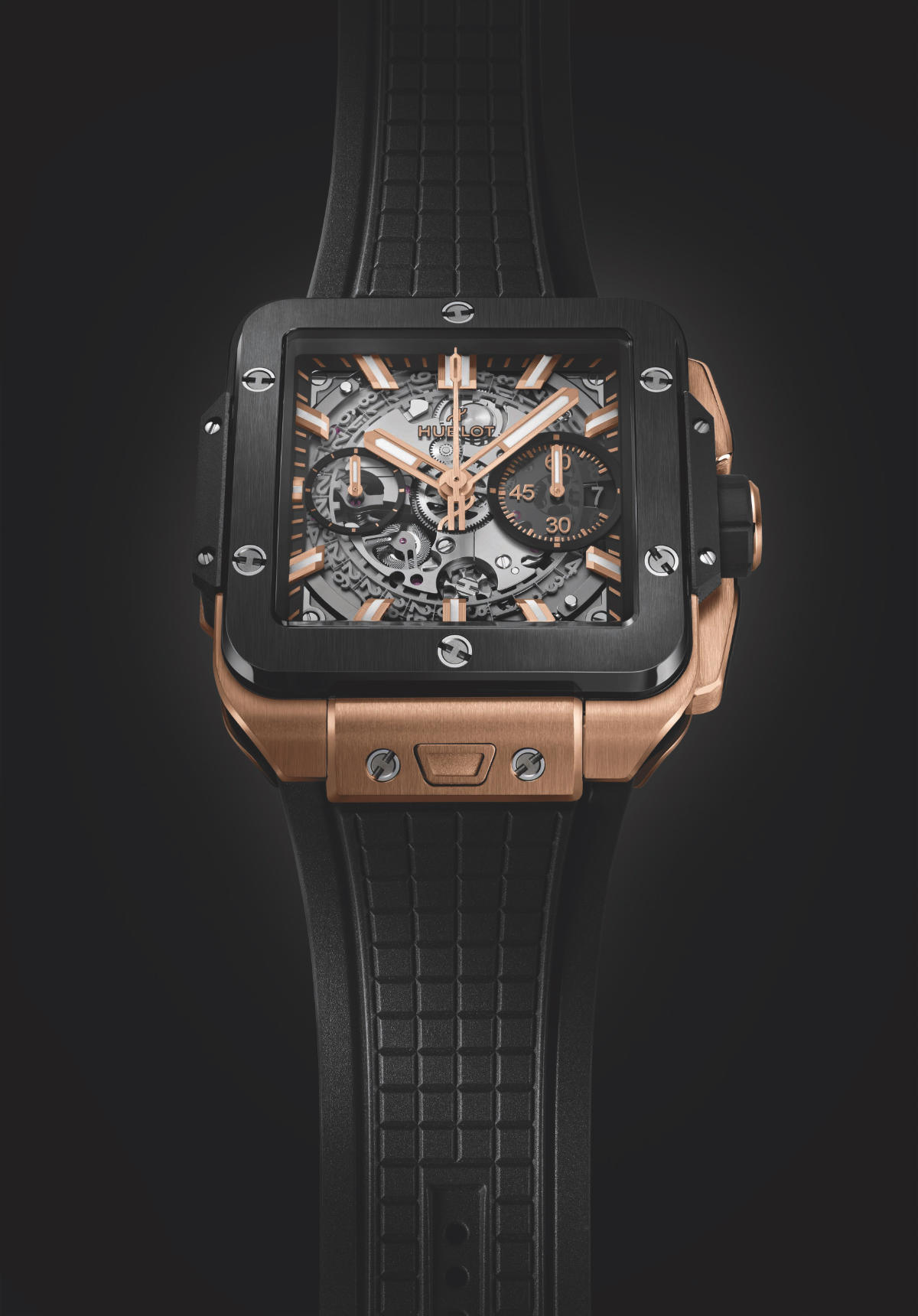 Today, a fourth shape has been created: the square. Its geometry bewitched Hublot because of the challenges it sets. First, the movement. Since every calibre has the wheel as its basic component, it therefore needs a round movement. If you are to place a round movement harmoniously in a square case, this requires a very specific style. This is why most watchmakers hide their movement, to give the illusion of using a shaped movement or because they have failed to find a consistent aesthetic style.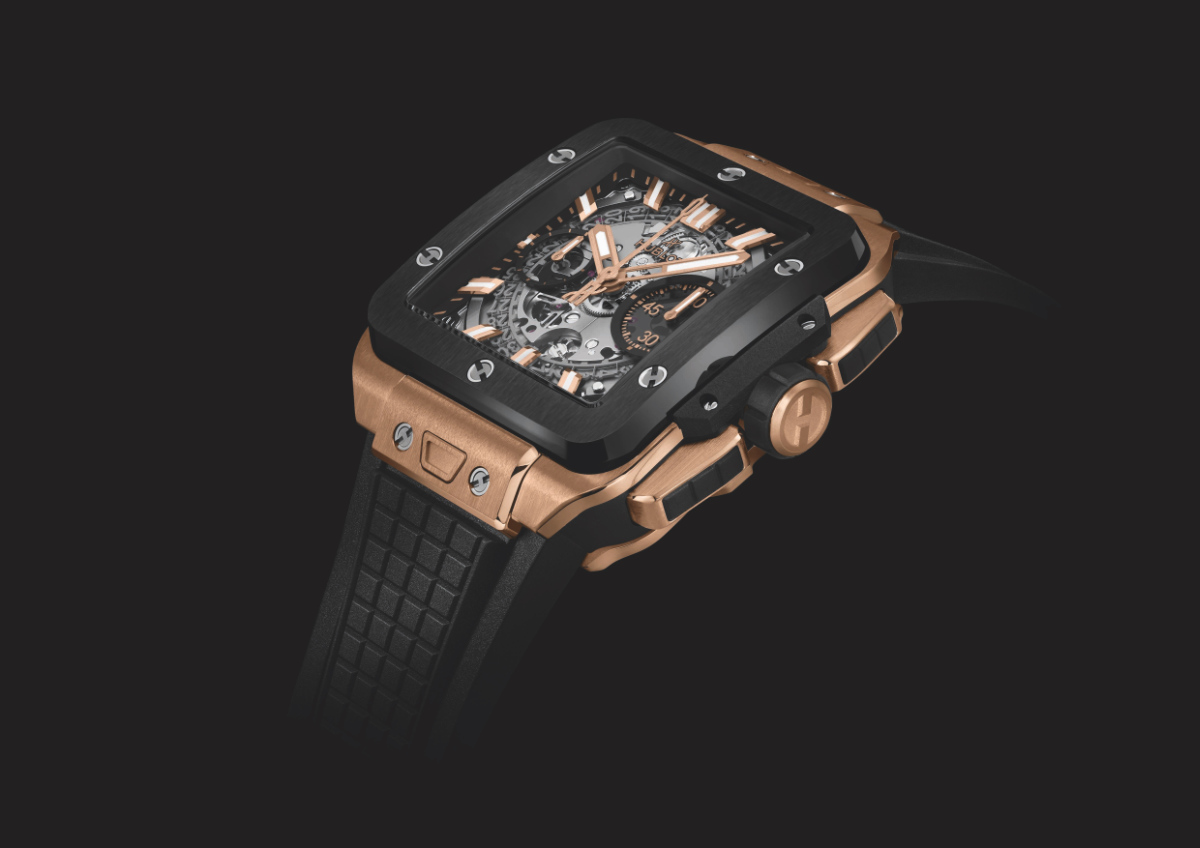 Hublot decided to take a radically different direction: the watchmaker hides nothing of its own, in-house Unico movement, the pride of the Nyon watchmakers and the beating heart of most of its designs for over 10 years. The chronograph has a column wheel visible at 6 o' clock, while its bicompax display dispenses with a dial, to reveal its secret inner workings.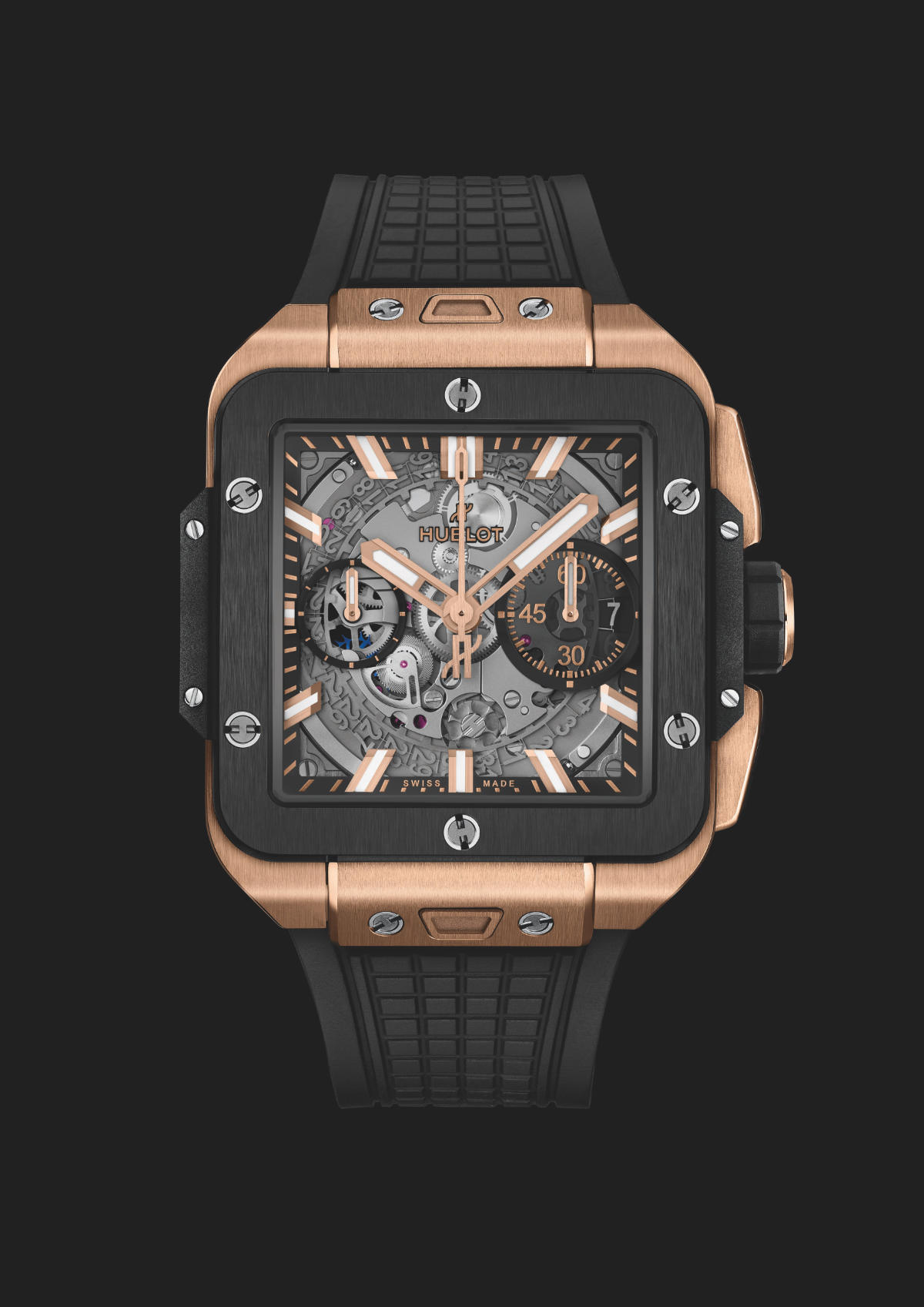 The second challenge was the modular construction of the case, designed in line with Hublot's DNA, with a central housing dressed with an upper and lower plate to enable a myriad of combinations and transformations. But this time, it is square in shape, and therefore much more difficult to make water resistant - Hublot pulls off the challenge with a guaranteed water resistance to 100 metres. The size of the case is also an important factor to ensure this model is perfectly ergonomic, providing comfort on the wrist very similar to that of the 42 mm Big Bang. Its pedigree from the brand's icon can be seen in countless details.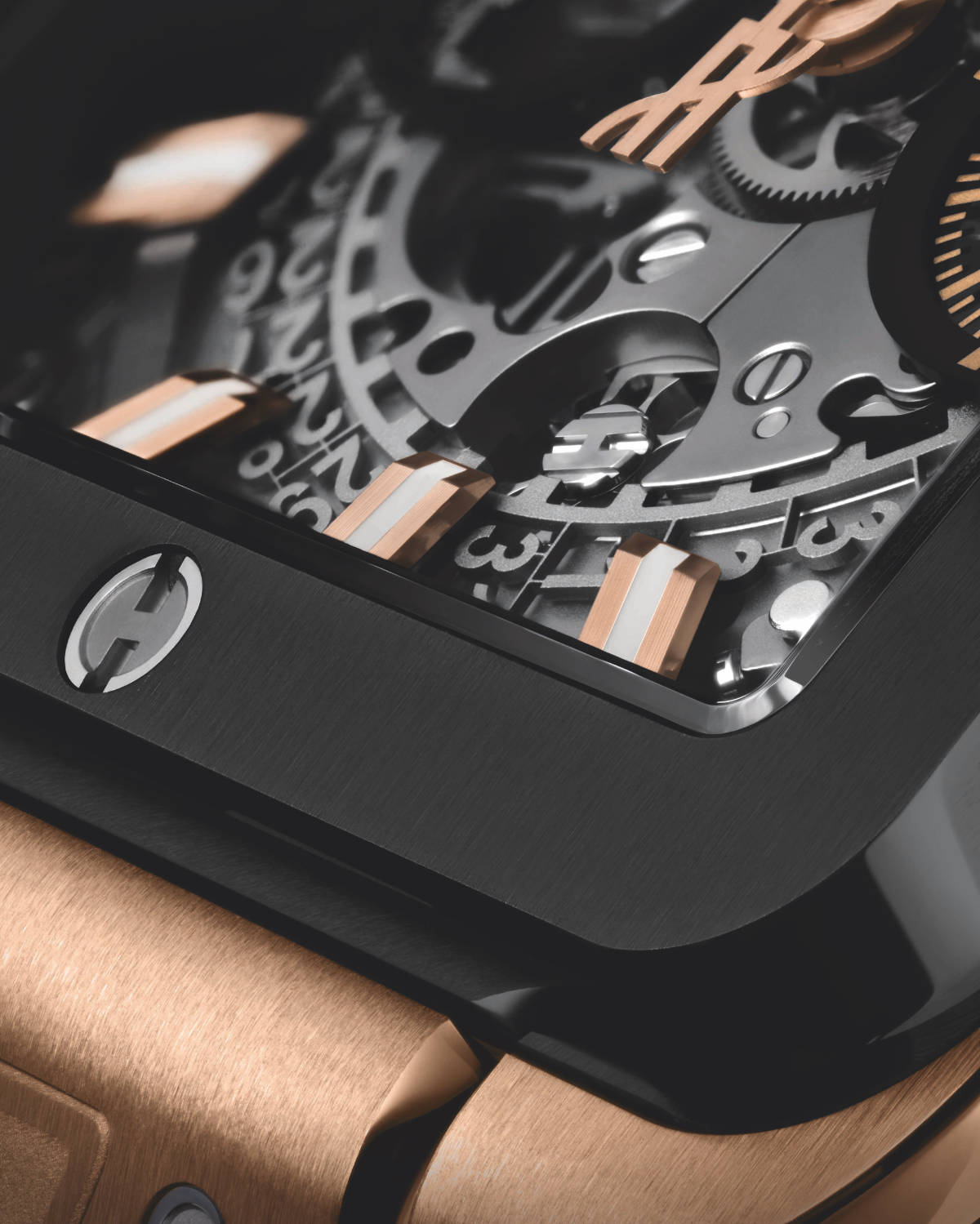 First of all, there is the sandwich construction of its dial, which gives it different levels of depth and a highly architectural feel. As with the Big Bang, the Square Bang Unico's dial makes extensive use of sapphire to give a clear view of the Unico movement, and also reuses the same hands.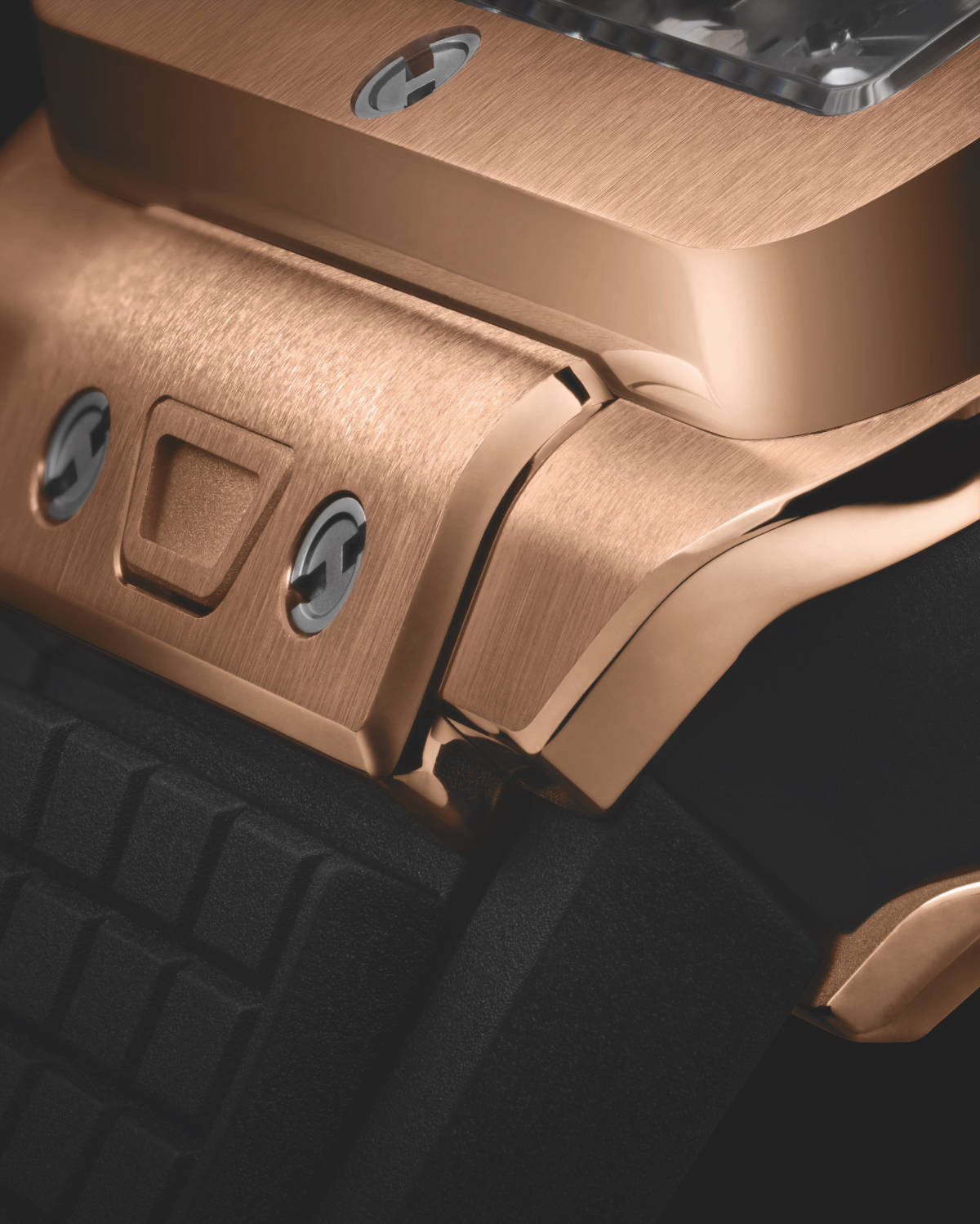 Next, we find the six (functional) screws on the bezel, placed at exactly the same places as on the Big Bang. On either side of the Square Bang, you find the 'ears' from the Big Bang's case, giving balance to the design while protecting the case. For the strap, in addition to the much appreciated One Click system of the Big Bang and its textured rubber, the two screws are fixed in the middle as an attachment. Finally, the Square Bang uses the same materials as its predecessor, including titanium, ceramic and King Gold, not to mention the famous 'All Black' finish.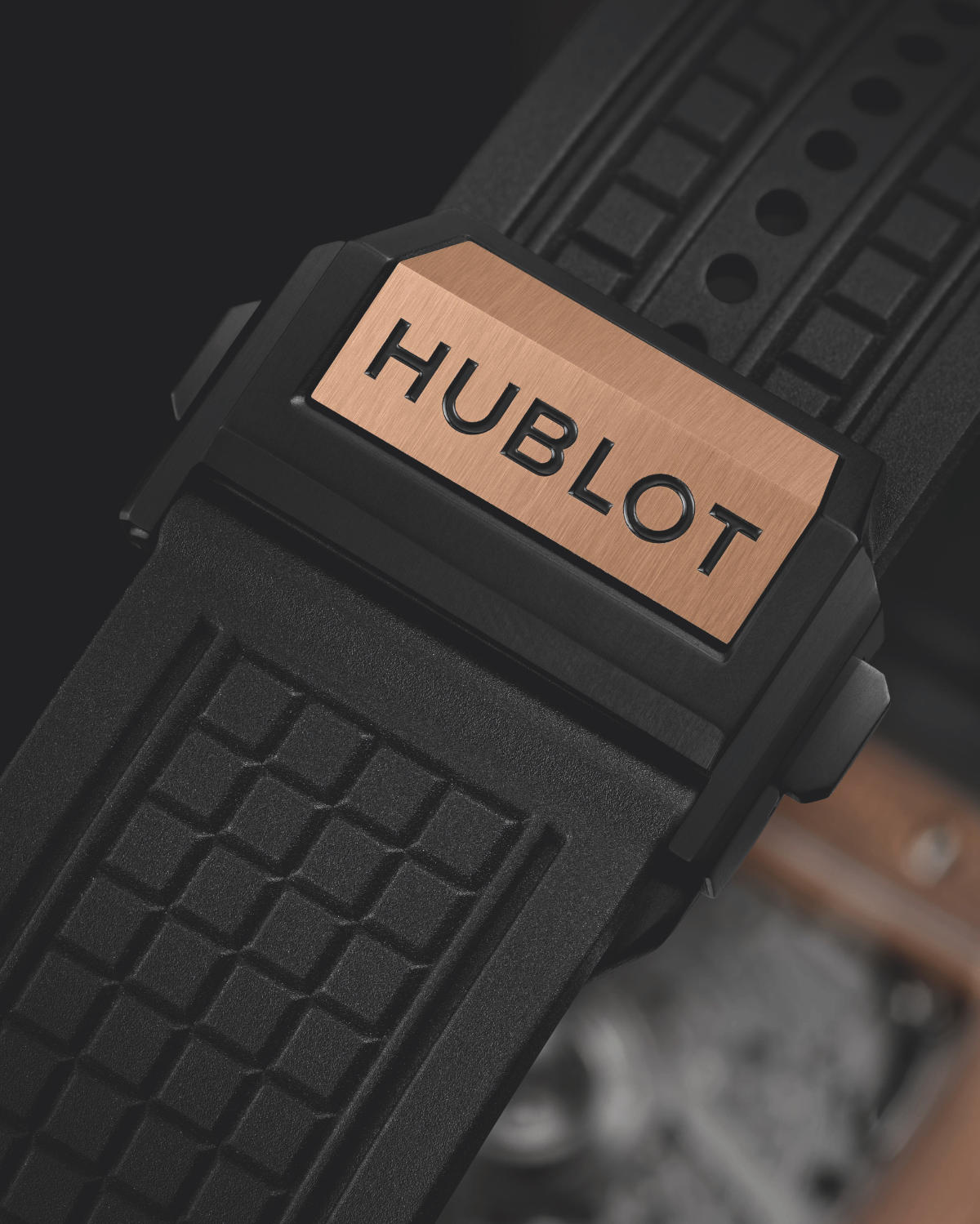 Lastly, a new strap decorated with 'chocolate squares' further emphasises the Square Bang's identity. Thanks to its interchangeable (One Click) system you can change the look of your watch in one click with an impressive range of Rubber, Alligator and soon soft-touch leather straps.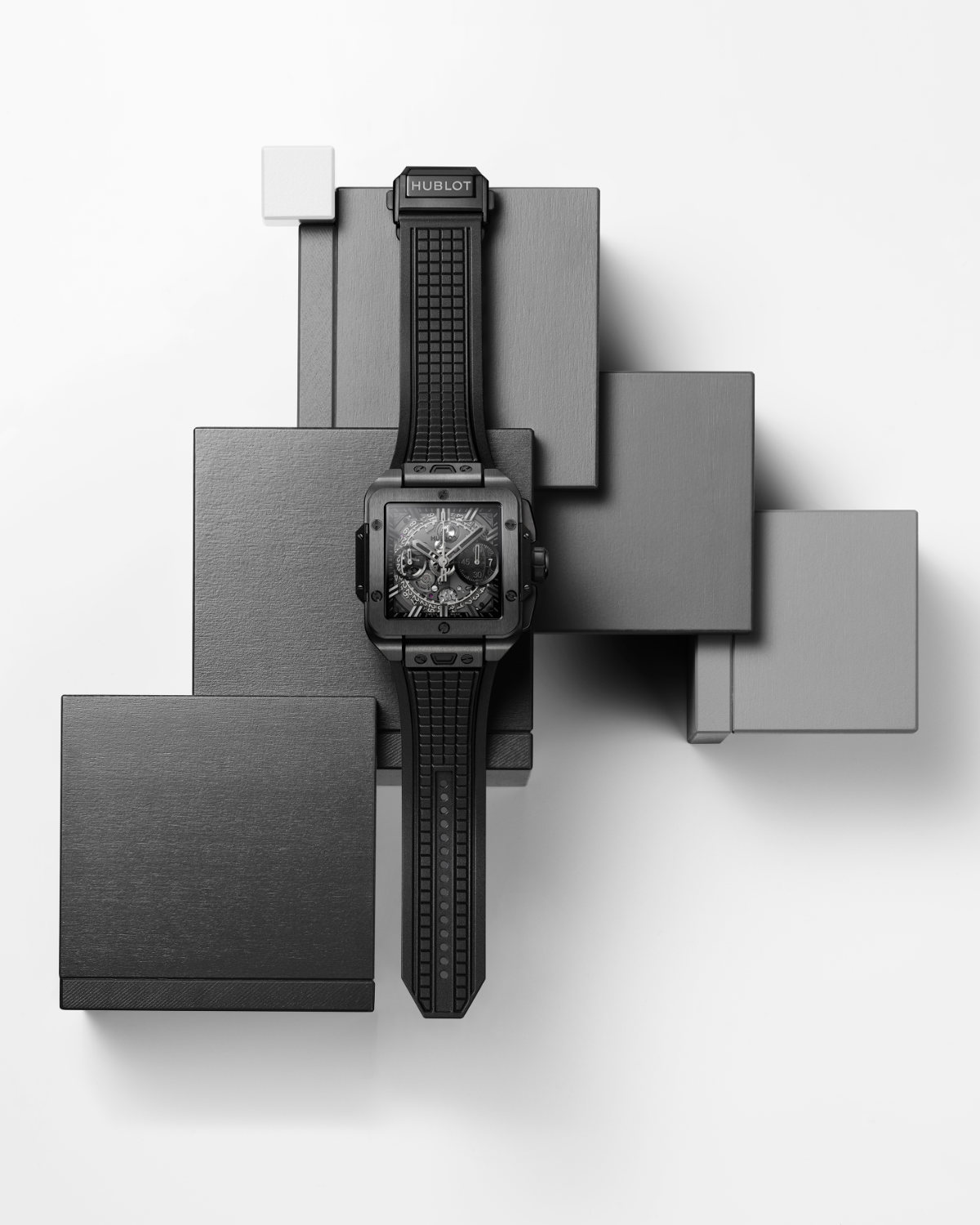 Five 42 mm models are already available. The first three are in solid titanium, black ceramic or King Gold. The last two blend titanium or King Gold with a black ceramic bezel. Each model comes with a black rubber strap and a folding clasp in the same material as the case. These original designs beat to the rhythm of the HUB1280 Unico Manufacture movement, a 354-component automatic chronograph, set at 4 Hz (28,800 vib/h).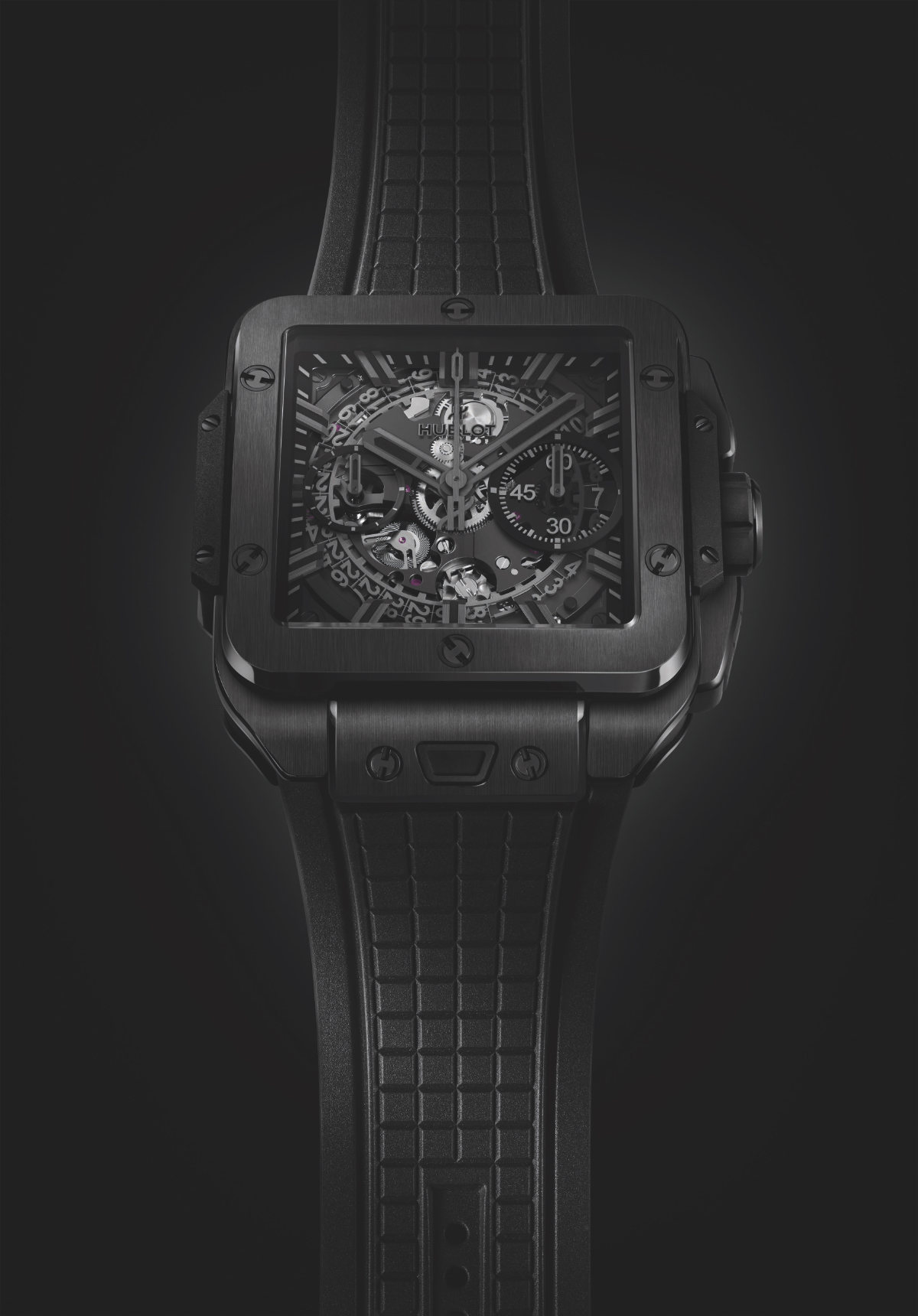 As is customary at Hublot, the finishing is uncompromising and has a very modern feel: polished and sandblasted screws, over-moulded rubber crown, push-pieces decorated with rubber 'chocolate squares', polished satin bottom and rhodium-plated or 5N gold-plated hands, depending on the model. The crown comes in over-moulded rubber. The textured pattern of the strap was created especially for the Square Bang. It includes four rows (like the four sides of the case) of raised squares (like the bezel on the case).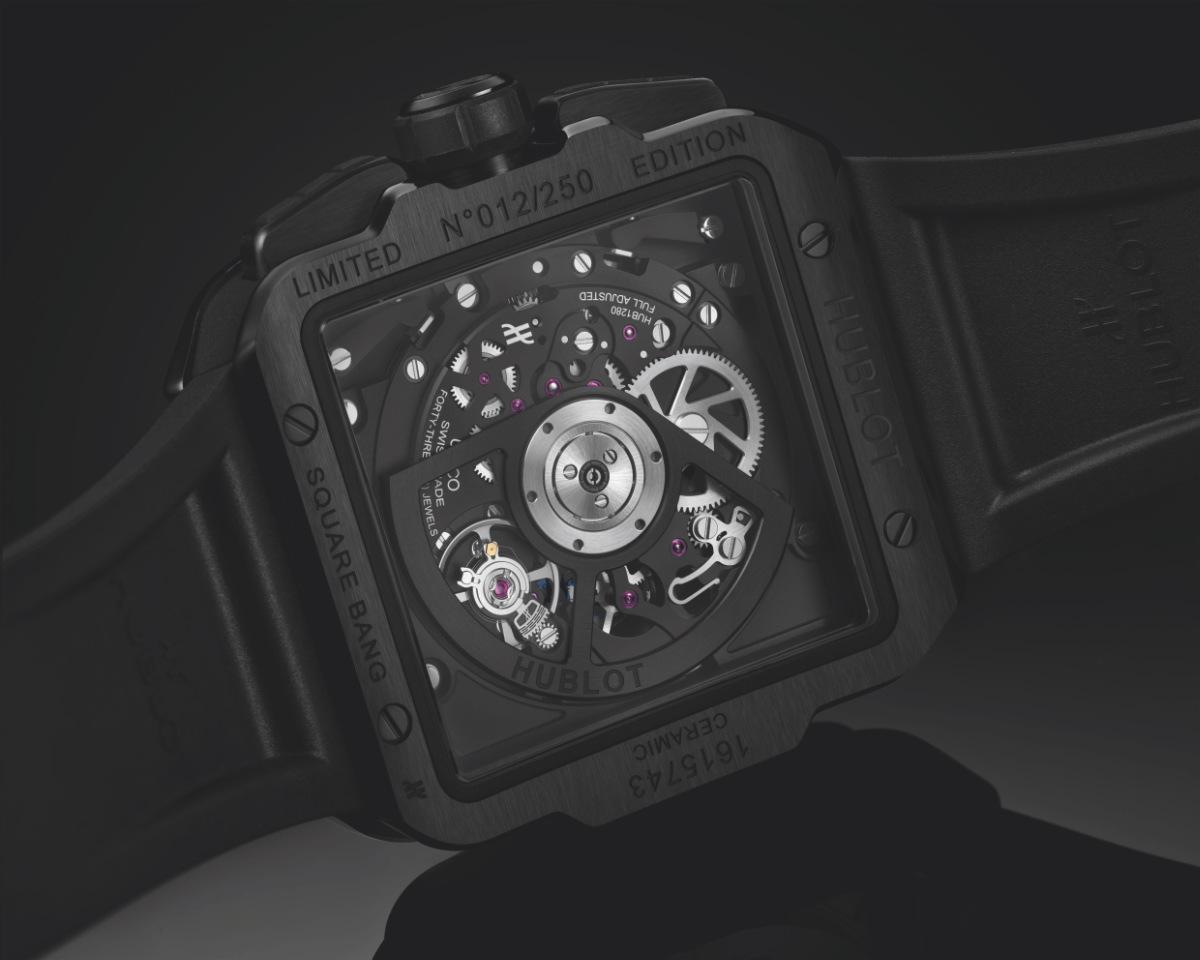 All black: the collector edition limited to 250 copies

If you had to choose just one, it would be this one: the 'Square Bang Unico All Black'. Like all the All Blacks, only 250 pieces will be made – in fact, it will be the only limited edition of the Square Bang Unico collection.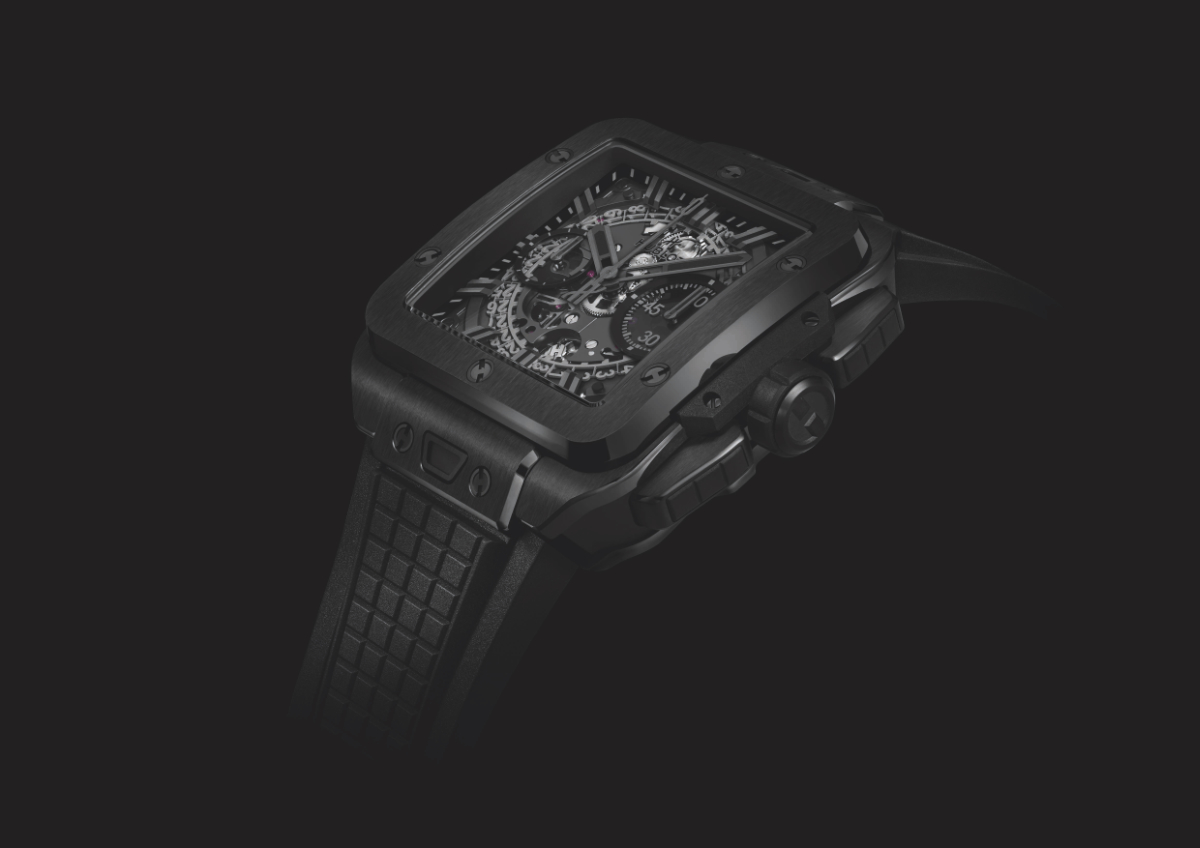 More than 15 years after its invention, the All Black livery once again proves its versatility and power. This is clearly showcased in its new incarnation as Square Bang Unico. Whether it is the case, bezel, push-pieces, strap, plate or hour markers: black is present on all the surfaces while polished or satin-finishes alternate to reveal subtle shades which are for the owner's eyes only. Ceramic and titanium meet, harmonise and merge. A rare design, for collectors who prefer to take the path less travelled.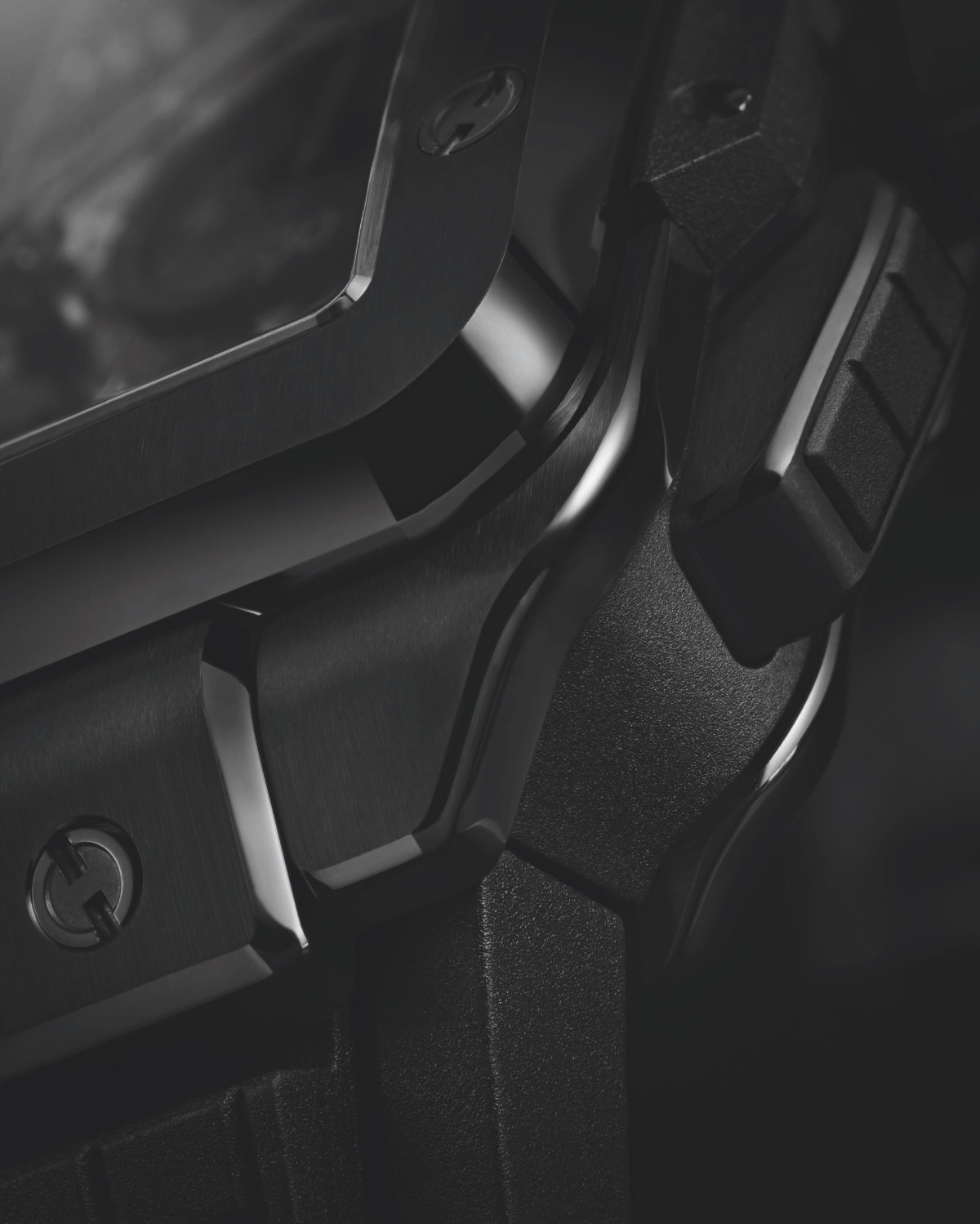 TECHNICAL DATA SHEET: SQUARE BANG UNICO
REFERENCE
ALL BLACK
821.CX.0140.RX
Limited to 250 pieces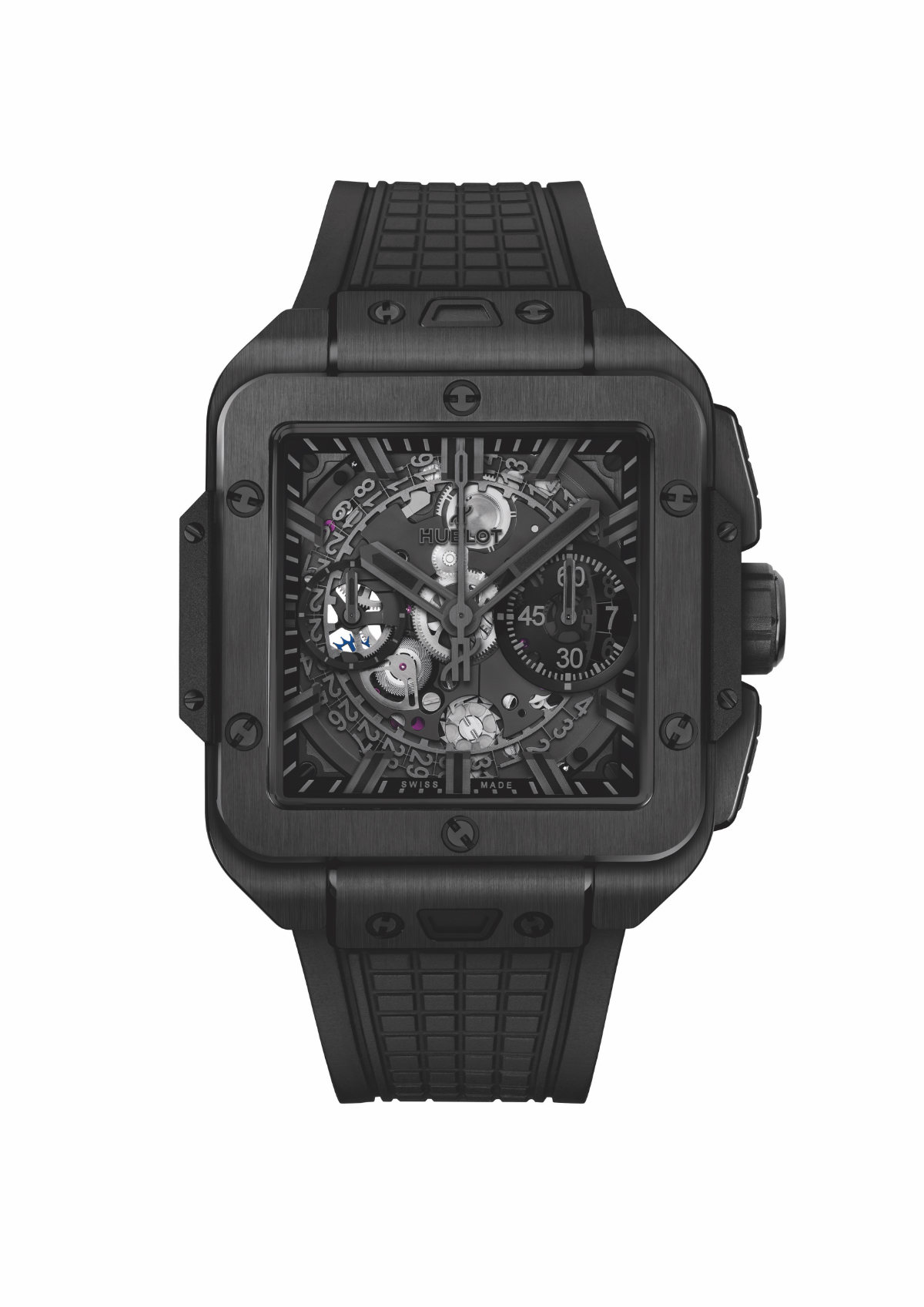 TITANIUM CERAMIC
821.NM.0170.RX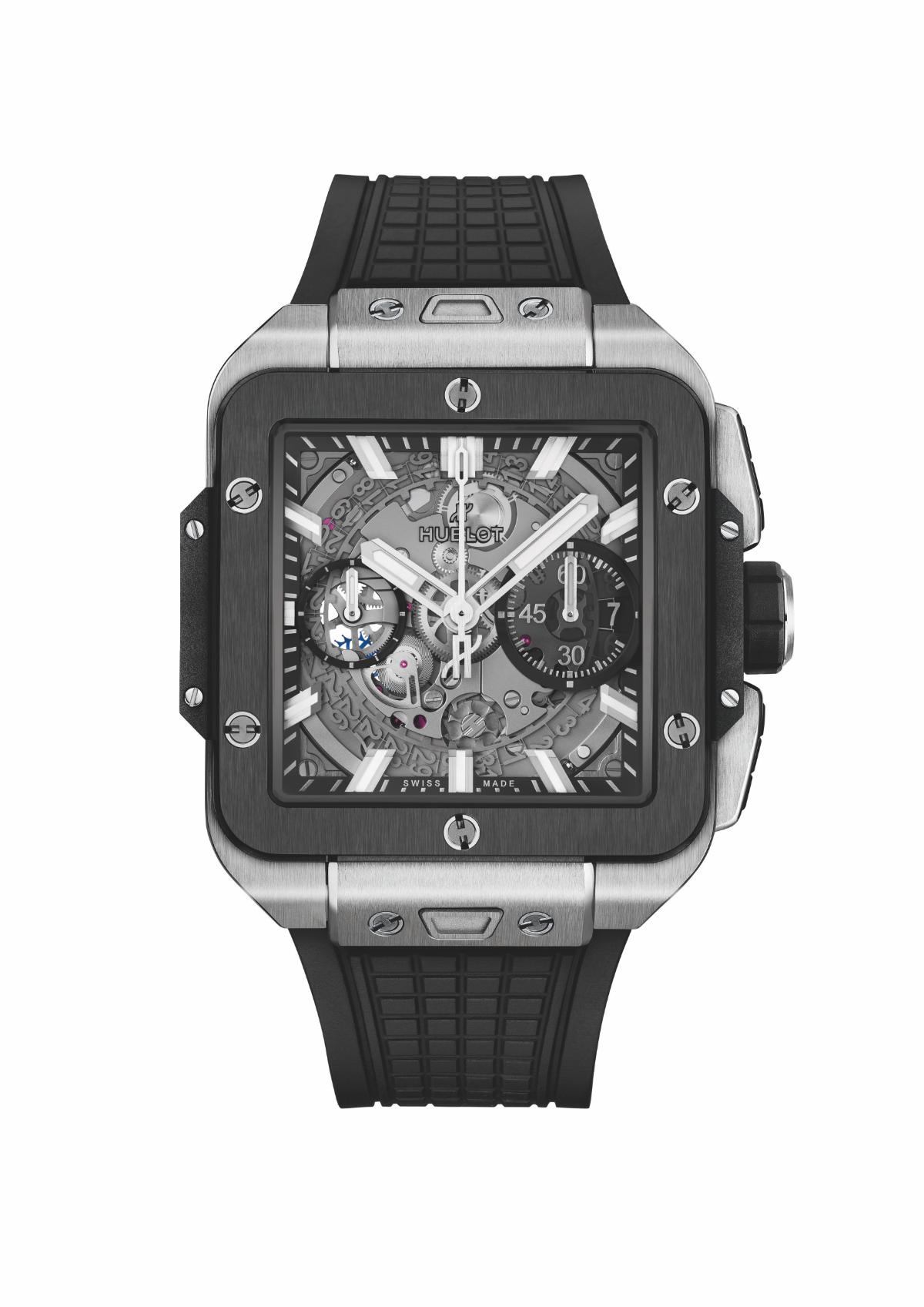 TITANIUM:
821.NX.0170.RX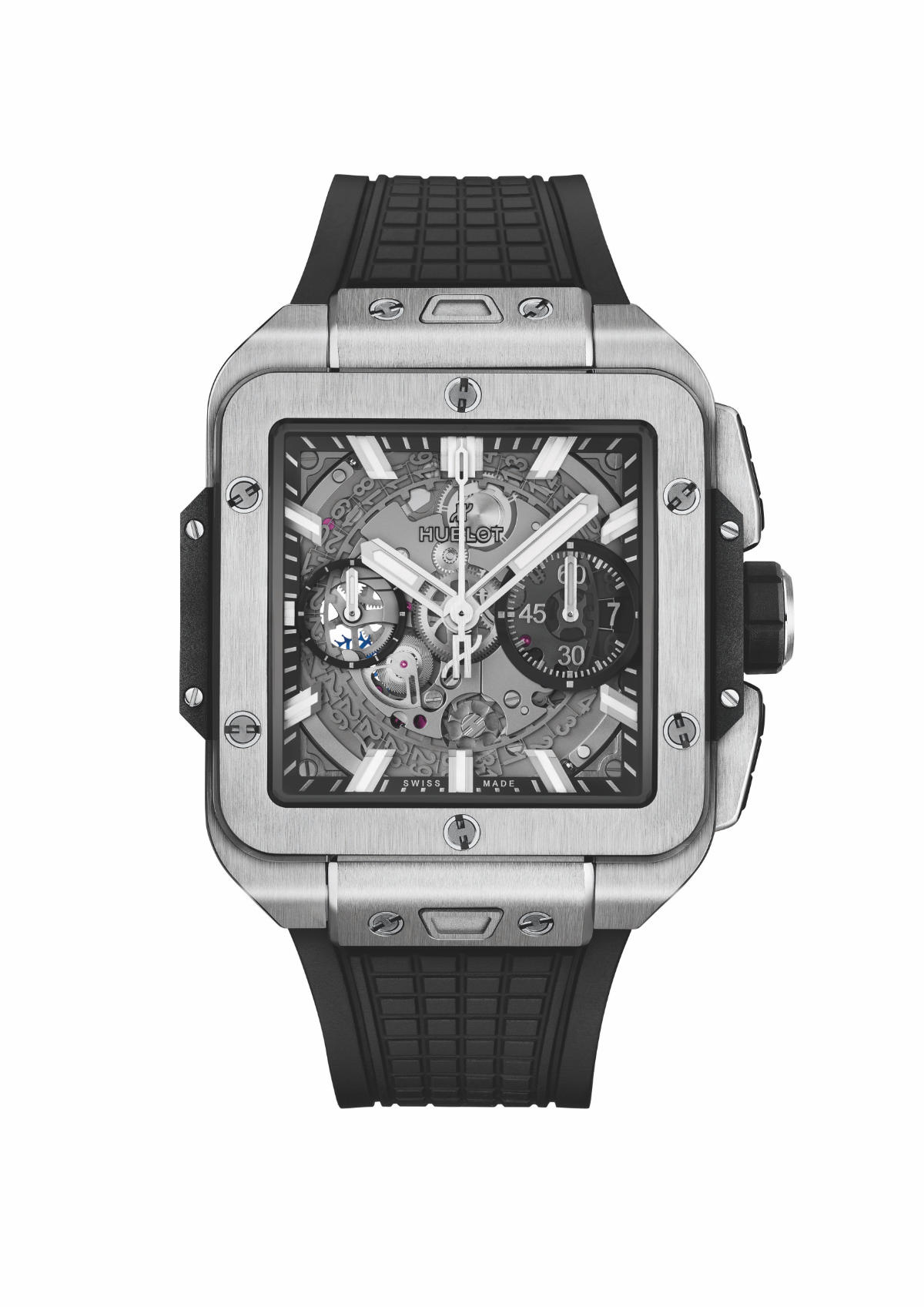 KING GOLD CERAMIC
821.OM.0180.RX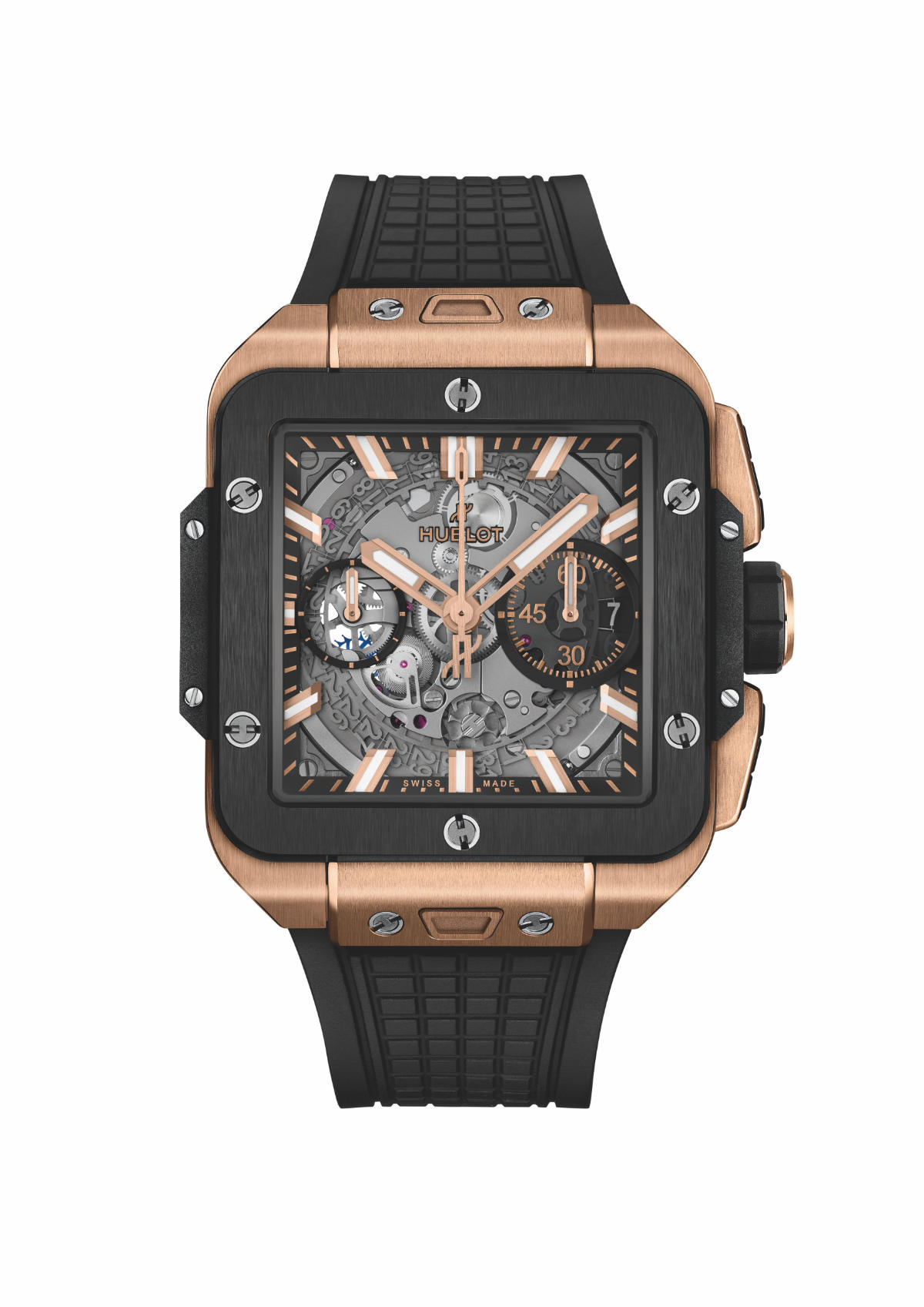 KING GOLD
821.OX.0180.RX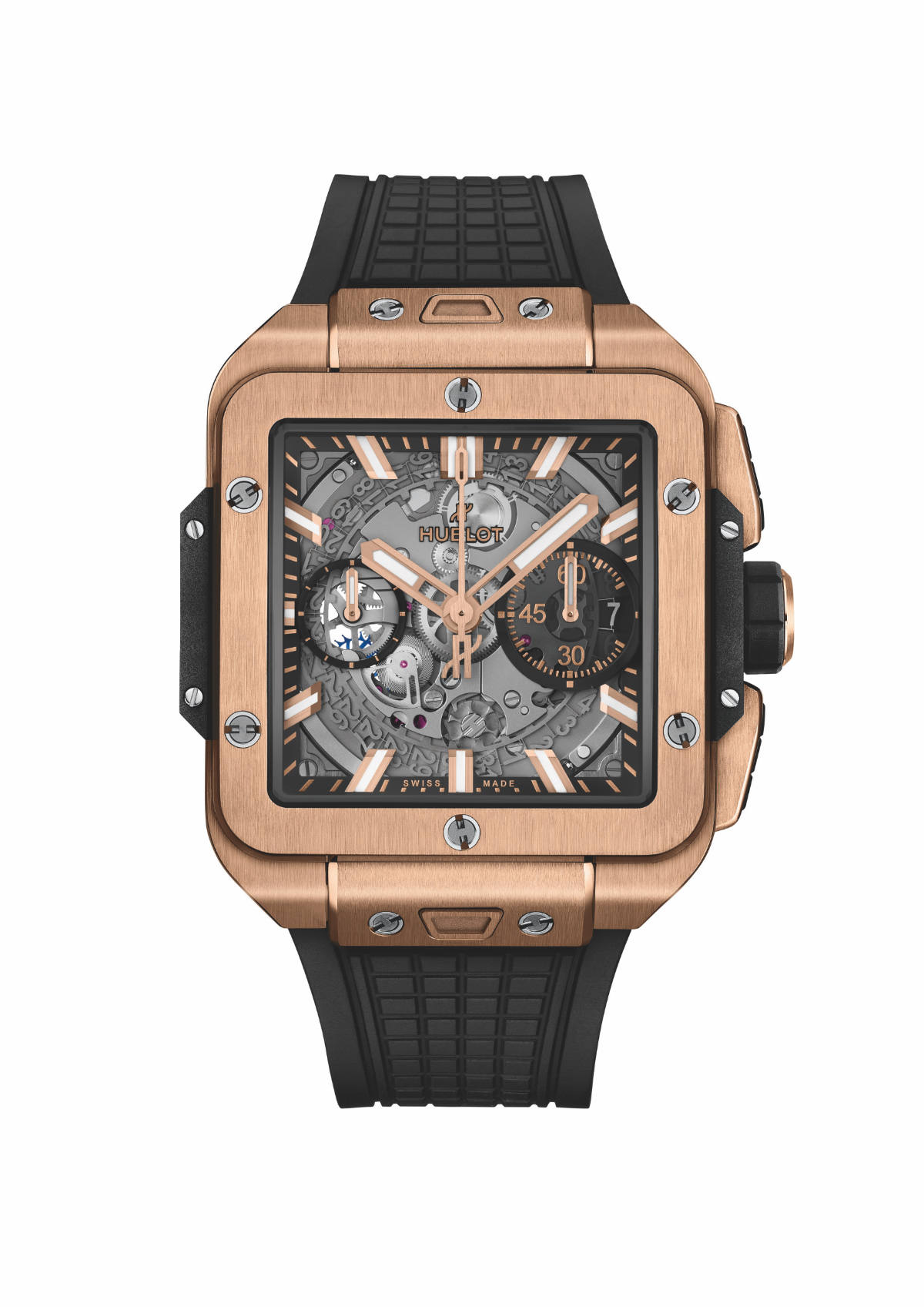 DIAL
Sapphire
CASE
Satin-finished Black Ceramic
Titanium
Satin-finished King Gold
Diameter: 42 mm
Thickness: 14.5 mm
Water Resistant: 10 atm
MOVEMENT
Unico Manufacture, Self-Winding Chronograph
Frequency: 4 (28, 800 vib/h)
Power reserve: 72 Hours
Number of components: 354
Jewels: 43
CASE BACK
Satin-finished and Polished Black Ceramic
Satin-finished and Polished Titanium
Satin-finished and Polished King Gold
STRAPS AND CLASP
Black Decorated Rubber
Black Ceramic and Black Titanium Deployant Buckle
Satin-finished Titanium Deployant Buckle
King Gold and Black Titanium Deployant Buckle
BEZEL
Satin-finished and Polished Black Ceramic
Satin-finished and Polished Black Ceramic
Satin-finished and Polished Titanium
Satin-finished and Polished Black Ceramic
Satin-finished and Polished King Gold
PRICE
ALL BLACK
24,900.00 CHF
25,900.00 EUR
26,200.00 USD
21,700.00 GBP
TITANIUM CERAMIC
22,900.00 CHF
23,800.00 EUR
24,100.00 USD
19,900.00 GBP
TITANIUM:
21,900.00 CHF
22,700.00 EUR
23,100.00 USD
19,100.00 GBP
KING GOLD CERAMIC
37,900.00 CHF
39,400.00 EUR
39,900.00 USD
33,000.00 GBP
KING GOLD
40,900.00 CHF
42,500.00 EUR
43,100.00 USD
35,600.00 GBP
HUBLOT

Founded in Switzerland in 1980, Hublot is defined by its innovation, which began with the highly original combination of gold and rubber. This "Art of Fusion" stems from the imagination of its visionary Chairman, Jean-Claude Biver, and has been driven forward by CEO Ricardo Guadalupe since 2012.
The release of the iconic, multi-award-winning Big Bang in 2005 paved the way for new flagship collections (Classic Fusion, Spirit of Big Bang), with complications ranging from the simple to the highly sophisticated, establishing the extraordinary DNA of the Swiss watchmaking house and ensuring its impressive growth.
Keen to preserve its traditional and cutting-edge expertise, and guided by its philosophy to "Be First, Different and Unique", the Swiss watchmaker is consistently ahead of the curve, through its innovations in materials (scratch-resistant Magic Gold, ceramics in vibrant colours, sapphire), and the creation of Manufacture movements (Unico, Meca-10, Tourbillon).
HUBLOT is fully committed to creating a Haute Horlogerie brand with a visionary future: a future which is fused with the key events of our times (FIFA World CupTM, UEFA Champions League, UEFA EUROTM) and the finest ambassadors our era has to offer (Chiara Ferragni, Pelé, Kylian Mbappé, Usain Bolt, Novak Djokovic).
Discover the HUBLOT universe at our network of boutiques located in key cities across the globe: Geneva, Paris, London, New York, Hong Kong, Dubai, Tokyo, Singapore, Zurich and at HUBLOT.com.
---