---
Frederique Constant: Classics Heart Beat Automatic & Classics Index Automatic - Classicism In Its Pure Form
Luxferity, 08.03.2022
A subtle combination of tradition and elegance, the Classics collection has established itself over the years as one of Frederique Constant's pillars. In 2022, the Brand returns to the aesthetic roots of one of its flagship lines, the "Classics Automatic", with no less than five new self-winding models: three Index versions and two Heart Beat variations - this famous opening on the dial revealing the balance-wheel, which has become the Maison's signature. Featuring a 40 mm case, these five timepieces feature a delicate guilloché decoration accompanied by Roman numerals, attributes of a classic and timeless appearance.

If there is an often-said watchmaking phrase, it is that the dial is the face of the watch. Although the technological race now results in increasing complications, it is sometimes forgotten that the identity of a watch is not solely expressed by how many rubies it has or the torque of its barrel spring, but also, and quite simply, by its dial. It is what conveys a watchmaker's identity values and that is immediately recognisable.
Original aesthetic codes
It is with this in mind that Frederique Constant is returning to the sources of classicism which, over the centuries, has defined timeless aesthetic ideals. Among them: a guilloché dial, a discreet date window and Breguet-style hands. And delicate Roman numeral indexes. The latter are back in the Classics Index Automatic line, in the centre of three new automatic movement variations. The first boasts a pink gold-plated case worn on a dark brown leather strap, with a silver dial superimposed by three hands indicating the time via 12 indexes set around a satin-finish hour circle: a prestigious, timeless composition, whose elegance is guaranteed.
Two other variations use the same composition with a steel case: one with a silver dial, the other with a khaki dial, both worn with a black leather strap. Each model is powered by the automatic FC-303 calibre, offering a power reserve of 38 hours.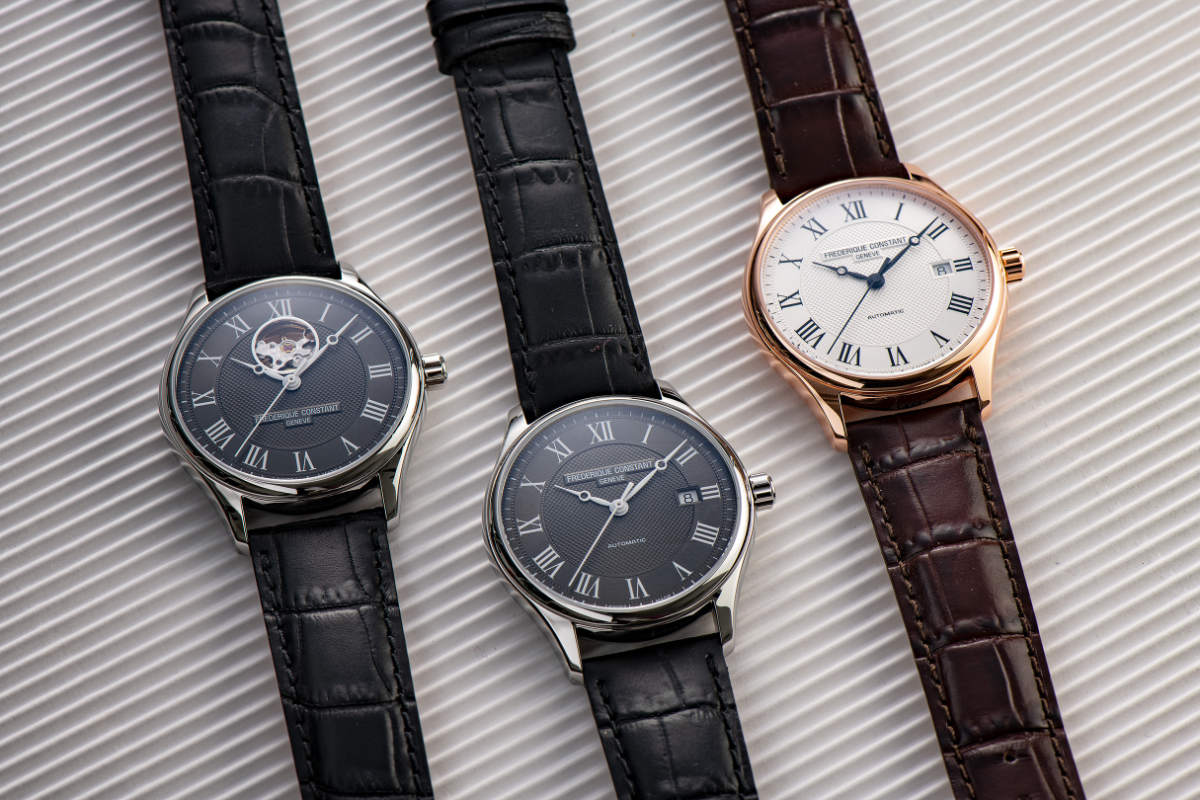 In the heart of the movement

These last two new watches, with a silver or khaki dial - displaying the same aesthetic features as the Classics Index Automatic models - offer a variant, rich in symbols, thanks to an alternative "Heart Beat". This design invented by Frederique Constant uniquely highlights the beating heart of the watch, hence its name.
The first Frederique Constant Heart Beat watch was created in 1994. Since then, its original design has often been copied and adapted, but it is never as pure and authentic as in a genuine Frederique Constant watch. This is what these two Classics Heart Beat Automatic watches offer: a homage to the founding spirit of the watchmaker and the rediscovery of a design which takes its rightful place among the classics of fine Geneva watchmaking. The latter, beating to the rhythm of the FC-310 calibre with automatic winding, have a 30-hour power reserve.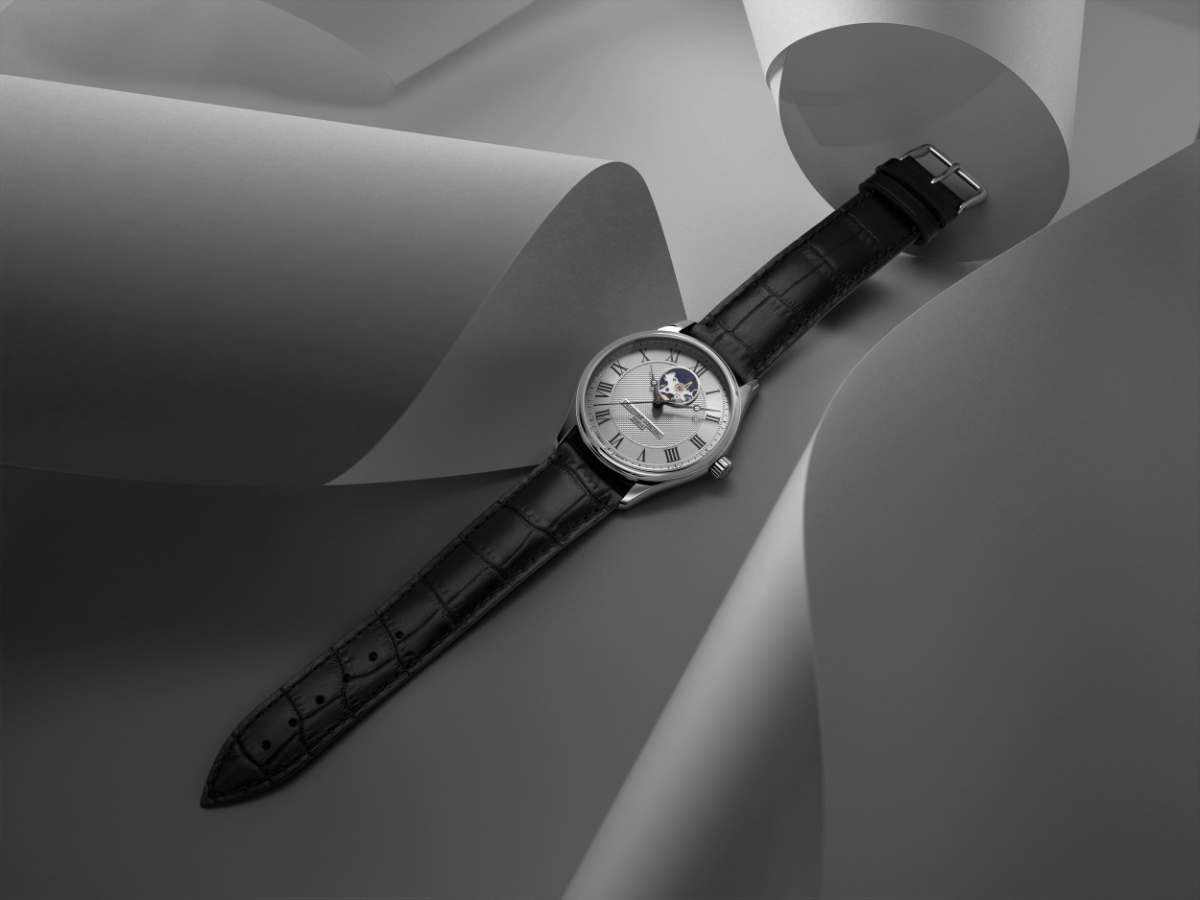 About Frederique Constant

Frederique Constant is a Swiss watchmaking manufacture located in Geneva, Switzerland. The Maison was founded in 1988 by a couple of independent entrepreneurs, Aletta and Peter Stas, to offer quality Swiss watches at an affordable price, with the aim of democratising luxury Swiss Made watches.
Frederique Constant creates, develops, assembles and controls a wide variety of mechanical, quartz and connected timepieces at the same time within its 6,200 m2 Manufacture in Planles-Ouates (GE). To this day, Frederique Constant has designed 30 Manufacture calibres, including high complications, such as the Tourbillon, the Perpetual Calendar, the Flyback Chronograph, as well as a new and unprecedented type of escapement in watchmaking – the Monolithic. Made from a single piece of silicone, replacing the 26 components of a standard assortment, it oscillates at a frequency of 40 Hz, which is 10 times that of most mechanical movements.
In 2015, Frederique Constant launched the Horological Smartwatch, the first Swiss Made connected timepiece featuring a traditional appearance. In 2018, the Classic Hybrid Manufacture succeeded it, combining a mechanical Manufacture movement with connected features. It was followed by the Smartwatch Vitality line in 2020, equipped with a new generation built-in heart rate sensor.
The same year, Frederique Constant reinvigorated the Highlife collection (1999) with a redesigned case and an interchangeable integrated strap. This was followed in 2021 by the Slimline Monolithic Manufacture with its very high-frequency one-piece escapement, then by the Highlife collection for women.
Frederique Constant is currently present in nearly 3,000 points of sale in 120 countries across the world. In 2016, the Frederique Constant group (Frederique Constant, Alpina Watches, Ateliers deMonaco) joined the Japanese group Citizen, so as to pursue its international development and nurture new synergies.
TECHNICAL SPECIFICATIONS
Classics Index Automatic (Reference FC-303MC5B4)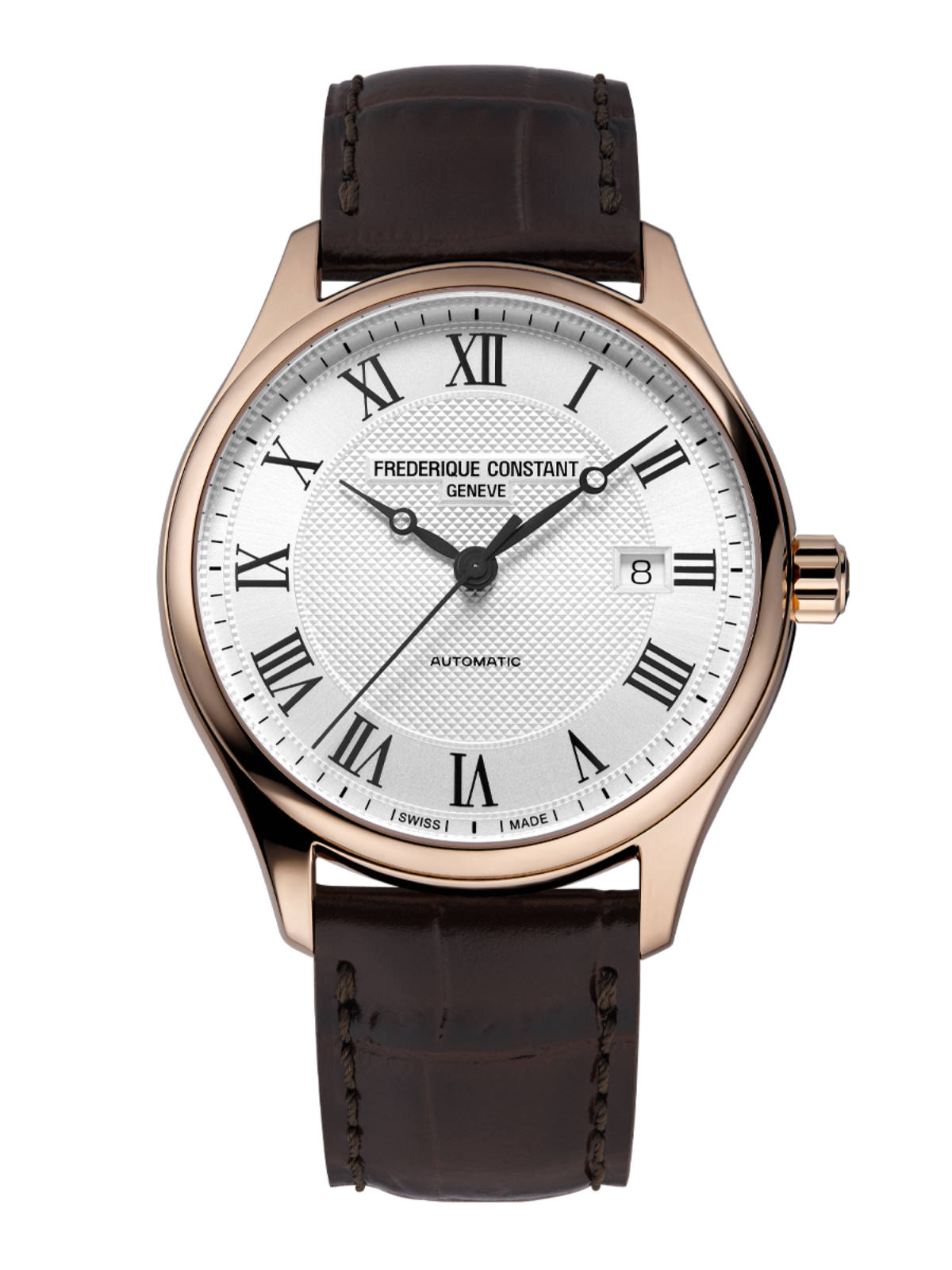 CHF 1'195
Functions
Hours, minutes, seconds, date
Movement FC-303 caliber, automatic
38-hour power reserve, 26 jewels, 28'800 alt/h
Case
Polished rose gold-plated stainless steel 2-part case
Diameter of 40 mm
Height of 10,30 mm
Scratch-resistant convex sapphire crystal
Closed case back
Water-resistant up to 5 ATM/50m/164ft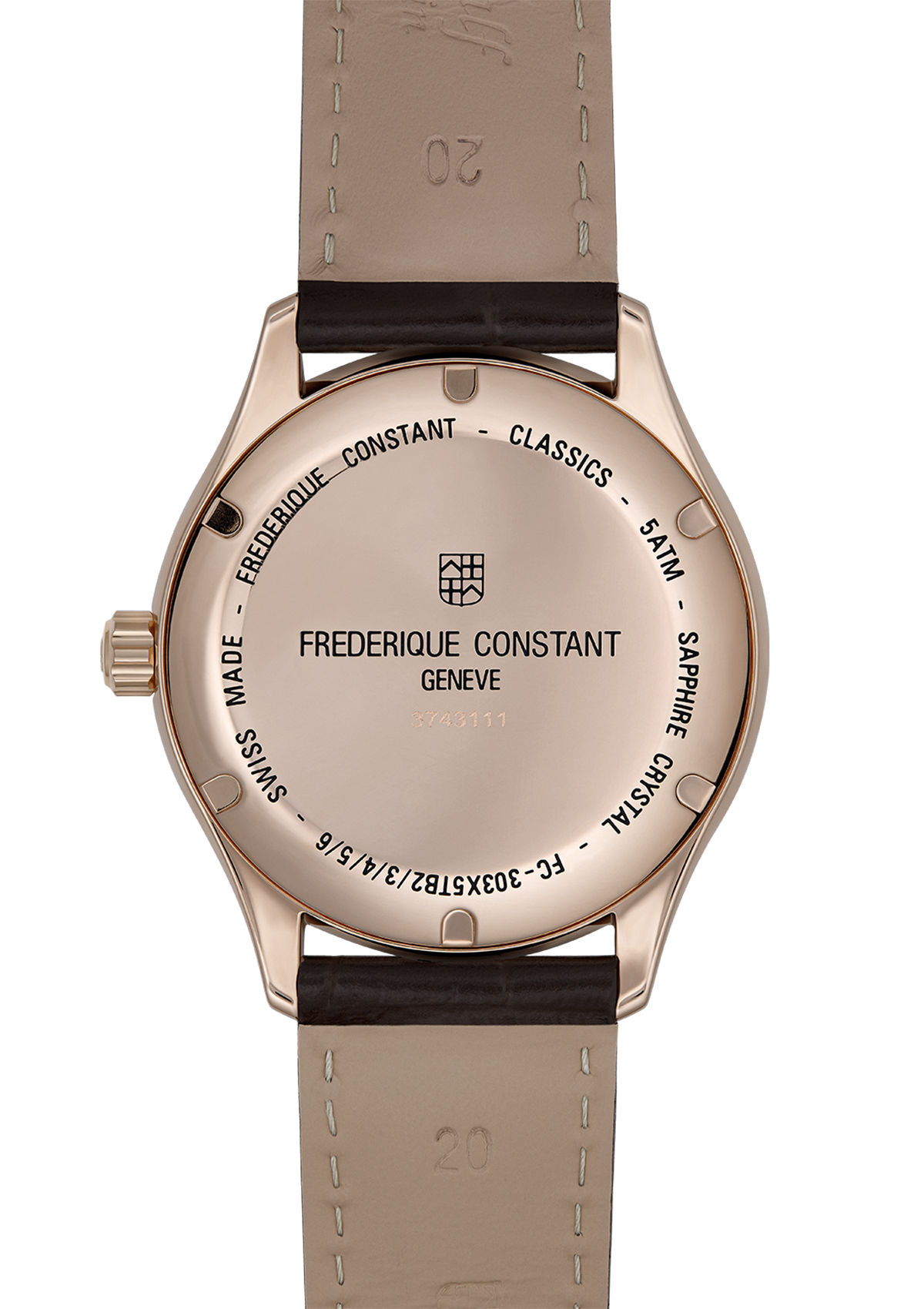 Dial
Silver color dial with clous de Paris guilloché in the center
Printed black Roman numerals
Seconds graduation on outer ring
Black hour, minute and second hands
Date window at 3 o'clock
Strap
Dark brown calf leather strap with crocodile pattern embossing and dark brown stitching
Classics Index Automatic (Reference FC-303MC5B6)

CHF 995
Functions
Hours, minutes, seconds, date
Movement
FC-303 caliber, automatic
38-hour power reserve, 26 jewels, 28'800 alt/h
Case
Polished stainless steel 2-part case
Diameter of 40 mm
Height of 10,30 mm
Scratch-resistant convex sapphire crystal
Closed case back
Water-resistant up to 5 ATM/50m/164ft
Dial
Silver color dial with clous de Paris guilloché in the center
Printed black Roman numerals
Seconds graduation on outer ring
Black hour, minute and second hands
Date window at 3 o'clock
Strap
Black calf leather strap with crocodile pattern embossing and black stitching
Classics Index Automatic (Reference FC-303MCK5B6)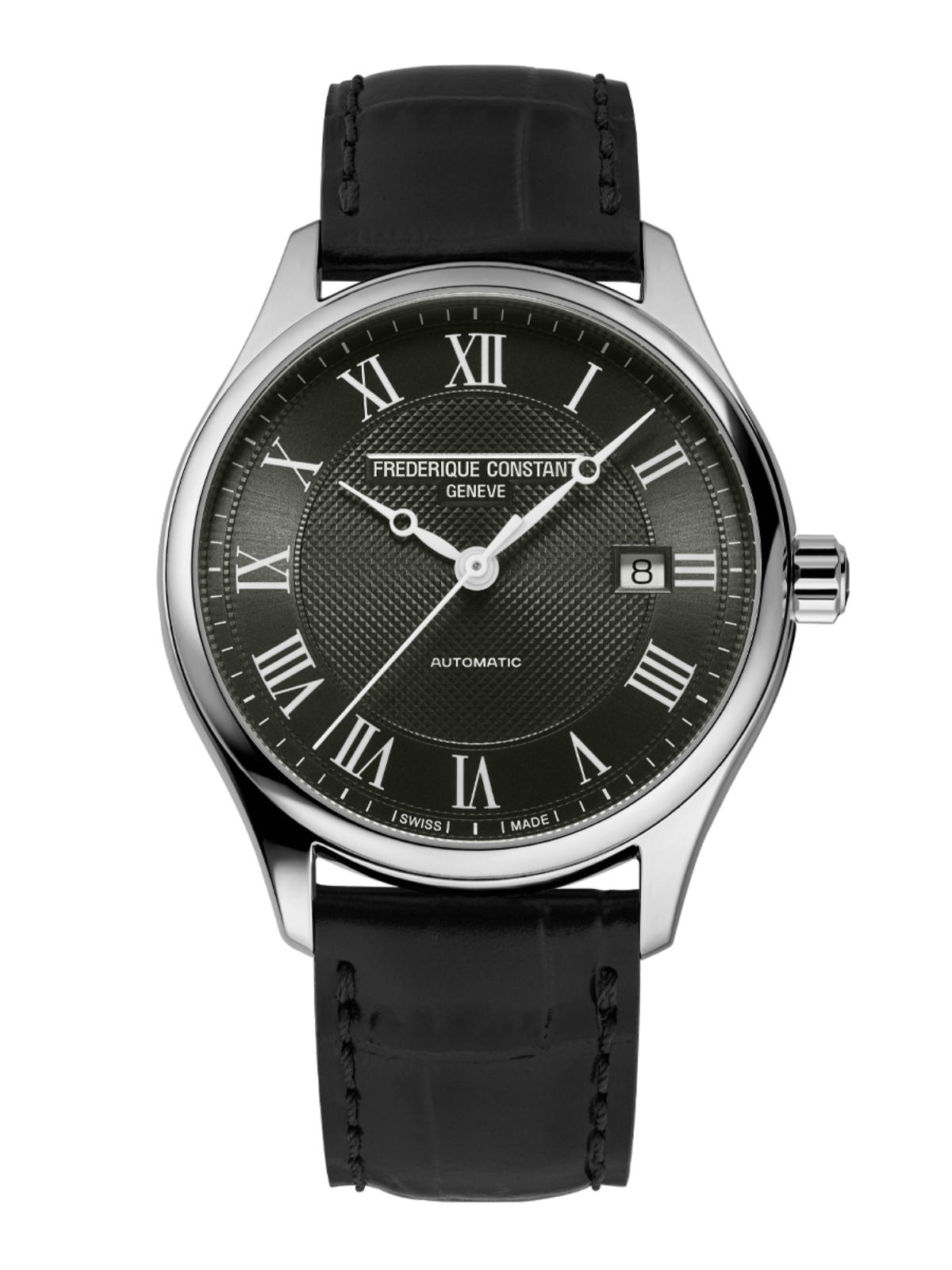 CHF 995
Functions
Hours, minutes, seconds, date
Movement
FC-303 caliber, automatic
38-hour power reserve, 26 jewels, 28'800 alt/h
Case
Polished stainless steel 2-part case
Diameter of 40 mm
Height of 10,30 mm
Scratch-resistant convex sapphire crystal
Closed case back
Water-resistant up to 5 ATM/50m/164ft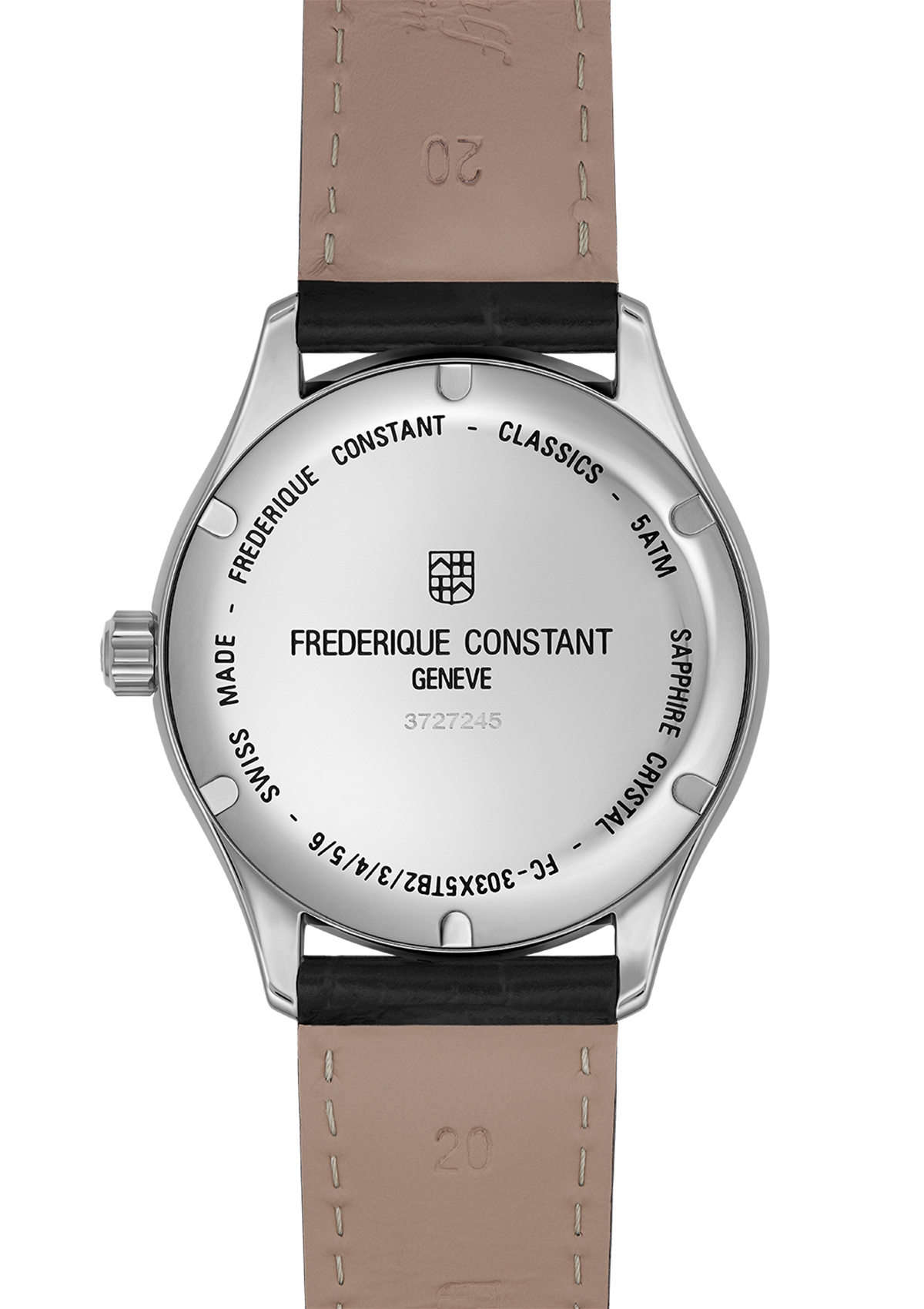 Dial
Khaki dial with clous de Paris guilloché in the center
Printed white Roman numerals
Seconds graduation on outer ring
White hour, minute and second hands
Date window at 3 o'clock
Strap
Black calf leather strap with crocodile pattern embossing and black stitching
Classics Heart Beat Automatic (Reference FC-310MC5B6)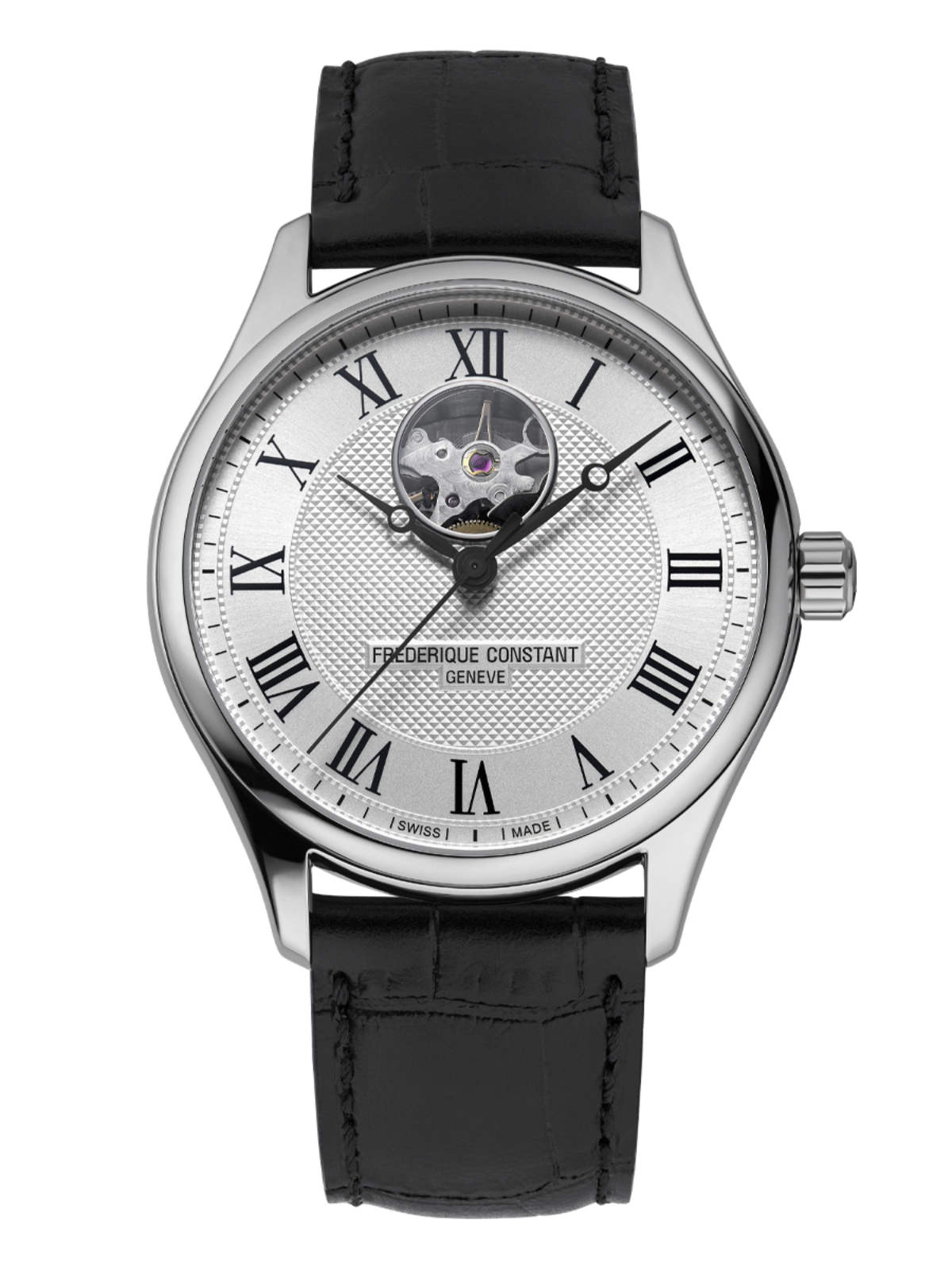 CHF 1'395
Functions
Hours, minutes, seconds
Movement
FC-310 caliber, automatic
Perlage and colima on decoration on the movement
38-hour power reserve, 26 jewels, 28'800 alt/h
Case
Polished stainless steel 2-part case
Diameter of 40 mm
Height of 10,50 mm
Scratch-resistant convex sapphire crystal
See through case back
Water-resistant up to 5 ATM/50m/164ft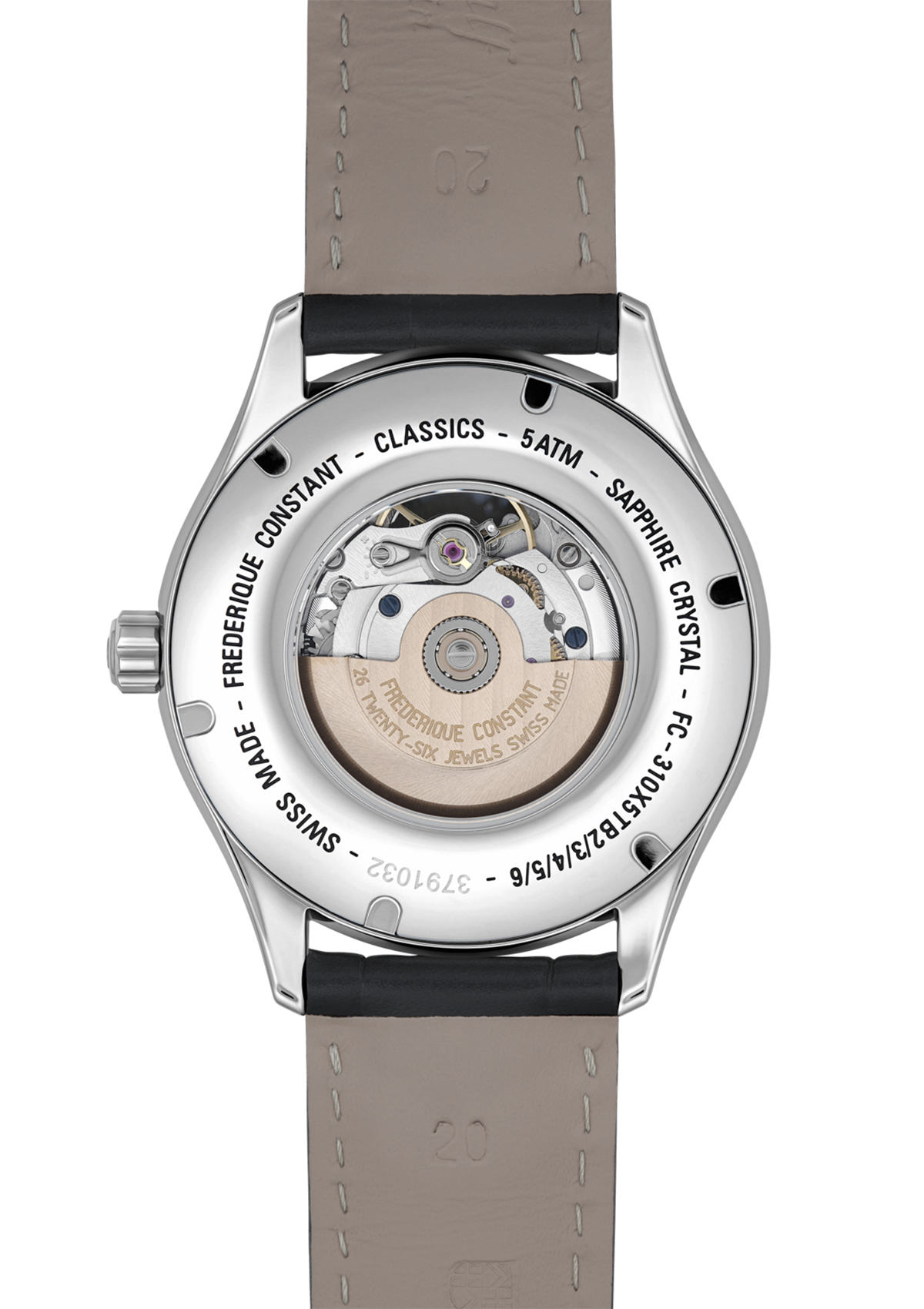 Dial
Silver color dial with clous de Paris guilloché in the center
Printed black Roman numerals
Seconds graduation on outer ring
Black hour, minute and second hands
Heart Beat opening at 12 o'clock
Strap
Black calf leather strap with crocodile pattern embossing and black stitching
Classics Heart Beat Automatic (Reference FC-310MCK5B6)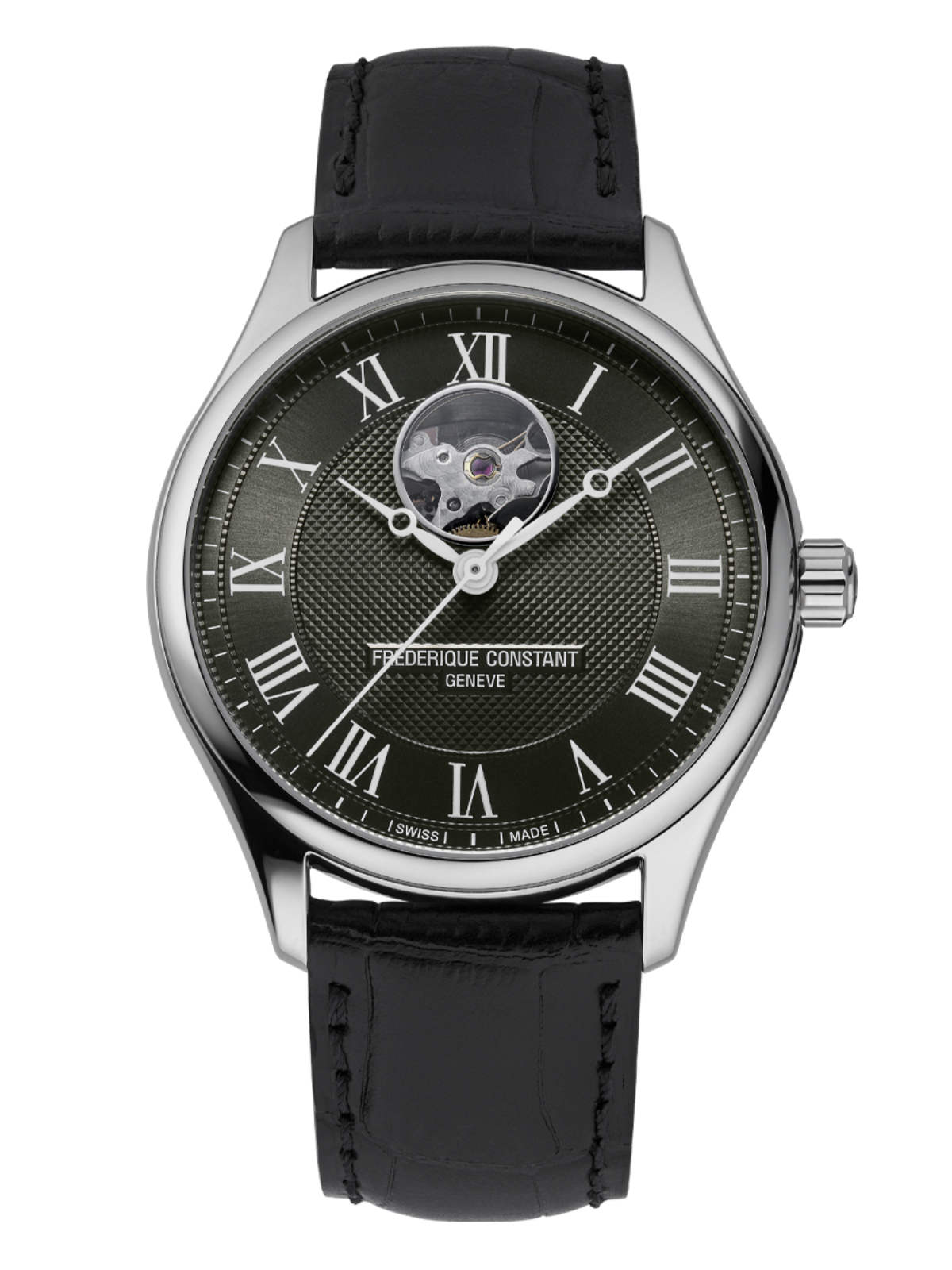 CHF 1'395
Functions
Hours, minutes, seconds
Movement
FC-310 caliber, automatic
Perlage and colima on decoration on the movement
38-hour power reserve, 26 jewels, 28'800 alt/h
Case
Polished stainless steel 2-part case
Diameter of 40 mm
Height of 10,50 mm
Scratch-resistant convex sapphire crystal
See through case back
Water-resistant up to 5 ATM/50m/164ft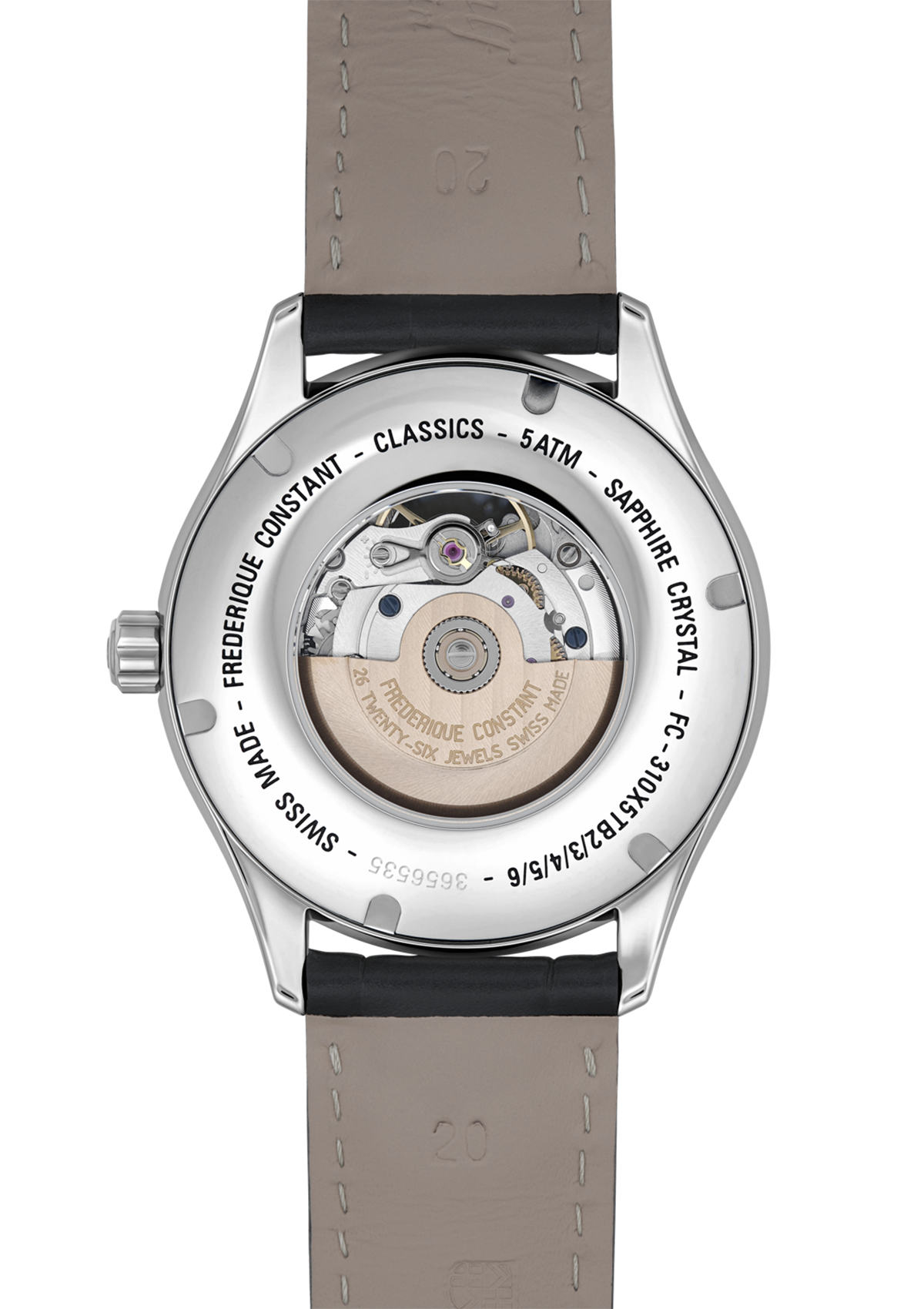 Dial
Khaki dial with clous de Paris guilloché in the center
Printed white Roman numerals
Seconds graduation on outer ring
White hour, minute and second hands
Heart Beat opening at 12 o'clock
Strap
Black calf leather strap with crocodile pattern embossing and black stitching
---