Zuhause mit Starchef Heiko Nieder Kochen
Luxferity, 17.11.2020
Zuhause kochen wie ein Starkoch? Die exklusive Kooperation «Krug, My Chef & I» der Maison KRUG und des Dolder Grand Zürich macht es möglich. Während einer Instagram Live-Session kochte der mit zwei Guide Michelin Sternen und 19 GaultMillau-Punkten ausgezeichnete Heiko Nieder auf dem offiziellen KRUG Instagram Account eines seiner Lieblingsgerichte bestehend aus Bergkartoffeln, Trüffel, Spinat und Ei. Für diejenigen, die diesen Live Event verpasst haben, ist das Video ab sofort auf dem Instagram Account der Maison KRUG @krugchampagne (IGTV) abrufbar.
Dank der einzigartigen Zusammenarbeit der Maison KRUG mit internationalen Top-Chefs erhalten Hobby-Köche die Möglichkeit, live bei der Entstehung eines Gourmet-Gerichts dabei zu sein. Während der aktuellen Session kocht Heiko Nieder bei sich zu Hause. Er führt seine Zuschauer dabei Schritt für Schritt durch die Zubereitung und gibt einen spannenden Einblick in seinen faszinierenden Küchen-Kosmos.
The Dolder Grand Take-away Package «Krug, My Chef & I»
Der Clou für diejenigen, die Nieders Gericht gerne perfekt nachkochen möchten: Das Package «Krug, My Chef & I», das ab sofort auf Anfrage im The Restaurant via therestaurant@thedoldergrand.com bestellt werden kann. Es enthält sämtliche Zutaten des Gerichts für 2 Personen, das Rezept zum Nachkochen sowie eine Flasche Krug Grande Cuvée und ist ab CHF 650 (abhängig vom Trüffel) erhältlich.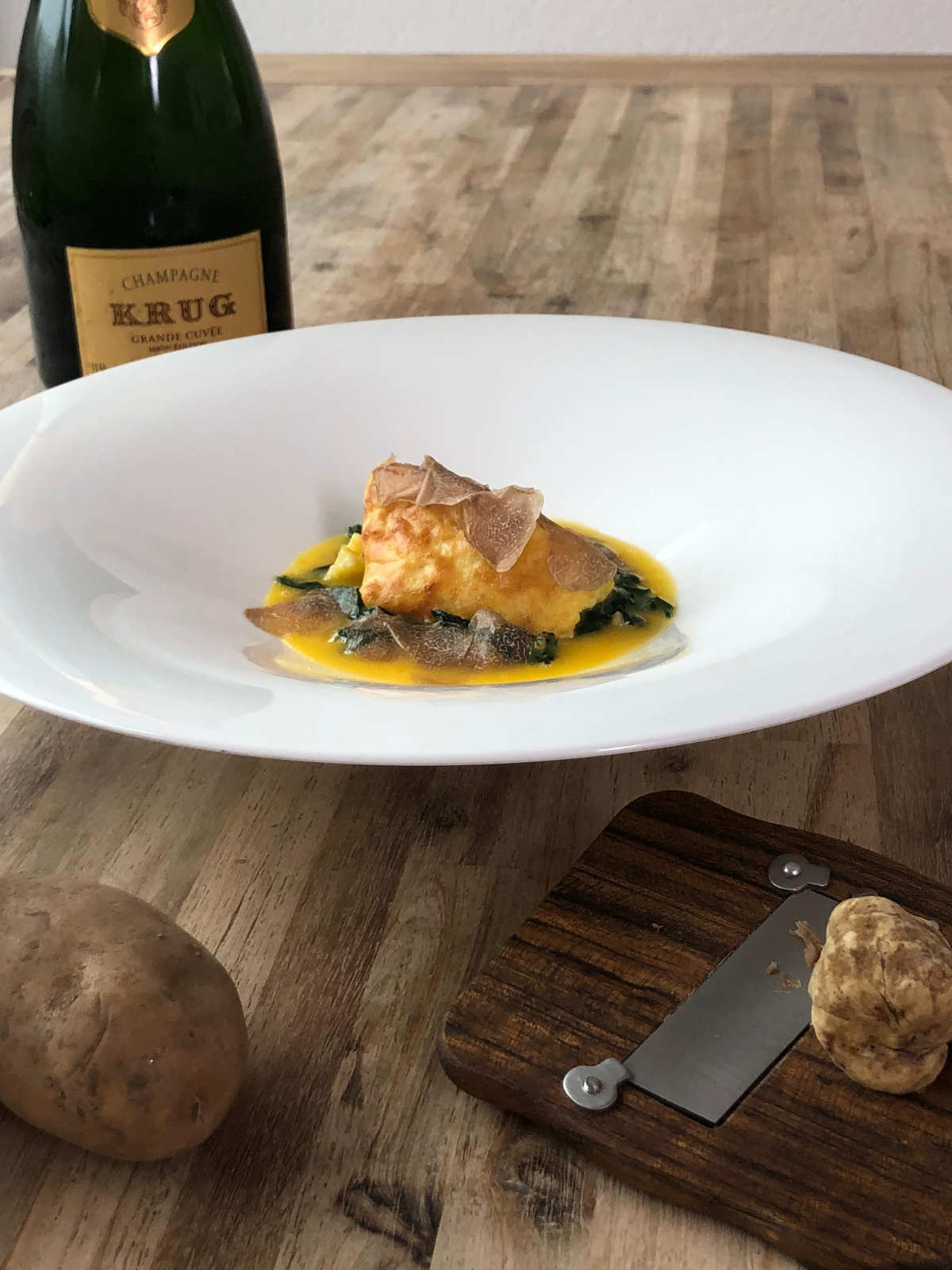 DAS HAUS KRUG
Das Haus Krug ist der wahrgewordene Traum seines Gründers, Joseph Krug, der seinen Kunden Jahr für Jahr den besten Champagner anbieten wollte, unabhängig von den Fügungen des Klimas. Krug ist seit 1843 das einzige Haus, das jedes Jahr ausschliesslich noble Champagner herstellt. Heute hat das Haus Krug sieben erstklassige Champagner im Angebot – jeder für sich bringt die Natur auf eigene Weise zum Ausdruck.
THE DOLDER GRAND
Das Dolder Grand mit 175 luxuriösen Zimmern und Suiten, erlesener Gastronomie, einem Spa-Bereich auf 4'000 Quadratmetern sowie einer wertvollen Kunstsammlung ist Mitglied der Leading Hotels of the World und der Swiss Deluxe Hotels. Die erhöhte Lage zwischen pulsierender City und belebender Natur ermöglicht einen herrlichen Blick auf die Stadt Zürich, den See und die Alpen. Das City Resort wurde von 2004 bis 2008 durch die Londoner Architekten Foster and Partners vollumfänglich renoviert und umgebaut.