Tommy And Dee Hilfiger Attended The 2023 Metropolitan Museum Of Art's Costume Institute Benefit
Luxferity, 05.05.2023
Tommy and Dee Hilfiger attended the Metropolitan Museum of Art's Costume Institute Benefit on May 1, 2023, in New York City to celebrate the opening of the exhibition, Karl Lagerfeld: A Line of Beauty. The exhibition examines the work of Karl Lagerfeld, focusing on the designer's stylistic vocabulary as expressed in aesthetic themes that appear time and again in his fashions. The evening was co-chaired by Michaela Coel, Penélope Cruz, Roger Federer, Dua Lipa and Anna Wintour.

Tommy Hilfiger was joined by fashion designer and wife, Dee Hilfiger, GRAMMY-nominated, rapper, actor and entrepreneur, Jack Harlow, and All Pro NFL wide receiver, Stefon Diggs.
"Karl Lagerfeld was a legend, a true champion of pop culture, and a wonderful friend and supporter," said Tommy Hilfiger. "His vision brought undeniable beauty to the world. I'll forever cherish his friendship, the inspiration, and the opportunities he provided - especially after working closely together on the Karl Lagerfeld brand. It was incredible to get a look behind the scenes at his creative genius. Karl taught us the importance of innovation and pushing boundaries, while still honoring brand codes and legacies. So tonight, we celebrate Karl and his endless imagination and extraordinary talent."
Tommy Hilfiger wore a white evening shirt gifted to him by Karl Lagerfeld. His look was topped with a custom TOMMY HILFIGER x Denis Frison navy single breasted tuxedo blazer in vintage bouclé with red lining, red piping detail, navy satin lapel and custom TH signature pearl buttons. Tommy also wore vintage bouclé tuxedo pants with red piping detail at the side stripe, a navy satin vest, and navy satin tie.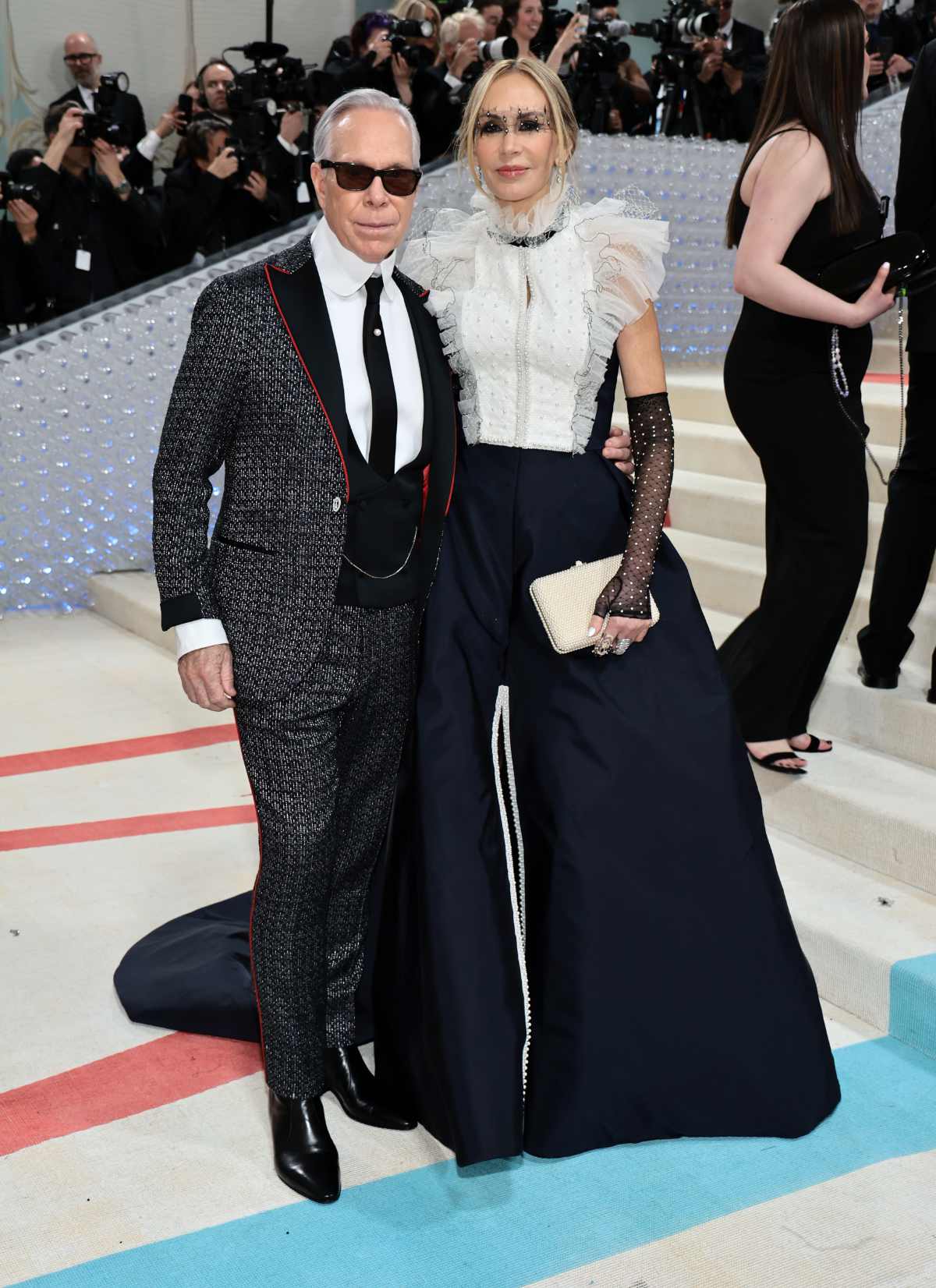 Dee Hilfiger wore a custom TOMMY HILFIGER dark navy duchess satin gown with a diamond quilted pearl lace embroidered plastron with ruffle detailing and dark navy duchess satin volume skirt, paired with custom pearl embroidered gloves and veil in fine lace.
Jack Harlow wore a custom TOMMY HILFIGER navy bouclé trucker-inspired jacket with navy satin framing around the lapel, pockets and placket; and navy bouclé pants with navy satin framing around the waistband and side stripe. The look was styled with pocket chains and pearls, and a silk charmeuse burgundy shirt with pearl buttons.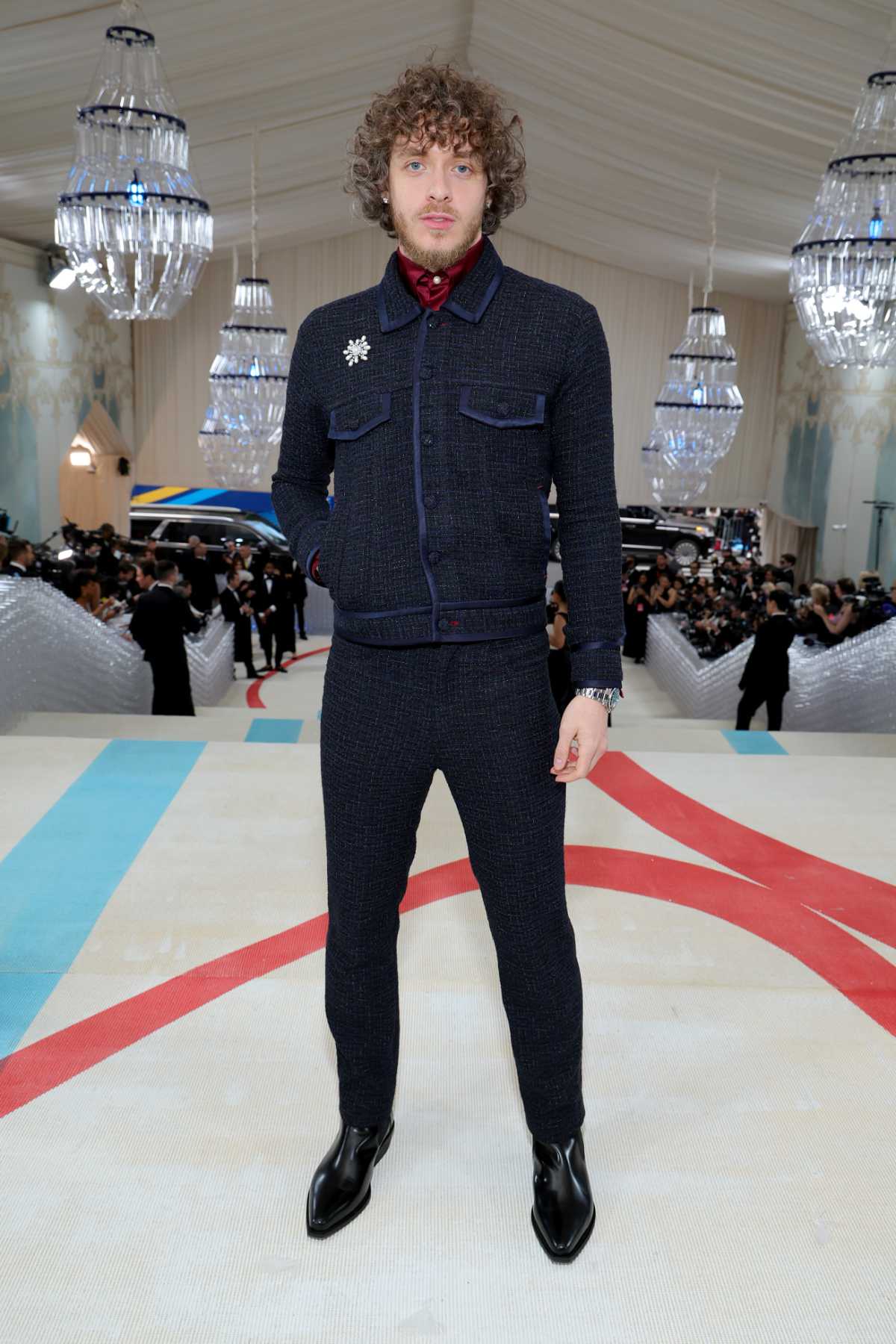 Stefon Diggs wore a custom TOMMY HILFIGER black and white bouclé single breasted blazer with red piping detail, navy satin lapel, Chanel-inspired brooches and red undercollar. He paired the look with black and white bouclé pants with inseam slits, red piping detail and pocket chains, and a white high collar shirt with red piping detail and pearl buttons.